Screaming Tunnel Niagara Falls: Haunted or a Hoax?

Growing up in Niagara, I always heard stories of the Screaming Tunnel. This Niagara Falls legend long outdates me, though it has taken me over three decades to actually be brave enough to visit this spooky spot in the Niagara Region. I should probably have grown feathers by now but after a few visits, I'm proud to say I'm overcoming my unnecessary fear… slowly. However, is there actually anything to be scared of? Let's dive into the nitty-gritty of the Screaming Tunnel Niagara Falls.
Disclaimer: This post contains affiliate links where if you make a purchase, I may receive a kickback at no extra cost to you. It helps keep IBB alive so thank you!
History of the Niagara Falls Screaming Tunnel
Before the Screaming Tunnel was a destination for hikers, tourists and ghost hunters alike, it served a much more practical purpose – and still does!
The Screaming Tunnel is constructed from rough-cut limestone bricks. While you may originally think it was for railway passage, it was actually constructed as a drainage passage to keep the tracks from flooding. This tunnel allowed water to drain underneath the Grand Trunk Railway so as to not impede the integrity of the railway as trains travelled between Toronto, Niagara Falls and New York City. It also created an unintentional, secondary benefit for farmers as they would use the tunnel for transporting animals and goods safely below the railway.
FUN FACT: The Screaming Tunnel was chosen by Canadian movie director David Cronenberg as the setting of a murder scene in the 1983 film adaptation of Stephen King's The Dead Zone!
While the landscape of the area has changed so flooding isn't nearly as big of an issue as it once was, the tunnel still sees its fair share of foot traffic as hikers. Much to my dismay, there's no avoiding it when conquering the Bruce Trail from end to end as well as the Laura Secord Legacy Trail. Sitting at 125 feet long and 16 feet high, the damp atmosphere and moss of the tunnel certainly can make it feel quite eerie… especially when you know of the legends behind its name.
The Legend of the Screaming Tunnel
This century-old tunnel is said to be one of the top haunted roads in the world, but why? What is the Screaming Tunnel story exactly? Why do folks visit with wooden matches in hand, hoping for a glimpse of the paranormal? Well, there are a number of stories that lend to this haunted tunnel in Niagara Falls.
I grew up hearing the story of a tragic tale where a nearby farm caught fire with a little girl inside. She managed to escape and is said to have frantically run into the tunnel in the hopes of finding help. Screaming in agony from the pain of her burns, she succumbed to her injuries while inside the tunnel. It's said that if you light a match right at midnight while inside the tunnel, you just might hear that blood-curdling scream.
However, there are a few variations to this story. One says this poor girl was set ablaze inside the tunnel by her very own father. The reason? A horrific reaction to a nasty divorce and custody battle. Another tells of the young girl being raped and then her body burned as a cover-up measure. I'm sure there are even more, but they all end with the idea of standing in the tunnel at midnight with a match as a way to try and coax her spirit out.
Looking for more Haunted Ontario Places?
Explore More of Niagara's Haunted Side With These 10 Destinations
Don't Miss These 15+ Haunted Places in Hamilton
Pay a Visit to Bowmanville's POW Camp, Camp 30
However, legends are meant to be met with skepticism. While the tale of the poor girl is more captivating, it seems as though there is are a few alternate explanations.
One is that in the mid-1900s, the little girl of these stories lived on a farm beyond the tunnel. It's said that she was walking to her school bus stop when she used the tunnel as a shortcut to get there. Tragedy struck as when she exited on the other side, she was hit by a passing motorist. Her father came running upon hearing the commotion, screaming through the tunnel as he ran to her but she succumbed to her injuries while in his arms.
Another comes from a local Niagara historian who has spoken with a living descendant of the village that once was behind the Screaming Tunnel. He was told that a husband and wife would fight constantly and whenever they did, she would walk into the tunnel and let out a screeching scream. Maybe it was an outlet for her frustration? Maybe it was her trying to alert her neighbours that he was an impossible human? Maybe it was something else? That decision is up to you!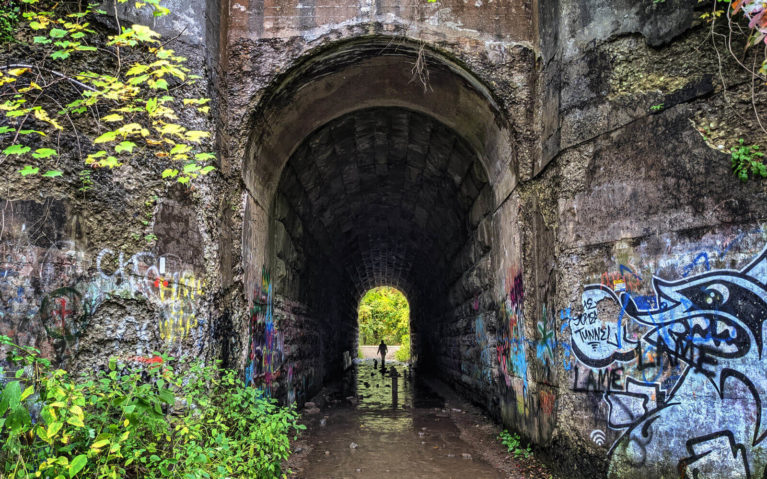 So, Haunted or a Hoax?
That honestly comes down to you! From my personal experiences, it certainly felt eerie but it's hard to tell if that's in my head or if something paranormal is afoot. I've been told that spirits won't just show themselves to anyone and you truly need to believe for a better chance of it. While I certainly would have denied it in the past, I've had a number of "coincidences" that just cannot be explained as such but my mind still tries to logically explain them away.
However, visitors have shared their paranormal experiences in the tunnel. One such account comes from the group called Paranormal Seekers out of Durham Region. One of their previous members, Brenda, recounts her experience of a small girl wanting to be followed through the tunnel and the fear she could feel from her. You can read all about it here.
Whatever the story is behind the Screaming Tunnel, I'm nowhere near brave enough to check it out at midnight to see if there truly is a restless spirit lurking in the shadows. I literally ran through it when hiking the Bruce Trail solo during my first visit! During my most recent visit in October 2021 though, I came across something interesting. While I didn't feel anything myself (besides my usual overthinking anxiety because of all the stories I've heard of the tunnel), upon editing some photos for this post, I came across something interesting.
I'm pretty notorious for keeping my lenses clean. There might be the odd speck, but VERY rarely do I ever have smudges. Also, it was a cloudy day so no direct sunlight. Yet in the photo below, there's this lighter almost smoke-like entity near the centre of the image. It was not there when I took the photo and there was no fog to be found that day. Was I lucky enough to capture something from the supernatural realm? I think that could be a possibility, but it's hard to say. Maybe I'll experience something else during my next visit. Dare I be brave enough to go at night?
If you, my readers, have had any paranormal encounters you may want to share during your visit to Niagara Falls' Screaming Tunnel, I'd love to hear in a comment below!
Visiting the Screaming Tunnel Niagara Falls
Are you brave enough to experience the Screaming Tunnel in Niagara Falls for yourself? Here are some frequently asked questions along with the lowdown on what you should know.
Where is the Screaming Tunnel in Niagara?
The Screaming Tunnel Niagara Falls is located approximately 100 metres from the end of Warner Road on the edge of Niagara Falls Ontario. Here is the exact location on Google Maps. I don't recommend parking right by the tunnel entrance but there should be room to park on the turnaround at the end of Warner Road. Though if you'd prefer to hike to the Screaming Tunnel, you can park at the Woodend Conservation Area which is about 3 km one way from it.
What Do I Need to Visit the Screaming Tunnel Niagara Falls?
It is certainly a more rural area of Niagara and therefore not very well lit. If you choose to be much braver than I and go at night, know that the trail can pose tripping hazards and other typical risks of hiking at night. I highly recommend bringing a reliable flashlight or headlamp to help illuminate your adventure.
This part of the trail is also notorious for being soggy. Let's just say out of all the times I've visited, not once has it been dry. You'll want to bring a pair of waterproof shoes or hiking boots to keep your feet from getting wet. Also because the water is pretty icky… you really don't want that sh!t on your feet. Of course if you visit in the winter, this will be less of an issue though it'll probably be slippery so some crampons wouldn't hurt.
Are the Blue Ghost Tunnel and the Screaming Tunnel the Same Thing?
NO. If you type Blue Ghost Tunnel into Google, it'll take you to the Screaming Tunnel's location and that's WRONG. The Blue Ghost Tunnel is an entirely separate tunnel that lies on the eastern side of the Welland Canal near Lock 5. It resides south of the Glendale Avenue bridge on Seaway property so you can be charged with trespassing if you're caught exploring it. However, that hasn't seemed to deter others from exploring it!
Looking for More Things to Do in Niagara?
Don't Miss This Local's Insider Tips for Visiting Niagara Falls
Check Out These 15+ Absolutely FREE Things to Do in Niagara Falls
Stretch Your Legs With These Top Niagara Falls Hiking Trails
Dodge Any Bad Weather With These Top Indoor Attractions in Niagara Falls
5 Ways to Experience the Beauty of the Niagara Gorge
Explore the Top 10 Hiking Trails Across the Niagara Region
Don't Miss This Local's Guide to the Charming Town of Niagara-on-the-Lake
Head to the Heartland Forest Where Nature is For Everyone
Plan a Visit to Niagara's Ship Shape City – Port Colborne
These Are the Best Hiking Trails in St Catharines
Experience These 10+ Incredible Waterfalls in Niagara
The Top 25 Niagara Wineries That'll Have You At Merlot
Take a Self-Guided Tour of These Vineland Wineries
Celebrate Niagara's Liquid Gold at the Niagara Icewine Festival
Plan a Spring Visit to See the Cherry Blossoms in Niagara
Experience Canada's Largest Light Festival
Don't Forget The Niagara Falls Haunted Tunnel & Pin It For Later!