Winter Festival of Lights in Niagara Falls: What You Need to Know

Growing up in Niagara, you knew winter was just around the corner once you heard rumblings of the Winter Festival of Lights in Niagara Falls. Come the middle of November, it's time to embrace old man winter as the festival's light displays are sprinkled along the Niagara Parkway, Dufferin Islands and throughout Niagara Falls.
As a child, my parents would take me to see the lights as a Christmas tradition. We'd wander along the Niagara Parkway as my face lit up seeing Mickey Mouse and other Disney characters come to life in animated illumination. The Niagara Winter Festival of Lights sure has changed over the years and for the better! It's a must-do holiday activity with so much to offer. Not sure exactly what to expect? Read on!
RELATED: If you're a fan of these holiday lights, don't miss this round-up of Christmas Light Displays in Ontario!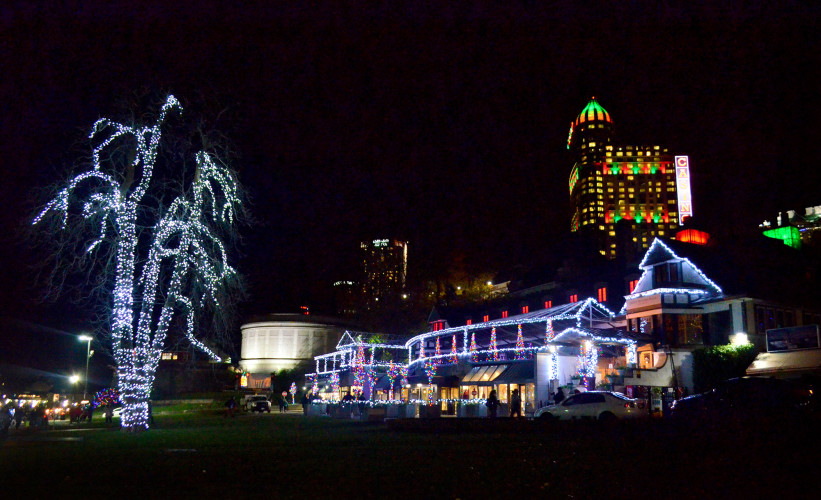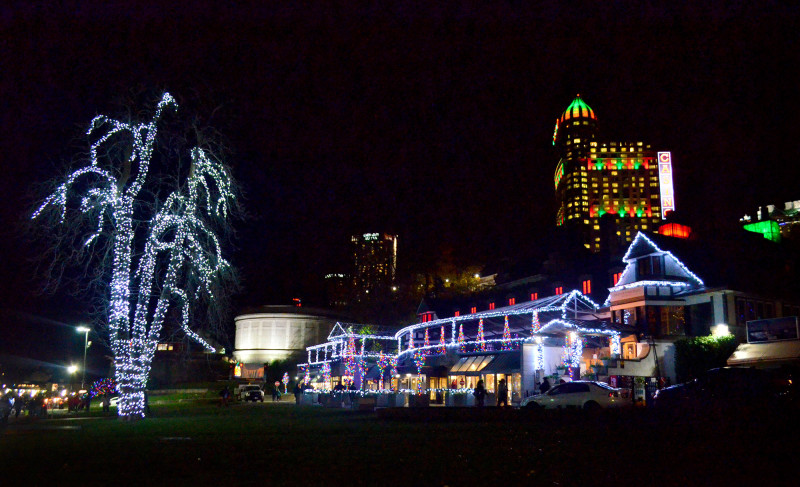 About the Winter Festival of Lights in Niagara Falls
Also known as the Ontario Power Generation Winter Festival of Lights, the festival was founded in 1982. It has evolved into Canada's largest illumination festival. You'll find at least fifteen displays dedicated to Canadian wildlife, incredible light shows and even the world's largest Canadian-American flag! While the festival may have originally only been about the lights, it has since expanded to include markets, tours and more!
INSIDER TIP: If you're looking for tips on planning your trip to Niagara Falls, be sure to check these insider tips tried and tested by yours truly.
The Winter Festival of Lights is bigger and better with their route expanding to 8 kilometres in 2016 as it travels the Niagara Parkway into the Dufferin Islands and surrounding tourist areas. With an extra $300,000 invested by Niagara Parks on lighting, programming and infrastructure improvements, the festival was able to complete an expansion in Queen Victoria Park.
If you've visited before 2016, you may notice that the Horseshoe Falls are looking brighter than ever upon your return! The Niagara Falls Illumination Board unveiled the enhanced Falls illumination system on December 1st, 2016! The upgrades included more than twice the previous lighting levels, programmable lighting capabilities and a broader colour spectrum. As well, the newly enhanced lighting system will eliminate dark gaps while making it more energy-efficient while reducing maintenance costs. More information on the upgrades can be found on the Niagara Parks website.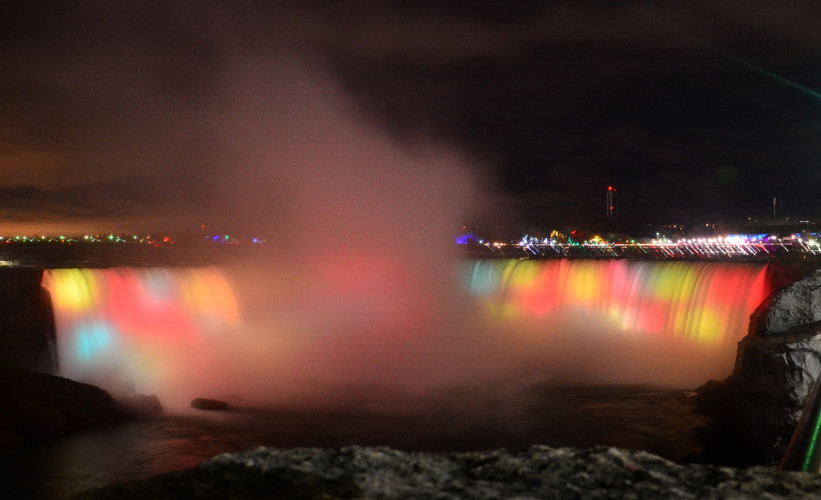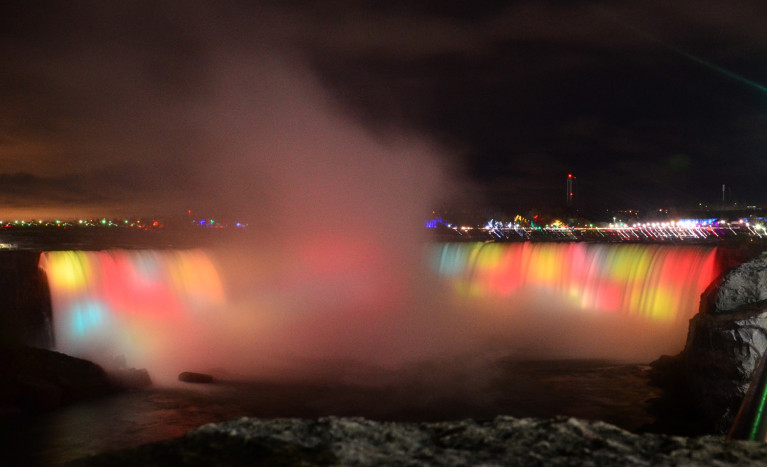 Things to Do at the Winter Festival of Lights
Walking around looking at pretty Christmas lights may sound chilly to you, but it's a local tradition that people travel from all over to enjoy. Each year, the crew at OPG and Niagara Parks add more and more to this event. You'll never run out of things to do at the Winter Festival of Lights!
SOMETHING TO NOTE: As we know, this year has been unlike any others. Some features of the festival may not be available due to restrictions so be sure to double check with the festival coordinators before planning your visit. These possibly cancelled/modified activities are indicatd with **.
WFOL Opening Ceremonies
The majority of my visits to the Winter Festival of Lights were evening strolls along the Niagara Parkway or enjoying the lights from the warmth of my car. However, in all the years I had been to see the lights, not once had I attended the opening ceremonies until 2016. I honestly didn't even know there was such a thing!
From the cirque performances to the "Flip the Switch" ceremony, each year it gets bigger and better. Nothing beats the collective excitement as families and loved ones, locals and visitors, all come together and kick off the festive season. If you're able to make it for the opening weekend, take the time and watch as they illuminate the entire parkway for the season!
Winter Marketplace **
Enjoy the sights and sounds of the falls as you peruse the work of local artisans including handmade crafts, delectable treats and more. You'll also find food trucks, games and workshops across the street for all to enjoy. Get a start on your Christmas shopping and enjoy live music from a number of great artists.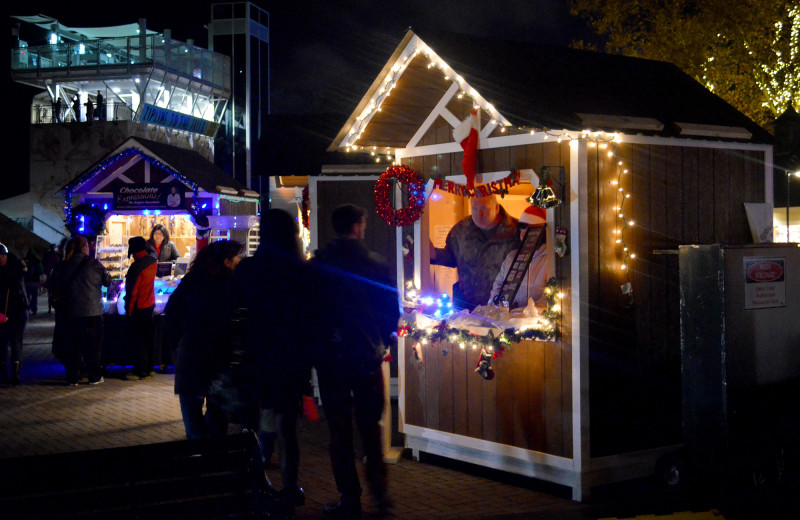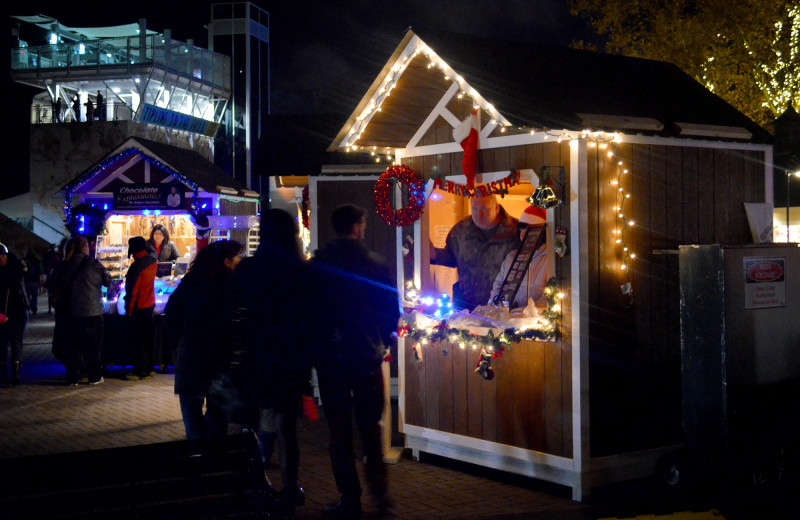 Queen Victoria Park
As you saunter down the Niagara Parkway, enjoy the forests, angels and other beautiful light displays. Don't forget to grab a photo in front of the iconic 'Welcome to Niagara Parks' rainbow! I swear that display has been there longer than I've been alive. If you start to get chilly, dip into the Table Rock Centre. This is also a great place to grab some souvenirs and enjoy the lights from the warm of the building.
Grab Dinner at the Table Rock House Restaurant
If you'd like to break up your visit, I highly recommend grabbing dinner at the Table Rock House Restaurant. Not only does it offer stellar views of Niagara Falls which are fantastic no matter what time of the day it is, but the food is incredible too! Menu items change from season to season with meat dishes, pasta, vegetarian options and more. I guarantee you'll enjoy everything on this menu, however you'll want to save room for dessert. Their 1918 Shipwreck Apple Barge is to die for! It's a huge dish though so I suggest sharing it… or having it as your meal. I'm not judging!
Have I convinced you to eat at this awesome Niagara Falls restaurant? It's a popular spot to eat at during a visit to Niagara Falls so I recommend making a reservation to avoid disappointment.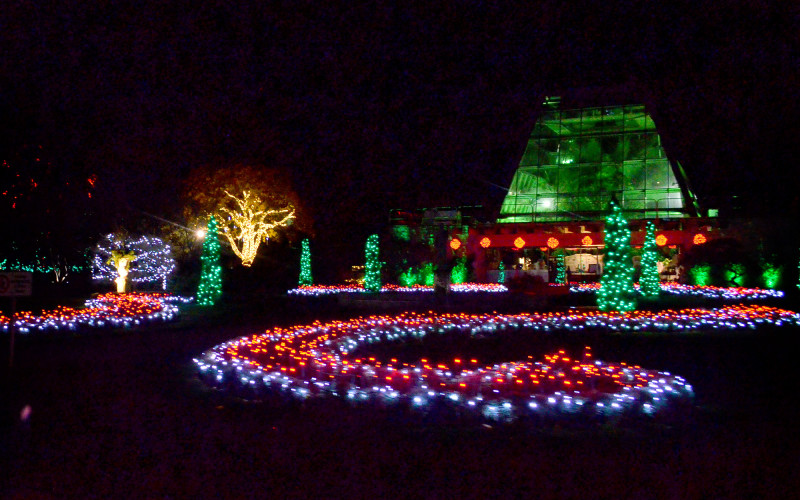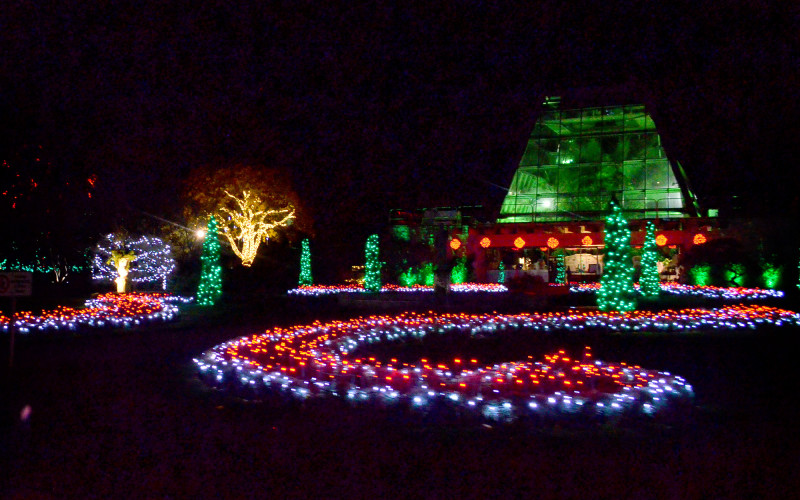 Christmas Flower Show at the Floral Showhouse
The Floral Showhouse's Holiday Display will feature poinsettias, cyclamen, azaleas, free-flying tropical songbirds alongside their Life on Display exhibit. If you don't feel like going inside, at least take a drive by and enjoy the outdoor holiday decorations!
Toronto Power Sound & Light
What was once a key piece of Ontario's energy production is transformed into a festive sound and light show! Tune in to 100.5FM on your car radio as you approach the Toronto Power building to enjoy a 5 minute light show synchronized to holiday ballads from the Trans Siberian Orchestra.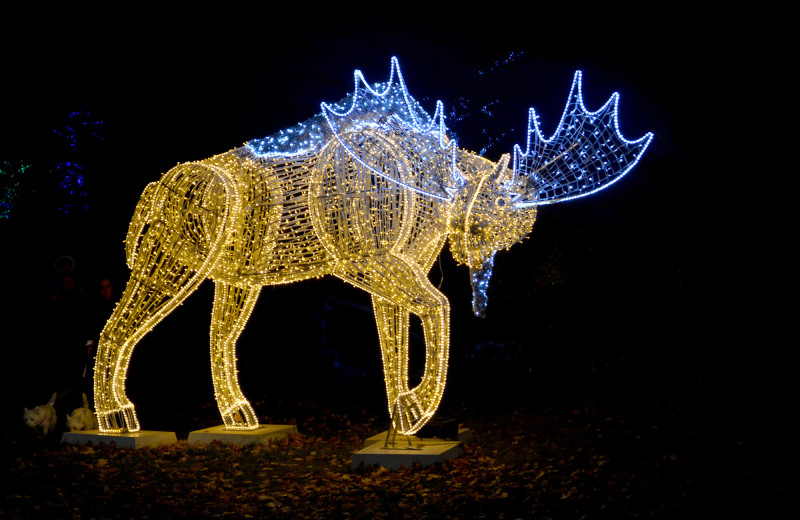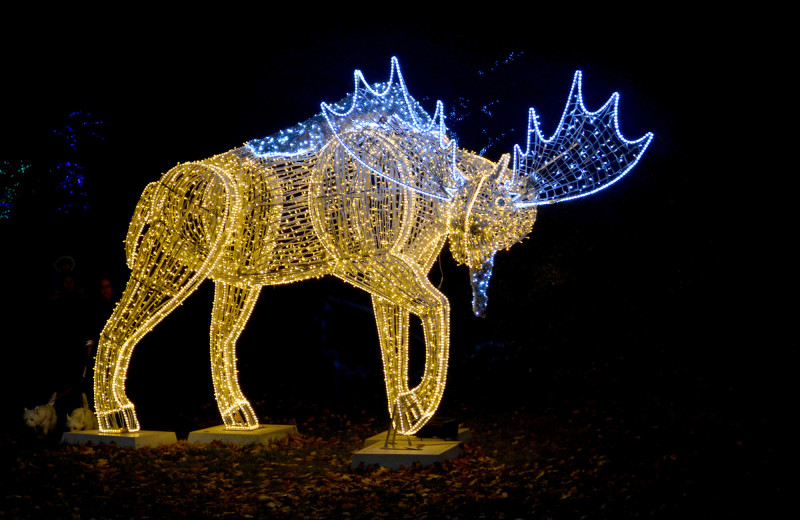 Dufferin Islands Display
This area is one you do not want to miss! The Dufferin Islands are brimming with Canadian wildlife light displays of moose, buffalo, a 10ft tall 3D woolly mammoth and more. While most drive through this part of the circuit, you are able to park so you can truly experience the beauty on foot. Just note that walkways aren't maintained in the winter so it's a good idea to have proper footwear for your safety!
At the end of the route, you'll find a donation station. While they aren't mandatory, these donations go towards maintaining the beautiful light displays we all love and enjoy. Do your part and support the Winter Festival of Lights in Niagara Falls!
Fireworks
As I said, the Winter Festival of Lights just keeps adding more and more incredible entertainment. For the first time ever in its history, the Niagara Falls Winter Festival of Lights hosted the Cascades of Fire International Fireworks Competition in 2018! While these fireworks shows have come and gone, they're still keeping the fireworks tradition with the OPG Winter Festival of Lights Fireworks Series. There will be 25 fireworks shows every Friday starting November 22, 2019, nightly from December 21st until January 5th with one final show on January 11th, 2020.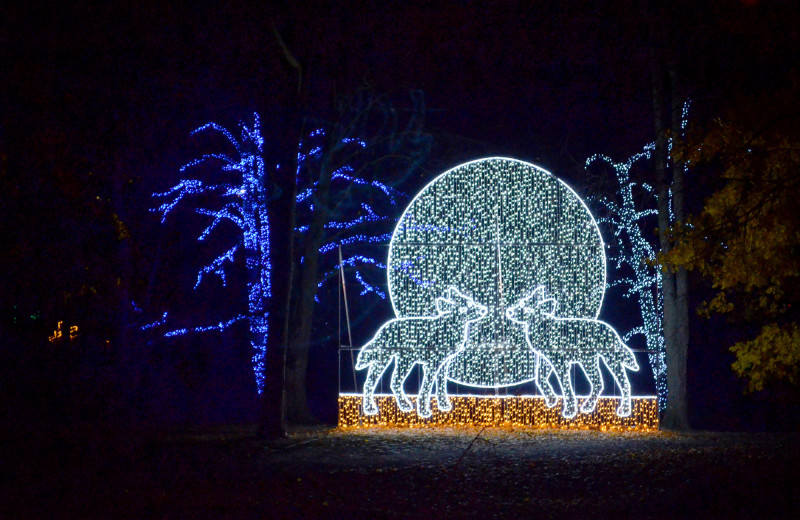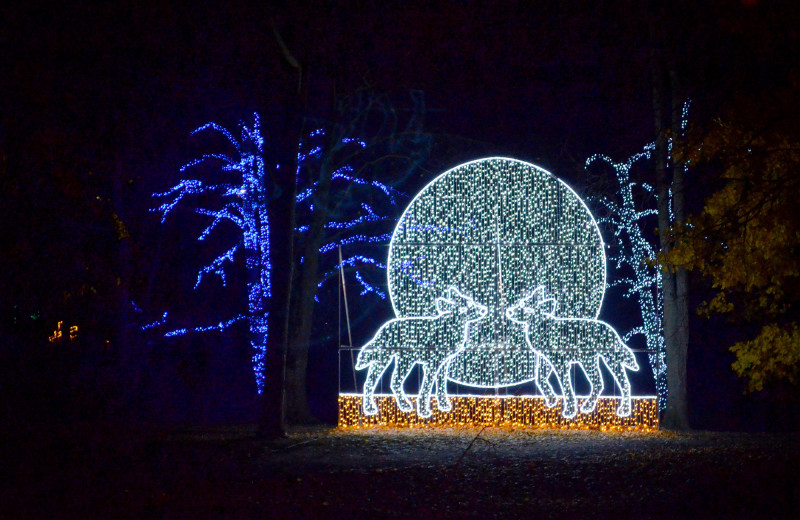 Deck the Falls Walking Tour **
Nevermind deck the halls, here in Niagara we deck the falls! Enjoy a self-guided circuit along Fallsview Boulevard, Murray Street, Falls Avenue, Stanley Avenue, Victoria Avenue and, of course, the Niagara Parkway. You'll enjoy 15+ venues with their halls decked to the nines. At each, you'll find beautiful décor, delicious holiday appetizers for you to sample and specialty drinks that are guaranteed to keep you warm from the inside out!
You can either enjoy this on foot or hop on the WEGO bus between locations. While you may get caught up as you hop from venue to venue, don't forget to take a ride to the top of the Skylon Tower so you can get a birds-eye view of the festivities!
INSIDER TIP: Your ticket is good for all 6 nights the tour is running. You'll receive a booklet where you'll have a separate ticket for each of the 10 stations. If you don't use them all, return for another night to continue the fun! Check the dates and buy your tickets here.
New Years Eve Concert **
Ring in the new year at what's arguably Canada's longest-running New Year's Eve event! Every year people flock to Queen Victoria Park for this free outdoor celebration. 2019 will feature not one but two fireworks displays along with a variety of food and beverage options. While the first fireworks display will hit the skies at 9:15pm, the second will ring in 2020 as the clock strikes midnight! This year Walk Off the Earth and Brian Adams will be entertaining event-goers with their greatest hits. If you'd rather not brave the cold (or the crowds), I guarantee at least one local television channel will be streaming the event.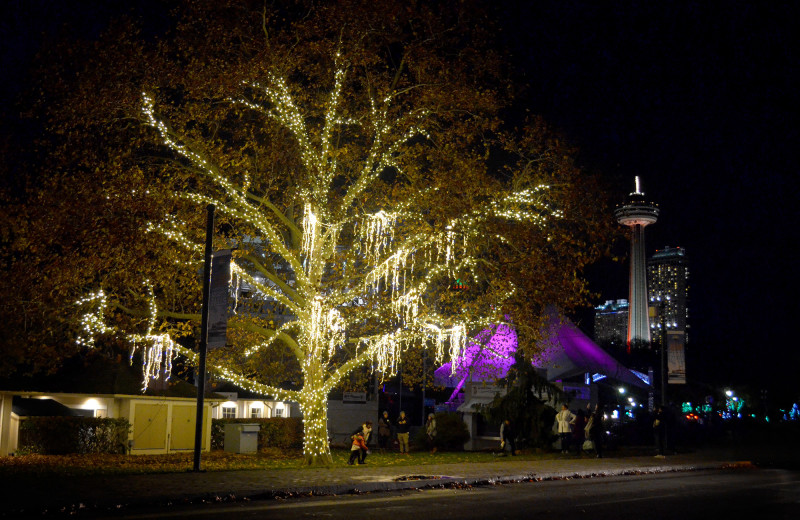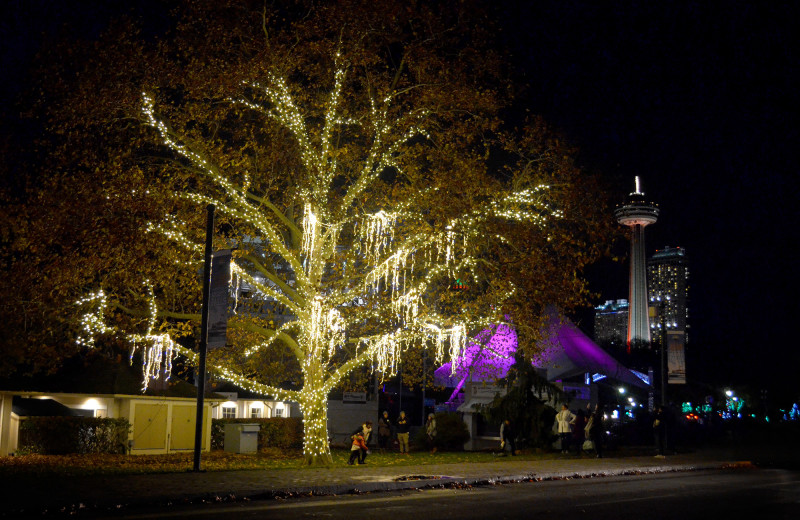 Things to Know When Visiting the Winter Festival of Lights
Looking for some insider tips for visiting the Winter Festival of Lights in Niagara Falls? Here's what you need to know when planning your visit.
Where is the Winter Festival of Lights?
The majority of the light displays are located along the Niagara Parkway at Queen Victoria Park, Table Rock and the Dufferin Islands. However, the festival continues to grow and is expanding more into the city with displays at the Scotiabank Convention Centre, on Victoria Avenue in Niagara Falls and more!
When Do They Turn the Falls Off?
Contrary to what some believe, the falls are never "turned off". This may seem like a crazy question but you'd be surprised how many people ask it! If you're wondering when they turn the lights off, the displays are on from 5:00 pm until midnight during the festival.
How Can I Avoid Crowds During This Niagara Lights Festival?
It's not uncommon to see crazy line-ups as Christmas looms closer, but don't let that deter you. One of the biggest tips I can offer is to plan your visit during the week as the lines grow on weekends. Also if there's been a fresh batch of snow, you can guarantee the roads will be busier. While Christmas Eve is probably the busiest day of the season, going on Christmas day isn't nearly as insane. Boxing Day is another busy one where you can expect a lot of foot and car traffic!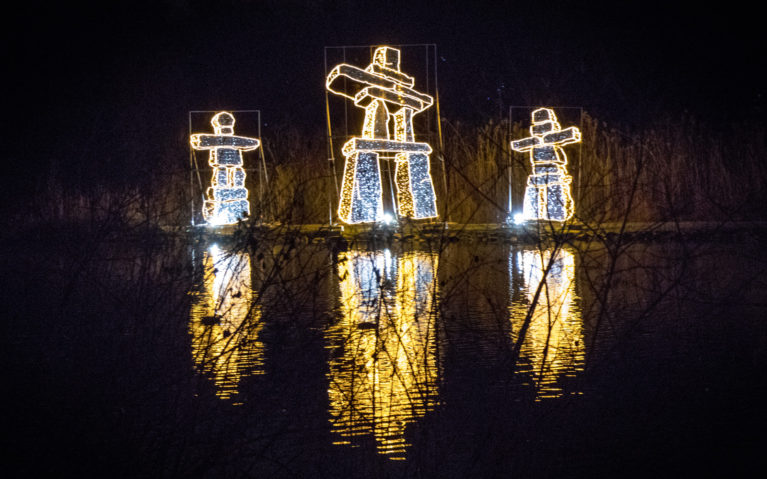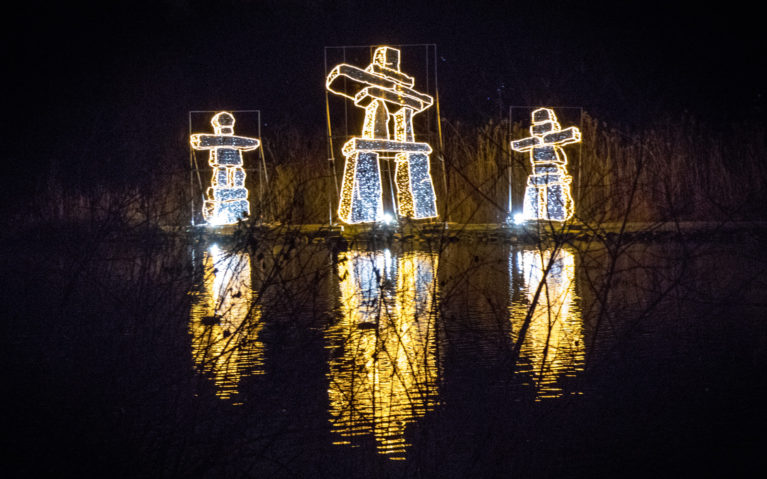 What Should I Wear When Visiting?
If you're planning on doing some walking, be sure to wear layers. While you may be cozy inside your car or hopping venues, things can get chilly if you're walking along the Niagara Parkway. There are a number of places to pop in and warm up like Queen Victoria Place or the Table Rock Centre if you get chilly.
Do I Need a Car to Visit the Winter Festival of Lights 2019?
You don't necessarily need a car to visit. If you're staying at a hotel in Niagara Falls close to Clifton Hill, it's quite easy to walk to the light displays. However, walking from Queen Victoria Park or Clifton Hill to the Dufferin Islands is about 2.5km which will take you at least 30 minutes so you'll need to plan accordingly! If you're unable or unwilling to walk a long distance, I'd recommend enjoying the festival from a car.
Is There Free Parking in Niagara Falls?
Unfortunately this is very hard to come by as you now have to pay for parking at the Dufferin Islands, which was the only real option before. The closest parking lot is at the Table Rock Centre which costs $20 and there are other parking lots closer to Clifton Hill for a similar price.
When Should I Visit this Niagara Falls Festival of Lights?
Honestly? You should really visit more than once. Each year the festival grows, adding displays throughout the Niagara Parkway and surrounding area. If you think you've missed something, be sure to check out this year's Winter Festival of Lights map.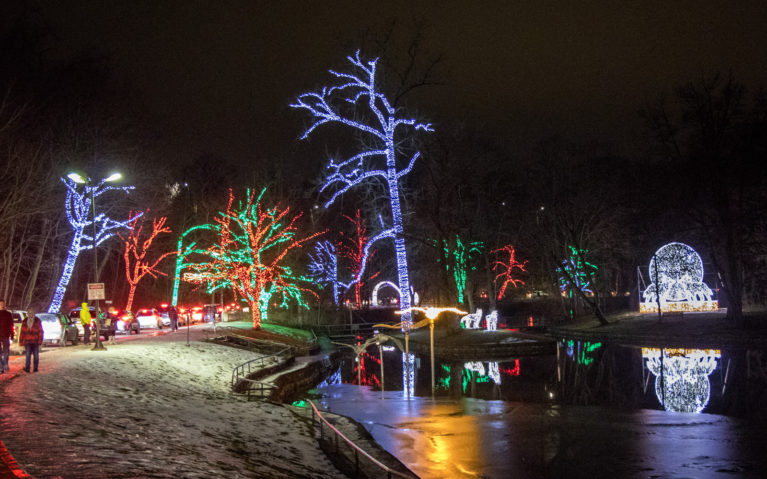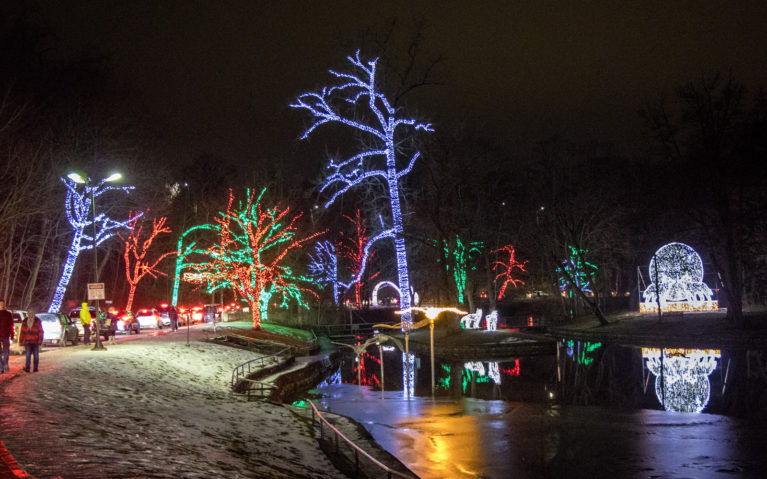 Get Festive in Niagara Falls!
Niagara will be a busy place for these next few months, so plan accordingly and don't miss out on all that it has to offer! There are various events during the weeks the festival is on, so be sure to visit Niagara Parks' site and plan accordingly. If a trip just for the Winter Festival of Lights may seem like a bit much, it's easy to turn your trip into a weekend getaway. The holidays are a busy time but with the festival running until January 12th, 2020, you can take advantage of the plethora of off-season deals Niagara Falls offers.
Will you be attending the Winter Festival of Lights in Niagara Falls this year? Have you attended previously? If so, what's your favourite part? I'd love to hear in the comments below!
Planning to visit the Winter Festival of Lights in Niagara Falls? Pin it for later!