Christmas Getaways in Ontario That'll Have You Feelin' Pine

T'is the season to be jolly and all that jazz! As October comes to an end and the leaves fall off the trees, we can't help but have visions of sugar plums dancing in our heads. Okay I've never had a sugar plum in my life, but when November 1st rolls around my brain immediately clicks into holiday overdrive. Whether you're looking to get into the holiday spirit with some Ontario Christmas markets or thinking of a gift for the traveller you love that isn't materialistic, these Christmas getaways in Ontario are guaranteed to please!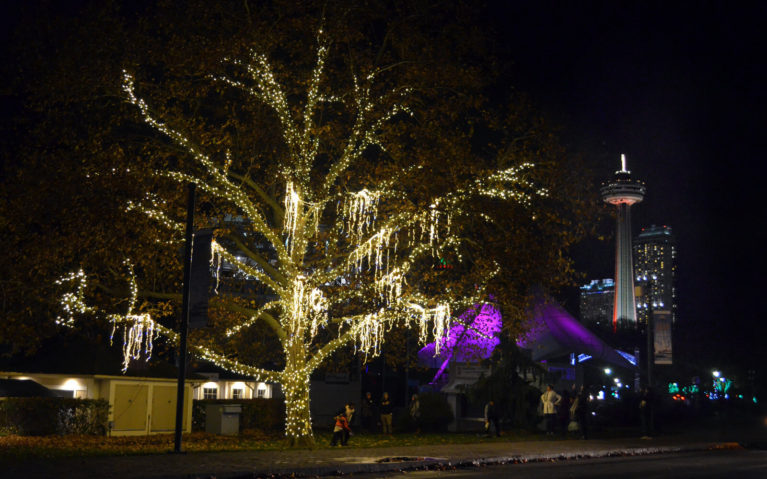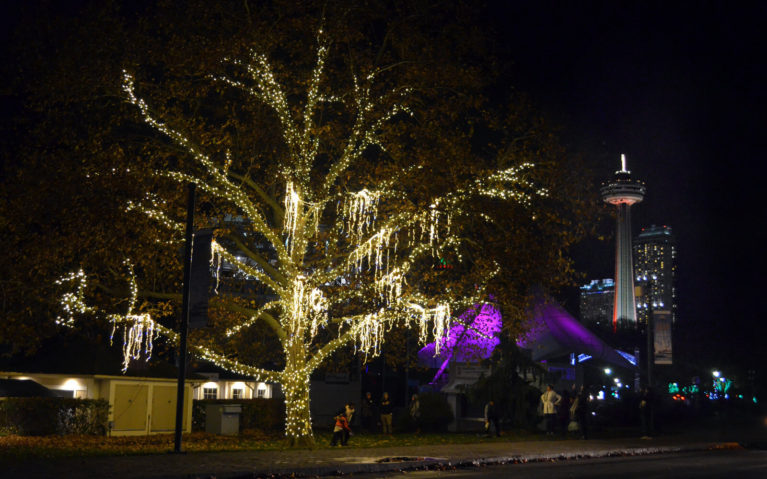 Niagara Region
There's more to Niagara than just the Horseshoe Falls! Growing up in the area, the Niagara Region is near and dear to my heart for a solid dose of holiday cheer.
Things to Do in Niagara Region
It isn't a Niagara Christmas getaway without visiting the Winter Festival of Lights. The Niagara Parkway is transformed with incredible light displays in Queen's Park and beyond. Be sure to also explore the Dufferin Islands where you can see life-size moose, bears and more! You can also enjoy their Deck the Falls self-guided tour where you'll enjoy out-of-this-world holiday decorations, eats, treats and more! Niagara Falls has no shortage of holiday cheer and these insider tips can ensure you enjoy the most of what the area has to offer!
RELATED: If you love Christmas lights, you'll want to check out these incredible Christmas light displays across Ontario!
The lights are magical, but the true Christmas spirit can be found in the picturesque town of Niagara-on-the-Lake. Take a stroll along streets that look as if they've been ripped off a Christmas card your mother got last year. Grab some gifts at the local shops and take a peek inside the Just Christmas store for some amazing holiday decor. If your Christmas typically involves donning an ugly sweater, then the Ugly Sweater Holiday Food Tour is a must! Enjoy 2.5 hours of great eats and shopping opportunities. Don't be shy – the ugliest sweater wins a prize! Click here to book from Canada and click here to book from elsewhere in the world.
No trip to Niagara is complete without at least one wine tasting. Anyone who has been to Niagara (or has at least searched "winery" on Google Maps) knows there is an overwhelming number of wineries in the region. I've dabbled in a fair number of them and can say that my top three for a holiday tasting would be Konzelmann for incredible reds, Peller Estates for refreshing whites, and Inniskillin for some of the best ice wine I've ever had. No matter your wine preference, you can't go wrong at any of these properties. Not only are they magical on a regular day but they're extra charming with additional holiday décor!
Niagara Region is seriously the place to be to "spend a Dickens" of a holiday season!
View this post on Instagram
Restaurants in the Niagara Region
Despite being a festive mecca, there aren't many restaurants in the Niagara Region that offer set dinner menus with an extra dash of yuletide cheer. However, Niagara does brunch well which is the perfect way to start any Sunday. One option is the Tiara Restaurant at Queen's Landing which offers a seasonal brunch menu every Sunday in December. Another is The Cannery at Pillar and Post. Both are adorable little spots in Niagara-on-the-Lake and the perfect place to spend a Sunday embracing the holiday spirit.
If you are looking for a dinner special, on Thursdays and Fridays from mid-November until Christmas, you can enjoy a Dickensian Feast at the Prince of Wales hotel. Make new friends at the large communal table as you enjoy live music courtesy of Scrooge himself as he tinkles the ivories with classic Christmas carols on the piano.
While it may not have a set holiday menu, I'd say having a bird's eye view of the Festival of Lights makes up for it! You can enjoy these amazing views at the Skylon Tower's Revolving Restaurant along with picture perfect scenes as Niagara Falls lights up the night. The food is seriously amazing and you can spend as much time on the observation deck as you'd like once you're done!
If you're looking for tasty seafood, Tide & Vine has you covered. What started as oyster shucking from a 1970s VW camper van has transformed into Niagara's only oyster house. It's seriously the best seafood restaurant in the region. Their menu is constantly changing meaning you'll always have something new to try!
View this post on Instagram
Festive Hotels in the Niagara Region
For the perfect holiday getaway, I highly suggest staying in Niagara-on-the-Lake. There are a number of beautiful boutique hotels, including the Prince of Wales Hotel. Take advantage of their Twelve Days of Christmas package where you'll not only stay in style but can enjoy added perks such as a holiday hot cocoa bar, martini bar, fireside s'mores and more!
If you'd like to stay close to the Falls, the Old Stone Inn is your perfect holiday headquarters. This turn-of-the-century flour mill turned boutique hotel will charm your socks off as one of the few historic inns in the region. With their Deck the Falls package, you can stay in style while enjoying added perks such as two passes to Deck the Falls, two toques to keep your head warm as you explore and more.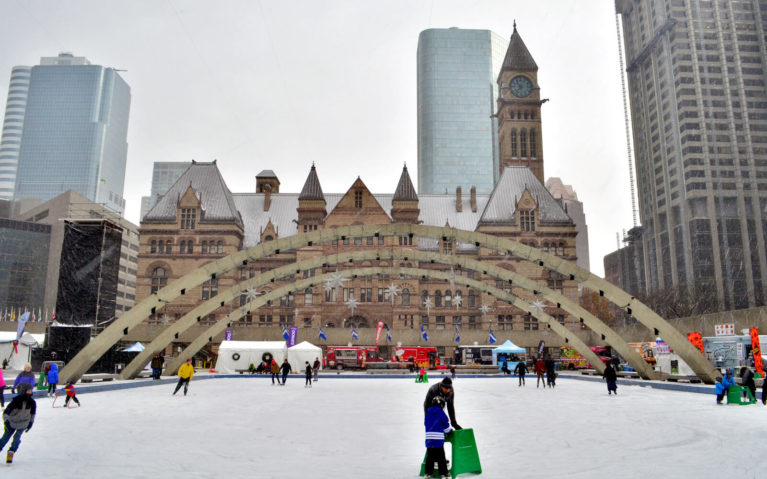 Toronto
If you're looking for some of those big city lights, there is no shortage of them in Toronto. With more holiday activities than you can shake a stick at, it's a natural choice for a yuletide getaway!
Things to Do in Toronto
In a city as massive as Ontario's capital, holiday cheer awaits around every corner. Take a stroll through the Eaton Centre and admire what's probably the largest Christmas tree in the city along with their other incredible décor. The Eaton Centre goes all out for the holidays! Don't miss the window displays outside the Hudson's Bay Company as well.
Did you know that Toronto has a castle? If you didn't, well now you do as Casa Loma decks its halls for the season. Meander through the floors of this early 20th century landmark and admire the eight signature trees crafted by talented Canadian designers. Kids will also love it as they can visit Santa in his castle workshop (umm who else wants one of those?!) and craft until their heart is content. Also, if you can spare a toy, Casa Loma has a toy drop-off location so you can give back during this festive season.
What's probably the largest Christmas market in Canada, the Distillery District transforms into the magical Toronto Christmas Market. Explore the vendors and indulge in a number of eats and treats as you admire the 19th century architecture. Once you've wandered along all of the cobblestone streets, head to Nathan Phillips Square for the Holiday Fair in the Square. Unleash your inner child with the rides and games as you support Epilepsy Toronto. Don't forget to hop on the ice and go for a skate, too!
View this post on Instagram
Once night falls, head to Ontario Place to experience the brand new Aurora Winter Festival along with the Winter Light Exhibition. Enter this magical world and explore the enchanting light displays, amusements, and more. It's as if you've been whisked away to an enchanted land like Narnia! If you're addicted to cute photo ops and Christmas lights, a visit to Ontario Place is a must!
Throughout the holiday season, there is also an overwhelming number of one-time events and more are added each year. When do the Christmas festivities truly begin? I'd say the official kick-off would be the Santa Claus Parade. While I've never attended myself, I have fond childhood memories of being snuggled up with a hot chocolate by the fire, watching the parade on TV.
This next one is a little trickier as it takes some serious coordinating, but the Canadian Pacific Holiday Train is a fan favourite across the country. For 20 years now it has been collecting donations at each of its stops for the local food bank. It always makes an appearance in Toronto and while it's often a mid-week event, it really is something you should experience at least once in your life! I was able to catch it in Cambridge and to see so many families and friends together helping others while enjoying the concert really was incredible.
Then there's the Kensington Market Winter Solstice Parade where you can participate in a lantern-making workshop and then join the parade yourself. Looking for even more light displays? Head to Toronto's waterfront for the Spectacle of Lights! Or how about the Winter Village at Evergreen Brick Works? Seriously this is just the tip of the iceberg. Your head will be spinning at all of the possibilities!
View this post on Instagram
Restaurants in Toronto for Festive Eats
While dining at one of the incredible Christmas Markets is definitely a must, these Toronto restaurants are serving some festive sit-down meals.
If you're craving Italian, Buca opens its doors at lunch specifically for their holiday menu. With locally-sourced seasonal ingredients and house-cured meats that are sure to please, this restaurant will have you wishing it was Christmas every day.
When it's cold outside you can't go wrong with a hearty meal. The Carbon Bar has a plethora of Southern-inspired dishes that will warm you from the inside out. Whether you're looking for ribs, seafood or something a bit lighter, you'll be walking out of here with a serious food coma.
If brunch is your jam, then you'll be all over the holiday brunch at Auberge du Pommier. This three-course prix fixe features some of the chef's winter favourites. With a variety of dishes, it's the perfect way to start your Sunday.
Don't care for a special menu? One of my favourite places to eat is the Pow Wow Cafe in Kensington Market. These Indigenous-inspired meals are the perfect fuel for a day of winter wandering. Grab their Pow Wow Style Corn Soup and a cup of cedar tea – it's a foolproof combination for beating the windchill.
View this post on Instagram
Toronto Hotels For Your Christmas Getaway
With a big city comes no shortage of hotels, however there are a few that stand out from the crowd. Since we're looking to continue the yuletide vibe, it only makes sense to stay somewhere that embodies just that!
The Omni King Edward Hotel is not only decked to the nines but has an amazing holiday package where you can sip, stay and save while you're doing it! Enjoy 10% off, two special holiday cocktails and a nice 1:00pm check out. They even have a Festive Coordinator to help you book a reservation for their holiday offerings. You can see what other people have to say about but in my personal opinion, t'is the season… why not spoil yourself with some Nutcracker Tea?
Another great option is the Chelsea Hotel where you can take advantage of their Santa sale for the perfect weekend getaway. With an amazing location just a few blocks from Nathan Phillips Square and the Eatons Centre, it's prime holiday real estate. You'll also get exclusive discounts to hot attractions like the Royal Ontario Museum, bicycle tours and more! Take a look at what people are saying about the Chelsea Hotel.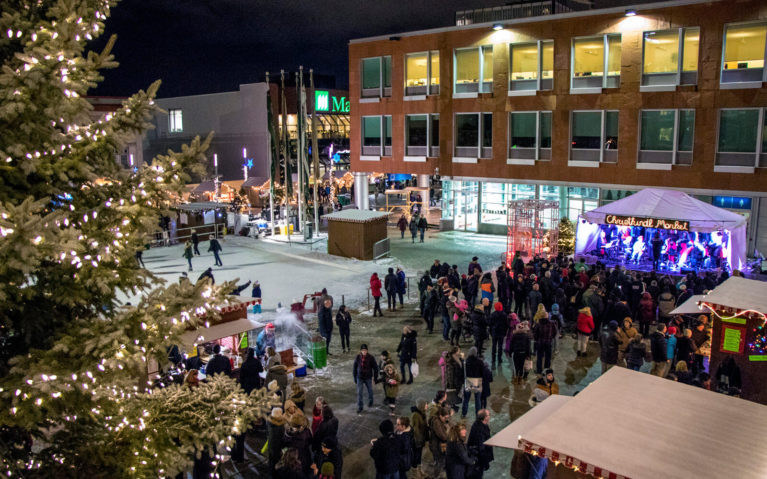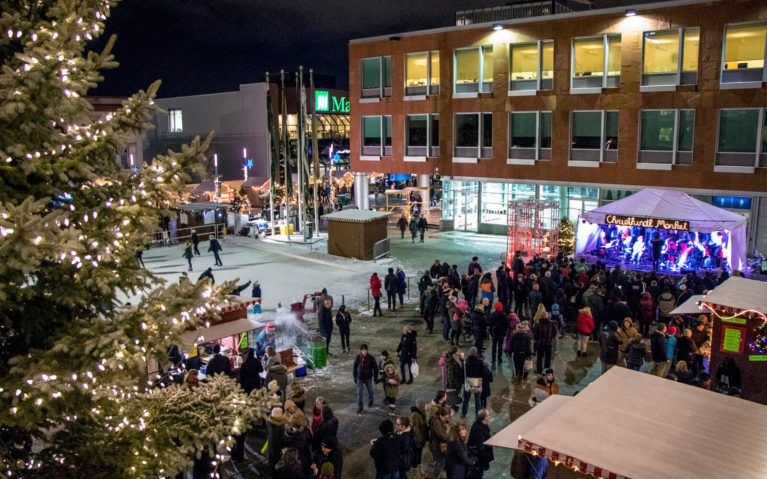 Waterloo Region
Home to Canada's very first Christkindl Market, Waterloo Region is a great holiday destination. You'll find a number of holiday-themed events and with more being added each year, a trip here will fill you with yuletide cheer!
Things to Do in Waterloo Region
As I mentioned, Kitchener's Christkindl Market really is a holiday must-do. Indulge in homemade German eats that are comparable to the Fatherland as you sip on glühwein, peruse the adorable huts and do a little shopping. The only bummer is that it's on for just one weekend. If you miss it though, the Kitchener Market embraces the Christmas vibe and is the perfect way to spend your Saturday morning all December long.
St. Jacob's is another holiday hotspot as this picturesque little town turns into a winter wonderland. Take a stroll down the main street and do a little shopping or hop on the Polar Express. Enjoy a train ride through the country while sipping hot chocolate and listening to carols and music from the motion picture's soundtrack.
For 2018, Waterloo Region added a Mistletoe Trail where couples of all shapes and sizes (yes, even your four-legged and furry loves!) can steal kisses under this iconic greenery. It sure led to some adorable photo-ops and even a proposal!
Once night falls, enjoy a stroll through Victoria Park or Waterloo Park or you can head down to Cambridge and check out their four festive light displays which are sure to please. Hopefully there will be some snow, too! Does that sound a little too chilly for you? There's always the option of Gift of Lights for a drive-through light extravaganza, however it does cost $15, $20 if you don't buy in advance. I'd personally suggest Victoria or Waterloo Park instead so you can actually take your time enjoying the lights and photo ops! If you've seen enough Christmas lights though, there are plenty of holiday shows for all ages put on at the St. Jacob's Playhouse, Centre in the Square and more.
View this post on Instagram
Waterloo Region Restaurants with Hearty Holiday Eats
There is no shortage of delicious food in Waterloo Region and many create special holiday menus. Indulge in locally-sourced goodness at the Fork and Cork Grill that'll put you into a serious food coma. Their 3-course menu is a total steal at $45/person plus they have Earl Grey crème brûlée which always wins me over.
If you're looking to splurge a little, the best location is none other than Langdon Hall. Decked to the nines, the food is just as amazing as the décor. Indulging in their 3-course lunch special at $72/person is the best way to enjoy without your wallet completely hating you. The toughest part will be choosing what items from their incredible menu.
Seriously though, you could eat yourself silly in Waterloo Region. I mean, just look at all these great restaurants in Downtown Kitchener – and that's just one small area of the region! Trust me when I say it's easy to find some awesome meals in the area.
View this post on Instagram
Where to Stay in Waterloo Region
Waterloo Region isn't the most friendly for those relying on public transit if you're looking to explore outside of the downtown core. While it is easy to entertain yourself in downtown Kitchener or Uptown Waterloo for a weekend, you'll need a car to truly take advantage of the area.
I highly suggest staying at the Walper Hotel. This boutique hotel underwent a facelift a few years back and since then it's raised the bar for hotels in the region. Built in 1893, you'll see that historic charm meld with modern aesthetics. It's truly breathtaking and with plenty of amazing coffee shops, local craft breweries, restaurants and more at your doorstep, it's the place to stay in my opinion. Don't believe me? See what other visitors have to say about it!
View this post on Instagram
Other Ideas for Christmas Getaways in Ontario
There is no shortage of holiday cheer in Ontario. Whether you're looking to chase Christmas markets or just need an excuse to get away, here are a few other destinations of none of the above really caught your interest. I haven't enjoyed any of these myself, but I'd love to do so one day!
Head to Kingston where the St Lawrence River meets Lake Ontario to find the spirit of winter. Don't miss Lumina Borealis in the historic Fort Henry where magical light projections and displays will take your breath away. Go for a stroll down the city's waterfront or pop some skates on in Market Square.
For a true dose of holiday cheer, Canada's capital is a foolproof choice. Ottawa has so much to offer in the winter months, including but not limited to a skate down the Rideau Canal, brilliant light displays on Parliament Hill and great eats in the Byward Market.
View this post on Instagram
Which of These Ontario Christmas Getaways is Your Favourite?
So these may be themed around Christmas time, but that doesn't mean you can't visit once the holiday has come and gone! Each of these destinations would still make an amazing winter getaway and have so much to offer in the colder months. Whether you make this a winter adventure or a holiday excursion, these places to visit in Ontario during Christmas surely won't disappoint!
Disclaimer
This post contains affiliate links where if you book through them, I could receive a kickback at no extra charge to you! Read more in IBB's disclaimer and privacy policy.
Looking to plan your own Christmas Getaway in Ontario? Pin it for later!