Kitchener-Waterloo Breweries That Are Seriously Pitcher Perfect

Even though the area is known for having the largest Oktoberfest celebration outside of Germany, KW's craft beer scene is on point all year round. I swear new breweries popping up every time I turn around! The best part is that they're all incredible, creating unique brews that stand out amongst the crowd. Not to be taken lightly, these Kitchener-Waterloo breweries are sure to satisfy a number of beer palettes. Also, you know it's going to be a good post when there's a beer pun right in the title.
MANDATORY PSA: While beer is delicious and checking out breweries is always a fun pass time, be sure to always enjoy responsibly. Have a designated driver, take a cab or utilize Waterloo Region's Over the Limit service.
Warning: some of these photos need updating and/or were taken on an evening of indulging (in the name of research, of course). As such, they may not be professional grade (or they might be borrowed from the respective business' social media pages) because I was focused on enjoying the breweries. #SorryNotSorry
Kitchener Breweries
Listed in alphabetical order, each of these breweries in Kitchener brings something unique to the table. While I'm sure you'll have a few favourites, be sure to give all of these breweries a chance!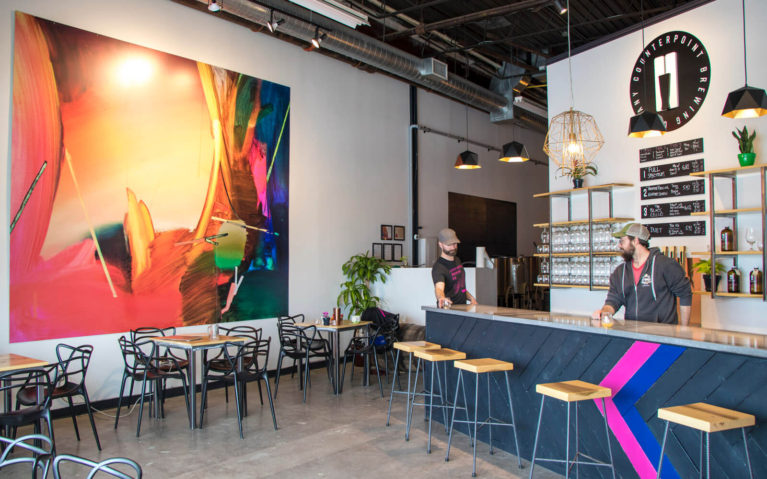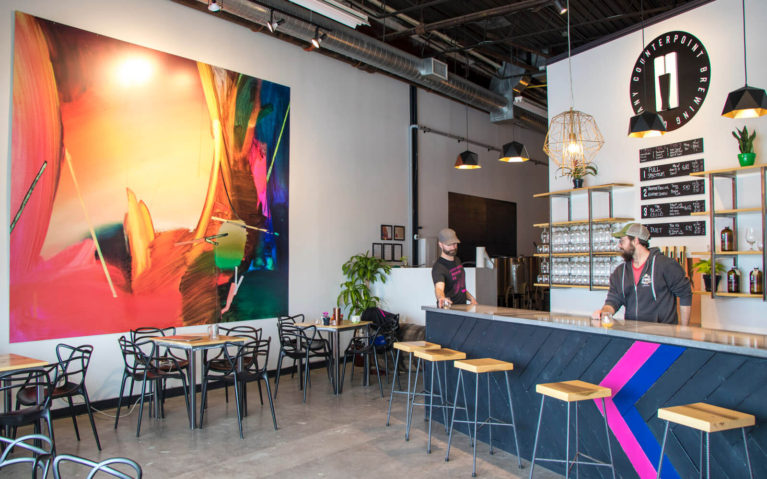 Counterpoint Brewing Company
Location: 935 Frederick Street – #4, Kitchener
The newest Kitchener brewery to hit the scene! I had the pleasure of meeting creators Graeme and Rich to hear more about how Counterpoint came to be. The duo met in 2012 while playing squash, uniting over their love of beer as Richard would bring in his homebrews to enjoy after games. Rich taught Graeme how to homebrew while being bugged by friends to open his own brewery. When the opportunity presented itself, the pair jumped in with both feet! Now stands Counterpoint Brewing, referencing the musical term, where two voices or melodies that are harmonically interdependent yet independent in rhythm and pitch. It's just like how Rich and Graeme came together, two different backgrounds but working in harmony to create something unique – their brews! They aim to be the 'foodies' of the brewery scene in Waterloo Region. What does that mean? You won't find a flagship beer here. You might not even see the same beer! Counterpoint's beer repertoire will always be changing as Rich and Graeme experiment with new combinations to create unique beer you just can't get anywhere else.
LINDSAY RECOMMENDS: I can't pick just one. Their Another Riesling, Another Season is light, crisp and so smooth. Even in the dead of winter, it has you dreaming of the summer months on the patio. However the heartier Black Cello beer is a stout that's not to be messed with. Even if you're not a fan of dark beer, give this one a try – especially if you like coffee and chocolate. I won't drink anything darker than an amber but this is seriously delicious.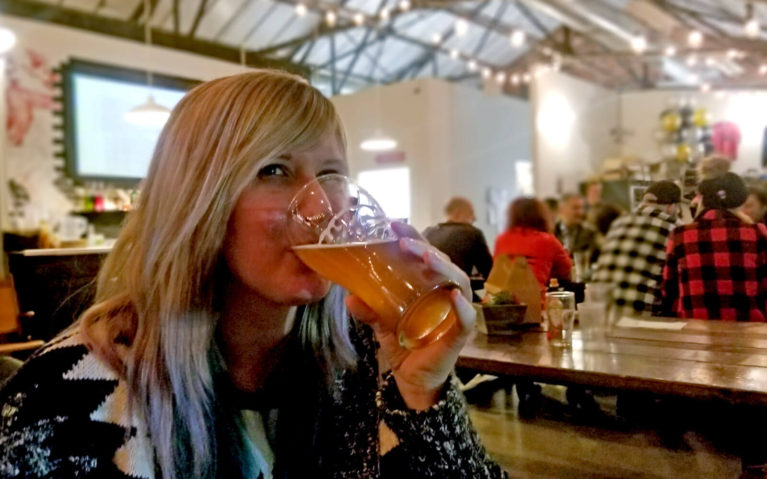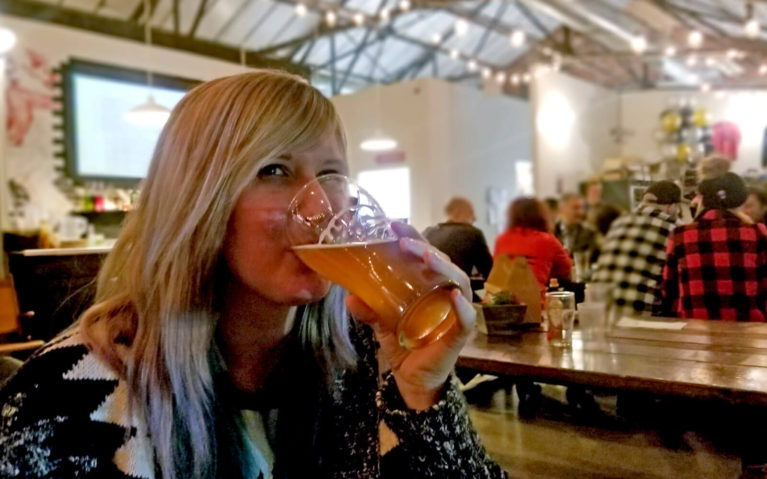 Descendants Beer & Beverage Co
Location: 319 Victoria Street North, Kitchener
Well known for its trivia nights and live music, it's not too often the party isn't hopping at Descendants! Despite living a hop, skip and jump away a few years ago, it wasn't until I moved to downtown Kitchener that I visited Descendants. What I'm trying to say is, don't put off visiting because their beer is delicious. They have about 16 beers on tap, including guest taps from local breweries as well as a few ciders! Do you want to learn more about the brewery and get a sneak peek at where the magic happens? Descendants will happy give you a tour! They're offered Saturdays between 12:00pm and 4:00pm, they just ask that you book it in advance.
Over in the Bierhalle, you can find a number of great eats to enjoy with your brews. From paninis to tacos to charcuterie boards, chances are you'll find something to satisfy your appetite. Vegan options are available.
LINDSAY RECOMMENDS: Their witbier Freyja is a great one. Similar to a hefeweizen with a hint of banana and cloves.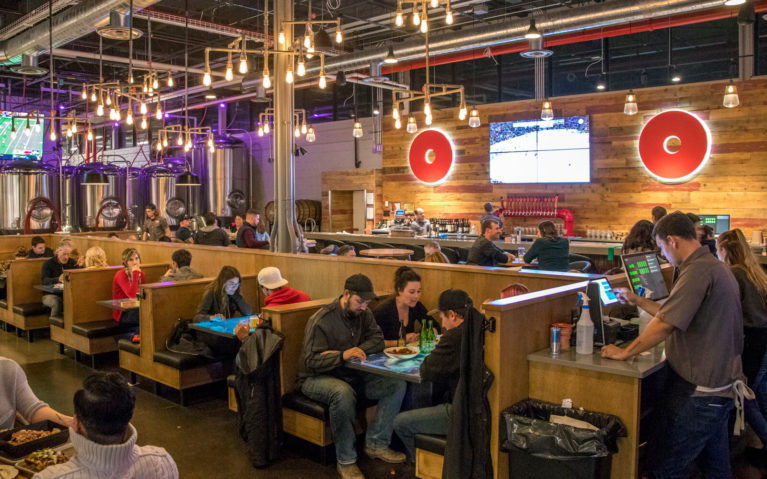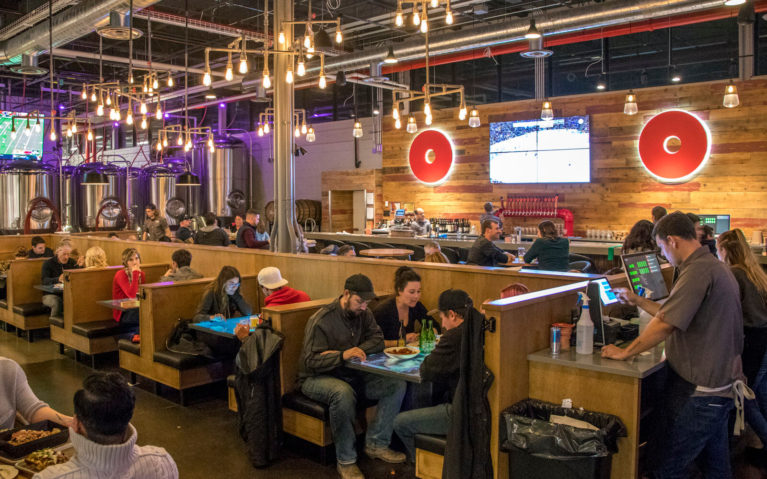 Red Circle Brewing Co
Location: 137 Glasgow Street – Suite 385, Kitchener
What I thought was just a Kitchener coffee shop actually has a beer counterpart! Also known as the Graffiti Market, this brewery is seriously cool. Why? Because it's not just a brewery. It's actually North America's first-of-its-kind restaurant, retail market, microbrewery, coffee roaster and bakery. The whole vibe is incredible with artwork adorning the walls from local artists, high-end food and new age smart tables. Play games with your seatmates over beers or while waiting for your meals to arrive! Seriously though this is one cool place. It really is a unique experience I haven't found anywhere else!
LINDSAY RECOMMENDS: I absolutely adore their Belmont Village Blonde ale as a radler. Not many places offer radlers, so if you're a fan of something a bit sweet but also refreshing I say grab this! If you're planning to have a few, then dive into their one-offs and collaborations because they're all pretty fantastic.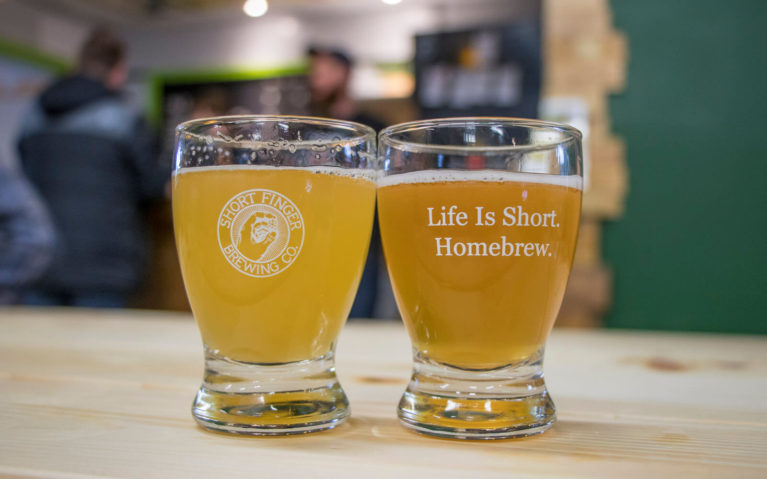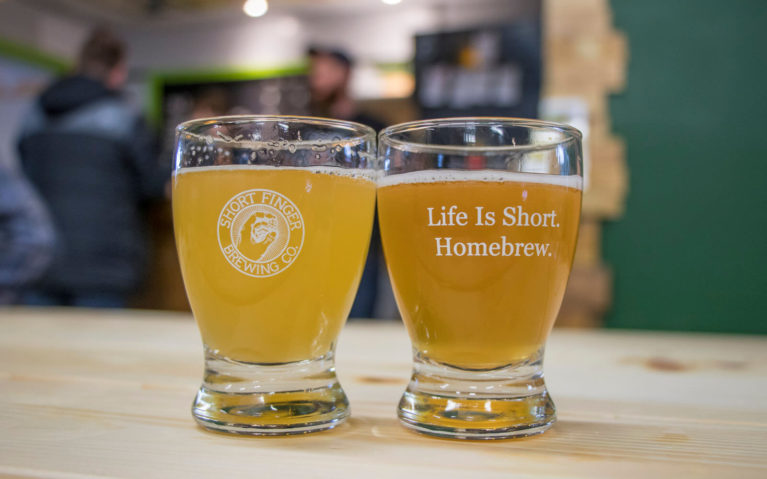 Short Finger Brewing Co
Location: 20 Hurst Avenue, Kitchener
What started as a homebrew supply store has flourished into its own craft brewery. Open Fridays and Saturdays, you'll find owners Rob and Kat pouring pints with a passion. Their brand new tap room just opened recently and it was met by a crowd of support! While I unfortunately couldn't make it, I was able to get cozy on one of their picnic benches that overlook the homebrew shop the day after. Short Finger has four of their taps to choose from and is planning to expand in the future! Until then, go by and show them some love. They make some seriously good beer. Oh, and if you're an avid homebrewer, you can always test your luck in their homebrew competition!
LINDSAY RECOMMENDS: I'm not a fan of IPAs let alone a double IPA but Short Finger's Pulp S is incredible. If you're a fan of sours, it's almost like a mix between the two. Not as tart as a sour and not as bitter as an IPA but so smooth and delicious!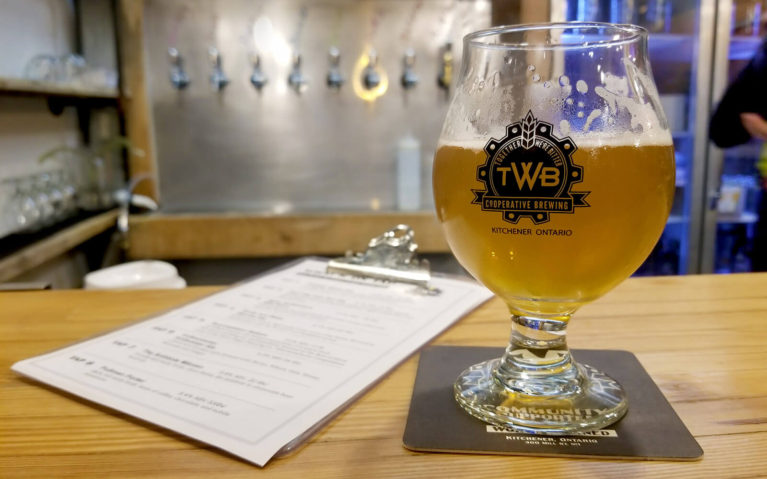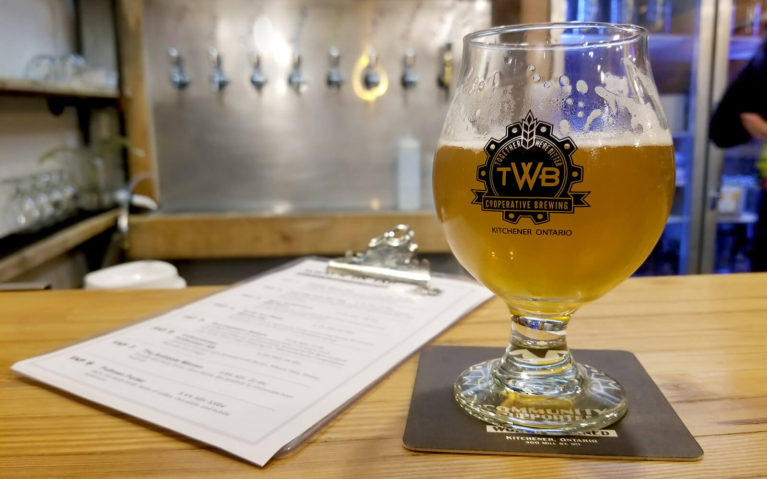 TWB Brewing
Location: 300 Mill Street – Unit 1, Kitchener
Together We're Bitter Brewing Co-operative (affectionately known as TWB Brewing to save us all from stumbling over the name) is a little different than the other breweries in Kitchener. As a co-operative, employees and community supporters have a stake in the business and therefore a say in what happens. It creates a warm, welcoming atmosphere where you'll always feel welcome. If you've got a crew with you, book a tour and get a sneak peek at where the magic happens. With beer names like Milky McMilkFace… you know you're gonna have a good time. I highly suggest visiting on either a Friday or Saturday when Dan and Lisa are working. These two really made my stay memorable! If you do, say hello from me and be sure to judge Dan for not knowing who Lil' Bub is.
LINDSAY RECOMMENDS: I'm a huge fan of their Syncopation Saison. Fun fact: it won Best of Show in the Short Finger TBN Homebrewing Competition!
Waterloo Brewing
Location: 400 Bingemans Centre Drive, Kitchener
Why yes, Waterloo Brewing is in Kitchener as they originally began as Brick Brewing in Kitchener's northern counterpart. Try not to be confused as their beer is great. While it's a little off the beaten path, it's definitely worth visiting as Ontario's first modern craft brewery! While they use centuries-old methods to brew their beer, it allows them to stay ahead of the game. Their brewery uses 32% less electricity, 48% less water, creates 52% less thermal energy and minimizes wastewater by 80% thanks to their state of the art brewhouse. If that's not a reason to pour the boar, then I don't know what is! While they used to only be a retail store, they just recently opened a taproom which includes a restaurant so you can have some great eats while enjoying a pint or two. Can't make the trip in? They offer delivery, too!
LINDSAY RECOMMENDS: I'm a huge fan of their citrus radler. Super crisp, fruity and easy to drink. Actually, all of their radlers are amazing. They have a raspberry radler as well as a pineapple radler which you need to try if you haven't already.
Waterloo Breweries
Encompassing the northern half of KW, many of Waterloo Region's beer greats started in Waterloo. While they're scattered all over the city, be sure to enjoy responsibly upon visiting.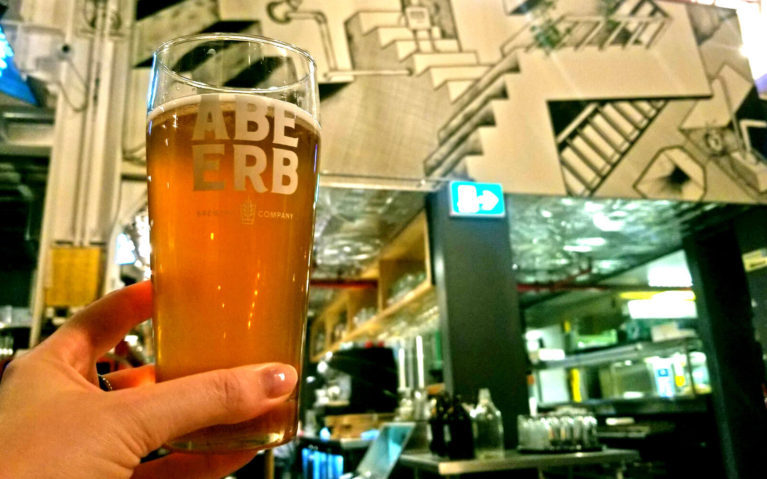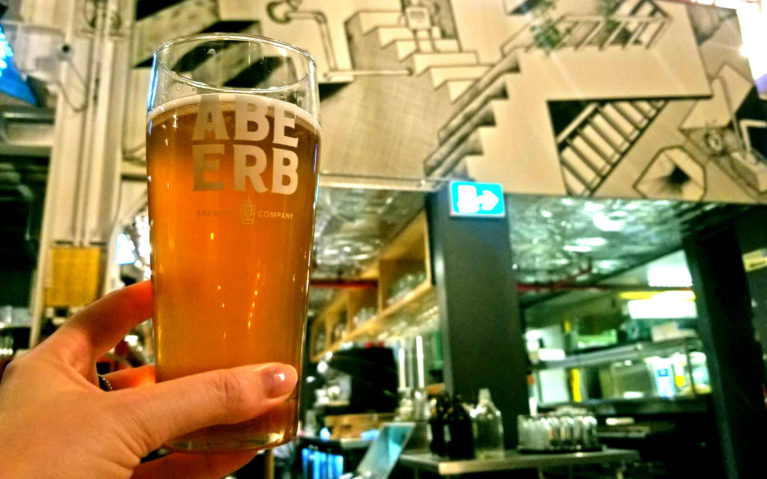 Abe Erb
Locations: 15 King Street South, Waterloo | 151 Charles Street West, Kitchener (Tannery Building Complex)
Despite being one of the first on the craft beer scene here in Waterloo Region, Abe Erb is always keeping their brews fresh. With their original location in Waterloo, the name is a nod to Abraham Erb, credited as the founder of the city. In 2017, they opened their second brewpub in the Communitech complex and their latest edition has found them in Ayr, Ontario. Abe Erb is constantly bringing out seasonal concoctions that are guaranteed to tickle your taste buds. Be sure to follow them on Facebook and if you hear a beer that tickles your fancy, get it immediately. 9 times out of 10 these special creations don't last long! I'm still sad I missed out on their Earl Grey brew.
Also yes I know there are two locations and one is in Kitchener, but their original location is in Waterloo so it's staying here.
LINDSAY RECOMMENDS: Hands down that would have to be the Das Spritzhaus as it's easy to drink and always refreshing.
View this post on Instagram
Block Three Brewing
Location: 1430-2 King St N, St. Jacobs
Okay so yes this technically isn't in Waterloo, but St. Jacobs is pretty much Waterloo adjacent so I'm including it. Focused on small-batch brews, Block Three has three core beers while the rest of their taps rotate. Chances are there will be something new for you to try each time you visit! Though you will find some similarities as they focus on their strengths – Belgian-style, barrel-aged and sour beers.
I have to admit – I have never actually been to Block Three. Blasphemy, I know, but I often prefer to visit breweries that are within walking distance so I can stumble responsibly home. Despite this, I have had their beer a number of times at various events and friends' houses. Though when I do make it, I'll be sure to enjoy a game of crokinole with my pint!
LINDSAY RECOMMENDS: You can't go wrong with Block Three's King St Saison with notes of floral, citrus and bubblegum.
Innocente Brewing Company
Location: 283 Northfield Drive – Unit 8, Waterloo
There's a reason it was voted Waterloo Region's favourite craft brewery in 2016! Opening in 2014, the Innocente brothers took the city by storm. When you hear that Steve Innocente has a PhD in Molecular Biology AND a Post Doctoral Fellowship in studying yeast… it makes sense that Innocente would have some seriously good beer. They're also incredibly involved in the community so if the name sounds familiar, chances are you've seen them at an event or two! Best known for their flagship beer, Innocente Bystander, their repertoire has since expanded to include red ales, sours and more. Innocente Brewing Company is open all week so you can enjoy a taste on any day that ends in y! Also I apologize, it's been so long that I don't have a decent photo I need to fix that!
LINDSAY RECOMMENDS: I have to go with the classic and say give their Innocente Bystander a try!
These KW Breweries Don't Mess Around
I'm not kidding – we've got some seriously amazing beer here. However, if you're like me then sometimes decisions are hard. It can be tough to decide where to grab a pint when we have so many great choices! Luckily there are some cozy spots like Arabella Beer Bar in Belmont Village where you can succumb to your indecisiveness. With 20 taps that rotate constantly, there's bound to be something for everyone. Plus there are always a few local Kitchener-Waterloo breweries so you don't have to choose just one!
If you are looking to do a little bit of brewery-hopping, check out this map of all the breweries in Kitchener-Waterloo.
While Kitchener does have great beer, there's more to do in the city! Don't miss out on all the amazing restaurants in downtown Kitchener. If you're looking for a dose of nature, check out these great trails around town. Or if you're looking for a dose of caffeine to perk you up before touring these breweries, don't miss these awesome coffee shops in Kitchener! Get planning an Ontario road trip and come spend some quality time in Waterloo Region.
Want to tour these Kitchener-Waterloo breweries? Pin it for later!