Coffee Shops in Kitchener That'll Perk You Right Up

Coffee, what truly makes the world go round. Okay I might be exaggerating a little, but a good cup of coffee can really turn things around. Having a bad day? Grab a nice warm latte. Need an energy boost? A shot of espresso will do the trick! Want to hide from crappy weather or try and get some work done? Surely a cappuccino sounds nice right about now or maybe even a tea latte! While I normally opt for the latter, I've definitely had my fair share of cups around the city. And sometimes, we just need an extra little treat to get us through the day. If you're looking for a place to grab a pick me up, check out these coffee shops in Kitchener, Ontario!
SOMETHING TO NOTE: Many of the cafes in Kitchener offer dairy-free and vegan-friendly milk alternatives. Just look for the ⓥ and that means I've confirmed there's at least one available!
Coffee Shops in Kitchener's Downtown Core
One thing I have to say about Kitchener is that there's no lack of coffee supply! In downtown Kitchener, you'll find a number of great cafes within a few blocks of each other. While it can be tough to decide which to go to, I say just follow your heart. Plus variety is the spice of life – who says you have to go to the same place all the time?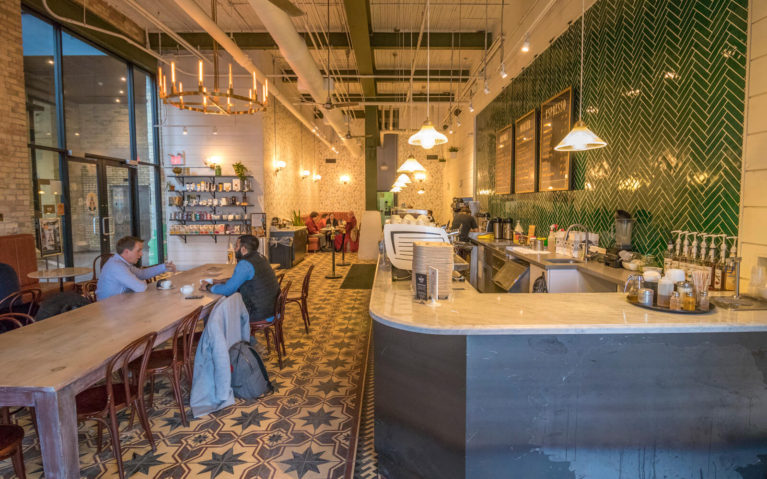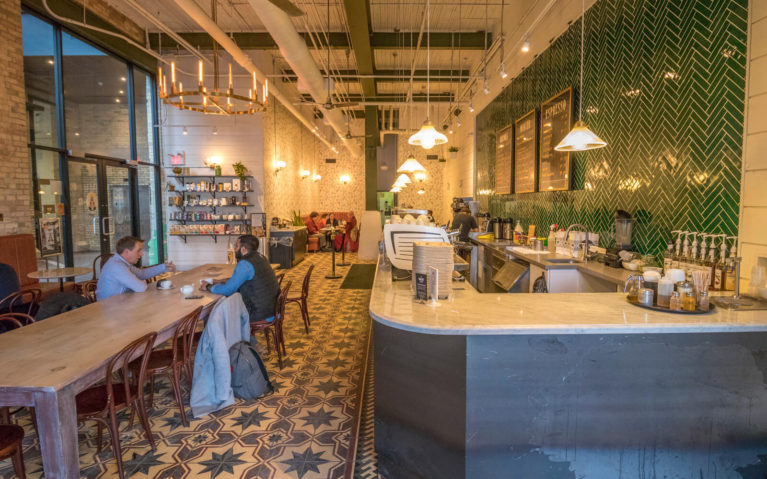 Balzac's ⓥ
Location: 151 Charles Street West
Hours: Mon-Fri 7:00am-7:00pm, Sat 8:00am-6:00pm, Sun 9:00am-6:00pm
Now normally I wouldn't include a chain in a round-up like this because I'm always looking to support local establishments. Balzac's gets a pass because it's an Ontario-based business. That's right, the original Balzac's is in Stratford, just a short 45 minute drive from Kitchener! President and founder Diana Olsen inspired to create a space "built for the diverse people and communities they serve", each location has a unique personality that reflects its location. Kitchener's sits in the Communitech building where great minds come together to innovate. It's not uncommon to see people surrounding the large table in the heart of the cafe working together on new ideas or catching up over a latte.
Balzac's always has new seasonal drinks which is one of the reasons I visit again and again. In the winter months, I can't resist their white chocolate macadamia latte though I'm always excited to see what concoctions the new season brings!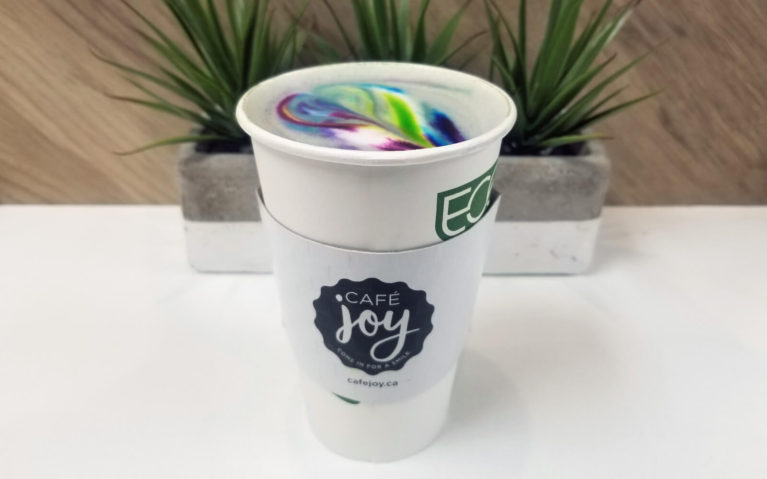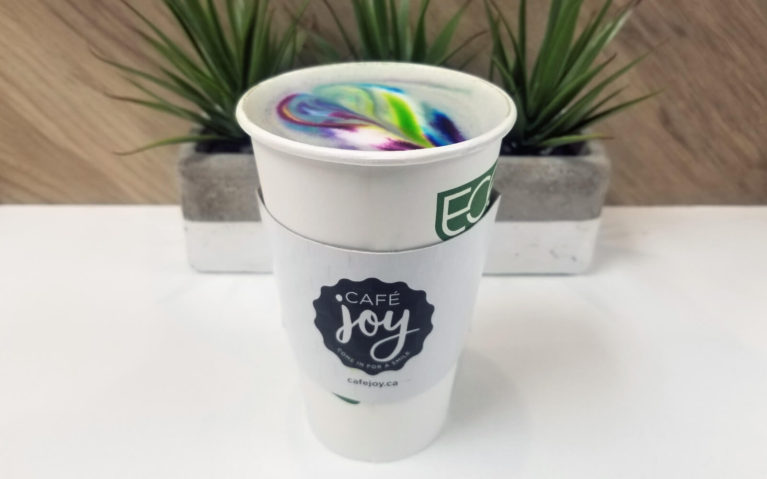 Café Joy ⓥ
Location: 235 King Street East, Unit 170
Hours: Mon-Fri 8:00am-4:00pm
One of the newest coffee shops to hit downtown Kitchener, Café Joy prides themselves on serving coffee and a smile. If you've walked down King Street, chances are you've probably walked right by it, especially if you frequent the New City Supermarket. Head across the street and into the Region of Waterloo building to enjoy a little extra cheer!
Seriously though I'm in love with this cafe. Not only is it adorable but all of their items are extremely affordable. Grab a sandwich for $5 or less or a tasty London Fog for $4. Also for those of you who hate seeing the tax added to your bill, all the prices have it included! While there isn't much seating, you can enjoy their items to go. And if you're a colour fanatic like me, be sure to ask for some extra colour in your latte! The only bummer is they're not open on weekends so you'll have to save this for a weekday visit!
Cafe Pyrus ⓥ
Location: 16 Charles Street West
Hours: Mon-Fri 8:00am-8:00pm, Sat 9:00am-6:00pm, Sun 10:00am-5:00pm
This vegan cafe is a favourite of many and it's not uncommon to see it busy. Despite this, it's not usually hard to find somewhere to sit as there's plenty of seating available. Hunker down and get some work done at a table or snuggle up with a book on one of the couches. If you're feeling peckish, grab something to eat here. Not only is their food ethical but it's delicious so your tummy AND mind will thank you. My favourite is their Rueben Soho but if they have their Berliner special get it. I swear you'll regret it. I still dream about this sandwich.
I just love Cafe Pyrus so much – this is my go-to haunt to hunker down and get some work done. Also, their fruit bomb lattes are just to die for. It'll legit warm you up from the inside out. As a testament to how much I love being at Cafe Pyrus, I seriously don't have a single decent photo of the place because I'm too busy stuffing my face- err, I mean, getting work done!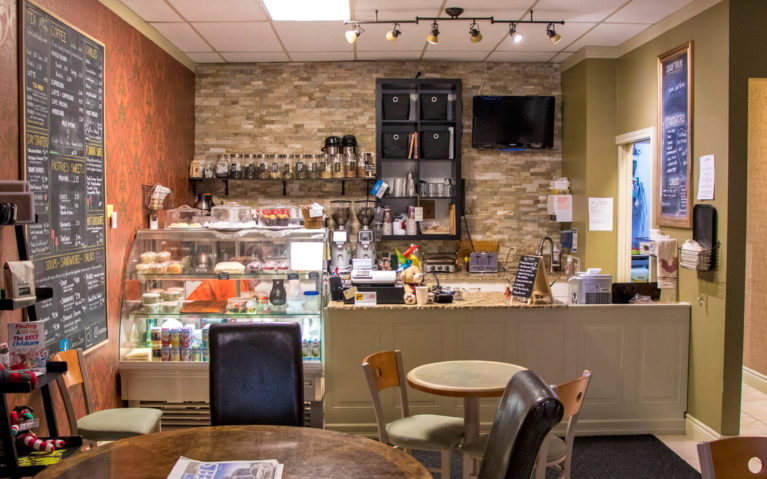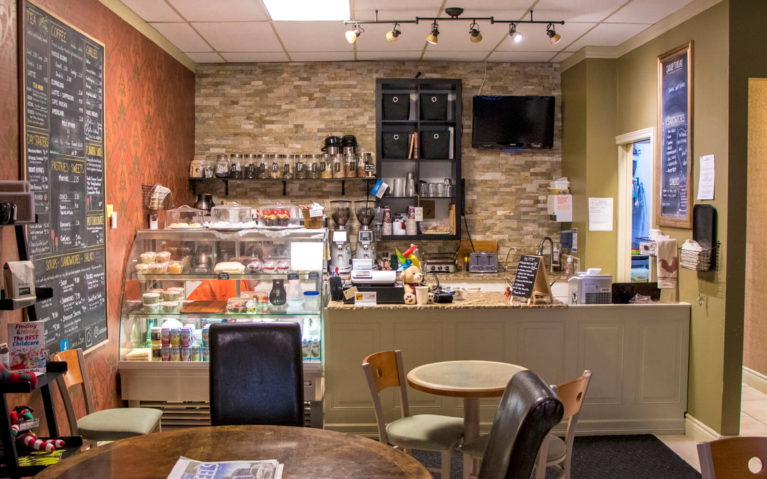 Elevenses on Scott
Location: 15 Scott Street, Unit #3
Hours: Mon-Fri 7:00am-5:00pm, Sat 8:00am-3:00pm, Closed Sundays
So this one is a little tricky to find (by that I mean I definitely walked past it so it must be hard to find, right?) but it sure is one cozy cafe! They strive for hygge, the Danish term (pronounced hue-guh) that is described as creating warm vibes and enjoying life surrounded by good people. Whether you just pop in and grab a drink to go or snuggle up at one of their tables by the fireplace, you'll be greeted with comfort.
I'm always a fan of trying unique drinks and their cable knit latte, made with Earl Grey tea and vanilla ginger, caught my eye. If you're a London Fog fan, get this. It'll seriously blow you away and is the perfect drink on a cold, winter day. I think I'm addicted now and I'm not even sorry.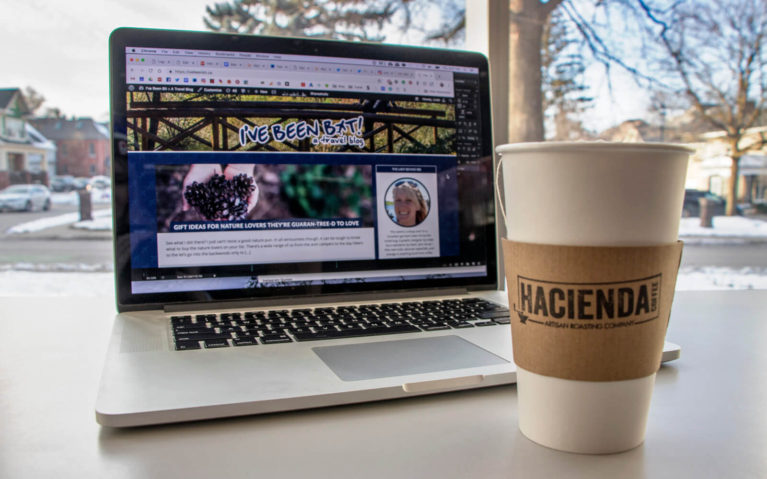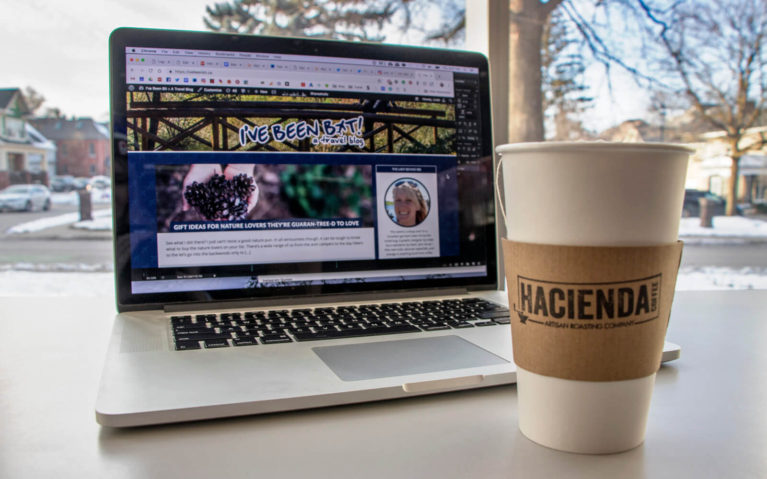 Hacienda Coffee ⓥ
Location: 85 Queen Street North
Hours: Mon-Thurs 9:00am-8:30pm, Fri & Sat 9:00am-5:00pm, Sun 1:00pm-5:00pm
If you're looking for a place with plenty of natural light along with comfy chairs, Hacienda Coffee has it all. Enjoy the floor to ceiling windows as you sip your caffeine inside the Kitchener Public Library. It's not just a great workspace but also an amazing spot to brush up on some reading. Hacienda Coffee is a great choice as they work with local bakeries and suppliers to ensure they have high quality ingredients that support the local community.
While you don't have to purchase something as it's free to enter the library, I highly recommend their London Fog. It's the perfect drink to help kickstart the creative juices! Their coffees are incredible too and they always have at least three roasts available.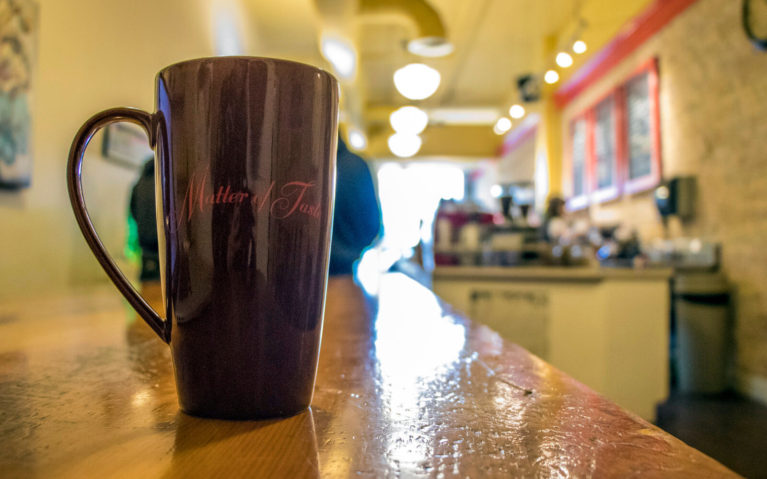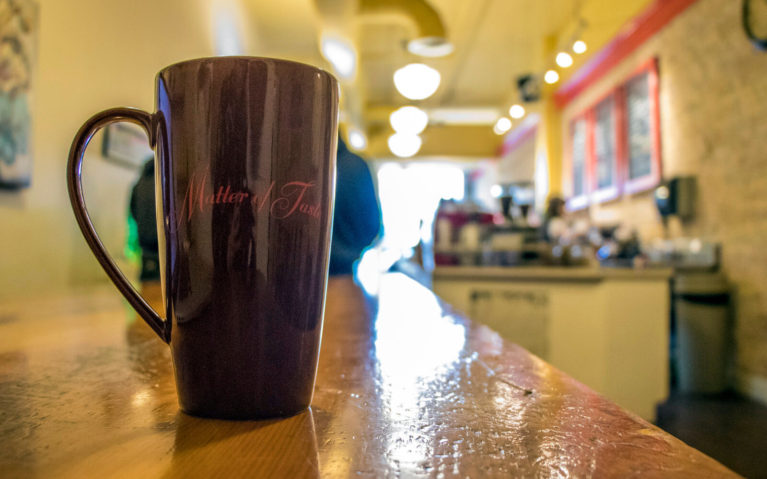 Matter of Taste ⓥ
Location: 115 King Street West
Hours: Mon-Fri 7:30am-9:00pm, Sat 8:30am-9:00pm, Sun 10:00am-5:00pm
Many of the coffee shops in downtown Kitchener close between 3:00pm and 5:00pm but Matter of Taste is open until 9:00pm to serve your coffee needs! An adorable little spot with beautiful exposed brick and a number of baked goods, it's a great spot for a coffee date or to get some work done. Seating is limited however so I'd avoid peak hours like lunch time. There's a cute little patio out front in the summer months, too!
With a wide range of options from drip coffee to cappuccinos to their house specials, they sure make a great cup of caffeine. If you're looking for something other than coffee, their chai moon is a definite hit. It's perfect for those bitterly cold winter days. Also, their iced matcha latte is one of the best I've ever had. It's the perfect drink to enjoy on the aforementioned cute little patio!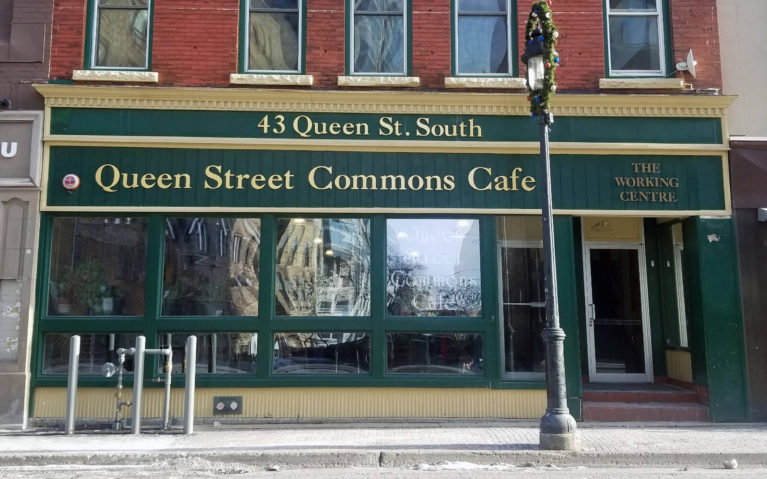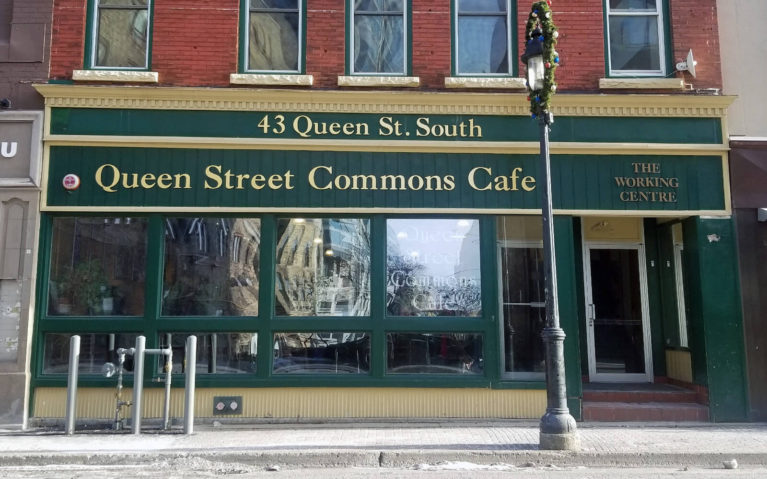 Queen Street Commons Cafe
Location: 43 Queen Street South
Hours: Mon-Fri 8:30am-9:00pm, Sat 10:00am-4:00pm, Closed Sundays
Queen Street Commons isn't your typical coffee shop. Run by volunteers from the Working Centre, it promotes the building of mutual respect and inclusion. They have a number of affordable eats and drinks so it can be a place for everyone – you don't even need to make a purchase to be there! While you may not find a super fancy non-fat latte with extra whip or any of that jazz, Queen Street Commons is proud that they put everyone on equal footing. Also, anything of the handmade items you purchase in the store goes right to the artisan who made it. They are often newcomers to KW so you're helping them get on their feet.
The Working Centre has another coffee shop on King Street called Fresh Ground which offers vegan eats and treats. It's open Monday to Saturday 8:30am-4:00pm and closed on Sundays just like Queen Street Commons.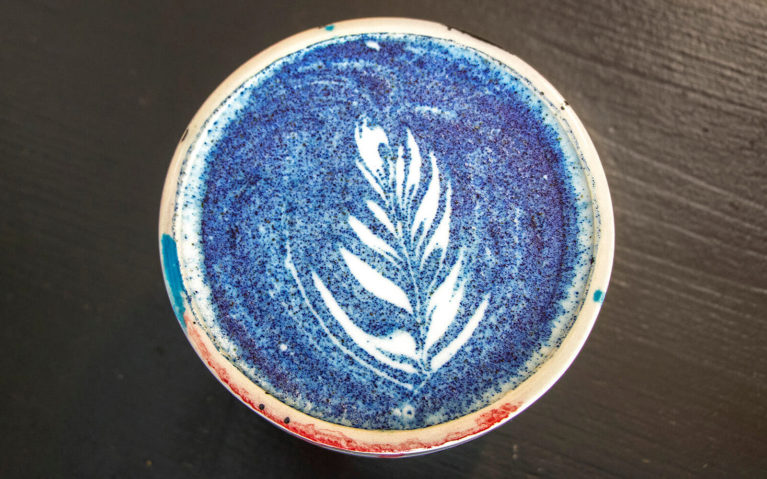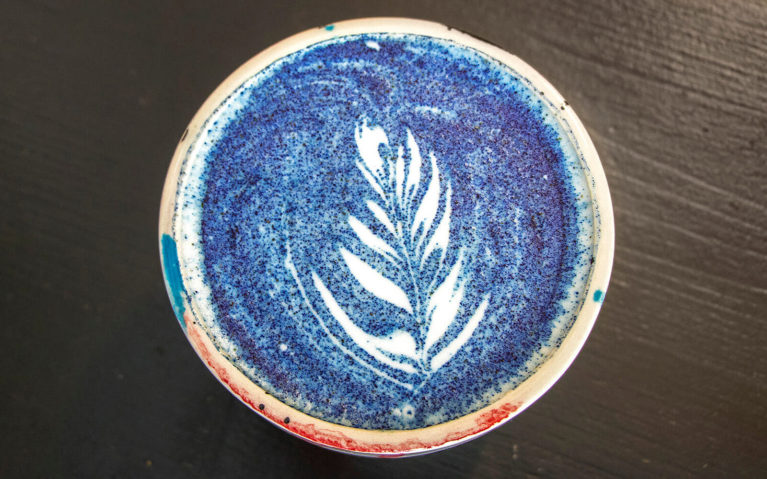 Show and Tell Coffee ⓥ
Location: 30 Ontario Street North
Hours: Mon-Sat 8:00am-8:00pm, Sun 9:00am-5:00pm
Whether you grab a seat by the window or stretch out on one of their longer tables, you'll be cozy at Show and Tell Coffee. What I love about this coffee shop is that many of the items they use in their drinks are either made in-house or are locally sourced and wholesome. They're also vegan-friendly offering alternative kinds of milk and vegan treats.
Warm up with a lavender jaguar. Intrigued? I sure was. This drink features their house-made lavender syrup as it melds with their blue dokan chan tea (sourced straight from Japan in powder form!) to create this creamy concoction. It's not only delicious but beautiful too! If you're looking for a caffeine boost, unfortunately you're SOL with this drink but they have plenty of other options if you need a fix.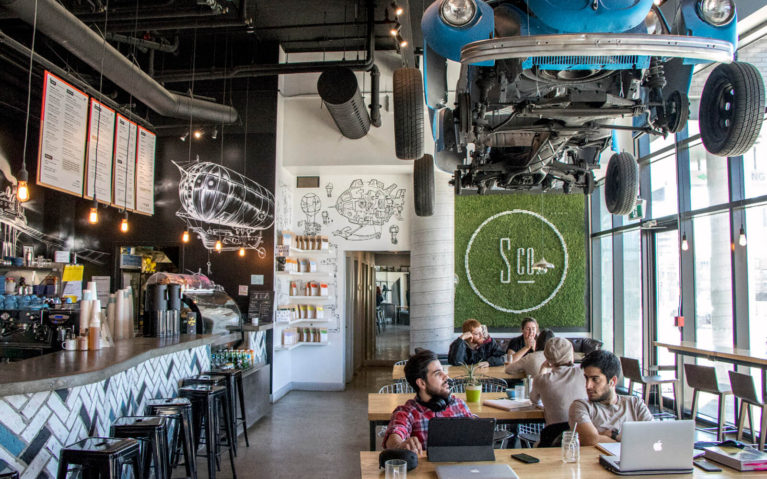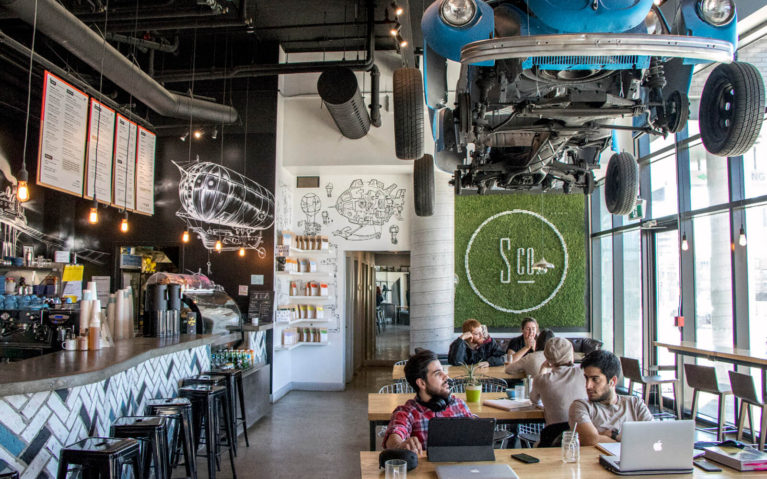 Settlement Co Kitchener
Location: 1 Victoria Street South
Hours: Mon-Thurs 7:00am-9:00pm, Fri 7:00am-8:00pm, Sat & Sun 8:00am-8:00pm
What started in Uptown Waterloo has migrated into Kitchener. One thing that makes Settlement Co unique (besides their incredible coffee) is that every drink has one size. You won't find grande or venti here! This is to ensure your drink tastes exactly as it should with everything in proportion to each other. It guarantees your coffee will taste delicious but if you're looking for something big to stretch over time? This isn't the place for you. Though they have smoothies and other delicious eats and treats which might be more your style! If you're looking for something a little different, I'd give their cortado a try.
Also, can we just take a minute to admire the décor? It's seriously incredible and total Instagram gold… if that's what you're into. Ahem. Moving on.
Smile Tiger Coffee Roasters
Location: 100 Ahrens Street West
Hours: Mon-Fri 6:30am-10:00pm, Sat 8:00am-10:00pm, Sun 9:00am-7:00pm
Okay so this may be a little outside what you'd consider the downtown core, but it's close enough I'm including it here. Plus if you've ever taken the GO Train or VIA Rail at an ungodly hour, Smile Tiger has been your saviour.
Whether you're a commuter who needs a crutch for those crack of dawn mornings or just looking for a beautiful space to get some work done, Smile Tiger is the place to go. I had the pleasure of getting a sneak peek right before they opened back in 2016. It was my coffee shop of choice when I lived in the area and it's still a personal favourite. I don't think I've had cold brew coffee as good as theirs anywhere else.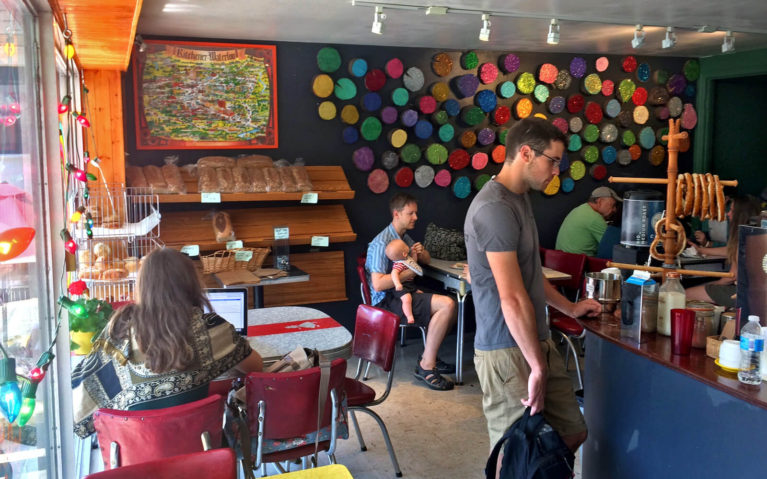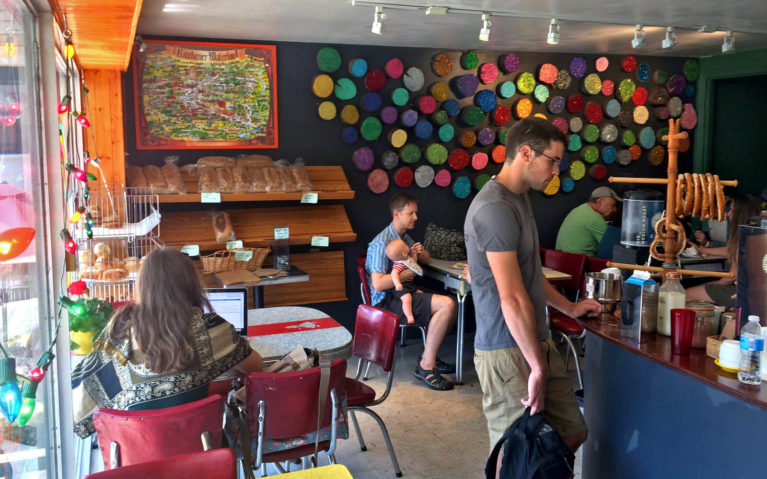 The Yeti Cafe ⓥ
Location: 14 Eby Street North
Hours: Mon-Fri 9:00am-3:00pm, Sat 7:00am-3:00pm, Sun 10:00am-3:00pm
If you're heading to the Kitchener Farmer's Market, then The Yeti Cafe is a must-stop for your java fix. This eclectic hipster-esque hangout is almost always busy and for good reason. They make a mean brunch, hence why it's pretty much busy until at least 1:00pm. You really can't go wrong with anything on the menu, though their Buddha Bundle is absolutely delicious.
If you're going to go anywhere on a dreary day, I'd say head to the Yeti. Their peppermint tea latte paired with their brightly coloured decor is the perfect way to combat the doom and gloom. Also, can I mention how much I love how they keep their Christmas lights up all year round? It's the best.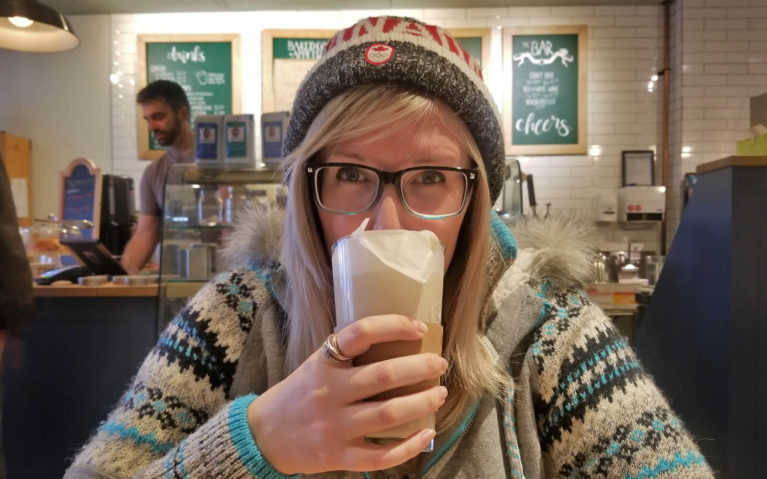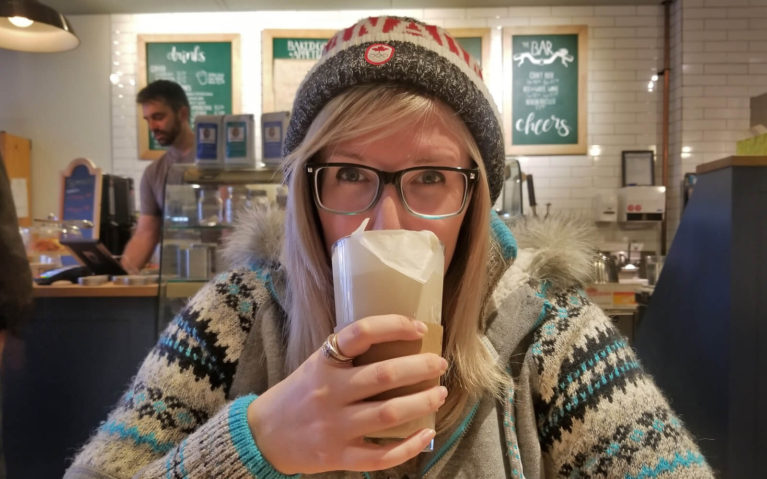 More Amazing Kitchener Coffee Shops
I know I'm spoiled by living close to Victoria Park with its close proximity to great trails and, of course, all of the above coffee shops. Clearly, not everyone has this luxury, nor even wants to live in the downtown core. Plus if you're driving in, parking can be a total headache in downtown Kitchener. Luckily, these coffee shops in Kitchener are just what you're looking for!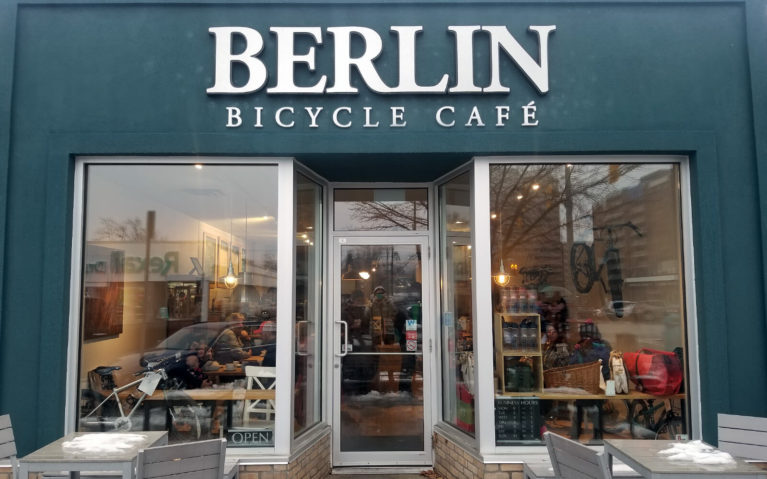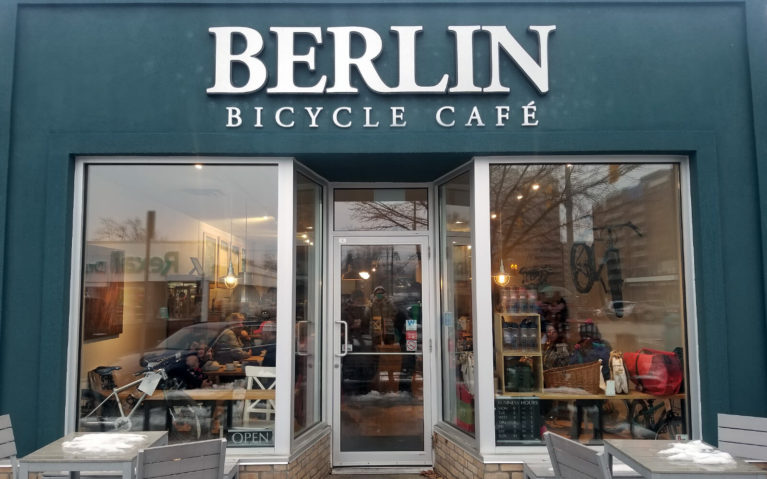 Berlin Bicycle Cafe
Location: 701 Belmont Avenue West
Hours: Mon 8:00am-4:00pm, Tues-Fri 8:00am-5:00pm, Sat 9:00am-4:00pm, Sun 10:00am-4:00pm
In the heart of the ever adorable Belmont Village lies the Berlin Bicycle Cafe. A hub of the community, it's a common meeting spot for both coffee and cycling enthusiasts. Emphasis on the enthusiast part – even their baked goods are delivered by bike daily! On the main floor is the cafe while you'll find the shop downstairs where you can get help with your bike, talk to other cyclists and admire the number of items for sale in the store.
If you're looking for a unique drink, give their Dirty Willow a try. The double shot of espresso paired with white willow bark tea is the perfect drink to get you out of a funk. Right now the cafe is actually up for sale, so the future is a little uncertain but they plan to keep serving drinks until it's officially sold!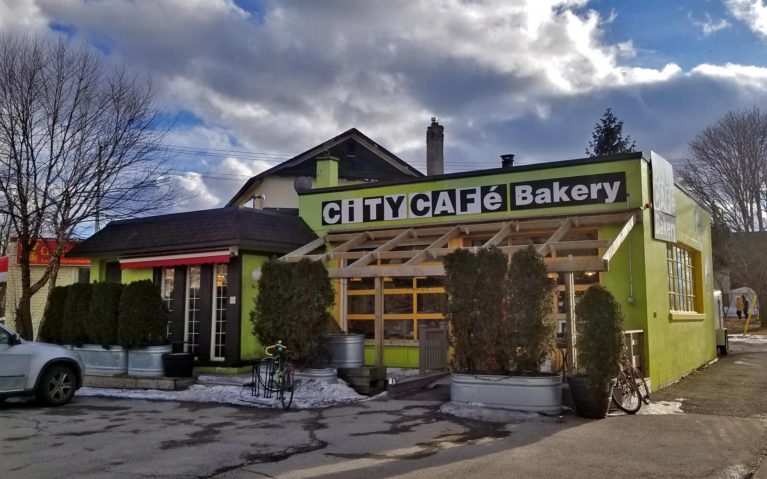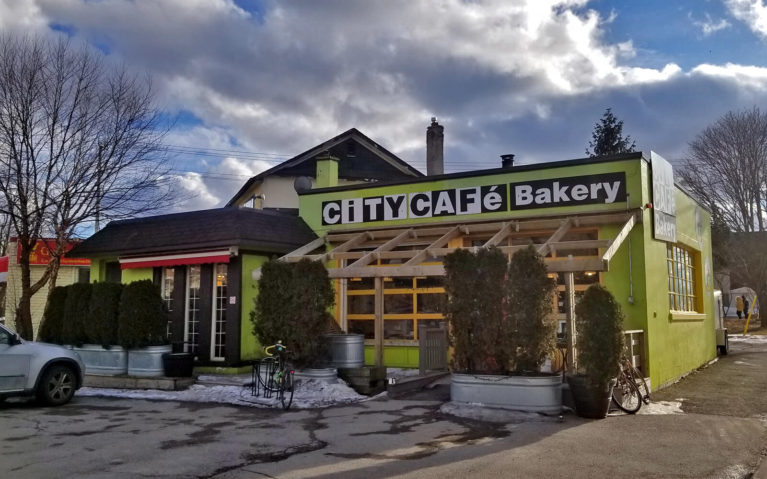 City Cafe Bakery
Location: 175 West Avenue
Hours: 6:30am-6:00pm Daily
If you're looking for a solid cup of coffee and a bite to eat, Cite Cafe is a local chain that's a favourite of many Kitchenerites. You can never go wrong with a visit here. Though most don't come here for the coffee but rather to grab a Montréal-style bagel… but with a local twist. These are seriously the best bagels you'll find in the region. What makes them so special? They're made with rye flour instead of eggs to make them extra delicious. With a few locations around town, the location listed above is their original one though the others have similar hours. This location on the corner of Victoria Street and West Avenue also does wood-fired pizzas and delicious sandwiches that'll have you returning again and again!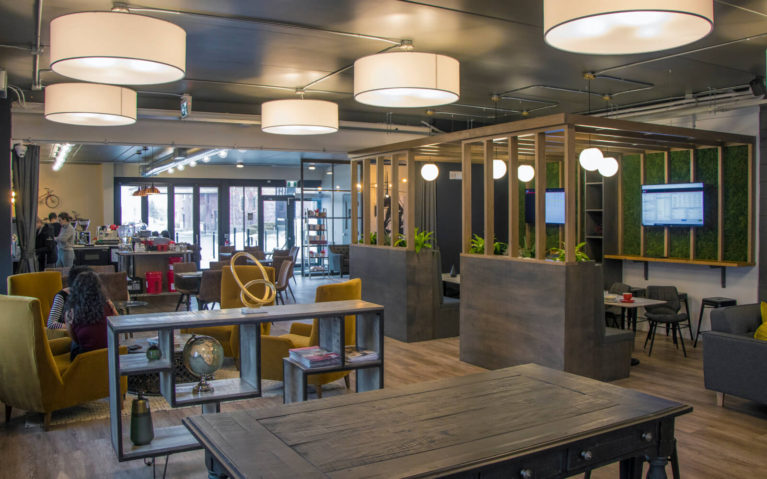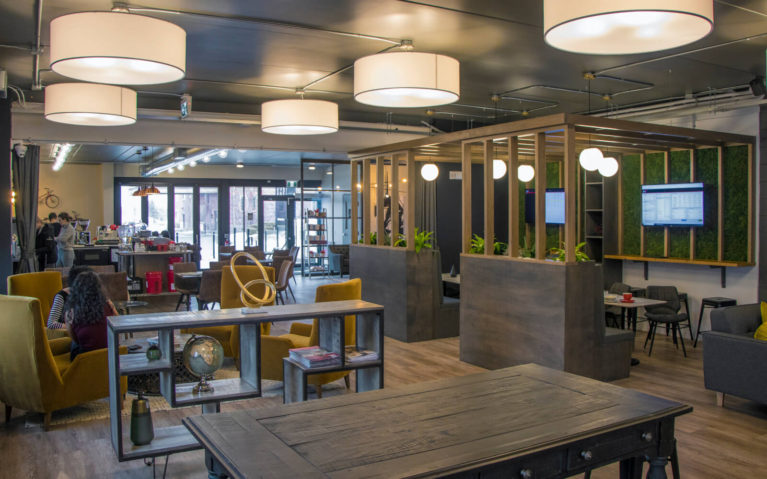 Monigram Coffee Roasters
Location: 618 King Street West
Hours: Mon-Sat 8:00am-7:00pm, Sun 9:00am-6:00pm
A Cambridge staple has made its mark in Kitchener! Established in 2012, Monigram Coffee Roasters focuses on a warm and welcoming environment – along with great coffee of course! One of the owner's, Graham, has a reputation for being an amazing roaster which allows them to gain access to green coffee that nobody else can. You're guaranteed to have a quality cup every time!
This is one of the best Kitchener coffee shops to get some work done, as there's plenty of seating room. It's also a little lesser known since they just opened a few months ago, so you'll have tons of space to work. The tough part will be trying to stay focused as you won't be able to resist looking around at all the beautiful décor!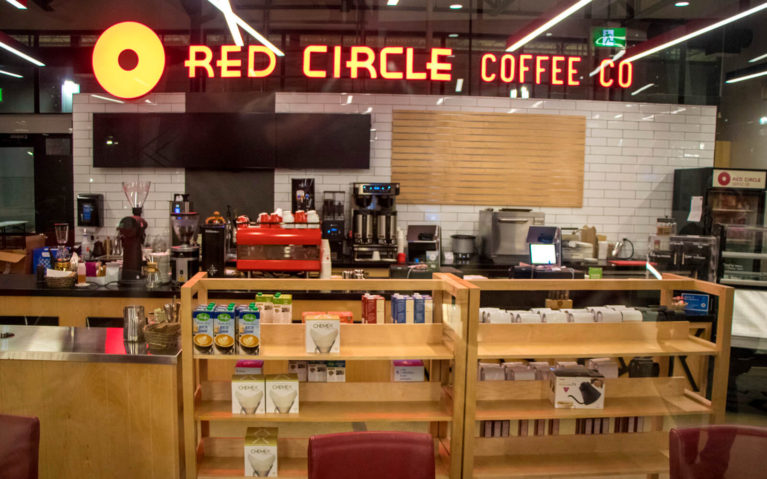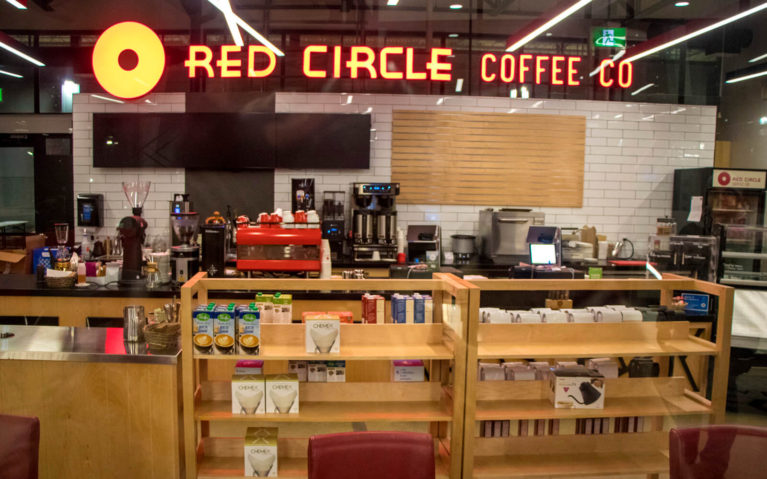 Red Circle Coffee Company
Location: 137 Glasgow Street, Suite 390
Hours: Mon-Fri 7:30am-6:00pm, Sat 8:00am-3:00pm, Sun 9:00am-3:00pm
Inside the new Catalyst-137 building you'll find the Red Circle Coffee Company. This coffee is farm to table… err, cup and focuses on not only providing high-quality coffee but also a supportive environment for everyone involved in the process. That's the farmers who grow their coffee, the staff who prepare it and people like you and me who get to enjoy it!
If you're unsure of what to get, give their turmeric latte a try. Or if you're looking for something a little stronger, right next door is the Graffiti Market and Red Circle's brewing company.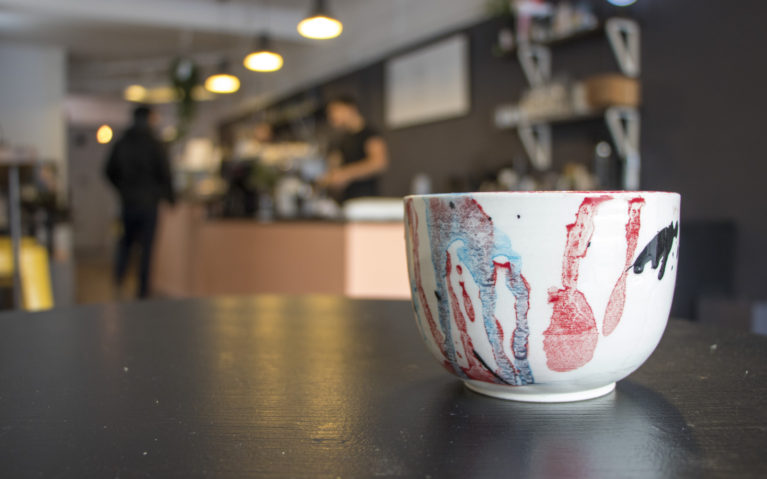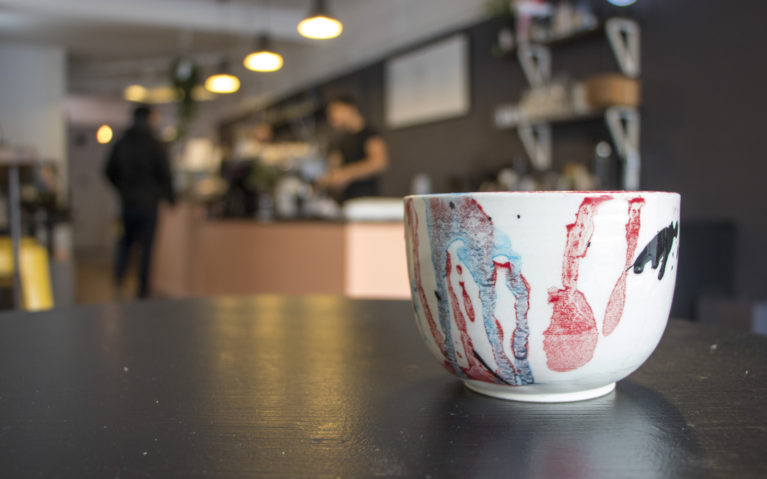 Which Kitchener Cafe Will You Try First?
As you can see, there's no shortage of cafes in the city! Whether you're in town for a quick stop or an extended visit, ditch the Timmies or Starbucks and support one of these local establishments. The toughest part is deciding which one to go to but no matter what you choose, you'll enjoy a fantastic brew.
Have you visited any of these coffee shops in Kitchener? Which one is your favourite? If there's any I've missed, let me know so I can go check 'em out!
Want to check out these coffee shops in Kitchener? Pin it for later!