A New Settlement on King Street

Updated March 2018
In 2016, a new spin on a traditional café came to Waterloo Region. If you're looking for a change of scenery in the Kitchener-Waterloo area, you don't have to go far. At Settlement Co, you step out of small-ish town Canada and into an urban paradise you'd find in San Francisco.
Here they're focused around making a community, just as a settlement is. To quote their website, "It's a place to gather, to learn the news of the day and to discuss matters of mutual concern… It's where you start your day, where you meet your Mom for lunch, and where you run into an old friend and where you have that important meeting." From students working on projects to business meetings in one of their coffices, Settlement Co is about creating a space open to conversation above all else. Even if you don't come in to make new friends, you just might leave with one. Asking for the WiFi password is a good place to start!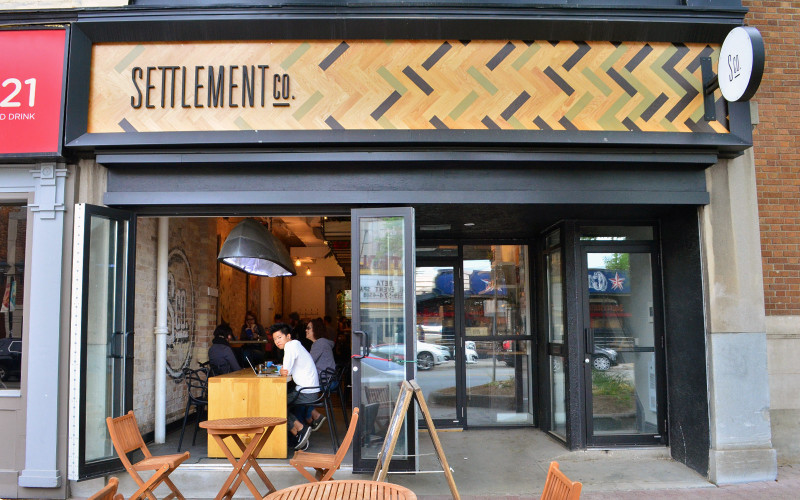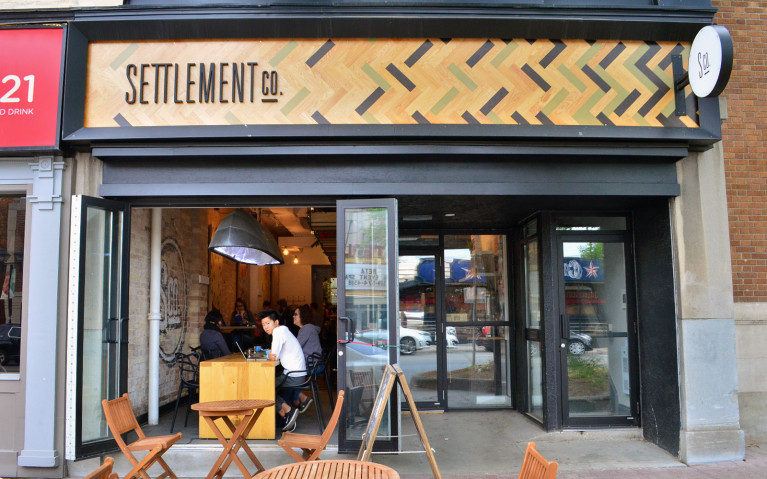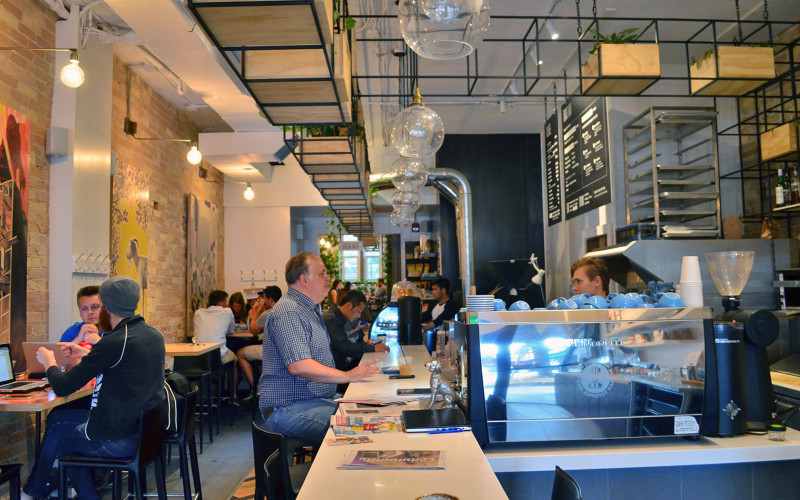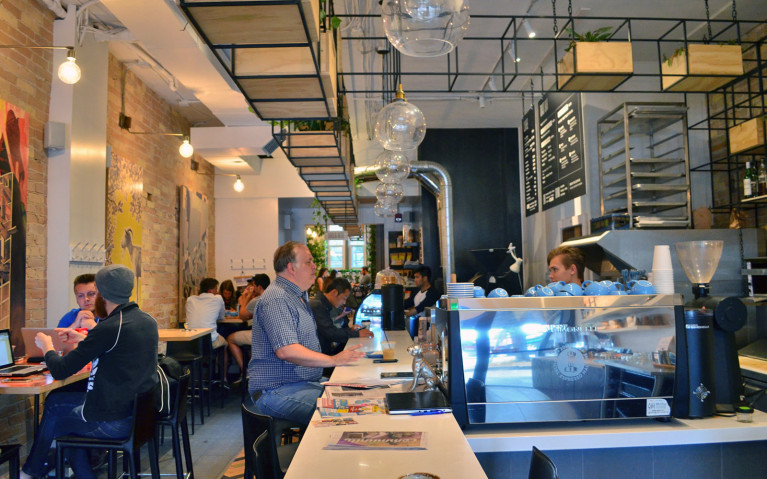 As I'm sure you can tell, their specialty is coffee as they are a roaster. In talking with Nicholas, one of the partners behind Settlement Co, he told me that their coffee, to his knowledge, has the most progressive roasting style of any KW coffee roaster. They also feature a cold brew, a trend which is gaining popularity within the region. It's definitely a hit with them as they go through about a keg a day! Luckily they brew it just down the street at Abe Erb, who Settlement Co is partnered with. If it wasn't for their capabilities, they wouldn't be able to keep up with demand!
One thing you'll notice is that are no sizes on the menu. You won't see tall, grande or venti here! This is to ensure it has the correct ratio so your coffee tastes exactly as it should, all the time. You'll also never have to worry about deciding on a size! Don't believe me? Take a look at Settlement Co's menu. As for the prices, most coffees will run you less than $5 and you can get something to eat for around $10.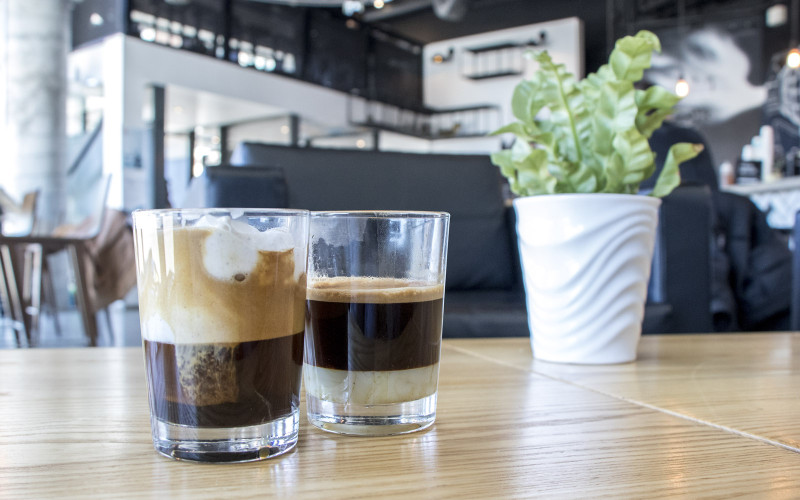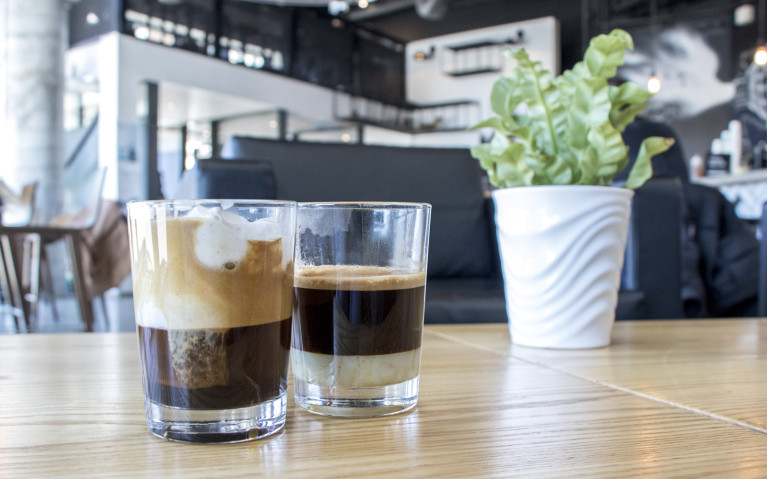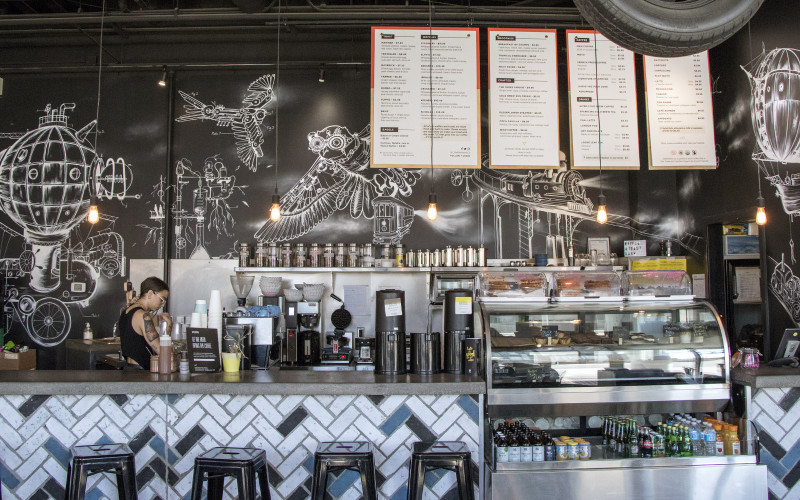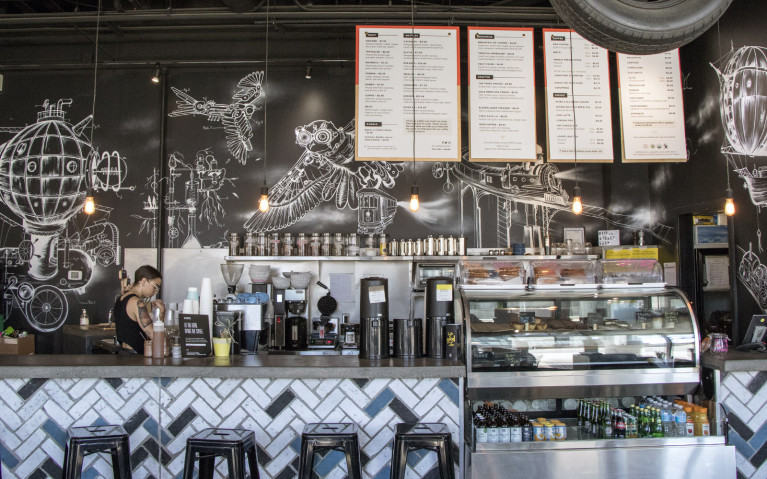 Settlement Co Uptown Waterloo
Located in the heart of Uptown Waterloo, this is Settlement Co's original location. Formerly a Bank of Commerce branch from the mid-1800s, you'll see the original brickwork from when the building was constructed. Nicolas said they found a warranty card during construction that was preserved within the walls! While they had to go through a foot of drywall to get to it, the exposed brick combined with their living accents really sets the rustic tone and chill vibe of the coffee shop.
As it is an older building, this makes kitchen space very limited. It didn't deter them as they made it a strength and now they boast the only toast bar in the region! They also have a selection of sandwiches and baked goods to enjoy with your cup of joe. Come in and try their featured toast on Tuesdays for their Toast Tuesdays! Another perk? Settlement Co locally sources as many as their ingredients as they can by working directly with farmers from the region.
Now you've probably been wondering this whole time, what the hell is a coffice?! It's a mash-up of coffee and office. Settlement Co's Uptown Waterloo location can actually be sectioned off and booked by businesses for meetings and retreats. They've installed huge barn-style doors which can section off parts of the establishment for privacy so you and your coworkers can brainstorm, discuss and go about your business in peace. Most of the time though it's open for all to use.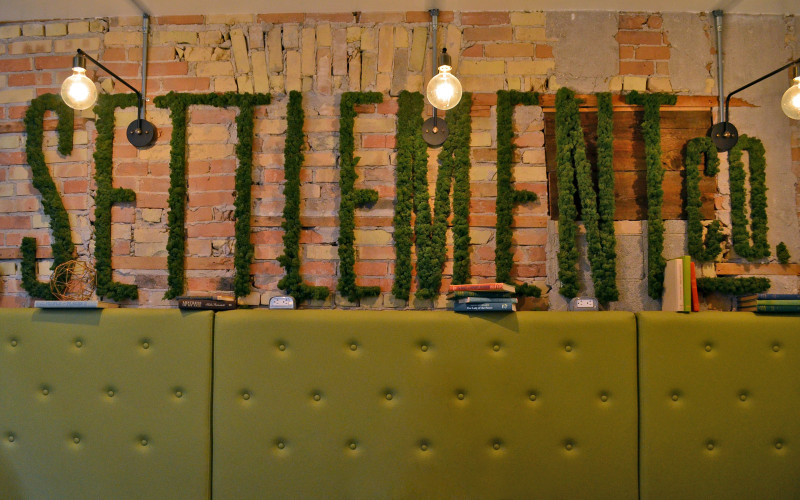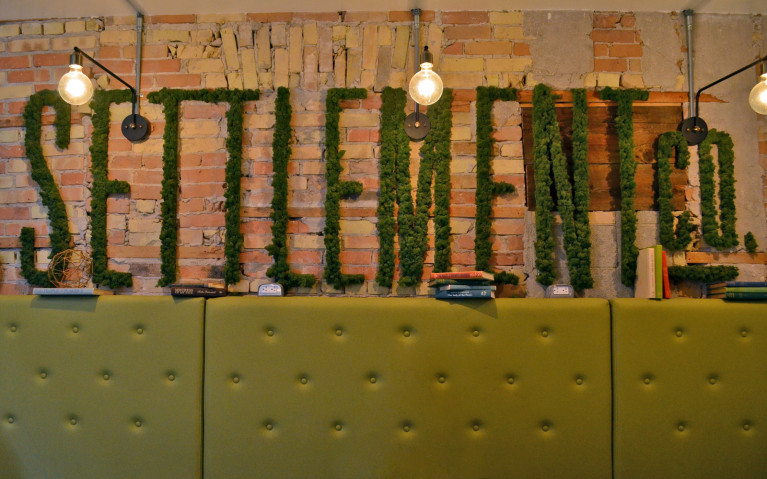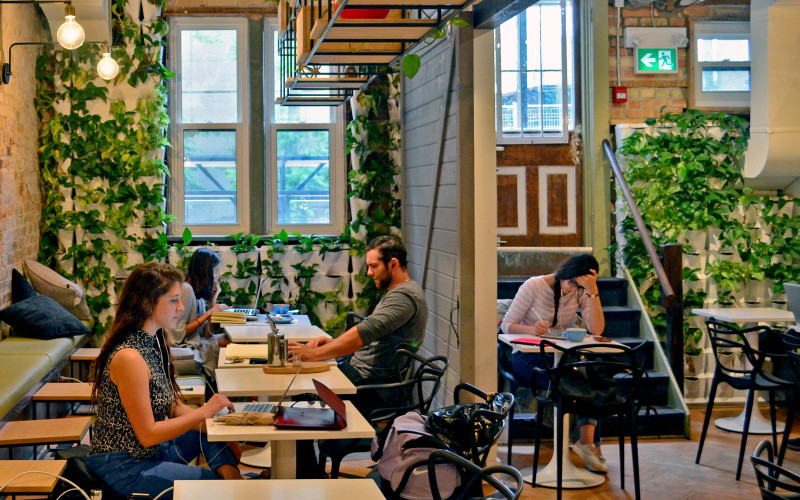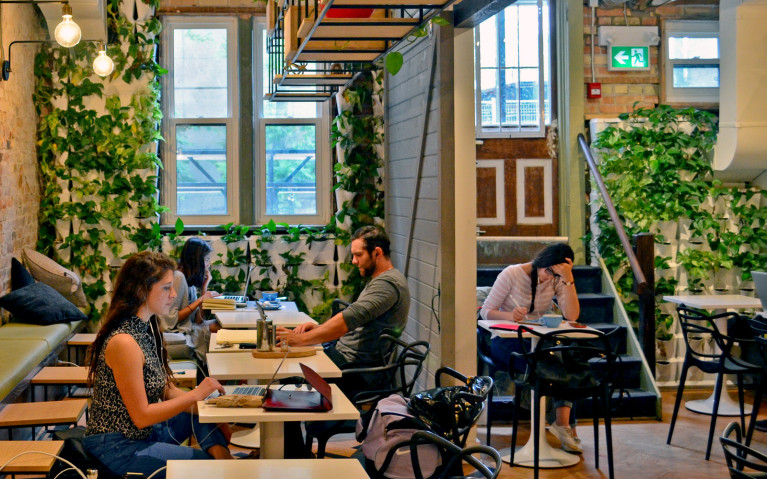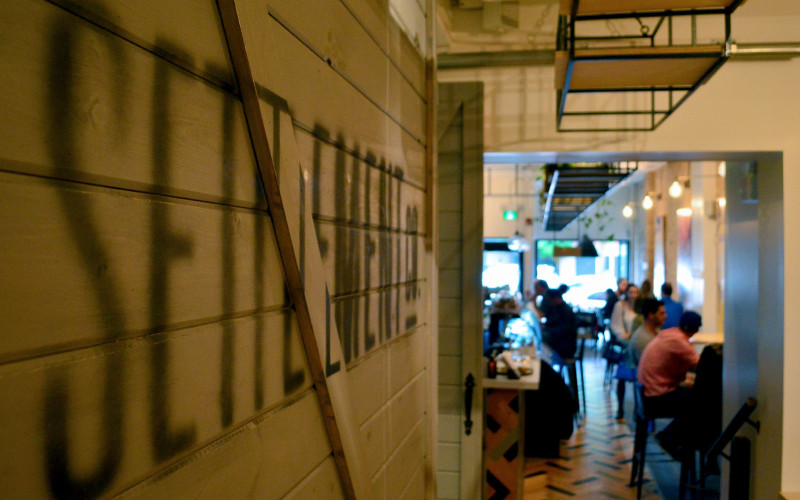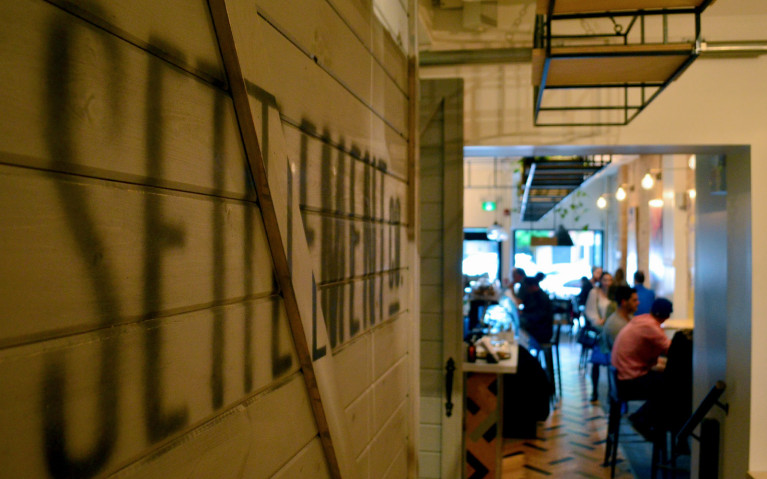 Settlement Co Kitchener
March 2017 marked the opening of their second location on the corner of King and Victoria in Kitchener. With a vibe totally different than that of its Uptown Waterloo counterpart, you need to visit. While the menu is familiar, that's where the similarities end.
Bask in the natural light which illuminates the ground floor from the floor to ceiling windows facing Victoria Street. Make new friends at one of their family-style tables. If you're lucky, you can snag the couch and get that perfect do it for the 'gram photo in front of their gorgeous moss wall. Wherever you sit, be sure to head upstairs during your visit and say hello to Carol, their VW bug, while taking in the view from above.
One thing to note is that there is no Settlement Co parking lot. The best place would be street parking along Francis St or head over to Joseph St. You may have to walk a block or two but at least it's free! On weekends its easy to find a spot in The Tannery parking lot which is also an option.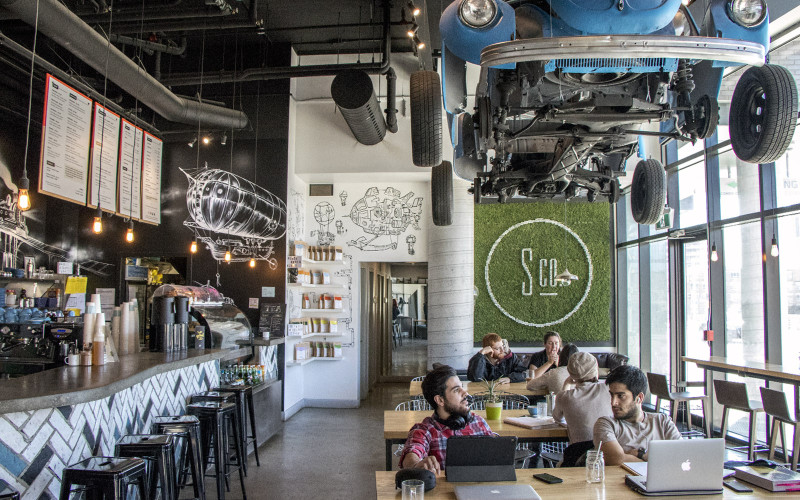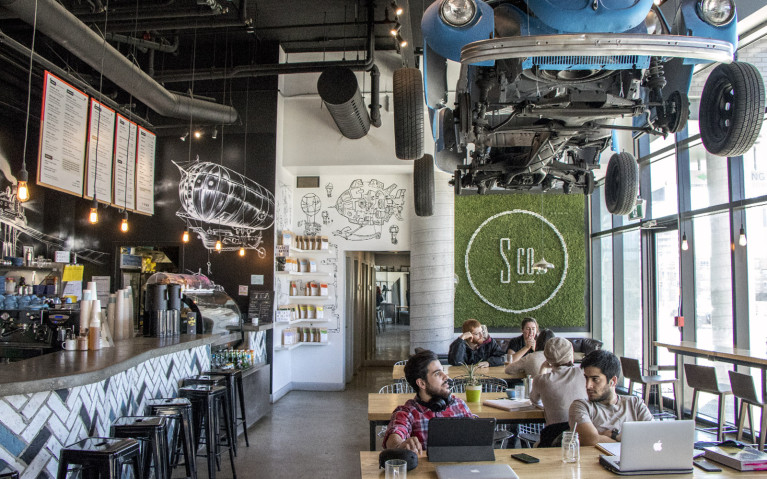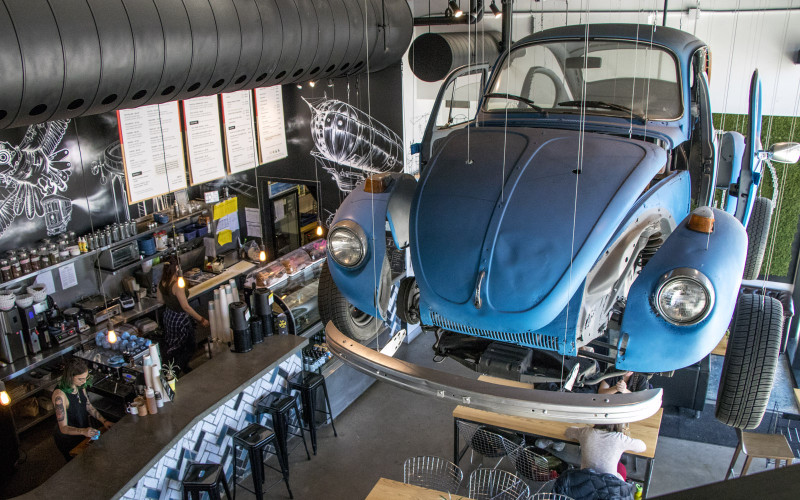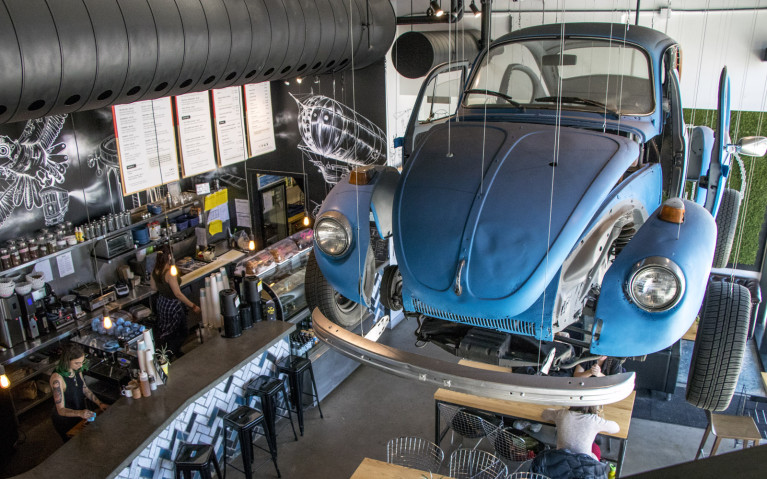 Kitchener-Waterloo is becoming home to many gems and Settlement Co is definitely one of them. If you haven't had a chance to visit, I highly suggest it! King Street has been a magnet for construction over the past few years, however most of it has been completed meaning the businesses need your help now more than ever! Next time you grab a coffee, ditch the chains and support a local business like Settlement Co.