Ontario Christmas Markets Yule Absolutely Adore

With the colder weather comes the spirit of the season, and what better way to enjoy it than with a Christmas market! A right of passage for the season in Europe, us Canadians also love a good holiday market. While ours aren't nearly as old as some of the German Christmas markets for example, I ensure these Ontario Christmas markets will have you singing carols in no time! Unless you're like me then nobody wants to hear that… but you get the idea.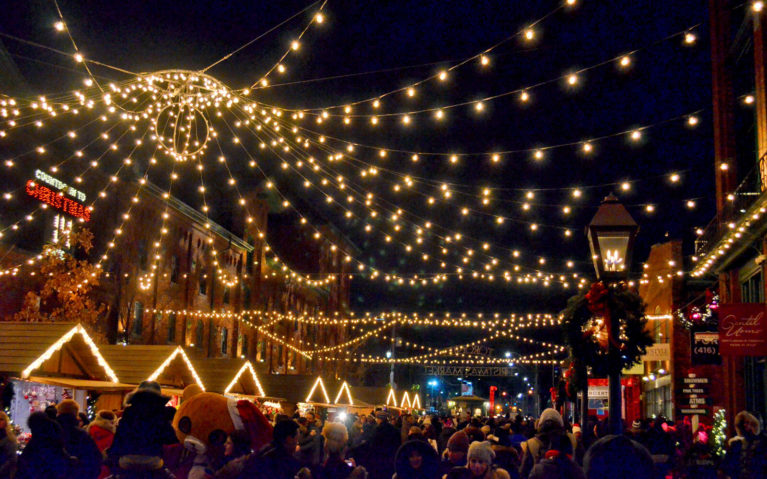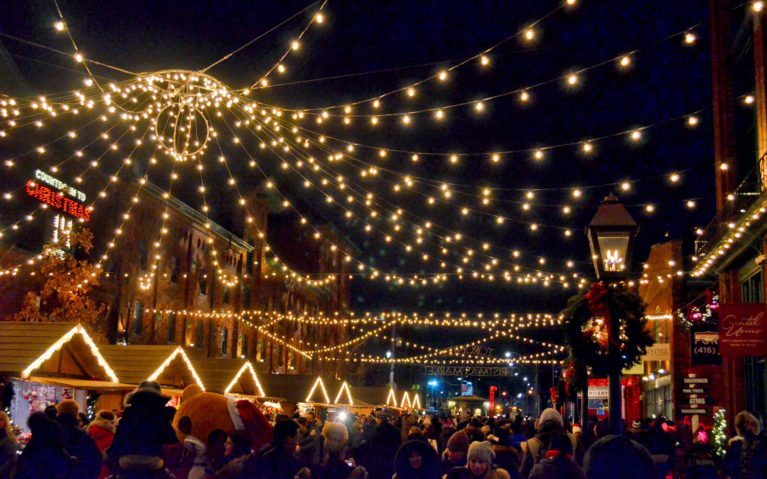 Blue Mountain Christmas Gift Show
Location? Village Conference Centre in Blue Mountain Resort
Get started on your holiday shopping at the Blue Mountain Christmas Gift Show! With a number of vendors from artisans to home and decor to goodies and treats! The majority of the vendors are local businesses, meaning you'll be able to support the local community while shopping for loved ones.
Not only that, but it's a great excuse to get out to Blue Mountain Resort which always looks like a scene from a Christmas card. I highly suggest planning a return visit to hit the slopes and enjoy some of the winter activities Grey County has to offer!
RELATED: A weekend in Blue Mountain is the perfect spot for a romantic getaway. If you're looking for ideas on where you can whisk away the love of your life, check out these romantic getaways in Ontario!
Christmas in Cambridge Festival
Location? City of Cambridge, Ontario
Running from the last week of November until the end of the year, the Christmas in Cambridge Festival has plenty of fun for all ages! See the iconic CP Holiday Train as it makes a stop at the Malcolm Street Train Station and peruse the 60 vendors at the Cambridge Christmas Market, located in the city hall building. Be sure to check out the incredible light displays in Central Park, Hespeler Village, Queen's Square and City Hall. The festival will go out with a bang on December 31st with their New Years party at Hespeler Arena.
With amazing light displays, musical performances and more, the Christmas in Cambridge Festival is one of the best holiday destinations you'll find in Waterloo Region!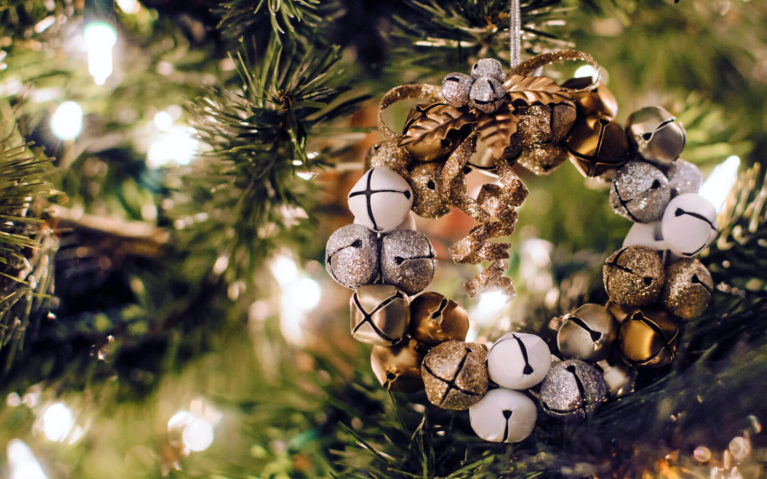 Hamilton's Christmas Market
Location? McMaster Innovation Park in Hamilton, Ontario
With over 80 vendors carefully selected by the organizing committee, Hamilton's Christmas Market has so much to offer. You'll find candles, jewellery, leather goods and more – all created by local artists and businesses.
I absolutely love that the event supports the ShoeBox Project where each box is filled with items for homeless women in Hamilton to remind them she is loved. By supporting them by bringing items to fill the boxes, you can save $2 on admission!
There's also the Handmade Hamilton Holiday Craft Show if you need more holly jolly good times!
RELATED: In case you didn't know, Hamilton is also known as the city of waterfalls so why not pair your trip with some waterfall chasing and hit up one of the best trails in the city!
Kingston Holiday Market
Location? 168 Wellington Street in Kingston, Ontario
A one-of-a-kind pop-up holiday market, the Kingston Holiday Market has local, independent artists and artisans every weekend from the beginning of November until just before Christmas. It's worth visiting a few times as you'll find new vendors each weekend along with a number of holiday activities like paint classes, cupcake sampling and fun Christmas photo opportunities.
If that's not enough for you, be sure to check out the Kingston Outdoor Christmas Market as well! Inspired by the beautiful European Christmas markets we know and love, you'll find plenty of Yuletide fun at the Hochelaga Inn.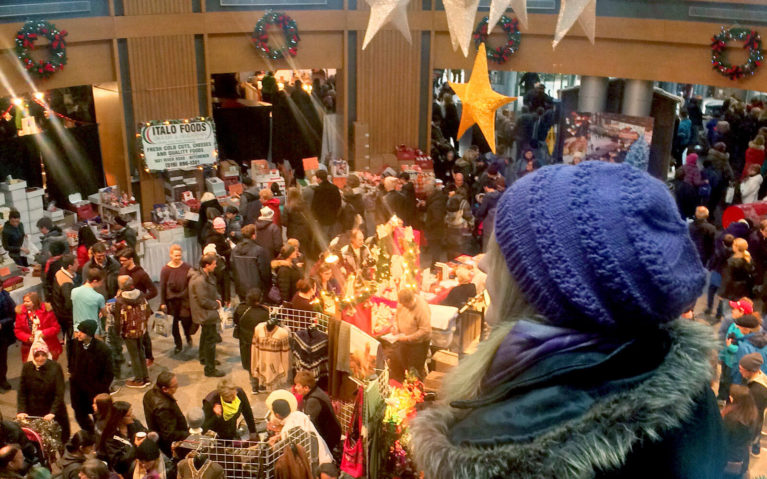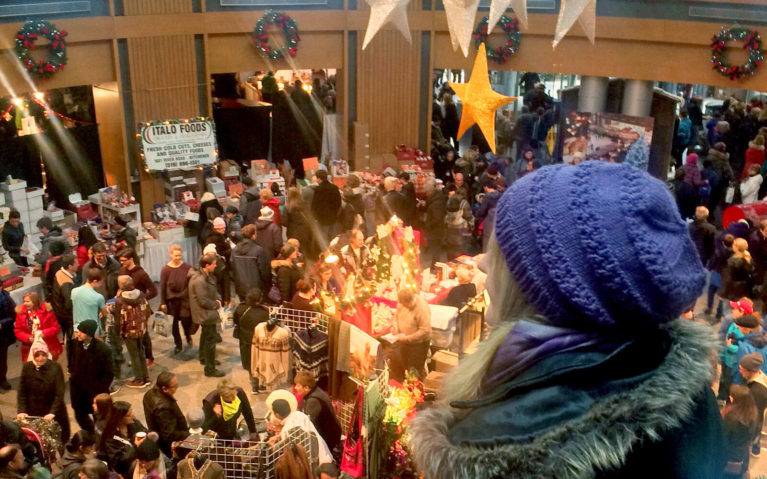 Kitchener's Christkindl Market
Location? Downtown Kitchener, Ontario
Local gem and my personal favourite, Kitchener's Christkindl Market is quintessentially Christmas. As Canada's first Christkindl Market, Kitchener City Hall and the surrounding area are transformed into a charming winter wonderland. You'll find gorgeous stalls with plenty of handmade items, delicious treats and yummy eats to keep you warm and cozy as you get in the spirit of the holidays. It's a Christmas tradition for many Waterloo Region families!
Every year the Kitchener Christmas market grows so it's no surprise to see more beautifully decorated outdoor huts with German-style eats and treats, along with the iconic Christmas drink – Glühwein. With over 100 vendors to choose from, blacksmith demonstrations and more, it's definitely a must-visit for anyone who's a fan of Christmas!
RELATED: Since you're here, why not check out some of the other great things to do in Kitchener!
London Christmas Craft Festival
Location? Metroland Media Agriplex in London, Ontario
For almost 40 years now, the London Christmas Craft Festival has been bringing together local vendors under one roof. With over 200 to choose from, this is seriously one epic festival! If you're looking to find a gift for the special someone on your list, I guarantee you won't leave empty-handed. Be sure to check out their site to save on your admission with their coupon!
If you're a crazy Christmas fanatic and the festival isn't enough, there's also the Merry Makers Fair for extra holiday fun!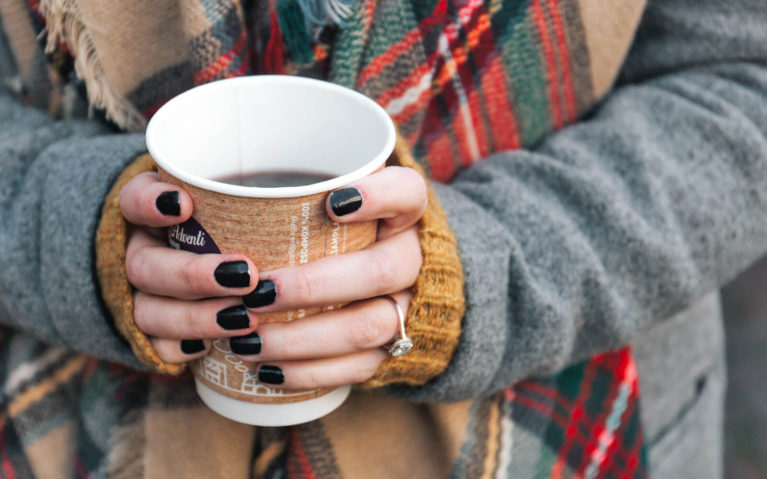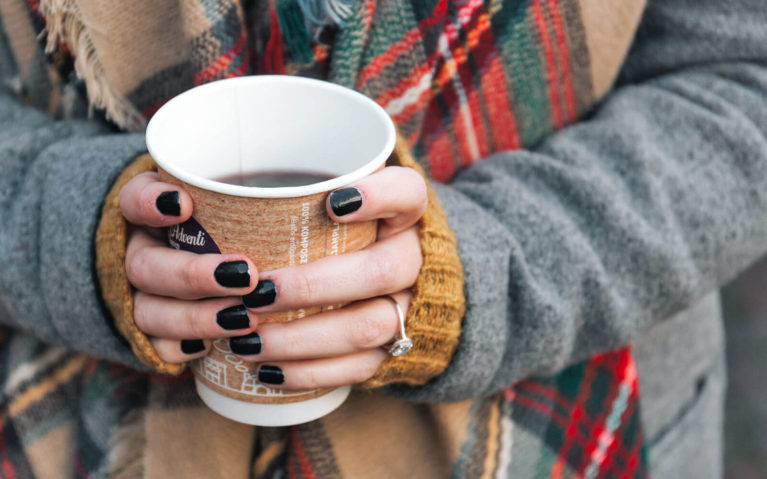 Muskoka's XMUS Festival
Location? Sawdust City Brewing Company in Gravenhurst, Ontario
Delicious (and brand new!) seasonal eats, tasty drinks and plenty of shopping – what more could you ask for? The Muskoka XMUS Festival has it all! Support local this season by sipping on spirits, wine and craft beers as you check some of the items off your list. There's plenty to choose from at the Holiday Gifting Market! Once you're all shopped out, stay into the night and enjoy some live music at the brewery.
Niagara Parks' Winter Marketplace
Location? Queen Victoria Park in Niagara Falls, Ontario
One of the newest additions to the Niagara Falls holiday repertoire, Niagara Parks' Winter Marketplace will have you feeling jolly in no time flat! Even if you're not looking to get a head start on your holiday shopping (though I advise not leaving it until the last minute!), there are a number of reasons to visit. Besides the fact it's free to attend, there's plenty of fun for the whole family, including local food and beverages, choirs singing Christmas carols, workshops and plenty of family-friendly activities and games! It's a great opportunity to grab a photo with Santa, too!
While you're in the area, don't forget to check out the largest illumination festival in Canada, the Winter Festival of Lights!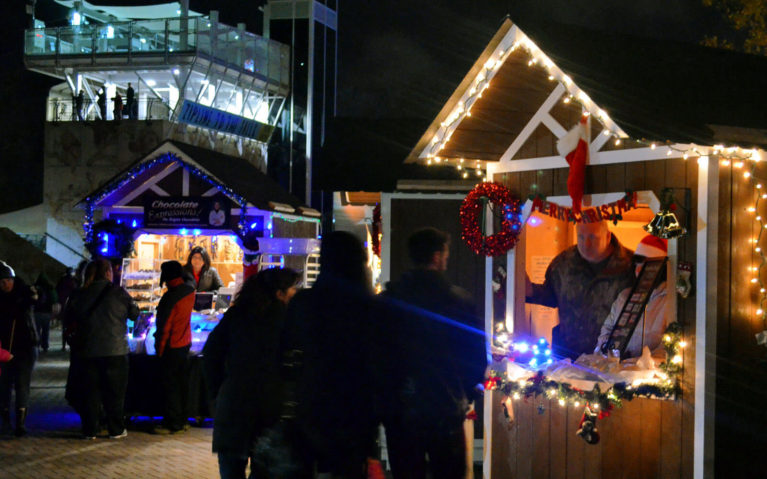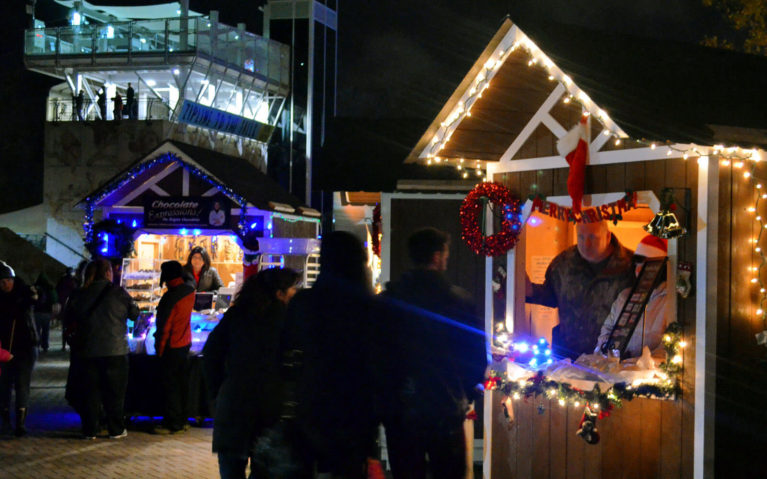 Ottawa Christmas Market
Location? Casino Lac-Leamy Plaza, Lansdowne Park in Ottawa, Ontario
As soon as the end of November rolls around, Canada's capital is transformed into a cheerful holiday event. While the Farmer's Market used to embrace the yuletide spirit, there is now an official Christmas Market as of 2019! The Ottawa Christmas Market is much more than just shopping with horse and wagon rides, live music with choirs singing Yuletide classics and a kids craft corner. Be sure to give yourself a few hours to explore the vendors who have a number of local items to offer. From locally grown/made food items to handmade crafts and more, this is Ottawa's best one-stop shop for gifts, stocking stuffers and anything else you may need for the holiday!
For additional Christmas cheer, check out The Museum's Christmas Market. You'll find decorations, woodcraft, glass items, fashion accessories and more!
Paris Christmas Market
Location? Paris Agricultural Society in Paris, Ontario
The earliest of all of the festive events on this list, Christmas in Paris happens early in November. Operating for almost 30 years now, all of the items you see are designed and handcrafted by the Kindred Spirits Artisans of Paris! Inside you'll find quilts, knitted goods, pottery, wood carving, watercolour paintings and so much more. If you want to get an early start on your holiday shopping, this is the place to go.
Proceeds from the event go to further the arts in Paris as well as the County of Brant. These funds provide bursaries to high school students who are looking to pursue a degree in the arts!
RELATED: Looking for more things to do in Paris? Check out my guide to the city and how to best experience the town!
Sault Ste Marie's Silver Bells Christmas Market
Location? Mill Market in Sault Ste Marie, Ontario
What better way to get in the holiday spirit than with a Christmas Market in Northern Ontario? Surrounded by beautifully crisp snow, the Silver Bells Christmas Market is a great place to support artisans from the area. Their brand new location at the Mill Market will surely add to the ambience as the old Municipal Fish Hatchery building has been transformed into a hub of activity. Entry is by donation at the door and all proceeds go to The Kidney Foundation of Canada. Check out the event's Facebook page and you'll surely fall in love with all of the vendors!
Sault Ste Marie has no shortage of holiday events, including their Handmade Christmas Market and more! Make a trip of it and see all that Sault Ste Marie has to offer in the winter. I highly recommend getting a taste of Northern Ontario by road tripping it!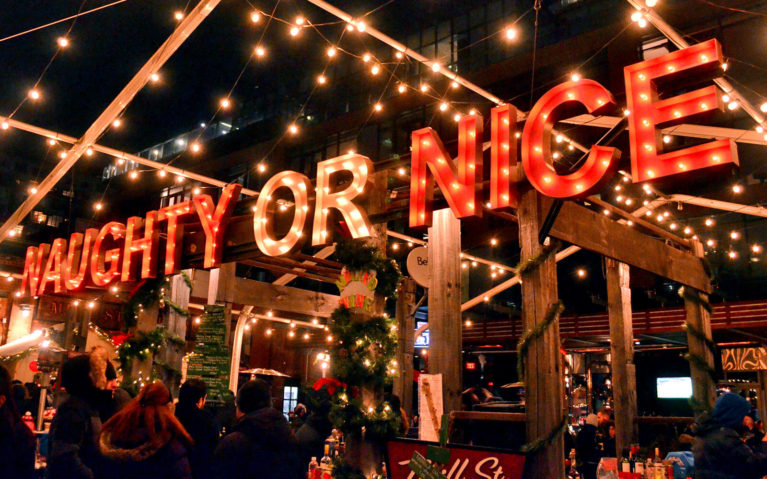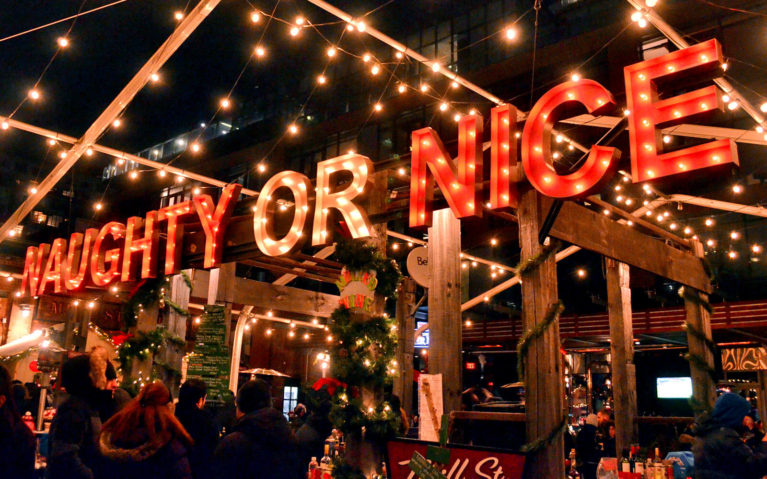 Sudbury Christmas Market
Location? Tom Davis Square
Another newcomer to the Christmas Market scene, head to downtown Sudbury to ignite your holiday spirit. You'll find charming light displays throughout the event grounds meaning plenty of adorable photo opportunities. I absolutely loved cozying up to their open fire pits (which are rare even on the Christmas Market circuit!) with a cup of mulled wine. Check out the vendors and admire the 30 foot holiday tree while being serenaded by festive tunes. Paired with some winter fun in Sudbury, this is the perfect way to enjoy a little festive cheer in Northern Ontario!
Toronto Christmas Market
Location? Toronto's Distillery District
If you're going to visit any of the Toronto Christmas events, this is the place to go. The Toronto Christmas Market is a favourite for many Torontonians and Southern Ontarians – and for good reason! Besides each day of the week being themed, you'll find a number of incredible light installations, pop-up shops and one of the tallest Christmas trees you'll ever see. Pets are even welcomed in this Distillery District Christmas market as you can get a photo of your furry friend with Santa. If you next extra help staying warm, be sure to explore one of the many beer gardens and enjoy a glass of Glühwein, brandy, and more. Not convinced? How does a toasted coconut hot chocolate sound?
If you can swing a weekday visit, you'll be rewarded by saving some money! From 5:00pm onwards on Fridays and for the rest of the weekend, you'll have to pay a $5 entrance fee. Also, the Toronto Christmas Market is closed on Mondays so plan accordingly!
INSIDER TIP: If you have a reservation at one of the restaurants inside the Distillery District, you don't need to purchase a ticket to enter! Just head to the Green Express Lane and show proof of your reservation to enter.
Toronto is a big city and by no means is this the only Christmas market in town. If you want to go on a Christmas market binge, head to the Holiday Fair in the Square or the holiday market at Evergreen Brick Works' Winter Village! You'll have a blast at all of these Toronto markets.
Windsor's Christkindl Market
Location? Windsor Crossing Premium Outlet Mall in Windsor, Ontario
For three weekends in December, the outlet mall is transformed into an indoor Christmas Market. They have plenty of family fun and unique vendors to offer attendees. Don't forget some DIY pictures with Santa (did I mention they're free?!) as well as plenty of live holiday music. To top it off they have giveaways and swag bags too! You don't want to miss out on any of the festive fun.
Need more holiday fun in your life? There's also the Windsor Ford City Christmas Market where you'll find more handcrafted items than you can shake a stick at, Bavarian Biergarten, and more! Don't forget the Windsor Christkindl Market as they take a feather out of the Germans' cap with plenty to do for both adults and kids with both indoor and outdoor activities.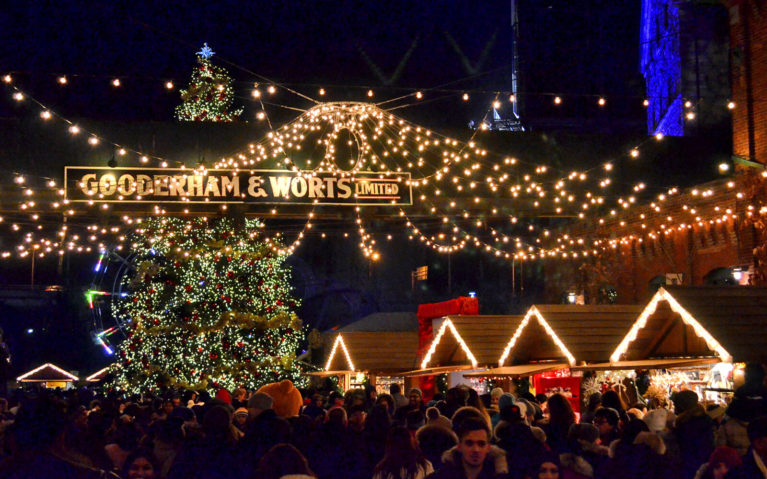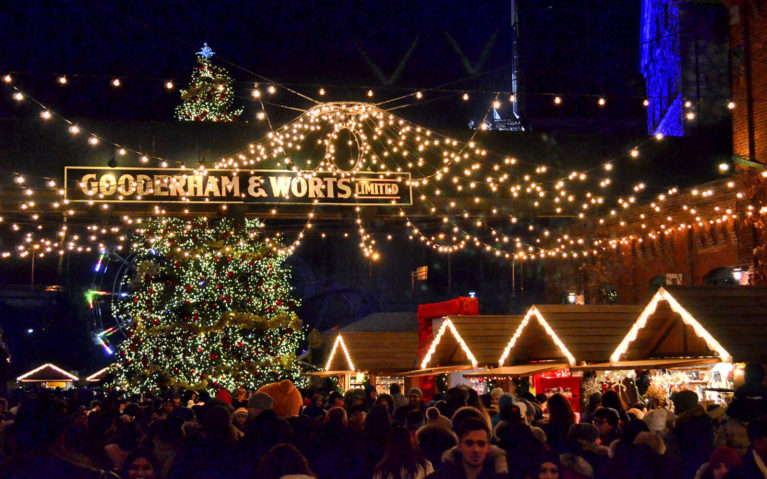 Which of These Ontario Christmas Markets Are You Visiting?
With so many to choose from, it's hard to not get in the holiday spirit! One thing to note is that some of these events happen in November, so be sure to check the dates and times before planning your trip. If you missed it, you'll just have to keep it on your radar for next year! Who doesn't love planning a Christmas getaway because, let's be honest, visiting a Christmas Market should be on every winter bucket list.
Do you have any favourite Christmas markets in Ontario? Are you planning to visit any of these this year?
Looking for more festive fun? How about some holiday shopping?
Check out These Fantastic Christmas Getaways in Ontario
Don't Miss These Festive Christmas Light Displays in Ontario
Gifts for the Traveller on Your List
Gift Ideas for Nature Lovers
Canadian Gifts and Souvenirs Featuring Maple, Plaid & More
Want to visit these Ontario Christmas markets? Pin it for later!