20+ Canadian Gifts & Souvenirs That Are Absolutely Eh-mazing

Oh, Canada. The great white north. Are you coming to the beautiful land of the maple leaf and looking for some fantastic Canadian souvenirs? Or are you looking to enjoy some Canadian-themed goodies to show everyone just how much you love the country? Whether you're Canadian yourself or just love and support our obsession with maple, plaid and more, you'll get a kick out of these Canadian gifts that are ridiculously… well, Canadian.
DISCLAIMER: While this guide does include affiliate links (aka if you buy something I'll get a kickback at no extra cost to you), I've recommended everything in here because I think the product is awesome and it's something I would buy myself. Also if anyone wants to buy anything for me… hint hint.
Maple-Themed Canadian Souvenirs
Canadians love their maple and chances are if the person you're buying for loves Canada – they love maple too. Maple is my go-to for any gift when travelling abroad, especially if you're bringing some Canadian gifts back home as souvenirs. This list of maple-themed goodies are perfect for the maple lover on your list!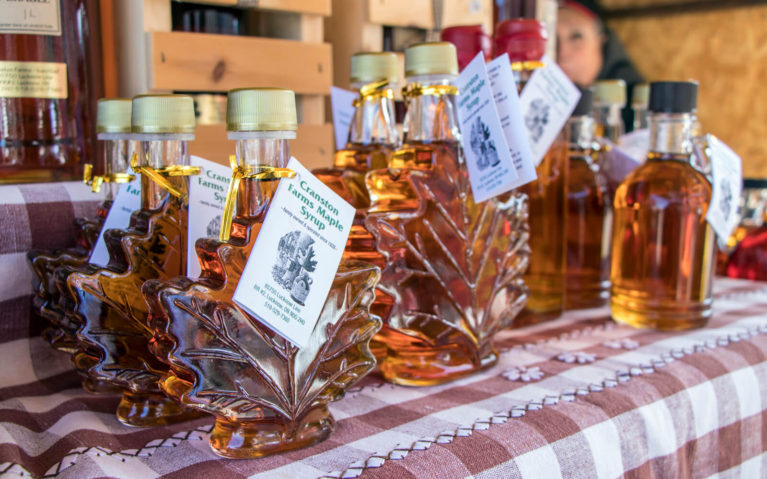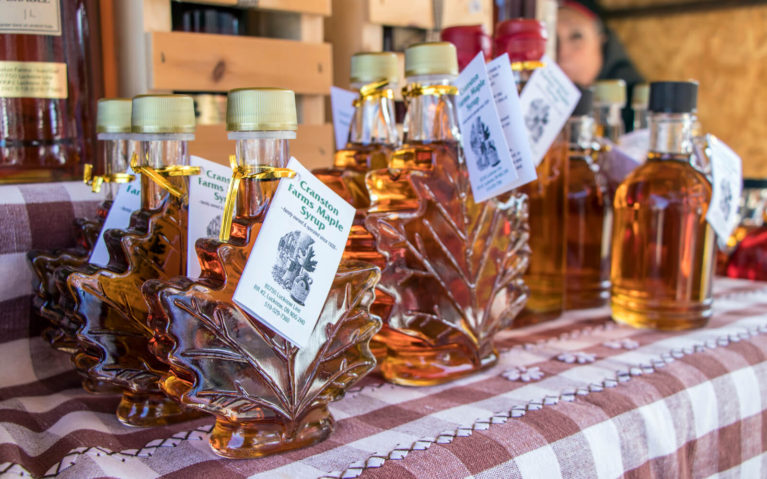 Maple Syrup
Of course, maple syrup is a given. There are a number of places you can purchase maple syrup from, however not all maple syrups are the same. Yes, you can buy large cans at a grocery store or a small bottle at a souvenir shop, but 99% of the time they're from large companies that mass-produce it. I highly recommend visiting a local producer or trying to find a store that carries it from a local sugar bush. This will make your Canadian souvenirs that much more meaningful. If you can't manage to do that, never fear! You can find some here from the Eastern Townships of Quebec, or here from Lanark County – the maple capital of Ontario!
Fun fact: there are four varieties of maple syrups to choose from and they're classified depending on their colour. From light to dark they're golden, amber, dark and very dark. The majority of what you see I'd say falls under the amber category, but I recommend trying them all if you get a chance. Intrigued? It's just one of the reasons why you should visit a maple syrup festival!
Just can't stomach to eat it anymore? This rarely happens, but once in a blue moon there comes a time when you're suffering from a sugar coma. For the days when you just can't handle eating the stuff anymore, here are some creative ways to show your love for maple syrup.
For the Bath
Let's face it – we could all stand to treat ourselves a little more. So why not get some Canadian souvenirs that force you to do just that? Whether it's a full-on spa day or just a 30-minute soak in the tub at home, your body and mind will thank you for it. Enjoy the brilliant scent of maple while you do it with a maple-scented bath bomb. Disclaimer: while it may be tempting, don't drink the bathwater. Order yours here.
Want to smell like maple all day long? If there's a will – there's a way! This maple soap will ensure you're smelling sweet all day long. Whether you use it to only wash your hands or in the shower (I won't judge) is entirely up to you. Order yours here.
Candles
How about coming home to the smell of maple as soon as you walk in the door? Does that sound fabulous? I know it does to me. A maple candle is the perfect way to spread the syrupy goodness throughout your home. Order yours here or take it to the next level with a wooden wick for that crackling fire sound.
Christmas Ornaments
Or if you'd like to show everyone who visits just how much you love maple, you'll love these maple Christmas ornaments. Hang your love for maple proudly on your tree! This ornament depicting the iconic maple syrup can is sure to be a hit with friends and family. You can also get it as a set with other iconic items such as poutine and a Timmies double double.
Wear Your Maple Proudly
One of my most iconic wardrobe items are my maple leaf tights from the Purple Puddle. I guarantee if you've been following me for a while you've seen a photo of me in them at least once. This Ontario-based woman-run company make the comfiest tights I've ever worn and allow me to rep my love of maple proudly. I promise you'll want your own pair so go and order them now!
FOR MY FOLLOWERS: The Purple Puddle who designs these incredible tights has partnered with me to offer you all a 10% discount! Just use the code IBBTRAVEL10 at check out. I'll also earn a small kickback at no extra cost to you. It's a win-win! And yes, this code works on EVERYTHING, not just the maple leaf tights!
How About That Canadian Tuxedo?
What's a Canadian Tuxedo you ask? It's an outfit consisting of denim everything. While wearing a jean jacket and jeans together is often a fashion faux pas, we still love our denim. Here are a few creative ways to enjoy denim without going 'just… no'.
Denim Bathing Suit
No, it's not made of denim – I promise. Shinesty gifted me their faux denim bikini and it was the swimsuit I always wanted but never realized. Not only is it super comfy but I also love the cut. It's a different style for me and I've received a number of compliments on it. Everybody loves denim, especially when it's more comfortable than actually wearing a pair of jeans! They have a few other denim styles you can choose from for both men and women.
Denim Undies
Just like the bathing suit, they're not actually made of denim. When Shinesty sent me a pair of their jeanstring underwear saying they were the best travel underwear around, I was a bit skeptical… until I wore them for a flight. They are seriously awesome. Lightweight and quick-dry, it feels like I'm barely wearing anything at all. I was smitten with the denim pattern and now they're a must-pack for any trip.
Plaid Canadian Gifts
It's a known fact that Canadians love plaid. While you'll most commonly see it in shirt form, plaid has no limits. Check out these rad plaid items that'll make awesome Canadian souvenirs.
Plaid Housecoat
Anyone who's met me knows that besides my funky tights and coloured hair, I could live in plaid. Luckily I now have a plaid housecoat thanks to Shinesty so I have another excuse to wear plaid. Their buffalo check unisex kimono is an item that plaid lovers will adore, no matter their gender. Loving the look of this? Shinesty has an entire Canadian collection which includes a number of plaid apparel items. I seriously want one of everything.
Plaid PJs
If I'm going to be honest, plaid is seriously best served in PJ form. One can never have too many pairs of comfy pants so why not add a plaid pair to your collection? Oh who am I kidding, live a little and go for a full set.
Plaid Mug
If you're a hot beverage drinker, the perfect addition to your mug collection is a plaid one. There are so many adorable styles including this 'love' plaid mug, customizable plaid bear mug or just full-on Christmas plaid. For those who like to take your coffee or tea on the go, check out this collection of plaid tumblers on Etsy! Total side note – if anyone's shopping for me, this is hands down my favourite plaid tumbler – it just SCREAMS Canada.
Plaid Blanket
What pairs perfectly with a hot cup of tea in a plaid mug while relaxing in your plaid PJs? A plaid blanket of course! It might be a dangerous combo as you'll never want to leave your sofa.
Plaid Socks
The icing on the comfy cake – plaid socks. Now here you can really go tumbling down the rabbit hole on Etsy. From your typical red plaid to plaid boot covers, I guarantee you can find a plaid sock to keep your feet warm, no matter the situation.
What About Some Adult Beverages?
Did you know that Canada is known for more than just Molson? These adult beverages scream 'I. Am. Canadian.' much more than Molson's beer ever has – and they taste better too! #SorryNotSorryMolson
Ice Wine
I'm lucky to have grown up in the Niagara Region which is the world's largest ice wine producer. While ice wine may not have been invited in Canada, we sure have embraced it and made ice wine our own. I've visited a number of wineries in Niagara and can say there are a few that really stand out from the crowd. I highly recommend Inniskillin's ice wine, especially their riesling though I'm VERY intrigued by their sparkling. What can I say? This girl loves her bubbles. Peller Estates has a great round-up of ice wines you'll enjoy as well. Note: I don't get a kickback for suggesting either of these wineries, I've just enjoyed them and wanted to share because they truly have top-notch ice wine. If you're looking for some Canadian souvenirs with a serious 'wow' factor – ice wine has you covered!
Ice Cider
Now I have to confess something… I've never actually had ice cider. I KNOW I can hear you shaking your head from here. I've indulged in my fair share of Ontario cider but alas, never ice cider. If you're like me (misery likes company after all) and are looking to try some, you can try your hand at a local LCBO or order some from the County Cider Company located in Prince Edward County, Ontario.
Crown Royal
For 80 years now, Crown Royal has been a staple in Canadian spirits. Produced solely in the Icelandic town of Gimli in Manitoba (intrigued? I've got more details for you), this smooth whiskey is sure to be a hit. Plus chances are whoever you're gifting it to will want to crack this baby open right away – and it's rude to drink without sharing!
Delicious Canadian Food Souvenirs
Let's be honest – everyone loves food. While Canada doesn't have a true 'cuisine' per se, there are still a number of eats that scream Canada. These Canadian souvenirs are guaranteed to be a hit!
Ketchup Potato Chips
Yes, we have ketchup chips and you should 100% be jealous. These are seriously the tastiest little snack morsels around and I'm not ashamed to save I've eaten a whole bag in one sitting more than once. There's a reason they're not allowed in my household – they're that addictive. Forget Pringles, THESE are the chips where you can't have just one. Give them a try and you'll see what I mean. Also this is a ridiculous cheap gift but one that will definitely be a hit. The perfect gift for any Canadian if you don't want to break the bank and get some good laughs at the same time!
Show Me The Sweets
So you're back at home and have no access to Canadiana or you'd rather not pay an exorbitant amount in shipping fees – I get it. Let's put those two hands to work then! Desserts are definitely the easiest way to bring a taste of Canada into your home. The two biggest hits are hands down butter tarts and Nanaimo bars.
Butter tarts are delectable bundles of heaven that consist of ooey-gooey syrupy goodness consisting of butter, egg and sugar nestled in a tasty pastry crust. They date back to the days of colonization before Canada was even a country. The best tarts, in my opinion, have a runny centre and pecans in them as well, but some may disagree. They're becoming more and more popular and even have festivals dedicated to their deliciousness. I've never met anyone who doesn't like butter tarts so whipping up some of these are pretty much a sure thing for any event.
Nanaimo bars hail from the west coast and are named after their city of origin – Nanaimo, British Columbia. This no-bake bar may look simple but these delicious layers have more to them than meets the eye. Check out this recipe from the city of Nanaimo itself – it doesn't get more authentic than that!
Blatant (& Not So Blatant) Canadiana
There's a time and place for gear that screams Canada – and this is the section for it. Don't be ashamed to strut your love for the country, even if it's in big letters.
Roots Clothing
If you know of any Canadian clothing company, chances are that brand is Roots. This is one iconic beaver! All of their apparel is top-notch and you really can't go wrong with any of their items. I absolutely love their Canada toques and they even have scarves to match. You've probably seen a number of people sporting their super comfy hoodies though I'm absolutely smitten with their newest addition – the Canada sarong.
For Those Missing Canada
If you're shopping for someone who's been to Canada and can't wait to go back, why not give them a shirt that shows it? It'll tide them over until they can join us in the land of the maple leaf once again. Plus you'll be supporting a local Canadian designer while you do it!
Canada Mittens
While these aren't the iconic Hudson's Bay Olympic mittens, I think you'll like these handmade maple leaf mittens even more. They're knitted on the outside, fleece on the inside and guaranteed to keep your hands protected in the iconically cold Canadian winters.
Other Ideas for Gifts from Canada
Are the suggestions above just not enough? Well lucky for you this list isn't done just yet. Here are a few more suggestions that just might work as the perfect gift for the Canadian on your list.
Indigenous Art and Gifts
As you're probably aware, 'Canada' as we know it was colonized by European settlers. As such, the Indigenous have suffered greatly at the hands of settler folk (which I am a descendent of). I'm very passionate about trying to fight against this and support Indigenous businesses and people as much as I can.
A great way you can do this is by purchasing items from an Indigenous business or shop. One of my favourites is Native Northwest which is based in Vancouver. You'll find a number of products from beautiful scarves to mugs and tumblers and more. By purchasing products from Native Northwest, you'll be supporting Indigenous artists and communities. I'm receiving no kickbacks for this, I just love Native Northwest's work and what they stand for. These are Canadian souvenirs that will help make a difference in many lives.
Another great way to support local artisans is thanks to the Indigenous Summer Solstice Festival. While it was originally just for the month of June as a lead up to Indigenous Peoples Day, they have extended it until June 2021! This is a great spot for some fantastic gifts whether it be for Christmas or otherwise. Take a look at incredible items from jewellery to food items on the Summer Solstice Indigenous Marketplace website.
I've also discovered that many local artisans are now utilizing Facebook as a way to sell their items. This is a fantastic way to support local, Indigenous artists directly! My favourite Facebook Group is the Shop Indigenous Women's Holiday Market, though I hope it continues way past the holidays. Be warned – you'll find so many incredible items that your wallet might be unhappy with you!
Local Artisans
Supporting local is always a good idea and what better way to do that than by purchasing a gift from a local artist? If you're shopping for the holidays, heading to a local Christmas bazaar or Christkindl Market can make this easy. We're lucky to have a number of fantastic Christmas markets in Ontario as well as some festive holiday getaways which might help you find some inspiration! You can also find a number of great markets all year round if you're kind of crazy and like to get ahead on your holiday shopping. If I told you I wasn't speaking from experience… would you believe me?
As I've mentioned before, Etsy is a treasure trove of goodies – Canadian and otherwise. I highly recommend tumbling down the rabbit hole to see what you can find. Many of the items are unique, handmade, and you'll be supporting local artists in Canada and across the globe!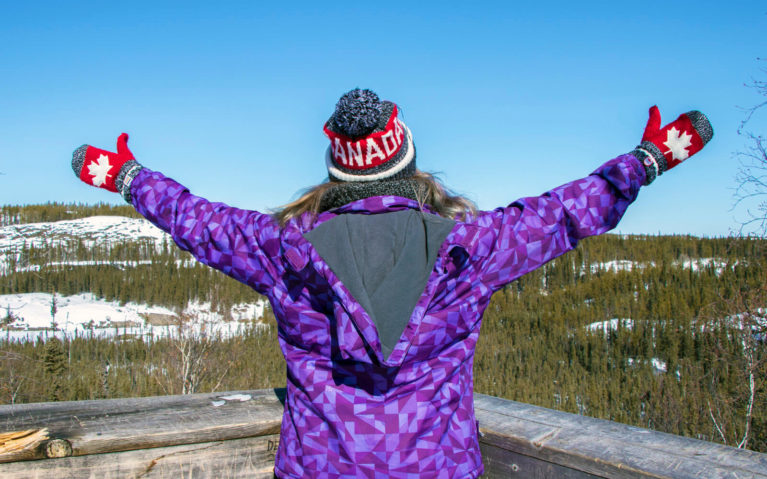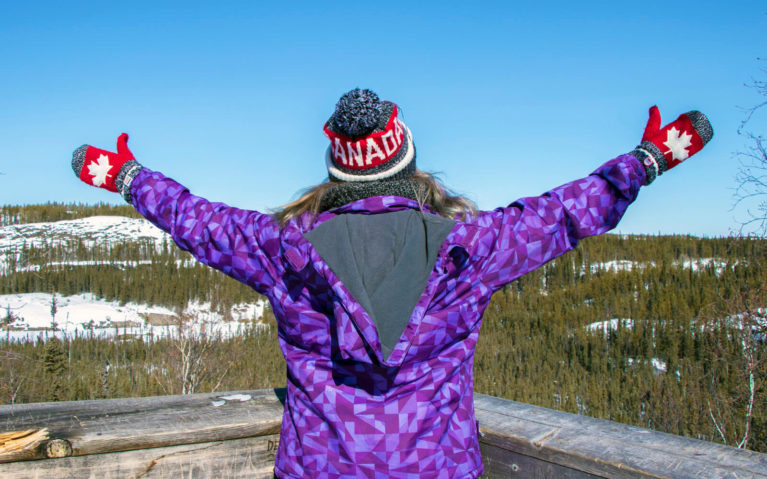 Which of These Canada Souvenirs Made Your List?
Whether you're looking to buy gifts for a Canadian, Canadian gifts for foreigners or just some of the best Canadian souvenirs, this list has you covered. Which of these Canada souvenirs made your list? Is there anything I missed you think should be included? Let me know in a comment below and be sure to share with friends and family who are looking to buy awesome Canadian gifts and souvenirs!
Looking for Other Great Gift Ideas?
Check Out These Gifts for Travellers to Suit Any Budget
Shopping For a Nature Lover? I Guaran-TREE They'll Love These Gift Ideas
Disclaimer
As I mentioned earlier, this post contains affiliate links where I may receive a kickback on any Canadian souvenirs you may purchase through them. Don't worry, there's no extra charge for you, it's just a way to help keep a roof over my head and a laptop under my fingertips so I can continue to share gems like this with readers like you!
Read more in IBB's disclaimer and privacy policy.
Want to Keep This Canadian Souvenir List Handy? Pin It for Later!