Gift Ideas for Nature Lovers They're Guaran-tree-d to Love

See what I did there? I just can't resist a good nature pun. In all seriousness though, it can be tough to know what to buy the nature lovers on your list. There's a wide range of us from the avid campers to the day hikers to the let's go into the backwoods only to emerge looking like cave(wo)men. Okay I might be exaggerating, but you get the idea. Luckily I've got a list of gift ideas for nature lovers to cover that range so you'll be winning their hearts for Christmas, birthdays or any special occasion like finishing their new van conversion!
Also if you thought that was the last terrible nature pun, you're sadly mistaken.
Disclaimer: This post contains affiliate links where if you make a purchase, I may receive a kickback at no extra cost to you. It helps keep IBB alive so thank you!
Help Spruce Up Their Wardrobe
While they may head for the outdoors every chance they get, chances are the nature lover on your list isn't going to wear that gear during their everyday lives. These companies not only have great designs but also help out the environment. Perfect for the nature lovers who's closet needs a face-leaf-t. Get it? Told you there'd be more nature puns. ANYWAY.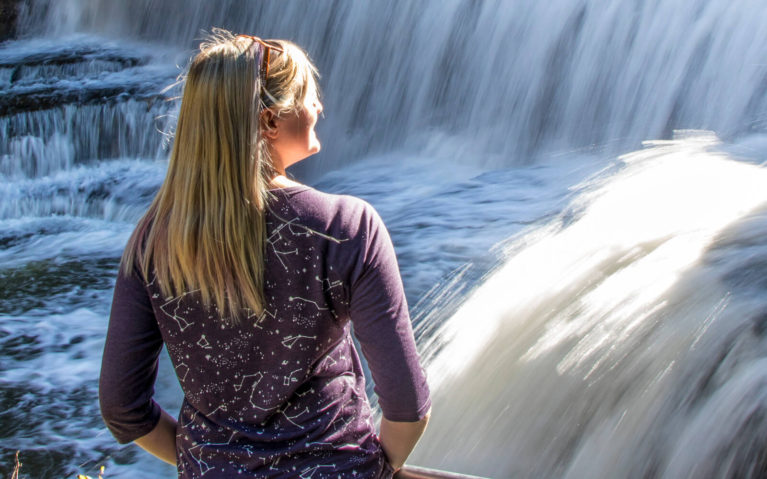 tentree
What's better than a sustainable company that has super gorgeous gear like the shirt I'm wearing above? One that plants ten trees for every item purchased! With the goal of planting one billion trees by 2030, I'd say they're pretty incredible. Each of their products is made using sustainable materials from the shirt threads to the environmentally friendly inks. I have a few of their pieces and they're some of the most comfortable clothes I have. My favourite is their constellation collection, but they have new designs coming out all the time! I recommend giving them a follow on social media as their collections can sell out fast.
National Parks Clothing
Let's face it – if you're a nature nut, chances are you've been to a number of national parks. Why not show off your adventures with a t-shirt repping where you've been? Support a small business owner with some fantastic national parks designs on Etsy. If you're looking for Canadian goods, the Parks Canada Shop will make you swoon. What I love about their gear is they actually have items tailored to raise awareness for Canada's species that are at risk – beluga, bison, caribou and monarch butterflies. I seriously want everything in their shop. Plus a portion of the proceeds goes to supporting Canada's national parks!
Beau-tree-fy Their Everyday Lives
While some have the fortune of being able to travel 24/7, many of us don't. Why not add a few everyday items to your nature-loving pal's repertoire so they can enjoy their passion for the outdoors from the comfort of their home!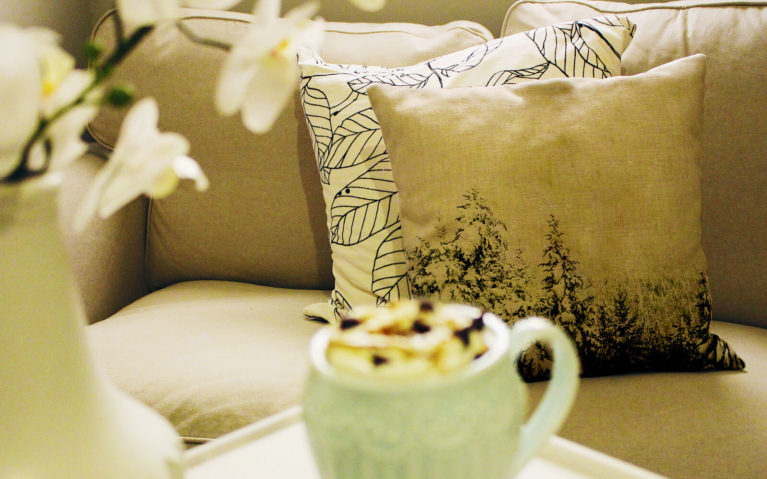 Bring Nature Indoors
For the days where the weather is lacklustre or you're feeling under the weather, bring nature inside with these awesome Ecocubes! Not only do the plants sit inside an adorable eco-friendly wood planter but you can get a few different plants like lavender and wild rose!
Decorative Throw Pillows
One can never have too many pillows… especially when they share how rad nature is! Grab one or two of these beautiful winter pillows that are perfect for snuggling up by the fireplace with. If your nature lover is more of a fair-weather friend, then some gorgeous leafy pillows like these or maybe even a flamingo pillow or two will bring the tropics to their couch! Just pair with CSI Miami or other tropical TV show and they'll be all set!
Journals
We all rely on our phones these days, but nothing beats writing out a to-do list, brainstorming ideas for your next adventure and other fun activities! My go-to for a great journal is Indigo and it's seriously one dangerous store. They have so many gorgeous options… too many actually. Some of my favourites are this gorgeous aurora journal (because really… who doesn't love the aurora?!) and this elegant travel journal. See what I mean? It's like tumbling down a rabbit hole and your wallet will hate you for it, but they're all just so damn pretty.
Who Wood-n't Love Some Gear?
It seems that the more I explore the trails and get outside, the more gear I discover I need. By need I mean it's more like want because who doesn't love some new snazzy equipment? Hey, at least its useful…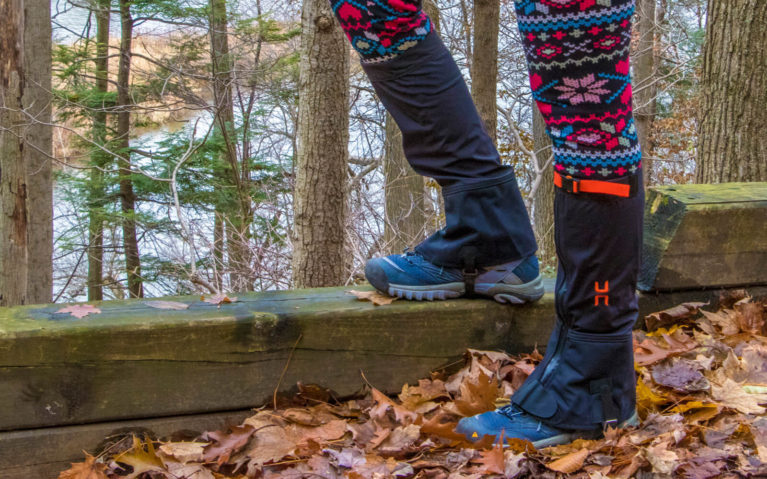 Gaiters
So I didn't even know what these were until Hillsound Equipment introduced me to them a short while ago. These are seriously game-changers for hiking in lackluster weather. Gaiters hook to your hiking boot, and then wrap around the base of them and then rest snuggly around your calf muscle. This keeps mud and snow out of your boots which makes you a happy hiker!
Lady Pee Stick
Ladies, this is seriously a game changer. Now many of you might be fine with peeing in the bush but I'm one of those ladies that has terrible aim. Too much information? Maybe, but if you just thought OHEMGEE ME TOO then you seriously need to get one. Okay, so it's not called a lady pee stick but you will never go into the wild without it again! I purchased it for my trip to the Northwest Territories as all of the parks were still closed for the winter… meaning the possibility of no bathrooms for Lindsay. Having this as a back-up set my mind at ease!
Snazzy Campfire Stove
Okay so I'm a bit of a chicken – I hate propane. It scares the living daylights out of me and I definitely don't want it in my trunk if I don't have to. Enter the BioLite CampStove! Not only can you cook some great eats on this bad boy, but this mini woodfire stove also has a rechargeable battery which stores excess power so you can charge your devices… even after the fire is out! I haven't tried it myself but it seems to have good reviews and I'm totally intrigued.
What About Gifts that Give Back?
As we're buying for friends and family, why not do a little bit of good at the same time? Here are a few ideas for heartfelt gifts that also help others.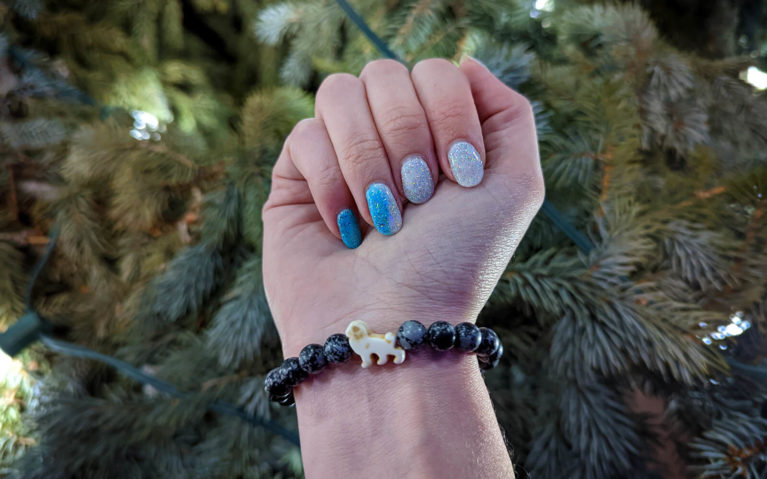 Bracelet from Fahlo
Fahlo is a company that started in 2018. Partnering with non-profit organizations such as the Sea Turtle Conservancy, Polar Bears International and more, they create bracelets that you can purchase. Each one comes with a specific tracking number so you can enjoy an interactive experience and gain insight on the animal you've chosen to protect! Choose from sea turtles, elephants, polar bears, sharks, penguins, and most recently, lions. Take a look at the bracelets available and you'll save 20% by clicking this link and using my code IBBTRAVEL20!
WWF Adoption Kits
The World Wildlife Fund has put together these fantastic adoption kits that allow you to symbolically adopt a wild animal that the organization is working to protect. For just $50, the kit includes a personalized adoption certificate, a poster and information pamphlet about the work you'll be contributing to, and a plush toy of the animal you've selected. There are over 40 to choose from and they keep adding more and more species each year!
No Ma-tree-rial Items, Please!
If you've got someone on your list that has too many things or doesn't want to accumulate more stuff, these non-tangible presents will be right up their alley.


Plan an Adventure
Instead of buying things, plan a trip to the great outdoors with your nature-loving friend! Take them to your favourite trail or plan a day of adventuring as you disconnect with the world and reconnect with each other and Mother Nature. Even in the dead of winter, you can find something fun to do. Check out these great winter activities in Canada for some inspiration whether you plan to embrace the snow in Canada or elsewhere! If you're located in Ontario, here are some great winter ideas for some fun in the ice and snow.
Help 'em Out Vouchers
Sometimes some elbow grease is the perfect way to really make a gift special. One of the only DIY gift ideas for nature lovers on this list – make some personalized vouchers. Things like taking care of their house/apartment while they're in the great outdoors, volunteering to help them pack for a trip, planning a picnic or being their travel buddy are all great ideas for vouchers. Nothing beats a handmade gift these days!
Afraid To Go Out on a Limb?
I get it. As someone who is fairly difficult to buy for, it can really suck to buy someone a present that you know they really don't like. If you don't want to cheat and send this post ahead to them (I'd be okay with that though, just sayin'!), you can always go with a gift card. Many may think gift cards are informal and don't have that personal touch but I know many of us love them. I mean… who doesn't want to go shopping for free?!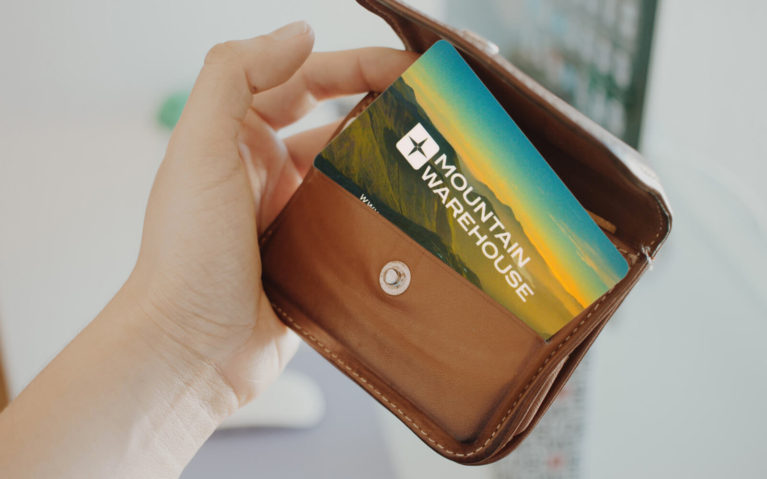 As for what stores to get them for, I'd say Mountain Warehouse and Bass Pro Shops are probably safe bets for gear. Mountain Warehouse carries a great range of goods that are reasonably priced while Bass Pro Shops carries a number of different retailers so they can go hog wild and get their favourite brands. For even more selection, Indigo is always a safe bet as they have a great selection of books, household items and even delicious goodies! Before you get any gift card though, I'd suggest either looking on Google to see what stores are nearby or ask where they get their gear from in advance!
Which of These Gift Ideas for Nature Lovers is Your Fave?
You made it to the end! Kudos for surviving all of my terrible nature puns, but at least with the wide range of nature-related items, this gift guide is sure to please the outdoorsy pal you're buying for! How many of these bad boys have you added to your own personal list? Tell me in a comment below and don't worry… no judgement will be passed as these gifts are RAD.
Also if anyone's looking to buy for me… hint hint.
Still Looking For Some Gift Ideas?
Stellar Gifts for Travel Lovers to Suit Every Budget
These Gifts Are Perfect for Any Canadian – or Anyone Missing Canada Right Now!
Disclaimer
This post contains affiliate links where if you book through them, I could receive a kickback at no extra charge to you! Read more in IBB's disclaimer and privacy policy.
Gathering gift ideas for nature lovers? Pin it for later!