One Day in Istanbul Itinerary – Your Guide to Exploring the City

Istanbul is a massive city with so much to discover. From the days of Constantinople to beautiful mosques to being a cat lover's paradise, one day is hardly enough to fully explore Turkey's largest city. However, my guide will help you hit the hot spots (along with the odd local gem) to make your trip to Istanbul memorable. Whether you're exploring Istanbul in one day or for much longer, my guide will ensure you leave the city fulfilled… and possibly craving a return trip!
Is it your first time visiting Turkey? You won't want to miss these tips!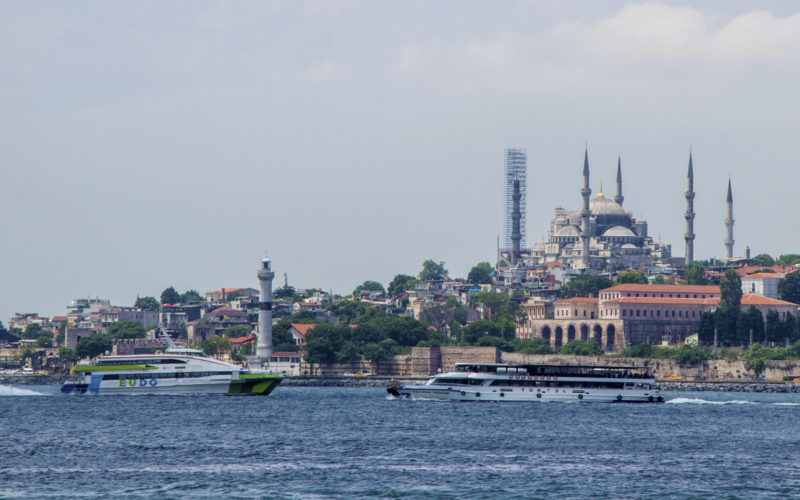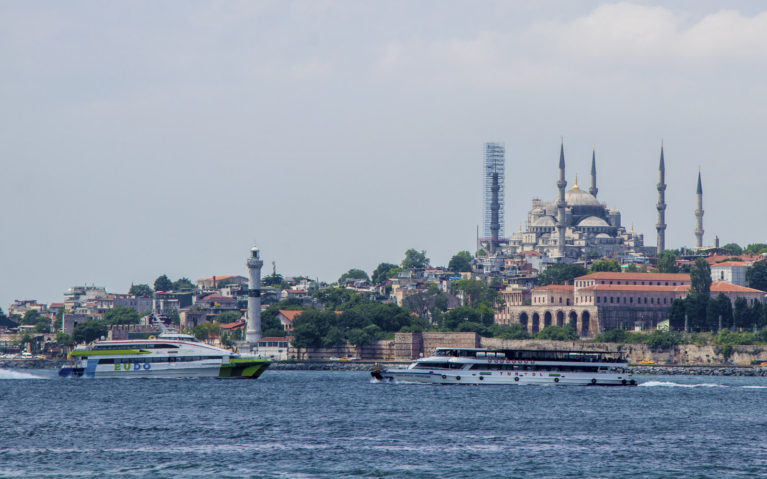 Travelling Within Istanbul
I honestly didn't anticipate this, but Istanbul's metro system is incredibly easy to navigate. Whether you're staying on the European or Asian side of the city, you'll be able to access everything easily. I stayed at the Istanbul Marriott Hotel Asia which was a short walk to the Kozyataği metro station. Not only are there great restaurants around it but the hotel itself is gorgeous. I just wish I had more time to enjoy it! These reviews from their guests will tell you more. If you're looking for deals on accommodation in Istanbul, you might find something on Booking.com!
If you do stay on the Asian side like I did, it means you'll have to take the metro to Kadiköy where you'll then take the ferry in the direction of Eminönü. This will drop you off right outside of the Spice Bazaar and the perfect spot to start your day in Istanbul!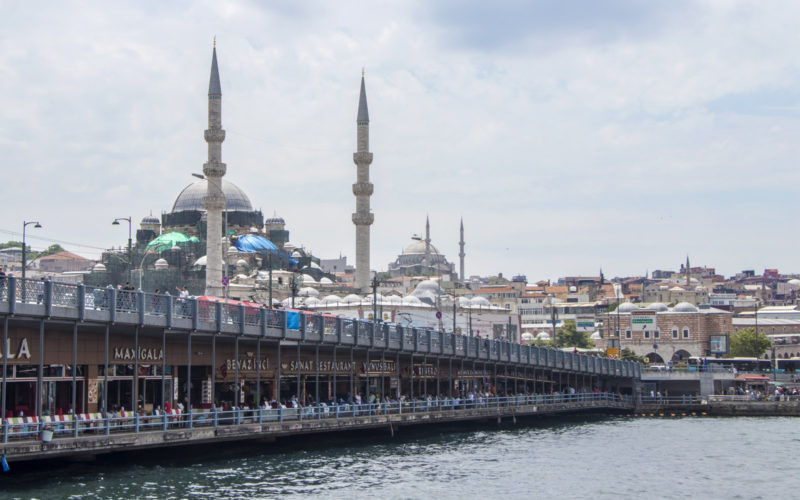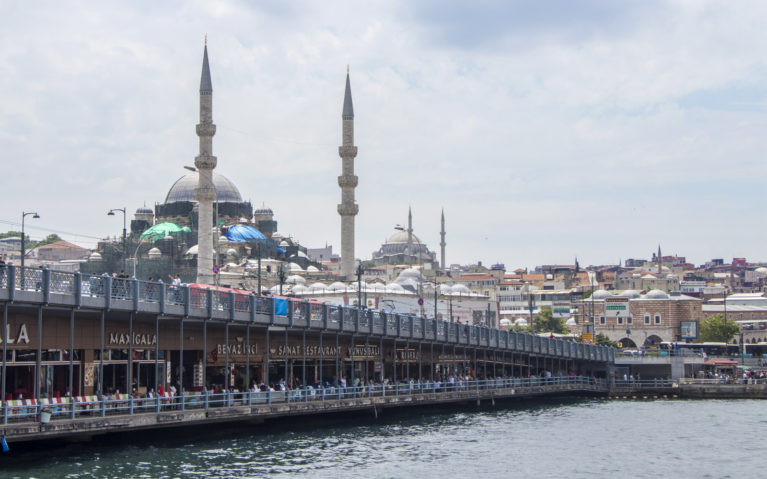 One Day in Istanbul Itinerary
Ready to make the most of one day in Turkey's largest city? Don't miss these must-visit destinations in Istanbul!
The Spice Bazaar and Grand Bazaar
Behold the sights (and delicious smells!) of Istanbul's Spice Bazaar. Mısır Çarşısı (translated: Egyptian Bazaar) in Turkish gets its name as it was built with profits from the Egypt division of the Ottoman Empire in the 1600s. To this day, the Spice Bazaar is the epicentre of spice trade within the city though that's not the only thing you'll find within its walls. While the many of the stalls will indeed sell spices, you'll also find plenty of other eats and treats… like Turkish Delight. I swear I ate my weight in the stuff while I was in Istanbul. If you're looking for a delicious souvenir, this is a great place to pick some up!
FUN FACT: if you hear something called the 'corn bazaar', chances are they're talking about the Spice Bazaar as Mısır means both Egypt and maize in Turkish!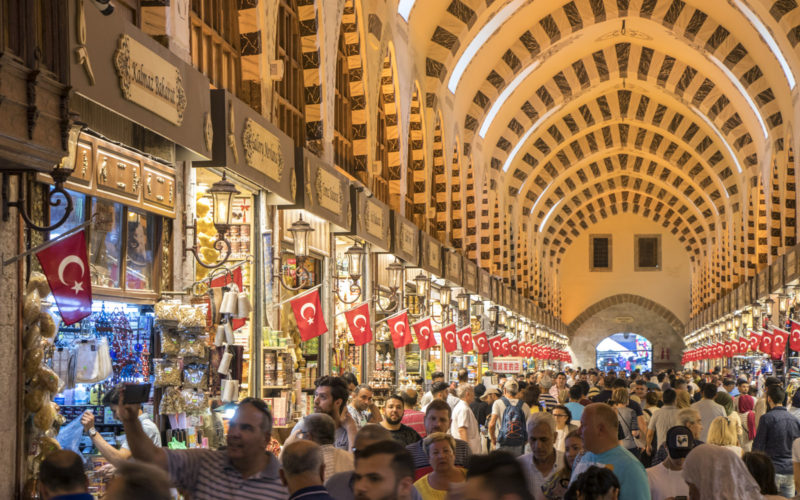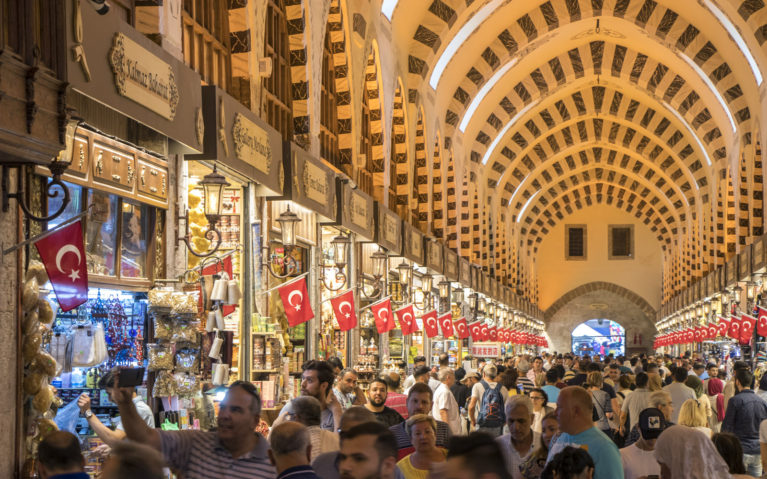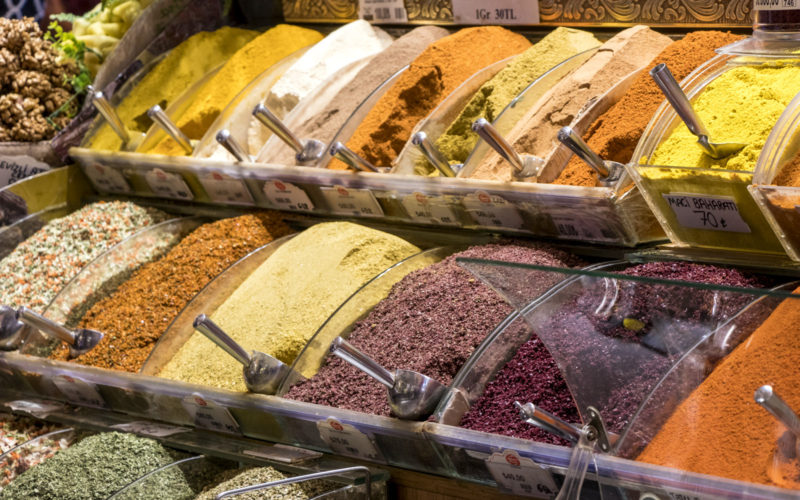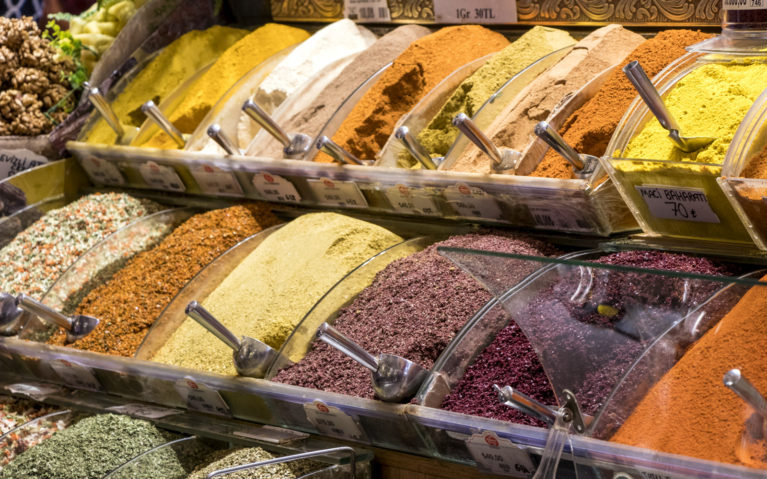 Once you've had a chance to explore, it's just a short walk over to the Kapalı Çarşı or Grand Bazaar. Covering 60+ streets and over 4000 stalls, it's one of the oldest covered markets in the world. Back in the 1700s when construction was complete, who would have thought it would employ over 26,000 people? Or that it would draw over 250,000 people on average per day? It doesn't take long to understand why it's one of Istanbul's major landmarks.
Wander through the Grand Bazaar's marvellous walls and appreciate the history and architecture within the site. It's easy to get a little disoriented, but if you follow the outer walls you'll eventually get back to where you started (or with a little help from offline Google Maps). You'll find everything from beautiful Turkish rugs to tea sets to custom items and more. Many of the stalls will accept bartering but it's good to know that some won't, though chances are if you're buying a few things they'll give you a good deal. Oh, and I highly suggest grabbing a döner and other delicious Turkish eats here if you get hungry!
SOMETHING TO NOTE: Most of the places within the Grand Bazaar only take cash. While some may take USD or even Euro, it's not a guarantee. If you're looking to exchange money, this is a great spot to do it (though many, but not all, exchange shops are closed on Saturdays).
Whether you're looking to just admire your surroundings or do a bit of shopping, be sure to give yourself a few hours to fully enjoy it. Istanbul's Grand Bazaar is open from 9am until 7pm Monday thru Saturday.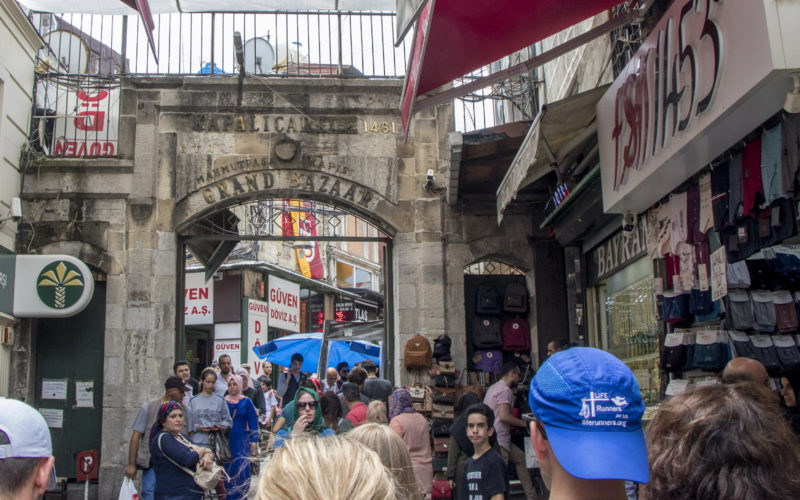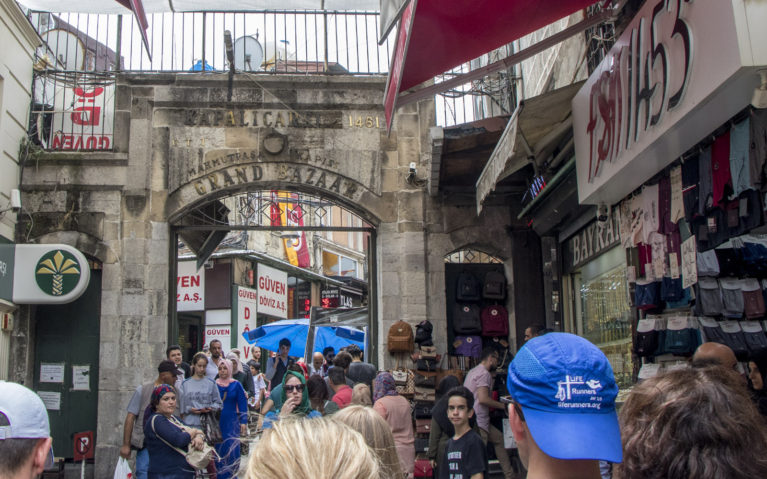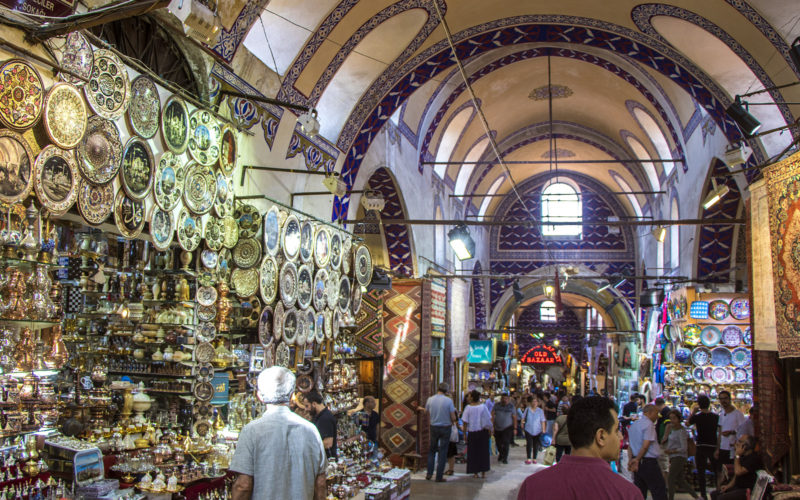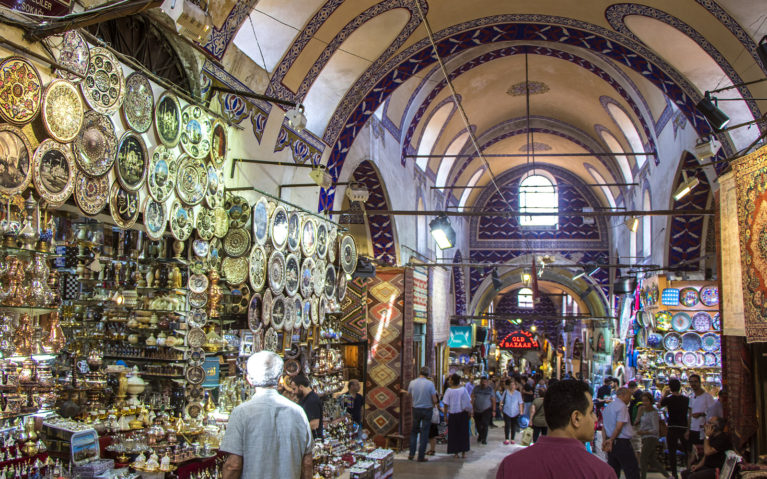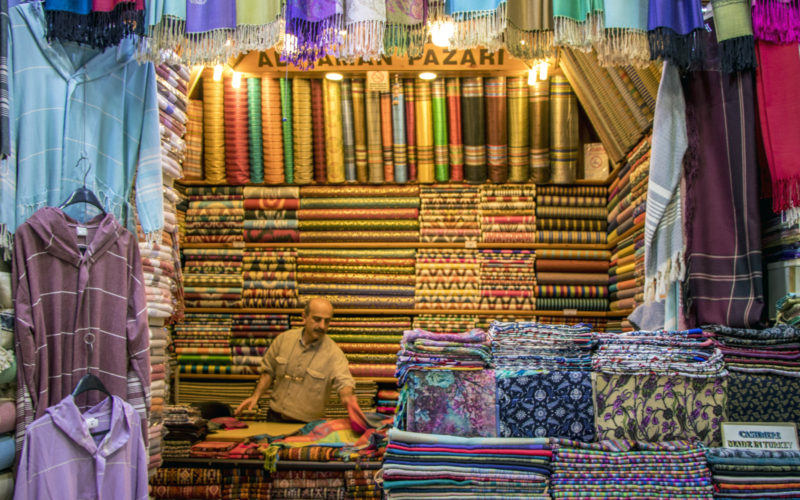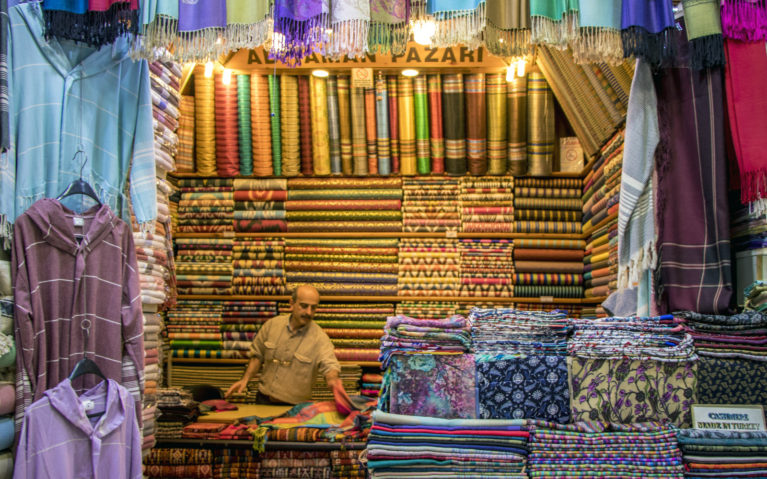 Istanbul's Blue Mosque
If you've heard of any of the mosques within Turkey's largest city, chances are it's the Sultan Ahmet Camii or as it's more commonly known, the Blue Mosque. Constructed in the early 1600s, its design is the result of 200 years of Ottoman mosque development. You'll notice elements that complement its neighbour, the Hagia Sophia, along with a traditional style of Islamic architecture. The 'blue' is even more prominent once the sun sets and its bathed in a beautiful blue light.
As it's still a practising mosque, attire respecting the Muslim faith is required. Both men and women should have their legs covered and while men may wear short sleeves, ladies must have their heads covered. If you're not prepared for this – don't worry. At the visitor's entrance, you will find a kiosk which will give you garments to wear inside free of charge. I had purchased a shawl during my time at the Grand Bazaar so I had it to cover my head, meaning I only needed the skirt to cover my shorts. This is honestly the way to go as my friends I was travelling with said the full head-to-toe garment was quite warm on a stifling summer day!
Another thing to note is that the Blue Mosque is closed to tourists for 90 minutes during the daily prayer times. These are based on the sunrise and sunset, therefore it changes depending on the time of year. You can find out the times during your visit with this website. If you do arrive and it's closed, you can either skip ahead to another place of interest and come back or wait until visitors are allowed to enter.
INSIDER TIP: Don't be fooled by people who approach you saying that you can pay to skip the line. This is a scam! Entrance to the Blue Mosque is free and while the line may look long at times, it will move quickly.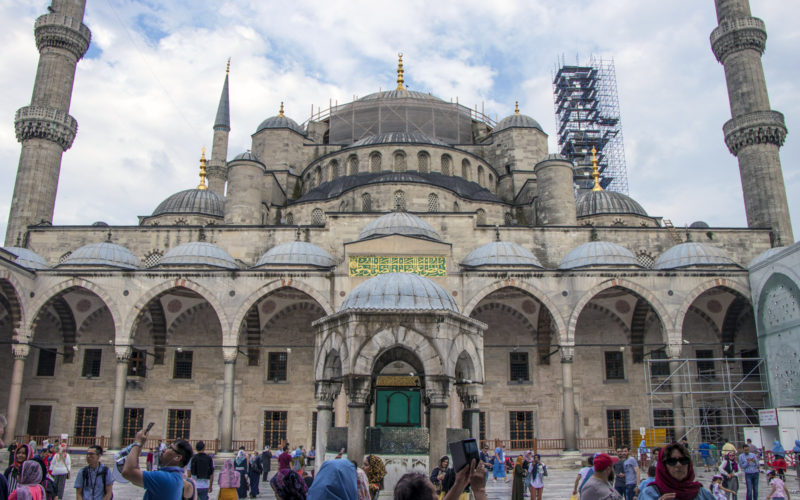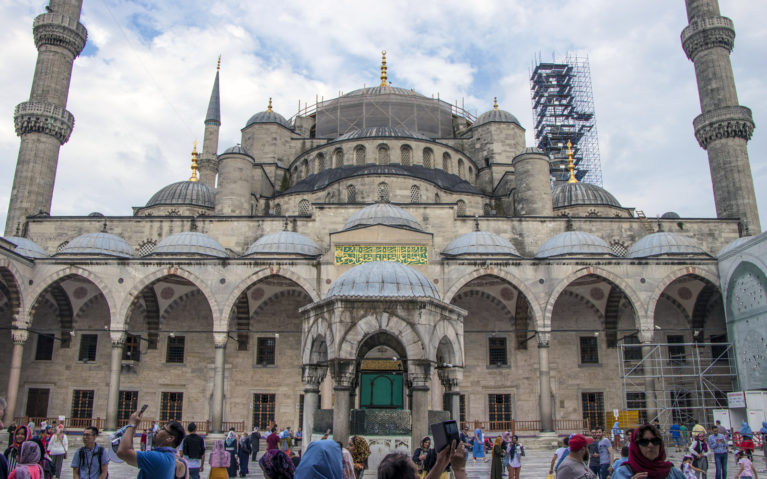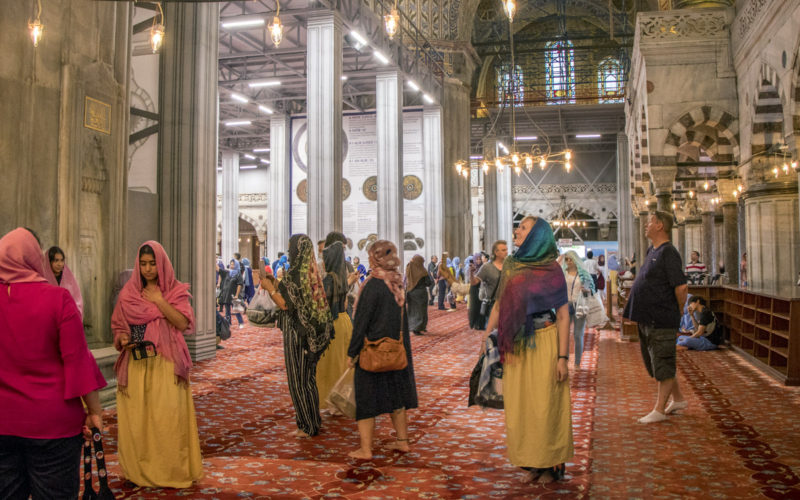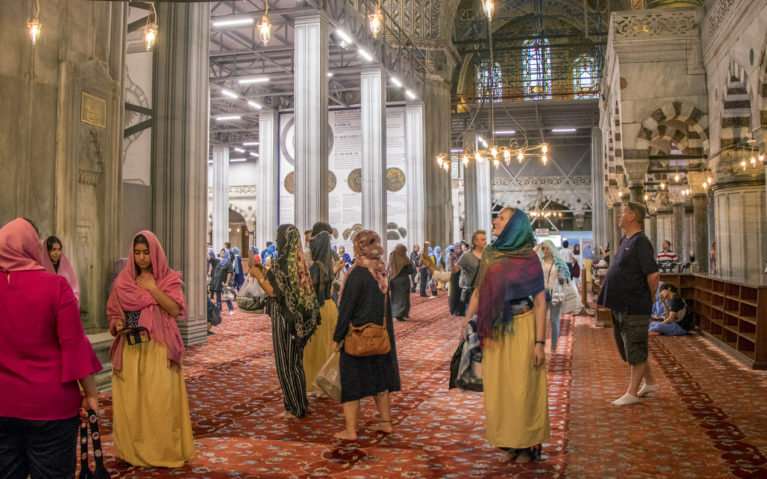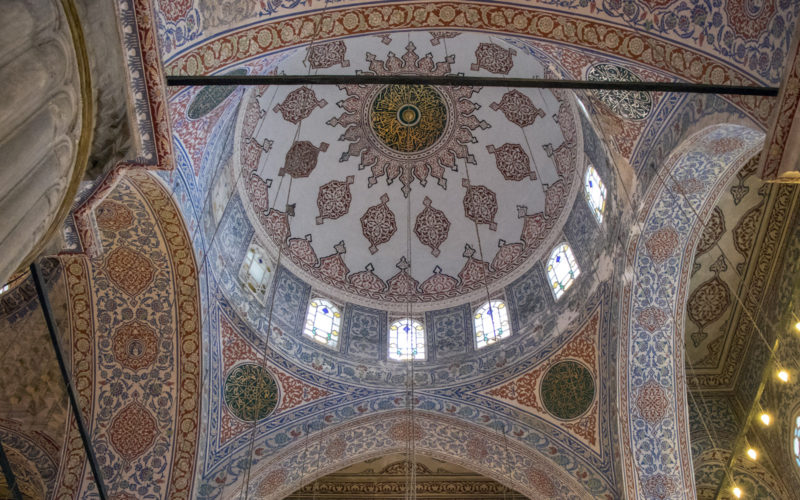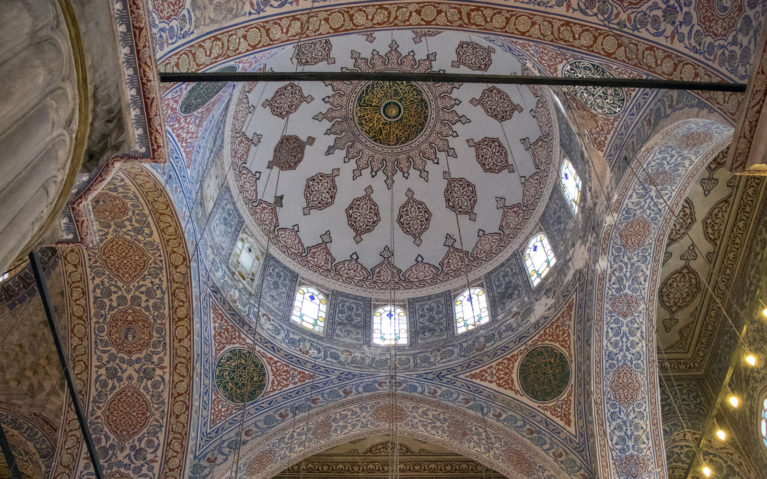 The Hagia Sophia, Where Christianity Meets Islam
Erected in 537 AD, the Hagia Sophia (Ayasofya Müzesi in Turkish) is one of the world's most prominent monuments. For over 900 years it served as a church for the Catholic faith, during which it was mainly Eastern Orthodox. However, it was converted to Roman Catholic from 1204-1261 during The Crusades. Come 1453, it was converted to a mosque when the Ottoman Empire conquered the city.
The Hagia Sophia was the world's largest cathedral up until 1520 when the Seville Cathedral took the title, but that doesn't change the fact that she's a work of art. The architecture is absolutely stunning as you crane your neck to see every detail from the floor to the ceiling. What really makes it interesting (at least to me anyway) is that it's one of the few places in the world where you'll see Christianity and Islam co-existing. On one hand, you'll see huge calligraphic panes referencing Allah, Muhammad and other prominent Islamic figures and on the other, mosaics depicting Jesus, Mary and more. It truly is a remarkable place that will now remain immortal as a museum for visitors across the globe. One thing to note is that the Hagia Sophia is in a constant state of restoration. Every time you visit, a different part of the building is being worked on. If you want to see it without any scaffolding, this online virtual tour will come in handy.
FUN FACT: The Hagia Sophia is actually the third "church" to stand on this site. The first, constructed in 360 AD burned to the ground almost 25 years later during a riot. In 415 AD the second church was reconstructed, however it met a similar fate to that of the first one. You can even see remnants of the older structures as you wander the grounds.
If you're going to run into a line anywhere, it's here. While you can pay for a guide where you can skip the line and then enjoy a tour, it can be expensive. I was with a group of 8 during my visit so it was worth it to skip the 45min or more wait time as it only cost us an extra 10 Lira each (about $3CDN) on top of the entrance fee of 40 Lira (about $10CDN). If you're not a fan of waiting, it might be good to try and do this first and visit the other destinations I have mentioned afterwards. Trust me though, the Hagia Sophia is not to be missed. Don't believe me? These photos should persuade you!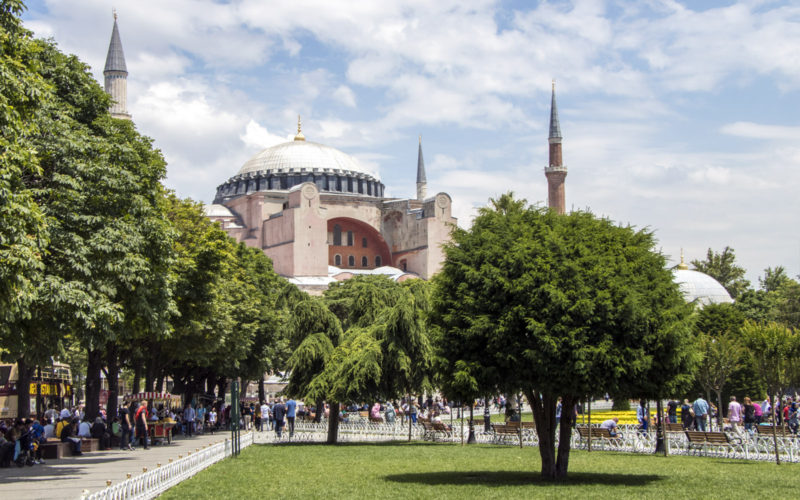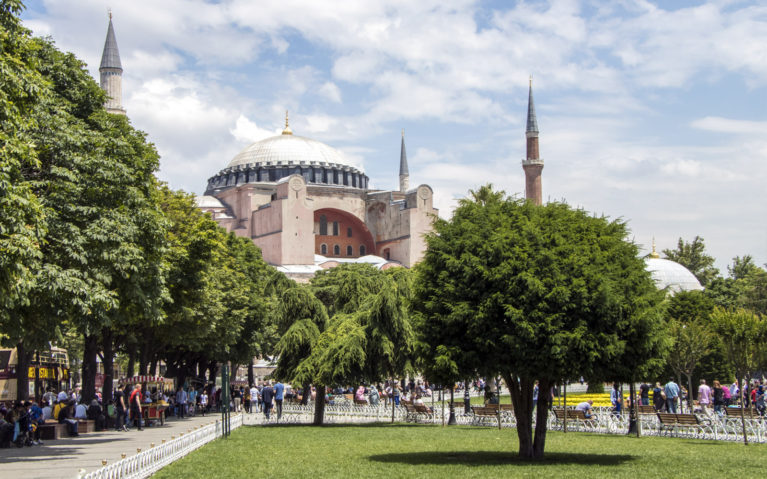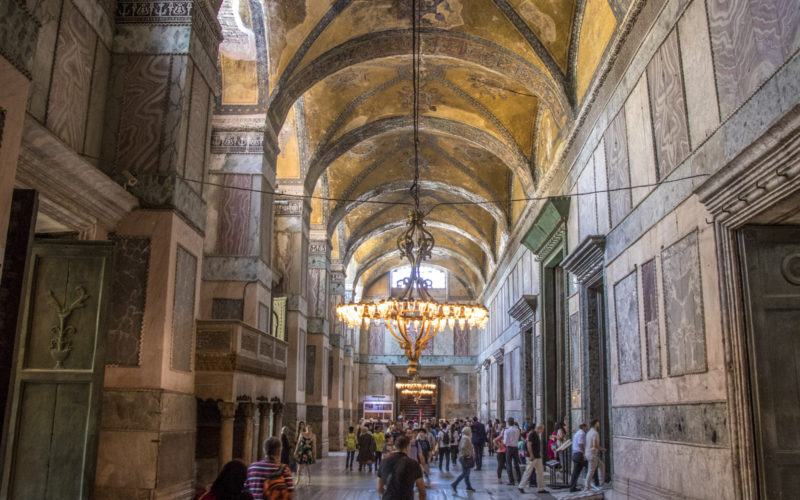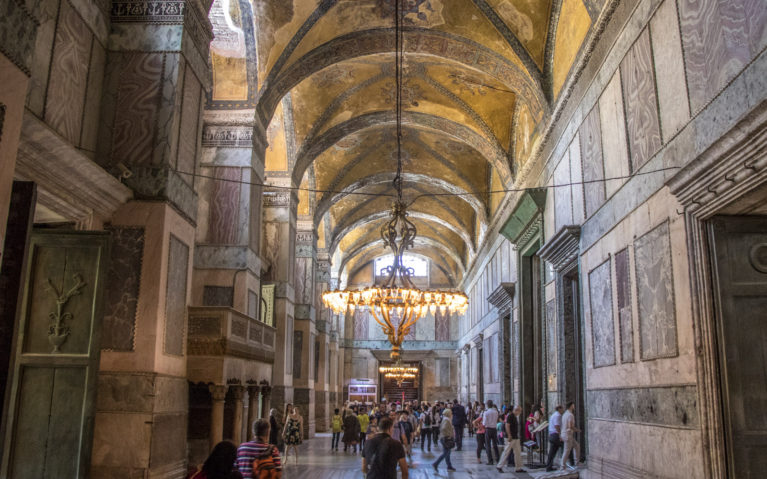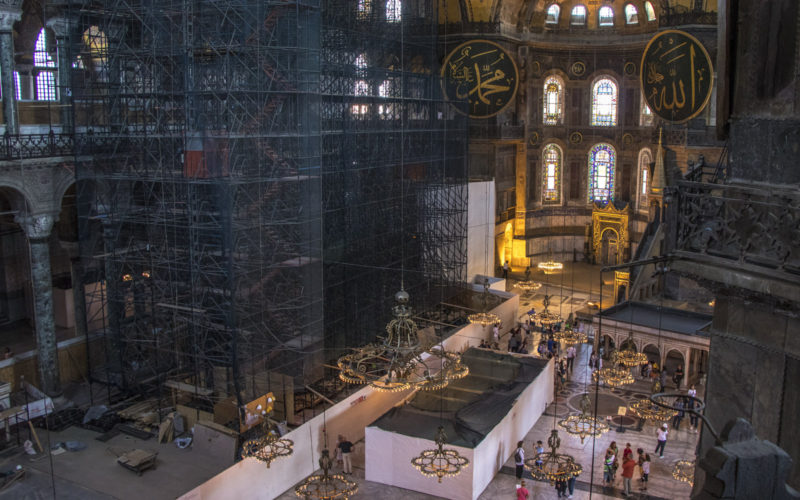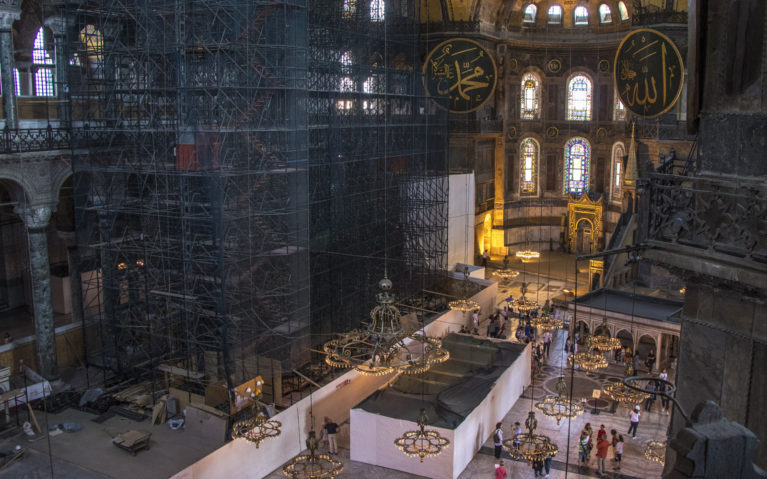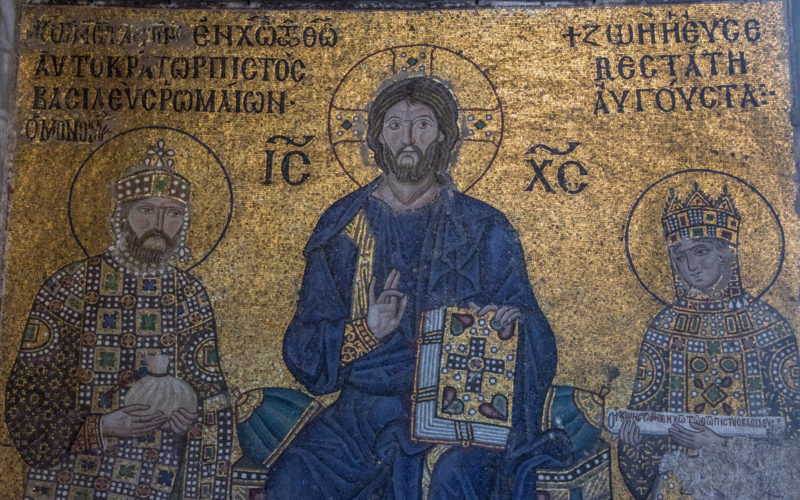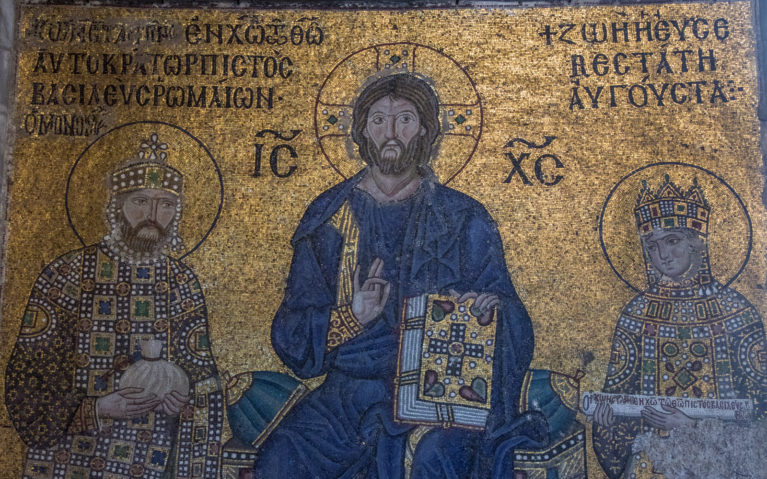 Go Below into the Basilica Cistern
Not all attractions are above ground in Istanbul.  Just 100m or so from the Hagia Sophia lies the subterranean wonder of the Basilica Cistern (Yerebatan Sarnıcı in Turkish). Commissioned by Emperor Justinian in 532 AD, it served as a water filtration system for the Great Palace and surrounding areas. It could store up to 80,000 cubic metres of water which would be delivered via a series of aqueducts when necessary. It was forgotten when the Byzantine emperors vacated the Great Palace and rediscovered by chance during the rule of the Ottoman Empire about 1000 years later.
With over 300 beautiful columns holding up its ceiling, the atmosphere is one of grandeur and astonishment. It may not have received the respect it deserved during the Ottoman Empire as it became a dumping ground of sorts, that has since changed after being adopted by the city of Istanbul. Open to the public for over 30 years now, it has become a must-see attraction. Wander along the wooden platforms as you watch schools of fish wander the waters like phantoms, feel the water as it drips from the ceiling and dodge the gaze of Medusa for fear of being turned to stone!
FUN FACT: If you're a James Bond fanatic, you may recognize this location as it was featured in the 1968 film From Russia with Love.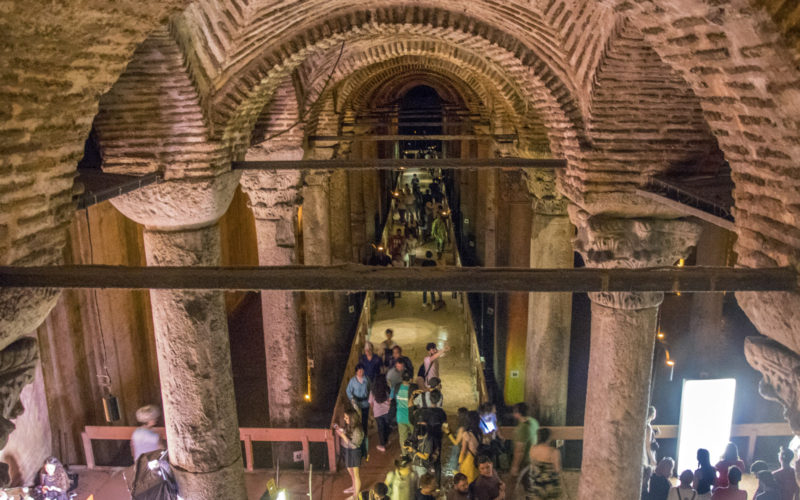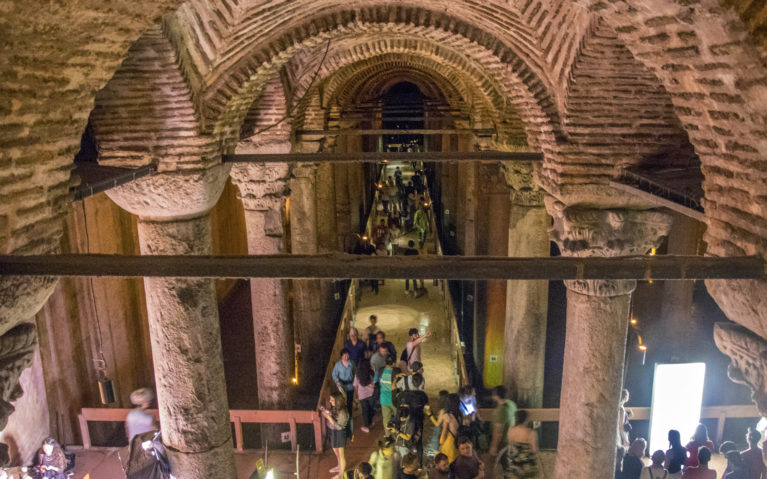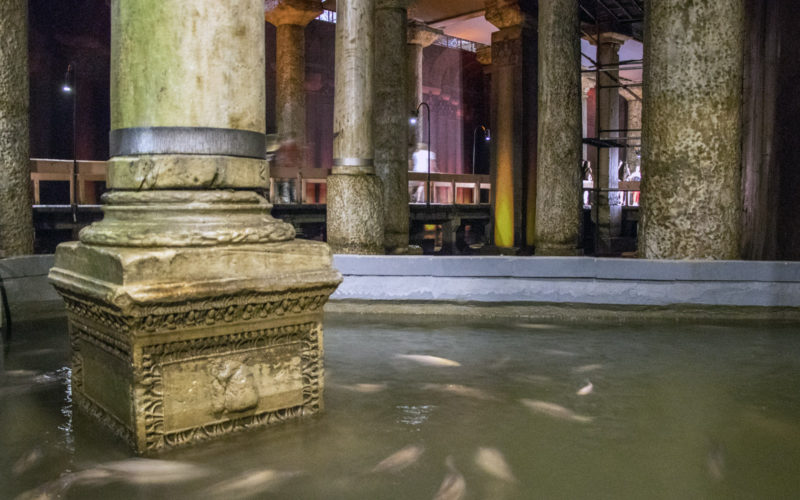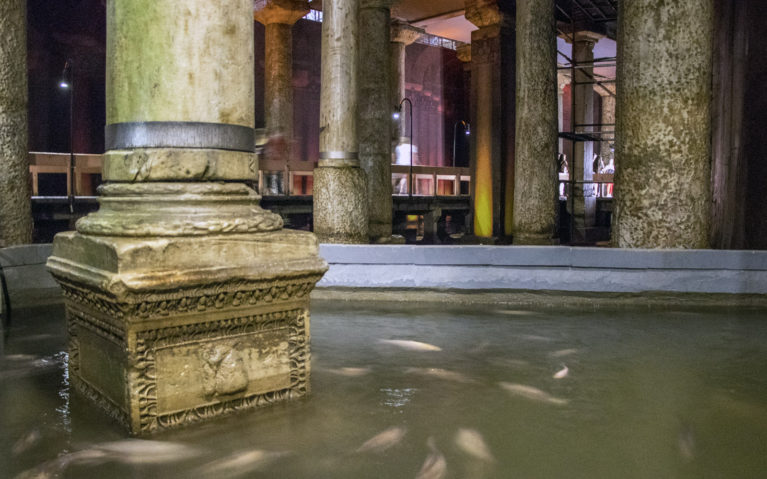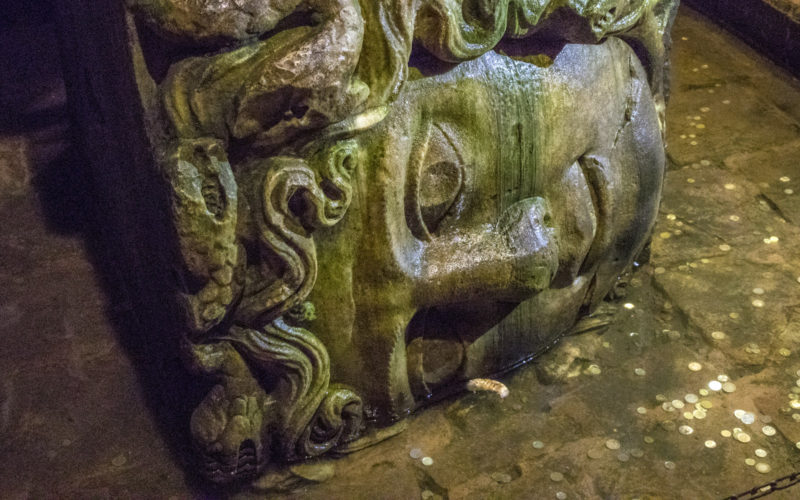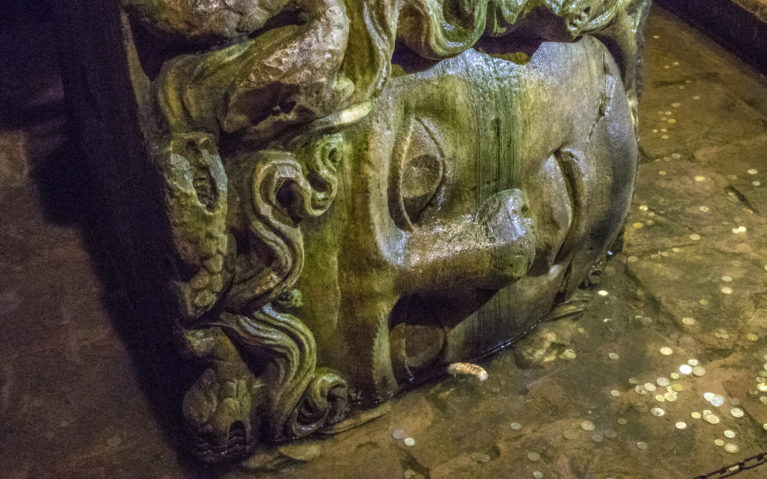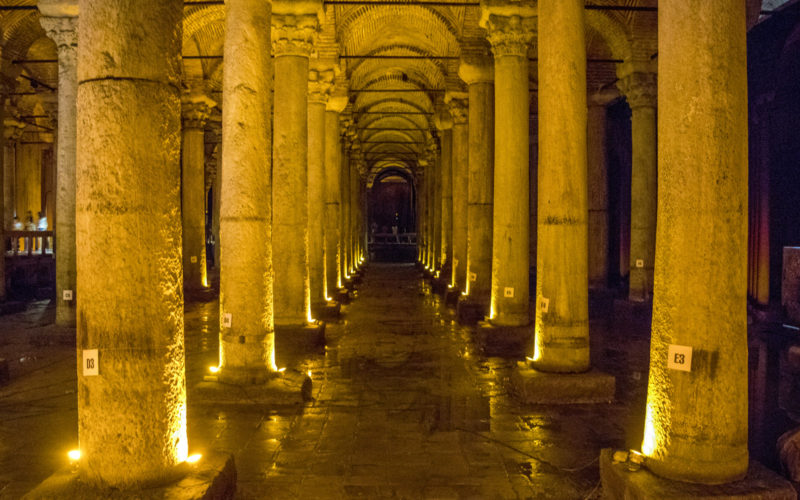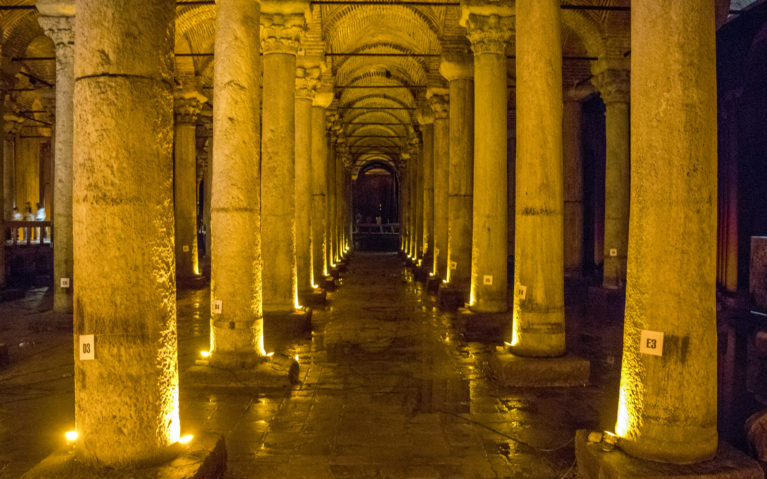 Time to Wander… and Reward Yourself with a View!
By now you're probably 'learned-out' and have had all the knowledge you can manage crammed in your brain. The best way to decompress? Explore! There are plenty of additional mosques and buildings to admire, though I suggest heading back in the direction you came. It's not time to hop on the ferry just yet though! I promise this last stop will be your favourite.
Most guides will tell you to head to the Galata Tower for some of the best views of Istanbul. While this 9-storey tower was the tallest building back when it was constructed in 1348, the skyline has changed since then. Still of historical significance, it is worth a visit if you're up for crossing the Haliç Inlet (Golden Horn in English). I was not one of these people, however I stumbled upon a place with views that are just as amazing, if not better since it's not a tourist hot-spot!
Head back past the Grand Bazaar and wander north. You'll come upon the Süleymaniye Mosque, the second largest in Istanbul. While I'm unsure if you can go inside, the grounds alone are gorgeous. Its location in the Third Hill of Istanbul offers some beautiful vistas across the Bosphorus River. Take a moment to admire the sights and even rest a little on the grass where you'll find families picnicking and even some children playing soccer.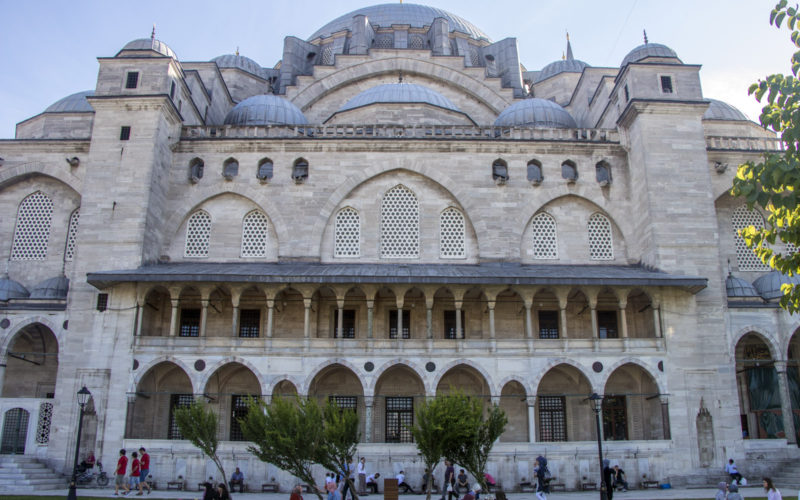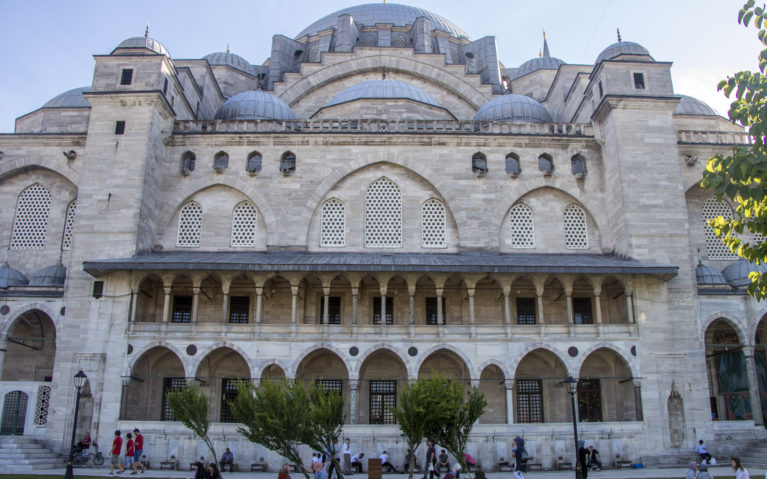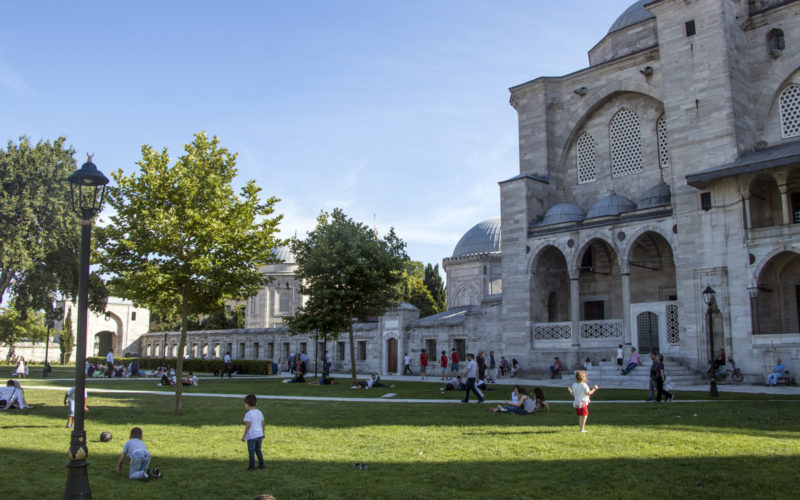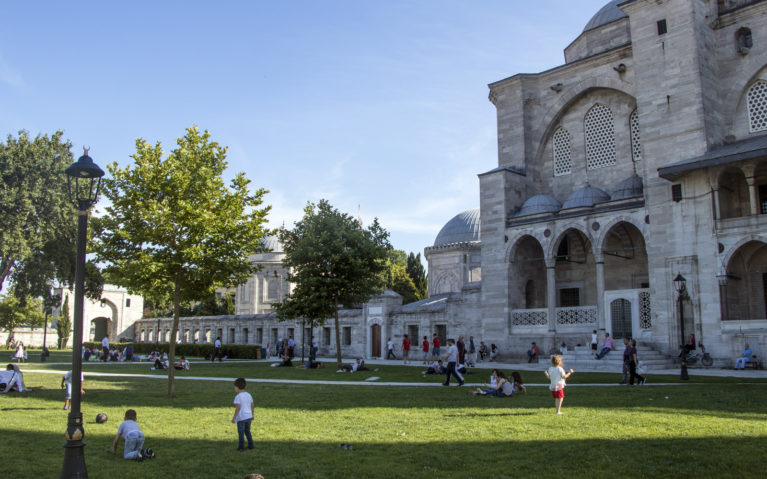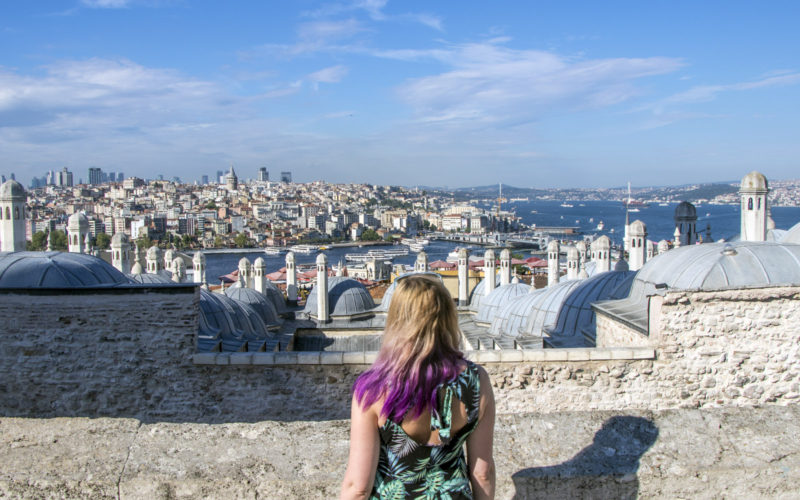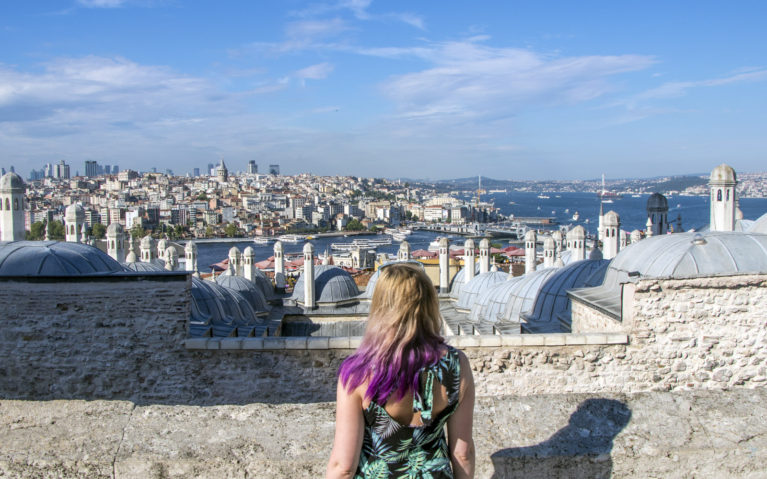 This isn't the spot though… so make your way down to Mimar Sinan Caddesi, then turn right and go downhill onto Fetva Yokuşu. About 50min from the corner you'll see signs for 'Kismet Toka' and to the right of it, there will be a staircase with signs that say 'teras'. Follow it up the rabbit hole – I promise all the stairs are worth it!
You have just arrived at the Mimar Sinan Teras Cafe which instantly became my favourite place in the city… possibly even the country. Offering panoramic views and plenty of seating, if you're going to go anywhere during your one day in Istanbul – this would be my pick. Not only that but it offers great food (plenty of options I might add!) and drinks at a very reasonable price. Robin and I had a huge salad, a pizza and two iced coffees for 50 Lira (about $12CAD) in total. Paired with this ambience, it's seriously worth every penny or rather, kuru. Sunset chasers? These views during the golden hour will be right up your alley.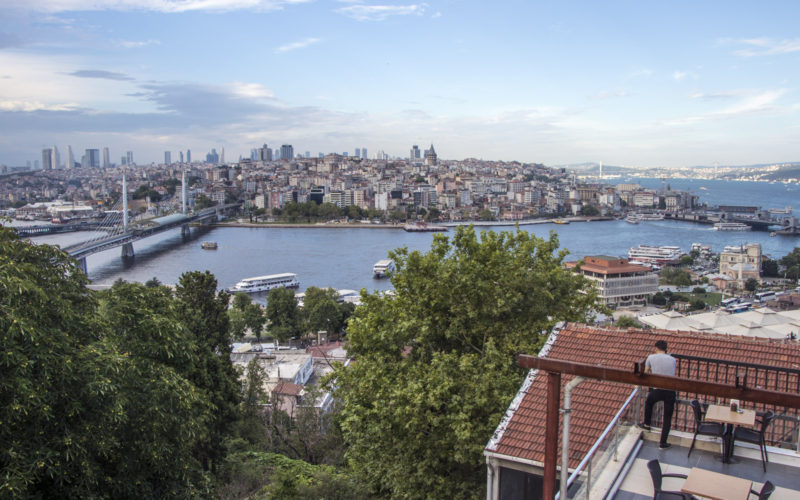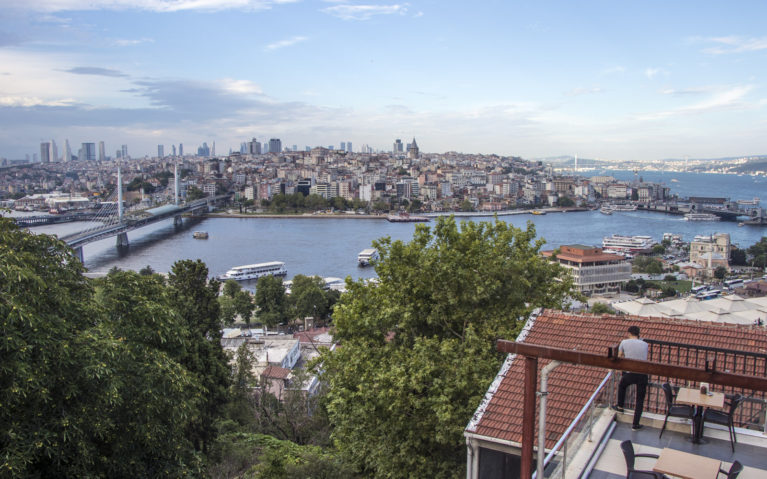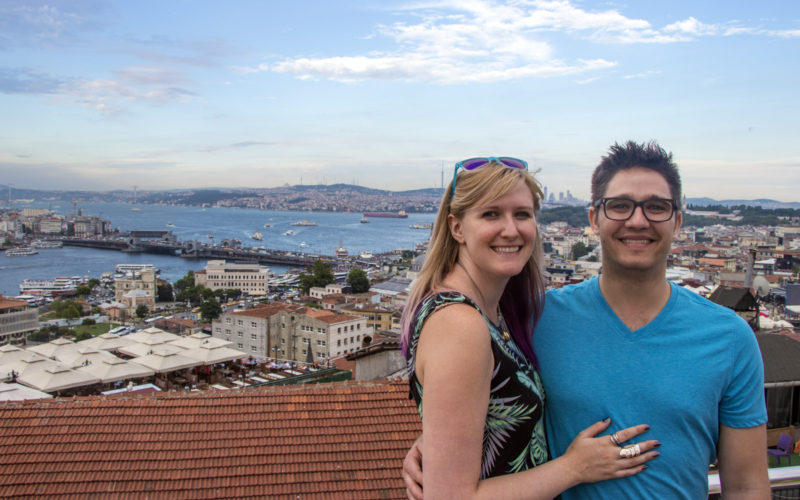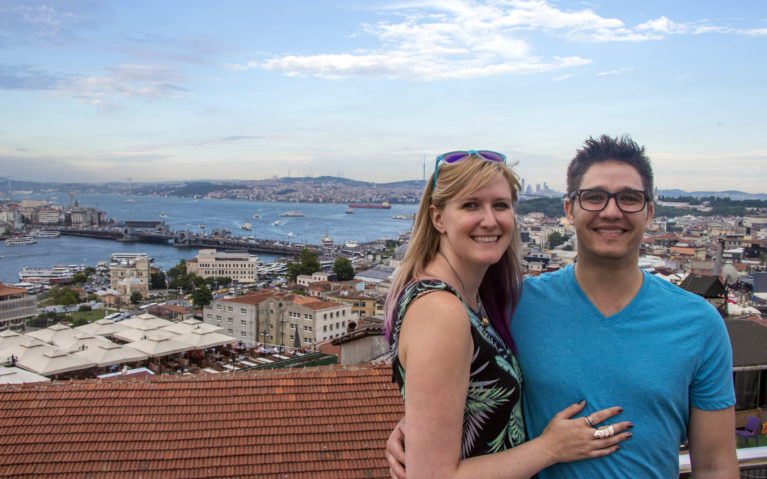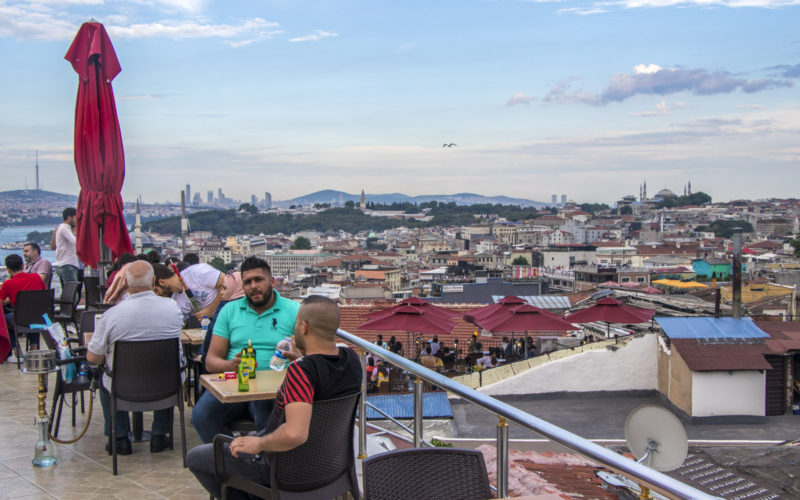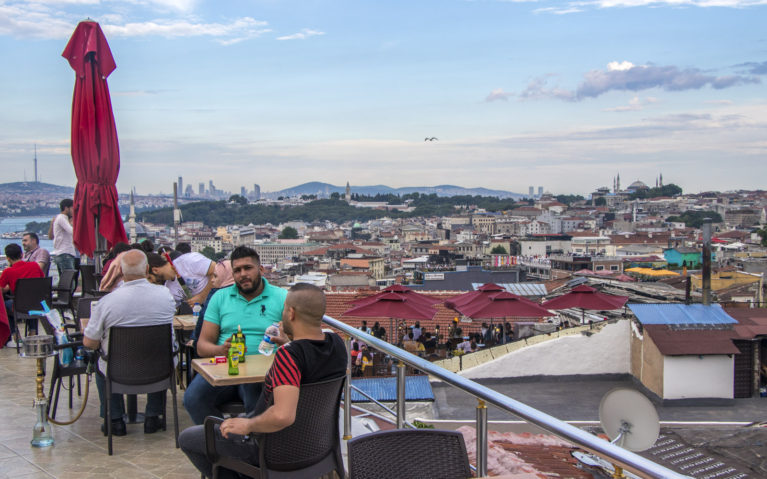 Ready to Tackle Istanbul in One Day?
As I mentioned at the beginning of this post, it's impossible to see everything in Istanbul in one day. It is such a large city and this barely scratches the surface! Though following this one day tour of Istanbul will allow you to get your bearings and tackle a good chunk of the city. Take a look at the map of Istanbul below to plan your route.
If your visit is longer than just 24 hours (2, 3 days in Istanbul or more?), I'd suggest adding a Bosphorus tour where you cruise down the river to your itinerary. Not to mention some solid, no-real-destination Istanbul sightseeing! It's how Robin and I stumbled upon that amazing terrace. There are so many places to visit in Istanbul that I guarantee you'll find something new each time you're in town.
Ready to hop on a plane and get to Istanbul? See if Skyscanner can help you find some cheap flights to Turkey!
Disclaimer
This post contains affiliate links where I may receive a kickback if you make a purchase through them at no extra charge to you. If you have any questions regarding this, please visit IBB's Disclaimer & Privacy Policy page.
Want to keep this one day in Istanbul itinerary handy? Pin it for later!