26 Outdoor Skating Trails in Ontario You'll Love At Frost Sight

Once the temperatures drop and the snow starts to fall, it's time to embrace the winter season. Not only that, but it's time to dust off the skates for some icy fun! Looking for some interesting things to do in Ontario this winter? This year, let's spice up the season. Instead of a trip to the usual skating rinks, take your experience to the next level with these incredible outdoor skating trails in Ontario!
Ever since the very first skating trail in Ontario opened in 2012, the trend has taken off like hotcakes. I absolutely LOVE it as it's yet another fantastic way to enjoy our Canadian winters. There are so many I haven't been able to enjoy them all just yet! Where can you hit the ice? Let's take a look!
SOMETHING TO NOTE: In light of what's happening right now, some of these Ontario skating trails may require resevations in advance and might not be offering rentals at this time. Be sure to confirm in advance to avoid disappointment.
Arrowhead Provincial Park Skate Trail
Where: 451 Arrowhead Park Rd, Huntsville
Price: Park Entrance Fee ($17/vehicle Monday to Friday & $20/vehicle Saturdays, Sundays & holidays)
Skate Rentals Available: Yes – $10 for 3 hours
Head just 10 minutes north of the city for some Huntsville ice skating fun in Arrowhead Provincial Park. Follow the trail as it meanders through the beautiful forest with trees so tall they seem to touch the sky. While it's gorgeous during the day, the real magic happens once the sun sets.
Arrowhead's Fire & Ice Nights take this already amazing Ontario skate trail to the next level with over 200 tiki torches lining the route. There are also two bonfires ready for some hotdog and marshmallow roasting while keeping you toasty all evening long. Arrowhead Provincial Park can be busy on weekends at the best of times (especially on Fire & Ice nights) so I recommend visiting mid-week if possible. No winter trip to Huntsville is complete without a visit to Arrowhead's skate trail!
Bentway Skate Trail
Where: 250 Fort York Blvd, Toronto
Price: Free
Skate Rentals Available: Yes – $10 for adults & $5 for kids (free Thursdays from 5:00-9:00pm), helmets for $5
Many flock to Nathan Phillips Square as their go-to downtown Toronto skating rink. If you're looking for somewhere to go skating in Toronto, I say head a little further south to The Bentway! This 220m figure-eight skate trail is one of the best things to do in Toronto in the winter months. Enjoy some winter fun in the middle of this urban jungle beneath the Gardiner Expressway. Zip around the track while enjoying the sights and sounds of Toronto as well as some incredible street art.
Don't know how to skate? You can learn at The Bentway! They offer free skate lessons for kids on Saturdays from 12:00 pm – 2:00 pm and adults on Tuesdays from 7:00 pm – 9:00 pm. Keep warm at the on-site winter village which offers hot chocolate, alcoholic and non-alcoholic beverages. If you feel chilly, heat up at any of the warming stations nearby!
Chinguacousy Park Skate Trail
Where: 9050 Bramalea Rd, Brampton
Price: Free
Skate Rentals Available: Yes – $10 for adults & $5 for kids, helmets for $5
Designed to mimic that of a canal, the Chinguacousy Park skate trail is sure to be a hit! Meander your way around the big bends as you enjoy all that winter has to offer. It's the perfect spot for skaters of all skill levels as there's 2000 sq. meters of ice surface, meaning plenty of room to practice your skills! There's also a food truck nearby to keep you fuelled up while enjoying the trail. There are washroom facilities on site along with lockers available for a quarter.
Clergue Park Skate Trail
Where: 10 East St, Sault Ste. Marie
Price: Free
Skate Rentals Available: No
Brand new in late 2018, the Clergue Park Skate Trail is an amazing addition to Sault Ste Marie. This serpentine trail offers beautiful views of the St Mary's River right along the city's waterfront. You'll pass by some of the sculptures within the Art Gallery of Algoma's outdoor sculpture park while enjoying the natural rolling hills throughout the track.
Part of the Hub Trail network, it's easily accessible with plenty of parking surrounding it. You'll find bonfires on Friday and Saturday nights throughout the season to keep you warm and toasty. Be sure to stop by the concession and grab a s'mores kit, some hot chocolate or a hot apple cider.
RELATED: Sault Ste Marie is a winter adventurer's paradise. Check out my guide to all things winter in Sault Ste Marie and you'll see the The Clergue Park Skate Trail is just one way to enjoy the season in The Soo!
Countryside Adventures
Where: 16495 Sixth Rd, Moose Creek
Price: $14 for adults (16+ years), $10 for youth (6-15 years), $10 for seniors & military, children 5 and Under are Free
Skate Rentals Available: Yes – $10 per rental
Less than an hour outside of Ottawa you'll find a family-friendly spot with plenty of fun for everyone! Countryside Adventures is located in Moose Creek and offers a three kilometre skating trail through their gorgeous forest. Sheltered from the wind and bursting with beautiful scenery, you'll enjoy this serene route as you reconnect with nature on the ice.
You can make a full day of it as Countryside Adventures also offers cross-country skiing, snowshoeing and a tubing hill! Additional fees may apply for these activities. You don't even have to worry about packing a lunch as they have a food truck on-site to keep you fuelled for your winter adventure. Plan your visit any day of the week as they're open daily!
Cranberry Marsh Ice Trail
Where: 1074 Cranberry Rd, Bala
Price: $10 for adults, $8 for kids
Skate Rentals Available: $10/half day (opening until 1:00 pm, 1:30-4:00 pm or Saturday evening from 6:00-9:00pm)
While Muskoka Lakes Farm & Winery is one of the top spots for autumn fun in Ontario with its cranberry festival, it doesn't stop there. Follow the 1.2km long Cranberry Ice Trail as you skate through 12 acres of cranberries the Johnston's Cranberry Marsh is known for. That's right, you've got forest on one side and cranberries on the other. You can't experience this anywhere else!
If you can't resist a classic game of shinny, don't miss checking out the Bog Hockey Acre. Saturday nights you can enjoy the trail as it's illuminated by over 400 tiki torches for Light the Night, making it the perfect winter date night spot. When you need to warm up a little, head into the Farm & Winery for some delicious comfort food or a glass of mulled wine – cranberry blueberry wine at that!
Deep River Skate Trail
Where: 17 Double Dip Road, Deep River
Price: Free
Skate Rentals Available: No
One of the Ottawa Valley's newest skate trails, head to Grouse Park with skates in tow for some winter fun! Located 40 minutes northwest of Pembroke in the town of Deep River, their skate trail is open seven days a week from 10:00 am until 9:00 pm. No rentals are available so be sure to bring your own set of skates. Strap them on at the picnic tables located at the entrance of the trail and hit the ice for as long as you like! If you need a break from all the fun, there are benches located along the trail for a pit-stop whenever you need it.
Discovery Harbour Skate Trail
Where: 93 Jury Dr, Penetanguishene
Price: $8 per person, kids under 5 free
Skate Rentals Available: Yes – free
Enjoy the historic allure of Discover Harbour in the winter months with their kilometre-long loop. Circling the historic site, you'll adore the gorgeous views of Georgian Bay from the trail. You don't want to miss their Ice & Fire nights complete with fireworks every Friday throughout the season at 7:30pm sharp! Ever heard of crokicurl? You can even try your hand at this overly Canadian winter game at their rink!
When you need to warm up, head to the Skate Blade Café and Garrison Hall for snacks and refreshments to keep you nice and toasty. Oh, and don't forget to bring your snowshoes too if you have a pair as there's also a snowshoe trail for even more winter fun! Visit their Facebook page for updates on the trail.
Fern Resort Skating Trail
Where: 4432 Fern Resort Rd, Ramara
Price: $44 per person
Skate Rentals Available: No
Wind your way through the woods with the 1.5 skate trail at Fern Resort. You may be thinking that price tag is a little steep but the skating trail is part of a package full of winter fun. Choose from either their Sunday Funday package which includes a full country breakfast and access to Fern Resort's cross-country ski trails, hockey, curling, crokicurl, snowshoeing, hot tub, sauna and indoor pool along with the skate trail.
They also have a date night package on Wednesdays where you can enjoy the trail by torchlight after a delicious four-course meal. Thinking of booking a getaway with Fern Resort? You'll get unlimited use of the trail throughout your stay!
Gage Park Skating Trail
Where: 45 Main St S, Brampton
Price: Free
Skate Rentals Available: Yes – Thursday through Sunday
Head to the heart of downtown Brampton where you'll find Gage Park. The flowers and gardens might be in their cyclical slumber, however it still has a touch of magic with a blanket of snow. As Brampton's oldest municipal park at over 100 years old, there's plenty of character to admire as you follow the meandering trail through the grounds. Around the holidays, you'll also be treated to the city's brilliant light displays making the perfect spot for an enchanting date night!
Hanna Park Skating Trail
Where: End of Bailey St, Port Carling
Price: Free
Skate Rentals Available: No
This trail might be a little smaller than some of the other outdoor skating trails on this list but at 200m in length but it's the perfect skating trail for families! The Hanna Park skating trail offers a packed walking trail right beside it. That way parents can help their little ones along without having to strap on skates themselves! Beautiful riverside views make this trail complete – along with the hard work of its volunteers, of course! Check them out on Facebook for trail updates.
Hollinger Skateway
Where: 565 Algonquin Blvd E, Timmins
Price: Free but $2 donation recommended
Skate Rentals Available: Yes – free skate sharing system, first come first served
Timmins is excited to add a skate trail to the city! The newest of these outdoor skating trails in Ontario, the Hollinger Skateway officially opened on January 18th, 2020. With a firepit, sledding hill and more, it's the perfect spot for some winter fun at the newest skate trail in Ontario! While the skateway is open from 6:00 am until 11:00 pm daily (weather permitting), the on-site warming trailer and washrooms are only open Thursday from 4:00-9:00 pm, Friday from 4:00-9:00 pm, Saturday from 10:00 am-9:00 pm and Sunday from 12:00-6:00 pm. For updates, visit the Timmins Community Park Association on Facebook.
Island Lake Skate Trail
Where: 673067 Hurontario St S, Orangeville
Price: Park Admission ($6.50/person)
Skate Rentals Available: No
Island Lake Conservation Area is one of the best things to do in Orangeville. It's a hot spot for great winter activities including cross-country skiing, ice fishing, snowshoeing… and of course, skating with their kilometre-long ice skating trail! The Credit Valley Conservation Authority set it up so that skaters could enjoy a more eventful skate rather than only going in circles. It's the perfect destination for a full day of winter fun! Be sure to keep their Moonlight Events on your calendar for a nighttime adventure.
INSIDER TIP: Paying admission at one of the Credit Valley Conservation Authority's parks gives you entrance to all of the parks on that day! Just show your ticket at the gate. Also if you enter one of their conservation areas by 'active transportation' (walking, running, cycling, in-line skating, skateboarding, non-mechanized wheel chairing, skiing or snowshoeing), you'll get in for free!
Laurentian Valley Skate Trail
Where: 1 Henan Rd, Pembroke
Price: Free but donations encouraged
Skate Rentals Available: Yes – free but very limited
Enjoy the beautiful forest around the Alice & Fraser Recreation Centre with the Laurentian Valley Skate Trail. At over 1.5km long, you'll meander through twists and turns of thick, dense forest. There are Muskoka chairs set at various points throughout the trail if you need to give your legs a rest! You'll also find a snowshoe trail alongside the skate trail if you'd rather stick to the snow than the ice. Skating aids are available for the not-as-strong skaters or those still learning. Visit the Laurentian Valley on Facebook for hours of operation and trail status.
Lift Lock Skate Trail
Where: 220 Hunter St E, Peterborough
Price: Free
Skate Rentals Available: No
Experience the highest hydraulic lift lock in the world in a whole new way along the Trent-Severn Waterway. This National Historic Site is a must-experience in the winter months. Enjoy skating along a large stretch of this iconic water route that leads into Little Lake. It's not uncommon to see some pick-up hockey games and families out enjoying the ice! Watch for the green flag to ensure you're in the clear to skate. Red flag means stay off the ice!
RELATED: Looking for more fun while you're in town? Don't miss my guide to all the great things to do in Peterborough!
Nina's Way Skating Path
Where: 4420 Long Lake Rd, Sudbury
Price: $9 for the day
Skate Rentals Available: No
Within the over 450 acres of Cambrian Shield that is Kivi Park you'll find the gorgeous Nina's Way Skate Path. Lace up your skates and enjoy this 1.3km trail as you wander through beautiful birch trees. The white of the birch combined with the glow of the sun reflecting off the snow on a cold but sunny winter day is just extraordinary!
They've recently added a sound system throughout the trail as well as lights, warming cabins and more. When your fingers and toes start to get cold, head over to one of the outdoor fireplaces and settle into a cozy Muskoka chair until you're ready to hit the ice once again.
Ramsey Lake Skate Path
Where: Ramsey Lake, Sudbury
Price: Free ($6 for Parking at Science North)
Skate Rentals Available: No
That's right, Sudbury has not one but TWO skating trails! Stretching 1.5km from the Sudbury Canoe Club to Science North, there are a number of access points for Sudbury's original skate trail. It's a favourite for both visitors and locals alike and the perfect addition to any Science North visit. Take your time following the Ramsey Lake shoreline as you catch views of Sudbury's iconic buildings like St Joseph's Hospital which is now home to Canada's largest mural.
Heated changing facilities and washrooms can be found at the Elizabeth Street entrance as well as by Science North. Only skating is permitted on the path so if you want to play some pond hockey, you'll have to visit an outdoor arena within the city.
RELATED: Ice skating isn't the only cool thing to do in Sudbury during the winter! Check out my guide to this winter wonderland.
Rideau Canal Skateway
Where: Ottawa
Price: Free
Skate Rentals Available: Yes – $17-$22/hour
Arrowhead claims it's Ontario's original skate trail but if we're going to get technical, the Rideau Canal probably takes that title. It is the most iconic skating trail in Canada after all! Ontario's only UNESCO World Heritage Site offers over 7km of skating fun. The Rideau Canal is an iconic Canadian experience that should be on every Canada bucket list!
Follow the canal from Ottawa's downtown core and the iconic sights of Parliament Hill through the city to Dow's Lake. Whether you skate 2km or the full 7.8km is up to you. Just remember if you go end to end that you have to go back as well! I sure was feeling it in my legs after skating 15.6km but it was 100% worth it. Don't miss grabbing a BeaverTail if you're feeling peckish – they were invented in Ottawa after all! Visit Ottawa Tourism's website for more details as well as the trail's status.
RiverOak Skating Trail
Where: 2900 York's Corners Rd, Metcalfe
Price: $13.56 for adults, $9.05 for kids, $39.55 for a family pass
Skate Rentals Available: Yes – $13.56 for skates and helmet, $5.65 for helmet only
Just 30 minutes from downtown Ottawa you'll find the RiverOak Ice Skating Trail. Featuring 3km of hills, twists and turns, you'll have a blast following the trail through the forest. Hockey sticks and pucks are encouraged as there are a number of rinks throughout where you're welcome to play a game or two! Be sure to enjoy some deliciously Canadian snacks like poutine along with funnel cakes for a sweet treat. I hear it pairs well with hot chocolate by the bonfire!
Simcoe County Museum Skate Trail
Where: 1151 Ontario Highway 26, Minesing
Price: $10 per person
Skate Rentals Available: No
The Simcoe County Museum is known for its beautiful heritage buildings as the museum shares the fascinating history of the area. Its kilometre-long skate trail meanders between the buildings, historic displays and forest pathways to create a unique experience only found in Simcoe County.
If you think $10 is a little steep for the skate trail, it comes with a number of added perks! Your admission includes entry to the Museum itself along with its galleries. PLUS you can borrow a pair of snowshoes and hit up their snowshoe trail too! If you ask me, it sounds like a $10 well spent!
Spray Lake Ice Trail
Where: 18205 Keele St, King
Price: $25 for all-day access
Skate Rentals Available: No
Spray Lake is a popular spot for water sports in the summer months but once the cold weather hits, the lake becomes the perfect spot for some outdoor skating! Follow the edge of the lake for a two-kilometre trail or bring your hockey gear for a game or two of shinny on the big lake. Nets are available on a first-come, first-serve basis but luckily we're Canadian and good at sharing! All you have to do is pre-book your arrival time here.
Storybook Gardens Skate Trail
Where: 1958 Storybook Ln, London
Price: $4.50 for adults, $3.50 for children, $13.oo for family of four
Skate Rentals Available: Yes – $6.50 per day
Enter the castle gates and you'll find yourself in a winter wonderland the kids will love. A 250m skate trail takes you on a fairy tale journey featuring classics like Humpty Dumpty and Hickory Dickory Dock. Storybook Gardens also has a number of events with a special program including a skate with the Snow Queen, Bon Homme days and more. This Ontario skate trail is definitely geared towards children and I wouldn't suggest it as a date night option for adults.
South River Skating Trail
Where: Tom Thomson Park, South River
Price: Free but $2 donation encouraged
Skate Rentals Available: No
It often takes a community of dedicated volunteers to make winter magic like these outdoor skating trails in Ontario happen and that's definitely the case in South River. Enjoy the beautiful winter views across Forest Lake while getting your skate on. Don't miss stopping by the South River Cascade as well as some of the local restaurants. You can even go dogsledding! Be sure to check out the New Adventures in Sound Art and their snow/ice instruments while you're at it.
MacGregor Point Provincial Park Skate Trail
Where: MacGregor Point Provincial Park in Saugeen Shores
Price: Park Admission ($15.50 per vehicle)
Skate Rentals Available: No
Wait, there's more than one provincial park with an ice skating trail? That's right, folks! MacGregor Point Provincial Park's Skate Trail is probably Ontario Parks' best-kept winter secret. While the crowds flock to Arrowhead, you can dodge them by heading west instead for this tranquil spot along the shores of Lake Huron. The icing on the cake? You can skate right up until 10:00pm as the trail is illuminated – perfect for those long winter nights! The shores of Lake Huron can bring some turbulent weather so be sure to check the trail conditions on Ontario Parks' website when planning your visit.
Memorial Park Winter Village Skate Trail
Where: 130 Manitoba St, Bracebridge
Price: Free
Skate Rentals Available: No
From sunrise until 9:00 pm daily (when the weather cooperates) you can enjoy some skating fun in the heart of Bracebridge. The Memorial Park Winter Village Skate Trail wraps around iconic city landmarks for a truly unique experience. Get a true taste of its magic in the evening when the twinkling lights on the surrounding trees light up. A huge perk of this outdoor skating trail in Ontario is its proximity to a number of great restaurants. This makes it an amazing date night destination in the heart of Muskoka! Take a look at their Facebook page for trail status updates.
Woodview Mountain Top Skating Trail
Where: 201 Scenic Caves Road, The Blue Mountains
Price: Adults: $17 Monday to Friday, $19 Weekends & Holidays, Kids: $14 Monday to Friday, $16 Weekends & Holidays
Skate Rentals Available: Yes – $6
Blue Mountain is a top destination for winter fun in Grey County, adding to the fun with this most recent addition. Skate along the 1.1km loop overlooking the gorgeous views from the Niagara Escarpment. They're also jumping on the tiki torch trend to illuminate the trail from 6:00-8:00 pm every Thursday, Friday, and Saturday night for the entire season.
RELATED: Blue Mountain offers some seriously incredible views. If you're a fan of lookouts, you need to check out these scenic views in the South Georgian Bay area!
Things to Know About These Skate Trails in Ontario
As with many winter activities in Canada, the season can be a fickle one. It goes without saying that the availability of these Ontario skating trails depends on the weather. In more recent years, our winters haven't been the most reliable meaning temperatures aren't always cold enough to skate. Your best chance to visit the skate trails is from late January to early March. However, I highly recommend calling in advance to ensure the Ontario skate trail of your choosing is open to avoid disappointment!
As I mentioned earlier, some of these trails require reservations in advance as part of their safety protocols. Different areas are at different stages of re-opening (or re-closing… SAD) and while being outside is always a good idea, we have to do our part to ensure everyone can enjoy safely! Before planning your trip to the skate trail close to home, take a look online or give them a call to see what information they may require from you.
Lastly, you might be surprised at how chilly it can get while skating! I definitely recommend layering up as while you'll probably be warm as you're skating, the breeze as you glide on by can get a bit nippy. This is definitely a good time to throw on an extra pair of socks, too!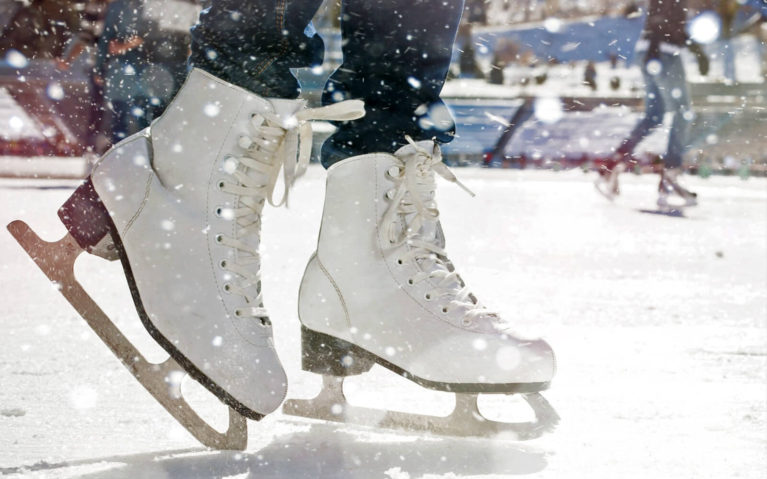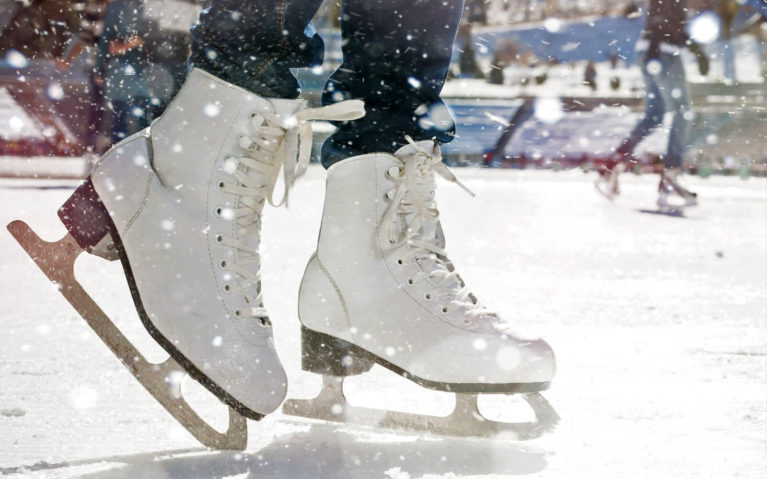 These Outdoor Skating Trails in Ontario Are Seriously Cool!
Seriously though, aren't these ice skating trails in Ontario amazing? I think they're snow joke. (My puns can't and won't stop.) To recap, here are Ontario's outdoor skating trails you need to check out:
Arrowhead Provincial Park Skate Trail
Bentway Skate Trail
Chinguacousy Park Skate Trail
Clergue Park Skate Trail
Cranberry Ice Trail
Deep River Skate Trail
Discovery Harbour Skate Trail
Fern Resort Skate Trail
Gage Park Skating Trail
Hanna Park Skate Trail
Hollinger Skateway
Island Lake Skate Trail
Laurentian Valley Skate Trail
Lift Lock Skate Trail
Nina's Way Skating Path
Ramsey Lake Skate Trail
Rideau Canal Skateway
RiverOak Skate Trail
Simcoe County Museum Skate Trail
Spray Lake Skate Trail
Storybook Gardens Skate Trail
South River Skate Trail
MacGregor Point Provincial Park Skate Trail
Memorial Park Winter Village Skate Trail
Woodview Mountain Top Skate Trail
Have you been to any of these outdoor skating trails in Ontario? Which one would be on the top of your list? I know it's so hard to choose but I'd love to hear your thoughts in a comment below. If you're wondering are there any ice skating trails near me, this map should help you plan your own adventure!
As I said earlier, skating trails are becoming a huge trend. Rumour has it Clarington, Perth and more cities are looking to get their own. If you know of one I don't have listed, shoot me a message so I can keep it on my radar for future travel adventures. Remember, ice skating trails are weather-dependent so let's keep our fingers crossed for a chilly winter!
Looking for More Amazing Winter Adventures?
Check Out the Top 20 Things to Do in Ontario in Winter!
These Are the Best Winter Activities in Canada
Never Hiked in the Winter? Let's Change That With This Beginner's Guide!
Give Winter Camping a Try at Killarney Provincial Park
Cast a Line With Some Ice Fishing at Windy Lake Provincial Park
…or check out the IBB Winter Travel archive!
Disclaimer
This post contains affiliate links where I may receive a kickback at no extra cost to you. Read more in IBB's disclaimer and privacy policy.
Want to check out these outdoor skating trails in Ontario? Pin it for later!