Winter Activities in Sudbury That Are As Cool As Ice

Known for its mining history, there's more to Sudbury than just the famous Big Nickel. The city is a fantastic destination in the winter months! As northern Ontario's largest city by population and fifth largest by geographical size, there's plenty to see and do. You have to check out these winter activities in Sudbury, whether it's a stop on your Northern Ontario road trip or your final destination!
Outdoor Winter Activities in Sudbury
With snow on the ground, it's a sin not to be outside. There are so many great winter activities you can only enjoy in the colder months! Which of these outdoor adventures would you want to try first?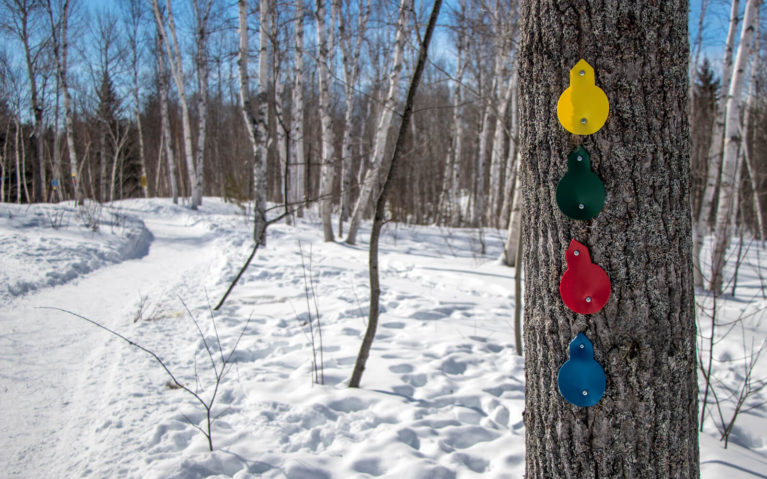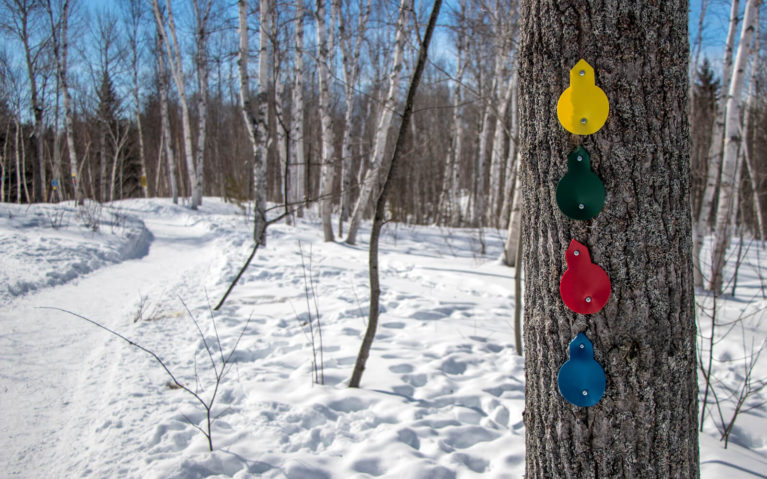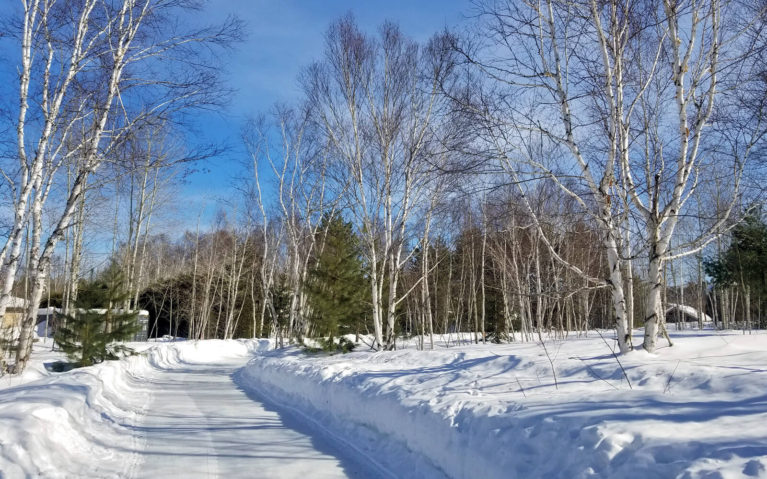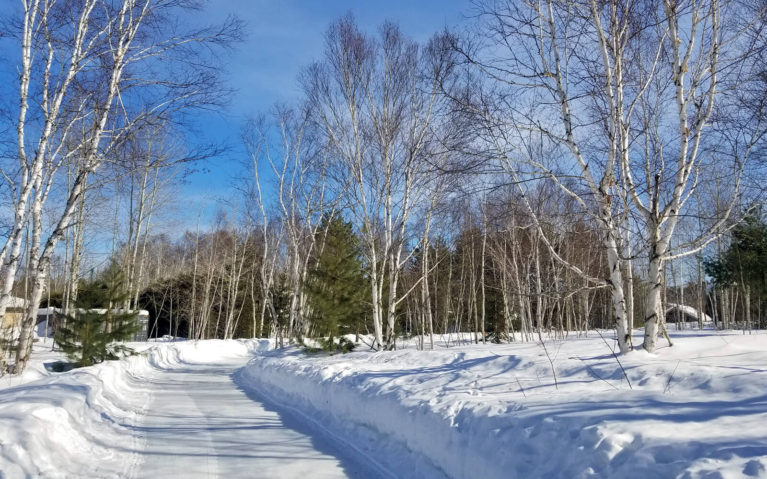 Wander the Trails of Kivi Park
Enjoy over 450 acres of Ontario's beautiful Cambrian Shield at Kivi Park. Founded by Lily Fielding (maiden name Lily Kivi), it is operated entirely by volunteers (dubbed 'Kivi-teers'). You can enjoy the beautiful views of Long Lake while exploring the park's trails.
There are a number of ways to enjoy Kivi Park, including 35km of cross-country skiing and fat biking. The Kivi-teers keep the cross-country trails well groomed while fat bikers can tackle the park's rolling hills. Don't have your own gear? You can rent from Adventure365 – available on site!
If you're a fan of snowshoeing, you definitely have to check out Kivi Park's trails. There are a few options a 1, 3, 5, and 7km in length with the 1km loop shared with dog walkers and leisurely strollers. Feeling adventurous? I suggest the 5km route marked by red blazes. You'll be treated to beautiful views and don't forget to make a wish as you pass Kivi Park's Wishing Tree!
Their newest addition is the Nina's Way Skate Trail. Lace up your skates and wind through the beautiful birch and pine trees. Named in honour of local mother and grandmother Nina Grossi, the 1.3km skate trail is an absolute hit. While it can only be enjoyed during the day right now, there are plans to illuminate it for nighttime fun. What a perfect date night idea in Sudbury!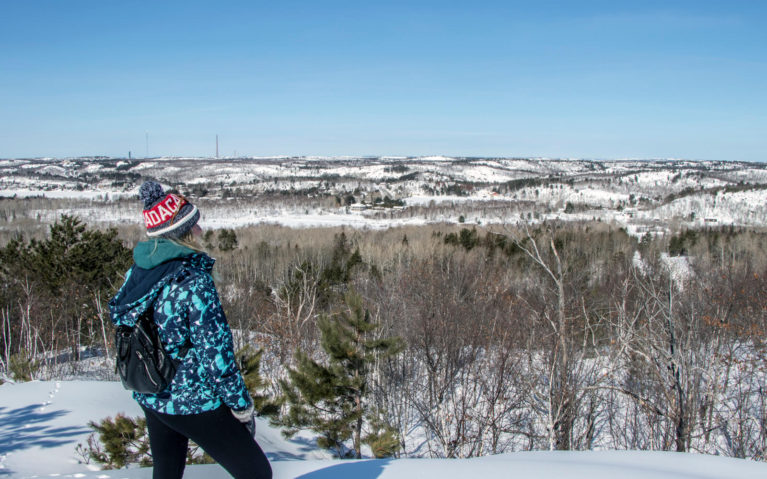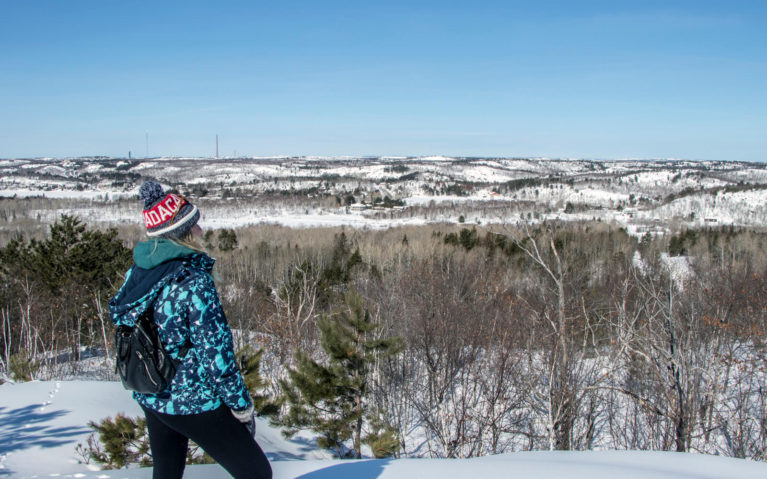 Get Your Yurt On at Windy Lake Provincial Park
This is a bit of a trek outside of the city but the trip to Onaping is totally worth it! Head to Windy Lake Provincial Park and enjoy some quiet time in the heart of nature. While there are many yurts across the 100+ provincial parks in Ontario, only a handful of the Ontario Parks have winterized yurts.
Windy Lake features four yurts and each one can sleep up to six people. Equipped with electric heating, you never have to worry about being cold – even when the temperature is -20C! True story. There are also amenities such as a barbeque and fire pit so you can easily cook your emails. One thing to note is that cooking must happen outside but you are welcome to eat within the comforts of your yurt. Also, be sure to bring bedding and a pillow as they are not supplied. As with any accommodation, be sure to treat the area with respect and keep your yurt as tidy as you found it. Oh and if you're wondering, yes the bathrooms are in a separate building but they're heated and in close proximity to the yurts!
When in nature, be sure to get out and enjoy it! Bring a set of snowshoes with you and tackle the trails within the park. You'll be treated to beautiful views, especially at sunrise and sunset! You can also enjoy the cross country ski trails that are maintained courtesy of the Onaping Falls Nordics Ski Club. No skis? No problem! Rentals are available at the ski chalet beside the parking lot.
If you want to visit yourself, check out my full guide to Windy Lake Provincial Park!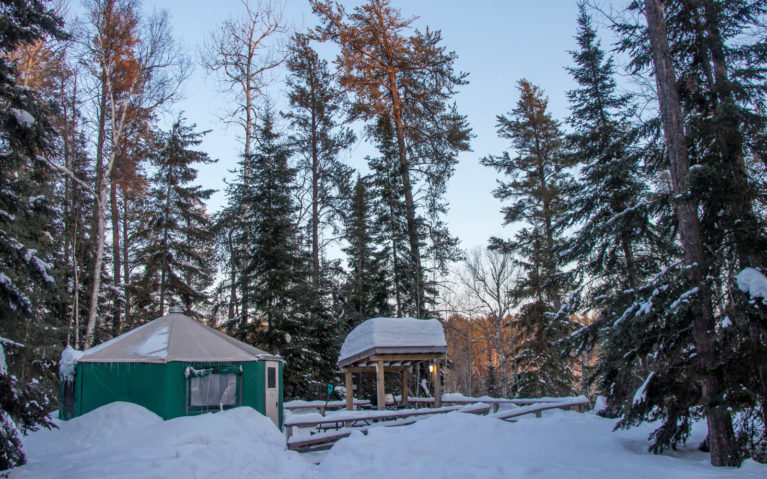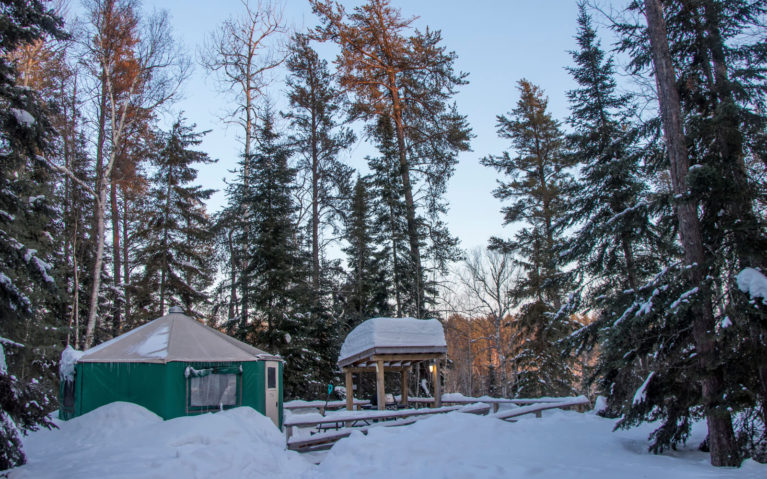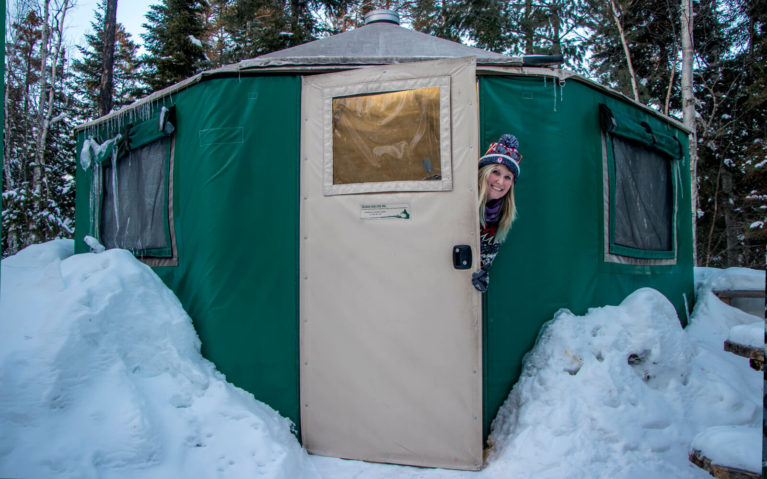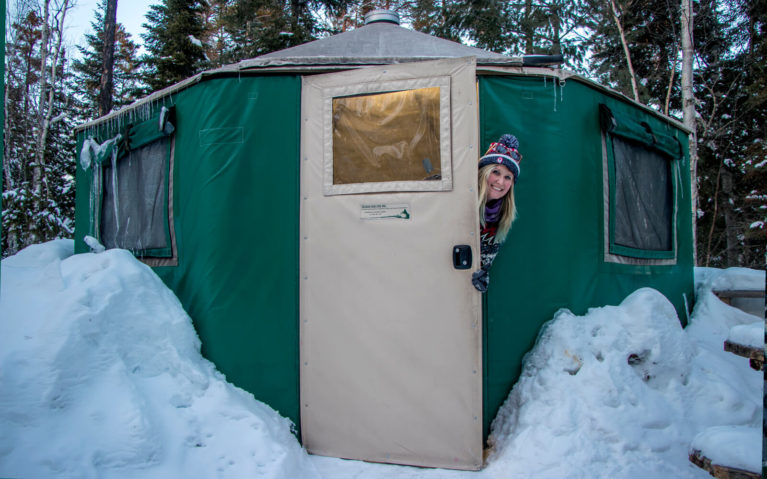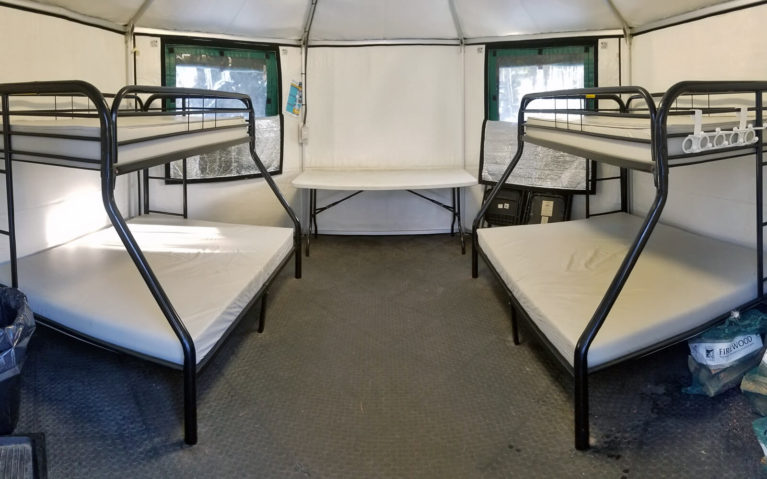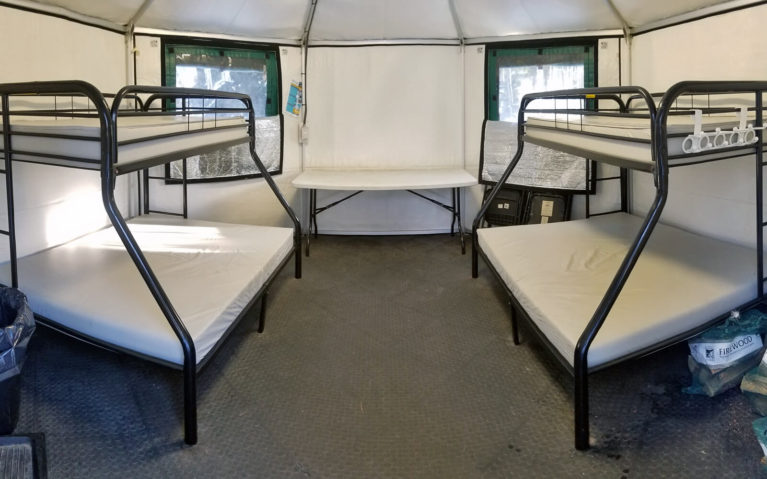 Embrace Winter at Ramsey Lake
Named as the world's largest lake found within a single city's boundaries in the Guinness Book of World Records until 2001 (Lake Wanapitei beat it out when the municipality amalgamated into Greater Sudbury), Ramsey Lake has plenty of winter fun to offer. Be sure to bring your skates to tackle Sudbury's most popular skating trail, the Ramsey Lake Skating Path. Skate across the lake beside Bell Park as this 1.5km path takes you from Science North to the Sudbury Canoeing Club.
RELATED: Outdoor skate trails are all the rage and there is no shortage of them in Ontario! See where you can get out in nature with this list of incredible skating trails in the province.
You might notice some outdoor rinks nearby. These are for the yearly pond hockey tournament which happens every February. Even if you're not a fan of playing, there's plenty of other winter fun to be had including ice fishing, curling and dog sledding.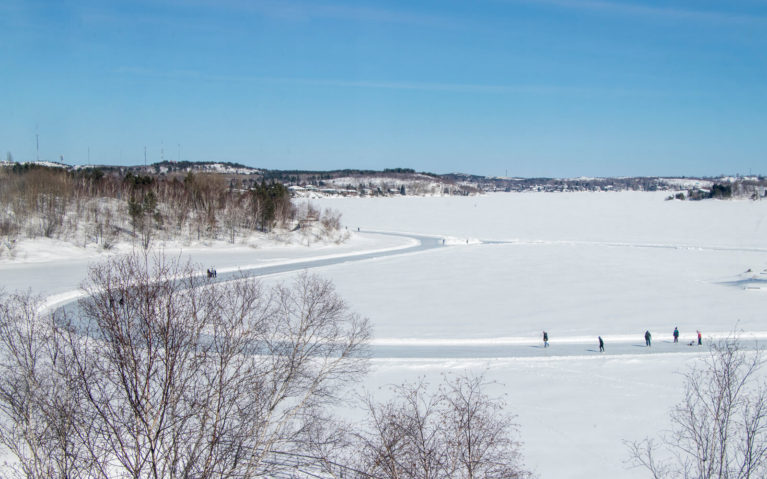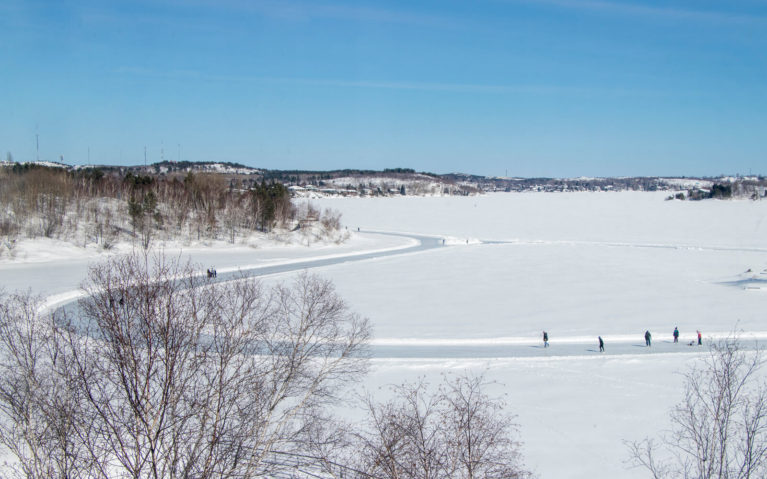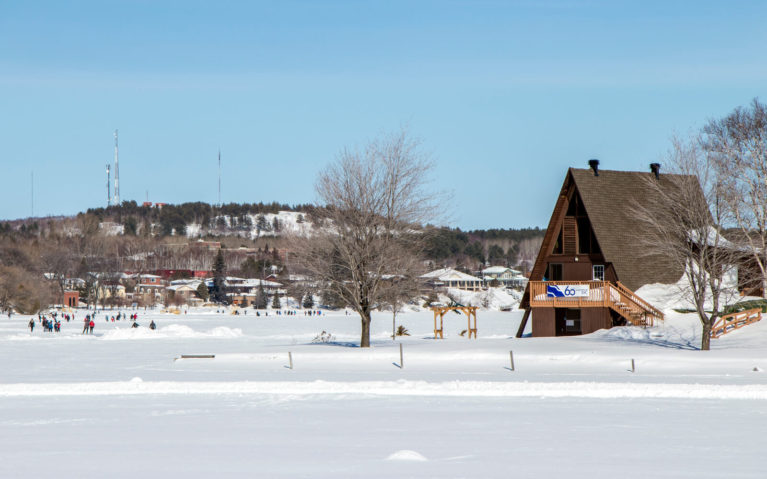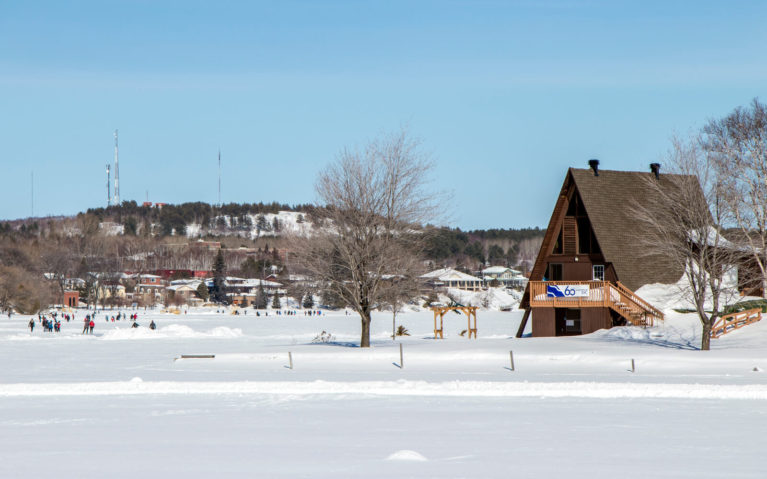 Indoor Sudbury Attractions
Unsure about what to do in Sudbury when the weather's a little too chilly outside? Maybe this list of indoor activities will do the trick!
Expand Your Knowledge at Science North
As the second-largest science centre in Canada, Science North has so much to offer. Their fun, interactive approach to science breaks down complex theories, making them easy for all to understand. Whether you want to know the ins and outs of a topic or just get the overview, you'll walk out of Science North with more knowledge than you entered with!
Each floor has dedicated exhibits for different topics from insects and wildlife to space and technology. With a number of demonstrations and incredible programming, time will fly as you explore the world of science! Be sure to head to the fourth floor as it just recently underwent a revamp in conjunction with their new temporary exhibit on the main level.
If you haven't visited recently, a trip is definitely in order! Especially with its newest addition – Body Worlds Rx. A new instalment of the Body Worlds phenomenon, this one focuses on teaching the public about healthy habits. Using specimens from individuals who graciously donated their bodies to science upon their passing, the exhibit showcases the fragility, resilience and strength of the human body. It showcases diseases and ailments that can affect each and every one of us from smoking to diabetes. It's a truly profound way to learn about the human body, and I guarantee it will have you wondering about your own lifestyle choices. 
Whether you visit solo or with your family, Science North is sure to be a hit. Don't forget to stop by the Big Nickel and pop into Dynamic Earth as well!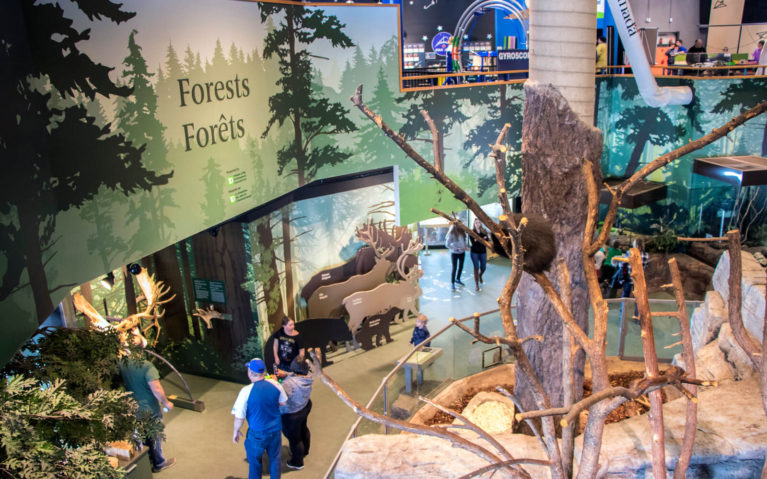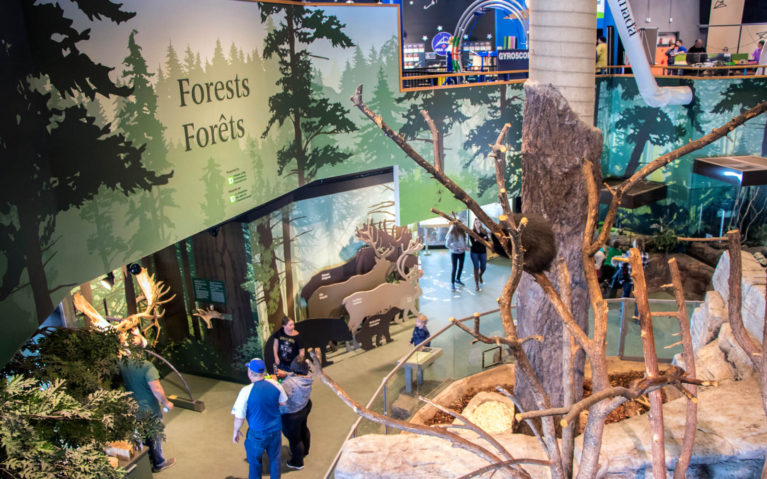 Warm Up With a Latte (or Two!)
You may not think to travel to Northern Ontario for the coffee, but Sudbury has some seriously cool cafes! Ditch the Timmies and Starbucks for the local spots to get your caffeine fix. Also, all of the coffee shops in Sudbury listed below offer vegan-friendly options!
If Paris is always calling to you, be sure to visit The Cedar Nest. You'll feel as if you've been transported to an adorable French cafe in one of the capital's arrondissements. Bring your favourite book and settle in for a gourmet meal or a decadent latte. You might be a little distracted though with the beautiful décor and amazing items for sale. Whether you pop by for some caffeine to go or you spend an afternoon there, you'll enjoy your moment of refuge at The Cedar Nest.
A few blocks away, you'll find a colourful retreat from the cold at KUPPAJOE Espresso Bar. Incredible murals adorn the walls in this cozy corner of downtown Sudbury. I highly recommend their spicy chai latte which pairs well with perusing the items from local artisans which adorn the shelves of the shop. Oh and if you have a few dollars to spare, pay it forward with their suspended coffee so someone who really could use it can enjoy a cup of joe.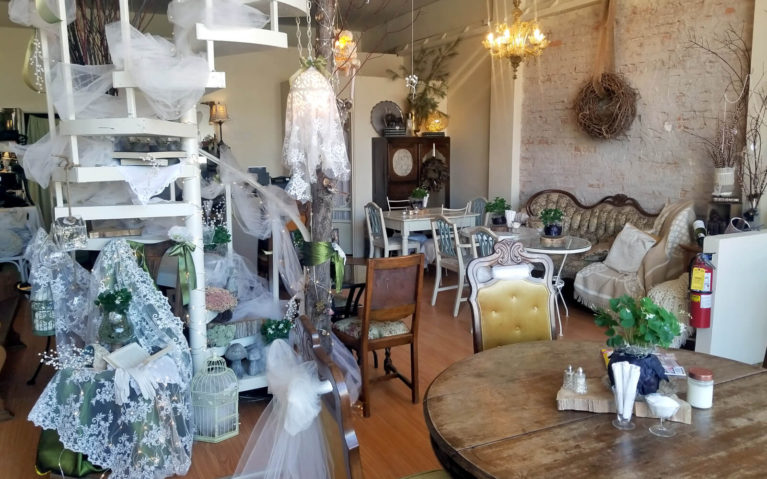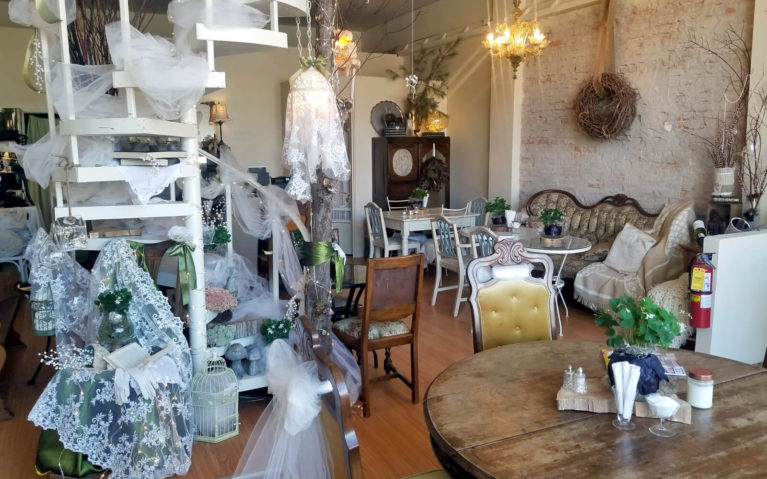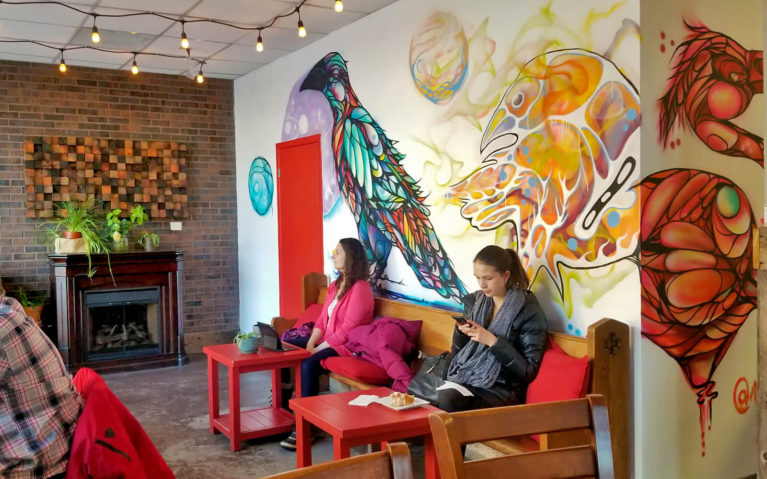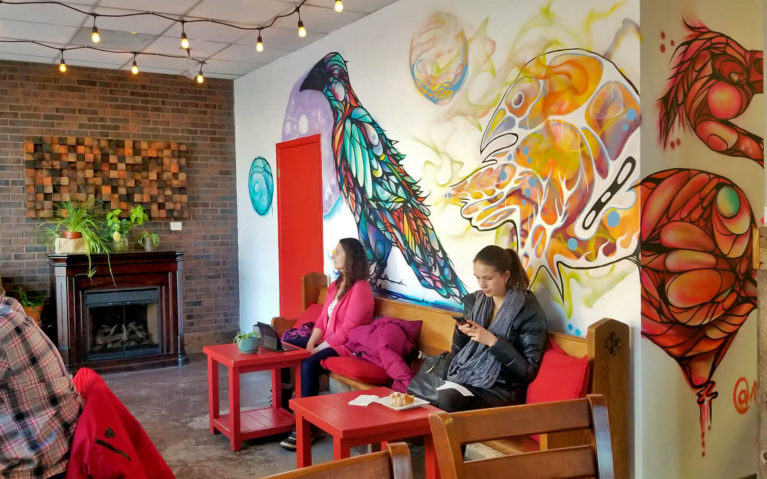 Visit A Nothern Ontario Distillery
No trip to Sudbury is complete without visiting the city's one and only distillery – Crosscut Distillery. For about a year now, Shane and his team have been producing vodka, gin and whiskey in the city's west end neighbourhood. They pride themselves on their grain-to-glass products. From what grains and botanicals are used (all of which are sourced from Sault Ste Marie to Temiskaming to the bottling, every step of the process is done in-house.
An ode to Northern Ontario's founding industries, forestry and mining, the Crosscut name also references the distilling process. It's the perfect blend of the city's heritage all while leading the charge for craft distilling. Shane and Corissa put their heart and soul into every one of their products.
Grab a seat at the bar or bring your friends and gather around a table in their rustic tasting room. There are a number of items on the drink menu both sweet and savoury. I highly recommend their Caesar as it's made with their pepper bacon vodka which seriously takes it to the next level. Though if you're looking for something sweet, ask Corissa for their Cardi Breezer. It's not on the menu but I bet she'll make it for you if you ask her nicely!
If you'd like to get a behind-the-scenes look at the distillery, tours are available for $20 per person and must be booked in advance. All you have to do is send them a message on Facebook! Crosscut can also be booked for private engagements or keep an eye out for their own events like building your own cocktail!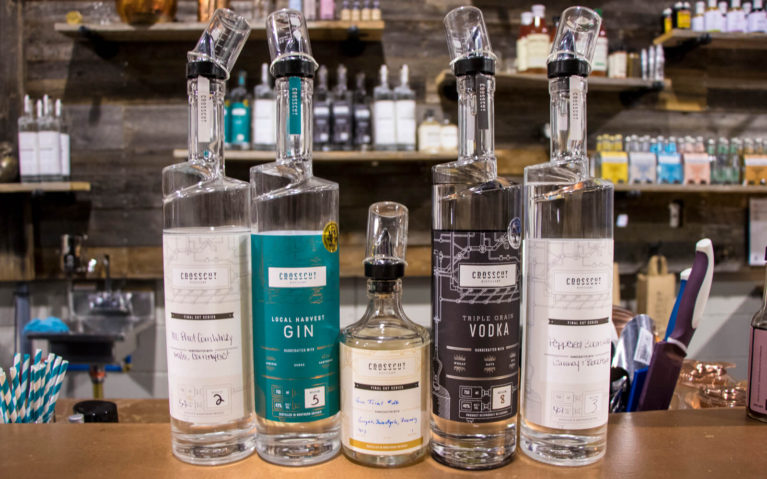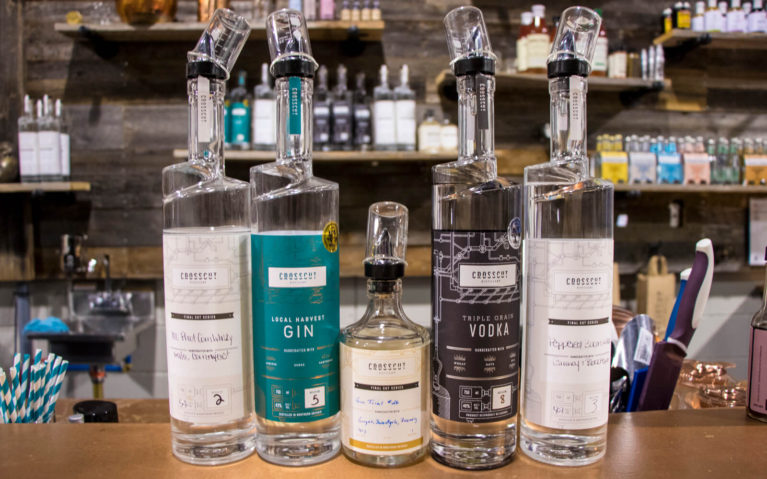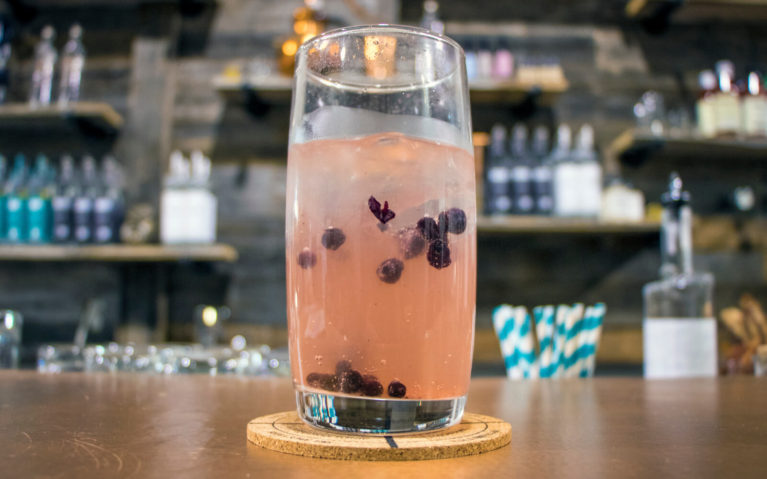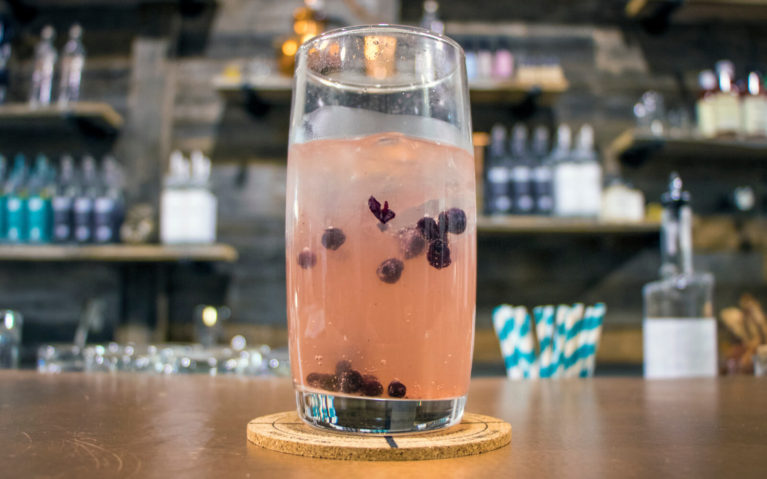 Where to Stay in Sudbury
There are a number of great hotels in town, and the Hampton Inn by Hilton is definitely one of them. Close to many of the great Sudbury winter attractions, this hotel is great for solo travellers and families alike. In each room, you'll find a fridge and microwave, along with incredibly comfortable beds that will guarantee a solid night of sleep. The hotel also has a fitness centre (open 24 hours a day, 7 days a week) and a heated indoor pool (open 7:00am-11:00pm daily). In the morning from 6:00am-10:00am, you'll be treated to a hot breakfast buffet which includes eggs, fresh fruit, waffles, and more.
What I really loved about my stay was the Hampton Inn and Suites' commitment to the environment as well as the local community. They've taken additional measures to reduce their impact including faucet aerators to reduce water flow and conserve it, water-saving pool filters, irrigation systems and more. As well, they included design elements within the rooms and common areas to promote natural lighting, smart thermostat systems to help control guest room temperatures to reduce energy use, and more. All of this while feeling like you're at home away from home? I'm in!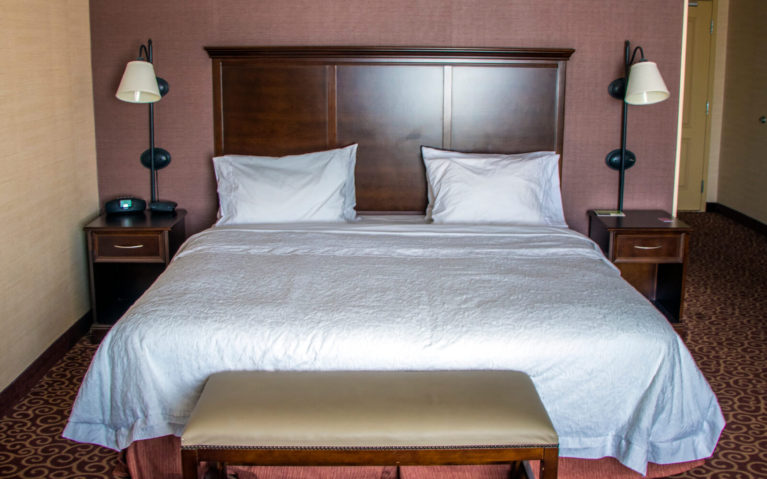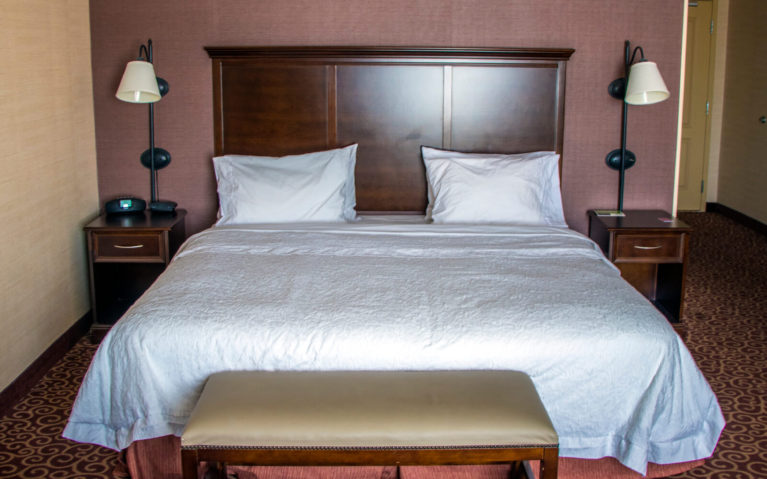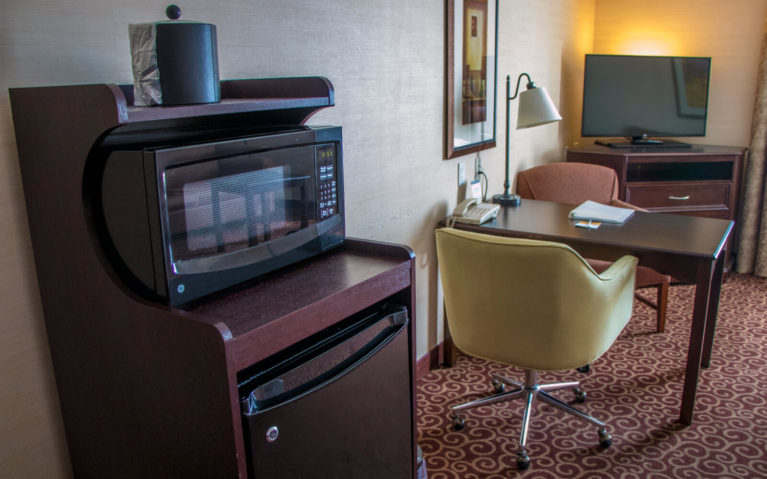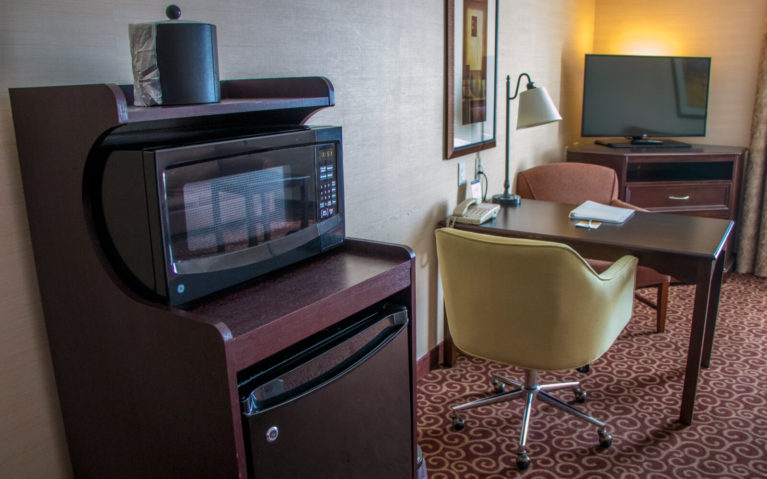 Additional Ideas for Winter Fun
What I've listed above is seriously just the tip of the iceberg when it comes to winter adventures in Sudbury! Besides Kivi Park, there are over 100km of cross-country skiing trails in the city alone! I missed visiting Lake Laurentian during my winter visit, but I can attest to the amazing views. I witnessed them during my summer road trip through Northern Ontario! If you'd rather have gravity do the work for you, head to Adanac or Lively Ski Hills to hit the slopes.
Looking to hop on your snowmobile (or snow machine as they call it in Northern Ontario)? Sudbury has more than 1000km of routes at your disposal! Explore one of Ontario's largest old growth forests along the Chiniguchi Wolf Loop or follow old rail lines with the Rainbow Elk Loop.
Indoors, you can admire brilliant contemporary and historical pieces at the Art Gallery of Sudbury or La Galerie du Nouvel-Ontario. If you have younger kids in your entourage, the KUPP Centre Indoor Playground is the perfect option for some family fun. However if the adults are out to play, test your aim at Northern Axperts and channel your inner lumberjack!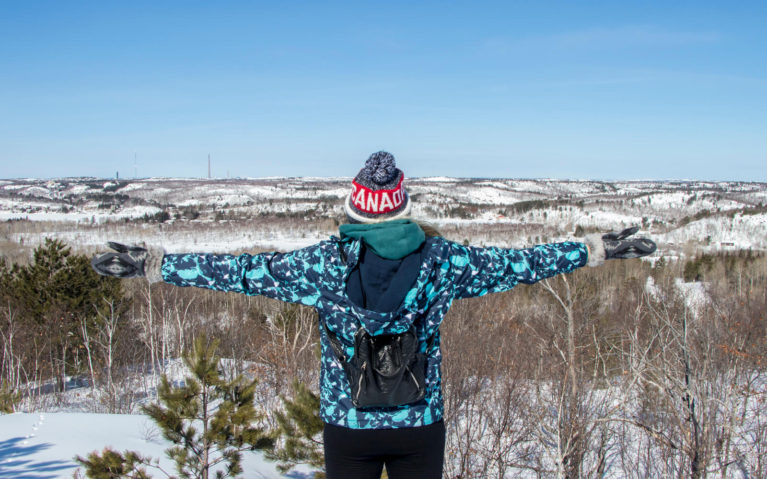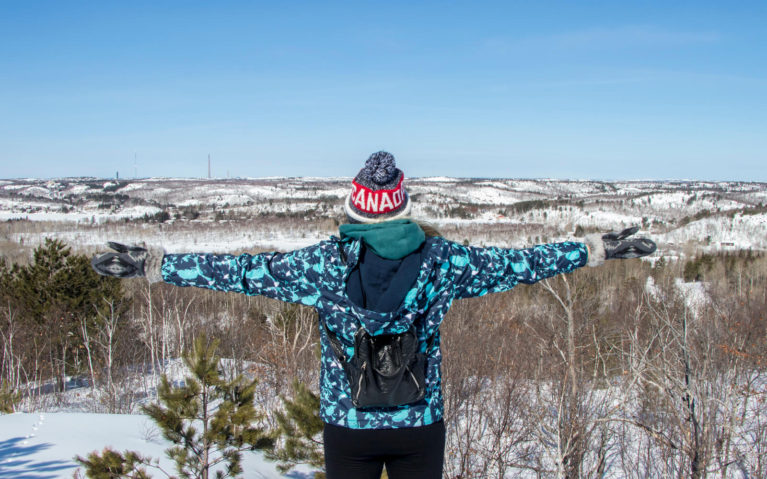 As you can see, there are so many things to do in Sudbury in the winter! To answer your question – no, the winters in Sudbury are not that bad. How can they be when there's so much to see, do and explore?! Whether you're visiting for a weekend or for a week, the Nickel City has plenty to offer.
Looking for More Northern Ontario Fun?
See Why You Should Continue Your Trip & Visit Sault Ste Marie in the Winter
Don't Miss These Stops Between Sudbury & Sault Ste Marie
Onaping Falls is The Perfect Day Trip from Sudbury
Disclaimer
A huge thank you to Sudbury Tourism having me up for some serious winter fun! Thank you as well to Attractions Ontario for helping with my travel expenses. As always, all thoughts and opinions are truly my own.
Read more in our disclaimer and privacy policy.
Want to remember these places to go in Sudbury? Pin it for later!