Onaping Falls Trail: One Seriously Stellar Sudbury Day Trip

Just a short 30 minute drive outside of Sudbury, Ontario lies a gorgeous natural paradise loved by locals and visitors alike. Whether you're just passing through on a Northern Ontario road trip or you're looking for a change of scenery while in the "Nickel City", you won't want to miss the Onaping Falls Trail.
Onaping Falls, also known as Onaping High Falls or High Falls, is located in the town of Onaping Falls, west of Sudbury. You'll be mesmerized as the Onaping River drops over 150 feet, gliding over a number of cascades and creating quite the spectacle. While the trail itself can be a bit treacherous, there are lookouts that offer incredible views of the entire waterfall that easy to access and are wheelchair accessible. There are also washroom facilities and picnic areas along with a few interpretive signs which tell more about the significance of the area.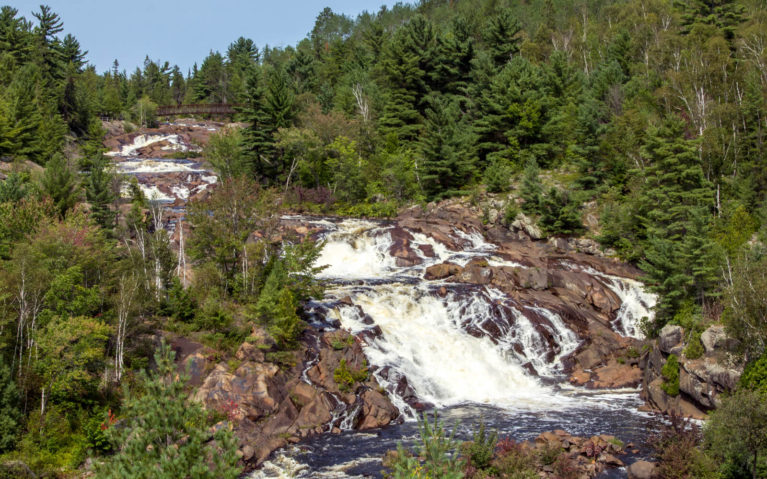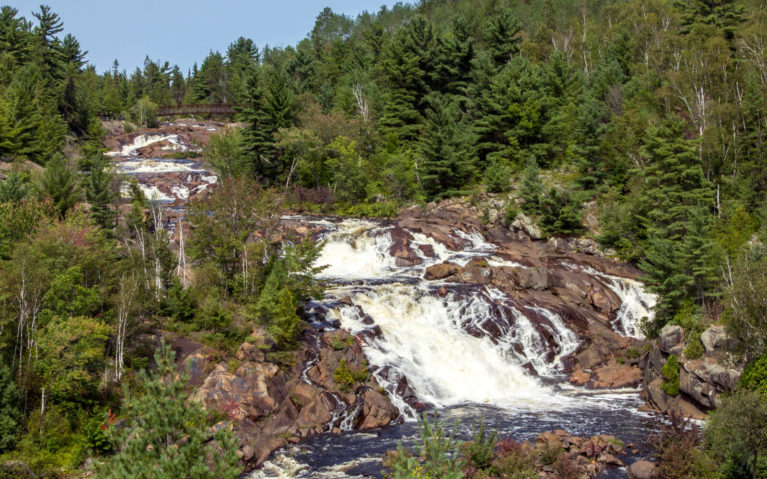 History of Onaping Falls
Did you know that this area is home to the Sudbury Basin, one of the most famous geological features in the world? A giant meteorite touched down in this area, making an impact crater that dates back to almost 2 billion years ago. While it doesn't seem like much of a crater now due to erosion and other natural forces, as you drive from Sudbury to the A.Y. Jackson Lookout at Onaping Falls, you cross this crater. There are testaments to the geological history as well as fragments of the meteorite impact beside the Onaping Falls parking lot.
If you're wondering why it's called the A.Y Jackson Lookout, it is named after one of Canada's famous Group of Seven's founding members. The Group of Seven were landscape painters who travelled all over the country to paint the unique character of Canada's breathtaking landscapes. They believed distinct Canadian art could be created through a direct connection to the nature around them and immersed themselves within it to truly depict Canada's rugged wilderness.
In the spring of 1953, A.Y. Jackson came to this exact spot to paint the Onaping River. The result was his painting "Spring on the Onaping River" which was later purchased by a group of students and hung at Sudbury Secondary School in 1955. Shortly after A.Y. Jackson's death in 1974, the painting was stolen and it's still missing to this day.
The Onaping River is referred to as Onumunaping (spelling may be incorrect, please let me know if you know the correct spelling), pronounced oh-nah-meh-nah-ping which is Ojibway for "flaming red place".  I've been unable to find any information specifically about the importance of this land to the First Nations of Turtle Island, but I know the Anishinaabe and Odawa lay claim to this land. If I find any information about this, I'll be sure to update the post.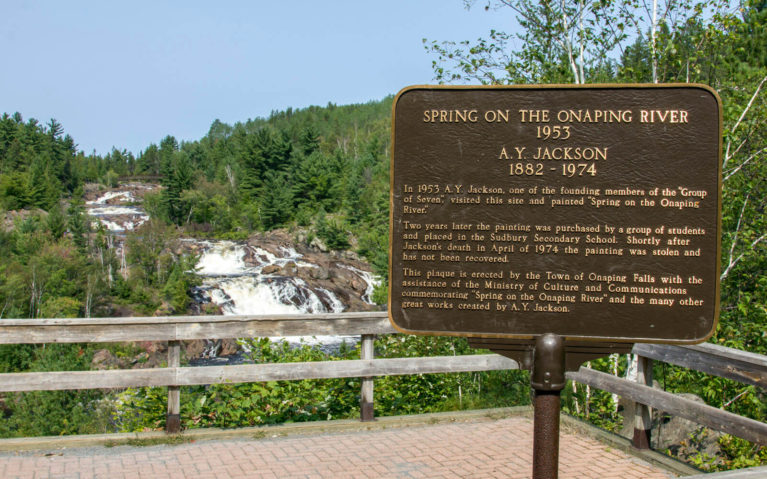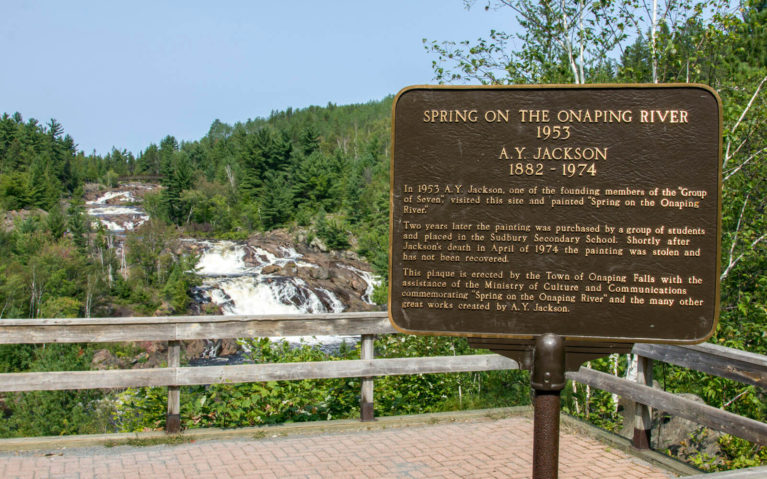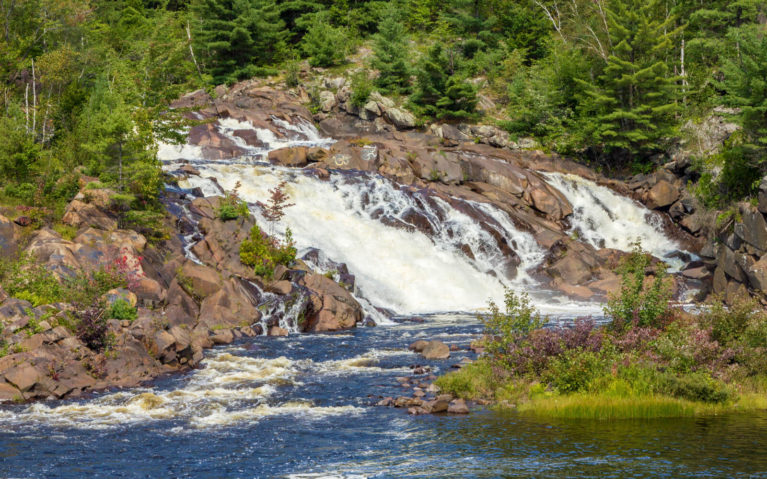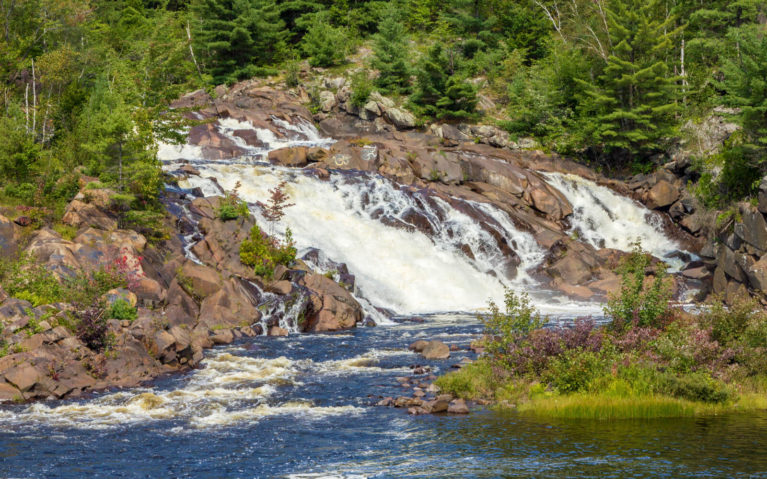 Hiking the Onaping Falls Trail
While you can get great views of the falls from the lookouts, the best way to experience it is by getting up close and personal. Nobody knows exactly when the trail was formed, but there have been improvements made to it over the last 10-15 years. Click here for a map of the trail. Despite this, the trail is a very rocky trail with plenty of loose ones which can give way under your feet. I don't know how many times this klutz almost rolled her ankle, so be careful and watch your step.
Follow the 2km trail by the A.Y. Jackson Lookout as it leads you towards the Onaping River. The trail takes you right to the base of the falls, following the edge of the water. Follow the round yellow trail markers along the trees pictured below. If there aren't many trees, look for red spraypainted circles with a white orbit around them.
SIDE NOTE: Just because the trail markers are spray painted doesn't mean anything else should be. You'll see terrible graffiti on some of the rocks and it breaks my heart to see that people have disrespected nature so blatantly. Take only photos, leave only footprints so everyone else can enjoy this trail for years to come.
As you clamber over the rocks, you'll be able to admire Onaping Falls from a number of vantage points. Each view is more incredible than the last, so take your time to enjoy it. While the water can be tempting on a hot day, I'd avoid any Onaping Falls swimming adventures as the river's current is quite powerful.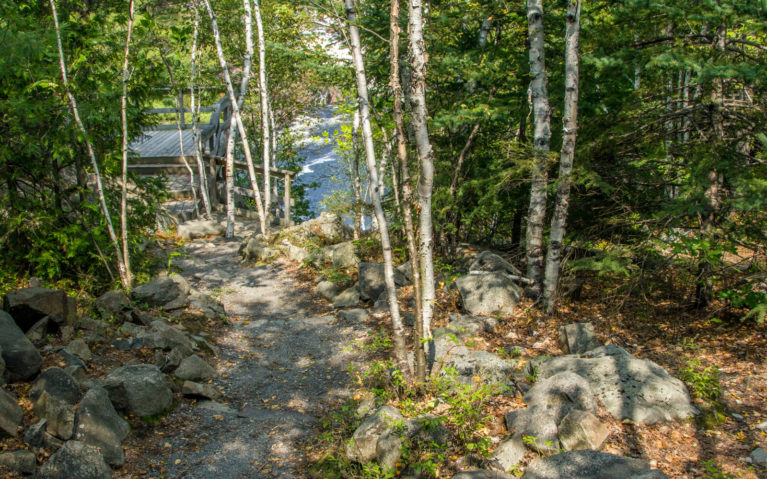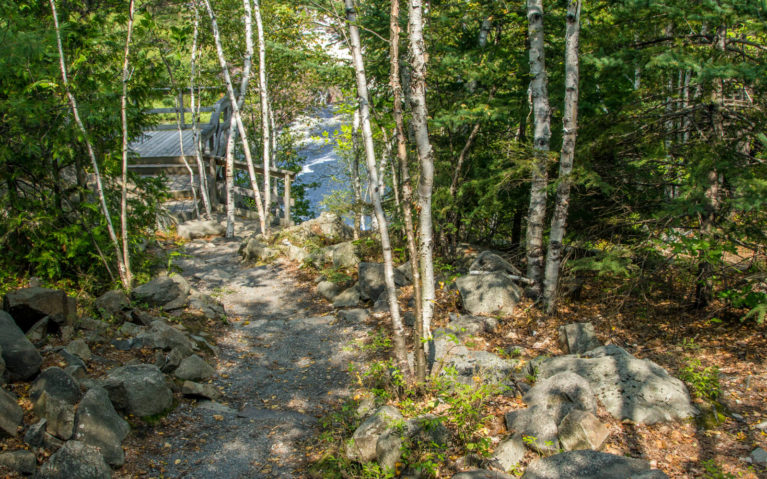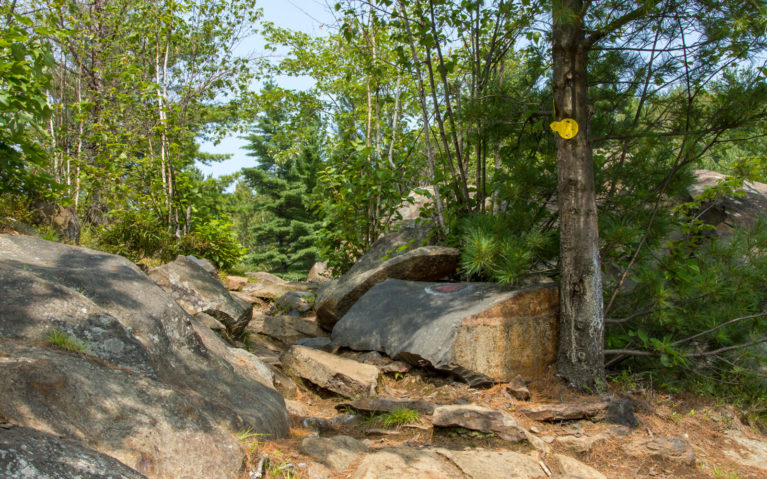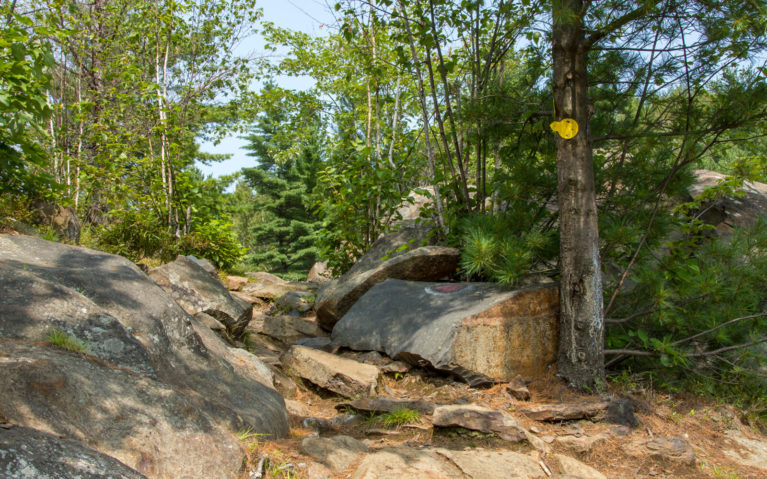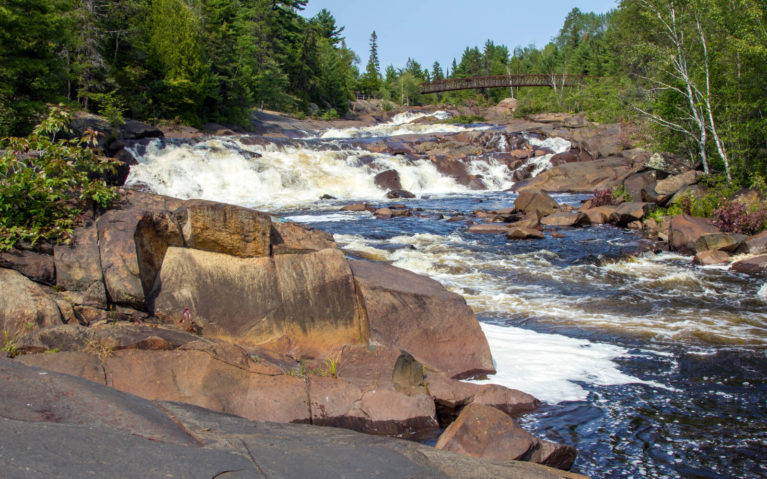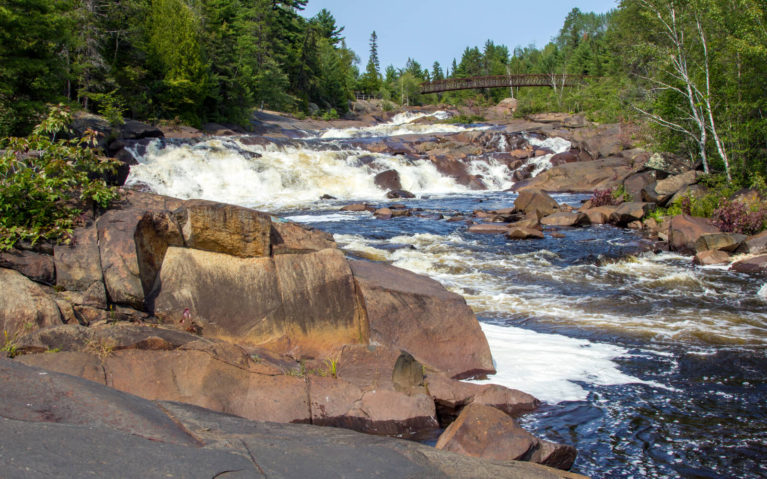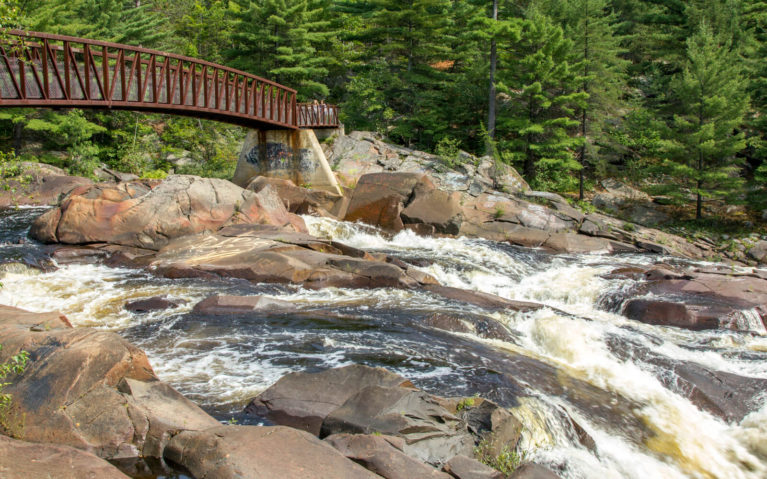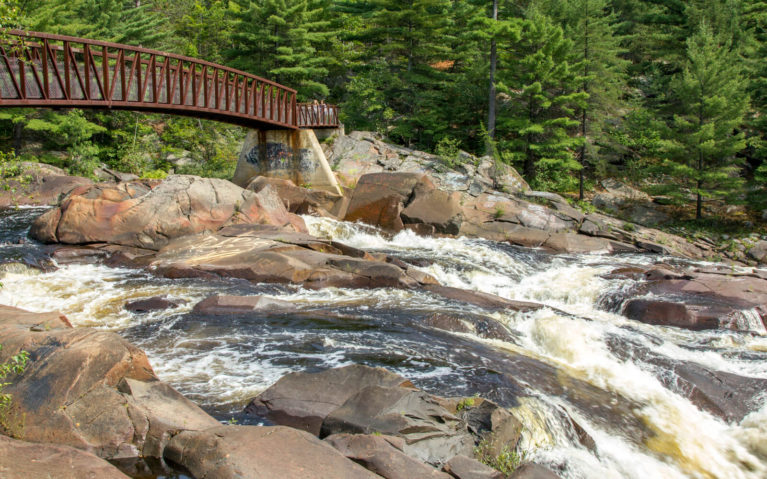 Don't forget to look closely at the bedrock during your climb. You'll notice rock fragments that are part of the Onaping Formation – the debris the meteorite impact blasted into the atmosphere which settled back into the crater.
Head for the pedestrian bridge to get a bird's eye view of the falls as well as the Onaping River as you see the water tumble down the northern rim of the Sudbury Basin. Crossing the bridge will take you to the nature trail, a loop which leads you through the forest. While it doesn't offer many views, it's a great workout. I'd advise bringing bug spray though as there are definitely mosquitoes and other pests laying in wait.
While I didn't do this myself, I saw a few other people heading upstream from the bridge while following the river. I don't know of an official trail but I'm sure it would offer more beautiful views. However if you do choose to tackle this, you are doing so at your own risk.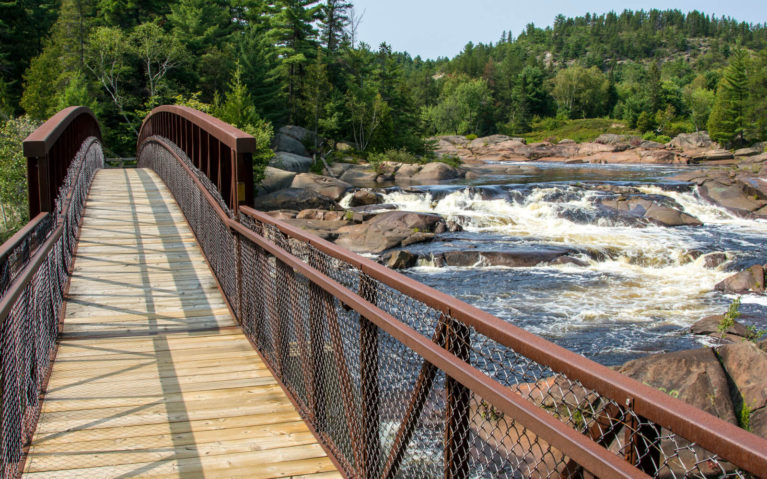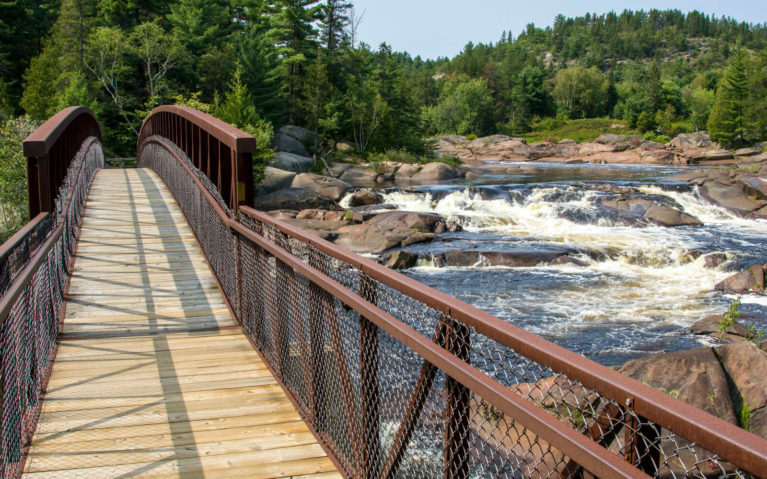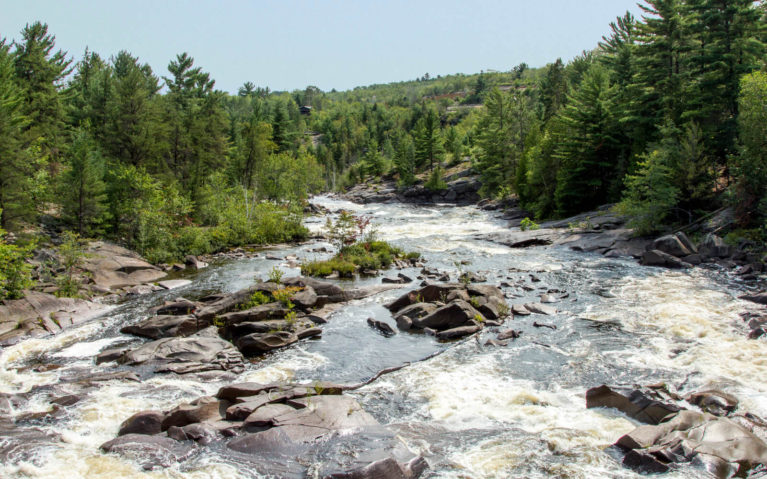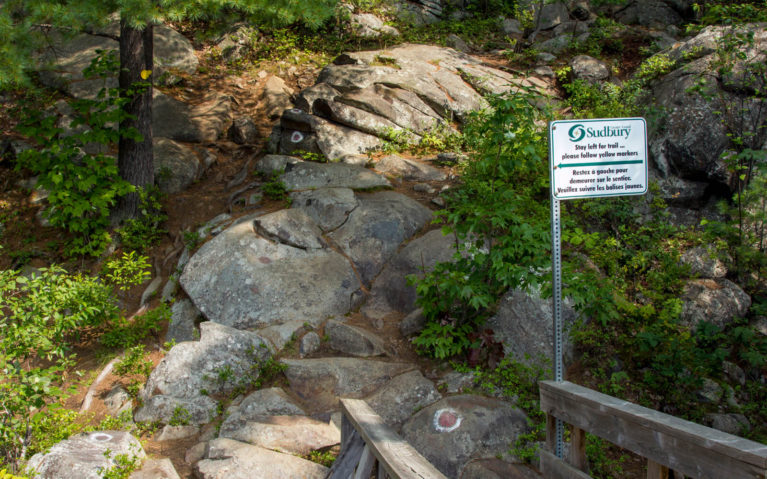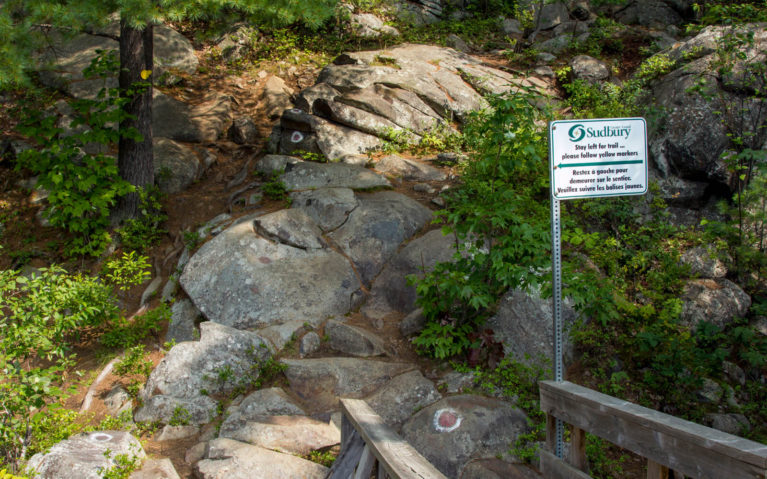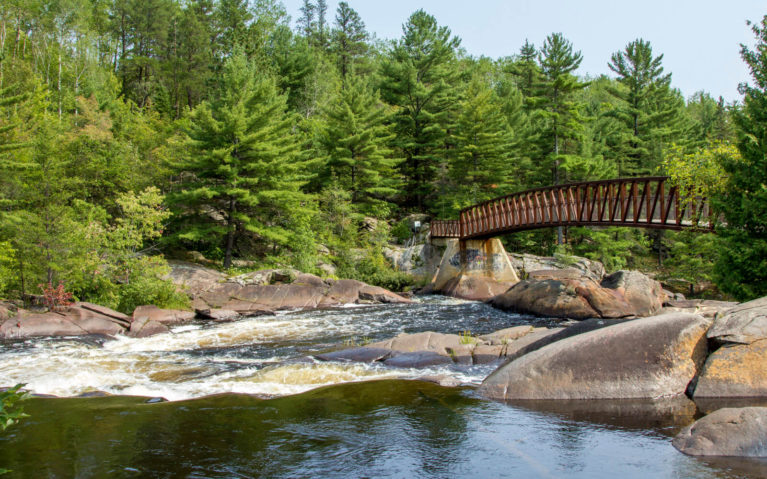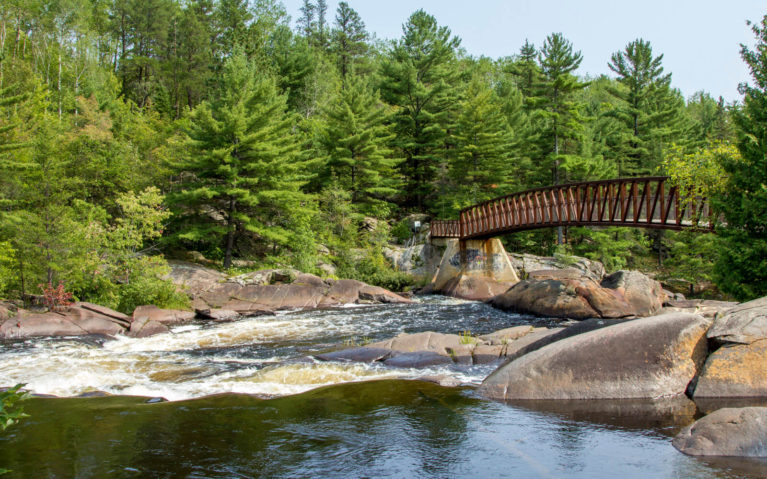 Getting to Onaping Falls
A pretty straightforward drive from Sudbury, hop in your car and head west along Regional Road 35. After about 18km the road will intersect with ON-144. Continue straight for another 17km and you'll see signs for the A.Y. Jackson Lookout on your right.
If you're driving in along the Trans Canada Highway from Sault Ste Marie, keep an eye for the ON-144 turnoff on your left side. Follow ON-144 for 28km and you'll come to the intersection with Regional Road 35. Turn left and continue along the road until you reach the lookout.
There is no time limit to park here, however I would give yourself at least a few hours to fully enjoy the area. Also, it doesn't explicitly say but I believe Onaping Falls camping is not permitted, but Windy Lake Provincial Park is just 10 minutes down the road and has plenty of trails, camping facilities, and more.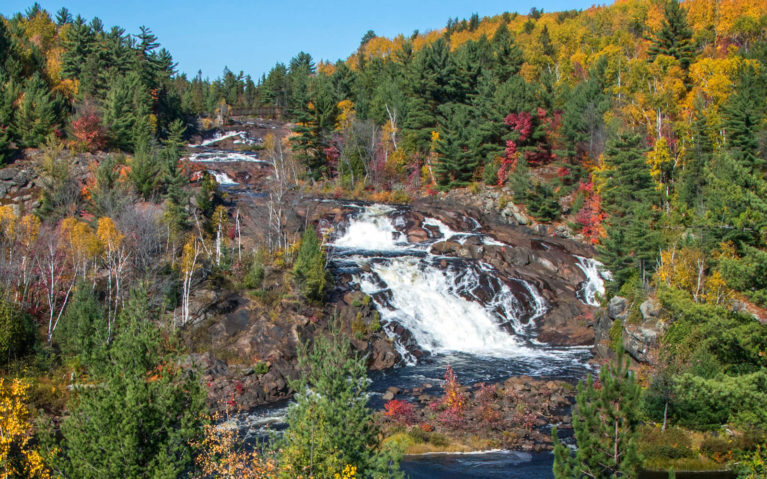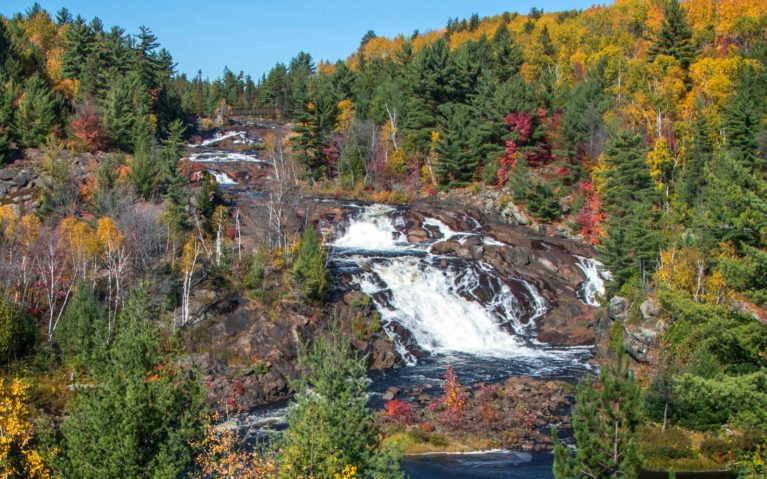 A Natural Beauty All Year Round
The Onaping Falls Trail is a great summer hike but would be incredible at any time of the year. Come the fall weather, fall foliage just adds to the area's beauty as you can see from the photo above! I haven't had a chance to visit in the winter, however I have read online that it is still accessible. The parking lot isn't plowed but there's a spot to pull off along the highway so you can visit in the colder months. Just make sure you're prepared for this winter hiking trek! You'll want to bring your snowshoes as Northern Ontario gets plenty of snow.
Planning to visit Northern Ontario in the Winter?
See Some of the Fun Winter Things to Do in Sudbury
Enjoy a Truly Canadian Getaway at Windy Lake Provincial Park This Winter
Check Out These Reasons Why You Need to Visit Sault Ste Marie in the Winter
Take a Look at These Outdoor Skating Trails in Ontario
One of the reasons I love the Onaping Falls Trail is that, even in the middle of summer, it's a quiet area. I visited midday on a Friday at the end of August and only saw a handful of other people. Not only that, but this waterfall is seriously a beauty.
Let's be honest though – if the Group of Seven loved it, you know it's going to be gorgeous. This is a detour you won't want to miss on a Northern Ontario road trip!
Want to tackle the Onaping Falls Trail yourself? Pin it for later!