Northern Ontario Road Trip: Your Ultimate Guide to This Epic Route

Ontario has an undeniable amount of natural beauty throughout the province. While we may not have the Rocky Mountains or access to a sea's shoreline, we have plenty of other gems. Born and raised here, I – along with many other Ontarians – often take for granted that we can enjoy 4 of the 5 Great Lakes or that we host over 600 provincial parks and conservation areas. The best way to enjoy it in my opinion? That has to be with an epic Ontario road trip and the best place to go is north! So what are you waiting for? Grab your keys and head out on a Northern Ontario road trip to get a true taste of the province!
A Little Background on Northern Ontario
Ontario is a large province (the 4th largest to be exact) and the borders for northern versus southern can have different interpretations. The general understanding is once you see the Canadian Shield, you've stepped foot in Northern Ontario. If you're unsure where that is, once you pass the Parry Sound area, chances are you've left Southern Ontario.
While over 3/4 of the land mass is considered Northern Ontario, less than 1/4 of the population lives there. As a result, you have acres of untouched landscape at your fingertips. 6 days will give you a great introduction to Northern Ontario, but with turn offs and lookouts galore, it's easy to spend weeks enjoying everything the area has to offer.
INSIDER TIP:If you're looking to save a bit of money on attractions for this adventure, Attractions Ontario has coupons that can help!
Before we dive in, it's important to recognize that what is now Ontario wasn't always Ontario. These lands have been here long before European colonization – along with the Indigenous nations that have been here for millennia and continue to call it home. We must acknowledge that the Anishinaabe, Mississauga, Métis and more First Nations Peoples are the original stewards of these lands and continue to fight for their rights as well as to protect the natural wonders we have the privilege of exploring.
Week-Long Northern Ontario Road Trip Itinerary
I'm going to be straight with you – you need at least a week for a road trip to Northern Ontario. It's easy to extend it to 10 days or even 2 weeks, but pencil in at least a week to best enjoy your first foray into it without feeling too rushed. This specific itinerary also only goes as far as Sault Ste Marie. If you're looking to go to Thunder Bay or further, I would suggest tacking on at least another 3 days, if not more – but more on that later. Enough logistics though, let's get to it!
Day 1: Drive Up & Get Acquainted with The Nickel City
This will vary a bit depending on your starting point. Coming from Kitchener, the drive to Sudbury is approximately 5 hours. You can easily split up this drive to enjoy a lovely day trip with some quality nature time to stretch your legs. Honey Harbour is home to Georgian Bay Islands National Park which is a great spot to explore, as well as Killarney where you can tackle the infamous Crack Trail or take a few hours to explore French River Provincial Park. Of course, you can book it right to Sudbury – your call!
When following Google, she'll want to take you along the 401 to the 400. I honestly avoid this as much as possible as traffic is extremely unpredictable. All it takes is a few accidents (which occur fairly often) and your 5 hour drive can turn into 7 or 8. I personally tend to cut through Guelph and up to Orangeville along the 9, then hop onto the 400 to help ensure my drive isn't delayed.
INSIDER TIP: Gas in Orangeville is cheaper than most locations on the route, so fill up here before heading north to save a few bucks!
Leaving Toronto, it's a little harder to bypass traffic. You can try the Don Valley Parkway, but it's often as bad as the 401, so taking Yonge St all the way up past Richmond Hill until the 11 may be your best bet and then hop on the 400. Check the traffic on Google or Waze before starting your Northern Ontario road trip and plan accordingly.
Now it's time to get exploring your first stop – Sudbury! Home of the Big Nickel, this old mining town has grown so much over the past decade. There is plenty to see and do in town, but you may have to kick that off on day two depending on your arrival time. If you arrive earlier in the afternoon or evening, I recommend getting acquainted with the Nickel City by taking a stroll downtown and grabbing a bite to eat.
If you're looking for a great place for dinner, I can't recommend Respect is Burning enough. This gorgeous restaurant takes its exposed brick and industrial vibes and makes them cozy like a Nonna's basement. You'll find home-cooked Italian eats inspired by their roots in the central regions of Italy. From hearty pasta to lighter vegetarian fare, each dish is incredibly flavourful. You really can't go wrong with anything on the menu but if you're unsure, just ask your server and they'd be thrilled to help you pick the perfect dish.
Where to Stay in Sudbury
I've had the pleasure of visiting Sudbury a number of times now and have had the privilege of staying in a different hotel each time! Here are a few of my recommendations of where to stay in Sudbury.
Holiday Inn Sudbury – Located on Regent Street, this beautiful hotel had a sleek, minimalistic aesthetic. It boasts over 130 rooms, an indoor pool, fitness centre, complimentary parking and more. While breakfast isn't included with the rate, kids under 11 eat free but there are also a number of places to grab a bite close by! Click here to book your stay or check out these reviews from previous guests.
Fairfield Inn & Suites Sudbury – on the other side of town, this hotel is great with a pool and hot tub which features an adults-only hour from 10:00 pm to 11:00 pm. I don't know about you, but I love using the pool with no kids around! The rooms are bright and cheerful with accents of sky blue, offering a coffee maker and refrigerator to guests. A continental breakfast is included with the rate, making it a popular choice for families while in town. Click here to book your stay or take a look at these reviews from previous guests.
Of course, there's always the option of a cottage or Airbnb instead of a hotel. If you're looking for more space than a hotel room can offer, I'd highly recommend going this route. There's this gorgeous waterfront cottage on Lake Laurentian or this cozy cabin on Lake Nepahwin if you're looking for something more tranquil and secluded.
If none of the above are available during your travel dates, take a look on Booking.com for other great Sudbury hotels or peruse VRBO for cottage rentals in the area.
Day 2: Spend a Day in Sudbury
Ready for a full day in Sudbury? Grab a bite to eat (breakfast is the most important meal of the day!) whether it be from your hotel or a local cafe and let's explore!
Get your geology on in the morning at Dynamic Earth. Identify gemstones, learn about our quarries and even start your own earthquake at this interactive museum! As soon as you enter, grab your pass for their underground tour. It'll be the highlight of your visit as you descend 7 stories and walk in the footsteps of Sudbury's miners while learning about the evolution of mining.
Your guide will show you video clips of old mining practices along with the equipment they used then versus now. The tour is absolutely fascinating and not to be missed. It can be chilly down there so bring a hoodie with you and if you're tall like me, be prepared to occasionally crouch.
Afterwards, spend some time exploring the exhibits and learning more about this incredible planet we live on. When you need a breath of fresh air, check out their outdoor science park in the summer months! This is one of the best things to do in Sudbury for families, even the big kids will enjoy what Dynamic Earth has to offer. Oh, and don't forget to grab a photo with the Big Nickel if you didn't on the way in!
Chances are you'll be hungry at this point so I recommend grabbing some lunch at La Fromagerie. This charming spot on Elgin Street has an upscale yet rustic, homey vibe. Settle into a cozy spot in the window or grab a seat on their adorable patio if the weather permits.
Focusing on fresh, whole foods, everything on the menu is sourced as locally as possible. La Fromagerie has a full menu with items ranging from hearty sandwiches to cheese plates to macaron cheesecakes. They also always have some sort of special or promo going on and loving having fun with their eats and treats. I mean, who doesn't want to sink their teeth into a rainbow grilled cheese to celebrate Pride Month?!
I'd be amiss not to mention that pretty much everything on the menu has a vegetarian or vegan substitute. It's also easy to find items that are keto friendly as well as gluten-free. This is a big bonus for me as a few friends I travel with that have dietary restrictions and it's always a plus to know restaurants that cater to this!
If you're a cheese lover, you can't miss grabbing a bite to eat at La Fromagerie. Afterwards, you'll need to work off all that delicious cheese… so let's get outside for some fresh air!
Did you know that Greater Sudbury contains more lakes than any other city in Canada? You can find 330 lakes scattered throughout which offer plenty of incredible outdoor recreation opportunities. One of the spots I love is Lake Laurentian Conservation Area.
Just a short 10 minute drive from downtown Sudbury, this gorgeous natural area offers over 2000 acres of protected green space. With 23 kilometres of trails, you can hike, bike and jog throughout the conservation area. There's snowshoeing and cross country skiing in the winter months, too! Lake Laurentian Conservation Area also offers a public boat launch at the Natural Chalet so if you have a canoe or kayak, bring it along for some paddling fun.
Most of the trails at Lake Laurentian Conservation Area are approximately 1 to 3 kilometres in length, meaning it's easy to enjoy a quick stroll or a full afternoon exploring the park. I personally love the Chickadee Trail as it's a leisurely stroll that's perfect after a delicious meal. This 1.2 kilometre loop offers gorgeous views of Lake Laurentian as you meander along a boardwalk and through both deciduous and coniferous forests. If you're looking for something a bit longer though, I'd recommend checking out the 4.2 kilometre long Point Trails. Of course, there's always the 10 kilometre Lake Laurentian Loop if you're really looking for an adventure!
Worked up your appetite once again? Never fear, there are plenty of incredible restaurants in Sudbury to indulge at! If you decided to opt for something different the night before, Respect is Burning is an option for tonight. Otherwise, here are a few Sudbury restaurant recommendations for dinner:
Laughing Buddha – Arguably one of the most eclectic menus in Sudbury, this just means there's something for everyone! Their soups and hummus are made in-house daily, but the real breadwinners are their fantastic pizzas. If you don't mind a bit of heat, get The Buddha.
Tucos Tacos – If you're looking for a taco fix (or just Mexican food in general), you have to grab a meal at Tucos. Yes, this restaurant is fully vegan but trust me carnivores when I say you won't miss the meat! They also have great cocktails and with a fun tiki vibe, you'll want to grab a seat on their patio.
Ripe Restaurant – In need of some hearty Italian eats? Ripe Restaurant is where it's at! Their pastas are absolutely delicious and they have great features on weekends. Ripe also has a full all-plant menu with dishes that are free of meat and dairy.
Sapporo Ichibang – As the first Japanese restaurant in Sudbury, it's been a downtown staple for two decades! They have amazing sashimi and top-notch bento boxes. Try some of their culinary delights like their yaki udon or grab a platter of sushi and sashimi.
Rose Apple – Saving the best for last because Rose Apple is honestly my favourite restaurant in Sudbury! Even if I don't eat at their restaurant, I always get an order to go for later. I'm addicted to their basil noodles and their blossom garden appetizer. They offer all you can eat or you can order per dish, whichever tickles your fancy!
There are honestly so many great restaurants in Sudbury that you'll need to visit again and again to enjoy them all. Plus, there are new ones popping up all the time! Whatever meal you choose, stuff yourself silly and then hit the hay – we have yet another busy day ahead!
Day 3: Sudbury to Sault Ste Marie
The earlier you start, the better for this one as you've got a full day ahead! If you're in need of a coffee fix, pop by Kuppajoe downtown before hitting the road. Say goodbye to the Big Nickel as you head from Sudbury to Sault Ste Marie!
SOMETHING TO NOTE: For the sake of this itinerary, we're going to book it the 4 hours along the Trans Canada Highway to Sault Ste Marie. However, there are plenty of amazing spots to stop along the way. If you'd like to mainly take the day to explore Lake Huron's north shore, check out these top spots from Sudbury to Sault Ste Marie. If you'd just like a spot to rest, stretch the legs and maybe grab a bite, plan a visit to the town of Bruce Mines. It's adorable, has some great eats, cute shops, and a beautiful view from the waterfront.
Pronounced sue-saint-mah-ree, Sault Ste Marie is one of the oldest settlements in North America. However, it's been an important destination long before European colonization. Known in Ojibway as Bawating meaning 'the rapids', this has been a traditional Indigenous meeting ground for millennia – and it still is to this day.
Known affectionately as 'The Soo', Sault Ste Marie is the third-largest city in Northern Ontario. Full of history and culture, time to hit the ground running! The town is home to a number of amazing attractions, so you'll need the entire afternoon if you want to get a taste of them.
Also, I'd like to mention that while I did the next attractions all in one (long) afternoon, you could easily spread them across two days if you're planning to extend your stay in Sault Ste Marie. It'll allow you to take your time and truly enjoy each of them as you enjoy your Northern Ontario road trip!
Sault Ste Marie Canal National Historic Site
I started my afternoon at the Sault Ste Marie Canal National Historic Site. It offered passage from Lake Superior to Lake Huron for the shipping industry.
The lock here allows large transport vessels to dodge the St Mary's Rapids while navigating the 25 ft (8m) height difference between the two lakes. The lock was used up until 1987 when a wall failure rendered the lock closed indefinitely. 11 years later a new lock was built within the old one and it is now used for recreational vessels and tours.
If you're lucky, you might just catch one utilizing the lock! Don't forget to check out the only emergency swing dam left in the world before leaving the site.
Art Gallery of Algoma
For 40 years and counting, the Art Gallery of Algoma is the only collecting public gallery between Sudbury and Thunder Bay. Their collection of 5000+ pieces encompasses a wide variety of artists, including many Group of Seven originals as well as Aboriginal works.
When I visited, I experienced their exhibition "Celebrate Canada ~ Celebrate Art" in celebration of Canada's 150th birthday. Their exhibitions change on a seasonal basis and feature a variety of styles and mediums. Visit their website to see what exhibition will be available during your visit.
If a visit to the interior exhibitions doesn't quite fit into your Northern Ontario road trip itinerary, still plan to stop by. Outside you'll find large contemporary works in the Elsie Savoie Sculpture Park as the sculptures are sprinkled along the waterfront which are accessible 24 hours a day, 7 days a week!
Canadian Bushplane Museum
Just down the road from the Algoma Art Gallery is the Canadian Bushplane Heritage Centre. I'm no aviation nut (I honestly know little nor have much interest in planes other than for travelling purposes) but this museum AMAZED me!
Each of the planes has been restored thanks to the staff and volunteers of the museum. Some have come to them battered, torn, and even burnt to a crisp. You can see volunteers working in the back on their latest projects while you admire the finished vessels. There are even a few you can go inside! From versatile aircrafts like the DHC-2 Beaver to one of a kind experimental planes like the Macgregor MG-65, there are so many stories housed under one roof.
Be sure to check their website as they host a plethora of events like their Bushplane Days event as well as a gift and craft show come Christmas time.
Ermatinger Clergue National Historic Site
Last but certainly not least is the Ermatinger Clergue National Historic Site. This old stone house built by Charles Ermatinger in the early 1800s is the oldest surviving house in Northwestern Ontario.
Here you can learn the fascinating history of Sault Ste Marie from its days as a small fur trading post. While wandering its halls you'll get a glimpse of what pioneer life was like. The Clergue Blockhouse stands next to the Ermatinger house. Relocated to the site in 1996, served as the home of industrialist Francis Hector Clergue from 1894 – 1908. Both buildings house pristine artifacts, many of which belonged to Ermatinger and Clergue.
INSIDER TIP: Check the hours of operation for these attractions as you might be able to fit in more stops than you realize. During the summer, the Ermatinger Clergue house is open until 6pm Tuesdays and Wednesdays. Otherwise, it closes at 4pm daily.
By now you're probably exhausted, so retire to your hotel and enjoy a quiet night. If you're not quite ready to wind down from the day, take some time to enjoy a stroll along the Hub Trail and the boardwalk following the St Mary's River.
Where to Stay in Sault Ste Marie
There are a number of fantastic hotels in Sault Ste Marie and I've had the pleasure of staying in quite a few of them! Here are my recommendations for SSM hotels for your Northern Ontario road trip:
Quality Inn and Suites Bay Front – If you're here mainly to experience the Agawa Canyon Tour Train, you'll want to pick this hotel. It's located right across from the train station, making that 8:00 am start much easier! Each room has a coffee maker, microwave and refrigerator. They also offer facilities such as a pool, hot tub and fitness centre. Click here to book your stay or check out these reviews from previous guests.
Delta Sault Ste Marie – If you're looking for a hotel with waterfront views, you'll be staying at the Delta Sault Ste Marie! Enjoy the sunset from your room as you watch boats meander to and fro along the St Mary's River. With its prime location on the Hub Trail, it's the perfect spot to get out for a walk or run. Delta SSM also features a pool and fitness centre if you'd like to keep your workouts indoors. There's also a fantastic restaurant on site that has a seasonal menu that's bound to be a hit with anyone in your group. Click here to book your room or see what previous guests have said about their experience.
Days Inn & Suites Sault Ste Marie – Whenever my mom and I head to Sault Ste Marie for our girls' trips, this is where we stay. The Days Inn & Suites have amazing two-floor suites that feel like a small home! With a full kitchen, two bathrooms, and plenty of room, it's a great spot to stay if you're planning on being in town for an extended period of time. To top it off, breakfast is included, too! Click here to book your stay or take a look at what previous guests have said about their visit.
Holiday Inn Express Sault Ste Marie: Of all the hotels I've included here, I think I'd have to say that the Holiday Inn Express has the nicest rooms. It's clear they've been recently renovated with minimalistic decor that's still inviting and cozy. The whole hotel is bright and inviting, offering an indoor pool, spa tub, and sauna. Also, this hotel easily has the best breakfast and it's included in your rate. Why is it the best? Three words: fresh cinnamon buns. Click to book your room or see what other guests have to say about their stay.
Day 4: Lake Superior Coastal Drive
Well rested? I bet, that was a busy travel day! Now's not the time to slack though – we have a full day of exploring Lake Superior waiting for us!
If you're looking for some local fuel to start your day off right, I recommend grabbing a hearty meal at The Breakfast Pig. It is easily one of (if not THE) best restaurant in Sault Ste Marie and is not to be missed when visiting the city. While you might be tempted to go for a typical breakfast, I highly recommend going off script and enjoying one of the owner Angela's brilliant creations. She always has fantastic monthly specials happening or if you want a solid go-to that's always on the menu, I can't recommend The Adonis Eggs Benedict enough.
Of course, it isn't a road trip without a solid cup of coffee! Whether you're in need of a coffee fix or just want to delicious hand-crafted beverage for the road, you'll want to stop by Scott Coffee Co. Using local beans from St Joseph Island Coffee Roasters, you'll be supporting not one but two Northern Ontario companies! Also, they have great handheld eats and treats perfect for on the road. Though I bet you can't walk out without at least one of Sarah's amazing cheesecake slices.
Alright, now that you're prepared, let's hit the road for another day of epic adventures!
The largest of the Great Lakes, Lake Superior is also the largest freshwater lake. All four of the others can fit within it! Known as Gi chi Gamiing meaning "great lake" in Ojibway, the sheer power of Lake Superior can be seen on a turbulent day. Whether calm or uneasy waters, Lake Superior has a certain allure that will have you mesmerized. The coastal drive can be as busy or as relaxed as you like, but take as much time as you like exploring the beautiful Lake Superior shoreline. Head north along the Trans Canada Highway and let's get started!
Lake Superior Coastal Drive
It won't take long for the incredible views of Lake Superior to unfold in front of your eyes. Just 45 minutes up the road will be your first stop – Chippewa Falls. Say hello to the gorgeous waterfall on the eastern side of the road as well as the mid-point for the Trans Canada Highway! Take some time to enjoy the little trails that wind in and around the area before continuing onwards.
While chances are Lake Superior Provincial Park is your main destination, you will pass by two other provincial parks along the way! Both Batchewana Bay and Pancake Bay have amazing sand beaches and are hot destinations in the summer months. If you're looking to enjoy some beach time, I recommend arriving early to grab a prime spot along the shoreline!
Chances are you're not hungry right now, but if you're looking for a spot to stop later on, I highly recommend grabbing a bite to eat at Voyageur's Lodge and Cookhouse. Right across from Batchewana Bay, they offer some incredible home-cooked eats from fish tacos to bannock and beans. There's also a motel attached so if you're looking for a spot to stay outside the city so you're closer to the natural wonders of Algoma Country, I'd recommend booking a room here!
Exploring Lake Superior Provincial Park
You'll be driving through Lake Superior Provincial Park, so if you plan on stopping and exploring at all within the park's boundary (which you should be!), head to the visitors' centre to pay your entry fee. You'll want to visit either way as they have a great exhibit there showcasing the history of Lake Superior and the area. Read about how the Group of Seven traversed Algoma Country to paint the gorgeous landscapes, and the horrors of the Edmund Fitzgerald as Lake Superior took the lives of the 29 men on board.
SOMETHING TO NOTE: With the state of things right now, the visitors centre exhibits might be closed or have limited hours. Be sure to check in advance to avoid disappointment!
As for inside the park, well… the possibilities are endless. Covering 1,556 kilometres squared of land, you can imagine just how many incredible hikes and lookouts there are to experience!
I've had the pleasure and fortune to spend a few days now exploring Lake Superior Provincial Park, and these are a few of my recommendations of what to see and do:
Agawa Bay – If you're going to go ANYWHERE in the park, you need to visit the Agawa Rock Pictographs. This hike is short at less than a kilometre in length, but it's an important spot. Here you can find interpretive signage that touches on the importance of this area to the Ojibway People, but I recommend doing your own research. Along the rock, you'll see gorgeous pictographs that have been there for hundreds of years. I try to stop every time I'm passing through.
Old Woman Bay – Pack a picnic and enjoy the beautiful shores of Lake Superior as a Nokomis (meaning grandmother in Ojibway) watches over you. This iconic cliffside is a popular spot in Lake Superior Provincial Park, as is the driftwood beach.
Nokomis Trail – The views from the Nokomis Trail are some of my favourites in the region. This ~4 kilometre trail isn't an easy one as it requires scaling some pretty large rocks as you climb 200 metres, but the views are absolutely worth every step and stumble. If Old Woman Bay or the Nokomis Trail are must-sees for your Northern Ontario road trip, you'll want to get here early as the parking lot fills up extremely quickly.
Sand River Falls – Also known as the Pinguisibi Trail, this is a favourite among waterfall chasers like myself. The trail is a fairly easy 3 kilometres (one-way) but offers spectacular views of the river as it tumbles down the Canadian shield. I highly recommend taking a few hours to truly enjoy the trail but if you only have time for a quick stop, the largest of the waterfalls is right by the parking lot. Enjoy a quick pit stop before carrying on your way!
Optional to Wawa
To try and hit all of the stops and hikes I've mentioned is a tall order for just one day, meaning if you do try to accomplish that mission, chances are you won't have time to head to Wawa. Though if you can, I highly recommend swinging it because of the two main stops. The first is located just a 10 minute drive south of town, so keep an eye out for the Pinewood Drive turn-off and follow the signs to Scenic High Falls.
Follow the gravel road as it twists and turns, taking you to the parking lot near the base of the falls. I more commonly refer to it as Magpie Falls (because let's be honest, there are 281974983 "High Falls" in Ontario), but this cascade waterfall sure is a beauty. She sits about 23 metres (75 feet tall) and has a crest of 38 metres (125 feet). There are trails that lead to the right of the falls, but there is no way to directly access the bottom. This is also not recommended as the flow is controlled by a dam and therefore can change without warning.
After you're done admiring Magpie Falls and all her beauty, head to Wawa and say hello to the goose. Yes, that's right – there's a HUGE Canada goose sculpture at the visitors centre! Why? While the town is pronounced wah-wah, it's pronounced way-way and means goose in the Ojibway language!
The drive to Wawa is 2.5 hours, making it a popular turnaround point for this Sault Ste Marie day trip. If you're hungry, grab a bite to eat at the Viking Restaurant in town before making your way back to Sault Ste Marie.
NOTE: This is just a quick overview of the top spots along the Lake Superior Coastal Drive. If you'd like more information or are looking to continue your drive further to White River and beyond, don't miss my guide to the top spots from Sault Ste Marie to Thunder Bay!
Now let's call it a night because we have an early day tomorrow as we experience one of Canada's signature attractions!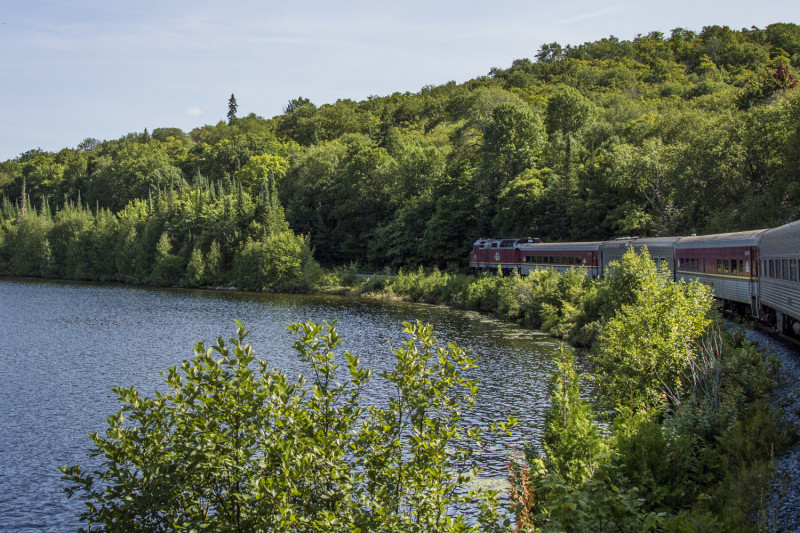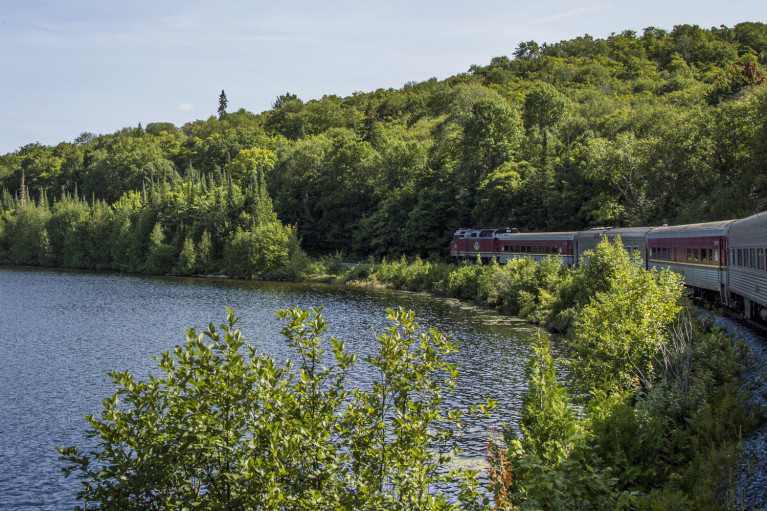 Day 5: Agawa Canyon Tour Train
This is when staying at the Quality Inn & Suites Bay Front comes in handy. Roll out of bed and across the street for an 8:00 am departure on the Agawa Canyon Tour Train! Only accessible by train, you don't want to be late for this one. They WILL leave without you! Arrive at 7:30 am to see the train come in and grab a great seat.
Especially during the autumn season (mid-September to mid-October), you'll want to arrive early so you can have the first pick of your seat. If you're like me and like to enjoy your nature as pristine as possible, I suggest visiting in the summer months.
INSIDER TIP: Grab a seat on the side facing the hotel. The majority of the highlights along the ride to the canyon are on this side! For more tips like this, check out my full guide to the Agawa Canyon!
As the train winds through the beautiful Northern Ontario landscapes, you'll hear about the history of the area as well as the rails with the GPS triggered commentary. Enjoy gorgeous views on the 4 hour ride of Trout Lake, the Batchewana River, the Montréal River Reservoir and more! You can also grab a bite to eat or a coffee/tea to go from the snack car.
Upon arriving you'll have an hour and a half to enjoy and explore the natural beauty of the Agawa Canyon. While it will be tight but not impossible, keep an eye on the time so you can see all the sights in just 90 minutes. The views from the top of the Lookout Trail will take your breath away as you enjoy a bird's eye view of the Agawa River. It's worth all 321 steps to the top!
Head down along the Talus Trail and say a quick hello to Black Beaver Falls before heading to your final stop – Bridal Veil Falls. At 225ft (68.5m) tall, this beauty is a stunner! Then pick up the pace and head back to the train along the River Trail. If you hear the train's horn blow, that means put a spring in your step. Head for the tracks to make sure they don't leave without you!
By now you're probably starving, and rightfully so – you just did quite the trek! While you can pack a lunch, if you're anything like me (aka NOT a morning person), you wouldn't have had time for that. Head to the snack car and grab some grub to refuel. At this point, you'll probably be ready for a nap, but if you're a trooper I suggest staying up and taking in the sights on the way back to Sault Ste Marie.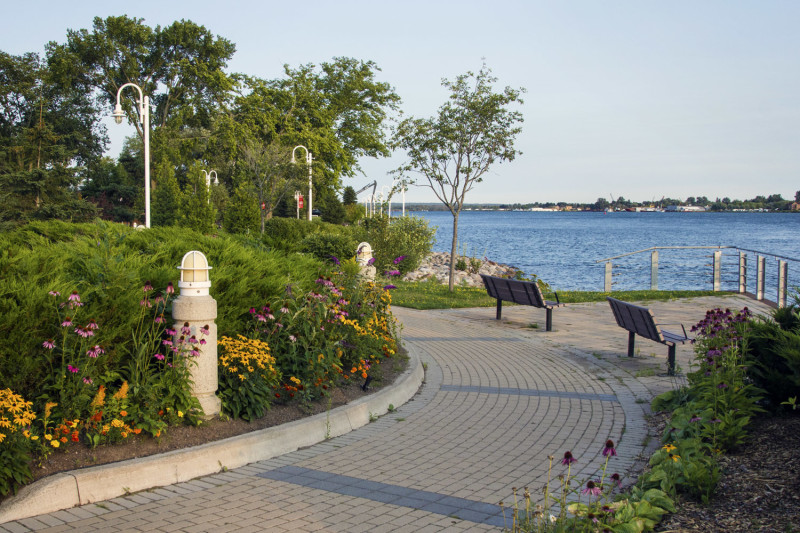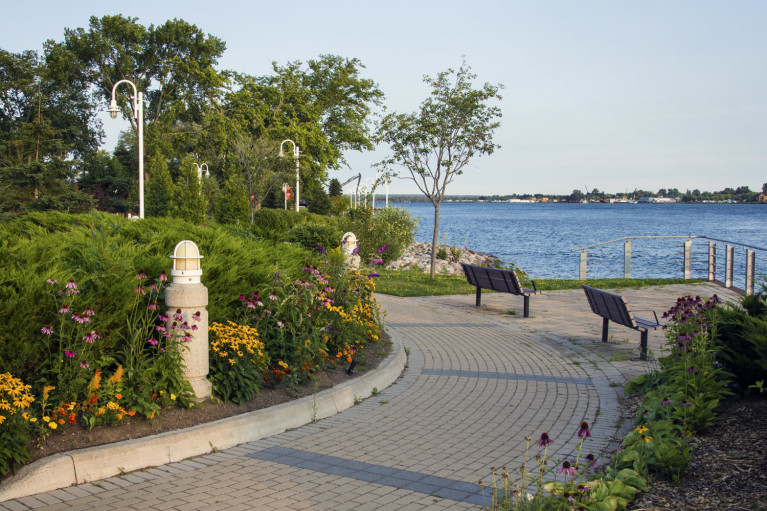 Take a moment to rest and relax as you've just tackled the Agawa Canyon! Now it's your last night in Sault Ste Marie, so treat yourself to a nice dinner or maybe a beverage or two. There are plenty of restaurants and bars within walking distance in downtown Sault Ste Marie so you can enjoy without worry. If you're looking for my top recommendations, check out my guide to the best restaurants in Sault Ste Marie.
If you haven't had a chance yet, I highly suggest taking the time to enjoy the Hub Trail. Not only because it's a great pedestrian walkway but also because it offers great views of the St Mary's River. Finish the day with stunning colours and the sun setting behind the International Bridge.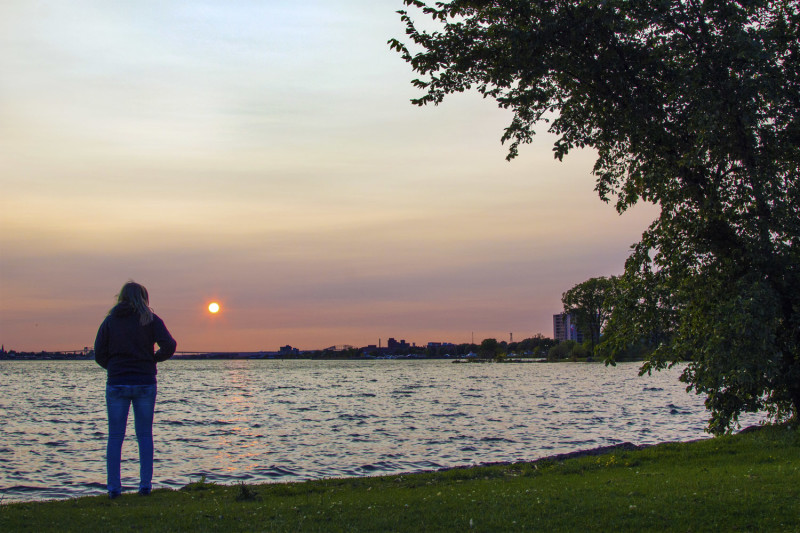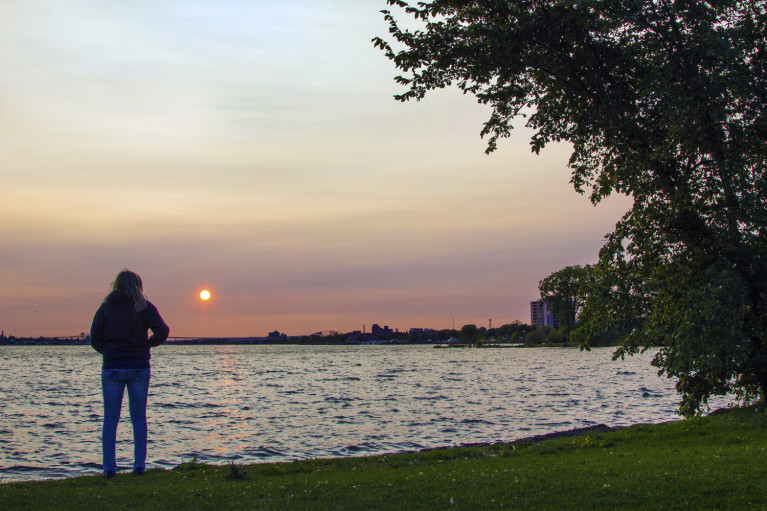 Day 6: Goodbye Sault Ste Marie, Hello Again Sudbury
It'll be tough to say goodbye to The Soo, but it's one of those places that you have a feeling you'll return to… possibly for the Batchewana Pow Wow? Wave farewell as you hop on the Trans Canada Highway heading east back towards Sudbury.
You can do this in a straight shot of course, but as I mentioned, there are so many great stops between Sudbury and Sault Ste Marie! If you didn't get a chance to explore more on your way in, I recommend taking some time on your way back.
One stop I recommend is the adorable town of Bruce Mines. About an hour south of Sault Ste Marie, this is the site of Canada's first copper mine. While it's been closed since the 1990s, you can still take a tour in the summer months! Though chances are you'll mainly be passing through so I recommend stopping in at The Copper Bean Cafe. They have incredible homemade goodies and delicious beverages that will keep you fuelled on your way back to Sudbury. If you'd like to spend a bit of time exploring, check out my guide to Bruce Mines!
NOTE: As I mentioned earlier, there are so many incredible stops between Sudbury and Sault Ste Marie. While I'm not going in-depth in this post, you can check out my full guide to driving Sudbury to Sault Ste Marie and see what stops you want to enjoy on your trip!
Though if you're going to take any detour, I highly recommend taking the exit for Route 144. Don't worry, we're not heading all the way to Timmins (though that could be another destination for your next Northern Ontario road trip!), but rather to Onaping Falls! Feast your eyes on the beauty of the Onaping River as it drops over 45 metres (150 feet) across the beautiful Canadian shield. While the trail itself can be tricky with very uneven and rocky terrain, there's a fantastic lookout and picnic area that's fully accessible.
For all the details, check out my guide to exploring the AY Jackson Lookout!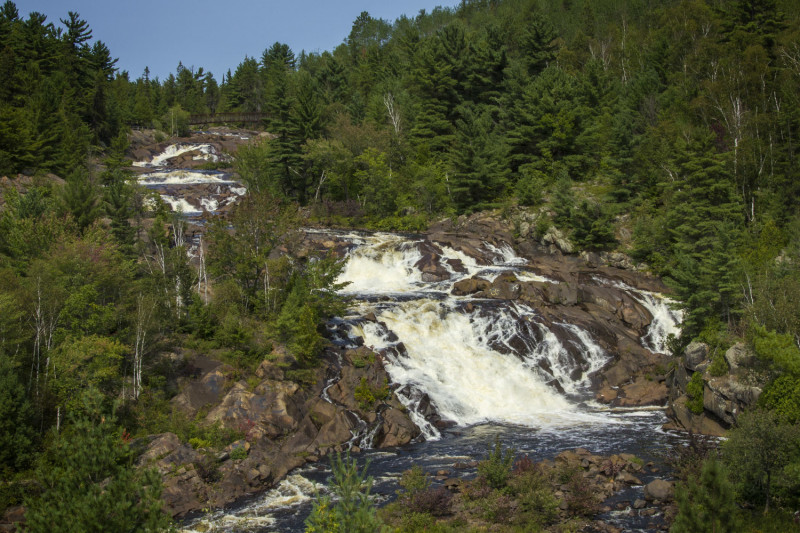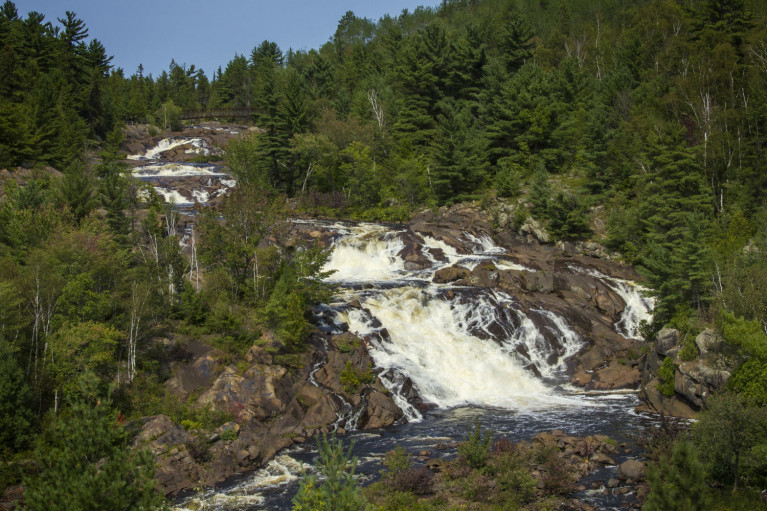 Depending on what time you arrive in the Nickel City, you have a few options of things to do in Sudbury. Personally, I suggest hunting for street art in downtown Sudbury if you didn't do this on your first night in town. Adding such a vibrant vibe to the area, these murals brighten many corners of Sudbury. It also seems like more and more have been added each time I visit!
Though if you're going to witness any of these incredible masterpieces, you need to check out Canada's largest mural. That's right, Sudbury is home to this massive work of art that spans 74,000 square feet. What was once a derelict hospital has become a beacon of colour in the city, taking 860 gallons of paint and a crew of 29 people to complete. The sight is certainly not to be missed… and you honestly can't miss it when driving down Paris Street!
If you're a fan of Letterkenny, then get yourself an effin' Puppers over at Stack Brewing. Yes, that's right – they brew the show's official beer! In all seriousness though, Sudbury has a great craft beer scene. I'd highly recommend visiting one of the local breweries for a pint or two before you head home! Now I'm just hoping that one of the distilleries in town will make some Gus n' Bru and then we'd be all set…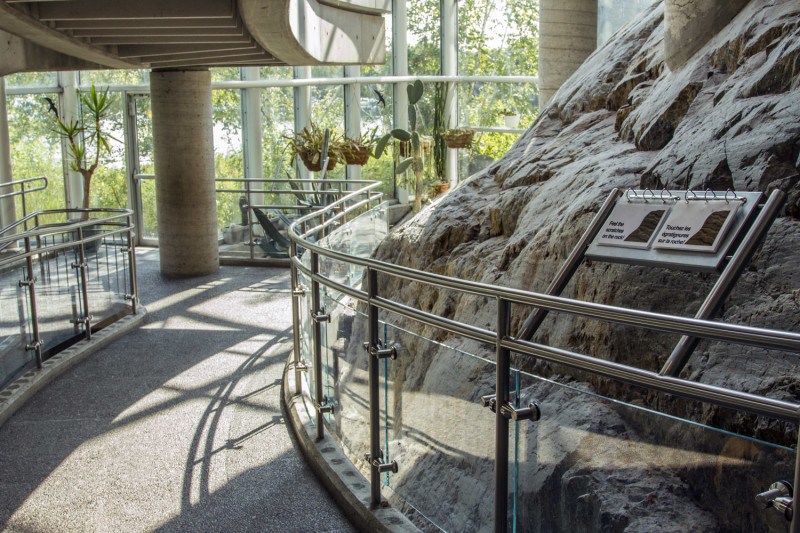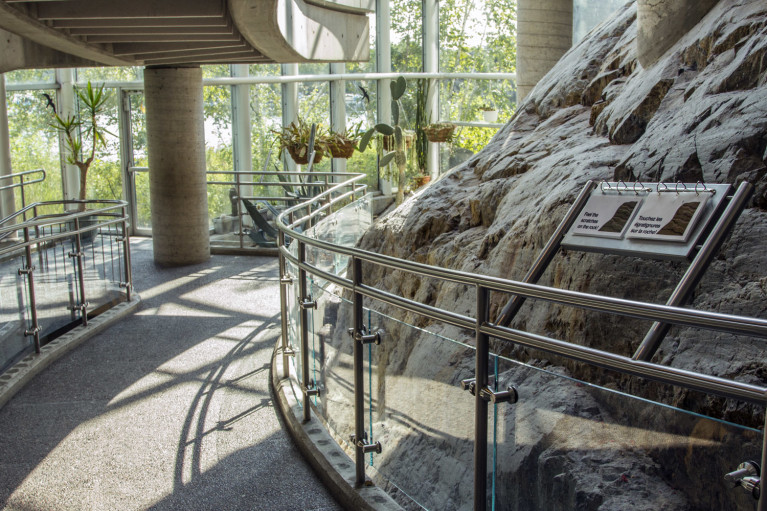 Day 7: Science North & Homeward Bound
No trip to Sudbury is complete without a visit to Science North! Home to an amazing science centre, an IMAX theatre and more, there's lots to see and explore.
You'll find a number of interactive exhibits across their four floors. Enjoy watching butterflies and identifying fossils on the second floor. Visit critters like Maple the porcupine and Drifter the beaver on the third floor while you learn about each creature. Head up to the top floor to learn about the human body and our solar system.
INSIDER TIP: Science North is a popular spot, so I suggest going in the morning shortly after it has opened. This way you can beat some of the crowds! Although you may notice that many of the animals aren't overly active or still sleeping. Visit them just as you're leaving and chances are they'll be mobile.
There are also daily demonstrations and shows daily in the Discovery Theatre. Ask for the day's schedule when purchasing your tickets to find out more!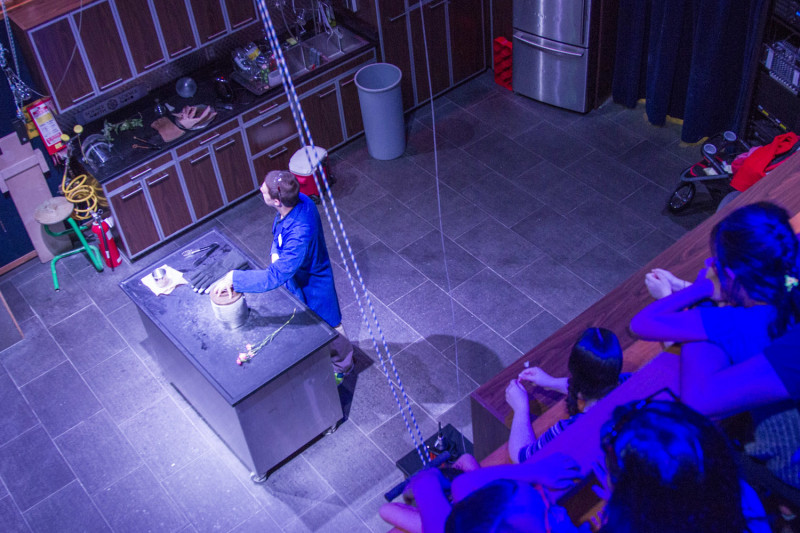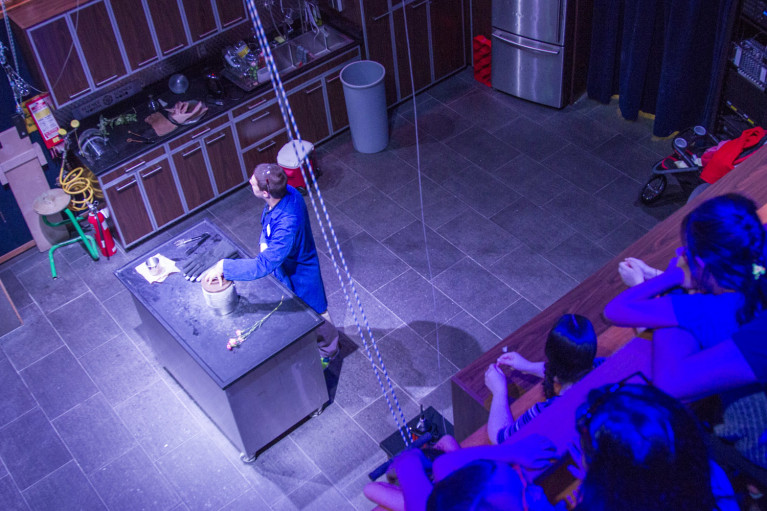 There is also an outdoor component which can easily be missed. Accessible from the third floor, head to the Northern Garden to unwind a little. If you're interested in naturalizing your landscape, the garden features a variety of native plant species. It also houses a certified Monarch Waystation and if you're lucky, you might spy a chipmunk or two!
Overall it's easy to spend 3-4 hours just in the science centre alone. If you plan on catching an IMAX movie or a show at the Planetarium, I'd suggest planning a whole day for Science North. There's also an escape room if you want to test your logic and teamwork skills!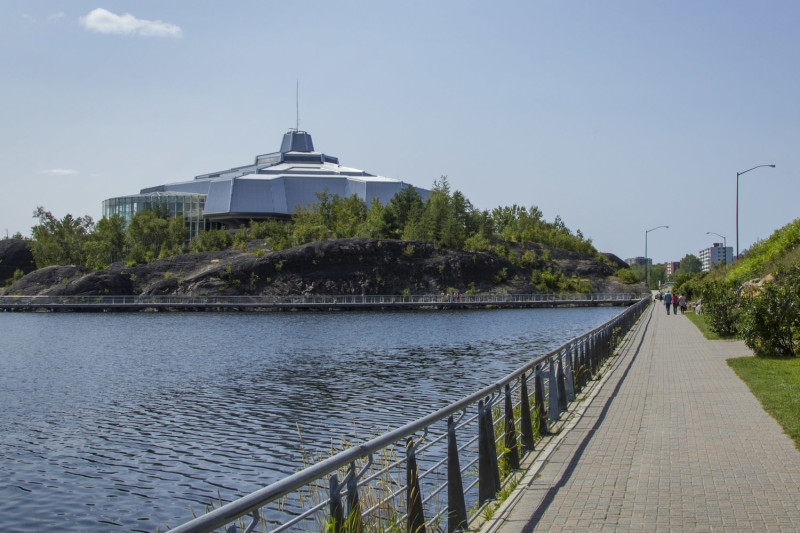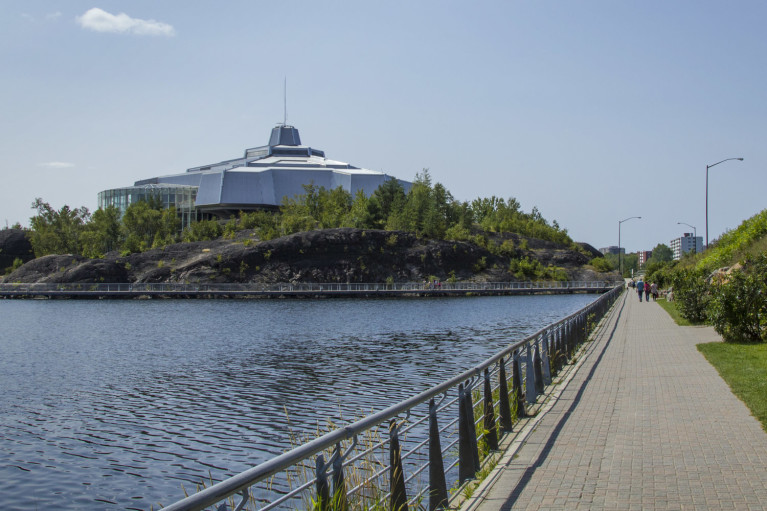 Before leaving, wander through the Northern Forest exhibit outside towards the back of the building. You'll find the Bell Park Boardwalk which leads along the shores of Hermit's Bay.
In the summer you'll find plenty of yachts and canoes in the water, possibly a few families fishing. Go for a stroll and enjoy the serene views along the boardwalk. You can take it all the way to downtown Sudbury which is approximately 30 minutes one way.
When you've had your fill of sunshine, it's time for your Northern Ontario road trip to come to an end… for now. Hop back on the Trans Canada Highway south and start preparing for your next adventure, because we both know you'll be back!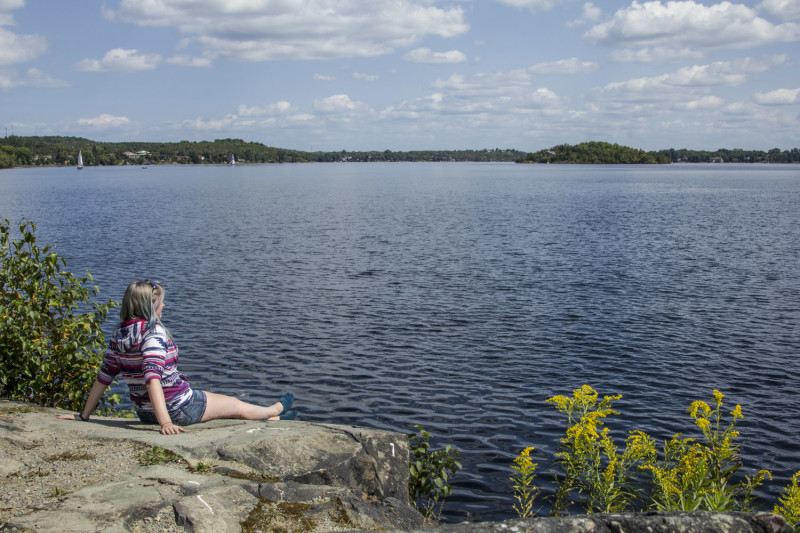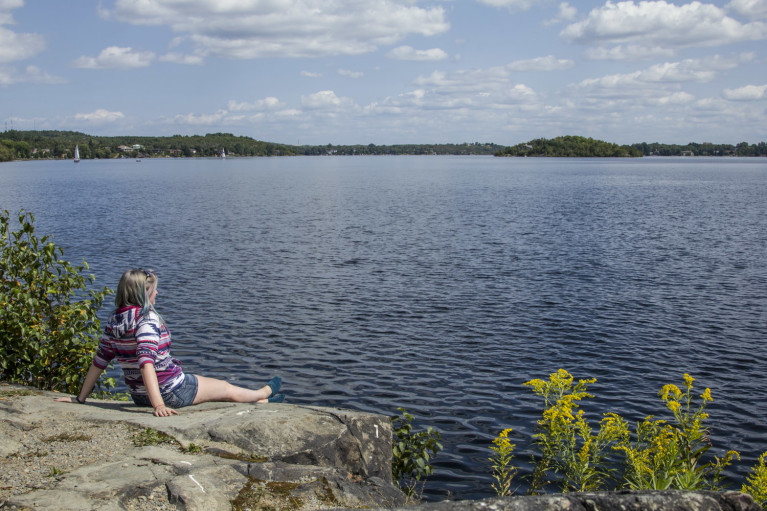 2 Week Northern Ontario Road Trip Itinerary
As I said earlier, the above week-long Northern Ontario road trip itinerary is really just a taste of what the area has to offer. If you're really looking to see a good chunk of Northern Ontario, then don't stop at Sault Ste Marie! Thunder Bay is the next hot spot to adventure to in Northern Ontario and I can certainly say it's worth the extra trek. If you're looking for more places to visit in Northern Ontario, then this two week itinerary is for you!
While you can straight-shot it from Sault Ste Marie to Thunder Bay, I highly recommend taking at least a week. If you're game for two weeks of Northern Ontario road trip fun, here's my recommended itinerary!
NOTE: This is certainly a "Coles Notes" version of this itinerary. If you're looking for more in-depth information about this route, check out my guide from Sault Ste Marie to Thunder Bay!
Toronto to Thunder Bay Road Trip
Yes, I know, not all of my readers hail from Toronto but a large majority of Ontario's population does. While it technically says Toronto, you can adjust accordingly based on the below stops. Alright, here's the run-down for this Toronto to Thunder Bay road trip itinerary!
Day 1: Toronto to Sudbury (~400 km)
I'd recommend following what I mentioned earlier for day one of the week-long road trip itinerary. Sudbury is also a great weekend road trip from Toronto. Therefore, if you'd rather take the time to explore Sudbury in its own adventure, I recommend stopping at Georgian Bay Islands National Park, Killarney Provincial Park and/or French River Provincial Park to break up your drive.
Day 2: Sudbury to Sault Ste Marie (~307 km)
You can do this as quickly or as leisurely as you like. If you'd like to make this a full day of exploring Lake Huron's north shore, check out these top stops between Sudbury and Sault Ste Marie. Looking to beeline it right to The Soo? Take the morning to explore Sudbury or get into Sault Ste Marie and explore for the afternoon and evening. Again, refer to day two of the week-long road trip itinerary for some ideas!
Day 3 & 4: Explore Sault Ste Marie & Algoma Country
This is where the itinerary will begin to differ from my week-long suggestions. Since you'll be heading north along the Lake Superior coastal drive while making your way to Thunder Bay, I recommend sticking close to Sault Ste Marie and exploring the area more.
The Agawa Canyon Tour Train is always a fantastic option for a day trip when in Sault Ste Marie, and honestly should not be missed if possible. While it's an early start, it's always nice to have a day where you don't have to drive and get chauffeured from point A to point B! Check out my full guide to the Agawa Canyon Tour Train for more details.
If the Agawa Canyon isn't quite in the cards – don't worry, there's PLENTY to see and do closer to Sault Ste Marie. If you're looking for outdoor adventures, I highly recommend exploring the Hiawatha Highlands. While it's a popular spot for winter fun, it's just as gorgeous in the summer. Enjoy a hike along part of the Voyageur Trail and explore the beautiful Crystal Falls.
Looking for some nature closer to downtown? Explore the Hub Trail and enjoy a stroll around Whitefish Island. This historical site is right along the St Mary's River and offers a number of beautiful walking trails. Learn about the history of these lands and the island's significance to the Ojibway People.
NOTE: Whitefish Island is overseen by the Batchewana First Nation. While nature should always be respected, please take extra care when visiting. It's a privilege to explore this sacred site and it should be left in better condition than you found it. If there is a closure, follow it and save Whitefish Island for a future visit.
Of course, you can always explore a few of the museums and galleries in town! Take a peek at day three of the week-long itinerary for a quick overview of the Art Gallery of Algoma, the Canadian Bushplane Museum, the Sault Ste Marie Locks National Historic Site and the Ermatinger Clergue National Historic Site.
How does a patio or two sound? There are quite a few to be found in Sault Ste Marie! Head to the downtown core and check out some of the amazing local restaurants to fuel up "Soo-style". There are also the local watering holes such as Outspoken Brewing or Broers Jansen if you'd like to enjoy an adult beverage or two.
Day 5 & 6: Sault Ste Marie to Thunder Bay (~705 km)
Time to make your way further north to Thunder Bay! Enjoy the epic sights of the Lake Superior coastal drive as you follow the Trans Canada Highway.
I recommend splitting the drive into two days and taking some time to explore this stretch. Remember, you won't be able to fit everything in – but you'll have some time to explore again on the way back! I recommend finding a spot to stay overnight near the town of Marathon as that's about halfway. Here are some of the stops I'd suggest between Sault Ste Marie and Marathon:
Batchewana Bay Provincial Park – Enjoy some beach time
Pancake Bay Provincial Park – Beach time or check out the Edmund Fitzgerald hike
Lake Superior Provincial Park – Agawa Bay, Old Woman Bay and Sand River Falls
Wawa – Quick pit stop to say hello to the big ol' goose and grab a bite to eat if need be
White River – Similar to Wawa, a quick pit stop but this time to say hello to Winnie the Pooh
Pukaskwa National Park – Words cannot accurately describe the beauty of this gorgeous park
Now, there are a few things you can do for accommodation. As I said, the mid-way point is around the town of Marathon and while the town has some accommodation offerings, there isn't a whole lot to choose from. Further up the highway, you'll find Terrace Bay and Schreiber, both have some accommodation options as well.
If you're a fan of camping, I highly recommend grabbing a spot at Neys Provincial Park or Pukaskwa National Park (though it's first come, first served!). Personally, I stayed at Neys Provincial Park and can't recommend it enough. Another option is Rainbow Falls Provincial Park which I can say from personal experience is also fantastic, though it's a little further and will mean a bit more driving.
As for the rest of the way from the Marathon area to Thunder Bay, be prepared for some of the best Northern Ontario scenery. I was blown away by the views along this stretch of the Trans Canada Highway! Here are my recommended stops to visit:
If you don't stay at Pukaskwa, Neys, or Rainbow Falls, I recommend checking them out for a quick hike
Terrace Bay – Check out the lighthouse and head down to the waterfront for a quick beach stop
Aguasabon Falls – Follow the boardwalk to these roaring falls and marvel in the beauty of the gorge
Nipigon – Climb the steps of the lookout tower for some brilliant views of the area. Also, a fantastic spot to go paddling.
Eagle Canyon Adventures – Check out one of the longest ziplines in Canada and experience the incredible views from their two suspension bridges
Ouimet Canyon – You'll be blown away by the beauty of this epic canyon
Terry Fox Memorial – Pay homage to one of Canada's most selfless heroes and enjoy the beautiful views of the Sleeping Giant
RELATED: Again, if you're looking for an in-depth guide to this part of the route, be sure to check out my Sault Ste Marie to Thunder Bay guide. It has all the details you'll need for this trek!
Yes, I know, Sleeping Giant Provincial Park isn't on that list. Don't panic, there's no way I'm missing out on including one of the top things to do in Northern Ontario… and some of the best scenery in Ontario!
Take a breath now because you made it. Say hello to Thunder Bay and let's get acquainted with the city!
Day 7 & 8: Exploring Thunder Bay
The city we know as Thunder Bay has only been around for half a century. Before they amalgamated, there was Port Arthur and Fort William. Those who've grown up in Thunder Bay often still refer to the two areas as such.
There is so much history and plenty to see and do in Thunder Bay proper. From art galleries to museums to outdoor adventure, Thunder Bay has something for everyone. And the food scene?! It catches so many by surprise but Thunder Bay is one of the best foodie towns around. Don't miss my guide to all the fun things to do in Thunder Bay so you can enjoy the best the city has to offer. There are a number of top attractions in Northern Ontario here and you don't want to miss them!
Of course, chances are you're in town because you want to see the "Niagara of the North" – yes, I'm talking about Kakabeka Falls. Located about 30 minutes west of Thunder Bay, take a morning or afternoon to experience this natural wonder. Kakabeka Falls Provincial Park has some fantastic hiking trails and their campground is great. You're guaranteed to sleep well as the low rumble of the falls lulls you to sleep. There are a number of fantastic Thunder Bay waterfalls to experience and I recommend spending some time chasing them around the area!
If you're wondering where to stay in Thunder Bay, I have two solid recommendations. There's the Prince Arthur Hotel which is the oldest hotel in the city and full of old-world charm. They have very spacious rooms each with a fridge, microwave and anything else you may need for your stay! Click here to book your room or see what other guests have to say about their stay.
My other recommendation is the Courthouse Hotel. Yes, this was Thunder Bay's original courthouse which has since been transformed into a hotel! Each of the rooms used to be a judge's office (and they were clearly very, very spacious) that have since been refurnished into elegant rooms with top-notch amenities. Click here to book your room or see what other guests have to say about their experience.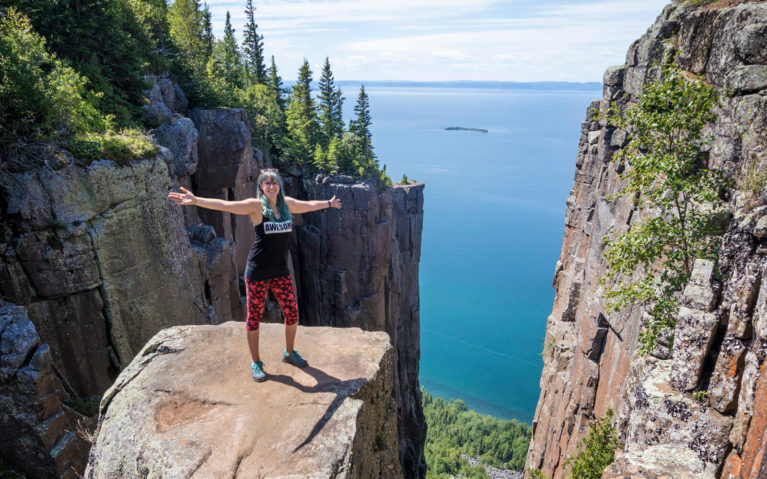 Day 9: Sleeping Giant Provincial Park
For some of the best views in Northern Ontario (or dare I say it – the entire province), you need to plan a day for exploring Sleeping Giant Provincial Park.
Experience the beauty of the Sibley Peninsula as you explore over 100 kilometres of incredible hiking trails. While there are 26 trails to choose from, most come for the holy grail of all hikes – the Top of the Giant. The trail itself is just 6.6 kilometres long, however it's a bit of a trek from the parking lot to get to the trailhead. In total, this is a 21.8 kilometre round trip that you will never forget. Bring plenty of snacks and water as you climb to ~228 metres (750 feet) above Lake Superior. It's a gruelling hike but trust me when I say it's 100% worth it and I would do it again in a heartbeat!
If hiking 6-10 hours to the Top of the Giant sounds a little too intense for you, don't worry. There are a number of other fantastic hiking trails to explore. Check out the Ontario Parks website for a full list of the trails.
There's the option to stay overnight at Sleeping Giant Provincial Park's campground, or you can incorporate this into your stay in Thunder Bay. It's about an hour's drive to the park from the city, making it easily doable as a day trip!
Day 10 & 11: Thunder Bay to Sault Ste Marie (~705 km)
Here's where you can take a peek at some of those stops you didn't get to check out on the way through. Refer back to days 5 and 6 for ideas of where to go to break up the drive and enjoy this gorgeous part of Northern Ontario.
Day 12-14: Sault Ste Marie to Home (~700 km)
With three days left in this two-week itinerary, you have a couple of options. The first is you can spend a little more time in Sault Ste Marie and explore more of Algoma Country. There is honestly so much to see that you'll need a few visits to enjoy it all! Then, you can also take your time and break up your stay between Sault Ste Marie and Sudbury if there were still some spots you wanted to explore before making your way home. Of course, there's also the aforementioned French River Provincial Park, Killarney Provincial Park and Georgian Bay Islands National Park if you didn't stop on the way in.
However, you might also want to take a little detour along Highway 6 to the world's largest freshwater island – Manitoulin Island. Set your watch to island time as you slow down, relax and enjoy the natural beauty. Enjoy the incredible sights from the Cup and Saucer Trail. Learn more about the true history of these lands at the Ojibwe Culture Centre. Eat a stellar meal in an old school house turned restaurant. Catch some of the best sunsets you'll see in Providence Bay. There is so much to see and do so check out my guide to Manitoulin Island for all the details!
From here, you can either backtrack and continue along the Trans Canada Highway to head home, or you can book a spot on the Chi Cheemaun and enjoy the beautiful views across Lake Huron. You will then arrive in Tobermory where you can enjoy a day or two exploring the beautiful Bruce Peninsula or make your way home. If you're curious about what there is to see and do, don't miss my Tobermory guide!
Additional Northern Ontario Stops
Phew, that's a lot of ground we've covered! But y'know what? There's even MORE to see in Northern Ontario! It truly is a massive province and while I've had the pleasure of visiting a number of times, there is still so much I'm chomping at the bit to see! If you're looking for even more recommendations, here are a few more Northern Ontario road trip spots that are on my radar.
Kenora and Lake of the Woods – Can you believe there is still another 8 hours from Thunder Bay to the Manitoba border? Along the way, you'll find Kenora and Lake of the Woods. While I was absolutely mesmerized by the natural beauty from Sault Ste Marie to Thunder Bay, I've been told it's even more breathtaking in this area. That alone has me jonesing for a trip!
Highway 11 – I've heard a few folks say that Highway 11 isn't nearly as nice as Highway 17 when exploring Northern Ontario, but I want to find out for myself! With beautiful areas like Temagami, Temiskaming Shores, Cochrane, Moonbeam and Hearst just to name a small handful of the places I have flagged along the route. I can't wait to experience all the things to see on Highway 11 Ontario.
Cochrane – Speaking of Cochrane, this town is home to the Polar Bear Habitat, one of the largest of its kind in the world. It's also known for its ability to lengthen the lives of polar bears that are in captivity by providing environments as close to their natural habitat as possible. This high standard for conservation as well as the emphasis on the care and well-being of the polar bears have me hoping to visit one day soon!
Combining these destinations along with all the stops in the two week itinerary would make for the ultimate Northern Ontario road trip. I can't wait for the day when I can experience this all myself!
Things to Know For Your Northern Ontario Road Trip
There is SO much to see and do that these itineraries could be a little busy for some folks. If you've followed me for any amount of time, you know I love to jam pack my trips to see as much as possible. Please enjoy the trip at your leisure and determine what stops are the best for you and which ones to save for another adventure. Let's be honest – once you've experienced it, there's always going to be another Northern Ontario road trip on the docket!
In the meantime, here are some frequently asked questions and things to know for your Northern Ontario road trip.
Where Should I Go On a Road Trip in Ontario?
My answer will always be Northern Ontario. From Sudbury to Sault Ste Marie to Thunder Bay and beyond, the northern part of the province has so much to offer. It is certainly quite the trek but I think all of the stops in this Northern Ontario road trip post show how it's worth every kilometre. If you're looking for more ideas though, don't miss my Ontario road trip post.
Can You Drive to Northern Ontario?
You sure can drive to Northern Ontario – and I recommend it! A Northern Ontario road trip is the best way to experience this part of the province. That way you can stop and explore at any and all of the stops you like. It's honestly one of my favourite road trips in Ontario.
Can You Drive Through the Agawa Canyon?
No, the only way to access the Agawa Canyon is via the Agawa Canyon Tour Train. I have heard rumours of locals who know how to access the park through ATVs, but this is NOT advised. Not only are you in bear country, but the forests of Northern Ontario are dense and it's easy for someone to get lost if you're bushwacking without knowing the terrain.
Cell Service Can Be Shotty
While you should be fine from Sudbury to Sault Ste Marie, the stretch between Sault Ste Marie and Thunder Bay is another story. Don't panic if you see your bars disappear, just make sure you have offline maps downloaded or a GPS handy so you don't get lost!
Keep an Eye Out for Gas Stations
While there aren't too many stretches in Northern Ontario where you won't pass a gas station, there can still be a decent amount of distance between them. I recommend having at least half a tank of gas, if not a full one whenever you leave a major city. Better to be safe than sorry!
Looking For More Things to Do in Northern Ontario?
Check Out These Things to Do in Sault Ste Marie in the Winter
See Why Sudbury is a Cool Winter Destination
Hit The Road With These Amazing Ontario Road Trip Ideas
Give Winter Camping a Try at Killarney Provincial Park
I've been told that Lake Superior has a certain allure, and I'd say that goes for all of Northern Ontario. There's just something about the vibe up there that's different. Maybe it's the crisp, clear air? Or maybe it's the hospitality of the locals? It's hard to put your finger on it, but you'll feel right at home on this Northern Ontario road trip. I can't wait to return as the more I explore this beautiful province of mine, the more I fall in love with it.
Disclaimer
A HUGE thank you to a number of tourism organizations including Attractions Ontario, Sudbury Tourism, Tourism Sault Ste Marie and Thunder Bay Tourism for hosting me during a number of Northern Ontario travel adventures. While some of the activities, accommodation & transportation were covered, all reviews and opinions are my own! This post contains affiliate links where I'll receive a kickback at no extra cost to you which helps keep IBB running. Read more in this disclaimer and privacy policy.
Ready to Road Trip Northern Ontario? Pin it for later!