Sault Ste Marie to Thunder Bay: Top Stops To Visit On Your Drive

This is one of Ontario's best road trips and for good reason! While you can fly from Sault Ste Marie to Thunder Bay, you're missing out on so many destinations along the way. If you've got the time or are looking for one epic Ontario adventure, hop in your car and check out these incredible stops from Sault Ste Marie to Thunder Bay along the Trans Canada Highway.
Disclaimer: This post contains affiliate links where if you make a purchase, I may receive a kickback at no extra cost to you. It helps keep IBB alive so thank you!
The Lowdown on Sault Ste Marie to Thunder Bay
If you're making this trek from Southern Ontario then chances are you've just completed the trip from Sudbury to Sault Ste Marie along the Trans Canada Highway. Time to rest up because it's another 705 km from Sault Ste Marie to Thunder Bay which will take you about 8 hours with little to no stops along the way.
With no Sault Ste Marie to Thunder Bay ferry or train, you really only have two options. As you can probably guess, one is definitely more convenient than the other. If you wish to fly between Sault Ste Marie and Thunder Bay, you're looking at $500-$600 round trip with Bearskin Airlines for an hour flight or you can save a bit of money by flying with Porter, but you'll be connecting in Toronto. Yes, you read that correctly. You'll be flying to Southern Ontario just to turn around and go north again. I don't know about you but that just seems silly so all that's left is to drive!
If you're trying to get to Thunder Bay in a hurry, you're missing out on all of the following stops along the way. Trust me when I say you should plan a few days to take your time along this drive. You'll be blown away by the natural beauty you'll find!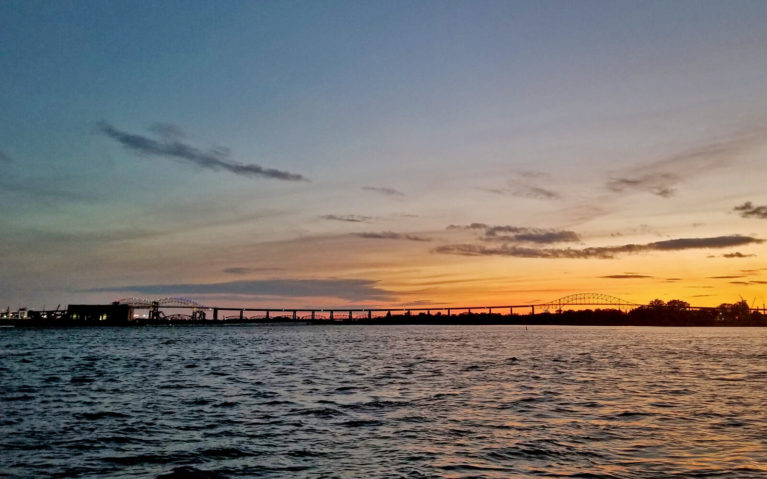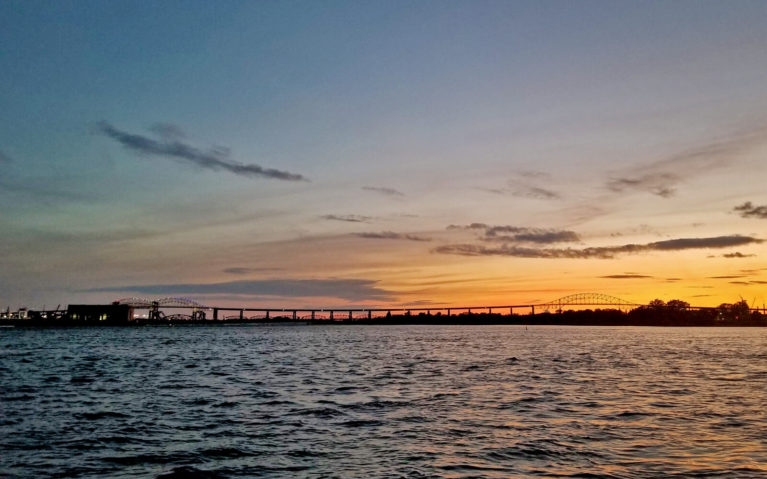 Top Stops From Sault Ste Marie to Thunder Bay
Now, this is going to be a doozy as there are so many incredible spots to stop on the drive from Sault Ste Marie to Thunder Bay. I highly recommend splitting this up into a few days of adventure so you can truly experience everything along the drive. If you're tight for time, that just means you'll have to plan a future visit.
Before Leaving Sault Ste Marie
It's important to fuel up before heading out on a grand adventure! Honestly, I recommend taking a few days to explore Sault Ste Marie rather than just blowing on through. From national historic sites to great outdoor recreation to Indigenous cultural experiences, it really is a fantastic city. If you've already done so and are ready to continue onwards, you'll want to stop at a grocery store to pick up a few snacks before you hit the road or map out some time for a hearty breakfast.
If you're looking for a place to go, The Breakfast Pig is hands down the best breakfast joint in the city. FeastON certified (meaning at least 25% of their ingredients are sourced from Ontario), each and every one of their dishes is full of flavour. While I love staples like The Adonis eggs benedict, you really have to go for their specials. Angela, the mastermind behind The Breakfast Pig, is one crafty lady and my mind is constantly blown by the concoctions she discovers. As someone who constantly feels pressure to eat at different places to try new things, there's a reason I keep going back again and again.
Once your belly is full, chances are you'll want to grab a cup of coffee or tea for the road. While you can find Tim Hortons and Starbucks in the city, ditch the chains for a local gem. Scott Coffee Co has some incredible drinks, all handcrafted and full of flavour. They use beans from St Joseph Island Coffe Roasters so you're supporting not one but two Northern Ontario companies! Also, I dare you to walk out without one of their incredible cheesecake slices.
Belly full? Check. Caffeine acquired? Check. Snacks packed? Check. Alright – let's get this Sault Ste Marie to Thunder Bay road trip started!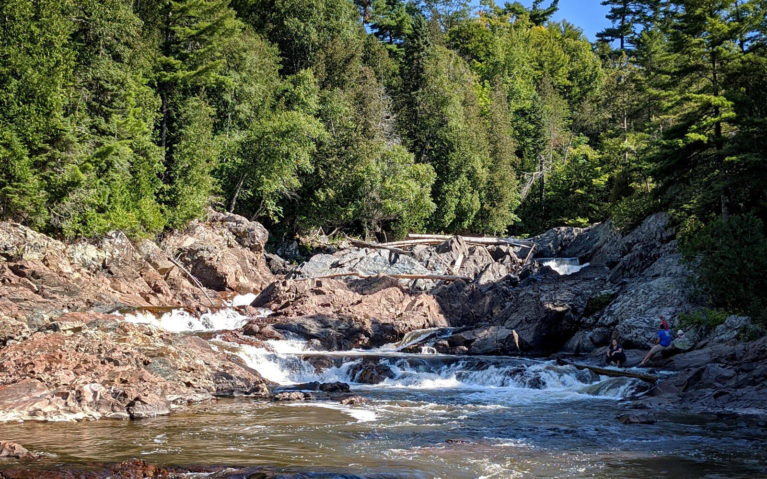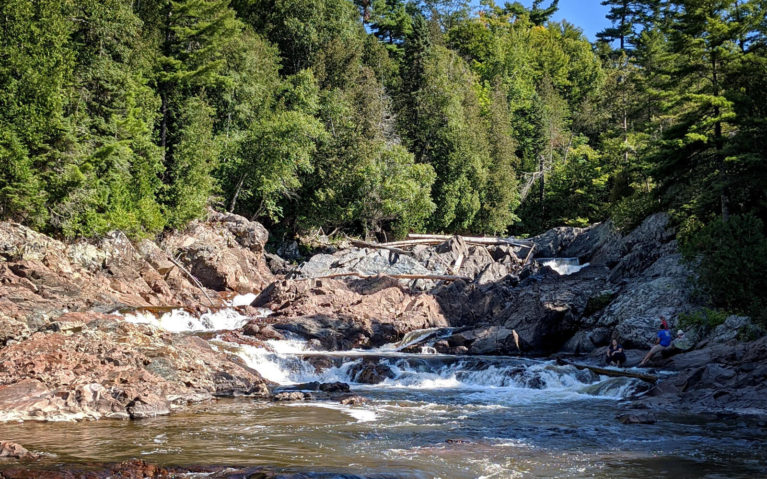 Chippewa Falls
After about 45 minutes of driving north, you'll come upon your first stop. This rest area is home to not only a gorgeous waterfall but also the midpoint of the Trans Canada Highway! Spend some time exploring the trails as they lead upstream and you'll get up close and personal with Chippewa Falls. You'll notice an easel as you walk from the parking lot to the trails as this marks where A.Y Jackson was inspired to sketch Stream Bed, Lake Superior Country.
Once you're done exploring, use the facilities if need be or just hop back in the car and continue north!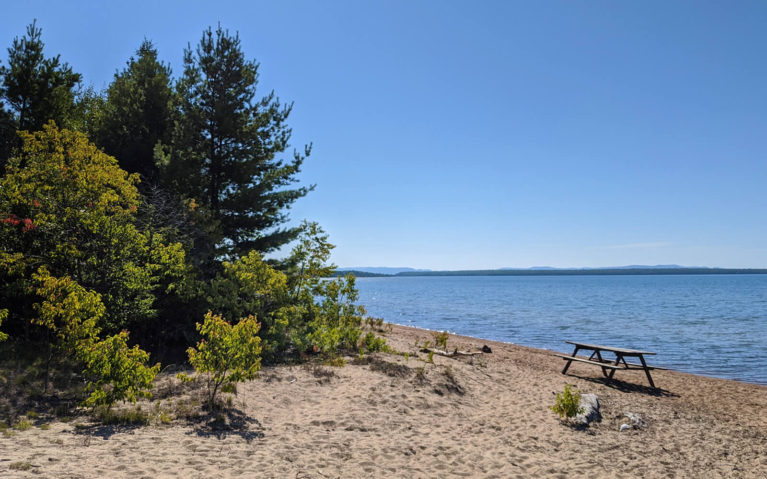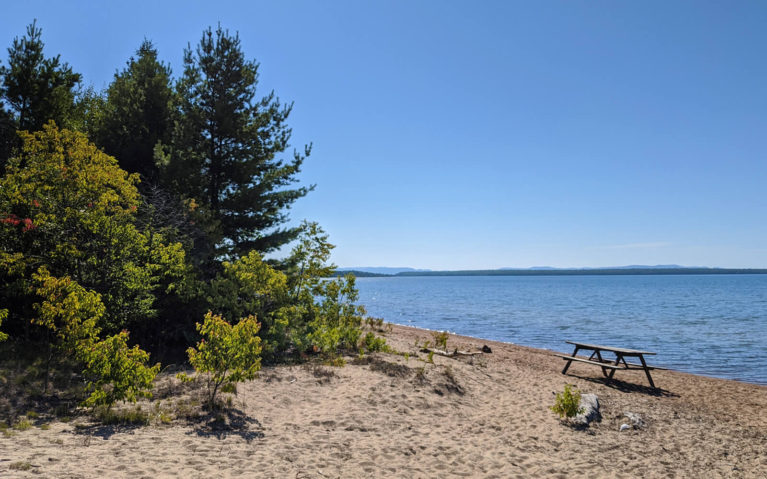 Batchewana Bay
Barely ten minutes down the road and you'll come upon Batchewana Bay. Also home to Batchewana Bay Provincial Park, this day-use park is a very popular beach destination in the summer months. Though two centuries ago, this area looked a lot different as it was a safe haven for voyageurs as they made their way along traditional fur trading routes. If you're an avid paddler, this is a popular spot to launch a canoe or kayak.
Another great spot to stop along Batchewana Bay is the Voyageur's Lodge and Cookhouse. Their fish tacos are unreal and if you find yourself driving on a rainy day, their bannock and beans will warm you right up. Though despite the number of times I've visited, I still have yet to try their bacon-wrapped whitefish bites as they always seem to be out of them! I swear this dish is my white whale – I will eat them one day! Take a peek at the gift shop before you go and when you're ready, hop back on the highway… but don't go too far.
SOMETHING TO NOTE: Voyageur's is a popular spot to spend a night or two while enjoying a trek along the Trans Canada Highway. If you're looking to really take your time and spread out your adventure along this route, this is a great spot to enjoy a good night's sleep.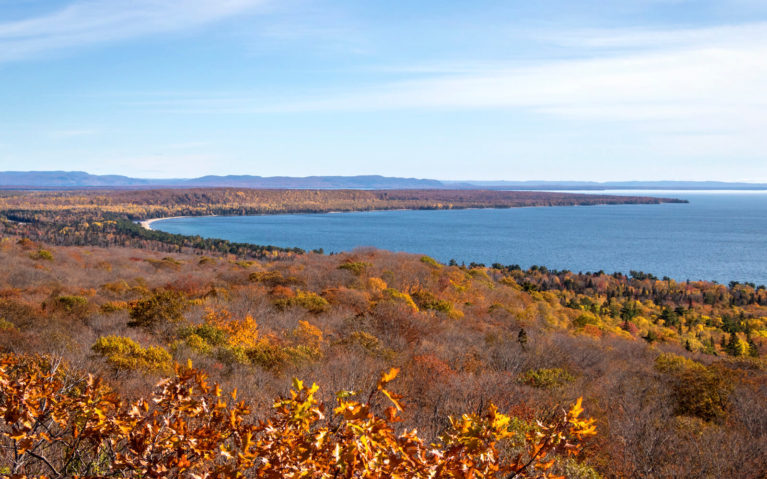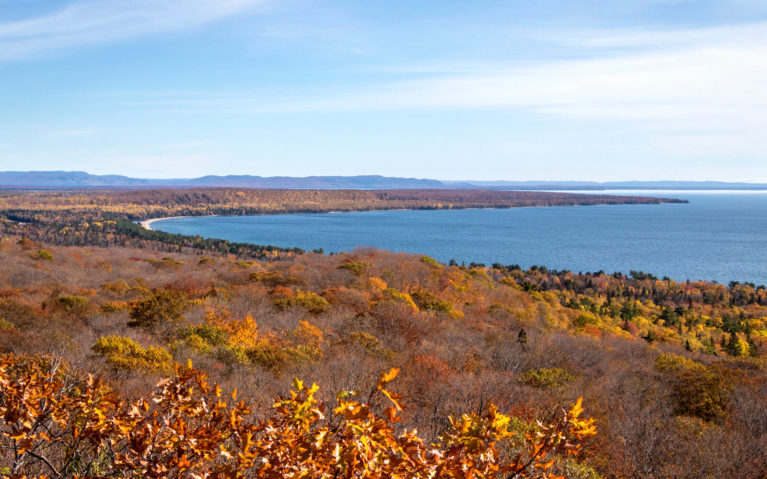 Pancake Bay
Just a few minutes up the road you'll see signs for the Canadian Carver and Agawa Crafts. Inside you'll find gear, souvenirs and plenty of incredible pieces of art. I'm always blown away by the intricacy of the wood carvings you'll find here. While it was closed for a brief time, it has since reopened under new ownership. Both of these shops are now owned and operated by the Garden River First Nation, making it a great way to support the local Indigenous community!
Ontario Parks loves to name their parks after where they are so as you can imagine, this one is called Pancake Bay Provincial Park. Why the name Pancake Bay? It refers to the voyageur days when these strong souls would make food like bannock and pancakes to stretch out their provisions during their long journeys to Sault Ste Marie.
Pancake Bay is another popular beach spot in the summer but there are also great birding, biking, fishing, paddling and hiking opportunities here. Don't miss the Lookout Trail (pictured above in the fall season) for some spectacular views of Lake Superior from the Edmund Fitzgerald Lookout. Camping here is quite popular and it tends to fill up so if you're looking to stay here, I recommend booking your Pancake Bay Provincial Park campsites as soon as you can.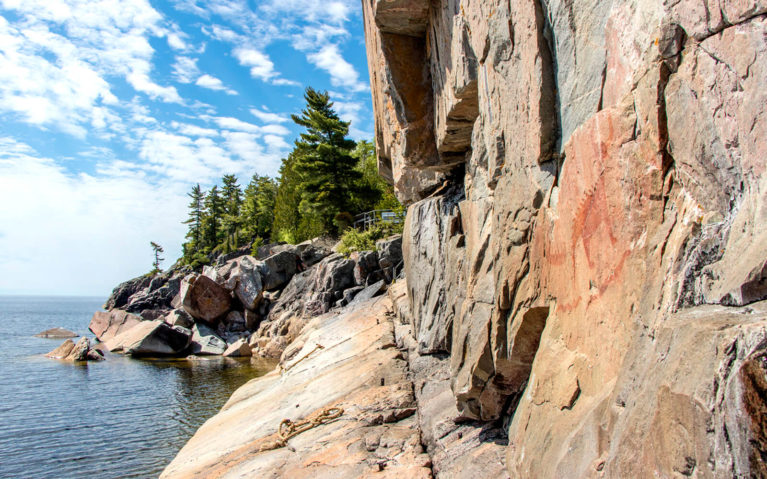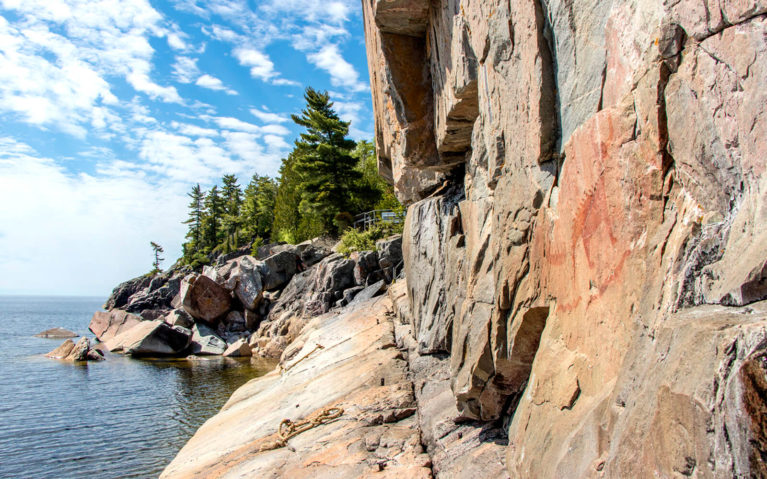 Lake Superior Provincial Park
Of all the provincial parks near Sault Ste Marie Ontario, Lake Superior Provincial Park is a must-visit. Operating since 1944, LSPP protects a large section of Lake Superior's beautiful shoreline between Sault Ste Marie and Wawa. You'll find a number of incredible lookouts and hiking trails as well as great paddling opportunities. Stop in at the visitors centre to get your park permit before adventuring into the park.
So what all is there to see in Lake Superior Provincial Park? If you're planning to just drive through, be sure to stop at lookouts like Agawa Bay and take a moment to pull over and admire Sand River Falls. However, I definitely say take some time to explore some of the trails within the park. The Agawa Pictographs are a must-visit and a sacred site for the Indigenous of this area. On a calm day, head out onto Agawa Rock and say hello to Mishipeshu, the guardian of Lake Superior. Lastly, stop and enjoy the vies of Old Woman Bay from the beach or climb the Nokomis Trail for some of the best views in the park! As you can see, there's plenty to explore which is why I recommend spending at least a full day here, if not more.
If you're looking to camp somewhere along this first stretch from Sault Ste Marie, this is the spot I'd suggest. I haven't camped here myself but have heard great things about the campsites. Not one for camping? That's okay, head a little further north to your next stop!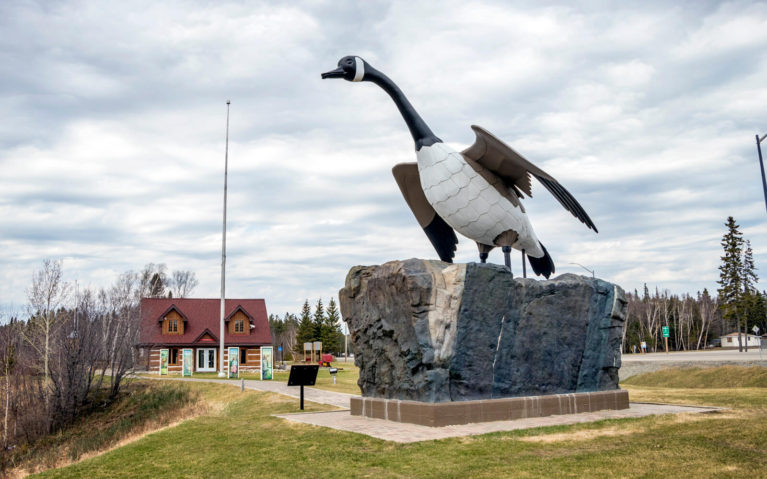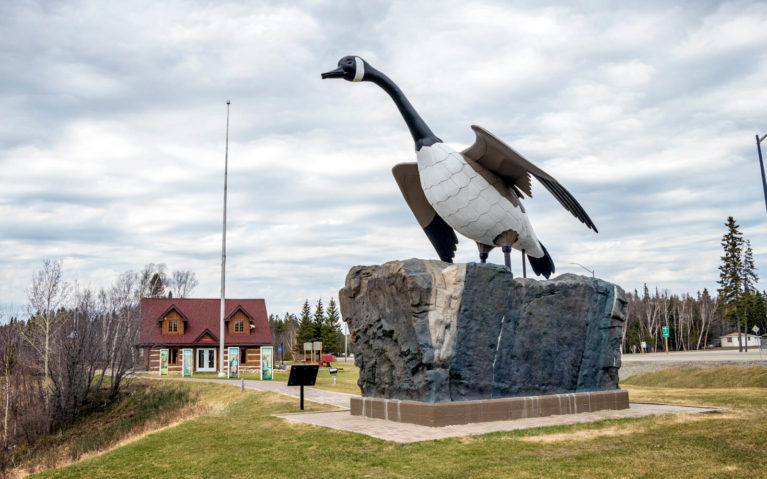 Wawa
Just before you take the turn-off to Wawa, you'll see signs for "Scenic High Falls". Also known as Magpie Falls, I've always referred to it as such because there are honestly too many "High Falls" in Ontario. Alas, I digress – follow the gravel road as it twists and turns to visit this magical beauty! At a height of ~23 metres (75 feet) and a crest of 38 metres (125 feet), this is a Northern Ontario waterfall you don't want to miss. Unfortunately she's not easily accessible as the flow of the Magpie River is controlled by a dam, therefore her flow could change without warning. The lookouts and trails nearby do offer some stellar views though and it's the perfect spot to take a break along the drive!
Once you're done visiting with Magpie, retrace your steps and head to the town so nice they named it twice. At least that's what I was told during my first visit to Wawa. While we pronounce it "wah-wah", the Ojibway pronunciation is "wh-eh-wh-eh" which translates to goose. This probably helps to explain why there are not one but three giant geese that call Wawa home! If you're a fan of excessive roadside Trans Canada Highway attractions, you'll definitely want to stop for a photo.
At this point, you might be a bit hungry. If so, I highly recommend the Viking Restaurant. I've eaten there a few times now and their food is awesome. Their menu has a great range of eats from cabbage rolls to pasta and more. Whatever you choose to eat, if you're not stuffed to the brim when you leave – you did it wrong.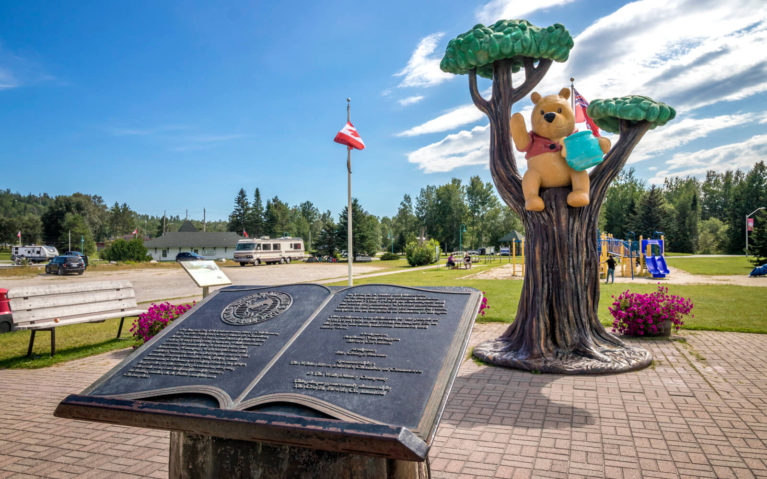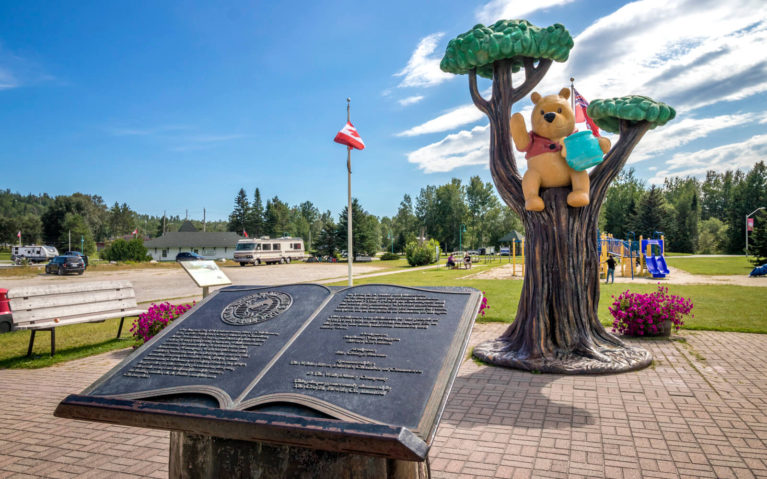 White River
In all honestly, there isn't a whole lot to see and do in White River… mind you, I didn't have much of a chance to explore so maybe I need to come back and give the town another try. However, there is one special bear you need to visit. If you grew up with a willy, nilly, silly old bear like I did, you have to stop in and say hello to Winnie the Pooh!
White River is where Lt Harry Colebourn, a veterinarian and soldier in World War I, first laid eyes on the orphaned black bear cub. Named Winnie after his hometown of Winnipeg, she was taken to England where she became the mascot of the Second Canadian Infantry Brigade. She was taken to the London Zoo and ten years later, inspired A A Milne to create the chubby little cubby all stuffed with fluff that we know and love. Be sure to take a selfie with Winnie before you continue on your way!
If you're an avid angler or paddler, I should mention that this is also where you'll find the exit heading towards Hornpayne and Nagagamisis Provincial Park. Named after the lake, Nagagamisis means "lake with fine, sandy shores" in the Cree language.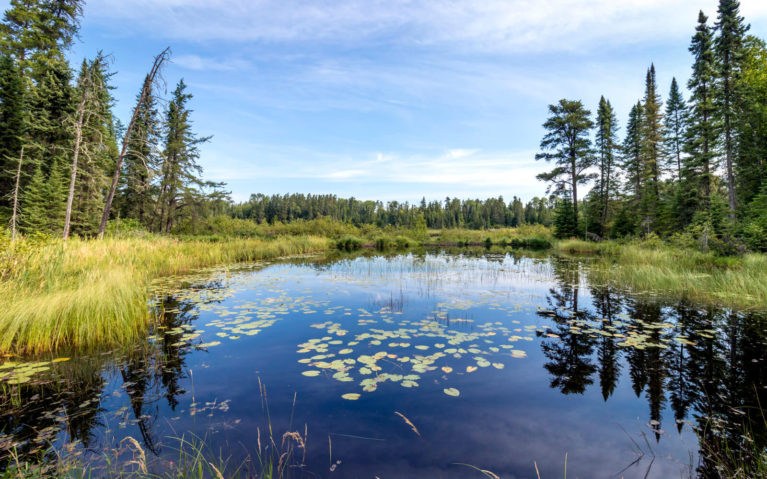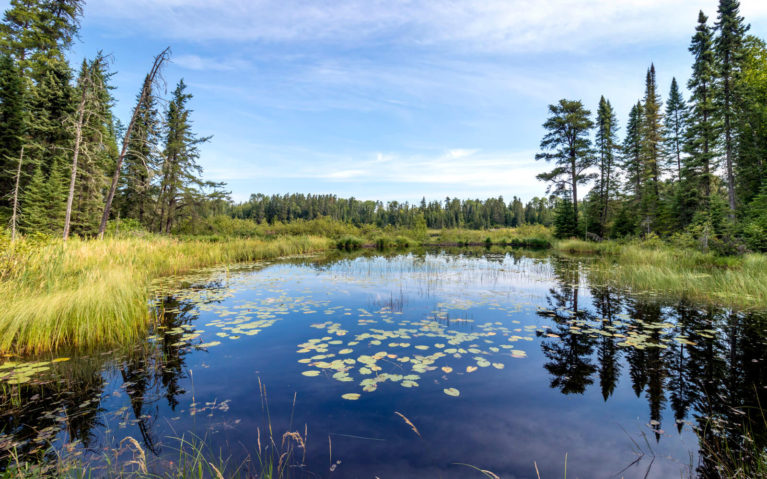 White Lake Provincial Park
You have officially said goodbye to Northeastern Ontario and Algoma Country so say hello to your first taste of Northwestern Ontario!
The park's namesake lake is 6,500 hectares, making it one of the largest lakes along the Lake Superior Circle Route. As you can imagine, it's a popular spot for swimming and fishing. Walleye and Northern Pike are the main two species you'll hook. It also offers a number of interpretive programs about the natural and cultural heritage found in this area.
With just three hiking trails in the park, it's a great spot to stop for a quick stretch of the legs before continuing north.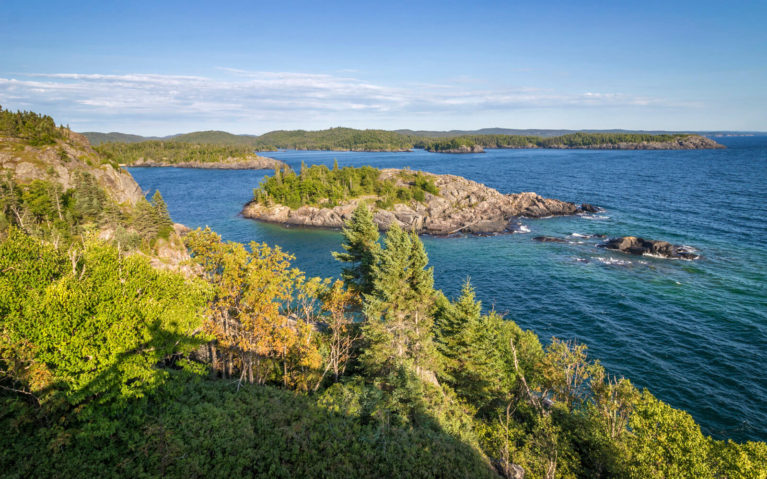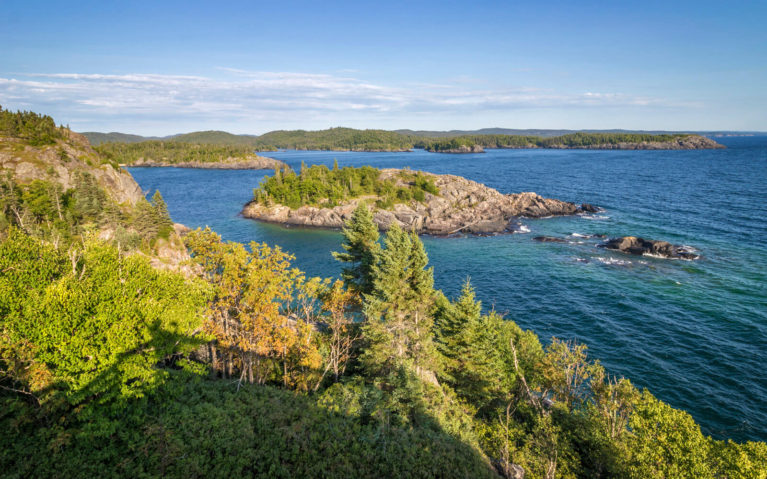 Pukaskwa National Park
Ontario is home to six national parks and Pukaskwa is the only one classified as a wilderness park. When you see the waves of Lake Superior crashing against the rugged shoreline, it's easy to see why it would be classified as "wild". Unfortunately my visit to the park was quite short as I only had time for one hike, but I would have regretted not stopping. This park is seriously incredible.
There are seven trails in total ranging from less than a kilometre to 18km long and various difficulties. While I would have loved to tackle the longest one and visit the White River Suspension Bridge, that'll have to wait for another trip! Instead I decided to enjoy a moment of peace and quiet in nature along the Manito Miikana. Also known as "the Spirit Trail", this trail weaves through the beautiful forest as you feel like you've stepped inside a fairy tale. While it's only 2 kilometres long, it does have 17 metres in elevation change which will make the trek take about an hour. Although I think they're taking into account the amount of time you'll stand in awe of the stunning panoramic views of Lake Superior!
Another spot I should mention is the Anishinaabe Camp. I'm so sad that I didn't get a chance to experience this place of learning and sharing during my visit. Most of Northern Ontario are the homelands of the Anishinaabe people who live off the land and practice their traditional ways to this very day. Here you can speak with park interpreters to learn more about this incredible culture and expand your world view.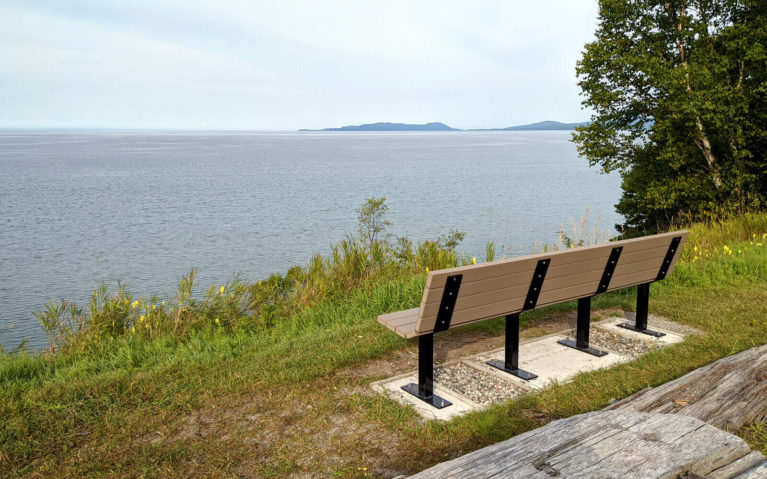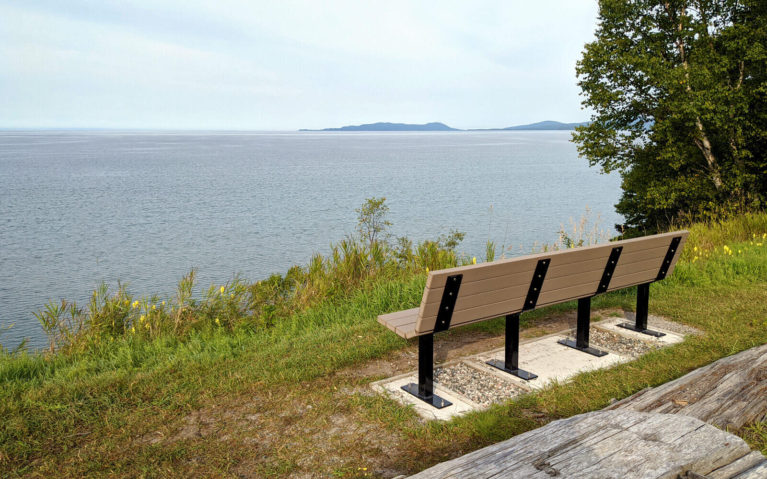 Marathon
Just over a 20 minute drive from the Pukaskwa Visitors Centre, you'll see signs for the town of Marathon. It may look like an unsuspecting little town but as the midpoint between Sault Ste Marie and Thunder Bay, it's an economic hub along Lake Superior's north shore.
With Pukaskwa at its doorstep, you can imagine how much opportunity there is for the outdoor enthusiast. Boasting opportunities for sea kayaking, white water canoeing, golf, hiking, cross-country skiing, snowmobiling and more, it's certainly a great year-round destination for any lover of the outdoors. Head to the edge of town along Lake Superior and explore Pebble Beach before you head out.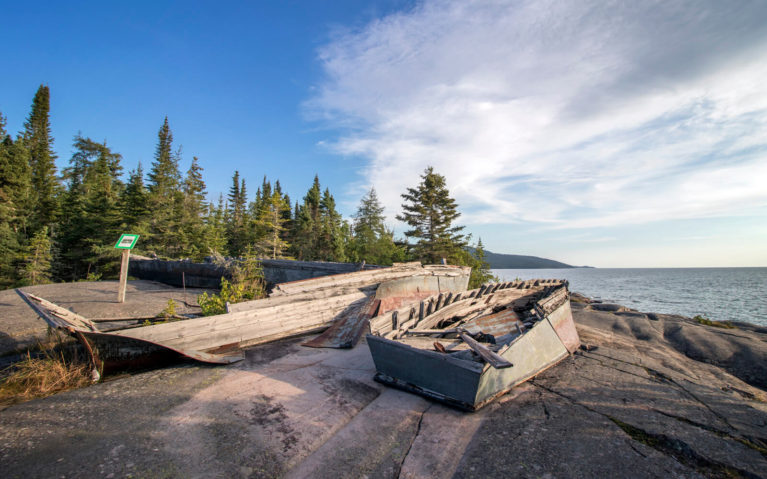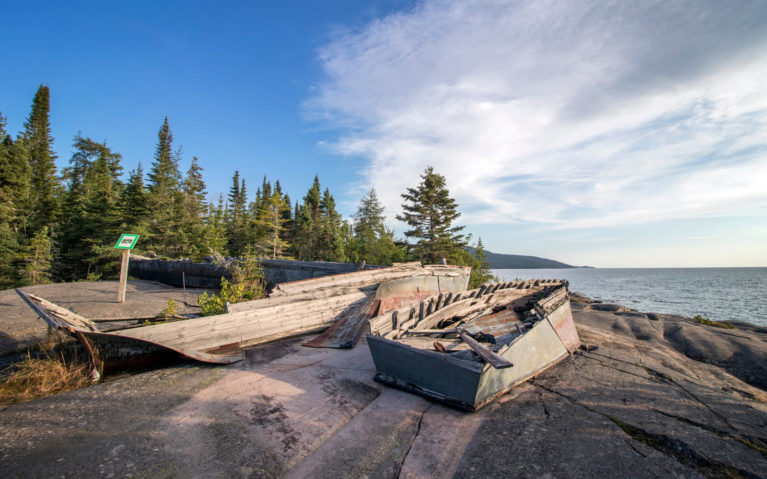 Neys Provincial Park
This park has been on my radar since I heard last year that it was previously Camp 100, a POW camp which mainly housed high ranking German soldiers and some Japanese-Canadians during World War II. This history combined with the Coldwell Complex, one of the hardest and rarest mineral complexes on the continent, found within the boundaries are two of the reasons why Neys became a provincial park in 1965.
Nowadays, you'll find approximately 150 campsites spread across four campgrounds. All of these sites are short walks (and sometimes mere steps!) from some of the best stretches of beach you'll find on Lake Superior. During the day, you'll want to check out some of the hiking trails like the Top of the Volcano Trail and then the chilly waters of Lake Superior will be waiting for a cool down. Whatever you do, don't miss a sunset as they're some of the most stunning you'll find in Northern Ontario!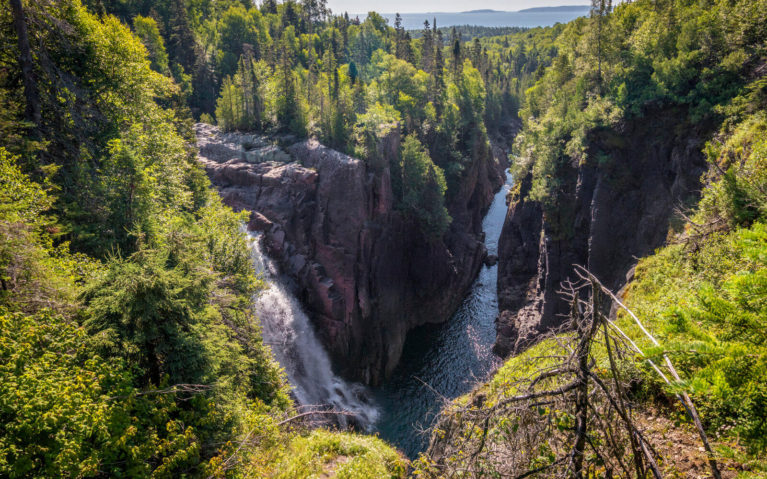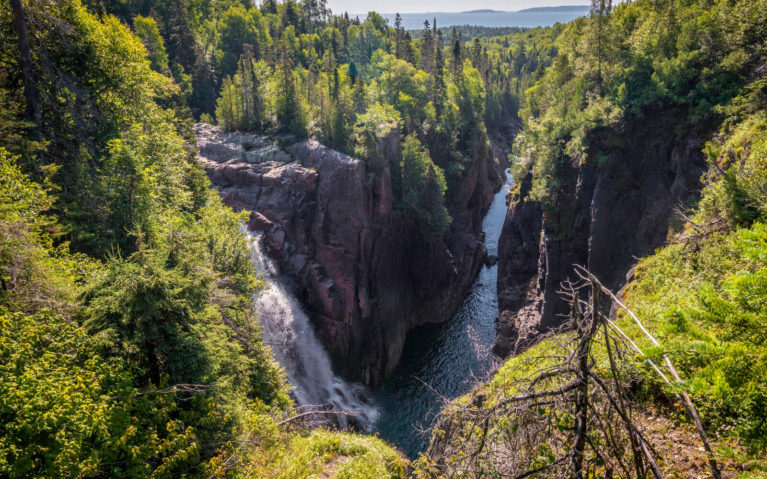 Terrace Bay
Hop back on Highway 17 due north and in about 45 minutes you'll find your next stop, Terrace Bay. What caught my eye about this tiny town is that it's home to Aguasabon Falls and Gorge. This picturesque beauty is along the 52 km long Casque-Isles Hiking Trail. Unfortunately, the trails were barricaded so I could only enjoy the viewing platform but hopefully that will change on a return visit! She was still a gorgeous sight and is definitely worth stopping for.
Sometimes you can blink and miss a small town or two as you're driving, especially on a long trip like this one. If you blink and miss this one then there's something wrong with you because the Terrace Bay Lighthouse is in the middle of town! Be sure to pop by and climb the steps for some great views of the area.
Lastly, make sure you head to the end of Beach Road, past the Aguasabon Golf Club. The Terrace Bay Beach is absolutely beautiful and definitely a hidden gem. It's also a great spot to launch your canoe or kayak which I'll definitely be doing upon a return visit! However, that's not the reason why I've added it to this itinerary. Here you'll find the mouth of the Aguasabon River and a small set of waterfalls. While they are accessible by water, you can also get an incredible view of the river and the beach from the bridge above! Follow this small section of the Casque Isles Trail up towards it for some stellar views.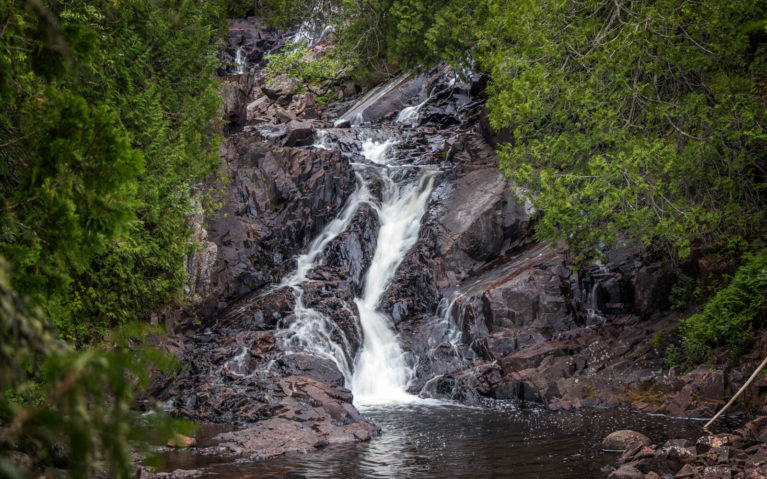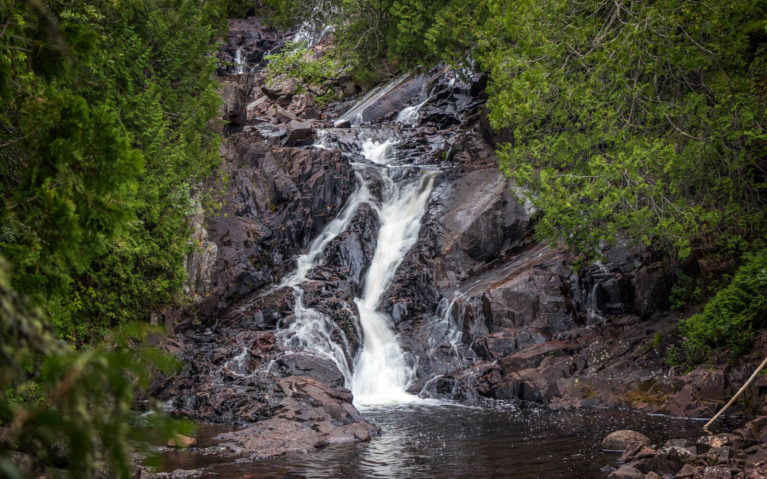 Rainbow Falls Provincial Park
Looking for more great views and more waterfalls? You'll definitely want to plan a stop at Rainbow Falls Provincial Park! It seems like many make a quick stop here and take the boardwalk out to enjoy the stellar views of Rainbow Falls, but I highly recommend camping here for a night or two. This will allow you to enjoy much of what the park has to offer including its fantastic beaches, possibly some paddling and of course – hiking!
I was surprised by how amazing the trails are. While many turn back once they see Rainbow Falls, I highly recommend continuing on as Rainbow Falls Provincial Park is also a part of the Casque Isles Trail. It's a bit of a climb but you'll be treated to some incredible views over Lake Superior. Added bonus: I practically had the trail to myself the whole time! Be sure to pop up to the lookout along the Superior Trail too during your visit.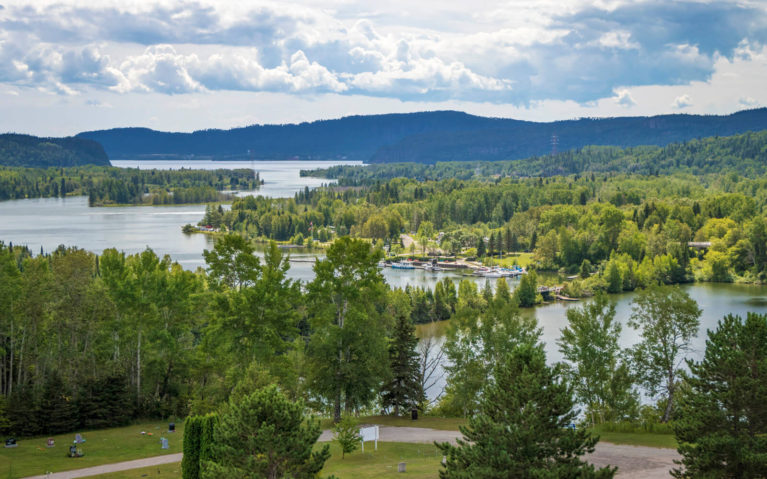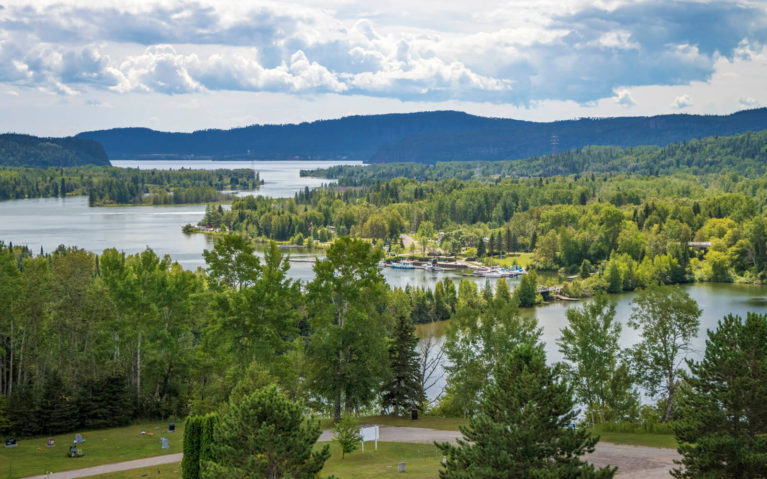 Nipigon
I didn't have time to stop in Nipigon while I was en route from Sault Ste Marie to Thunder Bay but this is definitely a spot I'll be stopping in the future. This unsuspecting town features gorgeous landscapes and rugged shorelines. Travelling with a few little ones? You'll want to check out the Paddle-to-the-Sea Park. Starting in downtown Nipigon, you'll find twelve playgrounds that lead you on a journey of the Great Lakes as you explore the waterfront.
If you're only passing through like I was though, make sure you at least stop at the Nipigon Lookout Tower. It's honestly a short 5 minute detour but you'll be blown away by these views! Once I have a kayak in my possession, I'll definitely be returning for some paddling adventures along these beautiful waters.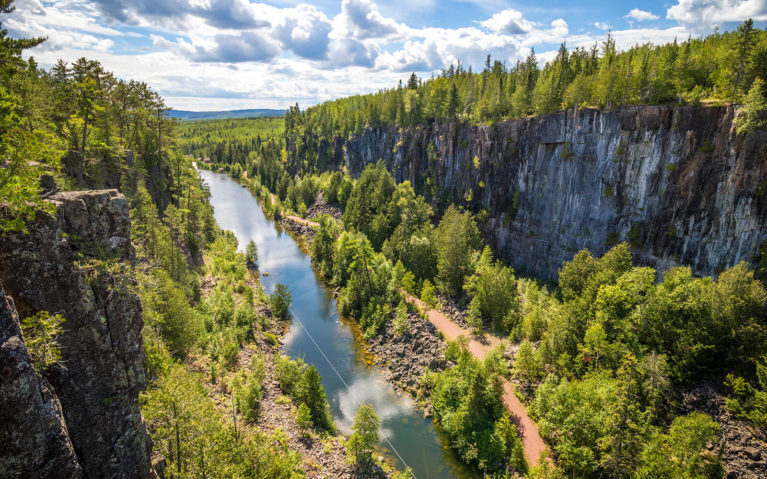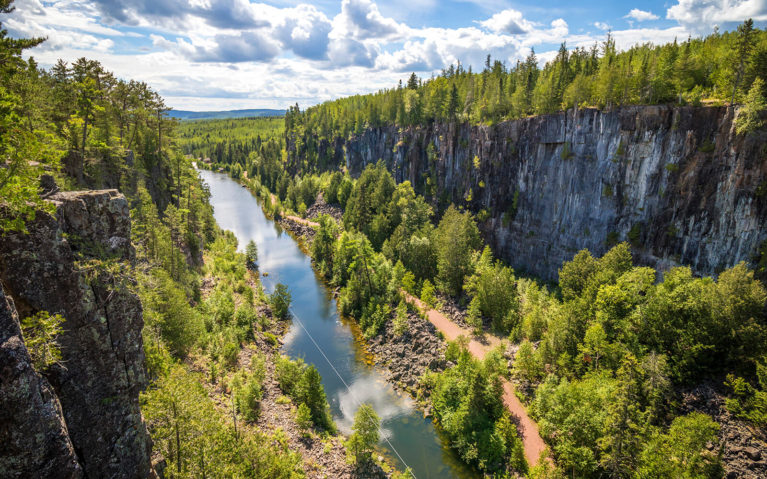 Eagle Canyon Adventures
Hop back onto Highway 17 and about 30 minutes, you'll see signs for the town of Dorion – also known as canyon country. The town of Dorion might be tiny with just over 300 inhabitants but it's home to Eagle Canyon Adventures where you'll find what is said to be Canada's longest zipline AND Canada's largest suspension bridge!
If you've done the Thunderbird zipline over at Scenic Caves in Collingwood, then you don't want to miss this Northern Ontario thrill ride. The Eagle Canyon Zipline is approximately 800 metres (half a mile) long and sits at 53 metres (175 feet) high. Riders will experience quite the thrill as you zip down the middle of the canyon at speeds of 72 kilometres (45 miles) or faster! While they claim to be Canada's longest zipline, the Sasquatch Zipline in British Columbia is double the length, connecting Whistler and Blackcomb mountains.
Eagle Canyon's Suspension Bridge however is undisputed and most certainly the longest in Canada! At approximately 183 metres (600 feet) in length, it offers incredible views of the canyon. Enjoy the hike up and admire the suspension bridge from the first, shorter bridge before making your way to the finale. Take your time as you stare in wonder at the incredible views of the canyon below! Afterwards, be sure to follow the stairs down into the base of the canyon and along the lakes before heading to your next destination.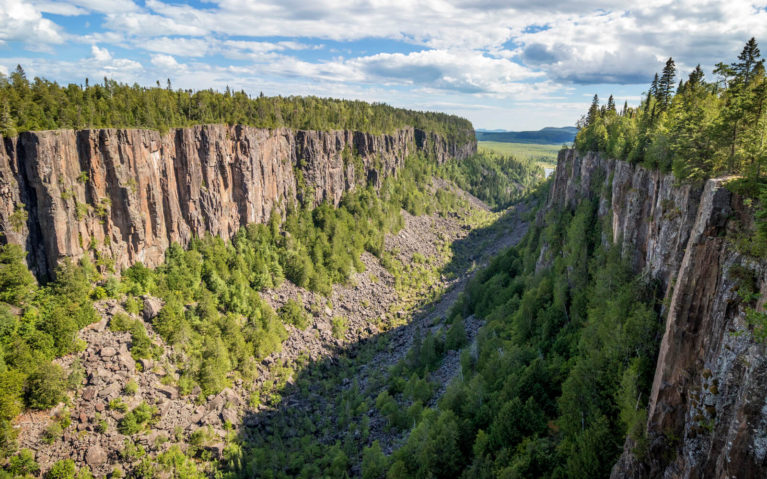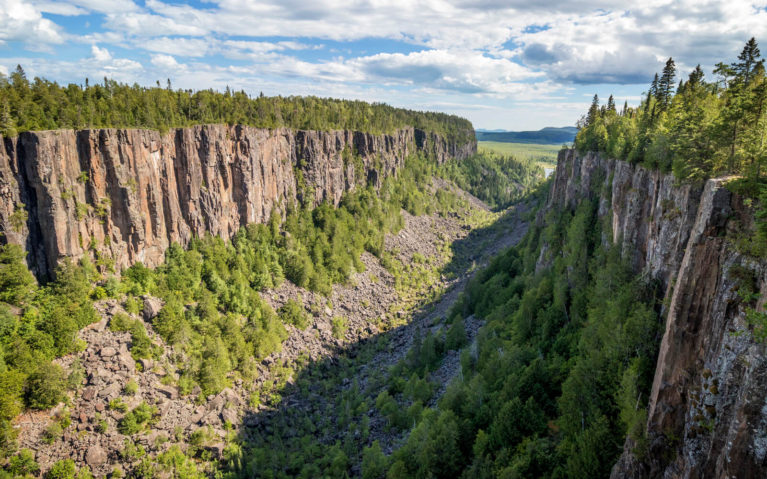 Ouimet Canyon Provincial Park
Hang a right once you're done with Eagle Canyon and follow the aptly named road to Ouimet Canyon Provincial Park! Named after the former Canadian Pacific Railway station of the same name, the park protects the breathtaking Ouimet Canyon.
Follow the kilometre long loop trail as it leads to two viewing platforms along the edge of the canyon. Here you'll be treated to incredible views of the two thousand metre (1.2 miles) canyon, carved out by the forces of nature over a billion years ago. You'll feel a cool breeze originating from the canyon floor located 1000 kilometres below you!
What makes Ouimet Canyon so special is that you'll find plant life native to the sub-artic tundra which is almost unheard of in the boreal region. Beneath the tiny mosses and lichens, there's ice that has never melted from winters past! This may seem crazy but when you think about the distance from here to the shores of Hudson Bay (approximately 1000 kilometres due north), then it all makes sense.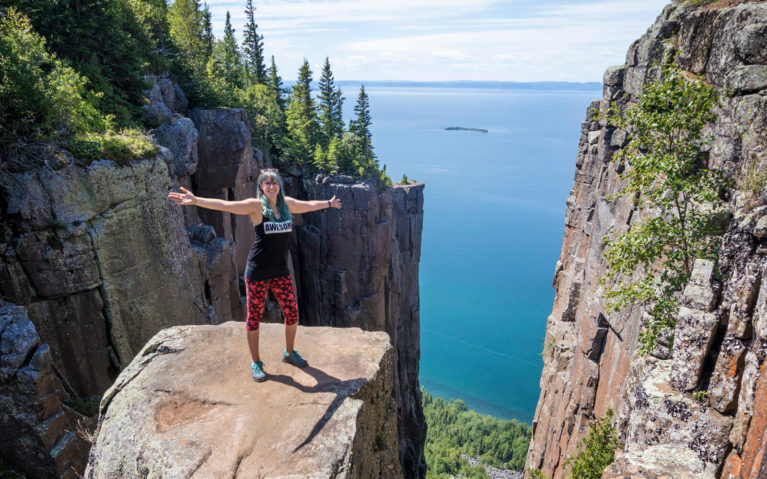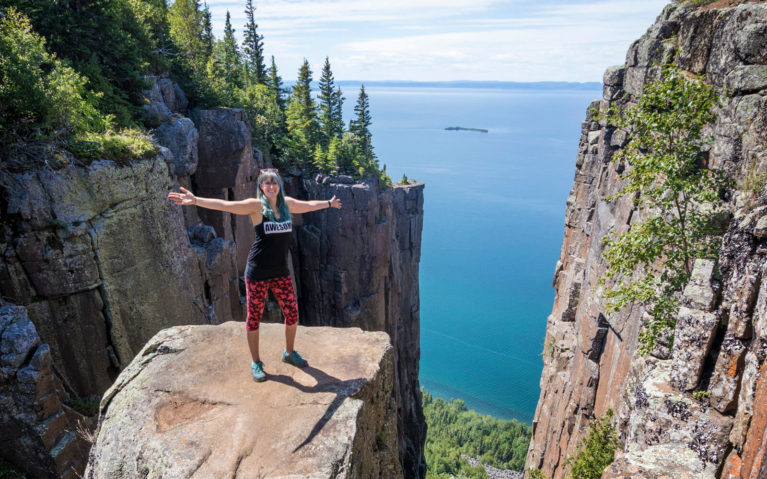 Sleeping Giant Provincial Park
Okay so this is technically a bit of a detour off of the Trans Canada Highway but trust me when I say Sleeping Giant Provincial Park is worth it!
Previously known as Sibley Provincial Park and established in 1944, the park protects the southern section of the Sibley Peninsula. It was renamed as Sleeping Giant Provincial Park in 1988 as an ode to the human-like shape the peninsula embodies when viewed from across the water in Thunder Bay. Ojibway legends say it is the resting place of Nanabozho, one of the first entities to populate Turtle Island and teach the Ojibway how to live. Legend has it that Nanabozho shared the location of a rich silver mine (Silver Islet) with an Ojibway Chief but if the white man finds out about it, his people will lose access and Nanabozho will be turned to stone. As you can probably imagine, word gets out about the mine but before anyone can claim its riches, a huge storm comes and wipes out any hope of accessing it. The human figure you see now is Nanabozho turned to stone and it is said that you can still see the deep hole where the silver mine is said to be located from the air!
In recent years, Sleeping Giant Provincial Park has become more and more popular thanks to its incredible views – especially from the Top of the Giant trail. This 22 kilometre long out-and-back trail is a force to be reckoned with, but the views from Ontario's tallest cliffs make the strenuous hike worthwhile! Along the way, you'll also find the path to the infamous sea lion while following the Kaybeyun Trail from the South Kabeyun trailhead. Trust me when I say you'll be blown away by these views!
Sleeping Giant Provincial Park is not just a popular spot for hiking but boating, paddling, fishing, birding and much more. It's also a fantastic winter destination with some of Ontario's best cross-country skiing, snowshoeing and more.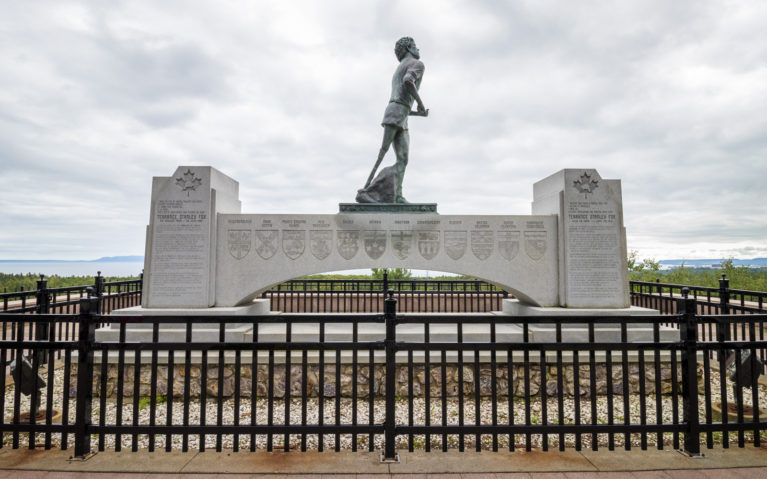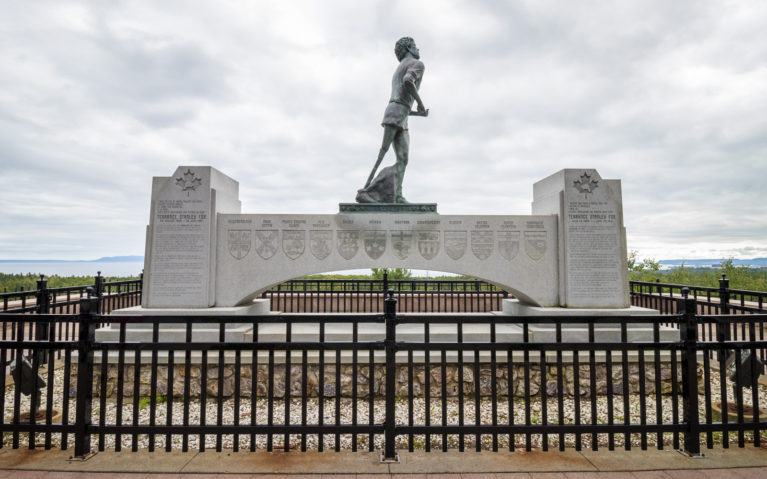 Hello Thunder Bay!
Just as you get to the cusp of the city, you'll want to stop at the Terry Fox Lookout. If you're unaware of who Terry Fox is, he's a Canadian icon who was a Canadian athlete. Even though he lost one leg due to cancer, he began a cross-country journey called the Marathon of Hope to raise money and awareness for cancer research 40 years ago. Unfortunately, his cancer returned and we lost a true hero on June 18th, 1981. At the lookout, you'll find a memorial dedicated to his work and you'll still see Terry Fox runs being held to this day!
With that, say hello to your final destination – Thunder Bay! The result of the amalgamation of Port Arthur and Fort William over fifty years ago, the city truly has so much to offer.
I have had the pleasure of exploring the city and surrounding area a few times but what you may not realize is that Thunder Bay is also a fantastic destination for families. There are a number of attractions where you can be hands-on like mining for amethyst or getting in touch with history at the Fort William Historical Park. Of course, there are a number of natural wonders such as the waterfalls near Thunder Bay, many of which are easy for little legs to access. Check out this family-friendly guide to Thunder Bay for more ideas of things to do with kids in tow!
Don't just take my word for it though. You can find out more in my guide to visiting Thunder Bay or you just might think about a winter visit once you see all the great things to do when the snow flies!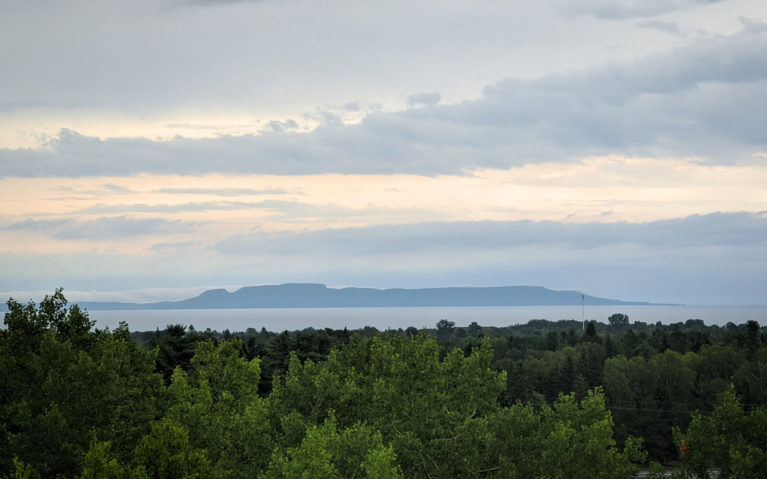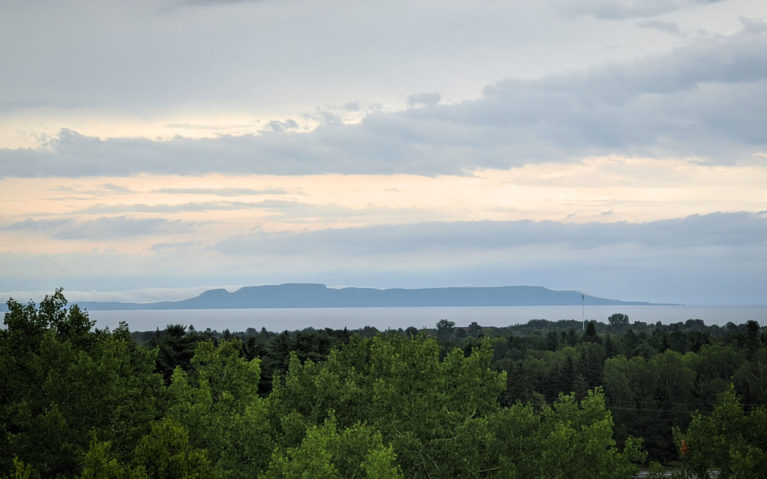 FAQ & Things to Know
Never done this trip before? Curious about the route? Or do you just have some queries about Northern Ontario? Here are some of the frequently asked questions about a Sault Ste Marie to Thunder Bay road trip.
How far is Sault Ste Marie to Thunder Bay?
So while the physical distance between Sault Ste Marie and Thunder Bay is approximately 424 km (263 miles), the driving distance from Sault Ste Marie to Thunder Bay is much longer at approximately 705 km (437 miles).
Where should I stay between Sault Ste Marie and Thunder Bay?
Well, you have plenty of options! It really depends on how long you want to spread out the trip. This drive is doable in one day but then you're seriously missing out on so much natural beauty. Here are a few suggestions for hotels between Sault Ste Marie and Thunder Bay:
Mystic Isle Motel in Wawa – It might have motel in the name but it is the nicest motel I think I've ever seen! Located right off Highway 17, it offers stunning views of Lake Superior. It's also just minutes from Magpie Falls, incredible hiking trails and much more. Plus you'll fall in love with their rustic decor and I'm dying for my own set of their plaid bed sheets! Rates start at $120/night so if you're convinced, click here to book now.
Red Rock Inn near Nipigon – Looking for a place to stay close to Nipigon? Just 15 min down the road, you'll find the quaint Red Rock Inn. The almost century-old lodge has received a number of upgrades over the past three years. You'll find a guest kitchen, pool tables, gorgeous outdoor decks and some rooms even have a fireplace! Rates start at $115/night making it one of the most affordable hotels in the area so click here to book your stay.
Camping at Provincial Parks – If you're love to sleep under the stars or are looking for affordable accommodation, camping is always a great option. Rainbow Falls, Neys and White Lake all offer camping and all located approximately half way between Sault Ste Marie and Thunder Bay. Head to Ontario Parks' website to book your stay.
Do I need to worry about the distance between gas stations?
As someone who has travelled to the Northwest Territories and had to turn around because I wouldn't have enough gas to make it to my next destination, the short answer is no. The long answer? I would say you need to be a little more aware of your gas mileage, especially if you're driving a large vehicle like an RV or dragging a trailer behind you. There are stretches of road where you'll find yourself without a gas station but normally it's no more than 150-200 km. I'd say a good rule of thumb is to not let your gas tank go below a quarter full. If you're still unsure, buy a jerrycan to play it safe!
What's the cell service like in Northern Ontario?
In one word – spotty. I'm with Fido which is a subsidiary of Rogers and while there were times that I had no cell service, it wasn't for too long. Doing some backcountry camping way in the bush? Chances are your service will be nil. If you're going to be travelling for an extended period of time without service, it might be worth looking into a satellite device in case of emergency.
How far is Kenora from Thunder Bay? How long does it take to drive from Thunder Bay to Winnipeg?
That's a post all on its own! This is where you truly start to realize just how massive Ontario is. Kenora is about 490 km from Thunder Bay and it will take you about 5.5 hours to drive there. You'll also be crossing a time zone as Kenora is an hour behind Thunder Bay! As for Winnipeg, it's another 210 km and approximately 2.5 hours from Kenora, Therefore, it's approximately 700 km and about an 8 hour drive from Thunder Bay to Winnipeg. I've road-tripped a good chunk of Southern Manitoba and highly recommend it whether you choose to fly to Winnipeg or drive all the way!
Don't forget – you're in bear country!
One thing that I was surprised about on this trip was how many people I met that didn't seem to realize this. Always take extra precautions, especially if you're camping. Make sure to pack up and seal away food or anything else that's strong-smelling as much as possible. Even if you think your cooler is "good enough" – think about how big a bear is compared to your cooler. Let's face it – the thing doesn't stand a chance! By being careless, it not only can affect your safety but it will affect the bear's even more so. Be kind to nature and all its creatures and be bear aware!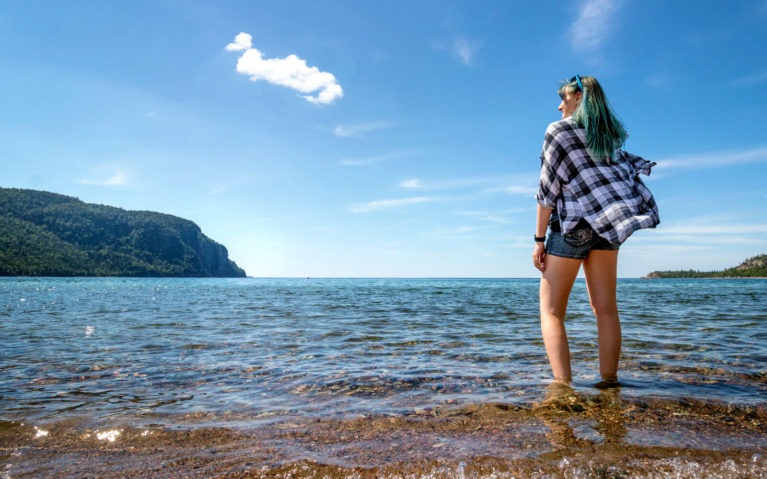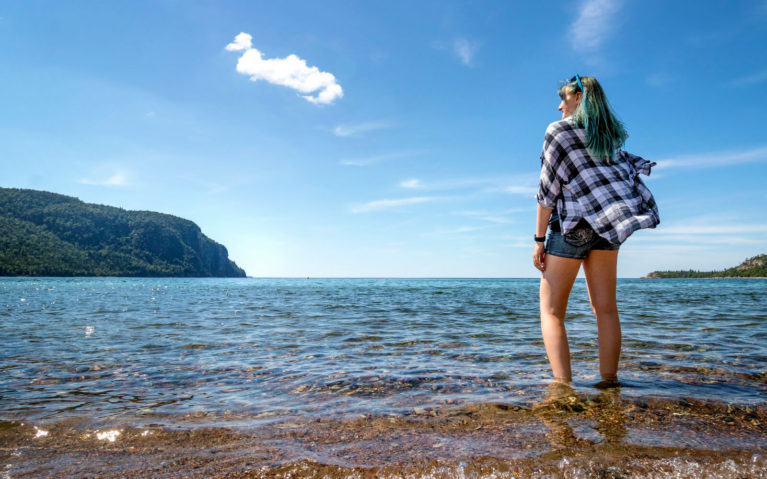 Enjoy the Sault Ste Marie to Thunder Bay Drive
If you made it all the way down here, I'm sure you now realize that you need to spend a few days road tripping the Trans Canada Highway. This is honestly one of the most beautiful drives in Canada – or dare I say North America! Now the bigger question is… when are you leaving?
Looking for More Northern Ontario Adventures?
Don't Miss These Stops Between Sudbury and Sault Ste Marie!
You'll Love This Adorable Getaway Along Lake Huron's North Shore
Plan Your Visit to Manitoulin – the World's Largest Freshwater Island
…or Browse All My Northern Ontario Posts!
Don't Forget These Stops from Sault Ste Marie to Thunder Bay & Pin It for Later!