Sudbury to Sault Ste Marie: 10+ Best Stops to See Along the Way

If you've been following me for any length of time, you've probably realized I have a love affair with Northern Ontario. I'm in heaven as soon as I'm north of Parry Sound. I've done the drive from southern Ontario to Sault Ste Marie more times than I'd like to admit. While some may have previously chosen to go through the United States as it is a bit quicker, I prefer to stay Canadian side. I also choose this as I seem to discover something new each time I'm en route to Lake Superior! If you're road tripping in Ontario and find yourself heading from Sudbury to Sault Ste Marie, don't miss these amazing stops along the way.
Disclaimer: This post contains affiliate links where if you make a purchase, I may receive a kickback at no extra cost to you. It helps keep IBB alive so thank you!
The Lowdown on Sudbury to Sault Ste Marie
This is a common drive for folks in Northern Ontario as Greater Sudbury and Sault Ste Marie are the two largest cities north of Highway 400. As they're linked by the Trans Canada Highway, anyone who has taken it has probably driven through or by them. If you're wondering how far it is from Sudbury to Sault Ste Marie, it's approximately 300km and a 3.5 hour drive.
If you want to fly from Sudbury to Sault Ste Marie, it is possible. However, you may have a layover in Toronto or a direct flight will cost upwards of $350. Currently, there is no train service between Sudbury and Sault Ste Marie. There is a Sudbury to Sault Ste Marie bus that takes approximately 5 hours with Ontario Northland. It's an option BUT you'll miss out on a number of incredible stops! Plus with everything going on right now, you'll probably want to distance yourself from others as much as possible. That leaves you with a road trip from Sudbury to Sault Ste Marie!
Where to Stop From Sudbury to Sault Ste Marie
While you can head straight for The Soo to arrive as quickly as possible, I recommend taking your time and making a day of it. Below you'll find the best stops when driving from Sudbury to Sault Ste Marie!
Onaping Falls
We're starting off with a detour but it's worth it! Take Regional Road 35 to Highway 144 as you leave Sudbury. This short half-hour drive will take you to the A.Y. Jackson Lookout where you'll find the rushing waters of Onaping Falls. Named after one of Canada's famous Group of Seven's founding members, this lookout offers some gorgeous views and a great (albeit rugged) hiking trail which takes you closer to the falls. I have all the details in my guide to visiting Onaping Falls.
If you're doing this trek in the winter months, it might be tricky to find a parking spot as the area isn't plowed. I have heard you can park just off the highway and snowshoe in but I have never done so. You will be doing this at your own risk.
However, if you're in no hurry or looking to really take your time when travelling from Sudbury to Sault Ste Marie, I highly recommend visiting Windy Lake Provincial Park. Offering amazing paddling as well as an incredible beach in the summer and top-notch cross country ski trails and ice fishing in the winter, it's not to be missed when near Sudbury.
Espanola
Chances are you've filled up for gas or stopped in at the Tim Hortons and Wendy's combo building at least once if this isn't your first time heading from Sudbury to Sault Ste Marie. After you've emptied your bladder, I recommend taking a peek inside the Northwest Trading Company next door. You never know what you'll find in this eclectic collection of items from clothing to treats!
While you'll want to continue straight along the Trans Canada Highway to make it to your eventual destination of Sault Ste Marie, the town of Espanola is just a few minutes away along Highway 6. This is the route you would take if you were to visit Manitoulin Island which I highly recommend. Once you see all the incredible things to do on Manitoulin Island, you'll be wanting to make the detour.
Exploring Ontario's largest freshwater island is a trip all on its own though so you might want to save it for another time. If so, at least stop and eat in Espanola if you're looking for something a little more substantial than fast food. Don't forget to peek at the Espanola Spillway as you do so!
Spanish
I have to admit that I've never really stopped in Spanish BUT if you're looking to make your day memorable (which I know I will in the future), you'll want to plan a tour with Mukwa Adventures. This Indigenous-owned company offers guided ATV tours that will take you all across Northern Ontario. No ATV? No problem! Mukwa Adventures has you covered with all the safety gear, equipment and training you'll need to hit the trails.
Half-day adventures are approximately 4 hours which would be the perfect way to break up this drive from Sudbury to Sault Ste Marie. However, you might want to do a full day tour or even a weekend adventure as they work with a number of local lodges and resorts. That way you can put your feet up and relax after an exciting day of playing in the mud! This is definitely on my radar for a future weekend adventure.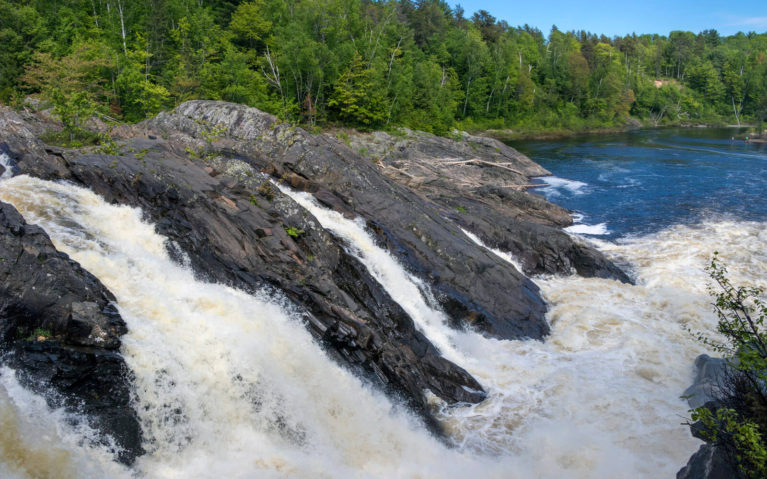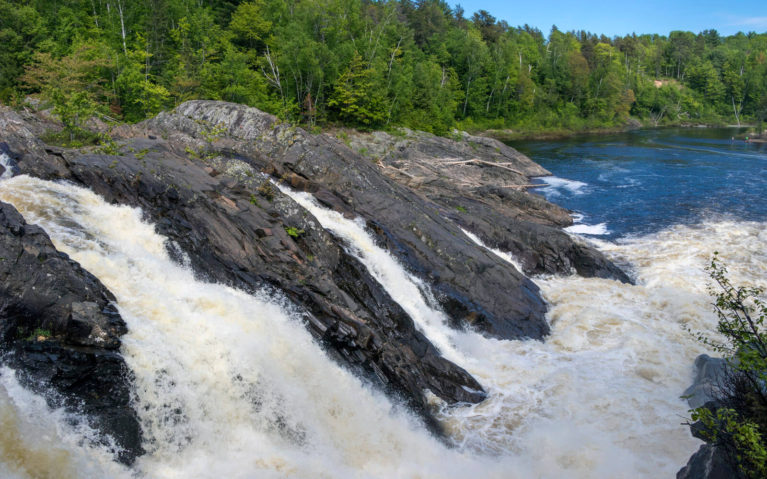 Chutes Provincial Park
If you are familiar with the little town of Massey, Ontario, chances are it's because of this park. Many use it as a pit stop to stretch their legs while driving from Sudbury to Sault Ste Marie as it's just a single kilometre north of the Trans Canada Highway. Plus if your pit stop can have a gorgeous waterfall… that alone is the perfect reason to stop in my books!
The Aux Sables River runs through Chutes Provincial Park which is where the waterfall is located. The park gets its name thanks to this waterfall as there was a logging chute here back in the day that diverted logs around the falls. It now has a great hiking trail around the park as well as 130 campsites, many of which offer electric hookups. I haven't camped here myself but after walking through, it seems like a great spot to rest your head for a night or two!
Serpent River
I always admire the gorgeous building of the Serpent River Trading Post as I drive from Sudbury to Sault Ste Marie. What used to be a small store has now grown into a popular stop along the Trans Canada Highway. Head inside and admire the incredible artwork from the 60,000 piece collection including pieces from local Serpent River First Nation Members as well as famous Indigenous artists such as Norval Morrisseau and Richard Bedwash.
If you're a waterfall chaser like me, then you won't want to miss this stop just a few kilometres up the road. Chances are you've seen Kennebec Falls from the highway but had no idea where to park to visit them. The answer – Serpent River Park! You'll also enjoy incredible views of the river. However, this rest stop is only open in the warmer months from approximately the Victoria Day weekend until Thanksgiving.
Blind River
It's less than two hours from Blind River to Sault Ste Marie so you're nearing the home stretch now. When I was first driving this route, it often became my rest stop as it was the last Timmies until The Soo, but the town has much more to offer! There are a number of little restaurants like Pier Seventeen as well as some nice natural areas. I recommend checking out the Boom Camp Trails for a nice quiet spot to stretch your legs. There's also the Timber Village Museum which holds over 5000 artifacts. It's small enough to squeeze it in if you're on a tight schedule but there's enough to see if you want to kill a couple of hours!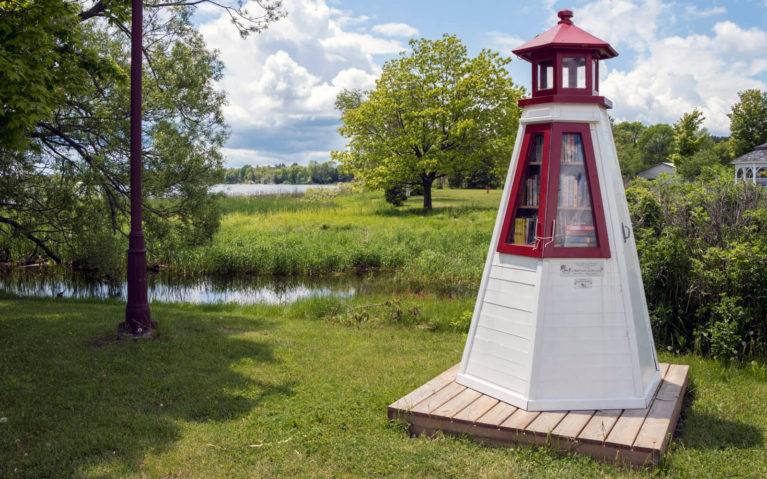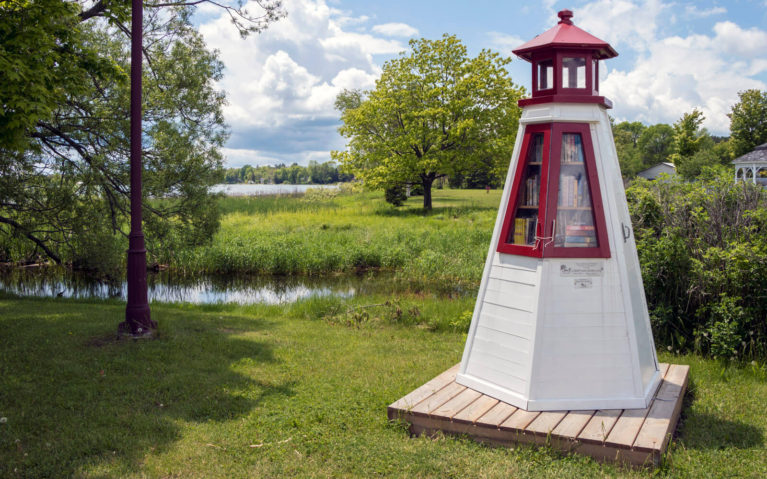 Bruce Mines
I drove through Bruce Mines a number of times before I spent some quality time here and I honestly wish I had done it sooner! Your first thought may be that it doesn't look like much but the town really is full of charm. Home to Canada's very first copper mine, industry played a key role in the town's development. Nowadays it's an adorable town with great local eats and a beautiful waterfront. There's more to Bruce Mines than meets the eye! If you're short on time, don't miss popping by the Copper Bean Cafe for a bite to eat or a coffee to go!
If you're planning on spending any amount of time in Bruce Mines, I highly recommend casting a line with Angling Algoma. Adam is a fantastic guide who will take you to local spots guaranteed to get you hooked on fishing as well as the area. He has all the gear you'll need, you just show up with a smile on your face ready to hook some beauties!
St Joseph Island
If you're a history buff, you'll want to visit St Joseph Island as this is where you'll find the Fort St Joseph National Historic Site. Explore what remains of the old fort dating back to the War of 1812 as you learn about the alliance between the British and the Indigenous of this land. Even if you're not a history buff, the site offers beautiful views of Lake Huron and it's a hot spot for birding!
By this point, you might be looking for a pick me up so head to St Joseph Island Coffee Roasters. For over a decade, they've been air roasting coffee on this beautiful rural property. You might have even tried it before if you've been to Scott Coffee Co in Sault Ste Marie!
If you don't have time to stop along the way, it also makes a great day trip from Sault Ste Marie. You'll definitely want an hour or two so you can enjoy a loop of the island!
Echo Bay
If it wasn't for my friend Gemma pointing out a sign about the loonie, I might never have made it to this spot. Just as Sudbury has the Big Nickel, Echo Bay is home to the Loon Dollar Monument. Why is there a big loonie in Echo Bay? Robert Charmichael, the artist who created the loonie's design, calls this area home. Stop to snap a photo and stretch your legs a little. There are a few picnic tables for visitors as well.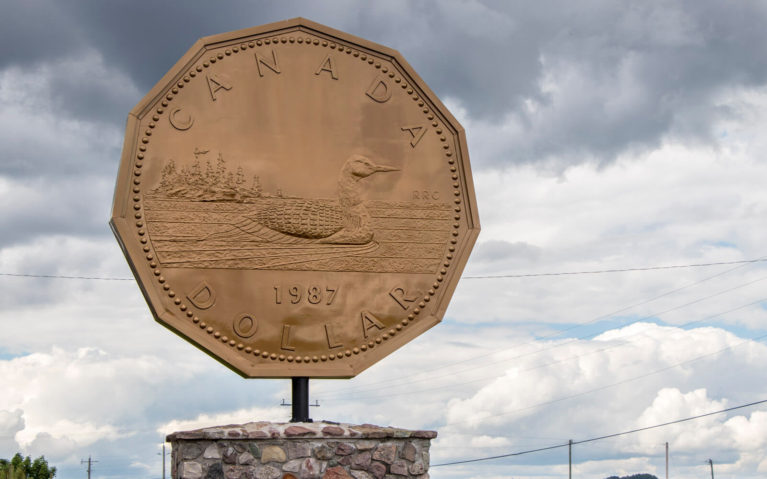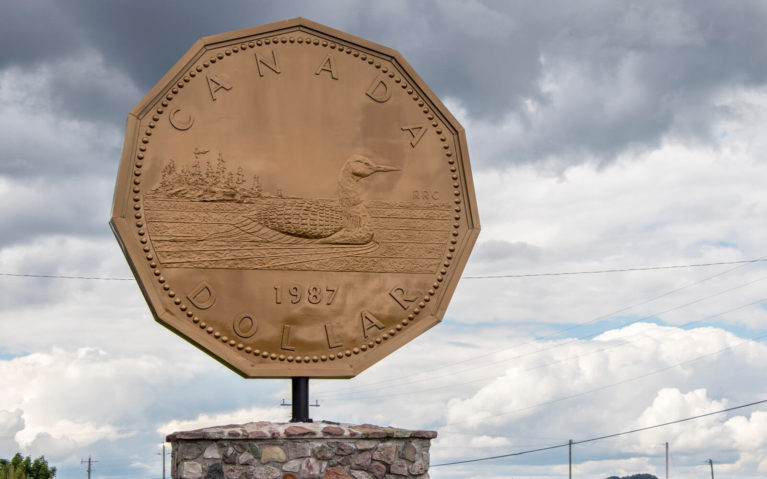 What Stops Will You Make?
As you can see, there are lots of things to see when tackling the Sudbury to Sault Ste Marie drive. As I continue to traverse the North Channel, I'm sure I'll find more and more spots to explore! If you're planning to take your time adventuring along this route and are looking for a few places to stay overnight, here are the accommodations that are on my radar:
Village Inn Motel: I'm not normally one to stay in motels but the Village Inn Motel seems to have received a facelift fairly recently. Each room has a fridge, microwave and coffee maker. Recent reviews also have been positive so this would be my pick if you'd rather go the hotel route! Book now for $125/night.
Bruce Bay Cottages: I can say with full certainty that you'll sleep well at one of these adorable cottages in Bruce Mines. Pat and Larry are absolutely amazing hosts and you'll enjoy having a cabin on this beautiful piece of Lake Huron. You can see what others have to say or just book your cottage now for as low as $100/night.
Have you ever done this drive before? What are your favourite stops between Greater Sudbury and Sault Ste Marie? If you're heading further north, don't miss these amazing stops from Sault Ste Marie to Thunder Bay!
Looking for More Northern Ontario Adventures?
You'll Love This Adorable Getaway Along Lake Huron's North Shore
Plan Your Visit to Manitoulin – the World's Largest Freshwater Island
Learn About the True History of Manitoulin Island in Wikwemikong
Take a Hike & Tackle Killarney's Famous Trail
…or Browse All My Northern Ontario Posts!
Don't Forget These Great Stops From Sudbury to Sault Ste Marie! Pin It For Later!