Bruce Mines Ontario: More Than Just Northern Ontario Fishing

If you had told me five years ago I'd be out on Lake Huron fishing for pike, I would have thought you were crazy. I'm no fisherwoman by any means. Other than the 2 MAYBE 3 fishing trips with my dad when I was 12 years old at a cottage, I've never fished. I barely count it because I don't even remember catching one… probably because their ain't no fish in Wahwashkesh as the saying went 15+ years ago. Back to 2019 where I made my way to Bruce Mines Ontario for a seriously epic Northern Ontario fishing adventure. There's a reason why so many anglers travel to Lake Huron and Lake Superior and I now understand why!
About the Town of Bruce Mines
Nestled along the shore of Bruce Bay, part of Lake Huron's northern shore, you'll find the town of Bruce Mines. Located an hour south of Sault Ste Marie, it's a perfect day trip destination from the Soo. However I highly recommend spending at least a weekend to fully disconnect and enjoy everything the area has to offer. It's also a great place to stop on a Northern Ontario road trip if you're looking to really take your time and explore along the Trans Canada Highway.
Take a look at the map below to see where Bruce Mines is located. For your reference, the drive from Bruce Mines to Sudbury is about 2.5 hours and 6.5 hours from Toronto. You can also take the ferry from Tobermory and drive up through Manitoulin if you're looking for a break during your drive.
Founded in 1846, Bruce Mines is named after James Bruce who was appointed as Governor General of Canada. That same year, Canada's very first copper mine was established. It was the second in North America, just behind the Cliff Mine in Michigan. 30 years later the mines were closed due to declining profits, reopening for a few years in the early 1900s to be shut down for good since then. However you can still tour the Simpson Mine Shaft and learn about copper mining in the summer months.
With just under 600 people who call the town home, Bruce Mines is a great place to slow down your pace. Take a stroll through town as you enjoy some quality relaxation time! Or settle in for a fishing adventure you'll never forget.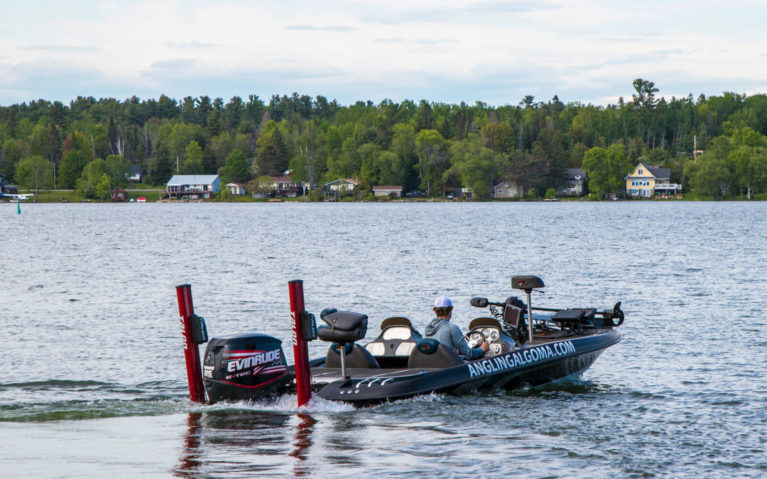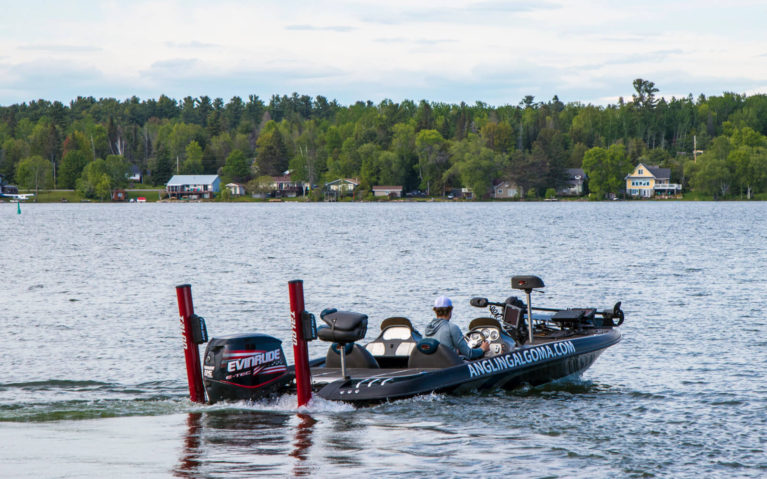 Time For Some Epic Northern Ontario Fishing
We were up early as we hit the water for 9:00am with Adam of Angling Algoma. Specializing in both smallmouth and largemouth bass, northern pike and musky, Adam knows these waters like the back of his hand. Hop on his boat where he'll have all the gear you need to become one serious angler – or at least you'll feel like one!
BEFORE YOU BEGIN: You MUST have a valid fishing license in order to fish. Ontario residents require a valid outdoors card and then either a 1-year or 3-year license. Two options are available for each – a conservation license and sport license. The difference between them is the amount of fish you're allowed to keep, but for most people a conservation license will do the trick. For non-Ontario residents, you can purchase a 1-day sport fishing license. Visit the Government of Ontario website for full details and purchasing information.
Enjoy the smell of our beautiful Great Lakes and feeling the wind in your hair while you skim across Lake Huron's waters. It's the perfect way to start the day as Adam takes you to fishing spots only the locals know. I mean it when I say local. The anglers around here are very protective of their waters, so much so they'll make sure no identifiable landmarks are in the background of your trophy photos. I dig it.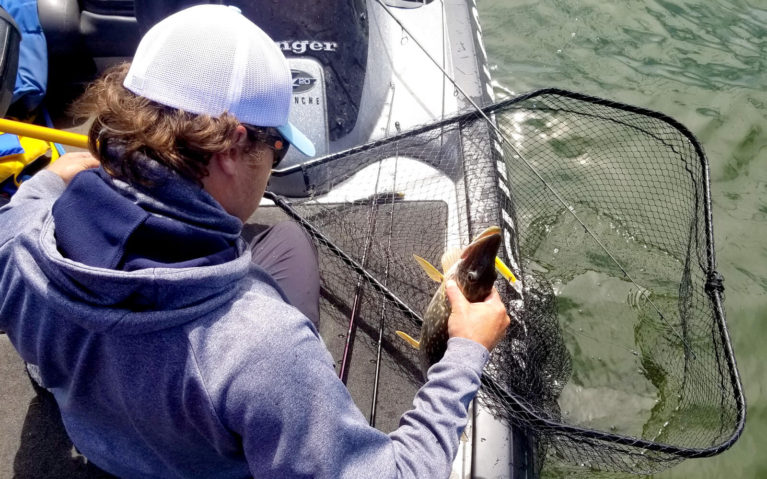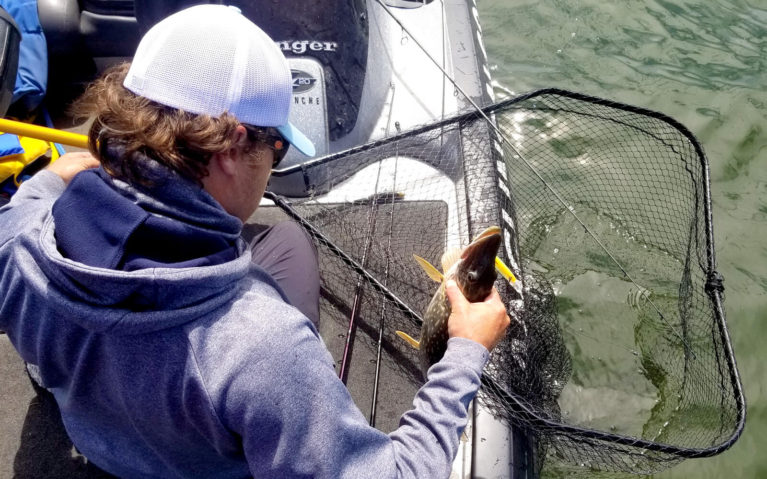 If you're a beginner like me, Adam will walk you through everything you need to know. He'll set you up with a rod, some bait and you're ready to cast! It might take some time to get used to the motion, especially if there are multiple people in the boat. You don't want to accidentally hook your friend! Above all, what you need to remember is to have patience. You're not going to immediately drop your rod in and get a bite. It might happen but chances are it won't. Just enjoy the beauty around you while you cast your line and hope for a nibble!
IMPORTANT TIP: 2019 has brought on some weird weather, including an unseasonably cold June. While the temperatures were cool and we were in hoodies, we still had clear skies and plenty of sunshine… meaning sunburns can still occur. If you don't want to get what I've dubbed a sweet angler burn, lather on that sunscreen! Trust me, you don't want it. It's painful.
There are different techniques for fishing, depending on what you're targeting. As we were fishing for northern pike, they like bait that moves. Adam dug out some pretty snazzy looking tackle that create quite a stir in the water. Mine looked like a fish split into 3 parts so when I reeled it in, it looked like it was actually swimming! This was my go-to bait as it landed me some serious fish. If you're not getting many nibbles, all you have to do is tell Adam and he'll switch you out for something else. Trust me, there's plenty of bait in all shapes and sizes!
When you do snag a fish, reel it in at a steady pace. One thing you don't want to do is reel it all the way in as then it doesn't allow Adam any slack to net the fish. Plus if it breaks the water, it can thrash and get free of your hook! Though if you get a big one, brace yourself and reel in hard. I swear 'Big Bertha' below almost dragged me in the water!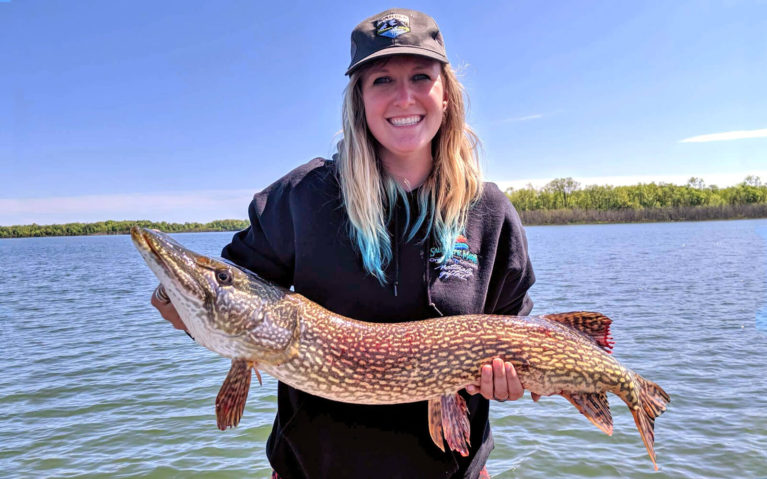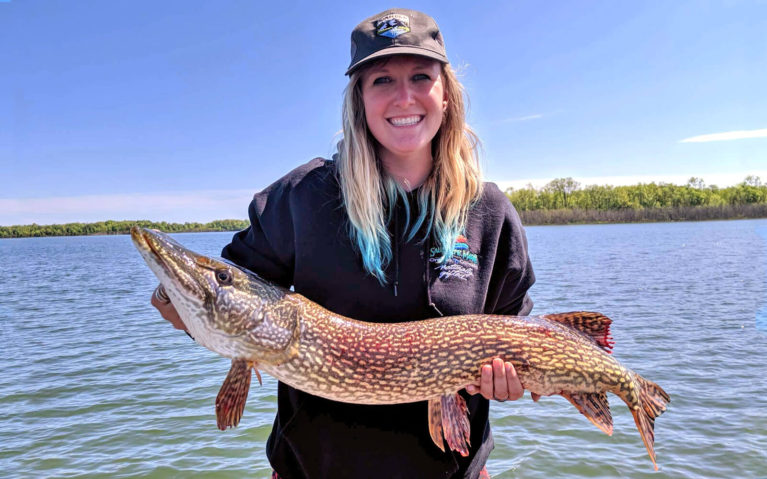 I can't speak highly enough of Adam as a fishing guide. As someone who barely knows a line from a reel (okay I'm not THAT bad, but you get it), I immediately felt comfortable casting and catching fish. He's extremely patient even with someone like me that gets her line caught all the time (I earned my nickname Suzie Snags-a-lot) and is the perfect guide for beginners and pros alike. Whether you stay in Bruce Mines or want to tackle the waters elsewhere, Adam will happily guide you anywhere in Algoma Country from here to Sault Ste Marie to even Nipigon! Take a look at his guided tours and start planning your epic Northern Ontario fishing adventure now!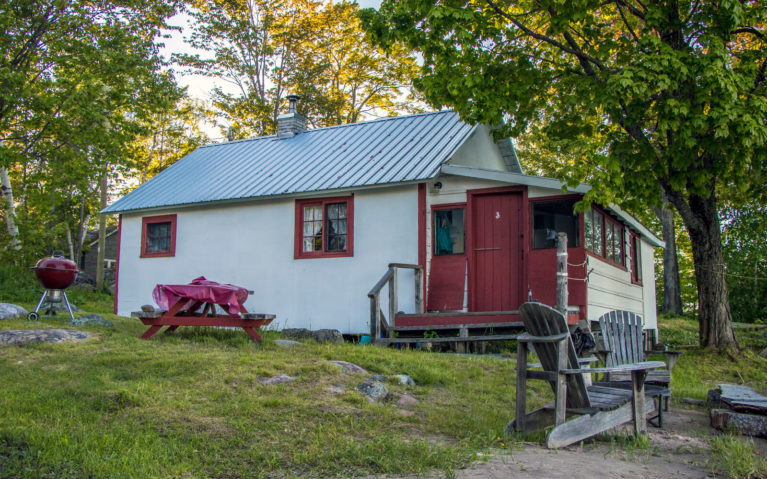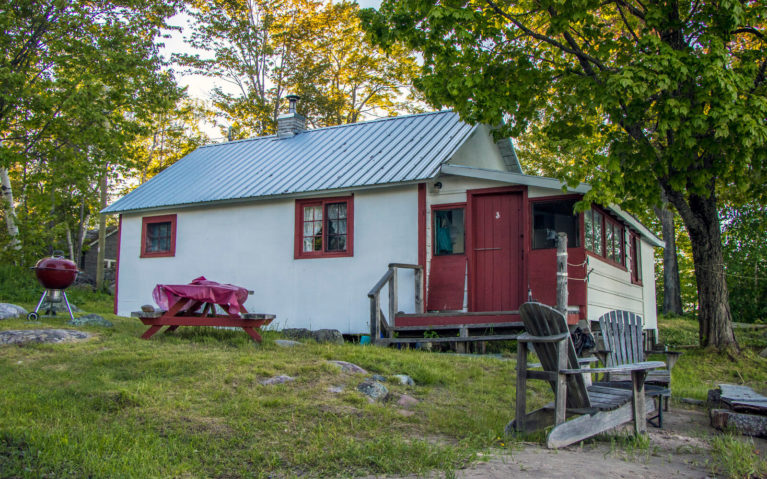 Where to Stay in Bruce Mines
Bruce Mines is a fairly small town so there aren't a whole lot of choices for accommodation. Luckily though, there's one amazing place that you'll love so much you might not want to leave – Bruce Bay Cottages and Lighthouse! Here you'll find eight adorable cottages, open from May until October. They also offer a number of packages including romantic getaways, historical and fishing packages.
Turn onto Bruce Bay Road from Highway 17 and make your way to French Island. Follow the signs for the office where you'll be greeted by one half of Bruce Bay Cottages' dynamic duo, Pat. She'll give you the lay of the land and highlight the beautiful property which you have full access to during your stay. Pat and her husband Larry own both French Island as well as McKay Island further down the road. While they live in town during the winter months, they call the office cottage home in the summer.
Their cottages range in size and can sleep 2-6 depending on the cottage. I had the pleasure of staying in Cottage 3 which sleeps up to 5 people with two beds and a pull-out couch. Inside each of the cottages, you'll find a kitchen, fridge, table and all the amenities you'll need for a fantastic getaway. You also don't have to worry about bringing bottled water as it's perfectly fine to drink from the tap! While I didn't get much of a chance to use them, it was nice to know I had pots, pans, plates, cutlery, etc if needed. I slept soundly listening to the waves of Lake Huron lapping on the shores of Bruce Bay!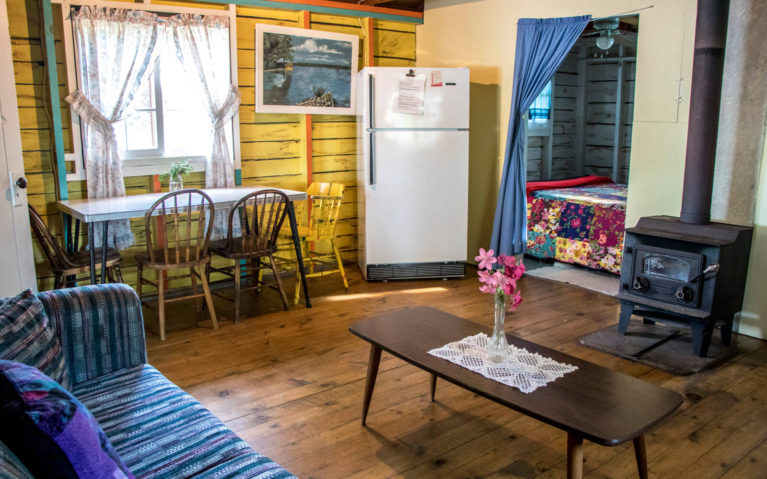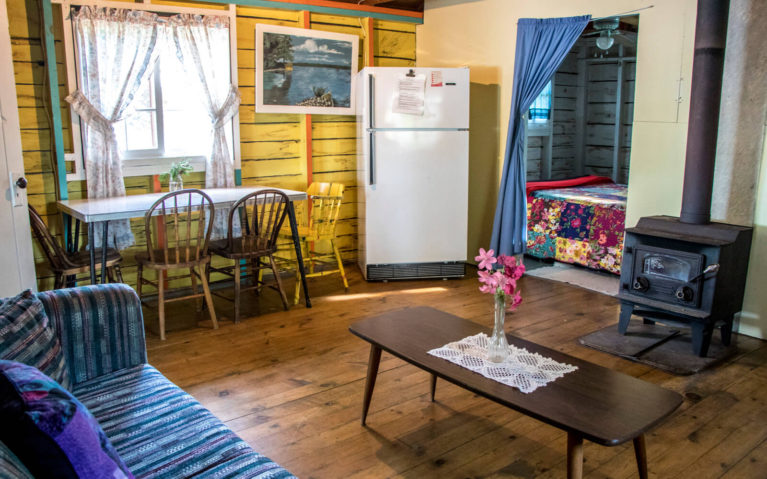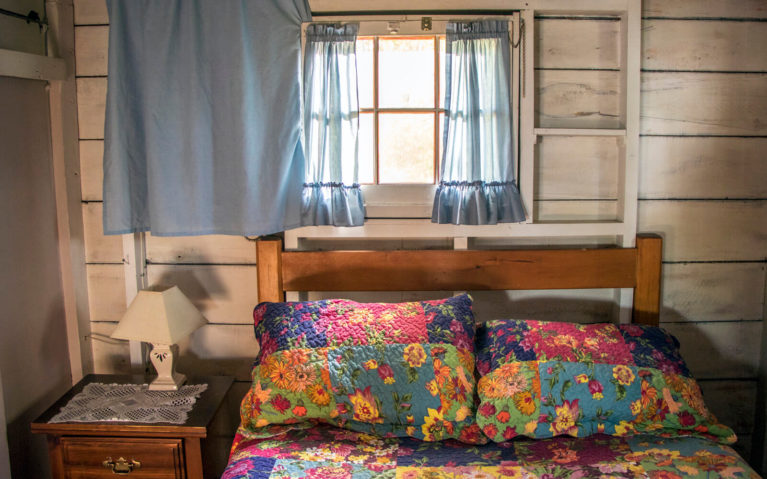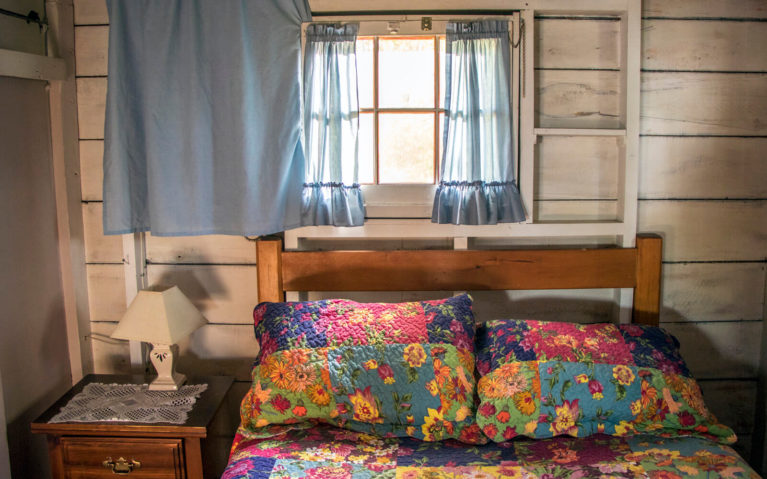 An additional perk is that there are plenty of watercrafts at your disposal. Kayaks, canoes and paddleboats are available for use at any time. They're located just by the dock and are first-come, first-served or if you can't find what you need, ask Pat and she'll be happy to help. Just remember to grab a life jacket from the boathouse before hopping in! For those extra special guests, you just might be treated to a sunset tour of Bruce Bay by Larry himself.
During your stay, be sure to explore both French and McKay Island. There are a number of great trails to secluded areas on the island. While all of them are beautiful in their own way, my favourite was The Bluffs where you'll find beautiful views. As you hike to the water, you'll see an off-shoot trail towards a Medicine Wheel. Created by a local artist, it uses different shades of rock found in the area to create this iconic symbol. Unfortunately this year it was hidden as the water levels are so high!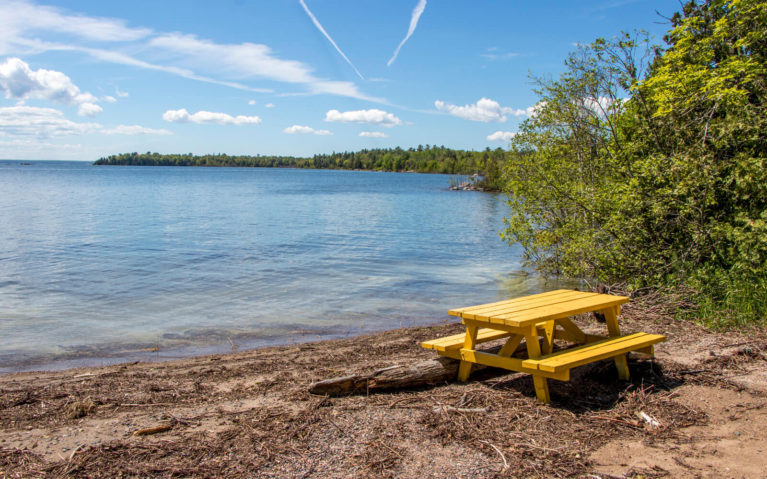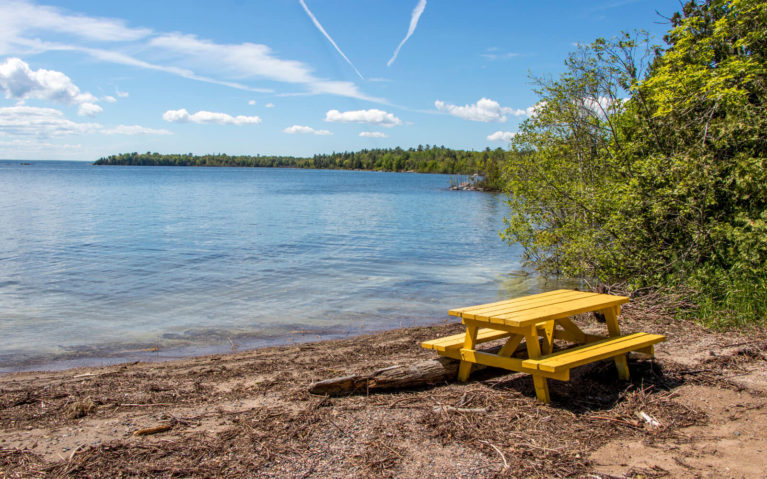 What really makes this place so cool is that you can actually stay in the lighthouse. The McKay Island Lighthouse has been overseeing the shores of Bruce Bay since 1907 and offers incredible views of the North Channel. 3 bedrooms sleep 6 comfortably and it offers a fully-equipped kitchen with two bathrooms. You even have access to the top of the lighthouse for some of the best views of the area – you just have to brave the Widow Walk to get there!
If snuggling up on the couch with your loved ones catching the sunrise or watching storms loom over Lake Huron sounds right up your alley, this is a must-do. The hardest part will be trying to find a time to get in as it's often booked for weeks on end! I was lucky enough to snag the Mother's Day weekend so Mom and I can check staying in a lighthouse off our bucket lists.
Whether you stay in the lighthouse or one of their cottages, be sure to say hi to Chippie for me! Book your stay at Bruce Bay Cottages now or see what other guests have to say about their experiences.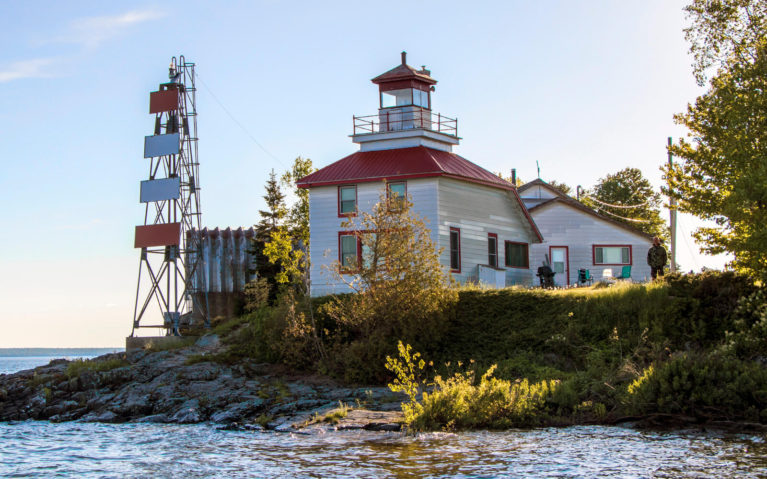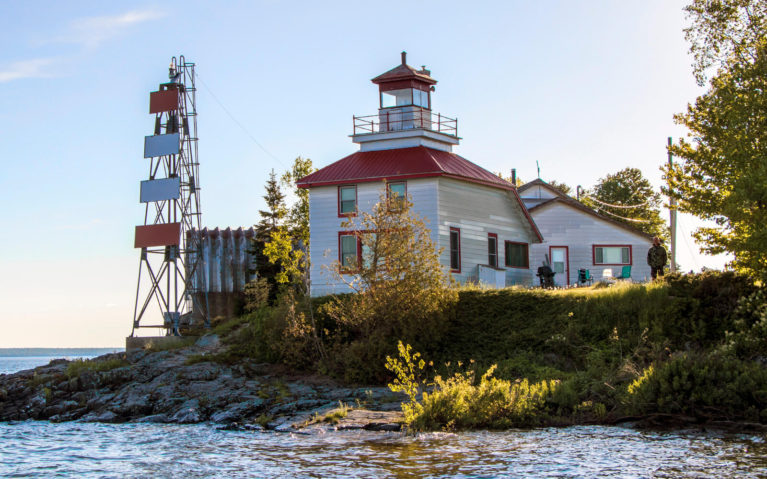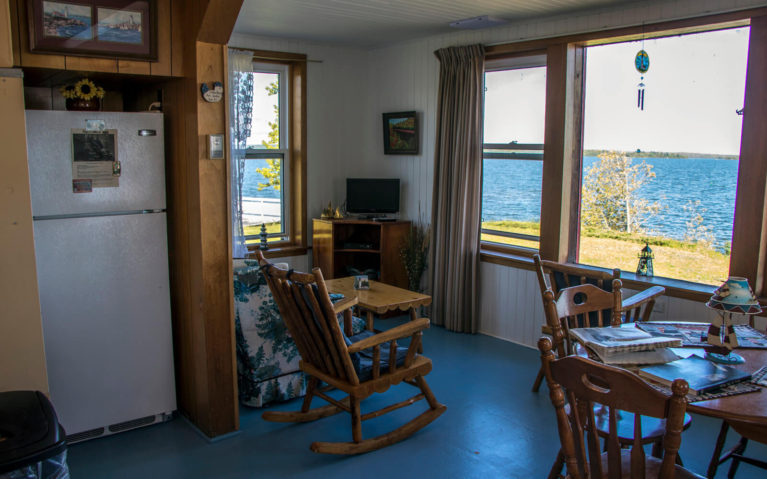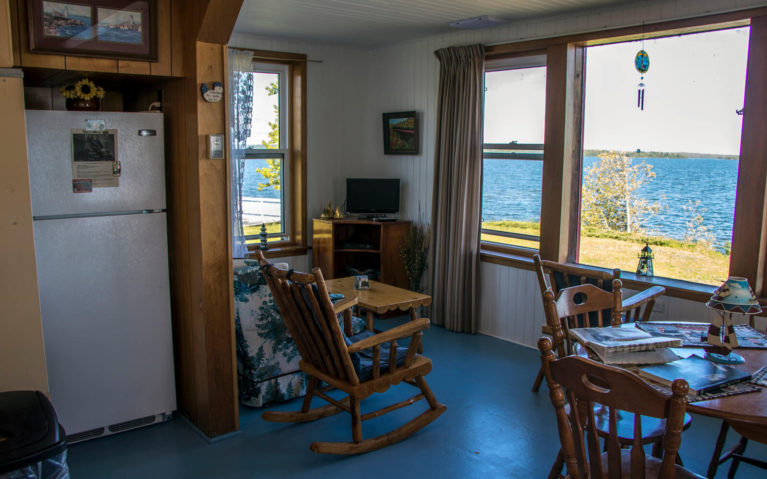 Other Things to Do in Bruce Mines, Ontario
Fishing isn't the only thing to do in Bruce Mines! Many people may just pass on through while en route to Sault Ste Marie or Sudbury, but the town is home to some serious hidden gems.
The top of my list has to be MarMar. Located right off Highway 17 in Mariner's Cove, MarMar is an outdoor enthusiast's heaven. They have incredible outdoor gear sourced from Germany to take your adventures to the next level. From tents to lamps and fire starters, you won't be disappointed by their high-quality gear. Though what you really want to look at are their cast iron cooking items.
Perfect for both indoor and outdoor use, they have every shape and size you can think of from small dutch ovens to sandwich makers. What you really want though is their Chickenator. Their poultry roaster is perfect for cooking chicken, duck and quail in the same style as the beer can chicken without the possible chemicals from said can. I can say from experience that it makes some seriously delicious chicken. Who says you can't eat good food in the outdoors?
Speaking of food, many people think small towns don't have much to offer in terms of good eats. These Bruce Mines restaurants will make you think otherwise! The Copper Bean Cafe serves up healthy, hearty eats and is a must-visit when in the area. With an emphasis on supporting local from coffee roasters to their ingredients, it's a no brainer that I fell in love with it. While I had their chaga tea during my visit, I'm definitely going to try a Bruce Mines Fog next time I'm in town! Their treats are also to die for. Check out their Facebook Page to see what's on the menu!
Another great spot for a bite is the Bavarian Inn. The reviews may say otherwise, but it is now under new ownership and I can say first hand their eats and service are great. I had their schnitzel on a bun lunch special with fries and it was absolutely delicious. It was gone too soon!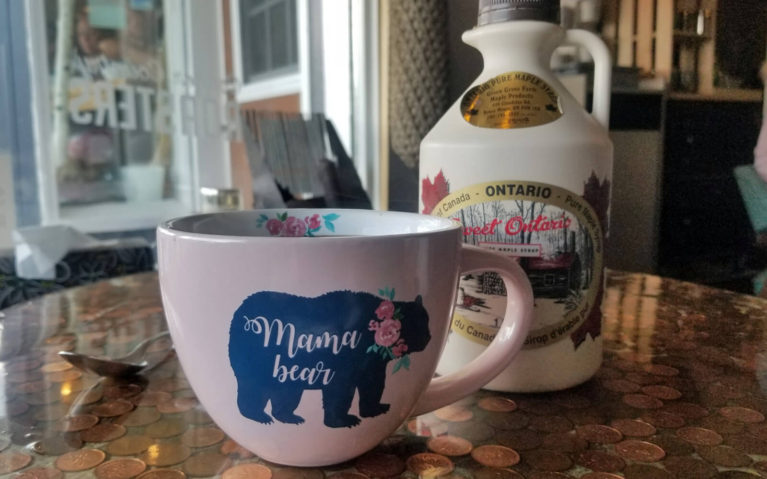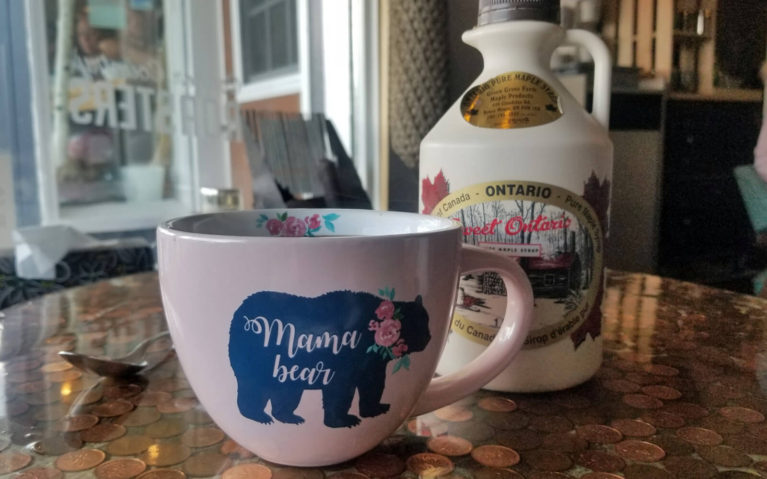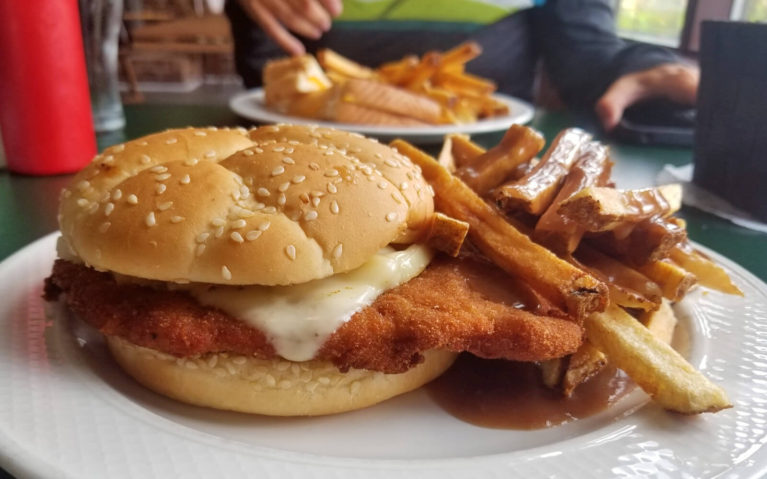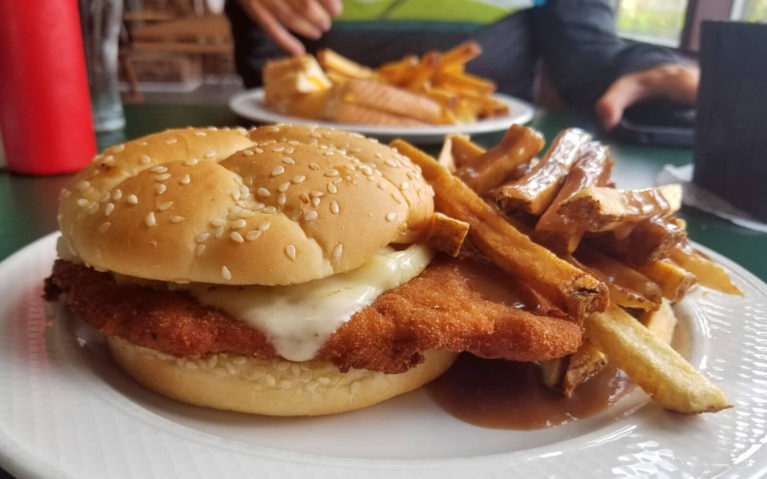 There are other great activities besides eating (can you tell I love food?) available in Bruce Mines. As I mentioned earlier, you can take a tour of the Simpson Copper Mine Shaft. Walk in the steps of the miners as you learn about what it was like to mine on the shores of Lake Huron. Visit the church turned post office turned museum and learn about the town's history at the Bruce Mines Museum. Built in 1894, the "Church on the Rock" now houses artefacts and exhibits to tell the story of Bruce Mines.
For hikers, you can check out the Historic Mine Trail which follows a former railway spur which ran between the Taylor and Moffat Mines. While the main trail is just 1km in length, there are additional offshoots to explore. It should take approximately 2 hours to complete the whole system. For the really ambitious hiker, you can tackle part of the 600km long Voyageur Trail which runs from Thunder Bay through Sault Ste Marie all the way out to Sudbury.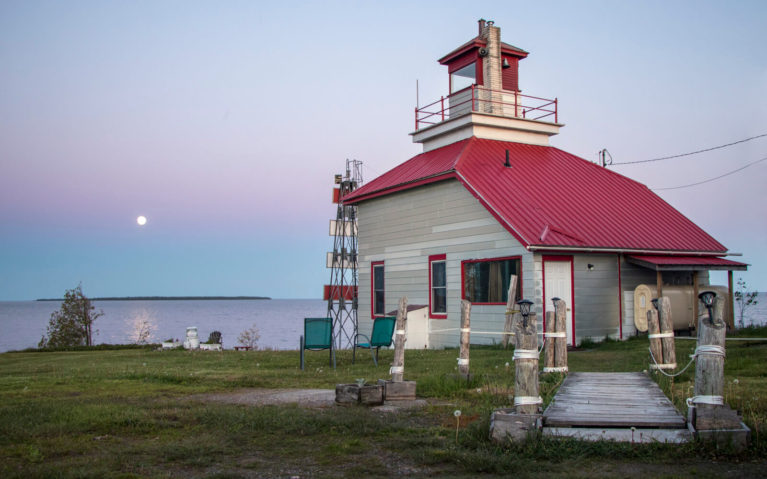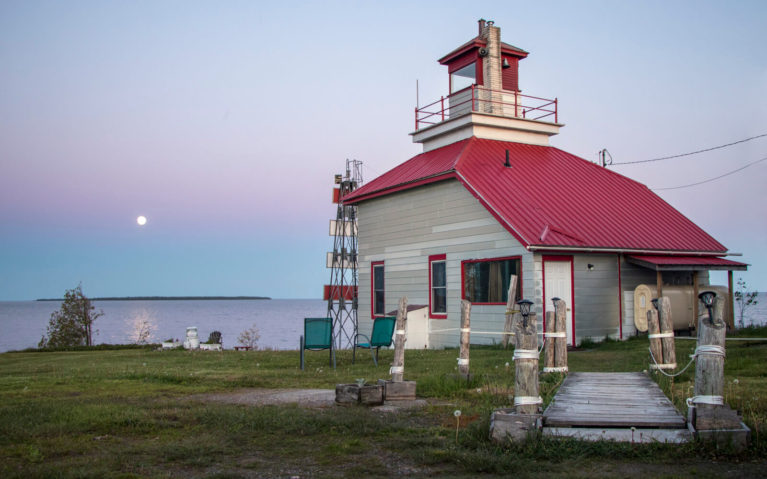 Ready to Explore Bruce Mines?
Bruce Mines might be one of those towns you drive right through without batting an eye, but it clearly has so much to offer. Next time you're driving through from Sudbury to Sault Ste Marie, take a moment to stretch your legs and explore the town.
Whether you're looking for a great fishing getaway or to just relax by the beautiful waters of Lake Huron, Bruce Mines is a fantastic summer getaway destination. It may be a small, quiet town but I guarantee you'll love it – you just have to give it a chance!
Disclaimer
A huge thank you to Pat and Larry for hosting me as part of the TMAC Conference in Sault Ste Marie. Thank you as well to Adam for putting up with me catching my line every 10 minutes and all the great time on the water! While I enjoyed these experiences complimentary, all experiences and opinions are truly my own as always. Also, this post contains links where I may receive a kickback at no extra cost to you which helps keep IBB running. Read more in IBB's disclaimer and privacy policy.
Looking to Explore Bruce Mines Ontario? Pin it for later!