Snow-mazing Things to Do in Sault Ste Marie Ontario This Winter

Affectionately referred to as "The Soo", Sault Ste Marie is the heart of Northern Ontario and the perfect destination for some winter fun. Whether you're from the area or looking for an epic road trip, a Sault winter is a must have experience for everyone visiting Canada. Don't go confusing SSM with its American counterpart in Sault Ste Marie, Michigan! Canada's SSM is where it's at. Check out these amazing things to do in Sault Ste Marie, Ontario in the winter months.
Disclaimer: This post contains affiliate links where if you make a purchase, I may receive a kickback at no extra cost to you. It helps keep IBB alive so thank you!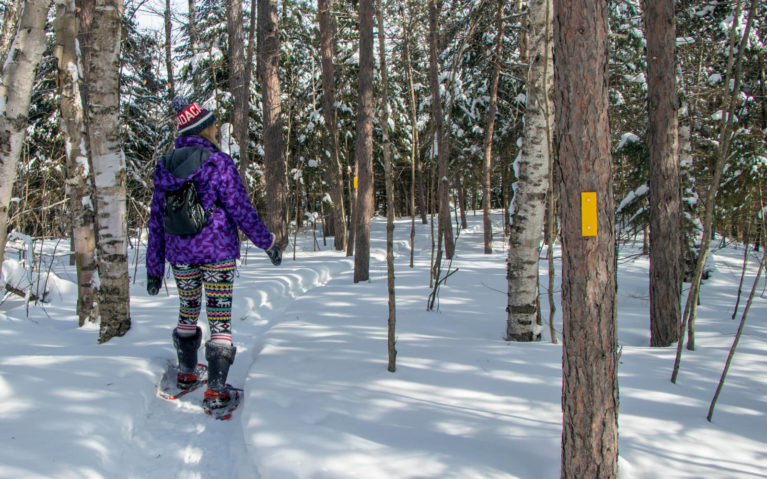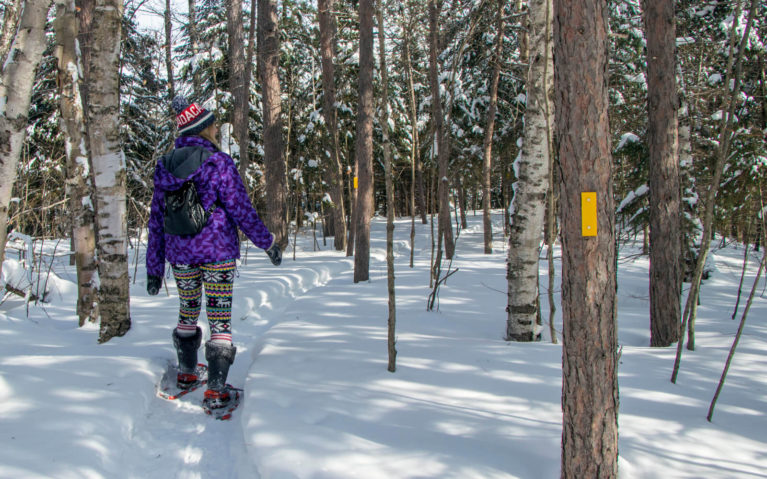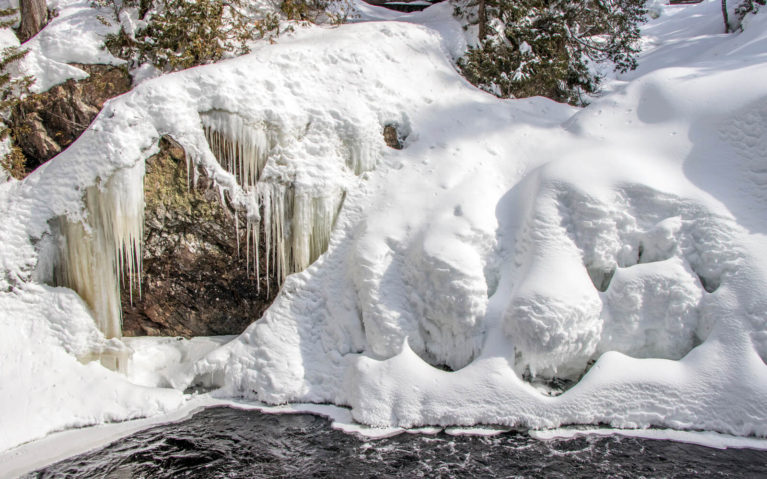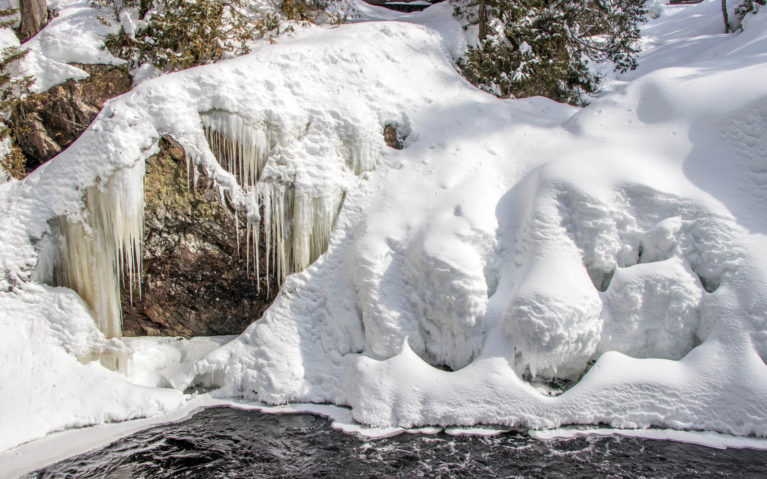 Explore the Hiawatha Highlands
A destination for year-round adventure, the Hiawatha Highlands Conservation Area is home to 3000 acres of pristine Northern Ontario wilderness. Here you'll find a number of hiking trails, including the Voyageur Trail that dreams of spanning 1100km from Sudbury to Thunder Bay. Managed by the Sault Ste Marie Region Conservation Authority, Hiawatha becomes a picturesque winter wonderland in the colder months.
Whether you're stepping into snowshoes, strapping on skis or hopping on your fat bike, Kinsmen Park is a must-visit winter destination in Sault Ste Marie. You'll find over 50km of ski trails (some are even lit for night skiing!), 14km of snowshoe trails and even more fat biking fun. Take in the beautiful sounds of the forest as you wander the trails within its 230 acres! These trails are lovingly groomed and maintained by the Soo Finnish Nordic Ski Club. Here you can get your winter pass for the trails as well as rent any equipment you may need!
It's the perfect spot for a day of winter fun or even a quick bout of exercise. No matter how long you plan to stay, be sure to stop by Crystal Falls. You won't want to miss her in all her winter glory! Admire the beautiful ice formations from multiple lookouts along the 2km trail. It was seriously the highlight of my visit to Hiawatha!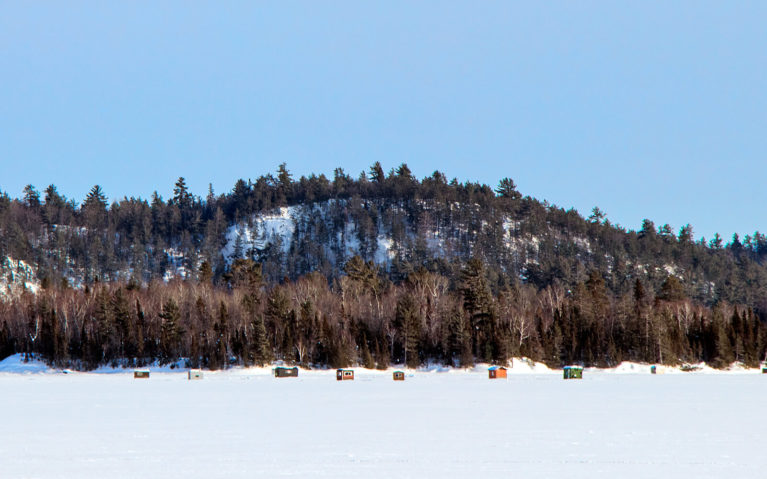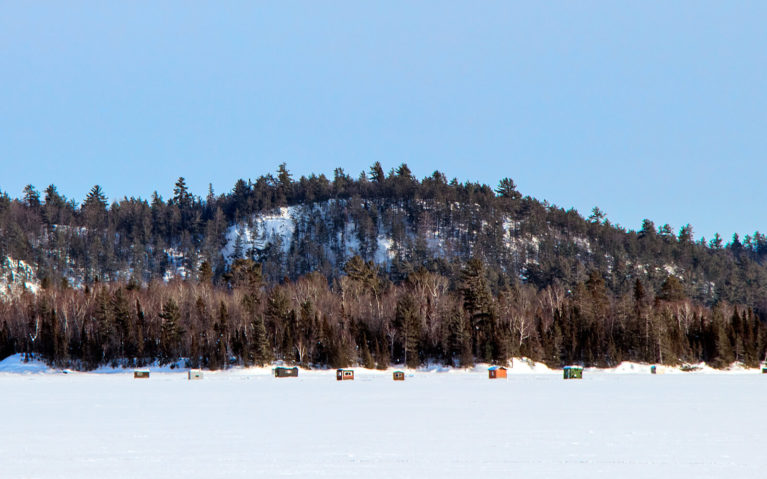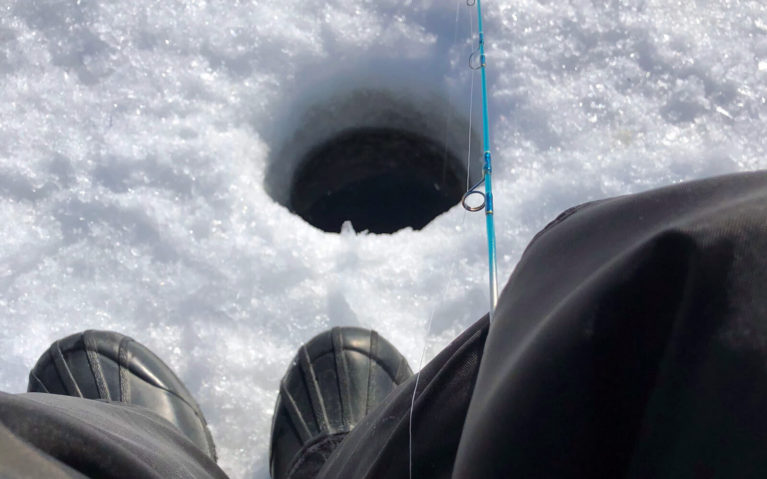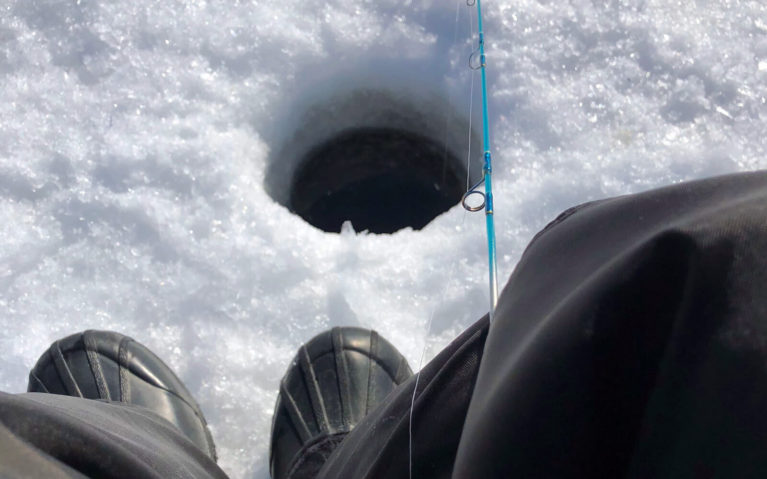 Fish For Your Dinner
Yes, you can catch your fish and eat it too! Try your luck ice fishing against the icy depths around Sault Ste Marie and see if you come out a winner. Be prepared for an early morning though. Why? It's (ice) fishing 101 – the fish bite best around dawn!
If you're lucky to have made friends with some of the locals in Sault Ste Marie, chances are they'll want to take you ice fishing. Especially if you've made the 9ish hour trek all the way up to the city! If that's not the case, there are plenty of great guides who are happy to take you on a half day or full day ice fishing adventure. They'll have all the gear you'll need from the tent to the bait along with their expert knowledge to help you snag a big one!
SOMETHING TO NOTE: You need to have a valid Ontario fishing license in order to fish, even with a guide. You can find out all the information you need by visiting the provincial government's website.
As for where to fish, you have plenty of options! There's the St Marys Rapids right in town where you can try to snag perch, pike, walleye and steelhead. If you're looking for trout, splake, or whitefish, you have the beauty of Lake Superior at your disposal in Algoma Country. Or if you're looking for something a bit quieter and secluded, head to one of the inland lakes. If you're fortunate enough, you just might land a massive rainbow trout! It doesn't matter if you're a beginner or a pro, you'll have a great ice fishing experience in The Soo!
Glide Along the Clergue Park Skate Trail
I can't tell you enough how much it makes my heart sing that skate trails are becoming popular in Ontario. It feels like every time I turn around, a new one has appeared! Next door to the Algoma Art Gallery you'll find this year's newest addition – the Clergue Park Skate Trail. It may be the pilot year for this winter attraction but I guarantee it won't be the last!
RELATED: Looking for more outdoor skate trails? Don't miss this guide to the top skating trails in Ontario!
Lace up your skates and hit the ice as you round the turns along the trail. You'll be treated to the incredible waterfront views of the St Marys River as you glide down this 1km long trail. This free attraction is a great way for locals and visitors alike to get out and enjoy some winter fun! It makes the perfect lunchtime break for those working in the area as well as an attraction to draw visitors to the waterfront area.
While there is no shortage of great coffee shops in Sault Ste Marie, you'll find snacks and hot drinks for sale to help you keep warm on Fridays and Saturdays. I bet this would make a romantic date night – watching the sunset as you skate along the trail? Talk about dreamy!
Be sure to keep an eye out for their torch lit events too. It'll make skating the trail even more magical! The trail is open from noon until 10:00pm weekdays and from 10:00am until 10:00pm on weekends.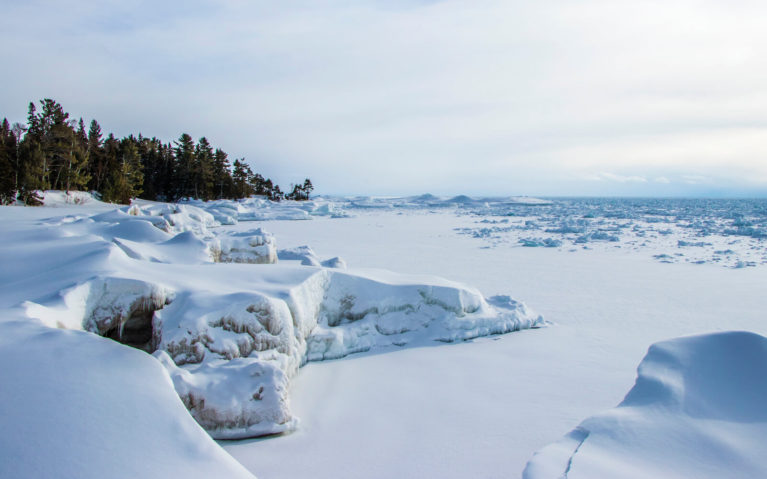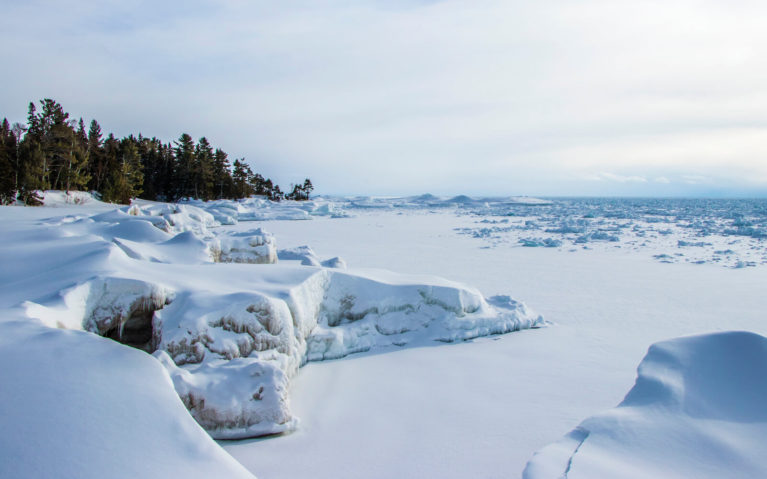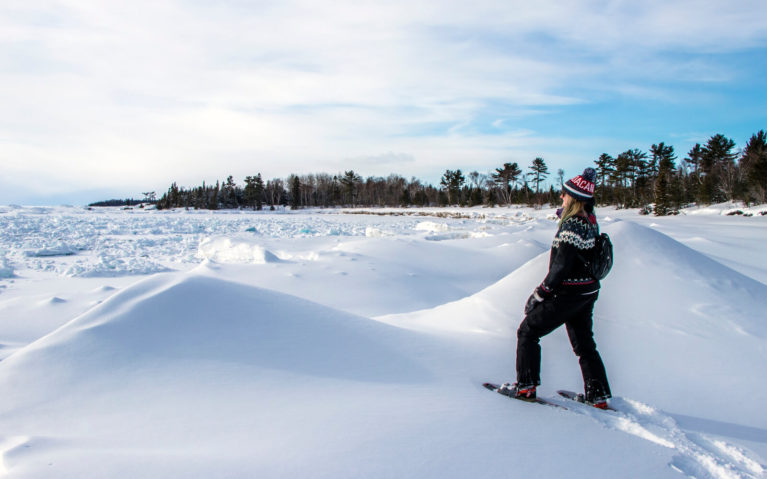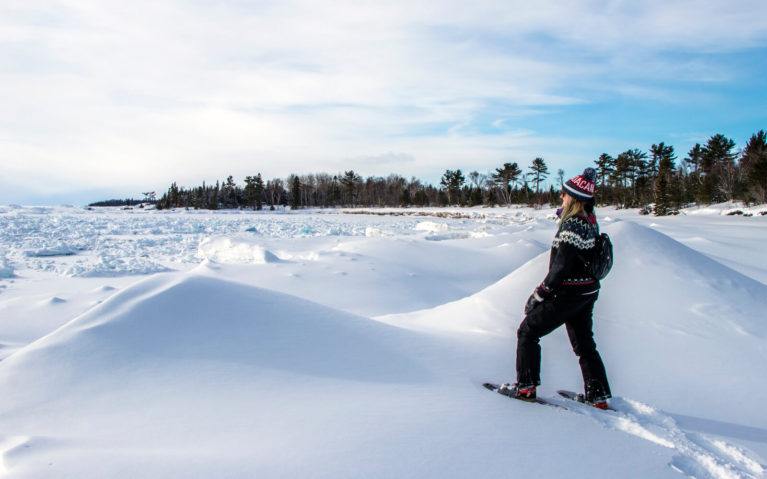 Hunt for Ice Caves
You may have caught a glimpse of these ephemeral beauties while scrolling through your social media feeds as this winter has proven to be spectacular for ice caves. The frigid temperatures of late January and early February set the tone for some incredible icy formations.
WARNING: While it may be tempting to run out onto the ice and explore, know the ice conditions before doing so. Lake Superior is the largest freshwater lake in the world and as Gordon Lightfoot puts it, the lake, it is said, never gives up her dead. Proceed with extreme caution.
Ice caves can be formed in one of two ways. The first is via meltwater streams where wind can create hollowed out tunnels within snowfields. These usually are blueish in colour and often have translucent walls. The second occurs when cold winter air currents deflect freezing water. No matter how they're formed, these wintery wonders are a sight to see!
Gros Cap, Pointe des Chênes and Red Rock are all viable options to catch a glimpse of some ice caves. While I didn't see a cave per se, I was able to stand atop miniature icebergs. It's a breathtaking sight to see, especially on a beautifully sunny day. While this is probably one of the most enticing things to do in Sault Ste Marie Ontario in winter, just remember that you're on open water Lake Superior. Walk softly.
Also if my mom is reading this… no, I didn't go on the water. I have no idea what you're talking about. I love you?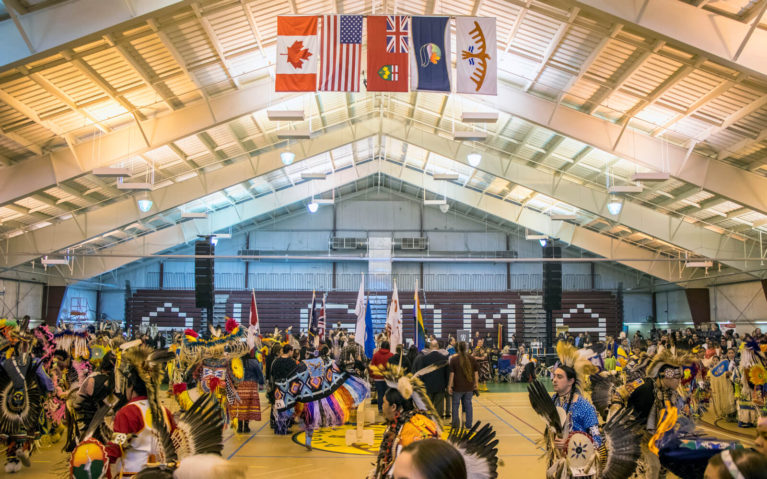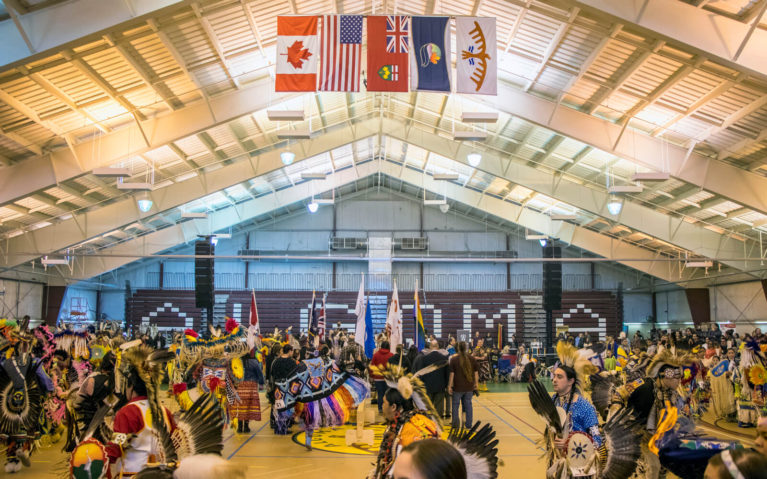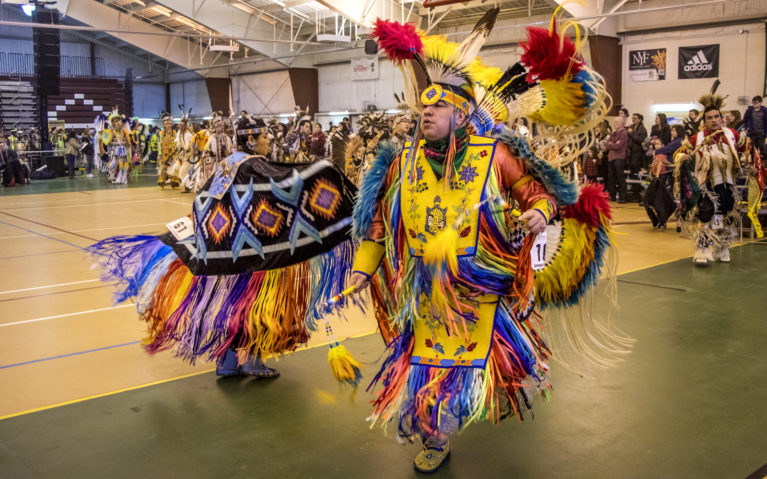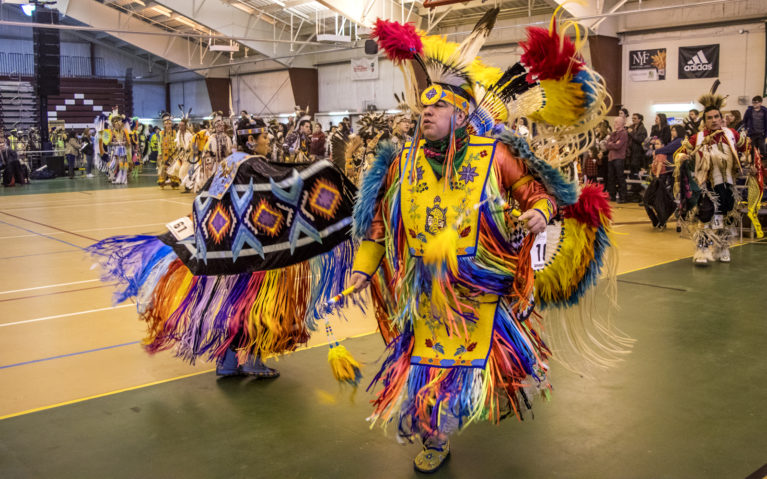 Immerse Yourself in the Indigenous Culture of Bawating
Okay so the snow stays outside for this one but I highly recommend planning your winter visit to Sault Ste Marie around the Gathering at the Rapids Pow Wow. Planned for the beginning of March every year, you have to witness Northern Ontario's largest pow wow at Algoma University.
ADDITIONAL INFORMATION: Sault Ste Marie's original named is Bawating, meaning 'rapids' in Ojibway. It is one of the original gathering places for the Indigenous People of Canada and still has incredible signifiance to this day. You can learn more about it by taking a walk around Whitefish Island and reading the interpretive signs or book a tour of the Shingwauk Residential School Centre at Algoma University.
Unlike the summer pow wows that Batchewana and Garden River hold, this is a competition pow wow. What does that mean? You'll see incredible dancers as the best of the best show their skills and present their regalia with the hopes of earning first place. In contrast, a traditional pow wow is more family-oriented, focusing on spirituality and community.
However, the Gathering at the Rapids Pow Wow is unique in that it's an amalgamation of the two. This pow wow began as a traditional one over a decade ago when it was first organized by the students of Algoma University. It has since transformed into a competition pow wow, however it stays true to its roots by offering a feast and emphasizing that community aspect – which is unlike most other competition pow wows.
Whether you're Indigenous or not, a pow wow is something everyone should experience. Everyone is allowed to be a spectator and is encouraged to do so. It's amazing to see local and international students admiring the work of the vendors, the skill of the dancers and enjoying the culinary delights the pow wow has to offer!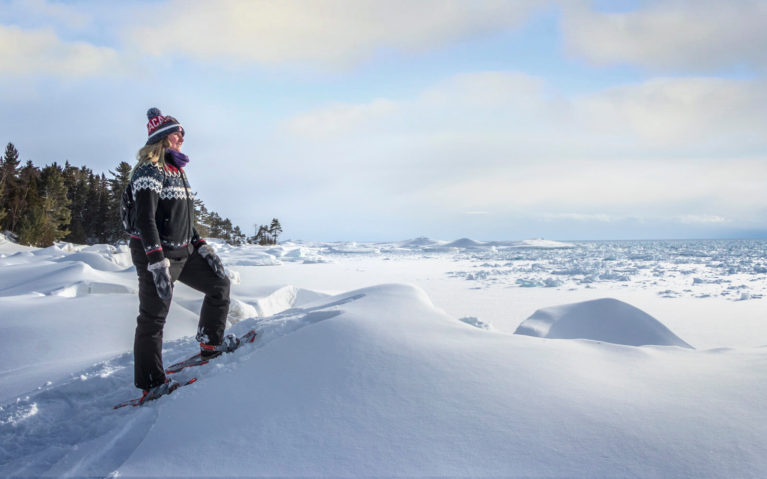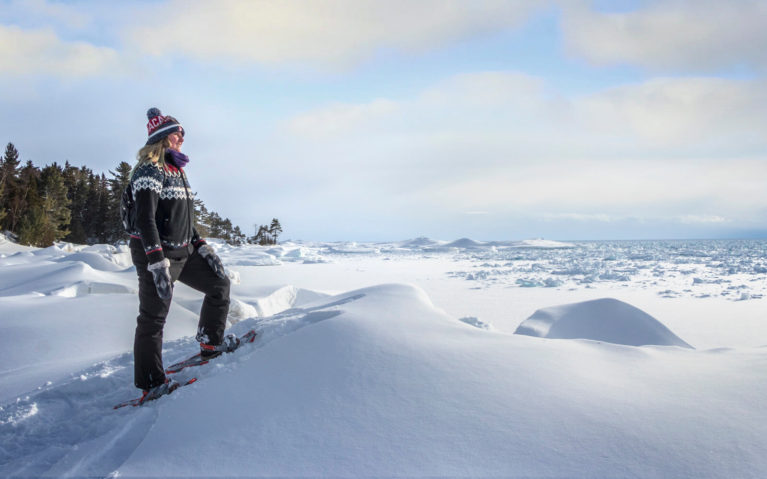 Additional Things to Do in Sault Ste Marie in Winter
Think this is all there is to do in Sault Ste Marie come winter? Think again! Here are a few more fantastic ideas of things to do to embrace the season.
Go Skiing or Snowboarding at Searchmont – Yes, there's a ski hill near Sault Ste Marie! Head about 40 minutes north and explore their 20+ runs of all difficulties. With 228 metres (700 feet) of elevation, 132 inches of snowfall on average and 100 acres of beautiful Algoma Country forest, it's the perfect spot for a day trip or weekend getaway.
Strap on Some Snowshoes or Cross Country Skis at Stokley Creek – This family-owned resort is a mecca for winter wandering with over 100 km of trails at your disposal. They also have an all-inclusive package where you can indulge in the finer things like healthy, homemade meals, their two Scandinavian style saunas and other fantastic amenities.
Reach New Heights & Go Ice Climbing – Head north to Batchewana Bay where you'll find the pioneer of ice climbing in the Lake Superior area, Shaun Parent. With over 600 ice climbs of all levels of difficulty, you're guaranteed a day full of adventure.
Indulge in Some Après Ski Fun – There is no shortage of great spots to grab a drink or a bite to eat in Sault Ste Marie, though my top pick would be Broers Jansen. With adorable cottage vibes in an intimate setting with cozy beverages like mulled wine and other cocktails, it's the perfect spot to warm up after a day of winter exploration.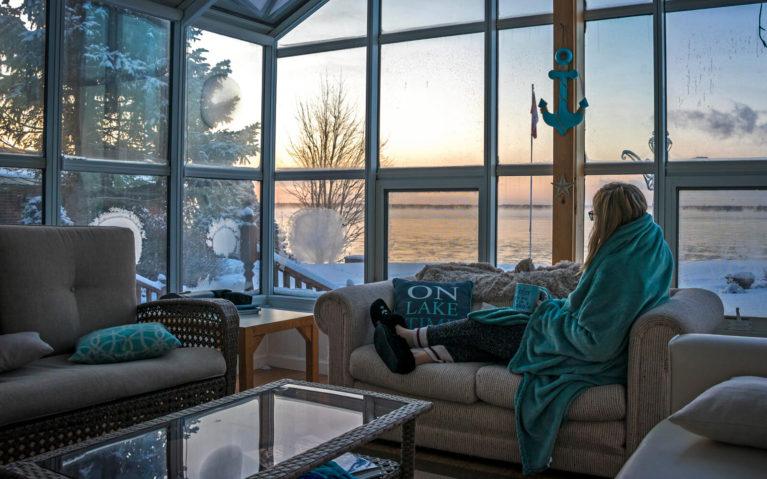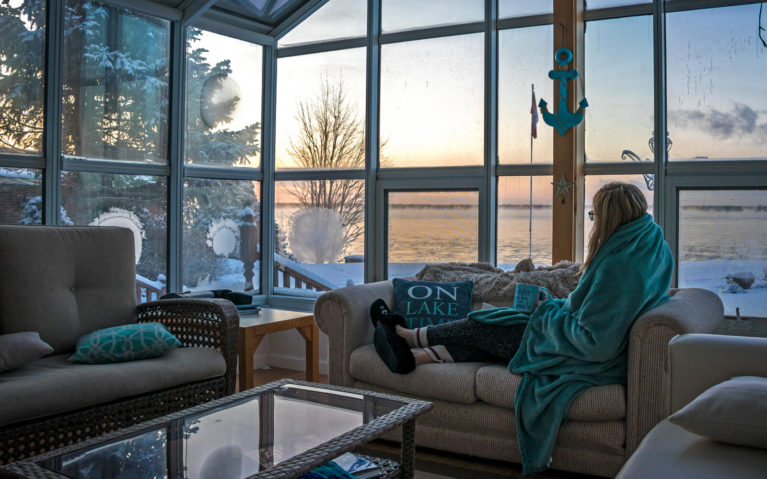 Where to Stay in Sault Ste Marie For A Winter Getaway
Sault Ste Marie is home to a number of great hotels scattered across the city. Personally, I love being close to the downtown core as this means you can easily walk to a number of incredible restaurants, museums and shops. These would be my choices for hotels in Sault Ste Marie:
INSIDER TIP: Many of the hotels in Sault Ste Marie have fantastic packages to help you save some cash while enjoying some winter fun so keep an eye out for that!
However, if you're really looking for an epic getaway, I recommend getting a little outside of the city. Head towards the airport and follow it all the way down to the waterfront where you'll find The Fall Inn by the Lake. This bright and spacious two-bedroom cottage right on the shores of Lake Superior. With a fully stocked kitchen, gorgeous fireplace and a beautiful sunroom, you'll have an absolutely magical winter getaway here. The photo above? That's the Fall Inn! Plus the owners, Colette and Rick, are absolutely wonderful and will always have great suggestions of things to do so you can truly enjoy your trip to Sault Ste Marie.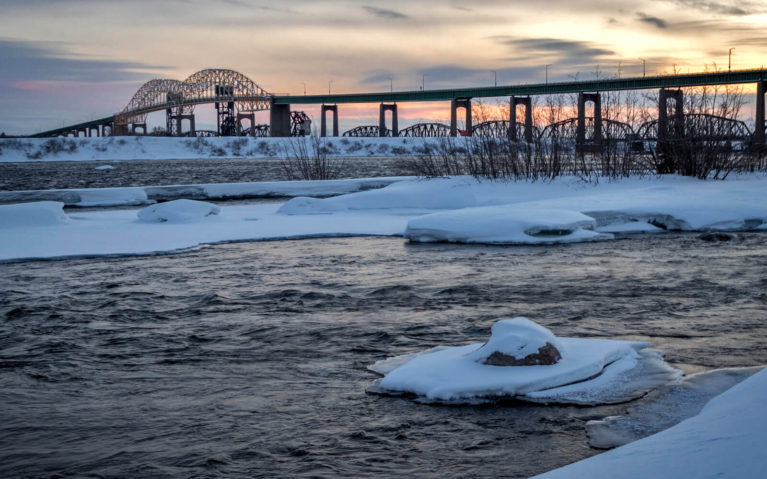 Things to Know For Your Winter Trip to Sault Ste Marie
Sault Ste Marie is a fantastic destination for an Ontario road trip year round, but the natural beauty of Algoma Country makes it extra special in the winter months. With the cold weather though comes a few things you should be aware of before you make the trek to Sault Ste Marie in the winter.
How Far is Sault Ste Marie from Toronto?
Sault Ste Marie is approximately 700 km from Toronto. It will take you at least 7 hours to get there and you'll be following the Trans Canada Highway for the majority of your trip. It's a beautiful drive with plenty of great places to stop, however it is often just one lane on each side.
The further you head north, the higher the chance of white-outs and stormy winter conditions. It's important to give yourself plenty of time for the drive as well as flexibility in case the weather turns sour. I often break up the drive with a stop in Sudbury (another fantastic Ontario winter destination) to ensure I have plenty of daylight for the drive. It's certainly not necessary but if you're not one for long distance winter driving, I'd recommend considering this as an option!
How Cold Does it Get in Sault Ste Marie?
Sault Ste Marie is no stranger to chilly days and nights! On average, the city sits between -2C (~28F) and -7C (~19F) during the day and drops to approximately -13C (~9F) at night. However, it's not uncommon for the city to see a deep freeze which can take the temperatures down below -30C (-22F).
How Much Snow Does Sault Ste Marie Get?
Sault Ste Marie gets approximately 320 cm (126 inches) of snow in the winter each year. Again, it can vary depending on the year, but you're pretty much guaranteed to have snow from late November until late March.
What Should I Pack For My Winter Trip to Sault Ste Marie?
Considering Sault Ste Marie is a fantastic outdoor adventure destination in the winter, you'll want to pack in layers! Just like I discuss in my winter hiking guide, it's important to have a thermal base layer, some heat-generating middle layers and outer layers that keep the wind at bay. Don't forget a solid pair of winter boots to keep your feet warm, scarves, mittens, toques, and anything else you'd like to keep you nice and toasty!
Even if you're not planning on being outside for an extended period of time, you'll appreciate having the warm layers while exploring the city.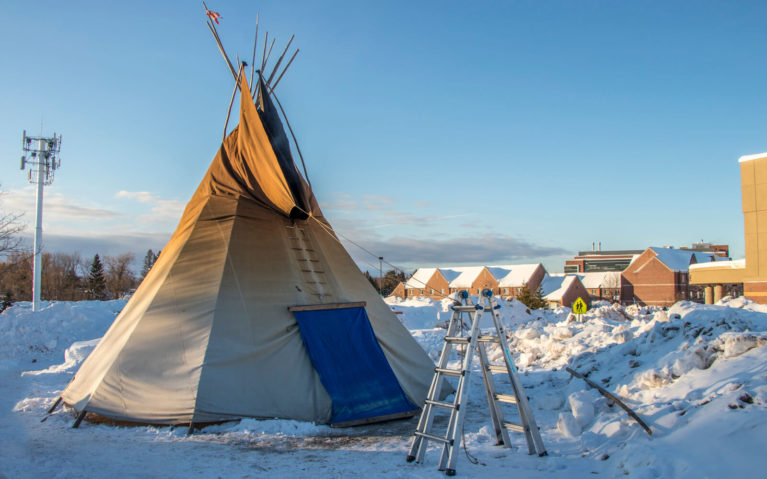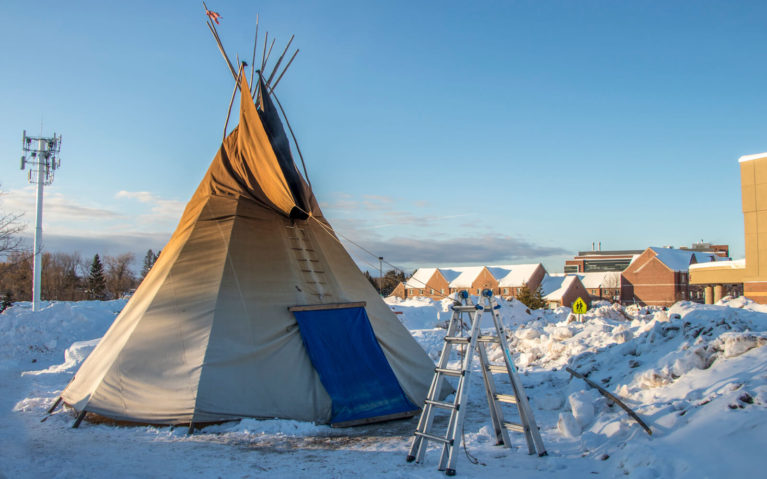 Ready to Tackle These Sault Ste Marie Winter Activities?
With Canada having such a long winter season, it's best to embrace the cold rather than fight it. What better way to do that than with a trip to northern Ontario? Sault Ste Marie is the perfect winter destination for those chasing some snowy fun. However if you get a little too chilly, be sure to check out some of these great Attractions Ontario partners to warm up during your winter adventures. What's your favourite way to embrace the colder weather?
Disclaimer
A huge thank you to Sault Ste Marie Tourism for hosting me during my winter adventures! Thank you as well to Attractions Ontario for covering my expenses to get to The Soo. As always, all thoughts and opinions are truly my own.
Read more in our disclaimer and privacy policy.
Want to remember these things to do in Sault Ste Marie Ontario in winter? Pin it for later!