The Amazing South Georgian Bay Views You Need to See ASAP

We're lucky to have no shortage of incredible views here in Southern Ontario. From watching the waves roll in on the Great Lakes to incredible lookouts, there is plenty to see and enjoy! Though I have to say, the South Georgian Bay area from Owen Sound to Collingwood is extra special in this regard. With so many places to witness the natural beauty of the province, I highly recommend planning a trip to chase these South Georgian Bay views as soon as you can! Just check out this round-up and you'll quickly see what I mean.
Disclaimer: This post contains affiliate links where if you make a purchase, I may receive a kickback at no extra cost to you. It helps keep IBB alive so thank you!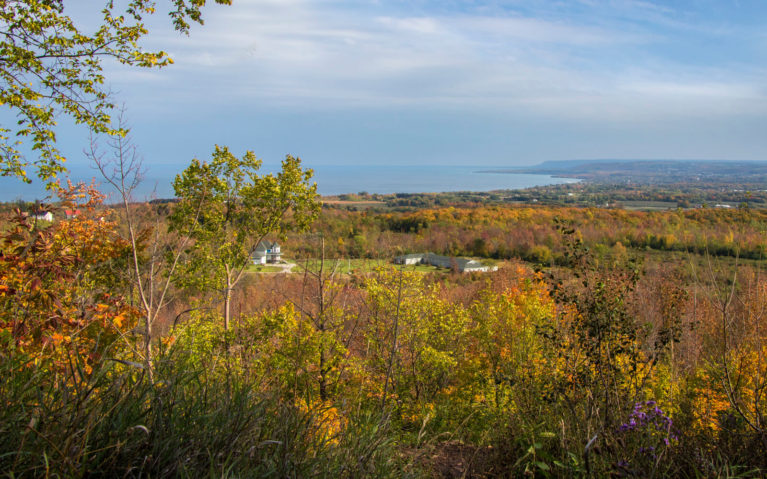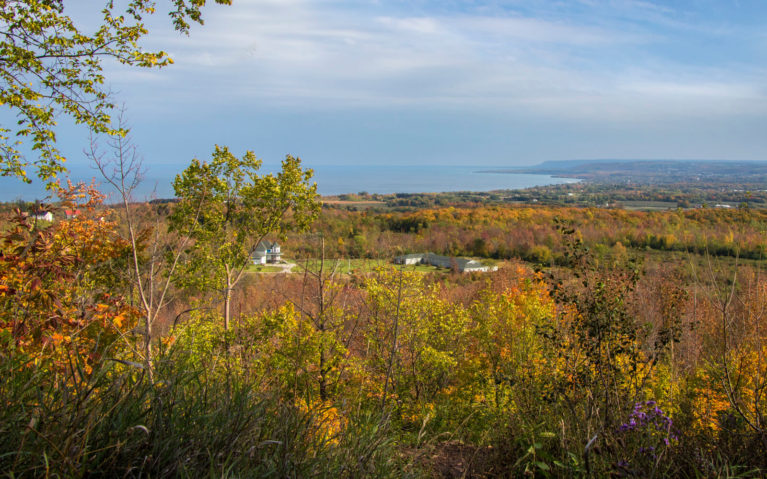 Irish Mountain
Just ten minutes northwest of the town of Meaford, you'll find the Irish Mountain Scenic Lookout. Just a few steps from the parking lot, you'll be treated to brilliant views of Nottawasaga Bay from the edge of the picnic area. Admire the rolling hills of apple orchards as well as the beautiful Niagara Escarpment as it shapes the South Georgian Bay skyline. Here you'll also find one of the five big red Meaford chairs. Hunting for them is one of the best ways to explore the Meaford area in my opinion!
This is one of the easiest lookouts to get to as you can drive right up to it, making the Irish Mountain lookout perfect for visitors of all ages. If you find yourself in the Meaford area, you'll want to make some time for this little detour!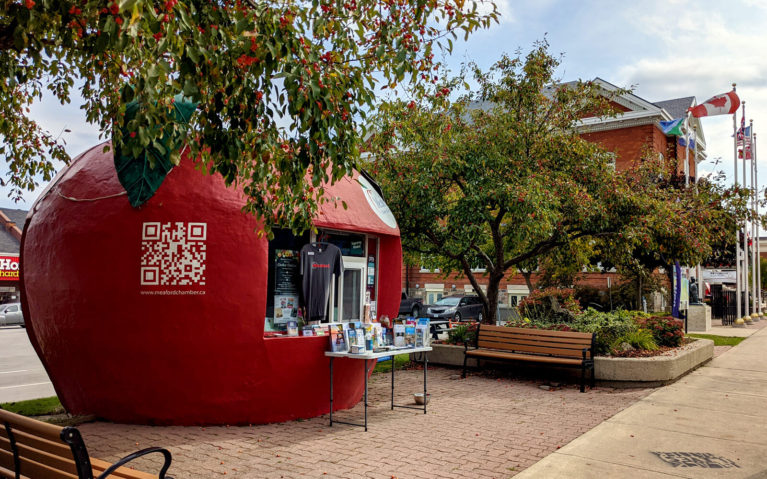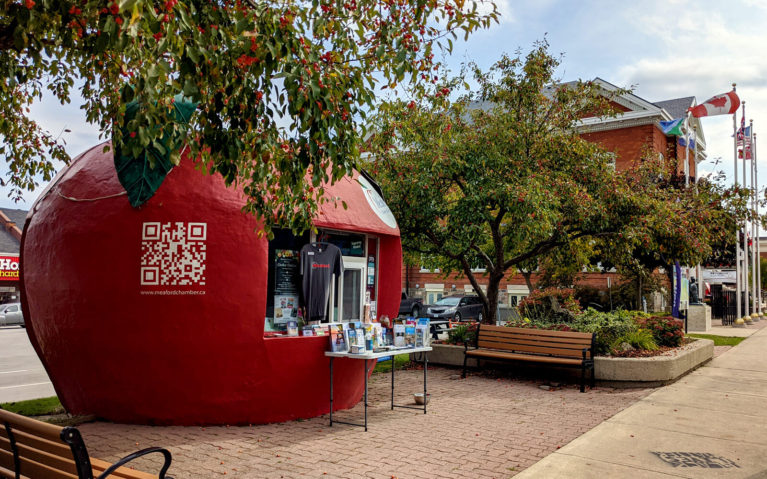 You Might Also Want to Check Out…
As this lookout is so close to downtown Meaford, it would be a sin to not stop in for a visit. If you're feeling peckish, there are a number of delicious local restaurants including The Leeky Canoe right on North Sykes Street. They have your typical hearty eats and delicious comfort foods like burgers, pasta and meatloaf but with their own spin. Their Mandori Grilled Chicken Wrap has been a top seller since they opened in 1999 so I had to try it. Juicy grilled chicken mingles with smoked bacon, a blend of cheeses, lettuce and tomato, all smothered in their Mandori sauce (barbeque and ranch mix) and tightly nestled in a flour tortilla.
The town isn't very big so it won't take long to explore, but it has a beautiful waterfront with a pebble beach and walking path. Watch the waves roll in on Georgian Bay as kids giggle while enjoying the community playground in Fred Raper Park. Just a few minutes walk away, you'll find the Meaford Museum which was originally the pumping station. Built by McQuillen and Co in 1895, you can learn all about the town's history.
Technically, Meaford covers a wide area so get out of the downtown area to explore a little more. You can't go wrong with a visit to Coffin Ridge Boutique Winery where you can enjoy a tasting on their patio overlooking the gorgeous vineyards. As I said, you can always hunt for the big red Meaford chairs as a way to explore more of the area!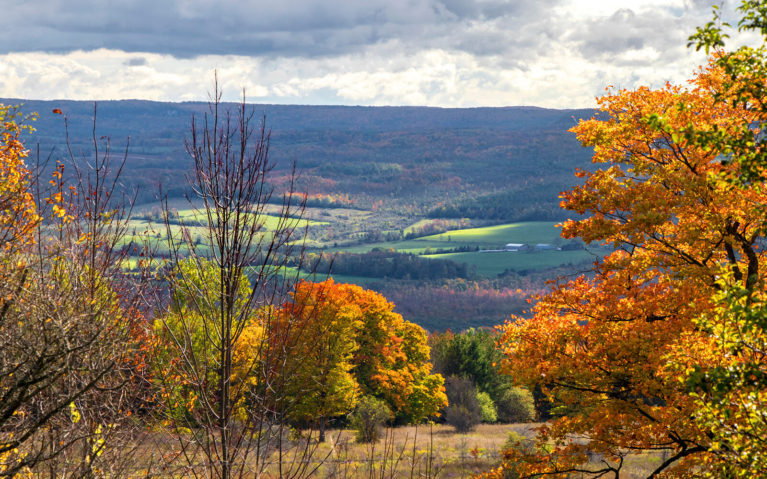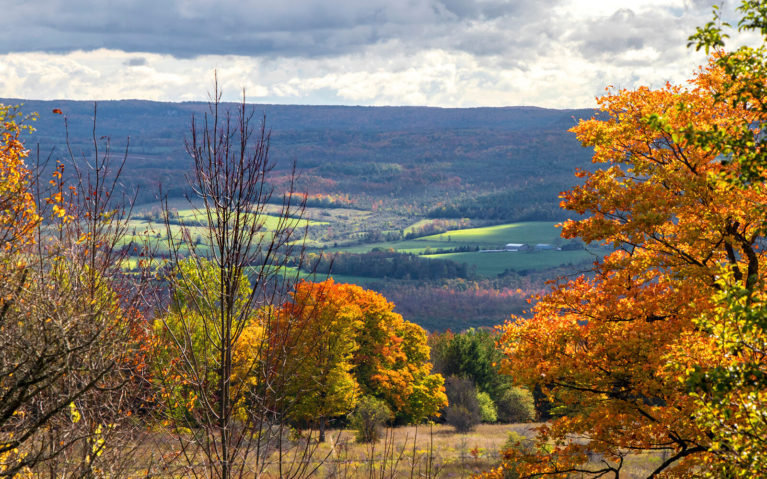 Epping's John Muir Lookout
If you've driven south from Meaford or north from Eugenia, chances are you've past right by the John Muir Lookout. It's honestly easy to miss as it doesn't look like much from the road, but you'll want to make it a pit stop on your next trip to the area. Originally named the Epping Lookout, it was renamed in 1998 to the John Muir Lookout to honour the work he did researching orchids along the Bighead River.
Pack a bite to eat and enjoy it at one of the tables under the picnic shelter as you take in the easterly views of the Beaver Valley. If you're looking to check out a bit of Ontario's famous Bruce Trail, enjoy a stroll along the Epping Lookout Side Trail and then cross the road to connect with the main trail for a beautiful walk around the area. The John Muir Lookout is another easily accessible lookout so there's no excuse to not stop next time you're driving along County Road 7!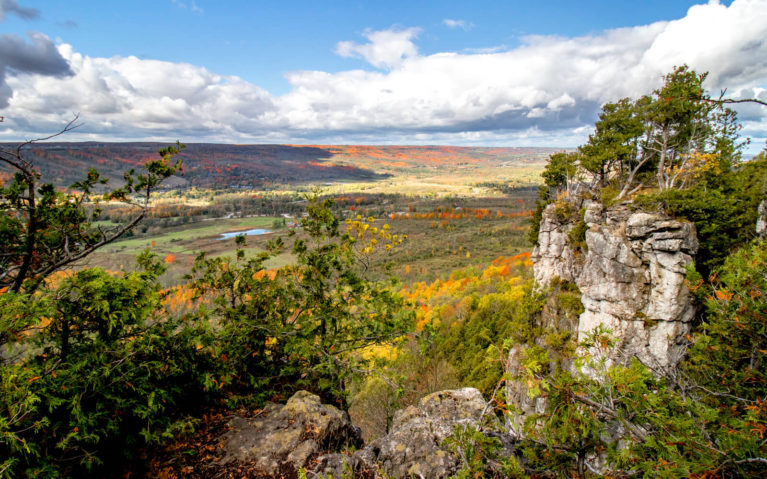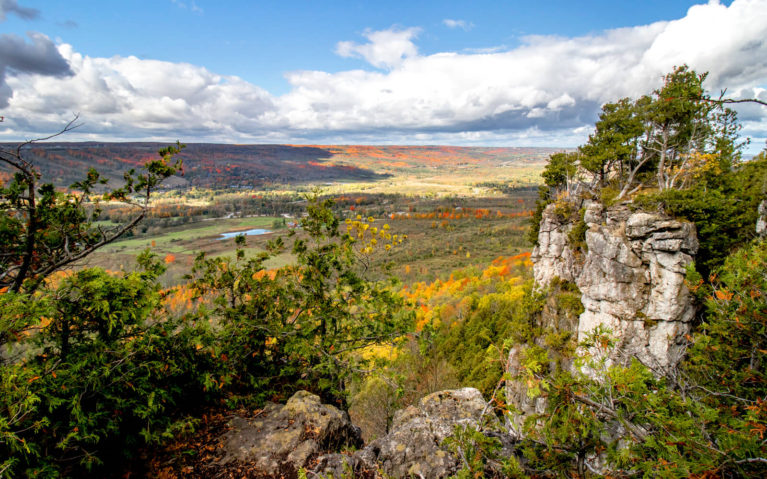 Old Baldy
Towering 152 metres (almost 500 feet) above the town of Kimberley and the valley below, it's no wonder Old Baldy is one of the most popular spots for incredible views in the South Georgian Bay area. Enjoy a scenic walk through hardwoods and cedars as you make your way to the lookouts along the edge of the Niagara Escarpment. The trail is easy at first but the closer you get to the edge, the rockier and more difficult it gets!
Wondering why the area is named Old Baldy? Well, the spot you're admiring the views from is at the top of an iconic rock outcrop which you can see from across the Beaver Valley. Amabel dolostone caprock juts out from amongst the sea of trees to create a bald spot along the escarpment – hence Old Baldy!
While you can access Old Baldy from the main Bruce Trail, most start their adventure at the parking lot located at 120 Old Baldy Access in the Grey Highlands. It costs $6 for a day pass which goes back into conservation efforts for the area. If you wish to avoid the parking fee, there is free parking along the Bruce Trail but you'll be in for a solid hike to get there!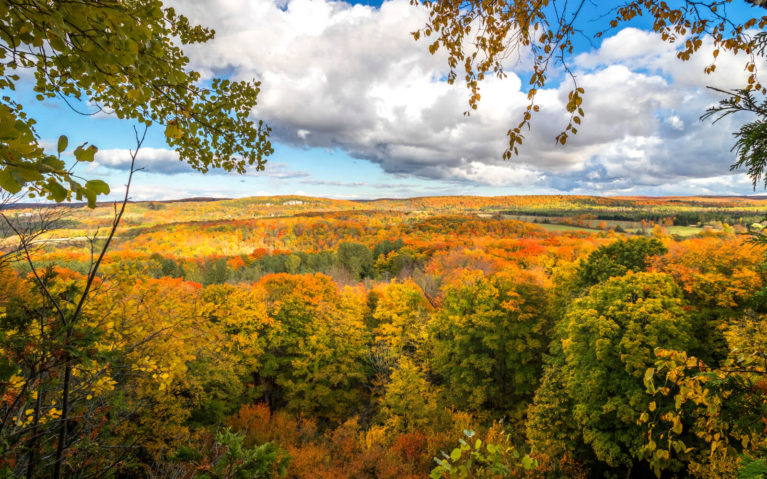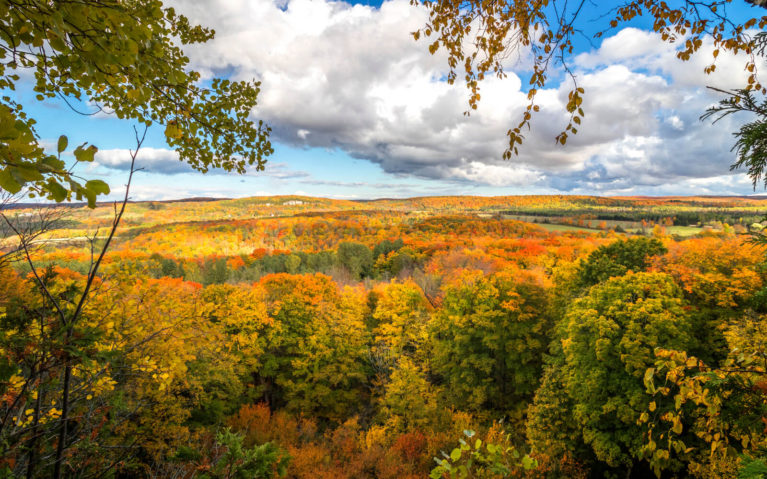 Duncan Escarpment
Of any of the spots on this list, Duncan Escarpment Provincial Park is definitely the hidden gem. You might hear it being referred to as the Duncan Crevices as well, and that's because some incredible caves are waiting for you to explore them! The fluctuating seasonal temperatures of the area compounded with gravity's work caused huge sections of rock to break off from the Niagara Escarpment, creating a series of crevice caves within the Niagara Biosphere Reserve.
However, that's not why we're here – we're hunting for lookouts! From the parking lot along Side Road 9, follow the main trail blazes until you cross a stile (ladder style stairs). Here you'll see a fork in the trail – one way follows the main Bruce Trail while the other follows the Chuck Grant Side Trail. Follow the main trail to the top of Pinnacle Rock (about 2km along the trail) and enjoy the views! If you do take the side trail, don't worry as it meets up with the main trail just past 10th Line.
Duncan Escarpment Provincial Park is a non-operating day-use only park, therefore there are no facilities and no bathrooms located within it. The full loop through the park is approximately 10 km and will take you approximately 4 hours so plan accordingly!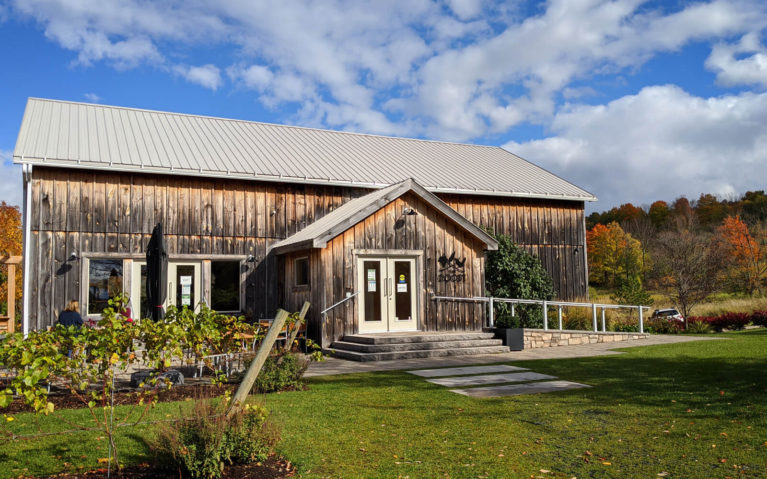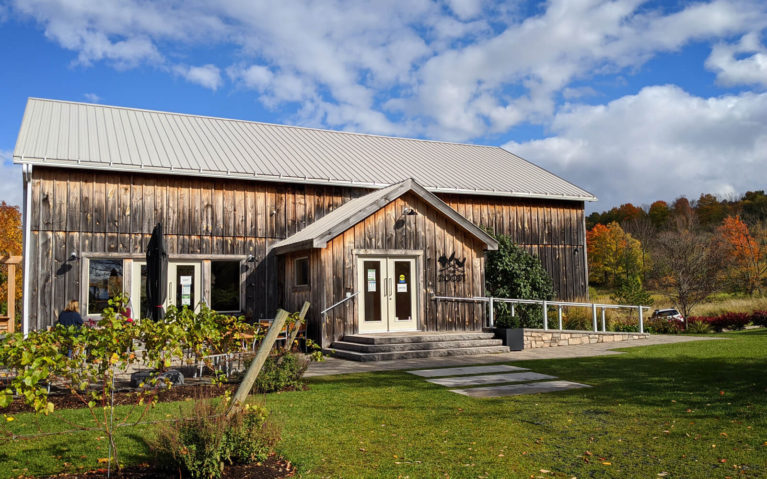 You Might Also Want to Check Out…
If you're not up for a semi-challenging hike but still want to enjoy some gorgeous views of the Beaver Valley, you have to stop by the Roost Wine Company. Focusing on cold-climate wines, settle in for a flight as you're surrounded by picturesque views. You'll need to book your tasting in advance, however it can be done the same day, even an hour before you wish to arrive! Your tasting includes two of the following: a four wine samples of your choice, one full 5 oz glass of wine, or an individual cheese plate. Don't worry vegans, they've got you covered with a vegetable-focused option!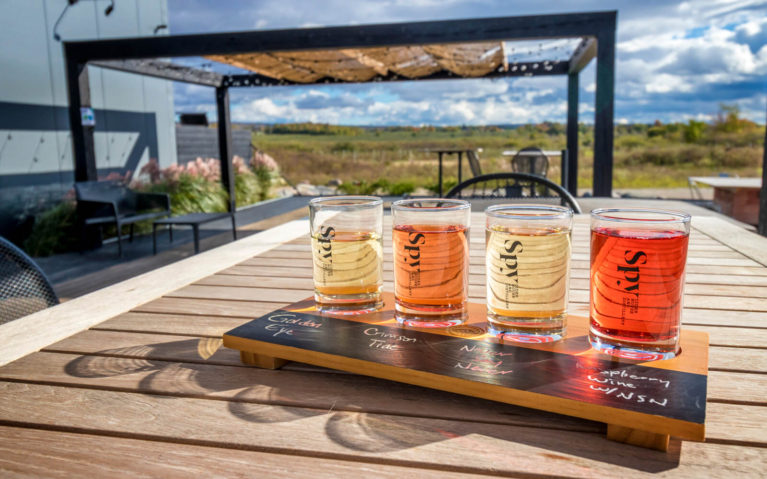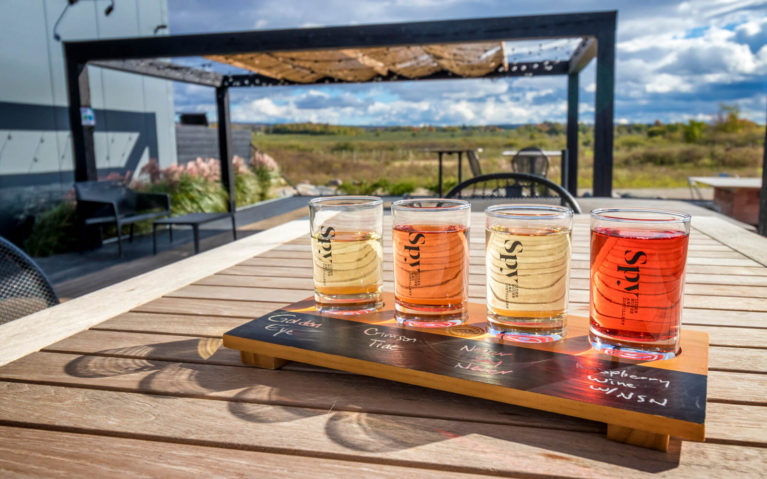 Not a fan of wine? Well, you're in luck. Just 10 minutes up the road you'll find the Spy Cider House and Distillery. Powered by geothermal energy, they take apples they grow themselves (and sometimes with a little help from other local farmers) and create masterful ciders and spirits. A flight on their patio will quench any thirst you may have worked up from all the exploring you've done. If you have the chance, make sure to try their Raspberry Never Say Never concoction. Your taste buds will thank you!
Both Roost Wine Company and Spy Cider House make great stops after any of the lookouts in this area including the Epping John Muir Lookout and the following Metcalfe Rock. Considering they're both within 20 minutes from Collingwood and Thornbury, there's really no excuse not to plan a visit!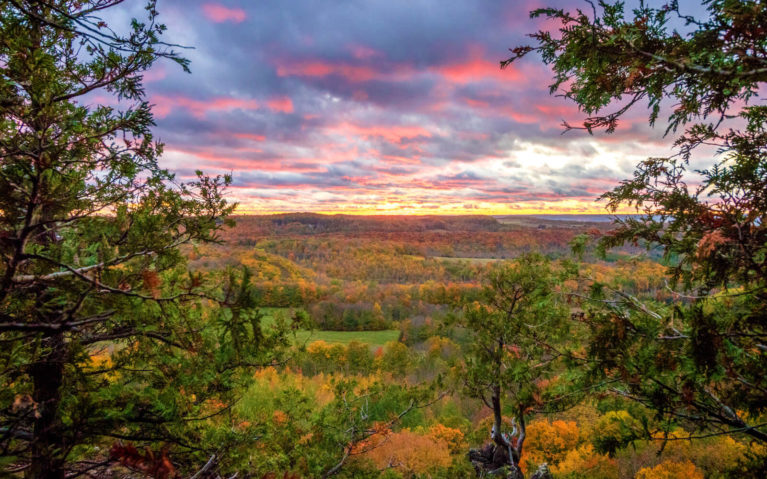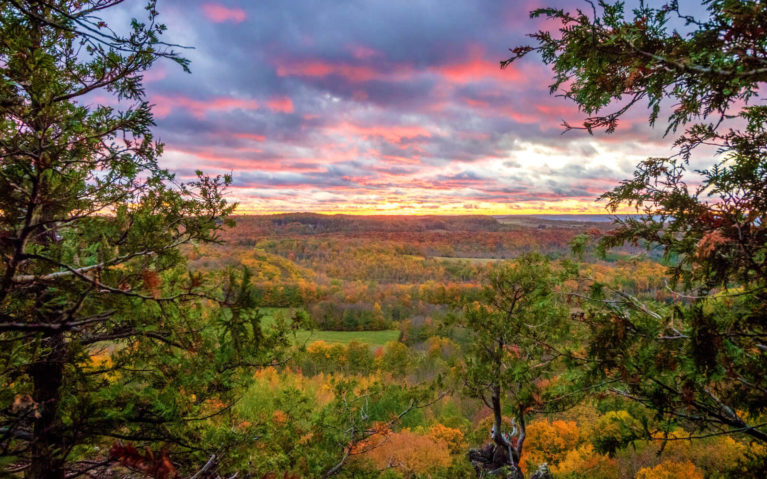 Metcalfe Rock
While you can visit Metcalfe Rock as part of the Duncan Crevices trail loop, Metcalfe Rock is so amazing that it deserves its own section. Metcalfe Rock is located at the highest point in the Kolapore Uplands and is a popular spot not just for hiking but also rocking climbing and caving! I had the pleasure of spelunking Metcalfe Rock a few winters ago and it was incredible! This time though, we're staying above ground to enjoy the amazing views from the Niagara Escarpment.
You'll find the parking lot along 10th Line which is where you'll start your journey. This area is a popular spot on weekends so if you're looking to visit Saturdays and Sundays in peak season, I recommend arriving early! You'll see the trailhead at the southern corner of the parking lot. Head that way and you'll see some interpretive signs about the area including information about the local plant life, what animals call the area home and how the town of Rockhaven used to stand here!
The hike to the top of Metcalfe Rock isn't that long at just about a kilometre in length, however it is quite steep! Be sure to wear some sturdy shoes or boots as you follow the white Bruce trail blazes. If you want to enjoy some of the local crevices, follow the blue blazes along the Metcalfe Crevice Side Trail. Be warned though, you'll find yourself doing a little scrambling to scale the rock!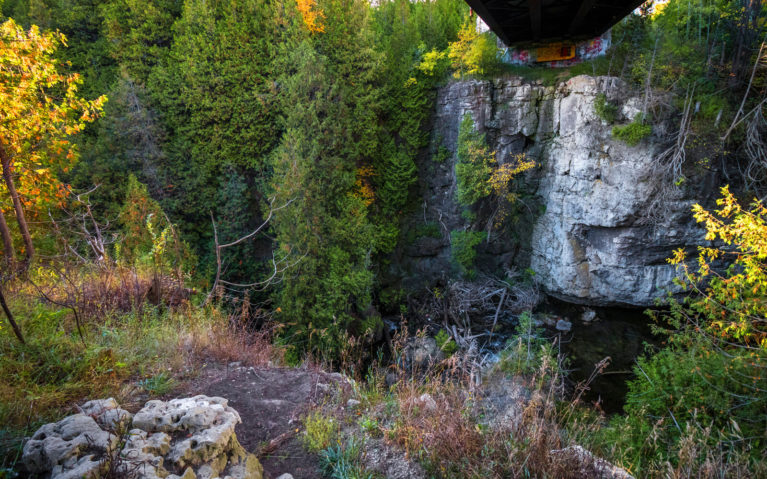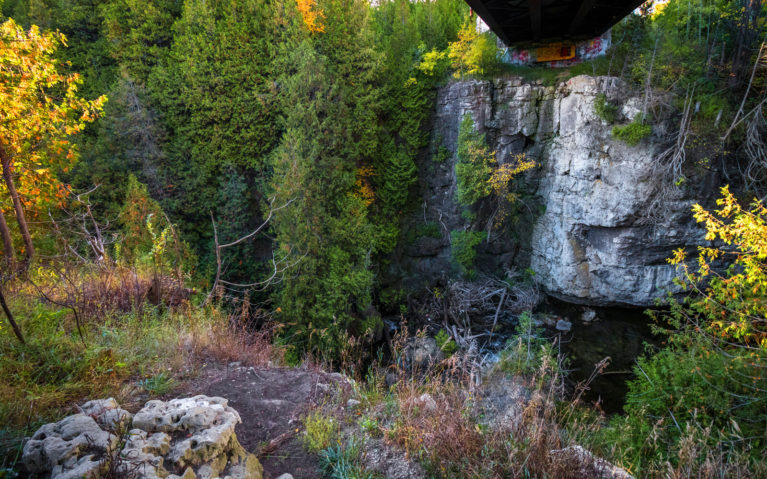 Feversham Gorge
This one might be a little tricky to find but that means you have a greater chance of having it all to yourself! The Feversham Gorge Madeline Graydon Memorial Conservation Area offers a 1.8km loop through 36.5 acres of coniferous and deciduous forest. In the heart of the area you'll find the 24.4 metre (80 foot) tall dolomitic limestone walls that the Beaver River passes between. Some of the cedar trees that grow along the gorge are thought to be over 700 years old!
There is no official trail map and some spots along the loop can be a little overgrown, so you'll have to keep an eye out for the red arrow markers. It seems as though there are offshoots which could possibly lead to the riverbed, but I'm not sure. Either way, you'll enjoy getting lost in your own thoughts as you enjoy the tall trees along the trail!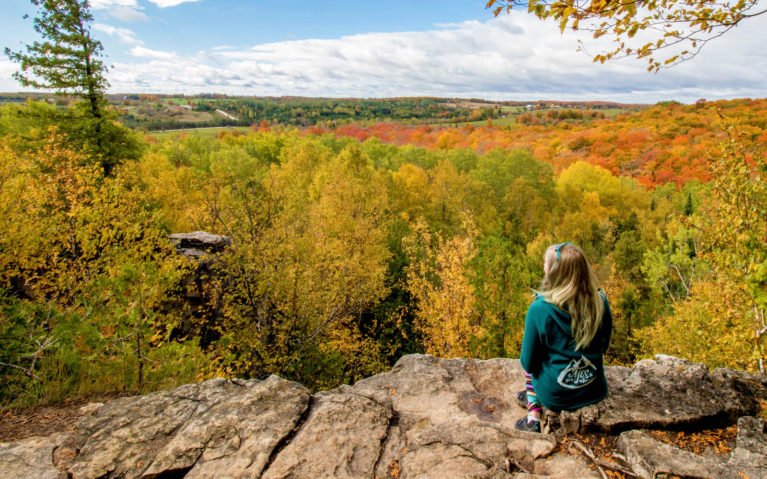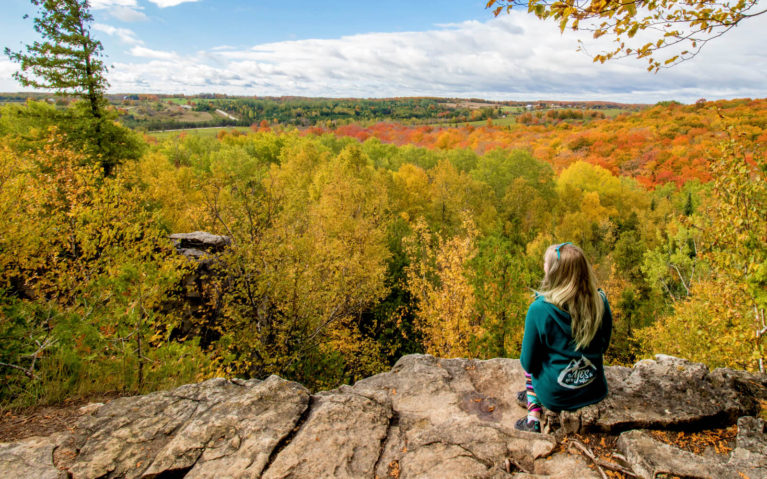 Nottawasaga Bluffs
What I'd have to say is one of my favourite hikes in the South Georgian Bay area, the views from the Nottawasaga Bluffs Conservation Area does not disappoint! Though I should warn you, this trail can be a little tricksy. The Bruce Trail runs through this area along with a number of other side trails, so it can get confusing which route to take. In order to get to this lookout, you'll want to follow the white blazes until you come upon a rest area. Just to the left of it, you'll see a gap in the trees and voila – your magical view awaits! Oh, and don't forget to check out the Keyhole Side Trail. You don't want to miss it!
The Nottawasaga Bluffs are often very popular on weekends so I'd highly recommend getting there early or saving this for a weekday trip. Also, I should mention that this is NOT the Nottawasaga Lookout Conservation Area. Don't confuse the two!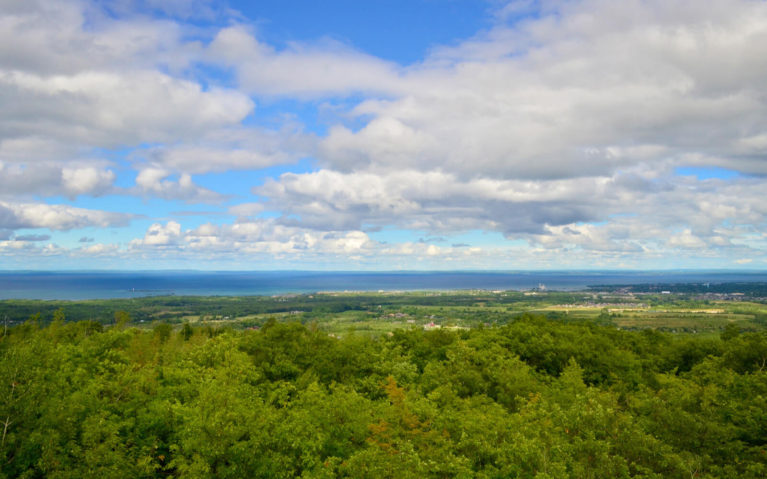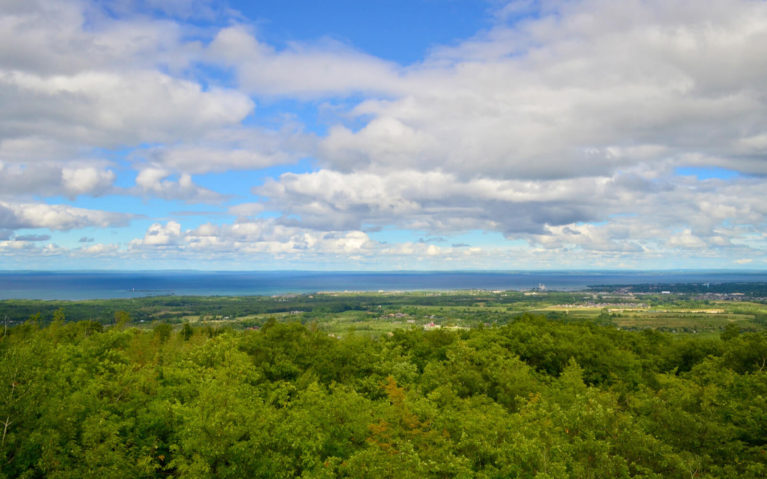 Scenic Caves' Million Dollar View
No lookout round-up of the South Georgian Bay area would be complete without mentioning the Suspension Bridge at Scenic Caves Nature Adventures! Why have I called it the Million Dollar View? That's because the bridge cost one million dollars to build! As the longest suspension bridge in Southern Ontario (beat out only by Eagle Canyon Adventures in Northern Ontario), you'll love the 360 degree views across the Blue Mountains and the Georgian Bay shoreline.
Scenic Caves really is a fantastic spot in South Georgian Bay and based on my previous experience, I highly recommend spending a few hours exploring it. It's a great way to spend an afternoon!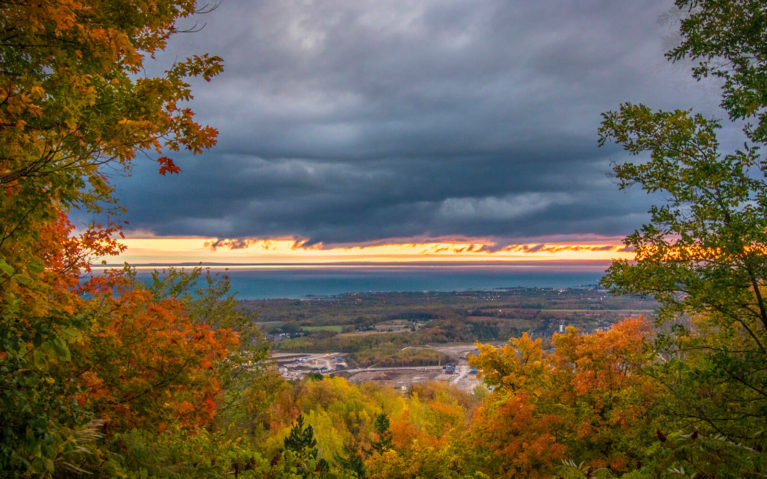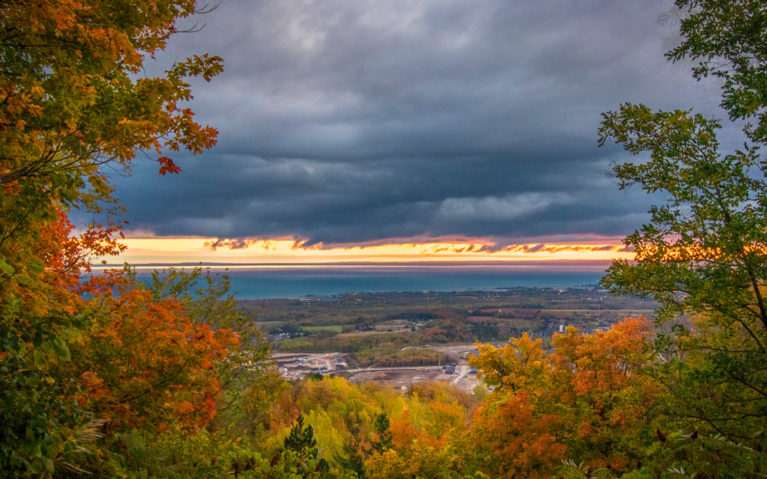 Blue Mountain Lookout
Just up the road from Scenic Caves along Grey County Road 119 is where you'll find this spectacular Blue Mountain lookout. You'll be treated to amazing views just steps from the parking lot! This is now part of the interconnected maze of trails throughout the Blue Mountain property. Following the Bruce Trail will take you to a number of other trails with great views including the Sticks & Stones, Village Way and Happy Valley trails to name a few. As of 2020 though, you need a hiking permit in order to do these trails through Blue Mountain.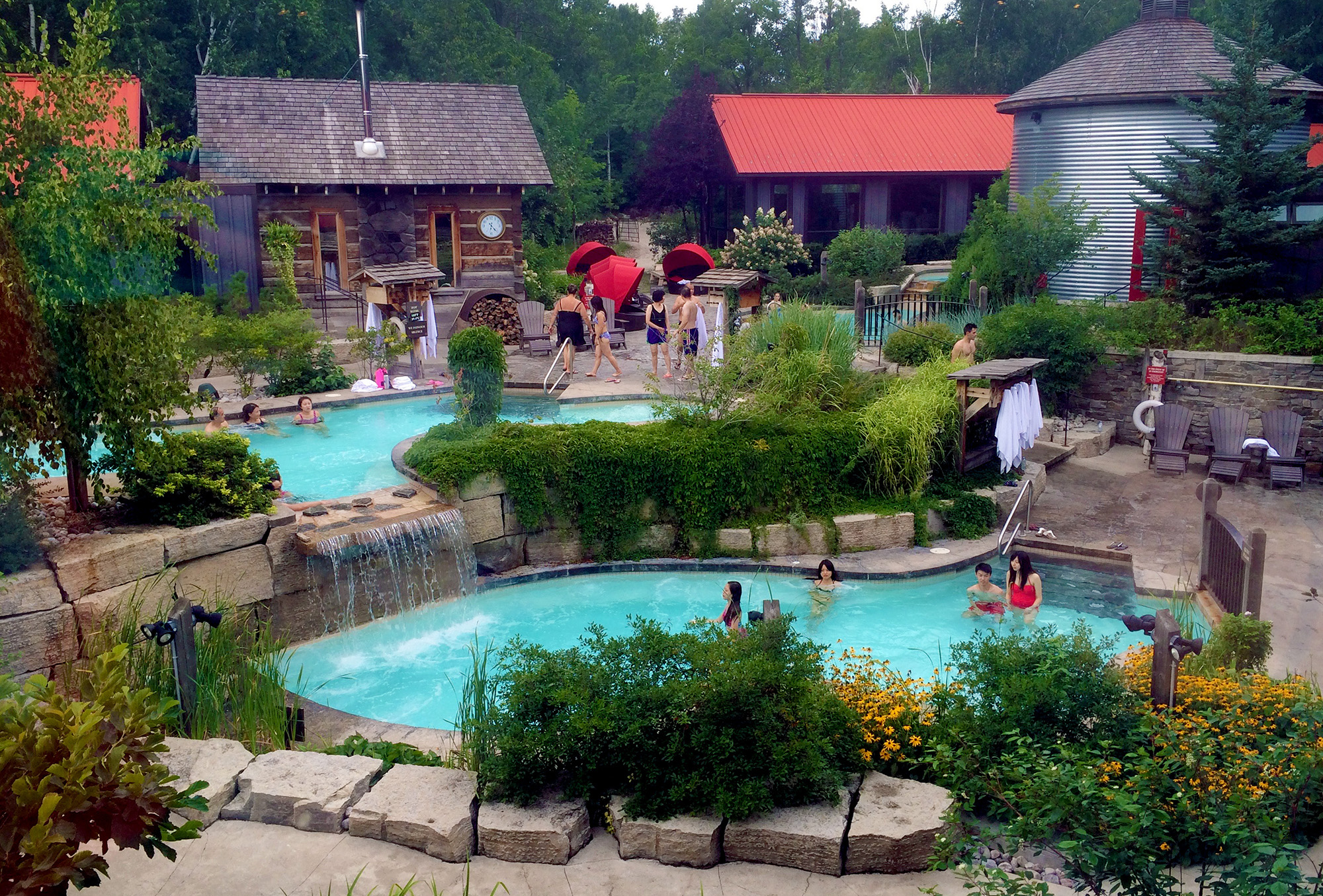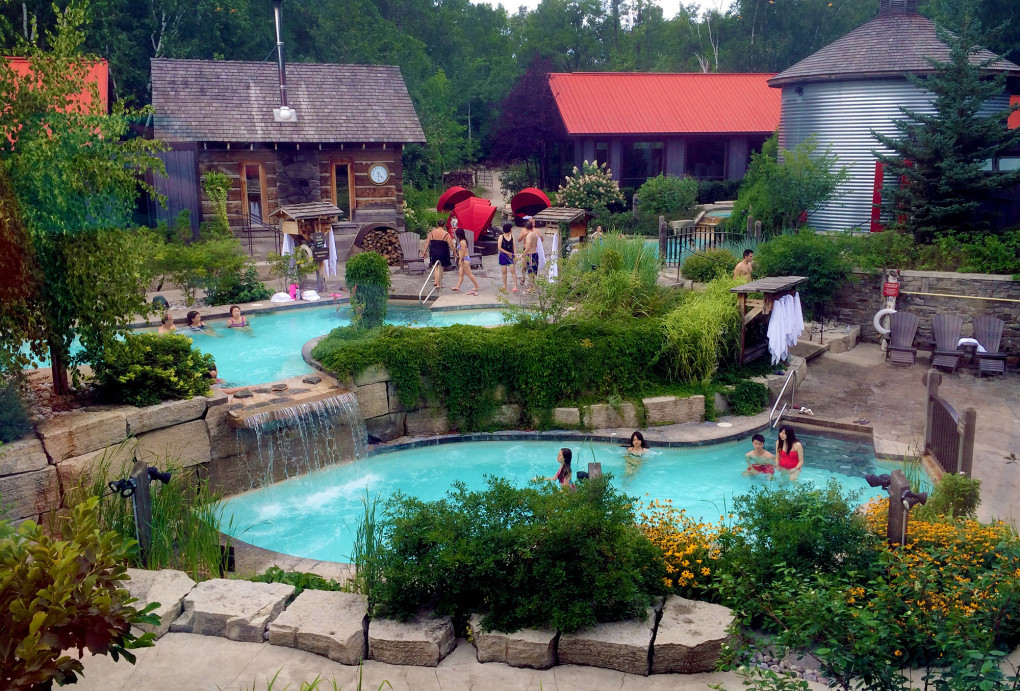 You Might Also Want to Check Out…
Both Scenic Caves and the Blue Mountain Lookout are so close to not just Blue Mountain Village but also the town of Collingwood. With a plethora of options at your disposal, you can easily spend a weekend in this area without even touching the other spots in South Georgian Bay!
If you're looking to treat any aching muscles you may have, a little hot, cold, relax, repeat at the Scandinave Spa is just what the doctor ordered. As you can imagine, this beautiful slice of paradise can be busy so you may want to plan ahead in case there's a waitlist. You can always explore the shops of Blue Mountain or grab a pint at Northwinds Brewery while you wait.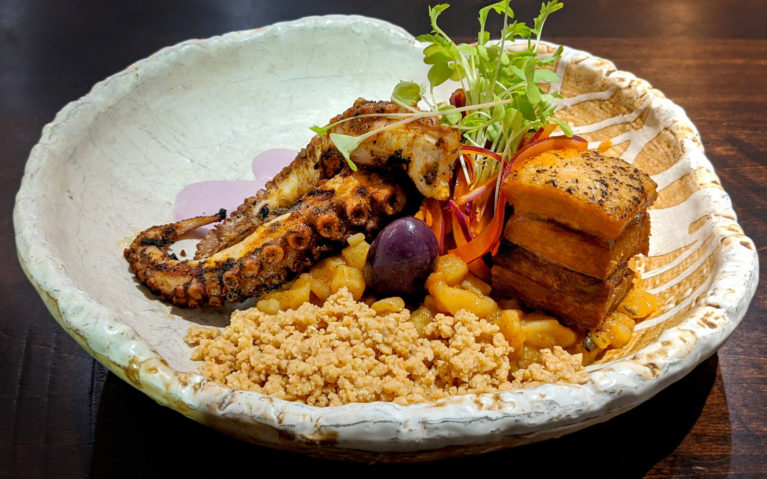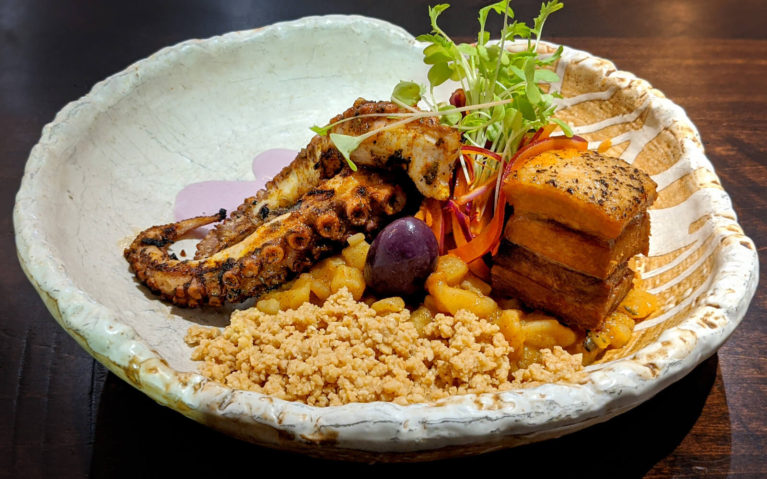 You'll be hungry at some point and there are a number of amazing restaurants to indulge at. My first recommendation is the Latin American eats you'll find at Al Carbon. This sleek, modern restaurant is a little on the fancier side with menu items like tiradito but don't be intimidated. From shareable items to hearty meals, each dish is elegantly presented and bursting with flavour. I started with the Concha a la Parmesana, a wood-fired scallop presented in the shell, smothered in butter, bechamel and parmigiano pank crumbs all baked to perfection. I seriously could have eaten twelve of these tasty little morsels. I followed it with the Pulpo a la Parrilla y Tocino: grilled Moroccan octopus in anticuchero sauce and served with a sundried potato stew, crispy pork belly, botija olive emulsion and salsa criolla.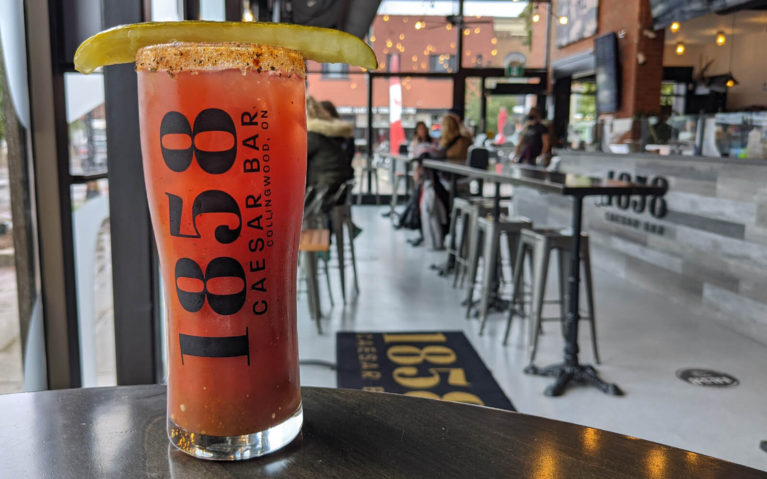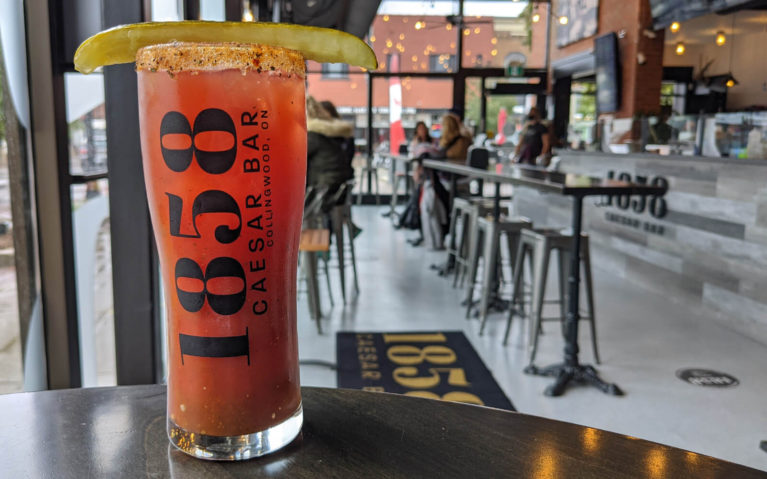 This next option is all about the comfort food and pairing it with Canada's iconic drink at the 1858 Caesar Bar. With 45 different Caesar concoctions to choose from or the option to build it to taste, this is one spot where you can truly make this drink your own. Some Caesars like their Surf and Turf are a meal all on their own! However if you're looking to eat something solid along with your liquid dinner, I highly recommend their lobster grilled cheese. I can say first hand that it pairs well with their Feelin' Dill Caesar which if you love pickles like I do, then you have to try it.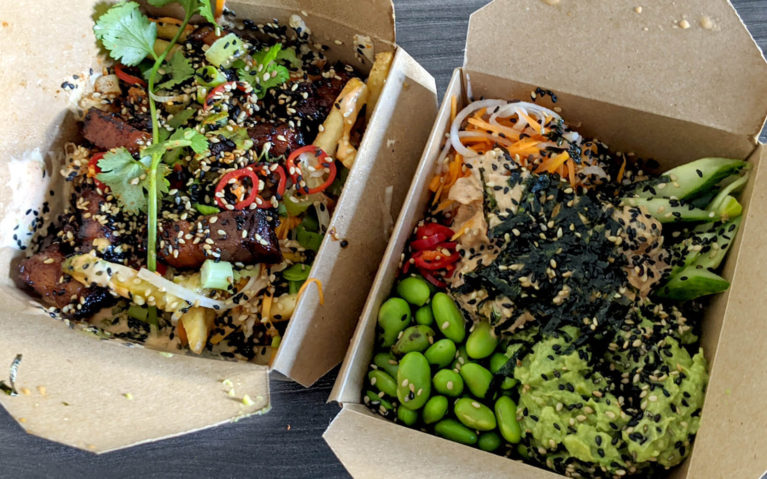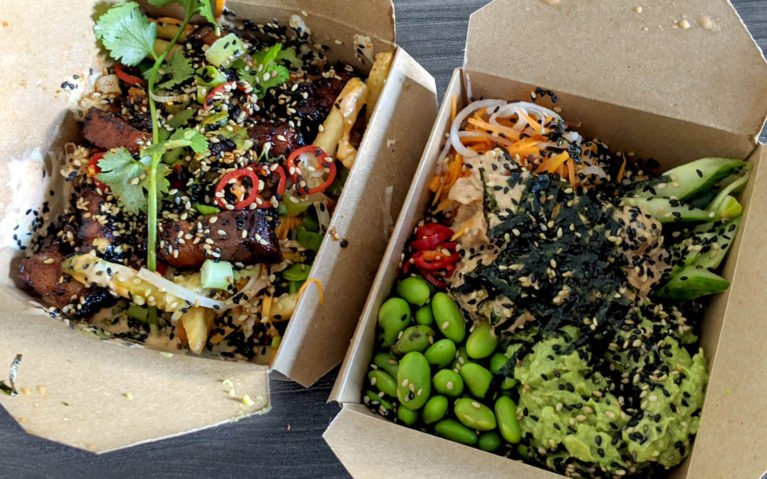 Lastly, I have to recommend Low Down. What was once home to a local newspaper has become a trendy local restaurant since September 2019. While this cocktail and snack bar is only offering take out right now, trust me when I say you'll be delighted with your eats. You might be thinking that eats from a "snack bar" won't be enough to fill your belly but this is certainly not the case. I tried their bahn mi fries along with their tuna poke bowl and my eyes were definitely bigger than my belly. Just one of these would have done the trick but it was so good I had to eat them both! Needless to say, I didn't move from the couch after that. I should also mention that many of their items can be modified to be gluten-free and/or vegan.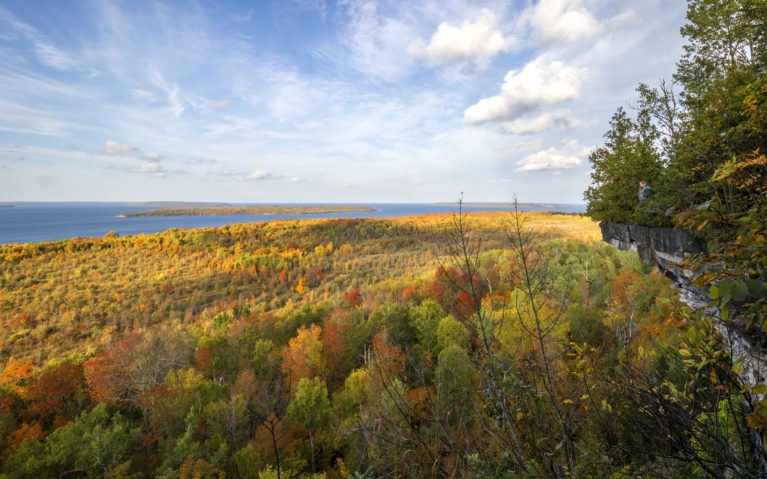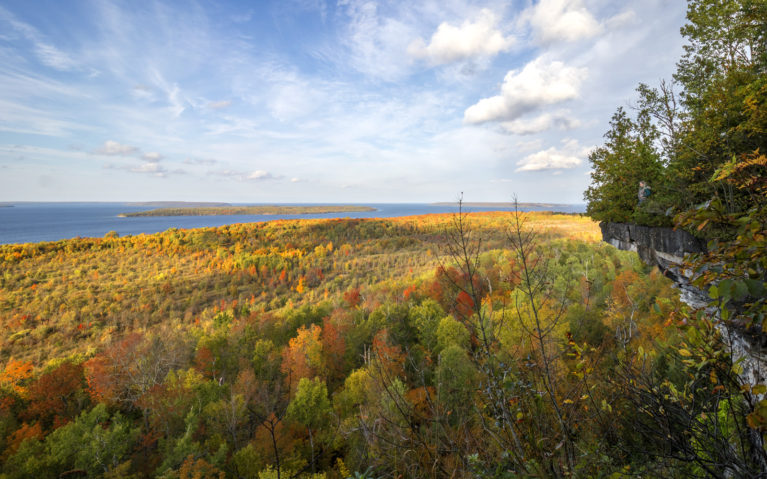 More South Georgian Bay Views to See
Are you still looking for more awesome views in the South Georgian Bay area? Luckily there are still plenty more to see! Here are a few more ideas for some South Georgian Bay views along with a few other suggestions close by.
Owen Sound's Centennial Tower – Unfortunately the tower itself is closed but the area itself is quite pretty to explore. Plus Owen Sound is a great spot to grab a bite to eat and is home to three Grey County waterfalls which I highly recommend checking out!
Bayview Escarpment Provincial Park – I haven't had a chance to visit myself yet but from the photos I've seen online, this provincial park is on the list for my next visit to the area! It is home to gorgeous crevices, a pine plantation and plenty of fern species. It's a non-operating day-use only park therefore it has no facilities so plan accordingly!
Beaver Valley Road 13 – One of my favourite roads to drive in the South Georgian Bay area is along Grey Road 13. Follow its twists and turns through the heart of the Beaver Valley. The views you'll find are absolutely gorgeous, especially in the fall!
Skinner's Bluff – While it isn't technically in the South Georgian Bay area, Skinner's Bluff isn't too far away as it's just east of Wiarton. If you've hit up all of these lookouts and you're looking for another spot to check out, I can't recommend it enough. Chances are you'll have the place practically to yourself and the views are just spectacular!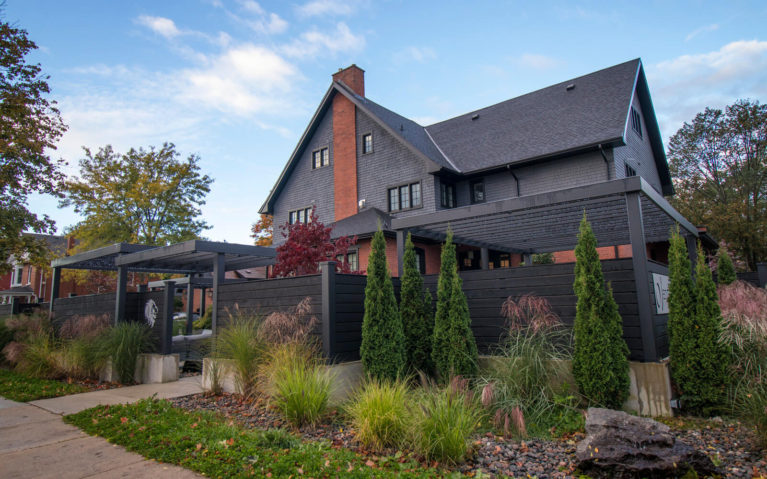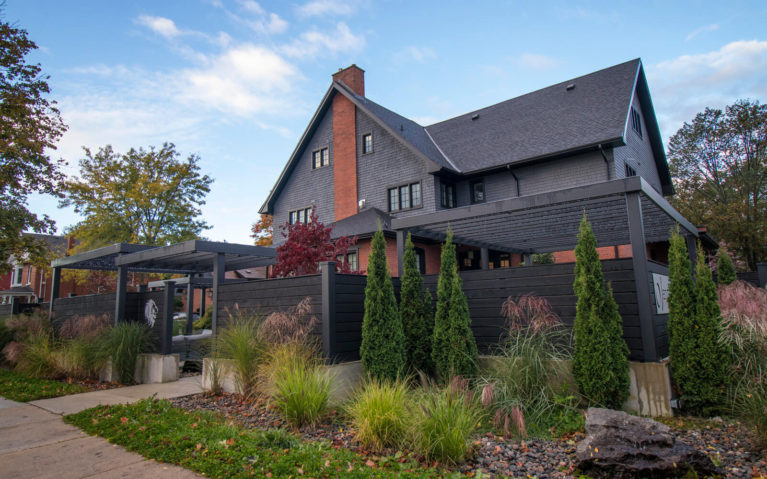 Where to Stay in South Georgian Bay
Can't decide which lookouts to check out so you want to stay a few days and hit them all? I completely understand! Luckily there are a number of amazing accommodation options in the South Georgian Bay area but one hotel really stands out amongst the rest.
Enter, the VanderMarck Boutique Hotel. What was once the old Behild House has since grown into Collingwood's newest accommodation sensation. The brainchild of owners Yvonne and Randy Weinstein, they have been visiting the South Georgian Bay area with their family for over a decade. They quickly fell in love and decided to make it their second home. When 64 Third Street hit the real estate market, it was an opportunity they couldn't refuse.
Constructed in 1912, the house was built for the town doctor and one-time mayor, Joseph Arthur by the impressive Toronto architect Eden Smith. While they weren't sure what to do with the space when they first purchased the building, it's clear they made the perfect decision by opening the VanderMarck in May of 2019. You'll fall in love with the modern decor and elegant styling from the moment you step foot on the property.
While it was run as a remote operation since day one with check-in and all communications occurring online, that has proved to be an asset in these uncertain times. You'll receive a code which will allow you to enter the main door along with your suite. Hand sanitizer is available as soon as you walk in and with just nine suites in the entire property, the chances of running into someone are slim to none. If you're concerned about safety – don't worry. The property is monitored by security 24/7 so you can rest easy!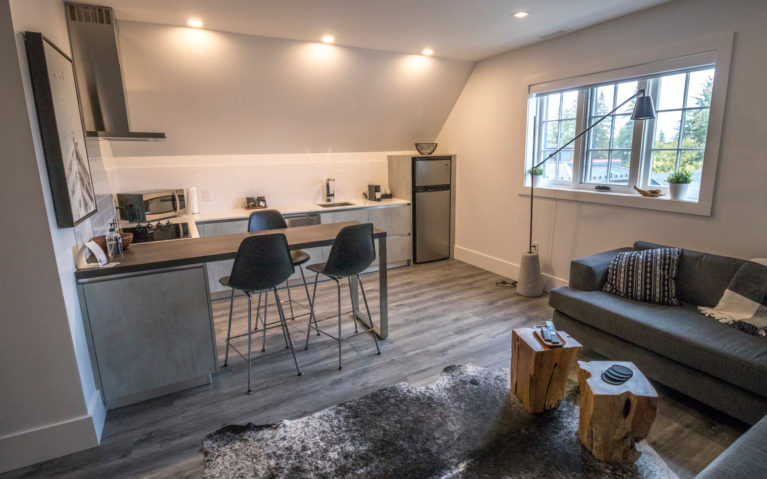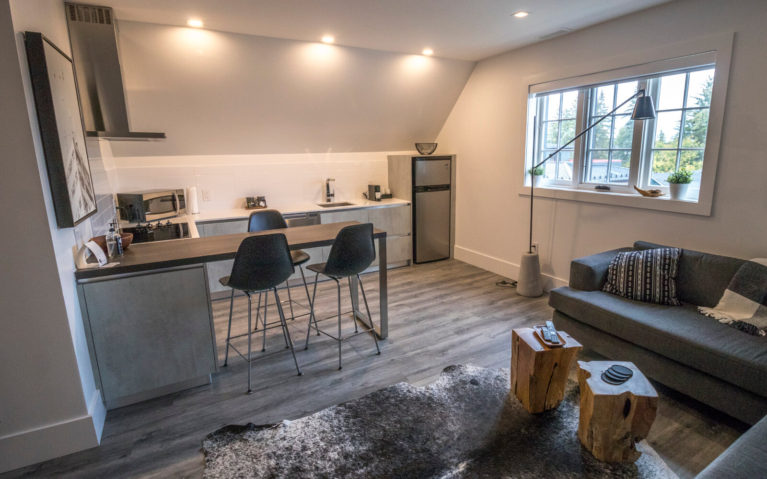 I had the pleasure of staying in 307, one of their one-bedroom apartments on the third floor. From the minute I entered the suite, I knew I was going to be in for a treat. Copious amounts of natural light compounded with the bright, minimalistic decor are a treat for the eyes. Beautiful barn doors adorn the hallway, sheltering from view the bathroom as well as in-suite laundry.
Pull up a chair in the open-concept kitchen meets living room as you settle in for your stay. Sleek appliances have an air of big city chic, perfectly paired with designer furniture to outfit the space. Make yourself a cup of tea from the local Blue Mountain Tea Company or brew yourself a perfect cup from the Nespresso machine. You'll want to take some time to settle in on the sofa or possibly even head right into a cocoon of cozy bed sheets. Be warned if you choose the latter though, you will struggle to get out of bed because it's so comfortable!
I honestly can't recommend the VanderMarck Boutique Hotel enough. As a solo female traveller in these crazy times, not once did I feel unsafe. Combine that with a prime location just a few blocks from restaurants, shops, breweries and more in the heart of Collingwood, you have the recipe for the perfect South Georgian Bay getaway. Book one of their studio suites, the one-bedroom I stayed in or splurge and enjoy their two-bedroom apartment. Can't quite decide? You can always peruse their website a little until you do. Whatever you choose, I guarantee you'll be wishing your stay was longer!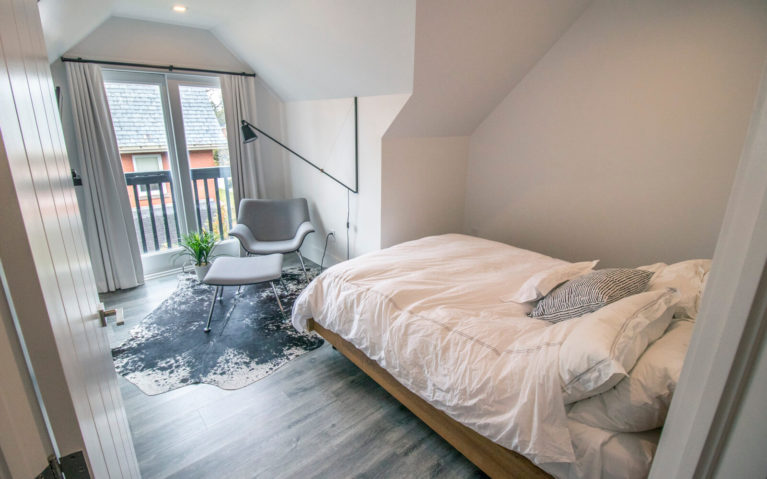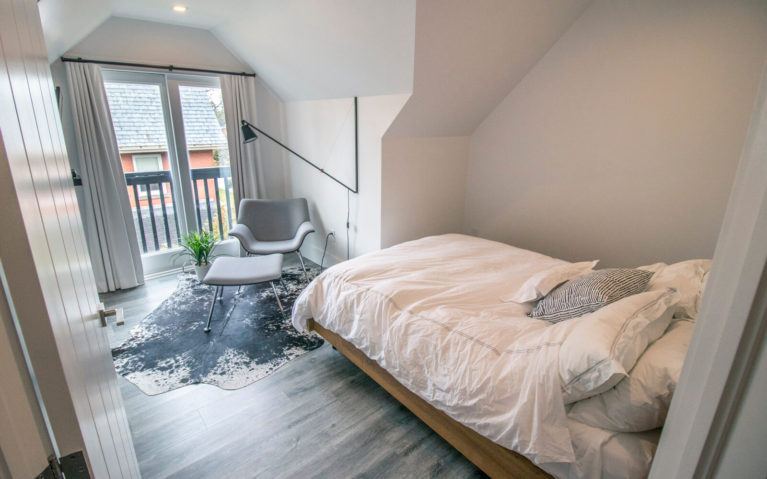 Ready To Explore These South Georgian Bay Views?
From the outskirts of Meaford to Collingwood, there are so many beautiful places to see and explore in the South Georgian Bay area. Most head for the larger spots like Collingwood and Blue Mountain, don't forget to spend some time in the smaller areas like Thornbury and Clarksburg. I guarantee that you'll find something new to explore with every visit!
While there's no bad time to explore the South Georgian Bay area, these lookouts are truly magical when adorned with the yellows and reds of autumn. I'm sure you can agree after seeing the above photos that these views are next level with all the fall colours! Luckily though, the South Georgian Bay area is a destination for all seasons so no matter what time of the year you visit, it's guaranteed to be a memorable one.
Disclaimer
A huge thank you to South Georgian Bay Tourism for hosting me and sponsoring this post. As always, all opinions are my own and I stand by them! Read more in IBB's disclaimer and privacy policy.
Don't Forget These South Georgian Bay Views & Pin It For Later!