7 Best Niagara Falls Hiking Trails to Check Out Across the City

Are you looking to see more of the natural beauty Niagara Falls has to offer? This natural wonder is a bucket list item for many, but there's so much more to see and do in the city. If you're a fan of the outdoors, you'll be surprised just how many natural spots there are as well as across the Niagara Region! Ditch the crowds as this Niagara local shows you the best Niagara Falls hiking trails.
Easy Niagara Falls Hiking Trails
You may not know this but there are hiking trails in Niagara Falls for all skill levels! If anything, these are more like Niagara Falls walking trails than truly "hiking" trails, but they will allow you to enjoy some tranquil time outdoors. I would say these are the easier trails in Niagara Falls to explore!
Dufferin Islands
Tucked just off the Niagara Parkway, you'll find the Dufferin Islands approximately 2 kilometres south of the ever beautiful Horseshoe Falls. Originally named the Clark Islands, Niagara Parks purchased the land in 1887 where it was renamed in honour of Lord Dufferin, one of Canada's Governor Generals.
This series of man-made islands is a popular spot for some quiet nature time. Within these 10 acres, you'll find a series of trails that take you throughout the property. Meander across adorable bridges and along picturesque boardwalks as you listen to the birds singing and the local geese honking away. The Dufferin Islands are also a popular spot for families to picnic and enjoy some fresh air.
If you've visited Niagara Falls in the winter, you might have even explored the Dufferin Islands without realizing it! The Dufferin Islands is one of the popular areas for the Winter Festival of Lights. I personally look forward to driving through and seeing the incredible displays every year with my family.
While access to the Dufferin Islands is free, there is a fee of $2.50 per hour to park. If you plan on visiting multiple times or for an extended period of time, you might want to consider a yearly parking pass for $15.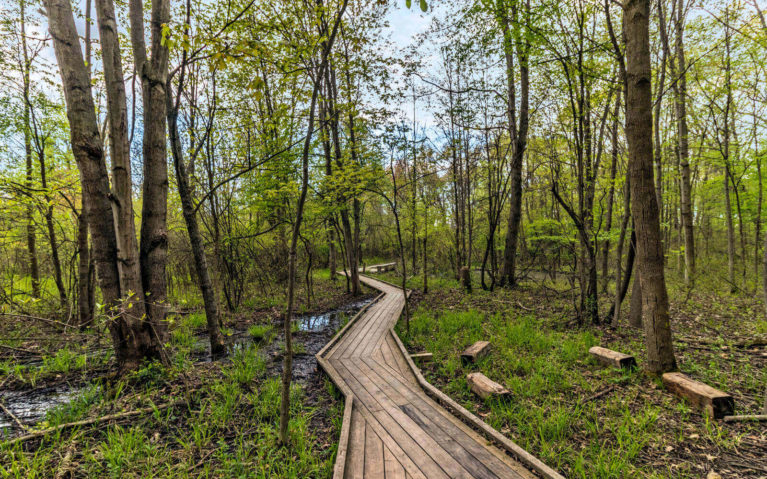 Heartland Forest
For almost twenty years now, the Heartland Forest has created a space where nature can be enjoyed by everyone. It features a number of fully accessible trails that can be used by those with mobility devices or young families with strollers. You won't find any roots or rocks, meaning everyone can spend some quality time in nature!
The Heartland Forest is sure to be a favourite, no matter your age. As you walk through the park, you can't help but smile at the coloured birdhouses hanging in the trees or the adorable sculptures lining the trails. Enjoy the views across the turtle pond and keep an eye out for the plethora of birds that call the forest home.
One thing I absolutely adore about this park is the interpretive signage talking about the importance of nature. The Heartland Forest's mandate is to instil a sense of passion for the well-being of nature. It warms my heart to see kids learning about the wonders of our natural world at such an early age. If you're heading to Niagara Falls with small children in tow, the Heartland Forest is a must-visit as these are the best hiking trails in Niagara Falls Canada for families.
RELATED: For more details, check out my guide to the Heartland Forest and plan your visit!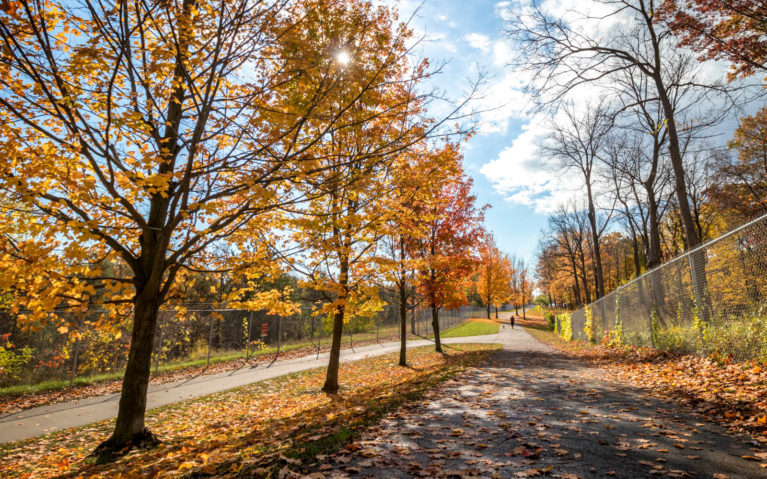 Millennium Trail
Located in the heart of Niagara Falls, the Millennium Trail is a great trail for a leisurely stroll in the city. This 7.3 kilometre long trail was created in celebration of Canada's 150th year since Confederation.
The Millennium Trail is divided into five different sections – the original Canada 150th pathway, the John McCall MacBain Pathway, Niagara Falls Lions Legacy Pathway, Paisley Janvary-Pool Pathway and the most recent addition, the Rotary Storywalk Pathway. Part of the route follows the city's hydro canal, offering some pretty unique photo opportunities! The Rotary Storywalk section features 14 signs where those utilizing the trail can read portions of popular children's books written by some of Canada's famous authors.
Most recently, the City of Niagara Falls has added QR codes that you can scan to download a "Trail Mix". These are songs, spoken word, comedy and more that you can listen to as you walk along the various sections of the Millennium Trail. There are 14 Trail Mixes in total and you can find the full list here.
This trail is often used as an active transportation route for folks travelling around the city, meaning it's very popular for cyclists. The fact that it's fully paved also makes it one of the more popular Niagara Falls walking trails.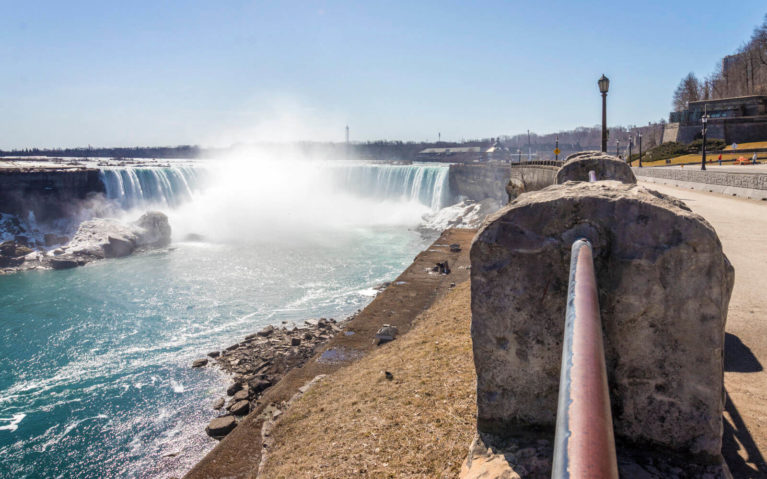 Niagara Recreation Trail
Spanning 56 kilometres, the Niagara Recreation Trail runs from Fort George in Niagara-on-the-Lake all the way to Fort Erie. Another green space overseen by Niagara Parks, this paved path was constructed in 1986 and follows the beauty of the Niagara River.
The trail is divided into four sections: Niagara-on-the-Lake to Queenston, Queenston to the Whirlpool Aero Car, Chippewa to Black Creek and Black Creek to Fort Erie. While the trail breaks in more urban areas, it can still be traversed in one go. However, you'll want to tackle it by bike if you're hoping to do all 56 kilometres in one day!
As for the section of hiking near Niagara Falls, it roughly begins just south of Queenston Heights Park. Following the Niagara Parkway, it passes the Centennial Lilac Garden, Floral Clock and other great Niagara Parks attractions. As you reach the intersection at Victoria Avenue, you'll then need to either walk your bike on the sidewalk or utilize the bike lane along the road. This is a high traffic area so please only ride in the bike lane if you're an experienced cyclist! Just past the Dufferin Islands, the separated trail continues again as it follows the river until the mouth of Black Creek.
While this stretch isn't always the most leisurely as it passes through high-traffic areas, it's the perfect way to spend a day exploring Niagara Falls. There are plenty of spots to stop, places to grab a bite to eat and sights to see along the way.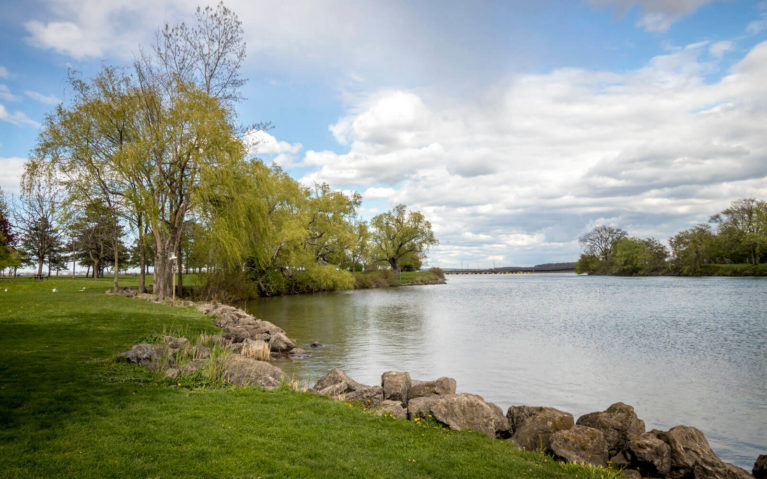 Kingsbridge Park
In the southern end of Niagara Falls, you'll find the historic community of Chippewa. It was first settled in 1783 by United Empire Loyalists from New York and officially became the village of Chippewa in 1850. Jump ahead to 120 years later and the town was amalgamated into Niagara Falls where you'll find Kingsbridge Park!
Kingsbridge Park is located on the site of Fort Chippewa where the Niagara and Welland Rivers meet. The fort was built in 1791 to help defend Fort Welland and what is now Portage Road. This was an important route as it was used for the transportation of goods before the Welland Canal was built. History buffs might recognize the area as the location of the Water of 1812's Battle of Chippewa.
Fast forward to today and Kingsbridge Park is a gorgeous spot to enjoy some quality nature time. The Niagara Recreation Trail follows the edge of the park where you'll be treated to beautiful views of both rivers. The area also has a children's playground as well as picnic tables if you're looking for a spot to rest. There's certainly no shortage of parking though it is $2.50 per hour.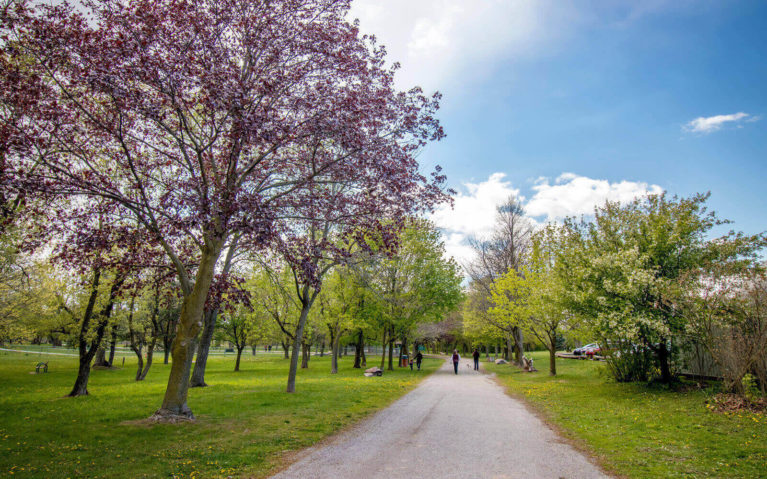 Harder Niagara Falls Hiking Trails to Explore
These hikes are still much calmer than those you may find in British Columbia (let's face it, most Ontario trails are haha!) but these hiking trails in Niagara Falls do have some elevation. If you're looking for something more difficult then these hikes are for you!
Firemen's Park
At the corner of Dorchester and Mountain Roads, you'll find Firemen's Park. This 135 acre natural park is maintained thanks to the dedication of the Stamford Centre Volunteer Firemen's Association. Located far from the fuss of tourism hotspots like Clifton Hill, it's a great local spot in Niagara Falls to stretch your legs.
The park has two distinct upper and lower areas. Within them, you'll find an off-leash dog park, a disc golf course, a pond that's perfect for fishing, a children's playground and more. They've recently added an outdoor amphitheatre to the repertoire! Firemen's Park offers over 4 kilometres of trails with the best route being around the perimeter of the park. Chances are you'll also spot a few iconic blazes… more on that in a minute.
Firemen's Park is not just a summer destination but a winter one as well! While there has been some controversy around tobogganing, it's not uncommon to see folks snowshoeing or even cross-country skiing throughout the park.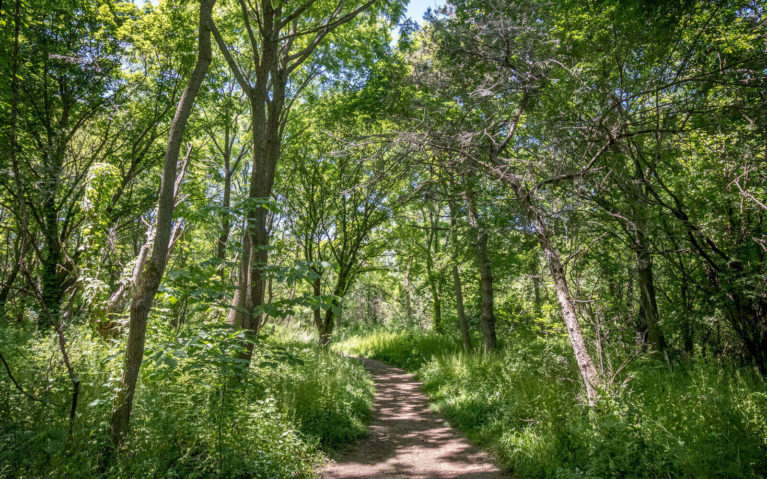 Bruce Trail: Niagara Section
Chances are you're not surprised to see ol' Brucey in yet another hiking guide. I can't help it – the Bruce Trail is simply amazing! In case you haven't heard of the Bruce Trail before, this epic trail follows the beautiful Niagara Escarpment from Queenston all the way to Tobermory. At almost 900 kilometres in length, it's the longest trail in Ontario! You can read more about the Bruce Trail in this post.
While there's only a small section of the Bruce Trail actually in Niagara Falls (2.25 kilometres to be exact), this area is actually a perfect spot to start a trip along the Bruce Trail. It runs through the aforementioned Firemen's Park where there is ample free parking and it isn't too far from other amenities such as restaurants. A trek along the Bruce Trail followed by some local eats and treats sounds like a fabulous day to me!
Unlike most of the other trails on this list, it's hard to make a loop with the Bruce Trail. You will need to double back along this linear trail unless you have a friend who can leave their car at one end and yours at the other. The Bruce Trail officially begins in Queenston Heights Park where there is ample parking (albeit paid). If you decide to start here as opposed to Firemen's Park, be sure to check out the Southern Cairn before starting on your hike!
Niagara Glen: Best Niagara Falls Hiking Trails
I mean, if I dubbed it the best trails in Niagara entirely, then naturally the Niagara Glen Nature Reserve is home to the best hiking in Niagara Falls!
The Niagara Glen is situated just off the Niagara Parkway. Overseen by the wonderful people at Niagara Parks, this nature reserve offers over 4 kilometres of hiking trails. With eight trails in total, it's quite possible to explore each of these Niagara Escarpment hiking trails in an afternoon. It just depends on how fast you walk!
Personally, I think the best Niagara Glen trail route is to follow along the outside. Head to the left as you get down the stairs and follow the Cliffside Trail to the Terrace Trail. This will lead you to the River Trail which runs parallel to the beautiful Niagara River. Enjoy the GORGE-ous sights (get it? Because of the Niagara Gorge? I know, I'm terrible) as you head upstream. At the end of the River Trail, you'll come to my favourite spot – the Cripps Eddy. You can then take the Eddy Trail back to the Cliffside to create a fantastic little loop around the Niagara Glen!
For the full details about hiking in the Niagara Glen Nature Reserve such as parking and other logistics, be sure to check out my full guide to the area.
Looking for More Things to Do in Niagara Falls?
Don't Miss These Insider Tips for Your Niagara Falls Visit
15+ Absolutely FREE Things to Do in Niagara Falls
5 Amazing Ways to Experience the Niagara Gorge
Indoor Things to Do in Niagara Falls on a Rainy Day
Enjoy the Flying Colours of the Niagara Parks Butterfly Conservatory
Enjoy a Natural Escape in Niagara Falls at the Heartland Forest
More Niagara Falls Hiking Trails
As you may know, there's a Niagara Falls Ontario AND a Niagara Falls New York! While this article focuses on Niagara hiking trails in Canada, I have my eye on some trails on the US side as well.
Despite growing up in the Niagara Region and visiting Niagara Falls more times than I can count, I've never actually gone across the border. This is so silly of me considering Niagara Falls State Park is RIGHT there!
I had no idea that Niagara Falls State Park is actually the oldest state park in the United States. It has a number of trails that intertwine, making it a great spot for a stroll while admiring the beauty of the Niagara River. The Great Gorge Scenic Overlook hike and the Goat Island Scenic Walk are at the top of my list right now. Both are fairly easy with flatter terrain making them great for beginner hikers or as a family outing.
Just a few kilometres south, there's Devil's Hole State Park where you can take this Niagara Falls gorge trail all the way down to the whirlpool rapids. While we can admire them from the Canadian side with the White Water Walk, I'd love to see the views from the US side. This one is a little more strenuous as there's more elevation involved so be sure to wear proper footwear and pack plenty of water.
Whenever I eventually do make it stateside, I'm looking forward to seeing what the Canadian side looks like from the USA. A change in perspective is never a bad thing! In case you're wondering where all of these trails are located, here's a map of Niagara Falls to help you plan your trip!
Hikes Near Niagara Falls to Check Out
So if that's not enough options for hiking in Niagara Falls, not to worry. There are so many amazing trails across the Niagara Region for more hiking fun!
Short Hills Provincial Park is the only provincial park in the region. Spanning over 660 acres, it offers 7 hiking trails of various lengths and difficulties. It's a great spot to get out in nature whether you're looking for a quick hike or to spend a full day exploring. Check out my full guide to exploring this incredible park to plan your adventure!
St Catharines has the nickname "The Garden City" so it's only natural it would have some great hikes! There's the Laura Secord Legacy Trail which retraces the route Laura Secord herself took to warn the British during the War of 1812. If you're a fan of waterfalls, you don't want to miss hiking by DeCew Falls. For a quaint little jaunt, there's also the Green Ribbon Trail which connects to the epic Waterfront Trail that spans over 3000 kilometres! My post on the best St Catharines hiking trails will give you plenty of ideas for exploring the city.
Then you have all the incredible conservation areas within the Niagara Region! Between Beamer Memorial Conservation Area, Louth Conservation Area, Rockway Conservation Area, Balls Falls Conservation Area, Woodend Conservation Area and St Johns Conservation Area… let's just say there is no shortage of Niagara Escarpment hiking.
Whether you hit up some Niagara Falls trails or explore more of what the Niagara Region has to offer, there is plenty to see and do in the area. I mean, there's a reason why Niagara Falls is a top Ontario road trip destination!
Looking for More Top-Notch Hiking in Ontario?
Chase Some Waterfalls Across the Niagara Region
Don't Miss These Top Hiking Trails in Hamilton
Get Outside with These Awesome Cambridge Hiking Trails
Hit the Trails with The Best Kitchener Hikes
Don't Miss These Top Hiking Trails in Waterloo
…or check out IBB's hiking archives!
Don't Forget These Niagara Falls Trails & Pin It For Later!