Niagara Parks Butterfly Conservatory: Photos to Inspire a Visit

When you think of Niagara Falls, you immediately think of the thundering beauty known as Horseshoe Falls. However, just down the Niagara Parkway lies another type of natural beauty that will transport you to a tropical paradise. I'm talking about the Niagara Parks Butterfly Conservatory! It's just one of the amazing indoor attractions in Niagara Falls for rainy days, winter trips and when the summer heat gets to be too much.
You'll find the Niagara Parks Butterfly Conservatory on the grounds of the Niagara Parks Botanical Gardens. This collection of flowers and plants was established in 1936 and serves as the unique outdoor classroom for students attending the Niagara Parks School of Horticulture. Inside the botanical gardens, you'll find perennials, azaleas, rhododendrons and more. Though you won't want to miss their world-famous rose garden with over 2400 roses! The botanical gardens are free to access and can be enjoyed at any time, though I recommend late spring so that the grounds are full of blooms.
Once you're done frolicking in the botanical garden, head to the building for the fun that awaits inside the Niagara Parks Butterfly Conservatory!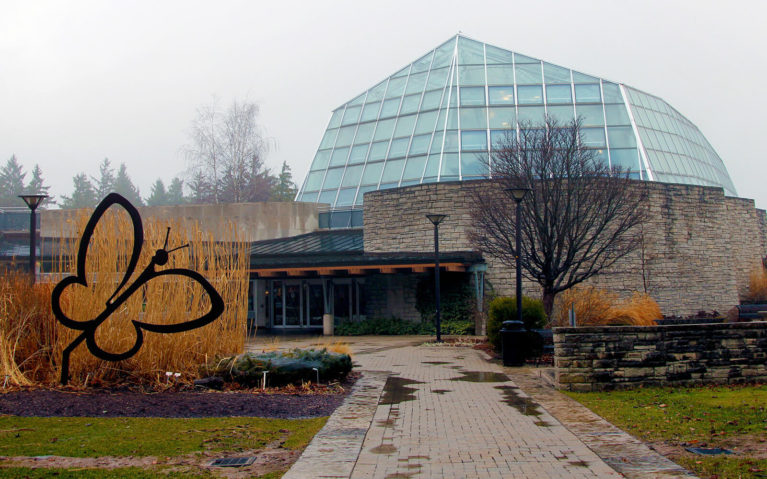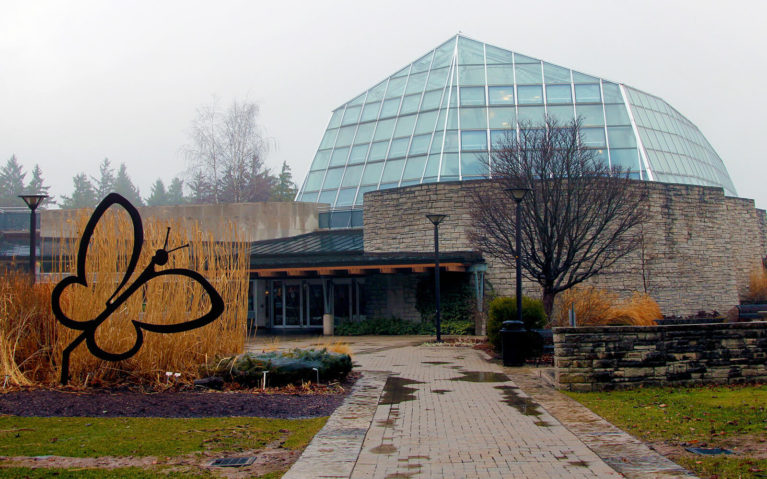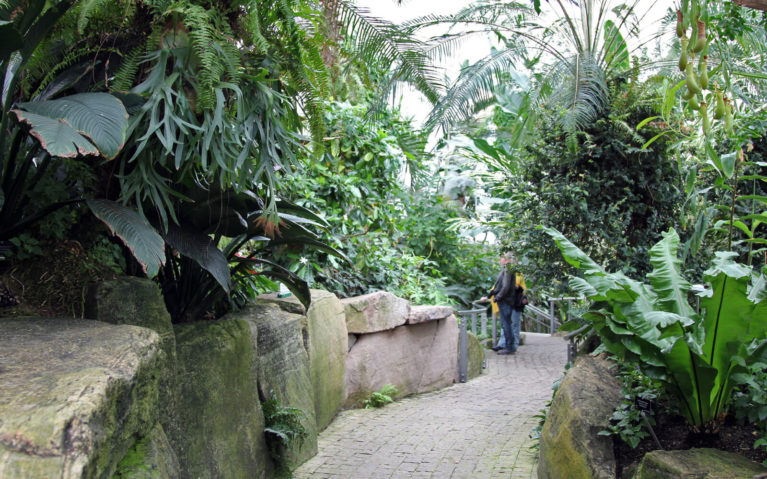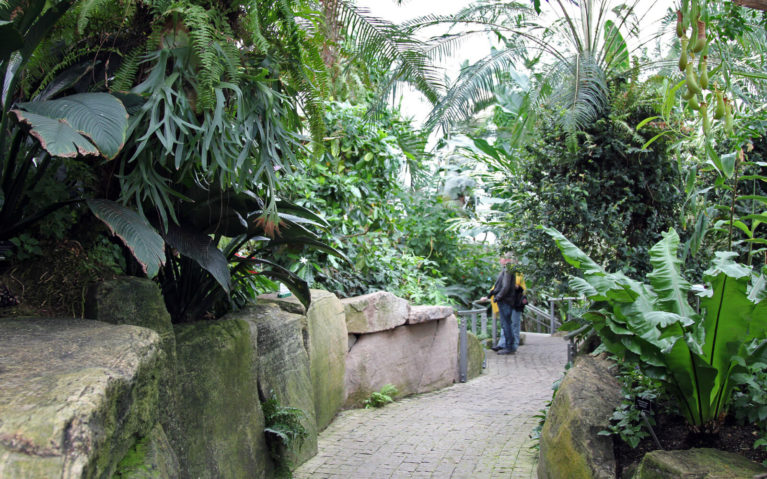 Visiting the Niagara Parks Butterfly Conservatory
Since 1996, this miniature rainforest has been a refuge for butterflies like monarchs, swallowtails and more. You'll also find beetles, goldfish, turtles and other small animals which help keep the insect population at bay! 
Enjoy the sights and sounds of 60+ butterfly species as over 2,000 tropical butterflies flutter freely within the conservatory's glass dome. While many are not native to Canada, approximately 40% of them are raised in a quarantined greenhouse on the conservatory grounds. The remainder come from butterfly farms located in The Philippines, El Salvador and Costa Rica.
Before you get to see them for yourself, you'll watch a short intro video about the Niagara Parks Butterfly Conservatory and best practices to ensure the safety of the creatures inside. As soon as you step inside, you'll be dazzled with their beautiful colours. Follow the self guided walking path as you stroll through this mini rainforest past ponds, gorgeous plants and even some tiny waterfalls! Make sure you check out the emergence window where you'll find pupae and chrysalis as the next wave of butterflies slowly become ready to face the world!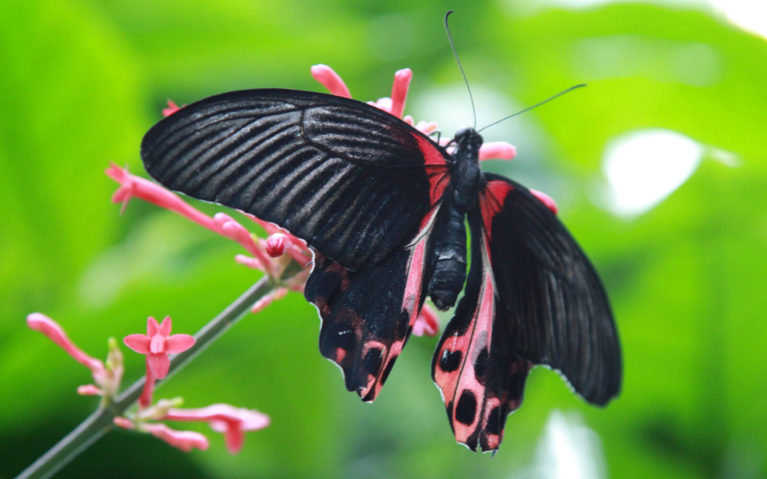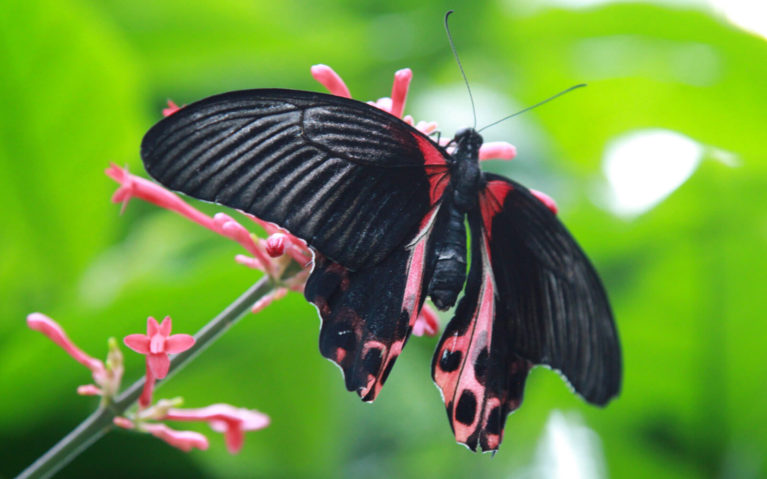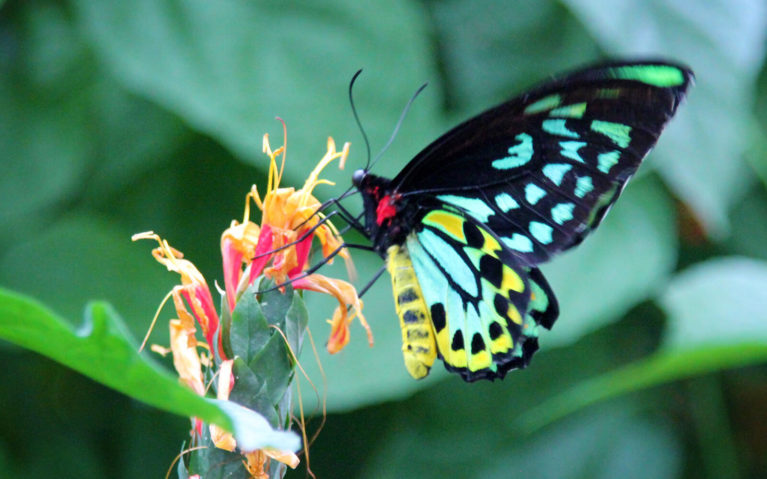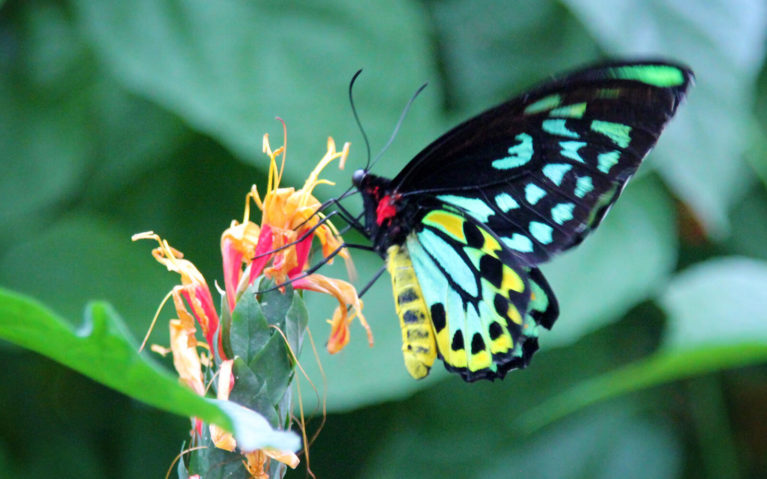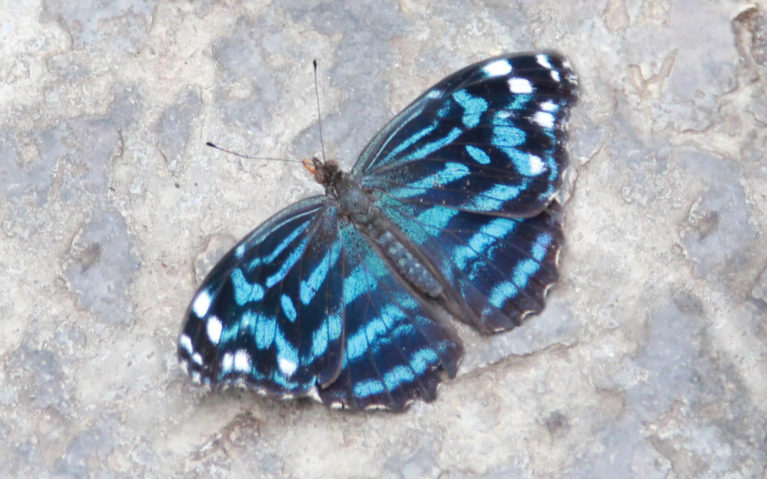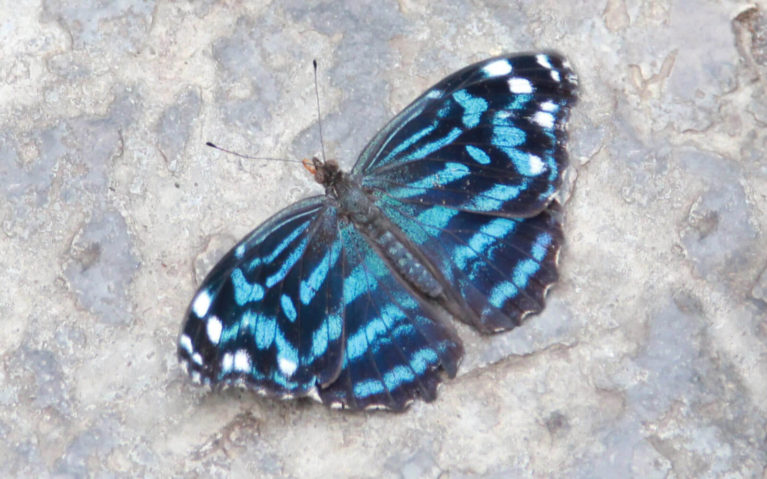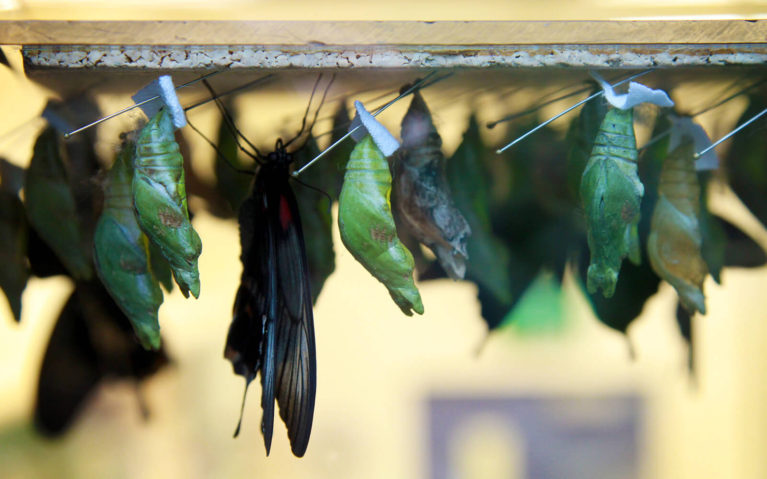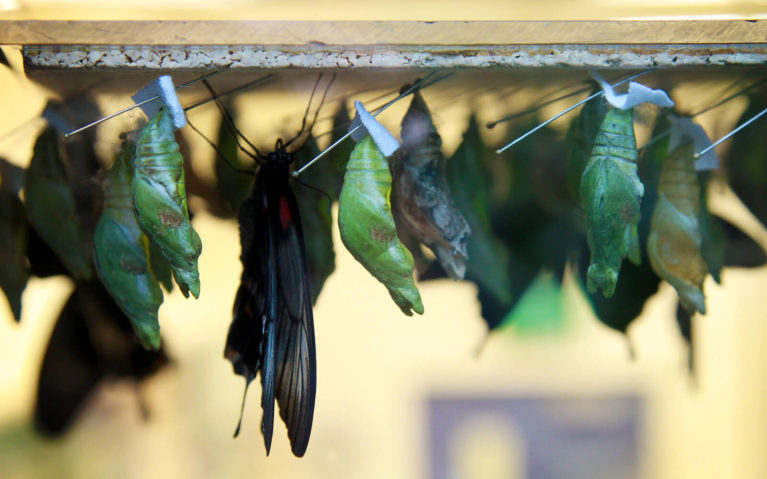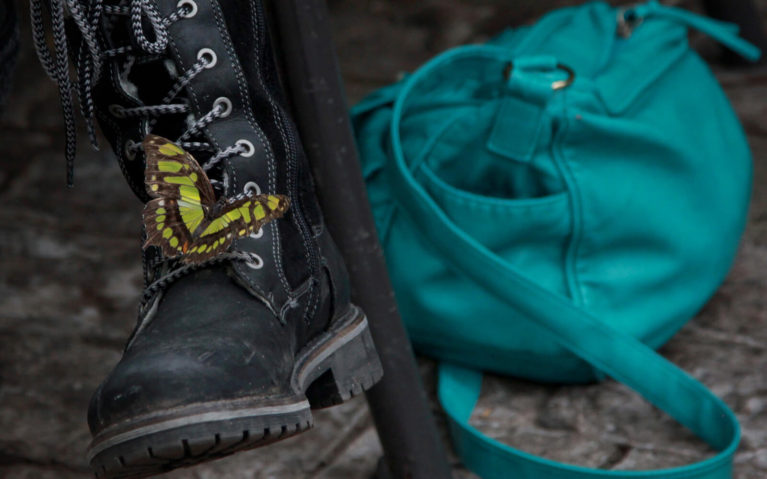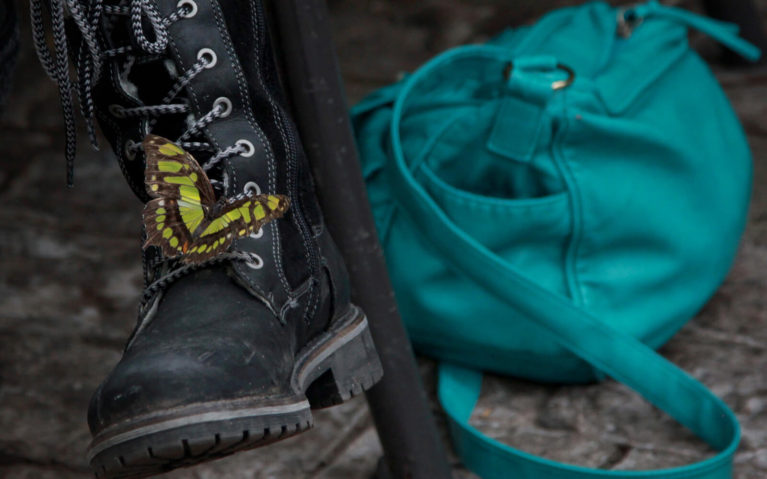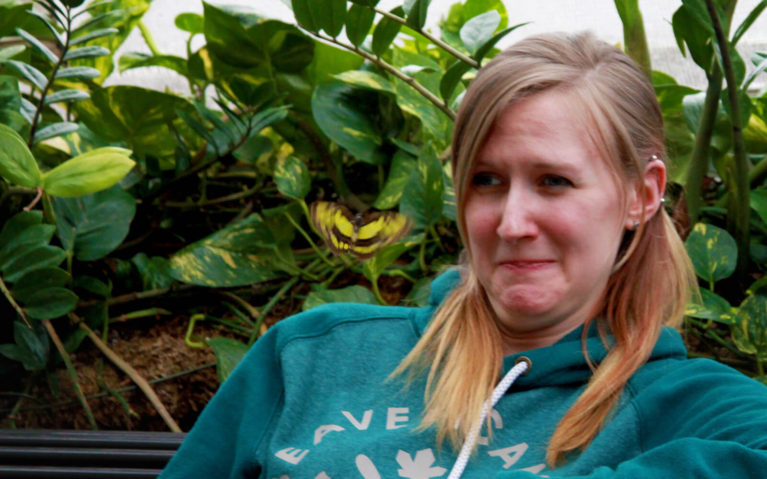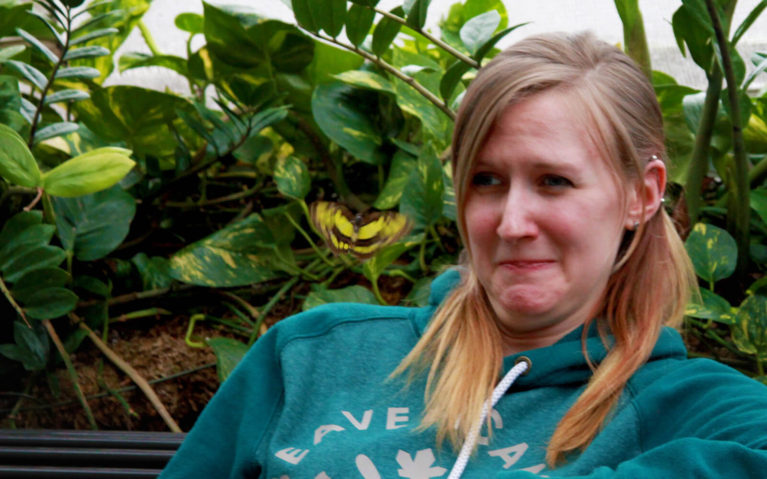 Tips for Visiting the Niagara Parks Butterfly Conservatory
Don't be alarmed if you happen to be started by a few of the resident butterflies during your visit. Personal space is not a thing with them so they'll occasionally get up close and personal. They might even fly straight at your face! As a result, you need to be very careful and keep an eye as to where they are – especially watching where you step.
Sometimes it's tricky to snag a photo of the butterflies as they flutter about, so be sure to bring a big cup of patience. Trust me though, it'll be worth it! It's so satisfying to snag an awesome photo after following them around for so long! If you're not one for waiting, use the feeders to your advantage for photos.
Wearing bright colours and perfume can help attract the butterflies so that they'll land on you if you're looking for that iconic photo opportunity. You'll also want to move slowly, though sitting still on one of the benches within the conservatory would be your best bet. If you'd rather not have the butterflies come near you – do the opposite of all these things.
If you're hoping to visit without a crowd of people, I highly recommend planning a trip in the off-season. The warm climate makes it a perfect spot for a mini tropical getaway in the dead of winter!
Don't forget to check out any temporary exhibits the Niagara Parks Butterfly Conservatory might have during your visit. They're always well-curated and you might be surprised at what you learn from it! Be sure to check out their website for full details of what's happening during your stay.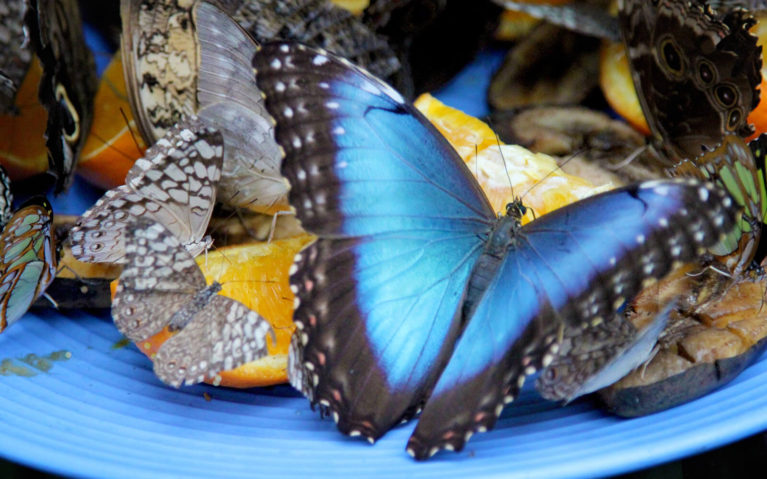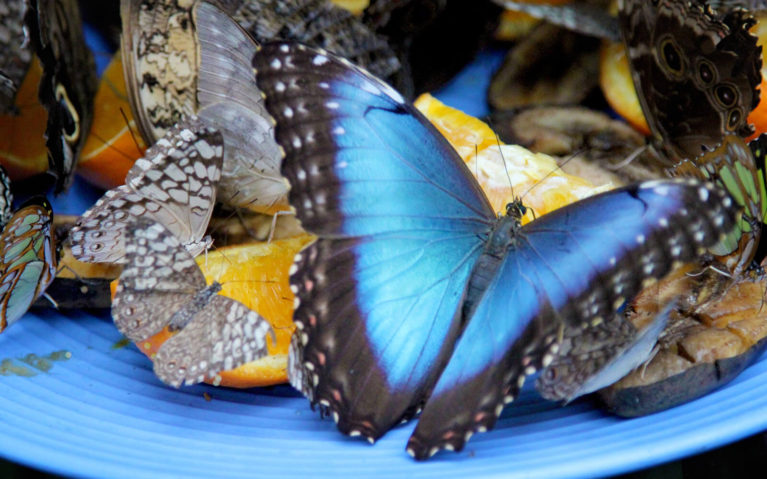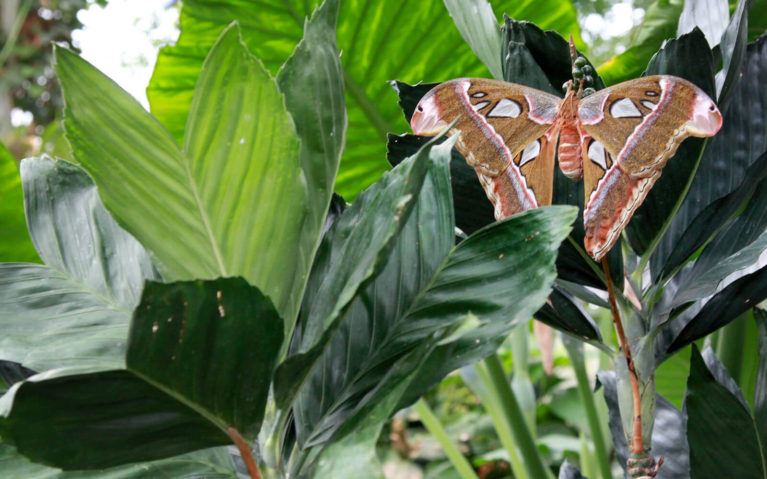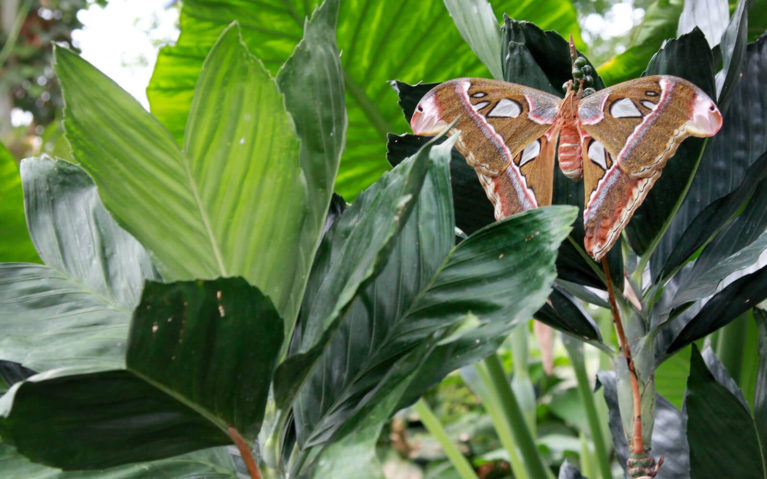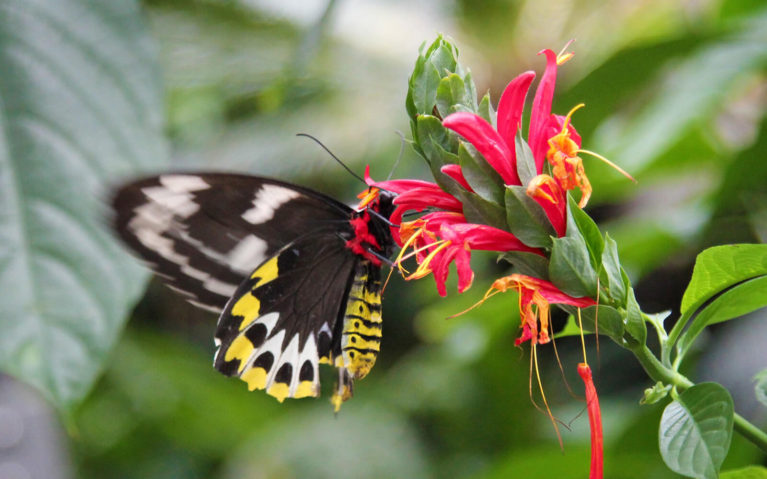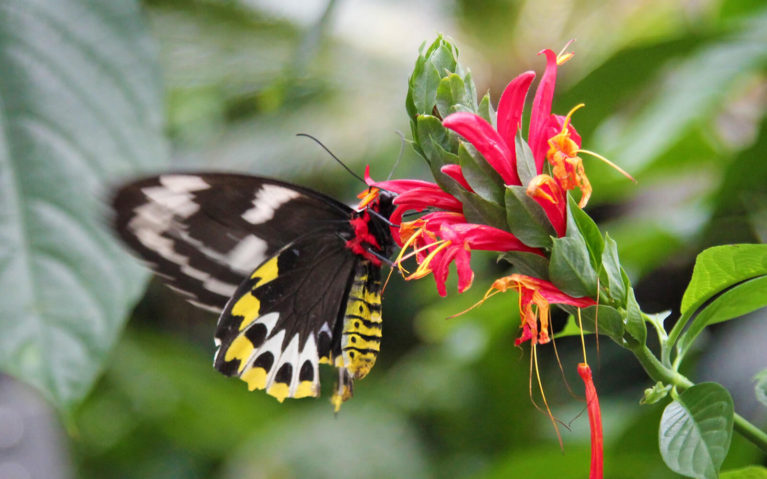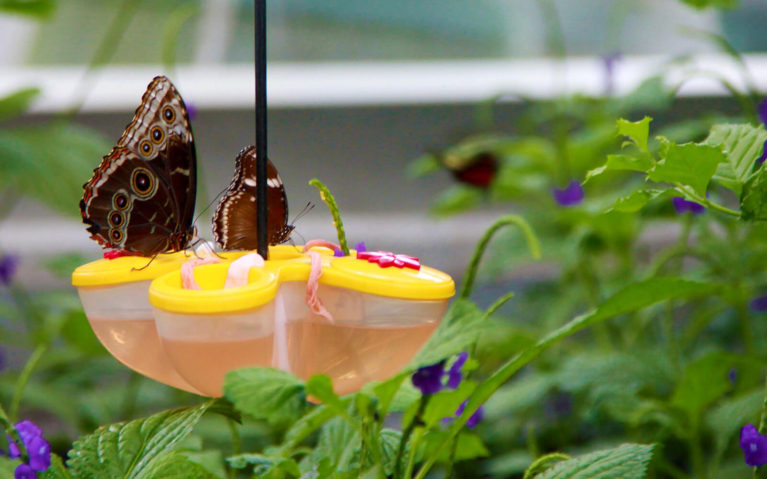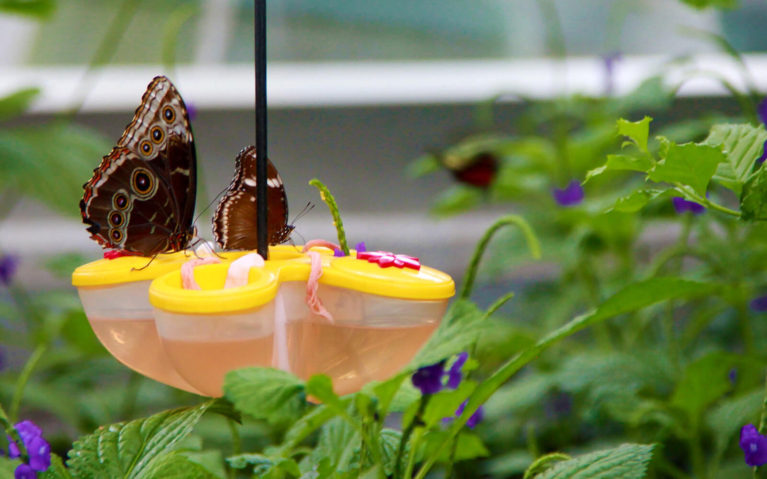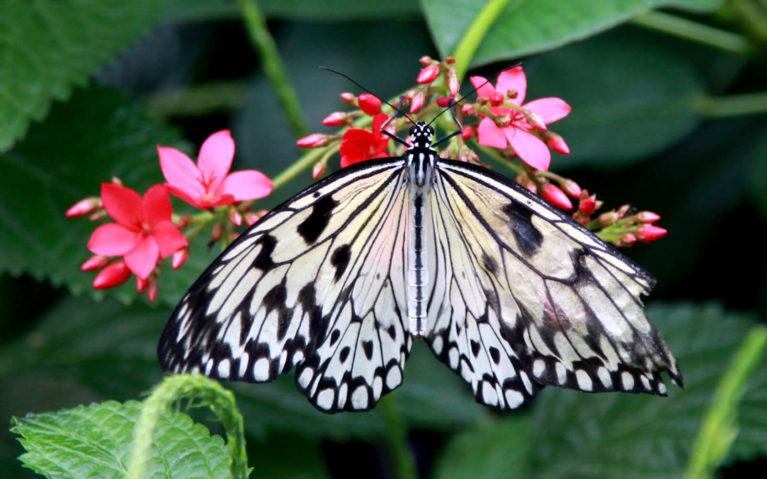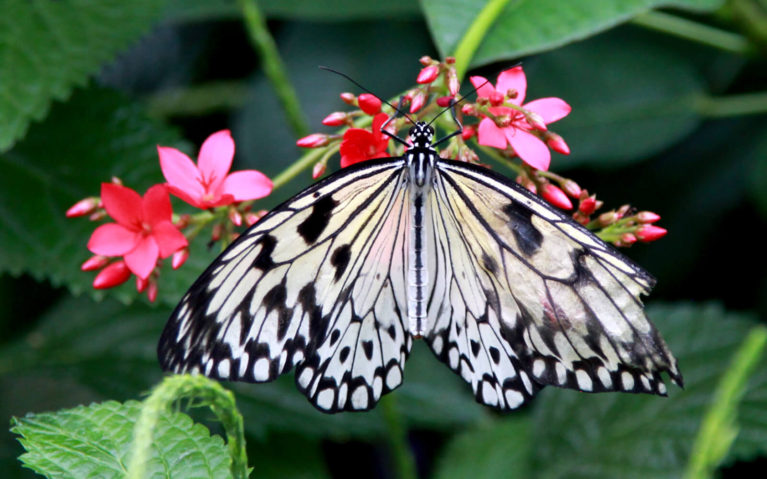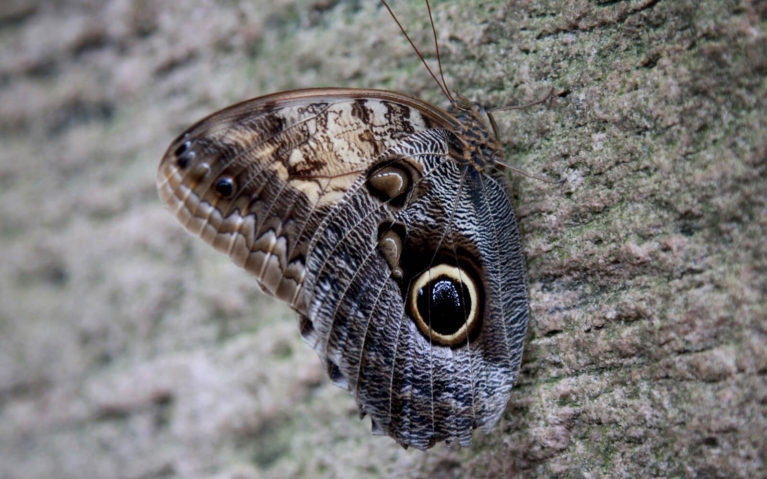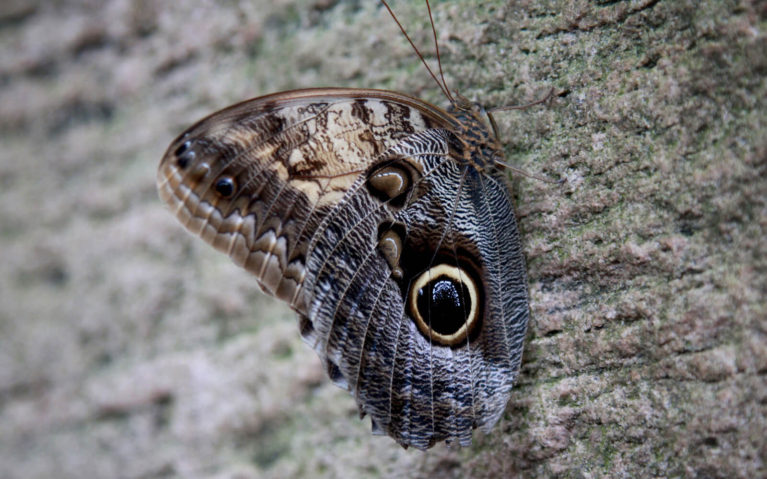 Ready to Visit this Niagara Butterfly Conservatory?
The Niagara Parks Butterfly Conservatory isn't huge but you'll be amazed how quickly the time passes by. Watching the butterflies go about their day is very relaxing, making it a great way to unwind if you need to relax a little during your Niagara Falls vacation.
As of 2020, it costs $16.50 for adults to visit and $10.75 for children 6-12 years of age. As with all Niagara Parks attractions, children under 5 enjoy free admission. If you're planning on visiting a few of Niagara Parks' attractions during your visit, I highly recommend getting one of their passes. They can save you up to 60% on attraction admissions! If you're looking for more insider information like this, check out my post on ways to save money on Niagara Falls hotels and things to do in Niagara Falls.
Have you ever visited Niagara Falls? Would your itinerary include a stop at the butterfly conservatory? It will warm you up in a heartbeat, making it the perfect attraction for a rainy or snowy day. What are you waiting for? Just type 2565 Niagara Parkway into your GPS and get exploring!
Looking for Other Things to Do in Niagara Falls?
Check Out These Top Indoor Attractions in Niagara Falls
Witness the Beauty of the Niagara Gorge From These Incredible Spots
Explore the Heartland Forest Where Nature Is For Everyone
Don't Miss the Epic Hikes at the Niagara Glen Nature Reserve
Don't Miss These Top Spots in the Niagara Region
These Are the 25+ Best Wineries in Niagara
See How You Can Explore Over 10 Niagara Waterfalls in One Day
Experience the Top 10+ Hiking Trails in the Niagara Region
These Are the Best Things to Do in Niagara-on-the-Lake
Stretch Your Legs With These Top Hikes in St Catharines
Hiking Short Hills Provincial Park: Your Guide to Niagara's Largest Park
Plan A Spring Visit to See the Cherry Blossoms in Niagara
Explore Niagara's Ship Shape City with These Things to Do in Port Colborne
The Top Beamer Memorial Conservation Area Hiking Guide
Enjoy a Self-Guided Tour of These Wineries in Vineland
Raise Your Glass to the Niagara Icewine Festival
Take a Hike at the Woodend Conservation Area
Explore the St Johns Conservation Area in Fonthill
Follow the Bruce to the Beautiful Rockway Falls in Lincoln
Disclaimer:
Thank you to Niagara Parks for supplying me with the complimentary tickets. As always, all of the opinions and experiences expressed are my own.
Planning to Visit This Niagara Falls Butterfly Conservatory? Pin It for Later!