Top 10 Hiking Trails in Niagara: Best Niagara Hikes in the Region [2023]

It's not surprising that there are a number of amazing hiking trails in Niagara. We have the beauty of the Niagara Escarpment, the allure of wine country and of course, the plethora of Niagara waterfalls to be found in the region. Heading to the Horseshoe Falls and looking for some Niagara Falls hiking trails? Planning a wine and dine getaway and you're searching for some Niagara-on-the-Lake hiking to work off your eats? Or are you just trying to find somewhere to escape the city? No matter why you're looking to hit the trails, this local has you covered with the best hikes in Niagara!
Bruce Trail Niagara Section
This is honestly Ontario hiking at its finest! If you've never heard of the Bruce Trail, this hiking path follows the Niagara Escarpment from Queenston here in Niagara all the way up to Tobermory. It's actually the oldest marked footpath in Canada! At approximately 900 kilometres in length, it's the province's longest hiking trail – and that's not including the 400+ kilometres of side trails!
The Niagara section starts at the Southern Terminus in Queenston Heights Park and ends at around kilometre 80 in Grimsby at the Beamer Memorial Conservation Area. The Bruce Trail actually runs through a number of the parks and conservation areas that are on this top ten list! While there are some flat spots, the terrain of this section of the Bruce Trail can be quite rugged so be prepared for some sore legs and plenty of memories along the trail.
If you'd like to read more about this epic route in Ontario, check out my guide to the Bruce Trail. Inside I have tips and tricks to ensure you have a blast on your hiking adventure!
Short Hills Provincial Park
Say hello to the only provincial park in the Niagara Region! Short Hills Provincial Park was established in 1985 and spans 660 hectares across the Niagara Peninsula. The area provides protection for provincially significant natural features like the Carolinian forests found within the park's borders. The "short hills" you'll find here were created during the last ice age when the Twelve Mile Creek sliced through the sedimentary and glacial deposits once found here.
Short Hills is the only provincial park in the Niagara Region and a popular spot to go hiking near St Catharines. It offers seven hiking trails that range in difficulty and length. Three of these trails (Scarlet Tanger, Hemlock Valley and Terrace Creek) are designated for hikers only and marked with blue blazes. The Swayze Falls, Black Walnut and Very Berry Trails are shared and can be utilized by hikers, horseback riders as well as mountain bikers.
Though most visit Short Hills to catch a glimpse of Swayze Falls, one of the beautiful waterfalls found in Niagara. It can be accessed via a few routes like the Swayze Falls Trail, but the easiest way is via the Paleozoic Path. This trail is accessible for wheelchairs and strollers, making it the perfect route for a family outing. The aforementioned Bruce Trail runs through Short Hills Provincial Park and by following it, you'll see the park's second, lesser-known waterfall, Terrace Creek Falls. Both of these waterfalls can run dry in the warmer months so they're best viewed in the winter or during the spring thaw.
Take a look at my full guide to Short Hills Provincial Park for more details about these amazing hiking trails in Niagara!
Woodend Conservation Area
Woodend Conservation Area is near and dear to my heart. Growing up in St Catharines, I often frequented these Ontario walking trails on field trips in elementary school. As I've gotten older, I have a greater appreciation for this beautiful natural space so close to home.
As another one of the Niagara Escarpment parks, you'll be treated to beautiful rock formations as you hike. Woodend's main trail is the Bruce Trail which meanders throughout the 40 hectare area. The Woodend Side Trail connects the Bruce Trail to itself and creates a 3.5 kilometre loop that's the perfect way to spend a few hours hiking Niagara.
FUN FACT: While I haven't done it myself, Woodend is said to be a popular destination for cross-country skiing in the winter months.
If you're looking to extend your adventure, tack on the 1.9 kilometre Wetland Ridge Side Trail. This trail takes you down the Niagara Escarpment to a reclaimed wetland as you pass by some beautiful vineyards. Interpretive signage has been placed around the perimeter of the wetlands that share facts about the area. If you're finding yourself feeling a little thirsty, the Niagara College Side Trail follows the western side of the wetlands to the Niagara College Teaching Winery, one of the best wineries in Niagara.
Don't miss my guide to the Woodend Conservation Area where I have all the details for enjoying this park!
Rockway Conservation Area
Get ready for some gorgeous views with a side of waterfalls! Rockway Conservation Area is located along Fifteen Mile Creek (we have a lot of mile creeks in Niagara) and is yet another spot where you'll find the Bruce Trail. A somewhat hidden gem in Niagara, you'll be surrounded by forest as you hike your way through 126 hectares of Carolinian Forest.
FUN FACT: This area has historical significance as there was once a salt spring here that was said to have contained some of the highest quality of salt in all of Ontario!
The main draw to the area is yet another one of Niagara's waterfalls, Rockway Falls. While you may be tempted to follow the Rockway Falls Side Trail, this will actually lead you astray! Follow the main Bruce Trail until you hit the bridge crossing Fifteen Mile Creek, then head south. This is not an easy route as you'll be climbing over rocks and uneven terrain but by following the creekside you'll be taken to Rockway Falls.
Rockway Falls is another one of those waterfalls that can slow to a trickle in the warmer months. While many prefer to hike come summertime, this is one you'll want to enjoy in either the winter or spring to see her at her finest. Though the trails are gorgeous no matter what time of the year you visit!
Take a peek at my guide to Rockway Conservation Area for full details about hiking here.
Ball's Falls Conservation Area
Head to the town of Lincoln where you'll find our next destination, Ball's Falls Conservation Area. Spanning over 200 acres, it was once the town of Glen Elgin which is now one of Ontario's ghost towns. It was established in 1783 by the Ball Family who soon developed the area with a trio of mills along Twenty Mile Creek. Glen Elgin quickly expanded to have a blacksmith, butcher, tailor and weaver. While it continued to grow, it eventually met its demise when the Great Western Railway was established in the late 1850s.
Locals and visitors alike adore Ball's Falls Conservation Area for its natural features and interesting history being preserved thanks to the Niagara Peninsula Conservation Authority. Yes, you can see some of these buildings from the days of Glen Elgin at during your visit! Though I think it's safe to say the biggest draw is the area's two waterfalls, Upper and Lower Ball's Falls. At 10.7 metres and 27.4 metres in height respectively, visitors marvel at the beauty as Twenty Mile Creek tumbles over their crests.
Ball's Falls Conservation Area has five trails making it a fantastic spot to go hiking in Niagara. Following the Village Trail will take you past the historic buildings to Lower Ball's Falls and the Cataract Trail will take you to Upper Ball's Falls. However, that doesn't mean Switchback and Forest Frolic trails aren't worth checking out! Plus you always have the Bruce Trail if you're looking for a solid hike to get the blood flowing.
RELATED: For full details and to help plan your visit, check out my guide to Ball's Falls Conservation Area!
Unlike many of these top hiking trails in Niagara, there is a fee for Balls Falls Conservation Area. As of 2023, it costs $13.75 per vehicle (including driver) and $4.75 per additional passenger or a maximum of $28.00 per car. However, if you visit outside of the Centre for Conservation's opening hours, the self-pay cost is $8.50.
Cave Springs Conservation Area
What's that? You want more Bruce Trail hiking? Well, that's good to hear because we've got some more coming your way at the Cave Springs Conservation Area!
This is one of the toughest stretches of the Bruce Trail Niagara section. The terrain is comparable to that of Lion's Head in the Bruce Peninsula. You'll want to watch your step for this one, especially since you'll be distracted by the spectacular views from the escarpment! Take in the sights as you see clear over vineyards and fields – even as far as Toronto if the day is clear enough!
Cave Springs has a mysterious side to it. The "good witch" known as Margaret Reed gifted this property to the Niagara Peninsula Conservation Authority and would talk of a "fountain of youth" found on the property. There's also a famous ice cave that was once used for refrigeration (no longer accessible), an underground lake, peculiar rock carvings and more. Springtime brings an extra level of magic with fields upon fields of trilliums and even some blossoming trees scattered along the trail!
One of the reasons I love Cave Springs is because it's often quiet and that's due to it being harder to access as there's no official parking lot. While there is a small road lot off of Quarry Road, it's not the most reliable and street parking can change on a dime! Your best bet is to park at Kinsmen Park in Beamsville and follow the Bruce Trail into the area. What's a little extra mileage – you're here to hike, aren't ya?
Beamer Memorial Conservation Area
Let's head to Beamer Memorial Conservation Area, the furthest west location on this list of top hiking trails in Niagara. Here you'll find the stretch of Grimsby Bruce Trail along with a few other trails. It's not the biggest conservation area out there but Beamer Memorial is a great spot for a moderate hike that doesn't take more than two hours.
There are a few reasons to visit Beamer Memorial Conservation Area – the biggest draw is its pair of waterfalls. Upper and Lower Beamer Falls can be found by following the Beamer Falls Side Trail which splits off off the main Bruce Trail. Follow the blue blazes down towards Forty Mile Creek and chances are you'll start to hear their rumble! However, low flow is not uncommon in the summer and fall months so the best time to see them is in the winter or during the spring thaw.
The park also offers some breathtaking views over Lake Ontario and the Niagara Escarpment. For a brief time I lived just down the road from Beamer Memorial and I already miss catching the sunrise from the Lookout Trail. If you're an early bird, I highly recommend making a point to see it at least once!
Beamer Memorial Conservation Area has grown in popularity over the past year and as such, the small parking lot at the entrance to the park can quickly fill up. It's not uncommon to see folks parked along the side of the road but there have been rumours of enforcing this more. If the parking lot is full, continue on to another one of the Niagara hikes on this list or you can check out one of the best hiking trails in Hamilton since the city is close by!
Check out my full guide to hiking the Beamer Memorial Conservation Area.
Laura Secord Heritage Trail
While you won't find any chocolate, you will find plenty of history along the Laura Secord Heritage Trail. If you're unsure who Laura Secord is, she was The War of 1812's heroine who courageously trekked through enemy territory to warn the British troops of an impending American attack. You can learn more about this brave woman here. If you're a history buff as well as an avid hiker, this is one of the best hiking trails in Niagara you don't want to miss!
Sometimes referred to as the Laura Secord Legacy Trail, this 32 kilometre long Niagara trail follows the path she took. It begins in Queenston at the Laura Secord Homestead and ends at the DeCou House, just a few kilometres from DeCew Falls. The Friends of Laura Secord who work to preserve this important history have created a step-by-step guide for the trail. The route is divided into five sections so you can enjoy the trail piece by piece or if you're adventurous enough, tackle it in one shot!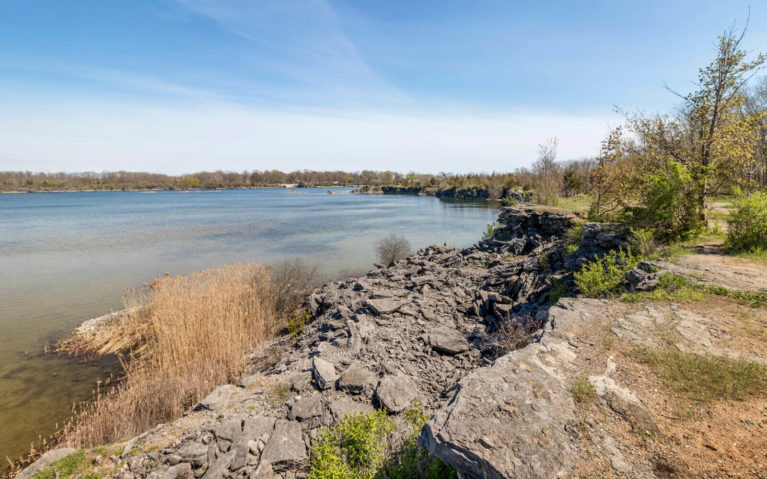 Wainfleet Wetlands Conservation Area
Wainfleet Wetlands Conservation Area is a little off the beaten path as it's located towards Lake Erie but let me tell you, it's a no-brainer for this best Niagara hikes list.
This area was an operational clay and limestone quarry which ran from the late 19th century until the 1960s. Since the Niagara Peninsula Conservation Authority acquired it in 1978, the Wainfleet Wetlands are being reclaimed by nature. Over the years it has become a thriving ecosystem home to birds, fish, turtles, snakes and more! The site also contains some of the best-exposed fossils you'll find in the entire Niagara Region. Trilobites, crinoids, and more organisms that lived over 380 million years ago can be seen!
You'll be blown away by the incredible rock formations that look akin to the Niagara Escarpment. It's incredible to see this once industrial site be reclaimed by nature. Seriously, it feels as though you've been transported north to Georgian Bay.
Right next to the parking lot, you'll also see signage for the Gord Harry Trail. This 13 kilometre long trail is named after the former NPCA Chairman and runs parallel to the Lake Erie shoreline along the former Grand Trunk Railway Corridor. You can check it out if you're not done hiking in Niagara!
Best Hiking Trails in Niagara: The Niagara Glen
If I had to pick anywhere to dub as having the best trails in Niagara, it has to be the Niagara Glen Nature Reserve. This is one of the seriously cool places to hike in Ontario!
Managed by Niagara Parks, the Niagara Glen has been a designated nature reserve since 1992. Over 4 kilometres of hiking trails have been developed through the area, allowing visitors to truly experience the natural beauty found here. You can easily explore all eight of the trails in one visit as you meander back and forth through the interior of the Glen, but the showstopper is definitely the River Trail. Running parallel to the Niagara River, there are some incredible views along this Niagara Gorge trail. It's one of my favourite ways to experience this natural wonder! The Niagara Whirlpool Trail is also not to be missed but it can be closed due to flooding.
INSIDER TIP: While it's accessible all year round (no winter maintenance though so be careful!), the best time to hike the Niagara Glen is in autumn. The contrast of the fall foliage's oranges and reds against the turquoise Niagara River is absolutely stunning!
If you're wondering is the Niagara Glen free? That's a yes and a no – while the Niagara Glen is free to hike, there is a fee of $2.50 CAD per hour to park in the lot by the Niagara Glen Nature Centre. If you're local or plan on visiting the Niagara Glen a number of times, you may want to purchase an annual parking pass for $15.
Be sure to check out my Niagara Glen hiking trail guide for full details on how to enjoy the best hiking at Niagara Falls!
Looking for More Fun in Niagara Falls?
Check Out These Top Indoor Attractions in Niagara Falls
5 Ways to Truly Experience the Beauty of the Niagara Gorge
Don't Miss My Insider Tips About Visiting Niagara Falls
Experience the Whimsy & Wonder of the Heartland Forest
More Niagara Hikes to Check Out
As you can imagine, there are plenty of Niagara hiking trails to experience, though some are certainly nicer than others. If you've checked off all the above trails, here are a few more places to hike in Niagara!
St Catharines Hiking Trails: DeCew Falls
DeCew Falls is yet another fantastic Niagara hiking destination along the famed Bruce Trail. It's a big draw due to the Upper and Lower DeCew Falls, both visible from the trail. Chances are you've seen the Upper DeCew Falls on social media as it's located beside the picturesque Morningstar Mill. It's still a working grist mill and the only water-operated mill in the region!
Unfortunately due to an influx of visitors over the past year, the area is often blocked off for visitors. However, it is possible to make the trek if you're hiking from Short Hills Provincial Park. It's a pretty long one though so be prepared!
For more ideas of where to go hiking in St Catharines, be sure to check out my guide where I spill the beans on all the awesome trails in and around the city!
Niagara Falls Hiking Trails: Dufferin Islands
If you've ever visited Niagara's Winter Festival of Lights, you might not realize that you've driven right through the Dufferin Islands while checking out the gorgeous light displays!
The Dufferin Islands are located just off the Niagara Parkway. Home to a series of tiny islands, you can hop between them thanks to a series of picturesque bridges and footpaths. It's the perfect spot to spend an afternoon exploring the trails and then settling in for a picnic. This is definitely a family-friendly destination in Niagara!
While these Niagara Falls trails are free to enjoy, there is a fee of $2.50 per hour to park in the Dufferin Islands lot.
RELATED: Don't miss my guide to the best hiking in Niagara Falls if you're looking for more outdoorsy fun during your visit!
Hiking Around Niagara Falls: Millennium Trail
If you're visiting Niagara Falls and are looking to enjoy a walk in the heart of the city, the Millennium Trail is a great option. This trail was created to celebrate Canada's 150th year since Confederation. It follows the city's hydro canal. There are a few locations where you can access this paved 7.3 kilometre long trail. The official start point is at McLeod Road and it connects to the Niagara Parkway Recreation Trail.
Hiking Near Niagara Falls: Queenston Heights Park
Another Niagara hiking destination for the history buffs! Queenston Heights Park is where the famous Battle of Queenston Heights occurred during the War of 1812. Follow these Niagara walking trails and you'll wander through gorgeous gardens, past beautiful monuments, the incredible Landscape of Nations display and more. Make sure you take a few moments to enjoy the sights of the Niagara River. It's also a great spot to view the cherry blossoms in Niagara come late April/early May!
If you're looking for some true hiking, you'll find the Bruce Trail's southern terminus cairn in the park. Start from kilometre zero and follow the white blazes through the park and into Niagara!
NOTL Hiking: Niagara Parkway Recreation Trail
Niagara-on-the-Lake is a popular Ontario road trip destination but it also offers some great hiking opportunities! The Niagara Parkway Recreation Trail is easily one of the best hiking trails in Niagara-on-the-Lake.
Sometimes referred to as the Niagara River Recreation Trail, this route runs parallel to the Niagara River. While it starts at Fort George in Niagara-on-the-Lake, it runs for 56 kilometres all the way to Fort Erie. There are a few places in Niagara Falls where the trail breaks in the city, but for the most part, you'll enjoy a picturesque trail with beautiful trees, heritage homes and river views.
If you plan on spending some time in Niagara-on-the-Lake, be sure to check out all the amazing things to do in my guide to NOTL so you can make the most of your trip!
Hiking Trails Niagara: Mud Lake Conservation Area
If you find yourself heading towards Port Colborne, check out the trails in the Mud Lake Conservation Area. At over 100 hectares in size, the area came to be thanks to the construction of the Welland Canal. The soil dug out for the canal was dumped here which covered an existing railway – and accidentally formed a dyke!
Since it became a park thanks to the Ministry of Natural Resources and the Niagara Peninsula Conservation Authority, it has become an important resting point for migratory birds. Take a stroll on one of the three hiking trails and see how many different species of birds you can spot along the way!
Hiking Near Fort Erie: Shagbark Park
While this park's name is what originally caught my eye, Shagbark Park is a beautiful wooded area on the outskirts of Fort Erie. Formerly the site of the Carl Englehart farm, this 70 acre area has become a tranquil spot for a hike in Ridgeway.
From the parking lot, you'll be taken through a mini grassland with a number of bird boxes and a wooden tower. Both of these are to help two species of birds – the Eastern Bluebird and Chimney Swift, respectively. Take a seat on one of the nearby benches and see if you can spot one. Chances are you'll hear some chirping away off in the distance!
Continue onwards into the tall maple and beech trees this area works to preserve. There are three trails throughout the property, each marked with white, yellow and red blazes. Be sure to stay on the trails though as poison ivy is quite prevalent in the park!
Frequently Asked Questions About Hiking in Niagara
Have you hit up these Niagara hiking trails? What do you think are the top hiking trails in Niagara? Is there a hike you'd recommend that I've missed? I always love to hear from both visitors and locals like myself so let me know in a comment below!
Have some additional questions about planning your Niagara hiking adventure? No problem! These are a few of the frequently asked questions and if you still have more, drop a comment and I'll be happy to answer it to the best of my ability.
Where can I hike in Niagara Region?
As you can see from this post, there are plenty of hiking routes and local walking trails! To recap, these are the best Niagara hiking trails:
Bruce Trail Niagara Section
Balls Falls Conservation Area
Cave Springs Conservation Area
Laura Secord Heritage Trail
Shagbark Nature Park
Here's a map that outlines where all of the Niagara hiking trails I've mentioned in this post are located. I hope that it'll help you plan your future Niagara hiking adventures!
How Long Do These Niagara Hikes Take?
The length of time to complete each of these hikes can vary depending on the difficulty, terrain, your fitness level and the day's weather conditions. Typically, it's safe to say each hike will take a few hours to complete but it's best to look at the length of each hike and plan according to your speed.
Can These Niagara Trails be Accessed Year-Round?
Yes! Winter is actually one of my favourite times to hike and I highly recommend it, though there are some additional hazards you will need to be prepared for. Take a look at my beginner's guide to winter hiking if you've never tried it before along with this winter hiking gear list to make sure you have everything you need.
Are Washrooms Readily Accessible?
With everything going on right now, this is something you need to be aware of. While there might be the odd place where you can find a washroom – don't count on it. Plan accordingly and be sure to practice leave no trace principles while on the trail.

Looking for More Top-Notch Hiking in Ontario?
Check Out The Best Hiking Trails in St Catharines
Stretch Your Legs with These Top Hiking Trails in Niagara Falls
Chase Some Waterfalls Across the Niagara Region
Hike Through Short Hills Provincial Park, Niagara's Largest Park
Don't Miss These Top Hiking Trails in Hamilton
Get Outside with These Awesome Cambridge Hiking Trails
Hit the Trails with The Best Kitchener Hikes
Don't Miss These Top Hiking Trails in Waterloo
…or check out IBB's hiking archives!

For More Things to Do in Niagara…
30+ Incredible Things to Do in Niagara-on-the-Lake
Don't Miss These FREE Things to Do in Niagara Falls
Insider Tips for Visiting Niagara Falls From a Local
Top 5 Ways to Experience the Niagara Gorge
Indoor Things to Do in Niagara Falls on a Rainy Day
Enjoy a Glass at The Best Wineries in Niagara
Don't Miss This Self-Guided Tour of Vineland's Wineries
Plan a Visit to the Niagara Icewine Festival
Things to Do in Port Colborne, Niagara's Ship Shape City
Plan a Spring Visit to See the Cherry Blossoms in Niagara
Don't Forget These Top Hiking Trails in Niagara & Pin It For Later!