Winter Hiking Gear: 10 Things to Wear When Hitting the Trails

With snow on the ground for a third of the year (or longer!) in Canada, we've learned to embrace the colder temperatures. As an avid hiker, winter doesn't stop me from hitting the trails. In fact, it's one of my favourite times to hike! You don't need a crazy amount of fancy gear to hit the trails, but it is important to dress appropriately for the elements. If you're looking to get outside in the colder months, this is the winter hiking gear I never leave without!
If you've never tried winter hiking before…
check out my guide to hitting the trails in the ice and snow!
Disclaimer: This post may contain affiliate links where I may receive a kickback at no extra cost to you. It helps keep IBB alive so thank you!
What Gear Do You Need For Winter Hiking?
There are two main concepts to remember for your winter hiking gear: layers and waterproof clothing. You'll want to layer up to keep yourself nice and toasty, then have a waterproof outer layer to keep you dry. This really helps if the temperature fluctuates throughout the day or if you find yourself warmer than you thought you'd be. Typically, we're looking at a base layer to keep you dry and insulated, a middle layer for warmth and an outer layer to keep the cold winds out and you dry in the wet snow.
Base Layer
Starting with a base layer, I recommend going with some sort of thermal underwear. I personally like mine from Mountain Warehouse as they're comfortable and also not too expensive. You might be apprehensive about buying layers like this specifically for hiking but they honestly come in handy throughout the winter. If you plan on spending any time outside at all for an event or exploring a new city, you'll love having this extra layer to keep you warm.
Also, Merino wool is your friend. A naturally grown fibre from Merino sheep, it has a number of benefits for hiking not just in the winter but year-round. If you're immediately thinking but Lindsay… wool is itchy! Another reason to love Merino wool: it's soft and perfect for wearing directly on your skin. Lastly, it works to keep your body temperature stable. These nifty fibres have natural bends which help to trap warm air, keeping you nice and toasty while you're out adventuring. Plus, they also help keep sweat off your skin so it can evaporate instead. Yes, that means you won't be as stinky! If you're like me and sweat like a beast, you'll greatly appreciate this.
It's a little more expensive than some other base layer options out there, but it's versatile and worth every penny. You can find a variety of Merino wool base layers at Atmosphere, Mountain Warehouse and other outdoors stores. These stores will also carry non-Merino wool alternatives such as these polyester leggings and these polyester shirts for anyone with wool sensitivities.
Middle Layer
Next, you'll want an insulating middle layer. Fleece is often a popular choice for this, however it comes with its downsides. This material is a plastic synthetic that is harmful to the environment and tends to smell faster. Though, fleece is often the cheaper option and quite versatile which is why it's a popular choice.
Personally, I tend to opt for a comfortable hoodie like one from my tentree collection as I find anything heavier can cause me to overheat and sweat too much. Getting the right combination of layers will take some trial and error but you'll figure out a combo that's most comfortable for you!
As for your pants, this is where I tend to get some funny looks. I absolutely love hiking in tights and they are my preferred option for pants. That being said, I typically have fleece-lined tights that keep me warm and cozy. However, this is not everyone's forte. In all honesty, a middle layer may not be needed when winter hiking – it really depends on the temperature. On really cold days or when I'm out in a lot of snow, I tend to skip this part and opt for a thermal base layer and a warm outer layer instead.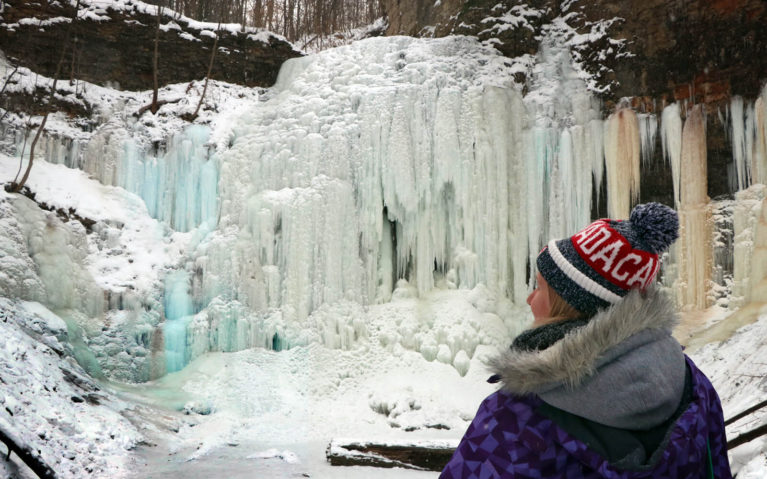 RELATED: Want to see this natural beauty for yourself? This is Tiffany Falls, one of the best waterfalls in Hamilton!
Outer Layer
Last but not least, your outer later. The goal of your outer layer is to break the wind and keep you dry. For your top, you can go one of two ways for this: opt for a shell layer focused on windbreaking or a ski style winter jacket. Personally, I go for the latter as I love my ski jacket from Mountain Warehouse. I prefer to err on the side of being too warm rather than being too cold. It's easy to unzip and cool down but it's hard to warm up without enough layers to help you fight the negative temperatures!
As for your bottoms, this might take some experimenting. As I mentioned, I prefer to hike in tights which I layer over a thermal pair so I don't often wear an outer layer. However, if I'm hitting a trail which will take me 4-5 hours or more, I'll pack a pair of snow pants to ensure I'm warm enough. Chances are when you're moving you'll be warm, but if you stop to take photos, eat or even when taking a water break, the chill can creep in fast. In these instances, it's nice to have the snow pants to warm up quickly! Softshell pants or slush pants can also make a great outer layer.
Whatever you choose for your layer combination will depend on a number of factors. If you tend to run warm, you might want to do a very light middle layer or choose a heavier one and then opt for a light outer shell. It also will depend on the weather outside as you won't need as intense gear for -5C compared to -30C.
Socks
I can't stress enough how important it is to have a good pair of socks on your feet when out for a winter hike. Early in my winter hiking career, I wore whatever longer socks I had and my toes were frozen more than I'd like to admit.
If you want to have the best chance of keeping your feet warm, this is where Merino wool is your best friend once again. Feet tend to sweat a lot (at least mine do) when hiking, and having big, beefy winter boots adds to that. This means they can get damp and once you stop for a moment, the chill can set in. Long merino wool socks like these ones from Helly Hansen are perfect for keeping your feet nice and toasty! Though I have to say, I'm a little impartial to these ones from Smartwool because they're absolutely adorable. If you'd rather not have such long socks, there is always this option from Icebreaker.
Can't wear wool? No problem, there are plenty of alternatives! I love my isoCool socks as they keep my feet dry and therefore warm when hiking. Atmosphere also has these socks from Columbia made of polyester, cotton and rayon.
Winter Hiking Boots
With so many footwear options out there, it can be hard to know what to go with. Again, it honestly depends on personal preference. For me, the length of the hike along with the amount of snow is what determines which boots I wear!
For shorter winter hikes in fluffy white snow (not that heavy damp stuff), my go-to boots are my Manitobah Mukluks. I'm seriously obsessed with them and they're always my first pick. Not only is this an Indigenous-owned company, but they're also Canadian as Manitobah's headquarters are located in Winnipeg. Their boots are sheepskin lined and utilize technology passed on for millennia from the First Nations of what is now Canada. Considering the harsh winters they have endured, it's no wonder these boots are incredibly warm – and comfortable!
Manitobah has a variety of styles, though mine are their mid-size Snowy Owl style. Unfortunately, mine are not waterproof, though the one I linked to is and I will be ensuring mine are when I purchase my next pair! As mine aren't waterproof, this is the main reason they're not my go-to winter hiking boot. Though if I'm tackling a shorter trail that's flat, these will certainly be on my feet.
For tougher hikes on a winter day with a decent amount of elevation that will take a few hours, I opt for my Sorels. These were recommended to me as some of the best winter hiking boots and I have yet to doubt that claim! Sorels can be bulky and if you're not used to hiking in winter boots, they'll take a little bit to get used to. Each year once winter arrives, I find my legs are extra tired from the weight so give yourself time to break them in. Their Joan of Arctic boot is waterproof, durable and quite cute if I do say so myself! I've had mine for 5 years now and there's barely any wear or tear.
Crampons
This is one of those items that I can't believe I hiked in the winter without. Ice will be no match for you with a pair of crampons! Now, I'm not talking about the super-beefy mountaineering crampons, I'm referring to the ice cleats style. These are typically attached to a silicone band which stretches to go over your boots, giving you little spikes beneath your feet which dig into the ice. Goodbye slippery slopes, hello plenty of grip!
Hillsound gifted me a pair many moons ago and I haven't looked back. If you'll remember my post about tackling Killarney's epic trail, The Crack, then you'll know that I never would have made it to the top without my crampons. If you're planning on doing a lot of winter hiking, I highly recommend purchasing a pair. These Hillsound crampons are a game-changer and I never leave home for a winter hike without them!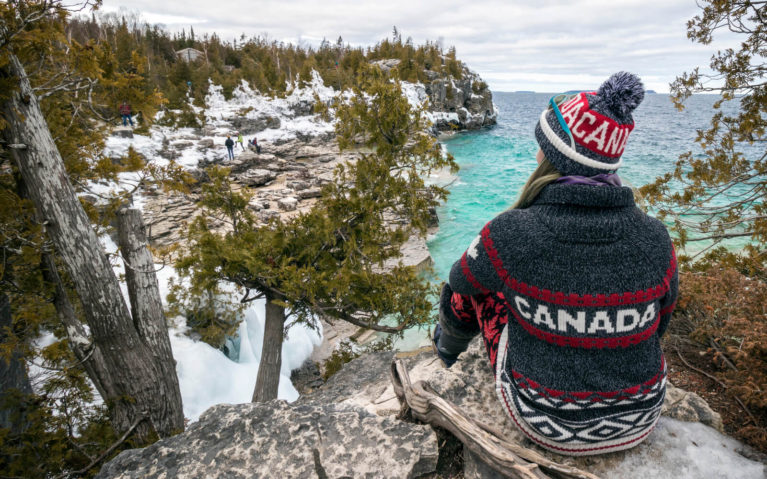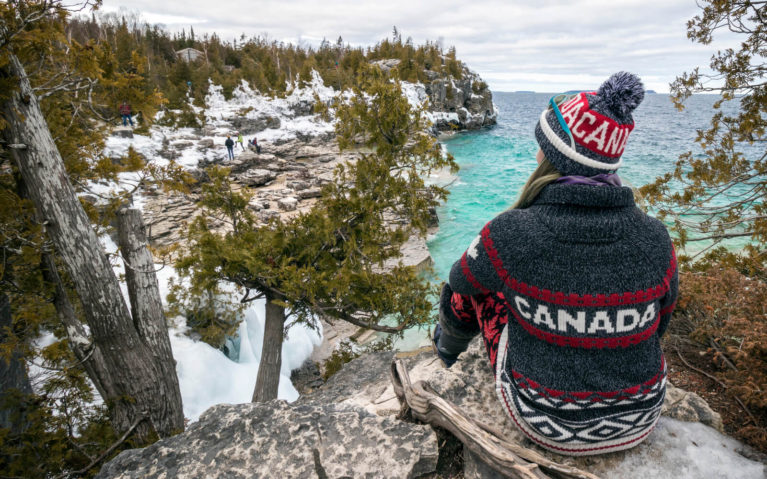 Toque
Now that we've got the feet covered, let's keep the rest of our extremities warm and toasty! Contrary to popular belief, you do not lose the majority of your body heat through your head as you may have been led to believe. I'm looking at you, Grandma.
However, that doesn't mean you shouldn't wear anything on your head. Your ears are one of the most susceptible body parts to frostbite and so you need to cover them accordingly!
I honestly don't wear anything super special on my head. You'll typically see me in a knitted toque (some I even make myself! I know, I'm super cool) when I'm hiking. You can get fleece-lined toques which are great, but not necessary. I'm pretty much always sporting something like this plaid toque from Roots and I've never had any issues – even when hiking in Alberta's -35C weather!
If you're not a hat fan, chances are you'll be fine without one as long as temperatures aren't below -9C. However, you should know that it only takes 30 minutes for frostbite to start setting in. That being said, I am NOT responsible if you choose to hike in -5C without a hat and then get frostbite. Everyone's body is different so just bring one, kay?
Scarf & Neck Warmer
I never go out in the winter without something around my neck, not just to keep the wind at bay but if snow falls down your jacket… let's just say it's one of the worst feelings ever for me.
Scarves are my go-to and I have a few larger ones that I love to wear. I typically opt for an infinity scarf style so I can wrap it around a few times for optimal toasty-ness. However, if it's going to be a long hike or the conditions are windy, I will throw a Buff on (aka neck warmer) to ensure the wind chill doesn't sneak in! Buffs are also great as they can be worn a number of ways, including over your head like a balaclava. If the weather turns on you or you're feeling a chill, it's nice to have this option as a backup!
Gloves vs Mittens
Ah yes, the fun debate of whether to wear gloves over mittens. As with many of the life choices on this list, it really depends on your personal preference. Though I'm 100% team mitten and here's why.
Gloves are really only useful if you need to be handling gear that requires the use of your fingers. Seeing as you're going out for a winter hike where the majority of the action is in your legs, ditch the gloves and stick to mittens! Mittens are warmer as having your fingers together generate more heat, therefore keeping them warm. Yes, I even wear mittens when taking photos on the trails as I've become a master at finding the shutter release in them!
The more important part is to make sure you have waterproof mittens so your hands don't get soggy from sweat and snow. My go-to mittens are from Manitobah Mukluks that a friend got me a few years ago. They're super warm and I've never had any issues with water. I also have mittens I purchased during my time in Yellowknife from a local shop that are made from deerskin. I personally prefer to now purchase gear that is from natural products as much as possible to try and avoid plastics but that choice is up to you!
Hand Warmers
Chances are you've used Hot Paws or a similar hand warmer, however these single-use items are terrible for the environment. When I was in the Northwest Territories, I was gifted a pair of Aurora Heat hand warmers thanks to a kind soul I'm now lucky to call my friend and they are incredible!
An Indigenous-owned, local company in the Northwest Territories, Aurora Heat carries on the traditions of the Dene and how fur has kept First Nations, Inuit and Métis People warm for millennia. Their warmers are made from beaver pelts and to quote their website, "We make use of fur in a respectful and responsible way because it is one of Nature's most useful gifts to us."
These hand warmers are not only sustainable but will last for years. I've had mine for almost 3 years now and they're still in pristine condition. All you do is put the warmers into your mittens and you'll find yourself constantly moving your fingers against the fur. It's so soft that you can't help it! This generates heat and you'll never have cold fingers again. Trust me when I say do yourself the favour and ditch the one-time use hand warmers and invest in a pair from Aurora Heat!
Water & Snacks
The key to every hike whether you're out in cold temperatures or in the heat of the summer – staying hydrated and fuelled!
My Hydroflask water bottle is the main bottle I use to stay hydrated, especially in the winter months. Why? It's insulated and so I often fill it with warm water, say around room temperature or a little warmer. Not only does this keep it from getting too cold as you spend time outside, but it's also a nice heat boost if you're fighting off a chill!
As for snacks, I always prepare something that's easy to eat without taking your mittens off for too long. You'll want to stay away from anything heavy in water like cucumber as it has the potential to freeze (true story) and opting for snacks high in protein will keep you fuller for longer. Dick Duff's Jerky is a great option and they have some deliciously unique flavours like red wine and rosemary which I'm a big fan of! Nuts, protein bars and cheese and crackers are also great options too for when hunger strikes.
External Battery
So you might think this is unnecessary, but if you ever find yourself in a hairy situation, you're going to want to make sure you have plenty of phone battery to call for help. While I typically have one on me because I'm an avid photo taker, my main reason for carrying one is to ensure I always have juice to stay connected in case of an emergency. The cold weather can certainly wreak havoc on a battery's charge life so better to be safe than sorry!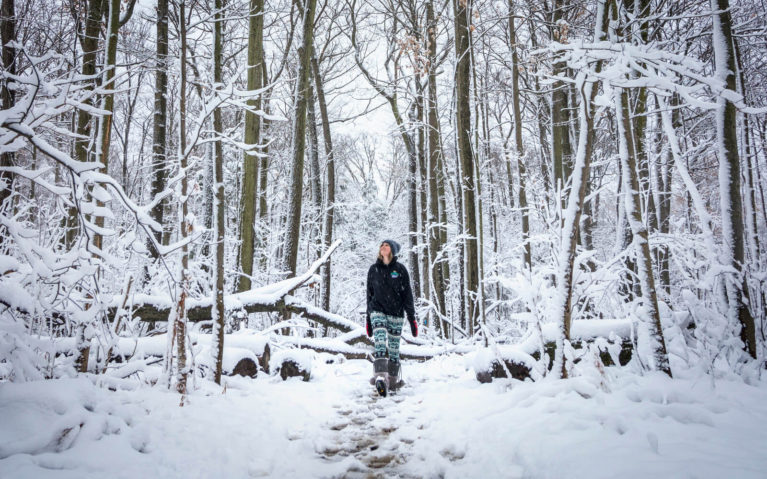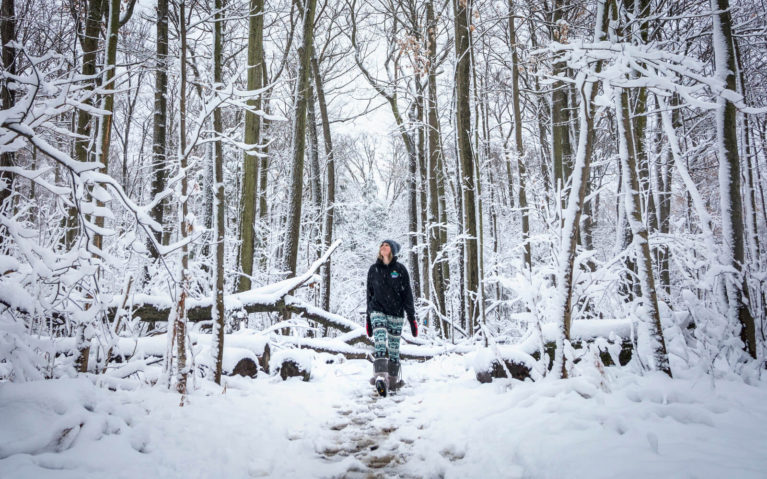 Get Your Winter Hiking Gear Checklist
Well, there you have it! This is everything I pack to make sure I stay nice and toasty while out for some day hiking in the cold weather. It can seem daunting to hike in the snow but it'll be a breeze once you're equipped with the right winter hiking gear! If you have any questions about the winter hiking gear I've listed, let me know in a comment below. I'm always happy to clarify or answer any questions my readers might have!
Did I just throw a little too much information at you? Well, you can get a simplified version! Sign up for my newsletter to become a member of the IBB travel crew and you'll get a free winter hiking gear checklist! Whether you're heading out for a day hike or packing for a weekend adventure, this freebie will help ensure you have everything you need to stay nice and toasty while hitting the trails. There are even a few additional tips (like what you should bring an extra pair of!) that you'll only get with this download so sign up today!
Looking For More Winter Hiking Tips?
Don't Miss My Guide to Winter Hiking for Beginners!
Keep This Winter Hiking Gear List For Later & Pin It!