Calgary to Edmonton Road Trip: An Epic Winter Adventure

No trip to Alberta is complete without exploring the Rocky Mountains. While many visit the area in the warmer months, I made my way to the province in the dead of winter. Despite shorter days and the chance of snowy weather, I highly recommend hitting the open road. Calgary to Edmonton makes a fantastic road trip whether it's the dead of winter or otherwise!
3 Day Calgary to Edmonton Road Trip Itinerary
The quickest way to get from Calgary to Edmonton is 281km via Highway 2 which takes approximately 3 hours. Direct flights are available from a number of airlines like Air Canada, WestJet and Central Mountain Air if you'd rather dodge the drive and spend most of your time in these two cities. However by doing so, you'll be missing out on so much of the province's beauty! Why bypass the incredible Canadian Rockies? Chances are that's what you're here for, right?!
Trust me when I say you'll seriously be missing out by not exploring Banff, Jasper and plenty of other great destinations between Calgary and Edmonton! Whether you have seven or even ten days in Alberta or just a handful like I did, you have to check out this road trip.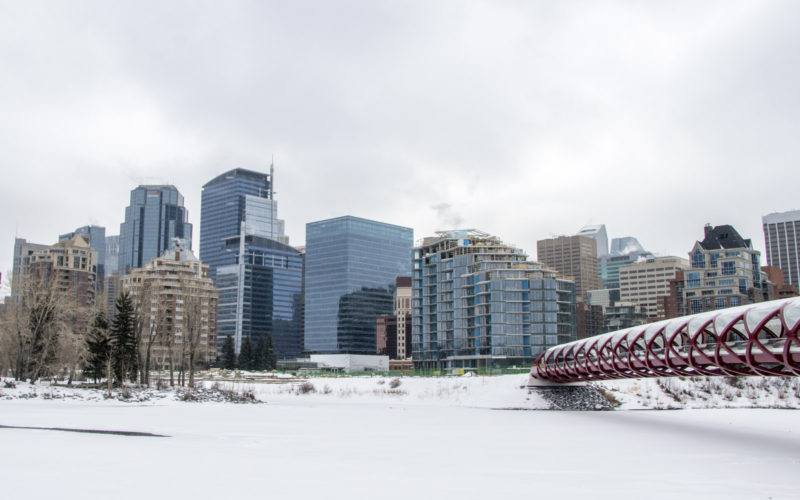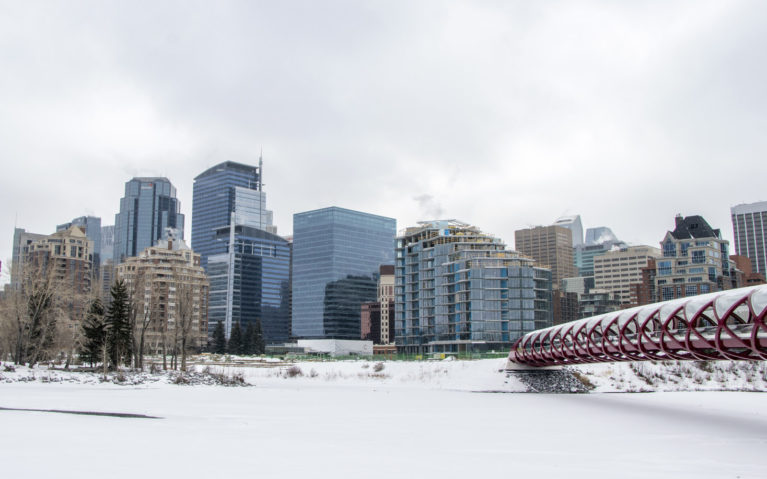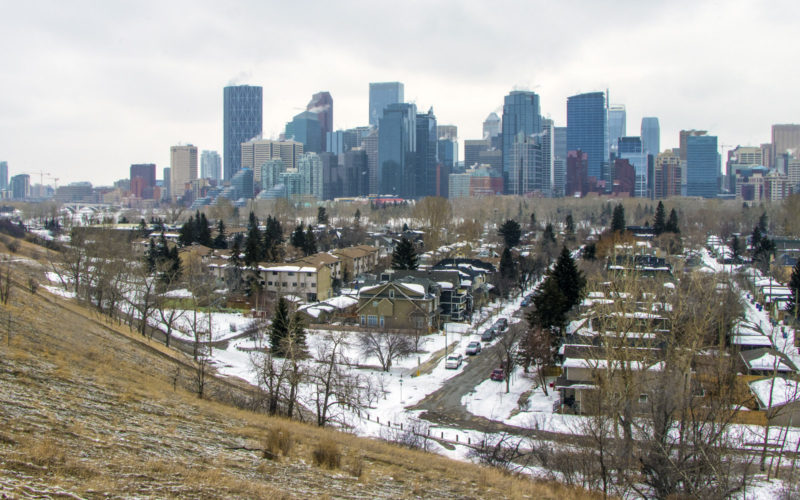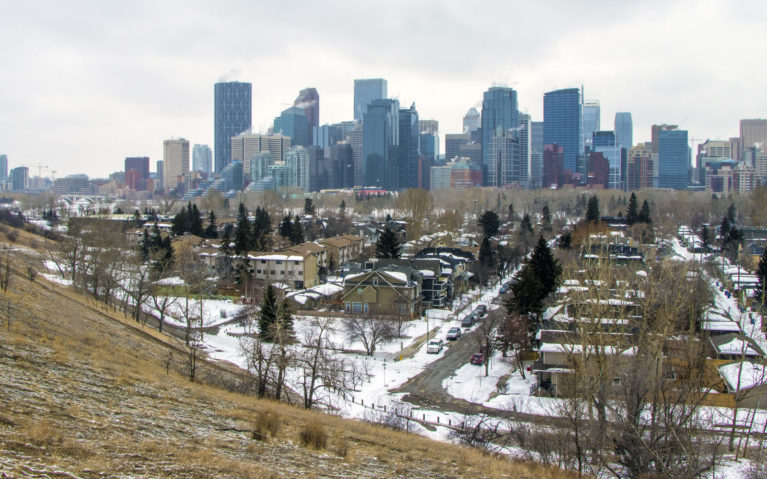 Day 1 – Calgary to Banff and Lake Louise
Grab your keys and let's hit the open road! It's best to get an early start so you can make the most of your day, especially in the dead of winter. You don't want to waste those short daylight hours! Hop on the Trans Canada Highway for about 1.5 hours and you'll make it to your first stop, Banff. One of, if not the most popular destination within the Rocky Mountains, Banff has a number of boutiques, shops and eateries along with plenty of adorable accommodations. Though I'd say the biggest draw is the 6,500 square kilometres of national parkland surrounding it!
Banff itself is an adorable town and as such, a hot spot for tourism. One of the reasons I visited Alberta in the winter was to try and avoid the summer crowds. However, you'll still find plenty of people here as skiing, snowboarding and other adventures are abundant! While I didn't make this my base for the evening as I was just zipping through, there are plenty of great accommodation options if you'd like to spend some extra time exploring the city.
Unfortunately sometimes Mother Nature doesn't cooperate and instead of the iconic blue Alberta skies, you'll have lots of blowing snow. Don't let this (or the possible -35C temperatures) deter you! Enjoy the town and if you need to, duck in and out of the stores to keep warm. You might just find a cute souvenir or two! If you're unsure of what to do, the tourist information centre is a great resource and the perfect spot to sign up for any tours or excursions… like a nighttime ice walk of Johnston Canyon. Until night falls, I highly suggest heading to Sulfur Mountain.
Hop on the gondola to the top of Sulfur Mountain. Here you'll find some walking paths to the Cosmic Ray Station National Historic Site. Be warned though, if the weather is snowing and blowing as it was for me, the wind can be a bit brutal. If you have more than three days or have time to wait out the weather a bit, I'd suggest waiting for some clearer skies. If you're like me and don't have the luxury of returning on a calmer day, be sure to have many layers!
The Sulphur Mountain Cosmic Ray Station was established in 1957-1958 for the International Geophysical Year, organized by the International Council of Scientific Unions. As one of Canada's nine stations, it collected data to learn more about supernovae, stars and our solar system. It stopped operation in 1978 and became a historic site 4 years later. Now you can head up the stairs and enjoy the views from 2283m. Even with the blowing snow, the views were still quite magnificent!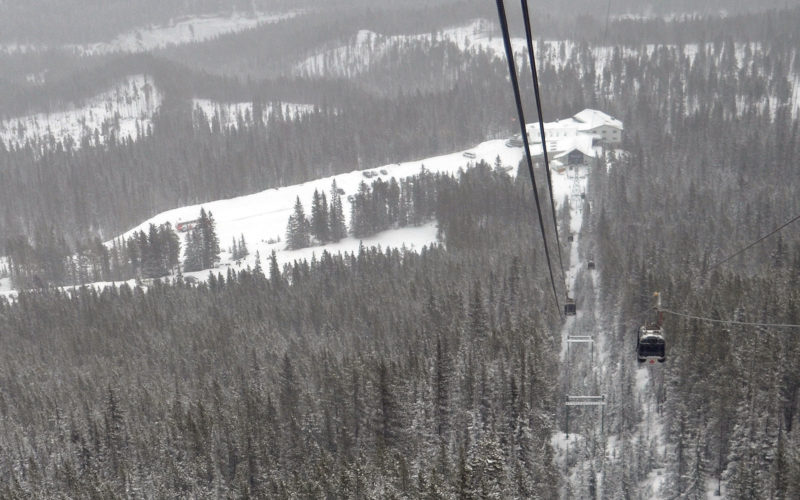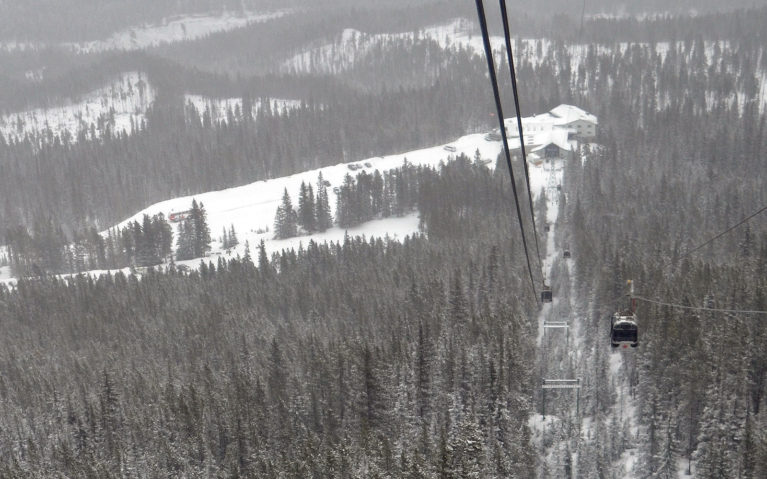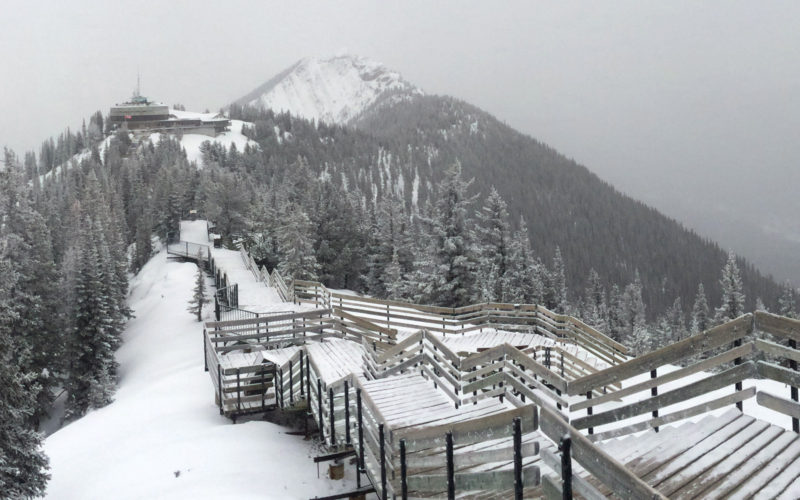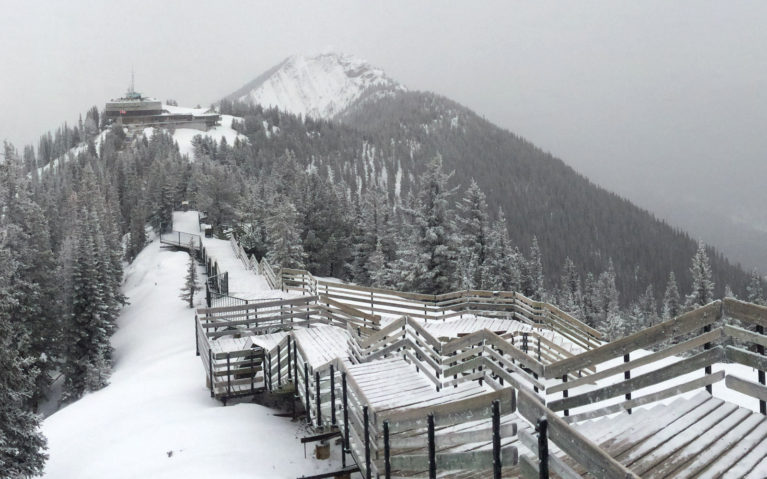 If you'd rather avoid the cold and would like to know more about the rich history of the area, head to Cave and Basin National Historic Site. Here you can learn more about the area and how Canada's park system came to be and why Banff National Park was created as Canada's very first national park in 1885. Included with your entry fee are a number of tours which will give you a greater understanding of the area and its importance.
If you've heard there are hot springs in Banff, you have heard correctly! You can actually visit two historic sites for the price of one with the Thermal Waters Pass. This gives you access to both Cave and Basin National Historic Site as well as the Banff Upper Hot Springs. Here you can soak in the views of Mount Rundle and Cascade Mountain while soaking your body. There's a reason this area has been treasured by the Indigenous for millennia for its healing powers.
As you can see, there is so much to see and do in Banff that having just one day isn't enough. You could easily plan a trip solely around this area! If you'd like to extend your trip, this is naturally a place to do so as I haven't even mentioned the hikes and excursions within the park itself!
Once the sun sets, it's time for the Johnston Canyon Evening Icewalk with Discover Banff Tours. Enjoy the calm quiet of the Johnston Canyon in the dead of night. The tour will take you through the Bow Valley Parkway as you make your way to the trailhead. Strap on your crimpers and trek along the steel catwalks in the canyon. It may take a moment for your eyes to adjust, but the views are beautiful! Take in the winter scenes straight out of Frozen as you witness brilliant ice formations and gorgeous frozen waterfalls. You'll top the night off with a visit to the Lower Falls and then warm up with some delicious hot chocolate.
INSIDER TIP: You don't have to go on an organized tour in order to explore Johnston Canyon, though you have to at night time. I didn't have the chance to experience Johnston Canyon during the day, so I feel as if I didn't get the full experience of the area. It'll be on my list for my next trip!
Chances are you'll be tired by this point. As I was looking to cram as much as I could into my stay, I made my way to Lake Louise where I stayed for the night. If you'd rather not drive in the dark or if you feel too tired to drive, play it safe and stay in Banff. Rest up and head to Lake Louise in the morning!
NOTE: You can do Lake Louise as a guided tour if you'd rather not do the driving yourself. There are a number of great tours that leave from Banff so you can stay close to amenities while enjoying the natural beauty of the area!
I wanted to get to Lake Louise so I could enjoy a quiet morning exploring the area so I was on my way again after the tour. When driving at night, take your time and be careful as the road can be slippery if there has been recent snow. Needless to say you'll sleep well once you settle into your hotel! There are plenty of options in Lake Louise, though I spent the night at the Deer Lodge, one of the Canadian Rocky Mountain Resorts. Unfortunately as I arrived so late, I wasn't able to fully enjoy the amenities like their sauna or spa. Since my visit, they've upgraded their facilities to include a rooftop hot tub offering amazing views of the Victoria Glacier! You can check out these reviews on TripAdvisor to hear more.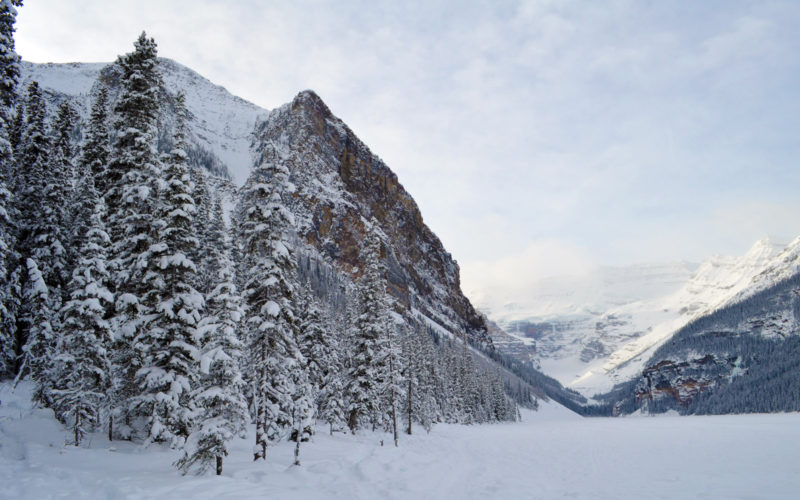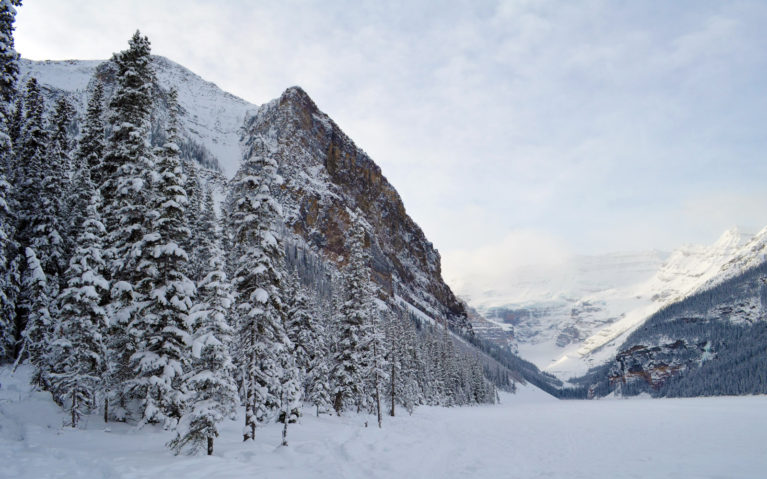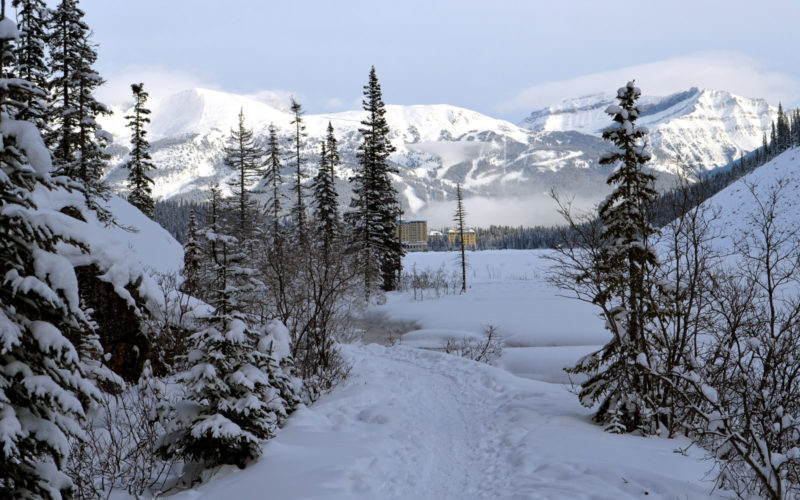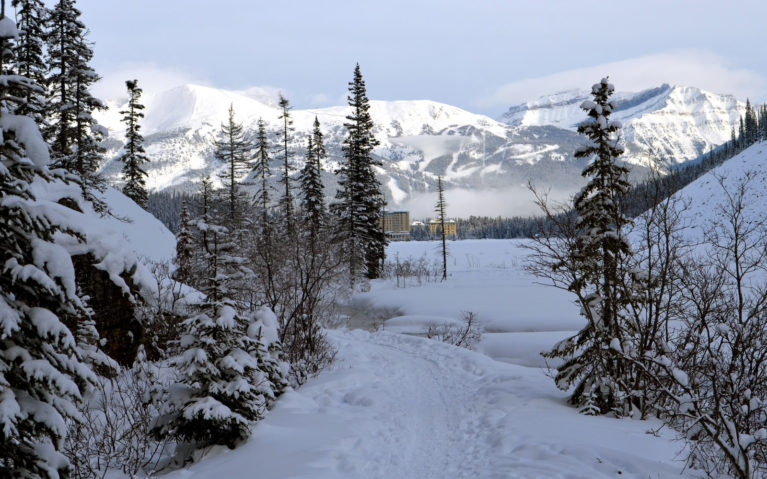 Day 2 – Lake Louise to Jasper
It was an early start for day two of my road trip and I was ecstatic to be greeted by a clear sky. Why? My first stop of the day was the iconic Lake Louise! You probably know her from turquoise blue waters with towering mountains as the backdrop, but your view will be a little different in the colder months. Lake Louise is also home to the famous Fairmont Château Lake Louise, the most iconic hotel in Alberta.
While some of the hikes aren't fully accessible in the winter, there is one huge perk that you can only enjoy once the temperature drops… a frozen lake! Yes, this means you can actually walk right across it. While I wouldn't want to be the first person to test the waters, I saw numerous footprints and couldn't resist following them. Take your time and walk softly while enjoying the incredible views that surround you.
Wonder what other things to do in Lake Louise in winter? Right on the lake itself, you can enjoy the local skating rink. Snowshoeing is always a fantastic option and there are some guided tours you can enjoy. If you're a stargazer, you'll love this nighttime snowshoe tour where you can enjoy the beauty of the Rockies with the Milky Way dazzling above them. Cross country skiing is another viable option for exploring Lake Louise. Never tried it before? That's okay, there are beginner tours available where you can learn!
Looking for more things to do in the winter?
Check out these winter activities that'll have you embracing the season!
After crossing, I met up with one of the trails that leads around the lake. You'll wander past a few streams that won't be completely frozen despite the -35°C (-31°F) temperatures. It's quite remarkable! Let's be honest – the whole area is overwhelmingly beautiful. Anyone who has been there can agree with me in that you need to take your time to just stop and take everything in. Personally, mountains are my second favourite element of nature (beat only by waterfalls, obviously), but being on the eastern side of Canada makes them hard to come by. I was overwhelmed with joy at being able to enjoy the mountains again. All I can say is, Lake Louise is a must-visit in the winter!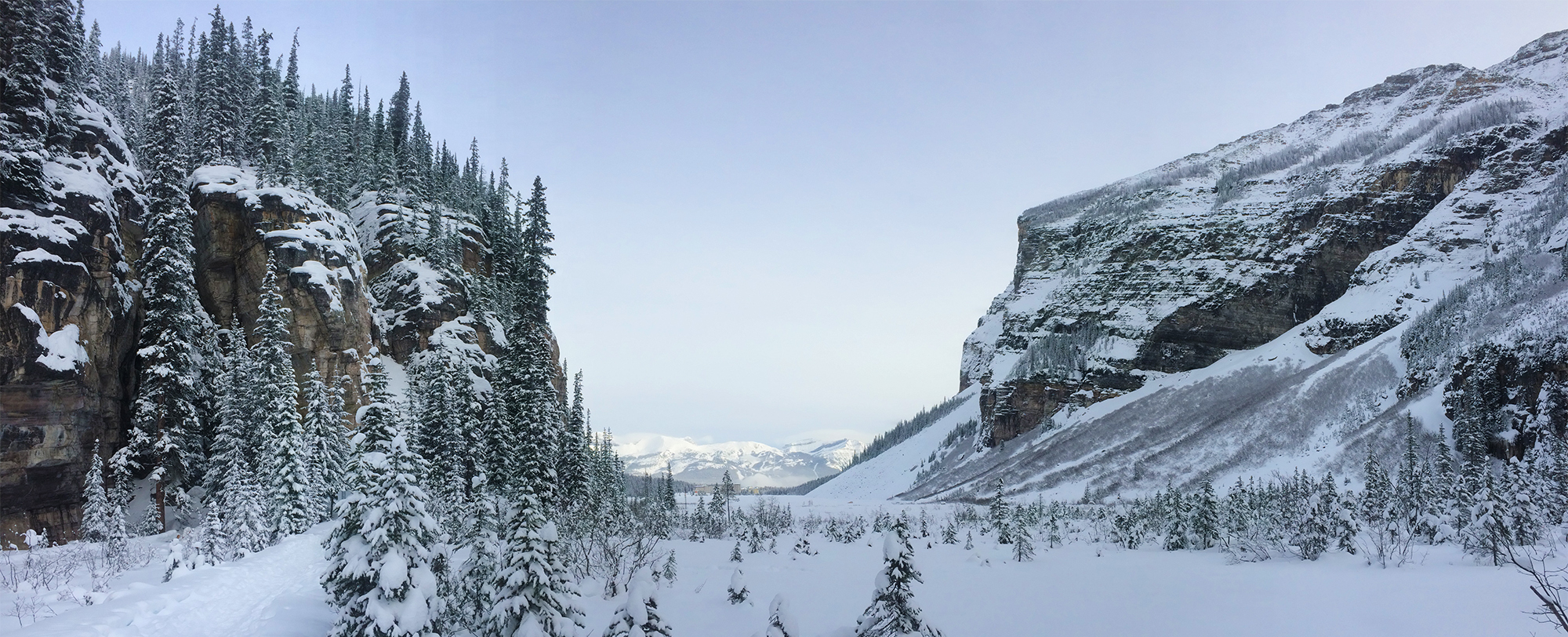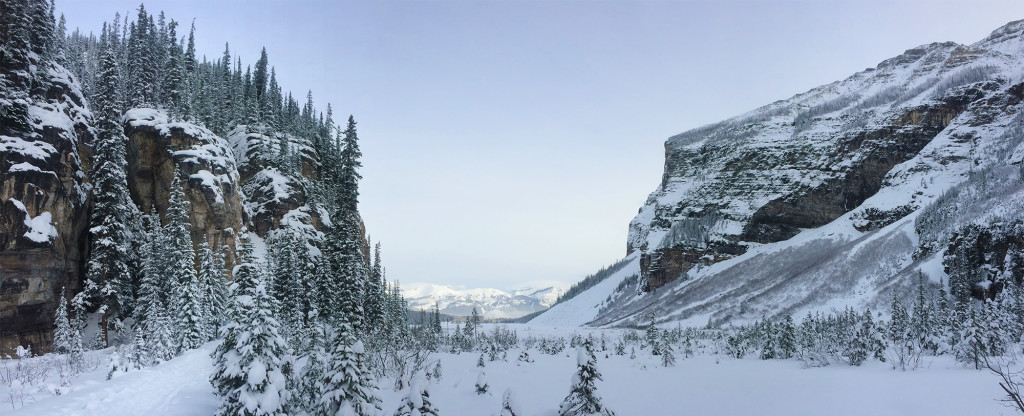 | | |
| --- | --- |
| | |
By now you're probably hungry after all that adventuring! Lake Louise is a tourist hot spot so many of your restaurant options are on the expensive side, but never fear. There's always a way to eat without breaking the bank! Head to Samson Mall in Lake Louise Village for your meal. Inside you'll find the Trailhead Cafe where you'll find sandwiches and wraps, Laggan's Bakery and Deli which has a number of baked goods including sausage rolls and pizza pretzels, and The Western Bar and Grill which serves both Canadian and Chinese entree options. If you're looking to eat where the locals do, you'll want to head to Billy Peyto's Cafe which has the largest variety of all the options listed above. Don't forget to gas up (and grab some snacks!) before getting back on the road.
To get from Lake Louise to Jasper, you'll be taking the Icefields Parkway. It's one of the most iconic drives in the world as you travel 232km, winding along the Continental Divide. You'll see beautiful mountains, expansive valleys and its namesake icefields. While this route is well-travelled in the summer, it doesn't see nearly as much action in the winter months. As a result, you'll need to be aware of slippery road conditions. A lot of this route is also a no cell-zone, meaning you can be in a bind if you require emergency services. Don't rush and give yourself plenty of time in case you run into any trouble… like I did.
STORY TIME: I was driving down the highway and saw the turnoff I wanted but unfortuntely a little too late. I tried to turn quickly and with the ice… ended up in a snowbank. I was a little worried as I was stuck and couldn't reverse. Much to my dismay, a truck with two gentlemen in it saw that whole thing and were laughing. I tried to play it off with a joke about being a terrible driver to hide my embarrassment. Luckily with the help of another pair of men that had just finished some ice climbing, the four of them were able to drag my car out of the snow and get me on my way… and this is why you get the extra insurance.
Driving in the winter, it's good to note when the sun sets otherwise you'll be driving in the dark. This normally wouldn't be much of a problem but it's something to note when heading to Jasper, your next stop. Lindsay, this really isn't that big of a deal, is it? Actually, it is as Jasper is the second largest Dark Sky Preserve in Canada. While this is absolutely wonderful for stargazing, it can make driving a bit hairy with little to no light on the roads. Unfortunately for me I was behind schedule due to my driving mishap… meaning I was white-knuckling it through the no cell zone hoping for no four-legged company to cross my path. The hour to Jasper felt like eternity and I can't tell you how relieved I was to see the lights of the city! Needless to say, I slept VERY well after enjoying some takeout from the Jasper Pizza Place (their pasta is AMAZING!) and a good night of sleep at the Maligne Lodge, my home base for Jasper. See what other guests have to say about their stay!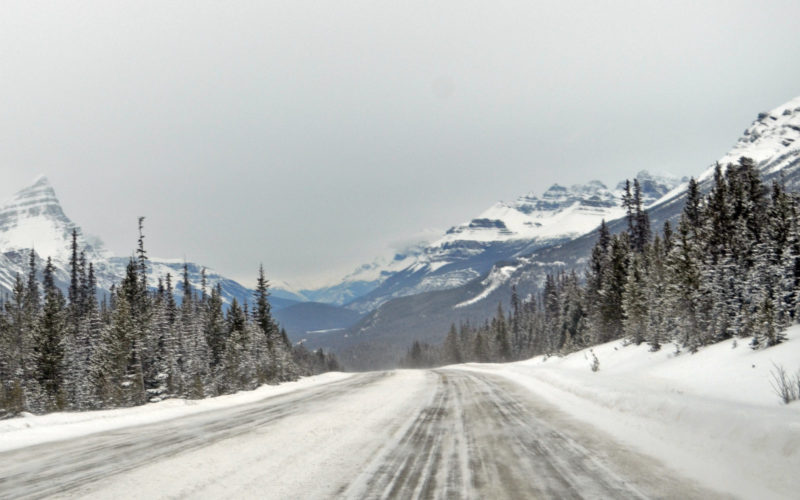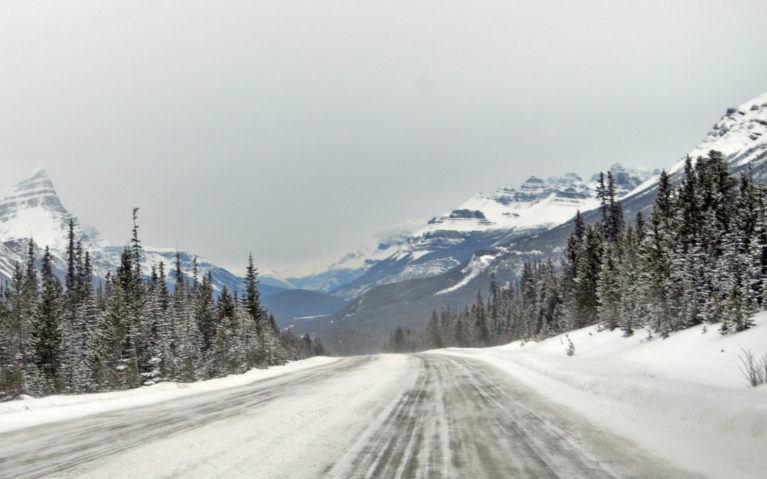 Day 3 – Jasper to Edmonton with a Stop at Maligne Canyon
Bright-eyed and bushy-tailed, I packed myself up and set out for Maligne Canyon. A short 15 minute drive from Jasper, Maligne Canyon is not to be missed while exploring Jasper National Park. Park at the trailhead and explore its winter wonders. Be sure to give yourself a few hours as these trails offer some amazing views. Be sure to hit all of the bridges as they offer amazing glimpses into the canyon.
One amazing adventure you can only enjoy in the winter is a walk along the canyon floor. With temperatures of -35C being a regular occurrence, the water freezes allowing you to walk along it when normally there's rushing water. When you're following the trails and come upon a section which runs along the river's shore, keep an eye out for the semi-frozen waterfall like the one below that I'm standing beside. Chances are you'll see footprints leading towards the water. Head to the left and you'll find a path which will take you right to the base of the canyon.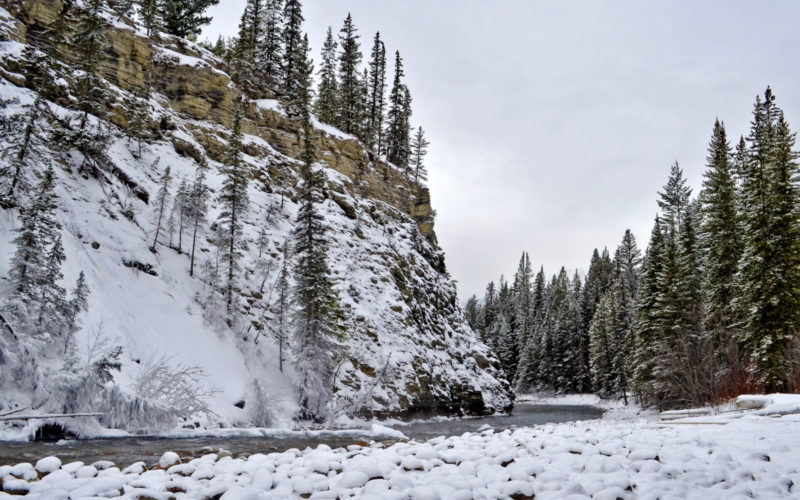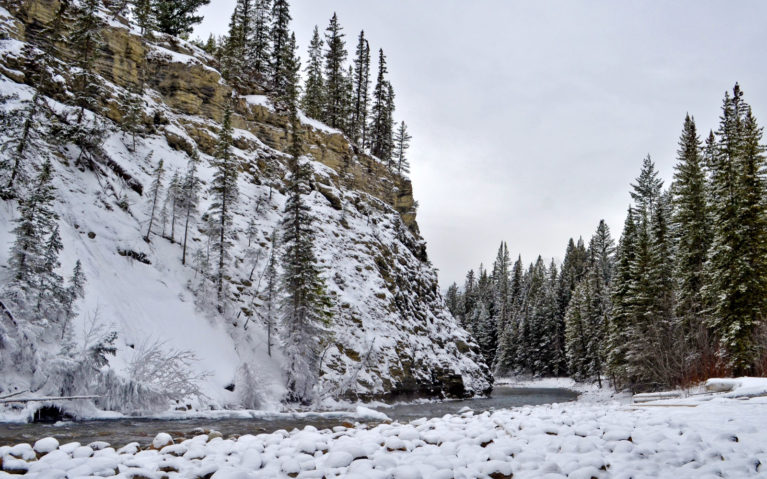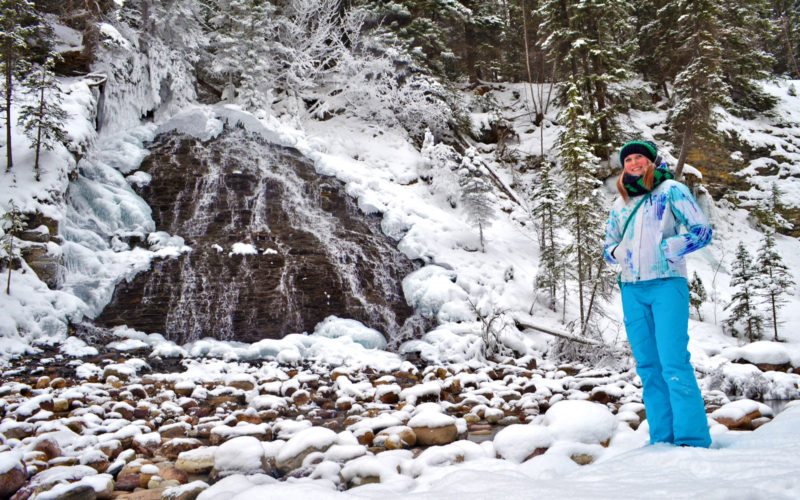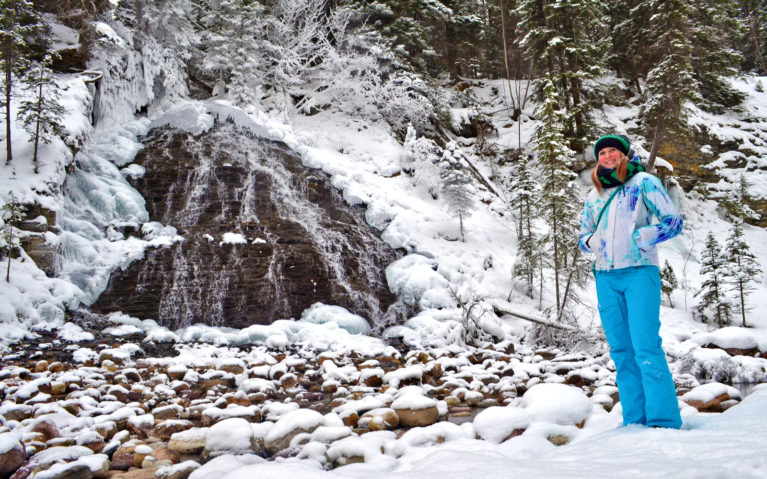 SOMETHING TO NOTE: As it is ice, the floor can be very slippery. If you have crampons, now is the time to break them out. Otherwise, be very careful and don't step anywhere you don't feel comfortable. That epic selfie isn't worth it if you find a weak spot and fall into the freezing water!
When you get to the base of the canyon, take a moment and really experience your surroundings in your own way. Whether it's just sitting down and taking a deep breath, or finding that perfect panorama and spinning in one spot – do it!  For me, it was laying down on the canyon floor. I tried to take a photo, but even though a picture is worth a thousand words, it still just isn't enough to fully convey how amazing it felt to be there!
Once you've had your fill of adventure, it's time to head back to the car. It's about a 4-hour drive back to Edmonton, so be sure to leave yourself lots of daylight for the drive but enough time to fully enjoy Maligne Canyon. It may mean an early morning but trust me, it's totally worth it!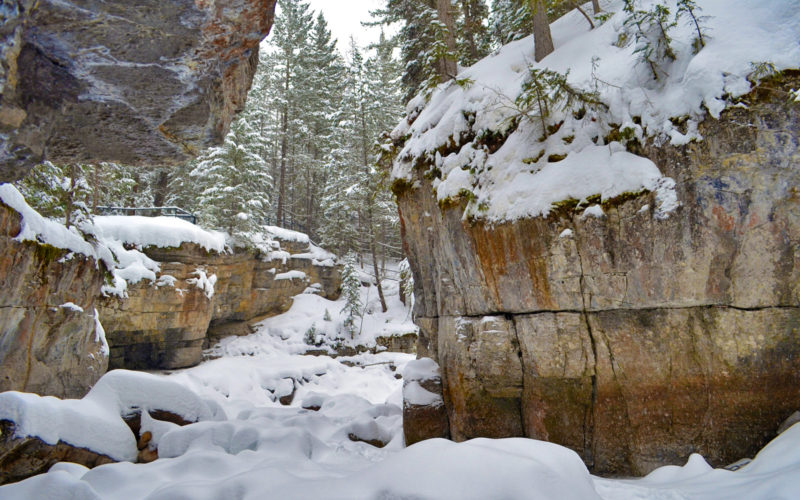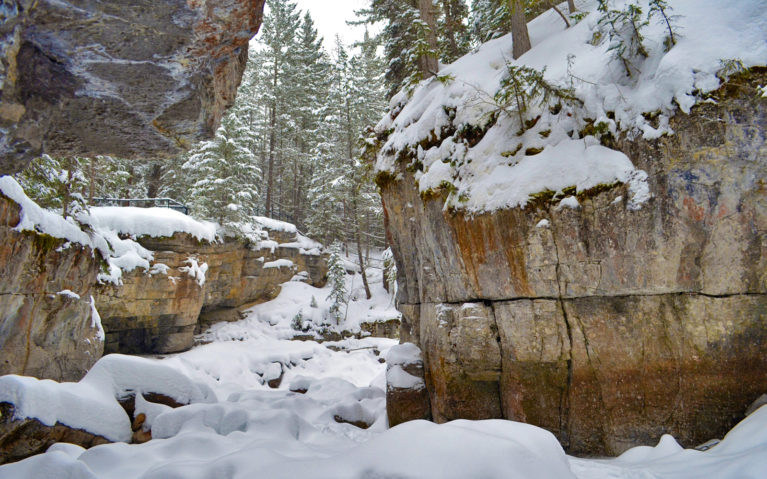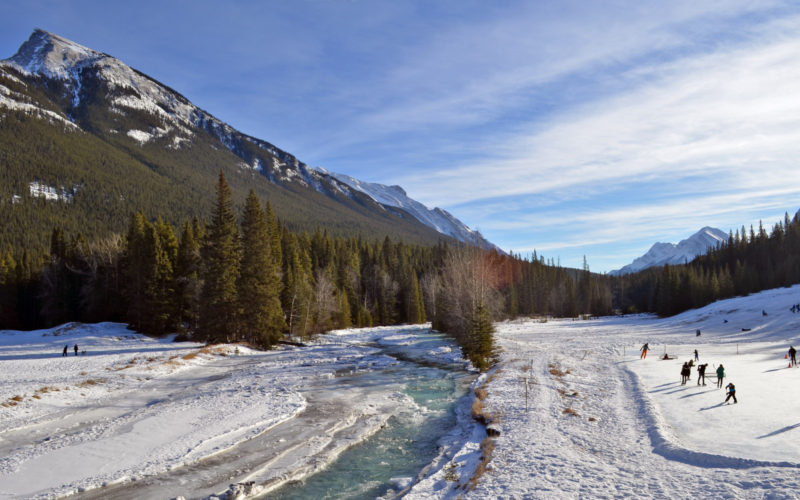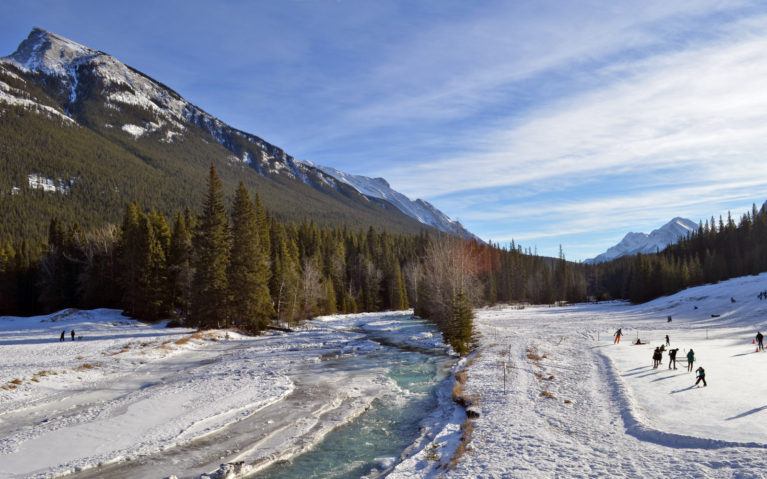 A Few Insider Tips for an Alberta Winter Trip
Before I get into the route, there are a few things you should know before tackling this trek. I learned these first hand so don't learn the hard way like I did!
Check Your Tires
When renting a car, especially in winter, many rental car companies have all-season tires on their cars. This was at least the case for me while renting from Enterprise. All season tires begin to lose grip when the temperature drops below 7°C (44°F), so keep this in mind when taking an exit ramp.  Start slowing down early, especially since the average temperature when I was driving was around -20°C (-4°F).
Get the Extra Insurance
Make sure you get the extra insurance when getting a rental car. That way if anything happens (like say, a rock flying at the windshield less than 50km away from the drop-off point), you're covered. It'll mean less stress for you. Yes, it adds to the price of the rental, but I think it's worth the ~$20-$25 per day for my sanity. If you're using a credit card that comes with travel insurance, be sure to look into the requirements for it as you may be able to skip this extra cost.
Grab a Parks Canada Pass
In order to take this route, you need to have a Parks Canada Pass since there is no place to purchase a day pass on the Icefields Parkway between Banff and Jasper.  I'm not sure what the penalty would be if you were caught, but I would suggest purchasing a yearly pass. This gives you access to over 80 Parks Canada sites which include Canada's national parks and historic sites. Since the majority of the sites have an admission cost, chances are it's worth it to purchase a yearly pass at ~$68CDN for a single person or ~$136 for a family which includes up to 7 people in one vehicle. If you plan on going to any other sites, it's worth it since the pass is valid for a year from the month of purchase.
Beware of No Cell Service
Along parts of the parkway there is absolutely no cell reception, so if something goes haywire you'll need to depend on the kindness of others (or a very long walk) to get to cell reception and then backtrack to your car.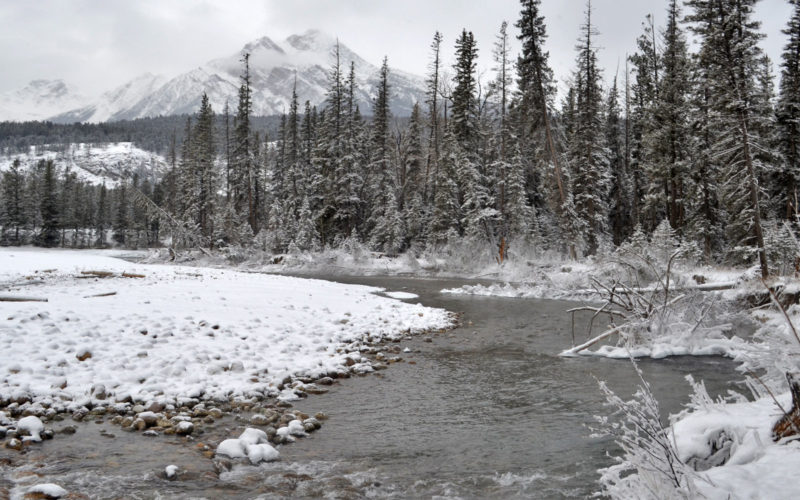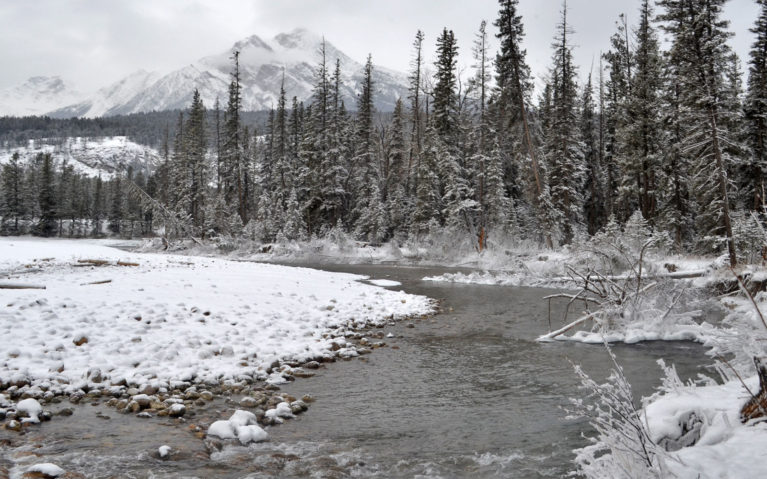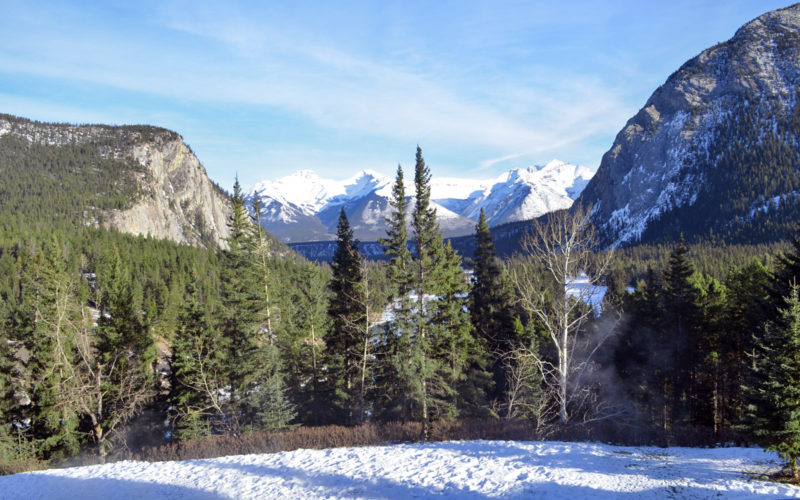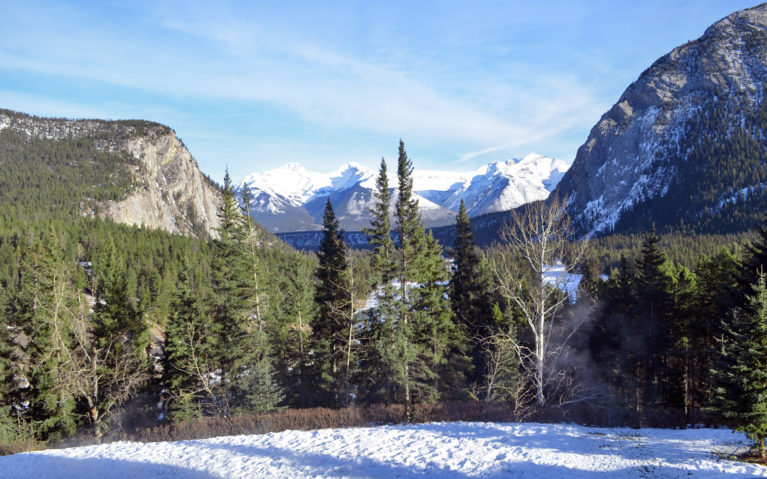 Ready to Road Trip From Calgary to Edmonton?
This 3-day road trip only scratches the surface as there are so many places to visit in Alberta, but it will give you a taste of what the province has to offer. You can easily extend your visit and tackle more hikes and make it a true Canadian Rockies road trip! It'll also allow you to explore more areas around the two cities and everything in between.
Even though I went from Calgary to Edmonton, you could easily do the route in reverse. If you need to do a round trip rather than a one-way adventure like me, it takes 3 hours to drive from Calgary to Edmonton via Highway 2. However be very careful as this stretch can be a little slick at times with blowing snow.
Have you ever taken this route? Is it on your Alberta to-do list? If you're looking for more amazing Canadian adventure ideas, check out this epic round up from coast to coast!
Disclaimer
This post contains affiliate links where I may receive a kickback on any purchases made through them at no extra charge to you. Read more in IBB's disclaimer and privacy policy.
Ready to explore this Calgary to Edmonton route? Pin it for later!