Touring Eastern Canada: What to See & Do for a Seriously Amazing Trip

Canada is an absolutely massive country with so much to offer locals and visitors alike. As such, it can be overwhelming to know what to see and do so you don't miss out on what it has to offer. Touring Eastern Canada is something everyone should do and this article will ensure you have one seriously epic adventure. It's a given that you'll need more than just one trip to experience it all… but you might as well give it a solid try in one shot!
Touring Eastern Canada
When many people visit Canada, they head straight to the well-travelled destinations.  Experiencing the hustle and bustle of Toronto, witnessing the thunder of Niagara Falls, exploring our nation's capital in Ottawa, etc. Some venture further east towards Montreal, however most don't even realize that Ontario and Quebec are actually Central Canada and not even truly east! As such, many miss out on New Brunswick, Nova Scotia, Prince Edward Island and Newfoundland. We can't hold it against them though, it's a lot of ground to cover! 
The easiest way to tour Eastern Canada is on a road trip while making your way through Central Canada. This gives you the freedom to experience off the beaten path places so you're not confined to the larger, more populated cities. Don't get me wrong, they're great and all but if you want to truly experience Canada – you gotta go a little further!
Now what if I told you that you could enjoy these lesser-known destinations on a seriously epic road trip where you will be driven from city to city? One that can take you across multiple provinces where you'll enjoy the best of what each region has to offer? You may think it's too good to be true, but it really isn't as Out Here Travel makes this dream a reality. Oh, and you can do it all without breaking the bank. I kid you not right now!
About Out Here Travel
Owner and 'Chief Adventurer' Jared Nusinoff left his cushy job at Google after realizing just how difficult it is to truly experience Canada. After talking with fellow travellers about how hard it to travel within Canada solo, he quickly started crafting a solution. Remembering the trips he took as a kid in Northeastern Ontario with his dad, he wanted to make those experiences accessible to everyone. Paddling whitewater rapids, camping under the stars, cooking over a fire, exploring local gems that bring a town to life – these are the truly Canadian experiences many don't get to enjoy… until now!
Out Here Travel is the answer to the tricky planning that comes with Eastern Canada tours. They've got your transportation covered as you visit up to 5 of Canada's provinces. Upon arrival, you'll have a bed to rest your head, often in unique accommodations such as rustic cabins, yurts and more. The only thing you really need to worry about is what excursions you'll do so that you can make the most of your trip. When that's the only thing you have to think about… I'd say that makes it one of the best Eastern Canada tours around! Especially since Out Here is the only Canadian tour company around that will take you to these awesome off the beaten path locations in a single trip.
Out Here Travel's Tours
What makes Out Here Travel an amazing choice for touring Canada is that you won't be rushed. Whether you pick a two-week trip or a month-long adventure, you'll spend at least 2 nights in every place. The necessities are already set up for you like transportation and accommodation but you'll enjoy ample freedom to explore what you want! Energized and want to tackle some whitewater rapids? You can do that! Exhausted and would rather take a day to just enjoy the waterfront in the Quebec Maritimes? That's cool too! The trip can be as busy or laid back as you like as you choose what optional day trips to participate in once you've arrived at a destination.  
These adventures are geared to a younger, adventurous crowd. You'll be hitting the road with 18-39 year old adventurers who are all looking to experience the beauty Canada has to offer. Unlike some other larger tour companies, Out Here Travel's tours are capped at 18 people. No overwhelming crowds as you've only got a small group to contend with. You'll be hanging out with like-minded individuals who are just as excited as you are to explore this incredible country. For someone like me who doesn't travel in groups ever, this really puts my mind at ease!
For those looking to enjoy this trip to the fullest, all add-on excursions have been tried, tested and approved by Out Here Travel's guides. These aren't experiences they're pushing you on to make a buck. None of the guides get any commission off of the additional adventures you may go on. They're suggesting them to you because they've done it and they know it's amazing. Out Here Travel wants to ensure you have the most amazing trip possible by engaging in truly Canadian experiences and adventures.
While I haven't done a trip myself, this is on the docket for next year and I'm already pumped! I've actually never been on a group tour which slightly terrifies me as a mostly-solo traveller… but travel is all about pushing your boundaries, right?! I'll be sure to give you the lowdown on everything once I go. Stay tuned for the dates once they're confirmed – and maybe you'll wanna tag along with me! I promise I'm tons of fun to travel with – just ask Olivia or Gemma.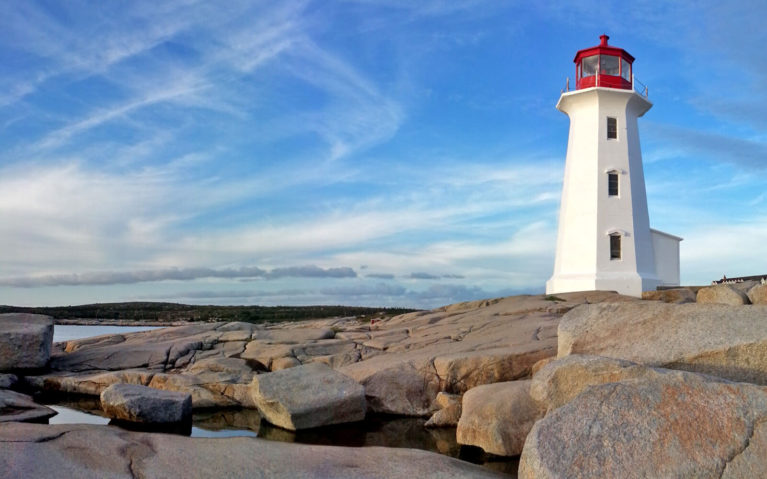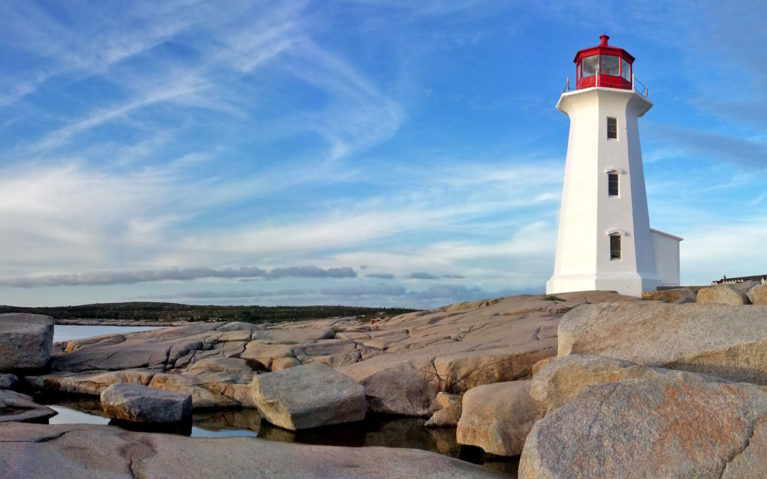 Destinations To Visit When Touring Eastern Canada
As I said, I haven't been on one of their trips myself but I have been to a number of the destinations their trips visit. I can say first-hand that they're amazing and are must-visit destinations for any east coast Canada adventure. The ones that I haven't are places that have been on my list – meaning I'm super excited for summer 2020! Whether or not you join one of Out Here's tours, these are definitely destinations you won't want to miss on any Eastern Canada road trip.
Algonquin Park, Ontario
This provincial park is one I have yet to visit and I know, shame on me. You'll hit the road early from Toronto as you make your way to the first provincial park in Ontario. Where the famous Group of Seven came to paint, you'll be blown away by the ruggedness and natural beauty found here. Established as a wildlife sanctuary in 1893, enjoy paddling its vast lakes and taking in the views from its incredible hiking trails. You'll sleep well surrounded by all that nature has to offer, especially after some serious stargazing!
Ottawa, Ontario
No trip in Eastern Canada would be complete without a trip to our nation's capital! While you can choose to enjoy the city and all it has to offer, you have lots of options for some seriously quintessential Canadian fun. See if you can survive the infamous Bus Eater on an epic whitewater rafting adventure or treat yourself to some relaxation at Nordik Spa. There's also plenty to see just wandering around town like Parliament, Hogs Back Falls and more! You'll definitely have some nights to remember as you sleep in the only jail hostel in Canada!
Quebec City, Quebec
Next, it's off to the most European city in all of Canada – Quebec City. Wander its cobblestone streets in search of the most delicious poutine you'll ever devour. Along the way you'll find plenty of adventure including excursions to Montmorency Falls, the Plains of Abraham and more! You won't want to miss the incredible views of Canyon Sainte-Anne as you admire its 243 foot waterfall from the six viewpoints within the park. Or you can follow in Out Here's footsteps with a Via Ferrata adventure as you 'hike' along the rock using steel cables to get up close and personal with the canyon. If you hop on Out Here Travel's Winterwild trip, you might be able to sneak a peek at the only ice hotel in all of Canada.
Tadoussac, Quebec
While I was close by during my visit to the Saguenay Lac-Saint-Jean area, I never made it to Tadoussac. Luckily I'll be changing that soon on my road trip along Quebec's Whale Route!
Here you'll be treated to some of the best whale watching in Canada… and the world! The confluence of fresh and saltwater along with the marine life that comes with that attracts 13 different species of whales to the area. Hop on a Zodiac boat tour or into a kayak and see these beautiful creatures in their natural habitat. Afterwards, you can hit the town and explore along with its impressive sandbanks while fuelled by delicious local cheese.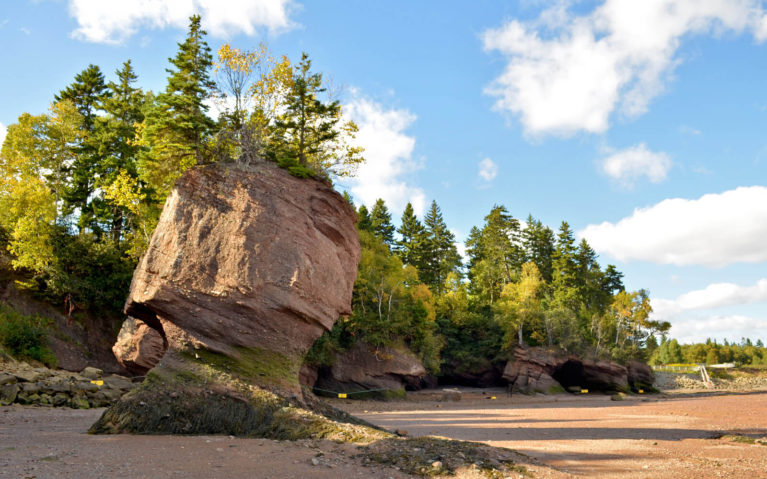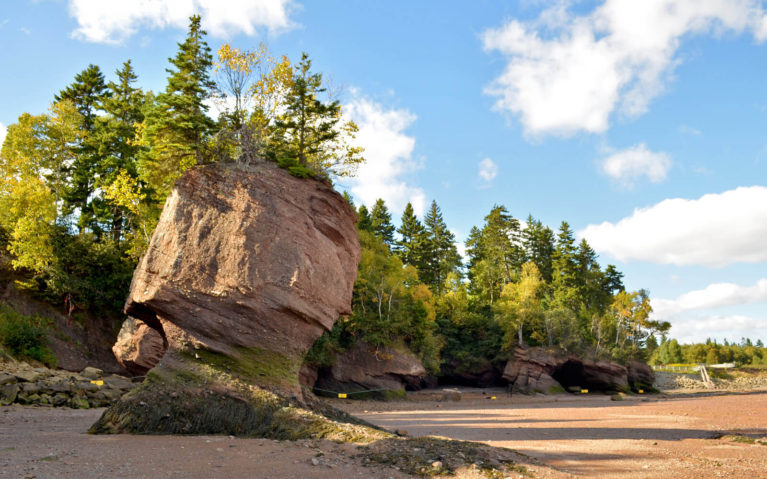 Bay of Fundy, New Brunswick
Time to officially welcome you to the Maritimes! Here you'll witness the highest tides in the world and explore the iconic Hopewell Rocks. You'll be blown away by the sheer size of these rocks as you admire them from the ground during low tide. Hop on the bus as you enjoy the incredible views along the iconic Scenic Trail Drive. Since you're here for a few days, you can count on visiting Cape Enrage, the Fundy Trail and stargazing in Fundy National Park. Don't miss out on eating your weight in seafood, too!
Halifax, Nova Scotia
Where big city buzz and small town charm meet, you'll quickly fall in love with Halifax. Enjoy the salty air of the Atlantic Ocean as you wander its charming streets. With options to visit the iconic Peggy's Cove Lighthouse, Mahone Bay and more, you'll get a taste of what Nova Scotia has to offer. Halifax also has tons of great food for all preferences and an incredible bar scene.
Cabot Trail, Nova Scotia
Now that you've had your fill of city life again, it's off into the wilderness! Hop on the bus as you head for the Cabot Trail, one of Canada's most scenic drives. The views from Cheticamp, Pleasant Bay and more will take your breath away as you head into Cape Breton National Park. Traverse the iconic Skyline Trail for incredible sunset views and stop at adorable Acadian villages along the way.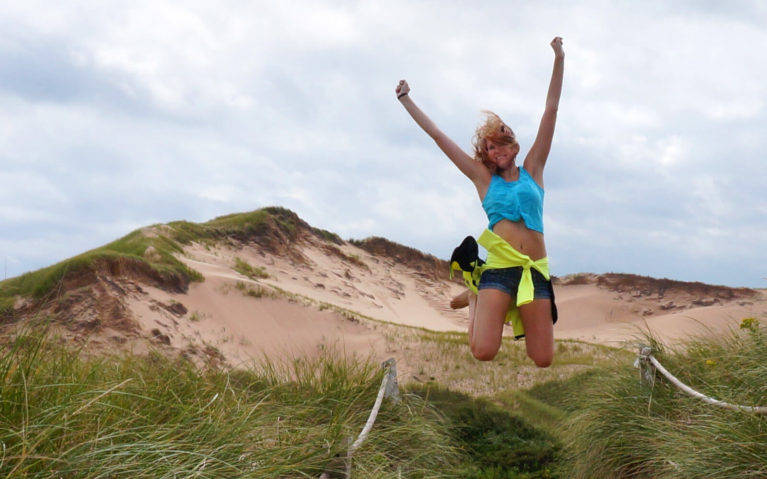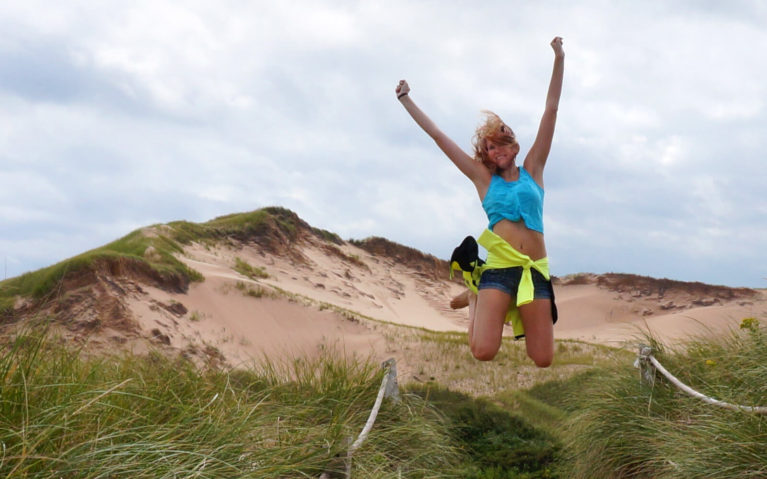 Charlottetown, Prince Edward Island
Time to visit the smallest province in Canada as you head to Charlottetown, Prince Edward Island's capital city. Where Canada became a country, the city has lots to offer. Stop by one of the many amazing local pubs and indulge in their speciality, blueberry beer as it truly is delicious. Explore the island as you enjoy some of the country's best beaches, the Greenwich Sand Dunes, Malpeque oysters right from their source, and more. You'll also get your fill of potatoes here too!
Gaspesie & the Quebec Maritimes
It's now time to head back towards home but not without some epic stops along the way. Gaspesie is a lesser-known treasure that's not to be missed. Home to Canada's tallest lighthouse, get ready for some serious adventure as activities like canyoneering await you. You'll also stay at the Sea Shack Cabins, known for their awesome beachside tiki bar and incredible bonfires that you'll remember for years to come!
Montreal, Quebec
If you've been to any city in the province of Quebec, chances are it's Montreal. Yes this may be an iconic destination, but it really has so much to offer that you can find something new to do even if you've visited 20+ times as I have. Whether you head to Mont Royal for the best views of the city, wander its cobblestone streets in the old town, or enjoy a 5 à 7 (happy hour) at one of their incredible patios, you can't go wrong. If you want to get your fill of real poutine again, this is the place to do it!
Toronto, Ontario
That's all, folks! Returning to Toronto means your adventure has come to an end… or has it? Ontario's largest city has plenty to offer even if you plan to just spend an afternoon before heading home or embarking on your next adventure. If you're looking for ideas on what to see, check out my recommendations for experiencing Toronto like a local. It'll help you feel better after realizing your epic adventure with Out Here Travel has come to a close!
Additional Destinations
Depending on which tour you take and the time of year you embark on it, these destinations may change. Their Winterwild tour that I mentioned earlier includes a stop in Le Massif and Charlevoix. Here you can tackle insane ski hills or even check off a bucket list item – dogsledding. I've also heard that they're looking to add a stop in Newfoundland to the 'Big One' tour as well!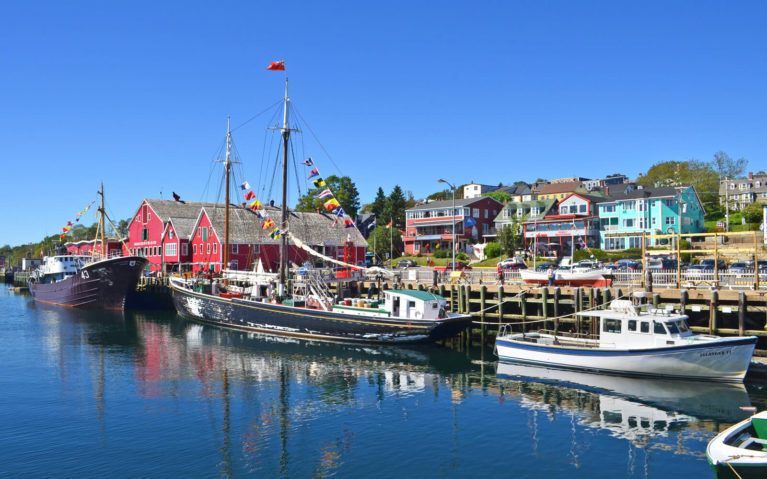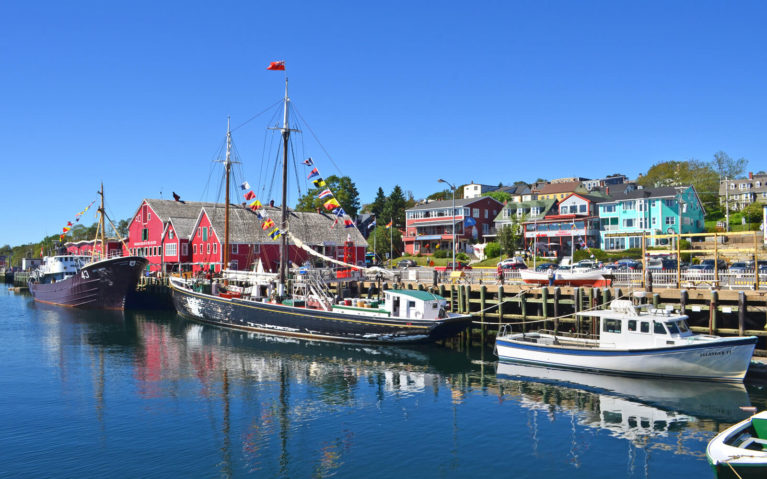 Ready For An Eastern Canada Adventure?
Looking for a seriously epic Canada vacation? Hopping on an Out Here Travel tour will ensure it's a trip you'll never forget. Their experienced guides are passionate for this country and it shows in their tours. If you want to experience Eastern Canada featuring hidden gems that the bigger tour operators barely touch, this is the tour for you. Plus you don't have to worry about the driving which really beats touring Eastern Canada by car! What better way to check off some bucket list destinations in Canada than by getting chauffeured along the way?
Be sure to visit their website and check out all of their tour options. With plenty of itineraries and trip lengths, there's something that suits every budget. Though if I have any say in the matter… my vote is go big or go home! If you'd like to join Lindsay once the dates have been finalized, please fill out this form!
Disclaimer
This post was created in partnership with Out Here Travel and while I was compensated for my work, all opinions and advice are truly my own. Read more in IBB's disclaimer and privacy policy.
Planning to Visit the East Coast of Canada? Pin it for later!