15+ Free Things to Do in Niagara Falls Ontario + Affordable Fun!

Niagara Falls is the tourism mecca of Ontario. It's a Canada bucket list item for a number of folks, attracting thousands and thousands of visitors each year. While many are happy to explore and not worry about cost, not everyone can do so. Travel can be expensive, especially for those with big families or tight budgets. Well, this list of all the free things to do in Niagara Falls should help keep costs down!
If you have a little money to spend, that's great too. I've also included a list of all the cheap things to do in Niagara Falls so that you can have an amazing time exploring without breaking the bank. Now, let's have some fun in Niagara Falls!
Disclaimer: This post may contain affiliate links where I may receive a kickback at no extra cost to you. It helps keep IBB alive so thank you!
Free Things to Do in Niagara Falls
Believe it or not, there ARE free things to do in Niagara Falls! That's right, it is possible to experience this incredible destination on a budget. This list will easily keep you busy during a day trip to Niagara Falls. There's probably enough for a full weekend!
Feel the Mist of the Horseshoe Falls
What's the top thing to do in Niagara Falls? See the majestic waterfalls, of course! Spend some time along the Niagara Parkway as you walk along the edge of the Niagara Gorge. You'll be treated to amazing views of both the American Falls and the Horseshoe Falls.
Once you get closer to the Table Rock Welcome Centre, you'll start to feel the cool mist of the Horseshoe Falls – which is certainly a welcome experience on those hot summer days! In the winter though, it's that mist that creates the beautiful ice formations you'll see decorating the railings and lamp posts, adding an extra level of beauty to the area.
Take a Stroll Through Queen Victoria Park
Instead of retracing your steps along the Niagara Parkway, cross the road and enjoy a stroll through Queen Victoria Park. Often referred to as the heart of Niagara Parks, as soon as the blooms begin in spring, you'll be treated to gorgeous flower displays all the way through until fall.
The park has a number of beautiful features including a rock garden, hybrid tea rose garden and a number of flower bed displays. Take a seat on one of the park benches or pack a picnic and settle in on one of the lawns and enjoy the natural beauty surrounding you. From daffodils to magnolia trees, there are so many plants to enjoy – and many of them are labelled so you can learn about the blooms you're admiring!
Explore Clifton Hill, Ontario's Mini Las Vegas
Ah, Clifton Hill. Over my years, I have spent many a day enjoying some of the Niagara Falls attractions you'll find along this little stretch of road. One of the top tourist attractions in Niagara Falls, it's not uncommon to see Clifton Hill exploding with people as they pop in and out of shops, enjoy a game of mini-putt, grab a bite to eat and more.
While the majority of the attractions along Clifton Hill will cost you money, it's free to take a peek at the sights and sounds of Clifton Hill. There are a few fun photo ops you can enjoy as you explore (like the upside-down house just off of the main drag on Oneida Lane) but one spot you don't want to miss the Oakes Garden Theatre. Located at the base of Clifton Hill, take a moment to explore and admire the beautifully crafted gardens that accentuate the contours of the natural landscape.
Visit A Buddhist Temple
Would you have guessed there is a Buddhist temple in Niagara Falls? Or that you could actually go in and see it yourself? The Ten Thousand Buddhas Sarira Stupa is located along the Niagara Parkway, just north of Clifton Hill and across from the White Water Walk. Since 2016, The Cham Shan Temple of Canada has been a place of worship and spreading the messages of ethical living, mindfulness and wisdom of Buddhism.
On weekends from June to October, the temple offers free guided tours where you can learn more about Buddhism, the temple itself as well as some of the artifacts housed within it. They also offer an hour service daily and two-hour services on weekends which visitors are welcome to attend. Please be respectful if you choose to do so and follow their guidelines which are outlined as you enter the temple. Despite growing up in Niagara, this is one of the things to do in Niagara Falls that I still need to experience!
Take a Historical Walking Tour
Beneath the beautiful vineyards and quaint towns lie deeper stories of these lands. It's no secret that Niagara is very historical, though it's something that often slips under the radar. If you're looking to learn more about the history of Niagara, you'll want to take a historical walking tour of the city!
While these tours aren't running just yet, I'm over the moon that the Landscape of Nations 360° will be running Indigenous Niagara Living Museum Tours as of September 2021. These lands that we have the privilege of living on and visiting have such a rich history that begins long before European colonization. Landscape of Nations 360° will educate you on the true history of these lands and how important they were to the Anishinaabe and Haudenosaunee Peoples. Be sure to visit their website for more information about these fantastic tours!
Looking for a walking tour to do right now? If you're a bit of a war buff, check out the Lundy's Lane self-guided historical walking tour. Beginning at either the Niagara Falls History Museum or the Battle Ground Hotel Museum, follow the 1.7 kilometre route in this PDF to learn about the Battle of Lundy's Lane in the War of 1812. You'll find free parking at the Niagara Falls History Museum as well as on Lundy's Lane by the Drummond Hill Cemetery.
Hunt for Street Art in Downtown Niagara Falls
Did you know there is street art to be found in Niagara Falls? It's true! Head to Queen Street in downtown Niagara Falls where you'll find a handful of murals between St Lawrence Avenue and Zimmerman Avenue. See if you can spot the rabbit, the stamp and the set of wings! You may need to take the odd turn down one of the side streets, but it's a fun detour and makes for the perfect activity after grabbing a bite to eat at one of the local Niagara Falls restaurants in the area. Don't forget to admire some of the stunning architecture you'll find as there are a number of historical buildings along Queen Street as well!
One spot that's not to be missed however is Daredevil Alley. Located just west of Ontario Street, you'll find a number of panels that tell the tales of some brave souls who dare take on the fury of Niagara Falls. Read about Henry Bellini, Maria Spelterini, Jay Cochrane and more in this fun outdoor installation.
Drive Along the Niagara Parkway
Spanning from Niagara-on-the-Lake all the way to Fort Erie, the Niagara Parkway is 56 kilometres of scenic beauty. Running parallel to the Niagara River, you'll be treated to brilliant views as you drive past beautiful homes and plenty of gorgeous foliage.
There are a number of fantastic stops and I guarantee there will be some spots where you'll want to pull over for a photo. Please do not just pull off to the side of the road. The Niagara Parkway has some narrow stretches and doing so can cause an accident. Yes, I am speaking from experience on this one as I've almost rear-ended a few folks who decide last minute to pull off the parkway but are still blocking the lane. There are a number of parking lots along the Niagara Parkway so head to one of them and then walk to where you wanted to take your photo!
Walk the Niagara River Recreation Trail
While you can drive along the Niagara Parkway, you can also stretch your legs and walk it, too! Okay, 56 kilometres might be a little much for one trek but there's lots to see and do so break it up into a few sections!
Since the Niagara River Recreation Trail passes through a number of communities, it's a great way to spend a day exploring in the Niagara Region. Even if you only do a small section, the views certainly make it one of the best hikes in the Niagara Region!
Smell the Flowers at the Centennial Lilac Garden
Wondering about some stops to make along the Niagara Parkway? One of my top picks is the Centennial Lilac Garden. Established in 1967 to commemorate Canada's 100th birthday, you'll find over 1200 plants and 200 varieties on this ten acre site.
While it's best visited in late May and early June as that's when the lilacs are in full force, there are a number of other beautiful flowers to be seen at other times of the year. Believe it or not, this is a great spot to enjoy some cherry blossoms in Niagara too!
Check the Time at the Floral Clock
Just north of the Centennial Lilac Garden you'll find another spot to stop, the Floral Clock. This masterpiece is managed in partnership with Niagara Parks and the Ontario Power Generation. If you visit during any quarter hour, your ears will be treated to the tune of the wind chimes as they ring every 15 minutes!
This unique and stunning display features up to 20,000 carpet plants. As if that isn't impressive enough, the design is changed twice each year. If you're really lucky, you just might catch the tower open during your visit where you can take a peek at the mechanism inside which keeps this well-known Niagara Falls attraction ticking.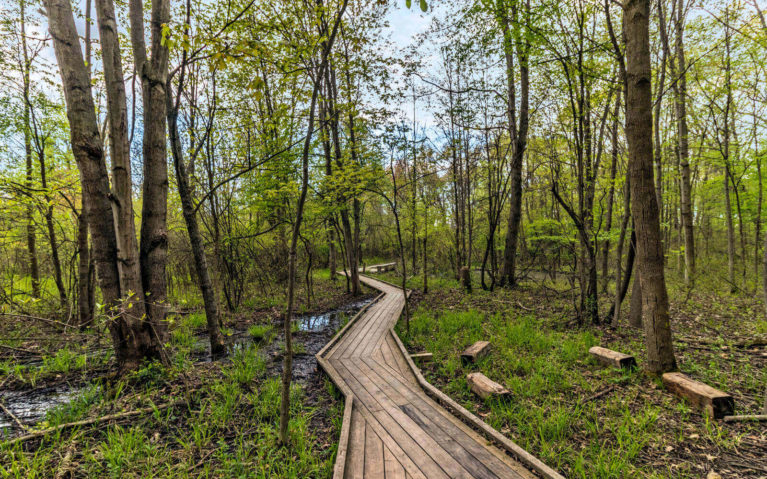 Explore the Heartland Forest
Nestled on the western side of the city, you'll find the Heartland Forest. With the goal of creating a natural space for everyone, this adorable spot is home to a number of fully accessible trails. Scattered throughout the park, there are a number of adorable art installations and carvings. You'll also find interpretive signs that talk about the importance of this area and you'll learn about some of the wildlife within it.
RELATED: For more details about this natural gem in Niagara Falls, be sure to check out my guide to the Heartland Forest!
I would honestly say the Heartland Forest is one of the best things to do in Niagara Falls for families, especially those with smaller children. I highly recommend adding it to your Niagara Falls itinerary!
Take a Stroll Through Firemen's Park
Another spot that's off the beaten tourism track of Niagara Falls, Firemen's Park is a popular spot to get outside for locals. You'll find over 4 kilometres of trails throughout this 135 acre park. The area also offers a disc golf course, fishing, a children's playground and an off-leash dog park. If you travel with your pup, this is a spot you'll want to take note of so your pooch can run free and make some new friends!
If you're looking for more places to enjoy a stroll, check out my Niagara Falls hiking guide as there are a number of great trails in Niagara Falls!
Follow the Footsteps of Laura Secord
Okay, so the Laura Secord Heritage Trail only crosses through a bit of Niagara Falls as it starts in Queenston and ends in St Catharines, but it's such a fantastic trail full of history that it needs to be included in this post!
No, you won't find any chocolate along this trail but you will be retracing the footsteps of this brave heroine. Laura Secord bravely traversed enemy territory to warn the British troops of an impending American attack during the War of 1812. While the trail doesn't follow her exact footsteps, it retraces her route as closely as possible along this 32 kilometre trail. Start at the Laura Secord Homestead in Queenston and follow the signage to DeCou House, just a short distance away from DeCew Falls in St Catharines.
Free Seasonal Fun in Niagara Falls
There are always fun things to do in Niagara Falls, no matter what time of the year it is. Though some of these only occur at certain times of the year, meaning you just might need to plan a few visits to Niagara Falls!
In my opinion, winter is one of the best times to visit Niagara Falls. Yes, the weather is cold but there are so many reasons to plan a winter visit! There are fewer people, it's easy to get a cheap hotel and you'll get to see the falls decorated in brilliant ice formations. Of course, there's also the Winter Festival of Lights, a must experience when planning a snowy visit to Niagara Falls! Take a stroll through Queen Victoria Park or drive through the Dufferin Islands as you admire the beautiful light displays which seem to grow every year. It's one of my favourite free things to do in Niagara Falls in winter! Check out my full guide for details.
Come springtime, who can resist chasing the beautiful blooms as they start to appear after a long winter? Of course, the most popular being cherry blossoms! There are a number of places you can catch them in Niagara with five spots in Niagara Falls alone. Check out my guide to finding cherry blossoms in Niagara for the full scoop!
More Free Things to Do in Niagara Falls
(Just Pay Parking)
There are even more free things to do in Niagara Falls but alas, sometimes you can't avoid paying for parking. Typically, parking in Niagara Falls is paid by the hour. However, there may be parking lots that require a flat rate (like those close to Clifton Hill). Some parking lots might be overseen by Niagara Parks (like those for the stops listed below) where you can purchase a yearly parking pass. If you plan on visiting a number of Niagara Parks destinations multiple times, the hourly rate of $2.50 can quickly add up so this option might be for you!
Visit the Niagara Parks Botanical Gardens
Say hello to 40 hectares (99 acres) of beautiful perennials, rhododendrons, azaleas and more! The Niagara Parks Botanical Gardens are located along the Niagara Parkway, about 15 minutes north of the Horseshoe Falls. Established in 1936, these gardens serve as a unique outdoor classroom for the students attending the Niagara Parks School of Horticulture.
Take a stroll along the pathways which lead throughout the gardens. You'll be in awe at the wide variety of flowers and bulbs, especially the world-famous rose garden featuring upwards of 2400 roses!
This is also where you'll find the Niagara Parks Butterfly Conservatory, home to monarchs, swallowtails and a number of other butterfly species. It's amazing to see over 60 species of butterflies fluttering freely as you wander the exhibits! If you wish to visit, you will need to pay an entrance fee.
Stroll Through the Dufferin Islands
Approximately two kilometres south of the Horseshoe Falls, you'll find the Dufferin Islands. Originally known as the Clark Islands, this group of man-made islands is a popular destination to get away from the touristy hustle and bustle in Niagara Falls. Spanning 10 acres, visitors can enjoy a number of trails that meander throughout the park. Stroll across picturesque boardwalks and watch for wildlife as it's a popular spot for geese and other waterfowl.
If you'd like to spend an afternoon enjoying some quality nature time, pack a picnic and settle in at the Dufferin Islands. It's a popular spot for families in Niagara Falls!
Hike the Niagara Glen Nature Reserve
If you're looking for some of the best hiking trails in Niagara Falls, you need to visit the Niagara Glen Nature Reserve. Another Niagara Parks property, this nature reserve offers over 4 kilometres of hiking trails. Meander throughout the reserve as you explore each of the trails, though you don't want to miss the River Trail. It runs parallel to the Niagara River, offering some of the best views in the region!
Don't miss my guide to this epic Niagara Glen hike where I have all the details on what to expect when visiting!
Explore Queenston Heights Park
Bordering the city of Niagara Falls, you'll find Queenston Heights Park. If you're a history buff, this park may sound familiar as it's where the Battle of Queenston Heights took place during the War of 1812. If you're an avid hiker and are a fan of The Bruce Trail, then you'll recognize this park as it's home to the trail's southern terminus!
You'll be able to spot the park long before you get close due to the towering monument to Sir Issac Brock. At over 50 metres tall, this marks his sacrifice during the War of 1812 as well as his final resting place. You'll also find a number of highlights within the park including a monument for Laura Secord, picnic areas, plenty of greenspace and the award-winning Queenston Heights Restaurant.
However, my favourite feature of the park is the Landscape of Nations memorial. It commemorates the contributions and sacrifices made by Six Nations and First Nations allies during the War of 1812. Bursting with symbolism, it's a beautiful addition to the park. Take a look at this virtual tour from Niagara Parks to learn more about the memorial.
Cheap Things to Do in Niagara Falls
What constitutes as cheap or rather, inexpensive? All of the activities below cost $10 or less per person. Here are some of the cheap things to do in Niagara Falls! If you know of other inexpensive destinations within the area, please let me know and I'll happily update this post.
Niagara Parks Floral Showhouse
If you've driven along the Niagara Parkway close to the Canadian Power Station, then you might have passed right by the Floral Showhouse and not even realized it!
For over 60 years, visitors have enjoyed this beautiful indoor oasis that's located less than a kilometre south of the Horseshoe Falls. The Floral Showhouse features three main displays, a tropical-themed foyer and Niagara Parks' miniature village collection. You'll also see a number of seasonal exhibits throughout the year, including their famous Pointsettia Show held annually from the end of November until the beginning of January.
Admission for adults (13 years of age and older) is $7 plus tax, children 6-12 years of age are $4 plus tax and infants 5 years of age and under are free. While you'll need to pay admission to enter and see the displays, you can enjoy the grounds for free!
Niagara Falls History Museum
Housed in the Stamford Town Hall that was built in 1874, the Niagara Falls History Museum hosts three unique galleries that share about the city. You can engage with their hands-on exhibits like trying on a replica uniform from the War of 1812, walking a tightrope just like the daredevils past, and more.
Admission for adults 20 years of age and older is $5.00, students (6-19 years old or with a valid student ID) are $4.00 and children under 6 are free. If you're travelling with your family, you can enjoy a rate of $15 for up to five people but with a maximum of three adults.
INSIDER TIP: The Niagara Falls History Museum offers free admission on Thursdays after 5:00 pm!
Get a Taste of Disney at Creeksides
Head to the historical village of Chippewa where you'll find some tasty sweet treats you won't be able to resist. This local spot has a wide variety of eats that are incredibly affordable including soups, baked goods and paninis as well as hot and cold beverages. However, that's not what I come here for.
While I've never tried it at Disney myself, apparently the pineapple Dole Whip at Creeksides is just like the good stuff served up on Mickey Mouse's home turf! Stop by for a refreshing sweet treat (that's vegan AND gluten-free!) that is sure to satisfy on those hot summer days. I've enjoyed the pineapple, mango and strawberry though I have to say the pineapple mango swirl is the absolute best! A small will run you about $5 but if you visit on a Tuesday you can get one for just $2 plus tax!
Ready to Visit Niagara Falls?
There's a reason why Niagara Falls is such a popular Ontario road trip destination for locals and visitors alike. Whether it's the allure of the Horseshoe Falls, the adult fun of the casinos or you're just looking for a fun getaway, Niagara Falls certainly delivers. It can be an expensive destination but hopefully after this post, you'll see that there are plenty of things to do in Niagara Falls that won't cause your bank account harm! Check out this map of Niagara Falls below to start planning your trip.
If you're looking for more tips on how to save money in this tourism hotspot, don't miss my insider tips for visiting Niagara Falls. I'll help you save money on accommodation, food and how to avoid some of those pesky tourist fees. Speaking of accommodation, if you're looking to stay overnight in the area, take a peek at these deals on Booking.com!
Whether you're looking for things to do in Niagara Falls this weekend, planning a future visit or are local to the area and are looking for more ideas of what to do in Niagara, I hope you find this post helpful!
Looking for More Free Things to Do in Niagara?
Here Are Some Things to Do in Niagara-on-the-Lake
Chase Some Waterfalls Across the Niagara Region
Check Out One (or More!) Of the Niagara Region's Best Hikes
Explore the Top Hiking Trails in St Catharines
Hike Through Short Hills Provincial Park, Niagara's Largest Park

Additional Places Near Niagara Falls to Explore
Top 5 Ways to Experience the Niagara Gorge
Indoor Things to Do in Niagara Falls on a Rainy Day
Enjoy a Glass at The Best Wineries in Niagara
Celebrate the Region's Liquid Gold at the Niagara Icewine Festival
Don't Miss This Self-Guided Tour of Vineland's Wineries
Take a Hike at the Woodend Conservation Area
Explore the St Johns Conservation Area in Fonthill
Follow the Bruce to the Beautiful Rockway Falls in Lincoln
The Top Beamer Memorial Conservation Area Hiking Guide
Things to Do in Port Colborne, Niagara's Ship Shape City
Plan a Spring Visit to See the Cherry Blossoms in Niagara
Save These Free Things to Do in Niagara Falls & Pin It for Later!