Grey County in Autumn: You'll Fall for This Ontario Destination

With the end of September comes the crisp, cool wave of the fall season. Hints of apple, cloves and cinnamon hang in the air as sweater weather creeps in. Whether you're looking for adventure or just a beautiful getaway to enjoy the autumn colours, you've come to the right place. Break out the scarves, grab a latte and get ready to "fall" for Grey County this autumn!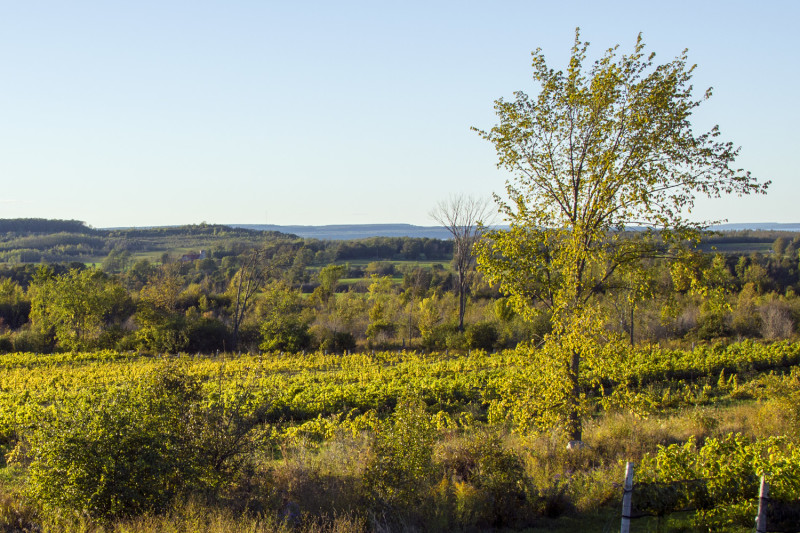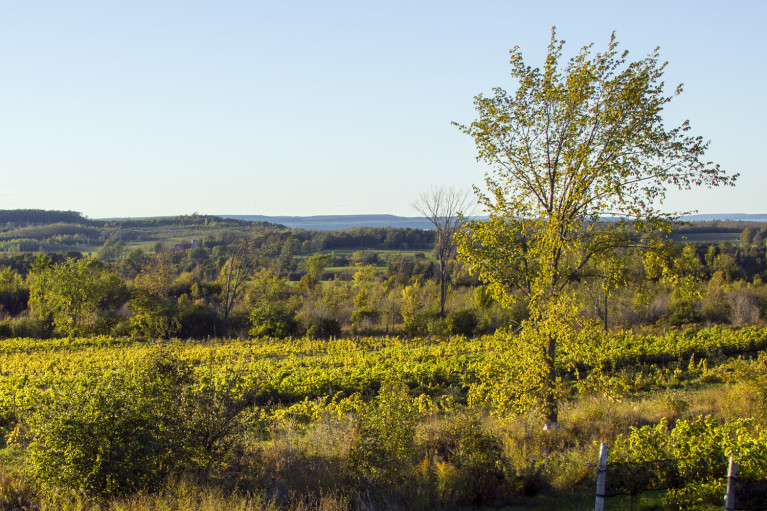 Things to Do in Grey County in Autumn
One thing to note is that some of these activities can be time-sensitive. If you're unsure if an activity will be available when you're planning on travelling, feel free to contact the businesses mentioned or reach out to Grey County Tourism.
Apple Picking
Nevermind the tale that an apple a day keeps the doctor away, but no autumn getaway is complete without some apple picking! One of the few orchards left that allow you to pick your own, T&K Ferri Orchards is the perfect place to get your apple fix. It doesn't get much fresher than right off the tree!
T&K Ferri Orchards is unique as you'll notice the trees are very tall and narrow. This is thanks to their super spindle planting system and they're the only orchard in Ontario to use it! Their approach also allows them to use half the amount of pesticides a typical orchard uses. Enjoy one (or three) of their seven varieties of apples and check out their website to see what's available to be picked. Don't forget to stop at the market before leaving and grab some of their amazing apple cider! Entry costs $4 and you can fill a large bag with apples for $16.
UPDATE: Unfortunately due to the disrespect of previous visitors, T&K Ferri Orchards is no longer offering pick your own as it's too harsh on the trees when instructions aren't followed. You can still purchase apples here and all of them are handpicked. However if you want to do it yourself, you'll have to go to other place like Bev Murray Farms, Filsinger's Organic Foods or Ridgewood Springs Organic Farm.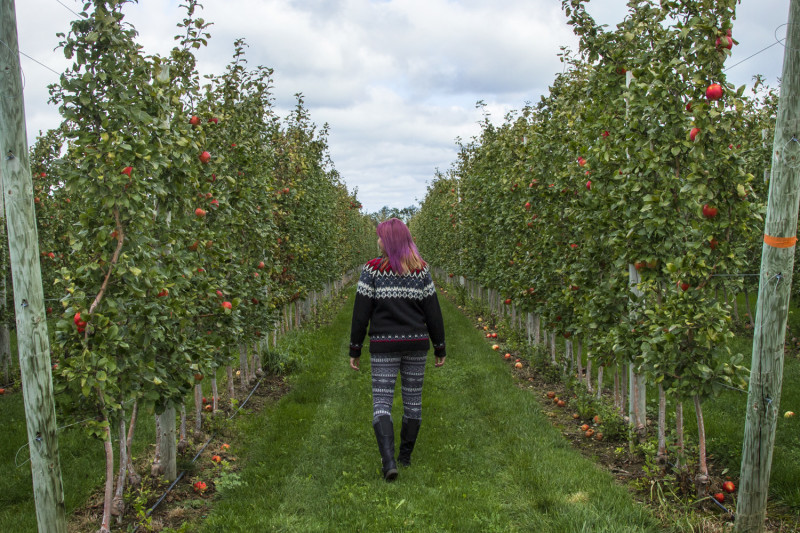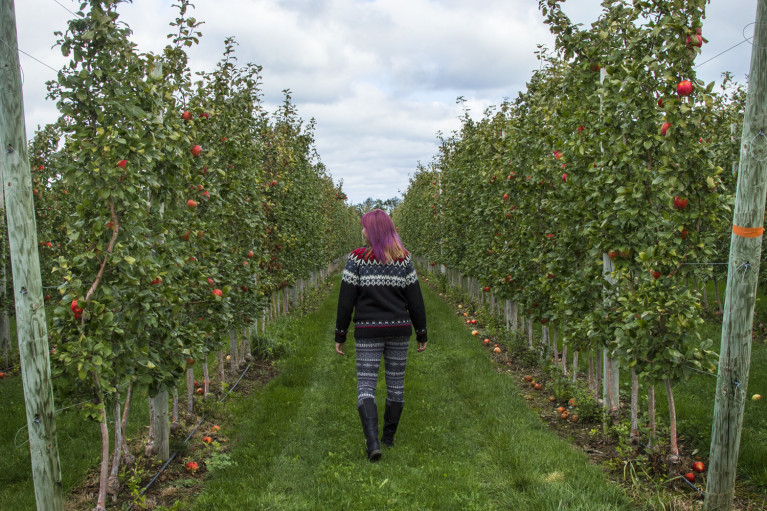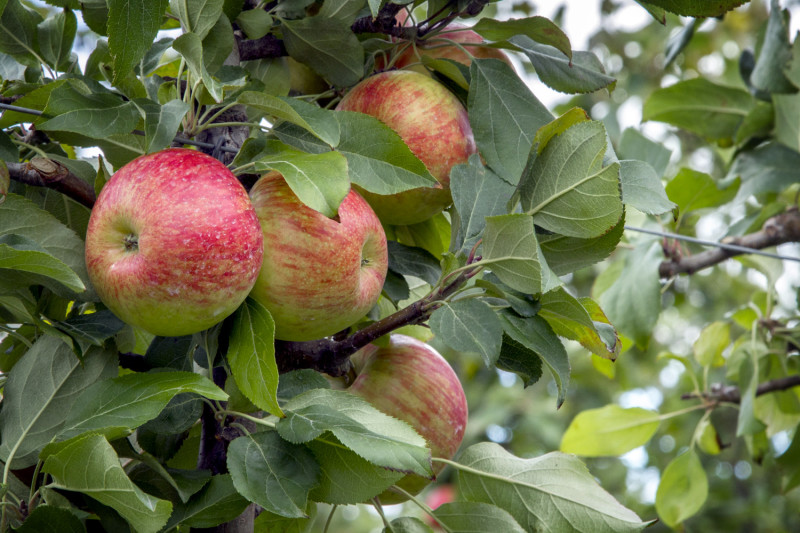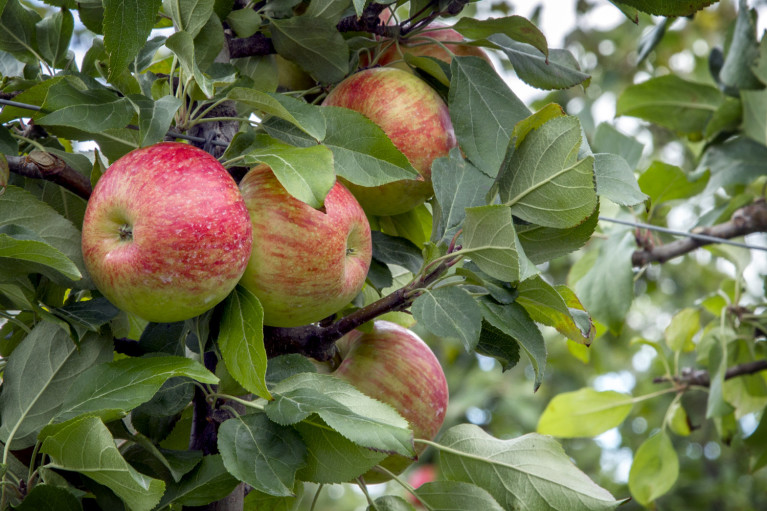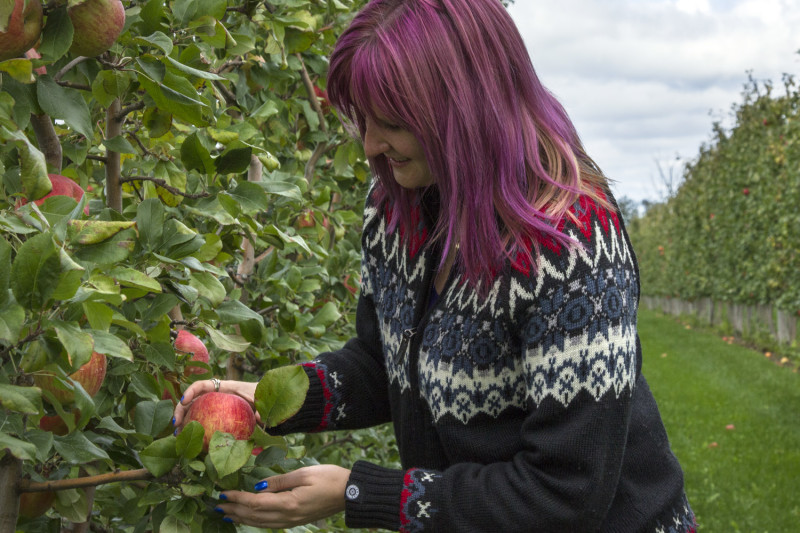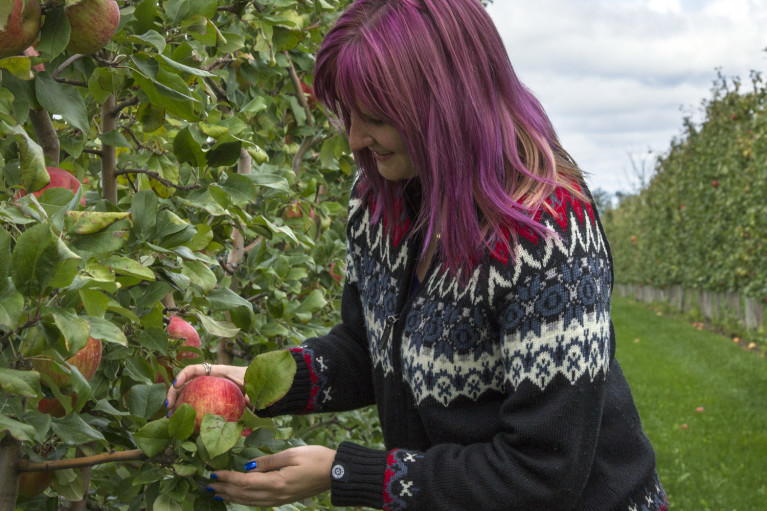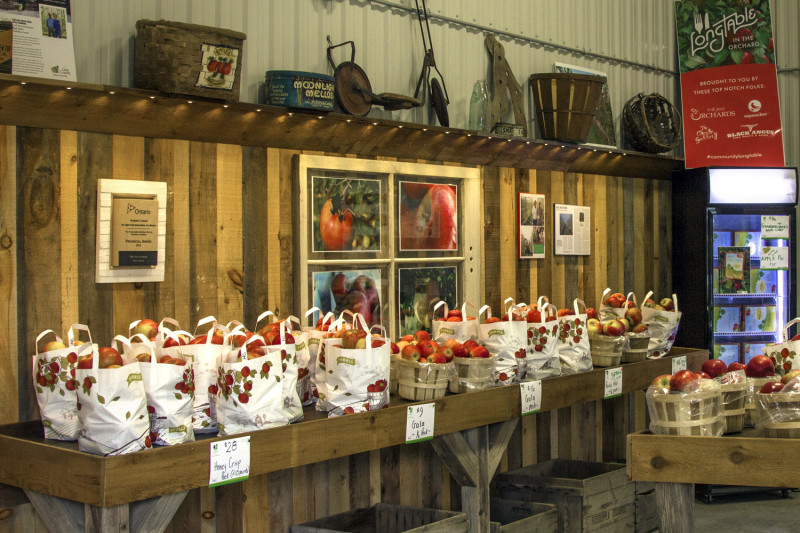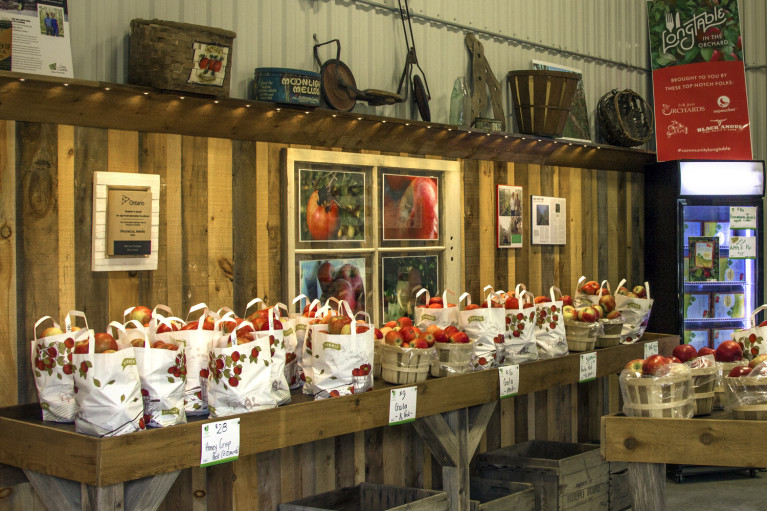 Say Hello to the Meaford Scarecrows
Scarecrows may be invading, but don't be afraid – you might just recognize a few of the faces! What started as an attraction to improve business in the area, the Meaford Scarecrow Invasion has been running for over 20 years now. Grab a Meaford Mist from The Kitchen on Sykes St and wander around town while enjoying this month-long event. Each year the theme changes so be sure to return and see who will be featured in years to come! I visited in 2017 when it was the 150th birthday of Canada and Ontario so I witnessed a number of Canadian icons scattered throughout town.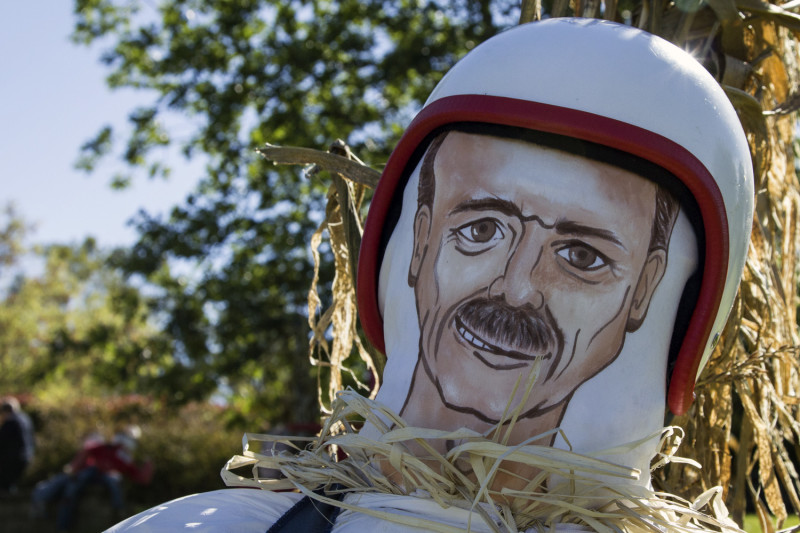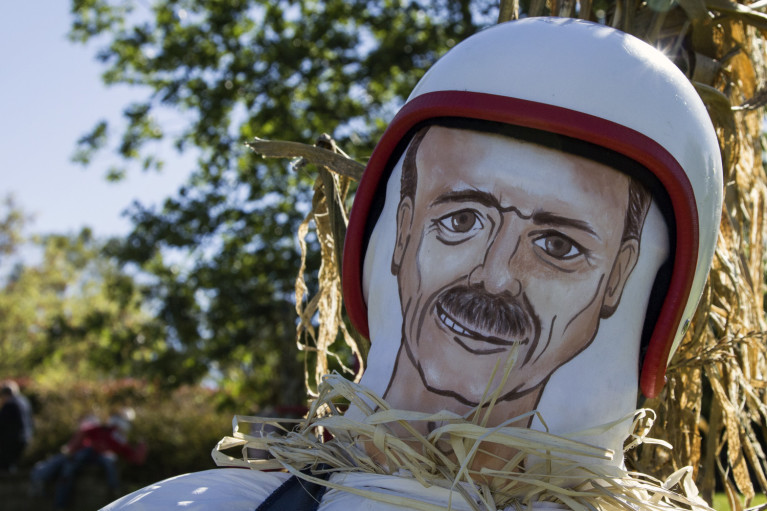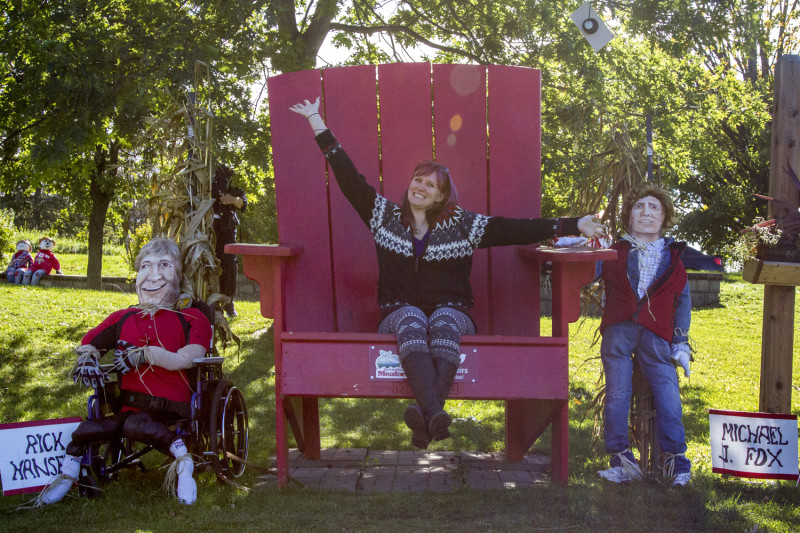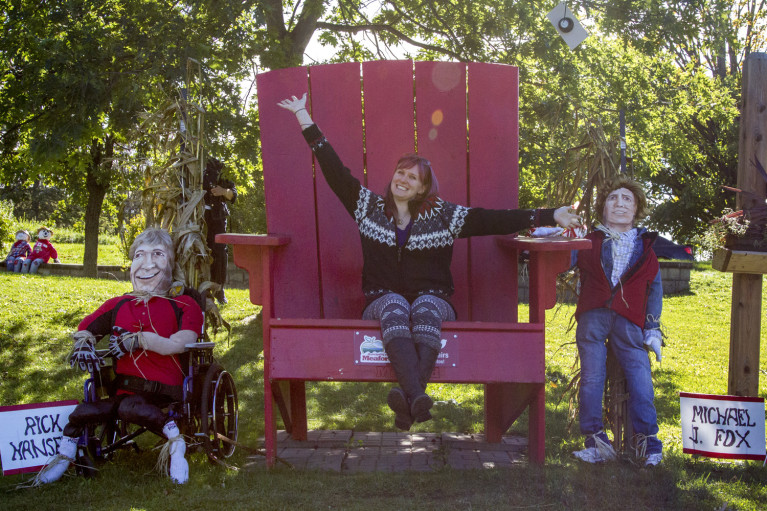 Enjoy the Changing Leaves with a Hike
Grey County is home to a number of beautiful trails that are perfect for chasing the autumn colours. While the leaves were only starting to turn during my late September visit, you can imagine how beautiful the views will be once the golds and reds appear. The Bruce Trail is always a great hiking option as it runs right through Grey County, along with numerous side trail options. Many of these lead to or run right by a waterfall! If you're looking for a shorter trail, Indian Falls just north of Owen Sound is a great choice, albeit a little rugged with rocks and roots. Another shorter trip is to follow the Bruce Trail near Flesherton to Hoggs Falls, but you can make this hike longer by heading all the way to Eugenia Falls. There are a number of waterfalls in Grey County perfect for a fall hike!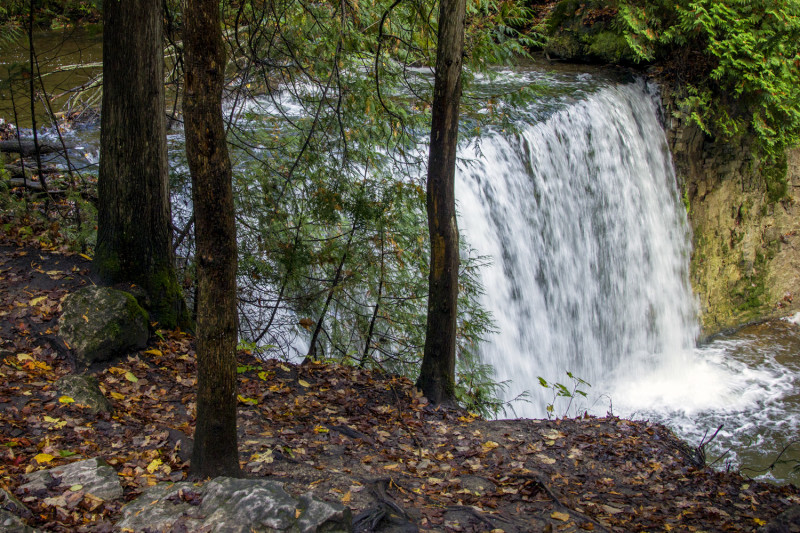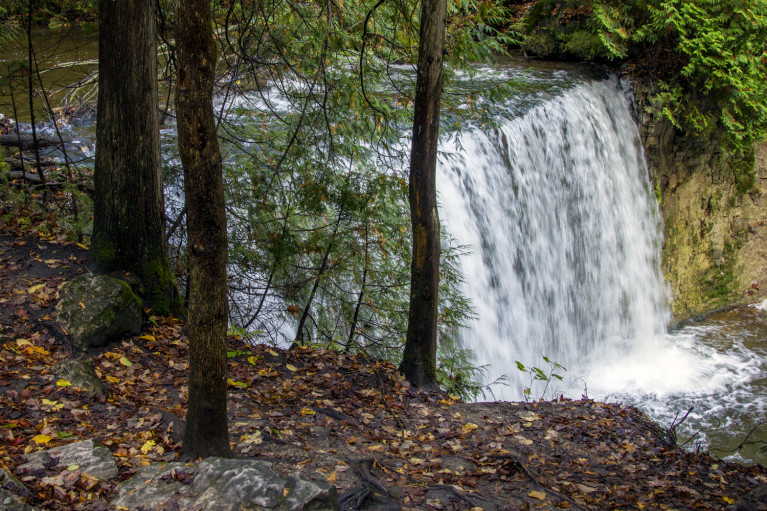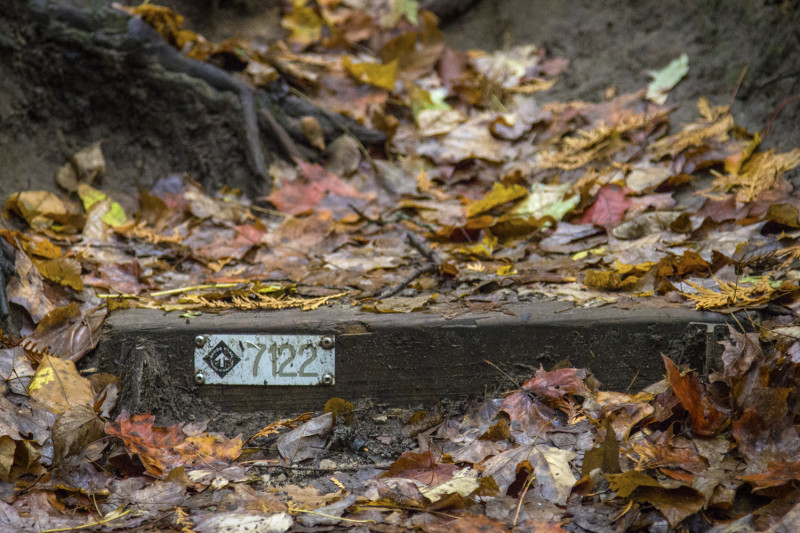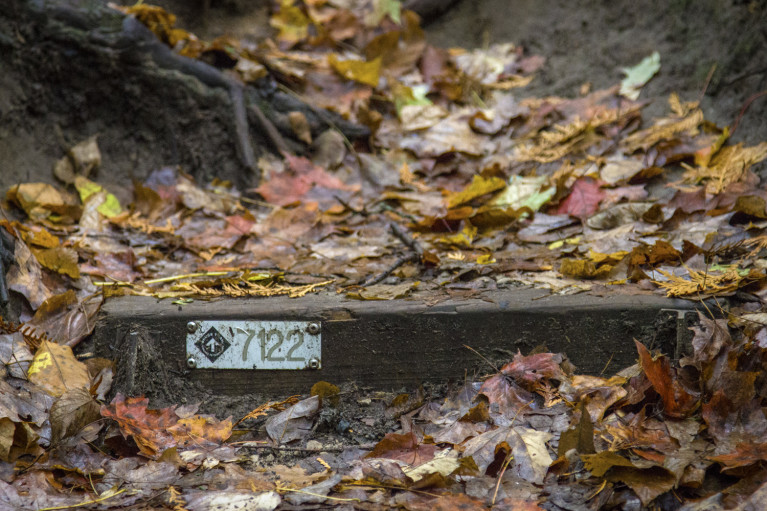 See the Grey County Fall Colours from Above
After getting up close and personal with a hike, it's only natural to enjoy the sweeping views from the air! Hop in a Cessna aircraft with Owen Sound Flight Services and take to the skies. Where should you go? That's up to you! Choose from one of their preset tours like their Waterfalls from Above Tour or create your own flight path. I highly recommend the aforementioned tour as it gives you amazing views of Inglis, Indian and Jones Falls.
INSIDER TIP: If you book a morning tour, you'll get better views of Jones Falls and Inglis Falls will be shaded. I enjoyed my tour in the afternoon and while it was hard to see Jones Falls, Inglis Falls was absolutely breathtaking!
No matter the route you choose, you'll be in awe of the rolling hills, jagged cliffs and the iconic blue water of Georgian Bay. Prices start at $175 per flight and can vary depending on tour and destinations.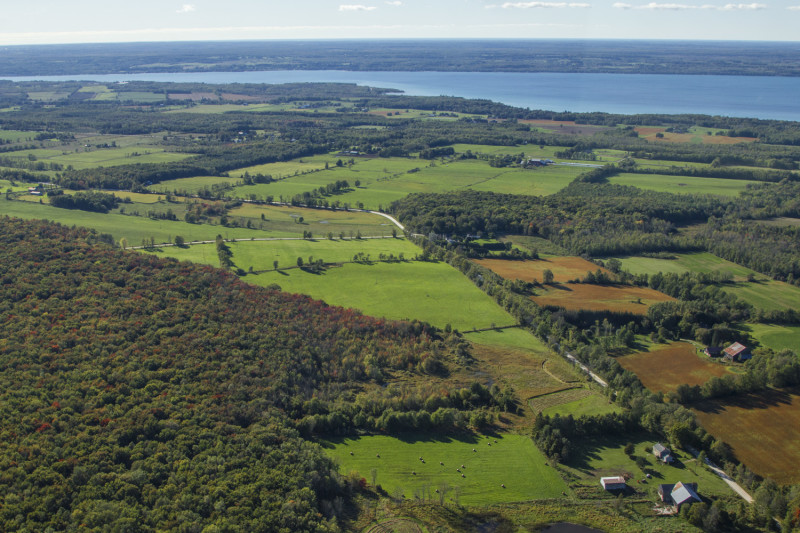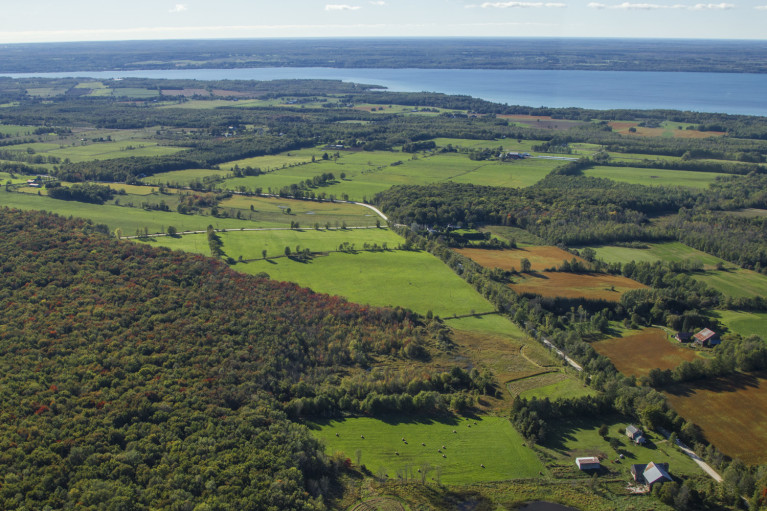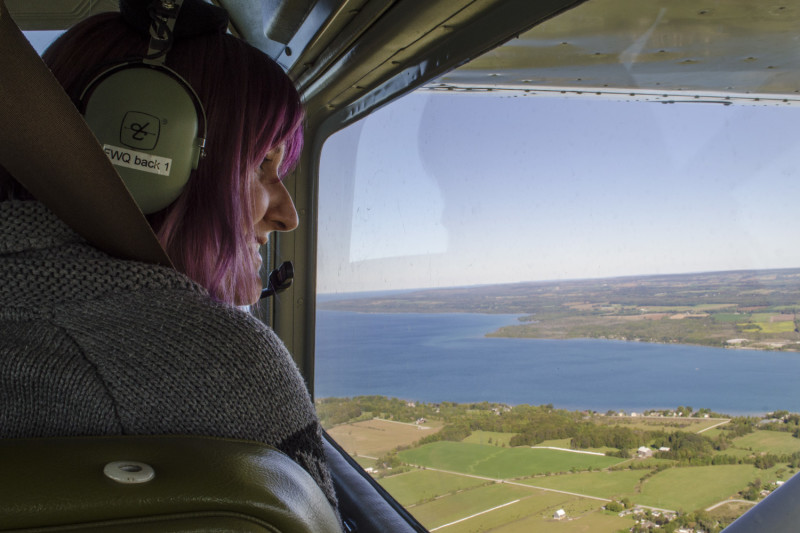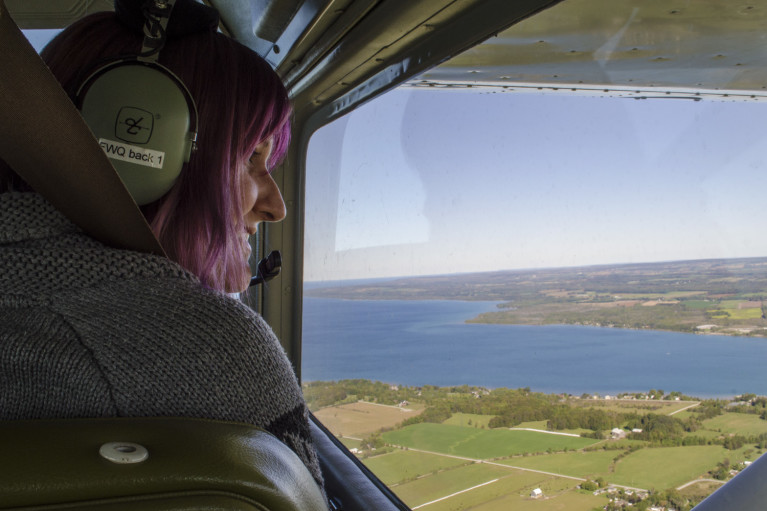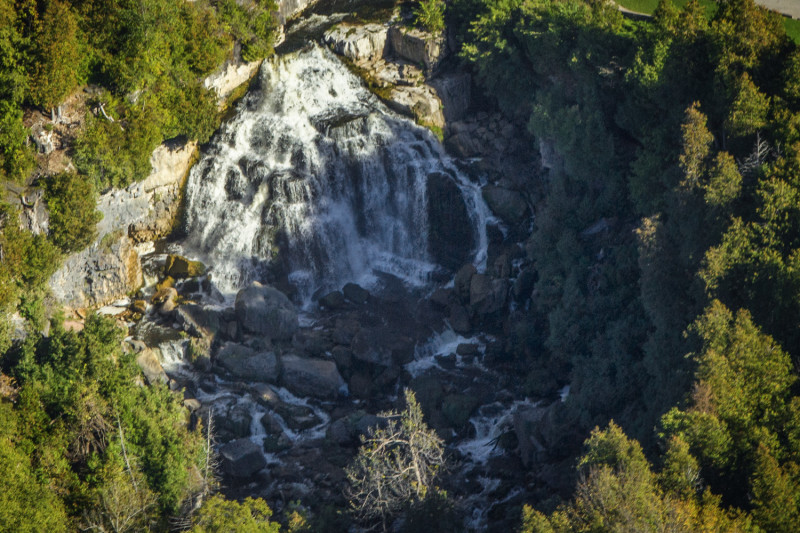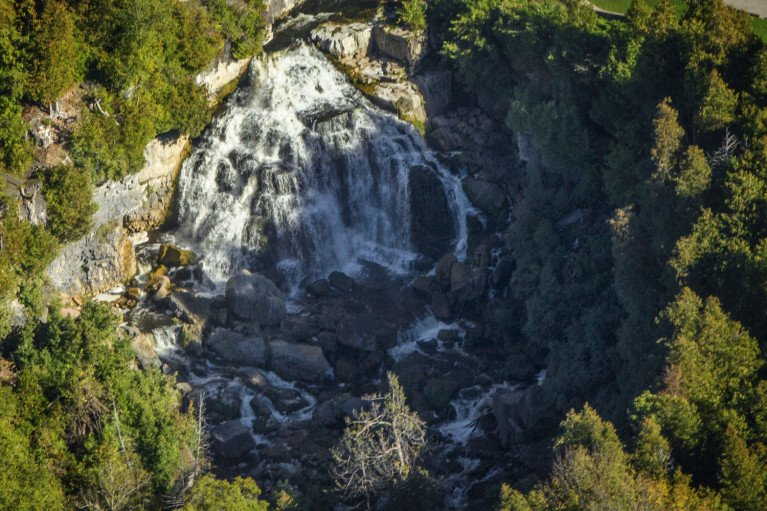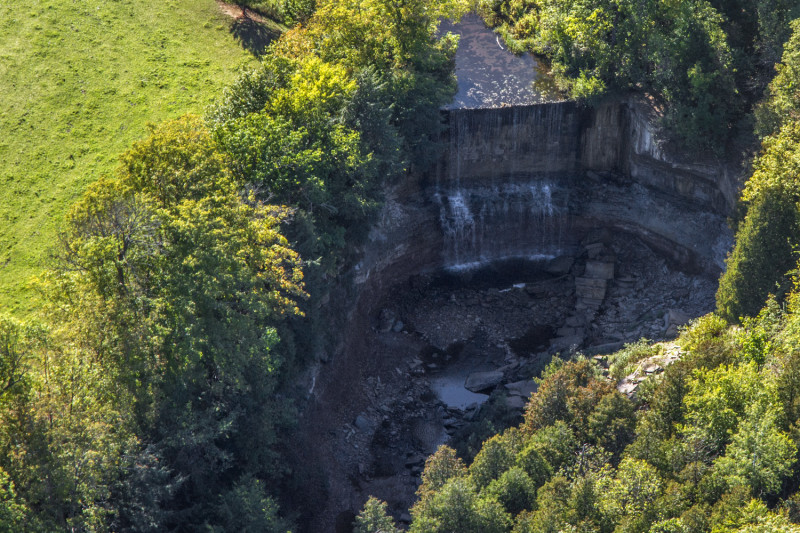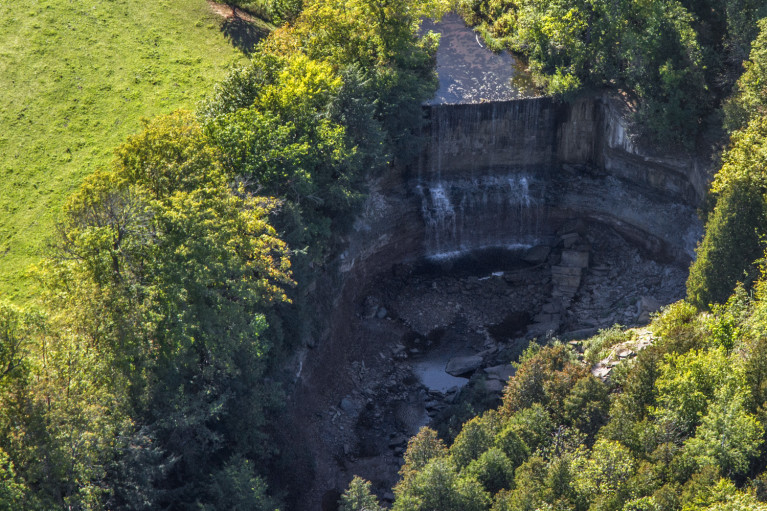 Be Wowed by the Chinook Salmon Spawning
See Mother Nature at her finest by witnessing Chinook Salmon swimming upstream along the Sydenham River. This unique spectacle only happens for a few weeks around the end of September/beginning of October. Don't miss it and book a guided tour with At Last Adventures. Hike along the Sydenham River as you learn more about the yearly ritual as well as the infrastructure in place to help the Chinook Salmon. Watching the salmon make their way along the salmon spawning channels is absolutely delightful! Enjoy Ontario's first "fishway", built in the 1950s by the Sydenham Sportsmen's Association and then make your way to Owen Sound's Mill Dam. Here you'll really see just how high they can jump! Tours start at $25 and vary depending on your fitness level and method of transportation.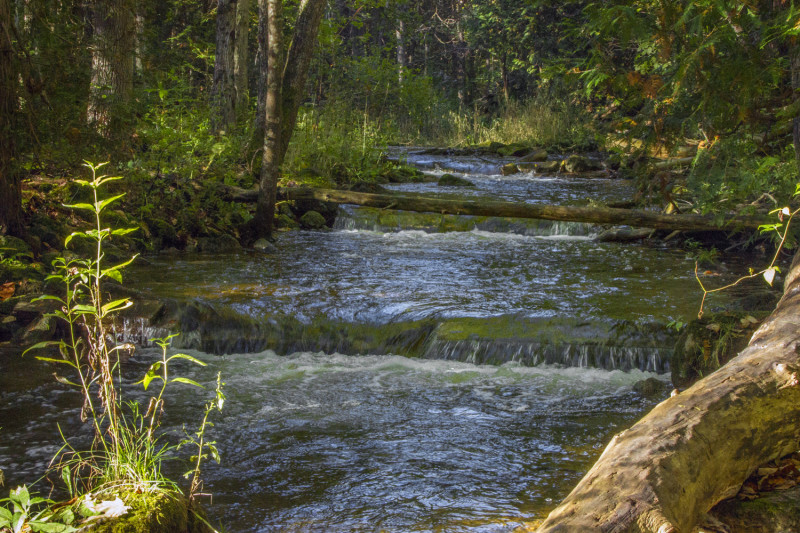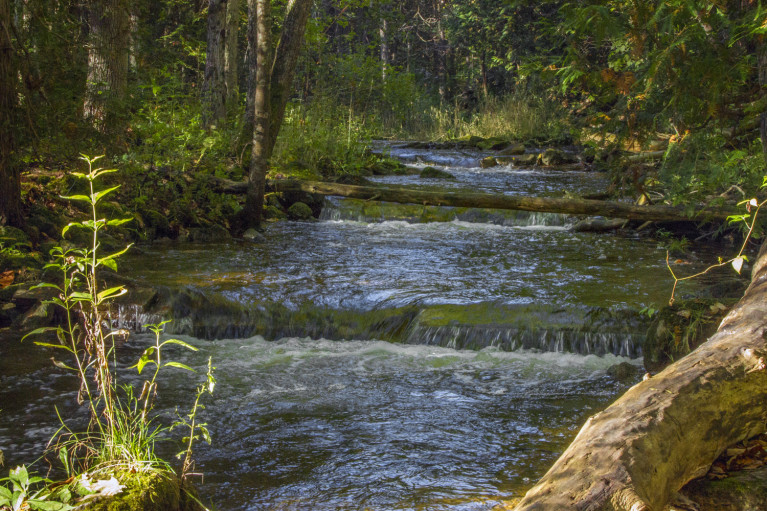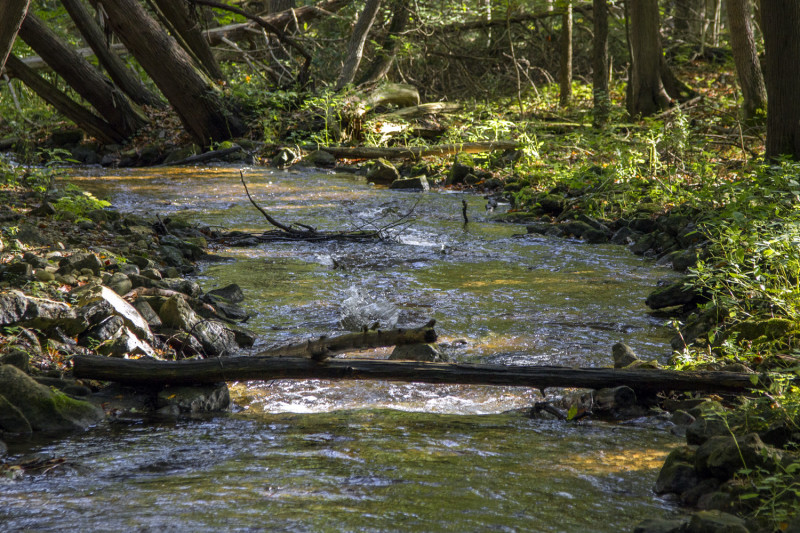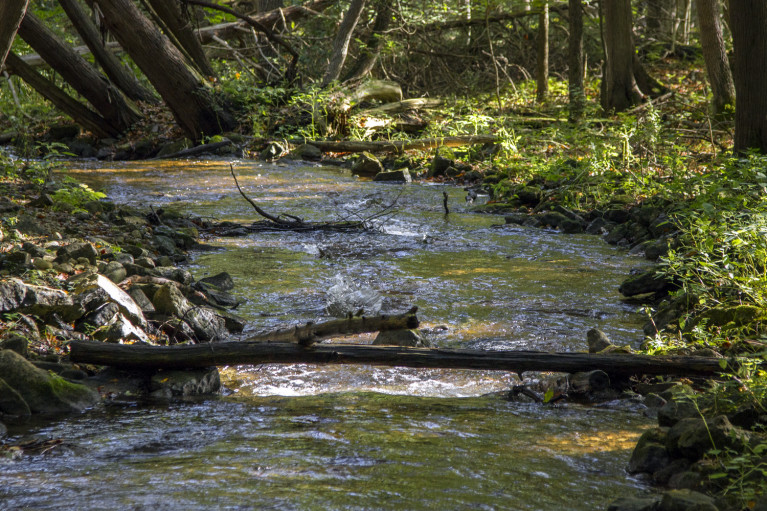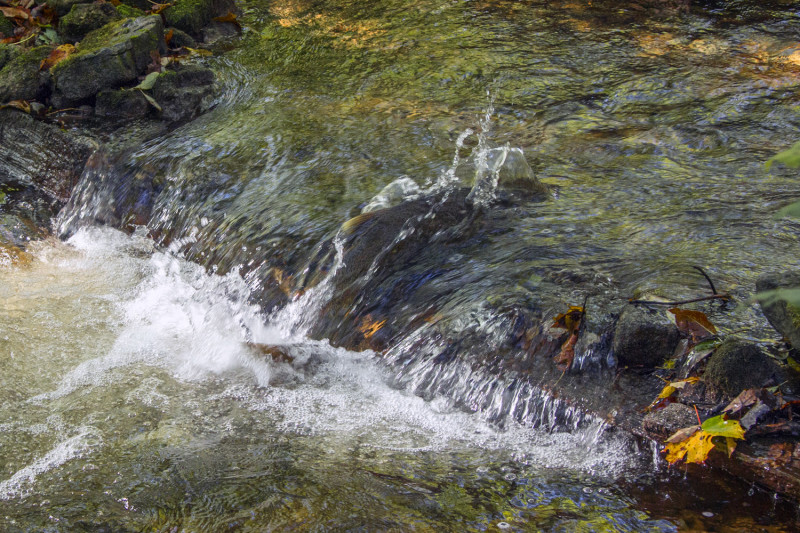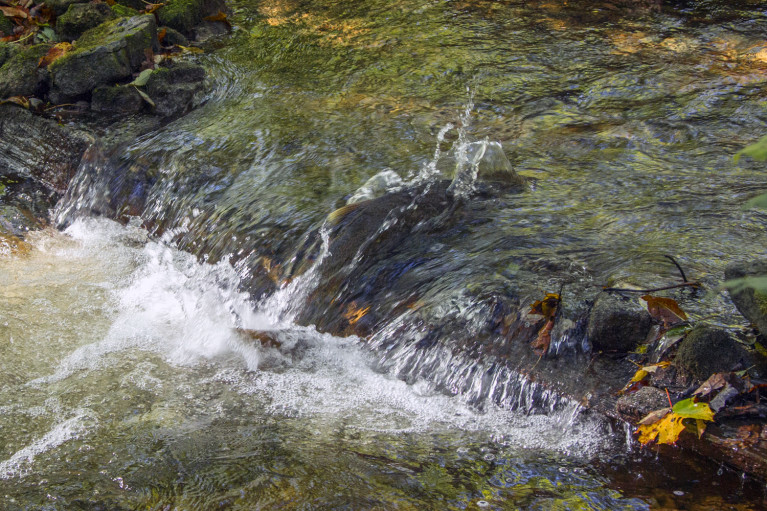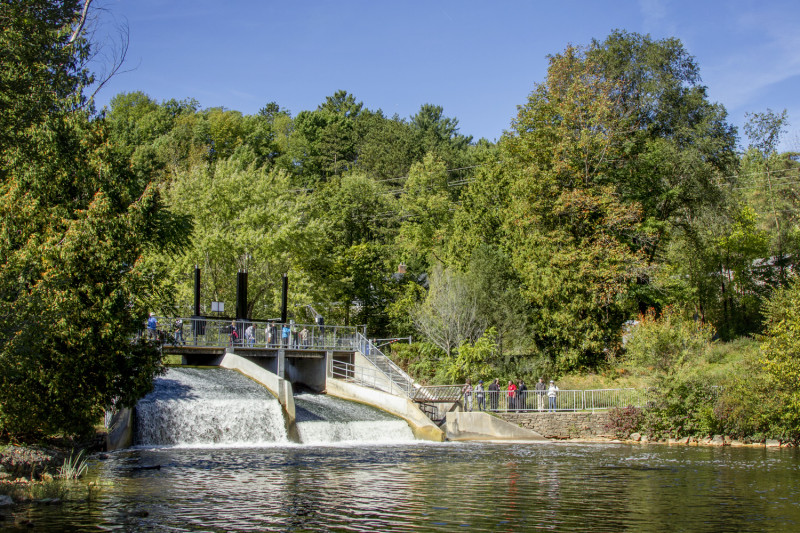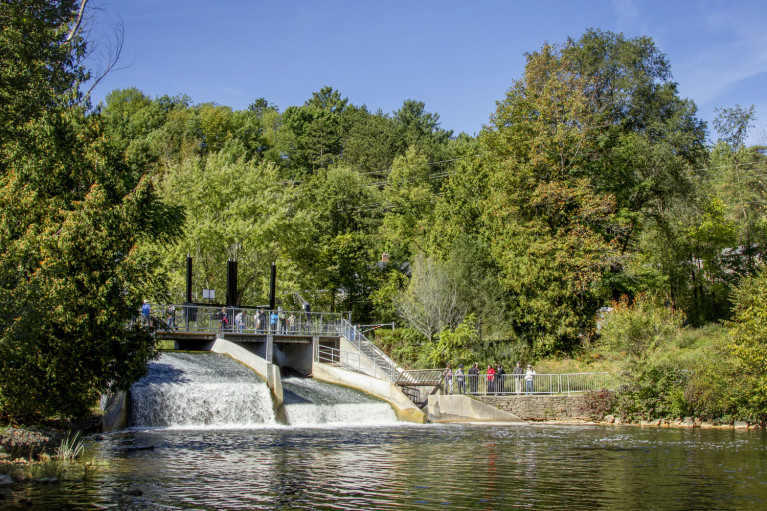 What to Eat & Drink in Grey County
Home to a number of amazing eateries, wineries, and more – if you leave Grey County hungry, you're definitely doing it wrong! Don't worry though, I've got you covered with these great places to satisfy your palate.
Cozy Up with a Wood Fired Pizza
Enjoy the west coast vibe in the heart of Thornbury at the Bruce Wine Bar. Everything you enjoy is of the highest calibre. Their chef Shaun has over 15 years of culinary experience along with his red seal designation, and it shows with his unique and delectable dishes. He forms relationships with local farmers to ensure the freshest seasonal produce and organic ingredients. This has earned the Bruce Wine Bar the FeastON designation, and I can personally attest to how delicious the food is. I had the pleasure of enjoying a few of their dishes and each was more delicious than the last.
Starting with their Farm Vegetable Salad, this delightfully light and fresh dish is one of their menu items which puts them on the Apple Pie Trail. For the main event, I had their Veggie Pizza featuring their delicious tomato sauce topped with spinach, red onion, fior di latte, mushrooms, red pepper and a sprinkle of garlic crumbs. Each bite was tastier than the last! I recommend their Fennel pizza as it features their house-made fennel sausage which is absolutely delicious. However, I'm sure no matter what you order, your stomach will be satisfied! Not to mention your mind as you're supporting local businesses and farmers.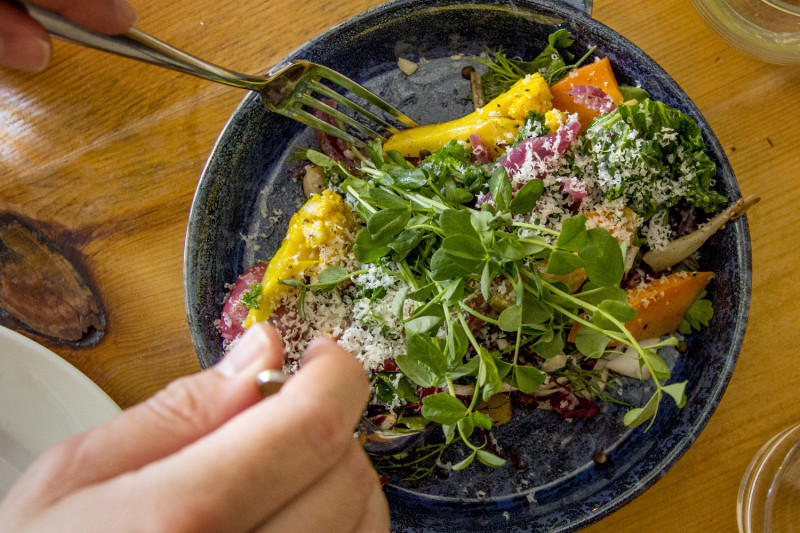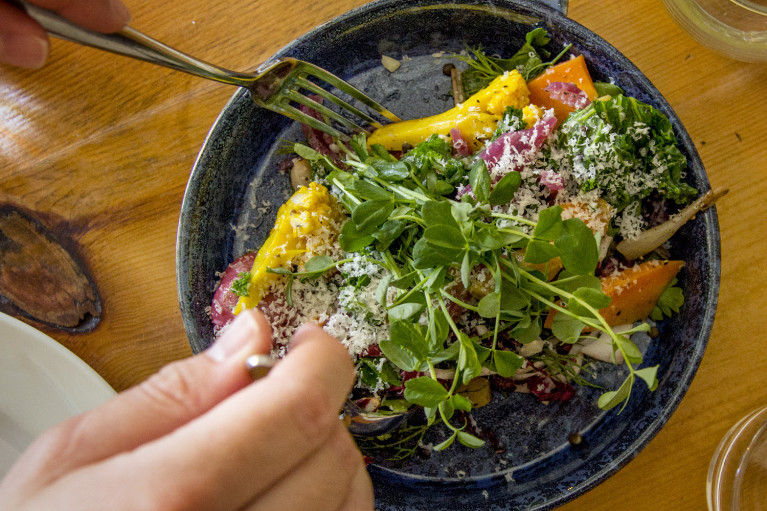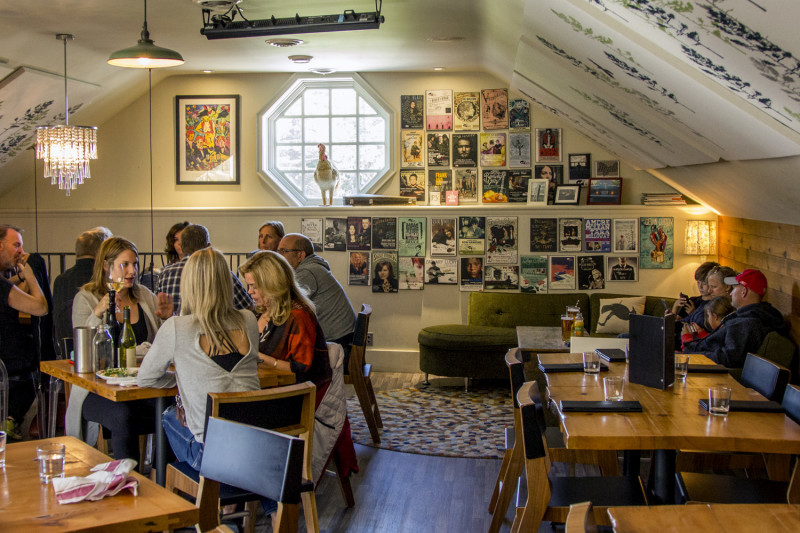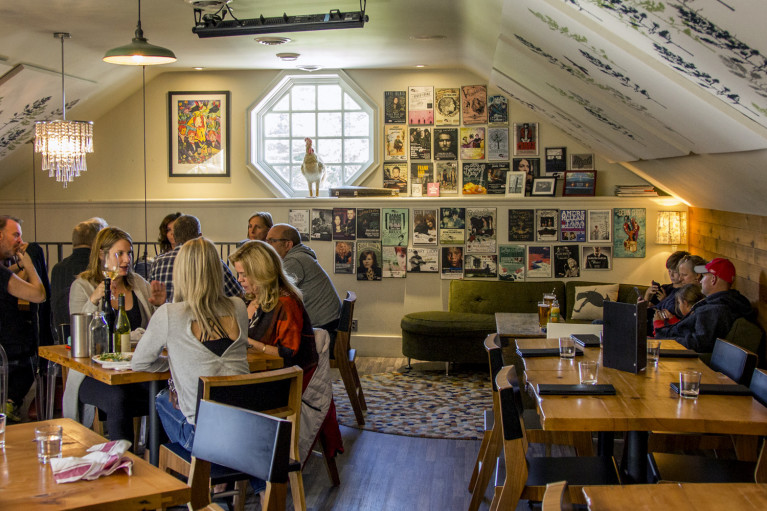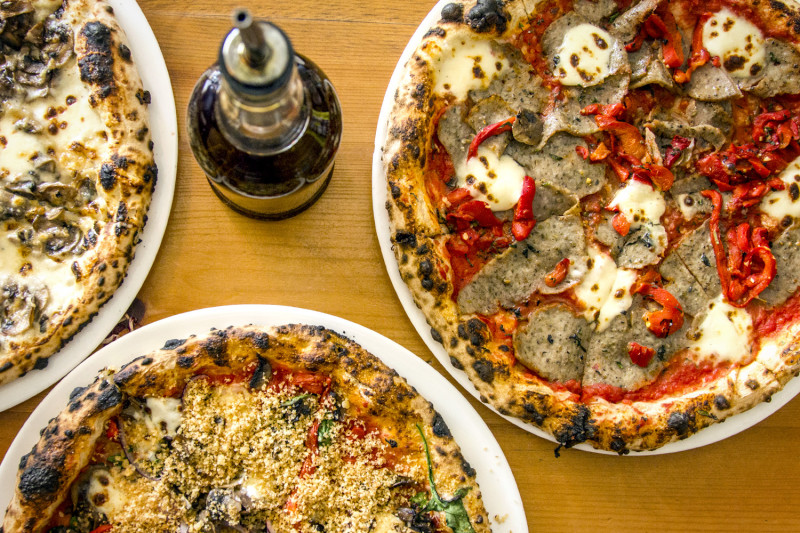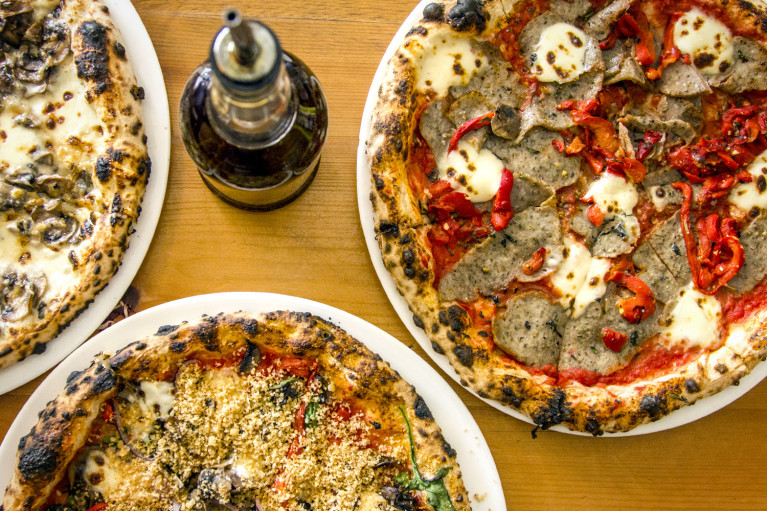 Savour Fall Flavours with a Cider Tasting
After apple picking, it's only natural to enjoy the next step at the Thornbury Village Cider House & Brewery! While this delicious nectar used to only be available through the LCBO and other local establishments, I'm excited to say there is now a beautiful tasting room and patio! Grab a flight for $10 and enjoy their variety of ciders on tap, including their original flagship cider which is celebrating 10 years of production! However my favourite of the flight, and I'd say the most fall-themed flavour, is their Spiced Apple Cider. It legitimately tastes like apple pie – I couldn't resist buying some cans to enjoy at home. Grab a glass and hop on one of their weekend tours to learn more about the history of Thornbury as well as the cidery itself. The area around Thornbury is Ontario's top apple-growing area after all!
Looking for more Ontario ciders to try?
Check out these craft cideries to enjoy fall flavours all year long!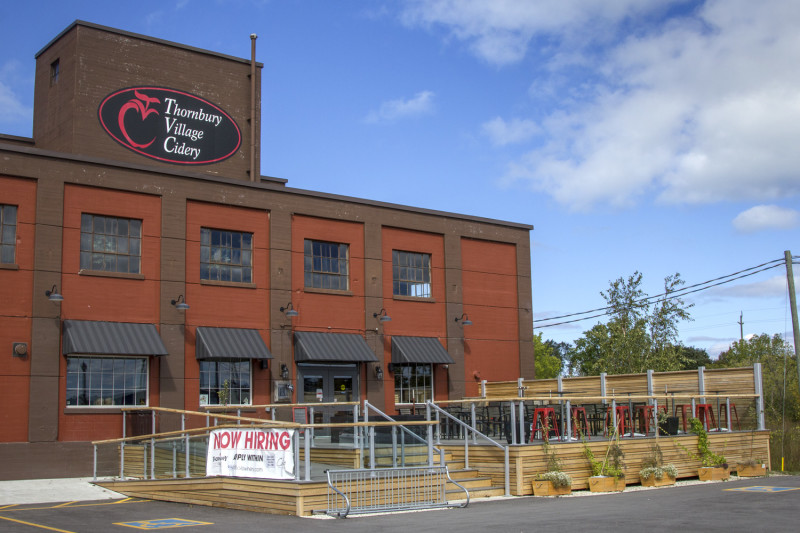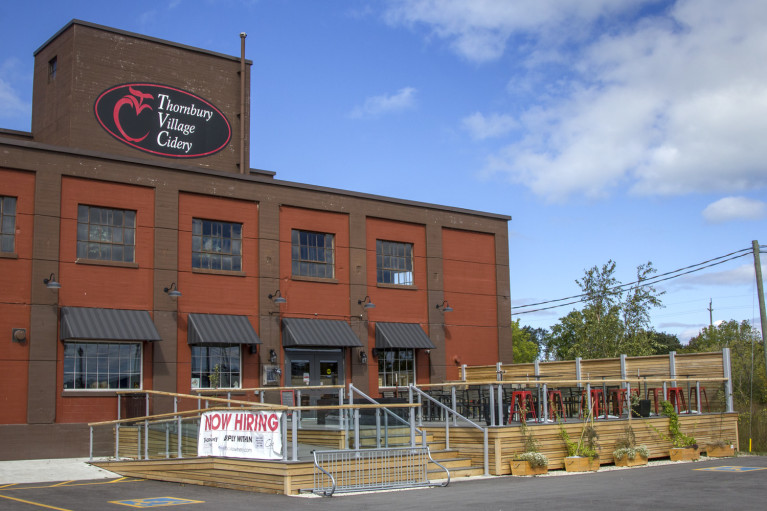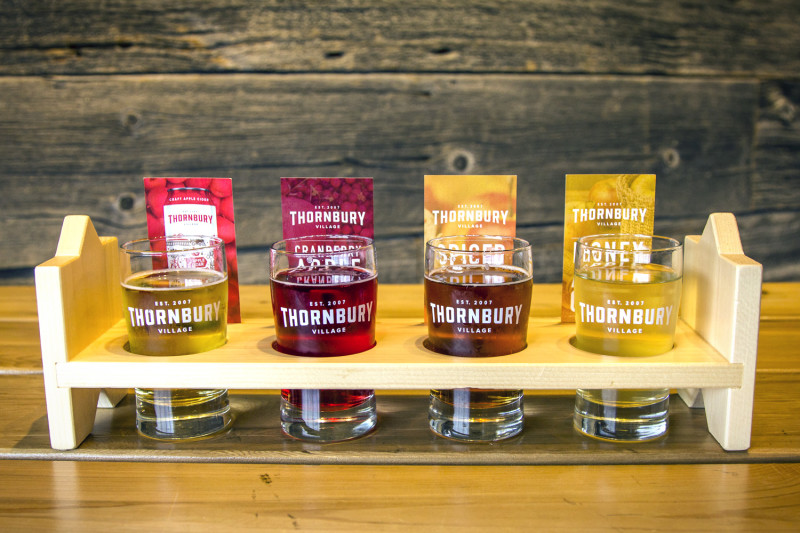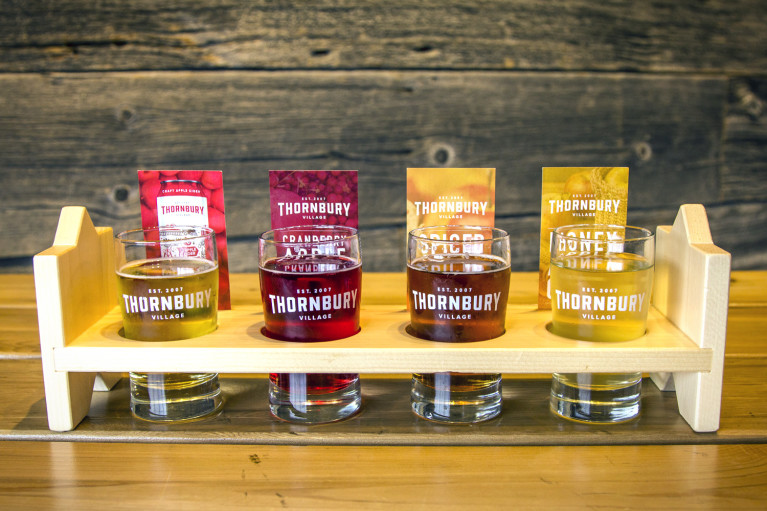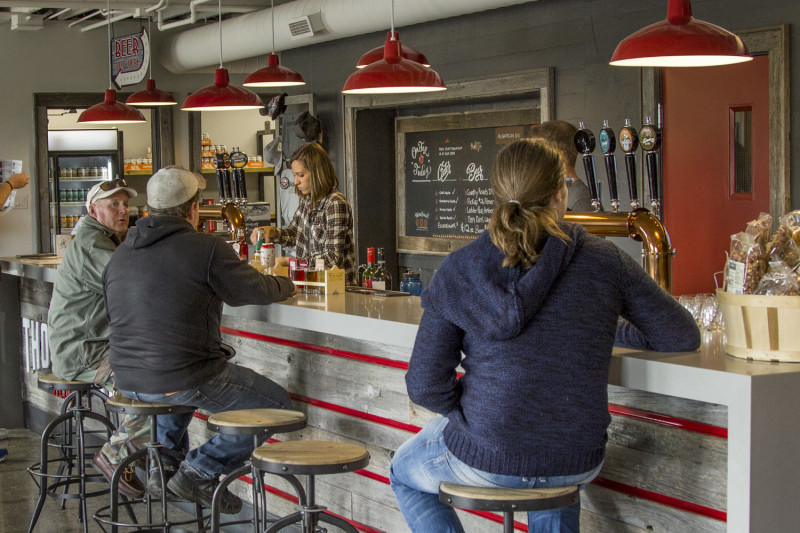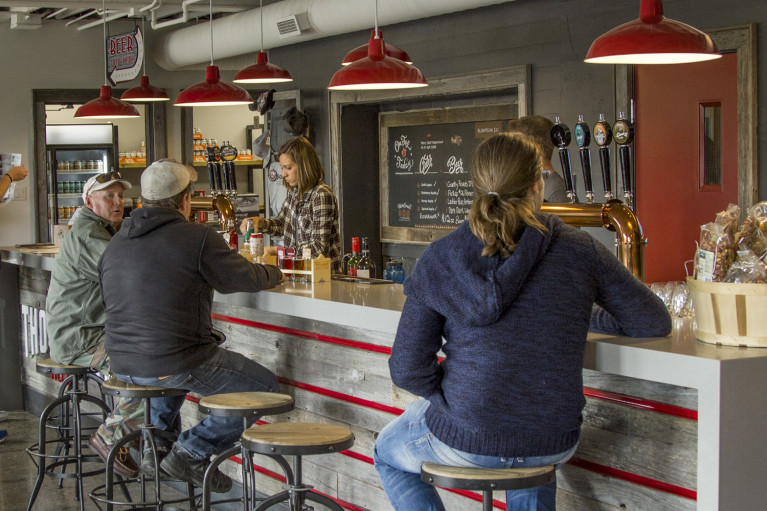 Indulge in Local Cheese
Just steps away from the Bruce Wine Bar you'll find The Cheese Gallery. This is seriously a must-stop when you're in Thornbury. Whether you're looking for a snack after your cider tasting or just feeling a little peckish, you gotta check out the amazing selection of cheeses that await you. Still full from the Bruce Wine Bar? That's okay, get a selection to go – otherwise you'll regret it, I swear! It's also the perfect spot to warm up on a chilly autumn day. If you're a shopaholic, you can do a pit of perusing of the amazing items you'll find inside. It's a bonus that all of the items you'll find are from local artists!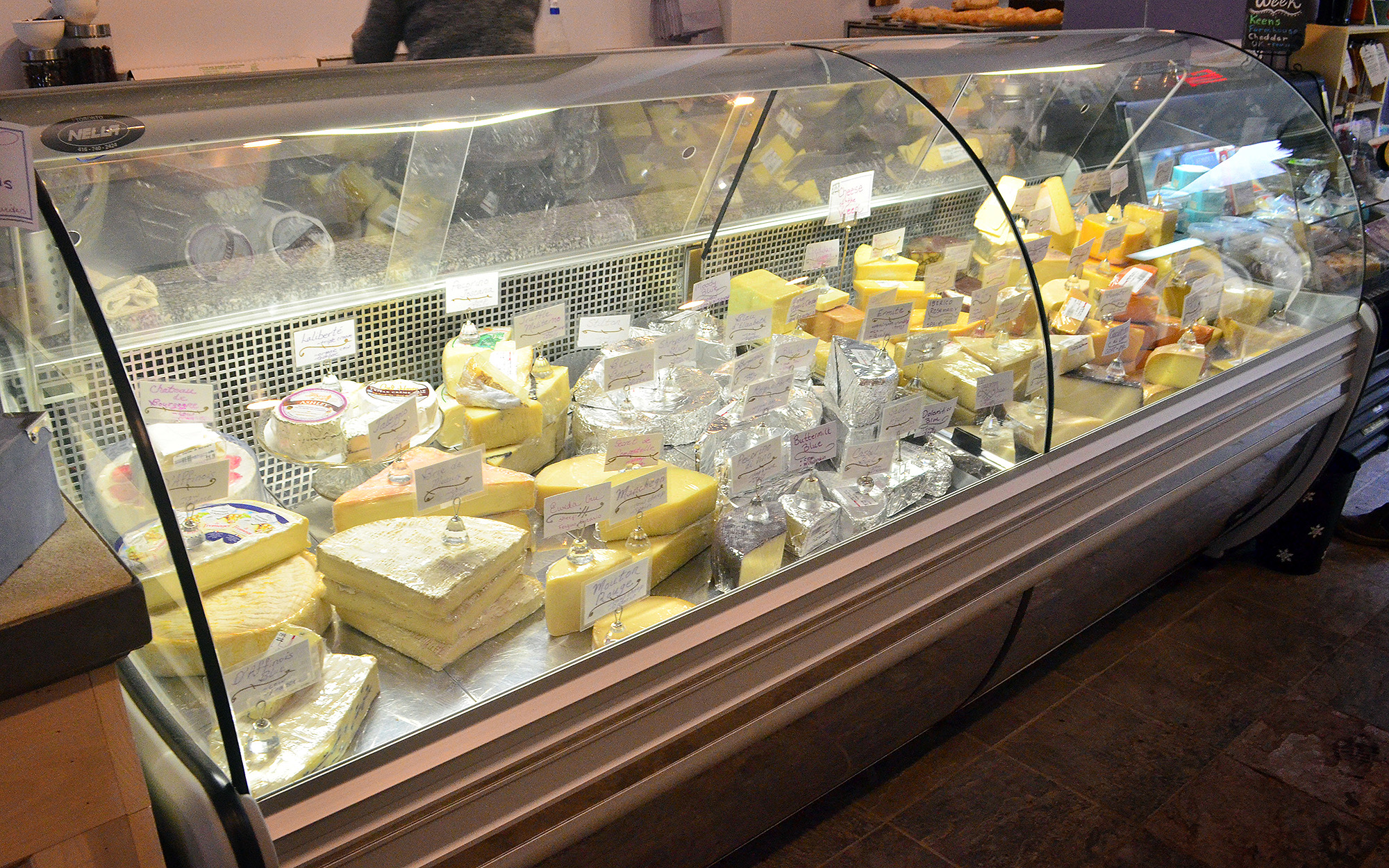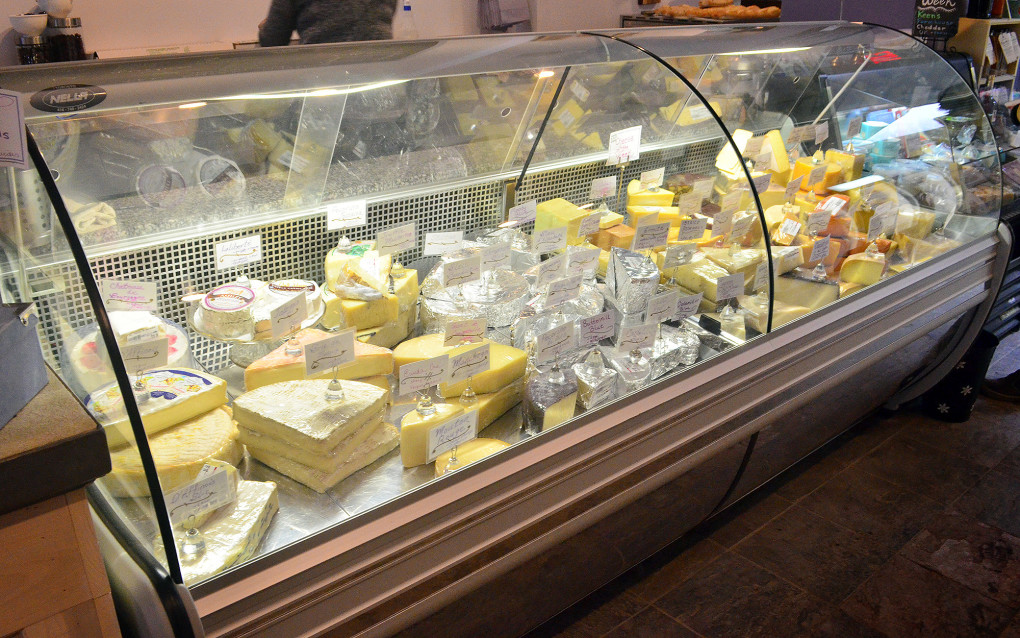 Indulge in Home Grown Goodness
You'll get exactly that at Meaford's culinary gem, Andrew's Roots! Home of local Meaford-ite Chef Andrew Barber, you'll enjoy a casual fine dining experience inspired by local seasonal ingredients. Opened in 2015, Andrew's Roots is another stop on the Apple Pie trail and so I knew I had to try one of the apple dishes. I started with their Baby Arugula Salad consisting of julienne local apples, shaved fennel, quinoa, and toasted almonds in an orange sumac vinaigrette. Not overly sweet but extremely flavourful, which I enjoyed. For my main, I indulged in their Ravioli dish which I absolutely ADORED. I apologize but the photo below really doesn't do them justice. These delightful little flavour pockets are filled with sweet corn, spinach and ricotta as they're glazed in sumac brown butter with a roasted red pepper puree and topped with a sprinkle of toasted sunflower seeds. While I didn't indulge in dessert this time, their walnut and candied bacon butter tarts are already calling my name for my next trip. The ambience of the restaurant was a lovely mix of elegant yet easygoing, making it the perfect place for a dinner date or a casual meal among friends and family. Either way, this is a restaurant not to be missed while visiting Grey County!
INSIDER TIP: Be sure to make a reservation if you're planning on dining after 6pm as it can be extremely busy, especially on weekends. If you're looking to visit when the restaurant is more relaxed, I'd suggest either a late lunch or early dinner between 2-5pm.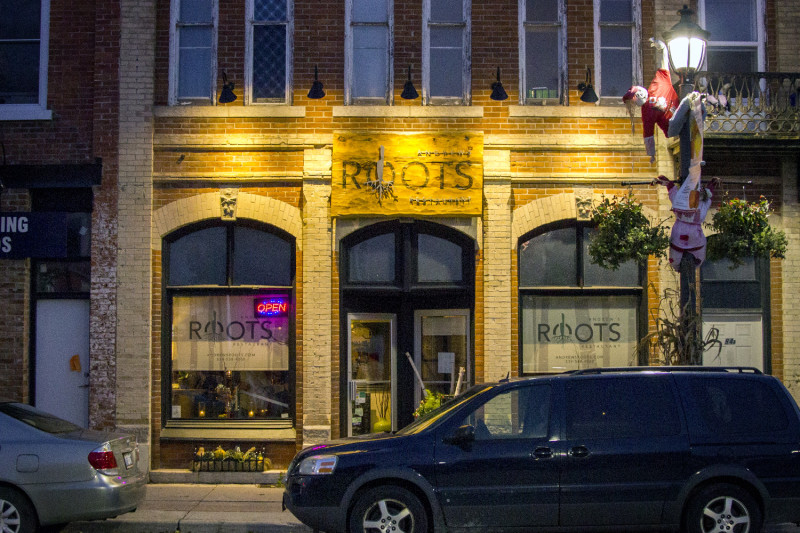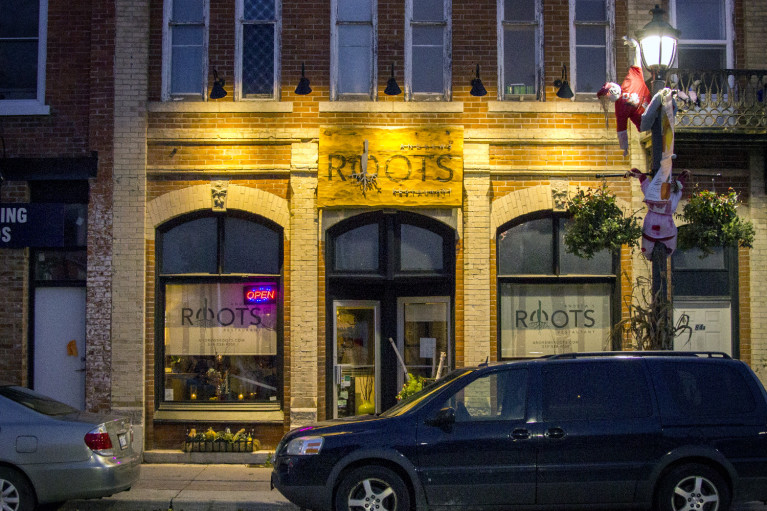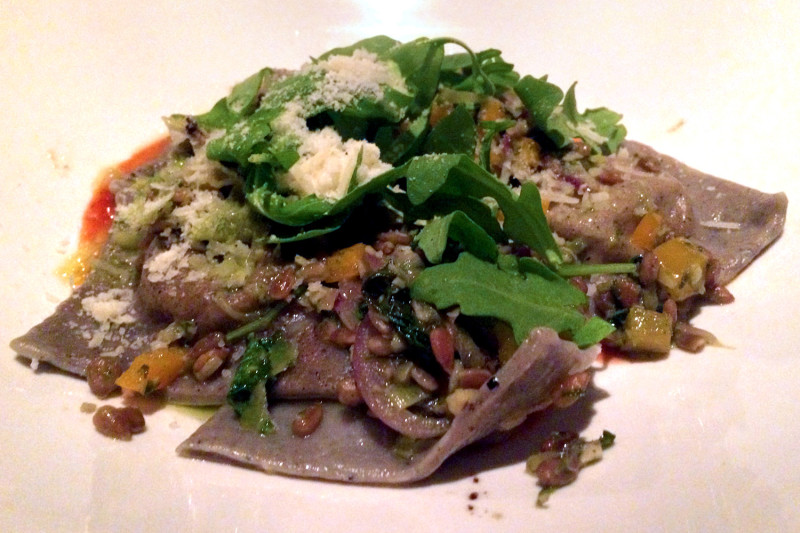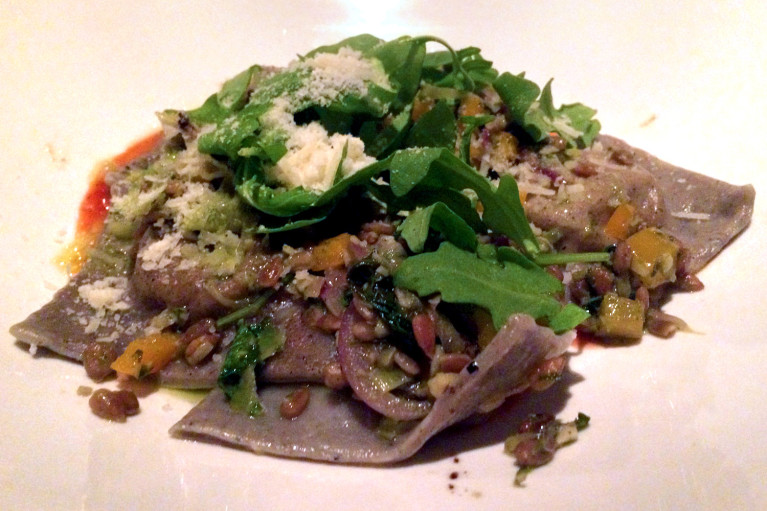 Enjoy the View with Your Meal
Head a little north of Owen Sound to Cobble Beach where you can overlook the ever beautiful Georgian Bay with your eats at the Sweetwater Restaurant and Bar. This Nantucket-style clubhouse offers a variety of dishes from your casual burger to tasty tostadas. Because I can never have just one thing, Robin and I shared two of their dishes. Their Pork Ramen comes with house-made kimchi, sesame slaw, pork shoulder honey mushrooms and a hardboiled egg. Our second dish, their Steamed Buns, includes sous vide pork shoulder, cucumbers, pea shoots with a sesame glaze and kimchi. As Robin cannot handle spicy food, we requested the kimchi be on the side which I suggest you do. While the kimchi was tasty, I found it was quite salty and could have overpowered the dishes had it been mixed in. Be sure to enjoy your meal on the patio if the weather cooperates – it's the best way to enjoy that beautiful Georgian Bay shoreline!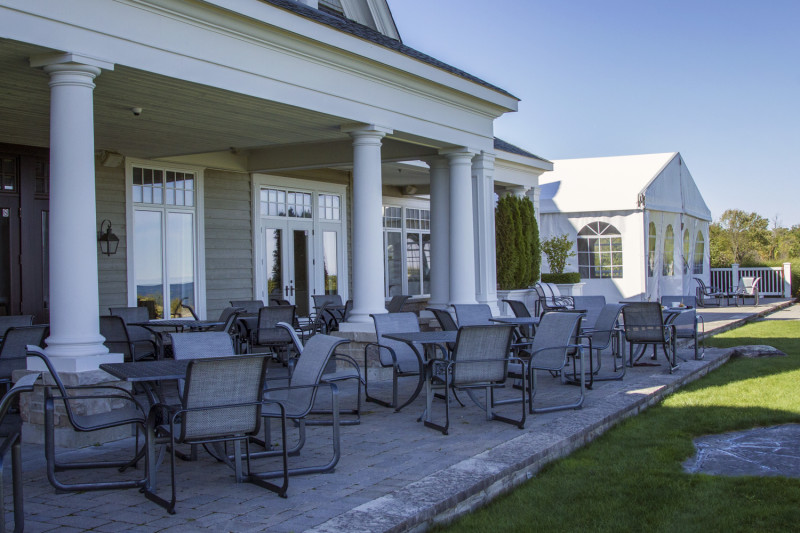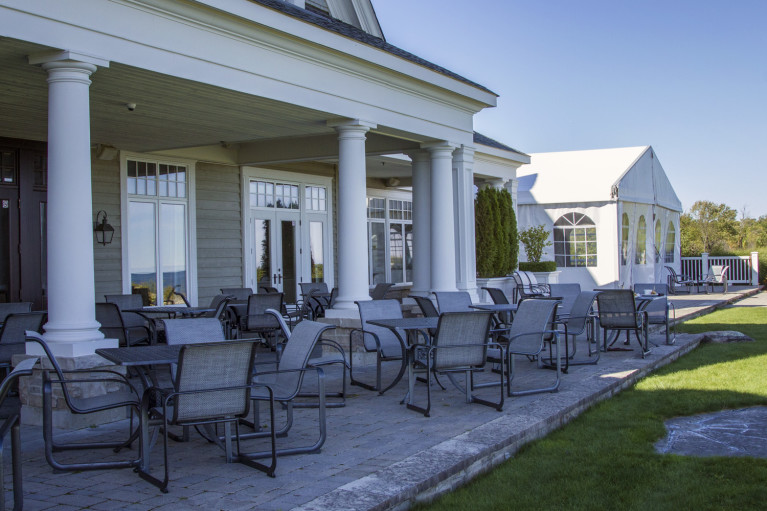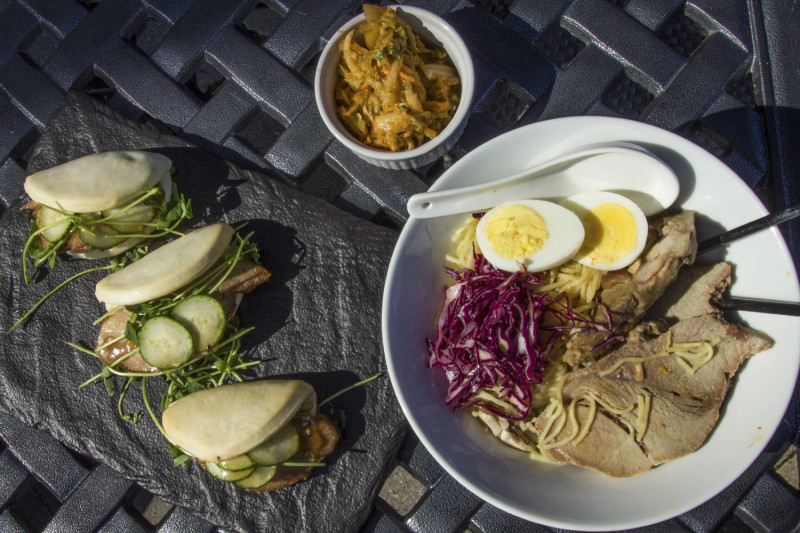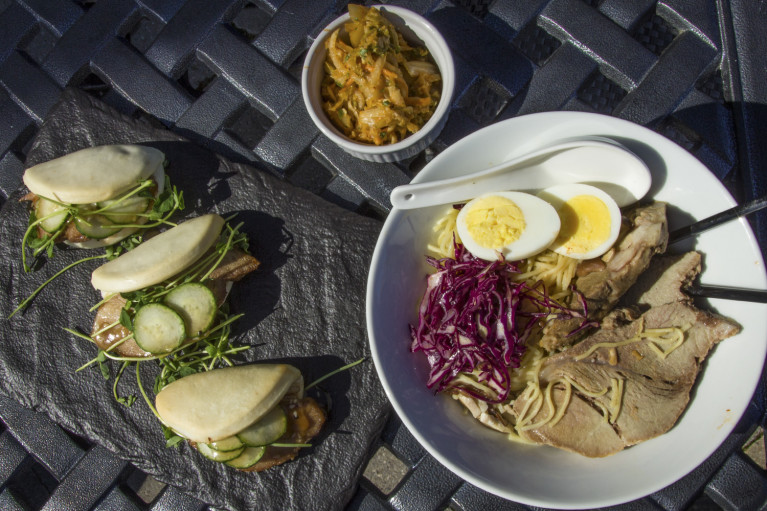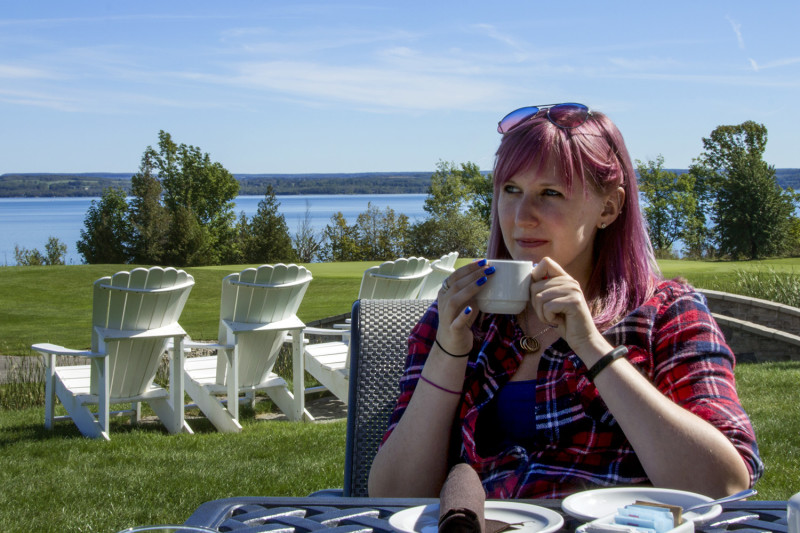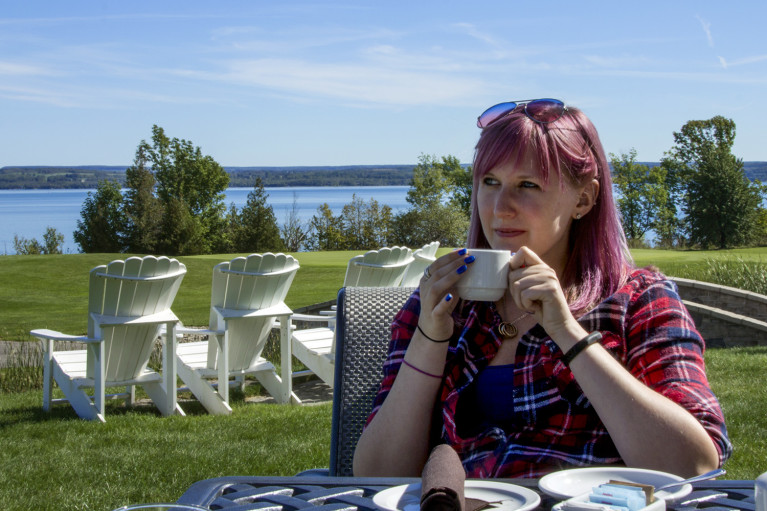 Grey County Accommodation
Not sure where to stay for your autumn adventure in Grey County? Look no further than Coffin Ridge Boutique Winery. Opened in 2001, Grey County's first winery sits along the ever beautiful Niagara Peninsula. Enjoy the fruits of their hand-planted vines' life cycle as they're nourished from budding to maturity and then "ushered to their demise"! Each of their wines playfully references the transformation from grape to wine so enjoy a glass and thank the grapes for their sacrifice. If wine isn't entirely your forté, Coffin Ridge also produces amazing ciders, including their seasonal variety which you can only get from the winery itself! As if this wasn't a good reason to visit, how about the view from their outside patio? It'll be hard to peel yourself away from this view!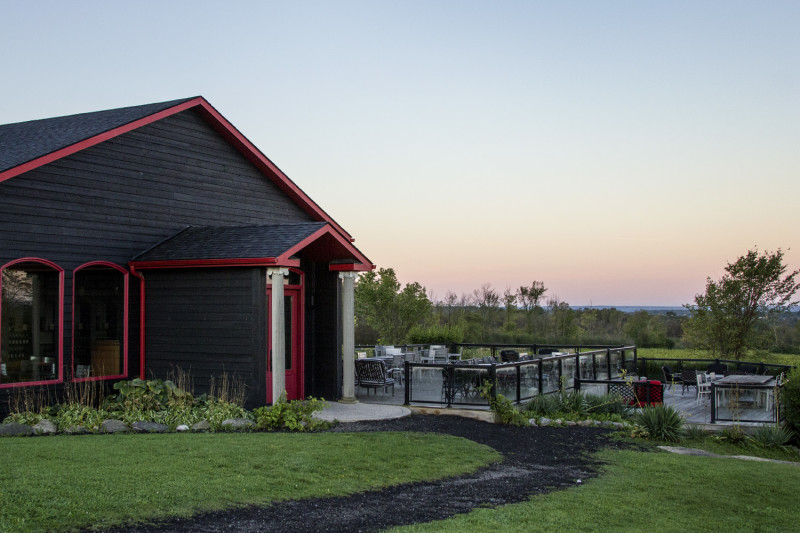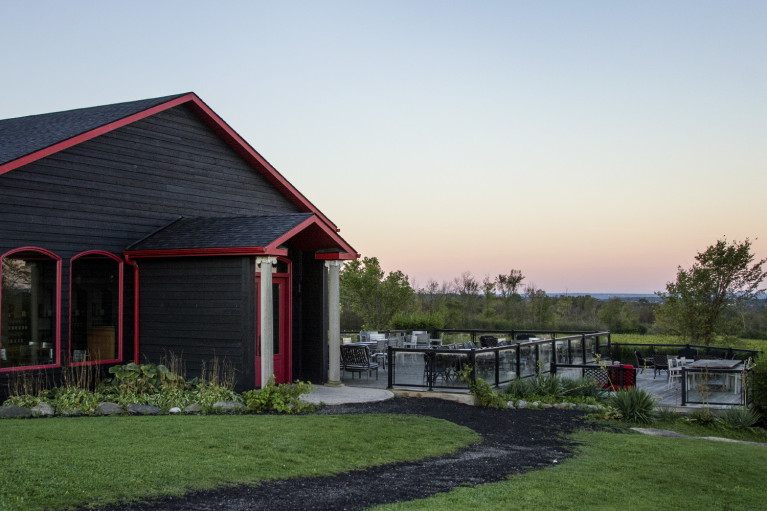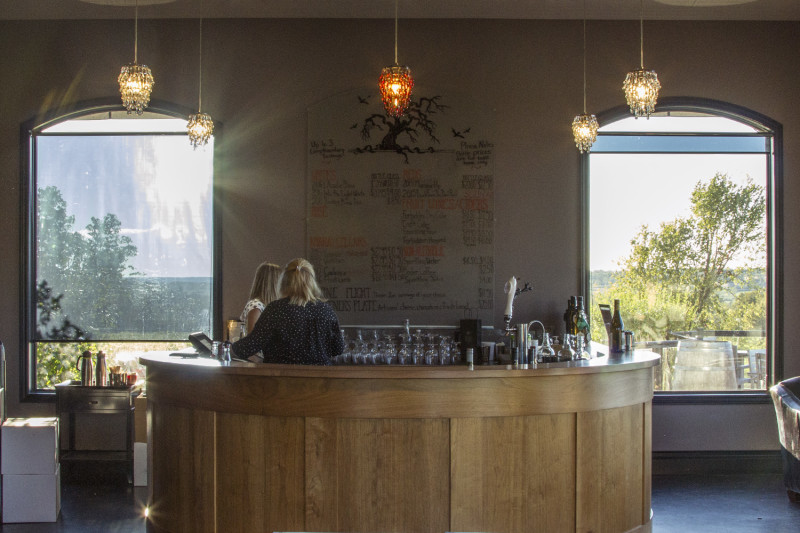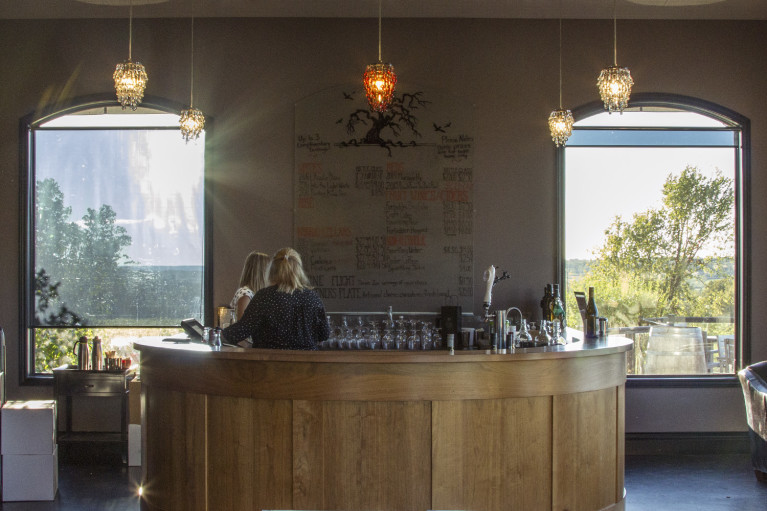 | | |
| --- | --- |
| | |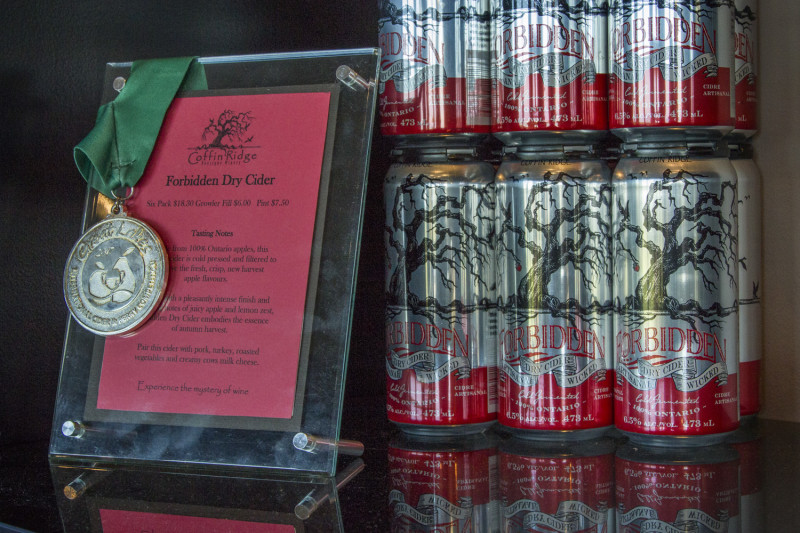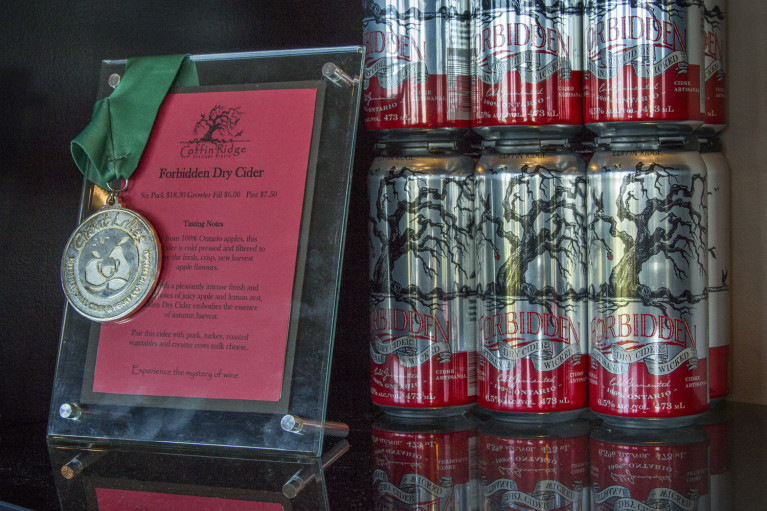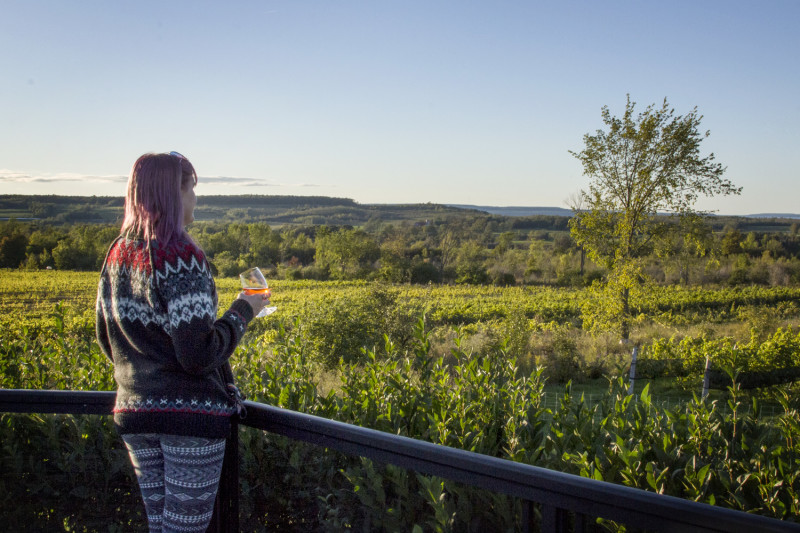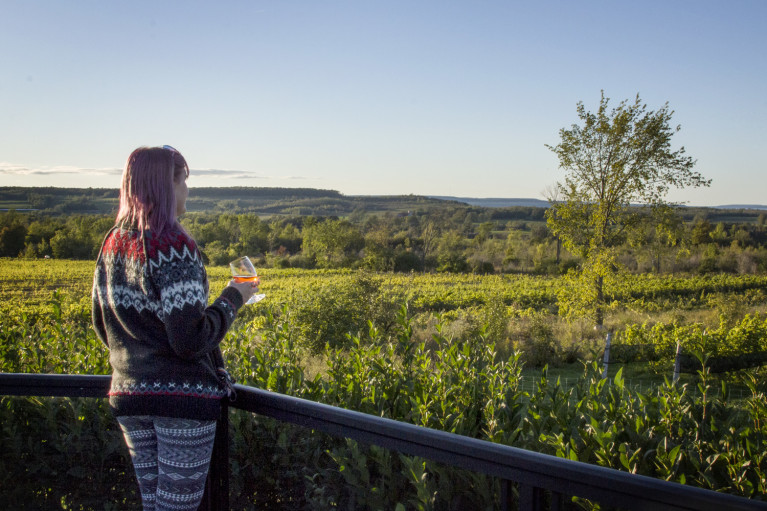 Located about 20min northeast of Owen Sound and Meaford, it is encouraged to partake responsibly. While it can be tough to not overindulge because their vintages are so delicious, I'm happy to say that YES, you can have your cake and eat it too – or in this case, your wine and cider! Coffin Ridge offers a beautiful B&B and the perfect place to rest your head.
Aptly named The Resting Place, they're dying to welcome you to their Relic's Room, Writer's Haunt or Widow's Walk. It really doesn't get much better than enjoying some wine and cider with your humble abode for the evening located just a stumble away! If I already have you hooked, be sure to sign up for Airbnb using my code and you can save some money on your first stay!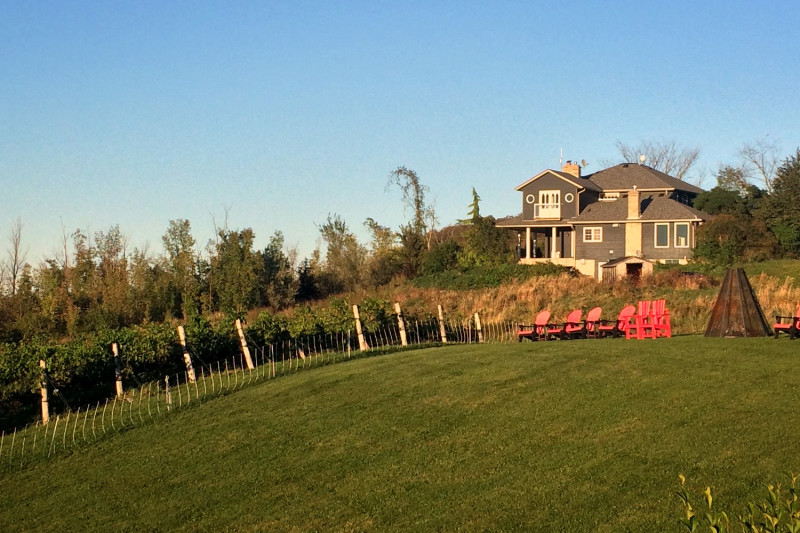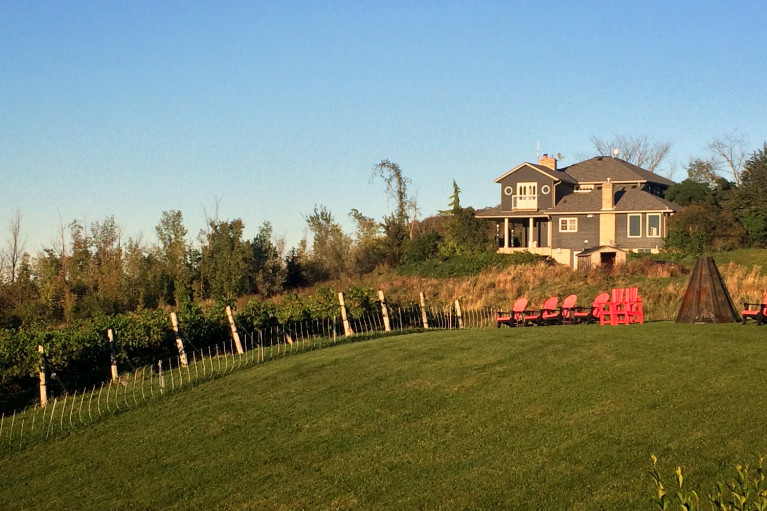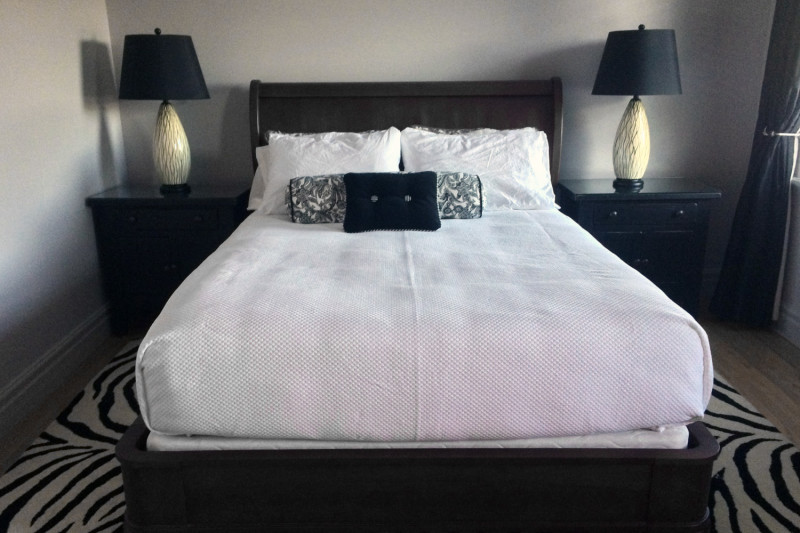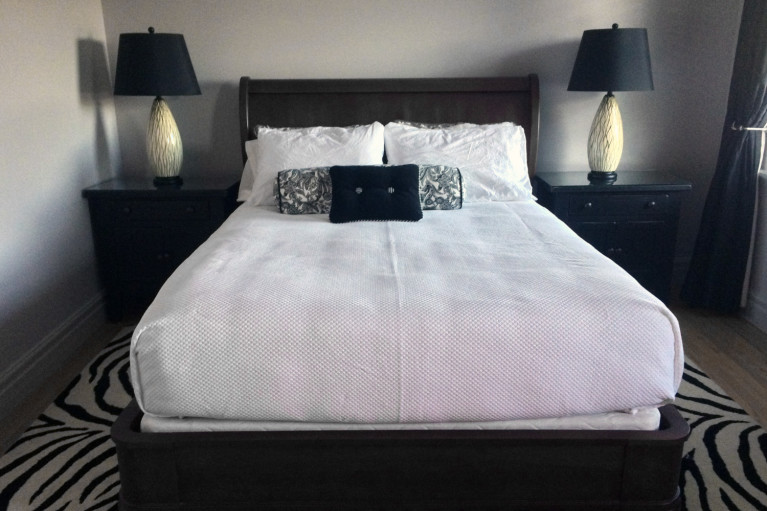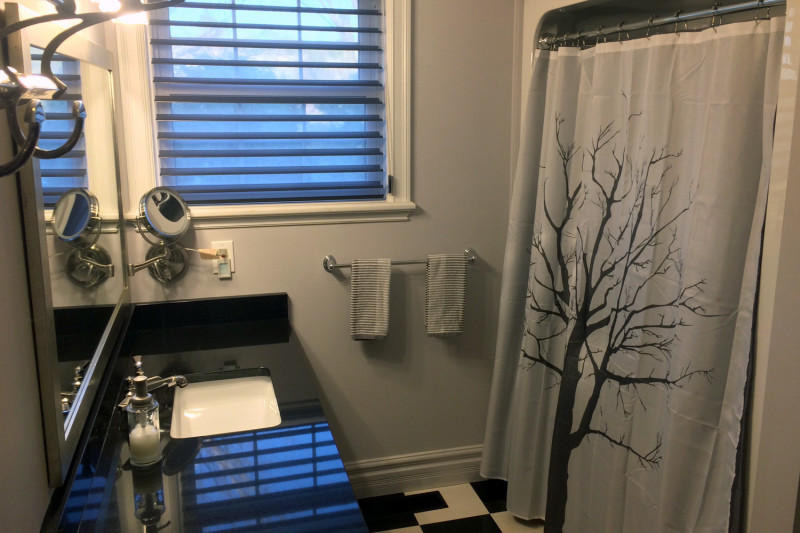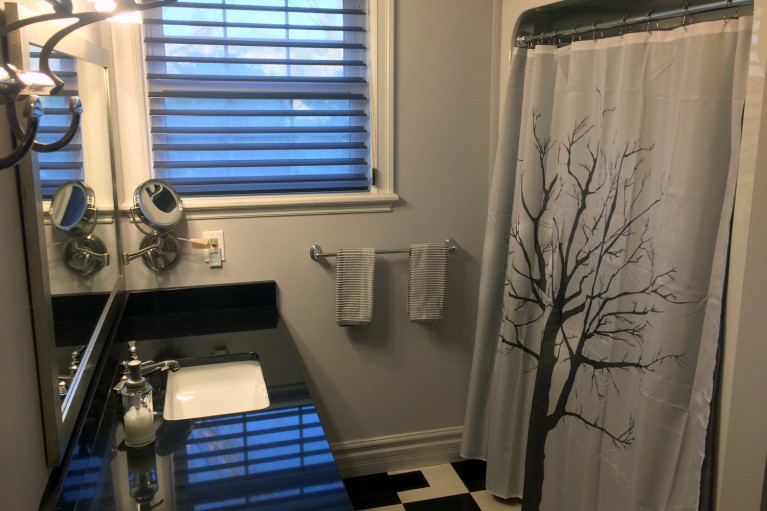 I had the pleasure of staying in the Widow's Walk, and I slept so soundly. Located on the second floor of the main house, it features a queen size bed with plenty of cozy blankets and pillows. A TV fitted with satellite and Apple TV is perfect for snuggling up at the end of the day. It also has a 4-piece ensuite and plenty of room to doll yourself up in the morning. Enjoy a view of the pool and gardens from your room, or venture out into one of the common areas. With a games room, theatre, gym, library, pool and hot tub, there's no way you could be bored! Oh and did I mention a free wine & cider tasting along with their Vintner's Plate that's full of delicious meats, cheeses, etc is included? Talk about a dream come true!
INSIDER TIP: While the sunset across the vineyards is beautiful to see, the sunrise is even better. Even if you're not an early riser, set your alarm and get up to enjoy the view. You'll not only have the place to yourself but watching the blanket of gold sunshine as it slowly covers the vineyard is not to be missed!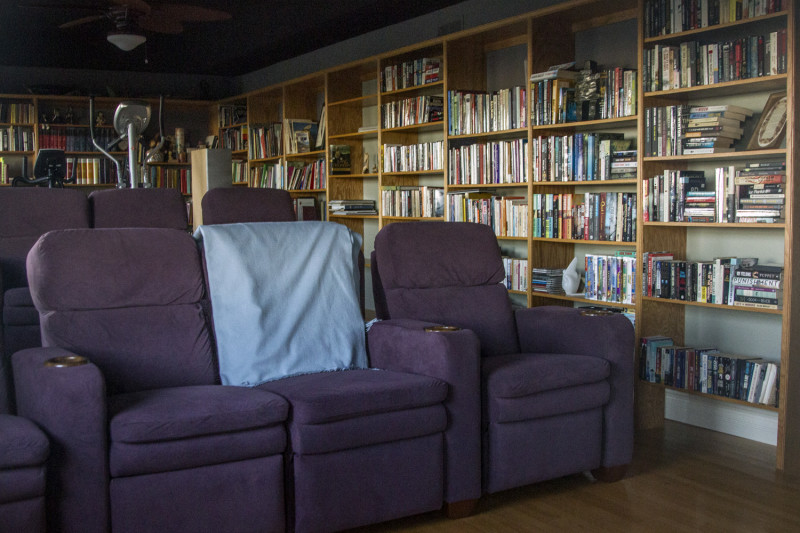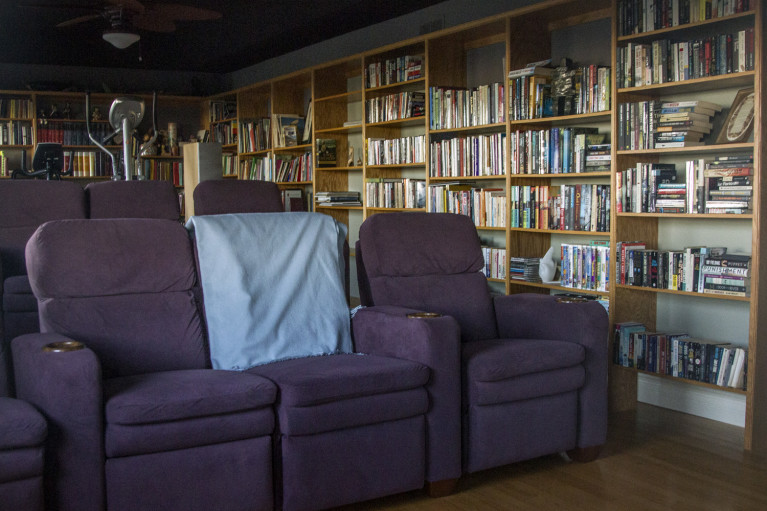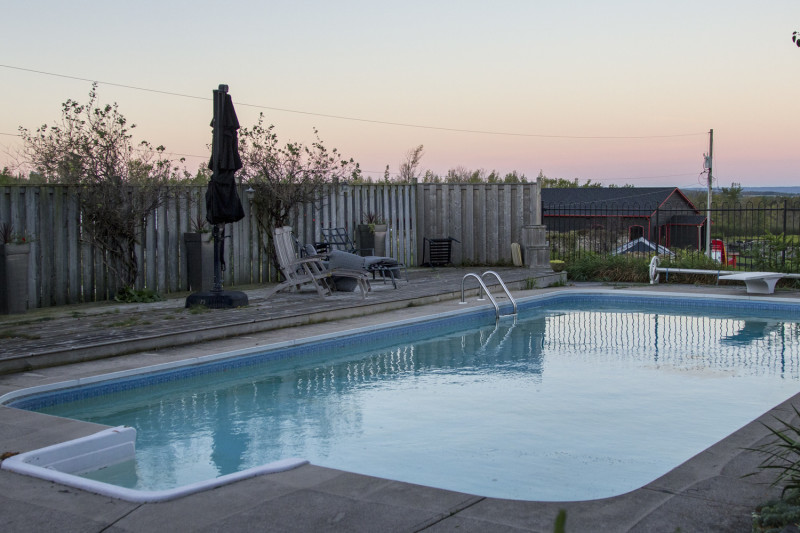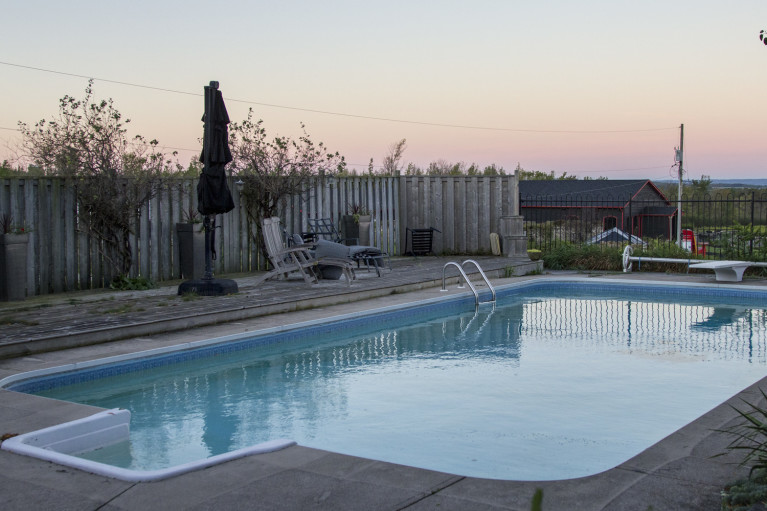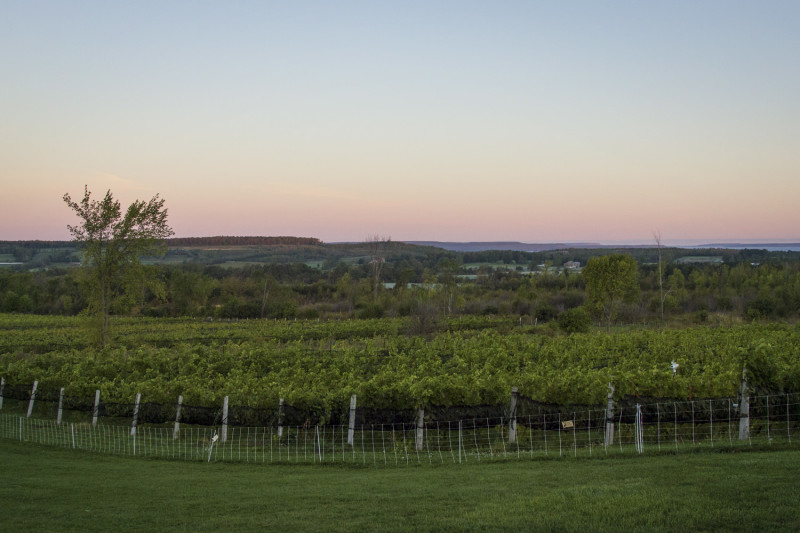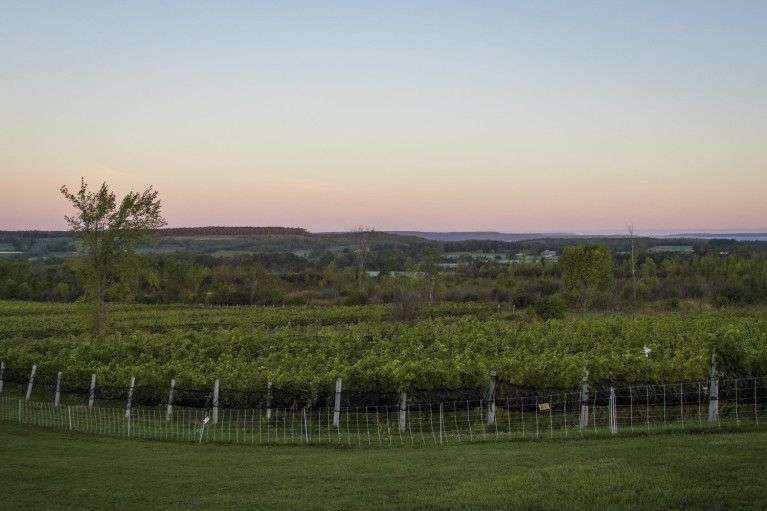 As well, all guests receive a delicious breakfast each morning made from fresh, local ingredients. Enjoy the continental staples such as yoghurt, toast, berries and a variety of jams. Don't fill up on that though or you'll miss out on savoury dishes like their cheddar and spinach omelette. If you have any allergies or dietary restrictions, let Kiri (she's AMAZING) know and she'll be sure to whip you up something delightful. And of course, no breakfast is complete without endless coffee and tea. Price varies depending on the room, but the Widow's Walk is $175/night plus tax.
If The Resting Place is booked during your visit, click this link to see what other Grey County accommodations are available!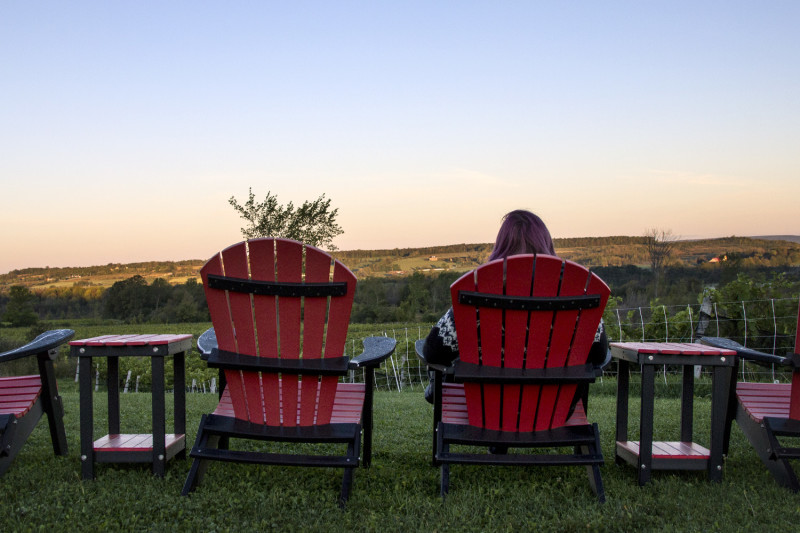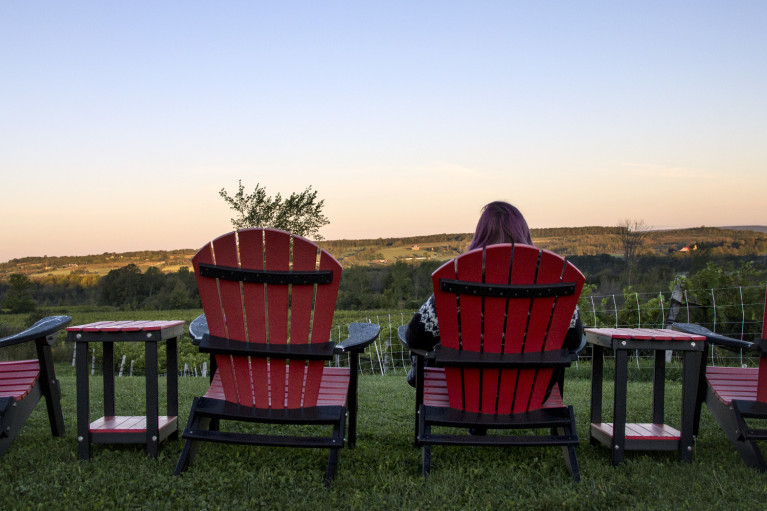 Ready for a Grey County Autumn Adventure?
Grey County is full of adventures year-round, but it truly is a magical place to visit come fall. Whether you're looking to explore across the area or plan a relaxing getaway, you can't go wrong! It takes less than 3 hours to get from both Niagara and Toronto to Grey County, making it the perfect weekend trip.
If you're not planning to visit during this colourful season – never fear. There's always next year, or you can plan a winter adventure instead. Trust me when I say you'll want to visit in the fall soon though!
Looking for more fun around Grey County?
Check out these amazing attractions in South Georgian Bay
Plan a Getaway to This Underrated Destination on the Bruce Peninsula
Chase Waterfalls Across Grey County With This Guide
Disclaimer
A huge thank you to Grey County Tourism for having me up for this amazing autumn adventure! While the majority of these activities and suggestions were hosted by Grey County Tourism, all reviews and opinions are my own – as always!
This post contains affiliate links where I may receive a kickback on any purchases made through them at no extra charge to you. Read more in IBB's disclaimer and privacy policy.
Ready to visit Grey County in Autumn? Pin it for later!