36 Best Ontario Beaches For Some Summer Fun in the Sun [2023]

Summer is not complete without feeling some sand between your toes, even in Canada. We may be the great white north but one of the best things to do in Ontario in the summer is to enjoy a beach day! Luckily, there are a number of incredible destinations for some summer fun in the sun. If you're looking for some ideas of where to go, check out some of the best Ontario beaches the province has to offer!
Disclaimer: This post contains affiliate links where if you make a purchase, I may receive a kickback at no extra cost to you. It helps keep IBB alive so thank you!
Best Ontario Beaches to Explore This Summer
Ontario is a massive province and, as you can imagine, has plenty of great spots to explore. You can't go wrong with any of these beaches in Ontario so pack a bag, gas up the car and head out on an Ontario road trip full of summer fun!
SOMETHING TO NOTE: These Ontario beaches are listed in alphabetical order and not by ranking or order of preference. That's pretty subjective and a beach that someone may love, another may not be a big fan of!
Best Beaches in Southern Ontario
Believe it or not, you don't have to go far to find some beautiful beaches in Ontario. Many are within a 2 hour drive from Toronto and the GTA with an abundance of Southwestern Ontario beaches.
Canatara Park in Sarnia
Address: 1200 Lake Chipican Drive, Sarnia
Located close to the US border in Sarnia, you'll find over 900 metres of Lake Huron beach to enjoy at Canatara Park. It is one of Ontario's Blue Flag beaches and a popular spot with locals. However, Canatara Park also has a number of amenities to offer visitors. Inside the 200 acre park, you'll find playgrounds, an animal farm, a children's mini train, picnic areas and a number of trails. This definitely makes it a popular beach in Ontario for families!
For the big kids, there are a number of other features that will draw you to Canatara Park. Bring some cash and treat yourself to some food truck eats. If you're a bit of a trickster, you might want to check out the BMX bike track. There's also a wakeboard park on site too! As you can see, it's pretty easy to spend a full summer day at Canatara Park.
Looking for Somewhere to Stay Nearby? The Insignia Hotel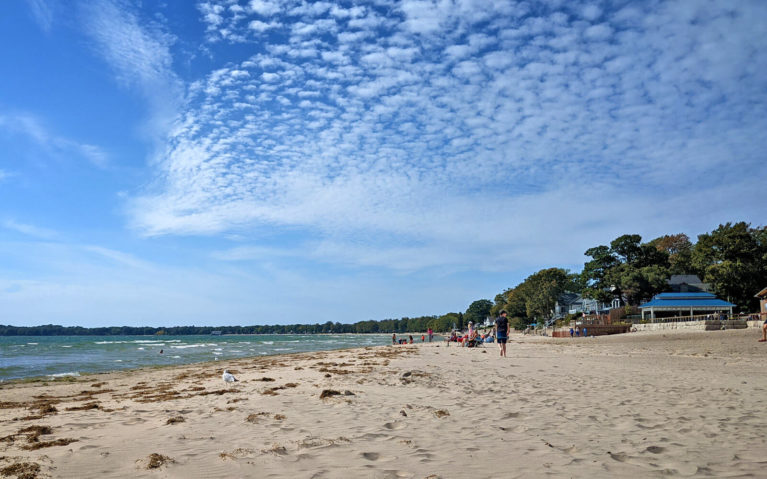 Crystal Beach in Fort Erie
Address: 4155 Erie Road, Fort Erie
What was once home to an amusement park is now a popular beach destination in Fort Erie. While it's been over 30 years since roller coasters graced the presence of Lake Erie's shoreline, it doesn't stop folks from travelling to enjoy this Ontario beach destination. Bring a picnic or grab a bite from one of the restaurants along Erie Road. You won't want to miss checking out some of the local shops, too!
From Victoria Day to Labour Day, passes need to be purchased to access the beach. Fees are $5 per person Monday to Thursday and $10 per person on Fridays, Saturdays, Sundays and holidays. Paid parking is also in effect and can be purchased by the hour or at a daily flat rate.
Looking for Somewhere to Stay Nearby? Comfort Inn Fort Erie
RELATED: Crystal Beach isn't too far from the ship shape town of Port Colborne which is worth checking out while you're in the area!
Grand Bend Beach
Address: 88 Main Street West, Grand Bend
While Grand Bend has a community that lives here year round, it absolutely explodes in the summer. When it's safe to say that Grand Bend is one of the most popular beaches in Ontario Canada.
With over 40 kilometres of beach to explore, there's plenty of room to enjoy the summer sun despite it being a top Ontario beach destination. It's not uncommon to see folks kite sailing as you enjoy this Lake Huron beach. There are also plenty of other water activities like water skiing, parasailing, paddleboarding and fishing. If you want to see a new side of Lake Huron, you can always try snorkelling or even scuba diving!
Grand Bend is also popular for its plethora of events, delicious restaurants and quaint shops. It's easy to spend a night or a full week enjoying everything the town has to offer.
Looking for Somewhere to Stay Nearby? Pinery Provincial Park campground or the Colonial Hotel & Suites
Long Point Beach
Address: 350 Erie Boulevard, Port Rowan
Designated as a UNESCO Biosphere Reserve due to its biological significance as an internationally important wetland, you'll find a unique blend of various habitats including sand dunes, wet meadows, woodlands, marshes and more in the Long Point area. However if you're reading this, Long Point is on your radar thanks to its long stretches of uninterrupted beaches as it's the largest freshwater sand spit in the world! Long Point's shallow waters make it one of the best beaches in Ontario for families and the perfect spot for a day of summer fun.
While there is a small free parking lot by Stub's Grub on Erie Boulevard, it fills up very quickly in the summer. For less stress and hassle, it's worth it to pay the entry fee and head into Long Point Provincial Park. You'll also have access to actual washrooms, barbeques and other amenities. If you want to extend your beach adventure, plan a Long Point Provincial Park camping trip with my guide!
Looking for Somewhere to Stay Nearby? Long Point Provincial Park Campgrounds or Long Point Eco Adventures
Mikisew Provincial Park
Address:301 Park Road South, South River
This provincial park may be small but it sure is mighty! With plenty to offer including hiking trails, disc golf, fishing and paddling opportunities, it's the perfect spot to get away for a camping adventure. However, what really makes it shine is the fact that Mikisew has not one but four beaches for visitors to enjoy!
Two of the beaches are located in the Hardwoods Campground and are typically utilized by those staying overnight. In the day use area, you'll find another fantastic sandy beach as well as the park's dog beach for those looking to bring their pooch along. As with most provincial parks, you'll find some creature comforts like toilets and picnic tables. While packing some snacks is always a good idea, there are some spots close by to pick up some grub if hunger strikes and you're not prepared!
For full details, check out my guide to Mikisew Provincial Park.
Looking for Somewhere to Stay Nearby? Camp at Mikisew
Petrie Island in Ottawa
Address: 795 Trim Road, Orléans
Petrie Island is a beautiful park located along the Ottawa River. It offers two public beaches: North Beach (also known as River Beach) and East Bay Beach. Both are supervised by lifeguards from the Victoria Day weekend until the third week of August. Between them is a picnic area with a pavilion as well as a canteen where you can purchase food and drinks. Make a day of it and bring your BBQ as they're permitted in the picnic area!
While Petrie Island beach is about a 20 minute drive east of the city, I recommend staying in the heart of Ottawa as our capital city has so much to offer. From incredible museums to delicious restaurants to fantastic cafes and more, you really can't go wrong with spending a few days in Ottawa.
Looking for Somewhere to Stay Nearby? Holiday Inn & Suites East-Orleans or reStays Ottawa
Point Pelee National Park
Address: 1118 Point Pelee Drive, Leamington
Why not work on your tan at the southernmost point in all of mainland Canada? Grab your beach towel and plan to spend a day at one of the smallest national parks in the country!
Point Pelee National Park is a great spot to spend a day relaxing or exploring the park. Take a stroll along the marsh boardwalk, bring along your canoe or kayak and go for a paddle, check out the Botham Tree Trail or spend some time enjoying the beach at The Tip. I recommend packing some snacks or bringing a picnic along as there aren't any places to purchase food in Point Pelee National Park, though you will have in and out capabilities with your day pass.
Looking for Somewhere to Stay Nearby? Camp in a Point Pelee oTENTik or The Wigles Motel
RELATED: Since you're already here, why not take a look at some of the other fun things to do in Windsor and Essex County!
Port Stanley Beach
Address: 162 William Street, Port Stanley
If you're a fan of a buzzing beachfront, Port Stanley is definitely a spot to check out. Another popular Lake Erie beach, its sandy shoreline attracts thousands of visitors each year. Luckily it's quite wide so there's enough room for folks to kick back, toss a frisbee or even get in on a game of beach volleyball! Scattered along you'll also find some playground equipment for the kids as well as some benches and gazebos.
The town itself is also adorable with a number of local shops that are worth perusing, tasty restaurants and more. Enjoy a bite at GT's on the Beach, grab a pint at the Barnacles Beerhouse or head to the other side of Kettle Creek to do some shopping. There are also some great things to do in the surrounding area like a visit to Steed & Co, one of Ontario's fantastic lavender farms or the elevated park in St Thomas.
Looking for Somewhere to Stay Nearby? Inn on the Harbour & Telegraph House or the Kettle Creek Inn
Presqu'ile Provincial Park
Address: 328 Presqu'Ile Parkway, Brighton
Lake Ontario beaches often get a bit of a bad reputation but Presqu'ile Provincial Park certainly blows that out of the water. This is definitely one of the best beaches near Toronto! Visitors can enjoy 2.5 kilometres of sandy beach as well as explore more rocky beaches scattered throughout the shoreline of the park. There's certainly something for everyone and you'll be amazed that Lake Ontario can look so tropical!
Presqu'ile is worth a visit for a number of other reasons as well. First, it's home to the second-oldest operating lighthouse in all of Ontario. Second, you'll love the kilometre-long marsh boardwalk trail which allows you to explore the largest protected marsh along the north shore of Lake Ontario. Third, Presqu'ile Provincial Park is also a fantastic paddling destination with fascinating alcoves and bays waiting to be explored. Lastly, its close proximity to the town of Brighton makes it easy to pop into town for some great eats to keep yourself fuelled during your visit.
RELATED: There's so much to see in the area around Presqu'ile Provincial Park. Check out my guide to the Bay of Quinte for all the great things to do during your stay!
Are you convinced to visit? Be sure to reserve your daily vehicle permit in advance. Presqu'ile Provincial Park is one of the most popular beaches for a reason!
Sandbanks Provincial Park
Address: 3004 County Road 12, Picton
This Prince Edward County gem has three expansive beaches calling your name! Home to the world's largest baymouth barrier dune formation, Sandbanks is not only one of the top beaches in Ontario but one of the best beaches in Canada!
While hanging out on the beach is certainly one of the top things to do at Sandbanks, the park has a lot more to offer beachgoers. Prince Edward County itself is a hotspot for biking with many using Sandbanks as their starting point. Paddling and boating opportunities are available via Outlet River where you can explore a beautiful marsh habitat. There are six trails throughout Sandbanks for those like me who love to hike that will take you along the fragile sand dunes, the aforementioned Outlet River, old pine plantations and more.
Looking for Somewhere to Stay Nearby? Camp at Sandbanks or the Empire Inn & Suites
Sauble Beach
Address: 46 Shore Road South, Sauble Beach
If it isn't the most popular beach along Lake Huron, it's definitely a close second. Sauble Beach features over ten kilometres of beautiful beachfront with multiple access points. An enjoyable spot for visitors of all ages, swim, surf, paddle, SUP and kiteboard until your heart's content!
SOMETHING TO NOTE: Sauble Beach is a nesting ground for the endangered piping plover. If you see signs indicating this, please leave them be! Our feathery friends struggle enough against their usual predators that they don't need human interference as well. Also, keep your dogs on leash and away from them.
Not only is Sauble Beach arguably one of the nicest white sand beaches in Ontario, but it also has plenty of activities and attractions to offer. I'd recommend spending some time at Sauble Beach Provincial Park, and if you feel like getting the adrenaline pumping, pay Ascent Aerial Park a visit!
Looking for Somewhere to Stay Nearby? Bel Air Cottages & Motel or the Sauble River Marina & Lodge
Silent Lake Provincial Park
Address: 1589 Silent Lake Park Road, Bancroft
Just north of Muskoka, you'll find not one but two fabulous Ontario beaches at Silent Lake Provincial Park. What makes them so great? Well, one of the perks of this park is that no motorized boats are allowed on Silent Lake. This makes it perfect for nervous paddlers or swimmers who don't want to deal with anything but calm waters. The current can be strong at times if there's a bit of wind so definitely keep an eye but overall, it's a great spot for a chill day of fun in the sun.
The largest of the two beaches is located in the day-use area where you'll have flush toilets, a large grassy area and some picnic tables. As for the beach itself, you'll see a roped-off area in the water that signifies a shallow area that's great for families with young children. Beyond that, the water levels tend to drop and it's not uncommon to come across large rocks so be careful and keep an eye to avoid any scraped knees!
Another great thing about Silent Lake is that it's close to Bancroft. This adorable little town has a number of great restaurants for when you don't feel like packing a picnic or cooking if you're camping. For more details, check out my guide to Silent Lake Provincial Park.
Looking for Somewhere to Stay Nearby? Camp at Silent Lake
Singing Sands Beach near Tobermory
Address: 126 Dorcas Bay Road, Tobermory
You'll need a Parks Canada pass to visit this one but I'd say it's a true hidden gem. So many flock to The Grotto and Indian Head Cove in Bruce Peninsula National Park or the ever-popular town of Tobermory that they don't realize Singing Sands is even there!
If you're looking for a spectacular sunset along the Bruce Peninsula, Singing Sands Beach delivers. Located on the shores of Dorcas Bay, the water levels are very dependent on the tides. Sometimes you can walk out as far as two kilometres before really needing to swim! Since my last visit, Parks Canada has also established some walking trails so check those out and then head for the water to cool off.
Looking for Somewhere to Stay Nearby? Bruce Anchor Motel & Cottages or the Grandview Motel
Wasaga Beach
Address: 45 Beach Drive, Wasaga Beach
Say hello to the longest freshwater beach in the world! Soak up the summer sun on the white sandy South Georgian Bay shoreline and enjoy panoramic views of the ever-gorgeous Niagara Escarpment. Wasaga Beach is home to one of the province's most unique coastal dune ecosystems.
I'd say Wasaga Beach is arguably the busiest beach in the province but that's probably because it's one of the best beaches in Ontario for swimming. Plus the area is certainly built up with a number of restaurants, bars and things to do. With this do come the crowds, however if you don't mind being amongst the hustle and bustle, give it a visit.
Looking for Somewhere to Stay Nearby? Inn on the Beach
Best Beaches in Northern Ontario
You don't realize just how massive Ontario is until you look at some of these driving times from Toronto or Niagara! However, these beaches are certainly worth the drive and you won't have nearly the crowds to contend with as you do in Southern Ontario.
SOMETHING TO NOTE: A reminder that these beaches are listed in alphabetical order and not by location or preference.
Batchewana Bay Provincial Park
Address: 10699 Highway 17, Batchawana Bay
Located less than an hour north of Sault Ste Marie along Highway 17, Batchawana Bay Provincial Park is the perfect Northern Ontario beach destination. It won't come as a surprise then to hear that it's a popular spot for a beach day as well as a great pit stop when travelling between Sault Ste Marie and Thunder Bay.
Batchawana Bay Provincial Park is a day-use park that's only open in the summer months from the Victoria Day weekend until Labour Day. There is a visitors centre with facilities near the beach including picnic tables, flush toilets and children's play equipment. Grab your friends, pack a picnic and enjoy the shallow waters as you dip your toes into Lake Superior!
Looking for Somewhere to Stay Nearby? Voyageurs Lodge & Cookhouse
Neys Provincial Park
Address: 1004 Highway 17, Neys
What was once a prisoner of war camp has been transformed into a tranquil camping spot on the shores of Lake Superior. This history is the reason why Neys was designated a provincial park in 1965!
Neys Provincial Park is home to some of the best stretches of beach along this mighty lake. The shallow shoreline offers warmer temperatures which are pretty hard to come by for Lake Superior. The sand bars ripple in the water, offering beautiful reflections and stunning views – especially at sunset.
Neys Provincial Park is a truly underrated gem and another fantastic spot to stop during your trek between Sault Ste Marie and Thunder Bay.
Looking for Somewhere to Stay Nearby? Camp at Neys
Old Woman Bay in Lake Superior Provincial Park
Address: 47°47'30.4″N 84°53'48.0″W on Highway 17, Algoma
There's a reason why Old Woman Bay is one of the most iconic stops in Lake Superior Provincial Park. You'll understand why as you pull into the parking lot and lay eyes on the towering +200 metre tall cliffs off in the distance, creating the iconic shape of Nokomis or the grandmother in traditional Ojibwe stories.
If you really want to ensure the water is refreshing, tackle the Nokomis trail first as the trailhead is just on the other side of the highway from the parking lot. Trust me when I say it'll get the blood pumping!
Old Woman Bay is a must visit for any Northern Ontario road trip – especially in the summer months. However, if you're going to visit then you'll want to get there early as the parking lot fills up quickly.
Looking for Somewhere to Stay Nearby? Camp at Agawa Bay or Rabbit Blanket in Lake Superior Provincial Park
Pancake Bay Provincial Park
Address: 12729 Highway 17 North, Batchawana Bay
Just 10 minutes up Highway 17 from the aforementioned Batchewana Bay, Pancake Bay is another top contender for Northern Ontario beaches. It offers over 3 kilometres of sandy beach as well as brilliant Caribbean blue waters. Pack your bag and prepare to spend the day as you won't want to leave once you find a spot on the shoreline! It's one of the best sandy beaches in Ontario for good reason.
What many don't realize is that there's an amazing network of trails on the other side of the highway. If the waters of Lake Superior are a little too chilly for you right off the bat, make the trek out to the Edmund Fitzgerald lookout point where you'll enjoy brilliant views over Pancake Bay. You'll be ready for a swim after that!
Looking for Somewhere to Stay Nearby? Voyageurs Lodge & Cookhouse
Providence Bay Beach on Manitoulin Island
Address: 24 Mutchmor Street, Providence Bay
As one of the best beaches on Manitoulin Island, Providence Bay is a fantastic spot to enjoy the long summer days of July and August. One of the most family friendly beaches in Ontario, the shallow waters extend out at least 50 metres meaning plenty of room to splash around.
Nearby you'll find children's play equipment as well as some fitness equipment for those looking to take their workouts outside! There's also a beautiful boardwalk that certainly deserves a stroll or two, especially since it pairs perfectly with some ice cream from Huron Island Time.
Similar to many of the best beaches in Ontario, there isn't a lot of shade to be found so if you plan on staying for an extended period of time, it's a good idea to bring a sunshade or umbrella. Also, Providence bay is a free beach but parking is limited so if you're set on visiting – come early! Plus there's plenty more to do so take a look at my guide for all the great things to do on Manitoulin Island.
Looking for Somewhere to Stay Nearby? Huron Sands Motel
Pukaskwa National Park
Address: Ontario Highway 627, Heron Bay
Pukaskwa is probably one of the least visited national parks in Ontario due to its location so far north in the province, but you'll certainly be rewarded if you make the trek out here!
This gorgeous park along Lake Superior has three beaches, each with its own natural characteristics. Horseshoe Beach is located right by the Hattie Cove Campground as you follow the boardwalk past rolling sand dunes and gorgeous forest to its sandy shores. You'll be blown away by just how blue the waters are! The other two options are Middle and North Beaches. Right next door to one another, this is where the Pic River enters Lake Superior with the river's muddy waters disappearing into the depths of the great lake.
It's not uncommon to find massive pieces of driftwood which only adds to the magic of these Lake Superior beaches. I guarantee it'll be a beach day you'll never forget!
Looking for Somewhere to Stay Nearby? Camp at Hattie Cove or in an oTENTik at Pukaskwa
Amazing Southern Ontario Beaches That Are Free
Paying entry to a beach can definitely include some perks like more pristine shorelines and extra amenities. However, not everyone has the capacity to do so. Everyone deserves to spend some quality time in Mama Nature whether that's via hikes or laying on a beach so here are some great options for free beaches in Ontario.
While I'm sure there are a number of Northern Ontario beaches that are also free, I haven't spent nearly enough time up there to find the majority of them. Of course if you know of any you'd like to share, please leave a comment below!
REMINDER: Nature is to be enjoyed respectfully. Leave no trace and do your part to keep these beaches clean for everyone to enjoy. Just because you don't have to pay to use it doesn't mean you can do whatever you want while you're there!
Bayfield Pier Beach
Address: 48 Long Hill Road, Bayfield
Situated on the shores of Lake Huron, Bayfield Beach is a great place to enjoy a hot summer day. The beach itself is a mix of sand and rock while featuring a walking path and pier close by. Awarded the Blue Flag certification in 2019, this prestigious designation signifies high environmental and quality standards. What does that mean for you? It means the beach has passed a number of intense environmental, educational, safety and accessibility criteria making it an amazing beach to visit!
If you walk south away from the pier, you'll find steps which will take you up to Pioneer Park. While nobody likes taking the stairs upward, you'll be rewarded with a beautiful view at the top! Heading back to the harbour, you'll find brick and mortar washrooms as well as a water fountain. Be sure to fill up your water bottles to avoid dehydration! If you forgot yours, don't worry – the beach is a short walk from the town of Bayfield. Here you'll find a menagerie of shops and restaurants in what I'd say is one of the best beach towns in Ontario.
Looking for Somewhere to Stay Nearby? The Ashwood Inn or Bayfield Boutique B&B
Port Burwell Beach
Address: 1-3 Robinson Street, Port Burwell
Say hello to one of the most pristine beaches in Ontario's Southwest! Port Burwell is said to be the "jewel of Lake Erie's north shore" and has been designated a Blue Flag beach since 2018 for its high water quality and environmental protection. You have a few options for beaches here as the provincial park is on one side of Big Otter Creek and the main beach on the other. Both are well-maintained sandy beaches that offer plenty of room for a day of summer fun.
Port Burwell isn't just about the beach though! There are volleyball nets that anyone is welcome to use so bring a ball along with your crew and get a game going. You can also climb to the top of the Port Burwell Lighthouse, one of the oldest wooden lighthouses in the country!
With free parking and free access to the beach on top of the amenities and attractions listed above, it's definitely one of the best beaches in Ontario. If you want the lowdown on everything Port Burwell has to offer, check out this great video from my friend Arienne on how to spend a weekend there!
Looking for Somewhere to Stay Nearby? Earthquest Lodge
Point Clark Beach
Address: 531 Lighthouse Road, Goderich
Another one of the amazing Lake Huron beaches I have to mention is Point Clark. My favourite of these Southwestern Ontario beaches, Point Clark Beach is also home to a beautiful lighthouse. Learn about the history of the imperial style lighthouse and climb the 100+ steps to get a bird's eye view of the beach. Take note of the washroom and change room building as it's easy to miss, then make your way for some beachy fun!
The sand can be quite hot and with small stones mixed in so it can hurt your feet after a while. I'd suggest some water shoes or flip flops if you're going to be in and out of the water a lot. There are also a few volleyball courts close to the parking lot but it's BYON – bring your own net!
Looking for Somewhere to Stay Nearby? Lakeview Motel or the Inn at the Harbour in Kincardine
Port Dover Beach
Address: 1 Walker St, Port Dover
Definitely one of the most popular beaches in Ontario, Port Dover is guaranteed to be a great beach day. It's a beautiful stretch of beach that's perfect for sun-seekers of all ages. One huge perk is that the core of the town is just steps from the beach meaning lots of good eats, treats, shops and more are close by. Oh, and if you're looking for ice cream – you have to go to Willie's!
If Port Dover sounds familiar, you may know it for its famous 'Friday the 13th' meet-ups. What started as a tradition by friends back in 1981 has transformed into a huge gathering with vendors, entertainment and more! If you're looking to hit the beach on one of these days, I'd steer clear of Port Dover.
Looking for Somewhere to Stay Nearby? Dover House B&B or Clonmel Castle
Port Stanley Little Beach
Address: 21 Main Street, Port Stanley
I mentioned Port Stanley earlier in this post but what many don't realize is that Little Beach is just a few minutes away from the heart of Port Stanley and a beautiful place to spend a day sunbathing. While it can get busy (the parking lot itself can be a little crazy!), there's plenty of room on the beach. You'll find lots of families enjoying a sunny day along with the occasional parasailer in the distance.
Looking for Somewhere to Stay Nearby? Inn on the Harbour & Telegraph House or the Kettle Creek Inn
Turkey Point Beach
Address: 96 Cedar Drive, Vittoria
What's probably the busiest of all the Southwestern Ontario beaches on this list, Turkey Point stretches over 2km along Lake Erie's shoreline. It's next door to Turkey Point Provincial Park where you can get your hike on before cooling off at the beach. The beautifully soft sandbars and shallow water make it great for families. Although it can be hard to walk through the clay-like patches so be wary. I almost fell a few times, but at least the water would catch me!
While paid parking is the most prominent and convenient, there is free street parking available. Take Cedar Drive to Reserve St and you'll hit Ordnance Drive which has plenty of spots. Just be sure to obey the signs! If you're planning on visiting on a weekend… come early. Very early.
Looking for Somewhere to Stay Nearby? Long Point Eco Adventures
Sugar Beach Park
Address: 11 Dockside Drive, Toronto
If you've seen photos of a corner of Toronto featuring bright pink umbrellas alongside scattered sets of wooden lounge chairs, then you've heard of Sugar Beach Park!
Nodding to the neighbouring Redpath Sugar Refinery Museum and the area's industrial heritage, it's a popular spot for a day of play in the sand in the East Bayfront area. Between the plaza area and the beach, you can meander diagonally along the promenade that's lined with mature maple trees. It will give you a reprieve from the sun as you enjoy the views of the lake!
While this isn't your typical beach, it's still a great spot to spend a summer day outside in Toronto.
Looking for Somewhere to Stay Nearby? Westin Harbour Castle or Le Germain Hotel Maple Leaf Square
Sunset Beach in St Catharines
Address: 1 Lombardy Avenue, St. Catharines
Now, this Ontario beach is near and dear to my heart as I've grown up going to it year after year. From the days of grabbing ice cream at the local corner store when I was in my early teens to it being a safe haven for my sanity during these past few years, Sunset Beach is a gem. There aren't any facilities but it's called sunset beach for a reason as golden hour is just spectacular over Lake Ontario.
You won't find many amenities other than some public washrooms but it's a great spot in the city to feel the sand between your toes. It also connects to the Waterfront Trail if you'd like to stretch your legs and explore more of the north end of St Catharines.
Looking for Somewhere to Stay Nearby? The Juniper Inn
RELATED: Looking for more great beaches in St Catharines? Check out my guide!
Selwyn Beach
Address: 2251 Birch Island Road, Lakefield
Located just 20 minutes outside of Peterborough, head to the Selwyn Beach Conservation Area located on the northeast shore of Chemong Lake. It's well known as a fantastic swimming spot due to the beach's gentle slope, making it a popular beach for families in Ontario.
This conservation area also features a boat launch as well as a docking area for those looking to get out on the water. Additional amenities include a large picnic shelter as well as 3 kilometres of hiking trails. I'd say that's a perfect way to work up a sweat before cooling off at the beach! It's just one of the many fantastic things to do when visiting Peterborough.
Looking for Somewhere to Stay Nearby? Waterfront Country Home on Chemong Lake
More Nice Beaches in Ontario
If you just haven't found the spot for you out of the list of the best Ontario beaches above, here are a few more ideas. I'm sure one of them has to tickle your fancy!
Beachway Park in Burlington – You probably wouldn't think of it as a beachy destination but it's one of the great things to do during a visit to Burlington! Also known as Burlington Beach, it follows the Waterfront Trail and you can easily walk to a number of great restaurants and other attractions in the city.
Bluffer's Park Beach in Toronto – The Scarborough Bluffs are certainly iconic and while it can get busy (especially on weekends), Bluffer's Park is one of the gorgeous beaches of Ontario. Plus the fact that it's in Toronto is a bonus for city dwellers and visitors to Ontario's capital!
Cherry Beach in Toronto – Another fantastic option for the Toronto folk is Cherry Beach. What makes this spot extra fabulous is that it's a 20 minute walk from downtown Toronto… yes you read that correctly! Dog owners can bring their pups along as there's an off-leash dog area for them to roam.
Christie Beach in the Blue Mountains – This quiet little spot is nestled on the shores of Georgian Bay. I visited on a hot summer Saturday and there was one other car… ONE. If you're looking to have a sandy beach all to yourself? Look no further! There is limited parking, however with my experience, I don't think you'll have a problem.
Goderich Beach – There are not one but three beaches located just minutes from the heart of the city. The main beach can get a little busy though you can avoid crowds by heading further south to St. Christopher's Beach and Rotary Cove. If you pay Goderich a visit, don't forget to check out the adorable lighthouse in town!
Northwinds Beach in the Blue Mountains – Another spot on Georgian Bay that's popular for standup paddleboarding. It's a great stop during a weekend excursion in Grey County as it's close to both Collingwood and Meaford. The parking lot isn't the biggest, so I'd suggest arriving early to ensure a parking spot. Also, no dogs are allowed.
Sandy Lake Beach in Buckhorn – One of the great places to visit near Peterborough is the town of Buckhorn. If a shallow, sandy beach isn't enough of a draw then combining it with some kitschy photo opportunities as well as some great ice cream will ensure your visit is a fantastic one!
Best Ontario Beaches FAQ
There's nothing that screams summer more than a beach day and, as you can see, there are plenty of places to enjoy one in the province! Have you been to any of these top beaches of Ontario? Are there any you love that aren't on this list? No matter where you live or where you're travelling to, plan to enjoy some sandy fun this summer. Here are some things to know as well as some frequently asked questions about planning a beach day in Ontario!
Where is the Warmest Water in Ontario?
Out of the Great Lakes, Lake Erie is normally home to the warmest water in Ontario. Beaches like Port Dover, Turkey Point and Long Point often have warmer temperatures compared to their counterparts on Lake Superior or Georgian Bay.
Where is the Clearest Water in Ontario?
That honestly depends, though Georgian Bay is known for its crystal clear waters that are reminiscent of the Caribbean thanks to its turquoise colour. However, if the weather is windy or a storm has recently occurred, any water can be murky as sediment is disturbed at the base of these Ontario beaches.
Where are the Cleanest Beaches in Ontario?
This can be a loaded question as a beach will only stay clean if we do our part to keep it that way. However, any beaches in Ontario with a blue flag designation will have a much higher chance of being clean and well cared for.
What Should I Bring to the Beach?
Necessities are always a bathing suit, water, sunscreen, sunglasses and a towel. Of course, if you're planning on spending a full day at these top Ontario beaches, you may want to bring along a few more items such as snacks, an umbrella or sun shelter, beach chairs, sandals, a change of clothes and some entertainment like your favourite book or a portable speaker. Beach days are always better with friends so bring a few of those along too if you so choose!
So… Where Are the Best Beaches in Ontario?
A very subjective question that can offer a variety of answers, here's a quick list of all of the best Ontario beaches from across the province:
Batchewana Bay Provincial Park
Bayfield Main Beach
Canatara Park in Sarnia
Crystal Beach in Fort Erie
Grand Bend Beach
Long Point Provincial Park
Mikisew Provincial Park
Neys Provincial Park
Old Woman Bay in Lake Superior Provincial Park
Pancake Bay Provincial Park
Petrie Island in Ottawa
Point Clark Beach
Point Pelee National Park
Port Burwell Beach
Port Dover Beach
Port Stanley Beach
Port Stanley Little Beach
Presqu'ile Provincial Park
Providence Bay on Manitoulin Island
Pukaskwa National Park
Sandbanks Provincial Park
Sauble Beach
Selwyn Beach near Peterborough
Silent Lake Provincial Park
Singing Sands Beach near Tobermory
Sugar Beach Park in Toronto
Sunset Beach in St Catharines
Turkey Point Beach
Wasaga Beach
Don't Forget These 30+ Best Beaches in Ontario & Pin It For Later!