Woodend Conservation Area: A Great Hiking Spot in Niagara

Anyone from the Niagara Region has probably heard of the Woodend Conservation Area. My first visit to the area dates back to my elementary school days as it's a popular destination for school field trips. While I've changed a lot since those early formative years, I have to say that the Woodend Conservation Area still pretty much looks the same. And let me tell you, if you're looking for one of the best hikes in Niagara, this Niagara-on-the-Lake conservation area is a great choice!
Disclaimer: This post contains affiliate links where if you make a purchase, I may receive a kickback at no extra cost to you. It helps keep IBB alive so thank you!
History of Woodend Conservation Area
The Woodend Conservation Area is approximately 98 acres in size and is a great place to get some fresh air all year round. As part of the UNESCO Niagara Escarpment Biosphere Reserve, you'll find a forest full of hardwood trees along with some Carolinian species like Black Cherry and Sugar Maple sprinkled throughout. Woodend's trails are thoroughly shaded, making it a great refuge on a hot summer day!
The land that we now call Canada has been inhabited by the Indigenous Peoples of Turtle Island since time immemorial. There are still Indigenous People in the area to this day, however it's important to recognize that they lost most of their land due to colonization. Woodend Conservation Area is the land of the Anishinaabe, Attiwonderonk (Neutral), Haudenosaunee and Mississaugas of the Credit First Nation Peoples.
Sites have been discovered in the vicinity of Woodend where evidence of early agricultural technology, tools and weaponry have been discovered. These artifacts are evidence of Indigenous communities dating back from 500 BC to 500 AD. While items have not been found in recent years, there is still a reasonable chance that more could be found throughout the conservation area!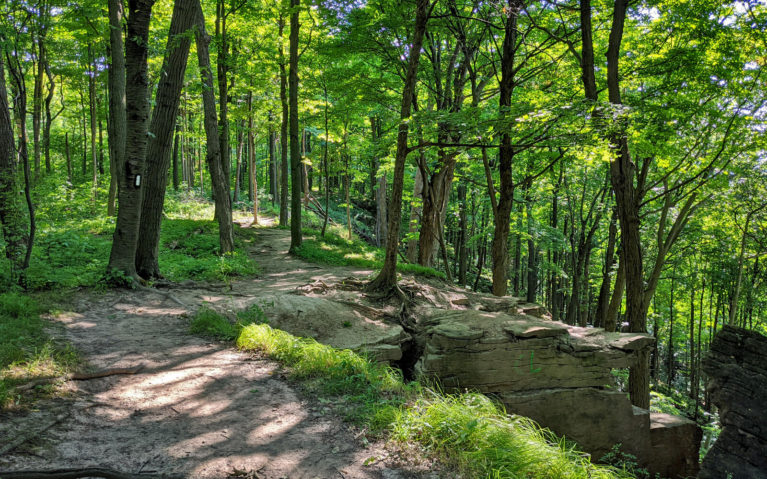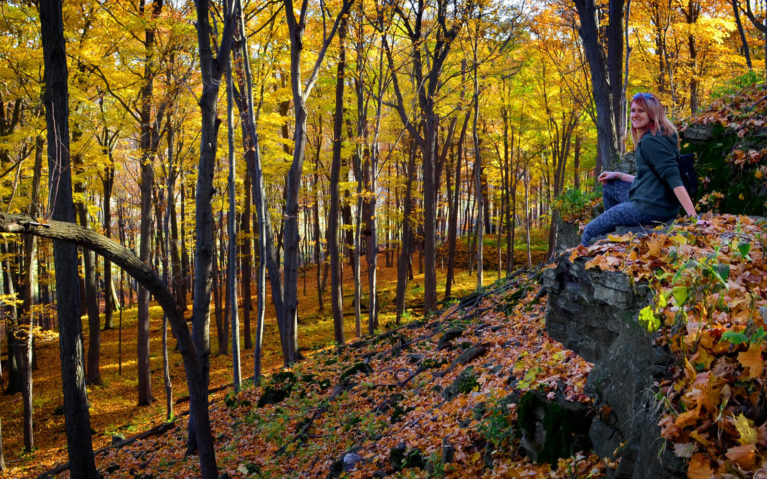 European colonization brought three United Empire Loyalist families (those who followed the Royal Standard and settled in Canada during the American Revolution) towards the end of the 1700s. Part of the property Woodend now inhabits was the former homestead of these three families – Van Every, Lampman and McKinlay. They received their parcels of land from the Crown, though the history of Woodend truly begins with the Van Every family.
According to a research project called "Historic Woodend – A Social History of Woodend Conservation Area" conducted by Patricia M Orr in partnership with the Niagara Peninsula Conservation Authority, the original land grant was given to William Van Every in 1796 with Peter Lampman receiving his grant shortly afterward in 1798. The McKinlay family were the last to arrive as they received their parcel of land in 1803.
A number of the structures you see on the property today are built because of the Van Every family. The main house and gatehouse were built in 1932 and 1933 respectively by Joseph J.C. Thomson, William Van Every's grandson. As you can imagine though, these three families became intertwined through the transfer of land and via marriage. Also, many of these original families have been laid to rest in Warner's Burying Grounds, now known as the Warner Methodist Cemetery.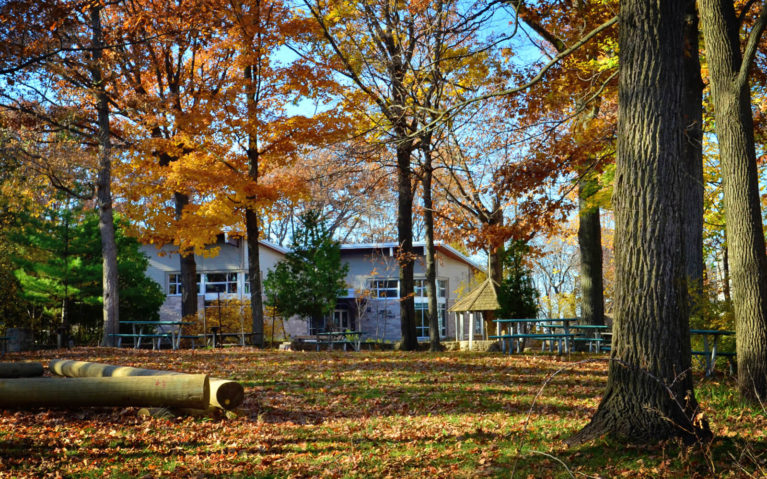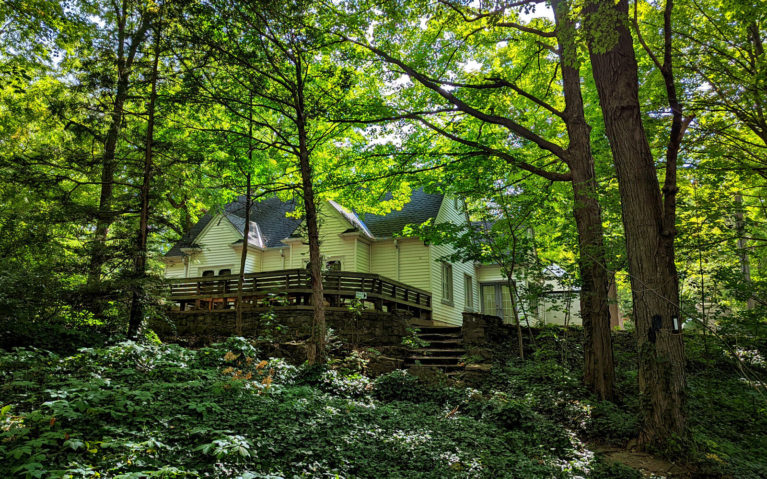 Fast forward to 1974 when the Niagara Peninsula Conservation Authority purchased the land with assistance from the Nature Conservancy of Canada as well as the Ontario Ministry of Natural Resources. This was done because of its significance both historically and geologically. While the main reason for the purchase was to preserve the land rather than the buildings, they have since become part of the District School Board of Niagara's mandate for outdoor learning.
The DSBN Walker Living Campus is an outdoor education centre offering numerous programs aimed at conserving, developing, and managing the natural resources within the Niagara Peninsula. Orienteering, team building, outdoor survival skills and more are taught to students from kindergarten all the way up until grade 12. This aids in showing students how important it is that we think about the environment around us and that it's necessary for the health of our planet.


Woodend Conservation Area Hiking Trails
During your visit to the Woodend Conservation Area, you'll have a few options for hiking trails. There are a few loop options of various lengths, making it a great spot for hikers of all skill levels. The terrain can be uneven because of the nature of the Niagara Escarpment, but overall these hikes are quite leisurely! Woodend is a great spot to get out with the family, but I wouldn't recommend this area if you have a child in a stroller as it's definitely a hiking trail versus a walking trail.
The Bruce Trail
Chances are if you're visiting this conservation area in Niagara, you're here to hike the Bruce Trail as Ontario's famous trail runs right through the middle of the park. Starting from the driveway at Taylor Road, you'll see a gap in the trees to your left. Follow it and you'll see the white blazes as you're led along the edge of the Niagara Escarpment. You'll fall in love with the gorgeous forest as you follow the path around the property!
The Bruce Trail is a linear trail, however you can create a great loop that's approximately 3 kilometres long by following the Margaret Kalogeropoulos Side Trail as it will take you back towards the Taylor Road entrance. Or, you can follow the blue blazes for this side trail first and then finish with the white blazes of the Bruce Trail.
SOMETHING TO NOTE: The Bruce Trail used to be routed differently so there was more main trail and a small section referred to as the 'Woodend Side Trail' that connected it to make the loop. While I don't know when this change occurred, this is no longer the case as of August 2022 and is now the Margaret Kalogeropoulos Side Trail.
With its close proximity to the highway, you may notice some road noise from time to time. It will fade into the background as you become engrossed in the natural beauty that surrounds you. Just be sure to keep an eye out for the white blazes as they aren't always on the trees!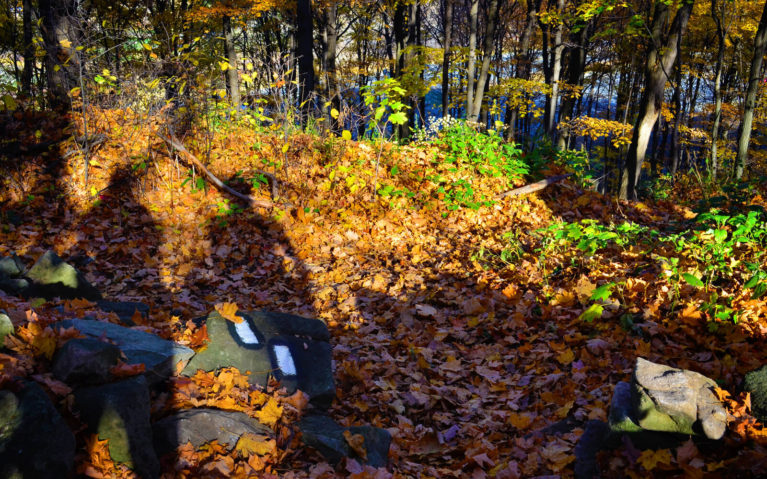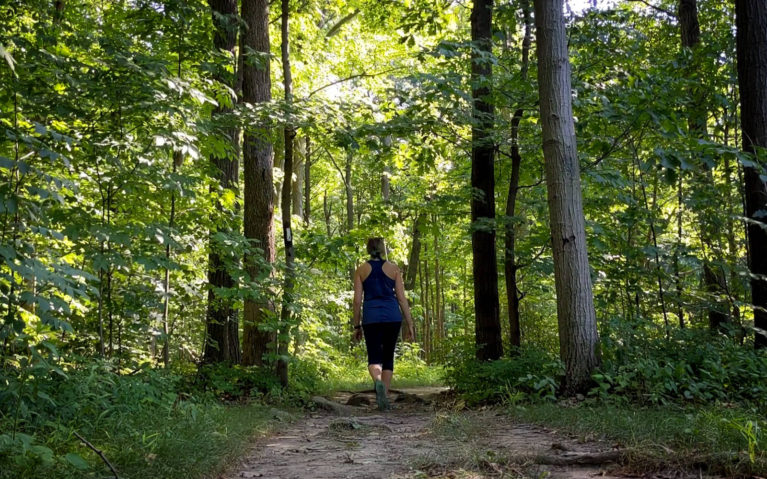 Wetland Ridge Side Trail
Close to the beginning of the Woodend section of the Bruce Trail as well as halfway through the aforementioned loop, you'll notice another set of blue blazes. These belong to the Wetland Ridge Side Trail which is another loop that you can complete in this Niagara conservation area.
The Wetland Ridge Trail system takes you down towards the Niagara College Niagara-on-the-Lake campus and the 28 hectare "learning laboratory" you'll find here. You'll walk around two decommissioned sewage lagoons that have been transformed into a 7 hectare wetland. It's not uncommon to see swans or geese hanging out in the water! There is some interpretive signage along the trail which talks about some of the species found in this area as well as the history of the area itself.
One spot not to miss along the trail is the First Nations, Métis and Inuit Garden. This gorgeous little garden's design was inspired by horticultural technician 1999 graduate, Teri Sherwood of the Oneida Nation of the Thames, Turtle Clan. You'll find a number of beautiful plants as well as a medicine garden with sage, sweetgrass, cedar and tobacco.
Also, if you find yourself getting a little thirsty or in need of a break, the Wetland Ridge Side Trail will take you right by the Niagara College Teaching Winery. Here you can enjoy a pint of beer or cider, a glass of wine or some spirits that are all products of the student body. In case you were wondering, yes there is a bathroom here which is a good thing to note since Woodend itself doesn't have any washroom facilities! It's certainly worth a visit as this is one of the best wineries in Niagara.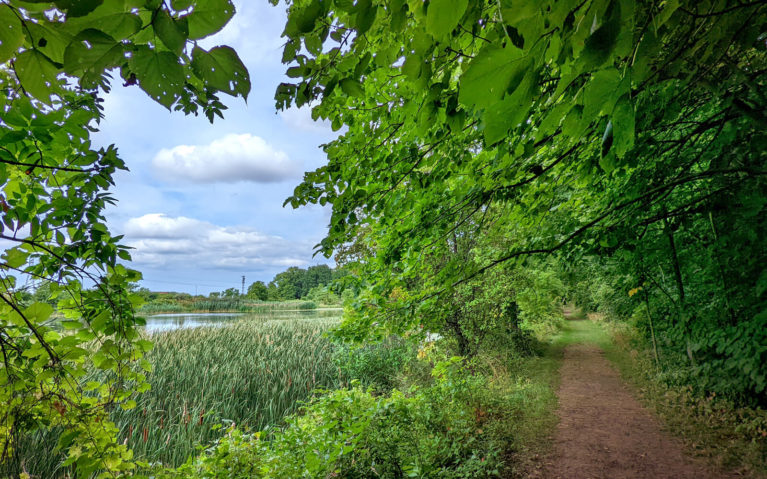 Laura Secord Legacy Trail
Lastly, you'll see signs with a woman's head on them during your hike at Woodend. This signifies that you are also following the Laura Secord Legacy Trail. At 32 kilometres long, this trail loosely retraces the steps of its namesake as she walked this distance during the War of 1812 to warn the British of an impending American attack. As if that wasn't impressive enough, she did it through American-occupied territory! Laura Secord is known as one of the prominent heroes of the War of 1812 and is honoured at the Drummond Hill Cemetery in Niagara Falls, one of Niagara's most haunted places.
If you're looking to try and tackle the Laura Secord Legacy Trail yourself, you'll begin at the Laura Secord Homestead in Queenston. Follow the signs with her silhouette along large sections of the Niagara Escarpment and you'll finish off at DeCew House Heritage Park in the town of Thorold. As I said, this trail is 32 kilometres long and no easy feat so make sure to plan and prepare accordingly!
SIDE NOTE: Online I've seen mentions of two other trails – the Hardwood Trail and the Silurian Trail – but in looking at maps, it looks like they're just alternate names for this particular section of the Bruce Trail. If I'm wrong or you have more information about this, please let me know and I'll be sure to update this post!
As you can see, this area is absolutely gorgeous for not just a summertime excursion but also an autumn adventure. No matter what time of the year you visit this Niagara park, always leave yourself with plenty of time to get back to your car. You don't want to be caught on the trails with no flashlight in the dark!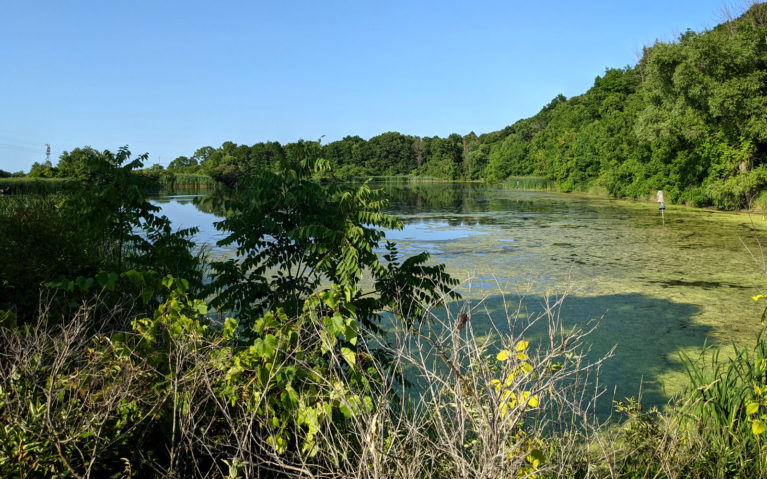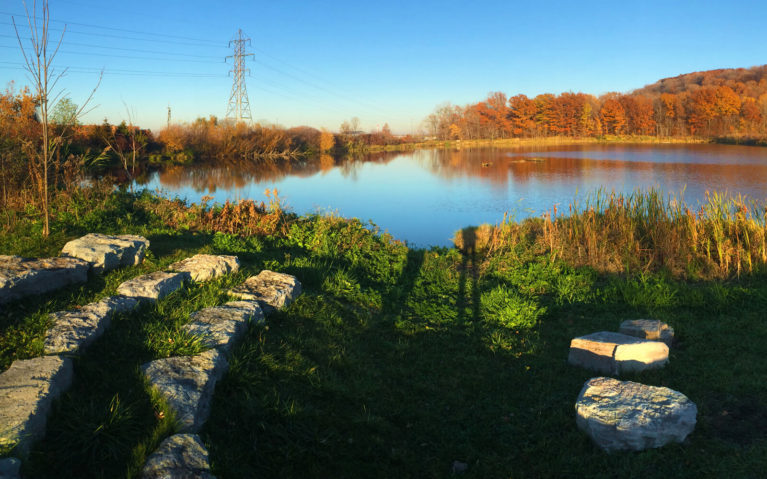 Woodend Conservation Area Map
As I mentioned earlier, Woodend Conservation Area is located right off of Taylor Road, just south of the Outlet Collection of Niagara mall. Click here for the Google Maps directions to get you there!
In regards to the trails at Woodend themselves, you really won't need much of a map once you get going. All of the trails are pretty easy to follow but for those who like a visual reference, here is the AllTrails map for the main Bruce Trail loop. You can also see where the Wetland Ridge Side Trail connects which you might find useful. I had the map and I still managed to accidentally double back instead of continuing the full loop!
Things to Know For Your Woodend Visit
Like many of the conservation areas in Niagara, Woodend is open all year round. This makes it a great spot for winter hiking and even some cross-country skiing! There are a few things you should know though before visiting:
No entrance fees and no parking fees meaning it's free to visit
The main parking lot is located off of Taylor Road [map]
There are no bathroom facilities at the Woodend Conservation Area so plan accordingly
Don't forget to bring plenty of water, especially on those hot summer days
It is fairly wooded so I'd recommend bringing bug spray
The terrain is uneven so I recommend a sturdy pair of shoes or hiking boots
Trails are quite shaded which is great in the summer but can be chilly in the fall so I recommend bringing a windbreaker for those cooler fall days
Parking is limited but this spot isn't popular so you shouldn't have trouble finding parking, though the earlier the better on weekends to ensure you can find a space
Also, it's important to remember that Woodend Conservation Area is important for conservation purposes because of the wide range of plant and animal life. As such, you may notice some vegetation surrounded by snow fencing. This is part of the NPCA's plan over the past few years to rehabilitate the understory of the forest. Unfortunately, a lot of these plants are unintentionally trampled due to visitors going off trail, so the NPCA has been making a strong effort to protect this vegetation as their roots are being established.
Another thing to make note of is that you may spot tipi-like structures around the property. While some may be created in conjunction with local Indigenous communities, the majority of the time this is not the case. After inquiring with the NPCA, I learned this is often due to visitors going off-trail and creating these structures for their own amusement. This is actually very damaging to the area (and the aforementioned efforts being put in place by the NPCA) so this is your reminder to please stay on trail and practice 'leave no trace' when visiting Woodend.
The Woodend Conservation Area is just one of the many great places to go in Ontario. I highly suggest checking it out when you have the chance! The Niagara Peninsula Conservation Authority oversees 34 parks in the Niagara Region and they all deserve a visit. If you're interested in exploring a few more Niagara conservation areas, I recommend the Beamer Memorial Conservation Area, Rockway Conservation Area and the St Johns Conservation Area.
Looking for More Top-Notch Hiking in Ontario?
Check Out The Best Hiking Trails in St Catharines
Stretch Your Legs with These Top Hiking Trails in Niagara Falls
Check Out the Epic Trails Along the Niagara River at the Niagara Glen
You Don't Want to Miss These Top Hiking Trails in Niagara
Chase Some Waterfalls Across the Niagara Region
Hike Through Short Hills Provincial Park, Niagara's Largest Park
Don't Miss These Top Hiking Trails in Hamilton
Get Outside with These Awesome Cambridge Hiking Trails
Hit the Trails with The Best Kitchener Hikes
Don't Miss These Top Hiking Trails in Waterloo
…or check out IBB's hiking archives!

For More Things to Do in Niagara…
30+ Incredible Things to Do in Niagara-on-the-Lake
Don't Miss These FREE Things to Do in Niagara Falls
Insider Tips for Visiting Niagara Falls From a Local
Top 5 Ways to Experience the Niagara Gorge
Indoor Things to Do in Niagara Falls on a Rainy Day
See Where Nature Can Be Enjoyed By All at the Heartland Forest
Enjoy a Glass at The Best Wineries in Niagara
Don't Miss This Self-Guided Tour of Vineland's Wineries
Plan a Visit to the Niagara Icewine Festival
Things to Do in Port Colborne, Niagara's Ship Shape City
Plan a Spring Visit to See the Cherry Blossoms in Niagara
Don't Miss Exploring Niagara's Ship Shape Town, Port Colborne
Disclaimer
This post contains affiliate links where I may receive a kickback at no extra cost to you. It's one small way to support IBB so thanks! Read more in IBB's disclaimer and privacy policy.
Don't Forget About This Conservation Area Near St Catharines & Pin It For Later!