Thermëa by Nordik Spa-Nature :: Winnipeg's Modern Oasis

Just 20 minutes south of downtown Winnipeg resides a relaxing oasis that should not be overlooked while visiting Manitoba's capital. As soon as you step into Thermëa, one of the Nordik spa locations, you'll feel the stress leave your body as its calming energy takes over. Whether you're looking to rest your sore muscles (say from a week long Manitoba road trip) or to celebrate a special occasion, Thermëa is the perfect place for a girls night, romantic evening or to just treat yourself!
This Winnipeg spa boasts an amazing selection of facilities. It offers four unique saunas: one beautiful Finnish-style, one dry, and two aromatic steam saunas. While I haven't visited any others to compare, I wouldn't be surprised to hear it's the best spa in Winnipeg. Don't miss out on their exfoliation room where your skin will become the softest it's ever been. You'll never want to leave their three beautiful outdoor pools, I know I sure didn't! It'll feel as if you're in a Manitoba hot spring. Leave the hustle and bustle of the city behind as you settle into a natural oasis hidden from the troubles of everyday life. Sweat out your worries, relax in one of their beautiful hot tubs or put your feet up in one of their hammocks as you treat yourself to hours of pure bliss.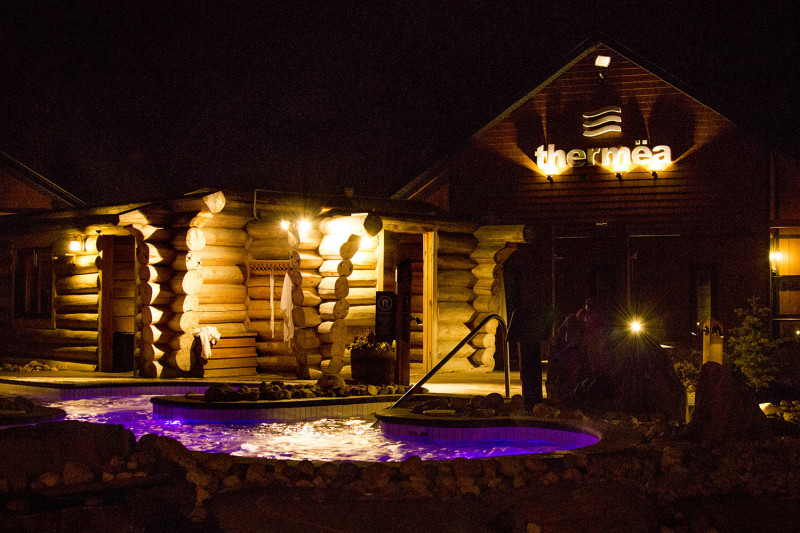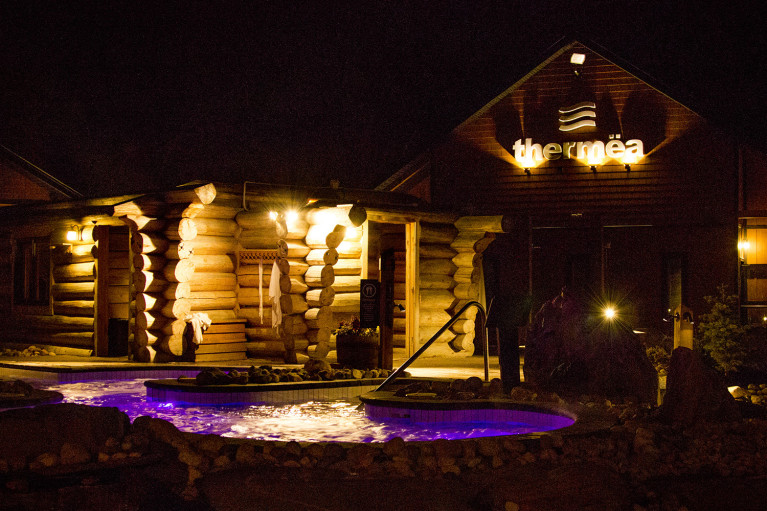 The Thermal Cycle
Adapting Scandinavian thermotherapy and relaxation techniques, Thermëa will relax and heal your body and mind from head to toe. The Thermal Cycle will be your mantra during your visit. This 2000 year old ritual helps to heal your body in a number of ways. Eliminate toxins and enhance your blood circulation as you stimulate your immune system while improving your mental and physical health. Sounds like the whole package, right? If you don't believe me (which you should), you can read all about the benefits here. The Thermal Cycle begins with 10-15 minutes in a hot sauna. Here your skin's pores will open and you'll sweat, releasing toxins from your body. Then, hop into one of the cold pools or under a chilly waterfall to complete the cycle's second step. The cold will be a shock, but this quickly closes your pore and releases adrenaline as you cool down from the sauna's intense heat. Lastly, take 20 minutes to complete the final step of the cycle – and relax! Rest in one of Thermëa's beautiful hot tubs, cozy up in your robe around the fire, or put your feet up in a hammock. Don't be surprised if you're so relaxed that you fall asleep! For best results, it's suggested that you complete the Thermal Cycle at least 3 times during your stay, but I guarantee you'll want more.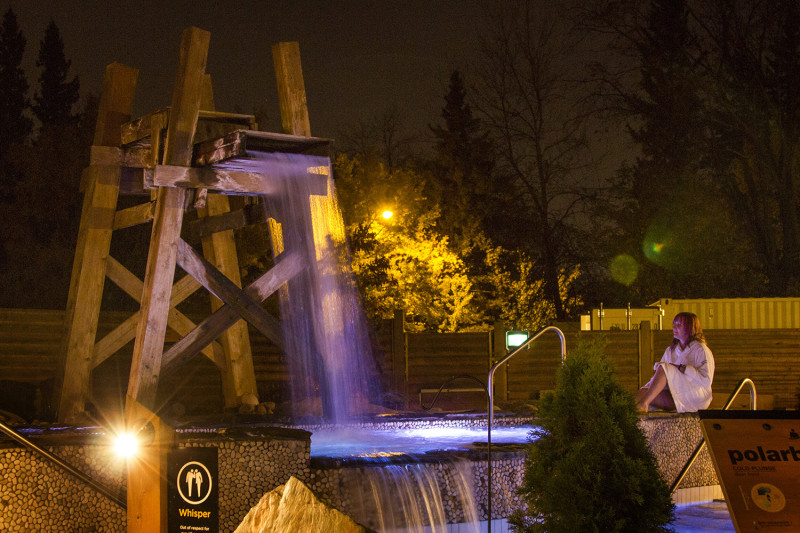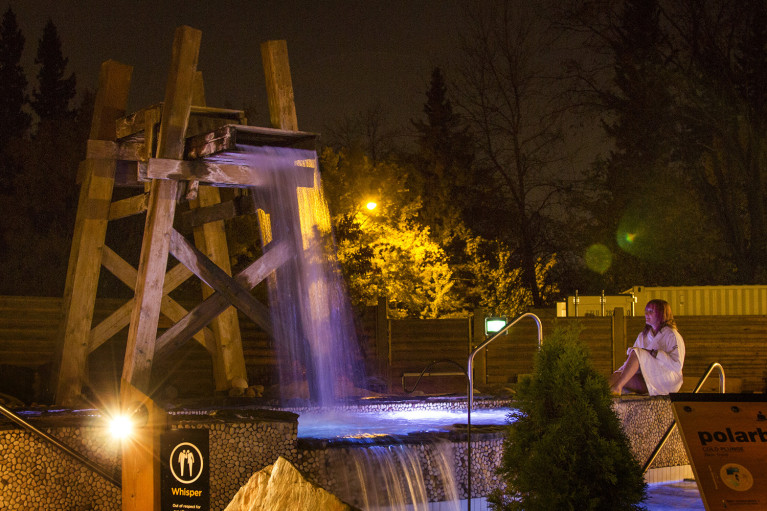 Aufguss Rituals
One thing that makes Thermëa unique is their Aufguss rituals, which you should experience at least once during your visit. This Finnish style sauna experience is performed by an Aufguss master who uses a large towel to waft the air in an elegant dance while ice orbs infused with pure essential oils melt on the coals. Close your eyes and enjoy the music as you feel the wave of relaxation drift over you. Take note that each ritual is different, meaning the essential oils used, pace, and music will change. You can see a schedule of the rituals posted outside the Finlandia sauna or just listen for the gong which signifies the start of a ritual.
Insider Tip: If you're going to do any of the rituals, I highly suggest the final one of the night. As the evening is coming to a close, this is the most relaxing of them all. You'll feel at peace as the essence of peppermint, geranium, lavender and cedar create a blanket of harmony over your body. This was the highlight of my visit – a memory that still calms me to this day!
Thermëa Restaurant
Robin and I were lucky enough to celebrate our 3rd anniversary here, and to say we were spoiled is an understatement. We were treated like royalty from the moment we stepped in. Not only did we take full advantage of the facilities, we indulged in an amazing 4-course meal from their restaurant on site. With a variety of dishes to choose from (including vegan and gluten-free options), the hardest part will be picking just one! To help with the decision making, I had one of their Raspberry Waterfall cocktails (Fino sherry, raspberry basil syrup, fresh lemon, fresh basil and soda water) and Robin had their Aperol Spritz (Aperol, Prosecco, fresh lemon, simple syrup and soda water).
| | |
| --- | --- |
| | |
We started with their beetroot hummus as a mise en bouche (aka a pre-appetizer for the not-so-fancy folk like myself) with a number of delicious vegetables. Perfect for nibbling to quell any hangry tendencies. For the appetizer, I had their salad made with Manitoba baby greens, brown rice, pea purée, dried cranberries and toasted pepitas in a delightful basil vinaigrette. This is a perfect summer appetizer or even if you're just looking for a light snack during your visit. If you're looking for a dish that's a bit more hearty, opt for their mushroom and garlic confit like Robin did. Served with Manitoba Trappist cheese and a crostini, it's sure to warm you from the inside out.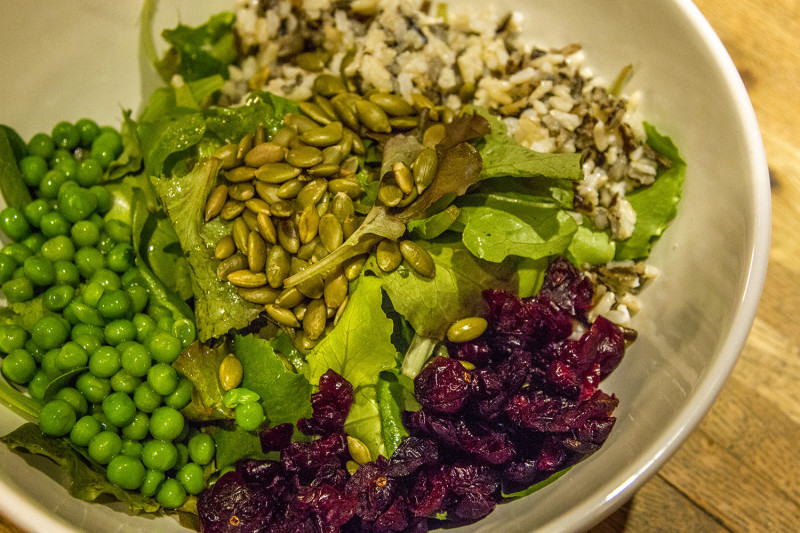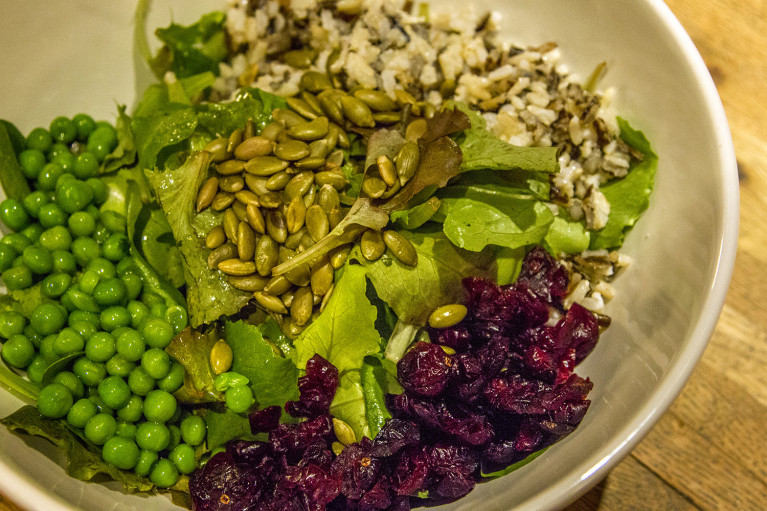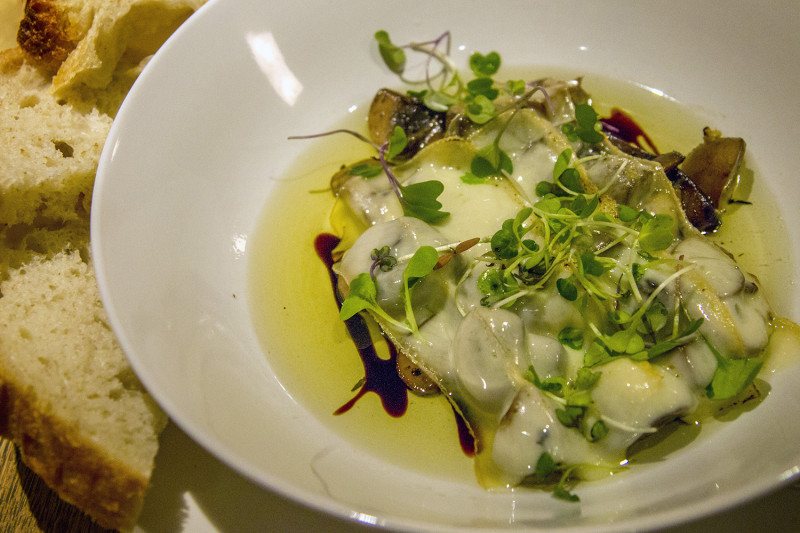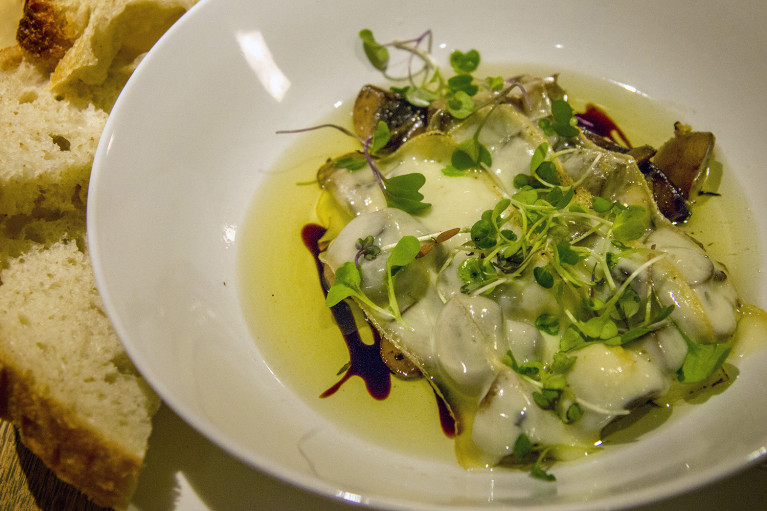 Call your taste buds tickled, but the main event is definitely the highlight of the meal. As sharing is caring (especially on anniversaries), Robin and I split two of their main courses. My favourite was the half rack of wild boar baby back ribs, spice rubbed with a house made apricot marmalade glaze. Paired with seasonal vegetables, my mouth was in foodie heaven. Robin was a fan of the New Zealand lamb shank, slowly braised in a house Fort Garry dark braising sauce. This meat was so tender it was literally falling off the bone. Complimented nicely by a bed of barley, you couldn't go wrong with either of these dishes.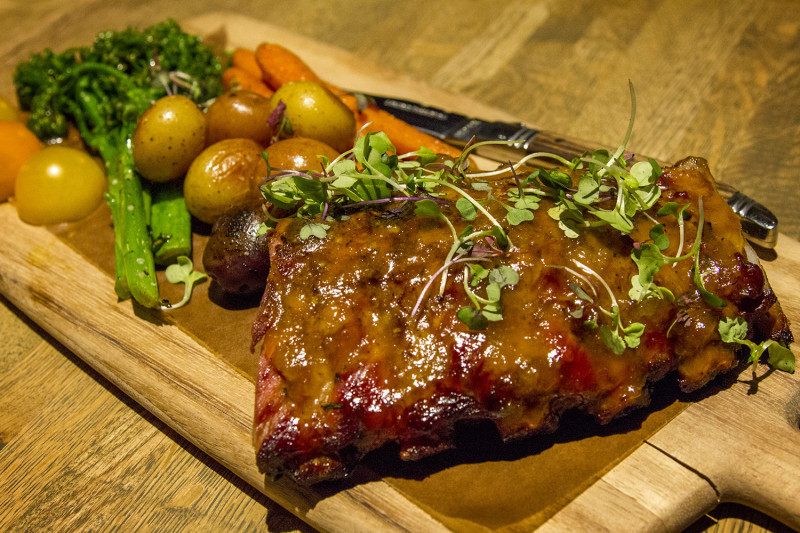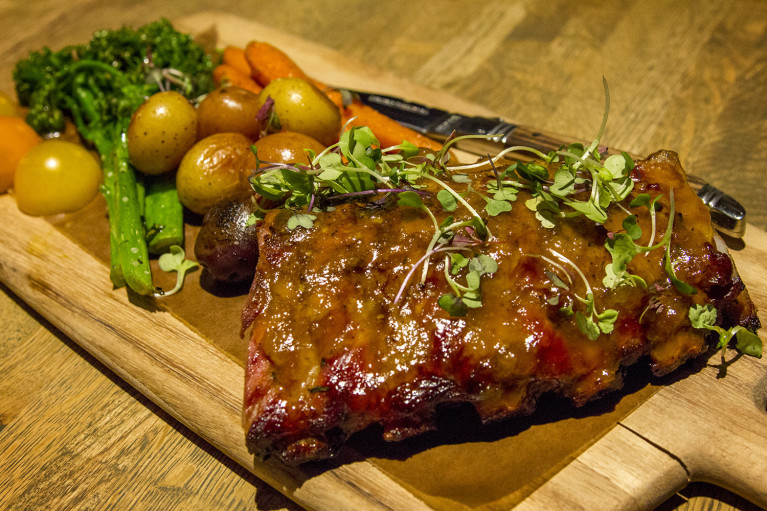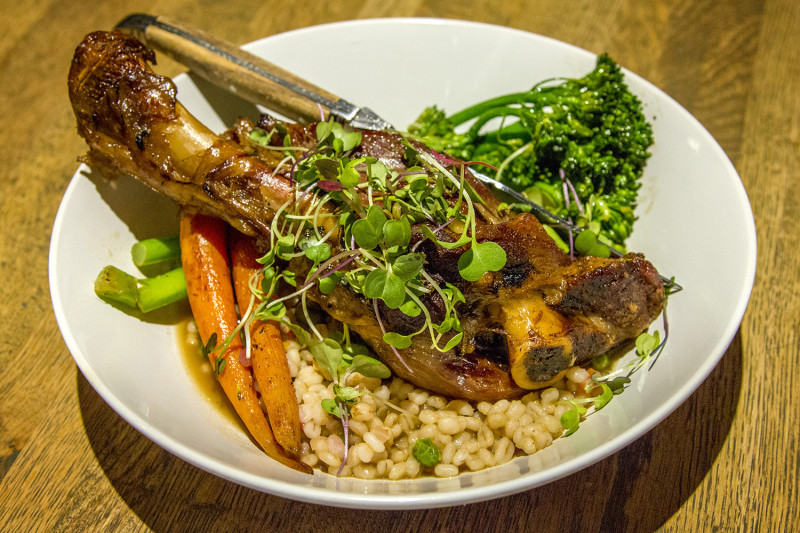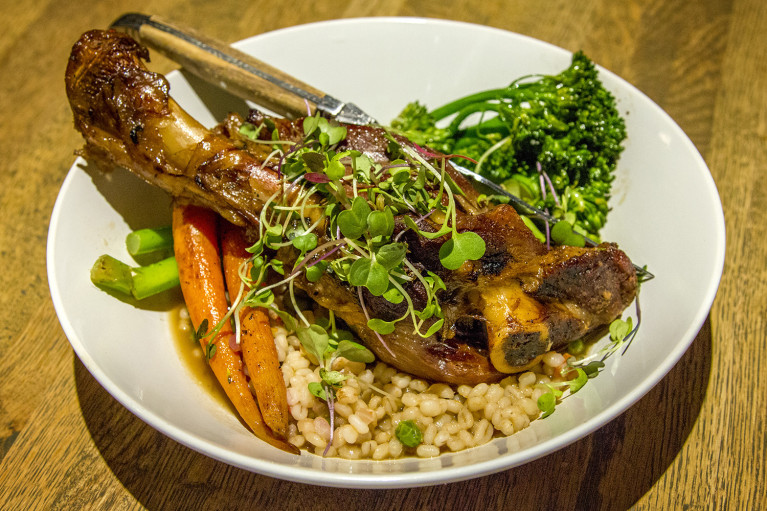 As if that wasn't enough, we of course had to top the night off with a little sweet treat. Their orange crème brulée is absolutely heavenly and worth every calorie. Robin couldn't resist the sorbet (it's his favourite), and seeing as he barely talked while he was eating it – it must have been good. You can find the Thermëa menu online.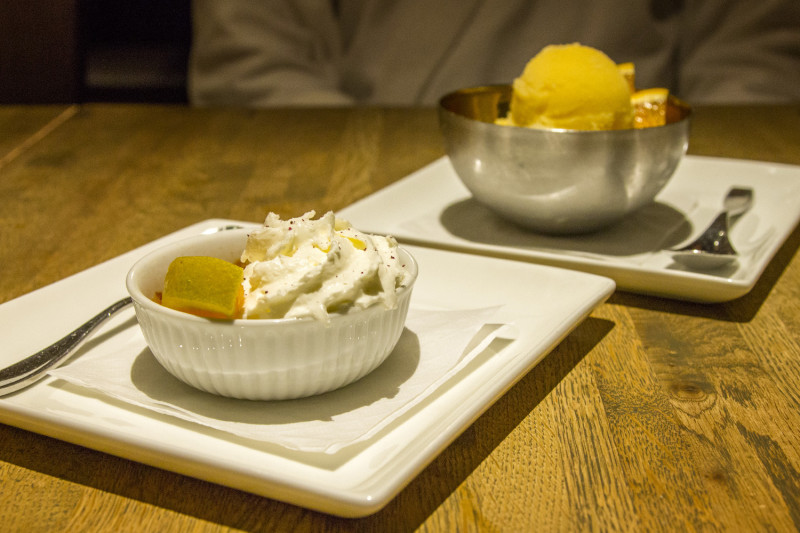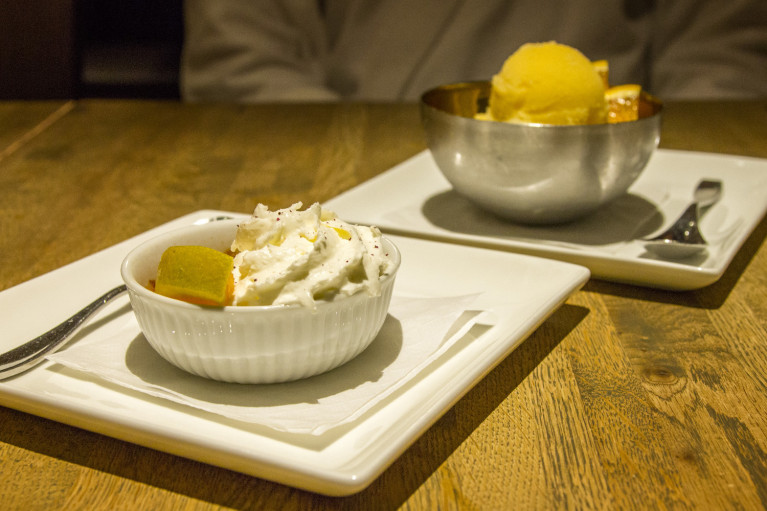 What to Bring & Things to Note
So are you ready for a trip to Thermëa? I'm already ready for a return trip! There are a few things you can bring to make your visit the best it can be.
Bathing Suit – that's a big one. No birthday suits allowed here!
Robe – you have the option of bringing your own, or you can spoil yourself by renting one of Thermëa's
Reusable Bottle – the environment and your body will thank you! There are plenty of places to refill, but why not help out Mother Nature in the process
Flip Flops – not such a big deal in the summer, but your feet will thank you when the stone is freezing cold in the winter. Also, footwear is required in the restaurant so better to have flip flops then have to run to your locker for your outdoor shoes
Reading Material – not mandatory but you can catch up on some serious reading during your relaxing periods. Or feel free to borrow one of the many magazines on site!
Your Indoor Voice – be respectful of everyone and whisper whenever you speak. You may not think that loud talking will be that much of a bother, but I guarantee it'll bug you when someone else does it during your moment of zen
Insider Tip: Allocate at least 3 hours to fully enjoy Thermëa. If you plan on eating, add another hour and at least 2 hours if you have a massage booked as well. I'd suggest visiting mid-afternoon and staying until close. The spa is so gorgeous but I think it should be enjoyed both at night and during the day. This way you get to experience the true beauty of Thermëa.
Cellphones and cameras are not permitted within the pool area, but you can use it in the restaurant. Also of note to parents – this is a no kid zone. You must be 18 years of age or older to visit Thermëa, so indulge in some true adult time! If you think you'll be hungry and you don't want to eat at the restaurant, be sure to eat before you arrive as no outside food is allowed. Lastly, if you need the occasional dose of nicotine, there is no smoking within the spa grounds, so you'll need to step outside to do so.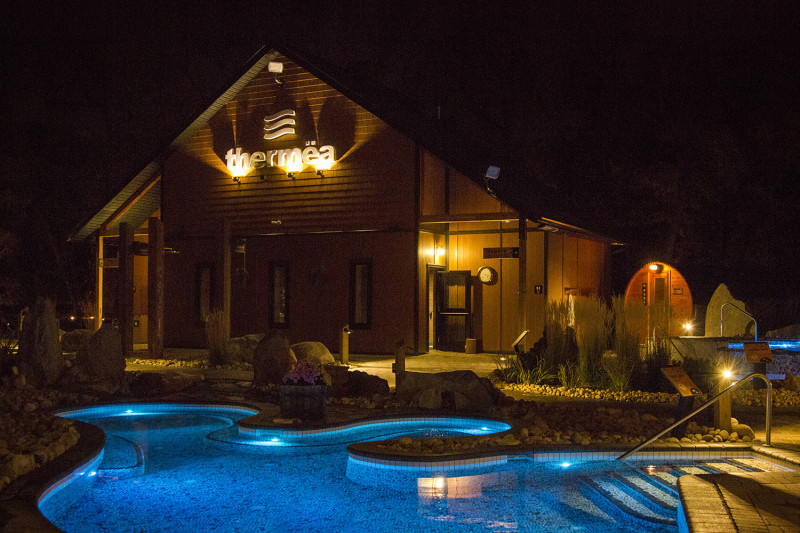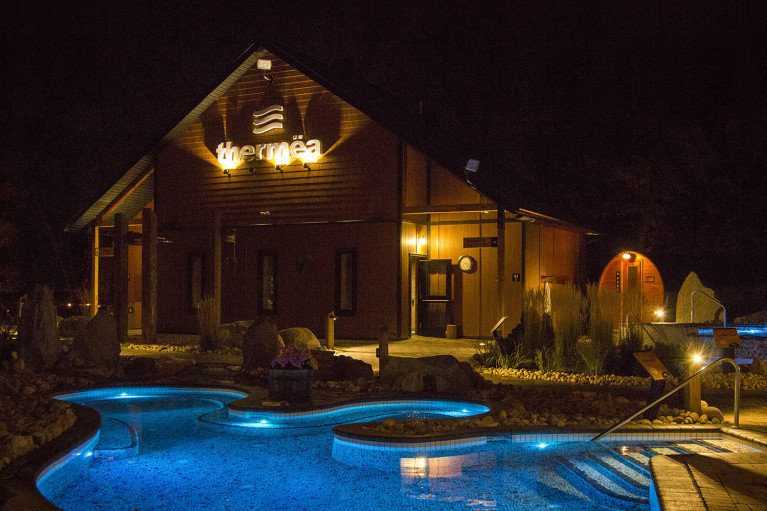 The Cost?
What everyone wants to know – how much is this going to hurt my wallet. For everything this Winnipeg spa has to offer, I was incredibly impressed by their pricing. Access to the spa costs $48 Monday to Thursday, and $55 Friday to Sunday. If you're staying for 3+ hours, I'd say it's a highly affordable day spa in Winnipeg. As for Thermëa's hours of operation, it's easy to remember as they're open 9am – 10pm every day. I'd honestly suggest going during the week as you'll get the true nordic spa experience when it's less busy. As for the restaurant, you can splurge and treat yourself to a $30 meal, but there are plenty of options for $15 or less. The full price list can be found on their website.
Dying to Visit Yet?
If it isn't already, Thermëa should be a stop on every visitor's itinerary (and a routine occurrence for locals). I swear I'd be here at least once a week (okay, maybe once a month) if I lived in Winnipeg! Thermëa reminded me that I need to let go of my go-go-go lifestyle and take the time to relax more often. After visiting, my body and mind felt like they had been reset. I slept so well that night as every sore muscle and kink was erased. I couldn't have asked for a better way to celebrate 3 years with the love of my life, especially as our days in Manitoba had been so busy!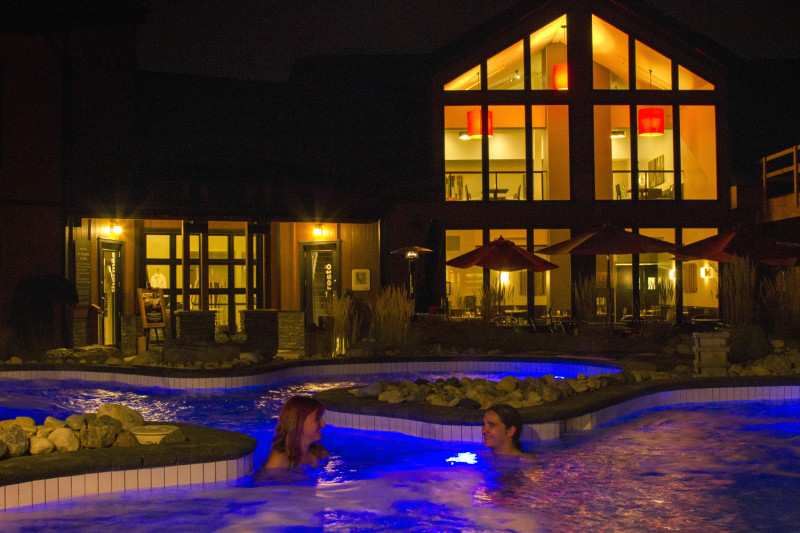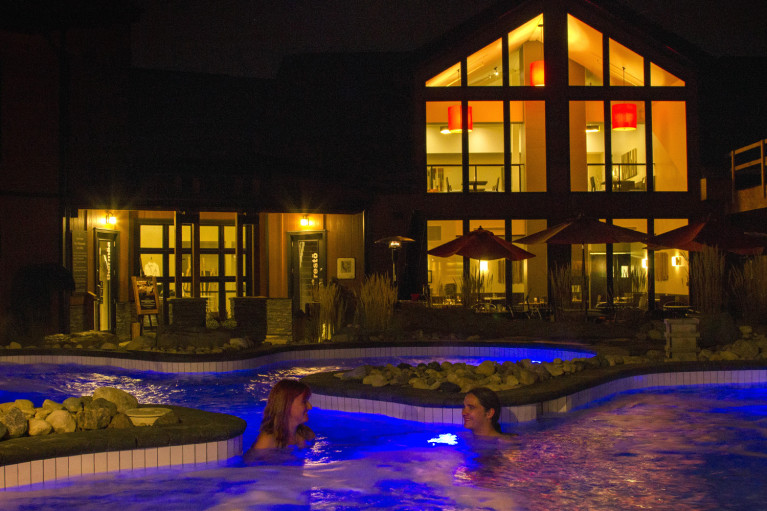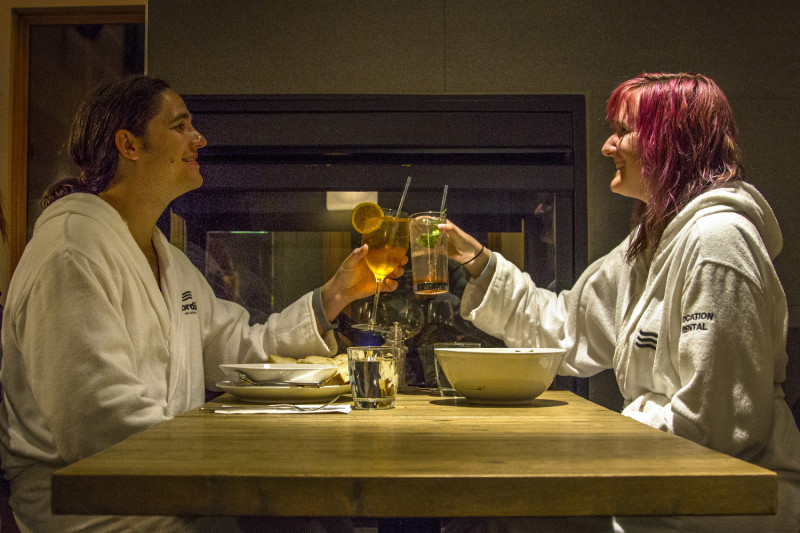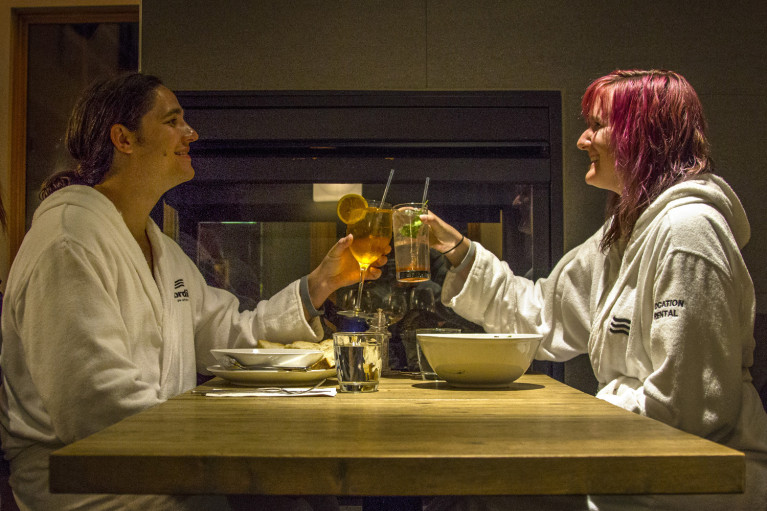 Whether you're looking for the perfect gift for your significant other, a relaxing way to celebrate a life event or to just spoil yourself while exploring the province, the Thermëa thermal experience is a winner for everyone. Plus when you think about it… who wouldn't want a spa day?
Disclaimer
A huge thank you to Thermëa by Nordik Spa-Nature for hosting myself and Robin on our anniversary. It was a day we'll never forget! As always, all reviews, photos and opinions are my own!