Exploring Lanark County: Seeking Serenity in Ontario's Highlands

Wandering is defined as trusting to find exactly what you need, when you need it, and it's no wonder that Ontario's Highlands beckons you to come wander. The tranquillity of small-town Ontario you'll find in Lanark County called to me! Whether you're looking for adventure or a place to slow down, there's something for you in this part of the Ottawa Valley. This is one Ontario road trip you don't want to miss!
SOMETHING TO NOTE: Not sure what kind of wanderer you are? Take the quiz at ComeWander.ca and find out!
While I can be all over the map (I refer to myself as an all-the-things kind of traveller… because I want to do all of the things), this trip pegged me as a serenity seeker. Whether you've been travelling non-stop for a while like I was at the time, work-life has been crazy, or you're just feeling burnt out, I promise you'll feel good as new after a relaxing weekend away in Lanark County.
Disclaimer: This post may contain affiliate links where I may receive a kickback at no extra cost to you. It helps keep IBB alive so thank you!
Where is Lanark County?
Lanark County is located less than an hour outside of Ottawa and approximately 3.5 hours from Toronto. It was named after the town of Lanark in Scotland. Covering almost 3000km2 and home to just 60,000 people, there is plenty of room to explore!
It consists of towns such as Perth, Drummond, Beckwith and Bathurst. Europeans settled and created these towns in 1816 but before this, the land belonged to the Anishinaabe, Huron-Wendat, St. Lawrence Iroquoians and the Omàmiwininiwak (Algonquin) Peoples. Colonization saw them forcibly removed from their lands so members of European society could occupy these lands.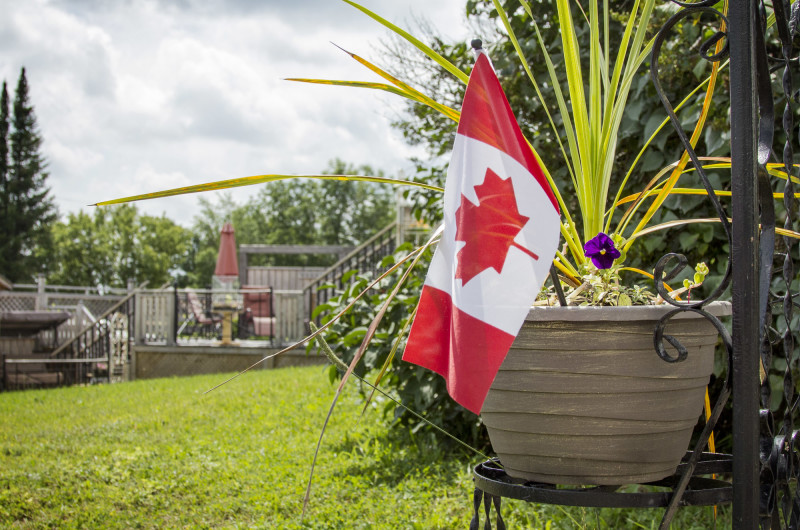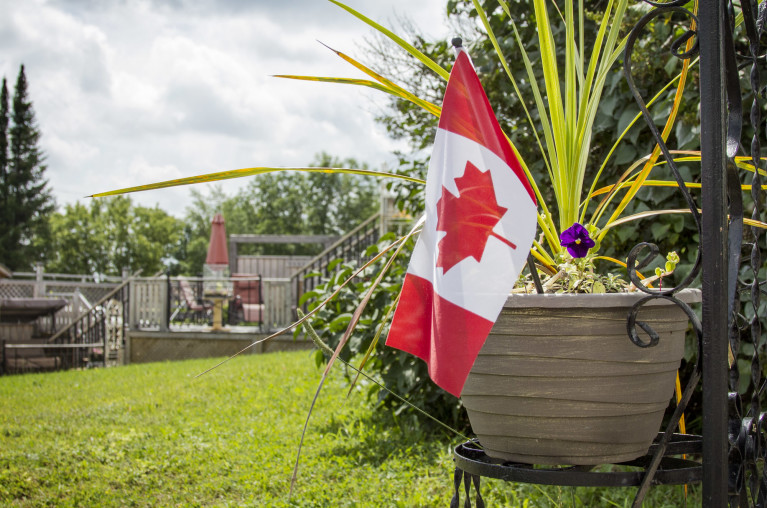 What to Do in Lanark County
So the theme of this Lanark County itinerary is to slow down and find serenity in Ontario's Highlands. Take some time to enjoy the finer things in life and treat yourself.
Relax at Circa 1894
7 in 8 people don't indulge enough with some spa time. Okay, I totally made that up, but I swear we don't take enough time to treat ourselves! Luckily it's Circa 1894 to the rescue. Treating yourself was never so easy – and affordable!
Feel your worries wash away while enjoying their two hot tubs, one cold tub, Finnish sauna and more. Circa 1894 is the only facility in the area which provides both NIR and FAR Infra-red sauna experiences. I absolutely loved their cedar corner sauna which helps to release toxins, lessen aches and pains from muscles and joints as well as increase cardiovascular conditioning. You'll find a guide inside which outlines what infrared setting might be best for you!
Though I have to say their wooden hot tub is the highlight of their day spa experience. This Finnish style pine hot tub is Amish built and an absolute work of art. I could easily spend all day in there becoming happily wrinkled in it's deep, soaky goodness! Just remember the mantra: hot, cold, rest.. and of course, repeat. If you're looking for a spot to take a break from the cycle, head inside to one of their quiet spaces to take a breather.
While the spa is included if you stay at Circa 1894 overnight, you can book an appointment to enjoy their facilities by the hour if you are not. For up to four hours, a visit to the day spa will cost you $50. If you'd like to stay longer, it will cost $60 to stay over 4 hours and up to all day long! Utilizing the infrared saunas is an additional cost at $25 for one hour and $35 for two hours. This is still an absolute steal!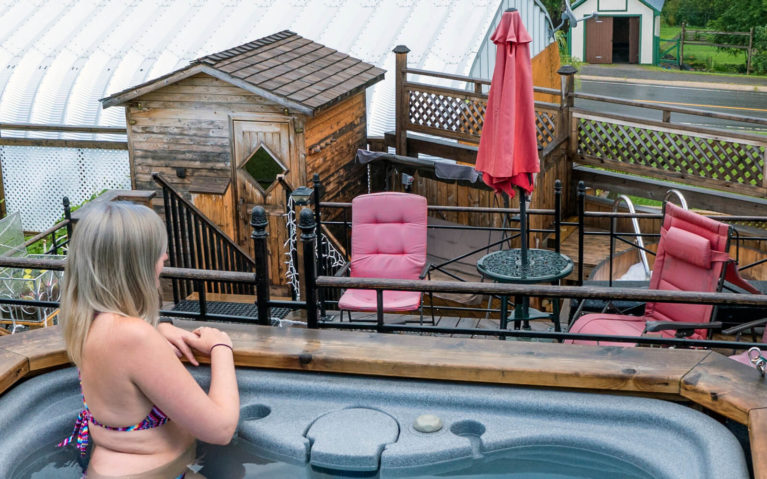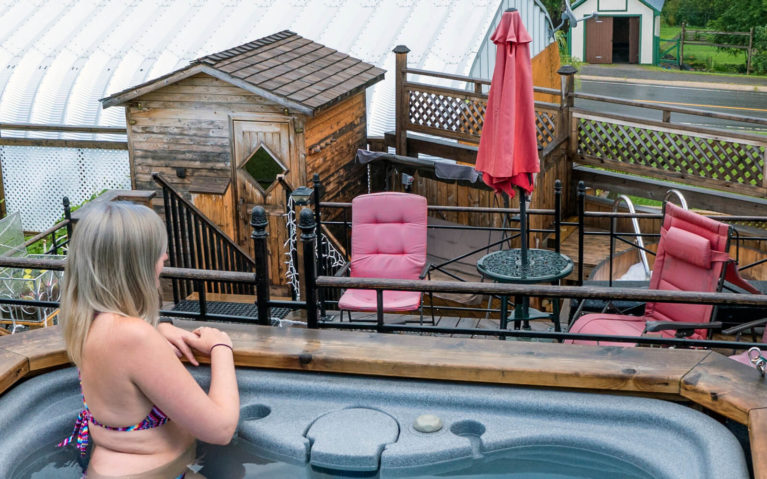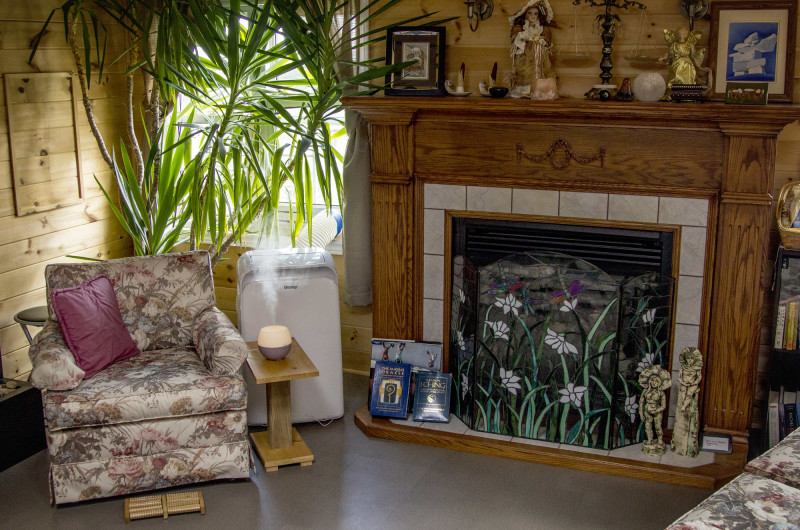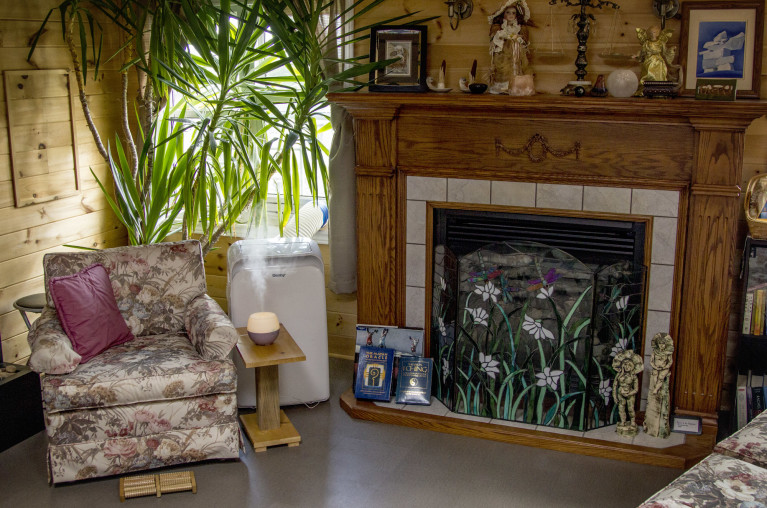 Visit the Lanark Highlands Basketry Museum
Did you know that Ontario's Highlands houses a one-of-a-kind museum? Massage your brain muscles and creatively cruise over to the Lanark Highlands Basketry Museum. Curated by Ankaret Dean, it's the only like it in Canada – and possibly the world!
What prompted Ankaret to create this one-of-a-kind museum? Well, her love of basketry began over forty years ago as she has a passion to use natural materials found in the environment surrounding her. In 1975, she graduated from Sheridan College's Schoo of Crafts and Design where she learned about textiles including weaving and basketry.
Fast forward to 2014. She began organizing her basket collection to discover she had over 300! Cataloguing each and everyone one prompted her to open the Lanark Highlands Basketry Museum two years later. Each and every basket within the museum is made from local materials that can be found in Canada!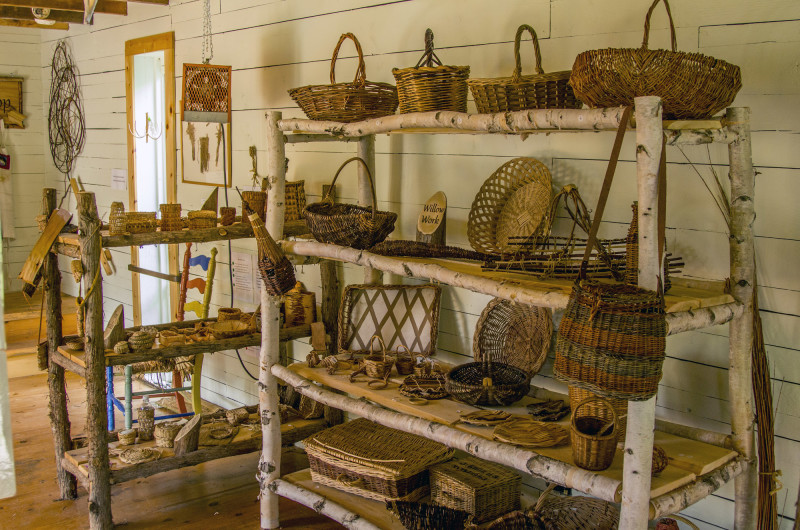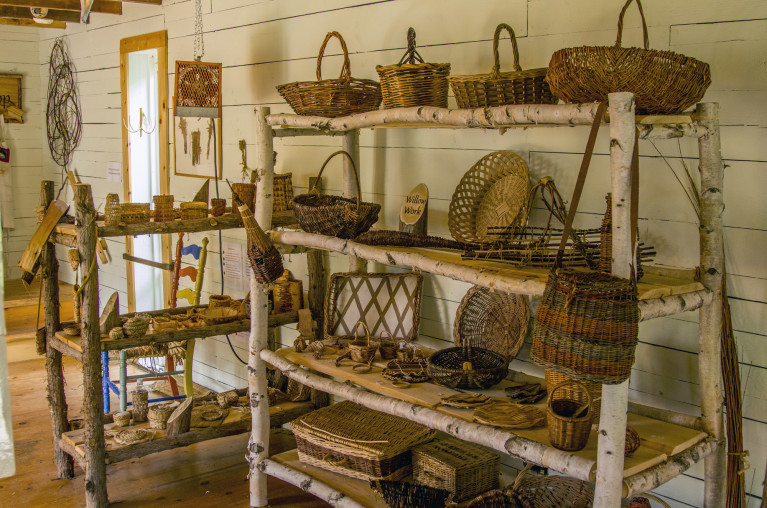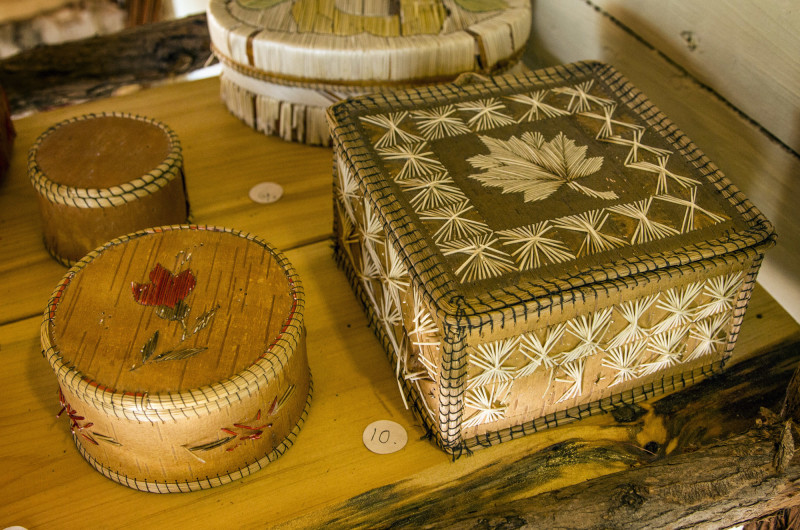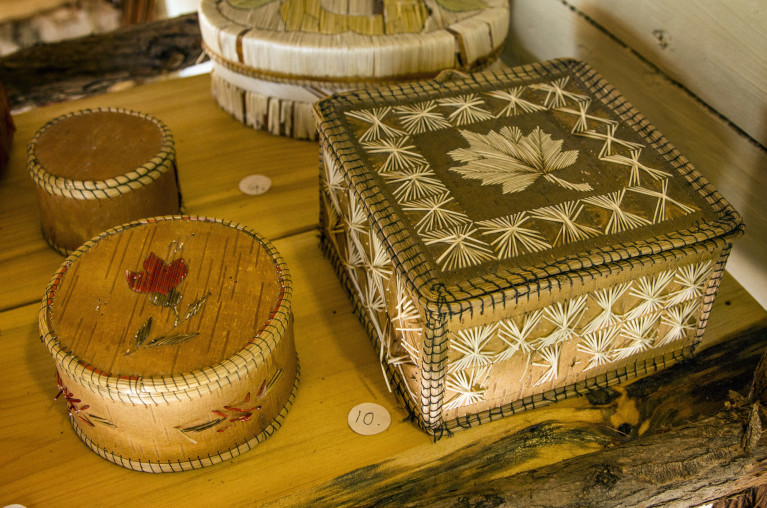 Ankaret is a fountain of information and you will learn so much from her. For example, did you know that in Sweden they didn't like the shiny side of birch bark as we do here, so they would use a double weave technique to expose the inside of the bark instead? You'll hear plenty of facts like these as she takes you through the museum.
Inside you'll find a wonderful collection of baskets and other woven artifacts. They use a variety of materials including willow, birch, pine and more. A number of the items you see have been created by Ankaret herself and each item is a handmade, one-of-a-kind gem. Personally, I was absolutely amazed by the Indigenous works and their intricate designs using pine needles, birch bark and more.
If you'd like to visit yourself, the museum is open by appointment only for the 2022 season. Reach out to Ankaret via the museum's website to pencil yourself in!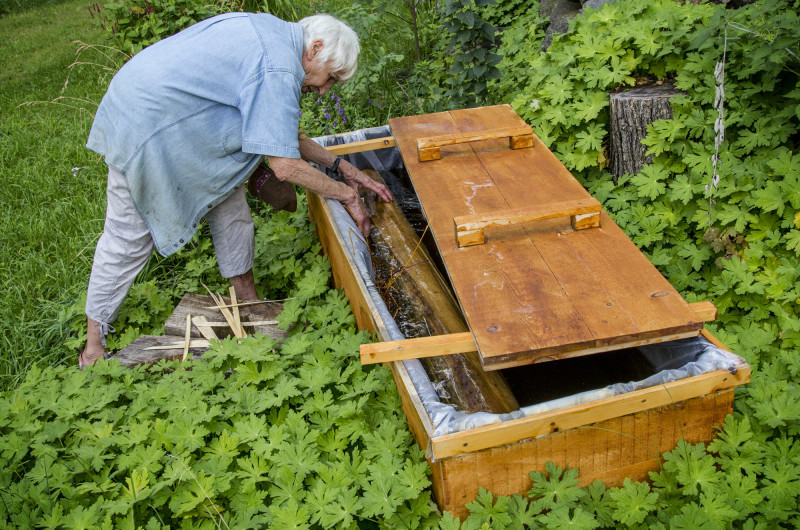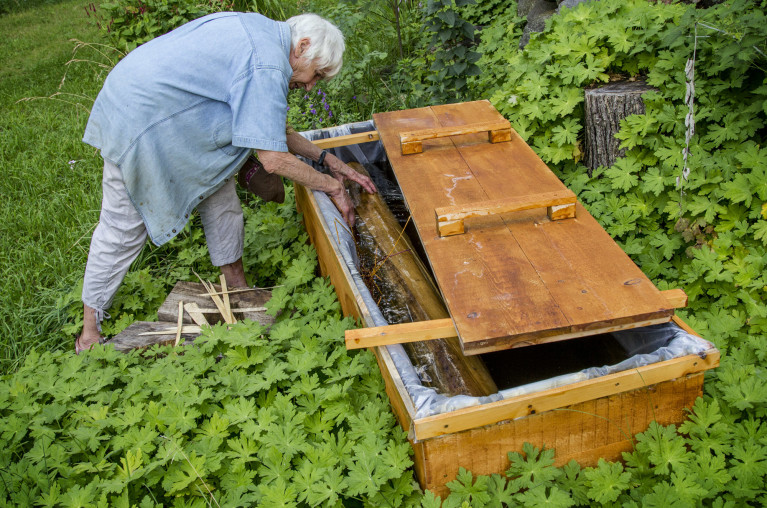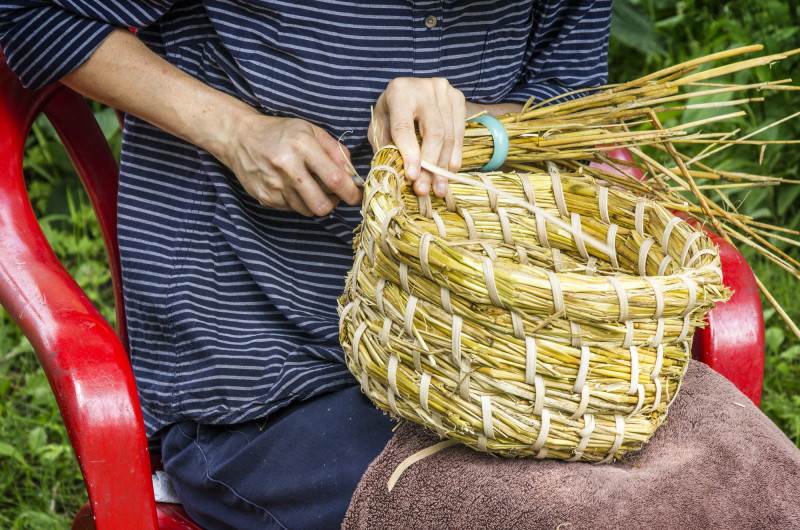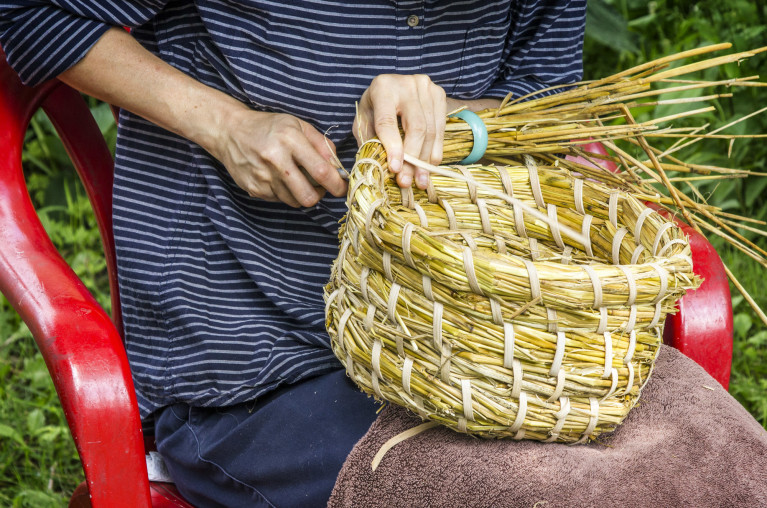 Support Local at the McDonalds Corners Farmer's Market
You may hear a little tune coming from across the way, so head up the road to the McDonalds Corners Farmers Market. Hosted at the MERA Schoolhouse, the market happens every Saturday from 9:00am to 1:00pm. Here you'll find a number of local vendors selling handcrafted goods from jewellery to delicious treats. Performances from local artists will also treat your ears as you wander the market!
If you've already been out adventuring (which I'm sure you have), chances are you've worked up an appetite. I highly suggest treating yourself to a pizza cooked to perfection in the local wood stove. In case you're wondering, definitely go for a large because treating yourself also includes upsizing when you normally don't. Also, if you're lucky, you might get to meet the local celebrity – Dusty the chicken!
Be sure to check out their Facebook Page for the latest information about the market.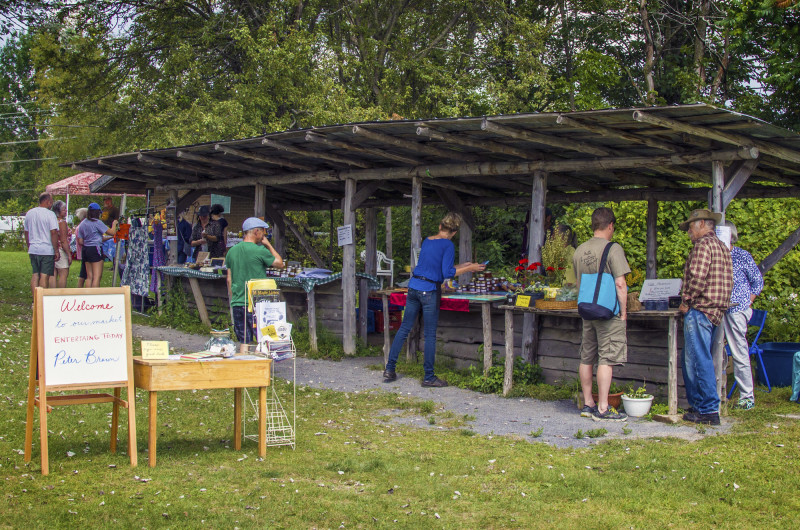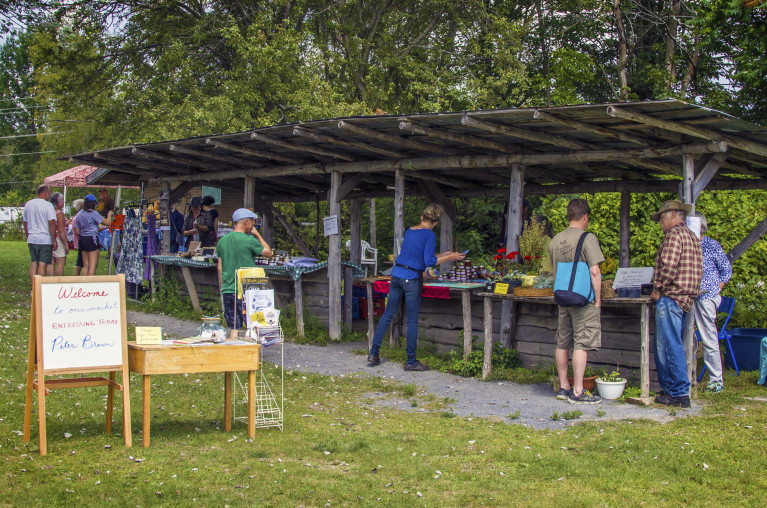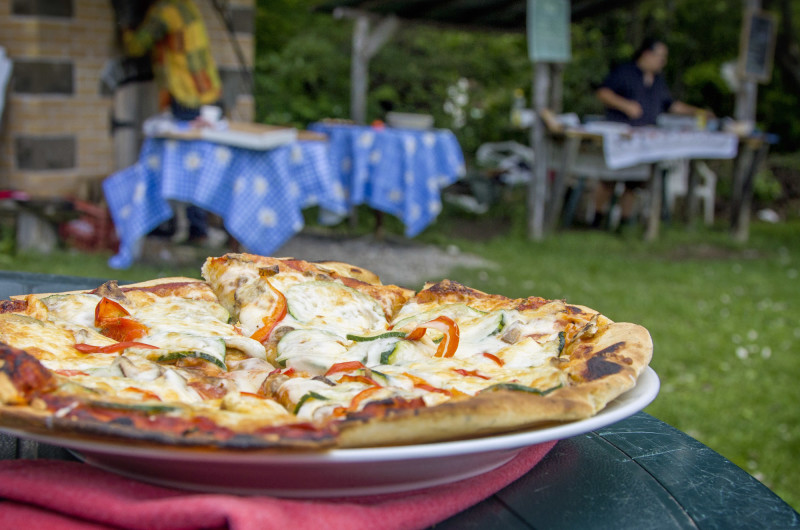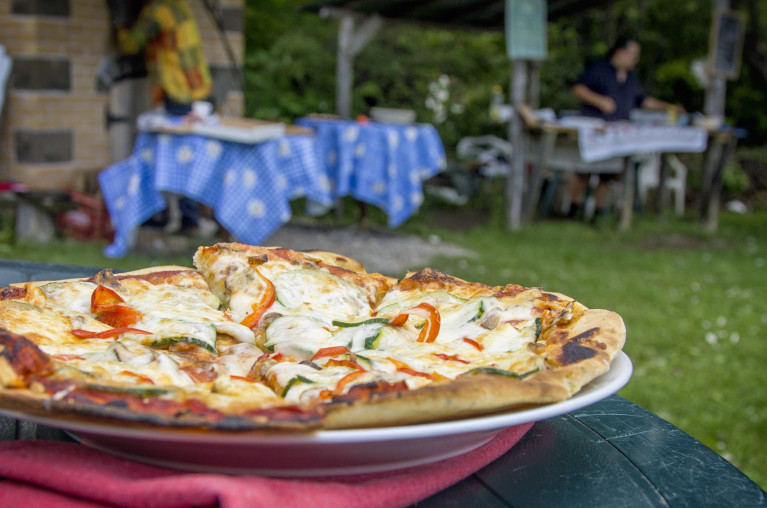 Hunt For Murals
Street art and public murals are becoming more popular it seems and Lanark County is no different! As you explore the area, be sure to keep an eye out for additional bursts of colour. I happened upon the mural below during my visit to the McDonalds Corners Farmers Market. The market was already full of colour but finding beautiful art like this just adds to the experience!
The town of Carleton Place is full of murals if you're looking for a spot to really get your art on. A piece of the town's history is shared with each display of artistic prowess. You might even recognize a face or two like the mural of Stompin' Tom at 17 Bridge Street! I'd start your exploration at the Town Hall Square where you'll find six brilliant murals speaking to the beginnings of Carleton Place.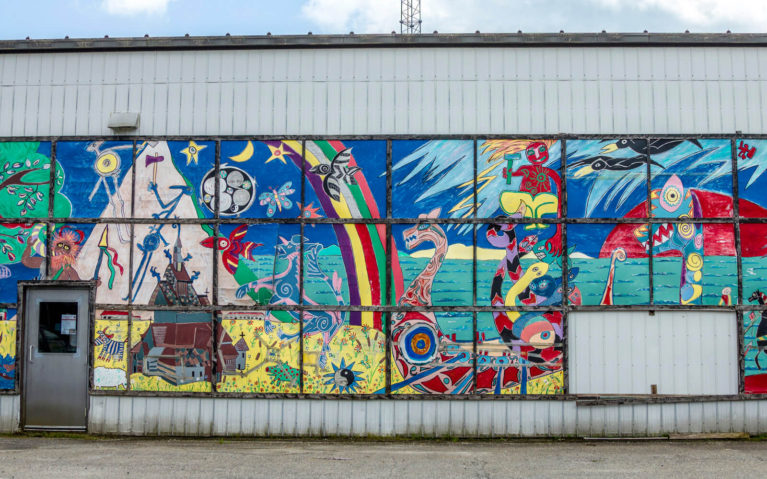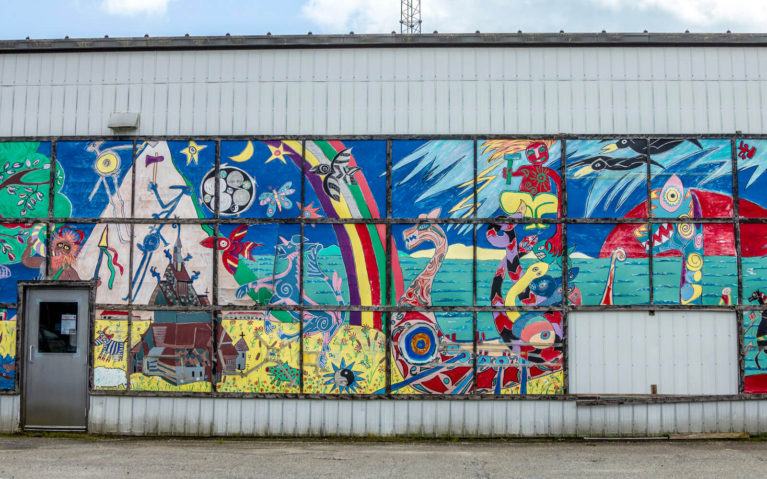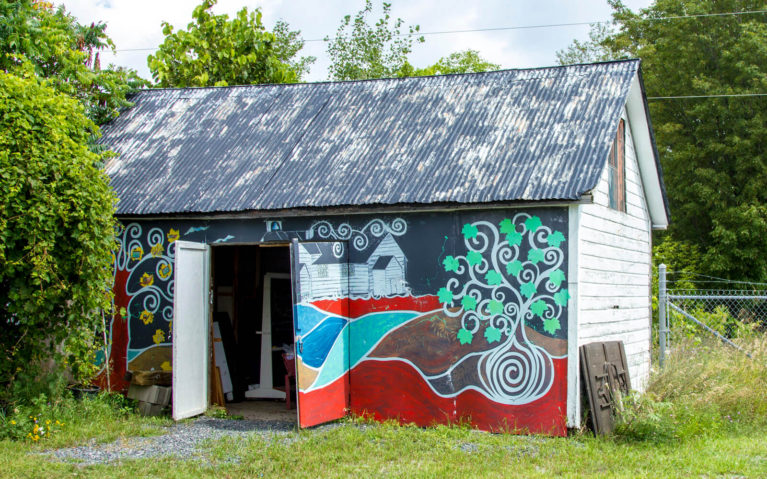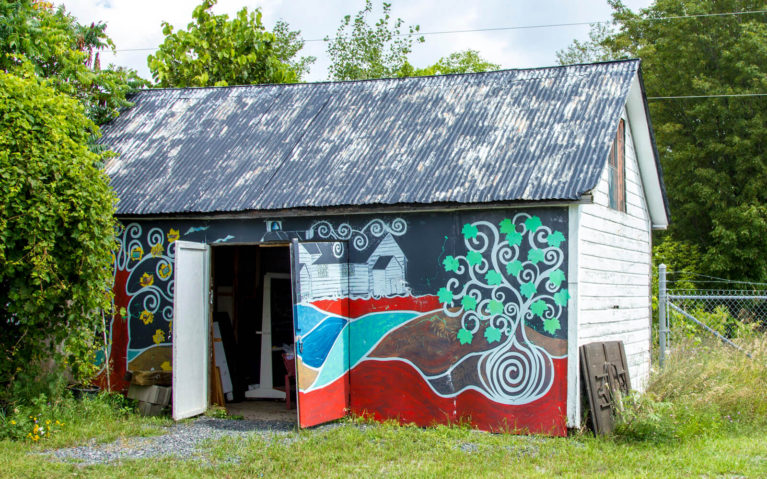 Experience a Lanark County Festival
Festivals are not uncommon in this neck of the woods! During my visit, I was lucky enough to head to the Perth Garlic Festival. Anyone who knows me is aware of just how much I love the flavour so I was thrilled to enjoy, well, all things garlic!
There is so much more to enjoy than just garlic bulbs! You'll find a number of innovative products from tasty culinary concoctions to kitchen hardware and more. There are a number of delicious eats and samples to enjoy! I definitely left with a few dressings and dips for a taste of Ontario's "stinking rose" at home. One you won't want to miss is black garlic. This fermented concoction actually tastes sweet to the tongue!
Though I have to say, I was most surprised to discover garlic beer! Yes, you read that correctly. Perth Brewery makes a special batch solely for the festival that is definitely on-theme. It sounds crazy but the brew is really delicious! I would have happily taken some of their Honey Garlic beer with me if I could as it would pair so well with some delicious barbeque.
Entrance to the Perth Garlic Festival is $5 but you'll want to bring it in cash as there's no way to pay by card. At least that was the case when I visited! All proceeds from the festival go to fund community initiatives that the Lions Club of Perth supports. Interested in experiencing the Perth Garlic Festival yourself? The festival runs during the second weekend in August but keep an eye on their Facebook page for exact dates.
It would be a sin to not mention Lanark County's Festival of the Maples, one of the many maple syrup festivals in Ontario. Held on the last Saturday of April, it signifies the end of a month-long celebration of this delicious nectar of the gods. With a pancake breakfast, live music, antique car displays and over 100 vendors, this is one sweet event you don't want to miss!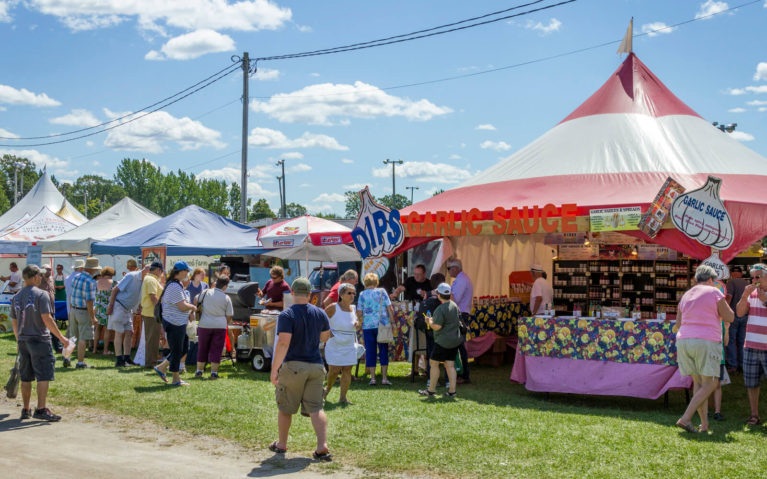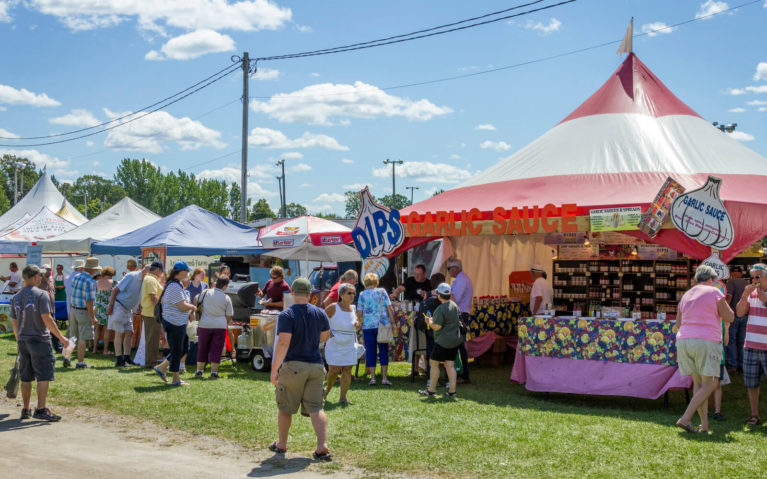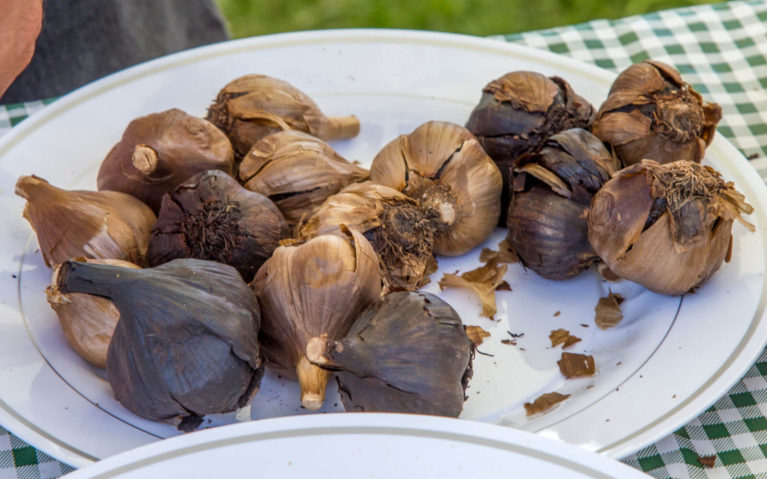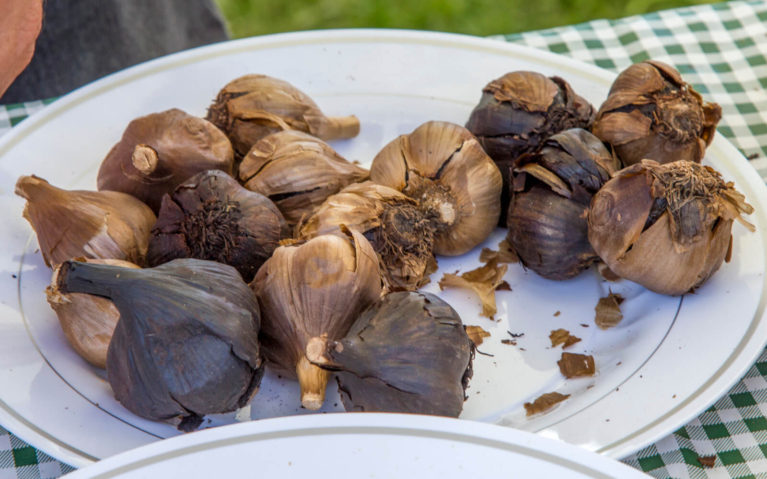 Where to Eat in Lanark County
Where to get a good meal is extremely important to me, especially when exploring a new area. Here are some restaurants in Lanark County that I'd recommend getting a bite to eat at!
I had the pleasure of indulging at East Meets West. It offers plenty of options including North American, Indian and Italian flavours. I indulged in their Shrimp Korma and it was absolutely delicious. Not too spicy and with plenty of vegetables, it pairs perfectly with a few samosas! Their menu also features options that are vegetarian and vegan friendly.
UPDATE NOTE: Since my visit to Lanark County, East Meets West has unfortunately closed! However, the owner Chef Ramello has another restaurant nearby in Smiths Falls called Chuckles Jack. You can also get his sauces at some of the Independent Grocer Stores in Perth!
For my next visit to Perth, Fiddlehead's Bar and Grill is at the top of my list. Located in one of the oldest heritage buildings in the town of Perth, it has a unique environment where each dining space has a different vibe! You can enjoy beautiful views over the Tay River, a gorgeous outdoor patio and more. Their menu has a number of mouthwatering options with items like cedar plank roasted salmon, calzones featuring house-made dough and more. My mouth is watering just thinking about Fiddlehead's!
Seriously though, there are so many restaurants in the heart of Perth that you won't have trouble finding somewhere to eat. Just do a quick search on Google Maps and you'll see what I mean!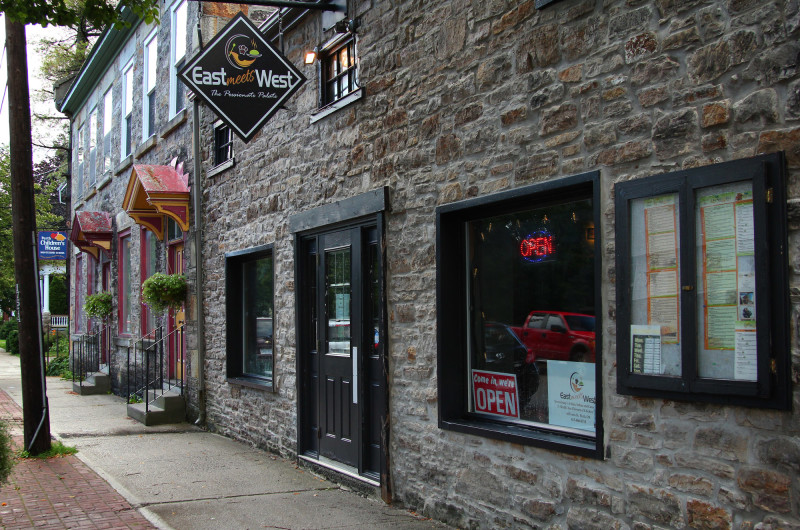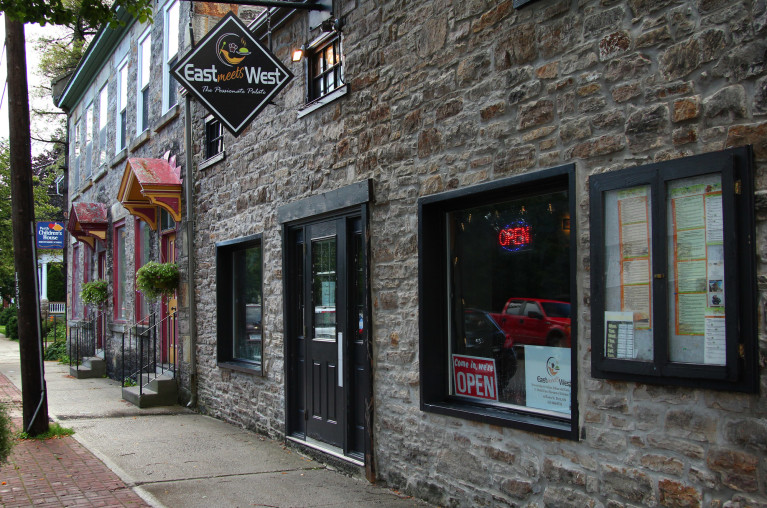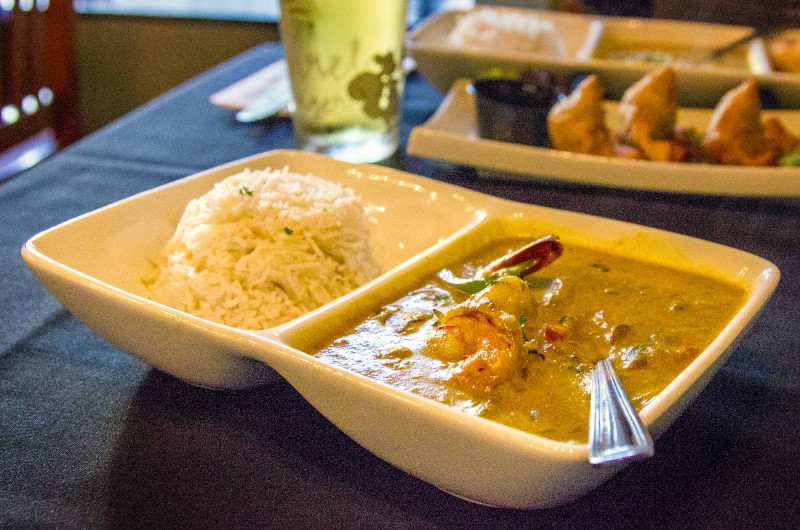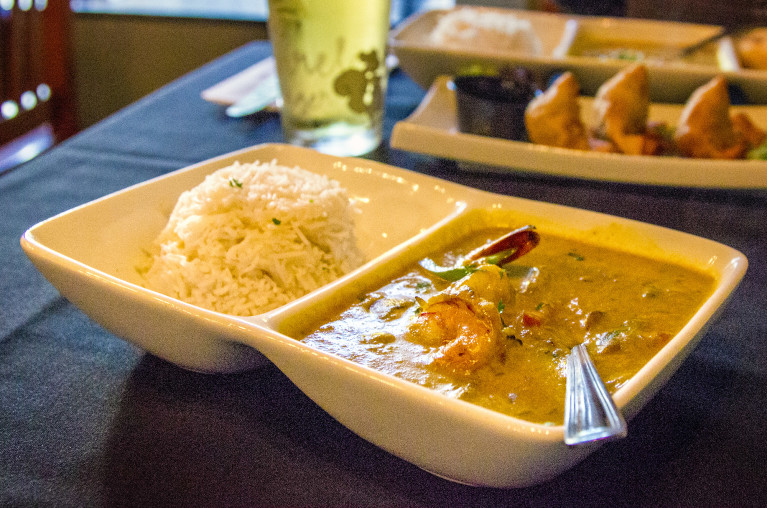 Where to Stay in Lanark County
It will come as no surprise to you that I'll recommend staying at Circa 1894. This adorable bed and breakfast in the town of Lanark, Ontario has three bedrooms inside as well as two RVs in the warmer months.
Over the past five years, Donna and Cam have crafted Circa 1894 into what it is today. The building you stand in was the former United Church of Watson's Corners. The first year saw numerous renovations to the church, followed by the Sunday School and a 900ft addition in 2017. See the bottom right corner of the old church photo? That's where you'll eat breakfast during your stay. It sure looks a lot different now!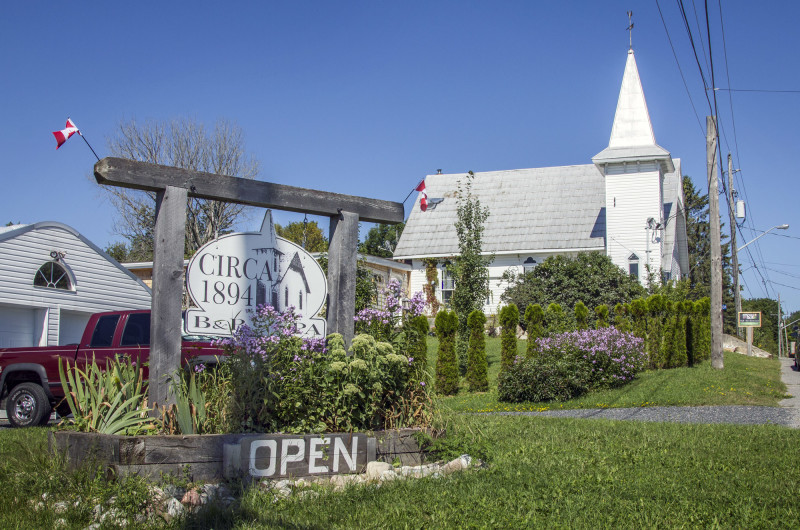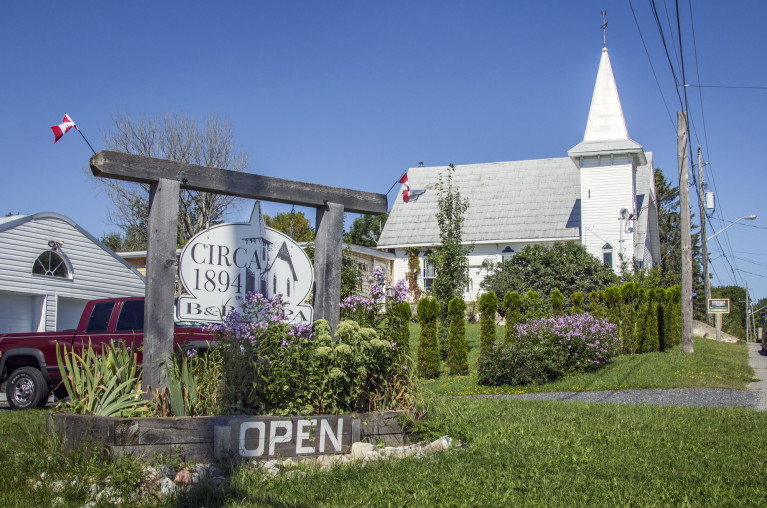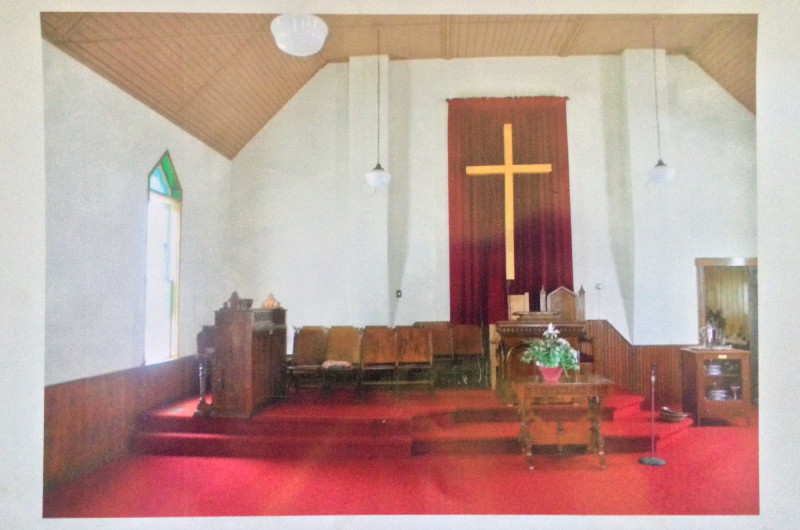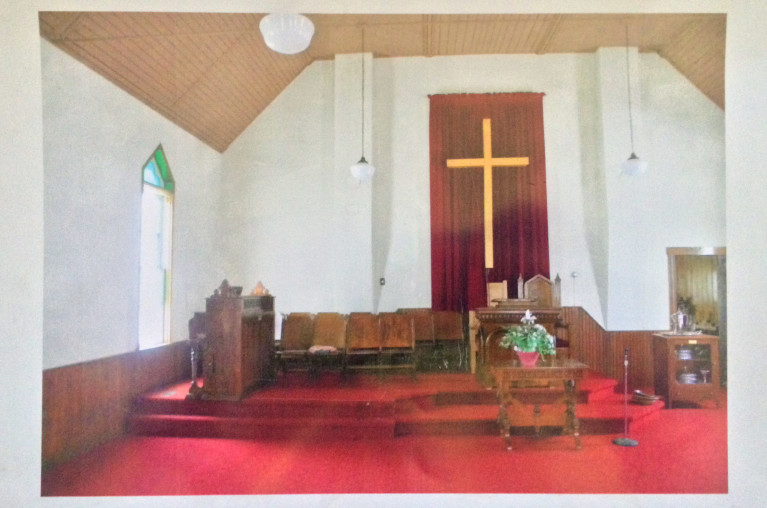 The work Donna and Cam did is absolutely magnificent, not just in sheer beauty but in its environmental significance! Many of the materials used are reclaimed to reduce its impact along with the systems inside. The B&B uses a 'recover system' where water from the sink and shower is filtered and reused in all toilets, therefore reducing their septic load by 30% while recycling 100% of their greywater! The ceiling in the B&B common room? Recycled from the Royal Ontario Museum. Many of their furniture and fixtures are also reclaimed! You can read more about how they locally sourced as much as possible with their renovations during your stay.
The bedrooms are all connected to a common room with a microwave, kettle and Keurig for guest use. I had the pleasure of staying in the Rose Room which was absolutely perfect! I loved the contrast of greens and teals with the pops of pink. While they're not pictured, you'll also get to enjoy the use of plush, cozy robes to make your visit extra comfy.
You won't just a great night of sleep, but you'll be starting your day off right. Donna and Cam will whip up an amazing breakfast for you and can accommodate a variety of diets. Their vegan shepherd's pie is a real treat and it's super healthy as the recipe helps reduce inflammation! If you're going to have anything though, I would suggest the Belgian waffle. My mouth is watering as I re-look at this photo. Staying at Circa 1894 also comes with another huge perk… can you guess what it is?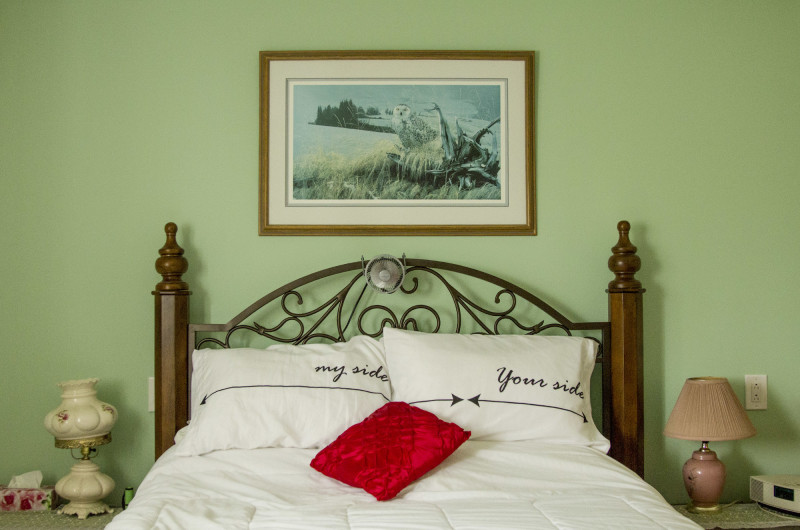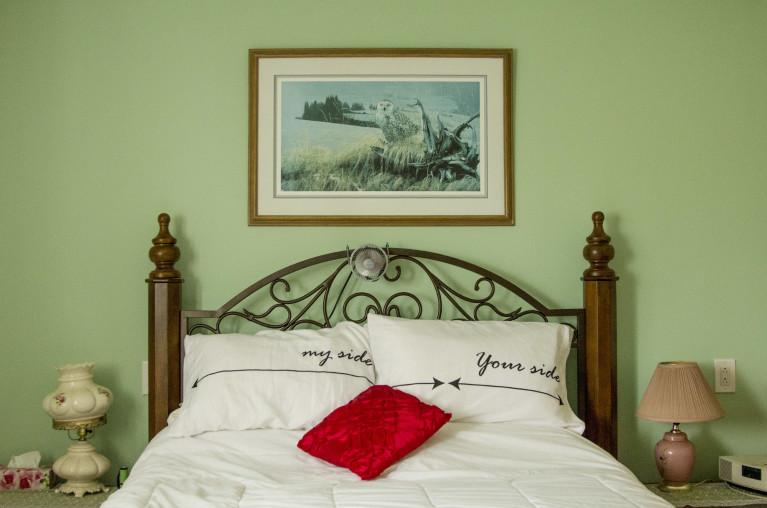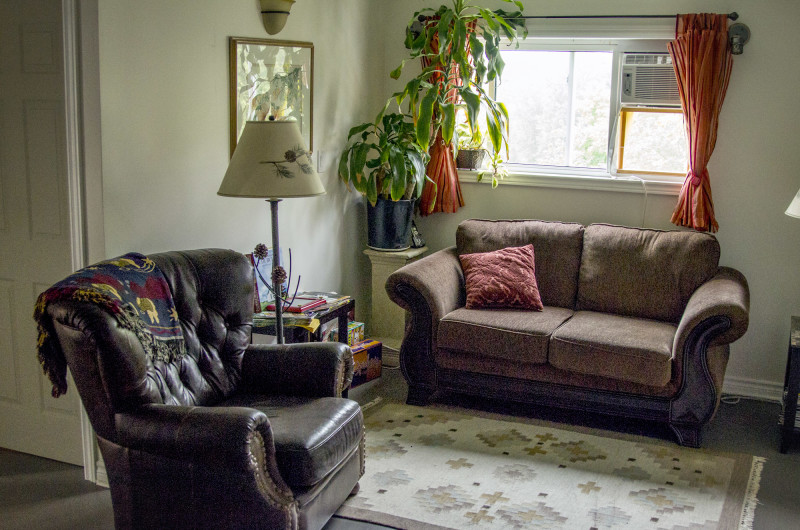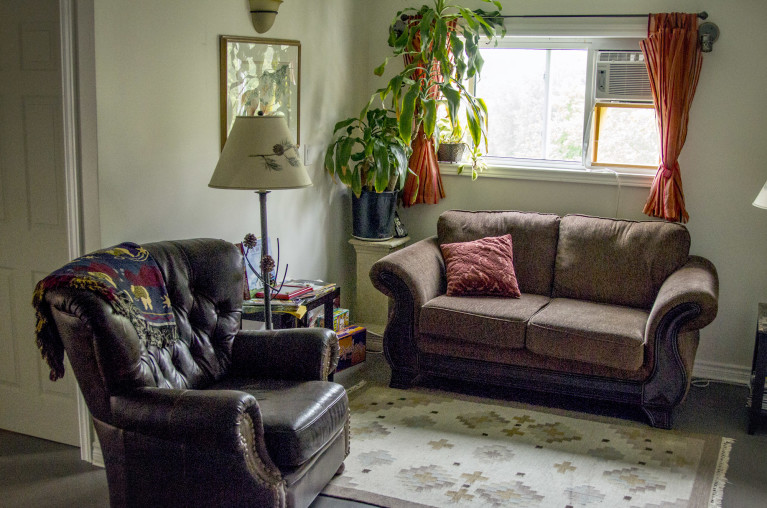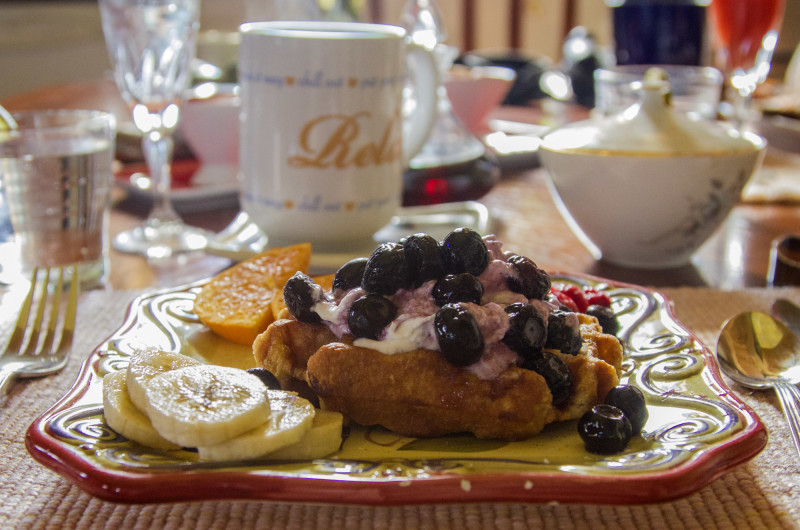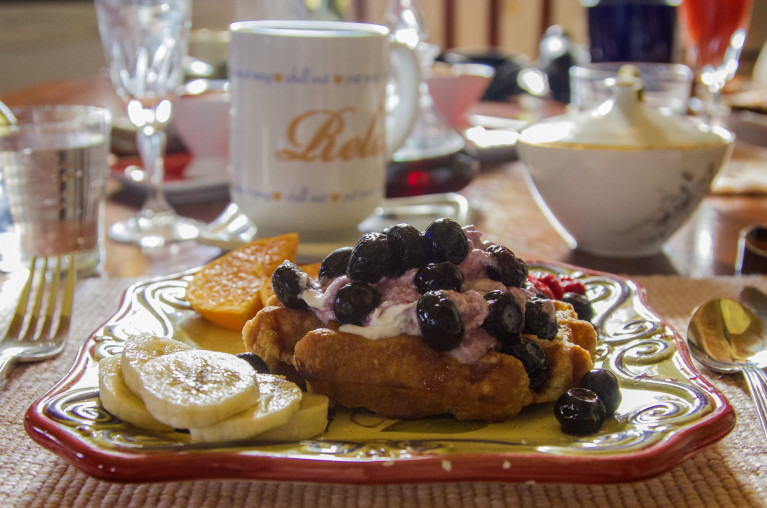 The bed and breakfast is not only cozy, but comes with additional perks. Not only will you have access to their amazing spa facilities but B&B guests have exclusive access to the spa from 8:00am-10:00am before it opens to the public. I'll cash in on that, thank you! Who doesn't want to start their day off with the spa?!
I highly recommend staying for at least two nights so you can truly enjoy the healing qualities it can have. I personally had an awful knot in my left shoulder and by the time I was done at Circa 1894 the pain had melted away. It's amazing what can happen if you just take some time to unwind! Also in case you're wondering, no I'm not naked in the photo below. I'm wearing a halter top bathing suit that gives the illusion that I'm topless!
Convinced to stay at Circa 1894? I know I'd love to return one day soon! Click here to book your stay in the premier or exclusive suite at Circa 1894 as well as their mobile home. You can also check out TripAdvisor to see what other guests have said about their experience.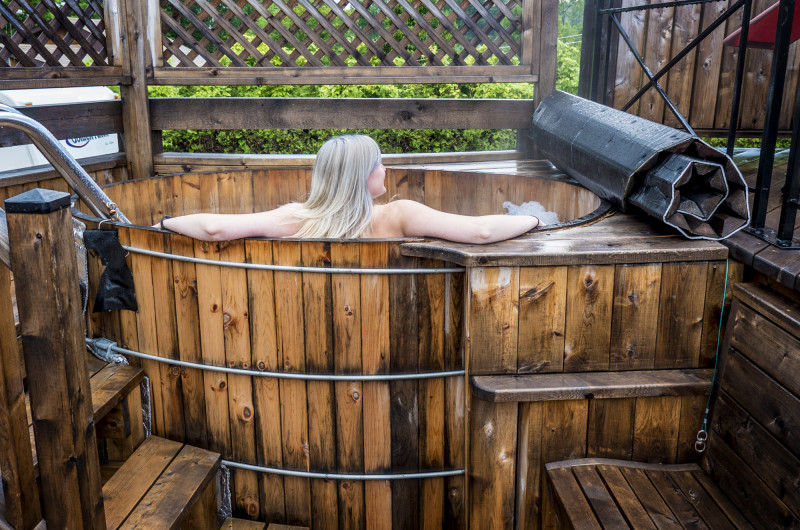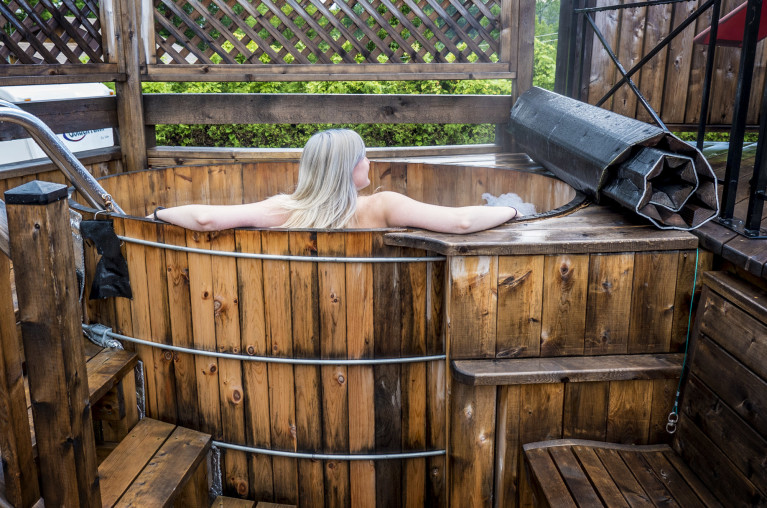 In the off chance that Circa 1894 is booked, there are a number of other great properties in Lanark County to stay at. I know I'd enjoy putting my feet up at any of these establishments across the county!
If you're looking for something similar to Circa 1894, Clyde Hall Bed and Breakfast is the perfect option for you! You won't have the lovely spa amenities like at Circa 1894 but it features a gorgeous pool and beautiful outdoor space. Located just a 5 minute walk from Lanark's town centre, you'll be able to leave the car and explore the immediate area on foot. You'll be treated to a full breakfast as part of your stay and there's even a library with books, movies and more that guests are welcome to utilize! Click here to book your stay at Clyde Hall Bed and Breakfast.
Sometimes it's nice to stay closer to town so you have more options for restaurants and things to do at your disposal. The Manor Boutique Hotel in Perth offers exactly that! Less than a kilometre away from the Perth Farmer's Market, the Perth Musuem, the Tay River and more, this hotel offers a great location for exploring the town of Perth. The hotel itself is also highly regarded with a number of beautiful seating areas, historic upscale decor and some rooms offering views of the garden. Breakfast is also included in your stay! Click here to book your getaway at the Manor Boutique Hotel.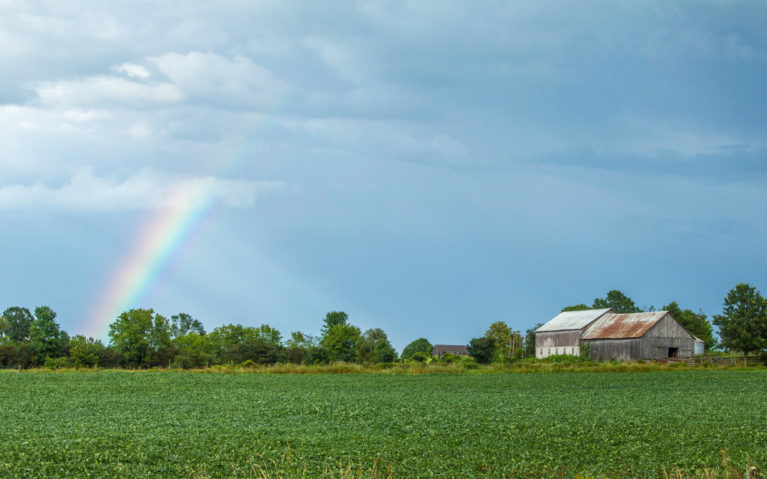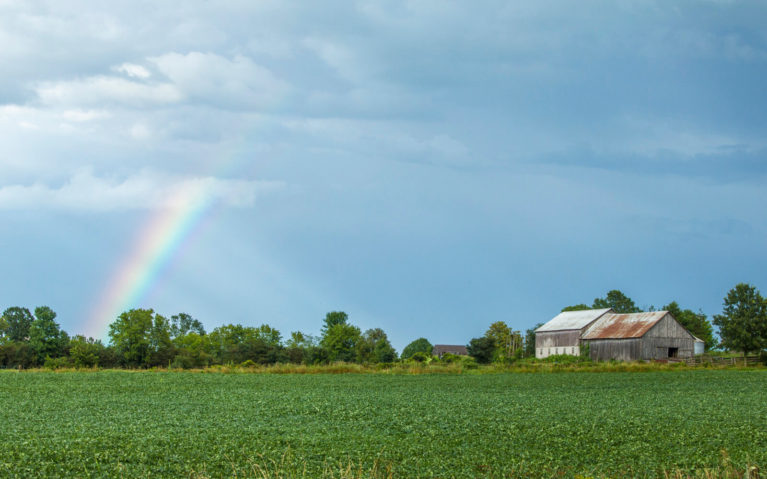 Other Things to Do in Lanark County
As you can imagine, a weekend is not nearly enough time to fully explore Lanark County. Since my trip, I've found a number of incredible adventures for my next visit! Next time I'm in town, I'll definitely be checking out these Lanark County attractions.
Visit CliffLAND – Composed of 1250 acres, this land trust in Lanark Ontario is home to Blueberry Mountain. Said to be one of the seven wonders of Lanark County, you'll be treated to incredible views of both the Lanark Highlands and the Madawaska Highlands as they span across the Canadian Shield.
Mill of Kintail Conservation Area – Head to Mississippi Mills where you'll find the Mill of Kintail Conservation Area. It features an 1830s grist mill which was the former summer home for the medical doctor R. Tait McKenzie. Hailing from Ramsay Township, it also served as his sculpture studio!
Stroll Along Almonte's Riverwalk – Starting in the heart of town, you'll enjoy the gorgeous view across the Mississippi River. Back in the day, six woollen mills operated along this stretch but all that's left now are remnants of the buildings. You'll also enjoy some cascading waterfalls as you make your way to the Metcalf Geoheritage Park.
Enjoy Some Craft Beer – I'm all for supporting local and one of my favourite ways to do that is with craft beer! I'd love to do some brewery hopping and get to know the craft beer scene in Lanark County. So far I've got Stalwart Brewing Company and Braumeister Brewing Co in Carleton Place as well as Crooked Mile Brewing in Almonte on my list!
Explore the Maple Trail – As I mentioned, Lanark County is the maple capital of Ontario. As a true Canadian and a lover of all things maple, I would love to indulge in some of these sweet experiences.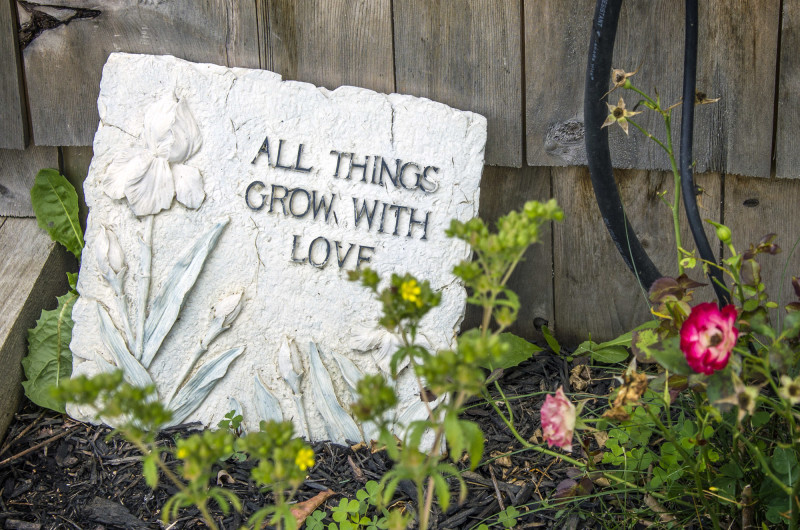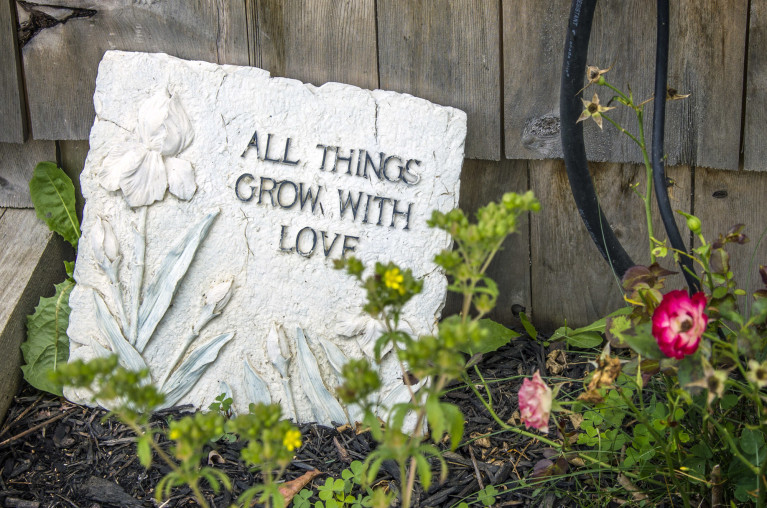 Ready to Visit Lanark County in Ontario's Highlands?
Lanark County has so much to offer – and this is all in just one of the five regions in Ontario's Highlands! With over 23,000km of unspoiled rural territory to explore, it's a place you'll have to visit more than once. It's the perfect destination for a romantic getaway in Ontario or a girls' weekend.
No matter what type of wanderer you are, I'd say we're all memory makers. Why? Because I have no doubt that you'll walk away with memories from Lanark County that you'll never forget!
Looking for Even More Fun Around Ontario's Highlands?
Don't Miss All The Incredible Things to Do in Bancroft Ontario
See Why Silent Lake Provincial Park Cabins Are Amazing
Disclaimer
A huge thank you to Ontario's Highlands for not just hosting me but also for the quick change in plans when Mother Nature decided not to cooperate. This post contains affiliate links where I'll earn a kickback from any purchase at no extra cost to you. While most of the activities listed were complimentary, all reviews and opinions are my own as outlined in IBB's disclaimer and privacy policy.
Want to Explore Lanark County Ontario Yourself? Pin it for Later!