Kitchener Food Trucks: Waterloo Region's Tasty Sign of Summer

It's no secret that Kitchener has some seriously amazing restaurants, so it's not surprising that the city's food truck scene is top-notch. I don't know about you, but I absolutely love food trucks. Maybe it's the versatility of being able to serve delicious food anywhere you want? Or maybe it's that food trucks have become incredibly innovative… and I'm always up for being a guinea pig. Whatever the reason is, you'll definitely want to keep these Kitchener food trucks on your radar!
Must Eat Kitchener Food Trucks
While the title of this article is specific to Kitchener, I'm sure it goes without saying that these trucks can frequent a number of destinations across Waterloo Region and beyond. Kitchener seems to be a hotspot for food truck activity with events like King StrEATery where downtown Kitchener is shut down and the food trucks take over for some serious summer festival fun. Anyways, let's get to the eats and treats, shall we? I've listed the food trucks in alphabetical order for your reading ease!
Berlin 95 Diner
One of the biggest things I miss about Europe is German food. While Berlin 95 Diner doesn't carry my beloved döner (it easily tops my European eats list), there are a number of delicious German dishes for you to get your fix!
Christina, the owner, was born and raised in Germany. While her background is more in hospitality, she quickly pivoted to the food scene. This isn't her first rodeo as she founded The Scrumptious Spud in 2010 as a way to share delicious eats for those who, like her son, have special dietary needs. She focuses on good, wholesome food and that mantra translates to the Berlin 95 Diner!
While she doesn't regularly post her menu online, you're pretty much guaranteed to have delicious German schnitzel and sausages. If you're really looking for a taste of Germany, you might opt for the currywurst! I decided on the traditional German schnitzel dinner plate which came with a few sides. Let me just say that you won't want to miss Christina's potato salad as it's easily some of the best I've had here in Canada! Also, don't miss out on her mushroom (Jäger) sauce because it is absolutely incredible!
Food is our fuel and this is some supreme level energy. Pair that with Christina's outgoing energy and it's guaranteed to be a great experience! I can't say enough about first, how delicious the food is and second, how kind Christina is. We had a wonderful conversation and she even gave my friend's dog who joined us a tasty treat. Top it off with the fact that she made my vegetarian friend a zucchini schnitzel and Berlin 95 quickly became my pick for the best of all Kitchener food trucks… maybe even all of Waterloo Region!
Their Facebook Page will have all the details about their location and hours of operation.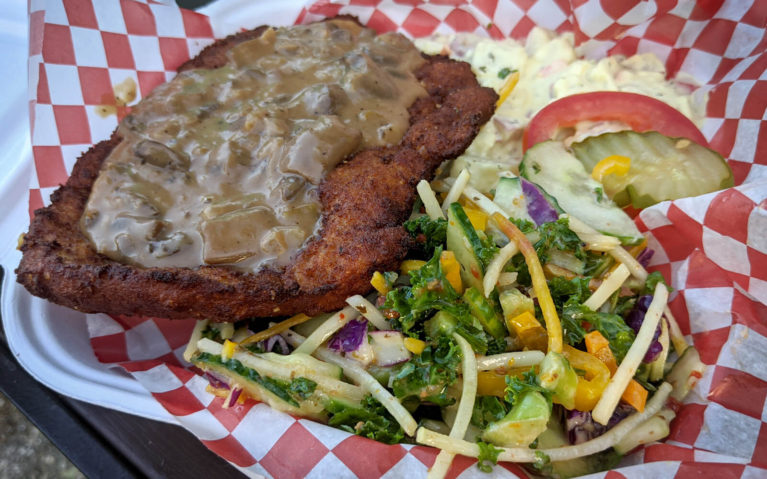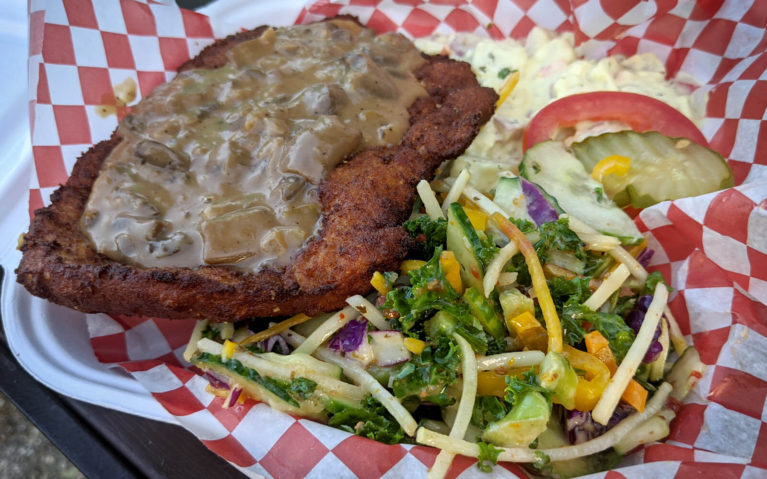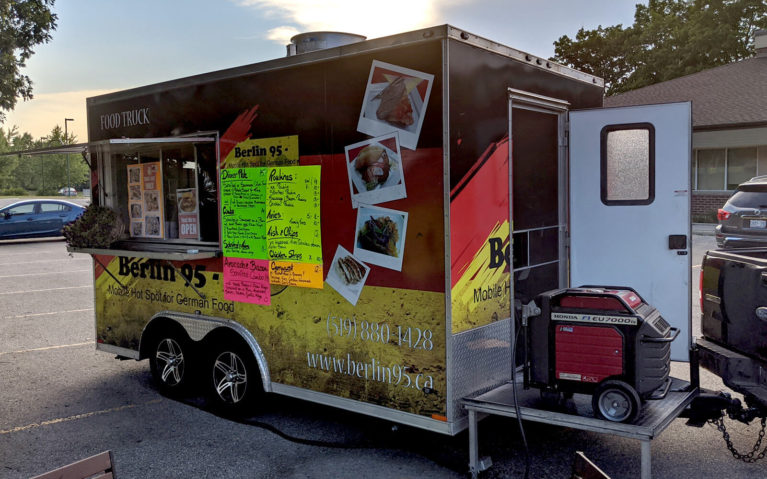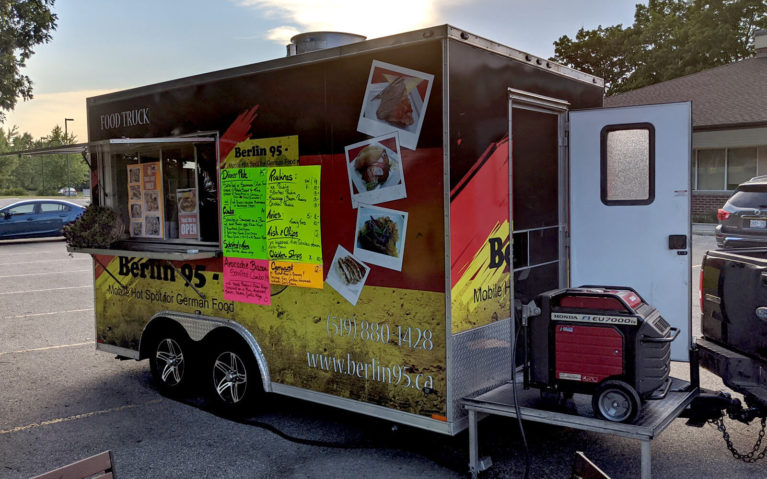 El Milagro Food Truck
If you're a lover of Mexican food, you won't want to miss the miracle that is the El Milagro food truck! With origins straight from Mexico, the passion behind El Milagro's food really shows through. Their menu focuses on authentic Mexican eats and stay true to the flavour as best as they can, even when they can't find the authentic ingredients here in Canada.
Burritos are their main focus though tacos and nachos often appear on the menu. Speaking from experience, their loco burrito is absolutely delicious. Inside it, you'll find steak, chorizo, bacon, rice, black beans, lettuce and tomatoes all happily mixed together with sour cream and aioli. The flavours mix and mingle to create a delicious dish that is satisfying even on the hottest of days!
I've found with my typical go-to spot for burritos (I'm looking at you Fat Bastard) that while I feel happily full, there's a heaviness that accompanies it. This was not the case at all with El Milagro's food and I think that attests to how fresh the ingredients are! I'll definitely be looking to try their fish tacos next time I hit up their truck.
Visit their Facebook Page for menu and location information.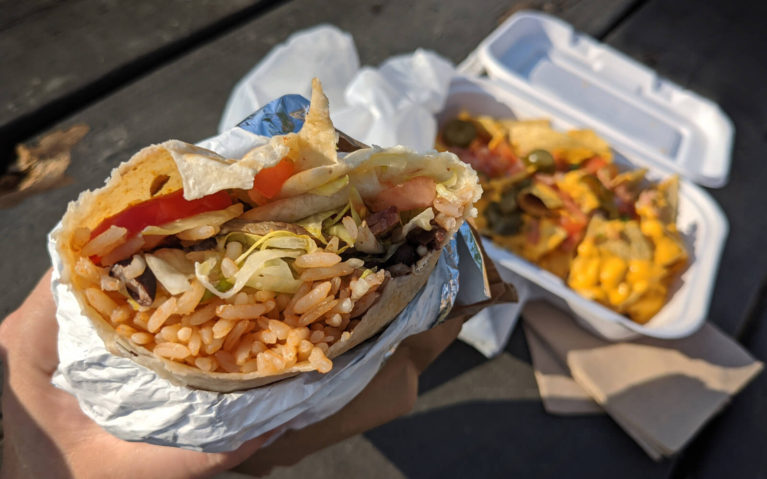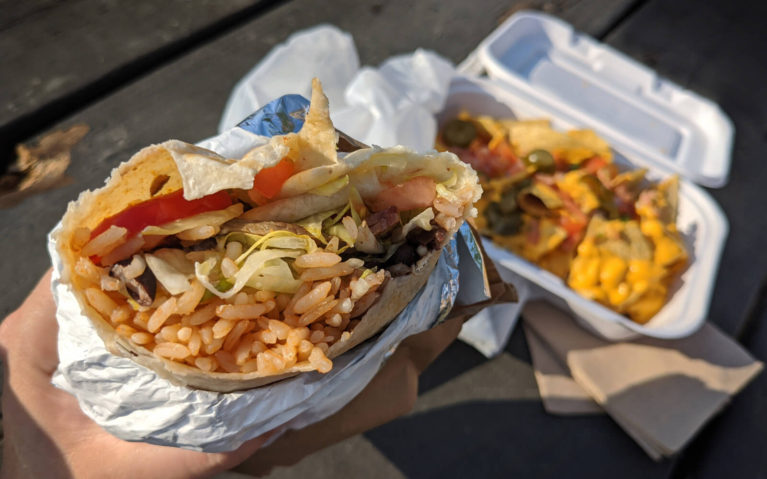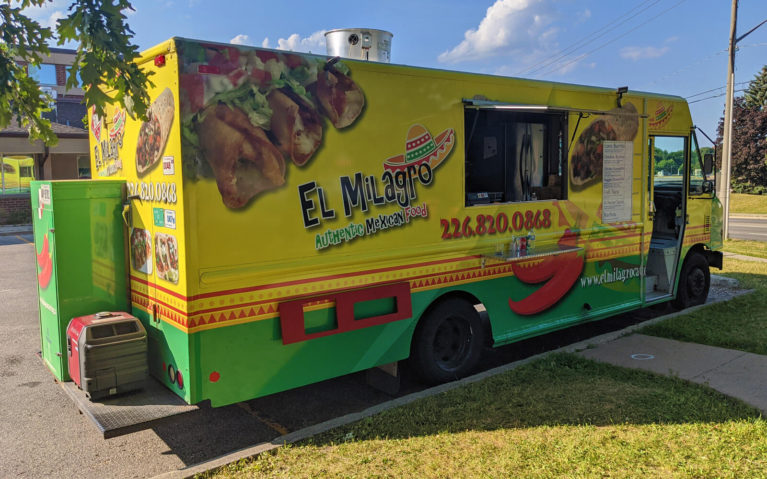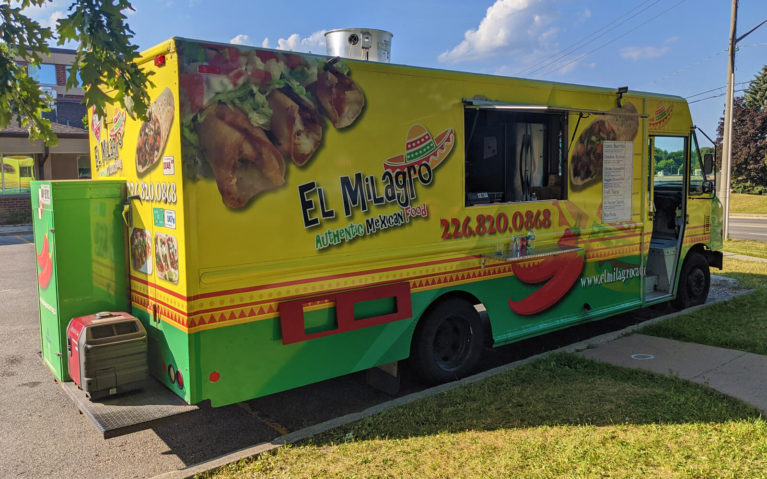 Fo' Cheezy Food Truck
Anything with melted cheese is my weakness and because of this fact, I'm incredibly surprised it's taken me this long to indulge in Fo' Cheezy. Better late than never as the saying goes and jokes on me… I've been missing out for so long. (Though I guarantee my waistline is thankful for this blunder.)
As you can probably glean from their name, Fo' Cheezy prides themselves on their gourmet grilled cheese sandwiches. Let me just say that when they say gourmet, they aren't kidding! While they have the typical grilled cheese (because let's face it, you gotta have the classic), they have sandwiches like their Fo'SpinDip which has spinach, artichoke, onion, sweet pepper and asiago all deliciously mingling with cream and mozzarella cheese. Like WHAT.
Though I have to say that when I saw they had the "greatness of grilled cheese and mac and cheese all in one" – I couldn't resist. Their Fo'Mac is next level and absolutely delicious. You know it's next level when adding ketchup is not only unnecessary but would classify as a sin. Hot sauce though… might have to try that for a little kick! Also, the cheezies that come with it are a cute added touch.
Take a peek at their Facebook to see where you can find them for your cheese fix.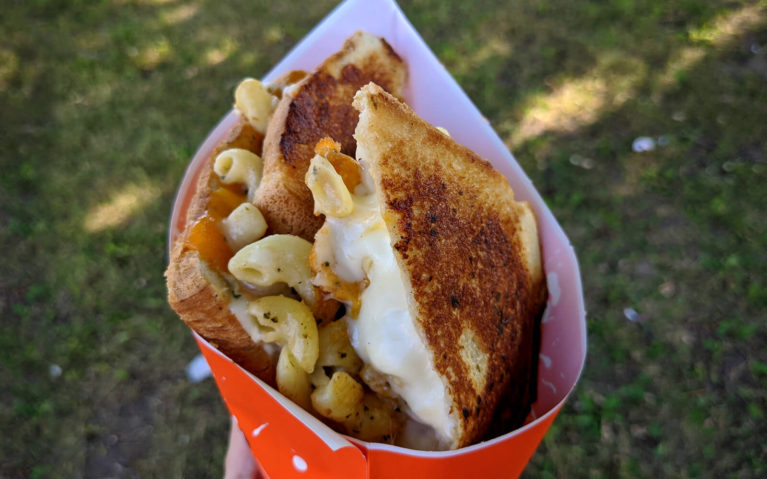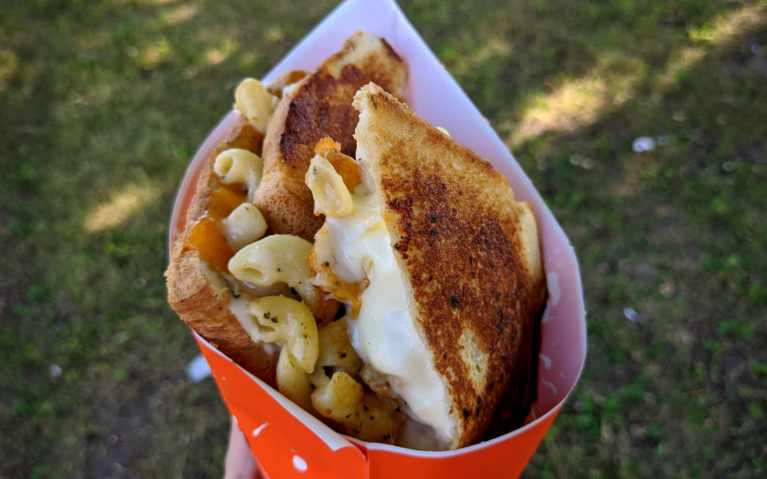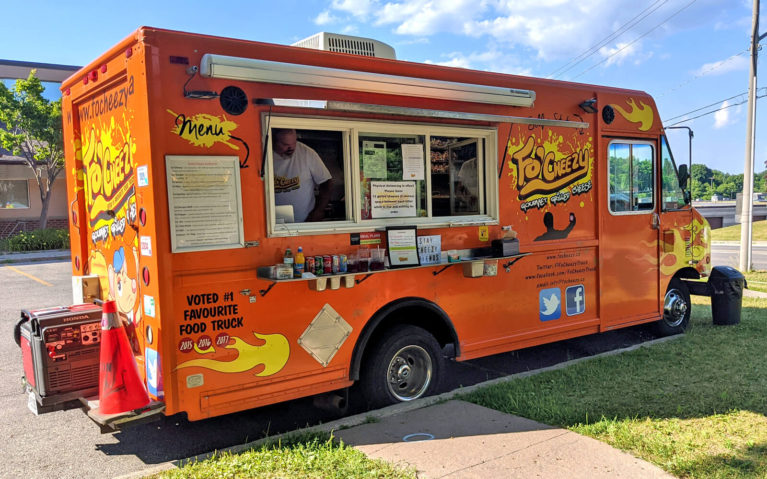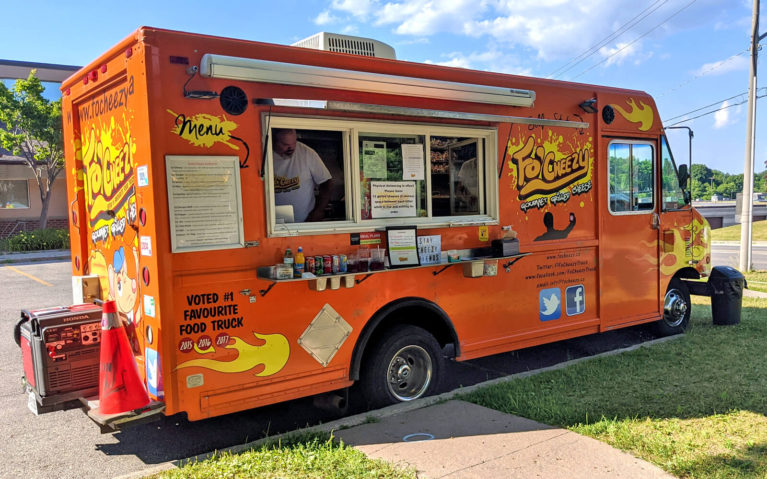 Hangry Harry's
Their claim to fame is serving up good eats with an attitude and I think Hangry Harry's does both well. These dishes pack a flavourful punch that will leave you satisfied even if you're next level hangry when you visit.
I can say for certain that their deli poutine is delicious. Crispy fries and squeaky cheese curds are smothered in gravy and corned beef. Topped with crispy deep-fried sauerkraut, it will leave you satisfied while still wanting more.
Check out Hangry Harry's Food Truck page on Facebook to see where you can find them in Waterloo Region and beyond!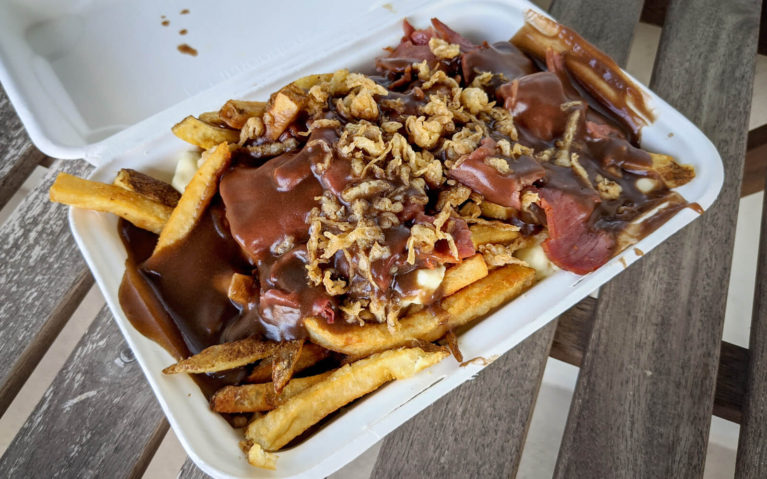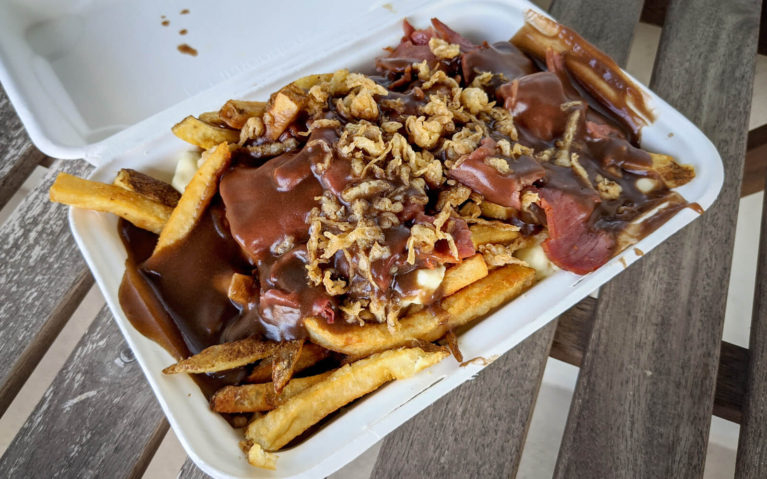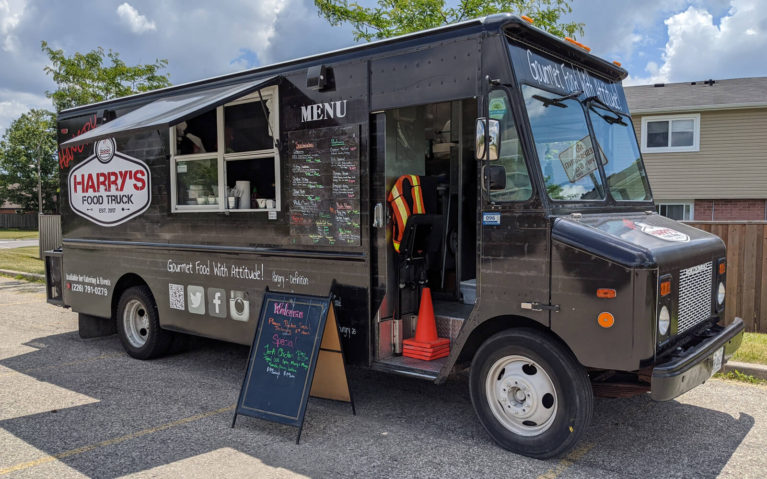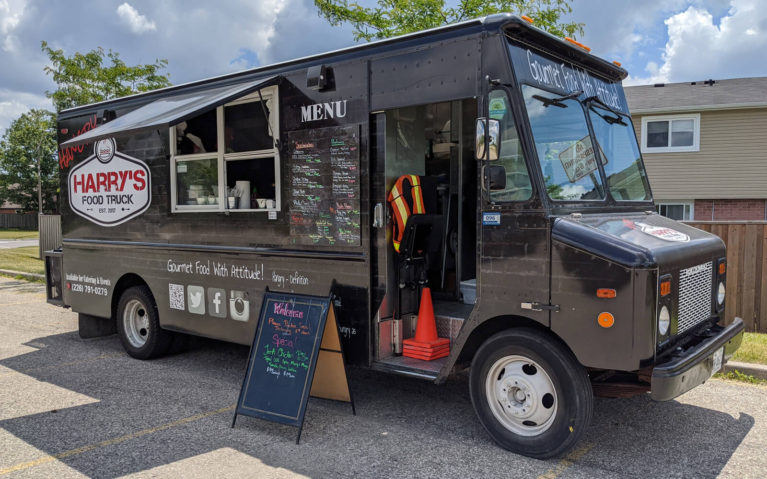 Ish & Chips Food Truck
You can probably guess from their name what this food truck's specialty is! If you're craving some fish and chips, you'll want to keep an eye out for Ish & Chips. They're definitely one of the original KW food trucks and seeing as they've been around for 10 years, they clearly have some great eats!
What I didn't know was that almost a decade ago, Ish & Chips had a store located in Uptown Waterloo. A fire ravaged the building in August of 2012 that saw their storefront beyond repair. While they did have a location in London at one time, they have moved their operation to be fully mobile since 2014.
I have to say I was a little thrown off by my experience. The person I dealt with was quite curt bordering on rude when I ordered, however it was an excruciatingly hot day so I'll chalk it up to that. Let's just say that I wouldn't be the nicest if I was in a hot food truck for hours!
Maybe it's just me but tartar sauce is a fish and chips staple, so I was disappointed that it didn't come with any. The fries were SUPER crispy which made up for it, though they could have used a little extra seasoning. As I didn't have any tartar sauce at home I used sweet Thai chili sauce which was superb! I know it's not your typical fish and chips condiment but trust me when I say it was delicious.
Follow their Facebook Page to see where and when they're out and about in Waterloo Region.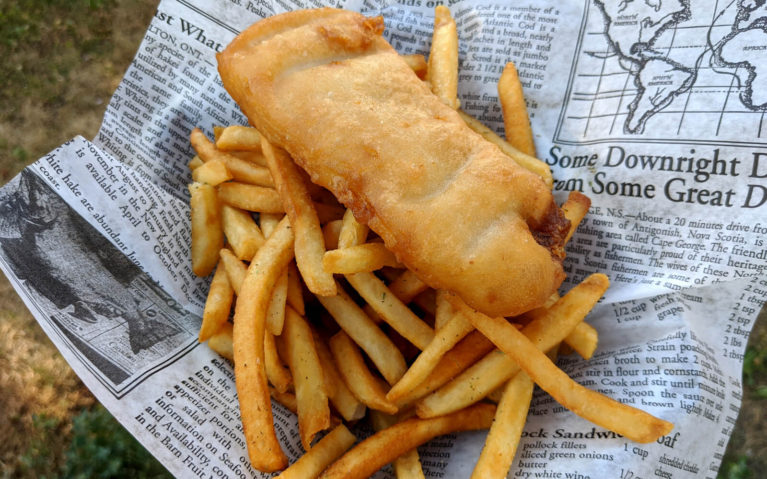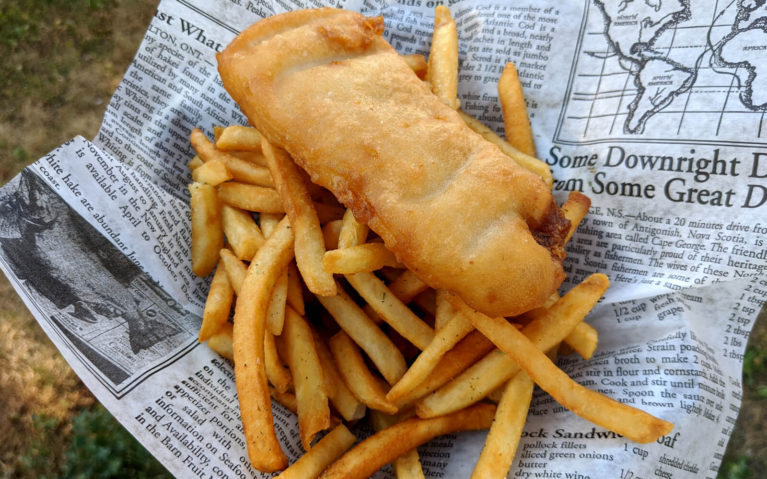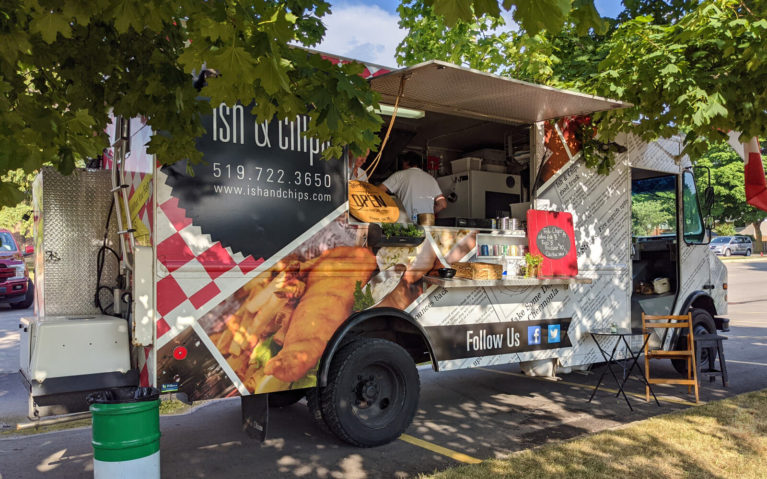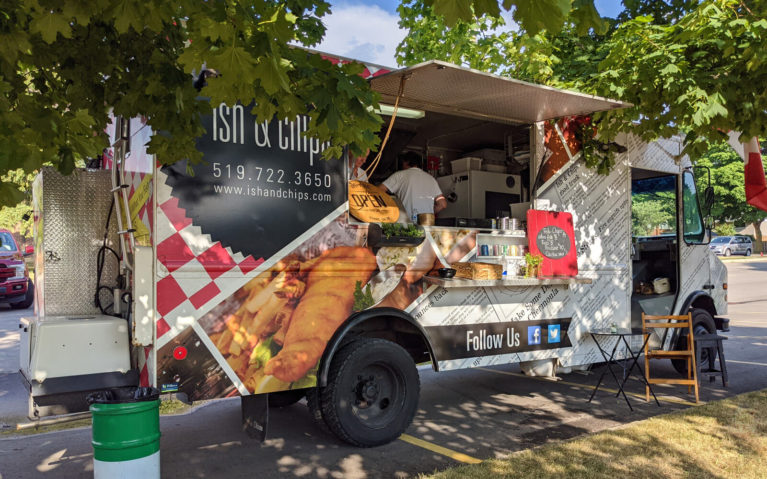 Jashan-e-Dawat
When I heard there was an Indian food truck in town, I was instantly curious. I really enjoy Indian food, though I don't often eat it as my other half isn't a fan of spice. So when he's not around I take any chance I can do indulge!
I was super impressed by Jashan-e-Dawat not just by the range of menu items but also how they catered to not just dietary restrictions but also budgets. My impression is that finding vegan as well as gluten-free items is fairly rare in the food truck scene but to have both on the menu?! Then to see that there are options for less than $10? You can colour me impressed.
What truly won me over though was their Chana Masala. The flavours were absolutely incredible! With a hint of sweetness and a nice kick, this is easily a meal I would have again and again. Also, their samosas are HUGE and packed full of delicious goodies. To top it off, what you see below costs just $5! I'll be keeping an eye out for their truck again and again.
You can also visit Jashan-e-Dawat's brick and mortar location in Cambridge if you can't wait until a food truck sighting to get your fix!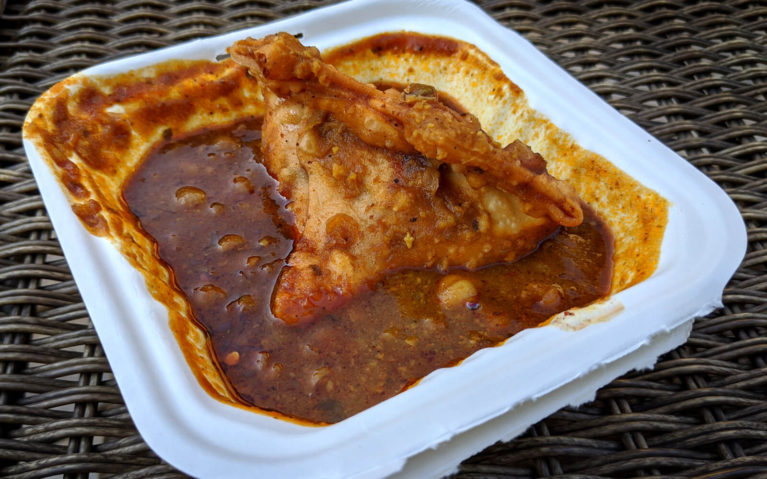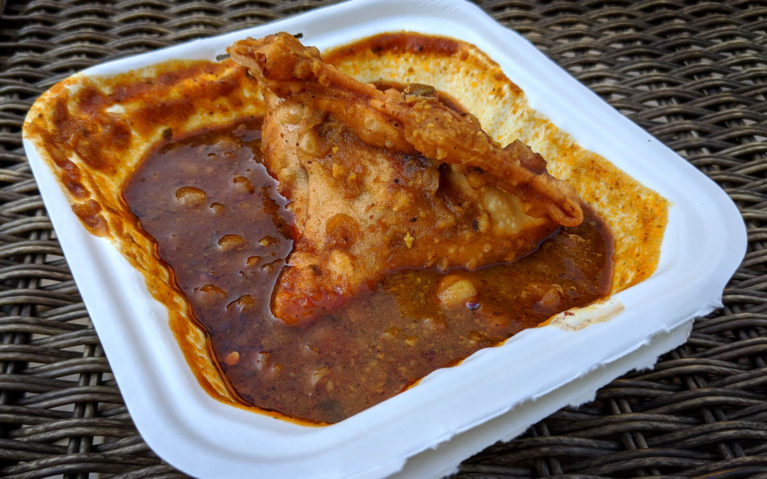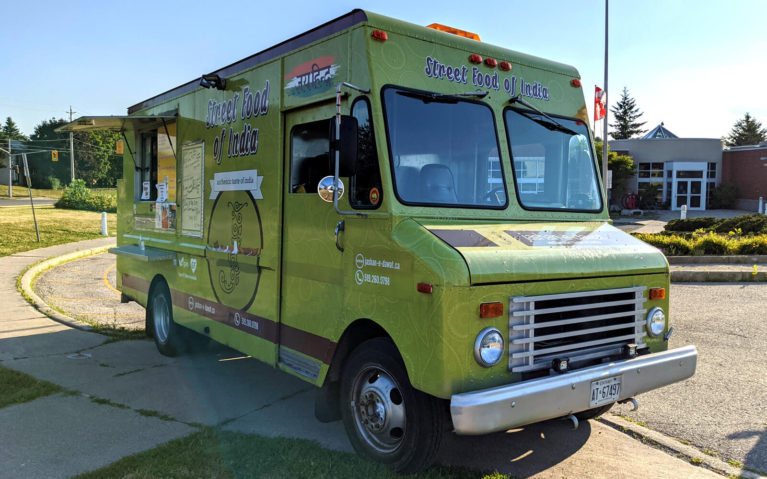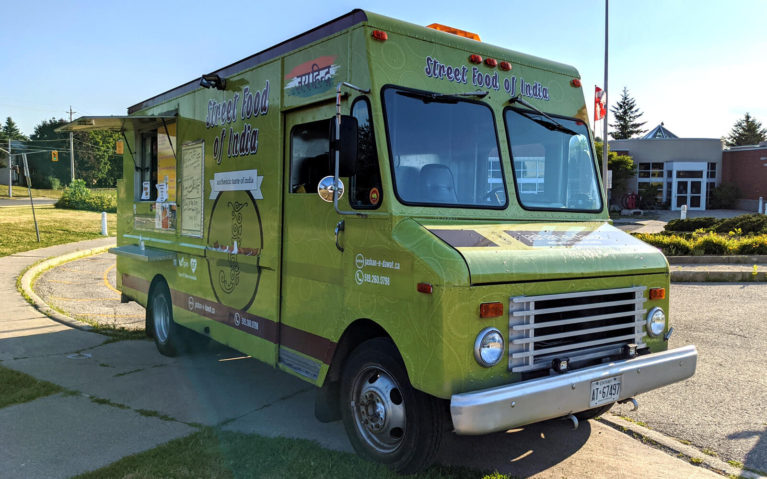 Pierogi Pigs
When a family recipe which has been perfected for over two decades is the base for a food truck, I'd say that's a good sign it's going to mean tasty eats. Combine that with every pierogi being handmade with local ingredients and you've got a sure thing. That's exactly what you'll get with Pierogi Pigs as they take these little bundles to the next level with unique toppings.
Melty cheesy goodness might be my go-to comfort food but pierogies are close in the running. Needless to say, I'm a HUGE fan of Pierogi Pigs! While I was sad that they were sold out of their pizza-rogi by the time I arrived, their jalapeno popper pierogies quickly had me forgetting my blight. Let it be known though that this dish has a serious kick to it!
In case this is a question at all… always go for 9 pierogies. Be sure to visit their Facebook Page to see where you can pig out!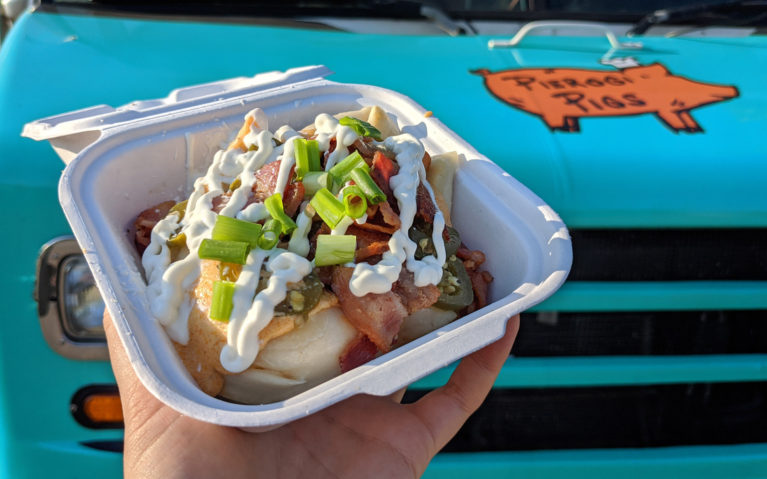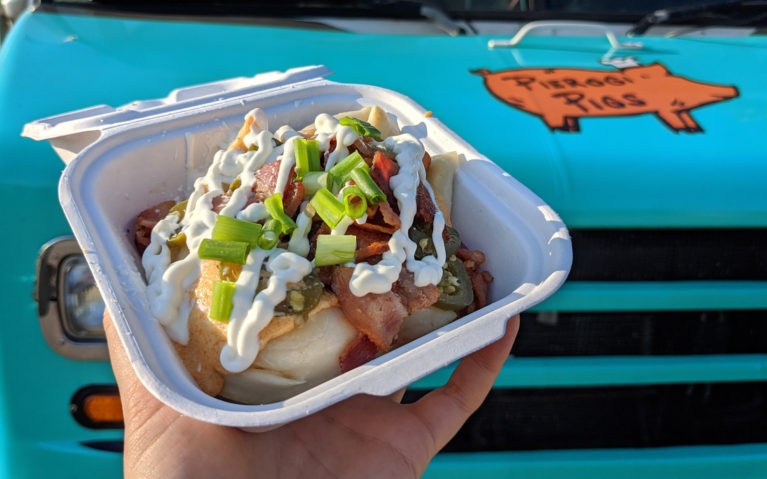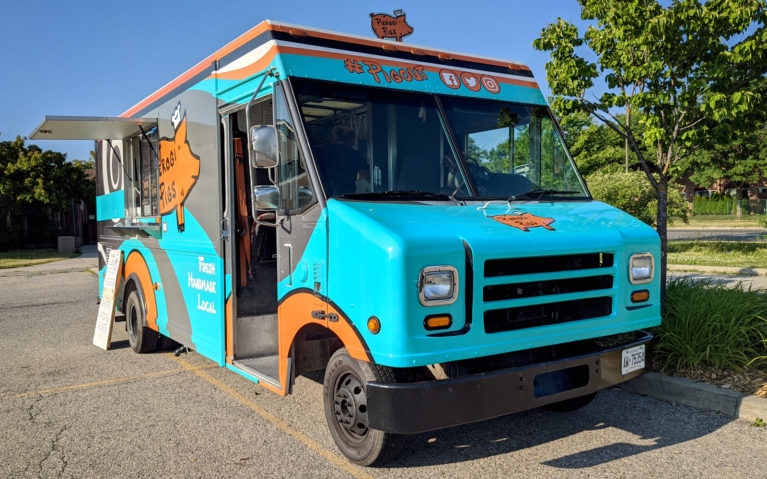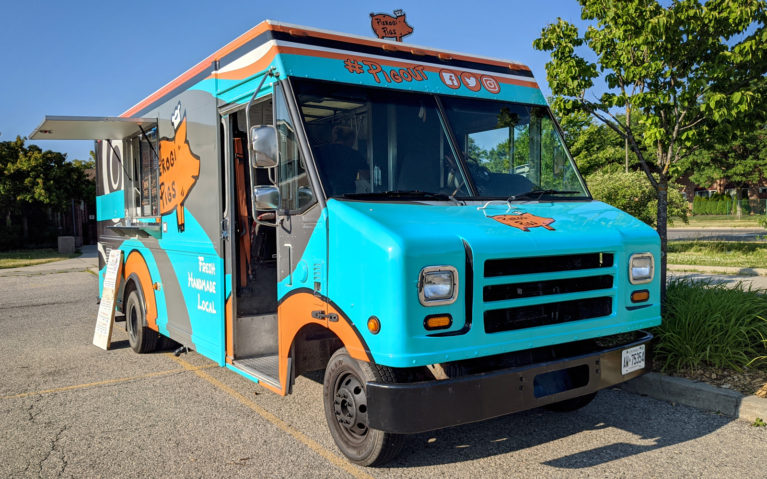 Additional Kitchener Food Trucks
Unfortunately, my waistline and bank account only allow me to indulge in so many food trucks. As more and more continue to pop up in the city, I'm faced with the task of continuously hunting them down to enjoy their delicious eats! While I haven't tried these food trucks myself, they're on my radar for future meals. I'll be sure to update this post as I indulge!
Big Jerk Menu – Their menu has popular Caribbean favourites like curry goat, Jamaican patties and of course – jerk chicken. I'm definitely excited to find out about another spot to enjoy some delicious Caribbean food! Also, any of my herbivore readers will want to take note of them as they have some vegan-friendly options.
Café du Monde Crêperie – While they have crepe right in the name, Café du Monde Crêperie also has waffles while serving both sweet and savoury options. Seeing as I'm always torn between both of these flavour profiles, I might just have to get two when I eventually visit. If you can't wait to find their truck, visit their storefront at 614 Coronation Boulevard in Cambridge.
Cibo Streetery – As soon as I read deep-fried lasagna, I knew I had to keep Cibo Streetery on my radar. This food truck is three generations in the making as traditions have been passed on within the family. If you're looking for eats "just like nonna used to make", you'll want to hit up Cibo Streetery.
Giordano's Foodbus – When it's not just a food truck but rather a 22-foot-long bus that's catering, you know they mean business! Giordano's mantra is "Pulizia, Qualita, Con Tutto il Cuore" meaning "clean, quality, with the whole heart". Giordano himself will bring Italy to your plate, which is always welcomed when you can't be in Italy yourself!
The Wild Boar – If you're looking for some southern style cooking, the Wild Boar has you covered. With ties to Louisiana, Chef Sean's eats are said to soothe your soul with his handmade barbecue sauces and freshly sourced produce and meat. I can't wait to sink my teeth into their applewood smoked brisket sandwich.
Passado Brazil – I have to admit I'm completely ignorant as to what constitutes Brazilian food but judging by the photos on Passado Brazil's social media, I think I'm gonna like it! Described as Brazilian cuisine with a Canadian twist, they are also donating 1% of their profits to help restore the Amazon rainforest.
Schmuck Truck – Seeing as they've been around since 2012, I'm a little ashamed to say I have yet to try the Schmuck Truck. Especially since they focus on locally-sourced ingredients and a seasonally-based menu. Shame on me! I swear I'll get to try them one day soon, especially if I hear their Schmucknturducken burger is on the menu.
SWAT Food Truck – Another popular name in the Kitchener food truck scene, SWAT brings you Sandwiches With A Twist. While I've seen it busy, I have to say many of their reviews online tell a different story – though people love to complain more than congratulate it seems. I'll just have to visit and let my taste buds confirm or deny what I've read online!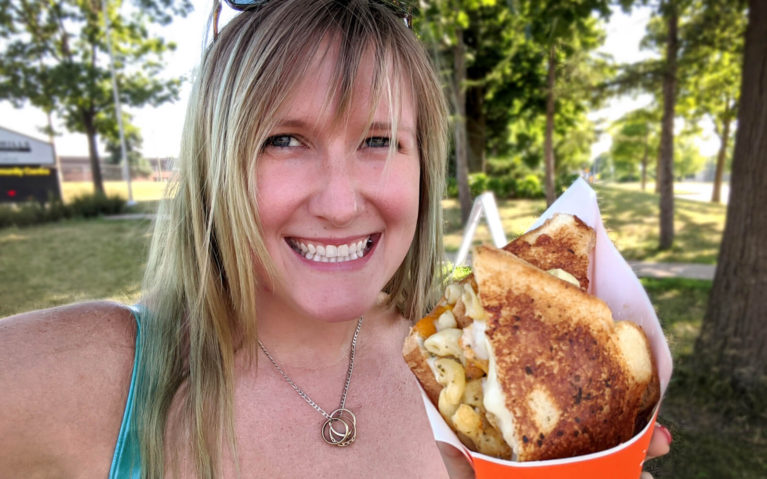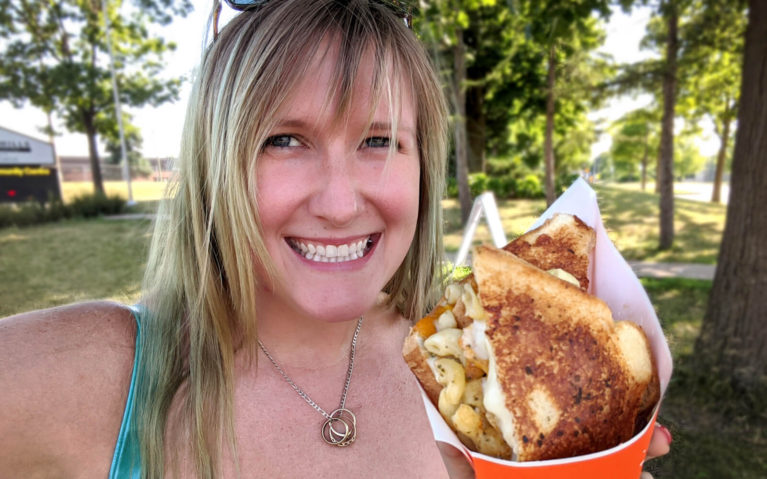 Now For the Big Question…
…what food truck to try first?! With some many delicious choices, I know it's a tough call. These are some of the best Southern Ontario food trucks you'll find! As I mentioned above, some of them even have brick and mortar locations so you can indulge without the chase. Many also have catering packages and make a fantastic addition to any future event you might be planning.
Luckily these food trucks are out and about for a good half of the year with July and August being your top months for food truck deliciousness. Though your best bet for finding out where these Kitchener food trucks are is to follow KW Food Trucks on Facebook. They update on a regular basis so you can find the answer to the important question "are there food trucks near me?"
Have you tried any of these local food trucks? If so, which one is your favourite? Is there a food truck I've missed that I need to try? Be sure to let me know in a comment below!
Looking for More Things to Do in Waterloo Region?
Wash Your Food Truck Eats Down with These Amazing KW Brews
Work Off Your Meal with These Top Hiking Trails in Kitchener
Check out These Amazing Downtown Kitchener Restaurants!
Enjoy a Hike Along These Top Trails in Waterloo
Don't Miss These Amazing Hikes in Cambridge
Don't Forget These Food Trucks in Kitchener Waterloo and Pin it For Later!