Mill 180 Park: The World's First Indoor Hydroponic Park

Nestled in the heart of Easthampton, Massachusetts is an environmental gem that's not to be missed. Taking inspiration from NYC's Central Park, Hyde Park in London and more, Mill 180 Park is rethinking the urban park and adapting it for an indoor space. How? By combining hydroponics, computerized soundtracks and HVAC systems to create the world's only hydroponic park.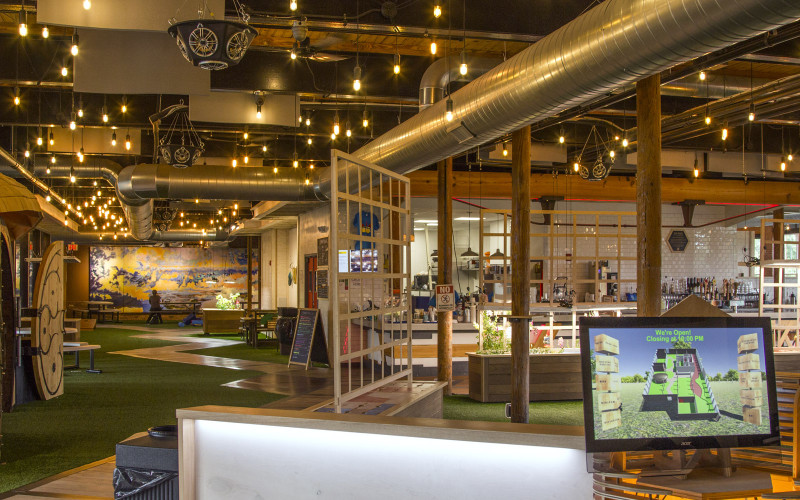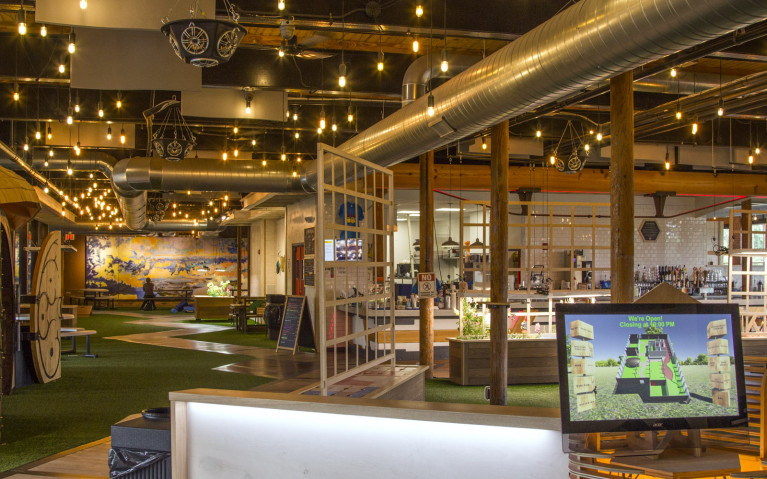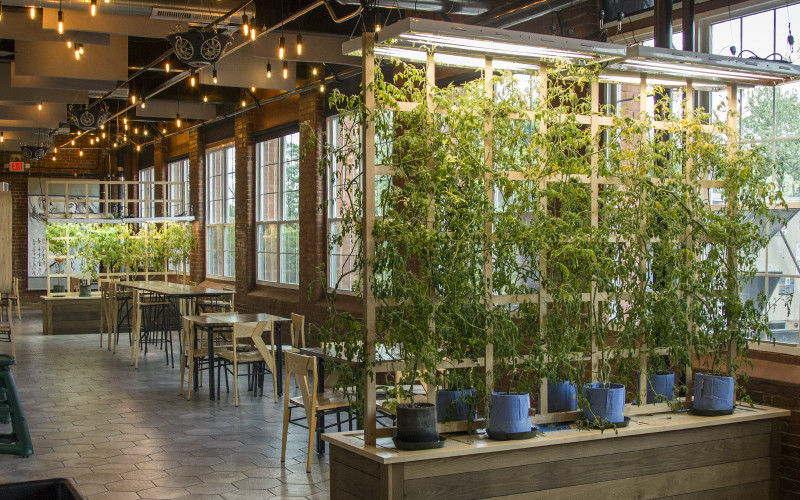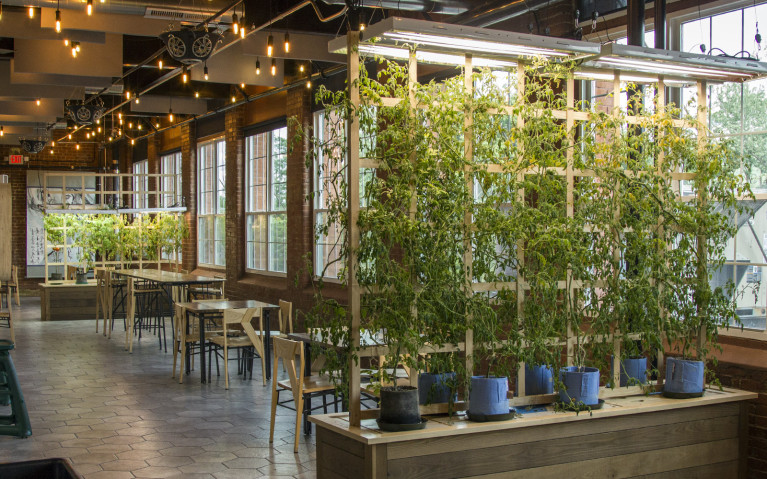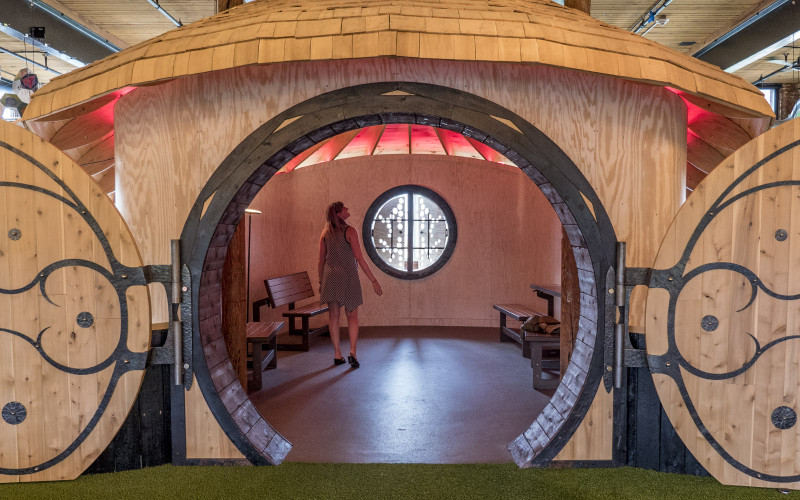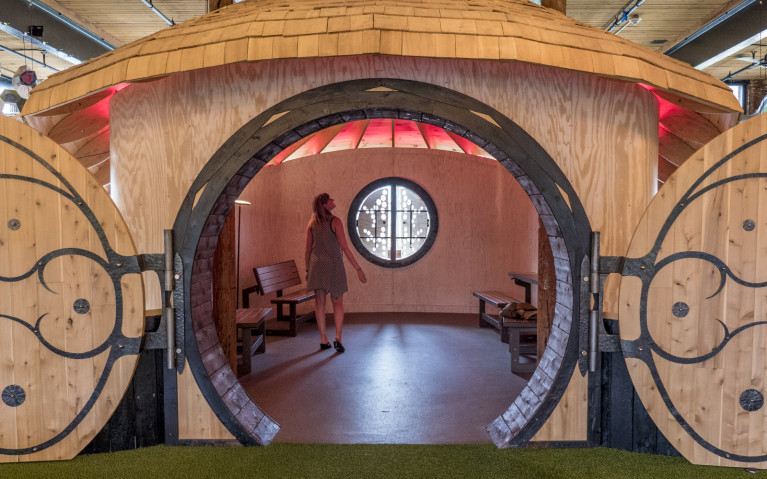 You're Probably Thinking What is a Hydroponic Park?
Mill 180 Park is the first of its kind but to explain it, we need to backpedal a bit. Hydroponics is the practice of growing plants without soil. Instead, plant roots may be supported by a neutral substance such as gravel while submerged in a mineral nutrient solution. Compared to traditional farming, hydroponics is approximately 10 times more efficient and uses 13 times less the amount of water. This allows Mill 180 Park to grow an amazing amount of vegetation in a small area.
So how did Mill 180 Park come to be? What started as a casual dinner conversation blossomed into a beautiful treasure. Michael Sundel, the creator of Mill 180 Park, grew up in New York City and really missed the urban park vibe of Central Park. His son has a green thumb and proposed the idea of hydroponics. Although Sundel's wife wanted to see it not be just any park but one that can make a difference. They realized that nobody was using hydroponics in a beautiful way and thus Mill 180 Park came to be in September 2016!
What Makes Mill 180 Park Unique?
For one, a park where you don't have to worry about the weather? That's definitely a new one! Bring on the thunderstorms and hot summer days as you'll be cool, calm and collected inside their walls.
Mill 180 Park focuses on 5 fundamental pillars – beauty, greenery, mingling, tranquility and programming. As soon as you walk through the windscreen (this is to keep the bugs and germs out while letting you in), you'll notice the aesthetics of the park. It's housed in Mill 180 (hence the name), a beautifully restored 100+ year old mill building which lends an artful playfulness between the history of the building and the modernization of the amenities within. Bright, vibrant murals and lush greenery really set the tone for the space.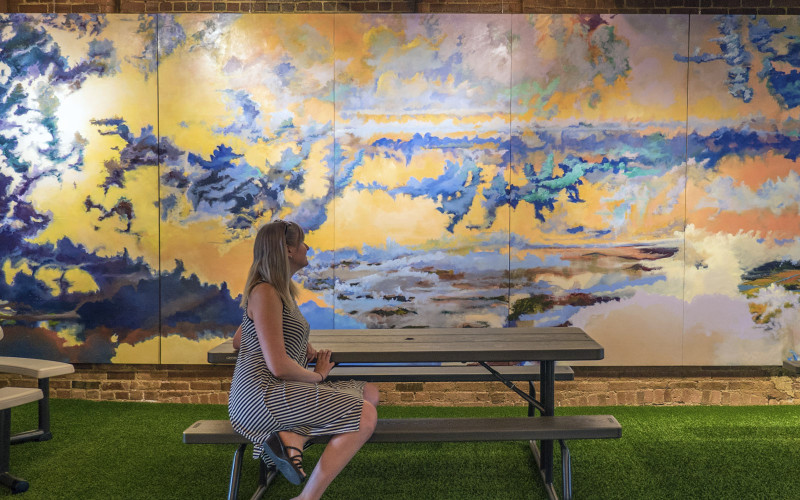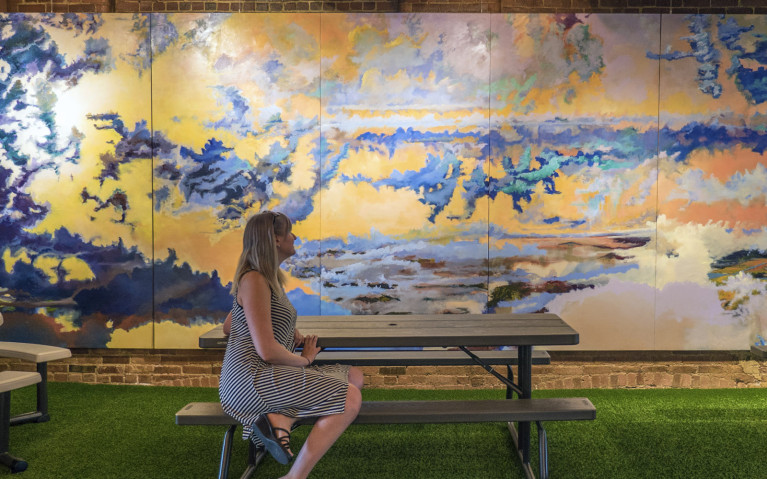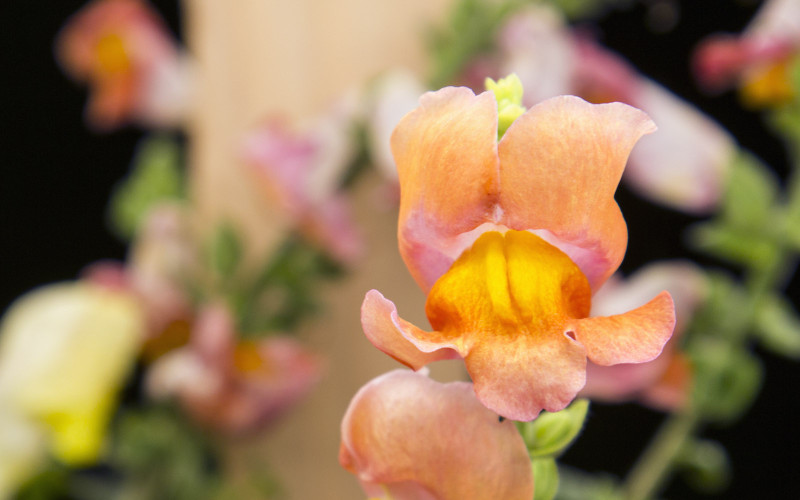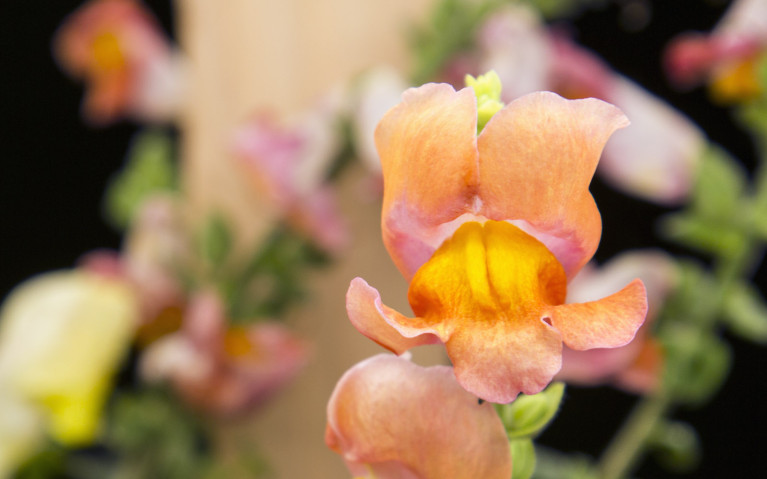 You may overlook this, but take a moment to really listen to the sounds you hear. One of the most fascinating features, in my opinion, is the park's soundscape. Sound artist Stephan Moore was commissioned to create a self-generating composition through a process called weatherbending. What does this mean? You'll never hear the same "tune" twice. An algorithm responds to environmental variables like the local weather, climate, time of the day or year and more to create new tones and compositions all the time. The result is a hybrid of nature and technology. It'll seem familiar but not at the same time!
As you wander through the park, you'll be tempted to let your inner kid out like Lauren and I did and enjoy one of the many games about. Stretch your brain muscles with a game of chess or test your aim with cornhole as you toss small bean bags into the target.
One thing that stood out were the foam blocks located at the back of the space. I was told that they've been developed by a scientist who studied how children learn and play. Apparently children enjoy playing without any structure so they can build as they please rather than in a rigid system like that of a playground. When thinking back to my childhood and how much fun I had playing in cardboard boxes that I could morph into castles, houses and more, it really makes sense! Despite being grown-ups now (adulting is hard), they sure got our seal of approval.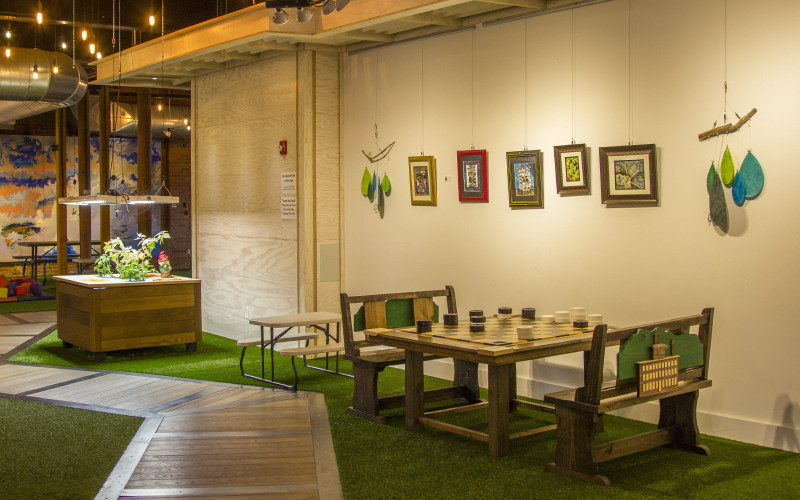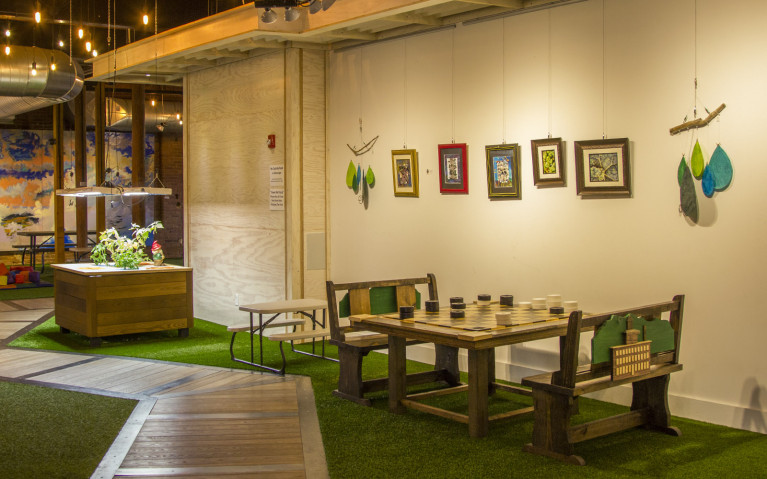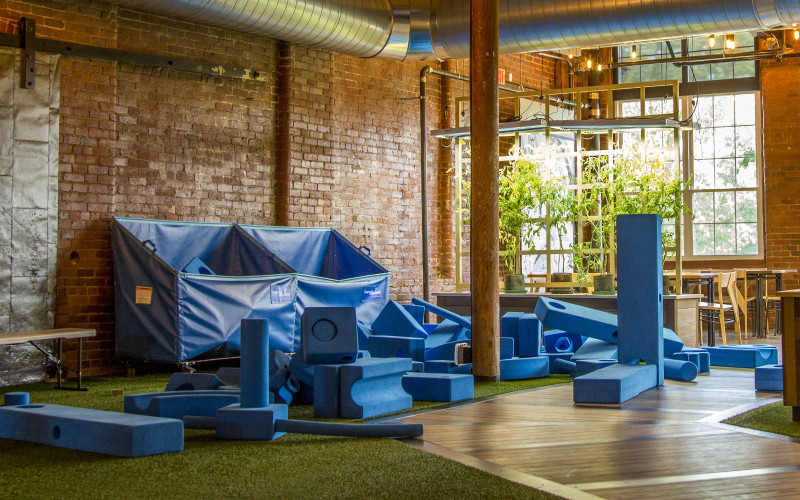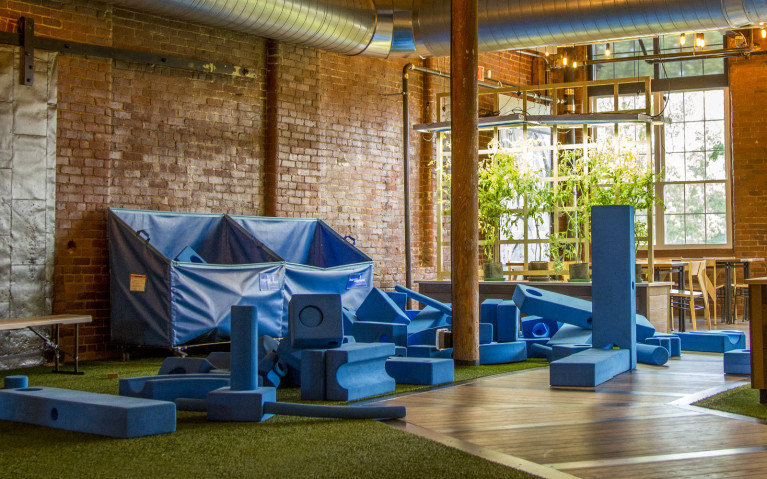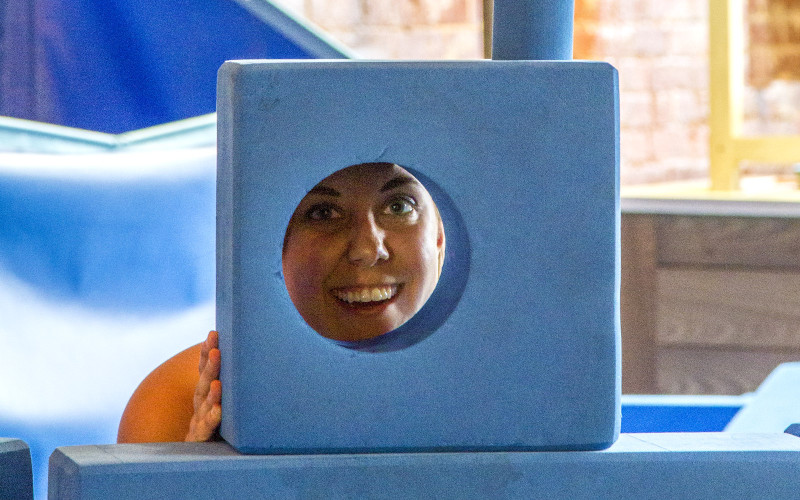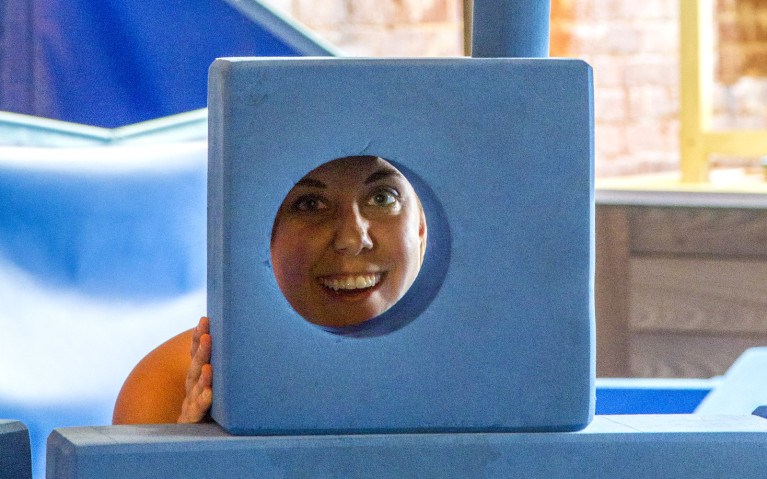 The biggest thing for me though was the focus on community. Mill 180 Park is designed for people of all walks of life to come together. Whether it's while you're working away on a project or at one of the many events, you'll mix and mingle as you enjoy the space. I would love to return and enjoy a live music session as the acoustics seem amazing.
Even if you visit mid-day during the week, you'll be supporting the local community. While Mill 180 Park is free to visit, you can indulge in some delicious local eats and drinks thanks to their Community Food Engine. Everything is made either from ingredients produced at Mill 180 Park like lettuce, kale, tomatoes and more or from local vendors in the area. Enjoy espressos and lattes from the Barrington Coffee Roasting Company, another Western Massachusetts establishment or a beer from one of the local breweries on tap. Towards the end of the day if there's an abundance of items, they will be priced to sell or donated to local shelters so nothing goes to waste.
Don't worry about it being expensive either as everything is reasonably priced. Looking for something quick? No problem! They have a number of items ready for you to grab and go. Though the best deal is their Build a Picnic where you can get 2 sandwiches, 2 sides and 2 drinks for $16! The Mill 180 Menu does change fairly often so you'll be prone to try something new each time. I didn't get to sample their eats during my visit, but I can attest to the deliciousness of their drinks. They use their very own simple syrup which comes in a number of unique flavours!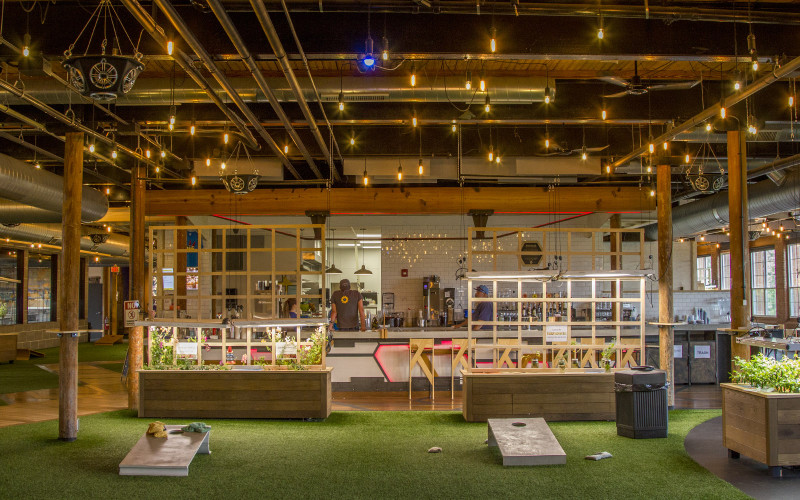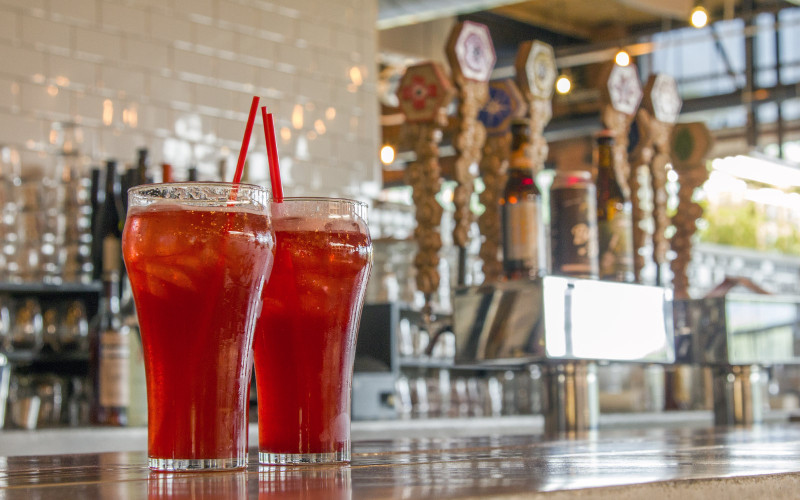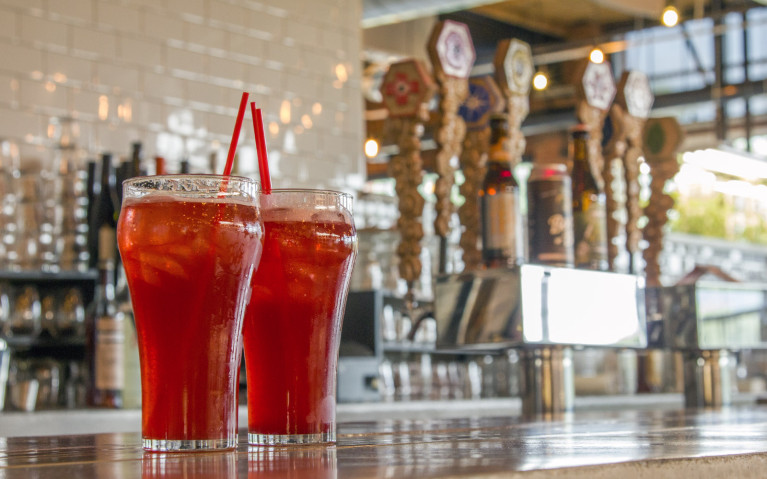 Ready to Visit Mill 180 Park?
This free public space provides a safe environment for many purposes. Whether you're looking for a place to study, get together with friends, or celebrate a life event, you'll have an amazing experience. Come in and enjoy a yoga class or jam out with one of their live music sessions.
Whether you're visiting Hampshire County or just passing through the area, Mill 180 Park is a must-visit. They don't call it Bestern Massachusetts for nothing!
Disclaimer
A huge thank you to Visit Hampshire County for telling Lauren and I about this awesome spot!
As always, all reviews, photos and opinions are my own.
Planning to visit Mill 180 Park? Pin it for later!