10+ Reasons Why Everyone Should Visit Hampshire County

When you hear Massachusetts, most people think of Boston and the eastern coastline. The state is much more than just the Red Sox, ducklings and chowdah. Head inland to the west where you'll find the beautiful area of Hampshire County. Leave the hustle and bustle behind and plan to visit Hampshire County. Located in the heart of Western Massachusetts, it really has something to offer for everyone!
It's a Great Road Trip Destination or Pit Stop
Whether you're looking for a spot to stop along the way to the east coast or as an excuse for a road trip, Hampshire County is the perfect answer! It's really easy to navigate to as the I-91 runs right through it. While there's plenty to drive to within its 545 square miles (that's 1412 square kilometres for us Canadians), there are also a number of great destinations within it to ditch the car for a few days. Spend some time eating your way around Northampton while doing a little bit of shopping or explore the picturesque town of Amherst and visit the house Emily Dickinson grew up in! There are plenty of great, walkable towns with Hampshire County that you'll fall in love with.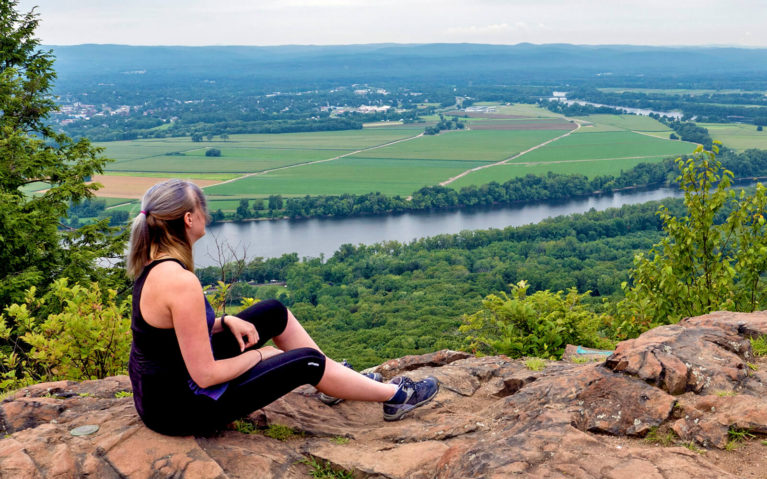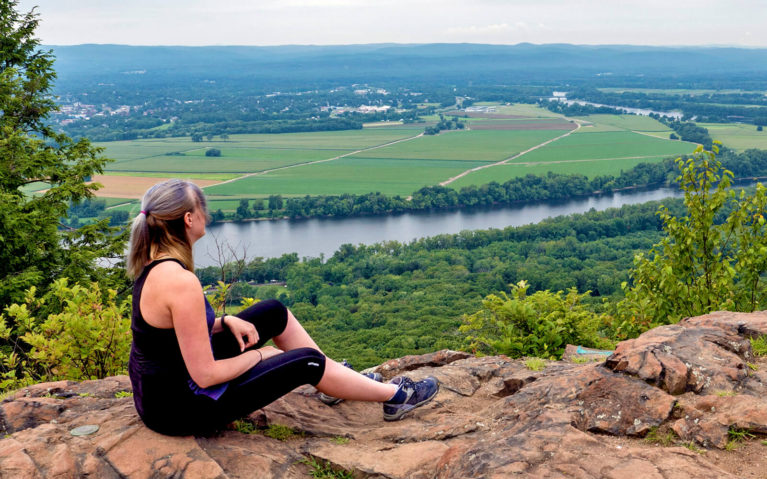 The Abundance of Natural Beauty
With 3 state parks and 8 conservation areas, you'll never have trouble finding a breath of fresh air. Whether you're a waterfall chaser or summit hunter, you'll find a piece of nature that makes your heart swell.
If you love to enjoy beautiful lookouts, strap on those hiking boots and make your way up to the Mt Holyoke Summit. These are some seriously incredible views, even if Mother Nature isn't fully cooperating! You have a few options for this trek – you can either start right from the base of it or you can decide to start halfway up the mountain. If rain is imminent, I suggest opting for the latter. However, there is a fee for 'cheating' – it costs $5 USD to park if you have a Massachusetts license plate or $10 USD for everyone else that's out-of-state. You can also pay this fee and drive all the way up to the top where there are a few parking spots!
Did you get distracted when I mentioned 'waterfall'? Don't worry, when I found out there was a waterfall in Hampshire County, it became my top priority to visit it! If you're coming from the west as I did from Ontario, Glendale Falls is on your way and 100% worth the small detour. This sprawling waterfall is seriously beautiful, especially as winter disappears and the spring runoff is in full force! I was blown away from the sheer beauty and ecstatic to have the whole area to myself. You'll definitely want to have a sturdy pair of boots as the terrain is a little rough, but the trail itself is not very long and offers a number of great views. Glendale Falls is a little off the beaten path but that's often where you're rewarded with the best finds!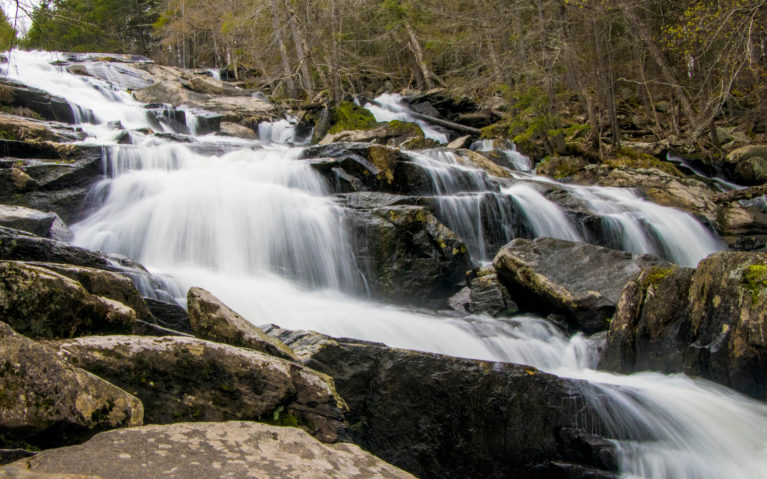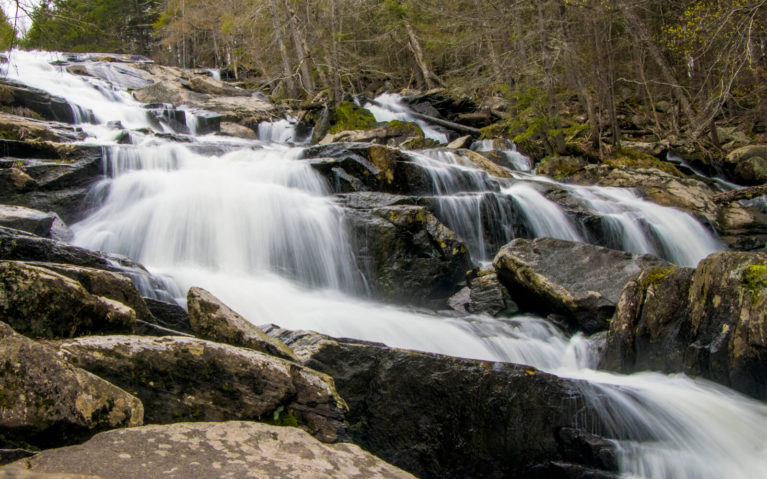 Hampshire County's Plethora of Delicious Eats
Let's be honest, we always want a good meal no matter where we're travelling to. Have no fear, there are plenty of great restaurants to be found in Hampshire County! Northampton hosts 20+ restaurants just in its downtown core alone, along with plenty of other great eats in neighbouring towns. The biggest issue is not having FOMO (the fear of missing out) because the sheer amount of choices is overwhelming.
Know this – you really can't go wrong with any of the places in Northampton. With tough competition like this, you really have to be at your best to survive which means every meal is fantastic! I highly recommend Paul and Elizabeth's in the heart of town. Not only was their fish and chips some of the best I've ever had but I recommend going for lunch as their prices are a steal for the quality and amount of food you get!
Northampton isn't the only place for great eats though! Don't miss a delicious night out at 30Boltwood in the heart of Amherst. They pride themselves on their farm to table eats and it's understandable why. These meals are to die for! While I'm sure every item on the menu is incredible, I indulged in their duck with squash risotto and pistachios in a sage brown butter sauce and sour cherry gastrique. My mouth is watering just thinking about it! They also have a beautiful patio which is the perfect spot for a bite to eat in the warmer months.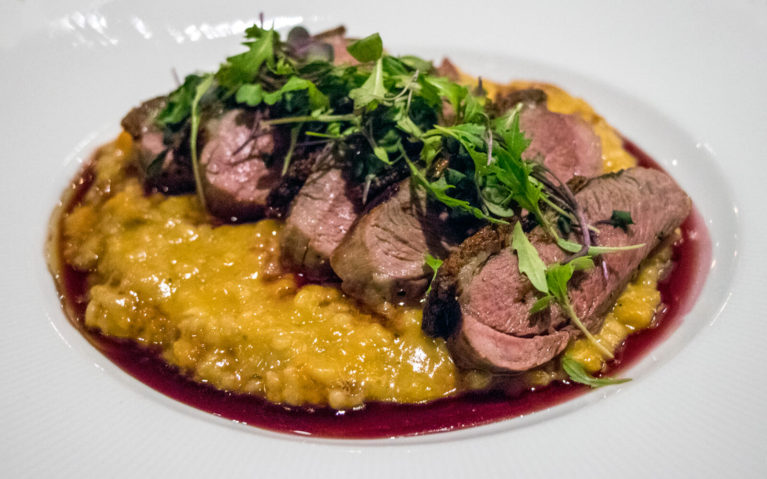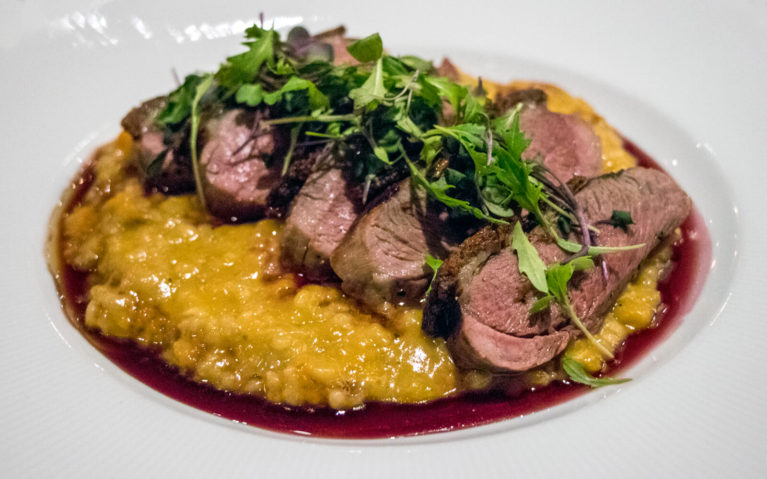 How About The Beer?
Craft beer is exploding across the country and Hampshire County is no exception! There are plenty of great breweries to experience with more popping up all the time.
INSIDER TIP: Most breweries in Hampshire County are only open on weekends. Some may open earlier but chances are they'll be closed Monday-Wednesday. Yes, I found out the hard way so you don't have to.
My first taste of the Hampshire County beer scene was at Easthampton's Abandoned Building Brewery. Their focus is on Belgian Farmhouse and Hoppy American Ales. While I'm not a huge fan of these kinds of beers myself (I'm a lighter, less hops kind of beer gal), I thoroughly enjoyed their brew Lola's Saison. But why have one when you can have multiple? The best way to get a feel for a brewery's beer is to try a flight!
Another great spot for a pint is at one of the area's oldest breweries, the Northampton Brewery. While it feels more like a restaurant with its own craft beer, their rooftop patio will win you over in the warmer months. They're also open later than most of the other craft breweries which means more time for you to indulge! I recommend giving their Helles a try.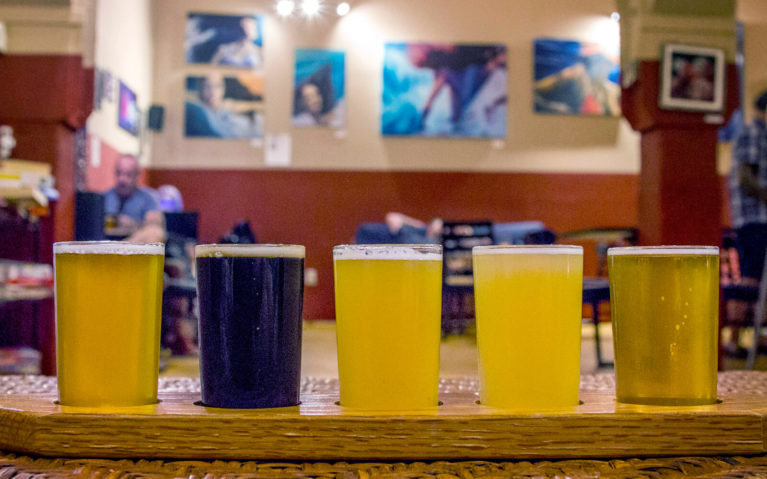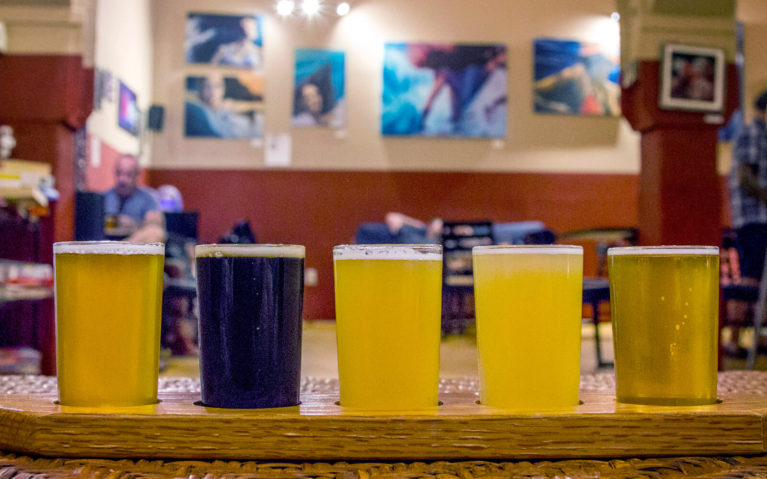 Don't Forget The Coffee!
Would you guess Western Massachusetts would be home to a top-notch coffee roaster? Probably not, but a visit to Hadley's Esselon Café needs to be on your Hampshire County itinerary!
Roasting beans for over a decade, the coffee is seriously amazing at Esselon. They focus on direct and fair trade coffees to support regional communities across the world. It's in these areas that Esselon finds the best beans on the planet! To keep that high-quality taste, they use a 1969 Gothot drum roaster. Built by the Germans, it's a reliable machine that continues to help Esselon Café achieve their five-star coffee status. While there are a number of roasts to choose from, I highly recommend their Ethiopian blend with notes of citrus and chocolate. Mmm!
If you happen to see Richard, be sure to say hello. He's a fountain of information when it comes to coffee and if you're lucky like I was, he might even agree to walk you through a tasting!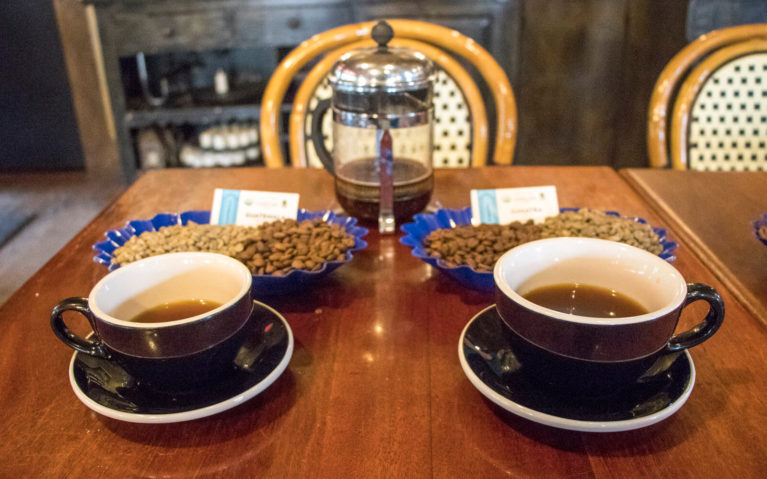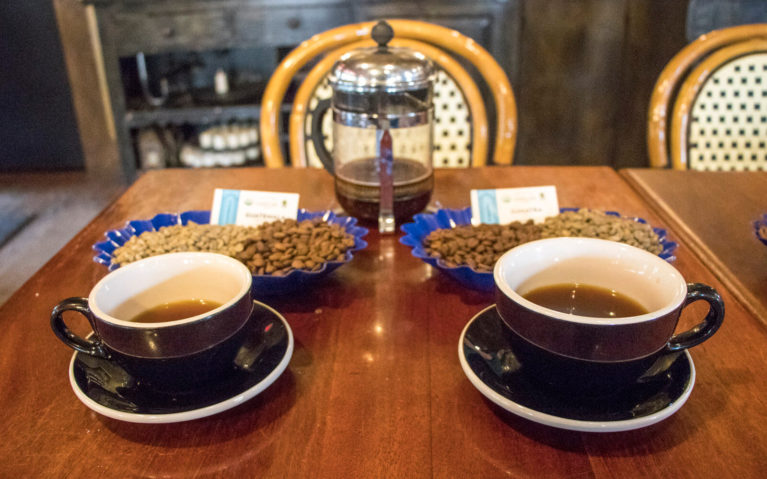 Shopaholics – Never Fear!
You won't find any big box stores here! Okay maybe on the outskirts of town, but why go there when there a plenty of local shops with amazing goods to offer.
It doesn't matter if you're just browsing or have money burning a hole in your pocket, your desires will be satisfied with some Hampshire County shopping. A must-stop in Northampton is Thornes Marketplace – an incubator of sorts geared towards entrepreneurs with new retail ideas. They can lease space inside to get their start before moving out onto their own!
Be warned though, chances are you'll come out with something even if you go in with no intention of making a purchase. I'm not much of a shopper but when I found a dress with constellations at 25 Central there was no way I was leaving it behind. Oh, and it has pockets? Yep, I'm 100% sold! It's unwritten souvenirs like this that I find my love for perusing the shops when visiting a destination. Plus you're money is supporting a local artist or business so they can make a living following their passion. Does it get any better than that?!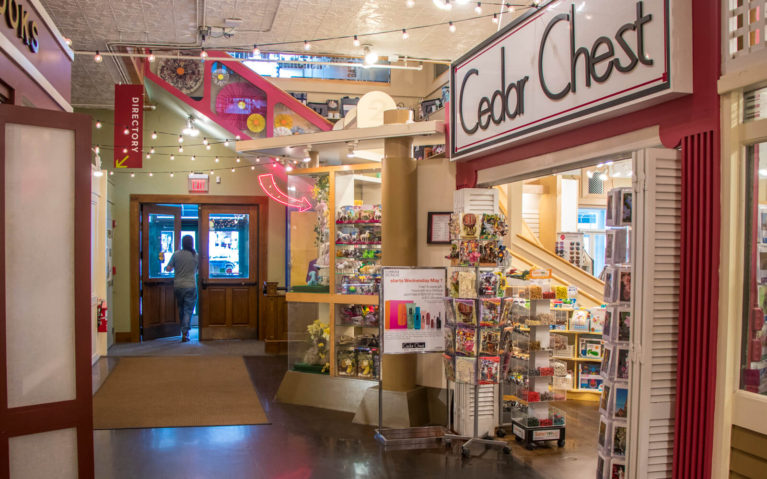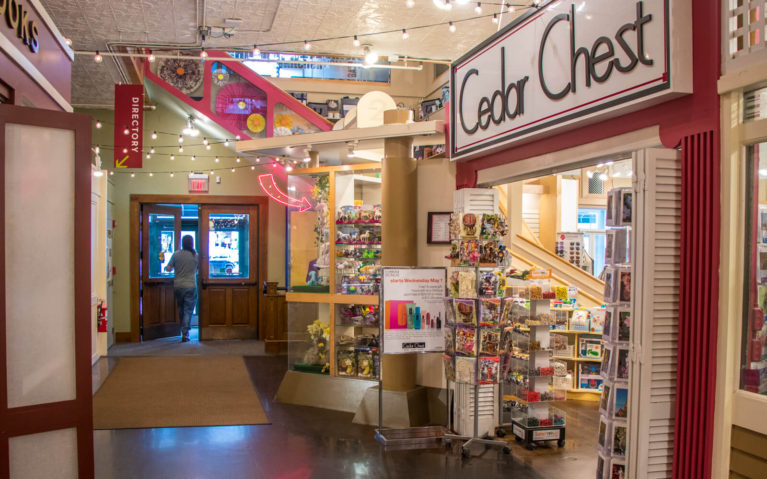 It Boasts the Only Hydroponic Park in the Country
Mill 180 Park is unlike anything I've ever seen before! Using soil-less methods to grow plants, the park creates an outdoor space, indoors. Inspired by the look and feel of urban parks like that of NYC's Central Park, Mill 180 Park gives locals and tourists alike a place to enjoy the 'outdoors' without Mother Nature ever raining on their parade!
Focusing on their 5 fundamental pillars – beauty, greenery, mingling, tranquillity and programming – it truly is a unique space for all to enjoy. I've never seen a community centre so unique! Whether you're hiding from hot summer days, rainy thunderstorms or just want to enjoy this peaceful atmosphere, you'll love Mill 180 Park. Don't forget to try one an amazing "parktails" made with their house-made syrups!
Want to know more about this amazing part of Hampshire County?
Click here to read more about Mill 180 Park!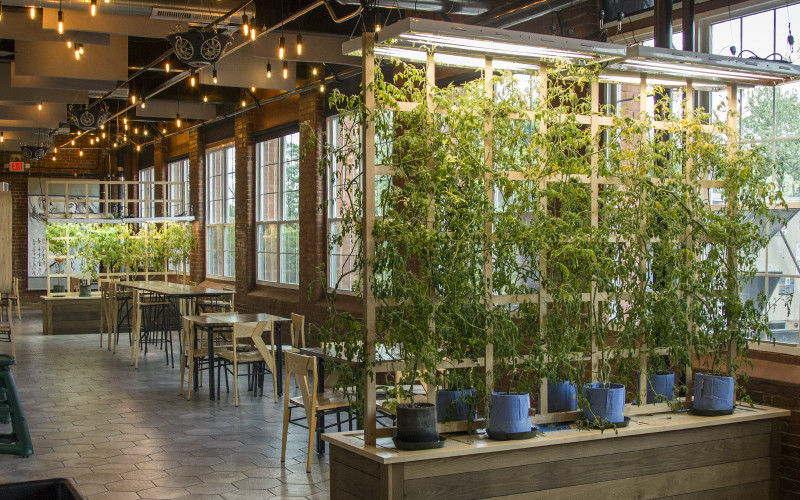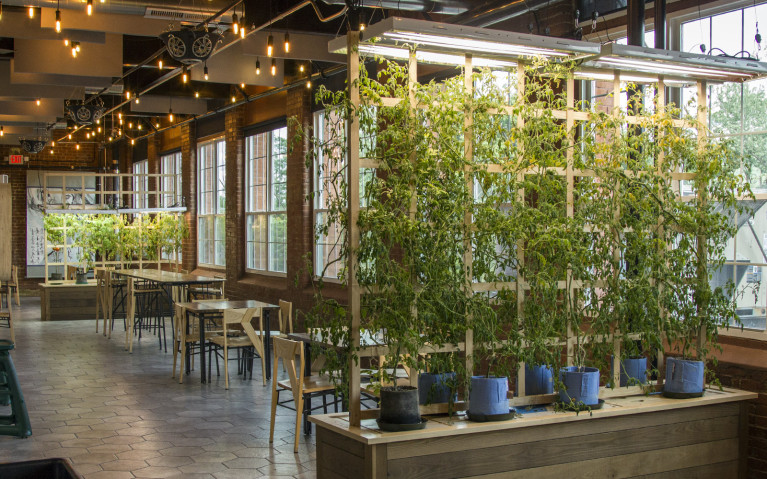 The Incredible History Nestled Within It
You may not realize it from first glance, but Hampshire County has been a part of many remarkable historic events. Dig a little deeper during your visit and you'll be blown away at just how impactful the history is!
A driving force for abolishing slavery as well as women's rights, Sojourner Truth pilgrimaged from New York City to what is now Northampton. Born a slave, she served 5 masters before she escaped in 1826. Sojourner set out on her journey through Long Island and Connecticut. She preached along the way as she was a deeply religious woman, but it wasn't until she arrived in Northampton that she set her sights on speaking out for equal rights. Sojourner has a number of critical acclaims behind her like being the first black woman to sue a white man in the United States and win. She truly was a force to be reckoned with and serves as an inspiration for many. You can find a statue of her at the Sojourner Truth Memorial at the corner of Park and Pine Street and even walk by the house she lived in!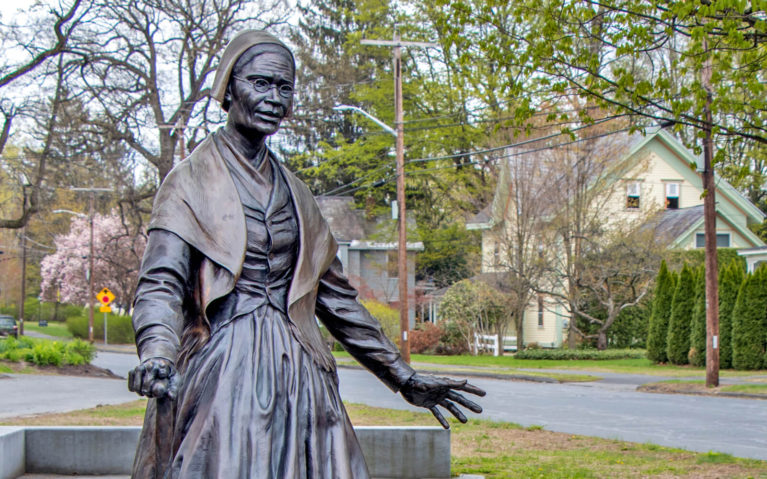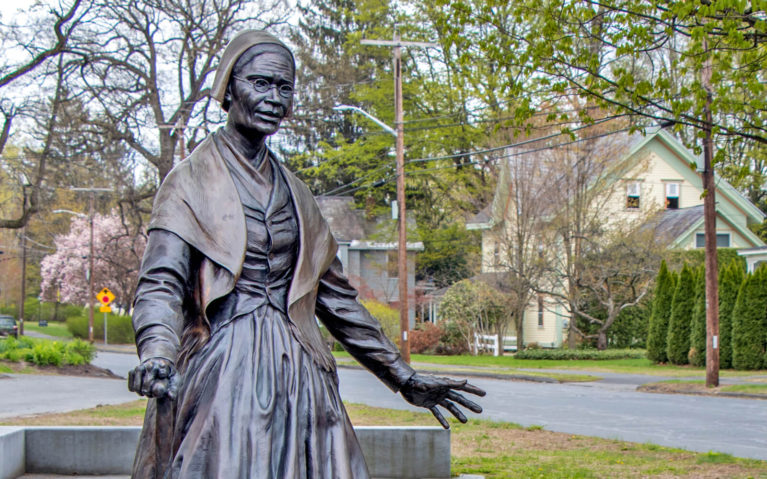 Hampshire County's Love for the Arts
Art is everywhere in Hampshire County and it won't take long to see just how many shapes and forms it appears in!
Take a walk along Northampton's Main Street to find not just beautiful architecture but a number of beautiful murals. I had the pleasure of seeing an artist at work during my latest visit! Each speaks to the character of not just the town itself but of its people. Allowing yourself some time to wander and discover these murals is a must on any things to do in Northampton, MA list!
The arts and Smith College go hand in hand and any art aficionado must pay the Smith College Museum of Art (SCMA) a visit. As the largest women's college in the United States, Smith College has a unique perspective and as such, a unique collection of work. Driven by its mission to educate women so they can enjoy lives of distinction and purpose, the works housed within the SCMA inspires visitors to connect not only with the art and its ideas but also each other. Dedicate a few hours to fully appreciate the exhibits and be sure to plan a return trip as they change multiple times a year.
Nestled in Williamsburg you'll find Snow Farm: The New England Craft Program, a non-profit organization which offers a unique setting for amateur and practising artists alike. Here you can immerse yourself in art while surrounded by the ever-inspiring beauty of nature. With a variety of artistic disciplines from glass blowing to printmaking to metalsmithing, Snow Farm offers weekend and week-long programs for attendees to hone their craft!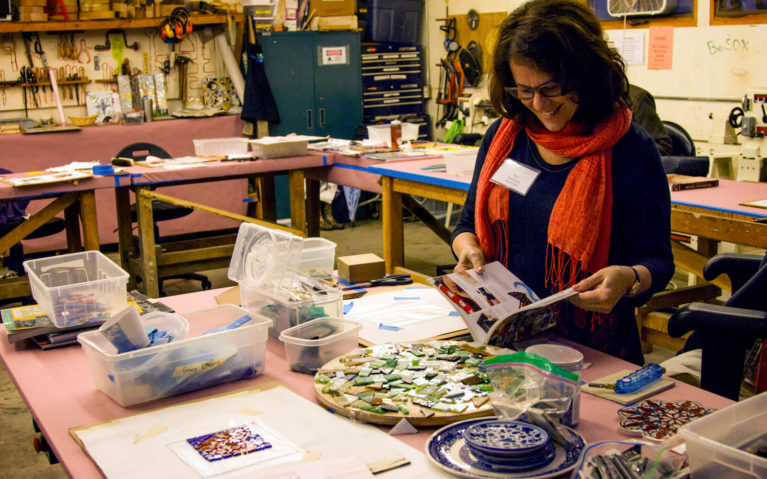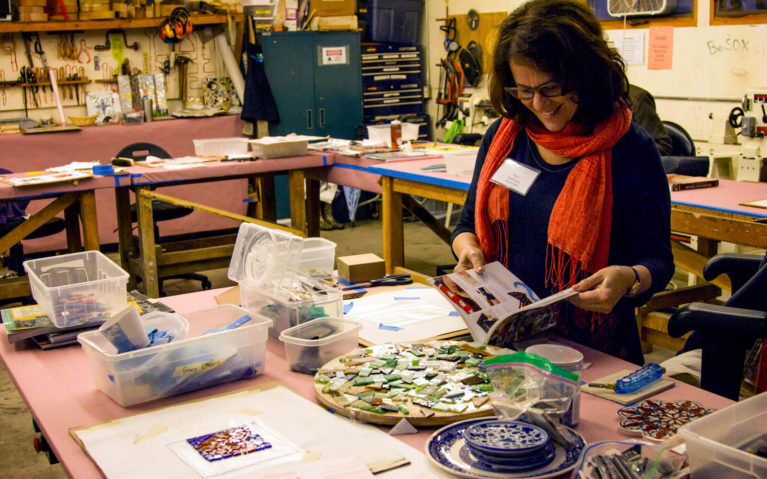 The Beautiful Boutique Accommodation in Northampton
A day full of adventure means you need a great place to sleep, and Hampshire County has no shortage of places to rest your head!
You'll feel spoiled with a stay at the Hotel Northampton. For over 90 years, this colonial revival style inn has become the centrepiece of Northampton. You'll fall in love with the charm & elegance of this architectural beauty! Offering over 100 rooms for guests, they each exude elegant charm and grace. You can enjoy a number of antiques that still adorn the halls from original owner Lewis Wiggins at this historic hotel. Whether you're smitten with the exquisite decor or the amenities such as the spacious rooms, luxury bathroom amenities, complimentary WiFi, and more, you'll sleep soundly at the Hotel Northampton. Take a look at their room offerings and pricing or see what other travellers have to say about the hotel!
If you're looking for something a little more cozy, the Sugar Maple Trailside Inn is your answer! Craig and Kathy will make you feel as if you're at home while you're away. This bed and breakfast is nestled in the heart of Florence, an adorable village that's part of Northampton. History buffs, outdoor enthusiasts and those just looking for a quiet getaway will fall in love with the inn's charm. With adorably decorated rooms and a number of restaurants, shops and more at your doorstep, it makes for an incredible getaway. Read all about my experience and I guarantee you'll want to stay at this amazing bed and breakfast in Northampton MA!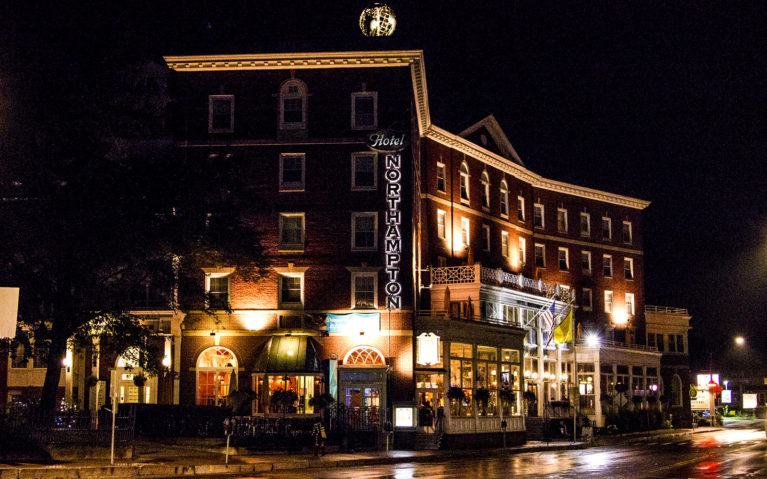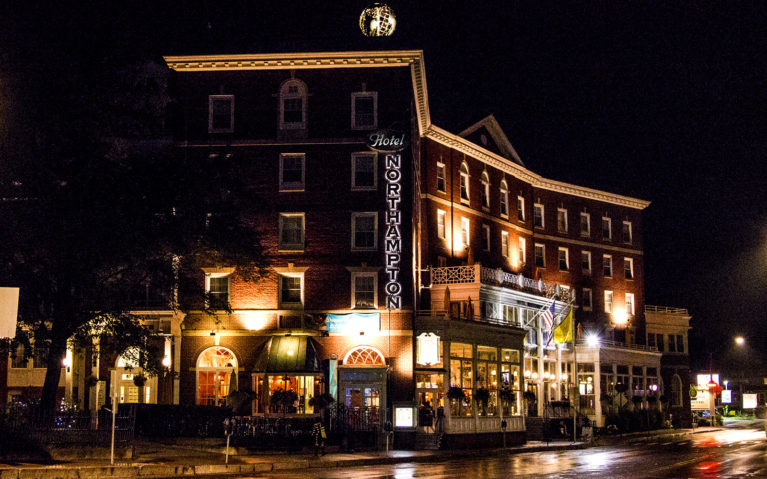 The Sense of Community
Hampshire County has such a warm, welcoming vibe. Don't be alarmed if a local strikes up a conversation with you – they're so welcoming and have plenty of great knowledge to offer! Whether it's a small conversation while grabbing a coffee or a pleasant chat on the street, it'll make your visit that much more memorable.
It's easy to understand when you hear that Massachusetts has the second-highest LGBT population in the United States. Within it, Northampton and Amherst take the number one spot. This sense of welcoming no matter who you are and who you love is felt throughout the area.
Not only this but the city's infrastructure, institutions and programming are inclusive. A great example is the aforementioned Smith College Museum of Art. They involve their students and staff when curating new exhibits. For those interested in visiting, they offer free admission days to ensure everyone can have access to the arts. It really warms my heart to see driving forces in the community thinking about local accessibility!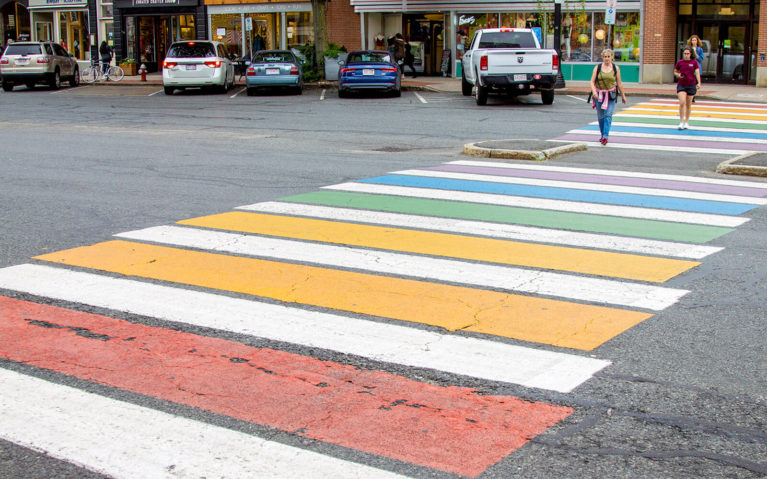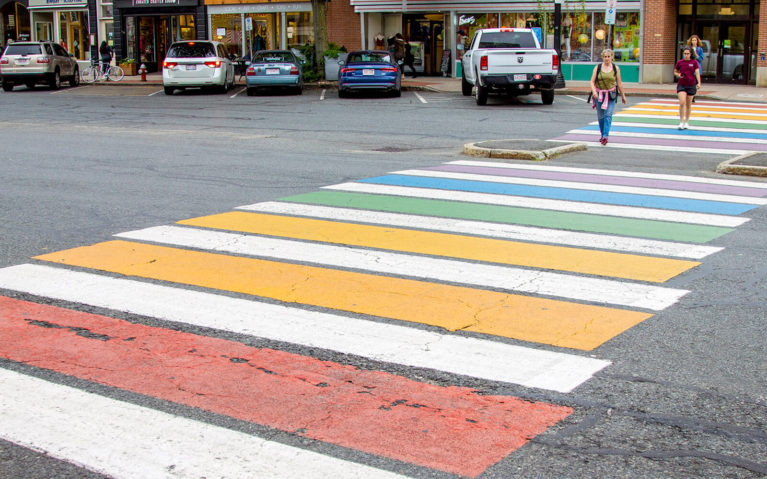 Get Out and Visit Hampshire County!
As you can see, there are plenty of reasons to plan a trip to Hampshire County. While both of my visits were just a few days, you can easily spend a week or two exploring the area. It's one of those places where you'll always find something new, and I can't wait to see what I get to enjoy and discover on my next visit!
It won't take long for Northampton, Amherst and more to weasel their way into your heart. You'll be welcomed and no matter what your interests are – there's something for you here! There's a reason why they call Western Massachusetts Bestern Massachusetts so start planning a Hampshire County adventure today!
Looking to Plan a Trip to Massachusetts? Check Out My Other Articles!
You Have to Stay at This Bed and Breakfast in Northampton MA
Mill 180 Park: The World's First Indoor Hydroponic Park
Boston in One Day – A Wanderer's Walking Guide
Disclaimer
A big thanks to Visit Hampshire County for hosting me not once but twice now while I was in their area. As always, all reviews and opinions are my own. You can read more about it on IBB's disclaimer and privacy policy.
Want to visit Hampshire County? Pin this for later!