You Have to Stay at This Bed and Breakfast in Northampton MA

Western Massachusetts is a great getaway for Canadians and Americans alike. Leave the hustle and bustle of the every day and get away to pristine nature, great eats and more! Hampshire County alone has so much to offer, and there's no better place than Northampton to call home base for your adventure. With plenty of options for accommodation, it can be tough to know where to stay… until now! There's no better place to lay your head than the Sugar Maple Trailside Inn – the perfect bed and breakfast in Northampton MA.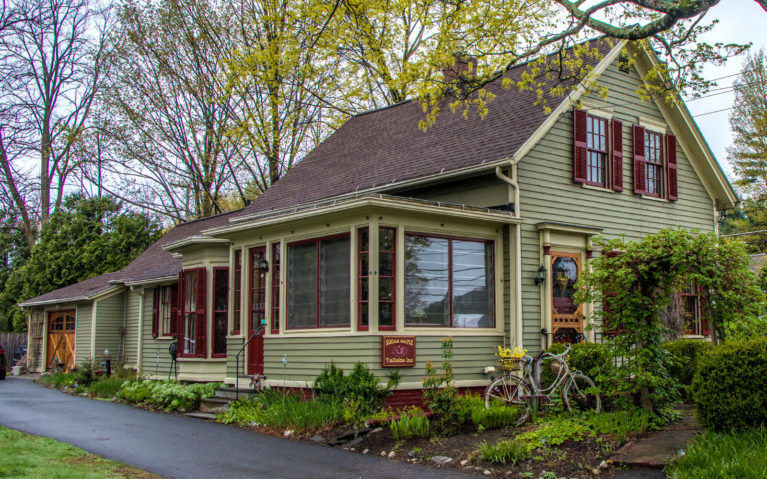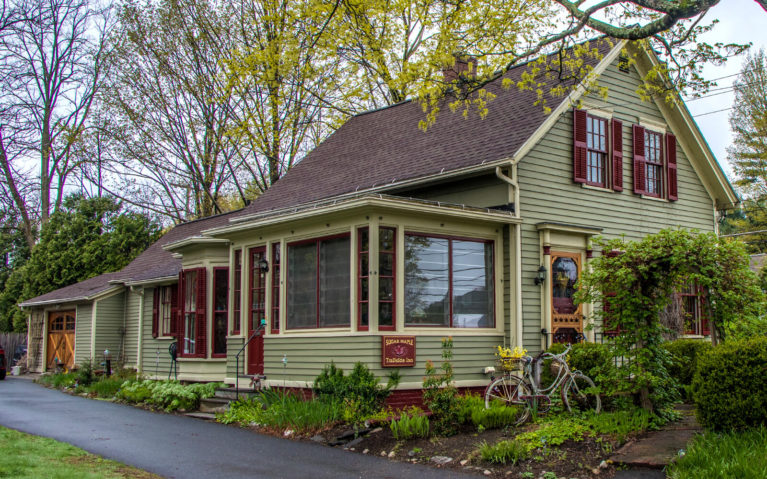 Sugar Maple Trailside Inn Amenities
The inn offers two bedrooms for rent in the upstairs portion of the home. While I had a peek at the Cedar Hill room, I called the Haydenville Room home for two nights.
This cozy room was the perfect spot for my stay in Northampton! The Haydenville Room offers a full-size (and incredibly comfy) bed. Upon snuggling into the soft, warm blankets I could feel any stress from the day melt away. I was out like a light as soon as my head hit the pillow each night! There was more than enough room for my medium-size luggage, backpack and laptop bag. If you're not a fan of living out of your suitcase, there's a large closet where you can happily hang up your clothing items!
Also, each room comes with its own private bathroom which includes a heater – meaning you'll never be cold as you step out of the shower! Brilliant! There are also plenty of towels, a hairdryer and locally-made soap.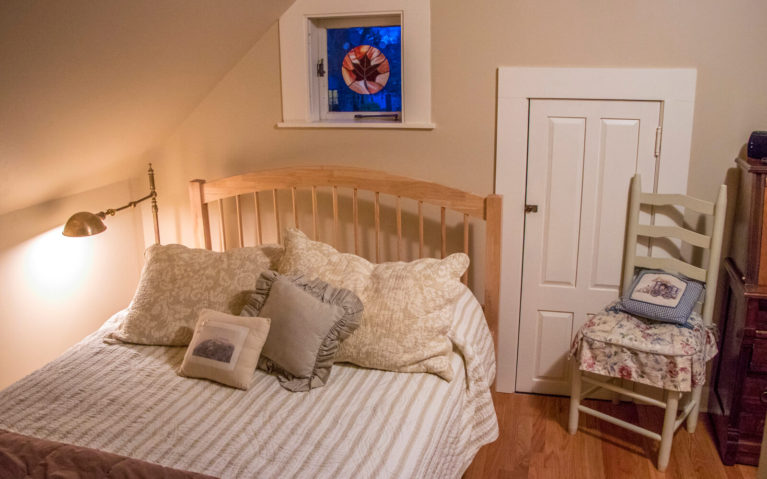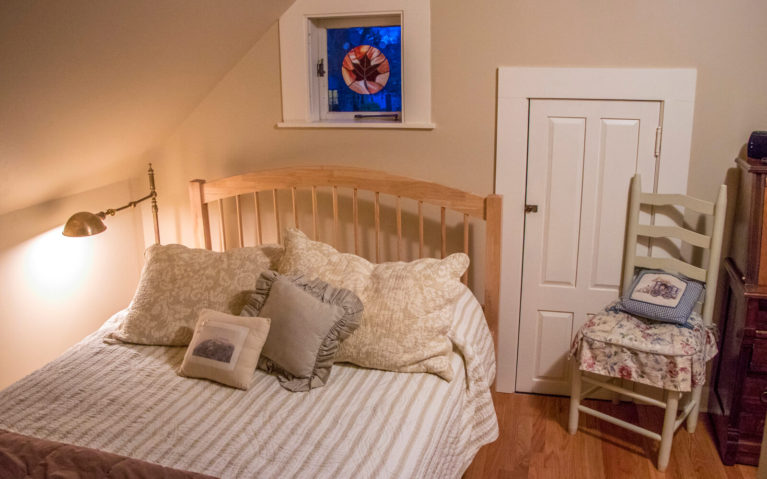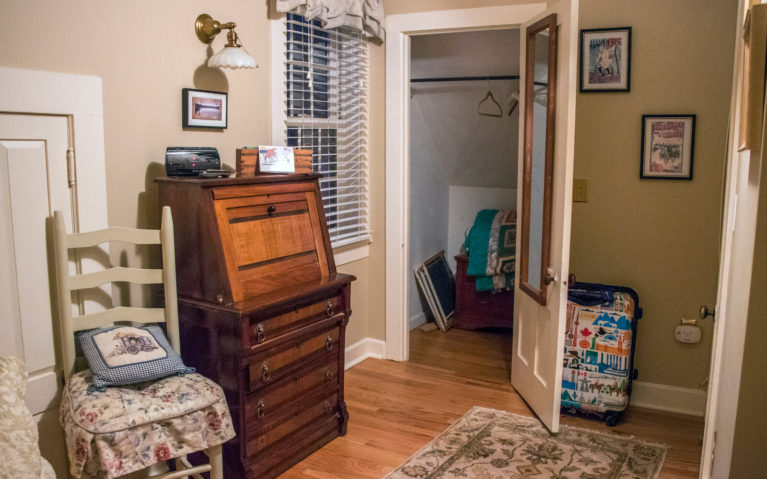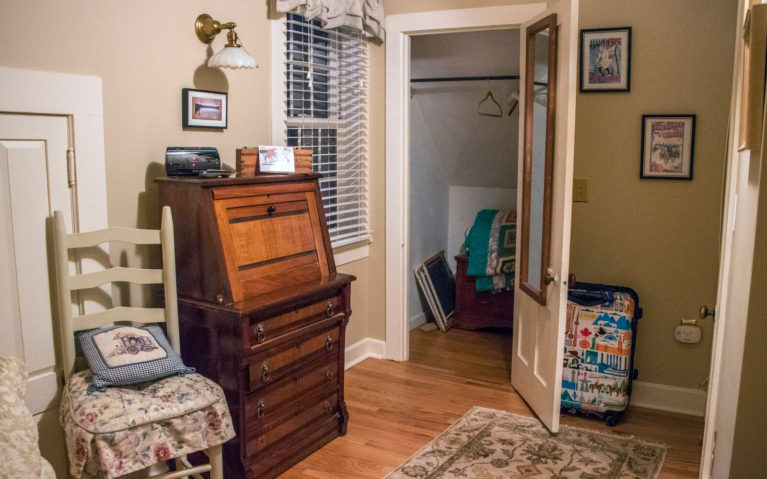 Are you balancing work and play like I was or do you like to stay connected while you're away? The Sugar Maple Trailside Inn offers free wifi for all of your Netflix streaming… I mean, business (and personal) needs. Both rooms offer an antique writing desk if you need a dedicated space to work.or when you need a break from work, feel free to turn on the television and see what's playing.
If you're looking for a bit more space, head downstairs to one of the common areas. With plenty of sofa space and natural light, it's perfect for getting some work done, reading a book or perusing the internet. You might have to share the couch with Craig and Kathy's beautiful feline Louise. This adorable polydactyl cat immediately stole my crazy cat lady heart! You'll occasionally find her playing with her canine counterpart Thelma as they hang out on the main floor of the inn.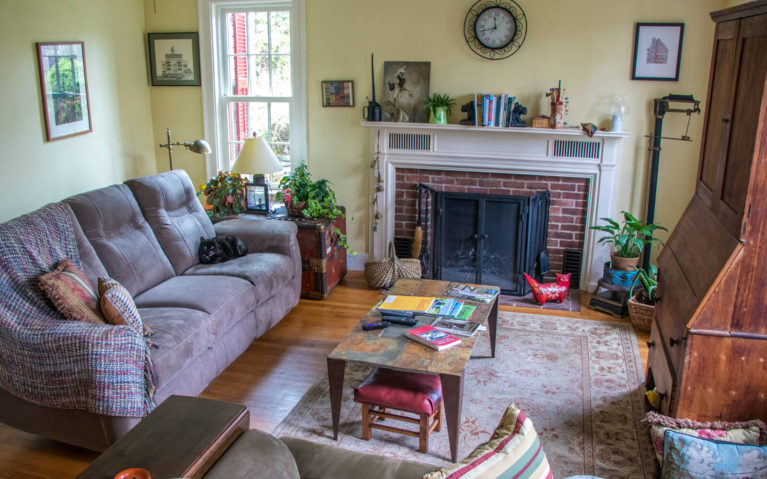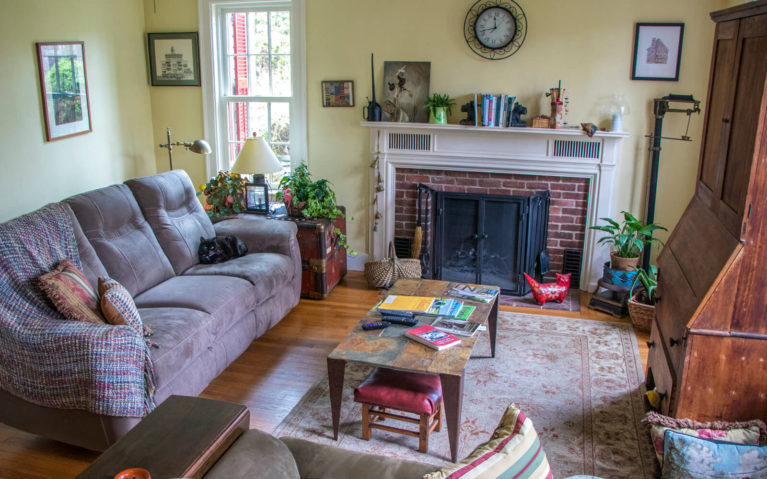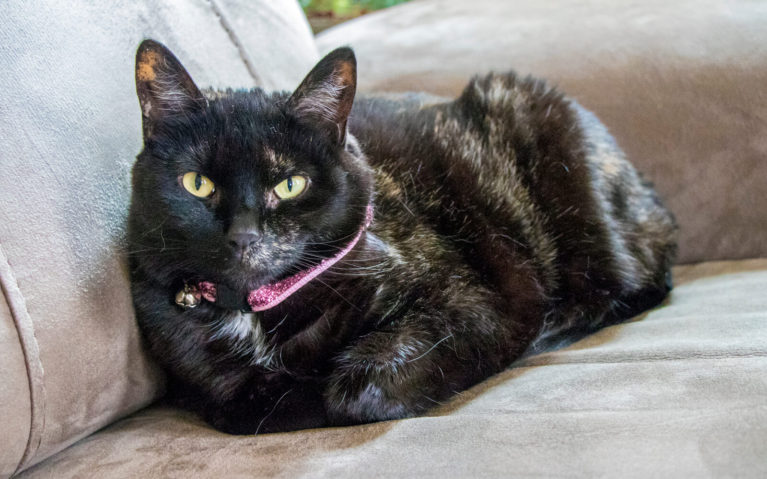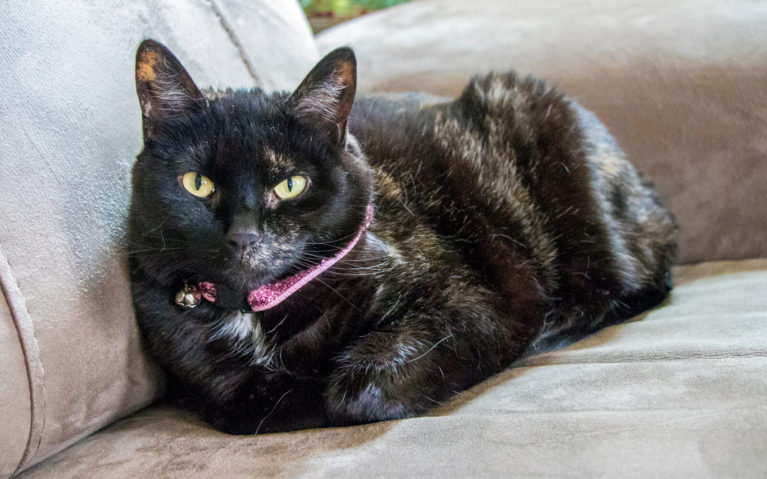 Another amazing feature is the amount of knowledge that resides within the walls of the Haydenville Room. There are more trail books, hiking routes and overall travel guides than you can shake a stick at! If you have no idea what to do during your time in Northampton, take a look at a few of these (especially the Hampshire County visitors guide!) and you'll be booked solid in no time. Or if the weather's lacklustre and you'd rather spend your time indoors, that's okay too!
Your stay also comes with the perfect way to start each morning – a wonderful breakfast. Enjoy a cup of coffee or tea as well as an assortment of baked goods. An amazing array of fresh fruit is also available which pairs nicely with the selection of yoghurt Craig and Kathy provide. The highlight, in my opinion, is their homemade granola. It is seriously to die for! I'm craving some as I write this! If you're looking for something a little heartier, you can always check out one of the local hot spots. There are plenty of options just steps from your door!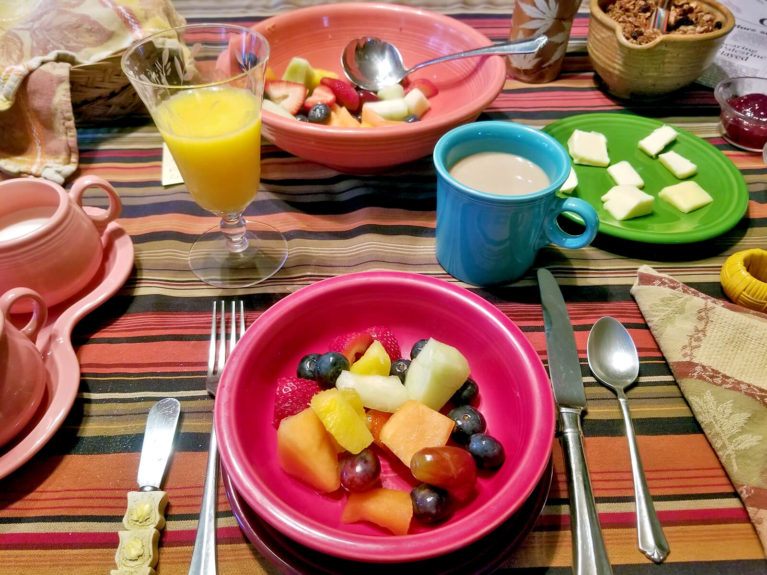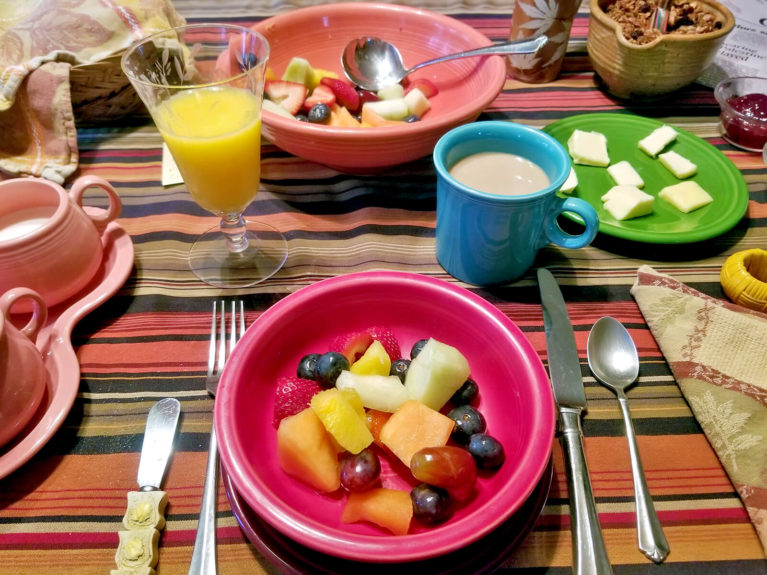 What Makes the Sugar Maple Trailside Inn Special?
Besides the fact that Northampton is one of the USA's 10 best small towns to live in, this 1865 farmhouse is full of rich history. It also took a lot of work to get to it to the beauty you see today!
Back in the mid-1800s, the Florence Sewing Machine Company was a major employer for the area. This home is one in a series of 12 built on Chestnut Street where the inn resides today. Built by the Florence Sewing Machine Company, they were built to entice the managerial personnel to stay instead of going to war. It then passed through a number of hands before Craig and Kathy bought it almost 20 years ago.
When they purchased it in 2001, it was in rough shape. I'd actually say that's an understatement. The beautiful wooden floors you see were once covered in multiple layers of carpet – with one of those layers being glued on. Wallpaper covered the rooms and the plumbing was so decrepit it took a month to get it up to code. The only part of the house that's original is the unique canvas ceiling. As the house was so close to the original train tracks, the ceiling was prone to cracking so this was the solution! I never would have guessed until Craig pushed on the canvas and it gave way!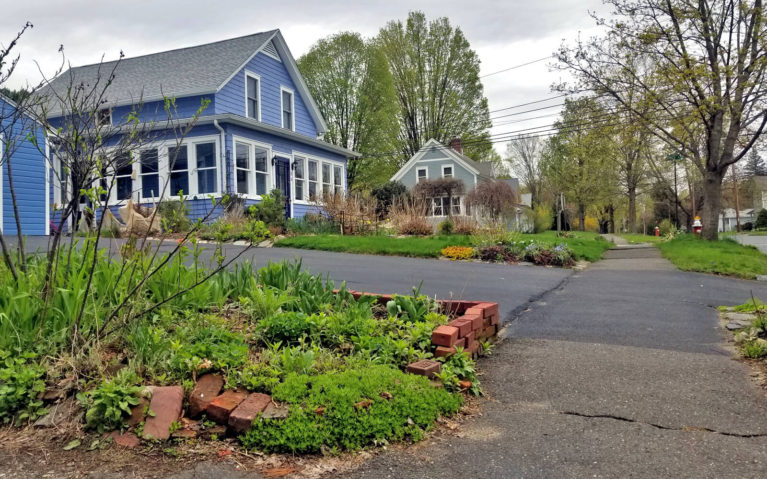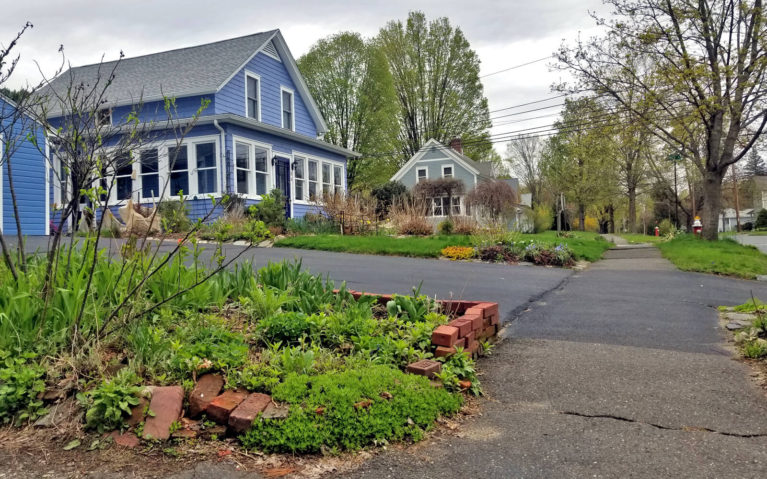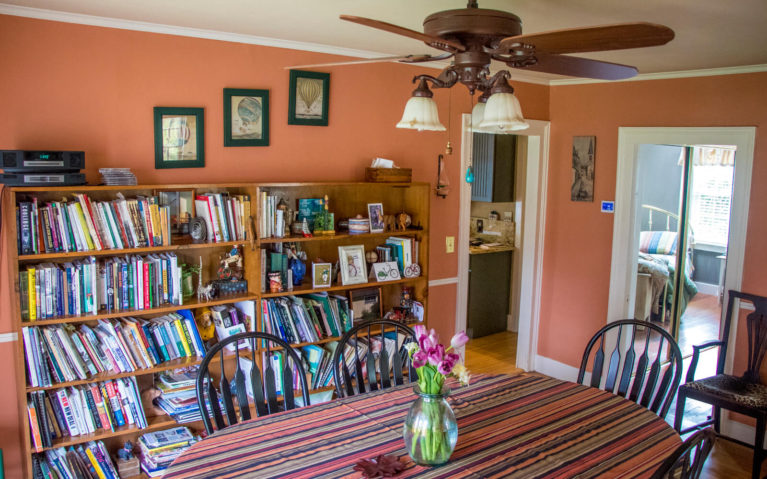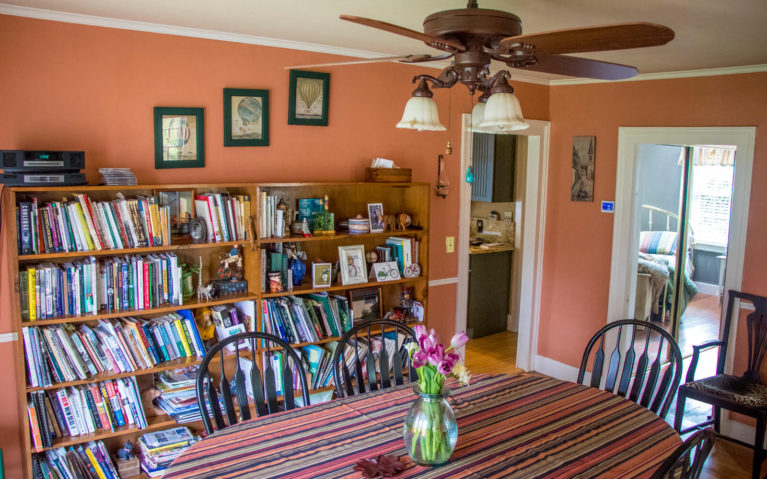 The amount of work Craig and Kathy put into the Sugar Maple Trailside Inn is astonishing and not only are they rewarded every day by having this beautiful home, but in 2003 they received the City of Northampton's Historic Preservation Award. It's well deserved in my opinion! You can read all about the history of the house here along with the updates done to it here but I highly recommend asking Craig about it. He's a wealth of information and loves sharing it! If he has spare time between advocating for rail trails, writing books or being a decorated realtor, he might just take you on an amazing tour of Florence village!
Want a glimpse at how far the house has come? Take a look at these before and after photos along with this great video segment from HGTV's Restore America! If you're looking for a home away from home, you'll truly feel settled and relaxed here. Craig and Kathy go above and beyond to make you feel welcome at the inn!
Hidden Gems in Northampton, MA
The Sugar Maple Trailside Inn itself truly is a hidden gem, as well as the Florence Area! Located just 3 miles from downtown Northampton, it's a popular spot for families and friends visiting students of Smith College to stay at. If you're a fan of the outdoors, a train enthusiast or just love a good small-town vibe – you'll adore this area.
Everything you could want or need is just steps away from the inn. You can walk to a number of restaurants, cafes, a grocery store and even a brewery in less than 10 minutes! I highly recommend starting your day at the Florence Pie Bar since pie is the best breakfast food ever. Whether you opt for sweet or savoury, you won't be disappointed. There's a reason people travel from all over for a bite… and that I got some to go for my road trip to Maine! I highly recommend both the Lemon Chess and Salted Honey pies. Their hand pies make a great snack while on the interstate, too!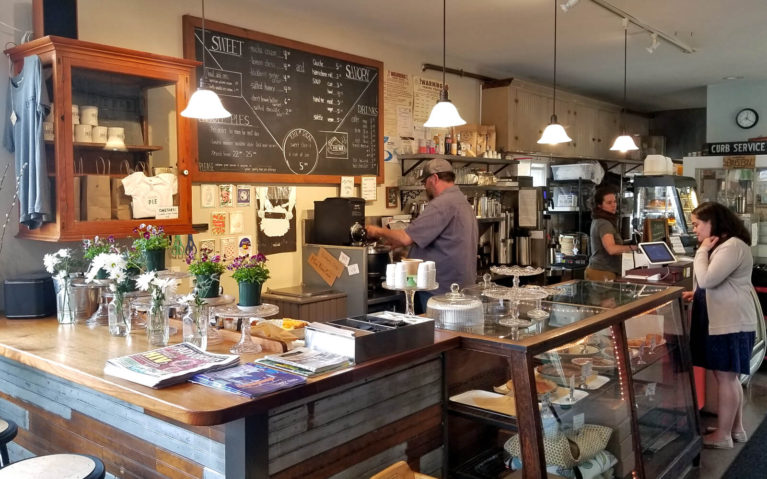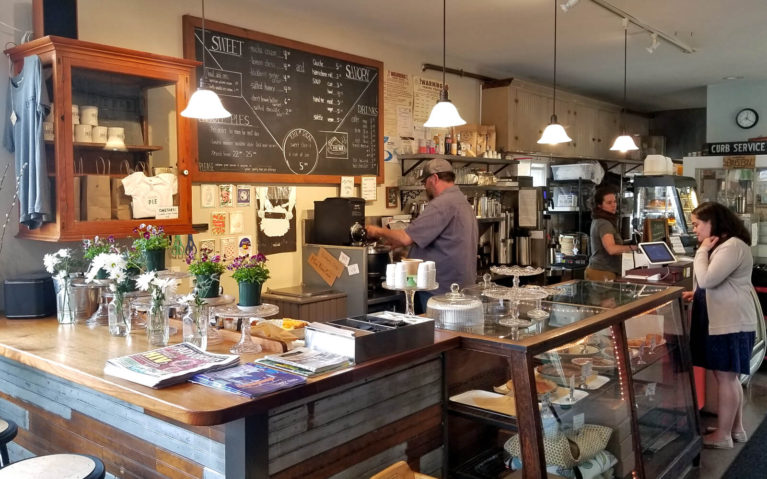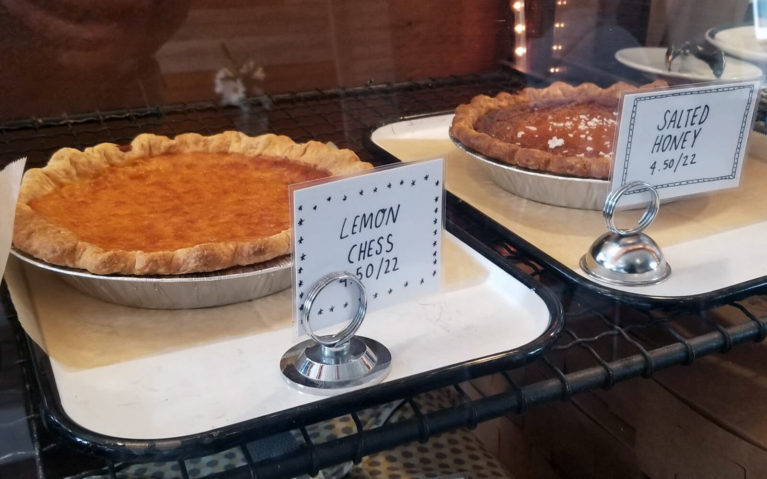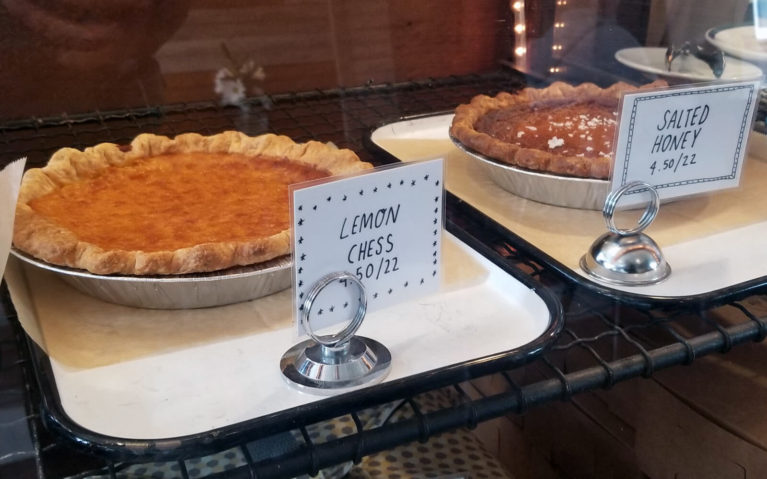 Or if you're looking for a more heartier breakfast, the Miss Florence Diner is a great option. A member of the National Register of Historic Places, it was fully restored in 2002. While I didn't eat here myself, everything on the menu is reasonably priced and looks absolutely delicious. It's definitely on my list for when I return! As a guest of the Sugar Maple Trailside Inn, you'll also receive 10% off your meal. Just ask Craig and Kathy for a special certificate to take with you! This is valid not just for breakfast but any meal during the day.
After a solid meal, you'll be fuelled to hit the plethora of trails in the area. The Northampton Bikeway is the rail trail which runs right by the inn. It's a part of the larger Mass Central Rail Trail which spans over 100 miles. Made up of multiple branches along the old Massachusetts Central Railroad, it's great for walking, biking, rollerblading and more! Whether you're looking for an afternoon of fun for a multi-day adventure, there's plenty of trail for you to tackle.
Weather not cooperating? Or are you a fan of all things local? Then why not enjoy some craft beer! Luckily the Brew Practitioners is right at the corner of Chestnut and Main. This predominantly-women-owned brewery has one goal – brewing good, drinkable beer. Using only regionally sourced ingredients, they focus on what they say are the American classics. Go grab one of their evidently named beers and enjoy their patio in the warmer months!
As I mentioned, Florence is one of the four villages that make up Northampton located in Hampshire County. The area has plenty to offer for all interests and ages.
Check Out These Articles to Plan Your Trip to Northampton, MA
10+ Reasons Why Everyone Should Visit Hampshire County
Mill 180 Park: The World's First Indoor Hydroponic Park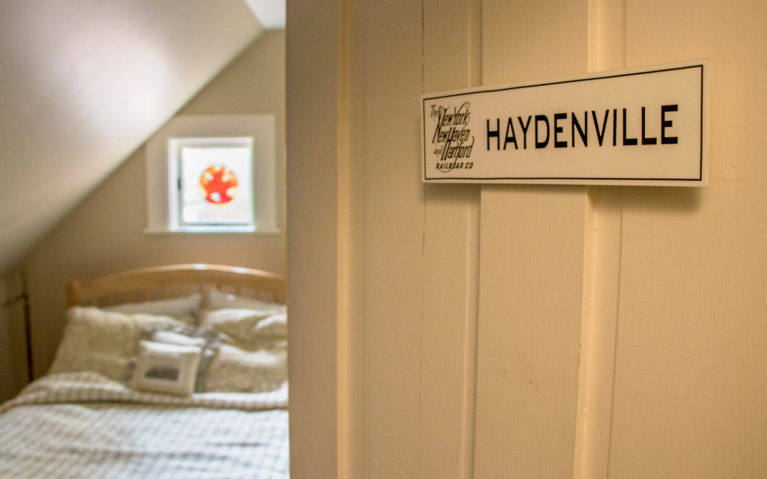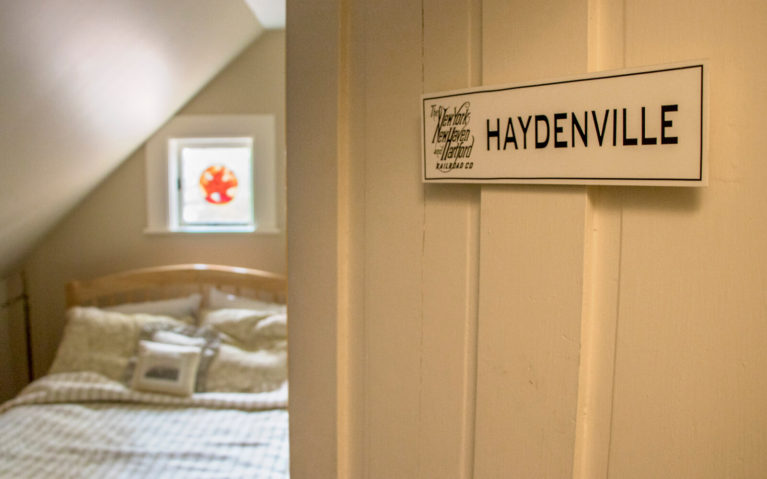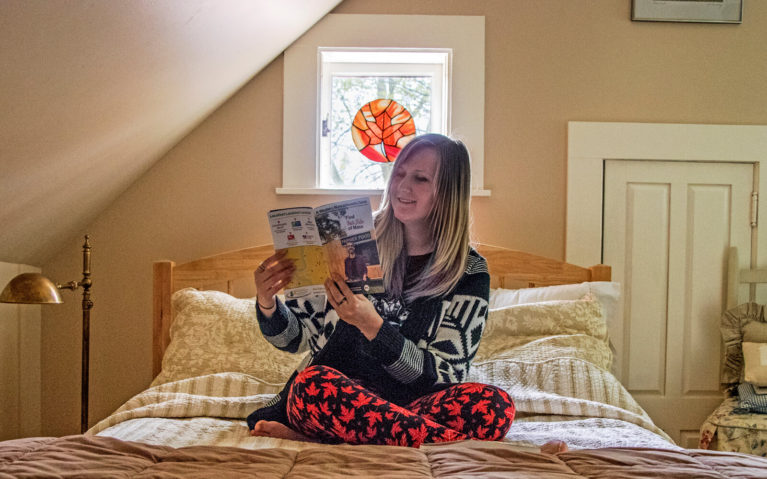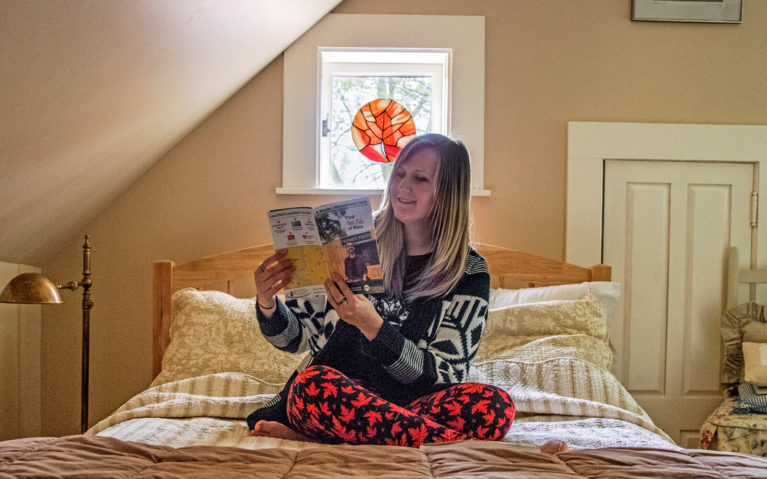 My Final Thoughts on the Sugar Maple Trailside Inn
Can I just say that you can take the Canadian out of Canada, but you can't take Canada out of the Canadian? When I found out I was being hosted by Craig and Kathy, I was so excited. A bed and breakfast not only with 'maple' in the name but also maple decor?! It's a match made in heaven!
Whether you're Canadian or not, the amazing location, great amenities and top-notch hospitality make the Sugar Maple Trailside Inn a top choice for accommodation. You'll be kicking yourself if you don't stay at this bed and breakfast in Northampton, MA!
Disclaimer
A huge thank you to Craig and Kathy for hosting me at the Sugar Maple Trailside Inn during my return visit to Hampshire County. It was an absolute pleasure to stay with you! Thank you as well to Hampshire County for inviting me to return. While I enjoyed this stay complimentary, all experiences and opinions are truly my own.
Read more in our disclaimer and privacy policy.
Want to Stay at This Northampton Accommodation? Pin it for later!