Camping Music Festival Survival Tips, What to Pack & More

You may not think camping and music festivals go together, but you'd be surprised as to how many offer camping as an accommodation option! If you're looking to save some money on accommodation, this can be a great option. If you're heading to a camping music festival, here's what you should know to ensure you have a fantastic time.
There are a number of camping music festivals not just in Canada but across the world! While I've only attended one here in the country, I've heard great things about Shambhala and River & Sky in British Columbia, Montebello Rock Fest in Québec and much more! If you're looking for an amazing experience which should be on your summer bucket list, I highly recommend a camping music festival!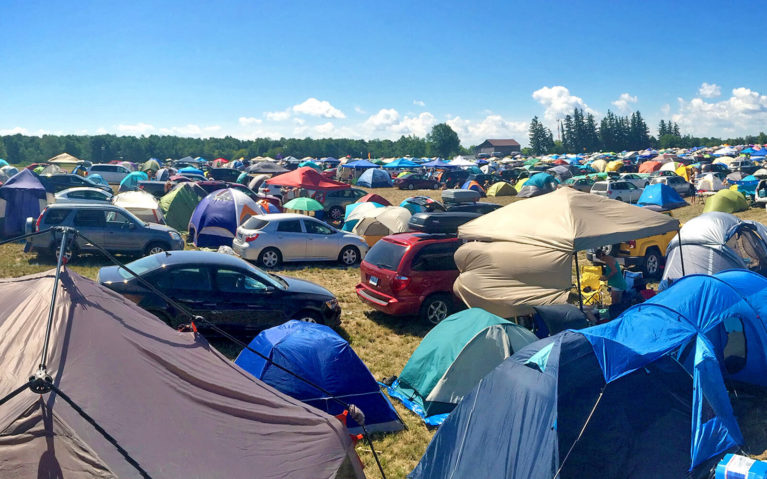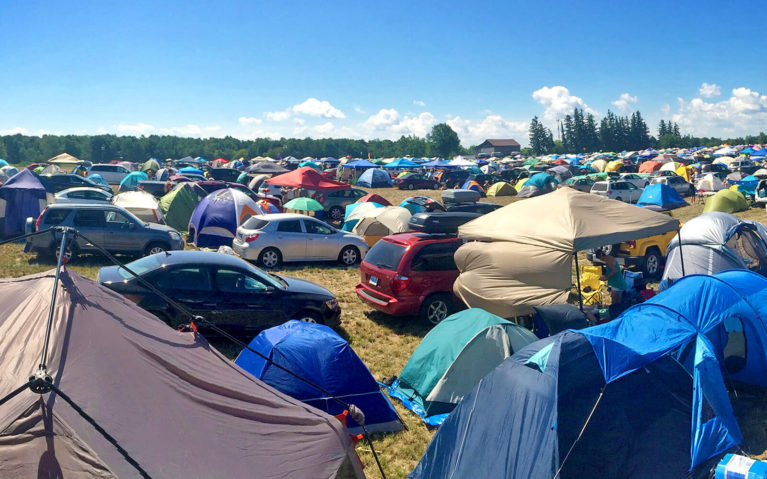 Camping Music Festival Tips
I had my first camping music festival experience a few years back while attending WayHome in Oro-Medonte, Ontario. While I was a little nervous a few nights before the drive to Burl's Creek Event Grounds to set up camp, I quickly learned they were for nothing as I embraced the weekend's dirt, sweat and happy tears. However, I learned a few of these the hard way so you don't have to!
You Probably Won't See All The Performances You Want
While you can hope for the best of running from stage to stage to see all the acts you're dying to hear, chances are you won't make it to all of them. Whether it be due to a scheduling conflict or just generally losing track of time, don't get down on yourself about it. Make note of all of your must-see artists, and then your would-be-nice artists. Chances are you'll be skipping a few of the latter, either to get out of the heat or to rest your feet before the next boogie session.
Want to Be in the Front Row? Show Up at Least 30 Minutes Early
Depending on set times and how popular the artist you want to see is, plan your time accordingly if you want to be as up close and personal as possible. It may even require you to come to another artist's set so you can make your way to the front as they finish up. Trust me though, it'll be worth it when you get waves & winks from your favourite performers! Plus you just might discover someone else you like while waiting!
Be Prepared For Short Nights & Long Days
As the sun rises, so do the festival junkies. While I love getting up early to ensure you get the most of your day, I'm not a fan when my bedtime was 2:00am the night before. Be sure to bring some earplugs and an eye mask to help keep the noise and sun at bay until either nature calls or the rest of your crew decides it's time for breakfast.
Take Note Of Shaded Areas
In the heat of the moment in seeing your favourite performers doing their thing, you'll forget just how sweltering the sun can be. It's very important to escape the sun's wrath, so take note of trees, buildings, anything that can give you some reprieve from the UV rays – you'll thank yourself later for it!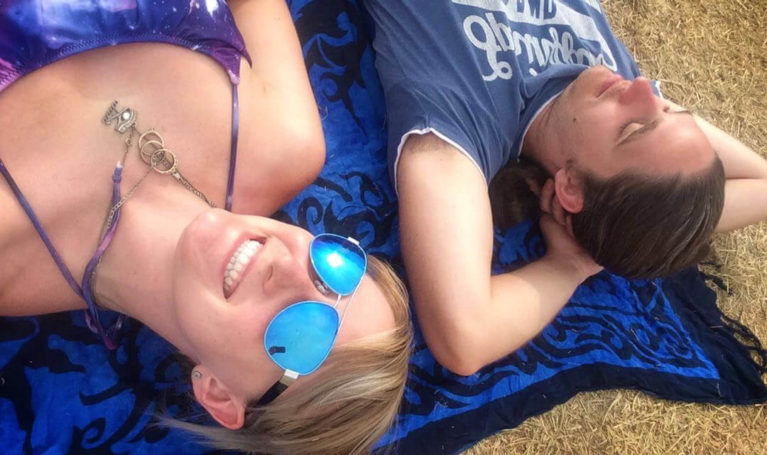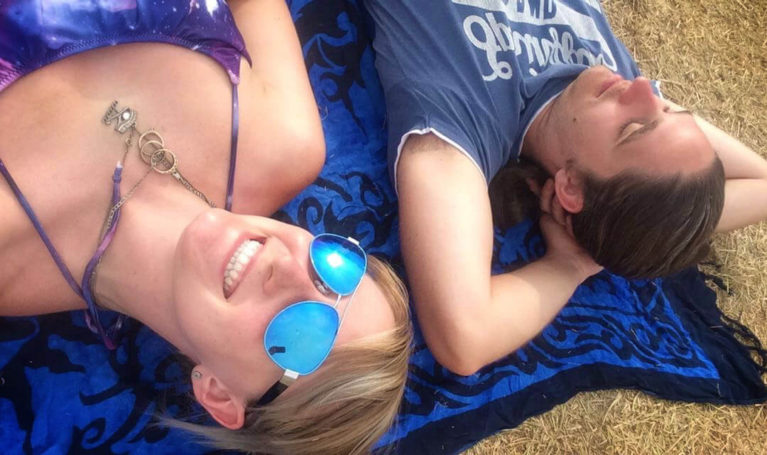 Naps Are The Key To Survival
For the times when the short nights, heat and overall excitement compound on each other – there's always nap time. Another reason to scope out some shade! Chances are at some point during the weekend, you'll need to head back to camp for a chance to decompress and catch a few Zs so you're refreshed and full of energy for those late night performances you don't want to miss.
Be Sure to Eat Well
Chances are there will be delicious greasy goodness from food trucks scattered throughout the grounds. As delicious as they are, your body is going to start hating you if you're eating this and drinking your fair share of alcohol for a few days straight. Make sure to pack some nutrient-rich dishes as you're allowed to bring your own food in. Making a few meals ahead of time is always a great idea! If you don't feel like cooking, then try to be smart and include some veggies in your festival food diet.
You'll Always Need More Ice
The sun will always wreak havoc on your coolers, so you'll have to keep topping them up with ice to keep all your food and drinks cold. Expect to fill them up at least once a day – possibly twice depending on how hot it is that day. A great way to keep things cool at first is by using frozen bottles of water. This way you have lots of refreshingly cool H2O to keep you hydrated throughout the course of the weekend!
Keep A Sarong or Scarf On You At All Times
These babies come in handy for a variety of things. If you can't manage to find some shade, you can make your own to help prevent heat stroke and sunburn. They're also great for the times you want to lay down on the grass and relax while listening to an artist jam on stage. You'll also be reaching for it as the sun sets to keep yourself warm.
Have Some Extra Toilet Paper Around
While WayHome did an amazing job of keeping the toilets clean, this may not always be the case. You might also still run into the odd time where you'll be caught with your pants down. Little tissue packs are great for avoiding this or even just stuffing some toilet paper into a Ziploc bag to keep it clean!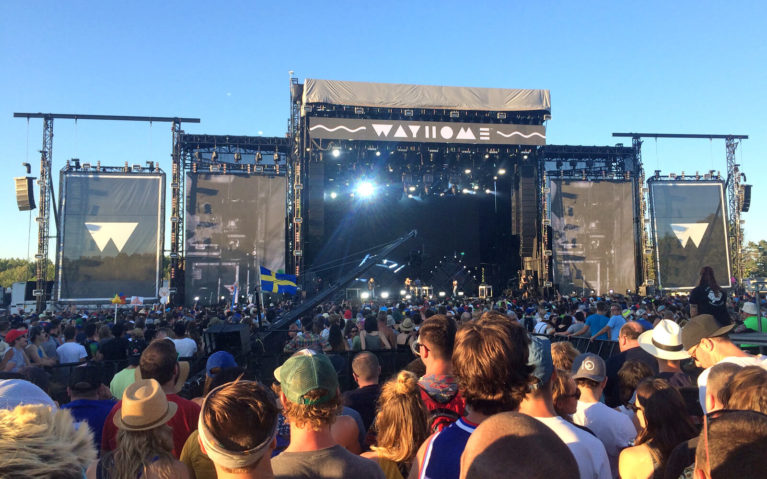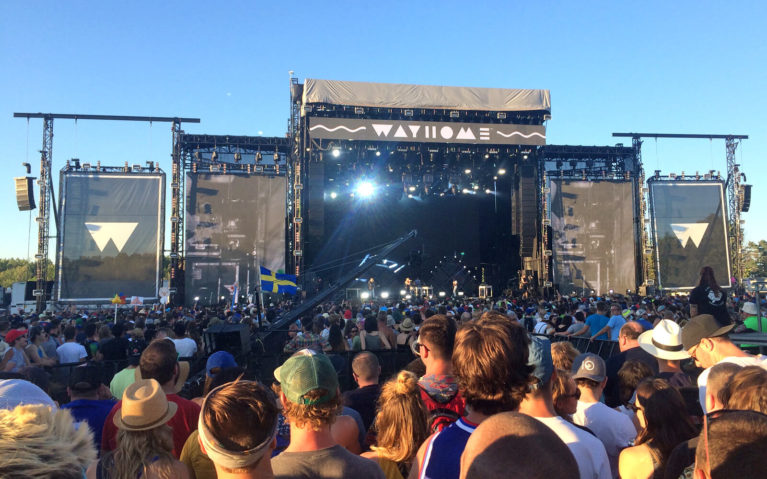 Bring Back Up Power 
Since most festivals nowadays have an app that includes a map, the schedule, and other key festival information, it's great to keep your phone charged to have all this information at your fingertips. This $25 device I got on Amazon was the reason I stayed in the loop all weekend long, and you can leave it to charge all day while you're dancing away!
Wet Wipes & Hand Sanitizer Are Your Best Friend
Always have one of these bad boys in your pocket or purse. There's always a chance the portable toilets will be super scary, so it's good to have something to disinfect and generally make your overall being feel a little cleaner. Also, the next time you spill your sticky cider on yourself? Your wipes will have you covered. True story.
Overpacking Isn't Terrible… As Long As Everything Fits
At the same time though, don't pack everything and the kitchen sink. You might wonder if you really need everything you've packed, and chances are you won't. However, you may be surprised by just how much you use. I packed a few extra outfits for the weekend, and there was only about 1 set of clothing that I didn't touch from the 8 that I brought along. Also, be sure to pack a range of clothing – you never know how hot or how cold the weather will be!
Missing Something? Ask Your Neighbour
Let's face it, we're bound to forget something. Luckily there are TONS of people around that you can ask for help! Don't be afraid to talk to your neighbours and see if they have what you've forgotten that you can borrow or exchange for something they may not have. Mosquito coils make a good bargaining tool, along with the obvious one – beer!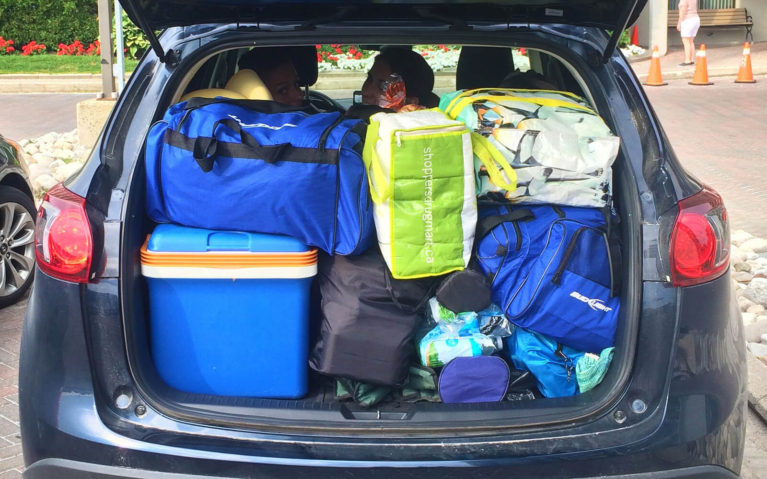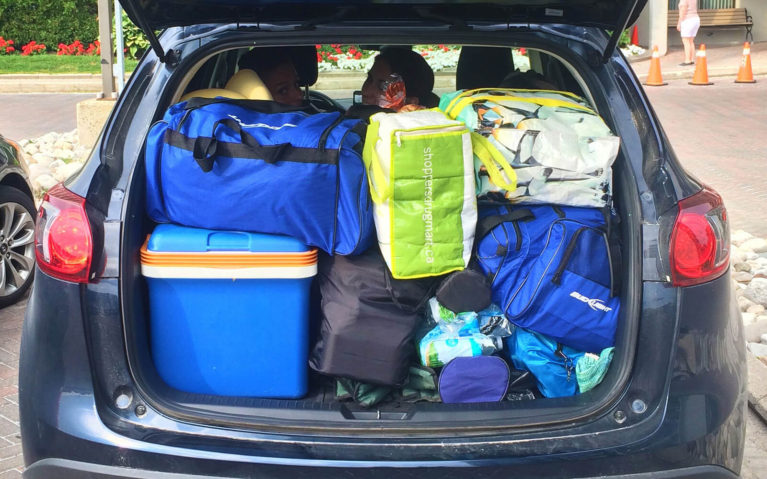 Camping Music Festival Essentials Packing List
There are a number of things you can pack that will make or break your festival experience. Remember, whatever you pack to take with, you have to pack up and return with as well. No leaving your mess for others to clean up! It's up to you to determine what's worth the hassle of packing up after 2, 3, 4 or more long days of rocking out.
INSIDER TIP: Coordinate with your fellow festival goers that you'll be sharing a campsite with to avoid doubling up on items. You don't need multiple coolers if everything will fit in one, etc. Not only will this help fight overpacking but then you'll have more space for other items you may want to bring!
3-Person Tent or Larger
You don't need a huge tent as honestly, you won't be spending that much time in it. You'll be hanging out with your friends, dancing your face off or rocking out to your favourite tunes. However, you'll want a bit of space to ensure you can sleep comfortably and have room for your luggage. Robin and I snagged our tent during a sale at Mountain Warehouse for an absolute steal at $60 CAD. It fits three people so we can sleep comfortably and have room for our gear. One feature I love too is that there's a porch so you can keep your shoes and other dirty clothing separate from where you're sleeping! Click here to see what's available at Mountain Warehouse.
Inflatable Air Mattresses & Other Bed Necessities
While many will tell you to get a monster of an air mattress, I highly recommend a small, single mattress. Two of them to be precise. Why? They're much easier to pack, don't take up as much space and are lighter. Then, purchase a queen size foam mat topper and voila! One seriously comfy bed and all you need is a fitted sheet to hold it all together. If this sounds like too much, then take a look here at some amazing mattress options.
If you're looking to go even more compact, grab a foam pad and throw a sleeping bag on top. You can even get foam sleeping pads with a pillow built in! Be warned though, when the sun hits your tent it can get quite warm, so you don't want too heavy of a sleeping bag otherwise you'll be boiling!
Portable Lantern or Light
Once the sun goes down, it gets dark really fast. It's handy to have a light which you can hang from your tent and/or shelter. They even have ones that double as a mosquito zapper! I personally love my foldable solar lantern (thanks Explore Mag!) as it has a hook and multiple brightness settings.
Want rad outdoors gear delivered right to your door?
Check out Explore Mag's Live the Adventure subscription box!
Camp Chairs
After dancing your face off and rocking out to your favourite bands, you'll want to rest your tired legs! Camp chairs are a must and they fold up nice and compact. There are a number of options around like simple folding chairs or those which come with a pop-out side table. If you're low on space, a folding stool will do the trick! Pack whatever tickles your fancy.
Hardshell Cooler & Reusable Containers
I say hardshell specifically because you don't want your food getting squished! Keep your eats and treats cool with a cooler and dry with reusable containers. You'll be needing to stock up on ice every once in a while as it melts and there's nothing worse than soggy food!
Reusable Water Bottle
This is a serious must – possible pack more than just one. Insulated metal bottles are fantastic for a number of reasons. They'll keep your water cool, making it even more refreshing when you hydrate in the heat. You'll also be helping the planet by decreasing one-use plastic bottle usage which is plaguing our planet. Be sure to make note of where the refill stations are located throughout the festival grounds.
Baby Wipes & Hand Sanitizer
I don't think much of an explanation is needed for this. You'll be dirty, sweaty and gross. Trust me in that you'll be kicking yourself if you don't have either of these packed!
Portable Chargers
Let's avoid the terrible feeling when you're at 10% battery only to see the charging station full at the festival grounds. Bringing a few of these along will help keep you charged in case you need to call someone for help. An added bonus is you can capture every set and photo so you have everlasting memories! Many also double as a flashlight which can come in handy for those midnight trips to the bathroom. You can get solar-powered chargers, however they charge really slowly when relying on the sun.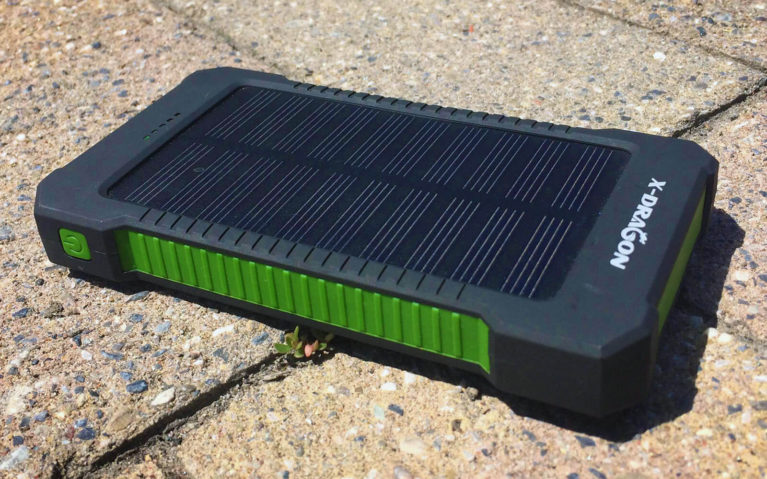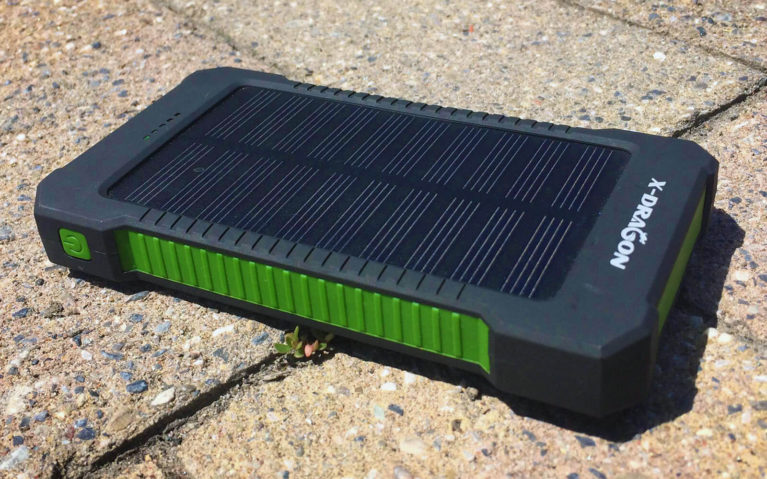 Unnecessary But Awesome Items
For Your Festival Campsite
These items aren't necessary for your camping festival experience, but they'll surely take it to the next level. If you have room for them, check out these rad items to add to your list!
Canopy Tent (With Mosquito Shield)
It's not necessary but on those hot days when there's no shade in sight, you'll want to make your own! I snagged a sweet deal from WalMart for mine which includes mesh walls. It'll keep the wind flowing through but help keep the mosquitoes at bay! While my specific one is no longer available, this option is quite similar or you can opt for this amazing camping tent and shelter combo!
Wireless Bluetooth Speaker
I absolutely LOVE my JBL Flip speaker for a number of reasons. First, the sound quality is amazing and the volume is fantastic for such a small speaker. Second, it's sturdy AND waterproof so it can handle being jostled around as well as having beer spilt on it. Lastly, it isn't stupidly expensive! Take a look and see what portable speakers are on sale at BestBuy or check out these awesome options from JBL.
Spray Bottle
It sounds silly, but this will be a serious treat when you're boiling in the summer heat. I know I was jealous of other camps that had spray bottles in hand to help cool off! As one of the cheapest purchases, it might just be your favourite festival accessory.
Camp Shower
At some point during the festival, the grime will get to a point where you just can't take it anymore. Often festivals will have shower facilities… that you have to pay for. A camp shower will pay for itself as you can use it not just at festivals but when you're camping too! I have yet to break mine out that I got from my Live the Adventure Box from Explore Magazine, but I know it'll come in handy when I do. Just be sure to fill it up before you enter the festival grounds!
Hammock
Sometimes a nap in the sun when your tent is too hot is just what you need. Catch some serious ZzZzZ or just be seriously comfy with a hammock! Though you won't want to rely on having trees as chances are you won't have one let alone two in proximity. Grab one with a foldable stand for a portable relaxation station!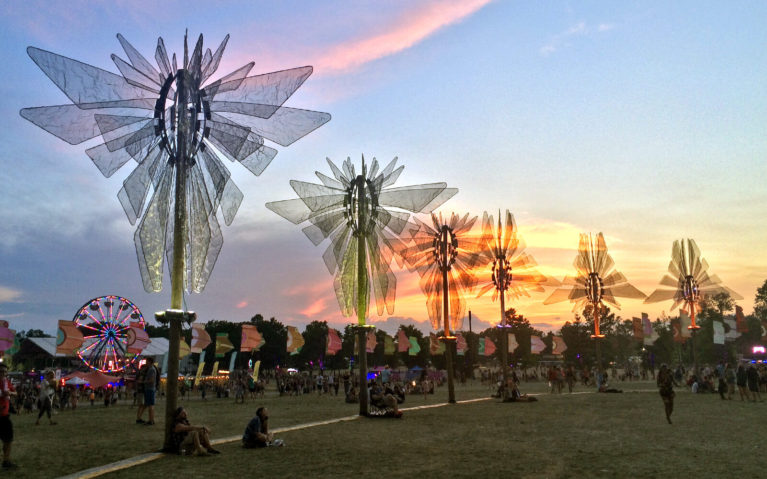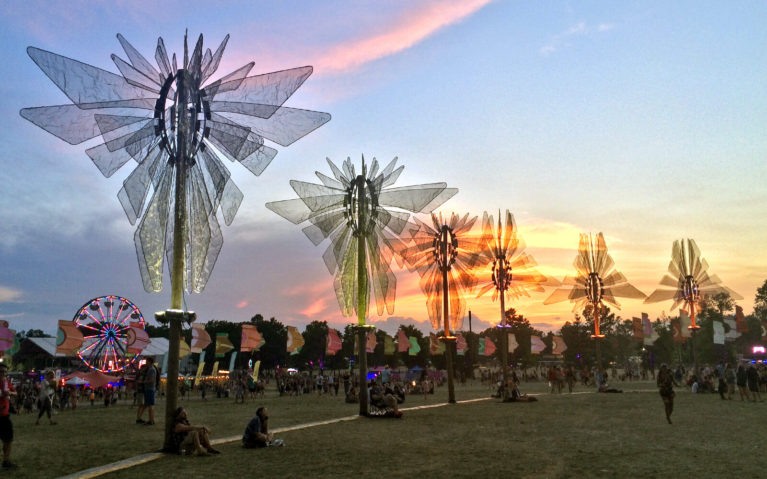 Ready For Your Next Festival Adventure?
By utilizing these tips and tricks, I guarantee you'll come out of your next festival grinning from ear to ear. I had an absolute blast at WayHome and would 100% do a camping music festival again! The best part though is having a good crew to hang out with as you rock on all weekend.
Is there anything you've learned that you can add to this list? Have you ever tried camping at a music festival? What was your experience like? I'd love to hear in the comments below!
Disclaimer
This post contains affiliate links where I could receive a kickback at no extra charge to you!
Read more in IBB's disclaimer and privacy policy.
Want to Keep These Festival Camping Tips Handy? Pin it for Later!