Truly Experience Cameron Falls with Strong Interpretations

When visiting the Northwest Territories, you're really missing out if you don't get out of the city. Yellowknife may be fun, but there's so much to see and explore outside of its boundaries! While you can rent a car and do it solo, I highly suggest booking a tour with Rosie of Strong Interpretations. You'll truly experience Yellowknife and the gems around it as she's a fountain of information and just an absolute gem to be around. I joined her Land of Little Sticks tour and this is seriously an excursion that's not to be missed!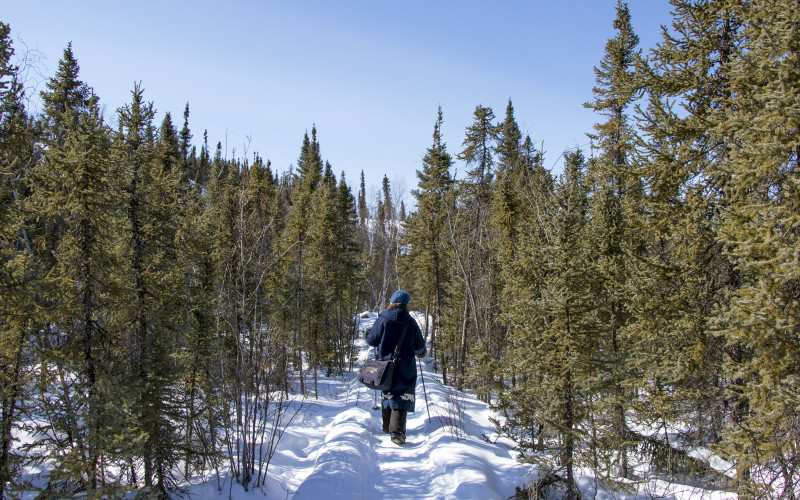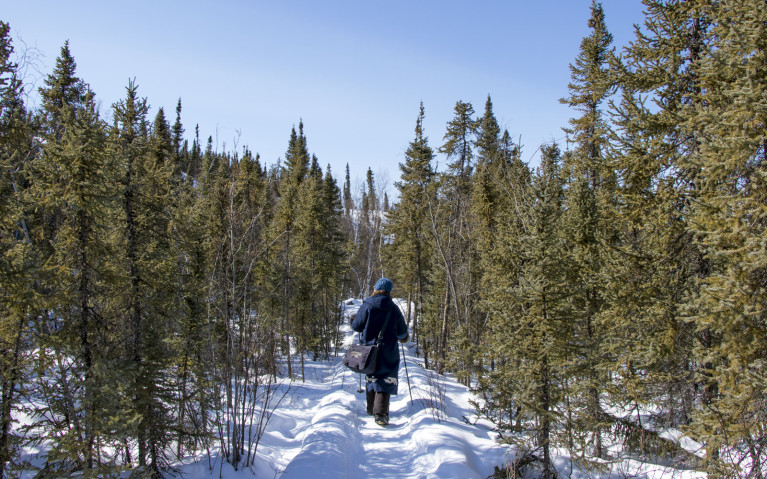 The Ride to Cameron Falls
Rosie picked me up from my accommodation mid-morning and we were off along the Ingraham Trail. Along the way, Rosie will tell you a bit about Yellowknife's history as well as point out a few areas of interest. This highway was built in 1970 with the goal of connecting Yellowknife to Fort Reliance. Due to the high cost of construction, the highway only made it 70km to Tibbitt Lake. In the dead of winter however, a ~350km ice road is formed that will take you to one of the diamond mines.
Back in the 1950's then Prime Minister John Diefenbaker campaigned on a promise of opening up the relatively uncharted North with "Roads to Resources". In 1960, construction started on a road from Yellowknife to Fort Reliance, at the far east end of Great Slave Lake. This was to be part of a loop that would eventually extend right around Great Slave Lake. But, forecasts of mineral discoveries along the route proved to be over-optimistic. The project was abandoned, and the Ingraham Trail now ends at Tibbitt Lake, just 69 km out of Yellowknife.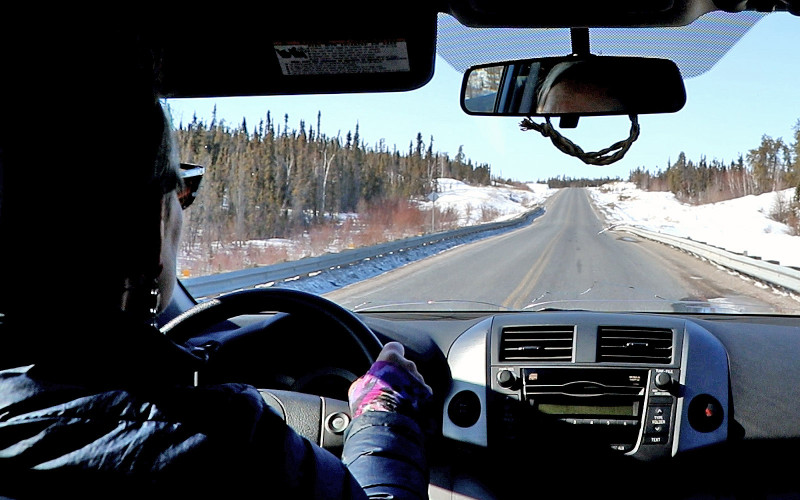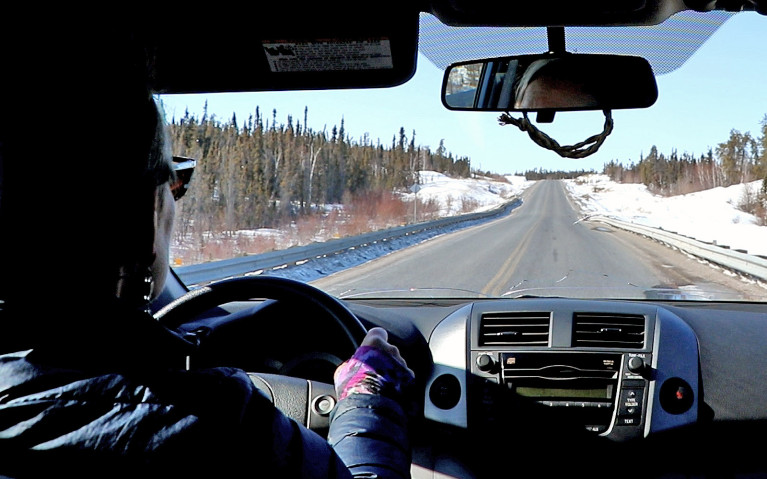 If you read my Yellowknife tour post, you know that the city has the gold rush to thank for its existence, but the Yellowknives Dene called the area home before Yellowknife was created. Rosie will pull over to the side of the road where the highway crosses the Yellowknife River Don't be alarmed – there's a good reason for it!
Insider Tip: This is right by the Yellowknife River Territorial Park Day Use area. If you're visiting in the summer I hear it's a fabulous beach – you might want to rent a car and visit on your own at a later date!
She'll tell you of the story she heard from one of her Dene friends about the tale of Yamǫǫ̀zha and his battle with the giant beaver. I won't go into detail as she tells it much better than I ever could (plus if I told you everything, you wouldn't go on the tour haha!!), but you can see the remnants of the "beaver dam" to your right. The coolest part? There actually were giant beavers in the area – science proves it! The dam is partnered with the beautiful tree which used to be Yamǫǫ̀zha's weapon to the left. This tree is a sacred site to this day for the Dene people, so be sure to respect their practices and admire its beauty from afar.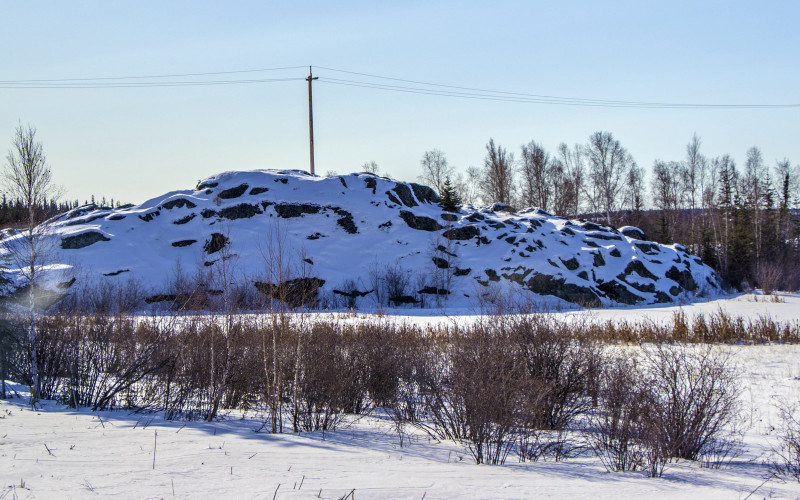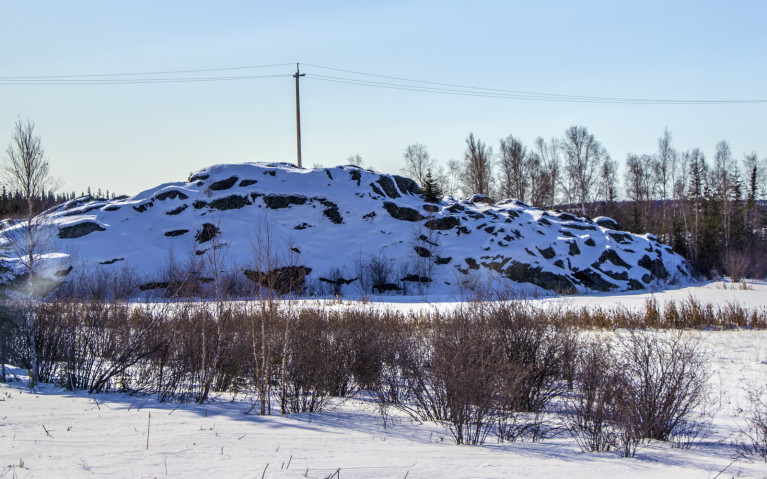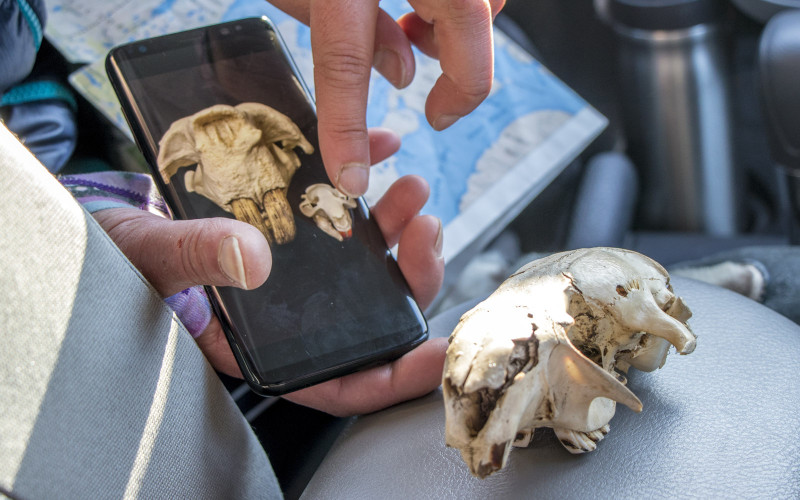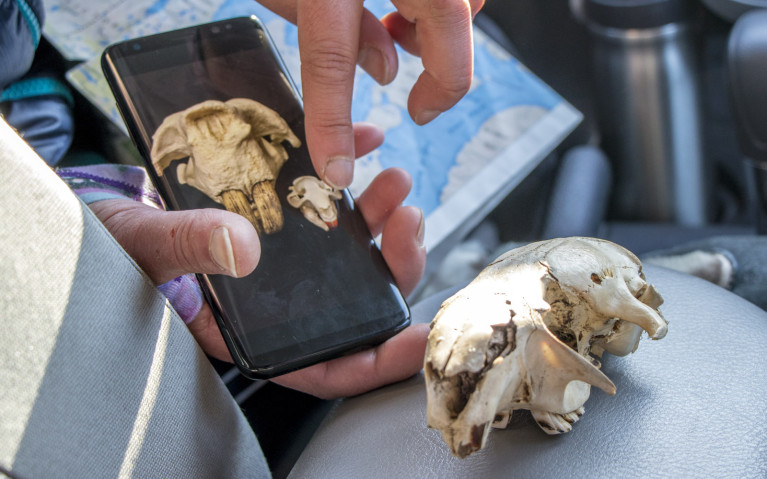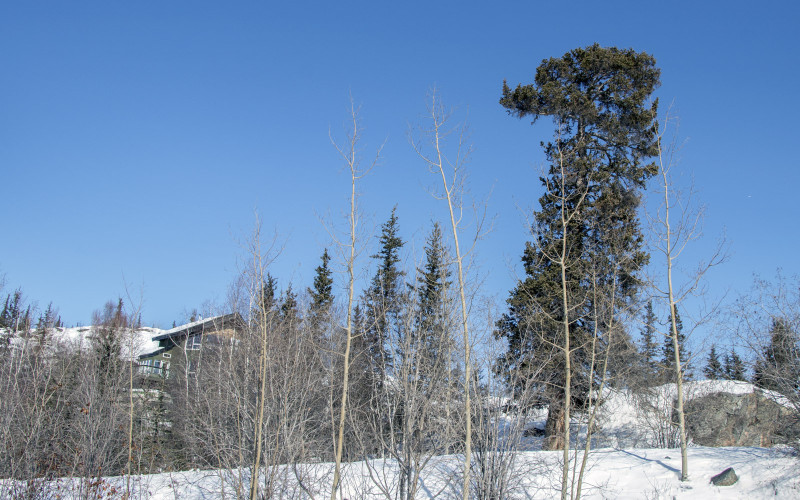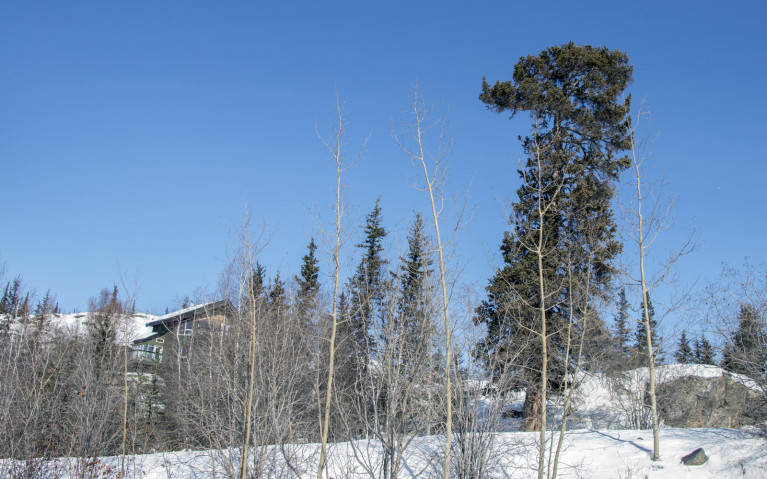 Before you hit the road again towards Cameron Falls, Rosie will also show you a map of Great Slave Lake. It has a striking resemblance to something… a Canada Goose! You know you're Canadian when you've travelled to a Canada Goose shaped lake!
Just a little bit more driving to go until you arrive at the Hidden Lake Territorial Park. This 3000-hectare park is home to a series of rivers and lakes linked by portages. While I didn't get to witness it myself since I visited in the winter, it is said that Hidden Lake's water appears aquamarine in colour and you can even see fish swimming because the water is so clear! There are two day use areas, one of which is Cameron Falls and our destination for this adventure!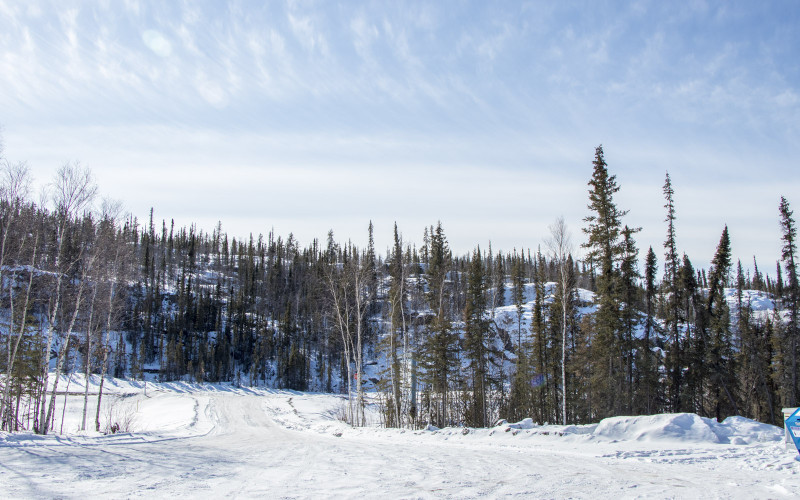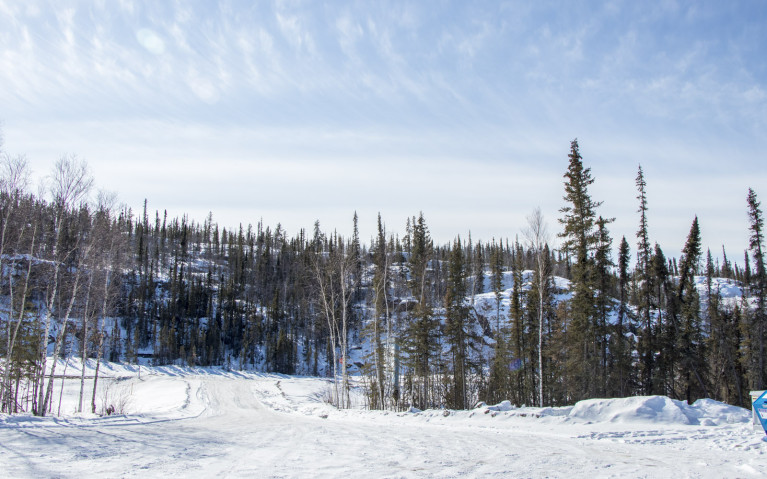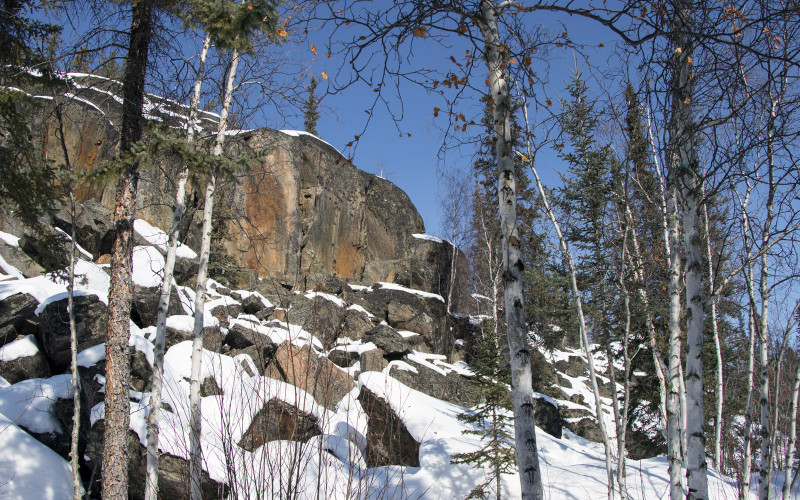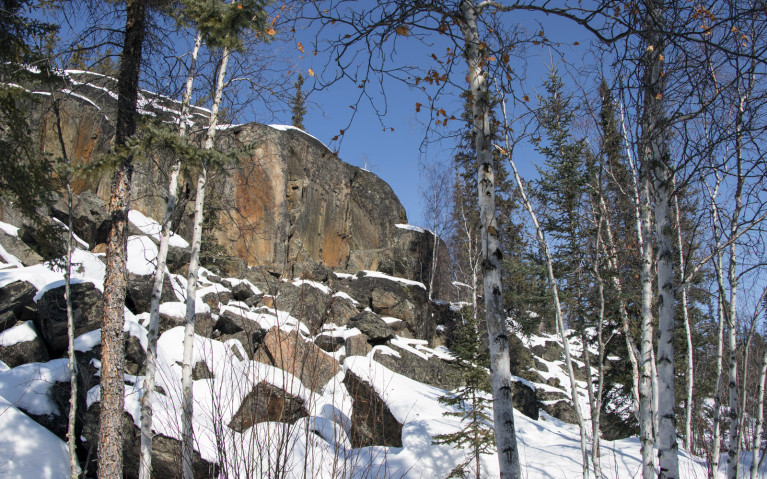 Learning Along The Trail
Now be prepared to learn more than you did in your science class as Rosie tells you about the inner workings of the Boreal forest. I was in awe of how resilient the forest is along with its inhabitants. Did you know that the rock you see here is some of the oldest at 3 BILLION years old? Or that the red squirrel eats in the same place all the time? How about the Trembling Aspen who colonize an area with their underground roots in about 10 years? That's just a small taste of what you'll learn!
One thing that really amazed me was how much the forest can help us. Take the spruce tree for example. It has so many healing properties. The needles can be made into a tea packed with vitamin C and beta-carotene. The sap is great for sealing up cuts as it has antibacterial properties. When hardened, it can also be used as a lozenge for sore throats and colds. How cool is that?! It just proved to me even more that we really need to take care of our planet, especially since it can take care of us in return.
The spruce tree isn't alone though! Rosie will also tell you how you can use birch bark as sunglasses, willow branch to cure headaches, and more. She'll even dig in the snow to show you the leaves used to make Labrador Tea. Oh, and be sure to ask her about Yellowknifers and their love affair with cranberries.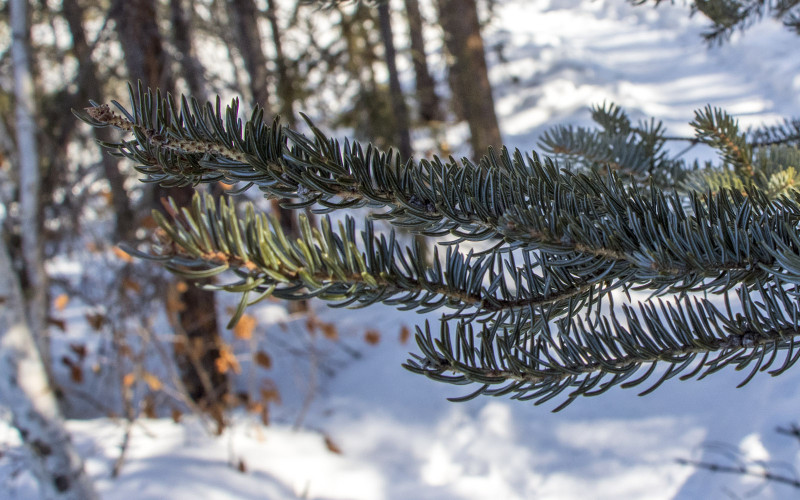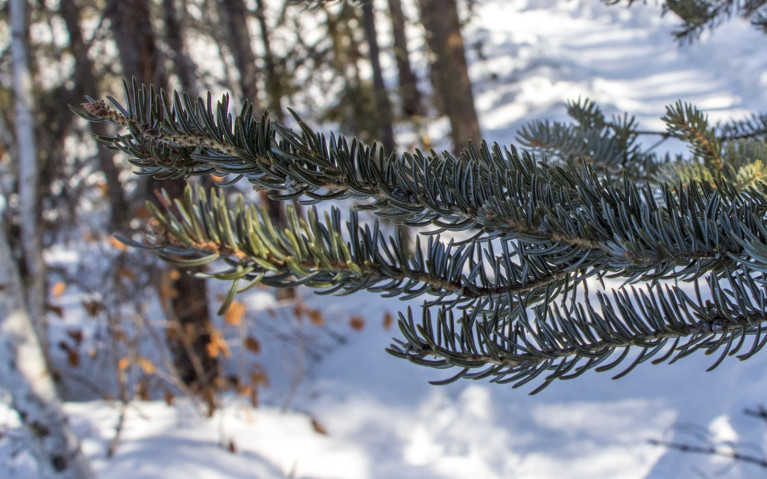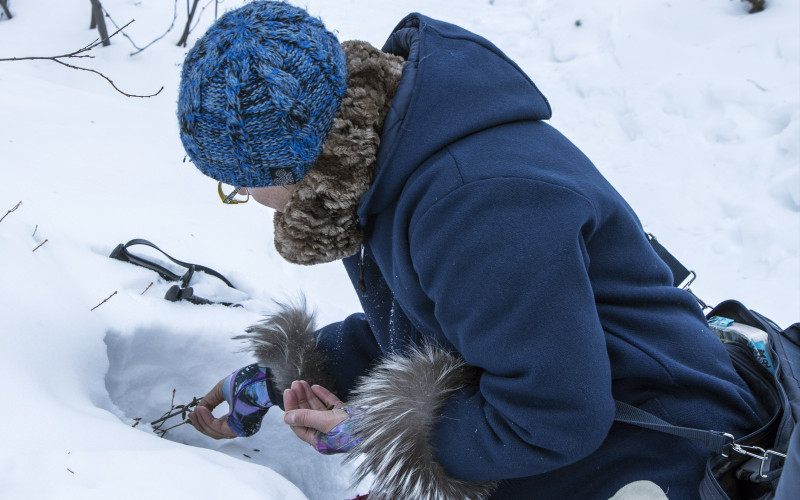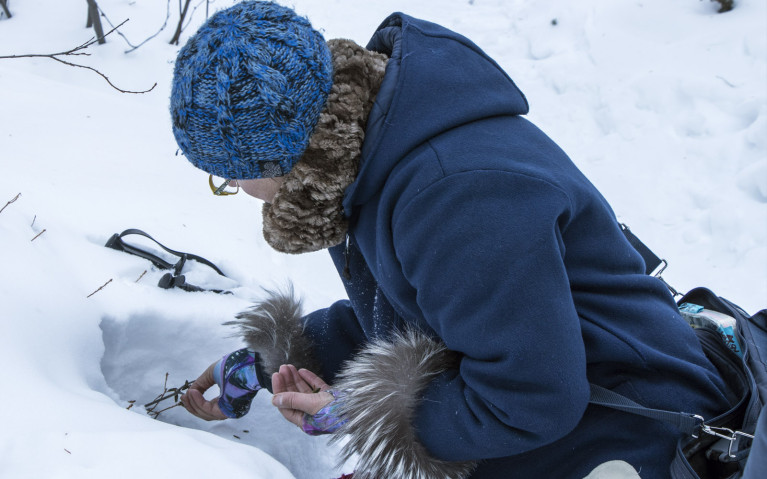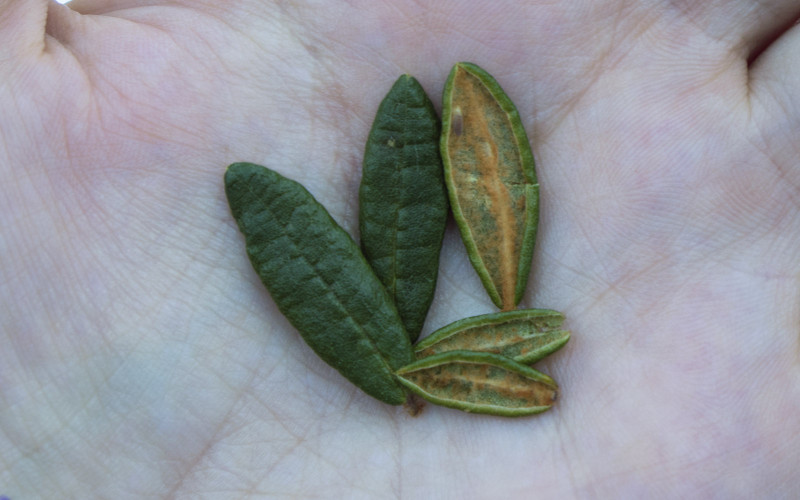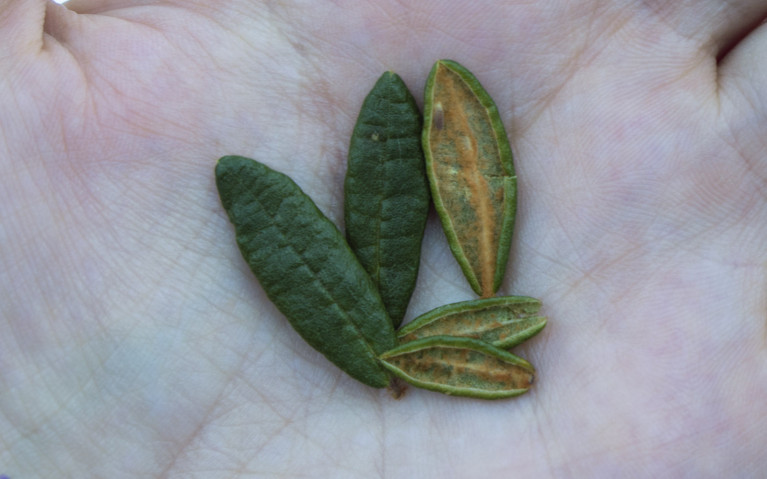 Hiking to Cameron Falls
As far as hikes go, this one is actually fairly easy. In the winter Rosie will bring along grips so you will have sturdy footing for trudging across the snowy paths along with walking poles. The trail does have some hills and climbs as you wander through the Boreal forest, but the parts that were tough now have stairs and raised platforms to make it easier.
At ~2km in length the trail can be done quite quickly, but if you rush then you'll miss out on so many things. Be sure to enjoy the gorgeous vistas from the lookouts as you trek your way down to the Cameron River. As I mentioned, Rosie will teach you so much about the forest. She also has a great eye for animal tracks, and you just might see the odd one if you're lucky! I was able to spot a gray jay – the first time ever seeing one in person! Fun fact: it's the national bird of Canada!
Just head down the final set of stairs and Cameron Falls will be waiting to greet you!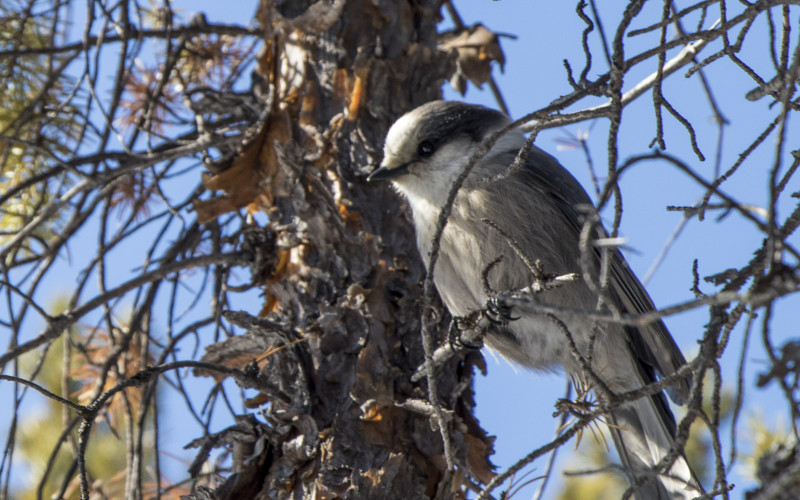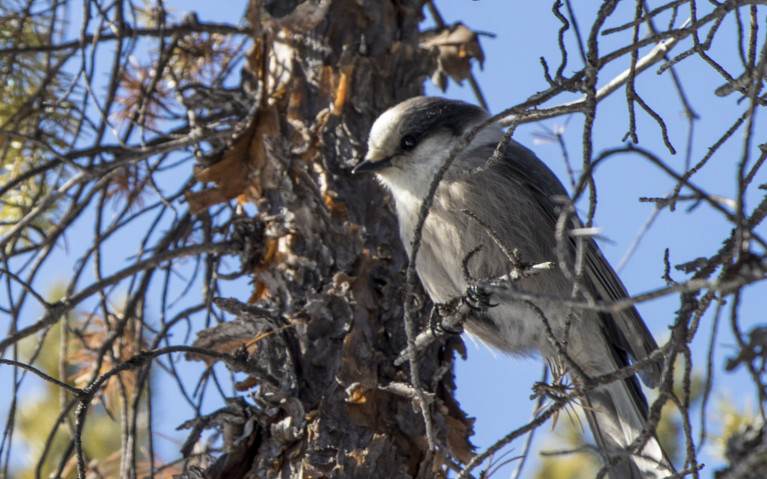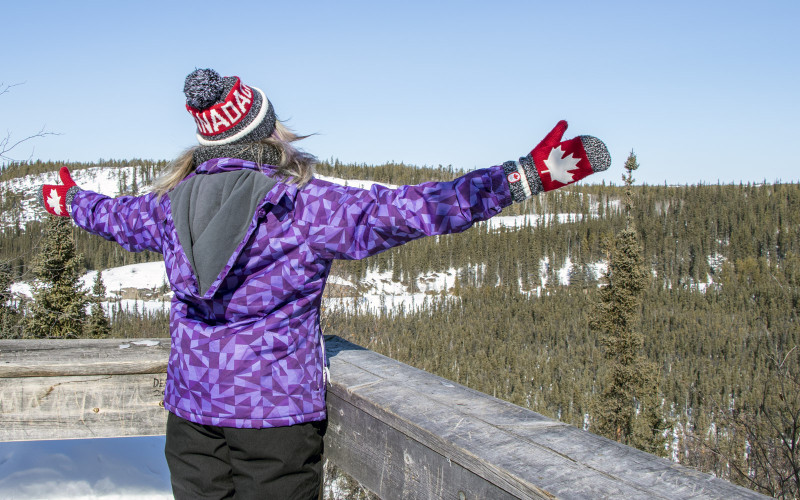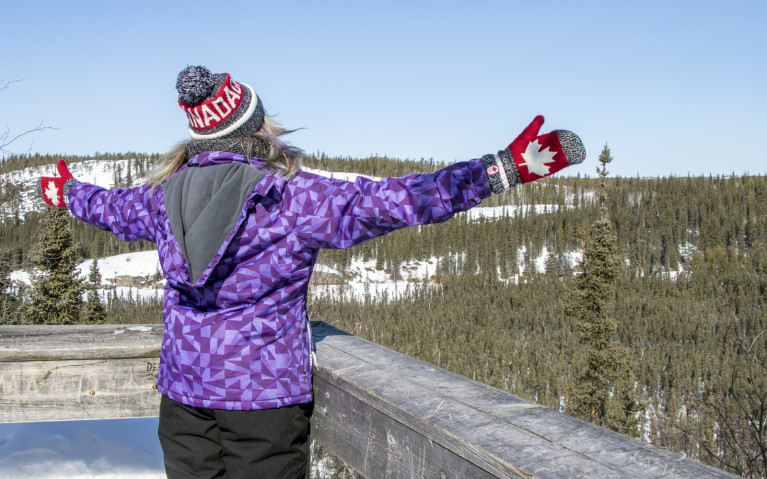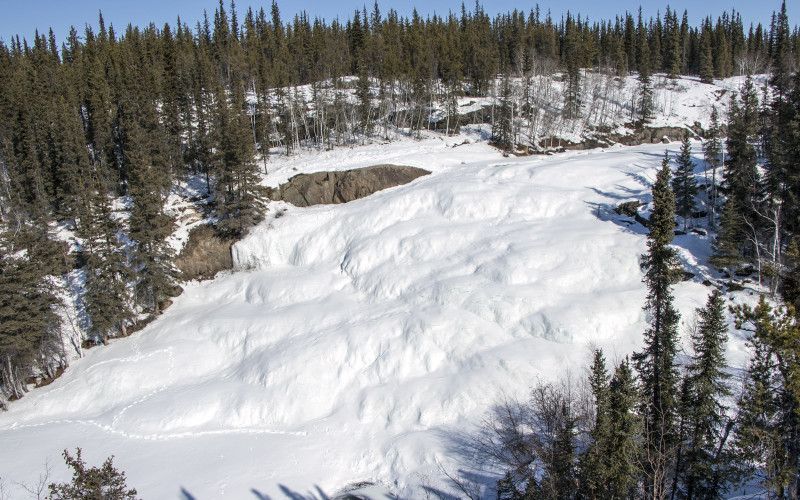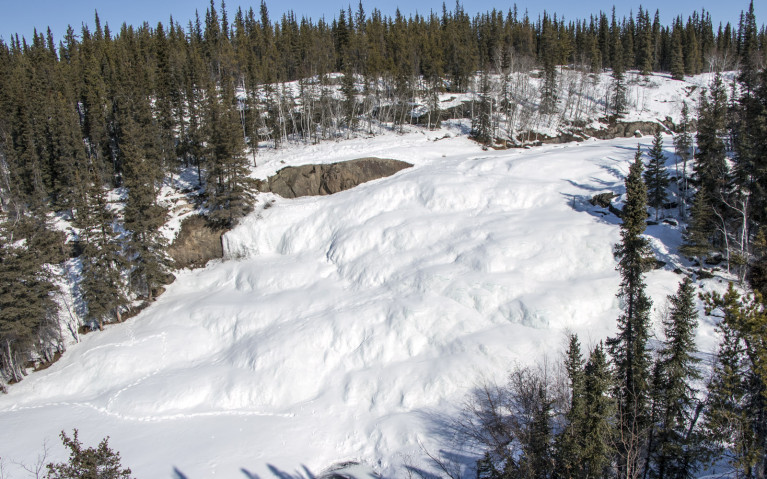 If you visit in the winter like I did, be careful when approaching the edge of the cliff. While it may look sturdy, it's tough to know what's ice and what isn't. That epic selfie won't be worth it if you're not around to share it afterwards, right?! If you're thinking but Lindsay, you're awfully close to the edge in your photo – trust me, I look closer than I actually was!
See those patches of exposed water? These areas of the Cameron River actually never freeze. As a result, otters love to call the area home since it means easy fishing to fill their bellies. While we didn't get to see one ourselves, the crazy amount of footprints made me squeal with joy!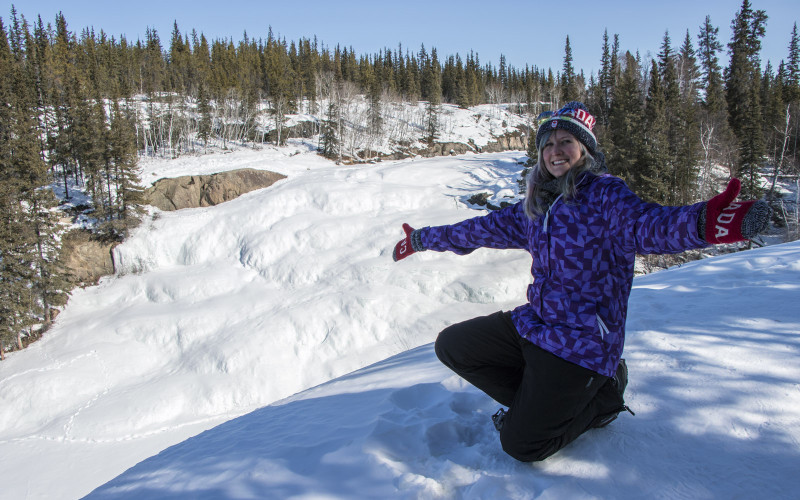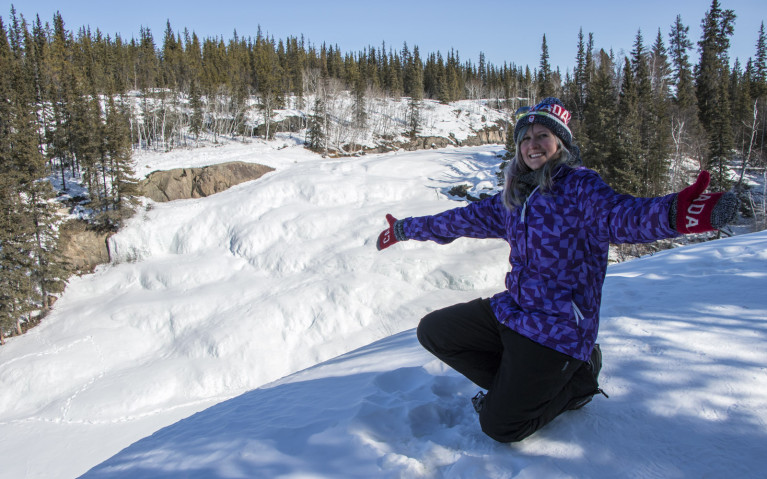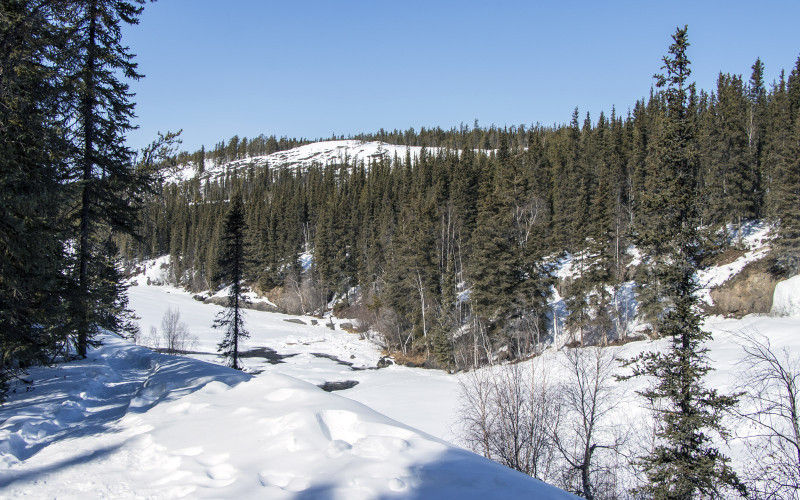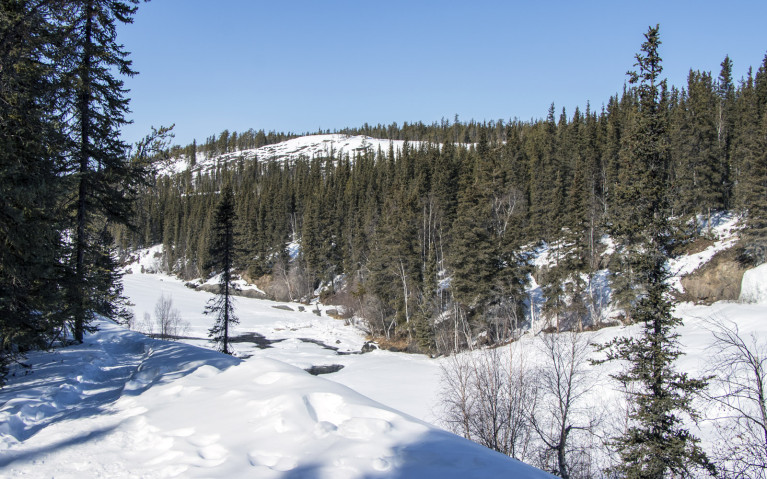 Making Your Way Back
After you've had your fill of Cameron Falls, Rosie will take you to a few other beautiful spots- once you would totally miss without a guide. That's just one more reason (as if you needed one, right?) to take this hiking tour with her.
Check out the beautiful little waterfall (again, be careful to watch your step) before making your way up to the top of the stairs.
Follow Rosie behind the large rock full of different species of lichen (not to be confused with lycans) to find this awesome rock formation. I feel like this a highlight of the tour for Rosie as she watches her tourees suck it in to squeeze through the crevice. Have a good giggle and then check out some of the portaging areas close by before hitting the trail back to the car.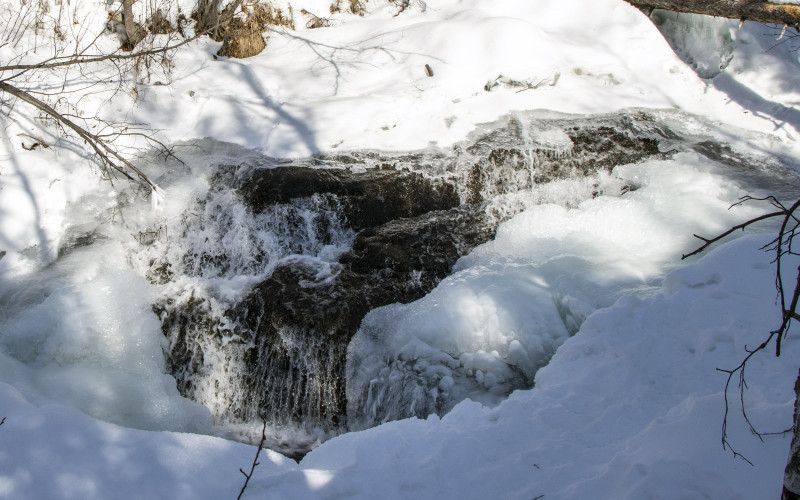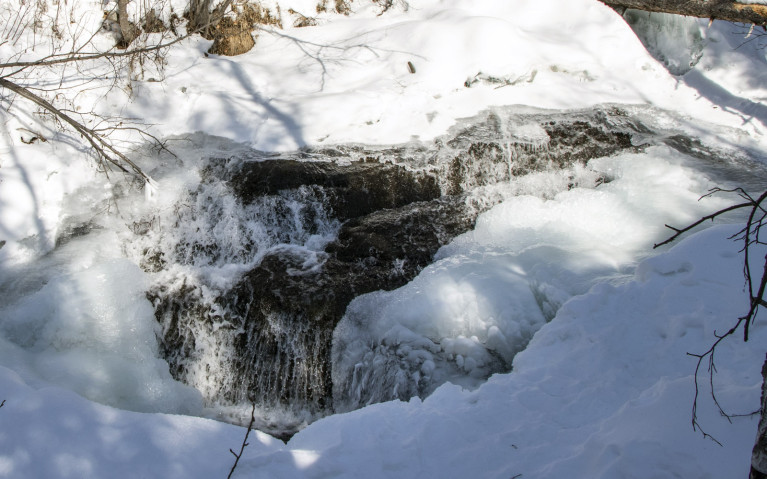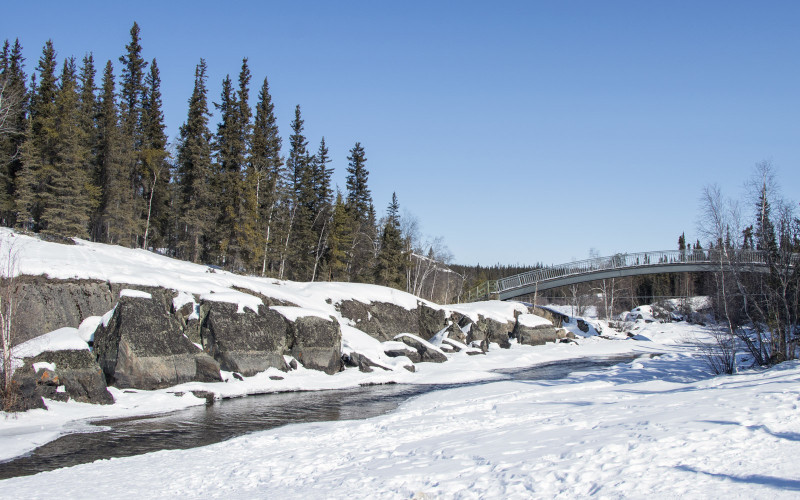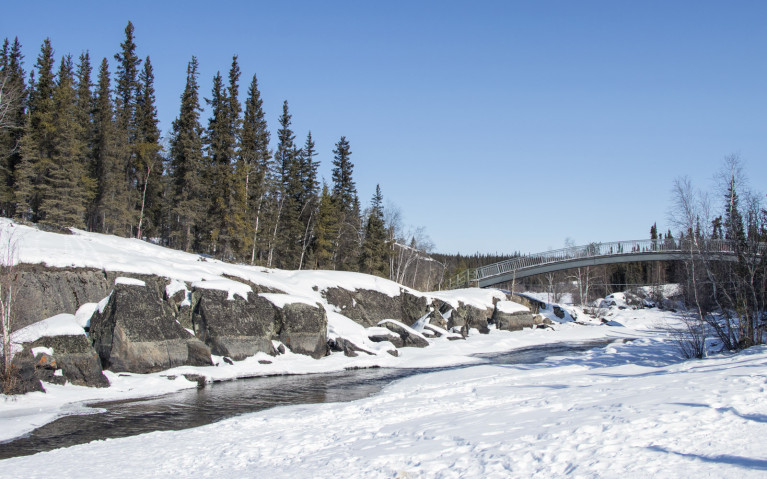 Time for a Treat!
What better way to finish an awesome hike than with some eats? Not just any either… Rosie's homemade cookies and biscuits. We were absolutely spoiled as she treated us to her amazing cranberry scones and cookies all made with birch syrup. If you're thinking along the lines of maple syrup, think again. This more savoury syrup is an absolute delicacy and is apparently great to cook with! I sure enjoyed the finished product, especially as it was paired with Labrador Tea.
Once you've enjoyed your share of goodies, it's time to say goodbye to Hidden Lake and head back to Yellowknife. With a full belly, enjoy the gorgeous views along the Ingraham Trail.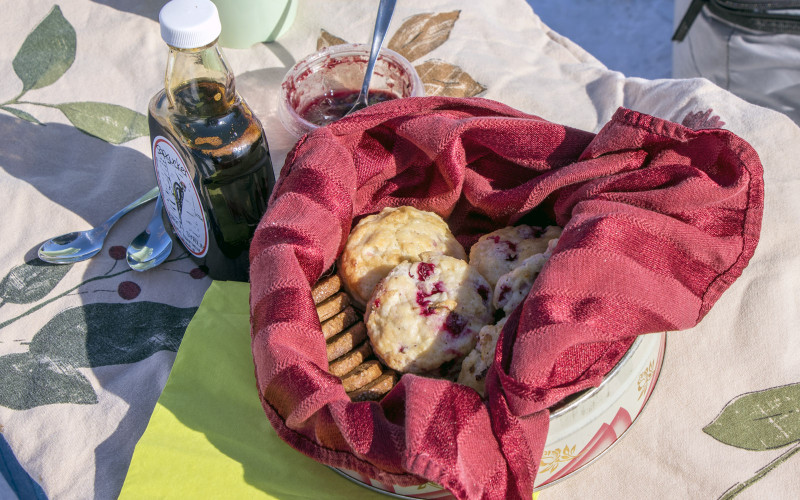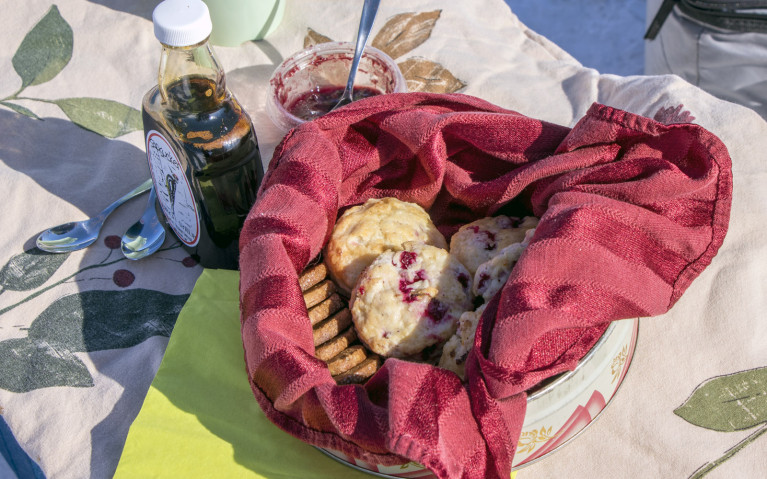 A Must-Do Tour When Visiting Yellowknife
The Northwest Territories has so much to offer, and it's a sin to not tap into that with a guided tour. If you're like me and want to do this tour in the winter but don't own -40C boots and a toasty winter jacket and/or snow pants, don't worry. Rosie can help get you some rental gear and she'll supply the grips and polls to ensure you're well equipped for your adventure!
I can't tell you enough how amazing Rosie's tours are and how it's on my must-do list for the city. Her energy is infectious and it will make you feel so inspired. I was grinning for ear to ear for the rest of the day thanks to her tour! It made me hungry for more knowledge and even more curious about this world we live in. If this Cameron Falls hike doesn't appeal to you, she has a number of other tours which I'm sure are just as amazing as this one! I think either her A Walk in the Past or Shopping in the Boreal Forest tour will be on my list for my next Yellowknife trip! The only way to experience Yellowknife is with Strong Interpretations.
Disclaimer
A huge thank you to Rosie for letting me tag along on this adventure. Words can't describe how much fun I had but I hope this post conveys it at least a bit. Despite enjoying this tour complimentary, all comments and suggestions are my own – as always!
Ready to take on Cameron Falls? Pin it for later!