Get Acquainted with the City on this Awesome Yellowknife Tour

What better way to get acquainted with a brand new area of Canada than to take a tour of its capital city? That's exactly what I did just 15 hours into my Northwest Territories trip. After grabbing a quick bite to eat with a side of caffeine at Javaroma (one of Yellowknife's coffee shops), it was time to get acquainted with the city on a Yellowknife tour. Luckily I had connected with a local before I arrived so I knew I was in good hands.
While I won't give all the details away, I'll give you a taste of what to expect on this Yellowknife community tour with Kyle of Yellowknife Online.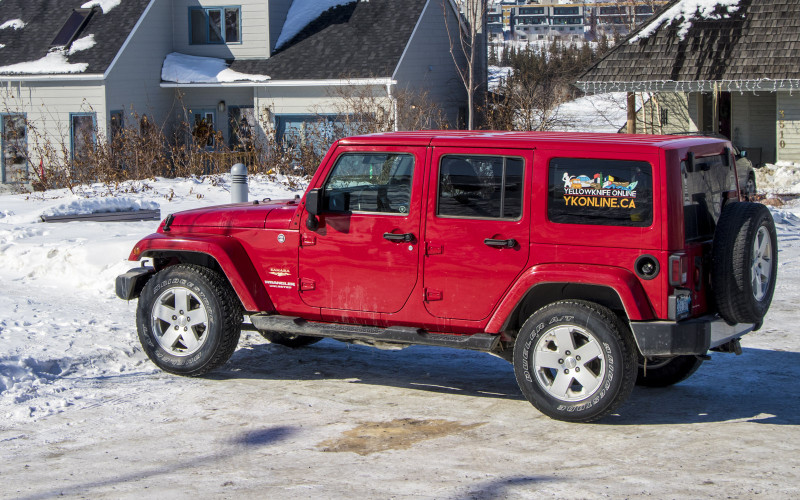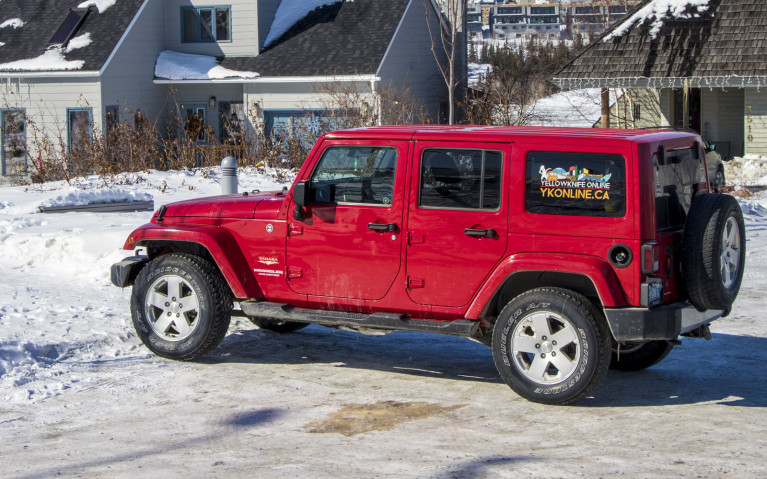 Start With Some Yellowknife History
The city was founded in 1934 thanks to the gold rush which hit the area in the 1930s. Why the name Yellowknife? This land belongs to the Yellowknives Dene First Nation. As they traded with the Inuit to receive copper knives that were yellow in colour, when Samuel Hearne was exploring the Great Slave Lake area, he encountered the Dene people and their yellow-coloured knives. Fur traders soon began to refer to them as the Yellowknives… hence the name Yellowknife was born.
Our first stop was at the old Giant Mine where you'll find a collection of relics and historical artifacts. This is thanks to the Yellowknife Historical Society who are committed to preserving these items which show how Yellowknife came to be. Collected over the last 10 years, you can see equipment actually used in the mines like the mine cage and Cat Trains. These trains consisted of a bulldozer which pulled freight sleighs along with a caboose to get supplies up to the mining communities in the 1930s.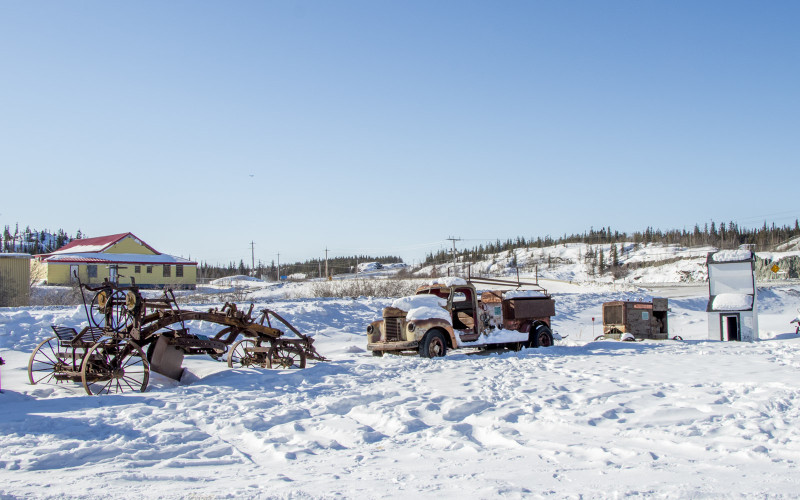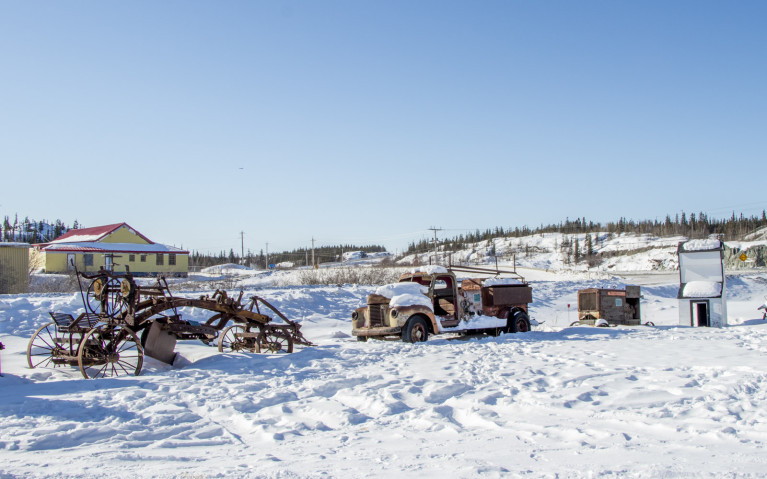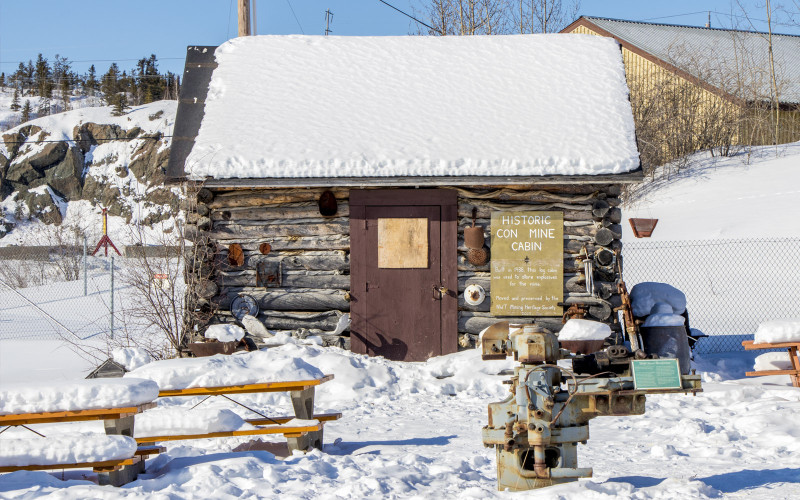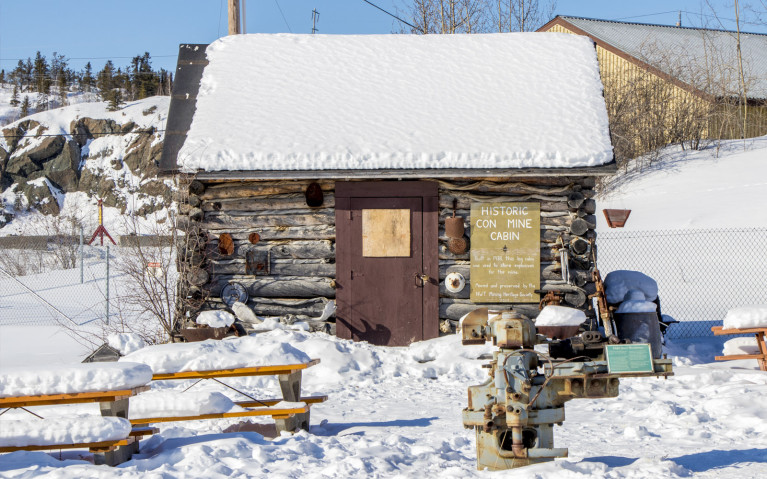 With the boom of the gold rush came the boom of the city, and Yellowknife was designated as the territory's capital in 1967. As such there was an influx of government jobs early on, some taller buildings dot the skyline which catches many people by surprise. What caught my eye were the unique designs of a few of Yellowknife's buildings, specifically the Legislative Assembly of the Northwest Territories.
Constructed in the early 1990s, a lot of consideration went into maintaining the natural landscape around it as well as incorporating themes from the Dene people. While I didn't get a chance to go inside as I visited on a wintery Sunday, you can take a tour of the legislature every weekday at 10:30am year round with additional tours in the summer months.
Close by you'll also see City Hall which houses the Yellowknife tourism information centre. Stop by and you can not only get a free city pin but also a certificate saying you're brave enough to visit north of the 60th Parallel! There is also plenty of pamphlets on additional tours, things to do in town, and just general information on the Northwest Territories.
Oh, and don't forget to be a tourist and nab a photo with the Yellowknife sign!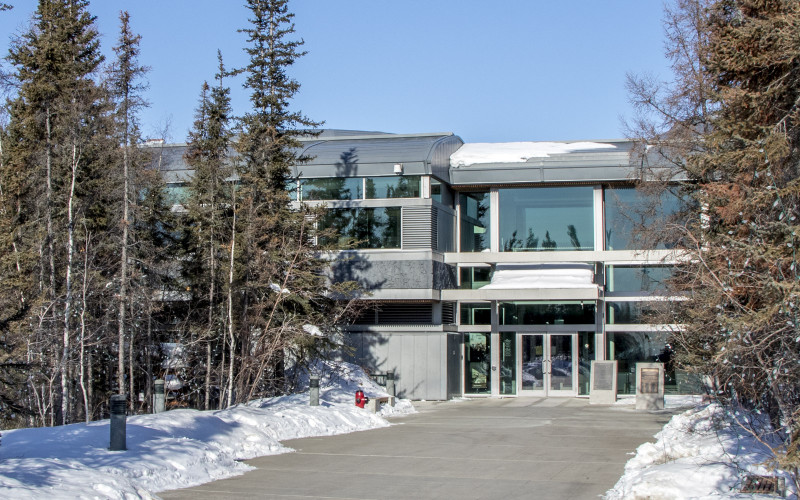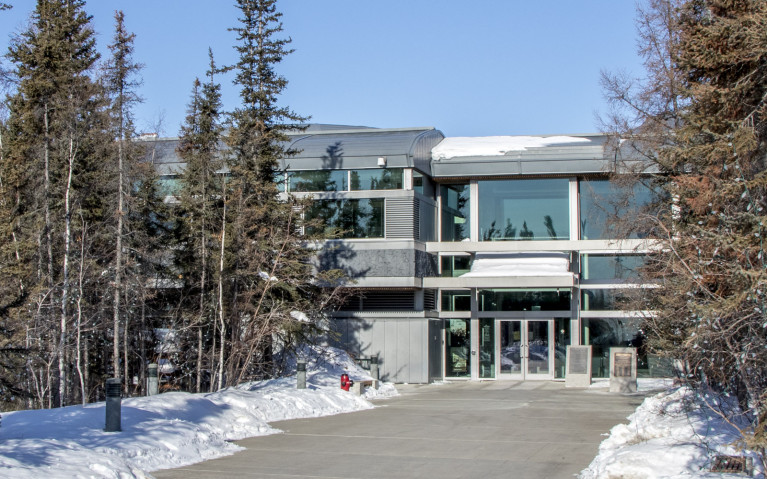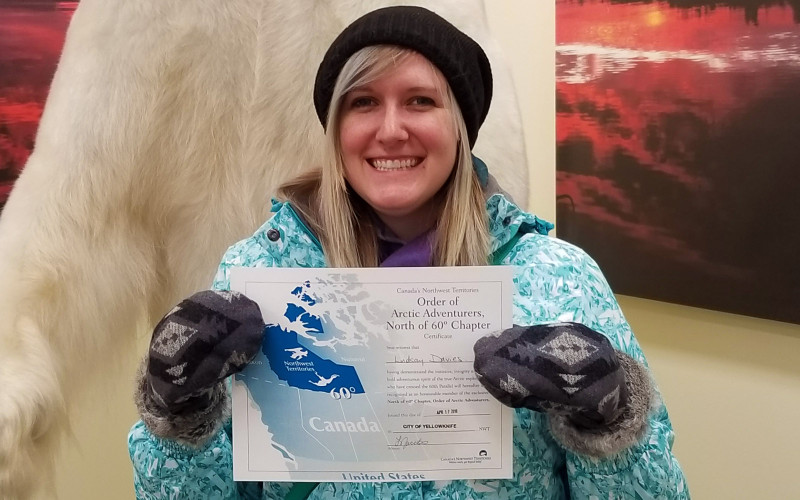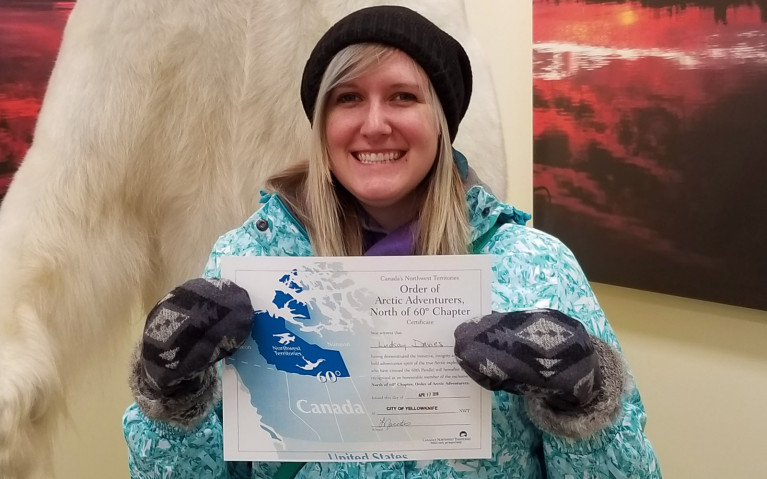 Winter, Ice Roads & The Yellowknives Dene
As I mentioned earlier, the area Yellowknife stands is traditionally Yellowknives Dene land. While this area used to be where the Dene would watch for caribou, the area southeast of Yellowknife was important as well. Used as a gathering site in the summer months for generations, the town of Dettah has grown into one of the two Yellowknives Dene communities near Yellowknife. Located on the north shore of Tucho (I believe it's pronounced too-ch-oh but if I'm wrong please correct me) or as we call it in English, Great Slave Lake, a 27km all-season road can take you there. In the winter though… you can hop on the 6km ice road across Great Slave Lake.
Many of us in southern Canada would think ice roads are insane, but they're a way of life in the Northwest Territories. Ice roads allow remote communities to receive the supplies they need along with creating shorter routes to others.
If you think you'll fall through, think again. They're monitored closely from when the water begins to freeze in autumn until it officially closes to ensure everyone using it does so safely. It's hard to believe that the deepest lake in North America can freeze +4ft deep, but it's true! Even tanker trucks can use it at times! If you're visiting from January to mid-April, you have to experience it.
What Yellowknife lacks in sunshine during the winter months they make up for with their bright spirit and amazing events! I was able to see remnants of their Snowking event where a two-story snow castle is constructed for all to enjoy. It's the spot to be in March with live music, dance parties and more! I'll have to return while it's still intact to truly experience the winter spirit.
Whether you're on Great Slave Lake while it's frozen or thawed, you'll notice that there seem to be cabin-like structures floating in the water. Those are Yellowknife's houseboats and yes, people live in them. What started as a few pioneers building their houses on old river barges back in the 1980s has turned into a vibrant community of energy-efficient housing. It's definitely one of a kind, and there are even a few you can stay in!
If that doesn't sound like your cup of tea, then at least visit Mario's Marvelous Movie Emporium. This pay-what-you-can coffee shop is as unique as they come. How can you find it? Look for the houseboat with a green or red flag. Green means it's open, red means you'll have to try again later!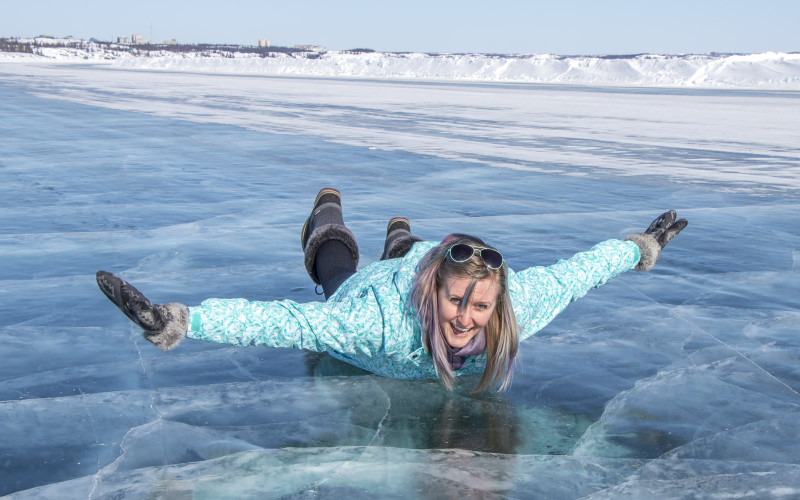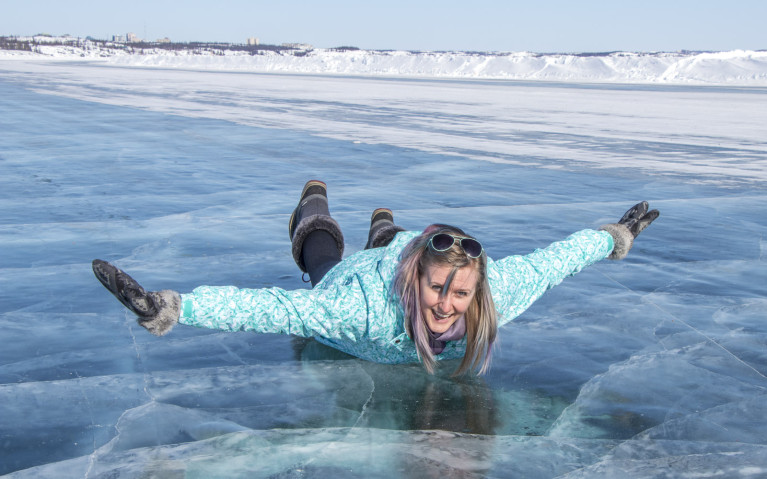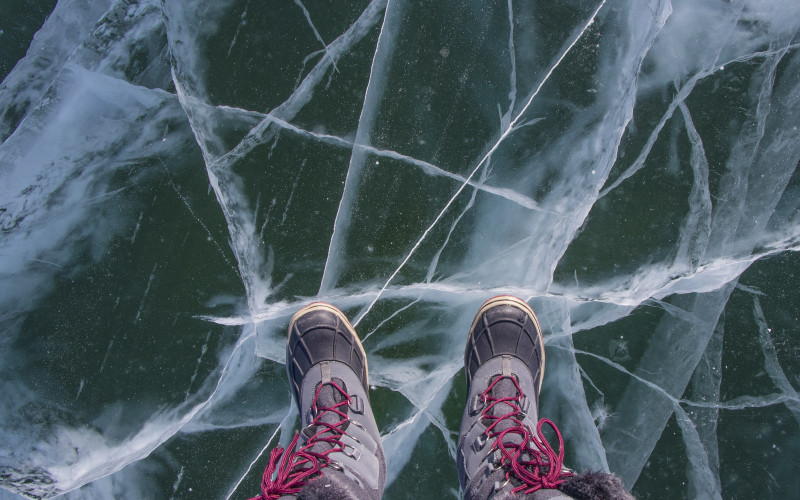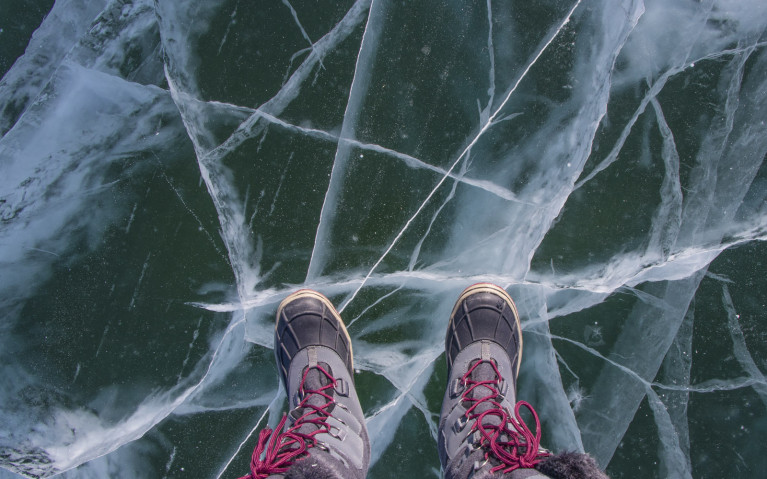 Exploring Old Town Yellowknife
Next, it's time to roll on over to the Old Town and the original location of Yellowknife. Here you'll find remnants of the gold rush era, along with Yellowknife's oldest businesses.
The original Weaver and Devore store, established in the late 1930s, still stands today. Two friends, Harry Weaver and Ellis Devore packed up everything they owned and established their general store. They even dismantled the barge they arrived on to make the floor! What was once a general store (and has since moved across the street) is now a Yellowknife staple for locals and tourists alike – Bullock's Bistro. If you want some of the best fish and chips you'll ever have, make sure you eat here at least once during your trip.
Yellowknife's Old Town is full of rich and vibrant history. You've probably even heard of a certain street if you're a Tom Cochrane fan. Ragged Ass Road, made immortal by his album and song of the same title, is one of the many quirky elements that make Yellowknife such a great city.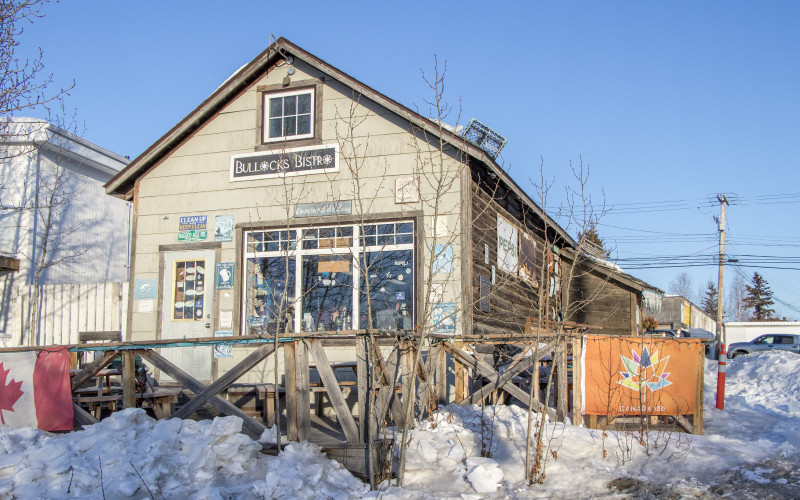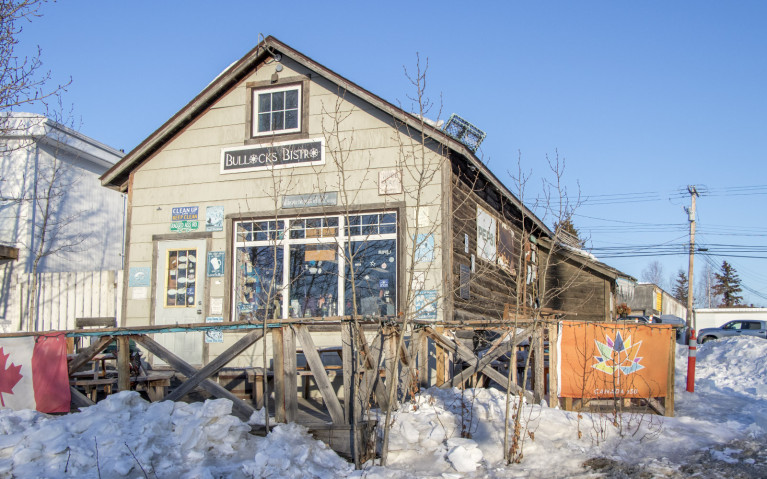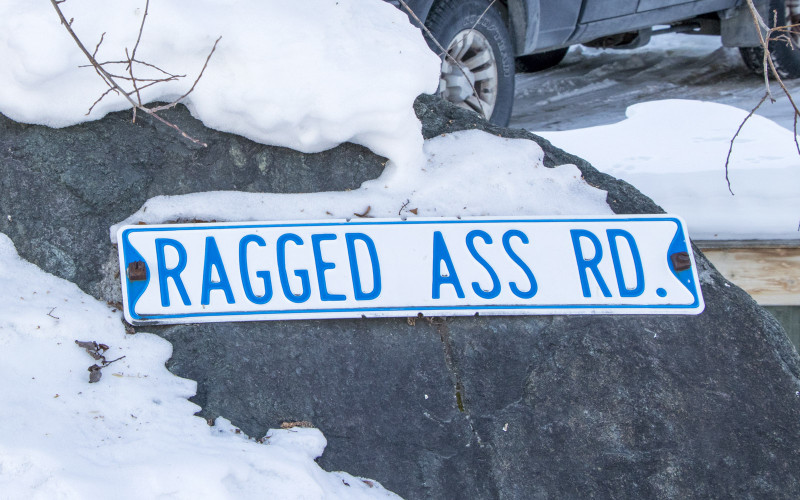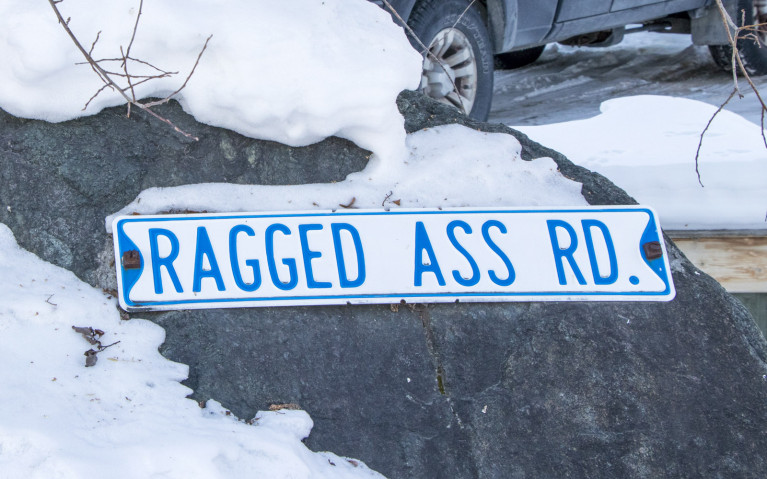 How did Ragged Ass Road get its name? Time for a throwback to 1970 where Lou Rocher, a Yellowknife resident who owned a good chunk of the property nearby, was joking with his buddies. Back then the street was known as Privy Road due to the abundance of outhouses on it. Unfortunately for Rocher and his friends, they faced a difficult prospecting season meaning they had little income despite their tireless efforts.
As most Canadians deal with hard times, he relied on humour to get him through. He joked that "they should call it ragged ass road because we're all ragged ass broke!" While the city took over 40 years to formally recognize the name, it caught on quick with the locals and Rocher lives on through Ragged Ass Road.
Now you may want a souvenir to remember your trip by, as many others did before you. Fans of the album (or possibly just the name itself) have stolen the sign so many times that the city now bolts it to the post. Apparently though, that wasn't enough to deter someone from taking it when I visited! Save yourself the hassle and grab your own at one of the gift shops in town.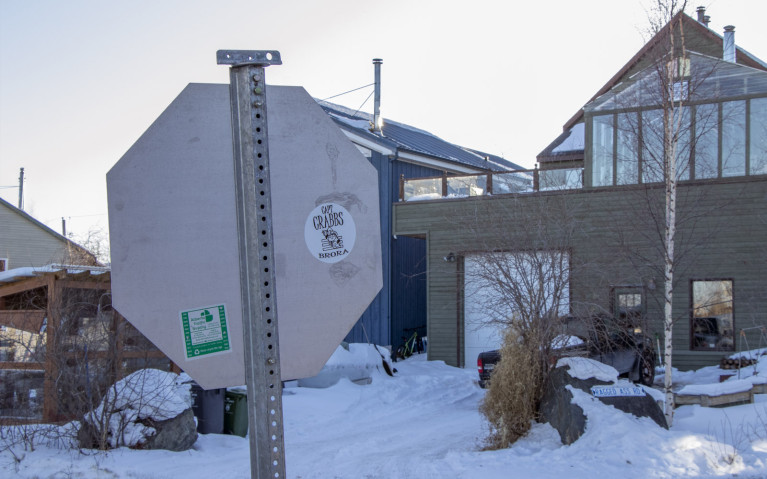 After having a giggle, take a moment to wander through the Woodyard area. Even though the gold rush has been over for a while, you'll still find the shacks throughout. While a few have been replaced with what are more like tiny cottages, most are still raffish but are clearly a well-loved part of Yellowknife. If you're lucky, you may even get a chance to see inside one like I did thanks to how welcoming the locals are.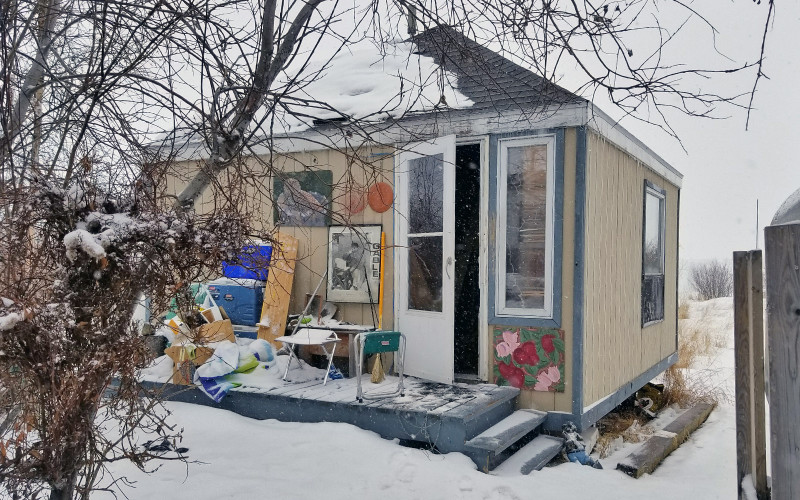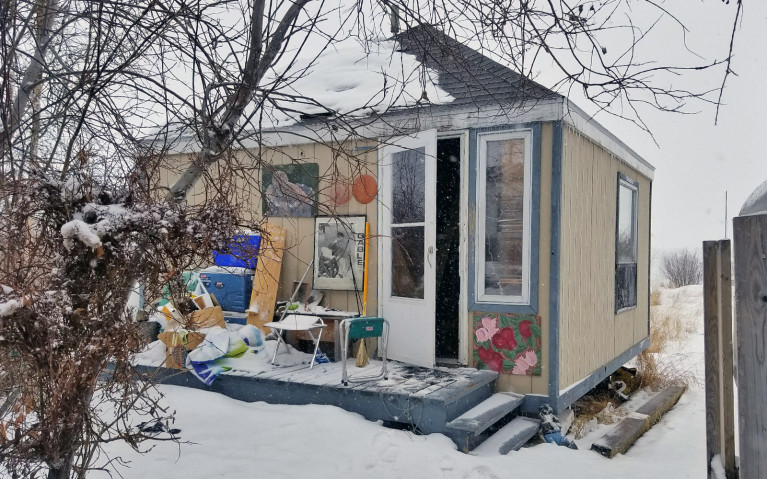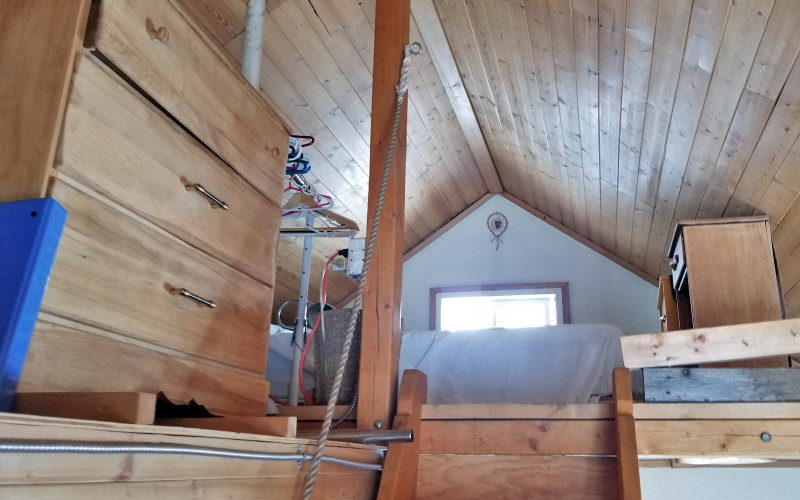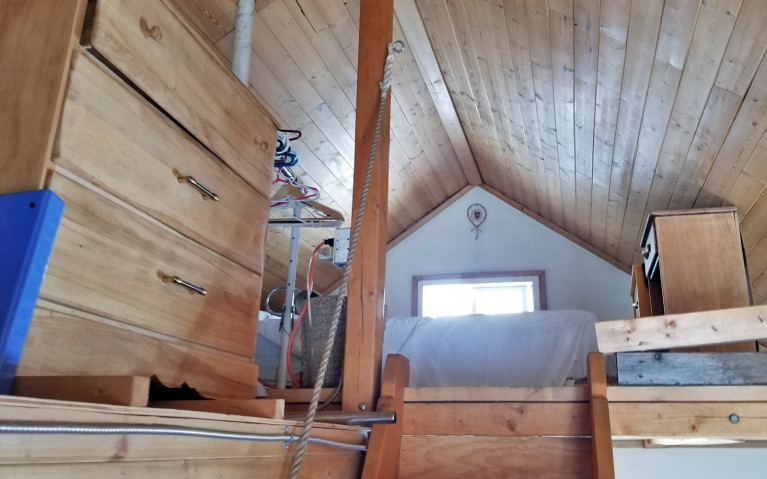 Since I can't resist a stellar view, the final stop I'll talk about was a highlight of the tour (let's be honest, what can compare to the ice road?!) – the Rock. It may not sound like much, but it's worth the climb to the top. From here you'll see the Bush Pilot's monument, dedicated in 1967 to the air engineers and bush pilots who were the crucial connection between Yellowknife and the rest of Canada. From here you can see where old meets new as you take in this panoramic view.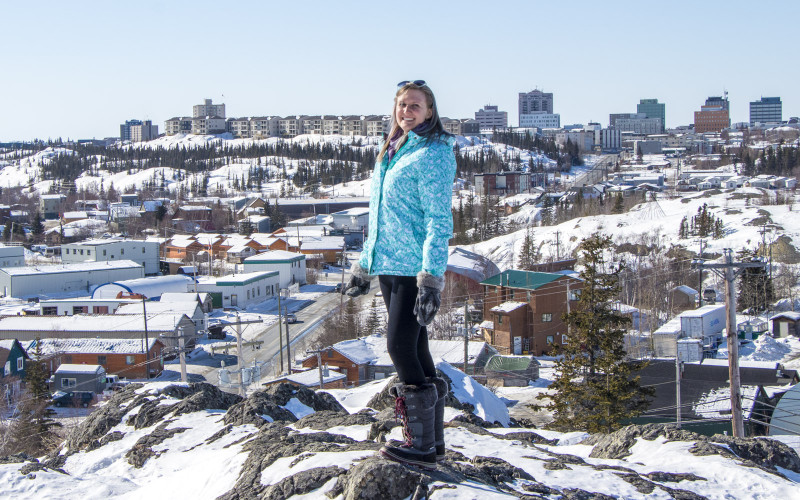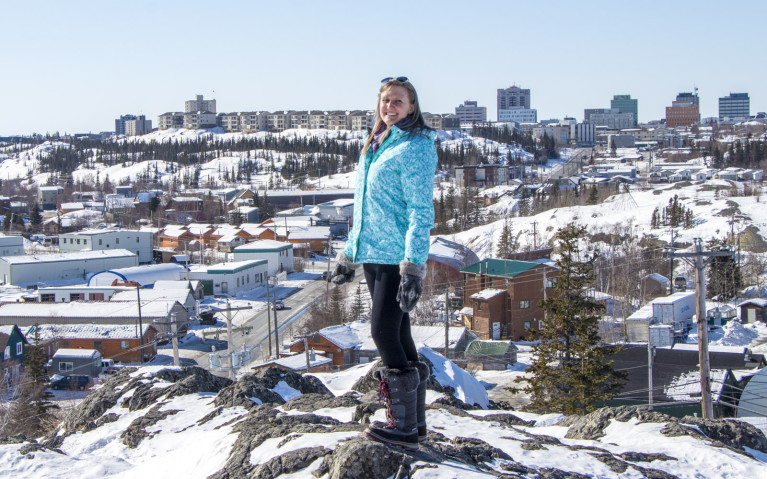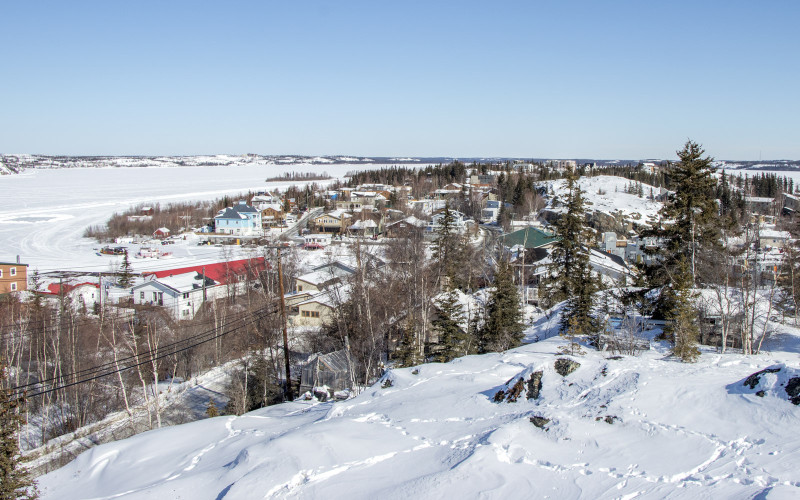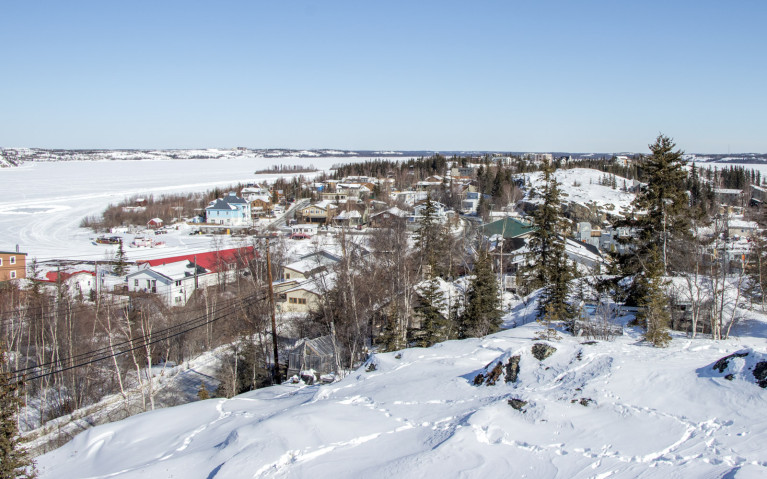 Why Take a Yellowknife Tour?
I can't stress enough how insightful this tour is, especially if it's your first time in the area. Kyle will not only get you acquainted and comfortable with the city, but he'll also give you some great suggestions on where to eat and what attractions to see. You can do hours of research (trust me, I did) but nothing will compare to that insider's touch. If you don't believe me, this post is maybe half of what Kyle covered. He's also a great resource so if you have any questions about Yellowknife tours or just generally about Yellowknife travel, ask away!
Despite spending almost a full week in town, I couldn't do it all. there are still plenty of things to do in Yellowknife that I already can't wait for my next trip. In less than 24 hours I had fallen in love with Yellowknife along with the Northwest Territories. You really need to visit ASAP if you haven't already. No matter what time of the year it is, this Yellowknife local tour will be a great introduction to your Northwest Territories adventure!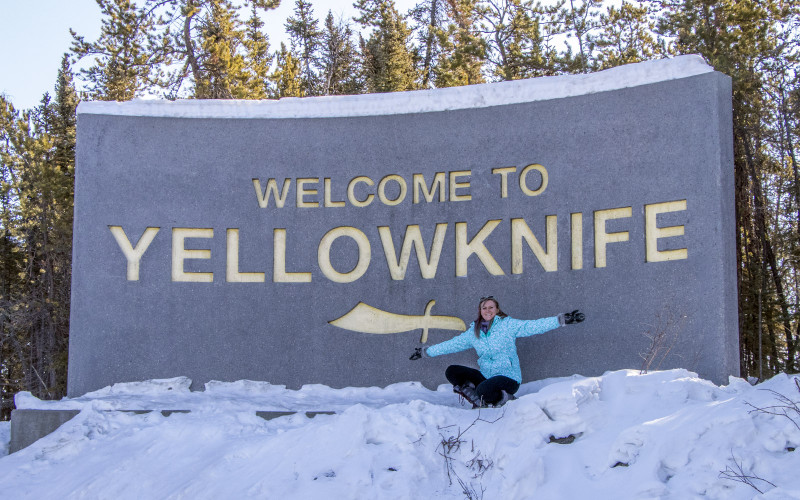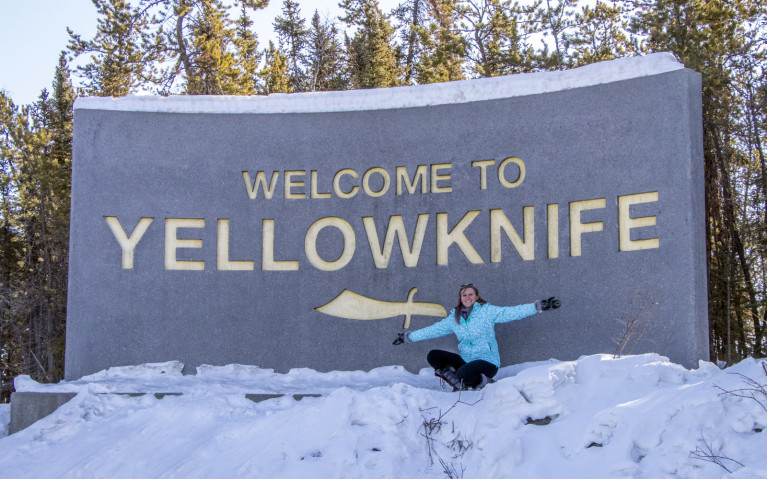 Additional Yellowknife Tours
While I often prefer to explore on my own once I've been acquainted with a city, this isn't the case for everyone. If you're looking for additional tours to enjoying during your time in Yellowknife, take a look at the following list.
Aurora Viewing Tour
With the Northwest Territories being the Northern Lights capital of the world, many visit with the goal of seeing the aurora borealis. Aurora Village is the most popular aurora hunting tour, though there are also smaller guides that offer tours as well. If you're looking for some more intimate, I would personally choose The Bucket List Tour and their cozy cabin as your guide for a northern lights tour.
Dog Sledding Tour
A very popular Canadian bucket list item, dog sledding is another activity you might want to check out while visiting Yellowknife. While I was able to experience this during my time in Hay River, I would recommend checking out this tour on Viator as you'll not only enjoy your dog sled adventure but also learn about some of the Indigenous traditions of the area.
Ice Fishing Tour
If you have never been ice fishing before, there's no better place to do it than Yellowknife. I had the pleasure of ice fishing with Shawn of Great Slave Lake Tours and it's a memory I'll cherish forever! Shawn is very knowledgable and will do everything he can to ensure you have an amazing experience… even if the weather doesn't cooperate! Not only do you get to enjoy some delicious eats afterwards but you'll also ride in a Bombardier B12 which is something you'll never forget. Click here to book online!
Outside of Yellowknife
You can easily spend a week in Yellowknife and still not do everything you'd like, however I recommend taking some time to get outside the city if you can! One of my favourite tours was with Rosie of Strong Interpretation as she took me to Cameron Falls. Unfortunately, she is no longer running tours but you can still read about my Cameron Falls experience as I share some of the things I learned while on her tour. If you'd still like to do a guided tour, there are options available.
As you can see, my trip was in the winter hence that's why these suggestions are geared towards the cooler months. However, Yellowknife is a fantastic destination year-round whether you visit in February or August! If you're ready to plan your own Yellowknife trip, check out these hotels in Yellowknife and get ready to have the time of your life.
Disclaimer
This post contains affiliate links where I may receive a kickback at no extra cost to you. It helps keep the site alive so thanks! Read more in IBB's disclaimer and privacy policy.
Planning to Join Some Yellowknife Tours? Pin it for Later!