Can't Travel? Here Are 15+ Ideas to Help Satisfy Your Wanderlust

As I write this post we're in the midst of the global crisis. We're being recommended to keep travel to a minimum, keep to ourselves, self-isolate and hunker down until we can ahold of the situation. It's not ideal, especially for those of us who live for travel like you (I'm assuming since you're reading my blog!) and me. Whether you're reading this because of what's currently going on or in the future when we've survived all this and just can't travel due to your job, family commitments, funds or anything else, here are some ideas if you're wondering what to do when you can't travel.
Things to Do Close to Home
So many people think the idea of travel means you have to go across the world. You probably don't realize how much there is to do in your own backyard! Here are a few ways to capture that when you can't travel abroad.
For no-contact self-isolation-friendly ideas, skip ahead to the next section.
Plan a Staycation
The ever underrated staycation. Leave the stress of travel planning behind and opt for a destination that's familiar. That way there's no stress to try and 'see all the things' because you can always go back! It's a great way to get a change of scenery without breaking the bank. Get a hotel in your own city. Go to a destination with an hour or two's drive. Or if you'd rather save your pennies (err nickels for us Canadians), opt for a day trip instead!
Meet with Fellow Travellers
When you can't travel, I'd say hanging out with fellow travel-fanatics is the next best thing. Check out websites like Eventbrite and Meetup to see if there's anything happening in your area. If you're in the travel industry, I always love getting to a Travel Massive event whenever I can to meet new people! Spending time talking about travel while reminiscing about old adventures and hearing about others' journeys is always a blast. Though my personal favourite is for all my travelling ladies out there – Wanderful. If you've never heard of Wanderful, it's a group for travel-loving women across the world! Join the global Facebook group to start chatting with like-minded ladies. What's even better, you can meet up with some of these ladies in person thanks to city-specific chapters in various countries!
Explore Locally
Do you often find yourself saying that you don't realize what's in your own backyard? I know I try to explore Waterloo Region as much as I can and even my birthplace of St Catharines but there's always things on my to-do list. Staying close to home is a great excuse to check a few of these off, whether that be going to museums, hunting for street art or just checking out a neighbourhood you've never been to.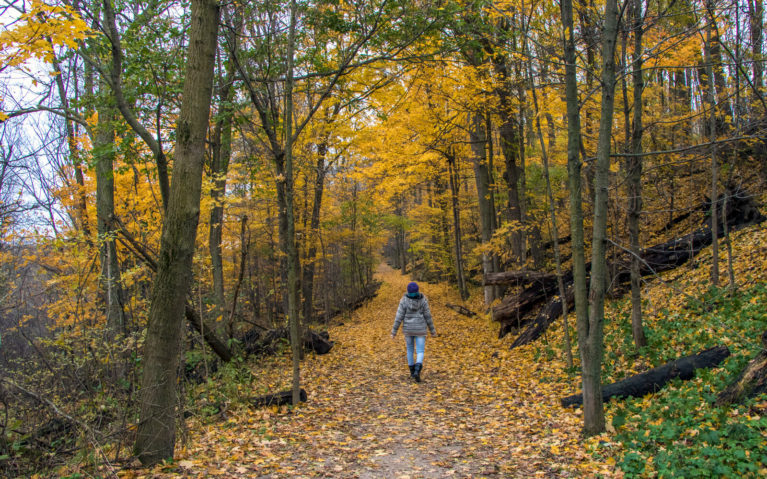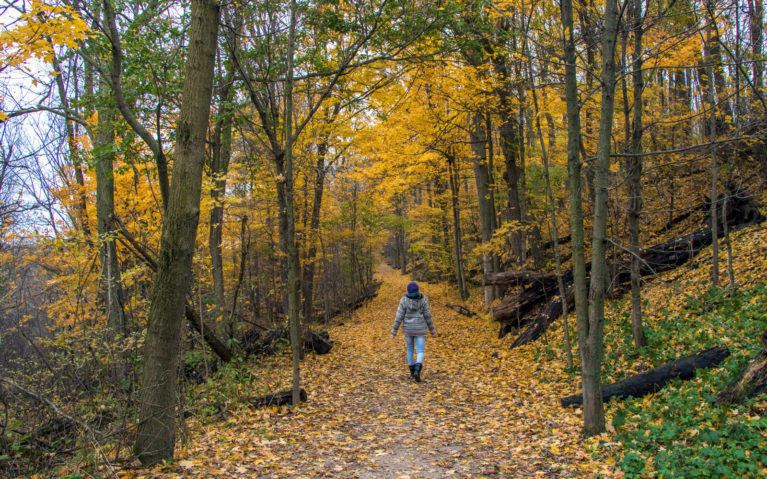 Go For a Hike
Ahhh the answer to pretty much everything in my life. Whenever I'm feeling stressed, upset or just down in the dumps, I head out for some quality nature time. Is there a trail you've had flagged on Google for ages that you've been meaning to check out? Now's the perfect time to tackle it! Want to go chase a waterfall? Go get 'em, tiger! Want to forget the world and all its madness? Give forest bathing a try. Nature is not only good for your mental well-being but it also helps you physically by reducing your blood pressure, heart rate and even slowing the production of stress hormones. I don't know about you but I could definitely use the latter right about now!
Try Some International Cuisines
Is there somewhere you've been that you're missing? Or maybe there's a destination you're dying to visit but can't get to just yet? Let your taste buds travel there for you! It might take a bit of Googling but take a look and see what's available. In Kitchener alone, we're lucky to have amazing Japanese restaurants, African, Ethiopian and much more. If you live in a smaller city without as much variety, it might be worth planning one of those staycations I was just talking about!
From the Comfort of Your Own Home
Don't feel like venturing outdoors? I get it. There are days when I don't want to human either. Other times (like crazy outbreak times), you might not have the option to go outside at all. For when you can't travel abroad or locally, here are some ideas of how to pass the time.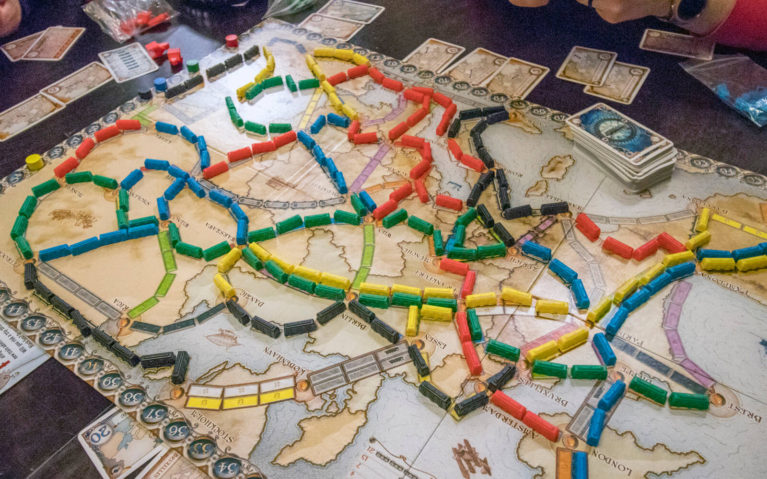 Play a Travel Board Game
Who doesn't love a good board game?! With so many out there, it's a great excuse to invite friends over (if you can), stay in and get your game on. I absolutely love Ticket to Ride. This awesome train-route-building game also comes in a variety of different boards from North America to Europe and even specific countries. There's classics like Monopoly which you can get country- or city-specific adaptations of too. However, my absolute favourite board game of all time is Pandemic. I know, I know, terrible for an outbreak era but hear me out. I love this game because it's one of the few out there where you have to work together AND you're trying to save the world! It can be stressful at times but I promise you'll enjoy it if you give it a shot!
Looking to Up Your Game Repertoire?
Check Out This List of the Best Travel Games!
Read a Travel-Themed Book
Okay, this is one I personally need to work on as I don't read nearly as often as I should. Luckily one of my resolutions for 2020 will help me fix that. Though honestly I wouldn't even know where to begin with what books to suggest! Personally, I've been reading Indigenous-authored books as a way I can help support the Indigenous of what is now Canada while learning about the true history of this country. One in particular that I think everyone should read is Indian Horse which sheds insight into what it was like to be a victim of the residential school system here in Canada. It also touches on one of our nation's favourite past times, hockey, and how it can help show you camaraderie and support when one needs it most.
Watch a Travel-Themed Movie or TV Show
I must admit, I'm not much of a movie watch. *cue the gasps* I know, I know. I just find 9 times out of 10 I want more than just 1.5 to 2 hours of action so I gravitate to television shows instead. That being said, I do love movies like the Secret Life of Walter Mitty, Into the Wild and my all-time favourite – One Week. If you haven't seen these, especially One Week, I highly recommend them. I've also got Wild and 180 Degrees South on my radar to watch in the future. As for television shows, there are so many out there! It can be something like admiring the Southern Florida skylines in CSI: Miami (shut up, I love how ridiculous Horatio is) or live-action adventure like the Amazing Race! For a good giggle, I highly recommend Jack Whitehall: Travels with my Father on Netflix. Watch the shenanigans unfold as this dynamic duo travels Southeast Asia, the USA and more. I also really need to watch Anthony Bourdain: Parts Unknown… I'm going to run away now before someone smacks me for not watching it yet!
Learn a New Language
With technology nowadays, it's easy to do this from the comfort of your own home! If you haven't heard of Duolingo, it's a great app that makes language learning fun. In it, you complete activities and challenges to further your knowledge of a language. Duolingo is also great for maintaining your language knowledge and they're adding new languages all the time!
Take a Virtual Tour
Did you know there are hundreds of museums across the world you can tour virtually? It's true! Sure, it won't be as good as the real thing but it's a great way to get a peek at iconic museums from the comfort of your own home. You've got the Guggenheim Museum in New York, the TATE Modern in London and many more! These virtual teasers will hopefully get you through until you can see these amazing places for yourself on a future trip.
Looking for More Ways to Travel Virtually?
Sign Up for the IBB Travel Crew & I'll Send You A Round Up of Resources!
Shop For Some Travel Swag
Money can't buy you happiness and while it can buy you plane tickets and hotel rooms, it can also buy you travel gear! Why not do a little sleuthing and see if you can find some deals on some equipment you've been meaning to buy. Maybe by taking advantage of season-end deals with a new pair of snowshoes? Or what about some travel-oriented clothing featuring some sweet designs or slogans to show off your wanderlust. I've got a few of those kicking around if you're interested – I also take requests!
Reminisce Over Old Souvenirs
Have you ever bought something from a past adventure only to have it sit and collect dust in some obscure room of your home? Let's fix that! Dust it off and create a new display for it! You could make it a centrepiece on your coffee table or put up a new shelf in your living room to display it. If you mainly collect photos, why not print some out and make a collage? I bought a corkboard at the end of 2019 which I'm slowly filling up with polaroids from my adventures. While half the time I forget to take my adorable Fujifilm camera, I always love the photos I capture when I do! Or if you'd like to do something with the photos taking up space on your computer, grab a film printer so you can pick your favourites!
Listen to a Travel Podcast
I only recently got into podcasts and they're an absolute DREAM. Personally, I tend to gravitate towards true crime podcasts. (That's still a way of travelling while learning about different cases, no? Okay, too creepy). While I haven't listened to many travel-themed podcasts, I've heard that Travel with Rick Steves, Wild Ideas Worth Living and the Women Who Travel podcasts are all amazing. Though I personally enjoy the Practical Wanderlust Podcast. Listen to Jeremy and Lia as they share the shenanigans they get into while travelling the globe. When you put hilarious people in ridiculous travel situations… you know there's going to be some stories!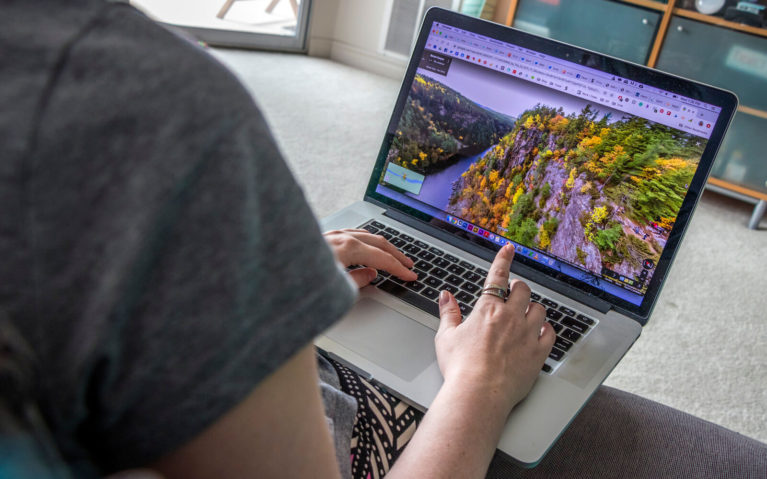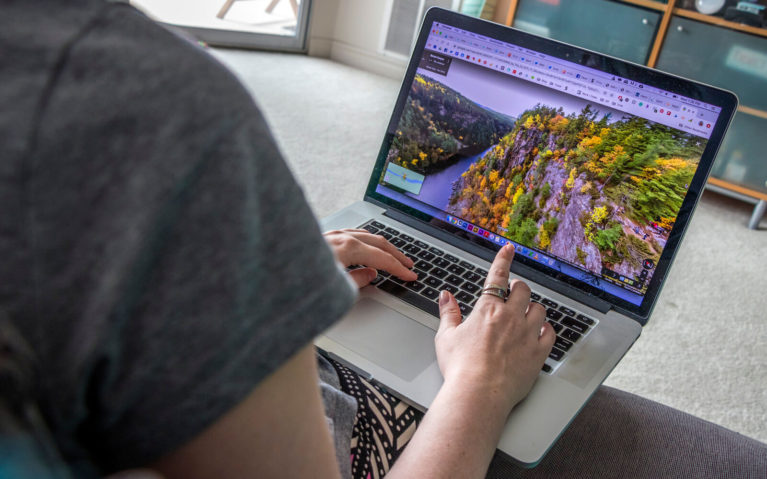 Go On a Virtual Hike
Street view sure comes in handy when you're stuck at home! Thanks to crowdsourcing, Google Maps is a treasure trove of amazing views. Search for your favourite provincial park or a hiking trail that's on your bucket list. You just might find some photos thanks to your fellow travellers! If you're lucky, someone might have documented the whole thing thanks to Google Trekker. You can do this in Backus Woods, Ontario thanks to the Nature Conservancy of Canada!
Looking for more ways to digitally explore Ontario?
I've got 40+ virtual tours so you can travel the province from home!
Make a Concrete Bucket List
Are you like me and have a general idea of a bucket list but have never actually written it down? Here's your chance to do it! Take some time and write down what destinations and experiences make your 'I HAVE to do this in my lifetime' list. I hope to do this eventually as a page on my blog here but nothing beats old fashioned pen and paper… especially if it's a super cute travel journal. If you're feeling a little lonely or isolated, call or message a friend and see if they've got one! Then you can compare destinations where you might think of something new to add to your lists. Maybe you might even plan an adventure to check a few off together!
Research Future Trips
Just because you can't travel now doesn't mean you won't in the future. Why not get ahead on researching your trip? Look at where you want to go, things to do there, where to stay, etc. That way when it does come time to book, you've got it all laid out and you can book with little to no hassle. If you want some tips on how to save money on booking accommodation, I've got a few travel tips here.
Read a Travel Blog
Well if you've made it down to here, then you're already doing this. Give yourself a gold star! Seriously though, there are so many great travel blogs out there that can help with travel planning, fuelling your wanderlust or even increasing the length of your bucket list. At the same time, you're also supporting content creators like myself. I can speak from the heart when I say that I truly appreciate it so much. Whether you stop by for some travel inspiration, pop in to check what epic hotel I stayed in so you can too or just engage with my content here or on social media because of my pretty pictures, it's greatly appreciated. In many cases, blogs like these are a source of income or even our livelihood so engaging with it goes much further than you realize.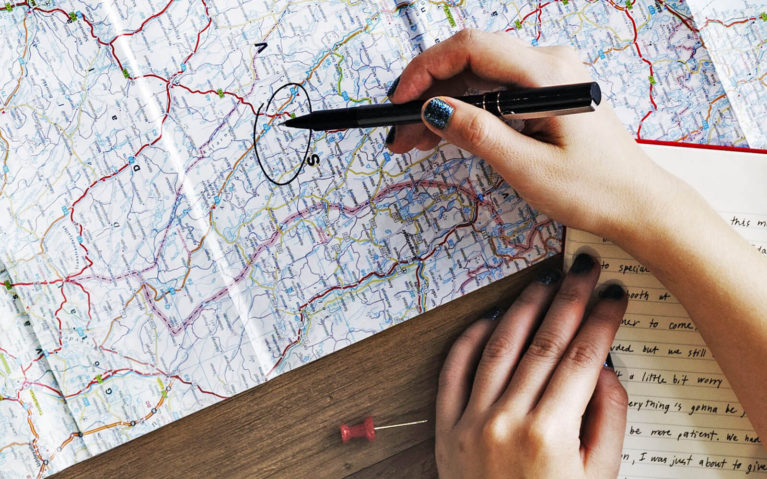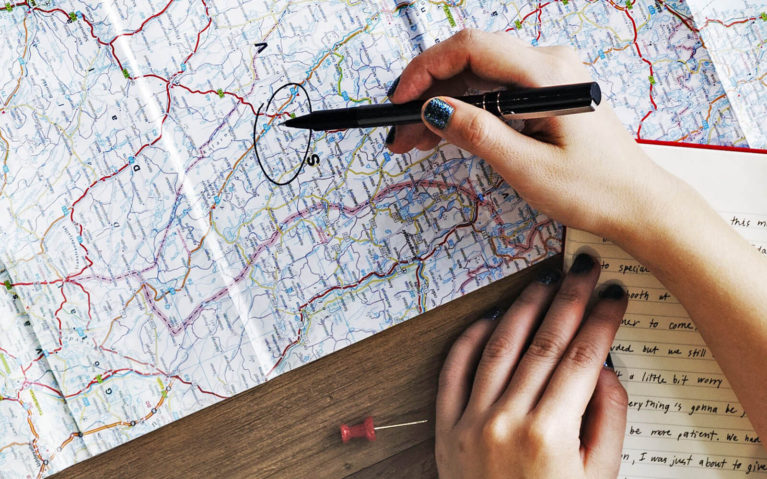 How Do You Cope When You Can't Travel?
There are many ways to bring travel into your life and these are just a few ideas. While not being able to travel when we want to sucks, it just makes the times when we get to extra special. Is there anything you do to deal with your wanderlust? How do you scratch your travel itch? I'd love to hear how you quench your thirst for travel in a comment below!
Disclaimer
This post contains affiliate links where I may receive a kickback at no extra cost to you. It helps keep the site alive so thanks! Read more in IBB's disclaimer and privacy policy.
Pin this to keep these fun activities handy for the next time you can't travel!