Your Guide to Ice Climbing in Ontario & Why You Should Try It

While many people think winter is a time of hibernation, I think of it as a time of adventure! It may not be a popular activity but ice climbing is definitely a must-try once winter arrives. Never thought to give it a go? After this post, you'll be planning your own adventure with this guide to ice climbing in Ontario!
Why You Should Try Ice Climbing
If you don't know what ice climbing is, it's when someone decides to be super badass and scale inclined ice formations in the dead of winter. You can kind of think of it as rock climbing, winter edition.
Try Something Out of The Ordinary
Variety is the spice of life so why not try something new! Ice climbing is becoming more popular in the winter months, but it's still not nearly as common as hiking, skiing and other winter activities. Take a chance and give ice climbing a shot, you just might like it! If you don't, that's alright. Knowing what you don't like is just as important as knowing what you do. In my opinion though, I think you'll be a fan!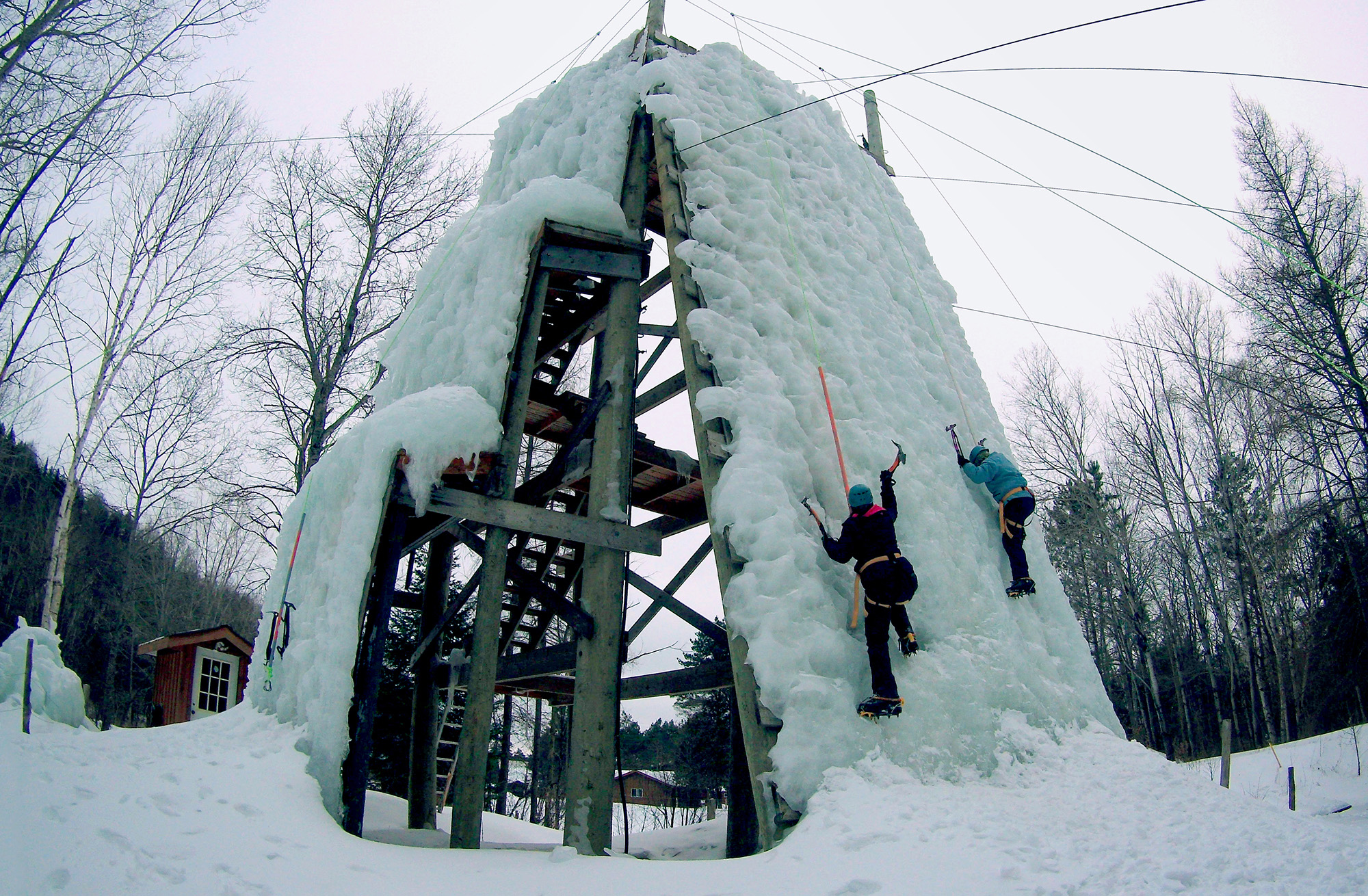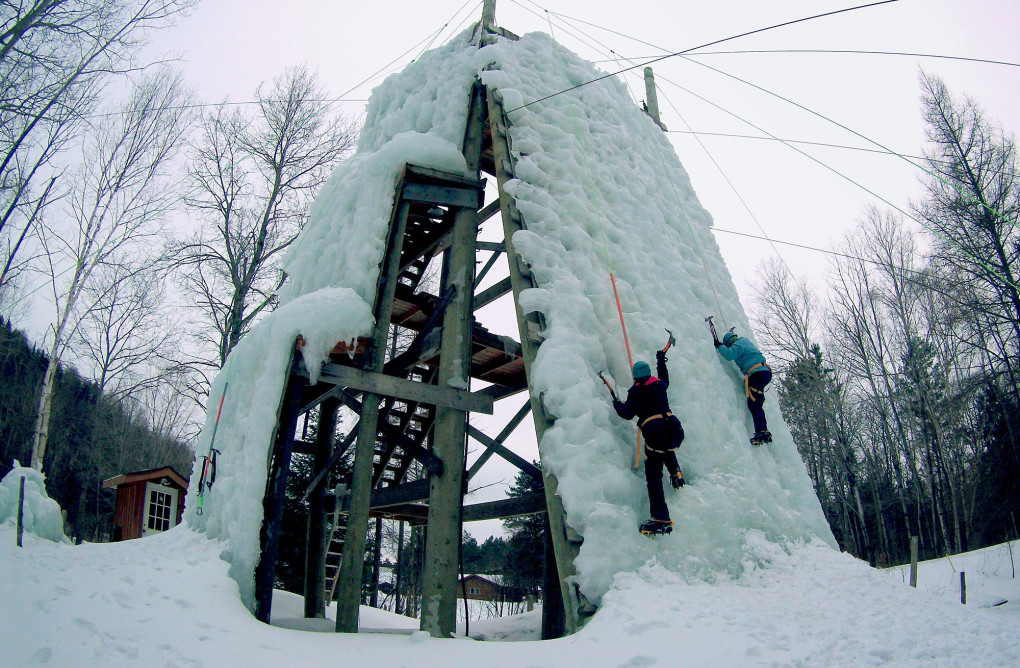 Unplug from Technology
Today's society is attached at the hip to technology (myself included) as we hide inside to sit on our butts and peruse what the newest celebrity disaster is. Ice climbing gives you an exciting reason to get off that couch, but the phone away, and get some quality time with Mother Nature. Heading to the great outdoors has also been proven to reduce stress, so take the weight of the every day off your shoulders, leave it at home, and enjoy what Mother Nature has to offer!
Explore a New Area
You can't go ice climbing just anywhere, so chances are you'll be exploring a new part of the world you've never been to before! My ice climbing adventure took me to Ontario's Highlands. Before this, I had never been to the area and decided to make a weekend of it. There is a lot to see and do in the area, including many hiking trails and waterfalls (like the one below). If you're really adventurous, you can camp at many of the locations nearby, like Algonquin Provincial Park!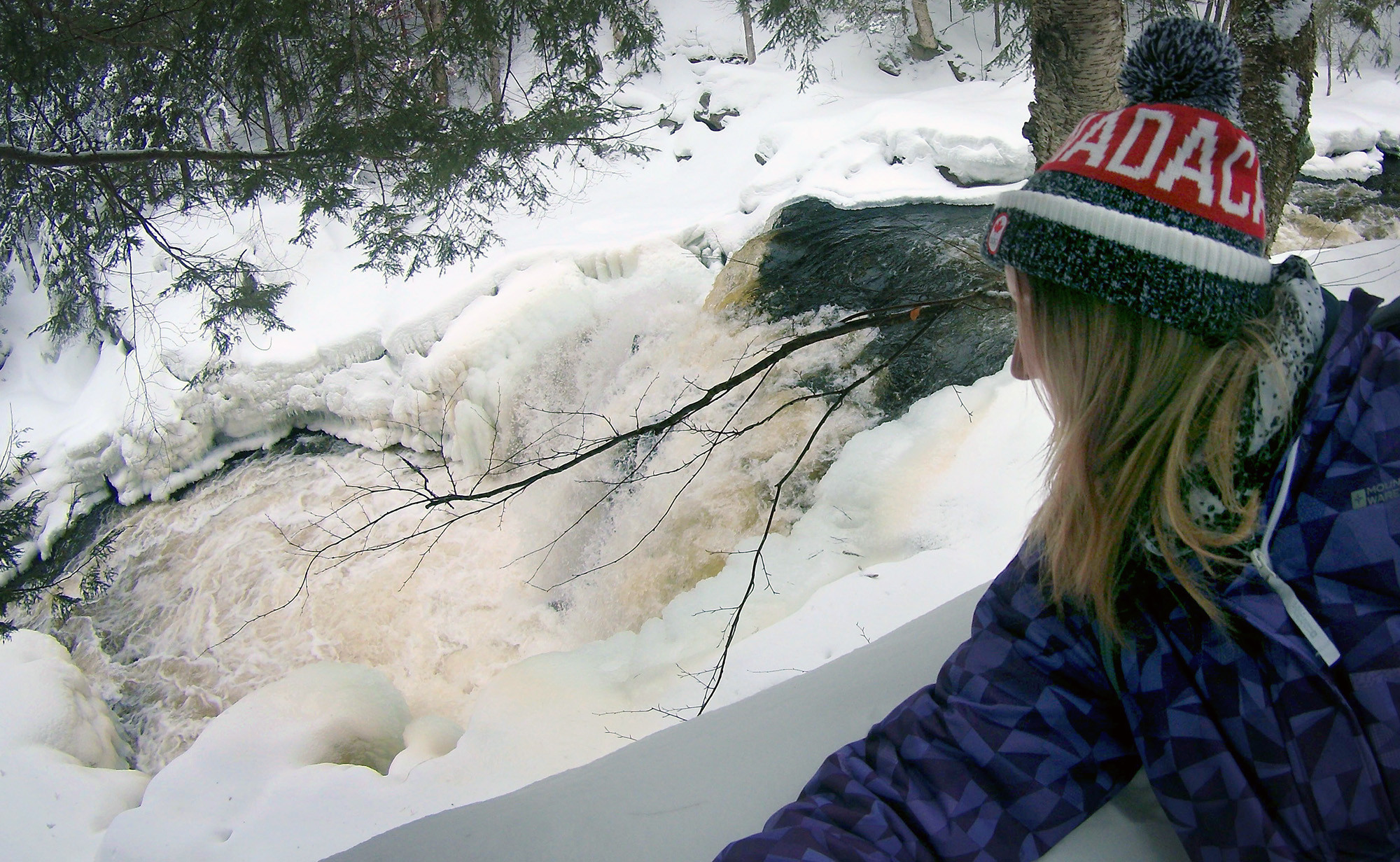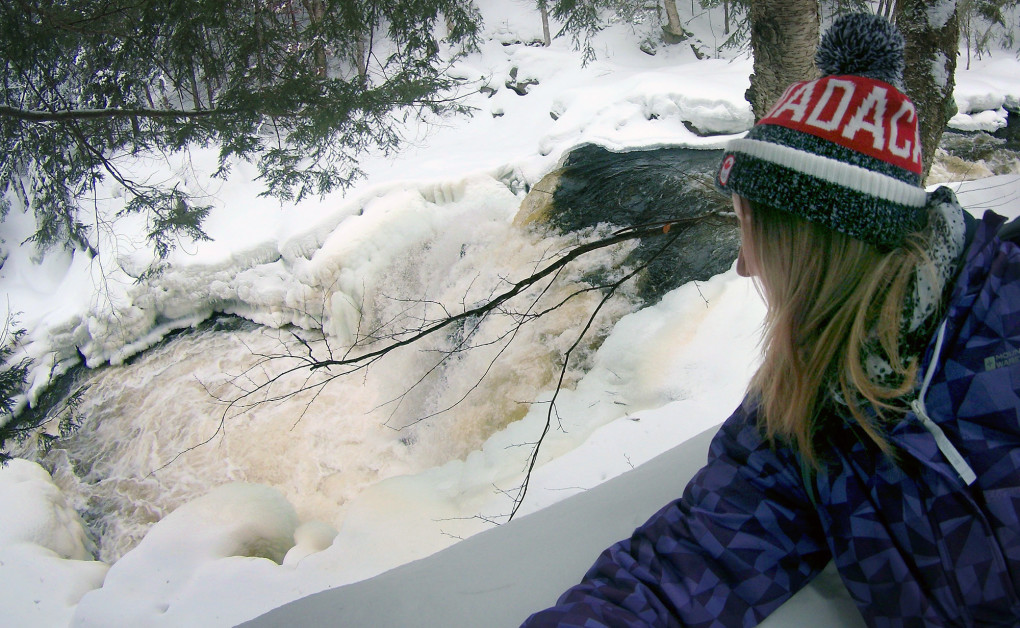 Help You Embrace Winter
Many people think winter is the season that comes back with a vengeance every year to put a thorn in our side for 4 or more months of the year. However, an exhilarating activity like ice climbing just might make you change your tune. Especially for the rock climbers out there, ice climbing will keep you in shape all winter long and ready for climbing season come spring. Since ice climbing can only be done in the winter… you just might start looking forward to the colder months!
RELATED: Looking for more winter fun outdoors? Check out this round-up of the best winter activities in Canada!
You Get To Use An Axe
Not just one but two, yes TWO axes! You'll feel like a boss while wielding an axe in each hand as you swing these bad boys. If that wasn't enough, your boots will have a set of crampons which you'll use to kick into the ice. The focus is meant to be on your feet as you swing your feet in to create a sturdy base while using your axes to help guide yourself upwards. Although if you're anything like me, you'll be much more focused on hurling the axes into the ice wall because it's so awesome.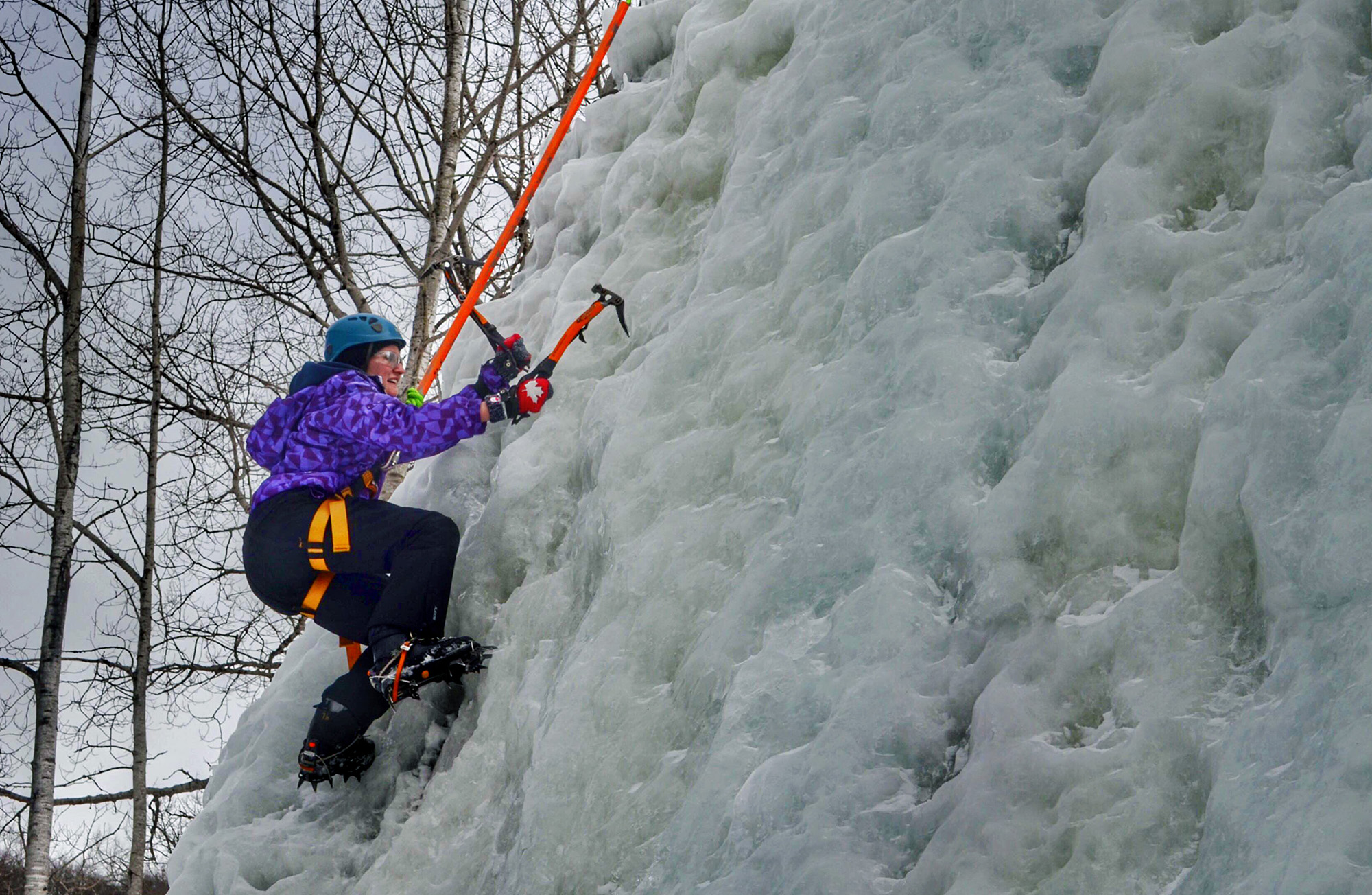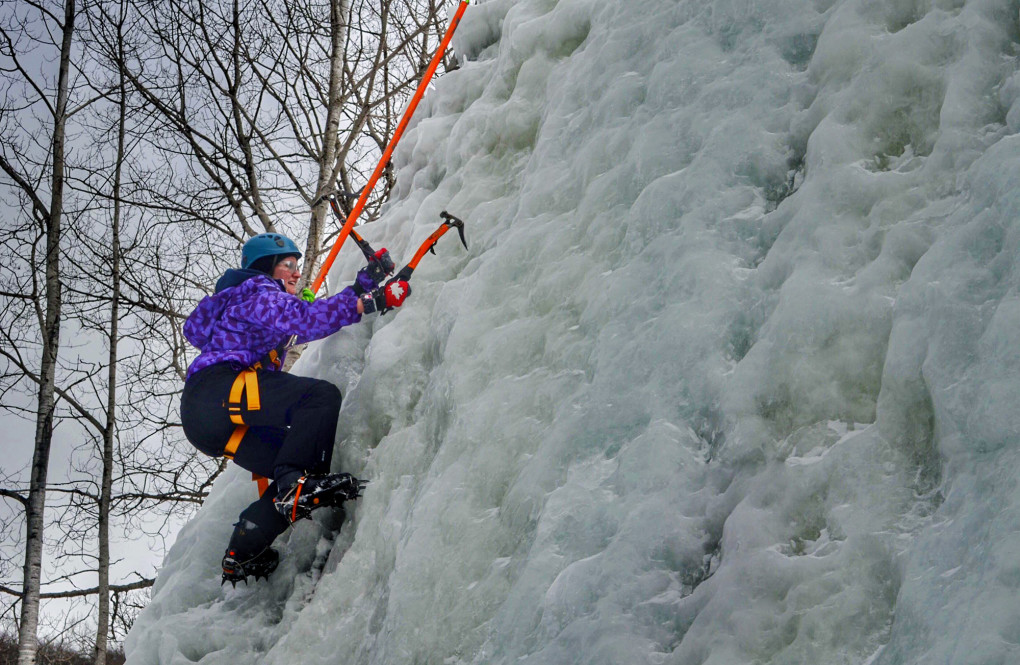 It's A Great Workout
Your enthusiasm in throwing around the axes while ice climbing Ontario will take its toll as muscles you didn't even know existed will be sore. It's a whole-body workout as you kick into the ice with all your might and hold your body weight up while placing your next step. Don't worry, feeling the burn means you're doing it right!
An Opportunity to Push Your Comfort Zone
Take it from a gal that has pretty terrible vertigo, it's extremely rewarding to push yourself and slowly overcome fears. For the adrenaline junkies out there, I've seen people scale entire icy facades in the wilderness of Alberta or even waterfalls close to home! No matter how far you take it, you'll be broadening your horizons and having a blast while doing it. Besides, who doesn't want to say "I climbed an icy wall with axes, what did YOU do this weekend?"
Make New Friends
As these excursions are often done in groups, you just might make a new friend or two! For me, I was able to actually meet my friend Christina in person after talking for weeks online which was a real treat! If you don't leave with an everlasting friendship, you'll at least have great conversation for the day with similarly-minded people.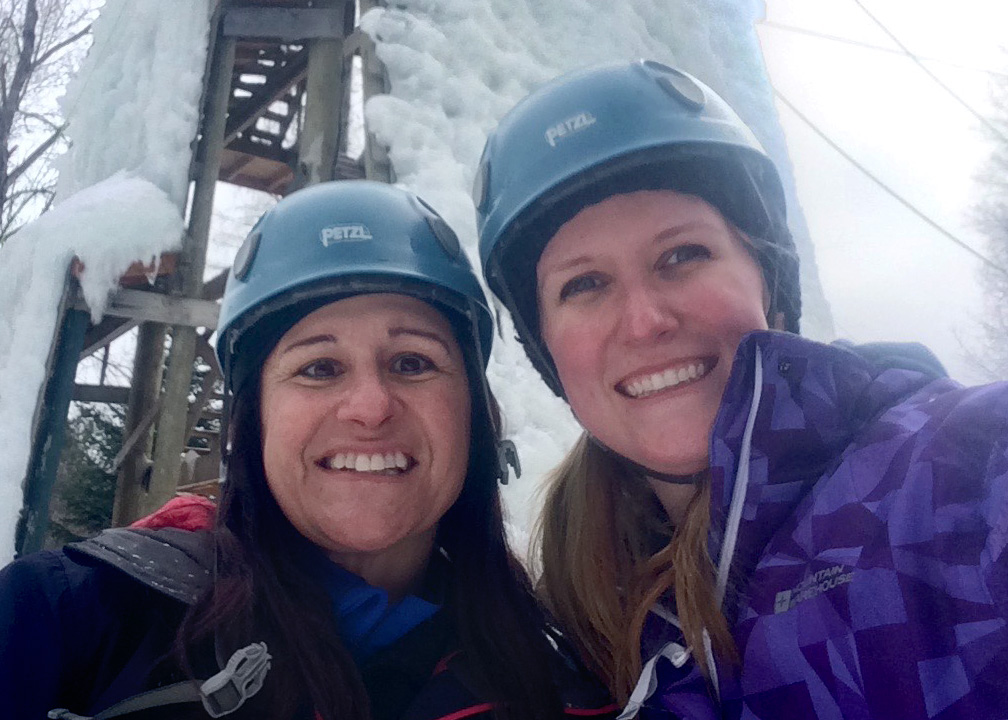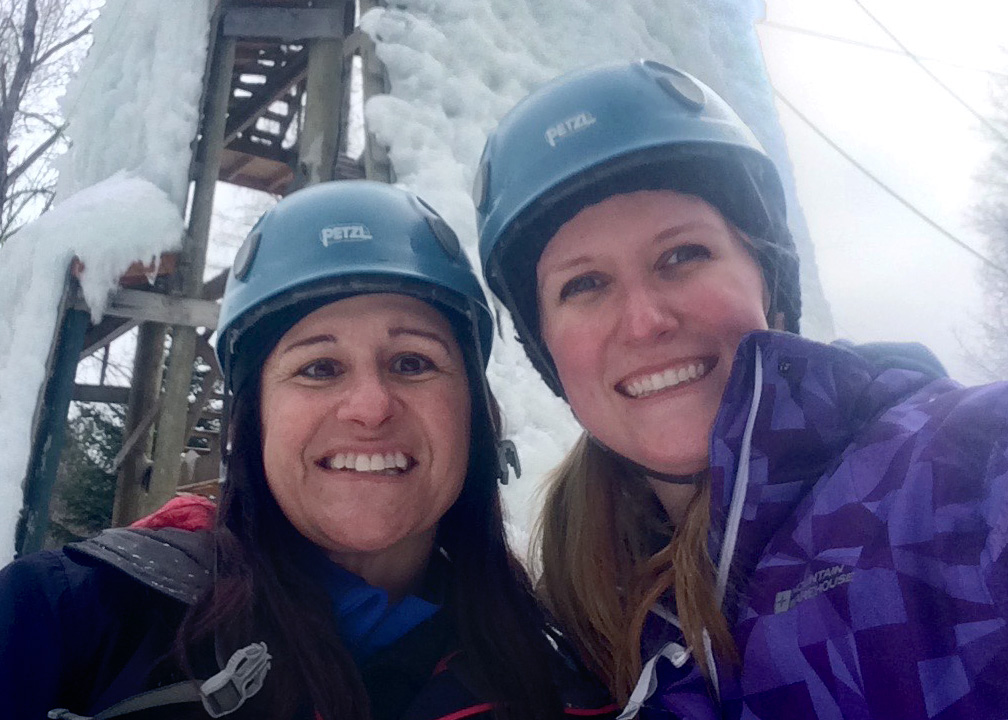 What About Ice Climbing Equipment?
Purchasing the heavy-duty ice climbing gear such as the harness, crampons, etc is expensive, and completely unnecessary when signing up for a day trip as your package will include these rentals. Just arrive in your usual snow gear – winter jacket, snow pants, boots, toque and mittens as you'll be outside the majority of the time. Act as if you're layering for a winter hike and you'll be good to go.
However, I'd suggest not wearing your finest outdoor gear as the axes and crampons are sharp. They take a little bit to get used to using, so you may tear your snow pants. Underneath I'd suggest wearing something thermal that breathes as I guarantee ice climbing will make you sweat! A bottle of water wouldn't hurt either. Oh, and a camera of course… pictures or it didn't happen, right?
Where Can I Try Ice Climbing in Ontario?
While there are a number of places you can try your hand at ice climbing, I highly suggest heading to Ontario's Haliburton Highlands.
My first foray into ice climbing was with Barrie and Yours Outdoors. They offer a number of ice climbing courses geared for climbers of all skill levels as well as both half day and full day excursions. I participated in their High on Ice tour which was perfect for a beginner like myself! You'll head to the Medeba Adventure Learning Centre where you'll be in a highly controlled environment. If you're a more experienced climber, I'd recommend their "More of It" tour as it's much more intense with a focus on improving technique.
I felt extremely safe during the entire time at Medeba and had a blast chatting with Brianna and Jamie as well as the organizer, Barrie from Yours Outdoors. (Thanks for dealing with me as I continuously butchered belay commands!) Also, for your entertainment, see what happens when an extremely vocal gal has a little trouble while climbing. Enjoy!
However, there are a number of other places to try ice climbing in Southern Ontario. You don't have to go too far for some ice climbing adventure – just head to Elora with One Axe Pursuits. While you've probably visited the Elora Gorge in the summer, it takes on a whole new look in the winter months… and it will be your destination for som serious ice climbing fun. I've even heard that they do tours at Tiffany Falls, one of Hamilton's best waterfalls, but you'll have to contact them to confirm.
Another popular destination is at Kushog Lake with LIV Outside Adventures, the longest ice climbing operator in Southern Ontario. With LIV, you'll be climbing 20-30 metres (70-100 feet) along the granite cliffs of Muskoka as winter covers them with layers of chandelier ice. Their full day (6-hour) package includes all the ice climbing gear you'll need and guidance from an expert instructor. You can also rent gear like mitts and gaiters if you don't have your own, book a post-climbing meal and additional cross country skiing/snowshoeing instruction for extra winter fun.
While the winters have become a little milder over the years in Southern Ontario, you're pretty much guaranteed some epic winter adventures in Northern Ontario. I've only had the pleasure of experiencing the beauty winter in Northern Ontario once, but trust me when I say that if you're going to go ice climbing anywhere – this is the place to be. There are guided tours which run out of Nipigon that are perfectly suited for beginners. If you're looking for something a little more challenging, check out a guided tour in Thunder Bay. Don't worry, they also have tours for beginners!
Oh, and did you know that there's a Southern Ontario Ice Festival? It's true! For 5 years now, ice climbers of all skill levels converge at Diamond Lake in Maynooth to celebrate the sport. What started as a semi-formal gathering of fellow ice climbing enthusiasts has grown to over 200 folks coming together for clinics, socials, food and plenty of ice climbing! This year, they've taken the festival virtual which means that even if you're not in the area, you can enjoy what the festival has to offer! For more details, visit the SOIce Fest website.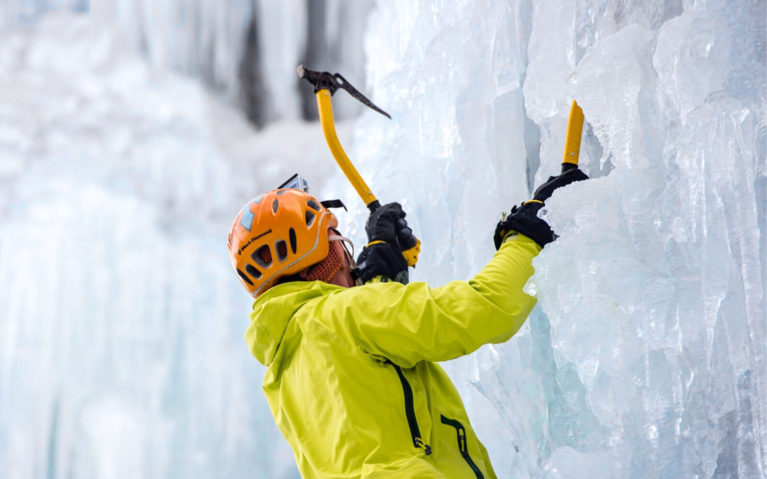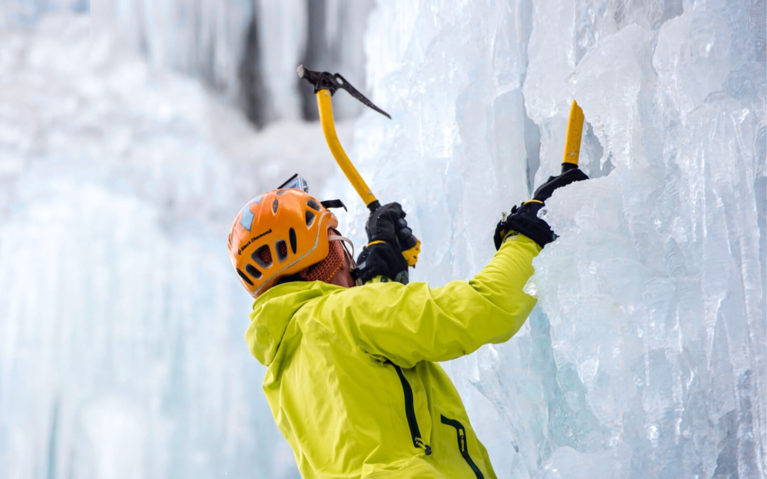 Ready to Try Some Ontario Ice Climbing?
Now, who's ready for a winter adventure?! Have you ever tried ice climbing in Ontario before? I found it a bit tough as it was my first time, but it's definitely a great workout. Not to mention a fun winter adventure! Although it might be good to work out your upper body a bit before you go as my arms got tired quickly! Does ice climbing sound a little too intense for you? Maybe one of these other Canadian winter activities will tickle your fancy!
Looking For More Winter Fun in Ontario?
Check Out These Top Things to Do in Ontario in Winter
Looking to Give Winter Hiking a Try? Don't Miss These Tips
…or just check out IBB's Winter Travel archives!
Disclaimer
This post contains affiliate links where I may receive a kickback at no extra cost to you. It helps keep the site going so thanks! Read more in IBB's disclaimer and privacy policy.
Don't Forget About Ice Climbing in Ontario & Pin It For Later!