11 Undeniably Amazing Things to Do in Laurel Highlands PA

Pennsylvania is full of amazing destinations and the Laurel Highlands is definitely one of them! Often referred to as Pittsburgh's outdoor playground, it's much more than just a getaway for Pittsburghers. The Laurel Highlands is definitely a destination all on its own! From beautiful waterfalls to adrenaline-pumping adventures and delicious food to fuel your adventures, check out these amazing things to do in Laurel Highlands PA!
About Pennsylvania's Laurel Highlands
Located just a few hours from Pittsburgh, Baltimore, Cleveland, and Washington, the Laurel Highlands are within Chestnut Ridge and Laurel Hill of the Allegheny Mountains. Whether you're just driving through, plan to spend a weekend or even longer, you won't want to miss stopping here! It makes the perfect stop on any Pennslyvania road trip.
Made up of three counties, the Laurel Highlands spans 3000 square miles. Westmoreland County lies just east of Pittsburgh and is the area the famous Mister Rogers called home. Next is Fayette County and it's home to the state's largest park and plenty of outdoor adventure. Lastly, Somerset County is the most eastern of the counties and is known for its agriculture.
You may not realize it, but Pennsylvania's Laurel Highlands is known for a number of things! Besides Mister Rogers, famous golfer Arnold Palmer is from Latrobe in Westmoreland County. Additional, more delicious claims to fame include the Big Mac and banana splits being invented here! I didn't eat either of these but I got to experience plenty of other highlights found in the Laurel Highlands. Ready to see what they were? Keep reading!
Things to Do in Laurel Highlands PA
Looking to enjoy the Laurel Highlands to its fullest? You won't want to miss out on all these awesome activities the area has to offer!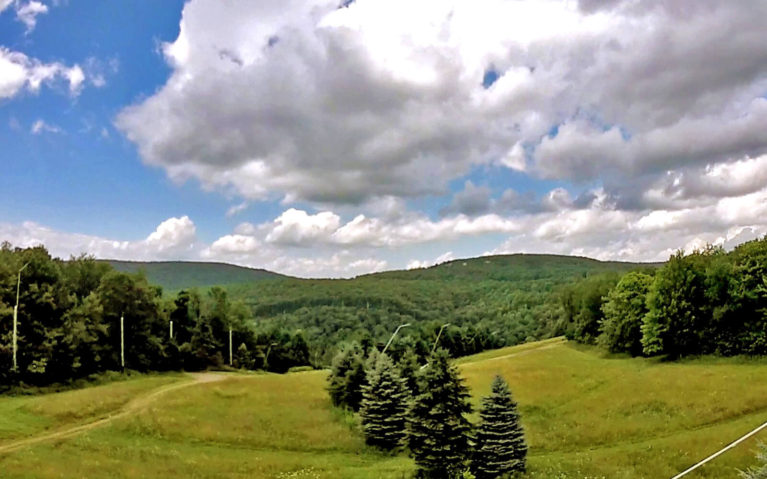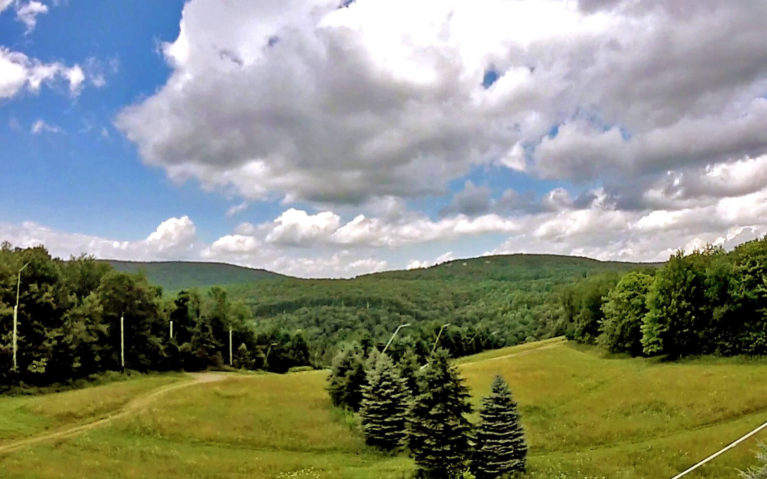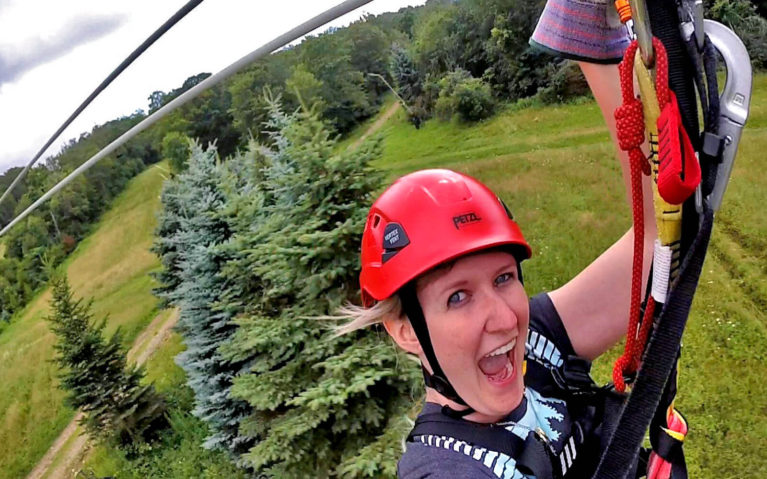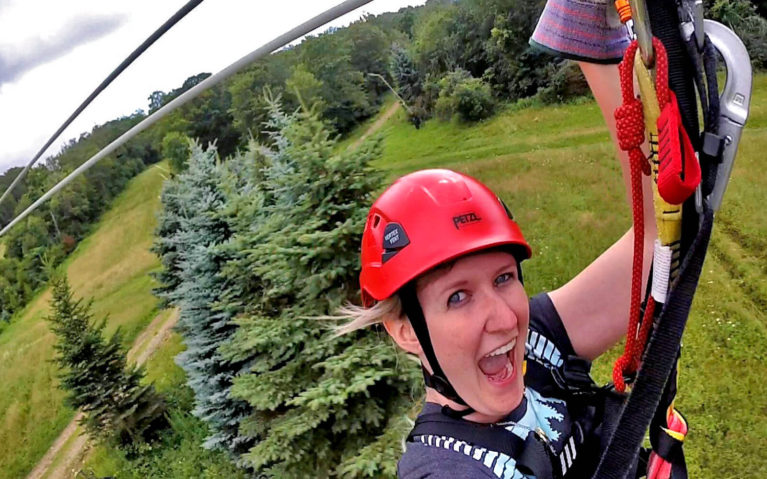 Soar Like an Eagle on the Laurel Ridgeline Zipline Tour
Seven Springs Mountain Resort sits on the edge of Somerset County and is your gateway to the skies. Here you can soar through the treetops on the Laurel Ridgeline Zipline Tour. Head to the Adventure Center which is located in the lower level of the ski lodge to get started!
There you'll meet your guides and get all the logistics out of the way so you can get to the fun part, the zipline. Tours are capped at 8 people but during my visit, I was the only person to sign up so it felt like a VIP tour! Normally the tour takes 3 hours but since I was flying solo, the tour absolutely blew by. If you're lucky enough to enjoy the tour with little to no people, you're in for a real treat!
INSIDER TIP: As this is a summer activity, chances are it'll be a warm one. This isn't much of an issue for guys but ladies – wear longer shorts or tights. The harness wraps around your legs and after a few zips can be a little rough on bear thighs.
Gear up and listen to the safety instructions as you prepare to tackle the ten zips that range from 145 to 1500 feet in length. The course isn't all zips though! You'll have a few bridges to cross along with a short rappel throughout the course. If you're nervous – don't worry. Each tour has two well-trained guides to ensure your safety and show you the ropes… well, zips. I had Garrett and Cody, both were absolute rockstars. If you get them, I can definitely say you're in good hands! And be sure to tell Garrett for me that stools are meant to stay on the platform.
On the tour, you'll work your way up to the Timberline Terror and some of the best views in the Laurel Highlands!  This is not like other ziplines I've done at home though! At Seven Springs, you actually have to be the brake. Their system requires that you slowly place your hand on the top of the wire to create friction which slows you down. Don't worry, you're wearing gloves to protect you! It might take a little bit but you'll get the hang of it. The first three zips are shorter so you'll have plenty of time to practice before hitting the big leagues!
This is seriously one awesome adventure that's not to be missed when visiting the Laurel Highlands. If you're looking to get the adrenaline pumping even more, check out their other zipline – the Screaming Hawk.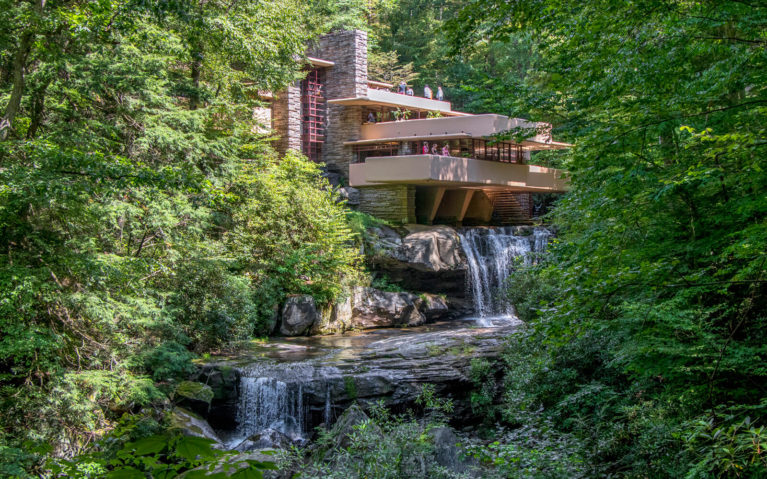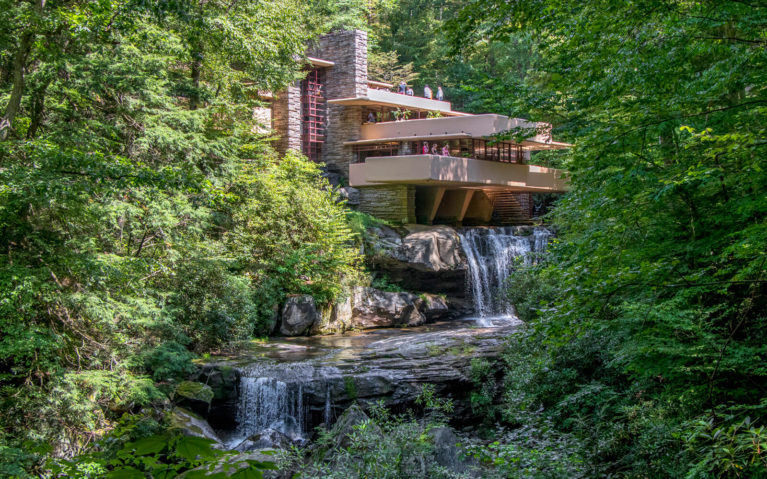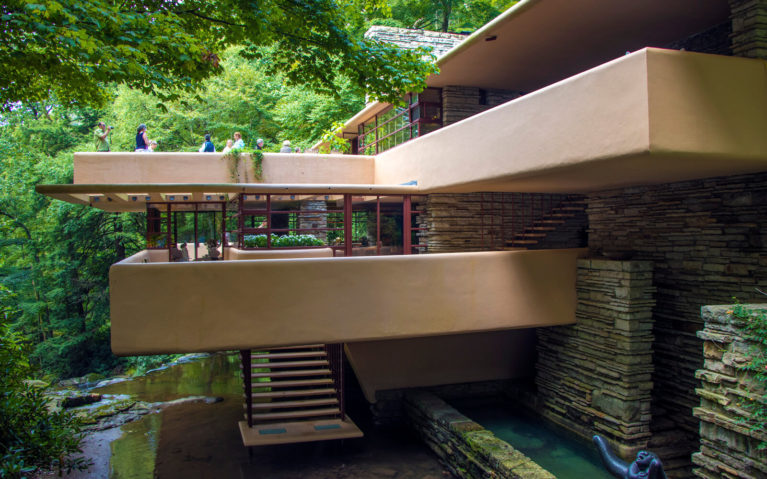 Visit Frank Lloyd Wright's Iconic Fallingwater
Ever since learning about Frank Lloyd Wright back in university I've been dying to visit some of his beautiful homes. The top of that list is Fallingwater his most iconic creation.
Designed in 1935 for the Kaufmann family as their year-round weekend getaway, it's the best example of Wright's organic architecture philosophy. He always looked to bring nature inside his designs and depict a harmonious relationship between art and nature. Even if you never studied fine art or architecture, you'll be truly amazed at this design.
Open to the public since 1964, you can take a tour and visit both the home as well as the guest house on the property. Tours are available from early March until the end of December, except on Wednesdays. Walk the driveway which the Kaufmanns actually drove along to the start of your tour. Here you'll be greeted by your guide who will blow you away with their wealth of knowledge about Fallingwater as well as Frank Lloyd Wright. If you have Addie, then you're in for a real treat!
SOMETHING TO NOTE: While on the tour, it is prohibited to take photos. While I did see people taking some on the patios, please respect the site and refrain from doing so. If you'd like to get photos within the home, you can join their in-depth tour which is held first thing in the morning.
Admire the incredible attention to detail as you move from room to room. Can you believe that Fallingwater is built from sandstone quarried right from the area it resides? Or that its the only major work from Wright with its original furnishings intact? From 'the hatch' where you can see the river below inside the home to admiring Bear Run Reserve where the home resides from the beautiful patios, you'll be blown away by the architectural prowess found within.
This past July, Fallingwater became a UNESCO World Heritage Site, along with seven other sites designed by him. Whether you just explore the grounds or the full site, you won't be surprised as to why UNESCO designated it as such. Take a look at their tour offerings to see what option is best for you! If you'd like to visit other Frank Lloyd Wright sites, Kentuck Knob is just a 15 minute drive from Fallingwater.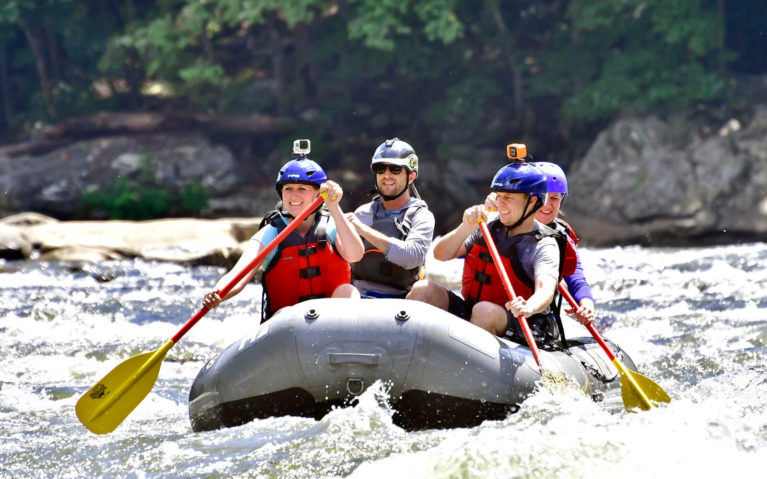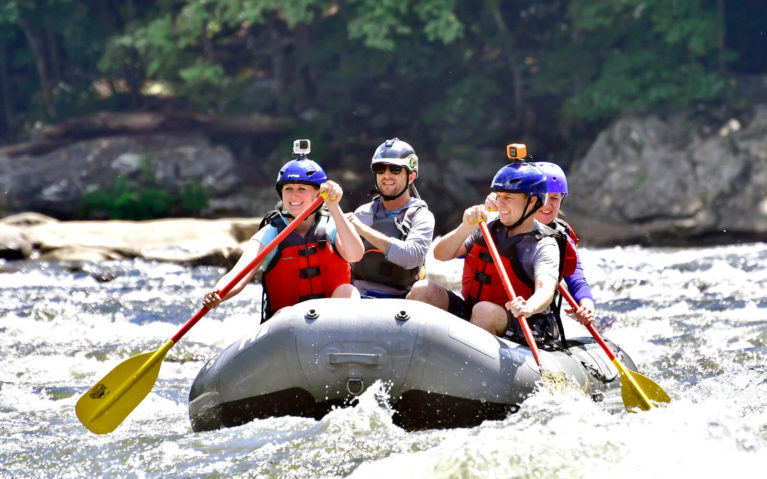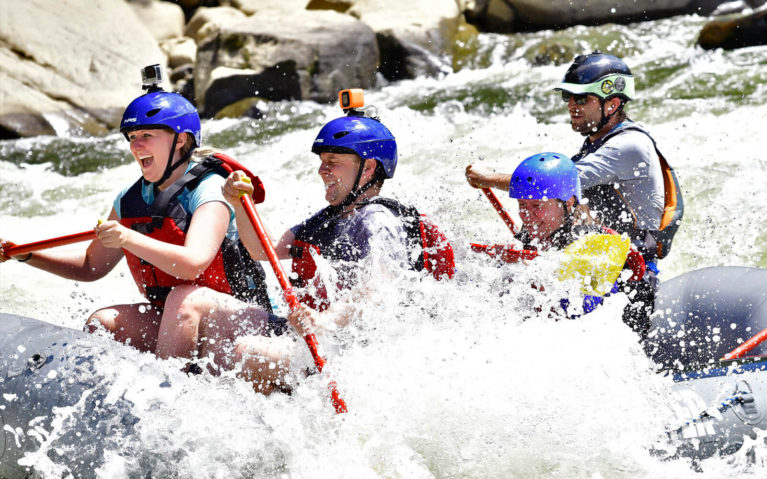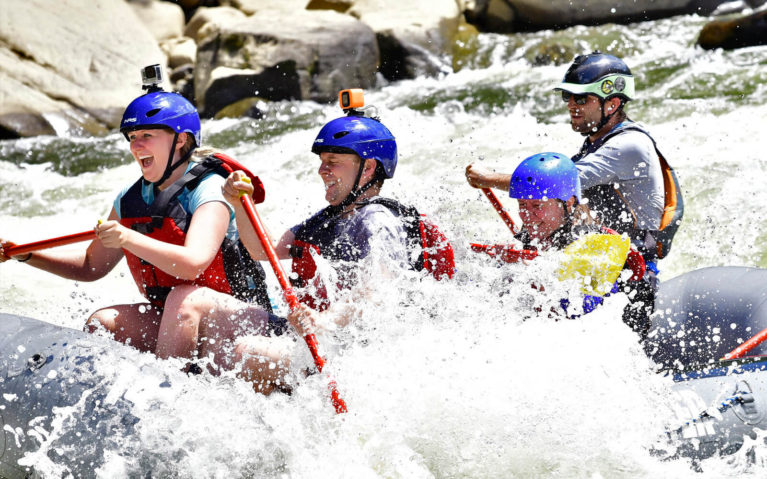 Tackle Some Serious Whitewater Rapids
Inside the Laurel Highlands you'll find Ohiopyle State Park, Pennsylvania's largest state park. Within the heart of it is the town of Ohiopyle which The Youghiogheny River runs through. As Youghiogheny is Lenape for 'runs contrary to itself', it's a fitting name since the river makes an almost U-shape around the town.
The town may be small with only 50-60 year-round residents calling it home but the park gets thousands of visitors. Why? It's a mecca for outdoor adventure! One of the top activities is a whitewater rafting adventure and there's nobody better to go with than White Water Adventurers.
If you're looking for a day of adventure, be sure to hop on one of their Upper, Middle or Lower Yough tours. While most whitewater rafting tours (including their own) are 4-6 hours in length, I participated in their Taste of the Yough tour. This condensed 1.5 hour tour is jam-packed full of epic whitewater adventure along the Lower Yough. It's the perfect option if you're looking to squeeze it into a jam-packed Laurel Highlands itinerary or if you'd rather not be out on the water all day long!
SOMETHING TO NOTE: It is not necessary to have a guide when whitewater rafting along the Youghiogheny River in Ohiopyle. While you can go at it alone, I personally think you'll have a better time with one. Your guide will direct you on when to paddle and what to look out for. I don't know about you, but I'd prefer to have as much help as possible when tackling Class III rapids!
It was an absolute blast as Rick guided us along the Lower Yough while tackling Cucumber Rapids, Piddly Rapids, Dartmouth Rapids and more! Since this trip was early in August, water levels were lower than what you'd expect if you did this tour earlier in the summer. It means you might not be moving as fast but there are plenty more rocks that are looking to toss you out of the raft! If you'd rather have a faster run, try visiting in late June or early July.
Looking for a bigger challenge? Check out their Upper Yough Tour as you challenge Class IV-V rapids. Not sure how big these are? If you've ever done the White Water Walk in Niagara Falls, the Niagara Rapids are class VI.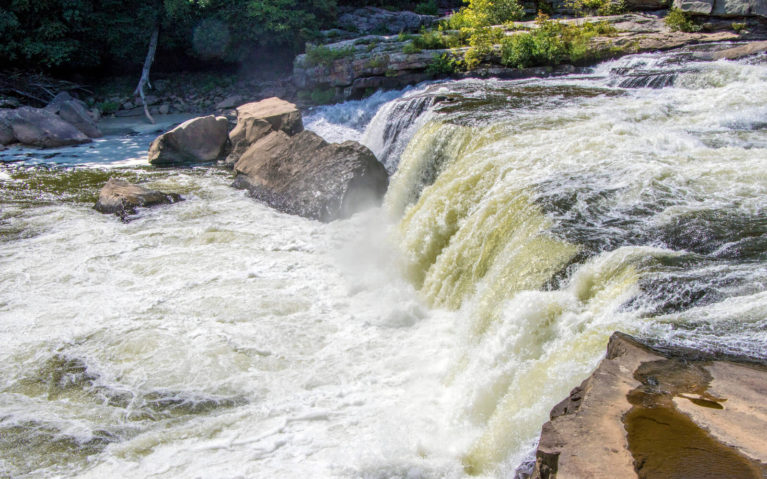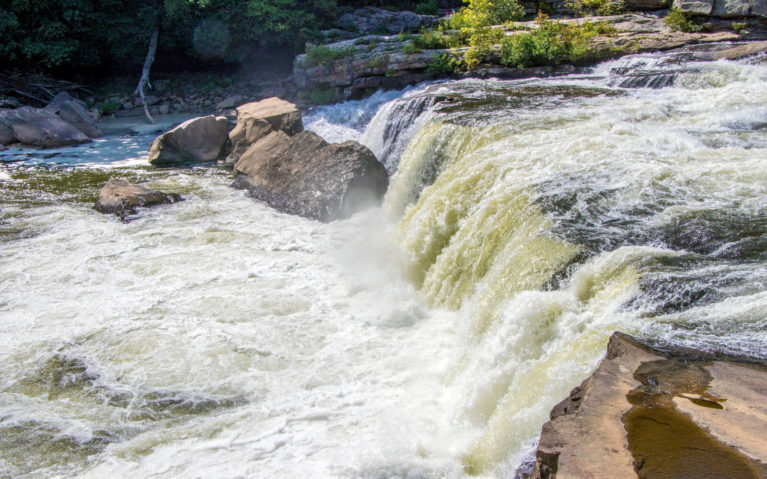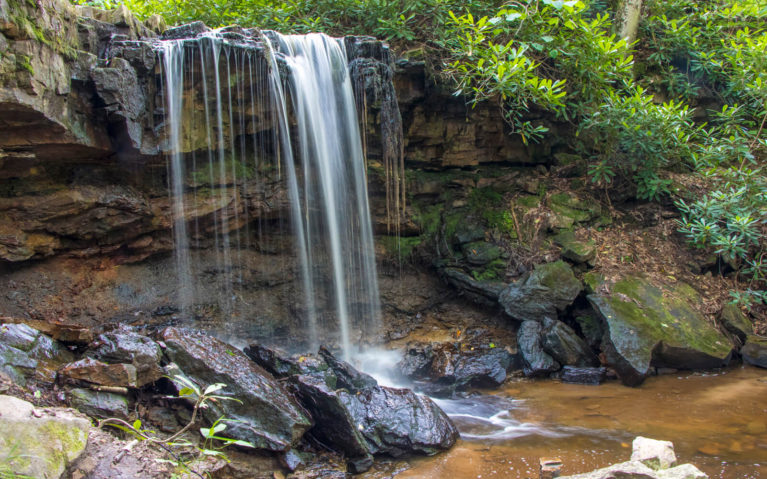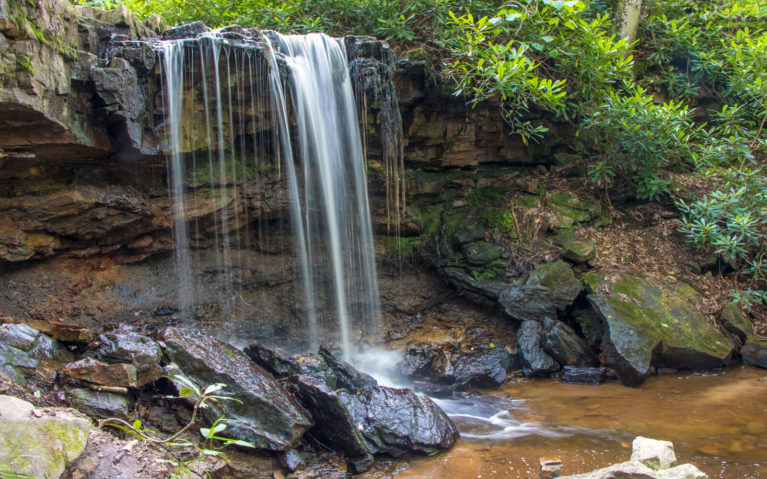 Go Chase Some Waterfalls
You know me, I love a good waterfall destination. I'm always hunting for them! You'll find no shortage of waterfalls in the Laurel Highlands and a number of them are very easy to access.
If you do hop on a whitewater rafting adventure (which I highly recommend) then you'll have a chance to admire Ohiopyle Falls either before or after your tour. The falls are only about 20 feet tall but are quite wide as they span across the Youghiogheny River. With a lookout platform and boardwalk close by, it's easy to get a great view! You can also see them from the other side of the river via the Ferncliff Natural Area.
A short drive away, you'll find Cucumber Falls. Said to be the most impressive waterfall within Ohiopyle State Park, it's worth visiting this 30 foot tall plunge waterfall. There is a parking area above with stairs descending down to the rocky terrain below at the base of the falls. We made a quick stop to visit it during my whitewater rafting tour as it's accessible from a beach on the river's shore. Don't be surprised to see quite a few people as it's a popular spot for a pit stop!
If you're looking for a waterfall that's more off the beaten path, Cole Run Falls is a perfect spot. Located within Forbes State Forest, it may not be the tallest waterfall around but it's definitely picturesque. A short walk from the gravel parking lot, it's quite easily accessible and offers a number of beautiful viewpoints. I recommend following the trail to the base of the falls in order to get the full effect!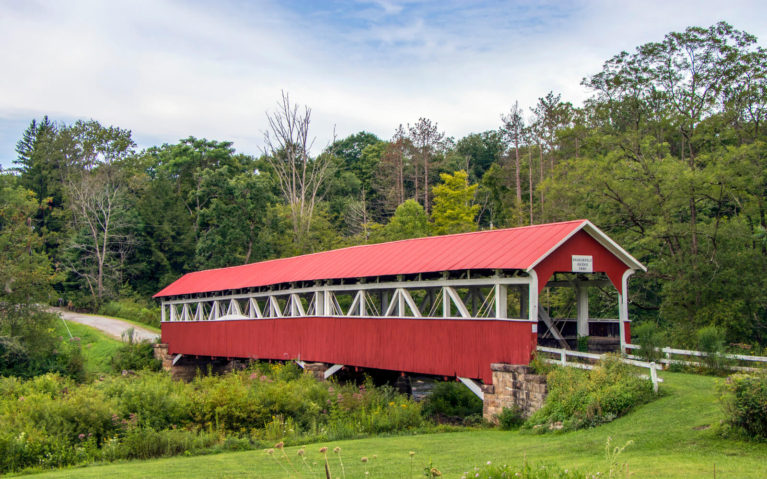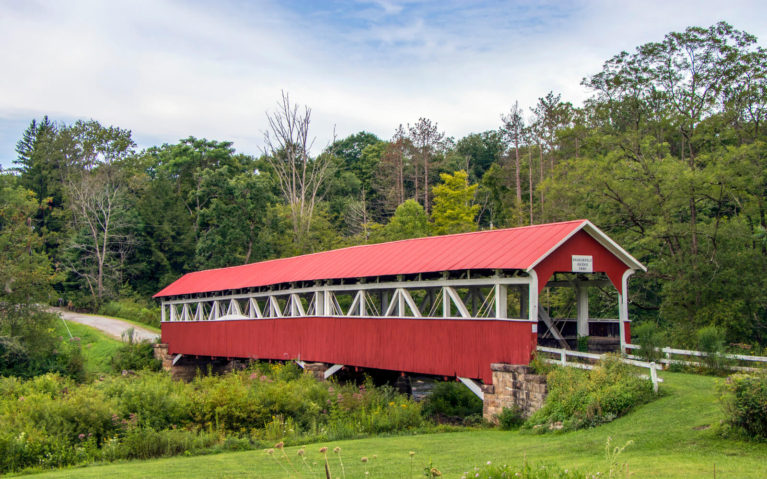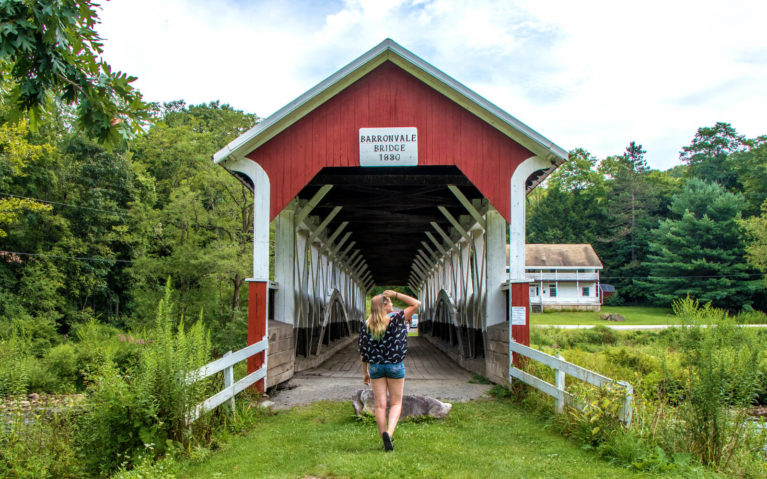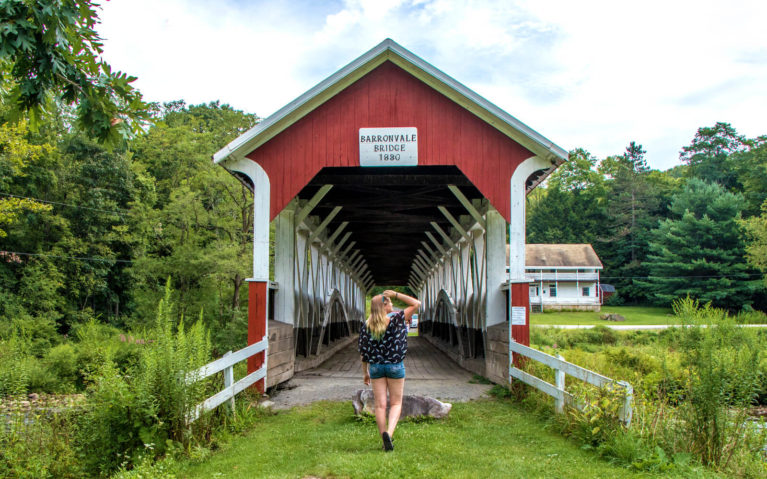 Visit Some Covered Bridges
Did you know that Pennsylvania is home to approximately 200 covered bridges? Or that you can find ten of them within the Laurel Highlands?
As there are only a handful left in the entire province of Ontario, I was excited to not only discover this fact but pass right by Barronvale Covered Bridge.  Built in 1830, it was the tenth covered bridge to be constructed in Somerset County. It was repaired and strengthened with burr type arches 15 years later. In the early 1900s it was updated to include the stone supports you now see today.
Take a walk through the bridge and admire the longest covered bridge in the county. You'll also enjoy beautiful views of Laurel Hill Creek which it resides over. It's the perfect spot to stretch your legs and is very close to Cole Run Falls.
Whether you visit just one or all ten, these picturesque covered bridges are definitely a sight to see!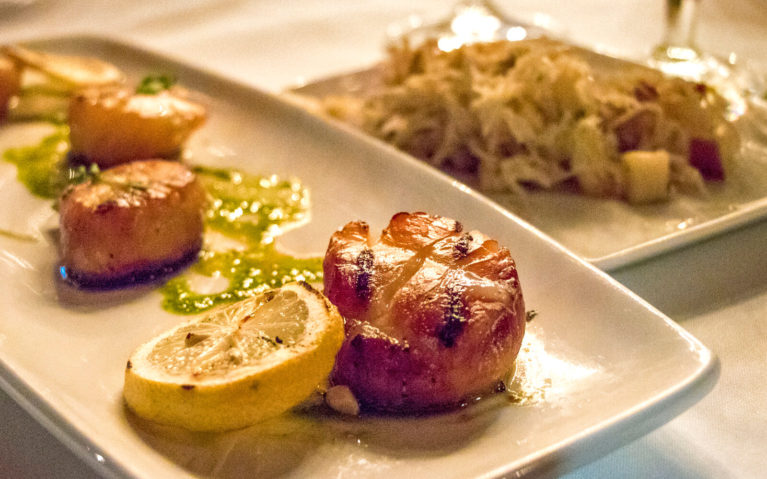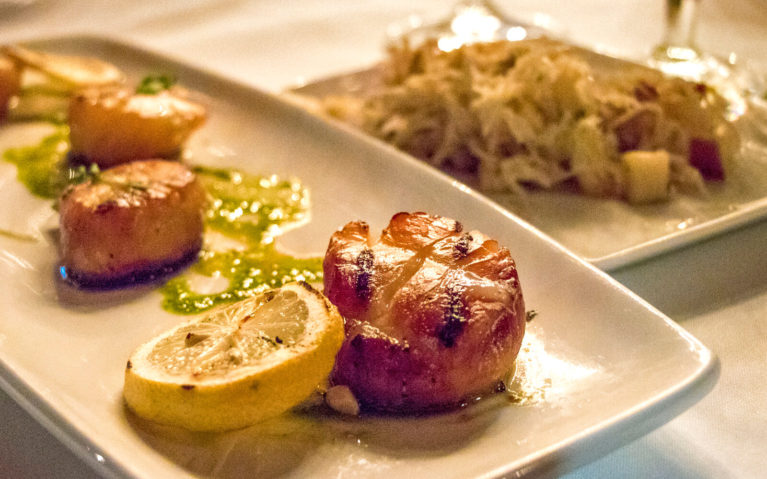 Fuel Up With Some Seriously Delicious Eats
All the exploring you'll be doing, I guarantee you'll have quite the appetite! Luckily there are a number of great restaurants in the Laurel Highlands to refuel.
You can't miss paying a visit to the Falls City Pub in Ohiopyle. This low-key restaurant is a fantastic spot to grab a bite after a solid day of rafting. From burgers to pasta to seafood and everything in between (even vegetarian options!), the toughest part will be picking just one dish. I can say for certain that you won't go wrong with their Smokehouse Mac n Cheese. With homemade macaroni, a blend of five kinds of cheese and the option of smoked brisket or pork, you really can't go wrong. Plus it's not only right beside the terminus of the Laurel Highlands Trail but the Great Allegheny Passage is also close by!
Though I have to say, one of the best meals I've had in a long time was at Helen's located in the Seven Springs Mountain Resort. This beautifully rustic restaurant is housed within the original home of the owners who established Seven Springs. While it may look fancy inside, you don't need to get dressed up. Come comfortable and ready to devour their delicious menu featuring local, all-natural and organic ingredients. There are also a number of delicious cocktail and wine options which is not surprising as they've earned the Wine Spectator Award for 8 years in a row! I highly recommend their smoked sea scallops which will literally melt in your mouth like butter.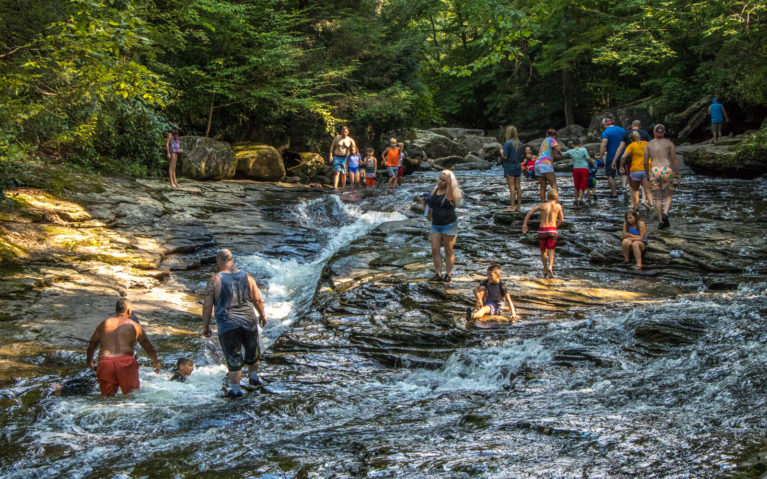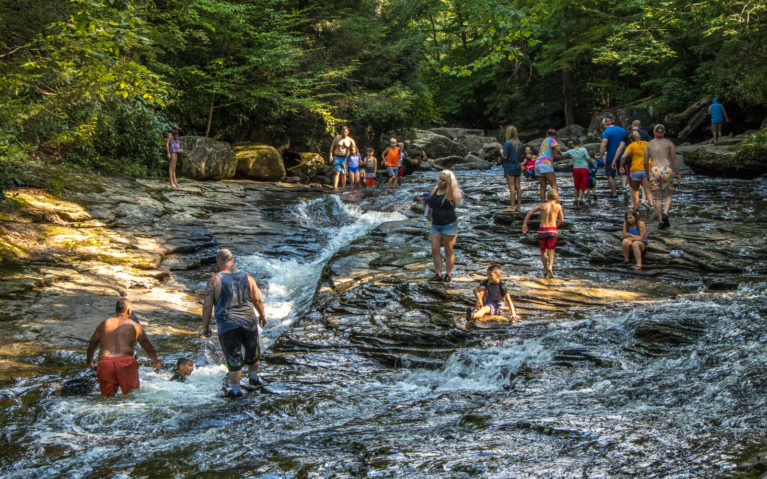 Tackle Some Laurel Highlands Hiking Trails
Known as an outdoor adventurer's haven, it stands to reason that the Laurel Highlands would have some awesome hiking trails.
Just outside the Falls City Pub, you'll see the terminus for the Laurel Highlands Hiking Trail. It's approximately 113km (70 miles) long and part of the Potomac Heritage Trail. Follow the trail through Ohiopyle State Park as it connects to the Laurel Ridge State Park, ending at the beautiful Conemaugh Gorge. With overnight areas located every 13-16km, the Laurel Highlands Hiking Trail is perfect for those looking for a multi-day hike.
If you're looking for a place where the locals go, you have to head to the Meadow Run Trail. Also in Ohiopyle State Park, you won't find as many people hiking in the summer as you will enjoying the natural 'slide'. The rocks here get quite slippery and you'll find plenty of kids (and occasionally their parents) gliding along the stone. As for the hiking trail, follow the yellow blazes and it'll lead you right to Cucumber Falls.
It would be a sin not to mention the Great Allegheny Passage as this is the perfect trail for all ages. Over 241km (150 miles) of rail lines have been converted to create flat trails for all to utilize. It connects Pittsburgh to Cumberland, Maryland and you'll never face more than a 2% incline! With plenty of access points along the trail, it's the perfect place to enjoy a leisurely stroll with friends and family.
Indulge in Some Locally Sourced Drinks
There is no shortage of breweries, wineries or distilleries in the Laurel Highlands. They've even got a meadery AND a cidery, too! Can't make it out to any of the establishments specifically? Don't worry as plenty of restaurants serve local!
Whether you're a craft beer lover, wine snob or just looking for a glass of something local, there's no shortage of options in the Laurel Highlands. I can definitely say the Roller Wave Mango from Laurel Highlands Brewing was deliciously refreshing and a fantastic summer beer!
If you plan to visit a number of establishments during your time in the area, be sure to keep an eye out for the Laurel Highlands Pour Tour. While it's still under wraps at the moment, you'll want to watch for more information coming this September!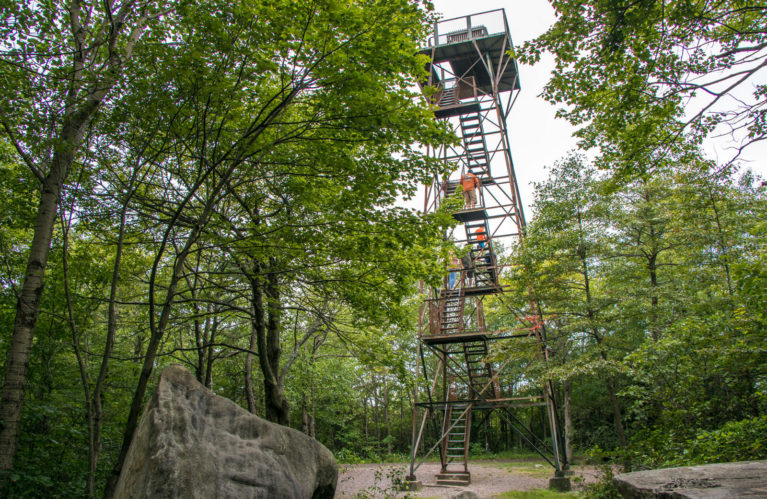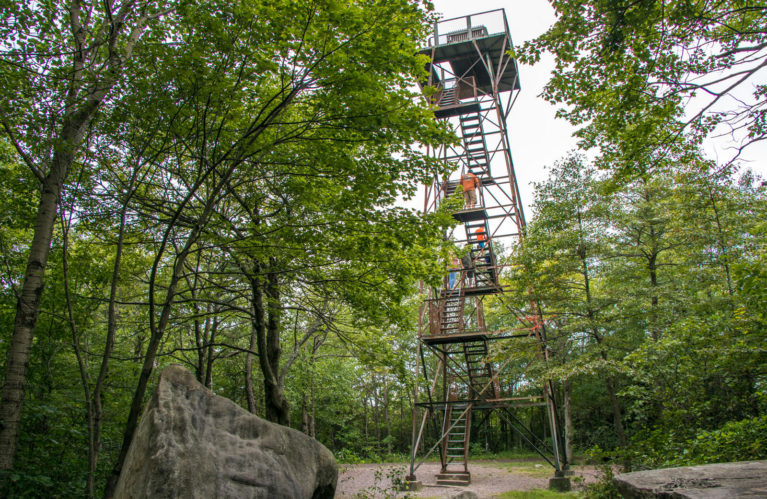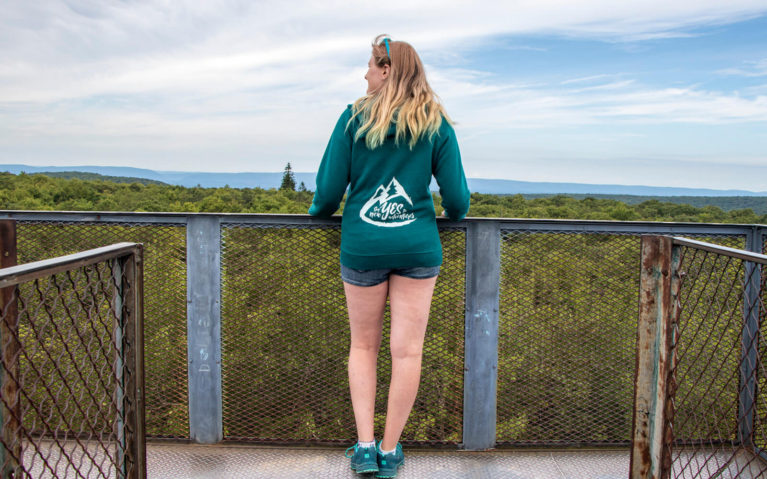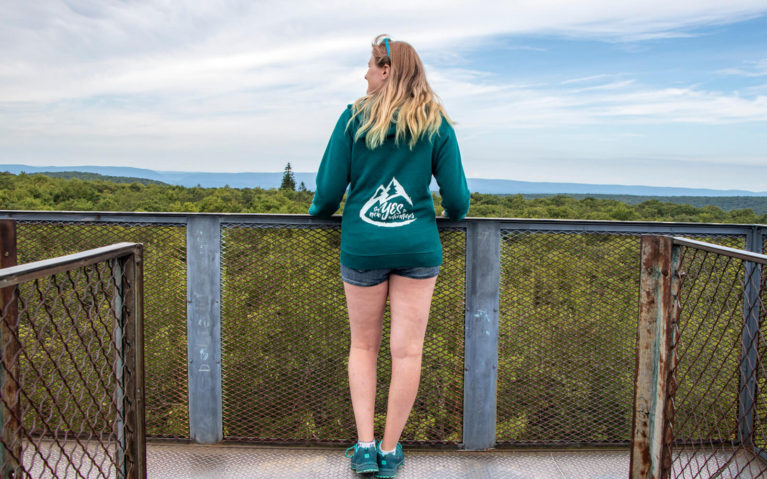 Visit the Highest Point in Pennsylvania
Want to be queen (or king) of the world? Okay maybe not the world but at least of Pennsylvania? Then you'll want to head to the Mount Davis Observation Tower!
Head to the Forbes State Forest where you'll find Mt Davis at 3123 feet and the tallest natural point in the state. It's a short walk to the metal observation tower that resides at the tip of the peak. Climb the stairs approximately 50 feet and enjoy the 360-degree view from the top.
You may notice that a few of the peaks actually look taller than where you are standing. This is not the case – it's an optical illusion! Most of the time when you're looking at something but can't reference the height, it's taller than you. Since you're looking down at rounded hilltops but have nothing to compare the height to, your brain does the same thing so it thinks the hills are taller than you are. Not this time, though!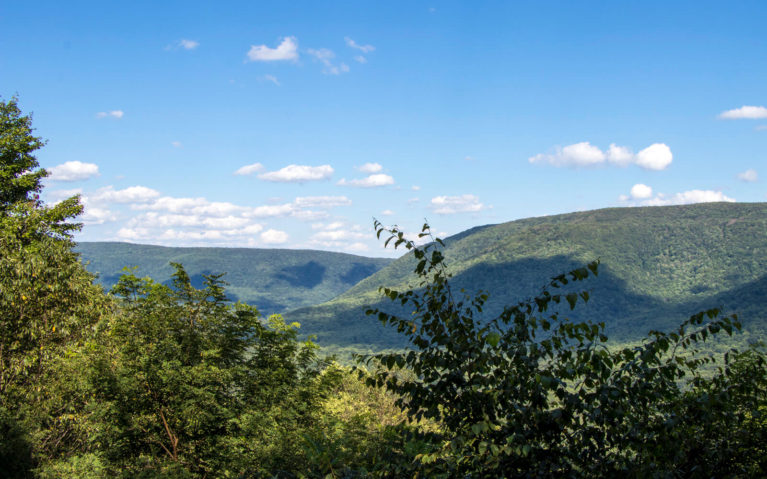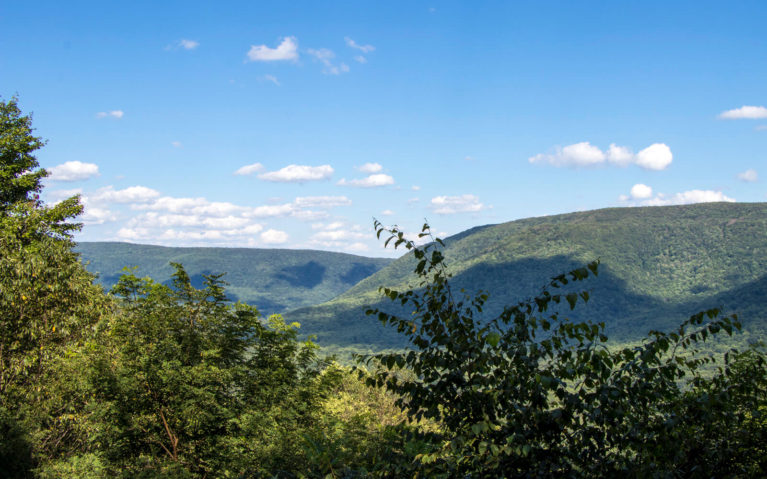 Admire The Stellar Views
Whether it's via zipline, a hiking trail or otherwise, there are a number of great lookouts in the Laurel Highlands. One that's lesser-known which you won't want to miss is the Baughman Rock Overlook. Just a short 5 minute drive from the heart of Ohiopyle, it's the perfect stop after a whitewater rafting adventure.
This rock formation along the Laurel Ridge disrupts the treeline, giving you some incredible views of the Youghiogheny River Gorge. It's a beautiful sight no matter what time of the year you visit, though the fall colours would be absolutely spectacular. I've also heard the 1700ft elevation can make for some interesting contrast once the snow starts to fall.
While the drive is easy, getting up to the lookout is a bit tricky. There are no stairs and no clear trail. It's a large rock that you have to clamber up to the fencing. Take your time and watch your footing!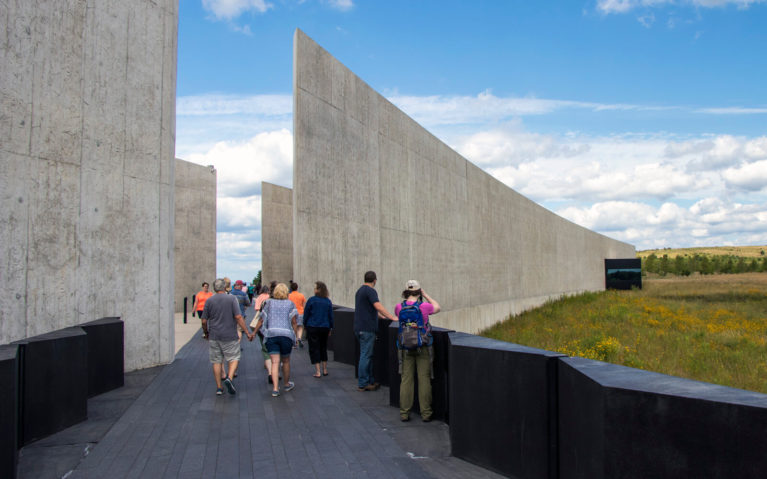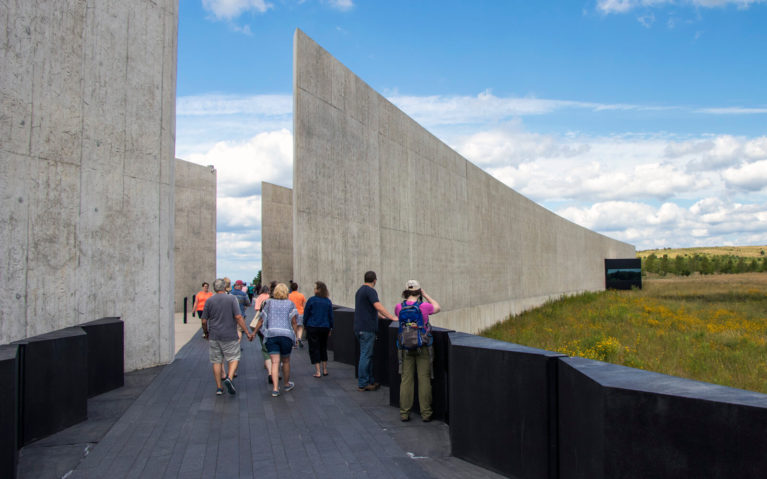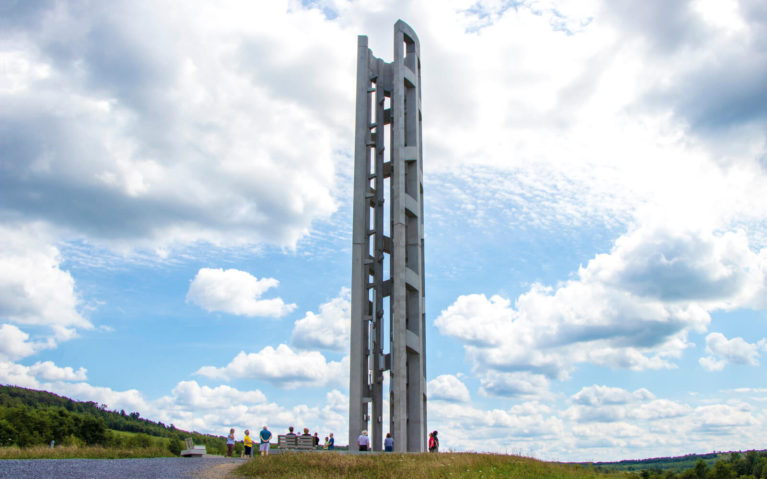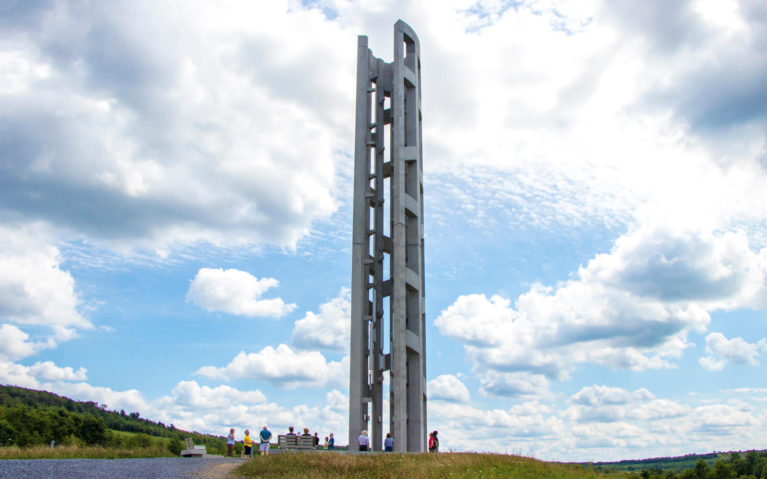 Remember the Tragedy of September 11, 2001
While this may be a darker destination on any Laurel Highlands itinerary, it's a stop everyone really should make. 9/11 was one of those days where everyone (at least those in North America) remembers where they were and how they found out. I know I sure do – and it's a day I'll never forget.
The Flight 93 National Memorial immortalizes the great sacrifice 40 passengers made to help save countless lives. Slowly make your way through the exhibits as they document the events that unfolded in New York, Virginia and Pennsylvania. I was at a loss for words as I rewatched the same video clips as I did almost 20 years ago when it all happened. You can even listen to some of the final phone calls from the brave men and women aboard Flight 93. I was brought to tears a number of times, along with many other patrons. It's heartwrenching to read all of the details but an incredibly well done display that honours the victims so well.
Make your way outside to the Memorial Walkway and the Wall of Names. From here you can see a large boulder which was placed to mark where Flight 93 impacted the Earth. What was once an ordinary field has now become a thoughtful testament to the lives that were lost to these acts of terrorism.
While it's not yet complete, the final piece of the memorial is the Tower of Voices, located close to the entrance. This structure serves a visual (and eventually, audible) reminder of the heroism the forty people on board Flight 93 showed on September 11. 93 feet in height, it will eventually house forty chimes – each with their own unique sound for every passenger and crew member on board. Eight have been installed so far but engineers are ensuring the specifications are perfect before installing the rest. There's a simulation of what the monument will sound like and I'm sure you'll agree with me that it will be hauntingly beautiful.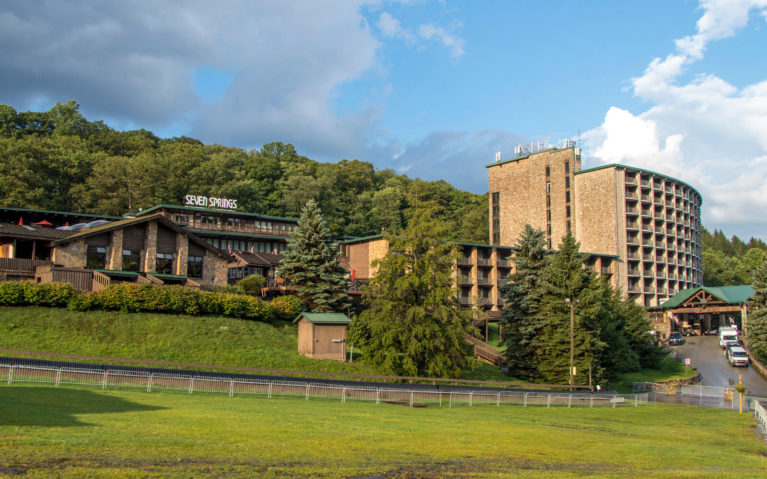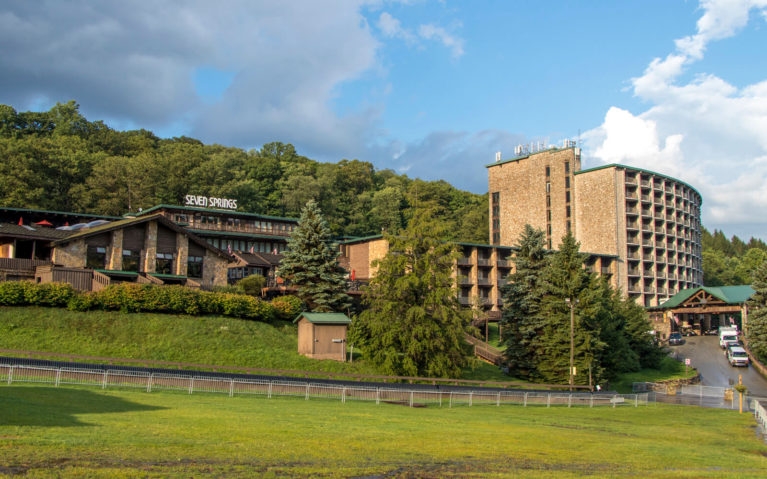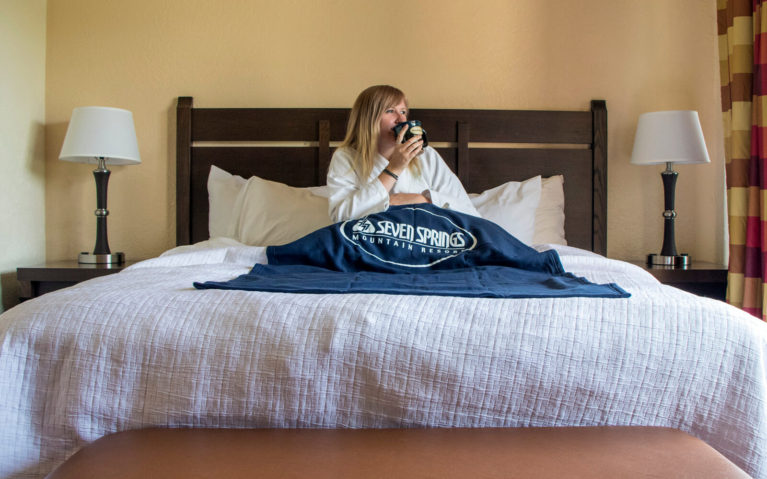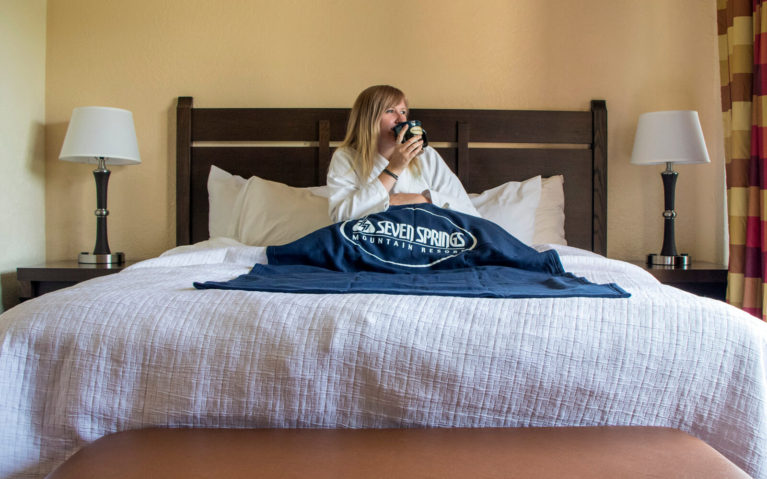 Where to Stay in the Laurel Highlands
If you're looking for a beautiful spot with beds that you melt right into, you'll want to stay at the Seven Springs Mountain Resort. This gorgeous property has over 400 hotel rooms, each with either a balcony or patio. If you're looking to splurge a little, the are also mountaintop condos, private cottages and chalets. Some of these are even ski-in/ski-out during the winter months! Looking to bring the whole family, even the four-legged members? Dogs and cats are allowed as Seven Springs offers pet-friendly rooms.
I absolutely fell in love with my room. The rustic chalet-style decor made me feel right at home as soon I stepped in the door. I had ample room to spread out along with all my gear as this was half-way through my Pennsylvania road trip. What I was most thankful for though was the large, deep tub to rest my aching body. Adventuring does take its toll after a while! The only downside? It was so hard to get up in the morning – the bed was just so bloody comfortable!
Luckily I was enticed by an incredible breakfast buffet at their Slopeside Restaurant, just one of the 11 restaurants available on site. I've never seen such an incredible spread! There truly is something for everyone and for every dietary restriction. Whether you're looking for a light and healthy way to start the day or to load up on bacon and eggs before an epic adventure, Slopeside has you covered. Whatever you do, don't miss out on their housemade granola. It's absolutely delicious with their blueberry yoghurt!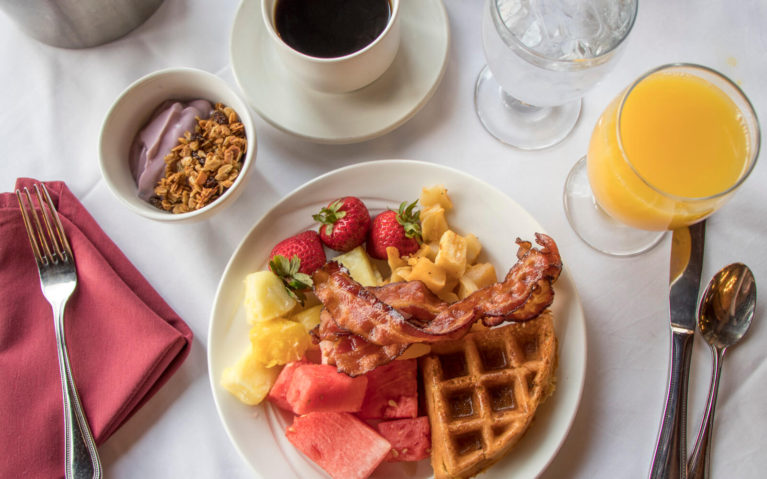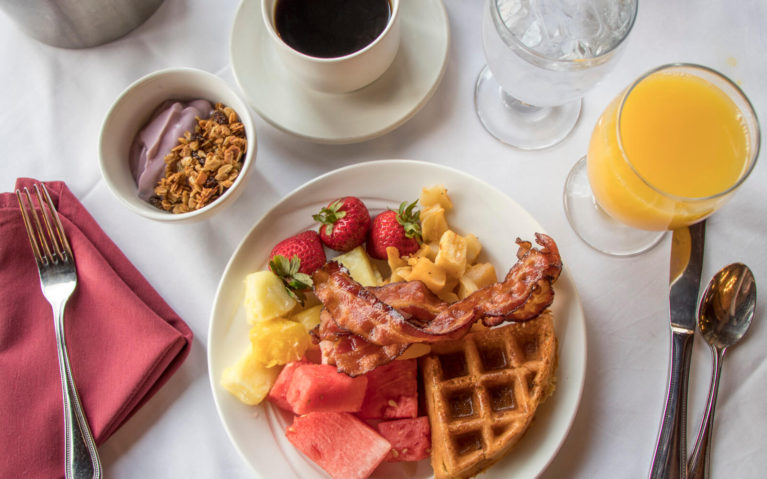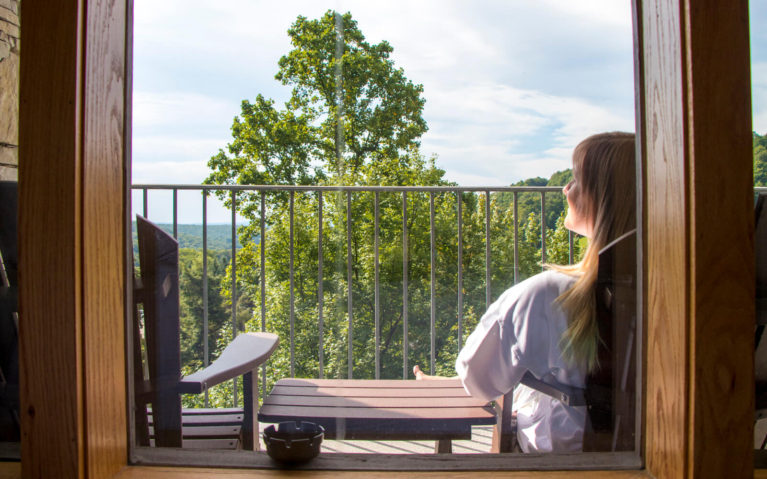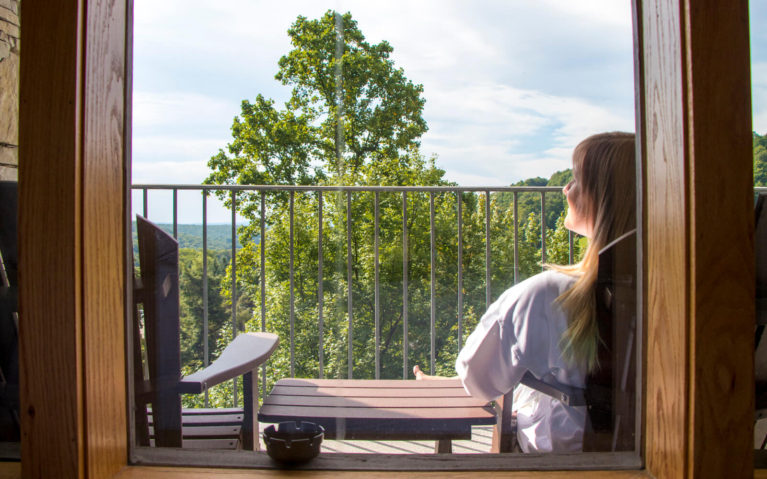 Indoors and out, Seven Springs is a beautiful hotel in the Laurel Highlands. I couldn't get enough of their cabin-esque decor, making it feel as if you've been transported into the Alps. There just weren't enough hours in a day in order to fully explore and appreciate everything Seven Springs has to offer. Where can you enjoy a thrilling zipline ride in the morning, try your hand at sporting clays or summer tubing, relax with a spa treatment and then indulge in a delicious dinner you'll talk about for days? If that doesn't sound like the recipe for a perfect day, then I don't know what does!
Seven Springs really takes their service to the next level. Upon checking in I was greeted with friendly faces and staff were always willing to answer my questions, no matter how trivial. The layout of the resort is a little tricky at first but it's easy to navigate once you know where you're going… which, for me, took some help from their staff. Plus when a hotel has a 'pillow menu' with options for different types of pillows depending on your sleep style – you know you're well taken care of!
This truly is the perfect Laurel Highlands accommodation for any occasion. Families, couples and even solo travellers like myself will adore a getaway at Seven Springs. Be warned though… once you book, you won't want to leave! Take a look and see what others travellers are saying about Seven Springs Mountain Resort.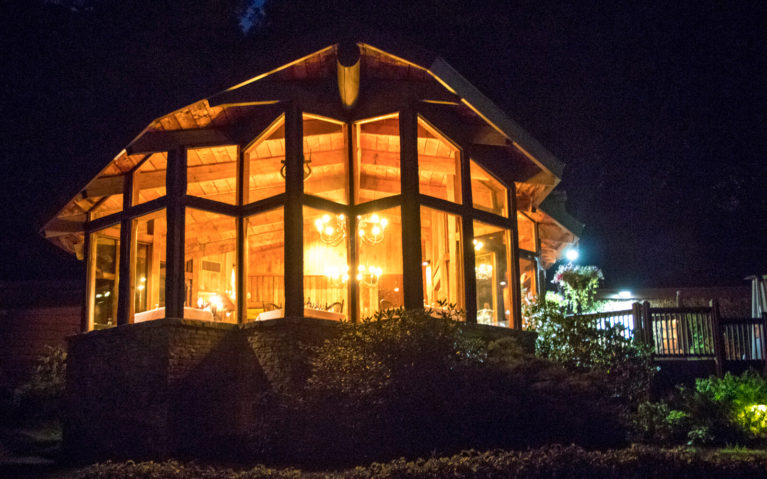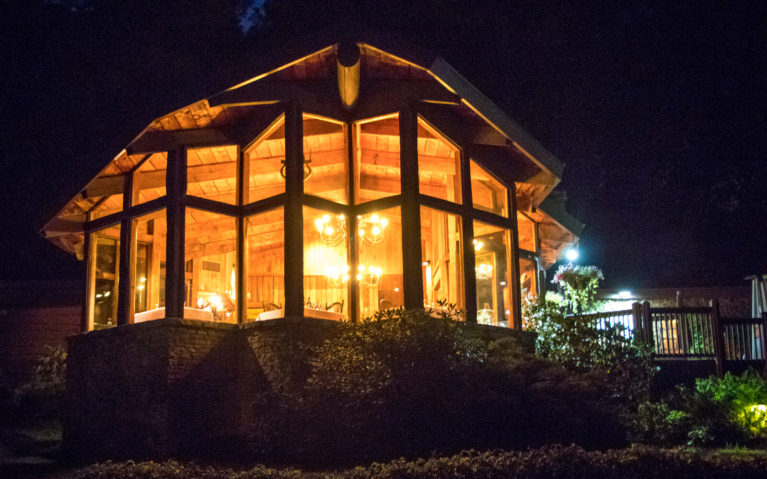 Ready to Explore Laurel Highlands PA?
As you can see, the Laurel Highlands has so much to explore! Whether you're looking for family fun, couple's getaway, or to visit as a solo traveller like I did, you'll love what the area has to offer. This is just the tip of the iceberg though as I only visited for 2 days. I already can't wait to return so I can explore even more!
Looking to visit the area yourself? Take a look at the Laurel Highlands map below and start planning your trip!
Looking for other fun things to do in Pennsylvania?
Great Western PA Attractions in Butler County
Things to Do in Pittsburgh in 48 Hours
See Why You Need to Visit Erie, Pennsylvania
Disclaimer
Thank you to Anna and the Laurel Highlands Visitors Bureau for hosting me during my stay. While I was compensated for this visit, all opinions seen are my true and honest opinion – as always! This post also contains affiliate links where I may receive a kickback on any purchases made through them at no extra charge to you.
Read more in IBB's disclaimer and privacy policy.
Don't want to forget these amazing things to do in Laurel Highlands PA? Pin it!