Fun Things to Do in Butler County PA for a Stellar Weekend Trip

Butler County is a destination that definitely flies under the radar. Pennsylvania itself is a destination many Canadians (myself included) are guilty of overlooking. It's an awesome road trip destination (or stop on a larger Pennsylvania road trip) and day trip from Steel City that really shouldn't be missed. There are plenty of great nature stops, adorable towns, delicious food and great beer, making it a destination for families, couples and solo travellers alike. Check out all of these fun things to do in Butler County PA!
Where is Butler County & How to Get There
Butler County is located about an hour north of Pittsburgh and about 4 hours from the Canadian border. From Kitchener, it took me approximately 5.5 hours to drive while avoiding toll roads. Google says it would take about the same amount of time to drive from Toronto. A quick stop in Niagara Falls can break up the drive and allow you to stop at the duty-free for any treats along the way. You can shave off a little time by taking the toll route but I didn't deem the cost to time ratio to be worth it. Plus the highways are beautiful in Pennsylvania – no concrete jungle 401 Highway driving here!
If you're looking to fly, there are some smaller airports in Butler County however none receive commercial flights to my knowledge. The closest airport would be Pittsburgh International Airport so head there. As with any more rural destination, having a car is the best way to explore so book a rental from the airport!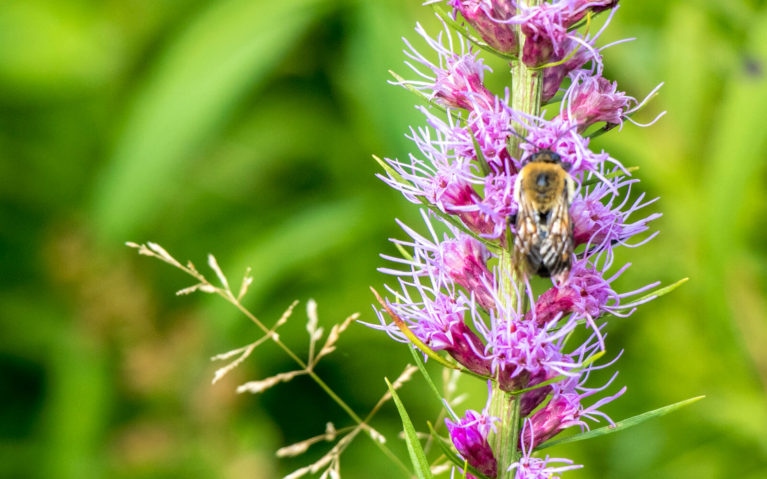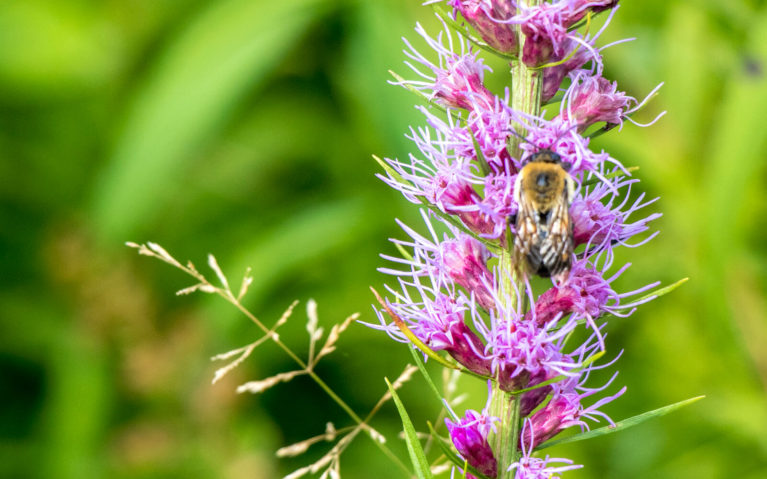 Things to Do in Butler County PA
Butler County is comprised of 10 small towns, scattered across just over 2000 square kilometres. Each town has its own unique features and highlights from Butler to Zelienople and everywhere in between! Now, let's get to talking about all the fun to be had, shall we?
Visit the Prairies in Pennsylvania
Wait now… prairies in Pennsylvania? Yes, it's true! Head on over to the Jennings Environmental Education Center where you can see the easternmost prairie ecosystem in the United States. Named after Dr Otto Emery Jennings who first discovered the prairie in 1905, it's thanks to him that this area is now protected by the Western Pennsylvania Conservancy. Inside are a number of great exhibits for all ages which explain the importance of the area, the flora and fauna found here and how the prairies came to be.
One of the most significant signs of a prairie ecosystem is the Blazing Star. This bright purple flower blooms late July/early August and is a favourite of bees, butterflies and even hummingbirds. I was lucky enough to catch a glimpse of some still holding onto their blooms on a walk along the Blazing Star Trail. This self-guided trail talks more about the prairie ecosystem and what makes it unique.
FUN FACT: This is also one of the only locations in the USA where you can find the Massassauga Rattlesnake! Don't worry if you're not a fan of snakes, chances are you'll hear it before you see it so you can steer clear.
While I enjoy a good self-guided walk as much as the next person, I highly recommend a guided tour of Jennings. These tours are free of charge, all you have to do is call and book in advance. It was a pleasure to be shown around by Wil who has worked at the park for over 20 years. His passion for the park is infectious and truly made my visit memorable. He's happy to answer any questions about the park, the wildlife found there and show off their current projects. Right now they're working to expand the prairie section of the park. It'll take years to develop so you'll have to stop by again later and check in on the progress! This is just one of the great free things to do in Butler County!
Within the park, you'll also find a section of the North Country National Scenic Trail. This 7403km long trail is twice as long as the famous Appalachian Trail which also runs through Pennsylvania. Connecting New York to North Dakota, you can tackle part of the route by following the blue blazes.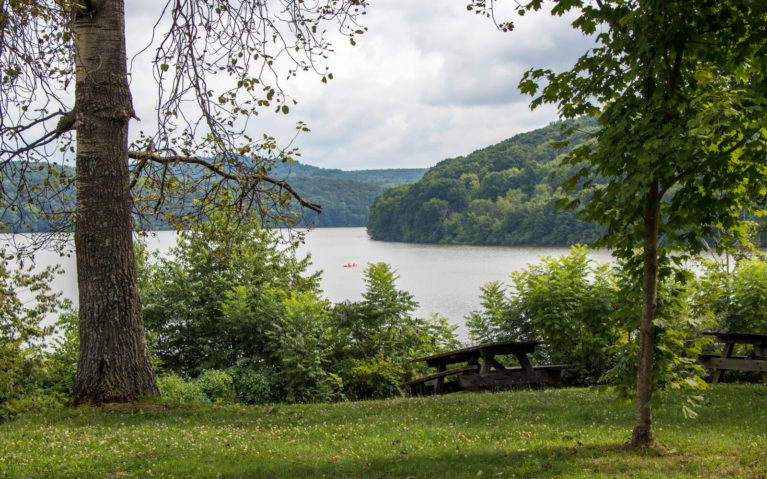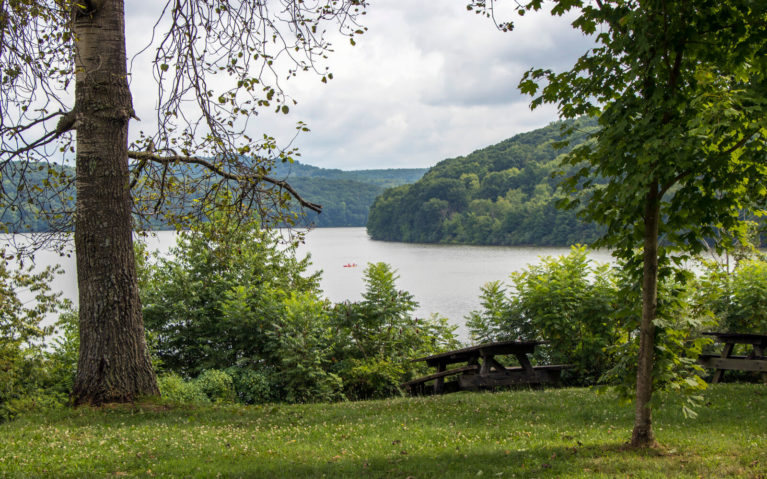 Explore One of Pennsylvania's Largest State Parks
At over 16,000 acres in size, it's a no-brainer that Moraine State Park has plenty of adventure within its boundaries. It's most famous for Lake Arthur, a man-made lake at the centre of it. With a lake his large, fishing is obviously a big draw but other activities such as hiking, biking and more are available within the park.
If you're an avid lookout hunter, Moraine State Park has plenty of great views. Both the Glacier Ridge Trail and the Trail of Geology are popular for spectacular lookouts. After that, you'll definitely want to spend some time relaxing on one of their beaches. You can rent motorboats on a first-come, first-served basis from the park. How cool is that?! What better way to spend a summer afternoon than on the water? They also have canoes and kayaks if you'd rather go with (wo)man-power. There's also the option to charter a cruise with the Moraine Preservation Fund's Nautical Nature pontoon boat if you'd rather have someone else do the driving!
Even if you just go for a drive through the park, a visit to Moraine State Park should be on every Butler County PA itinerary!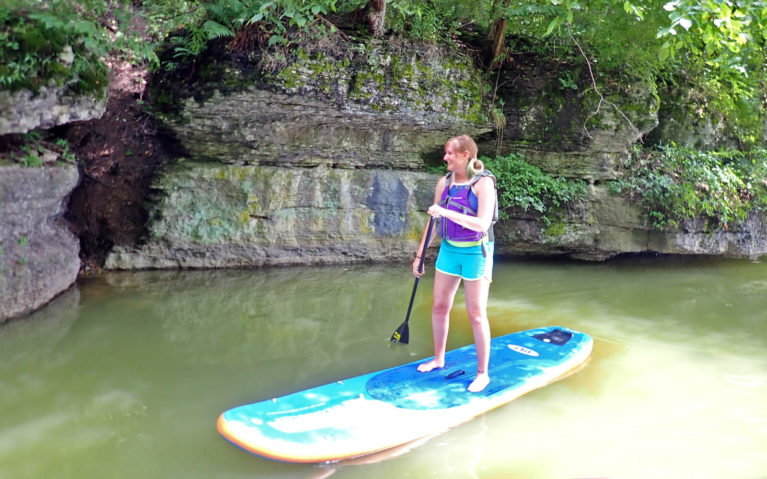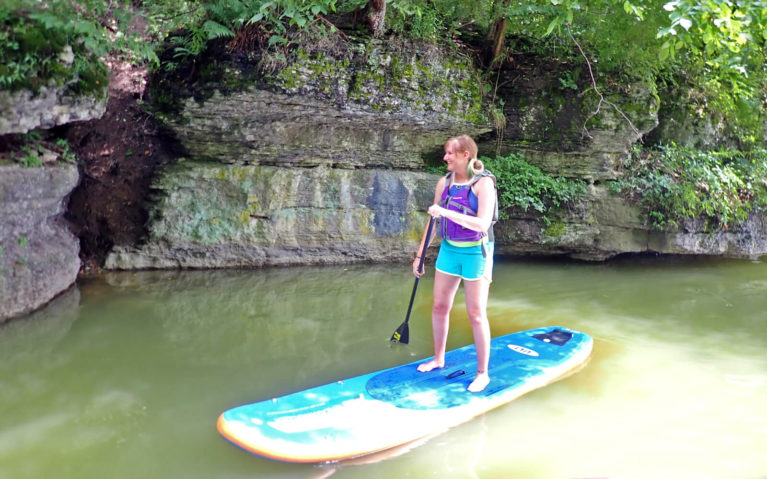 Try Your Hand at Stand-Up Paddleboarding on Lake Arthur
I've never stepped foot on a stand-up paddleboard before and I couldn't think of a better place than Lake Arthur in Moraine State Park. Calm waters paired with the impeccable guidance from Ian at SurfSUP Adventures make his SUP Eco Tours perfect for beginners. Experienced stand-up paddleboarders will also enjoy seeing Moraine State Park from a different angle on this 2-hour tour.
While I was nervous at first, it didn't take long to get the hang of the board. Ian showed us step by step how to position ourselves, how to paddle and gave us tips to stay afloat. His instructions combined with his light-hearted and slightly sassy demeanour made for a stellar afternoon on the water. By the end of it, I felt so relaxed that I almost fell asleep on my paddleboard! I would have definitely ended up in the water had that happened.
If you're looking for something a little more challenging, Ian runs whitewater rafting SUP tours and yoga SUP tours as well! Ranked as Pittsburgh's best outdoor experience in 2018, you really can't go wrong with one of his tours.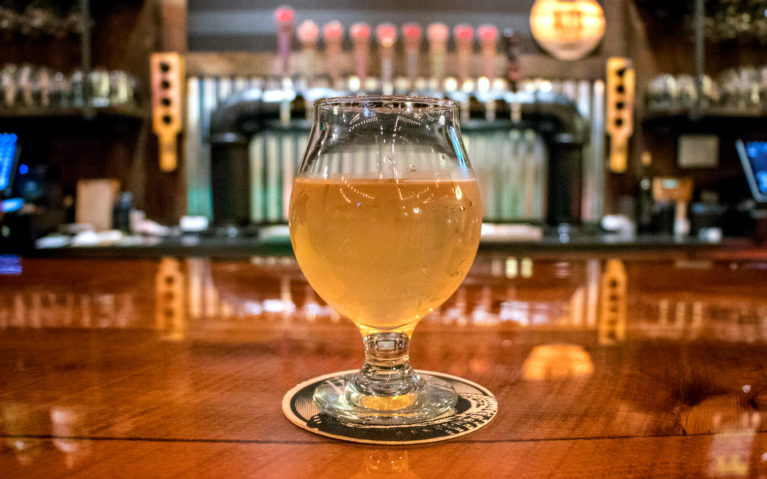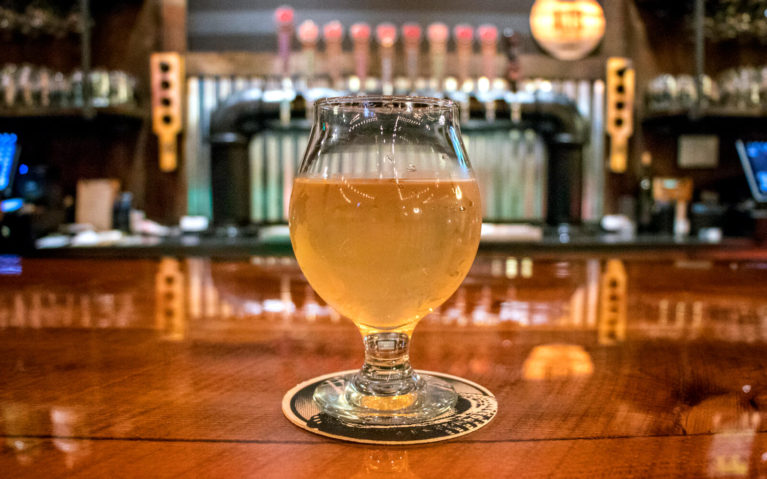 Have a Pint at Along the Butler County Beer Circuit
Who doesn't love a cold beer after a long drive, solid hike or on-the-water adventure? I sure do and enjoyed doing a little brew hopping as I explored some of the local craft breweries.
You'll find 10 breweries spread across Butler County, each with their own unique brews and vibes. I'd say your first stop should naturally be at the first brewpub to appear in Butler County, North Country Brewing. Located in the heart of Slippery Rock, it has the largest selection of beers on tap in the area. Since 2005, they've brewed over 100 different types from your darkest stouts to your lightest lagers and everything in between. I highly recommend getting a flight so you can try a few of them, but be warned that you get 6 options instead of your usual 4! My favourite is the Pink Guava Fruit Bowl but their Worth Your Weight in Gold is good too. They also have great food here, but more on that in a bit.
If you're looking to head somewhere with a few options for beer, your best spot is Butler, PA. Here you'll find Reclamation Brewing and Butler Brew Works, both with great beers on tap. Within a block of each other, both have plenty of great beer to offer. I highly recommend stopping for a pint of Reclamation's Wittenburg, a wheat beer with notes of black pepper, citrus and vanilla. Sounds like an odd combo, but it's a smooth ale with great flavour. Over at Butler Brew Works, hands down you have to try their Sea Siren. This fruity sour is loaded with guava, mango and passionfruit making it a great summer beer.
Just up the road from Butler, PA you'll find Recon Brewing which pays homage to the birthplace of the Jeep and its first prototype – the Bantam Reconnaissance Car. Created in Butler, you'll see Jeep paraphernalia all throughout the brewery. Pull up a chair at the bar and try a few of the great brews they have to offer! Also, if you're coming from Canada and are willing to make a stop at the LCBO before you head across the border – grab a few cans of Puppers for Levi. Long story but if you're a fan of Letterkenny, you'll understand. Drop them off for Levi who's one of the managers and he'll love you forever. You'll also love their Trail Routed Sour Series, especially since the latest instalment is apricot!
SOMETHING TO NOTE: Many of Butler County's breweries are closed on Mondays, some even on Sundays. I recommend visiting the brewery's website or calling ahead to help avoid disappointment!
As you explore Butler County's breweries, bring along your Beer Circuit passport. You'll get a stamp at each place once you order a pint or a flight. Once you visit all 10, you can take it to the Butler County Tourism Bureau to claim a prize! Just don't be a putz like me and forget to get your passport stamped. I went to four different breweries and not once did I remember! Though I'd say that just speaks to how good the beer is in Butler County!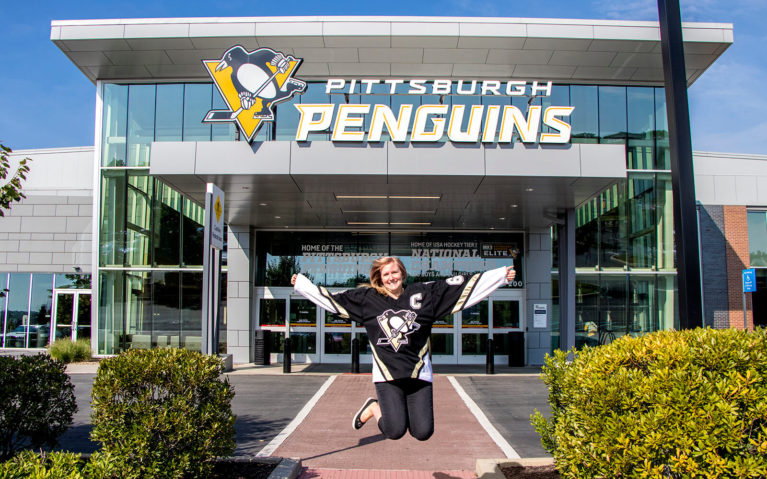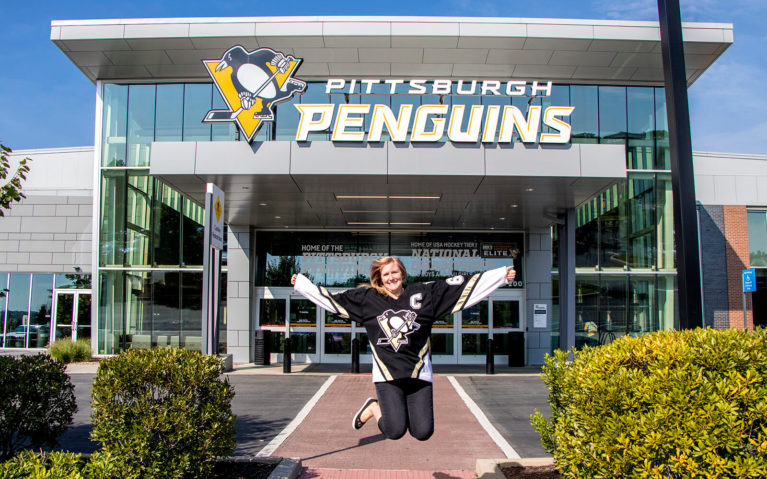 See Where the Pittsburgh Penguins Train
I'm a true Canadian in that I sure love my hockey, especially the Pittsburgh Penguins. When I found out that the UPMC Lemieux Sports Complex was not only open to the public but I could take a tour of it, I was over the moon! As soon as I stepped foot inside the complex, it brought back so many memories of the hours I spent as a rink rat while playing ringette and hockey.
Take a guided tour of the facility and you'll learn about the inner workings of the complex and all it has to offer. This twin-pad rink has so much to offer the local community from hockey camps to personal training. It was really interesting to hear how they keep the ice condition the exact same as the PPG Paints Arena in downtown Pittsburgh where the Penguins play their games. Unfortunately you can't get a tour of the dressing rooms but it didn't stop me from trying to sneak a peek inside!
While I visited before the pre-season started, you can actually sit in and watch live practices. On nights when the boys are playing, you can hop on the ice for a public skate as the game is projected on a big screen in the arena. I know I'll be back to lace up my skates so I can experience this for myself!
In case you're wondering – no. I didn't start liking them because of Crosby though he was an added bonus. That's a Mario Lemieux jersey I'm wearing and my love for the team began with him. I still believe to this day was one of the best players the NHL has ever seen – even better than the "Great One".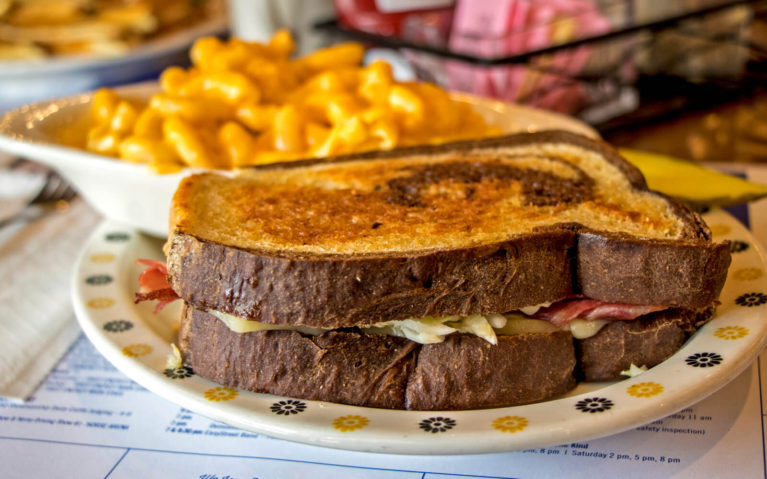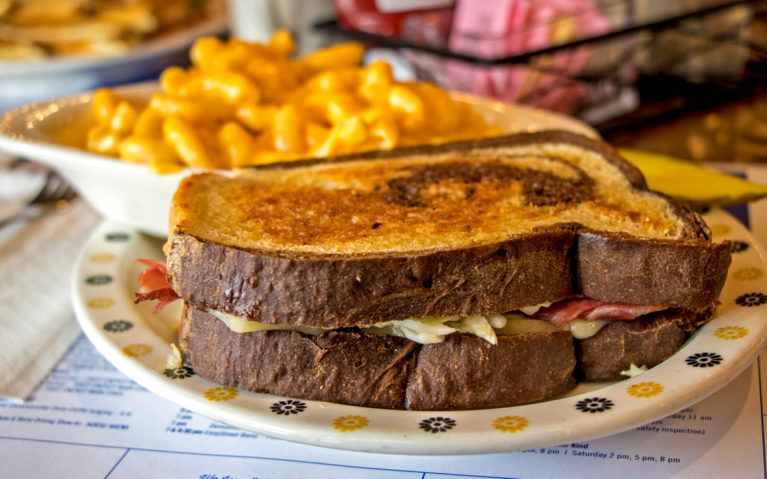 Butler County Restaurants For Good Eats & Treats
Delicious food is plentiful in Butler County and it'll keep you fuelled for all your adventures. While I barely scratched the surface on all of the restaurants in Butler County, I can say for certain these options are incredibly delicious!
Brown's Country Kitchen
If you're planning a day at Moraine State Park, I highly recommend grabbing a meal at Brown's Country Kitchen in Portersville. This family-owned restaurant has fed hungry bellies since 1976. In 2014, Brown's suffered an awful fire which damaged the entire building but luckily it survived thanks to sharing a parking lot with the local fire department. While they were down for 6 months, it didn't stop them from re-opening their doors once again. Hearty eats are king here with plenty of delicious options from burgers to pot roasts. I indulged in the Ole' Mose Rueben topped with coleslaw and a side of mac and cheese. I was stuffed to the brim but had just enough room to sneak a few bites of their Dutch Apple Pie which is not to be missed. If you're too full to enjoy a slice there, be sure to get one to go!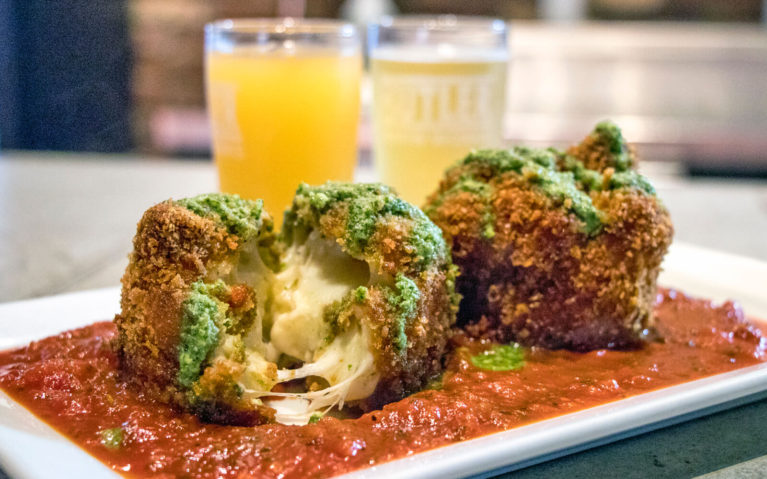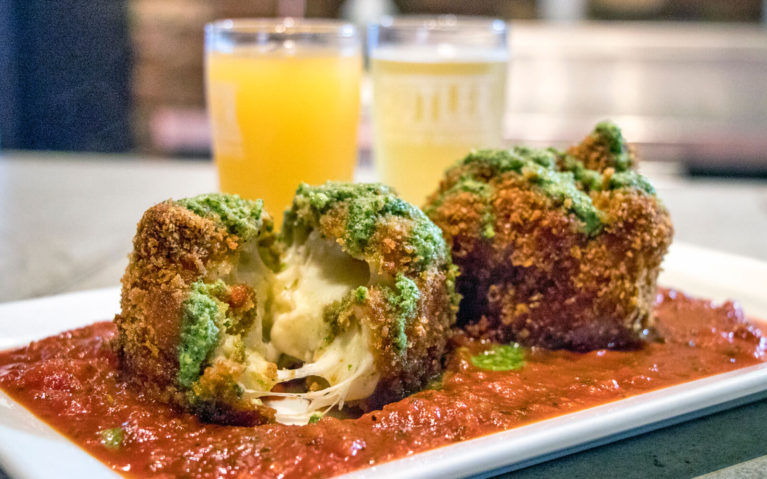 Butler Brew Works
When a brewery has good food too, I say it's a match made in heaven – and that's what you'll find here at Butler Brew Works. Located in the town of Butler, you won't want to only come in here for a pint! Whether you're looking for a small bite to eat or a full meal, Butler Brew Works has you covered. I highly recommend their Crispy Cheese Curd Ball – Wisconsin cheese curds are moulded into delicious little orbs, battered and deep-fried. Sitting atop a savoury marinara sauce with basil pesto from Butler Penne, a local Italian shop in town, it's like mozzarella sticks but 100 times better.
For those who love to save money, don't miss out on their happy hour pricing. From 4:00pm-6:00pm Monday through Thursday, you can enjoy $1 off all draft beers. The real winner though is on Fridays and Saturdays from 9:00pm-11:00pm where you can enjoy not just $1 off all draft beer but $1 off all of their late-night selections as well! Stopping in here should be on every things to do in Butler PA list.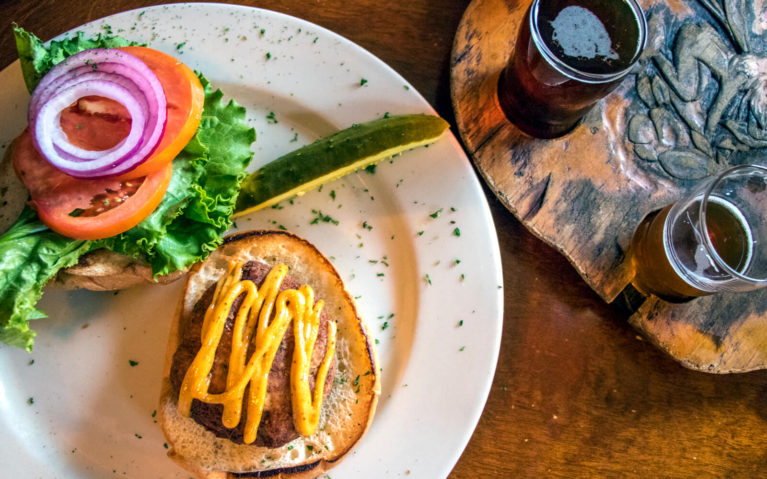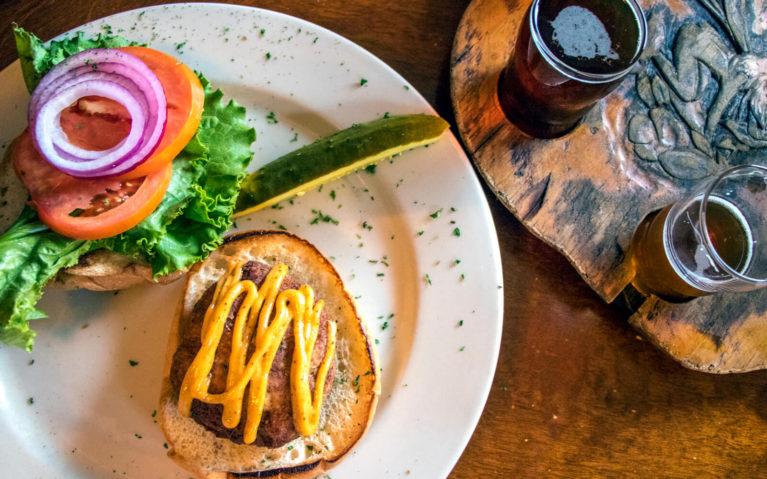 North Country Brewing
The toughest part besides trying to decide on 6 beers for your flight is what you're going to eat at North Country Brewing. Their menu is massive with items ranging from steaks to salmon. I recommend starting with their pub pretzels which are some of the best I've had – and I'm spoiled here in Kitchener with Oktoberfest pretzels. For my main, I had The Harbourmaster featuring a jumbo crab cake, their housemade seafood aioli topped with lettuce, tomato and red onion on a toasted Kaiser roll. My only complaint is that it was gone too soon! Whatever you decide to order, don't miss grabbing a side of their potato pancakes. I've also heard their fried chicken and waffles is to die for… I'll have to rock an epic hike to earn this meal next time I visit.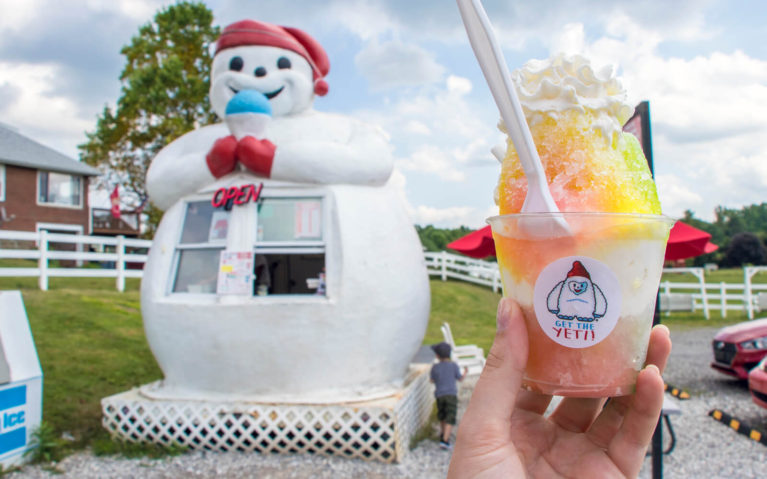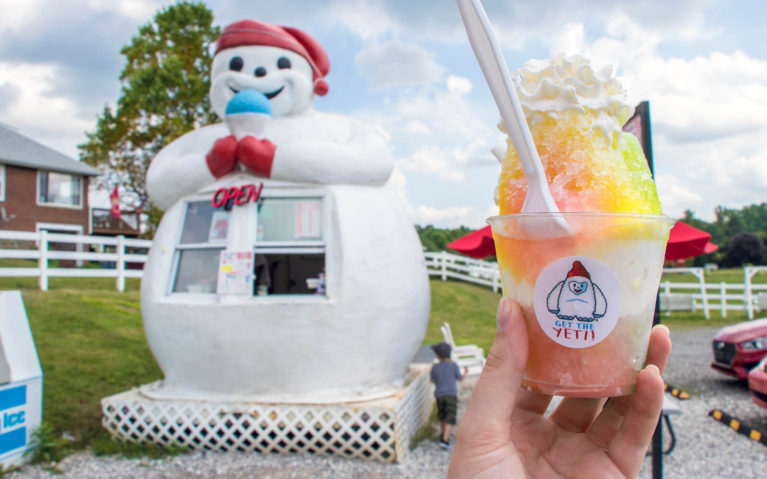 The Snowman
Okay so this isn't really a restaurant but when there's a 13-foot snowman with delicious treats that are perfect on a hot summer day… you gotta go. Seriously though, you really can't miss stopping at The Snowman when visiting Butler County.
Frosty's brother here has had quite the adventure! Originally a roadside attraction in New Mexico, he lived south of Memphis in Horn Lake, Mississippi and afterwards West Chester, Ohio. For the past 6 years, he's called Portersville home where he's won the hearts of many – mine included. My icy Canadian heart needs to be cooled down on hot days and The Snowman does exactly that!
While they have shaved ice and ice cream, you need to get the best of both worlds with their Yeti Sundae. Select any one of their 30 shaved ice flavours (good luck) along with vanilla or chocolate soft serve ice cream. Topped with whip cream, it's really the perfect way to chill out on a summer day. They have a number of flavours from fruity favourites like black cherry and pineapple to sweet treats like red velvet cake and cookie dough. Or you can be a basic b!tch like me and order the Unicorn Ice Yeti which I proudly enjoyed every bite. When you get cotton candy AND cake batter shaved ice with a unicorn horn, damn right I'm gonna order it!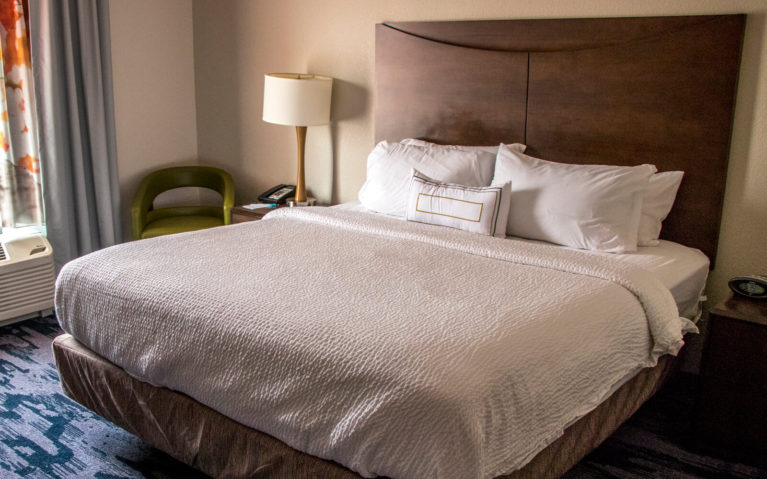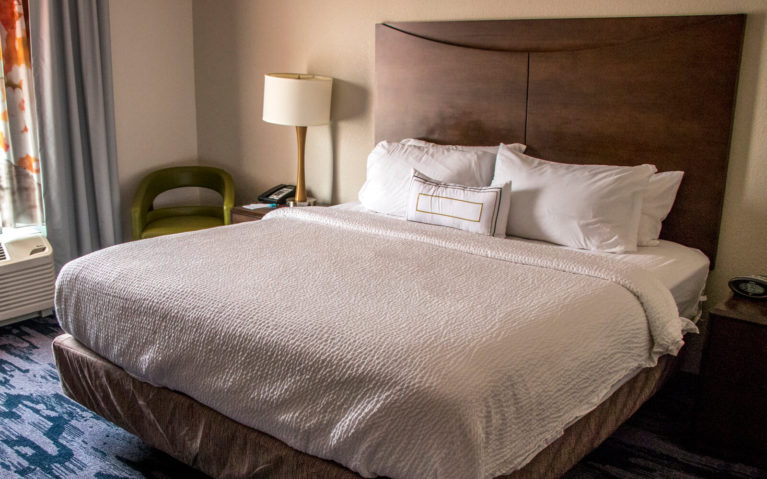 Hotels in Butler County to Stay At
There are plenty of great options to rest your head in Butler County whether you're looking for a no-frills hotel to a quaint bed and breakfast. I spent two nights at the Fairfield Inn & Suites Slippery Rock which is a short 15 minute walk from the core of town.
Recently renovated, this hotel is the perfect place to rest your head while exploring Butler County. Comfy beds, complimentary wifi, fridge, microwave AND free breakfast? Count me in! My room on the second floor was quite spacious with plenty of counter space in the bathroom which I thoroughly appreciated. There's a 24-hour fitness centre as well as an indoor pool for those who want to keep up on their fitness routines. I personally did enough activities that I mainly enjoyed sinking into my bed each night and catching some Hulu and Netflix which is included in their television line up. Sound like a great place to stay? I'd say so! Click here to book a night or two at the Fairfield Inn & Suites Slippery Rock.
One thing I loved besides the ample amount of pillows and having the bed all to myself (one of the reasons I love solo travel) is their breakfast. They get bonus points because they have so much variety, including two options for protein and two options for eggs each day. For example, one day they had turkey and pork sausages and the other they had sausages and bacon. So many hotels only opt for just one meat protein option so I was impressed! They also had waffles, bagels, toast, multiple kinds of fruit, yoghurt and more. With so much variety, you're guaranteed to leave fuelled up for a day of adventure!
With multiple towns to choose from, there are plenty of Butler County hotel options. Whether you choose to stay in the town of Butler, further south in Cranberry Township or like I did in Slippery Rock, you'll find a great spot to sleep.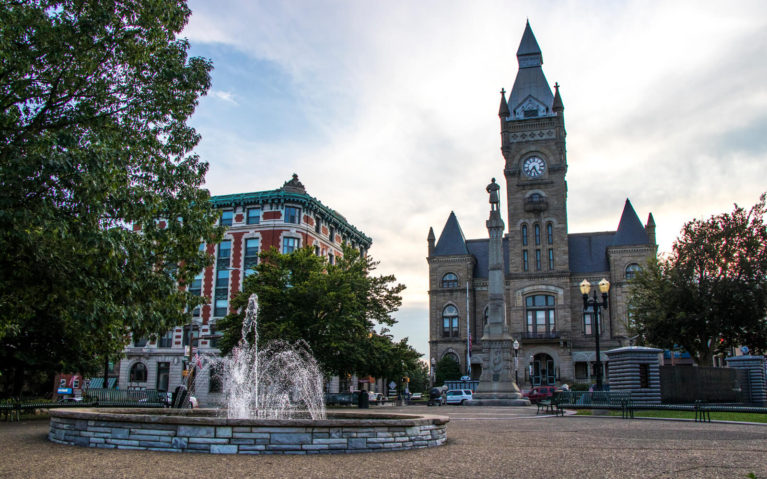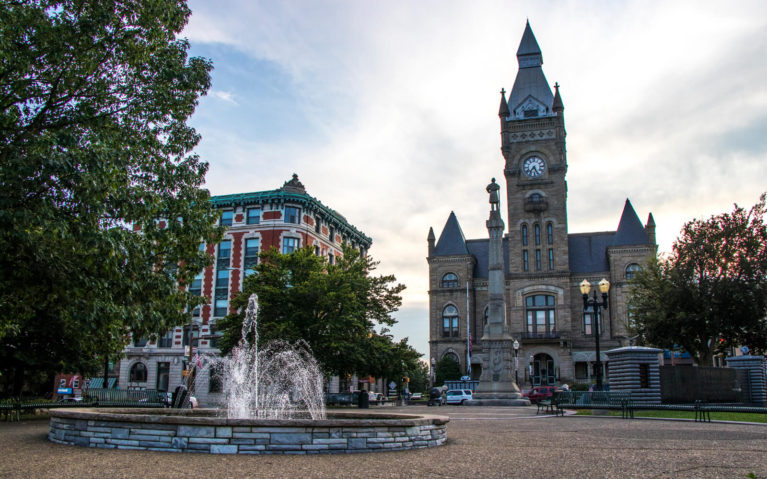 Additional Things to Do in Butler County PA
With 10 towns in Butler County, it's a no-brainer that there is too much to see for just one weekend. If you've done all of the above adventures or are curious to know other things to do Butler County PA has to offer, here are my suggestions. These will be on my list next time I visit Butler County!
Visit Western Pennsylvania's First Landmark District – Take in the beautiful old brick and log buildings in the quaint village of Harmony. Founded in 1804, this quaint German village is now full of beautiful specialty shops and restaurants. I've heard WunderBar in town is a must-visit as they have locally-sourced eats and great coffee which you'll enjoy in a historic opera hall. If you plan to visit in the winter, don't miss Harmony's Christmas Market!
Follow the Steps of George Washington – Learn about the history of the area since the 1700s on a self-guided tour of Washington's Trail. Starting in Zelienople, it'll take you through Harmony, Portersville, Moraine State Park, Slippery Rock, Harrisville, Prospect, Evans City and finally Cranberry Township. It's a great way to cover a lot of ground in Butler County!
Step Foot on Mars – The most 'out of this world' destination in Butler County has to be the town of Mars. You'll know you've arrived when you spot the flying saucer in the main town square. The city loves its name and fully embraces it which has garnered plenty of attention… even from NASA. You won't want to miss their yearly celebrations at the end of May, promoting the importance of science, technology, engineering and math. And in case you were wondering – yes, there really is life on Mars… at least this one, anyway!
See Where the Brooklyn Bridge Was Born – Saxonburg, Pennsylvania may be a long way from New York City but it's where John Roebling invented the wire rope. Founding the town in 1832 with his brother, Roebling went on to use his wire rope invention to design the iconic Brooklyn Bridge. Stop in at the Saxonburg Museum to learn all about it and take a stroll to enjoy the town's German charm.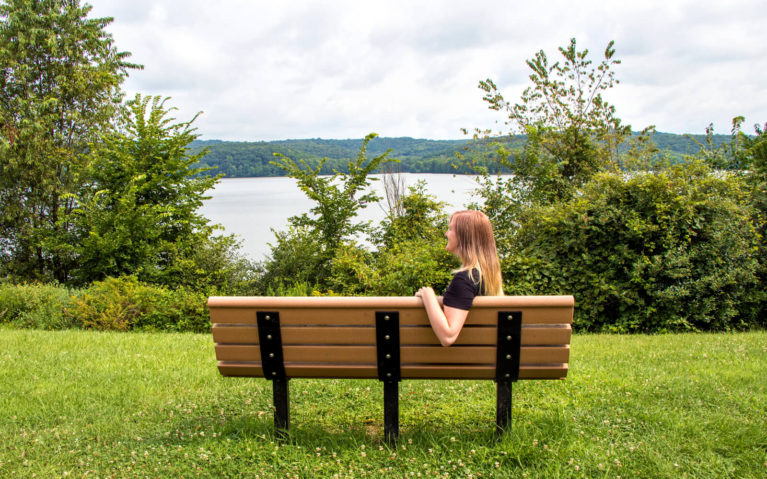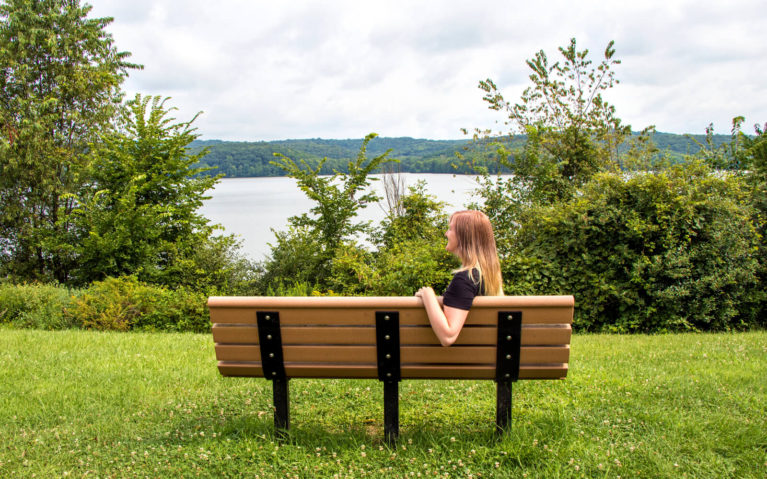 A Cool Place to Visit in Pennsylvania
Butler County, Pennsylvania is definitely not to be missed when exploring the state. Across its 10 towns, the area has so much to offer that it caters to travellers of all interests. Whether you're just passing through or staying for a weekend, you can't go wrong with a visit to Butler County!
Ready to plan your adventure? The map of Butler County PA below should help when building your travel itinerary!
Looking for Other Pennsylvania Points of Interest?
48 Hours in Pittsburgh: How to Spend a Weekend in the Steel City
7 Top Pittsburgh Breweries For a Good Pint
See Why Erie, PA is Not to Be Missed When in Pennsylvania
Visit the Laurel Highlands, Just One of Many Cool Places in Pennslyvania
Things to Do in Carlisle PA & the Cumberland Valley
Disclaimer
Thank you to Tiffany and the Butler County Tourism & Convention Bureau for hosting me during my stay. While I was compensated for this visit, all opinions seen are my true and honest opinion – as always! This post also contains affiliate links where I may receive a kickback on any purchases made through them at no extra charge to you.
Read more in IBB's disclaimer and privacy policy.
Save these great Pennsylvania attractions and pin it for later!