Best 10+ Things to Do in Carlisle PA & the Cumberland Valley

Pennsylvania is home to so many local gems that you could spend months exploring trying to find them. While many flock to Pittsburgh or Philadelphia, there is plenty to be found between these two cities. If you're heading for the middle of the state and are wondering where should I go in central PA then I highly recommend a visit to the Cumberland Valley! Check out these things to do in Carlisle PA and the surrounding area.
Fun Things to Do in Carlisle PA
While smaller than its neighbour Harrisburg, Carlisle has plenty to offer. While the area faces a turbulent history, it has transformed into the town you see today. Named after Carlisle, England, it has been a battlefield between settlers and the Indigenous, a stop on the Underground Railroad, and much more. There are plenty of places to visit in Carlisle PA so let's get to it!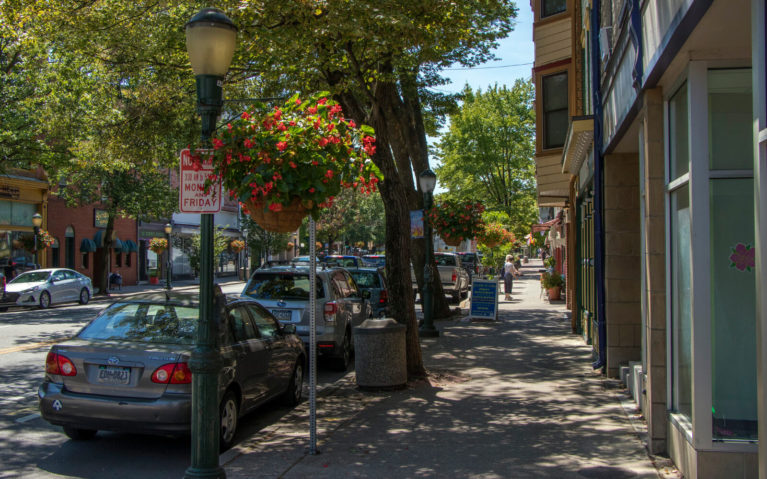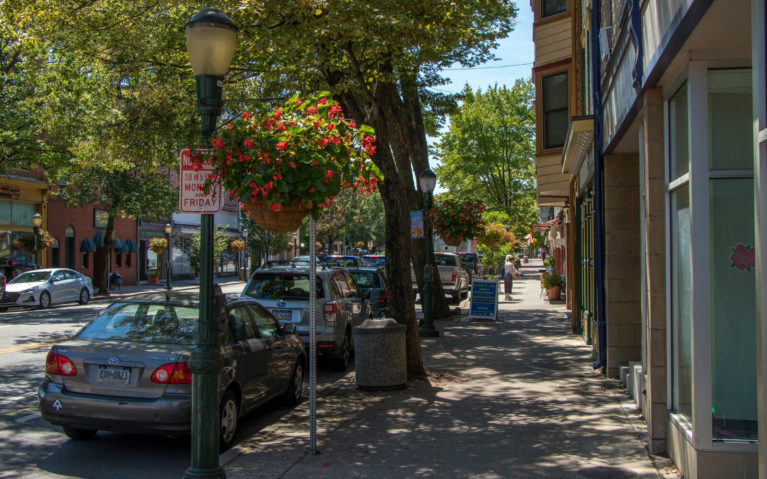 Take a Stroll Around Downtown Carlisle
I highly recommend starting your trip with a slow meandering around town to get familiar with the area. It won't take long to realize just how picturesque Carlisle is! Admire the beautiful architecture of buildings that date back hundreds of years like the old Victorian firehouse built in 1888. Don't miss Carlisle's historic district which is roughly around Penn, East, Walnut and College Streets.
INSIDER TIP: In the area of High Street, Hanover Street and West Pomfret you'll notice parking meters along the road. However, if you go a little further away from the core towards College Street, you'll be able to park for free!
Visit the Cumberland County Historical Society
In the heart of downtown, you'll find the Cumberland County Historical Society. Founded in 1874, this team is dedicated to preserving and promoting the rich history of Cumberland County. Pop inside to check out their permanent exhibits and learn more about the area from folk art to the Revolutionary War. While I didn't have a chance to explore during my visit, I plan to pop in and experience their galleries on my next trip.
Admission is free but usage of the archives and library costs $5 per person. While tours are typically self-guided, guided group tours are available upon request but need to be booked in advance.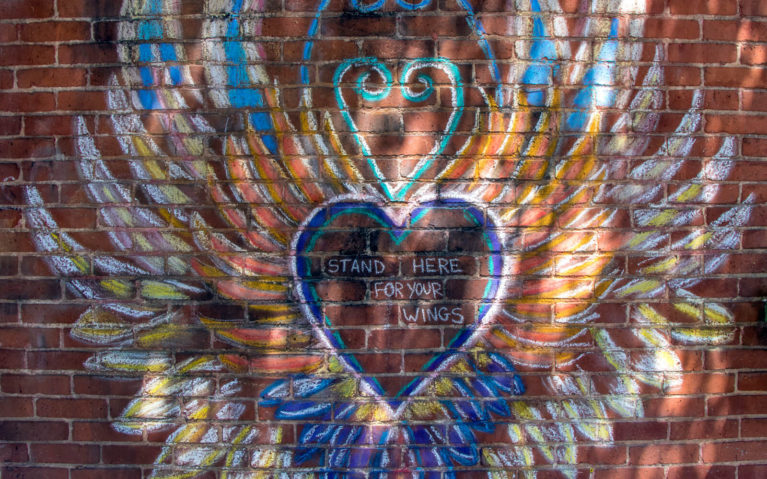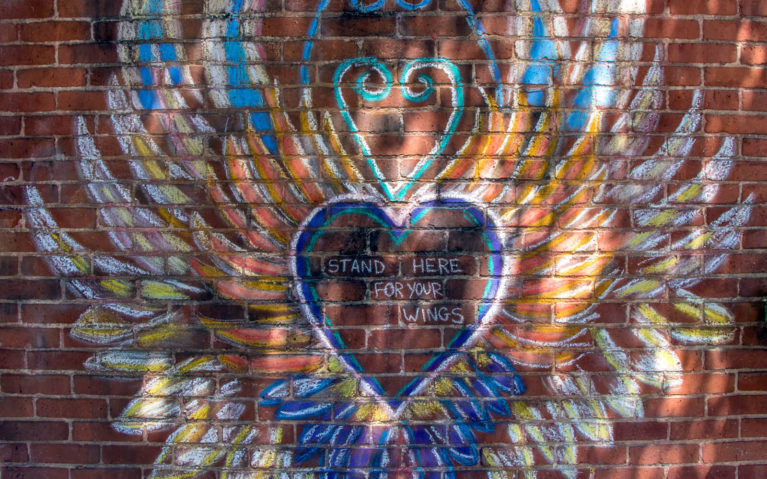 Hunt for Street Art
I'm always thrilled to find out when a town I visit has street art and I'm happy to say Carlisle is one of them! Keep an eye out for gorgeous murals and beautifully decorated postage boxes. It's a beautiful juxtaposition between the historic architecture and new-age style art. You might even stumble across a few brightly coloured buildings, too! This is just one of the fun free things to do in Carlisle.
Do a Little Shopping in Carlisle
Carlisle is full of adorable local shops you don't want to miss! Wander around the downtown core and you'll find a number of great stores. You'll find antique treasures, clothing, art galleries and much more! Be sure to look out for 'Made in Cumberland Valley' signs so you know you're supporting local artisans from the area.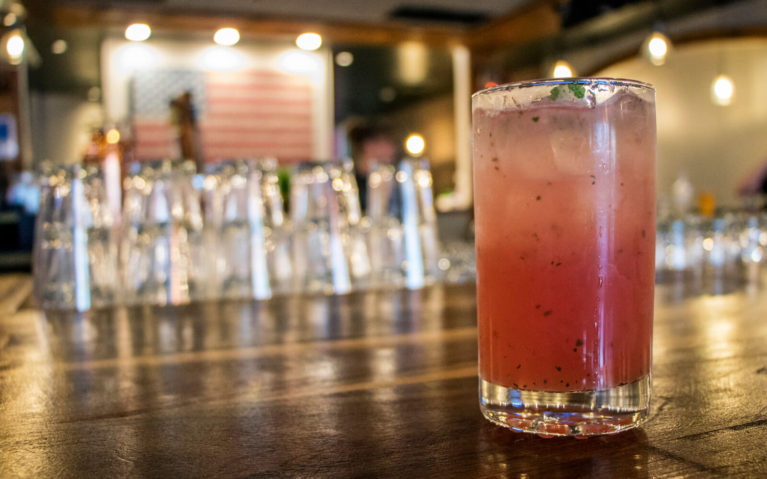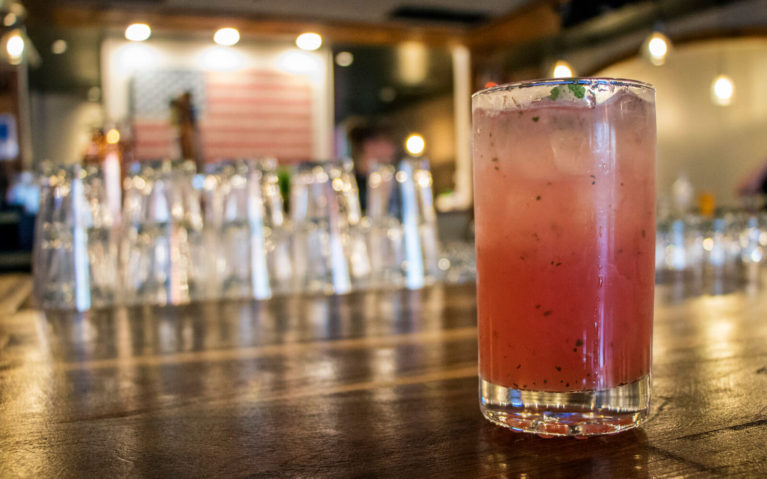 Grab a Drink From the Only Distillery in Town Since Prohibition
I guarantee all the walking will make you thirsty and luckily there are plenty of places to wet your whistle! Head to Hook and Flask Still Works for some seriously delicious cocktails. Grab a table with friends or a seat at the bar and make new ones as you sip the night away.
I highly recommend the Fireman's Mule, a mixture of Mutual Aid Whiskey, orange syrup and lime juice topped with ginger beer. It's a perfect choice if you're looking for a refreshing drink that'll warm you up on a chilly evening. However if you're looking for an eternal taste of summer, you have to try The Water Tender. This gin drink is bursting with watermelon flavour that even non-gin drinkers like me will enjoy. Hook and Flast Still Works may be a newcomer to Carlisle but this local grain to glass distillery is a must-stop on any Cumberland Valley itinerary!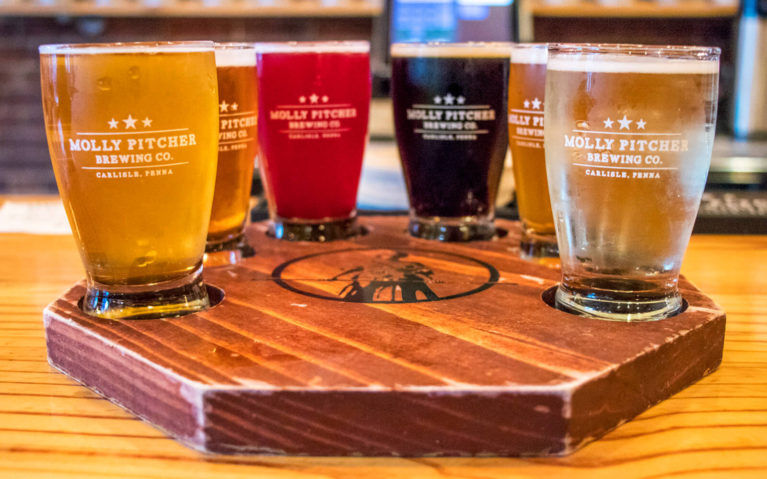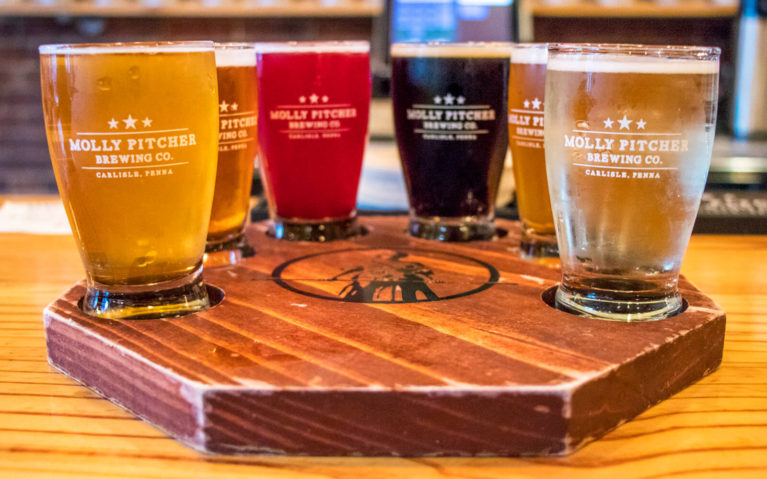 Drink Your Way Along the Cumberland Valley Beer Trail
If you're unsure of where to go in the Cumberland Valley, a beer trail is often a great place to start! With locations across the area, this ale trail is unique in that it doesn't only include breweries! There are a number of restaurants and other boozy establishments like cideries, meaderies and wineries. Our friends at Hook and Flask Still Works are included, too!
Grab a trail passport from the tourism office or print your own and take it with you. You'll be rewarded for your adventures! Collect 5 stickers to get a bottle opener, 15 for a bottle opening and t-shirt, and 20 for both items along with a cooler. You'll also receive coupons for the establishments included no matter what tier you complete! Take a look at the Cumberland Valley website to see what locations are on the beer trail. This is easily one of my favourite Carlisle activities as I just love enjoying the local tastes while making new friends!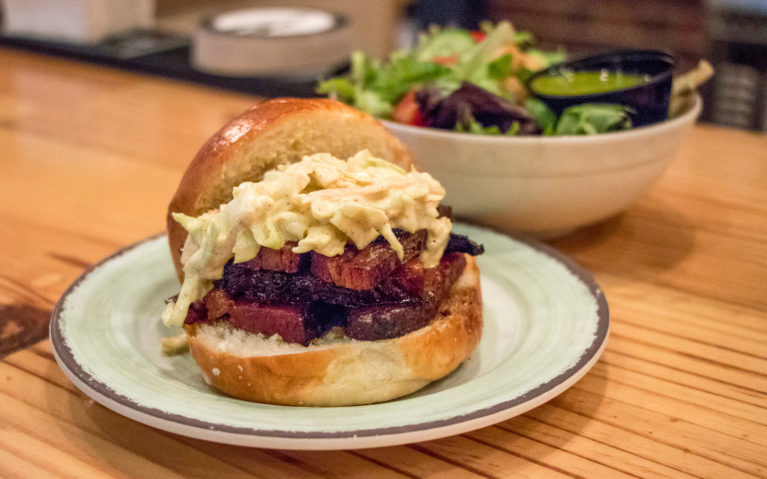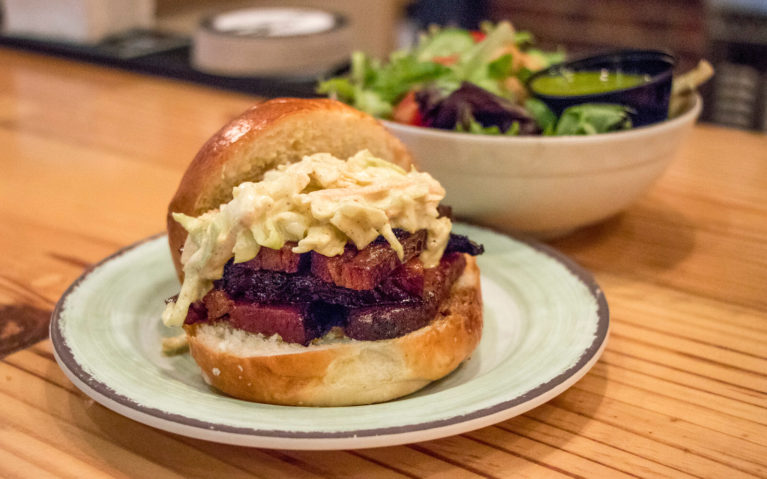 Enjoy Some Delicious Eats
There are more restaurants in Carlisle than you can shake a stick at, but who doesn't love a brewery which has great food too? Head to Molly Pitcher Brewing Company if you're looking for delicious bites to go with your brews.
The brewery is named after one of the town's most famous residents, Mary Hays McCauley who was known as Molly Pitcher. Said to have taken her husband's place as a gunner during the Revolutionary War, she also cared for injured soldiers by carrying water to them. The owners wanted to show their hometown pride and focus on the community, hence the name was chosen. It just so happens that the brewery is located close to where Molly Pitcher herself is buried in the Old Graveyard!
Settle in for some seriously delicious eats that cater to all dietary needs. From vegan bites to the meatiest of burgers, this is a great spot for large groups and solo travellers alike. I indulged in their Braised Bacon Sandwich with a side salad. Balance is key, right? This smokey slice of deliciousness is braised in garlic and Molly Pitcher's very own IPA, grilled with barley malt and a honey glaze to be topped with jalapeno slaw on a fresh brioche bun. It's the perfect balance of sweet and spicy that even those who can't really handle heat will enjoy.
If you're looking for something a little lighter, their Molly Tots are seriously addictive. These potato fritters will be gone way too soon! Or if you're a cheese lover, you won't want to miss their Baked Cheese Curds. Sourced from the Caputo Bros local creamery, they're baked with a golden tomato and roasted yellow pepper sauce that is seriously to die for.
As you can probably tell, your biggest struggle will be trying to pick your poison because both their menu and tap list have incredible choices!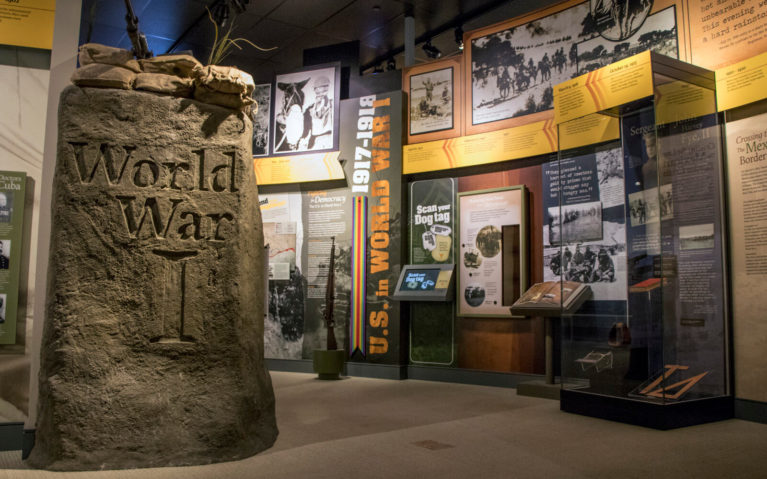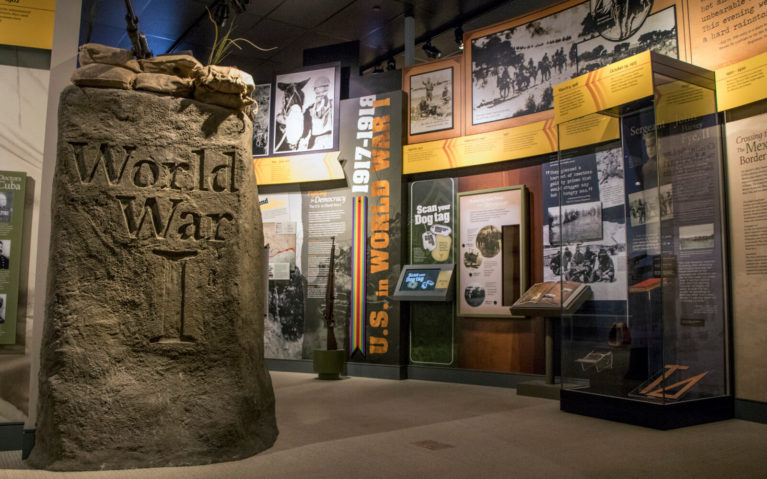 Learn About the US Military
Carlisle is home to the US Army Heritage and Education Center, the top facility for historical research on the US Army. Inside you'll find an expansive collection of artifacts and stories from soldiers who served. Interactive exhibits make it easy for visitors to connect and learn about events from the Spanish-American War to the present day.
Make a stop at the visitor information desk for your very own dog tag so you can follow the life of a soldier who served. Outside you'll find the Army Heritage Trail, a mile-long self-guided loop that takes you by full-scale exhibits. Here you'll find a Huey helicopter, M-18 Tank Destroyer and more. For history buffs, this is definitely one of the Carlisle attractions you don't want to miss.
Not far from the US Army Heritage and Education Center, you'll also find the Carlisle Barracks. One of the oldest military installations in the entire country, this is where you'll find the US Army War College. You can visit to learn about the controversial history of the Carlisle Indian School (a US residential school), however you'll need to pass a background check which can be obtained at the visitors centre in advance.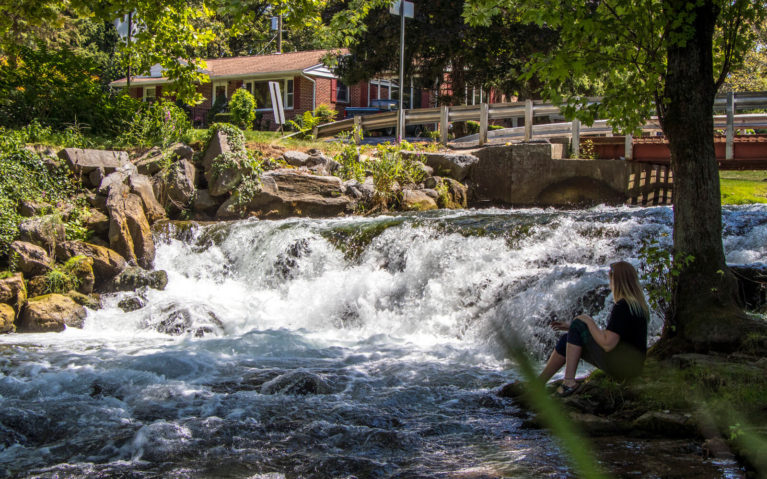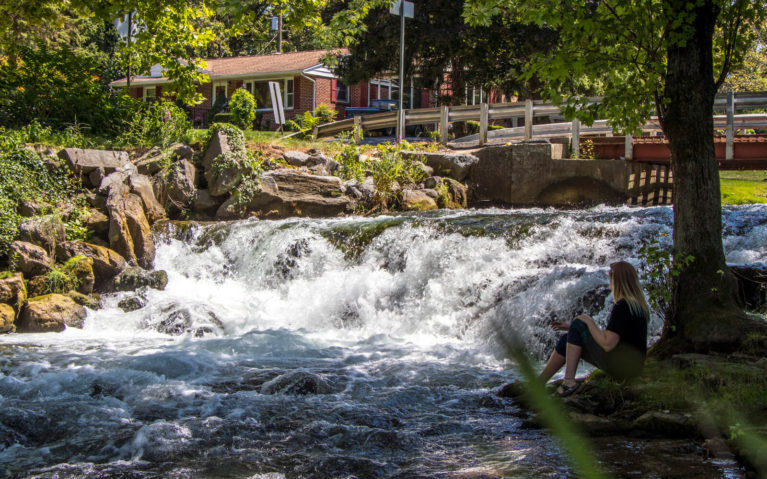 Go Chase a Waterfall
There aren't many waterfalls in the Cumberland Valley area but there's at least one – Letort Falls! Located inside the aptly named Letort Falls Park, Letort Spring Run feeds into Conodoguinet Creek at the corner of Mill Road and North Middlesex Road where you'll find the waterfall. While she's not the most impressive waterfall you'll ever see, she's still a beauty!
You'll find parking across the bridge, however that means you have to cross it in order to get a better view of the falls and there are no sidewalks. Instead, I'd suggest parking across the street at the Reformed Mennonite Church as you won't be here for long. There isn't much within the park itself other than Letort Falls unless you're hitting the water. If that's the case, then park in the official parking lot across the bridge.
Things to Do in Near Carlisle PA in the Cumberland Valley
Carlisle is situated inside the Cumberland Valley, the highest visited area in all of Pennsylvania. This area is home to three state parks, two state forests, 200 miles of trails and more! Besides being picturesque, there's also plenty of history, shopping, beer and more! Here are some things to do in the Cumberland Valley you won't want to miss.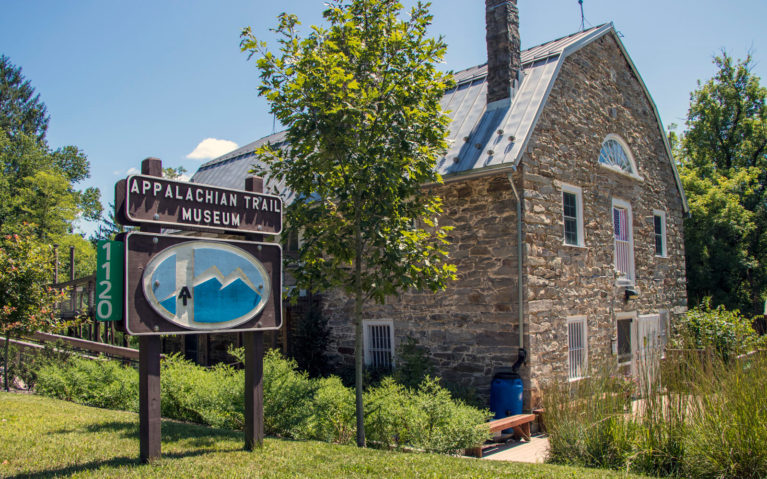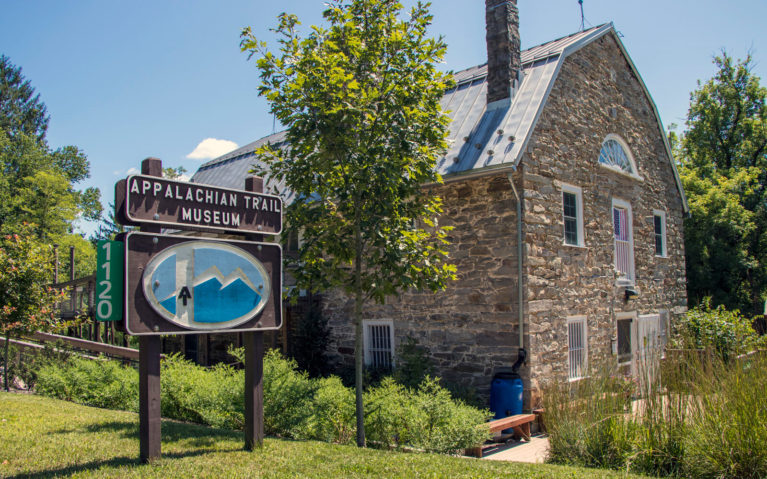 Appalachian Trail Museum
Inside Pine Grove Furnace State Park you'll find the only museum dedicated to hiking in the United States, the Appalachian Trail Museum. It tells the history of the Appalachian Trail and how it was established by Benton MacKaye with a dream of creating a long trail along the ridgeline of the Appalachian Mountains.
You'll also learn about the first thru-hiker Earl Shaffer and you can see the last of the shelters he built within the museum. It's a great spot to stop for a break from the heat when hiking and to further your understanding (as well as appreciation!) for the trail and the upkeep that goes with it. It's honestly one of the things to do near Carlisle that shouldn't be missed!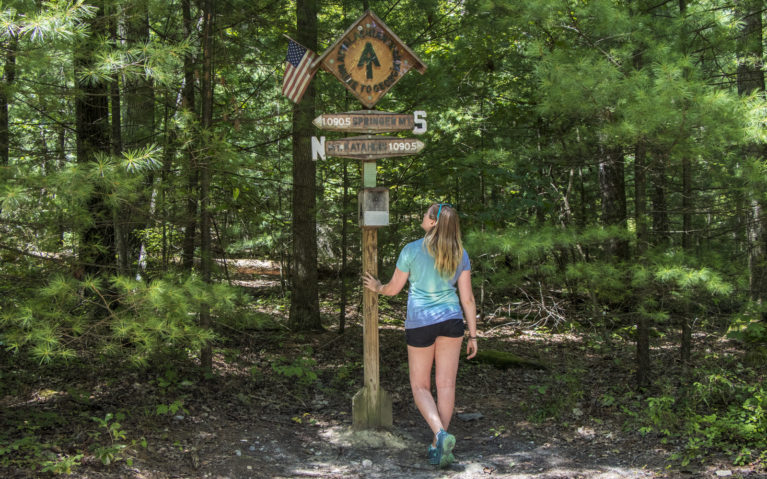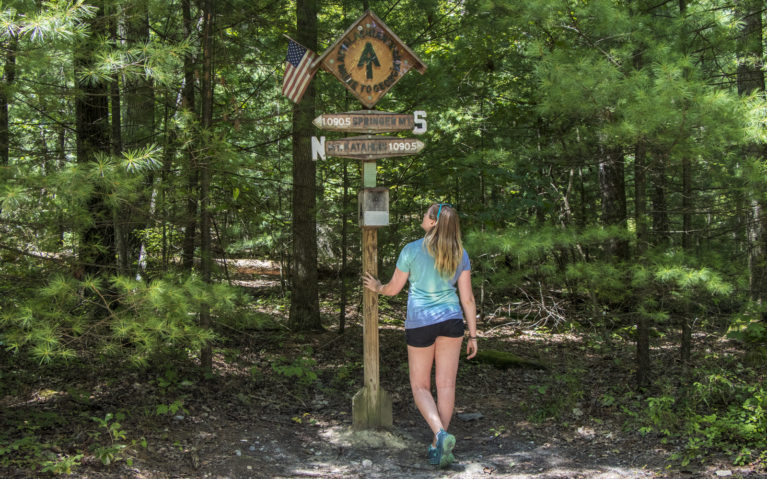 Visit the Midpoint of the Appalachian Trail
A short 5 minute drive from the museum you'll find a small parking lot on the left side as you head north along Micheaux Road. Strap on your boots and after about 20 minutes of hiking you'll reach the midpoint of the Appalachian Trail. Here you'll find a column signifying the halfway point… but this isn't the midpoint now!
With trail modifications and additions, the midpoint actually shifts each year. This midpoint is actually almost a decade old and dates back to 2011. The official one tends to move a few feet each year and you'll find it a bit further along the trail, past the museum. It stills makes for a great photo op and is a fantastic piece of history to witness!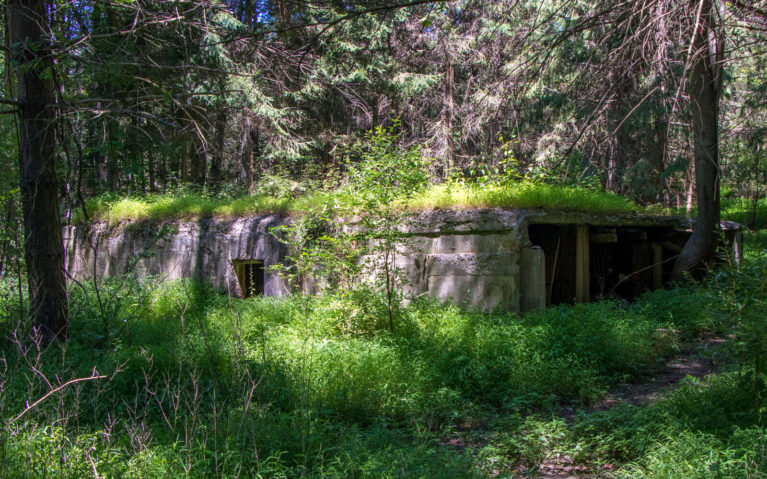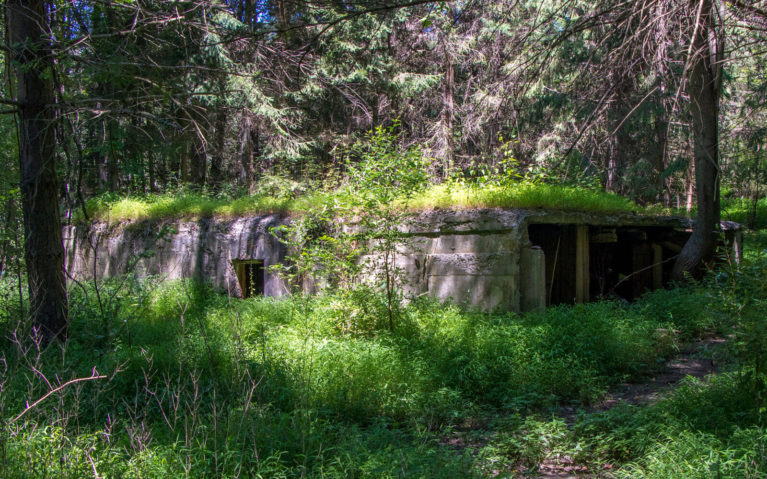 Explore an Old POW Camp
Backtrack along Micheaux Road to Bunkerhill Road where you'll find a parking lot on the grounds of what used to be Pine Grove Furnace Prisoner of War Interrogation Camp but what is now referred to more often as Camp Micheaux. Much like POW Camp 30 in Bowmanville, this site housed German POWs during the Second World War.
You can take a self-guided tour of the property and learn about the journey from the original Bunker Hill Farm to Camp Micheaux. It can be quite hard to navigate the tour but once you get your bearings, you'll find what's left of the original barn wall, remnants of an old fountain, how nature has reclaimed the remainder of the dining fall and more.
Visit the Kings Gap Environmental Education Center
Head to the top of South Mountain where you'll find Kings Gap Park. Encompassing over 2,500 acres of forest across South Central Pennsylvania, you'll find over 25 kilometres (16 miles) of hiking trails that connect the park's three day-use areas. Open year-round from sunrise to sunset, you'll be treated to gorgeous views over the Cumberland Valley.
Working alongside The Nature Conservancy, the Commonwealth of Pennsylvania acquired the mansion in the heart of Kings Gap Park and the surrounding forest from the C. H. Masland and Son Carpet Company in 1973. Inside the mansion, you'll find an environmental education centre with programs for all ages ranging from pre-school children to adults.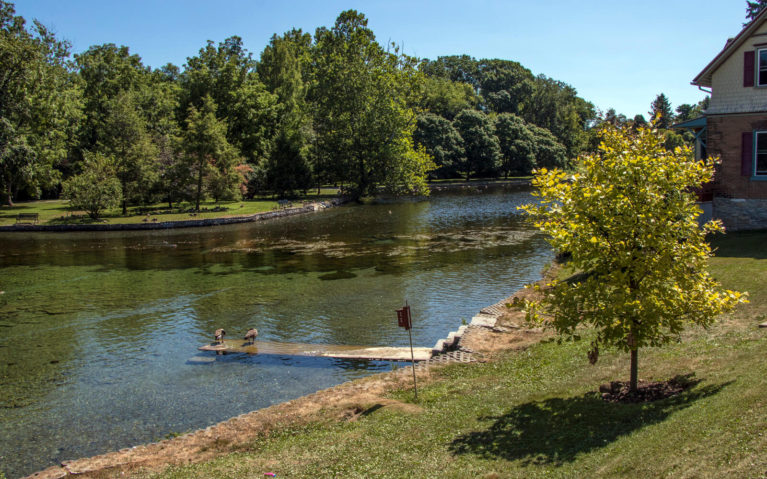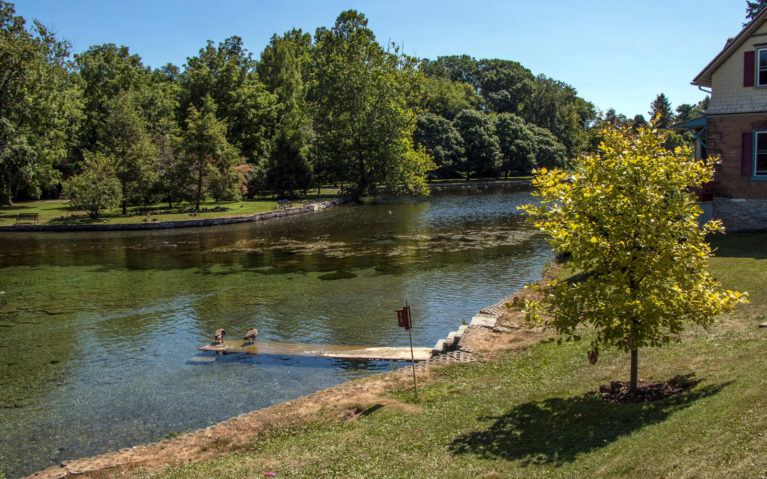 Explore the Quaint Town of Boiling Springs
A short 10-minute drive southeast of Carlisle, you'll find the adorable town of Boiling Springs. Named after the artesian well springs found in the area, the 'boiling' factor is not based on their temperatures. Rather, it's due to the unique hydrogeological feature of tough, basalt rock cutting through the limestone bedrock to form a v below the surface of the earth.
The most popular spot in town is definitely Children's Lake where you'll often find fisherman and paddlers enjoying the water. You'll see markers for the Appalachian Trail close by since it runs right through town. As such, Boiling Springs was named one of 40+ Appalachian Trail Communities who directly support the trail and those who hike it.
Across from Children's Lake you'll find Caffe 101, an adorable little spot for breakfast, coffee or a light meal. You'll often see patrons enjoying their coffee while soaking up the sun on their patio. Stop in for a bite to eat as they have a number of items ranging from oatmeal to bagels to wraps. I highly recommend their eggs benedict as it's a bit different than most. They don't use a hollandaise sauce per se but rather a creamier version that really is a treat for the tastebuds!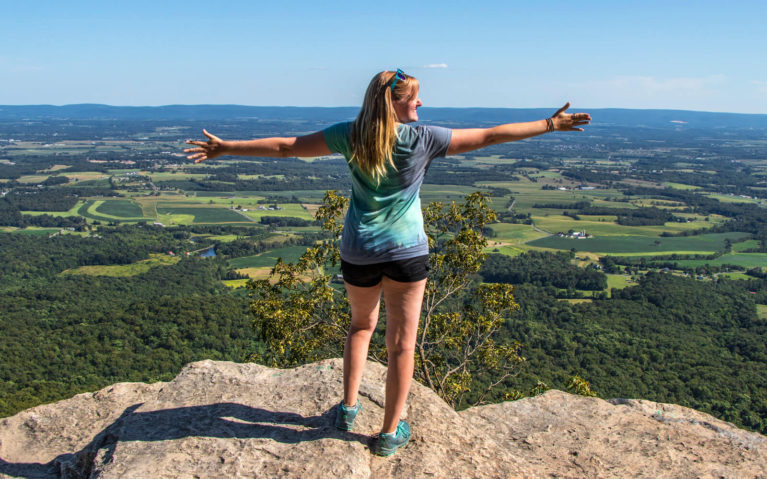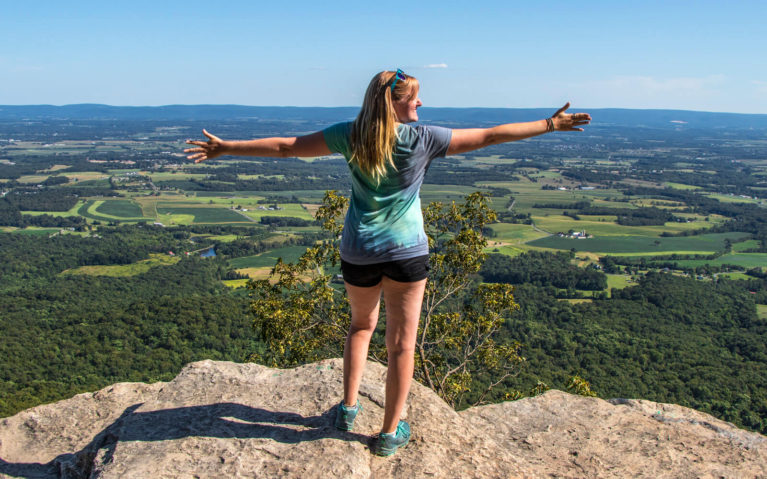 See the Best Views in All of Pennsylvania
Some people may disagree with me on this one, but you can't argue that these views are incredible. Be warned though – you'll definitely have to work for them! Head to Colonel Denning State Park where you'll find the Flat Rock Trail. At 2.5 miles (4 km) each way, it doesn't seem like it would be too crazy, however with a 1300 ft elevation… you better have some sturdy shoes on and lots of water!
The trail itself is quite rugged in that there is plenty of uneven terrain. You'll also find a lot of small rocks which can slip out from under you, especially after your legs have turned to jelly (true story). Allow yourself at least 3 hours for this trail. That way you can take your time and it'll allow for a few rest breaks because you'll need them. Plus after all that effort, you'll want to take your time with the incredible views at the top!
Where to Stay in Carlisle PA
If you're looking to ditch the car and relax during your time in the Cumberland Valley, I highly recommend staying within Carlisle. The town itself has plenty to offer during a weekend visit that you can rely on your town two feet! Take a look at these great options for hotels in Carlisle PA.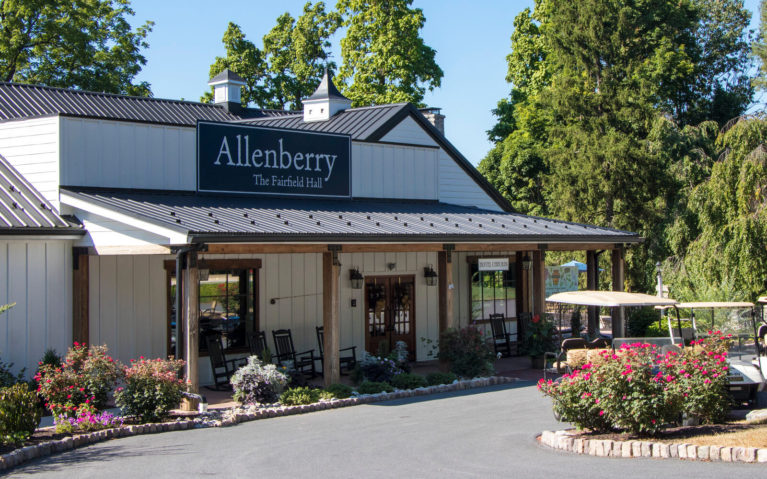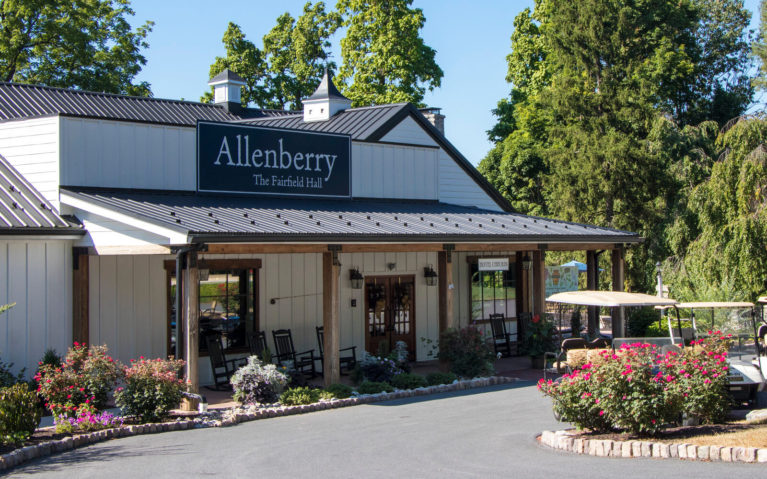 Chances are though you're looking for a beautiful getaway to get away from the city. If so, I highly recommend the Allenberry Resort. Situated on 57 wooded acres, this will be just what you need to rest your aching feet after exploring all of the nearby hiking trails! Settled along Yellow Breeches Creek, you'll find the perfect balance of peaceful and pampering during your stay at this rustic boutique resort.
I had the pleasure of staying in their Pine Lodge during my time in the Cumberland Valley. I hopped out of my car in the dedicated parking lot in front of the lodge and upstairs to my room. As the final stop on my week-long Pennsylvania road trip, I was elated to see the glorious king bed waiting for me. Across from it, you'll find a spacious desk with all your coffee and tea essentials. I always appreciate it when I can indulge in some caffeine without having to leave my room! You'll also find a list of the Allenberry Resort's amenities including the lengthy list of spa services.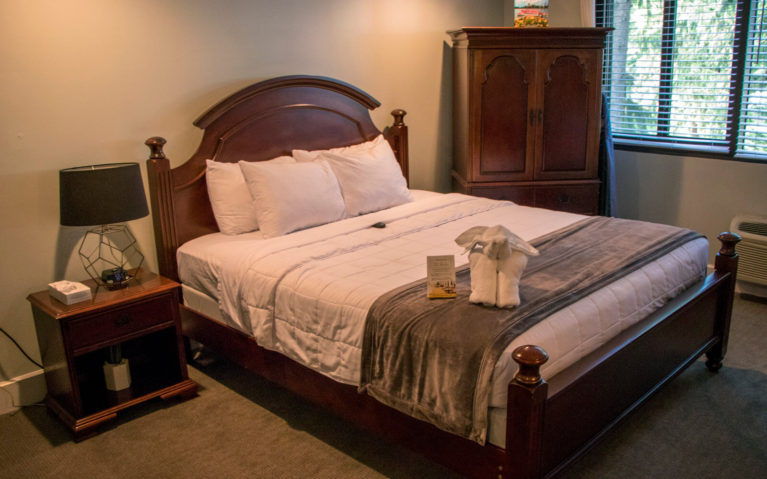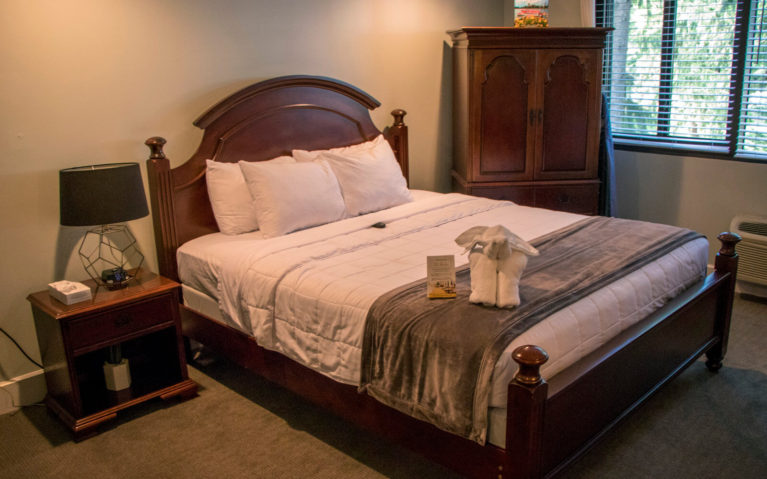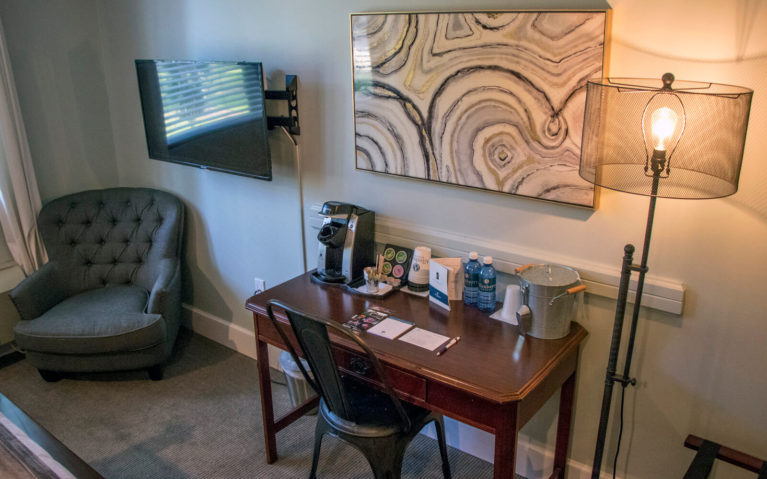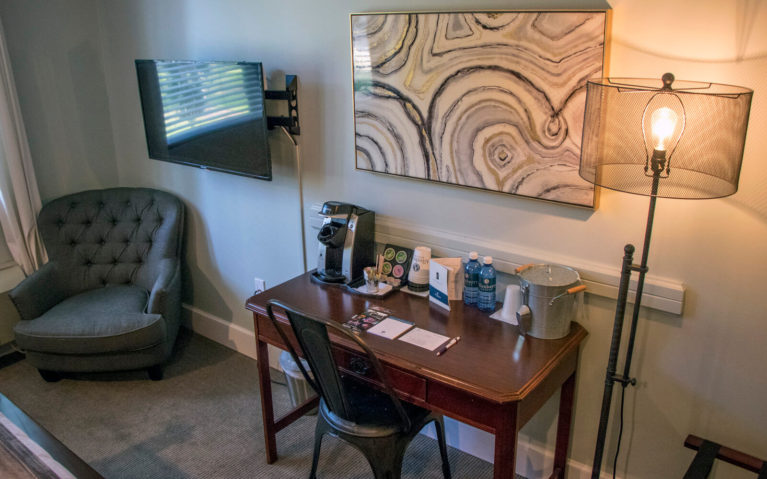 Located a little further away from the main building towards the front of the property, this two-storey building offers a number of private rooms and two shared areas. You'll find a cozy space to sit in front of a beautiful fireplace along with a dining area great for enjoying a drink or playing a game of cards. What I really loved was that you could find refills for your in-room Keurig machine as well as a fridge and microwave that are free for guest use whenever needed!
You'll definitely want to venture throughout the grounds as there are a number of fantastic amenities on-site including a heated pool and spacious meeting areas. It's not uncommon to see the parking lot full, especially when the Playhouse is open! From comedy shows to broadway plays, visitors are sure to be entertained. You can also enjoy a number of outdoor activities including fly fishing, rock climbing, paddling and more!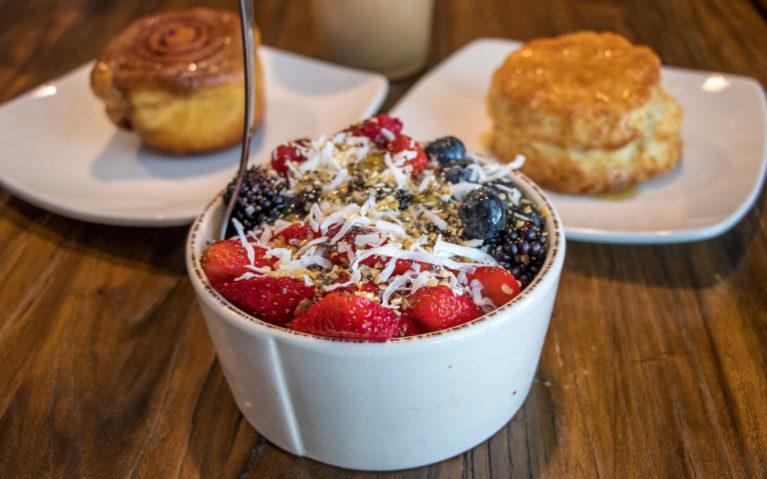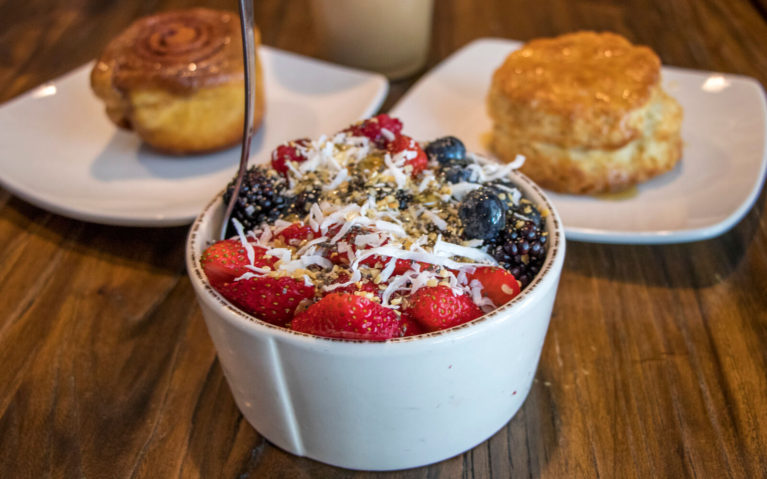 For when your stomach starts to rumble, the Allenberry Resort has you covered with their two on-site restaurants. First off is the Breeches Bakery & Cafe, located in the main building on the property. Open early at 7:00am, this is the perfect way to start off your day. Their menu is limited but all their items make for a fantastic breakfast!
I highly recommend their Açai berry bowl, especially on a hot summer day. This fruity blend topped with almonds, coconut, strawberries and blueberries is so refreshing and full of flavour. Though I have to say, their honey butter biscuit is what really stole the show. It's so light and fluffy and combined with warm honey… it'll be gone too soon.
Their main restaurant, The Barn, is also located in the same building. Undergoing extensive renovations back in 2017, this beautifully rustic restaurant serves up some fabulous eats and treats. There is no shortage of hearty farm-to-table fare on this menu!
As I'm a sucker for lobster, I couldn't resist starting off with the Lobster Macaroni and Cheese which may have been a mistake. Mainly because this delicious mingling of cold-water lobster, cavatappi and béchamel white cheddar crowned with bread crumbs meant I was too full to finish my dinner or have dessert! I was happier than a clam though because this dish was so satisfying after a long day of exploring the Laurel Highlands before my arrival.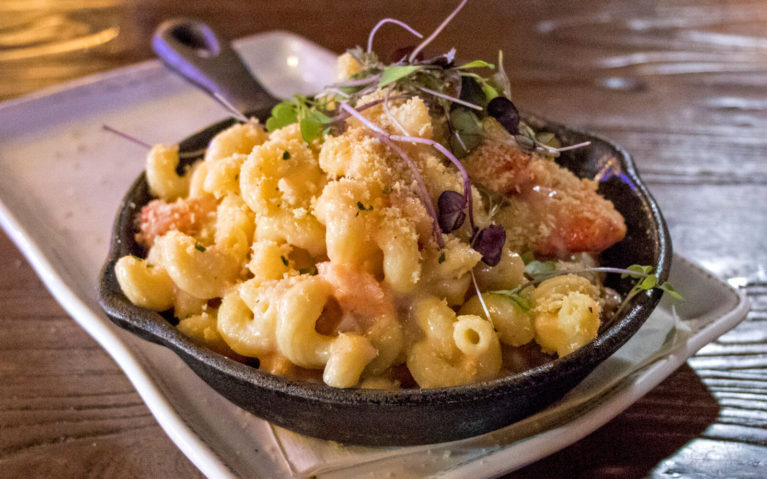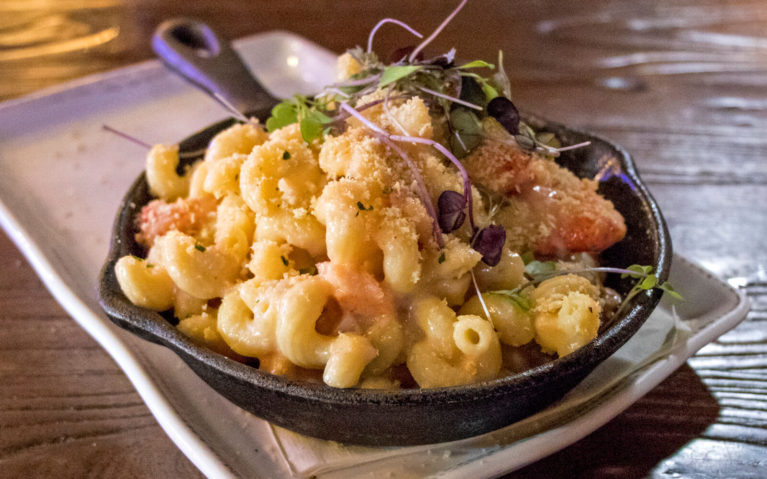 While I was defeated by my main course, the Crab Cake which was deliciously seasoned with an almost Thai-like spice giving it a bit of kick, it paired so well with the celery root, potato gratin and baby carrots that accompanied it. Though I did not waste dessert and got one of their famous sticky buns to go. It makes the perfect midnight snack or a treat while on the open road. Whether you grab a table or have a seat at the bar, you won't want to miss experiencing The Barn while in Central Pennsylvania!
If you're looking to spoil yourself on a getaway in the Cumberland Valley, this resort is the place to go. See what others have to say about the Allenberry Resort as well as what rooms are available to plan your stay!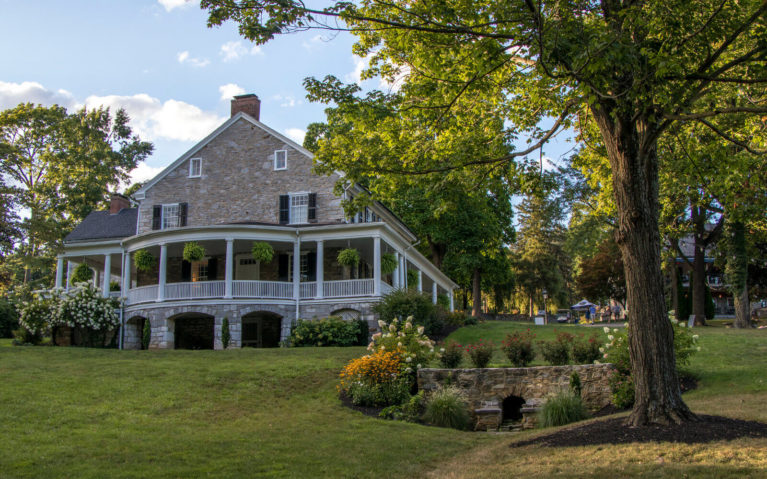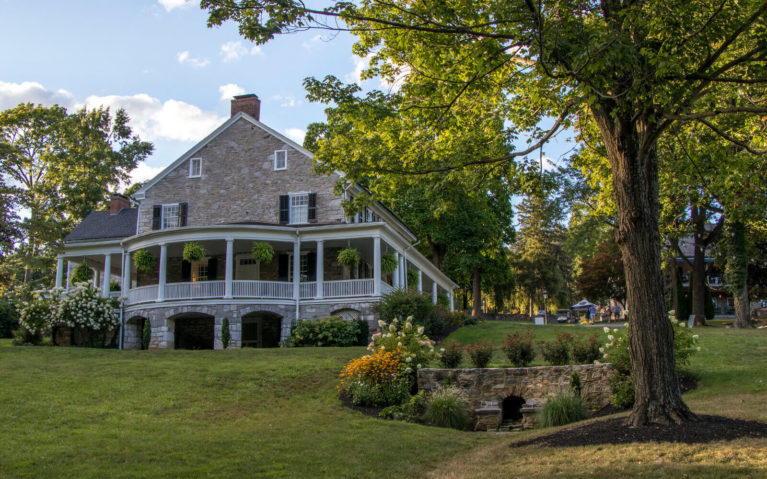 Ready to Visit the Cumberland Valley?
As you can see, there are so many things to do in Carlisle and the Cumberland Valley! Whether you like beautiful architecture, are a history buff and especially if you love the outdoors, you'll want to plan a visit to check out some of these things to do in Central PA. Carlisle makes the perfect weekend getaway or an awesome stop on any Pennslyvania road trip!
If you're looking for additional things to do in Pennsylvania, there are plenty of great options to add to your travel list! Head to any outdoor adventurer's haven in the Laurel Highlands, wander through the city of bridges with a visit to Pittsburgh or enjoy a quaint, calming getaway in Butler County PA.
Disclaimer
Thank you to the Cumberland Valley Visitors Bureau for hosting me during my stay. While I was compensated for this visit, all the opinions you read here are true and honest – as always! This post also contains affiliate links where I may receive a kickback on any purchases made through them at no extra charge to you.
Read more in IBB's disclaimer and privacy policy.
Want to Remember These Things to Do in Central PA? Pin it!