48 Hours in Pittsburgh: An Incredible Weekend Guide to the Steel City

Pittsburgh has always been one of those cities that I've been meaning to visit but never had the chance to. Luckily that changed and I honestly wish I had visited "The 'Burgh" sooner! While it's still often referred to as "the Steel City", Pittsburgh has come a long way. While its industrial roots are still present, I think you'll agree with me that there are so many incredible things to do in Pittsburgh! It certainly has a lot to offer and while 48 hours in Pittsburgh won't nearly be enough to truly explore, it'll certainly give you a taste of the city.
Disclaimer: This post contains affiliate links where I may receive a kickback at no extra cost to you. It helps keep IBB alive so thank you!
A Very Brief History of Pittsburgh
To say that Pittsburgh is full of rich history would be an understatement! While the city was founded in the 1700s, the Indigenous People of this land have called the area home long before colonization. There is historical evidence to support that the Adena, Monongahela, Shawnee, Seneca, Lenape, Iroquois Peoples and more have all called this land home for centuries. If you're interested in learning more, here's a great article that discusses it more in-depth.
When British and French settlers found out about the strategic junction of the Allegheny and Monongahela Rivers which form the Ohio River, it became a point of contention. Now known as Fort Pitt, battles ensued with the British emerging victorious. In 1783, American independence was achieved and this village began to grow. With the War of 1812 decimating the supply of British goods, the American manufacturing sector took hold and in just over 30 years, the city was producing iron, brass, tin and more. Fast forward to 1911 and Pittsburgh was responsible for producing half of the USA's steel.
SOMETHING TO NOTE: If you'd like to learn more about Pittsburgh's industrial history, this 'Fire in the Valley' tour might be of interest!
This began Pittsburgh's industrial roots but alas, it wasn't sustainable. Though the collapse of the steel industry meant Pittsburgh had to reinvent itself. Now, the city is well known for its top-tier universities such as Carnegie Mellon and its diversified economy. Tourism has boomed and tech giants have invested in creating firms within the city limits. It is now considered one of the top eleven most liveable cities in the world. Trust me when I say that Pittsburgh is one seriously cool spot!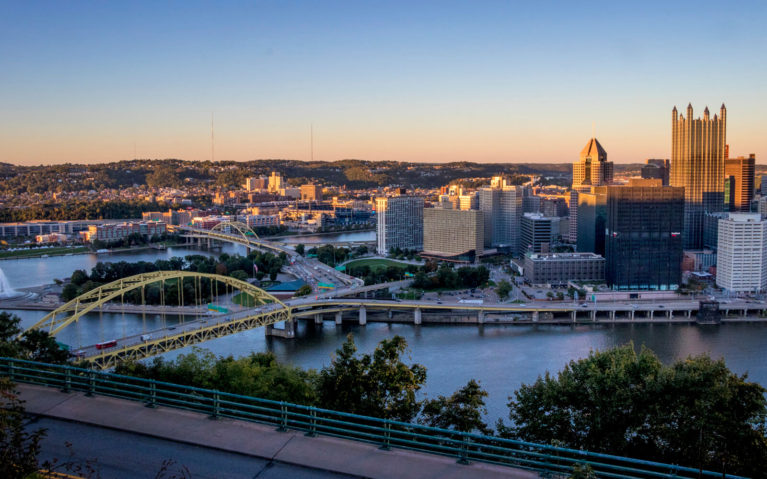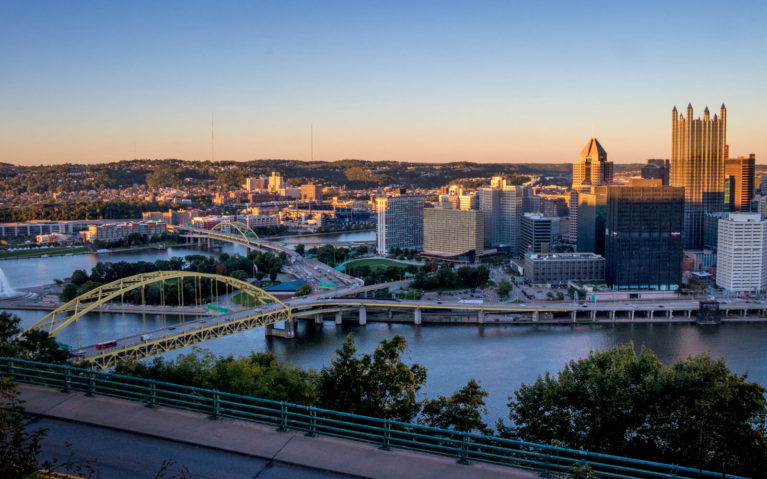 48 Hours in Pittsburgh
So you've arrived in the city – now what? It's time to hit the ground running and see as much of the city as you can in the next two days! Be prepared as I've included a lot of suggestions of what to do in Pittsburgh on this list. If you can't fit everything in, that just means you'll need to plan another weekend in Pittsburgh!
Hop On a Gateway Clipper Sightseeing Cruise
First things first, I highly suggest familiarizing yourself with Pittsburgh. What better way than to get a view from afar on a sightseeing cruise? Check out the Gateway Clipper's Three Rivers Cruise to get acquainted with the city. One of their newest cruises, this is the perfect way to fully enjoy Pittsburgh's skyline.
Onboard the Gateway Clipper, you'll learn all about the city's past, present and future while traversing the Allegheny, Monongahela and where they come together – the Ohio River. You'll witness the beauty of over 10 of the cities iconic bridges, as well as iconic establishments such as Heinz Field, the Carnegie Science Center and PNC Park. Oh, and don't resist the urge to do a Titanic impression if it comes over you – I embraced it!
FUN FACT: Pittsburgh is also known as the "city of bridges" and there are 446 of them within the city limits. While you won't see all of them on this tour, you'll see the more prominent ones like the Fort Pitt Bridge that spans the Monongahela River and the Fort Duquesne Bridge that stretches across the Allegheny River.
Depending on when you arrive in Pittsburgh, you may want to book a sunset dinner cruise. Available Friday evenings, you'll enjoy a delicious meal, music and a gorgeous sunset as your backdrop. This may not be as informational as the Three Rivers Cruise but it will surely be memorable!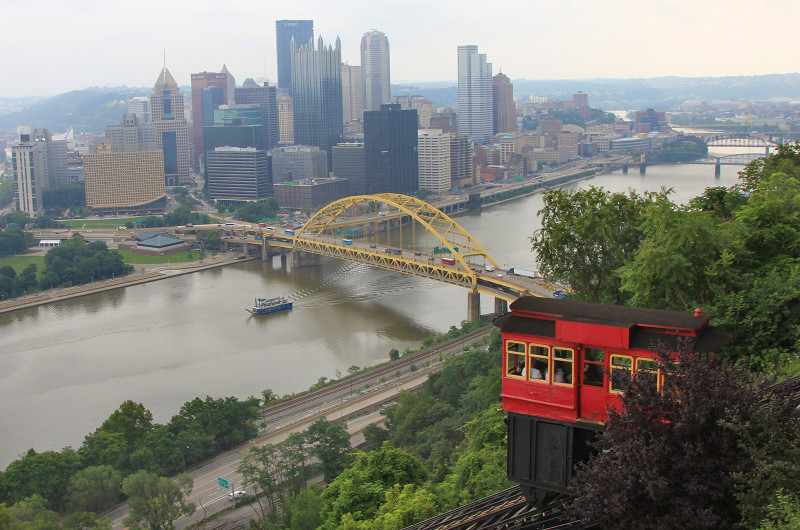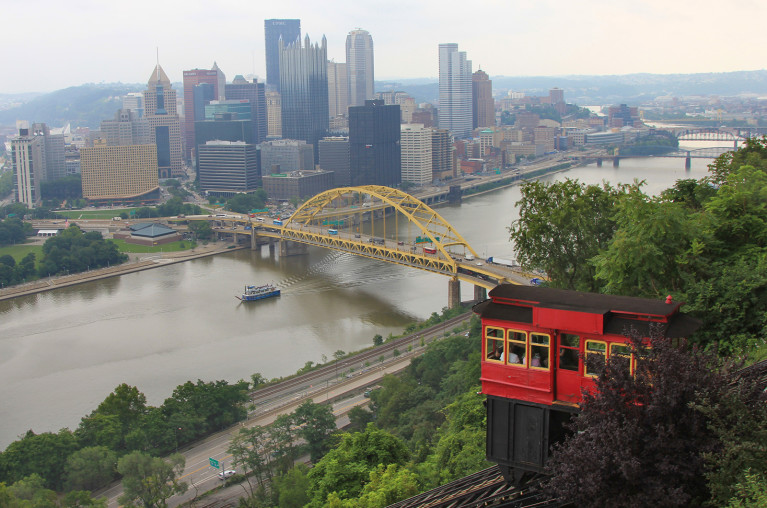 Duquesne Incline
If you're looking for some fantastic views of Pittsburgh without spending too much time exploring, head to the Duquesne Incline! Pronounced do-cane, this cable car is a Pittsburgh icon and full of rich steel city history. At over 140 years old, it is one of the few inclines that remain in the United States!
Chances are you'll be coming from downtown so hop on the Duquesne Incline and take in the sights as you make your way to the top. Here you'll find a museum that shares some of Pittsburgh's history as well as information on inclines from across the globe.
SOMETHING TO NOTE: You'll want to come prepared for this as the incline requires EXACT change otherwise you'll be "donating" anything above and beyond the fare. Adult fares (12 years of age and older) run you $2.50 and children 6-11 are $1.25. Though it doesn't say it explicitly, I believe children 5 and under ride free.
Once you're done, you can either head back down the Duquesne Incline or you can do a little exploring of the South Shore neighbourhood. Enjoy the sights from Points of View Park and then make your way east to Mount Washington. Stop by the Grandview Overlook before making your way to the Monongahela Incline which will take you back down to downtown Pittsburgh.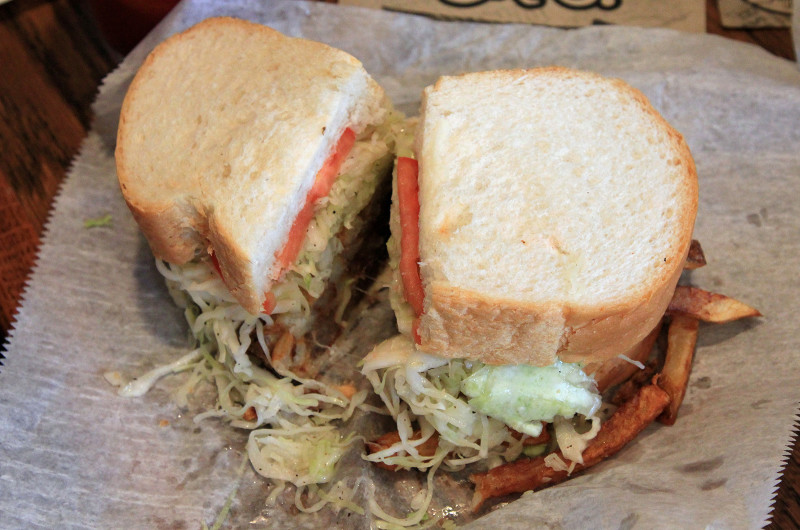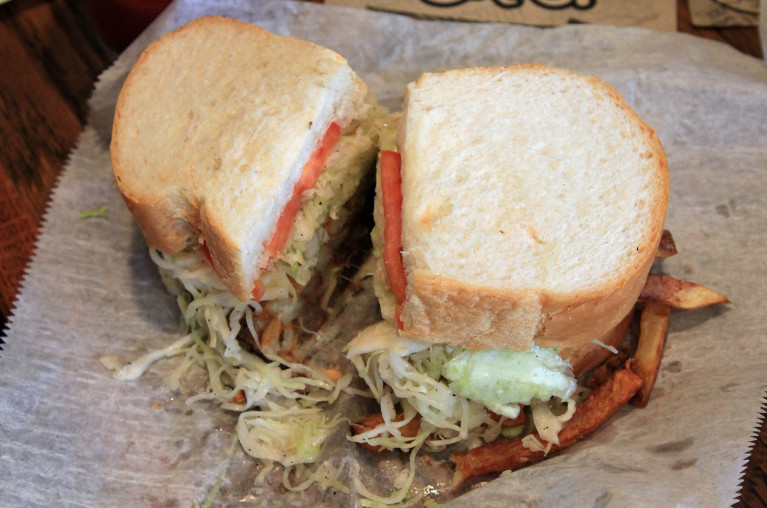 Eat at Primanti Bros
By this point, you're probably hungry as you're starting to get acquainted with Pittsburgh. If you're going to eat at just one place while in town, it has to be Primanti Bros. It doesn't have to be your first meal, but it should be one of them – especially if this is your first time visiting Pittsburgh.
What began as a humble sandwich cart during the Great Depression has exploded into a steel city icon. Back in the day, Primanti Bros was the meal of choice for steelworkers rushing to scarf down a meal during their short lunch breaks. The classic sandwich includes a meat of your choice, melted provolone cheese, coleslaw (vinegar-based) and sliced tomatoes all sandwiched between two slices of Italian bread… with french fries. Yes, that's right. There are french fries on this sandwich. This was so that the workers could eat their full meal all at once – and has stuck around ever since!
While there are many locations scattered throughout Pittsburgh and beyond (in Pennsylvania, Ohio, West Virginia, Florida, Indiana, Maryland and Michigan to be exact!), head to The Strip District where they've been since 1933. Be sure to explore the neighbourhood a little as well – you'll have to work off that sandwich after all!
As you explore Pittsburgh, you'll notice a number of places where french fries are a topping that you won't see anywhere else. Instead of being confused, you'll now know where it all began. If you'd rather save Primanti Bros for lunchtime instead of dinner, check out some of the other incredible restaurants in Pittsburgh I talk about below but make sure to circle back for this iconic taste of the city!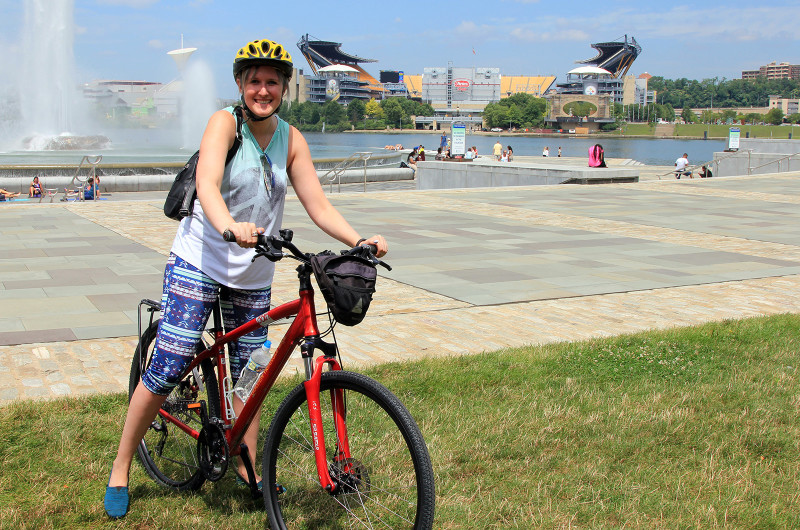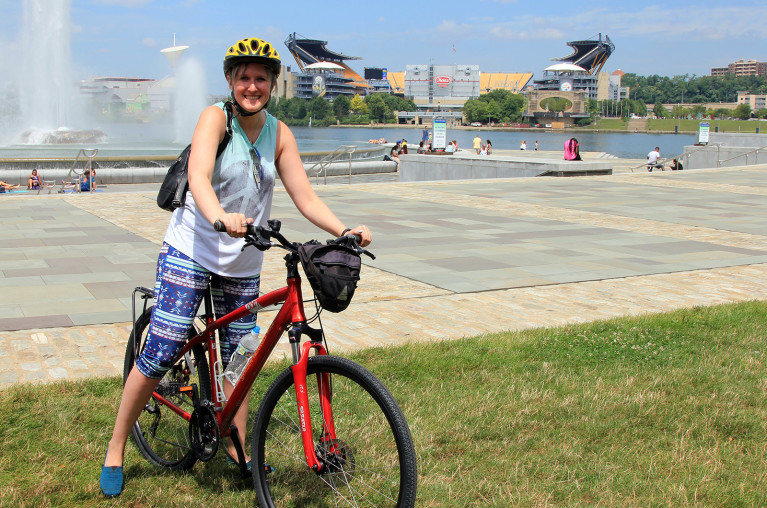 Explore Pittsburgh by Bike
So if you've already hopped on a cruise then you may just want to explore the city at your leisure. However, if you're not a fan of the water, then I recommend taking to the streets… by bike!
Enjoy the sights of Pittsburgh along with a workout as you explore the city on two wheels. Zoom along the riverfront trails past landmarks and beautiful public art. You'll learn about the fascinating history of Pittsburgh as you go as well as have knowledgable guides that are happy to answer any questions you may be pondering about the Steel City.
If you're not much of a bike rider – don't worry, I'm not either and I still had an amazing time! You also have the option of ditching the guided tour and just renting a bike to explore the city on your own. Pittsburgh has plenty to offer with 90 neighbourhoods so this will allow you to see a few of them!
Click here to book a tour and bike the 'burgh!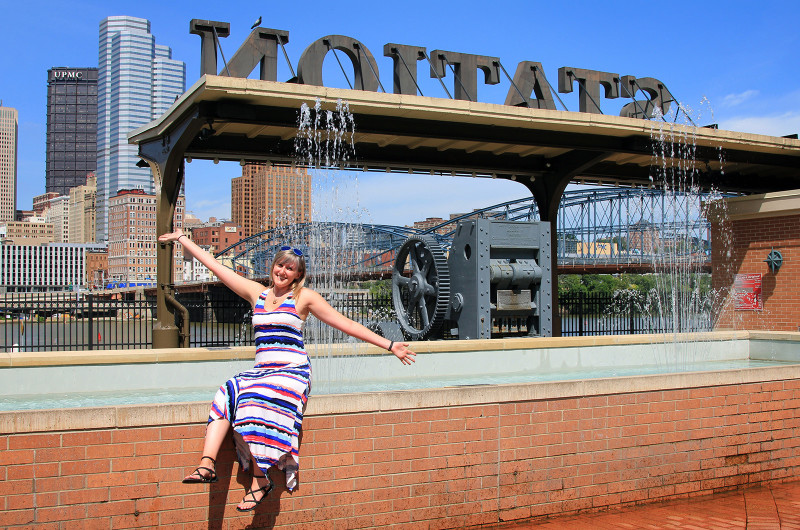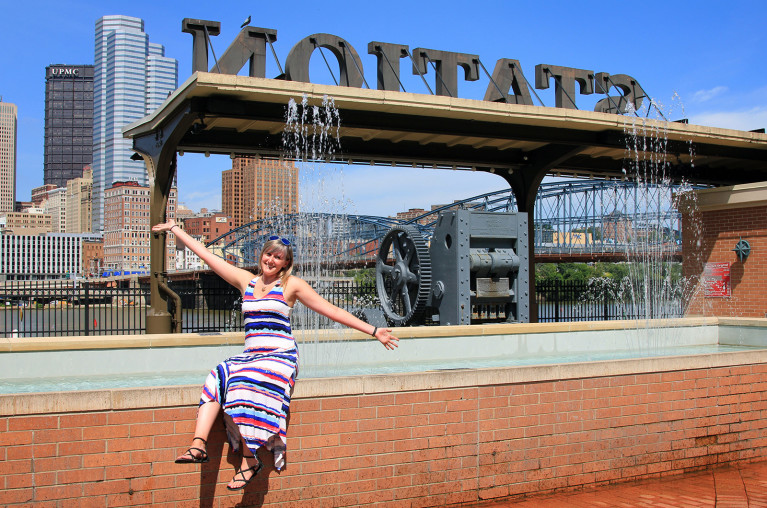 Enjoy the City's Car Free Areas
For the budget traveller, this is a must-do when visiting Pittsburgh. With plenty of urban trails, it's easy to see why Pittsburghers are so happy where they are. It's so easy to get out and enjoy the fresh air despite being in such a large city!
Take a stroll through Point State Park as you enjoy the beautiful fountain and views. Then head to the old P&LE Railroad hub which has been transformed into Station Square, a 52-acre entertainment complex with restaurants, shopping, and more. If you visit from May-November, be sure to catch the Waltzing Waters Liquid Fireworks show as the fountains dance to music.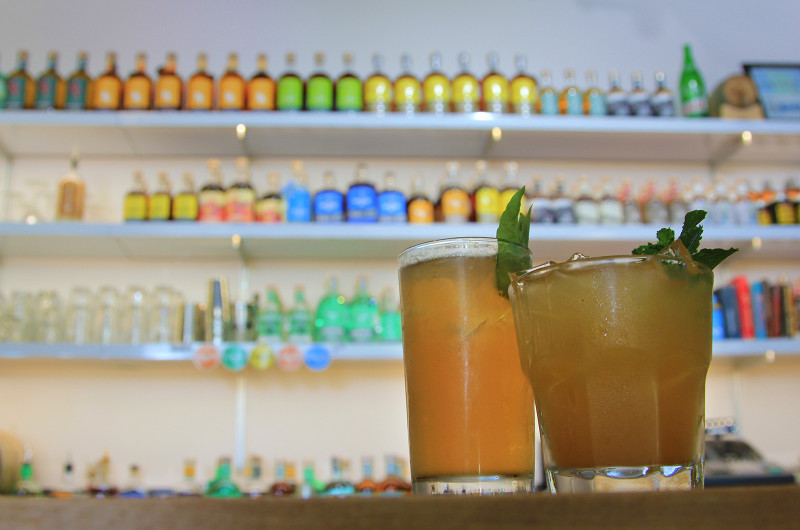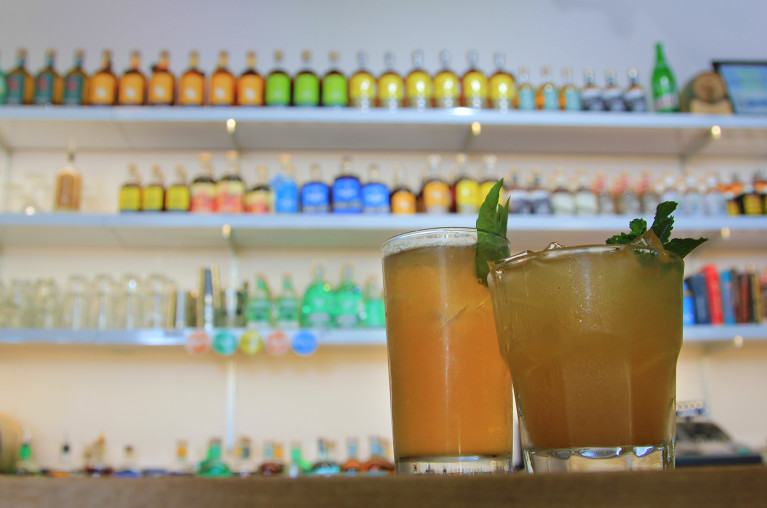 Learn About Whiskey with a Wigle Tour
What began as a wine-induced brainchild in Niagara-on-the-Lake (no wonder I loved my time here so much!) is now a force to be reckoned with in the Pittsburgh craft whiskey scene. You can taste the passion and love that goes into each spirit with every sip you take.
Why the name Wigle? To honour the history of American whiskey production as Phillip Wigle was one of the pioneers of whiskey distillation in the state. Not only this, but the Wigle Whiskey Barrelhouse makes their whiskey in the traditional style that Phillip Wigle did.
If whiskey isn't your style, not to worry. The team at Wigle also run Threadbare Cider House, located just down the street! I have yet to visit it myself but it's on my list for the next time I'm in Pittsburgh.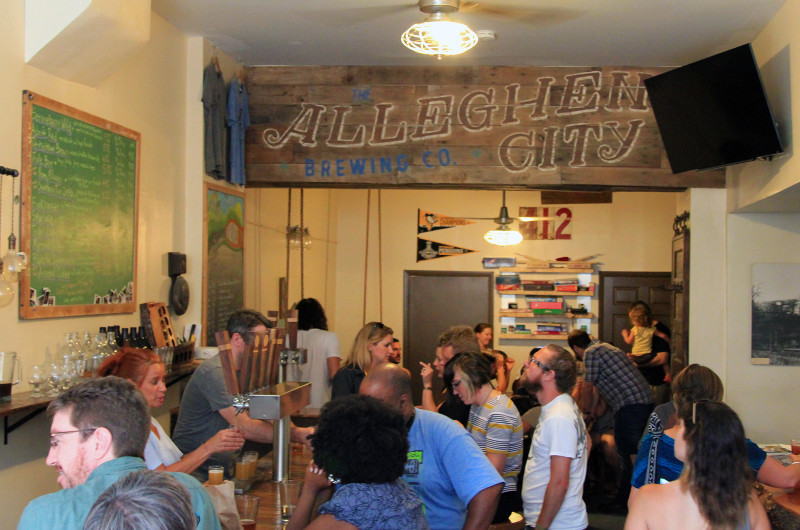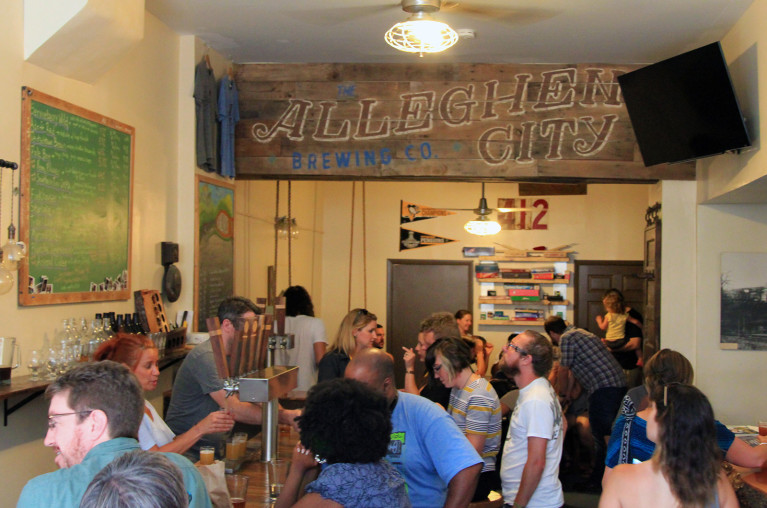 Take a Pittsburgh Brewery Tour
Who doesn't love exploring breweries as a way to get to know a city? I mean, it's pretty much the perfect recipe for a stellar Friday or Saturday night! Or any day that ends in -y really, but I digress…
Let City Brew Tours be your designated driver as they take you to four of nine breweries on either their Original or After Hours tours. You'll enjoy a meal along with 16 varieties of beer – and the VIP treatment! From age-old breweries with plenty of history to the newest nano-breweries, you'll see the people who brought craft beer to the 'Burgh. Click here to book your beer tour now!
If group tours aren't your thing, I completely get that. Luckily I've scoped out some of the fantastic breweries in Pittsburgh and can recommend a number of great spots for a pint.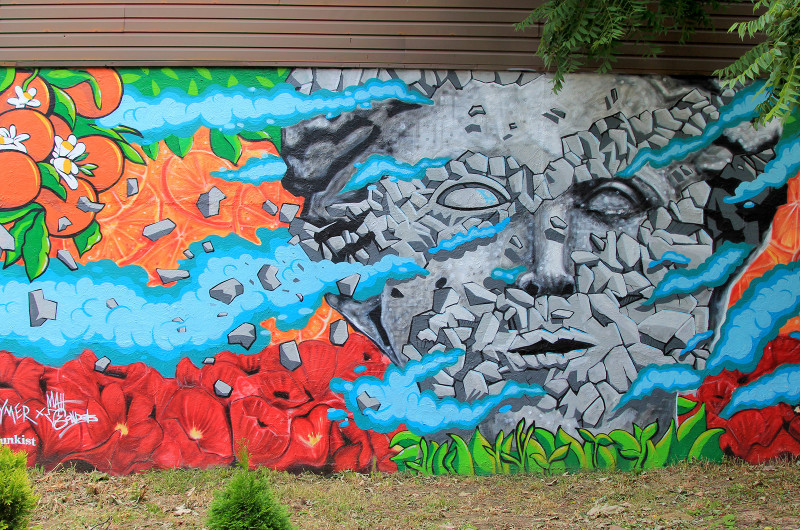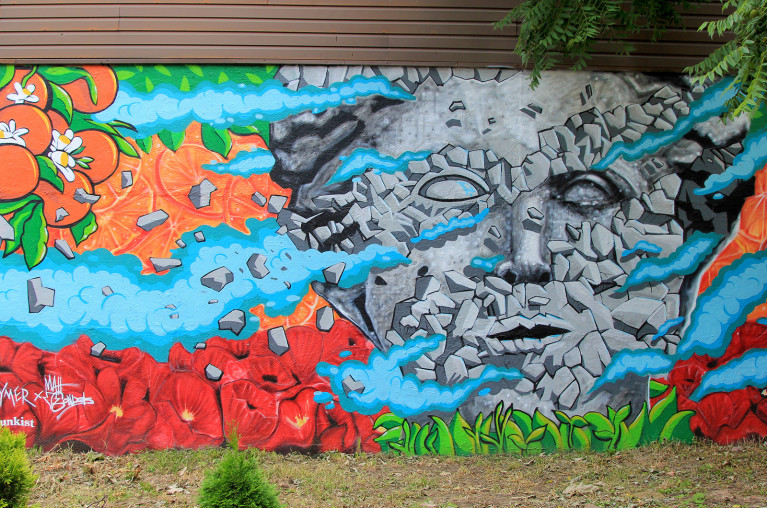 Hunt for Street Art
Street art can be a point of contention among people, but it's one of my favourite things to look for in a city. Luckily there is plenty to be found in Pittsburgh! If you're not sure where to start, either head to The Strip District or check out this great PDF of the Sprout Fund murals.
More Things to Do in Pittsburgh
With the suggestions above, I'm sure you're thinking whoa, that's already a jam-packed 48 hours in Pittsburgh! However, if you choose to stay in the city for longer or are curious as to what some of the other amazing things to do in Pittsburgh are, check out some of my additional suggestions.
Many famous and influential individuals hail from the city, and there are plenty of places to learn about them. While I have yet to visit the following places myself, they will be some of my first stops when I return to the city.
Carnegie Museums
What began in 1895 by Andrew Carnegie himself has now evolved into a series of four museums: the Carnegie Museum of Art, Carnegie Museum of Natural History, Carnegie Science Center and The Andy Warhol Museum. Whether you're an art history buff or want to know more about how the world works, one of these four establishments will be sure to satisfy your thirst for knowledge. As I studied art history, my affinity lies with The Andy Warhol Museum as he was a pivotal piece in the Pop Art movement. Immerse yourself in all of the culture and history these museums have to offer.
Mattress Factory
In its 40th year, the Mattress Factory is home to brilliant site-specific installations. As a home to local and international artists alike, it has pioneered the advancement of alternative art forms through over 650 installation and performance works. Not only that but since its inception, the museum has revitalized 9 buildings that were where considered abandoned or non-contributing to Pittsburgh's North Side. And no, there are no mattresses here… unless they're an installation piece!
Senator John Heinz History Center
As an affiliate of the Smithsonian Institution, you know you're in for a real treat. There's plenty to learn with six floors and over 370,000 square feet of exhibition space! The Senator John Heinz History Center tells Pittsburgh's greatest stories. From contributions to art, education, industry, medicine, sports, technology and more, you'll see how many Pittsburghers have made their mark on history for the past 250+ years.
Pittsburgh Restaurants to Eat At
Whether you're exploring for a few hours or a few days, it's important to find a great place to eat! How can you experience Pittsburgh like a boss if your stomach is rumbling?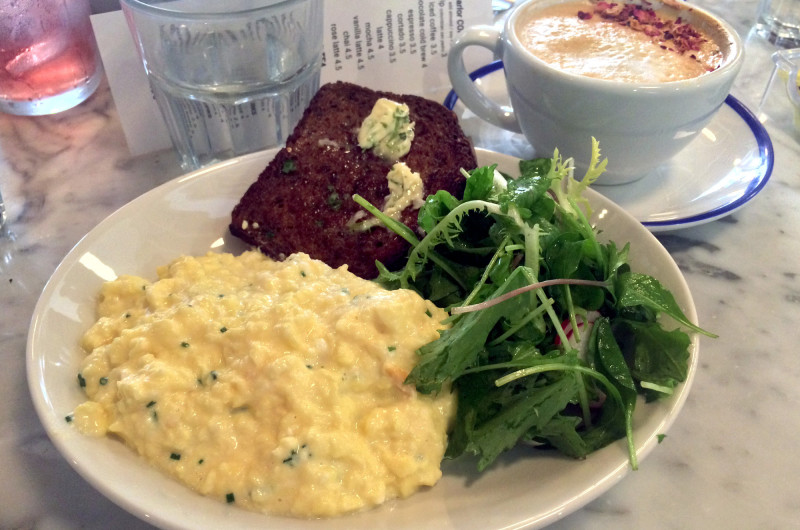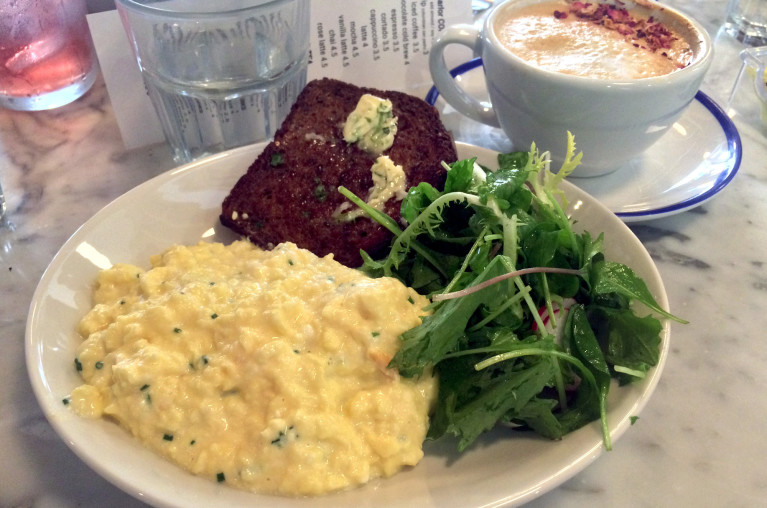 The Vandal
Located in the Lawrenceville neighbourhood for 2 years now, The Vandal offers hearty dishes from morning til night. Their food is seasonally driven as many of the ingredients are sourced from local farms and co-ops around western Pennsylvania. The Vandal also offers a great coffee bar menu. If you can only stop for a quick cup of caffeine, I suggest their Rose Latte. It's unlike anything I've ever had before – that just means I'll have to return to enjoy it again!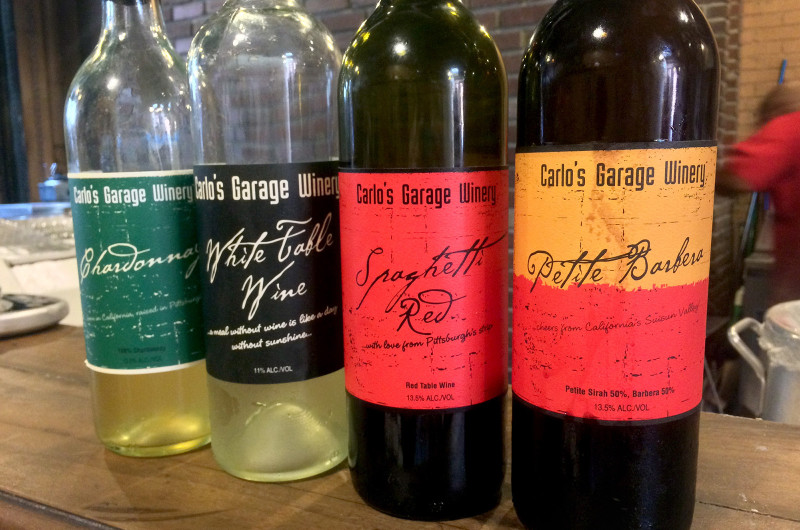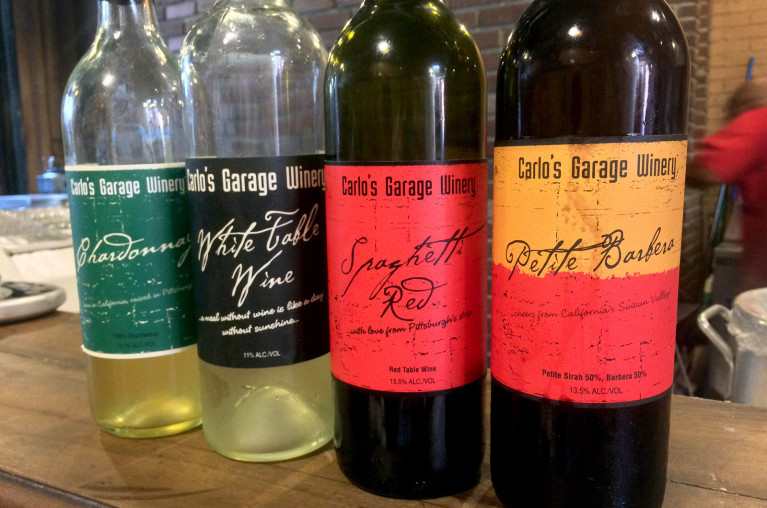 Enrico's & Carlo's Garage Winery
A google search will only give you a Facebook page but never fear! What was an old mechanics garage is now where Carlo's Garage Winery sits in conjunction with Enrico's. Visit Pittsburgh's 1st licensed winery within the city limits and enjoy one of their 6 wines! It may not look it, but all of the processing is done within the building. All of their wines are easy on the palette and perfectly paired with the delicious food that Enrico's has to offer. Just try a glass of Petite Barbarian or Spaghetti Red with their Sicilian Sangweech and you'll agree! Also get a bottle and a sfogadella (thank you Karyn for introducing them to me!) to go. Trust me, you'll want to.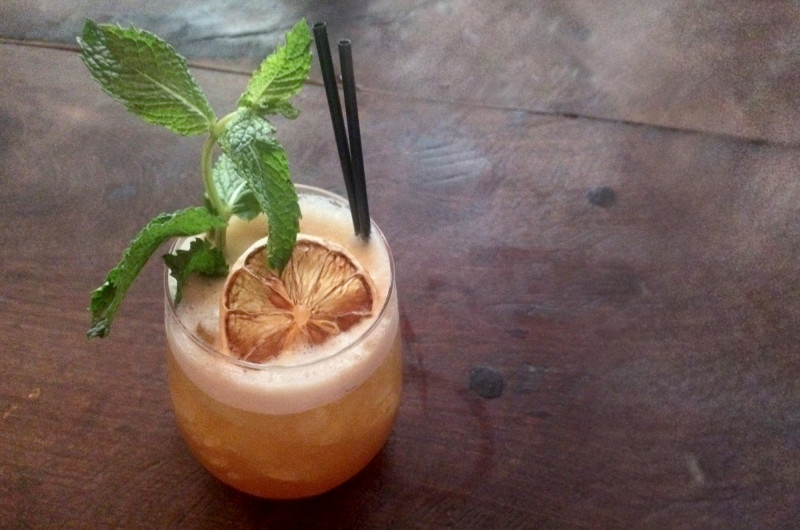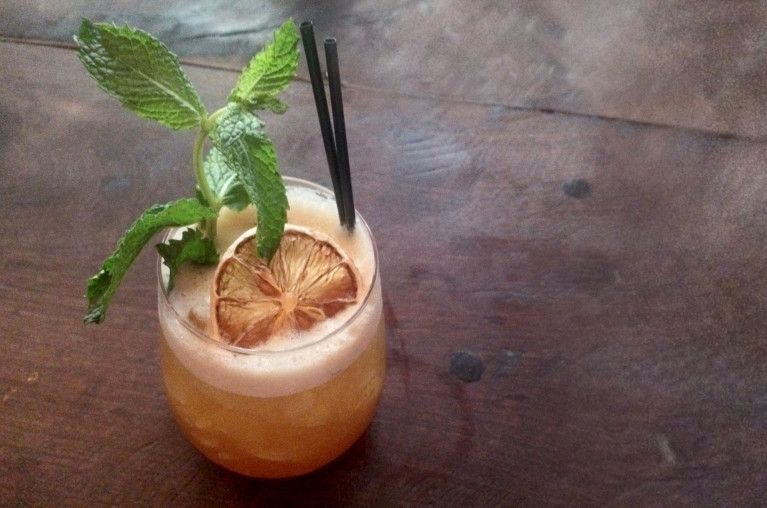 Butcher & The Rye
With over 600 whiskeys to offer, Butcher & the Rye is every whiskey lover's dream. It's also the first Pittsburgh bar to be nominated for the James Beard Foundation Award for Outstanding Bar Program since 2012 when the category was created. Enjoy the rustic Americana ambience while sipping on a craft cocktail – many of which can only be found here. I highly suggest their Kentucky Tea Party Punch, but beware. They go down a little too easy!
Where to Stay in Pittsburgh
In a city this size, you can imagine there are a plethora of hotels in Pittsburgh to stay at. However, there are certainly some that stand high above the rest… like the Kimpton Hotel Monaco.
As soon as you step inside, you'll immediately notice the unique accents that adorn every room. Birdcages are not an uncommon sight along with pops of bright colours like red, yellow and kelly green. You'll see constant odes to iconic Pittsburgh icons like the Penguins hockey team.
What really struck me though is how the Kimpton goes above and beyond for its guests. You'll have access to bikes which you can borrow for free and use to explore the city. There's a daily wine o'clock where you can enjoy a beverage or two at no extra charge. My favourite though? You can "rent" a goldfish to make your stay extra homey!
With its prime location within walking distance to many of the things to do in Pittsburgh listed above PLUS all the incredible amenities, I guarantee you'll absolutely love your stay. You can read more about the experience of other guests or you can check out my review of the Kimpton Hotel Monaco. If I've convinced you to stay here already, then click here to book your weekend in Pittsburgh!
I had the pleasure of being hosted during my stay and while I would 100% stay there again, you won't be surprised to hear that this is one busy hotel! If your dates are not available, here are a few other Pittsburgh hotels that I have on my radar for a future stay.
Abode Pittsburgh – Bright and spacious apartments close to PNC Park, the Andy Warhol Museum and more. Each apartment features a fully-stocked kitchen, microwave, toaster and more.
Etage Executive Living – Looking to splurge a little? Stay in style with these gorgeous suites at Etage Executive Living. You'll also have access to a garden, barbecue and a terrace. Another perk – Etage is pet-friendly so you can bring your pooch along for the trip!
One thing to note is that many hotels and Airbnbs don't include parking, which is unfortunate. If you're able to find one that includes it, that's fantastic but this is something to keep in mind when booking your weekend in Pittsburgh!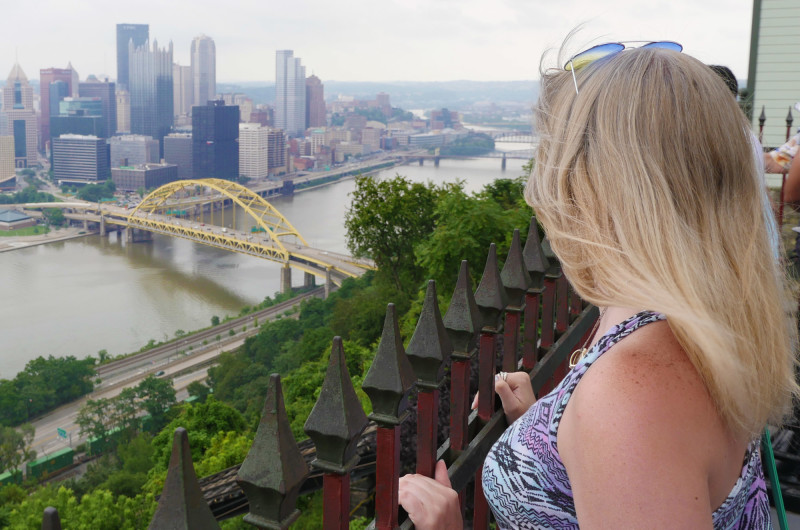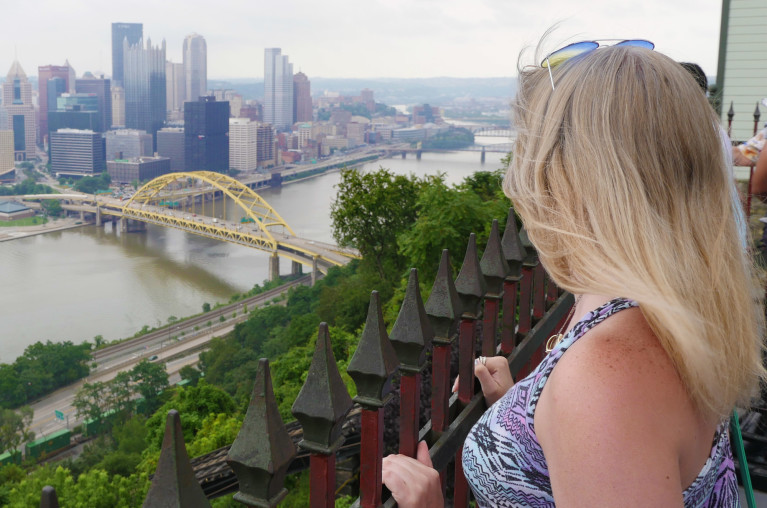 Ready to Spend a Weekend in Pittsburgh?
Is your head spinning a little? I know, this is quite the busy 48 hours in Pittsburgh itinerary. Don't forget though that any combination of them is sure to be a recipe for a stellar weekend. What's most important is that you enjoy your visit to the city! Besides, Pittsburgh will always be waiting for a return trip.
Pittsburgh is a great destination for Canadians and Americans alike, especially since the flight is just over an hour from Toronto! See what deals you can find or if you'd rather take the road trip route like I did, Pittsburgh is 6 hours from Toronto. If you think that's a little long to drive for a weekend adventure, then definitely check out and see what flight deals you can find.
Personally though, I would definitely consider the drive for a number of reasons. I honestly love them as it allows me to move at my own pace and stop wherever I want to. Also, the Pennsylvania interstate is an absolutely beautiful drive! It's certainly no Highway 401, that's for sure. If you're considering a longer stay at all in Pennsylvania, you'll want a car. That way you can explore some of the incredible experiences the surrounding areas have to offer!
For More Pennsylvania Adventures…
Break Up Your Drive With A Stop in Erie, Pennsylvania
See Why You Need to Visit Butler County, PA
Don't Miss Pittsburgh's Outdoor Playground – the Laurel Highlands
Experience Some of they Best Pennsylvania Has to Offer in the Cumberland Valley
Disclaimer
While I was hosted for some of these experiences, all opinions are my own. I would do all of these activities again in a heartbeat on my own dime!
Experience Pittsburgh in 48 Hours & Pin It for Later!