Rockwood Conservation Area: An Unsuspecting Gem in Guelph

As a self-proclaimed waterfall addict, living in Waterloo Region can be tough. There are very few waterfalls in this area, so you can imagine my delight upon discovering Rockwood Conservation Area near Guelph. What I didn't realize is how much more it has to offer. With beautiful limestone cliffs, incredible ruins and more, you'll want to put the Rockwood Conservation Area on your must-visit list!
Exploring the Rockwood Conservation Area
Part of the Grand River Conservation Authority network, Rockwood Conservation Area has a number of activities for visitors to enjoy. So much that you'll need to visit more than once! Check out these things to do at the Rockwood Conservation Area.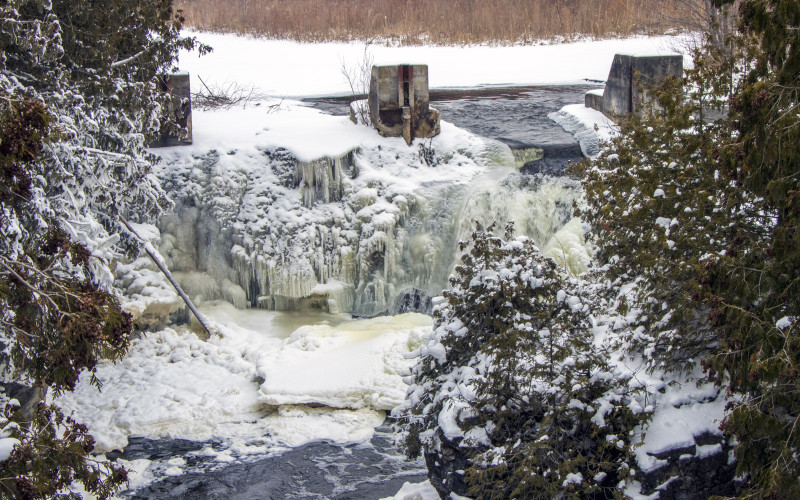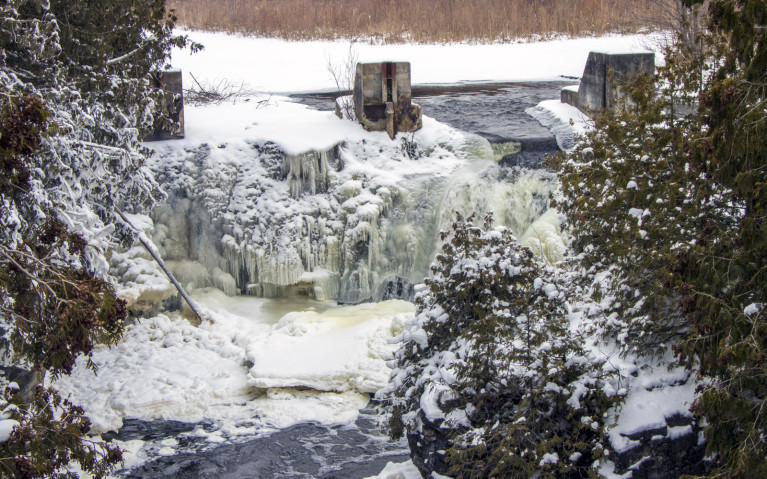 Admire a Waterfall
As I mentioned earlier, this conservation area is home to a waterfall – Rockwood Falls. It may not be as majestic as Hamilton's waterfalls or the falls you'll find in Niagara, but Rockwood Falls is still beautiful in her own way. While others may say she's not much to look at, I think she's gorgeous – especially in the winter! The freezing temperatures will decorate this humble cascade waterfall with gorgeous ice formations. It's as if winter turns every waterfall turns into a beautiful ice sculpture from Elsa's ice castle. I like to assume Elsa has some sweet ice art in her castle, okay?
Unfortunately unlike some of the other waterfalls in Ontario, there's no way to access the base of this waterfall. You'll have to admire her from the safety of the guard rails.
If You're Looking For Some Other Ontario Waterfalls To Visit…
Explore the Best Waterfalls in Hamilton: The City of Waterfalls
10+ Waterfalls to See in the Niagara Region
Don't Miss Grey County's Incredible Waterfall Route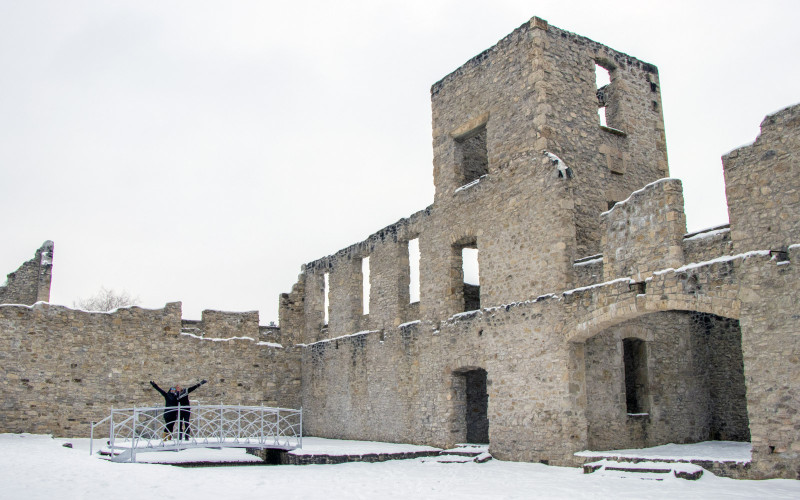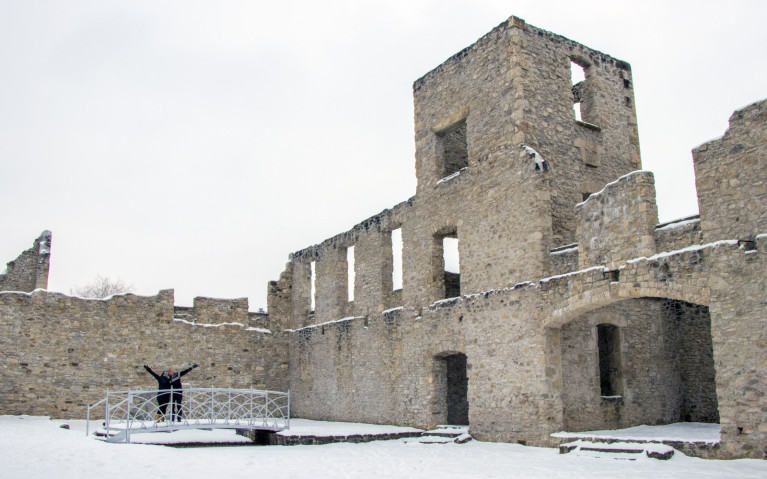 Check Out Some Old Ruins
If you were like me and made a beeline to Rockwood Falls, you would have noticed some old ruins. These are what remains of the Rockwood Woolen Mills. Owned by Irish immigrant John Harris, he was one of the Rockwood area's first settlers, arriving in 1820. Dating back to the year of Confederation, the mill became the town's heartbeat. Known from Guelph to Georgetown (a large distance back in the day), they supplied quality artisan goods as well as Canadian army blankets during World War I. It was also a marketplace of sorts as shepherds would bring their wool and in turn buy tweeds, sheets, flannelettes and more all for an honest deal. "Full weight and fair inspection" was their motto!
As business boomed, the Harris family expanded to create quite the development – all powered by the Eramosa River. Unfortunately, disaster struck in the early 1880s as a major fire damaged the mill. In 1884, it was replaced by the robust stone structure you see remnants of today. As you wander through the ruins, you may be reminded of the beautiful stonework you'd see in Ireland. Not a stretch considering the Harris family heritage! It's not hard to see why this spot is popular for outdoor gatherings. The beautiful walls are so picturesque, it's no wonder there are often weddings held amidst the history!
SOMETHING TO NOTE: According to the GRCA website, the ruins are currently closed due to safety concerns. You can still look at them but you can't wander through them anymore.
If you're an art history buff, the area may seem a little familiar. Although would you think it was an inspiration for the Group of Seven? While normally synonymous with the untouched beauty of Northern Ontario, A.J. Casson immortalized the area for generations to come. The small frame houses along Valley Road in the town of Rockwood became the subject of his Mill Houses painting in 1928. Almost 70 years later, it became a speciality 43-cent Canadian collector stamp!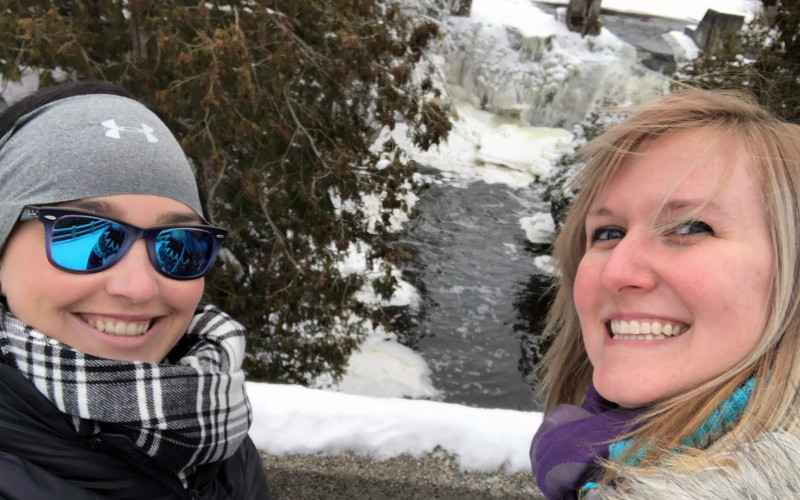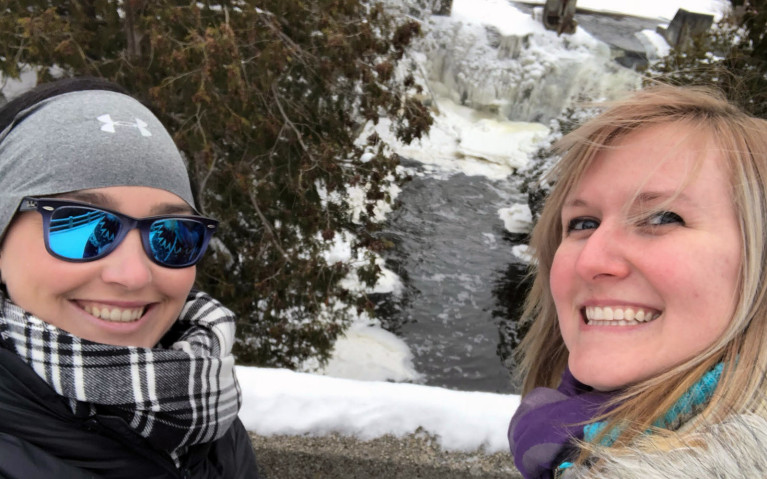 Go For a Hike
Rockwood Conservation Area has two hiking trails, the first and most commonly used is the Pothole Trail. This is the trail you take from the parking lot to Rockwood Falls and the Harris Woolen Mill Ruins. Cross the river here and you will come upon the Cedar Ridge Trail. It runs along the eastern bank of the Eramosa River and offers some great views of the gorgeous limestone cliffs. Hugged by snow, I was reminded of Alberta's rugged landscapes.
Following the hiking trails, you'll walk through wetlands and beside huge glacial potholes. Also known as giant's kettles, there are actually over 200 potholes in the conservation area. Created thousands of years ago, debris-like rocks that were left by the Wisconsin glacier got caught in eddies created by the rapidly flowing meltwater. All that remains are the divets in the earth we see today!
RELATED: Never hiked in the winter before? Don't miss these tips and tricks to ensure an awesome winter hiking adventure!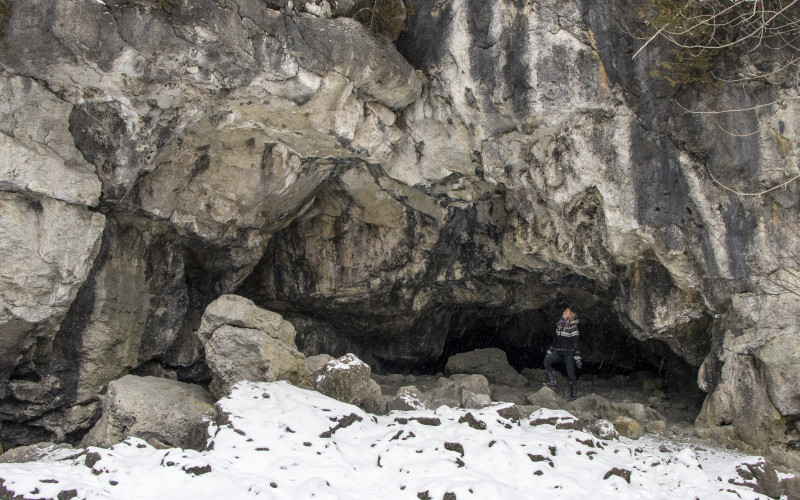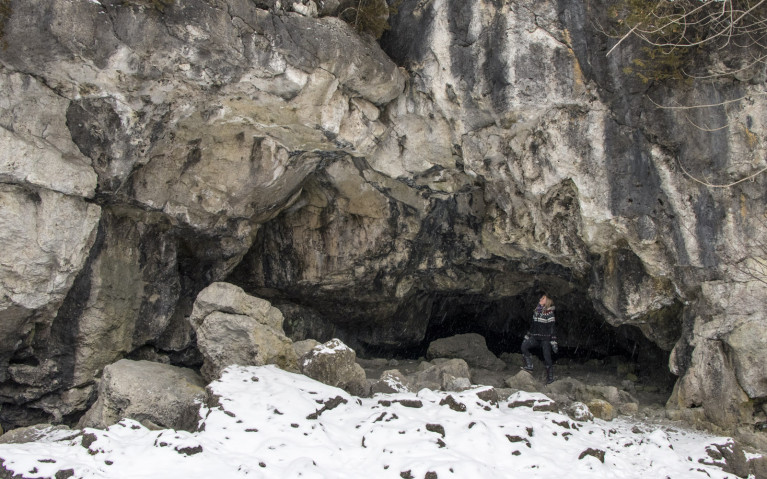 Explore The Caves
Heading north along the Cedar Ridge Trail, you might spy an intriguing sign. Rockwood Conservation Area is home to one of the most extensive cave networks in Ontario. There are a series of 12 caves which you're welcome to explore in the warmer months. Be sure to bring a headlamp though as your phone flashlight just won't cut it! A long sleeve shirt and pants are recommended as well.
The caves might be closed from mid-October until March 31st, but it's for good reason. Bats call these caves home and this is to protect them during hibernation. Luckily, you can still enjoy some of these cave-like formations along the Pothole Trail!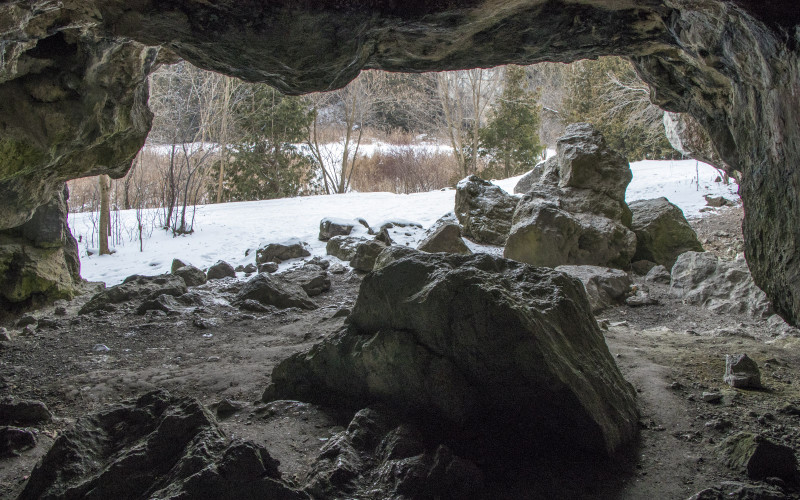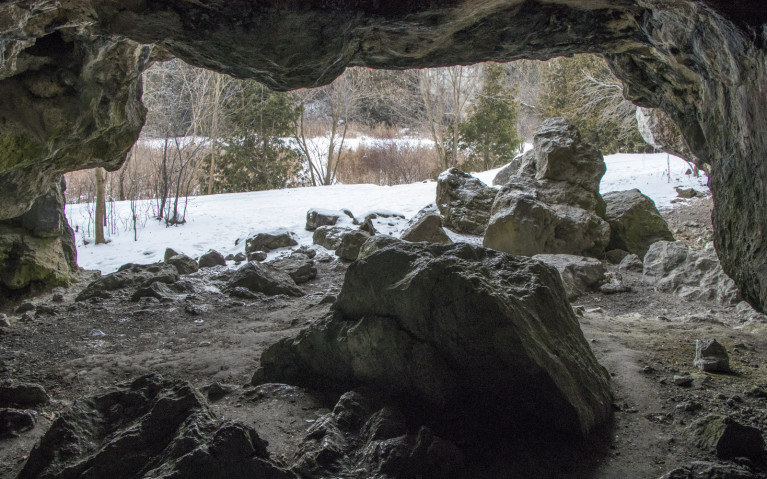 Additional Things to Do at Rockwood Conservation Area
Since I visited in the winter, I wasn't able to fully enjoy everything the Rockwood Conservation Area has to offer. It might take a few days, which is perfect since you can camp overnight here! There are over 100 campsites available as well as four group campsites. There are even a few 'radio free' locations if you really want to disconnect and enjoy some peace and quiet!
If you've got a rod and some tackle, you'll want to bring it along so you can go fishing! Cast your line and see if you can snag a carp, bullhead or bass from the reservoir. You might even reel in a brown or rainbow trout! Just don't forget to have your fishing license handy.
Is the Eramosa River calling your name? Grab a canoe, kayak or paddleboat and explore the park via water! Canoes and paddleboats are available for rent at the beach kiosk in the warmer months. Or if you have your own vessel, bring it along so you can enjoy the towering limestone cliffs from the river.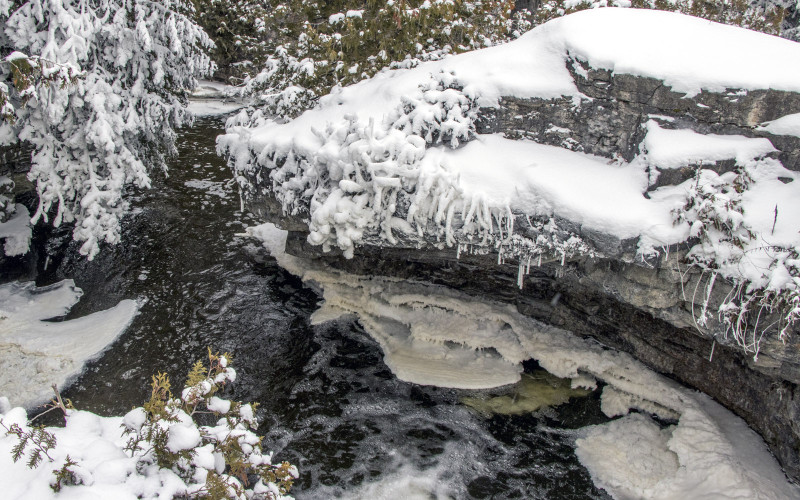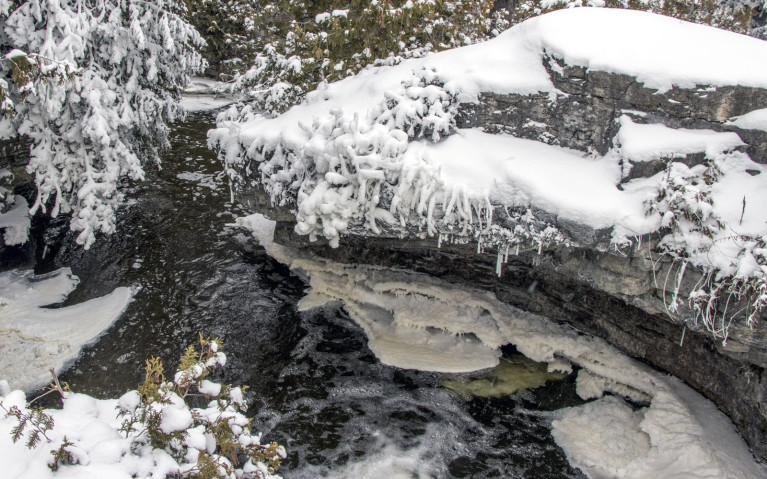 Ready to Visit Rockwood?
There you have it! Would you expect to find so much adventure in a town of less than 5000 people? I couldn't believe how much the Rockwood Conservation Area has to offer. Though I now understand why the park sees 75,000+ visitors each year. Despite this incredible number, chance are you'll have the park to yourself if you visit midweek in the winter. While I was only there for a couple of hours, I definitely would love to return and spend a full day exploring. I think a summer adventure is in order!
Whether you live in Waterloo Region, Toronto or further away, it's worth the drive to Guelph to visit the Rockwood Conservation Area. Pack a picnic and enjoy a full day at this unsuspecting gem in Ontario!
Want to Explore the Rockwood Conservation Area? Pin it for later!