15+ Top Maple Syrup Festivals in Ontario + Why You Should Visit

Canadians are known for their love for maple syrup, which is a no-brainer considering our flag even has a maple leaf. We even refer to it as liquid gold! While the majority of our maple syrup is produced in eastern Quebec, Ontarians also have a love for it. There's really no reason NOT to visit at least one of the maple syrup festivals in Ontario, especially with so many around. If you're wondering where to head for a sappy adventure (let's be honest, it should be on every Canada bucket list), check out these top Ontario maple syrup festivals across the province!
Disclaimer: This post contains affiliate links where if you make a purchase, I may receive a kickback at no extra cost to you. It helps keep IBB alive so thank you!
Why Visit an Ontario Maple Syrup Festival?
Is there anything more quintessentially Canadian than a maple syrup festival? Before we dive into the reasons why you should visit, maple syrup is a Canadian staple – and for good reason. Canada is the leading global producer of maple syrup and we export 71% of it worldwide. That amounted to over 14 million gallons in 2020 alone. As a result, we pride ourselves on our maple and that can be seen in Ontario. Many school trips consist of a trip to learn about maple and other maple-themed activities when the season comes!
But I digress, you're not in school anymore. So why should you visit an Ontario maple syrup festival? Here are eight reasons why!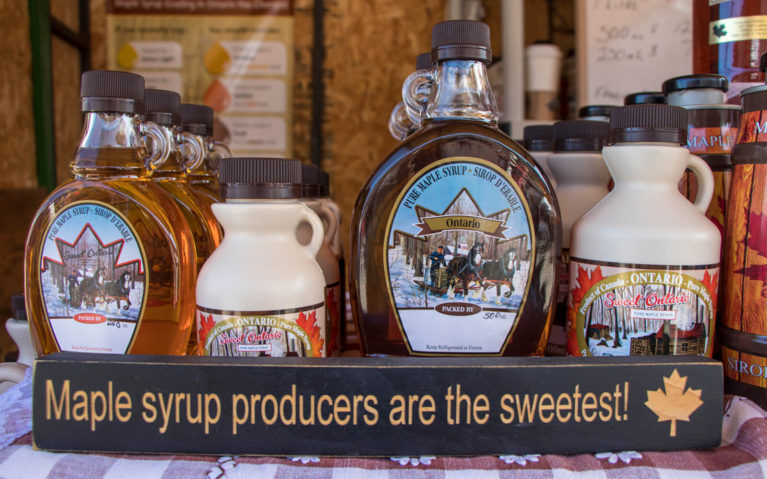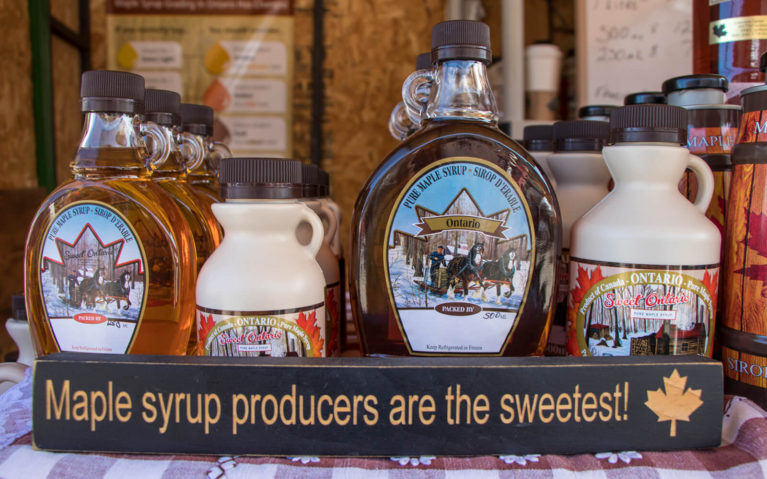 1. Because… maple.
We're talking real maple syrup, not that table syrup sh!t. Don't get me wrong, I used to be a table syrup kind of gal but I've slowly come to my senses. Or maybe I've become more Canadian? Let's go with a bit of both.
Seriously though if you're not a fan of maple syrup – GO. There are actually 4 different classifications – golden, amber, dark and very dark. The darker the syrup is, the stronger the taste and they all have their own distinct flavour. I personally enjoy an amber syrup, but you might enjoy a different one!
2. It's a perfect outing with friends and/or family!
Whether it's chilly outside or a nice spring day, it's a great excuse to get outside. Grab your pals or round up the family for a fabulous day of fun! There are plenty of fun activities for kids of all ages – even the adult ones.
3. There are plenty of festivals to visit.
From about the middle of February until the end of April, you'll find a number of festivals celebrating maple syrup. This means not only do you have a bunch of time to visit them but you've got lots of options! Each festival is unique with its own quirks and perks. It means you won't have the same experience twice!
There is actually an overwhelming number of maple syrup festivals in Ontario so chances are there's one not too far away from your destination. I highly recommend taking a day trip to enjoy the maple fun or make time to visit one in your vacation plans!
FUN FACT: We have a Maple Weekend in Ontario. Yes, it's true! While the dates do fluctuate, it's typically at the beginning of April. Find out more here!
4. It's educational – in a fun way.
Did you know that it takes approximately 40 gallons of sap to make a single gallon of maple syrup? Remember, we exported 12.5 billion gallons of syrup in 2017… I'll let you do the math on that one!
Visiting a local sugar bush can help with this as you learn about the process as well. You'll get to see the buckets collecting sap, some of the equipment which makes the sap into syrup, and more! If you have any questions about the process, this is the time to ask them. These are the people who make maple syrup for a living!
Additional Fun Facts about Maple Syrup

▪ Not every tree can be tapped as they need to be at least 100 years old in order for sap production to start.
▪ 100 year old trees normally measure approximately 12 inches in diameter.
▪ Tree sap actually runs from the roots upwards as it heads for the leaves!
▪ During tapping season, it's not uncommon to see spouts (either made of metal or plastic) called spiles that allow the sap to escape into buckets which hang beneath it.
▪ The colour of maple syrup depends on a number of factors, including the age of the tree, the amount of sugar, the soil compounds and the time in the season.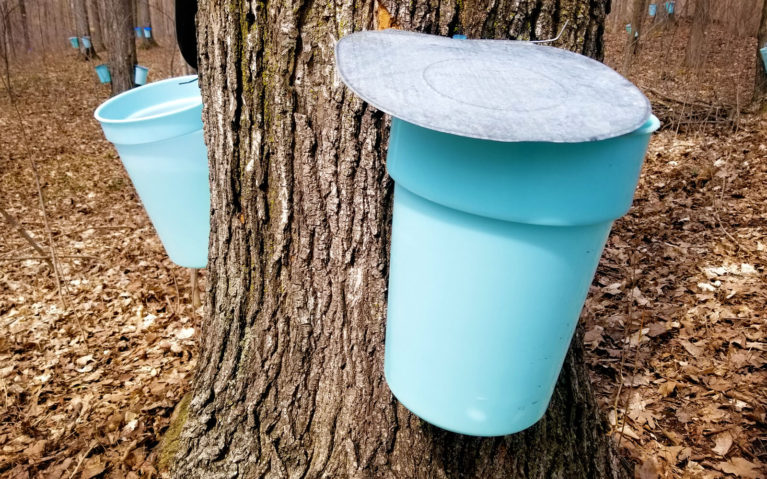 5. The samples!
I have yet to visit a maple syrup festival that didn't have at least a few vendors offering samples. Whether it's different kinds of maple syrup, maple treats, or other savoury delights, you can walk around and enjoy the local treasures. Be warned though! They give out samples for a reason – many are so delicious you'll have to buy some to take home!
6. It supports the local community.
While maple syrup is the main theme of the festival, that's not the only thing you'll find. You'll often also find great restaurants, food trucks, local businesses and more! This is seriously an amazing way to support the community and have your tourism dollars go right to a local establishment.
7. It gets you outside.
The majority of maple syrup festivals are held outdoors, meaning you'll get some good old-fashioned fresh air. Chances are by mid-February when these festivals start to take off, we're already feeling some of the cabin fever. Plus there are a number of health benefits to spending time outside. Layer up with your winter gear (or wait until the warmer springtime months) and enjoy some quality time outdoors!
8. It's FUN!
Above all, going to a maple syrup festival is so much fun. Chances are you'll have such a great time that you'll be visiting multiple festivals in a season! They're kind of like Pringles… betcha can't have just one. Or in this case, betcha can't attend just one event!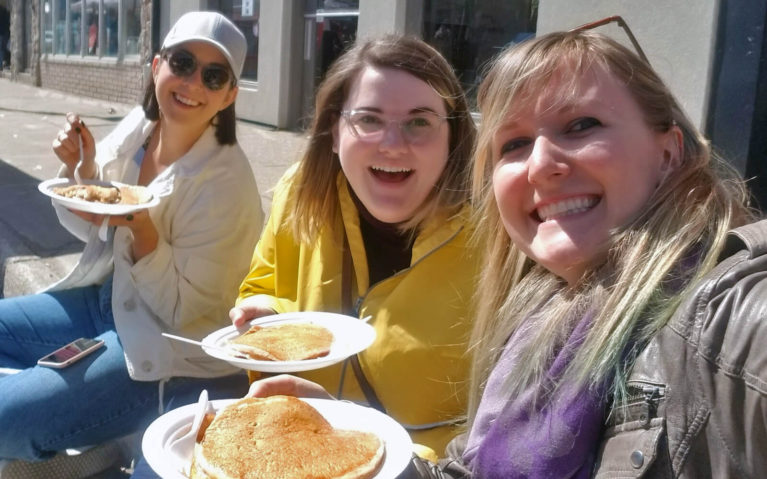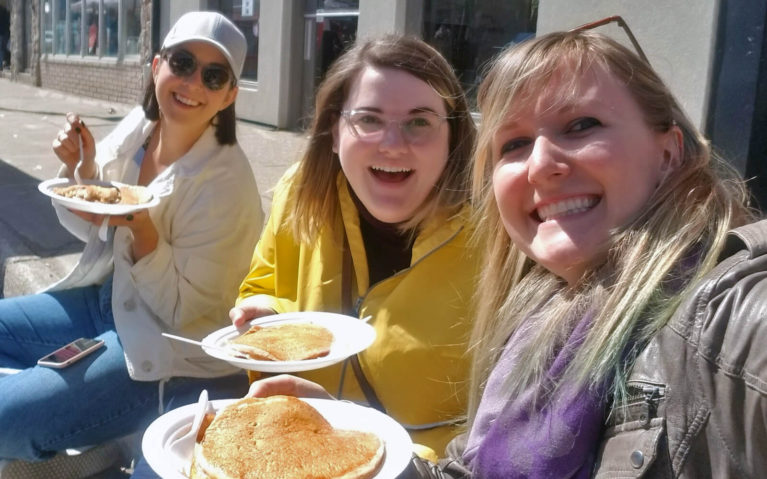 Things to Know When Visiting a Maple Syrup Festival
Most of the vendors you'll find are small farms or local businesses, meaning credit or debit isn't always available. Be sure to have cash otherwise you'll be hunting for a bank or ATM! This way you can also limit how much you spend as cash really can disappear quickly on you. Yes, I'm talking from experience!
The weather at this time of the year is really up in the air. It can be warm spring weather or frigid winter temperatures so be sure to dress accordingly. Layers are always a good idea in Canada, that way you'll still be comfortable if it does warm up! If you're unsure what to do, my winter hiking gear tips can help you stay nice and toasty.
You may not realize just how long you'll be on your feet but when there are so many vendors, activities and yummy goodies to enjoy – your feet will get tired. Be sure to wear a comfortable pair of boots or sneakers so your aching feet don't distract from your festival fun! However, if you do plan to go into the sugar bush, a pair of boots is a good idea as it can be muddy!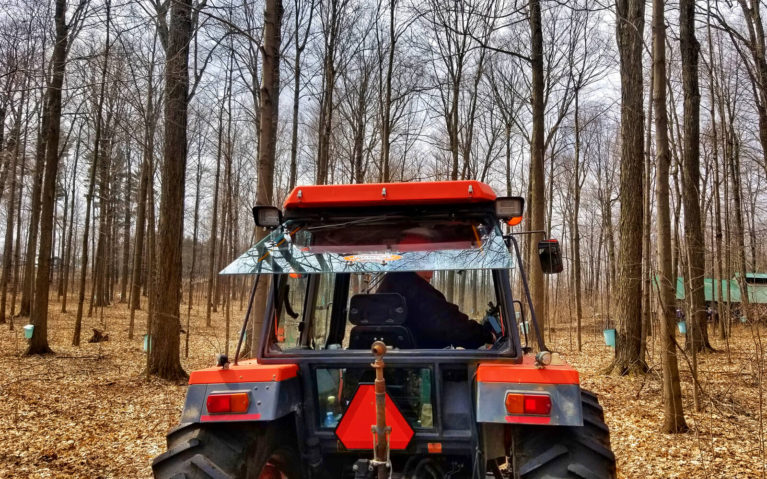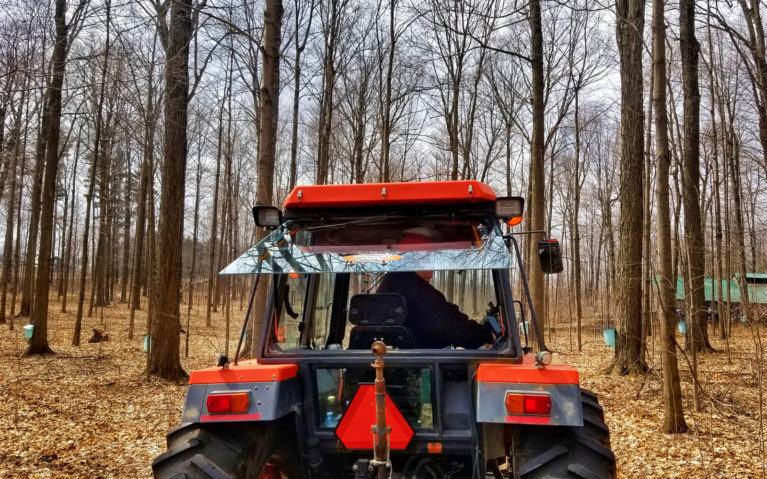 Top Maple Syrup Festivals in Ontario To Visit
As I mentioned, there are a number of maple syrup festivals that it can be overwhelming to know where to go. I've only been to a handful myself but here are some options where you can get your maple on!
SOMETHING TO NOTE: Dates will vary from year to year as well as the availability of activities and products. Also, some may require tickets in advance. Be sure to check out the full details for each of these maple syrup festivals in Ontario before hitting the road!
Elmira Maple Syrup Festival
As the largest single-day maple syrup festival according to the Guinness World Book of Records, Elmira's Maple Syrup Festival is a must-experience at least once. Elmira may be a quaint little town just north of Kitchener but on this day each year, thousands flock to the town for some maple-y goodness. For over 50 years, flapjacks have been flipped as visitors from all over the world come to enjoy the festival – even as far as the north pole!
Starting at the crack of dawn, explore the grounds and enjoy the variety of maple-themed activities. Grab some pancakes, indulge in maple taffy and other treats. If you've had enough sugar, you can enjoy a number of incredible eats at the half-mile long outdoor mall. From vegetarian poutine to smoked turkey legs, I'm certain you'll find something to enjoy! My personal favourite is hands down the Fritter Haus. You may recognize if you've been to Kitchener's Christkindl Market, one of the many great Christmas markets in Ontario!
Once you've indulged as well as done a bit of shopping, I recommend heading out to a local sugar bush for a glimpse of how it's made! Buses leave from the grounds in Elmira and take you right to one of the local locations like Weberlaur Farm. Hop on the tractor for some wagon rides as it takes you to the sugar shack. Here you'll see tapped trees and learn about maple syrup production. It really is fascinating and fun for the whole family!
Festival of the Maples
Elmira may have the largest one-day festival but how about visiting the Maple Syrup Capital of Ontario? Look no further than Lanark County and their Festival of the Maples. Make your way to downtown Perth to celebrate the culmination of a month-long maple celebration.
RELATED: Looking to make it a weekend adventure? Check out this great guide of things to do in Lanark County!
Delight your taste buds with maple taffy, your eyes with the classic car display and more on Gore Street. If you're feeling competitive, bring your friend and sign up for the annual cross-cut saw competition! See how quickly your team can cut a log in half then race to hang your bucket first by drilling a sap spigot hole. The adrenaline will be pumping as you work fast, but at least you can reward yourself with some delicious maple treats afterwards for your trouble!
With plenty of other family-friendly attractions like rock climbing, obstacle course and even an appearance by the Perth Fire Dawgs, this is one sweet festival!
Muskoka Maple Festival
What better way to enjoy maple goodness than a whole trail dedicated to the sweet syrup? Enjoy over 25 stops across the Muskoka region with the Muskoka Maple Trail. Running for over a month, you'll have lots of time to enjoy their maple goodies from breakfast to gelato and even maple beer!
However, the actual Muskoka Maple Festival is just one day but is jam-packed with plenty of great activities. Head to Huntsville to celebrate the culmination of the maple harvest. Get the kids to burn off some of that sugar with the Kiwanis Sap Run and then partake in the festivities. With buskers, live music and plenty of maple to go around, it's guaranteed to be a sweet treat!


Paris Maple Syrup Festival
The heart of town is transformed into a day of syrupy fun at the Paris Maple Syrup Festival. Organized by the local Lions Club in conjunction with the County of Brant, this volunteer event raises money for local projects in the town of Paris.
RELATED: Since you'll be in town anyway, check out all of these fantatsic things to do in Paris Ontario!
Grand River Street is closed down for pedestrian-only fun as you walk the blocks of vendors and eateries. It's incredibly picturesque which isn't a shock considering Paris has been voted 'the Prettiest Little Town in Canada'! As if that wasn't enough, how about the fact that it's the cobblestone capital of Canada? Yep, you'll wanna bring your camera for this one!
If you're all maple-d out (not sure how that's possible!) and looking for more to do, be sure to stop in at the Paris Agricultural Society. Their Spring Craft Show and Market is a great way to support local vendors and the local community. From woodworking to spring decor to jewellery and much more, you'll want to bring some extra cash in case you spy something you like!
Sunderland Maple Syrup Festival
One of the most popular events for sappy fun in Durham Region, the Sunderland Maple Syrup Festival is celebrating its 25th anniversary! Head to this quaint town about 75 minutes outside of Toronto for an abundance of activities, entertainment, tours and artisan goods from rural creators and makers.
What can you expect at the Sunderland Maple Syrup Festival? You'll find over 50 vendors in the downtown core along with horse and wagon rides running out of the Sunderland Brock Memorial Arena. You can also hop over to Harlaine Maple Products as they'll be running their sugarbush maple tours for attendees. If you're a historical buff, you won't want to miss the town of Blackwater's historical bus tour.
However, the most unique event of the festival has to be their bathtub race. Bathtubs on wheels are decked out as teams push them in a race for the ages. There's even an award for the 'best dressed' bathtub! This is certainly a sight that's not to be missed.
…and Many More!
This is just the top of the sap bucket. I seriously can't tell you enough just how many Ontario maple syrup festivals there are. Here's a shortlist of some more maple syrup festivals in Ontario but I recommend taking a look at your local tourism board's events or to search for maple festivals in your local area. I guarantee it won't be long until you find more maple festivities than you can shake a stick at!
Agape Valley Sugar Bush Maple Syrup Days in Ridgeville
Bruce's Mill Conservation Area in Stouffville
Kortright Conservation Area in Woodbridge
Maple at the Village at Black Creek Pioneer Village in Toronto
Maple Fest at Proulx Maple & Berry Farm in Ottawa
Maple Sugar Festival in Mount Albert
Maple Syrup Season at Westfield Heritage Village in Hamilton
McCully's Maple Syrup Festival in St Mary's
Purple Woods Maple Syrup Festival in Oshawa
Spring Tonic Maple Syrup Festival at Tiffin Conservation Area in Utopia
Sweetwater Harvest Festival at Wye Marsh in Midland
Don't Miss These Ontario Sugarbush Experiences
While some of the maple syrup festivals in Ontario may have a sugarbush component, that isn't always the case. Fortunately, there are a number of incredible sugarbushes throughout the province! These experiences are fantastic as they will teach you more about the process of making maple syrup from tapping the tree to the rules around selling the sweet stuff. Here are a handful of fantastic destinations for a sugarbush visit.
Heartwood Farm & Cidery
Head to Caledon where you'll find the little gem known as Heartwood Farm & Cidery. In the late winter and early spring, they tour visitors around their beautiful sugarbush and teach you about the importance of nature, how everything is interconnected and, of course, the process of creating maple syrup! You'll even get to taste some of that sweet nectar. I might be biased but I think sugar bush maple syrup is the best kind, especially when it's enjoyed amongst the trees!
Heartwood offers two options for tours. Their Secrets of the Sugarbush experience is geared more towards adults and delves into the science behind sap and syrup while their Family Sugarbush and Farmyard Adventure is fun for all ages. This tour includes all the sweet maple fun but with the added bonus of meeting some of their farm animals!
Elliott Tree Farm
They might be known for their Christmas trees in the winter months but Elliott Tree Farm has a fantastic weekend sugarbush program during March and April! You'll start your visit by heading to their heritage barn where you can enjoy all-you-can-eat pancakes. You'll definitely want to come hungry for this one!
Afterwards, enjoy a short stroll towards the trees for their sugar bush tours. Here you'll get to taste maple sap, sugar and taffy! Then the fine folks at Elliott Tree Farm will share with you a bit of the history behind maple syrup and what the process entails. Take a peek in the sugar shack to see the magic at work and cozy up by the firepit before calling it a day.
Terra Cotta Conservation Area
Folks flock to Terra Cotta Conservation Area every spring for their Maple in the Park event. Throughout March Break and on select weekends into April, visitors can walk from station to station throughout the park to learn about the history of maple syrup, how it's made and what the future holds for maple producers. Don't miss any of the five stations: the Sweetwater Discovery, Settled into Spring, The Tool Shoppe, The Sugar Shack, and the Changing Seasons.
What really makes Maple in the Park unique is the prominence of the Indigenous history and teachings in regards to maple syrup. It's unlike anything I've ever seen! Working with local Indigenous partners, visitors have the fortune of learning about the importance of this time of year as winter ends and spring begins. While it is depending on the availability of the local Indigenous communities, you can always reach out to Credit Valley Conservation for exact times so you don't miss out!
Ready For An Ontario Maple Syrup Adventure?
As you can see, Ontario has maple on the mind as winter ends and spring begins. Maple syrup season might be a short one but it's well-loved by many. Which of these maple syrup festivals in Ontario are you planning to visit? Any Ontario sugar shacks in particular that you love? Share them with me in a comment below!
Looking to Take Your Maple Experience to the Next Level?
Check Out This Epic Ontario Maple Syrup Getaway!
Planning to visit some maple syrup festivals in Ontario? Pin it for later!