Things to Do on Manitoulin Island For a Seriously Epic Adventure

Manitoulin Island has been on my bucket list for as long as I can remember. While I have heard so many good things, I knew I needed to explore Manitoulin myself. It wasn't until I finally had the chance to explore that I realized just how much the island has to offer. If you're planning a trip, check out these amazing things to do on Manitoulin Island. Your epic adventure to this top Ontario road trip destination awaits!
A Little Bit About Manitoulin Island
It's the world's largest freshwater island – so large it has 108 lakes within itself! With a rich history that dates back possibly 30,000 years ago, artifacts have been found from both the Paleo-Indian and Archaic periods.
Originally known by its historic Odawa name, Manidoowaaling meaning 'cave of the spirit', Manitoulin Island truly is a special place. Also known as Mnidoo Mnis (spirit island), it's still an important spot for the Anishinaabe people to this day – especially the Ojibway, Odawa and Pottawatomi who are the members of the Three Fires Confederacy. Manitoulin Island is also home to the only officially recognized unceded reserve in the country – Wikwemikong First Nation.
With beautiful vistas, incredible landscapes, delicious food, amazing people and more, you'll fall in love with Manitoulin Island!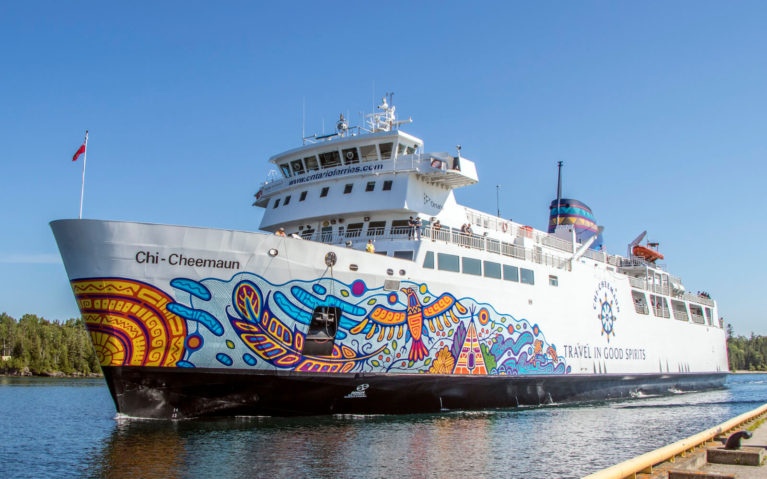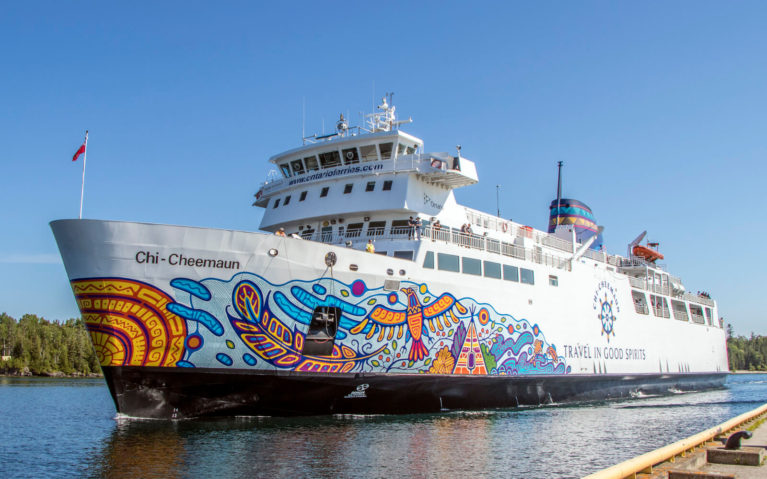 How to Get to Manitoulin Island
Manitoulin Island is located between Tobermory at the tip of the Bruce Peninsula and the northern shore of Lake Huron. All year round, Manitoulin Island is accessible via the swing bridge in Little Current. If you're coming from Toronto, Kitchener or other destinations in Southern Ontario, you'll want to follow Highway 400 north until it transforms into the Trans-Canada Highway. You'll follow signs for Highway 17 as if heading to Sault Ste Marie and then once you arrive in McKerrow, hang a left at the lights towards Espanola. Drive through the beautiful La Cloche Mountains which inspired a number of paintings from the famous Group of Seven as you make your way to Little Current. Once you've crossed the swing bridge, you're officially on Manitoulin Island!
In the summer months, you can follow Highway 6 north to Tobermory and catch the MS Chi-Cheemaun Ferry (meaning big canoe in Ojibway) across to South Baymouth. Voyages start in early May and end in October with more ferries running during the summer months. Be sure to take a look at the schedule in advance for times and frequency. When departing, it's a good idea to arrive about an hour in advance, especially during the summer months as it can be very busy!
SOMETHING TO NOTE: It's highly recommended you reserve your spot on the ferry in advance, especially if you're with a vehicle. If doing so online, this must occur at least one day in advance of your intended departure. If there is no availability online, call their hotline to see if there is still room on the ship.
Things to Do on Manitoulin Island
Now onto the fun stuff! Whether you're a lover of the outdoors, enjoy good eats, looking to shop or want to learn about other cultures, you'll find it here. Check out some of the best activities on Manitoulin Island!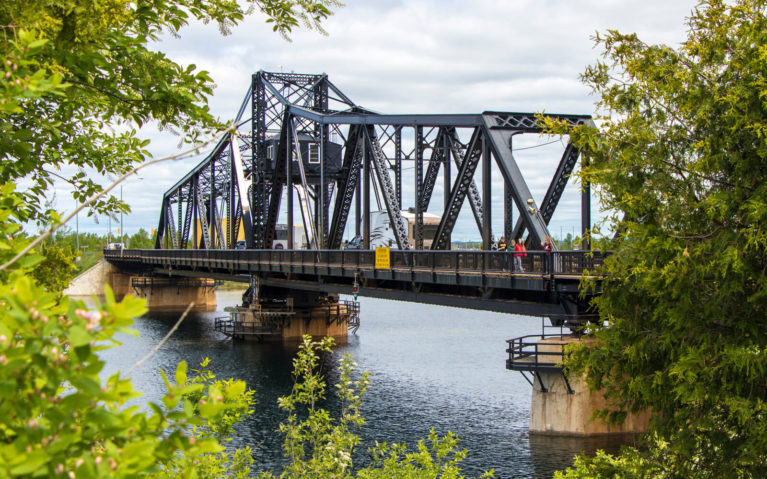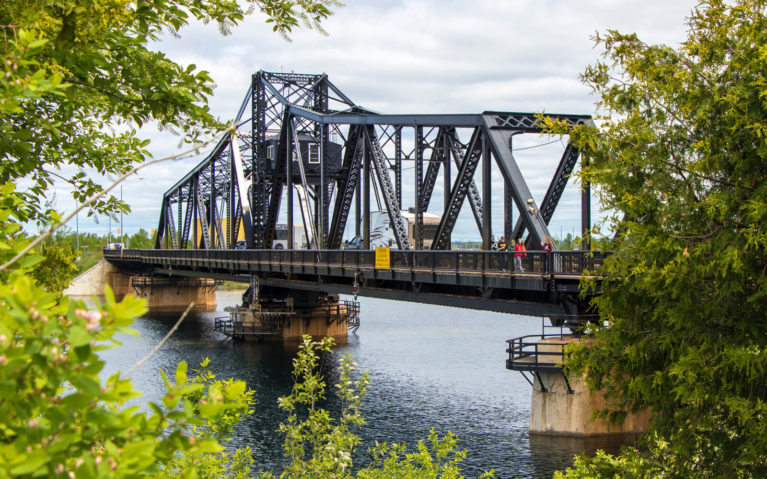 See Little Current's Swing Bridge
If you're driving over to Manitoulin Island from the north, this Ontario Heritage Site will be the first thing you see! The Little Current Swing Bridge was built in 1913 specifically for the Algoma Eastern Railway. Originally just for trains, it was converted for both rail and vehicle traffic in 1945 with the rail access being removed in 1980. It now stays open for vehicles to pass except for the first 15 minutes of every hour from 7:00am until 10:00pm daily from June-August.
FUN FACT: Since the bridge is one lane, it has a stoplight to direct traffic. This is the only stoplight on Manitoulin Island!
There are also plenty of other things to do in Little Current to make your trip worthwhile. I highly recommend walking along the Little Current Waterfront Trail for the best views of the swing bridge. Spend some time wandering around town and explore the local shops and eateries. You'll often see cruise ships as they dock here in Little Current.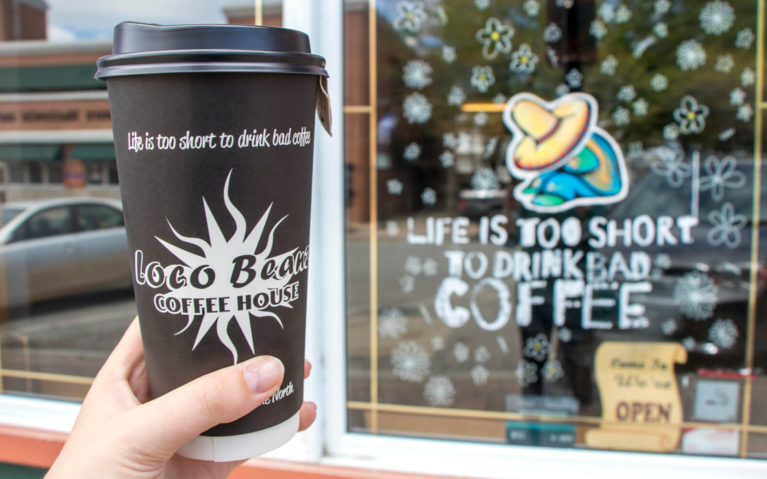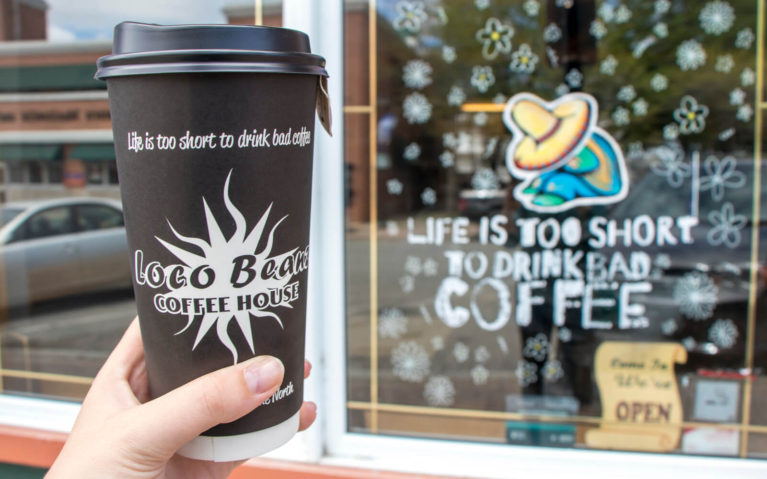 Grab Some Caffeine at Loco Beanz
For over 10 years now, this local coffee chain has been fuelling adventures for locals and visitors alike. Their original location is located on Water Street in Little Current which makes them the perfect stop for an energy boost as you continue on throughout the island. Now with three locations, you can find them in Gore Bay and Manitowaning as well.
As I was passing through on my way to Sault Ste Marie, I opted for their North Channel Chai. You won't be disappointed (especially if you're a tea lover), even on a warm sunny day. If you're looking for something to cool down with, their refreshers sure look delicious!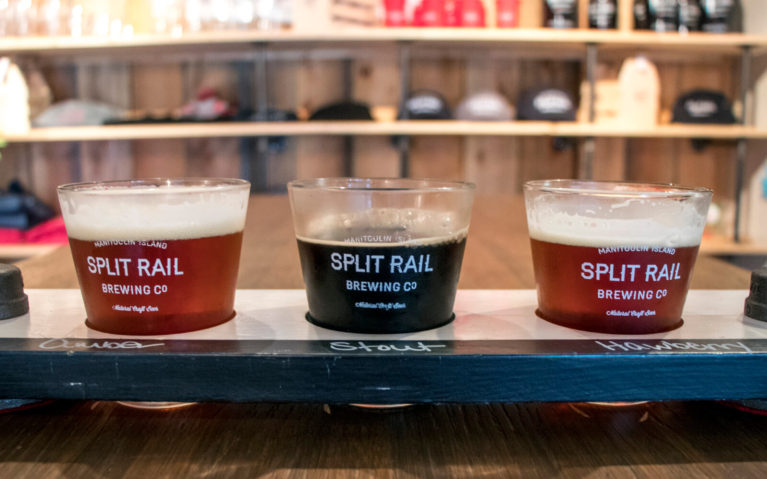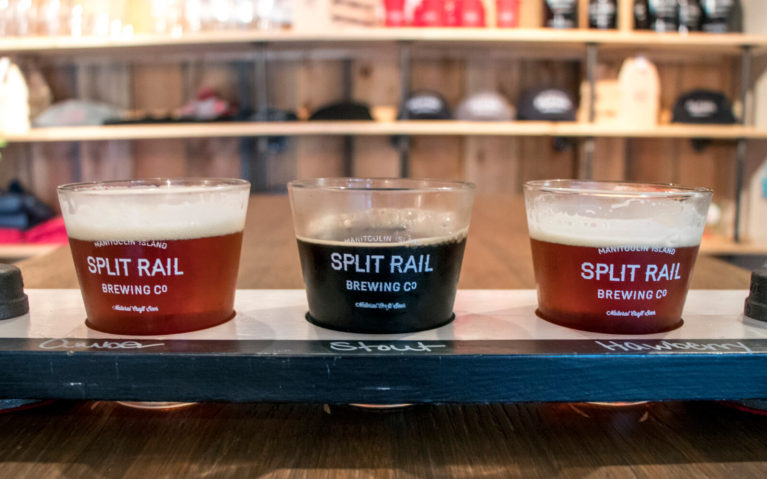 Have a Pint or Two at the Local Breweries
If you're looking to relax and slow down a little rather than a pick-me-up, head to Manitoulin Brewery. Now this is seriously one cool destination that every beer lover will enjoy! Feel the sand in your toes on their patio as you soak up the summer sun with a pint in hand. I highly recommend getting a flight so you can try a few of their beers, but don't miss out on their Haweater Ale as well as the Lemon Weiss. These easy-sipping beers pair perfectly with good food and great company – both of which you'll find here!
While Manitoulin Brewery doesn't do food themselves, The Trough next door has you covered. They have plenty of choices from burgers to salads to poutine. If you're going to get anything though, I recommend their grilled cheese. You can't go wrong with Da Gouda which has smoked meat, pickles, smoked gouda and mustard. Sprinkle a little seasoning salt on top and you've got one seriously delicious meal.
As a gal that has no qualms about going to a restaurant or brewery solo, I have to mention just how amazing the service is. It was an absolute pleasure to chat with both Victoria and Shanaia. They sure made this gal feel welcome! Whether you stop in to visit the patio or just get a few souvenirs, be sure to say hello for me! Just a few minutes away from the swing bridge, you have no excuse for not visiting the island's original brewery.
Looking for more beer? Never fear! Head to Gore Bay and you'll find Split Rail Brewing Company. Manitoulin Island's newest brewery, it is run by a dynamic duo of ladies who love beer. Opening their doors in 2015, they also have an amazing patio along the shores of Gore Bay. Enjoy the vibes of Lake Huron's north channel while enjoying one of their delicious pints!
If you're looking to learn more about how their brewing process and what makes them unique, hop on a tour of the facility! Whether you're just stopping in or plan to enjoy some of their liquid gold on the patio, be sure to try their Hawberry Ale. It pairs very well with the delicious pies from Manitoulin Pizza Company, the seasonal food truck which lives at the edge of their patio.
FUN FACT: The same grain used to brew Split Rail's beer is used to make the pizza dough! No wonder they pair so well!
Heading in for a visit at the end of July? You might be able to join in on their birthday celebrations! Follow them on Facebook for events and updates. Whether you join the party or not, be sure to say hello to Kaitlyn if she's working. We had a blast chatting while I enjoyed a flight during my first visit to Split Rail!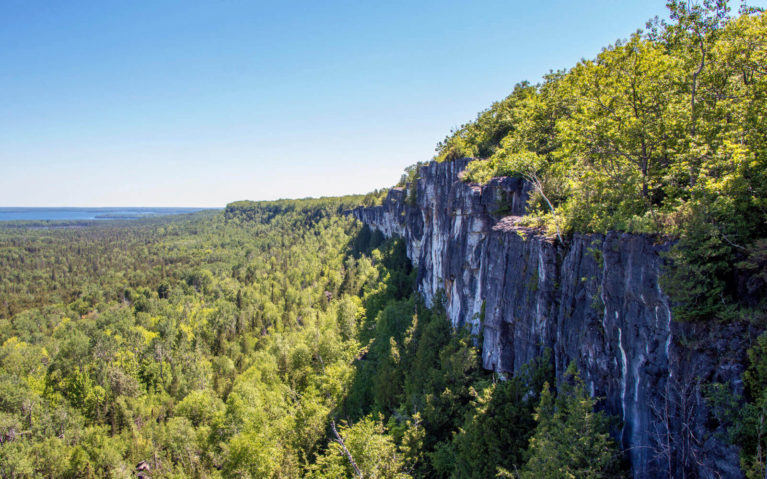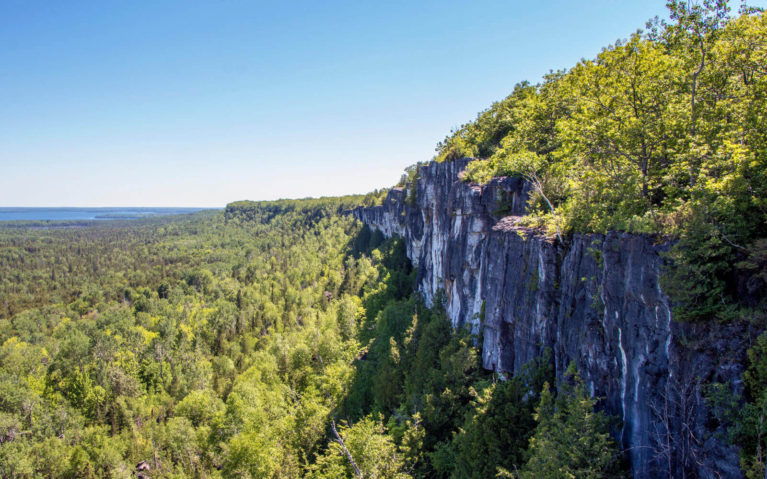 Trek Up the Cup and Saucer Trail
If you've heard of any of Manitoulin Island's trails, it's the Michigiwadinong aka Cup and Saucer Trail. I've been told the best time to go is at sunrise, however I still had a magical time trekking it midday. In my opinion, the best way to experience it is with an Indigenous guide. I had the pleasure of hiking with Steve from the Great Spirit Circle Trail whom I connected with at an Indigenous Tourism Ontario workshop in 2018.
As you're exploring the trail, you'll learn about the legend of 'The Hunter' known as Nenabozhoo. He's a bit of a trickster and it's said if you say his name out loud in the spring, summer or fall, he may play a trick on you! Listen to his legend as he was chased north up the Zaagiing (Bruce) Peninsula where his grandmother was waiting with a canoe. They paddled across the water to Mnidoo Mnis (Manitoulin Island) but as Nenabozhoo grew tired, he tossed her into the middle of Lake Mindemoya with the promise to return. You can still see her as she rests today as Treasure Island.
That's just one of the legends you'll hear during your guided hike! From the legends to ways of living off the land, you'll be amazed at how much you'll learn on this adventure. This experience is my favourite on Manitoulin Island and I recommend everyone do it at least once. Plus you can't beat the views from the lookouts at the top of the trail!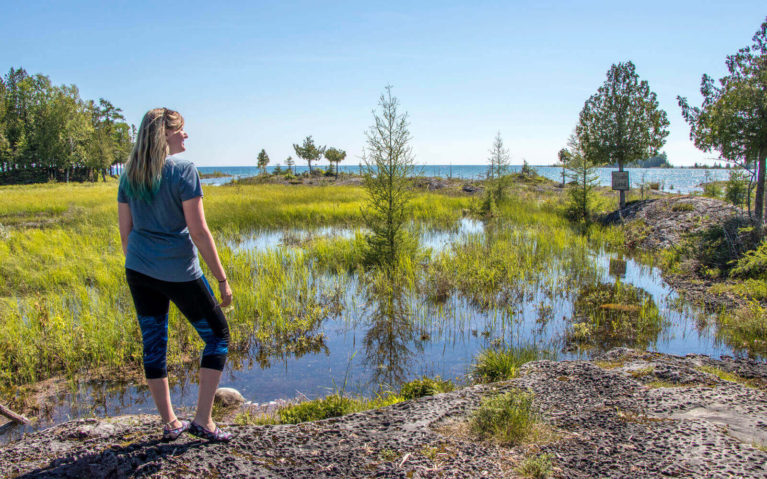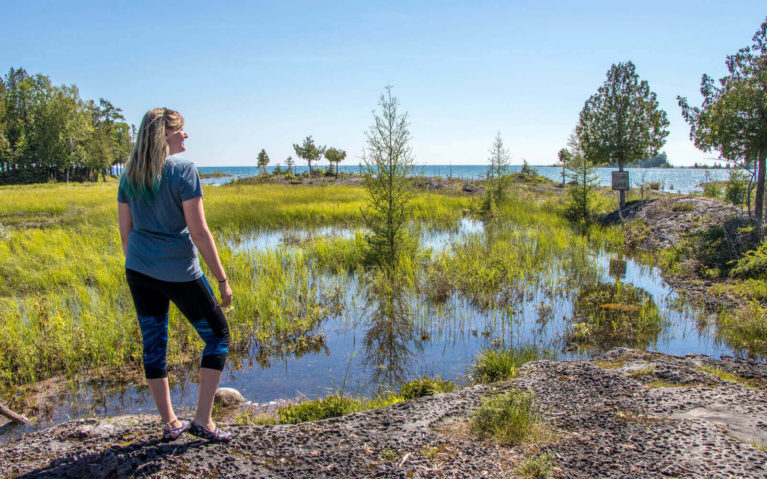 Hike Some of the Other Amazing Trails
If you're an avid hiker, there are plenty of trails waiting for you on Manitoulin Island. They vary in length as well as difficulty so be sure to plan accordingly. Be sure to bring along some sunscreen and bug spray if you're hiking in the summer months!
Follow Highway 551 until you see a ball diamond. Behind this is where you'll find the start of the M'Chigeeng Aboriginal Trail. There are two trails you can do, one that follows the bottom of the bluff and the other to the top. Don't miss the Bear Caves and Fossil Rock Point!
Head to Wikwemikong for the Bebamikawe Memorial Trail. This 14km trail has plenty of great features, including Manitoulin Island's only all-season trail! It offers plenty of scenic lookouts as well as an outdoor fitness park and lakefront picnic pavilion. I've read online that there are dogs that will greet you upon arrival and even hike with you, too!
On the western side of the island, you'll find the Lewis Twin Peaks Hiking Trail in Sheguiandah. This 2km trail is one of the quicker ones on Manitoulin but still offers some great views of Bass Lake as well as the North Channel.
Looking for something to do as you wait for the Chi Cheemaun? The South Baymouth Lookout Trail is the perfect way to kill some time! The start of the trail is less than 1km from the ferry terminal and can be done in about an hour. Be warned though, if the water levels are high like they were this year you won't be able to access the full lookout as the boardwalk will be flooded.
One thing to note is that many of the trails are meant to be hiked in the warmer months from May to October. I'm unsure as to their accessibility in the winter months but for your safety, it's best to do them once the snow has disappeared.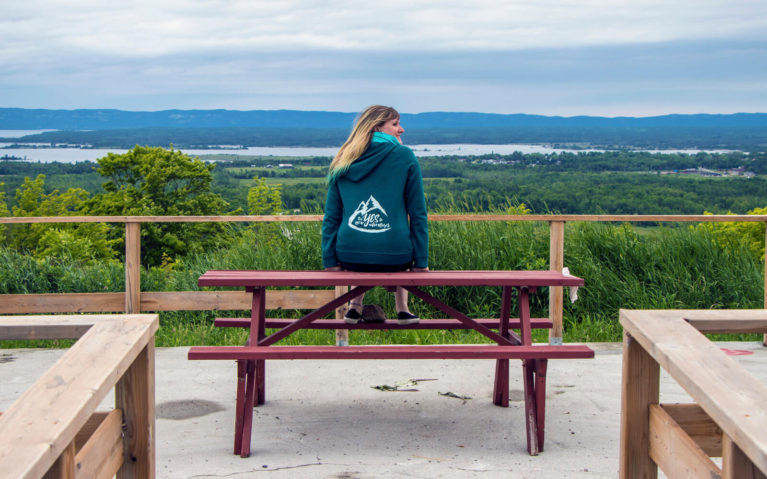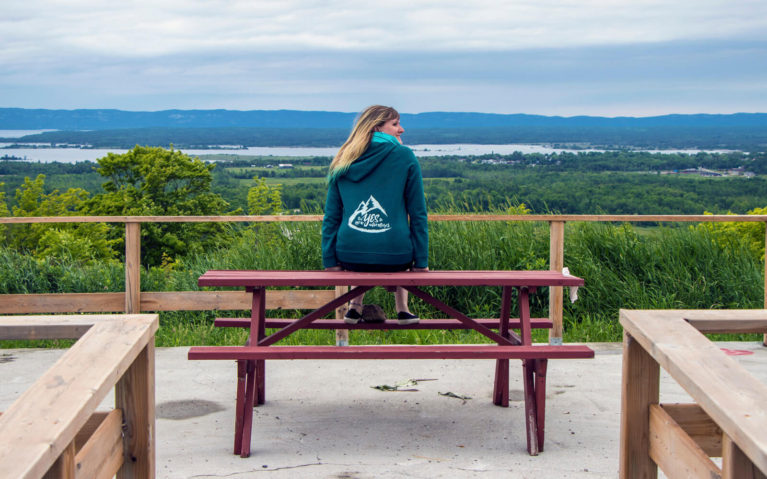 Enjoy The Amazing Lookouts on the Island
The aforementioned Cup and Saucer Trail is definitely high up on the list for amazing views on Manitoulin Island, though that's not the only place! Plus, your legs will be tired after that hike. Each of these lookouts you can drive to, making them perfect for when you'd rather take it easy!
First is the Macleans Mountain Lookout just south of Little Current. The drive is a bit steep up this gravel road but it's worth your while! Be careful on the sharp turns and take your time. You'll be greeted with beautiful views, even on a cloudy day! Just look for Macleans Mountain Road as you drive along Highway 540.
Head to Gore Bay where you'll find the next one, the East Bluffs Lookout. As you arrive in Gore Bay, turn right onto Water Street instead of left. This turns into East Street and then Tenth Line. Turn left onto East Bluff Road and it'll be about 700m down the road. This makes a great picnic spot if you wanted to grab some take out and enjoy the views!
Lastly, make your way to Wikwemikong and you'll find the Two O'Clock Lookout. Enjoy the beautiful views across Stephen's Cove and read about the 1836 Treaty to preserve Manitoulin Island which was signed in Manitowaning. It also talks about how the Ojibway and Potawatomi joined the Odawa in the 1800s and that Mishipeshu (the 'Great Lynx' or 'underwater panther') frequented these waters.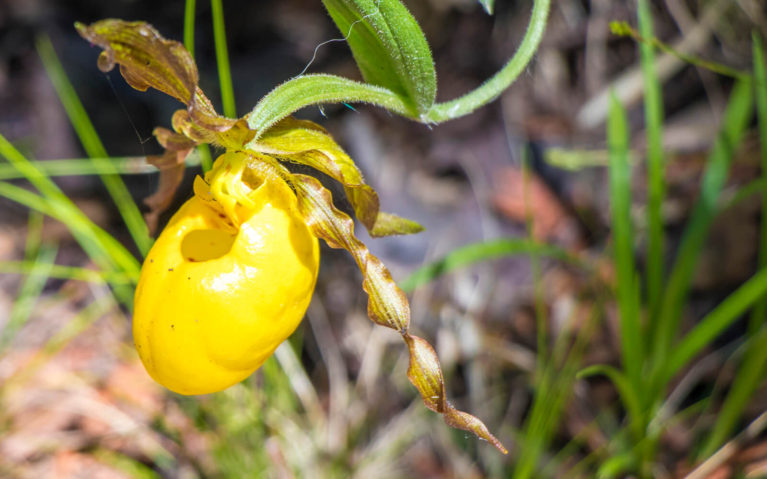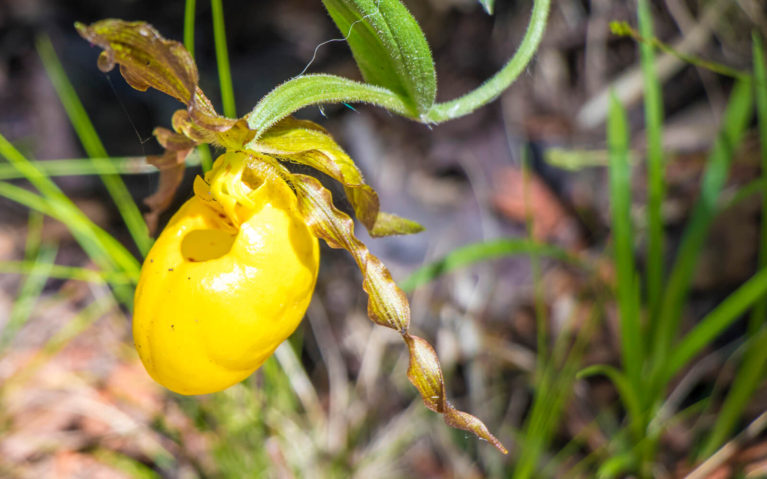 Experience the Great Spirit Circle Trail
In what is now called Canada, there are a number of incredible Indigenous Cultures to learn from and experience. I highly recommend registering for a tour with the Great Spirit Circle Trail during any visit to Manitoulin Island.
Every tour is run by an Indigenous guide who will teach you about the area, the legends and more. Tours vary and cater to a number of interests. Hit the water with one of their guided canoe tours and paddle your way through the waters of Manitoulin. If you'd like to learn more about the arts, hop on a walking tour where you'll explore local art galleries, museums and gift shops. Food always brings people together, so sign up for a tour if you'd like to learn about how to make natural teas or sample some traditional foods harvested right on the island.
As I mentioned earlier, I highly recommend the Mother Earth Hiking Trail tour as you hike the Cup and Saucer Trail. It truly took my experience to the next level as I learned so much and shared stories with my guide. During my next visit, I'll be sure to hop on a medicine walk so I can learn more about the different plants and how they can be used medicinally, spiritually, for food and more.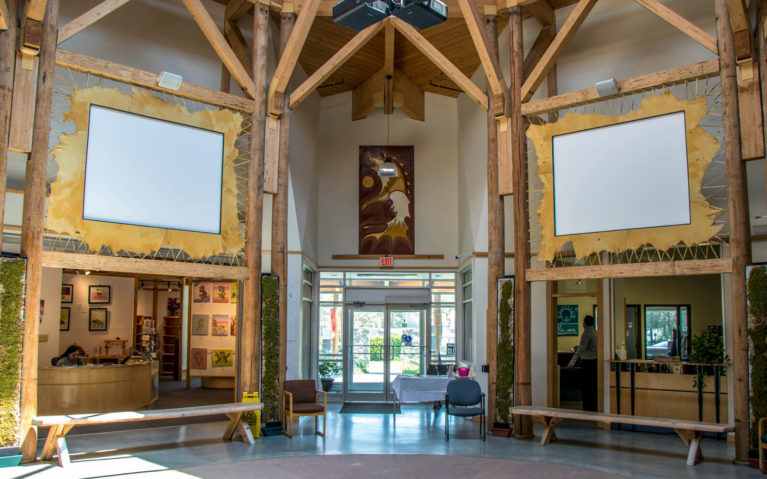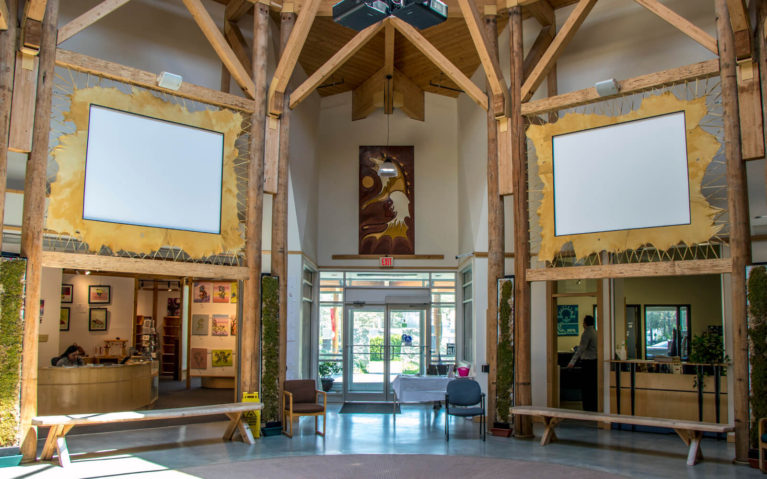 Visit the Ojibwe Cultural Foundation
Head to M'Chigeeng where you'll find the Ojibwe Cultural Foundation, established in 1974. Its purpose is to preserve as well as revitalize the culture, language, traditions and more of the Anishinaabe people on Manitoulin Island and in the surrounding areas.
Step inside this place of learning as you learn from the exhibits, including the horrors of the Residential School System in Canada, Anishinaabe history, and more. You'll also admire incredible works of art from Anishinaabe artisans who use porcupine quills, sweetgrass, antlers and more to create beautiful masterpieces.
The Ojibwe Cultural Foundation also offers a number of workshops including beading and other traditional crafts. I unfortunately didn't get a chance to experience it during this trip but I'll be sure to do so next time! Follow their Facebook Page for more information on workshops and other events.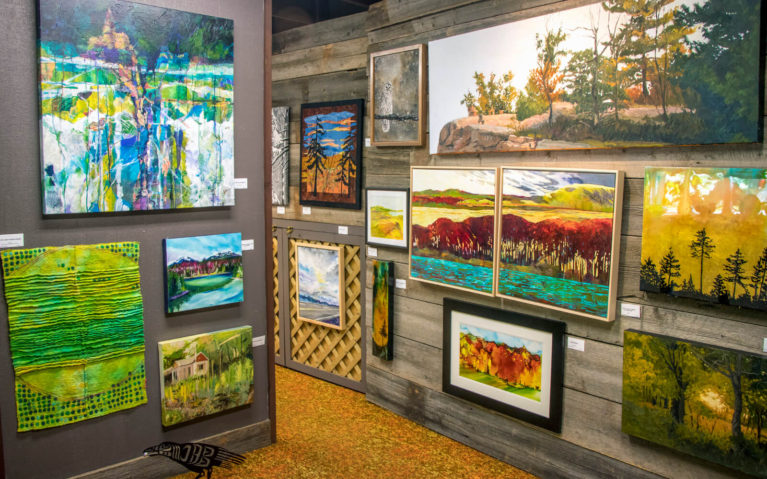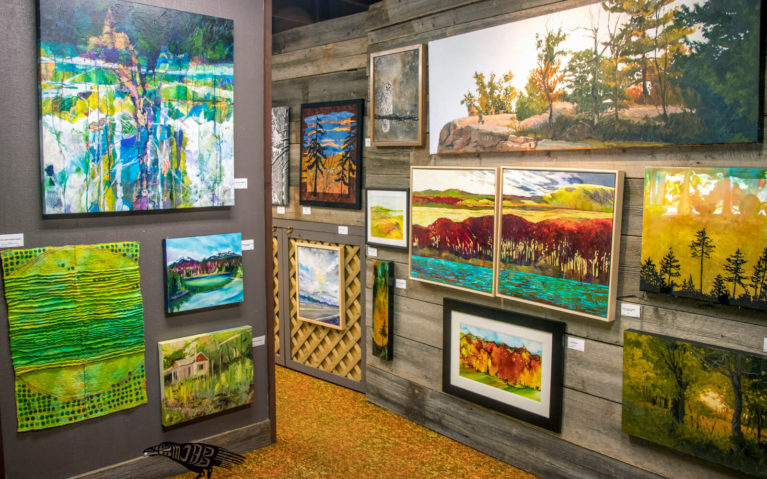 Get Your Art On at The Perivale Gallery
This is seriously one of the coolest galleries I've ever been to. Even if you're not an art connoisseur, you'll love a visit to the Perivale Gallery in Spring Bay. Be blown away by works that rival some of the greats in this beautiful rustic setting. With a wide range of up-and-coming as well as established artists, you'll find everything from painters to sculptors to crafters.
The Perivale Gallery is unique in many ways. While Shannon's keen eye for art will ensure the collection is incredible every time you visit, she's also an epic event planner. I highly recommend planning your visit to the island around some of her incredible events including open-air concerts and artist workshops. You won't be disappointed!
FUN FACT: The Perivale Gallery is ranked the #1 art gallery in Ontario on TripAdvisor! Take a look yourself.
Speaking of events, one of the biggest is the Perivale Gallery's Group of Seven Show which occurs every year. Artists from all over are challenged to paint just like AY Jackson, Lawren Harris and the other members.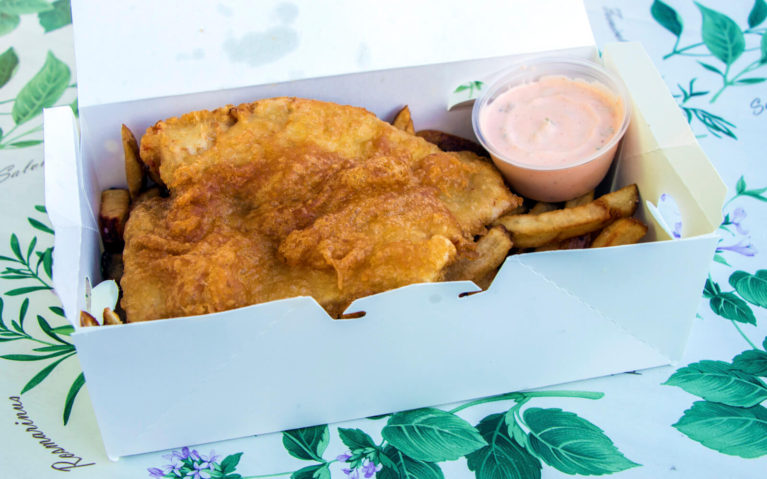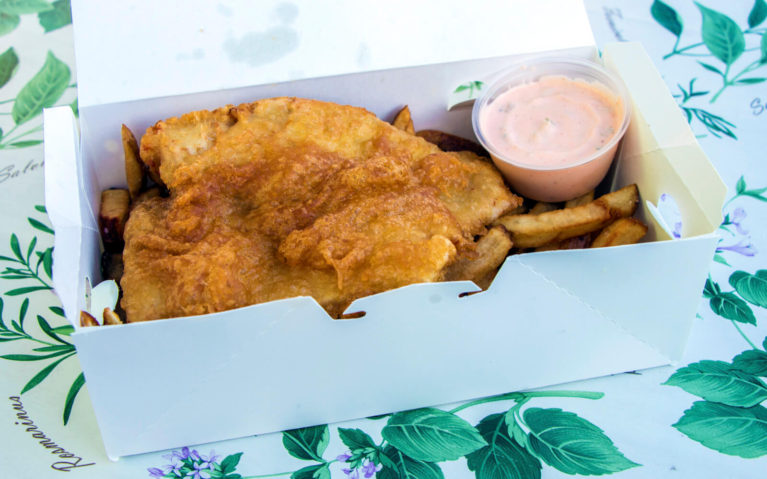 Eat Some Fish and Chips
When you're surrounded by water, you know the fish is going to be delicious! If you're in M'Chigeeng, stop in at Seasons Restaurant for a bite to eat. While I opted for the smaller portion, it was still more than plenty to fill me up! The fish is fresh, delicious and not too greasy which I love. Head south to Providence Bay and you'll have to stop in at Lake Huron Fish and Chips. Their whitefish is incredible and they make their own spicy tartar sauce. It seriously takes the dish to the next level. Just thinking about it has my mouth watering!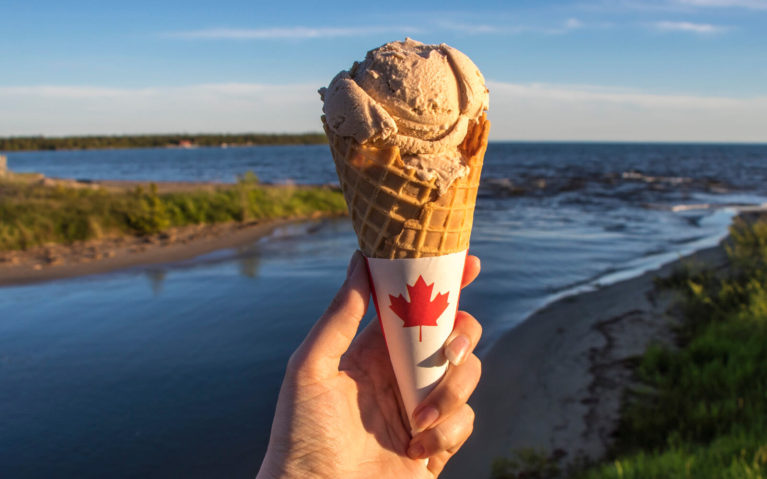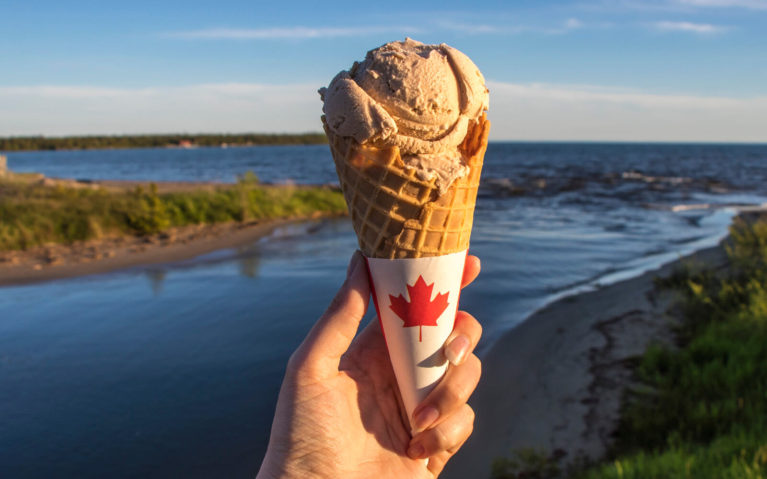 Go For a Stroll in Providence Bay
One of the best beaches on Manitoulin Island, soak up the sun and play in the sand on the shores of Providence Bay. This is a great spot for families and visitors of all ages to enjoy some time relaxing on the beach or having fun on the playground equipment. While taking a stroll along the boardwalk is the perfect activity throughout the day, the sunsets here are magical… and pair nicely with some ice cream from Huron Island Time!
There are also some other great establishments including The Mutchmor which is a cafe and art gallery. You can't miss it as they have two beautiful murals, one on either side of the building. Be warned though, even though it feels like a cafe apparently it's more of a gallery meaning no photos – or you'll get told.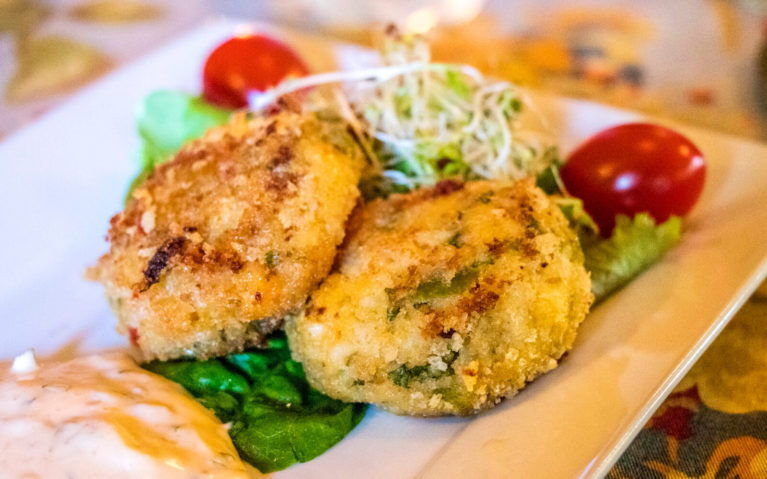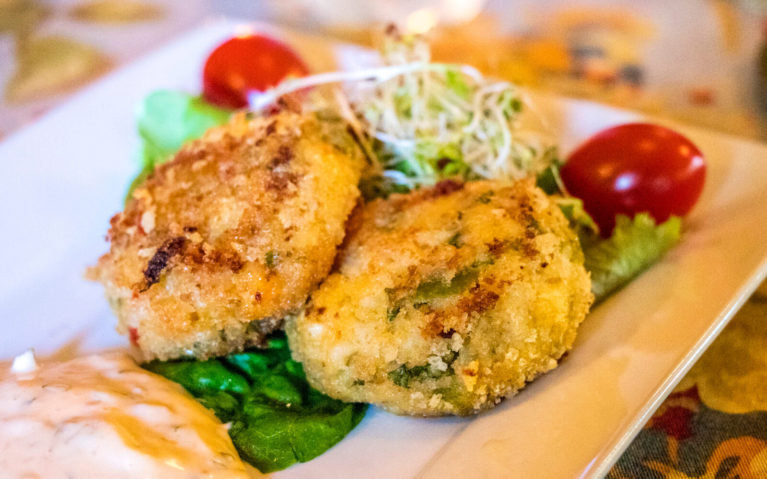 Enjoy a Meal in an Old Schoolhouse
Probably the most iconic place to eat on Manitoulin Island, The School House Restaurant is not to be missed when in Providence Bay. Built in 1989 to educate the children of the area, it is now a unique dining destination.
Greg and Heather Niven purchased the iconic location back in 1995 and opened their doors in 1996. Since then they have served a number of delicious meals to both locals and visitors. Enjoy the art of fine dining in a casual setting as they source as many ingredients as possible locally. If you are vegetarian or have dining restrictions, The School House Restaurant is happy to accommodate you. No matter your dietary needs, be sure to call ahead and make a reservation to avoid any disappointment!
I indulged in their whitefish dinner as I just can't resist fish when I'm so close to water! Fresh from Lake Huron, it is roasted and served with a basil beurre blanc along with some seasonal vegetables. Though if you're going to get anything off their menu, I can't recommend their crab cakes enough. Served with a spicy aioli sauce, these Thai crab and shrimp cakes are seriously to die for. I could have eaten twelve!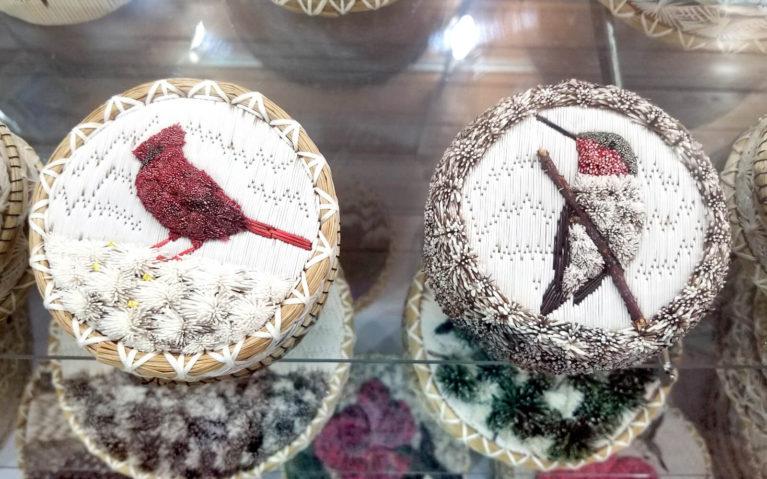 Do A Little Shopping
You won't find malls or big box stores on Manitoulin Island but there is plenty of great shopping to be found! There are a number of fantastic local stores for souvenirs, gifts and keepsakes.
Head west to Gore Bay and you'll find the My Ol' Blues outlet store. This locally-owned apparel company is designed by the owner Kathy who has been doing this for over 2 decades! Every piece of clothing is crafted by her in-house team to create truly Canadian clothing you'll love all year round. They also have 2 Blue Girlz which gives young girls from 9-14 years of age the chance to be a fashion designer as they learn about the industry from conception to manufacturing.
A must-stop is Lillian's in M'Chigeeng where you'll find traditional handmade items by Indigenous artists.  Their quill boxes have given the store recognition across North America! Admire the beautiful works made of birch bark, leather, sweetgrass and more. Attached to the shop is a local museum that features a huge selection of beautifully crafted baskets, beadwork, carvings and more. I bought some sweetgrass soap made on Manitoulin Island and absolutely adore it!
In the east, Sheguiandah's Ten Mile Point Trading Post just off of Highway 6. Inside you'll find an incredible selection of items from local Indigenous artisans from CDs to jewellery. Don't forget to stop at the lookout before you leave for some incredible views of Snake Island, Strawbery Island and more!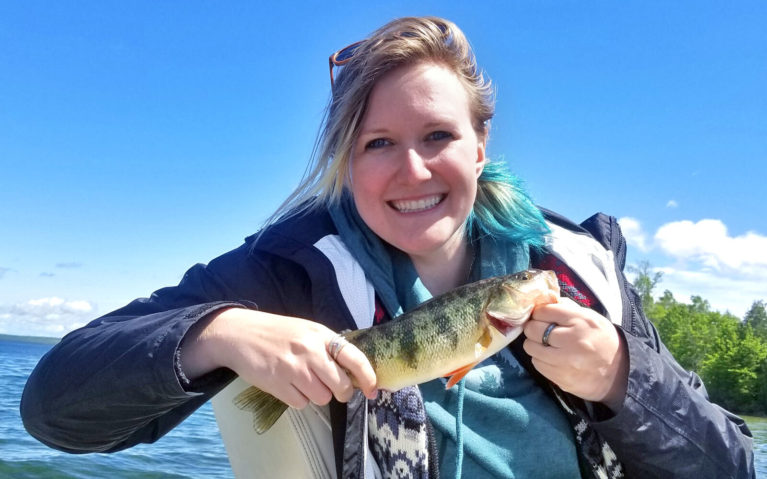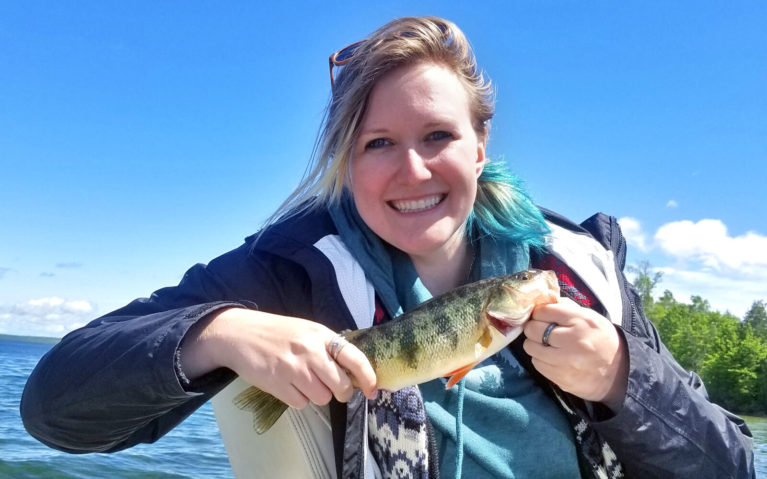 Cast a Line and Go Fishing
It's no secret that the fishing in Northern Ontario is incredible so why not see what you can catch? Your best bet is to go on a guided tour or hire a local guide. They know when and where the fish are biting so you won't come out empty-handed! I can say for certain that Lake Kagawong has plenty of fish who will happily nibble at your bait.
I had the pleasure of hitting the water on bass opening day with John of Mac's Camp where we had an afternoon of fun. Despite the unseasonably cool temperatures, plenty of bass were biting along with a few perch, too! Let's be honest though, I was just happy to be out on the water even if we didn't catch a single fish!
FUN FACT: Mac's Camp is the only place where you can buy leeches as bait on the island! Don't worry, they're not the type that suck blood but they sure are great for enticing fish!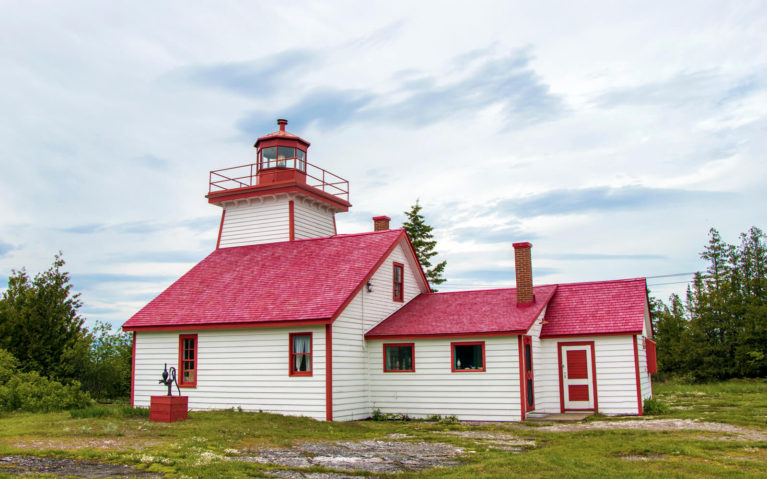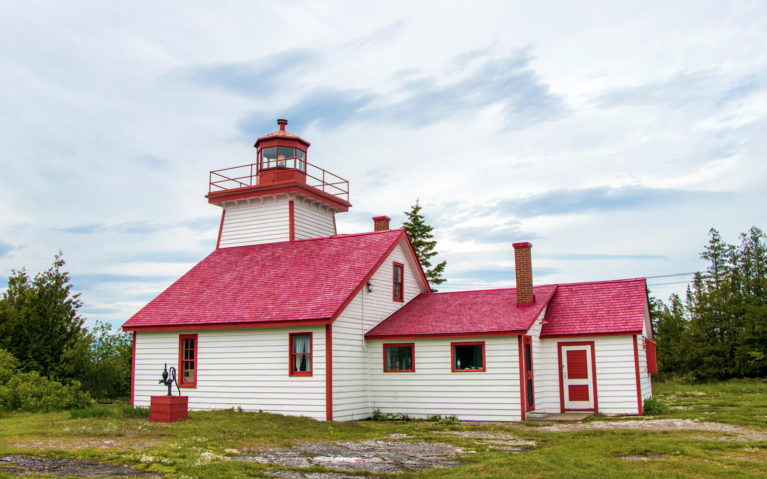 Hunt for Lighthouses Along The Shore
Where there's water, there are lighthouses! Being the largest freshwater island in the world, there are plenty of lighthouses to be explored. This alone makes for an awesome trip and a great way to explore every corner of Manitoulin Island. Some can be accessed on land while others can only be viewed from sightseeing boat tours.
Though the most loved lighthouse on the island is probably the Mississagi Lighthouse on the very western tip of Manitoulin Island. It's worth the trek to visit it as you can actually go inside and see how the lighthouse keeper lived. Built in 1873 by Canada's Department of Transport (now known as Fisheries and Oceans), its purpose was to guide ships through the rocky shores of the Mississagi Straits. Take your time exploring the four floors of the lighthouse and admire the views from the top!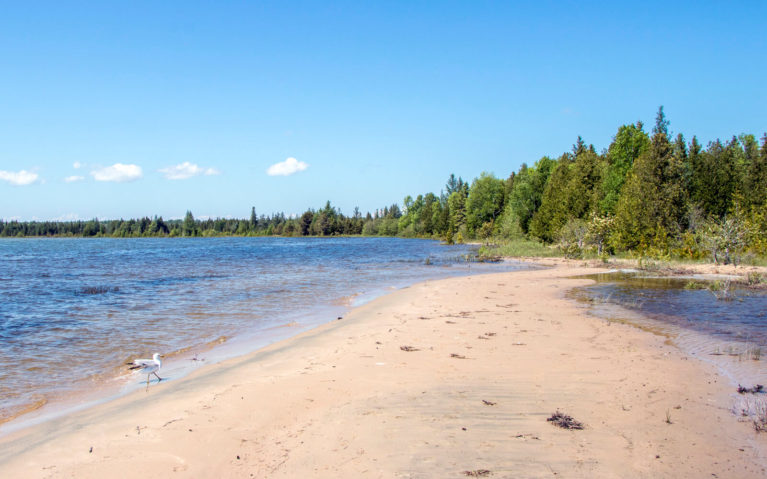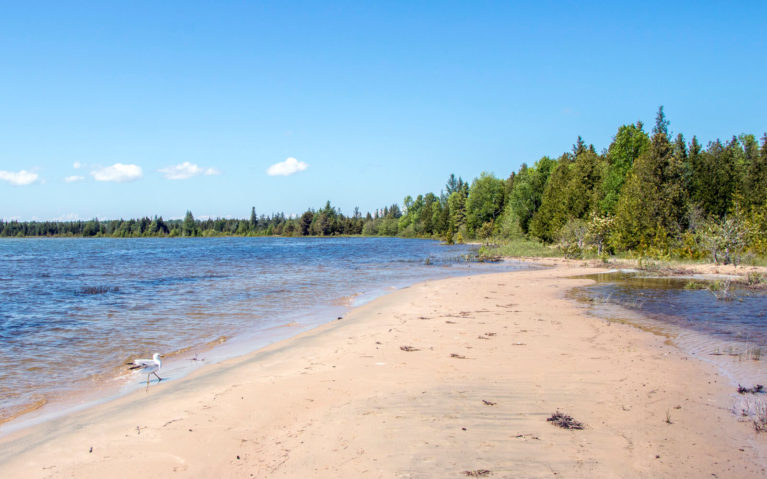 Explore Misery Bay Provincial Park
Say hello to the only provincial park on Manitoulin Island! Featuring 15 kilometres of hiking trails spread across 4 routes, it's a great way to enjoy the northern shores of Lake Huron. During my visit in mid-June, the visitors' centre was still closed however it offers a number of exhibits when it's open in July and August. Enjoy the beautiful views along the coastal trails and enjoy the sand between your toes. Though if the water levels are high, be prepared to find some trails washed out! Whether you spend an hour or an afternoon, it makes the perfect stop as you make your way to Meldrum Bay and the Mississagi Lighthouse.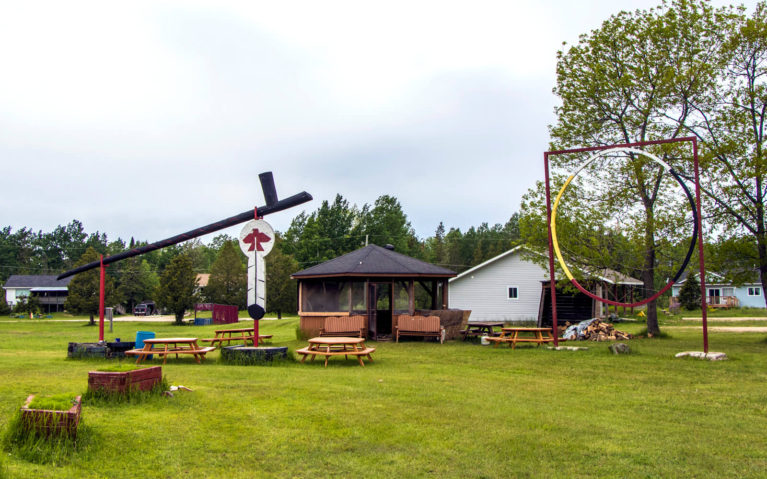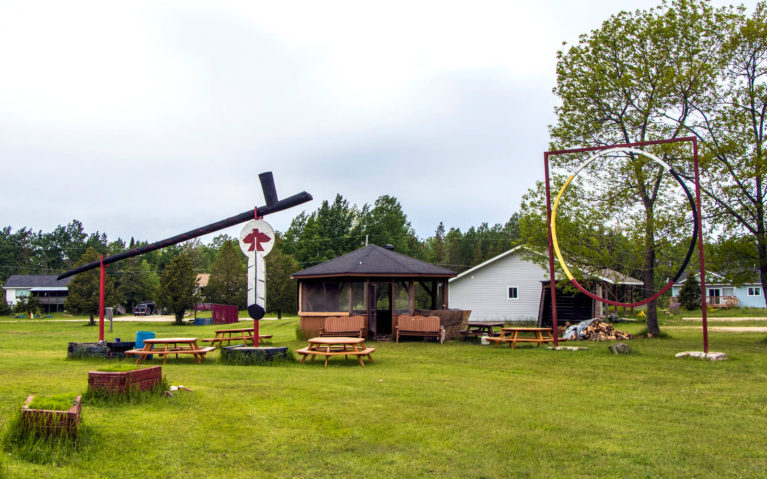 See the World's Largest Pow Wow Drum, Dreamcatcher & Peace Pipe
Along Highway 540 you'll see signs for Sheshegwaning First Nation. Follow the main road past the Pow Wow grounds until you come upon Zhiibaahaasing First Nation. Here you'll find the world's largest Pow Wow Drum, Dreamcatcher and Peace Pipe. Unfortunately for me, the Pow Wow Drum was not assembled when I visited but the other two were still a sight to see and well worth the detour!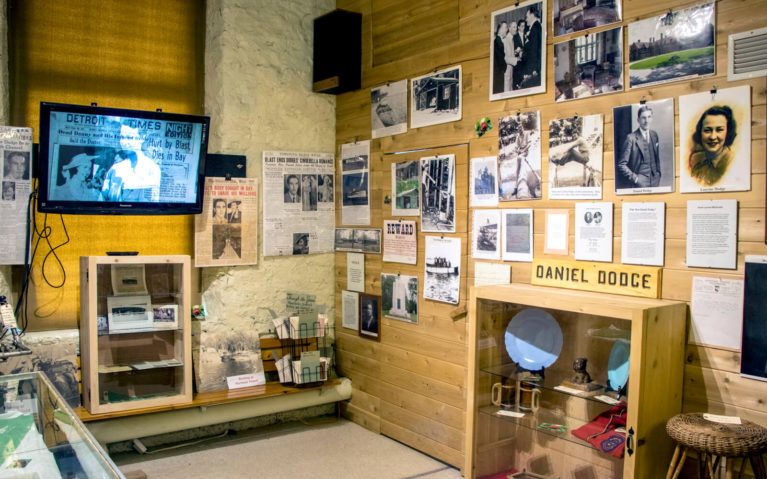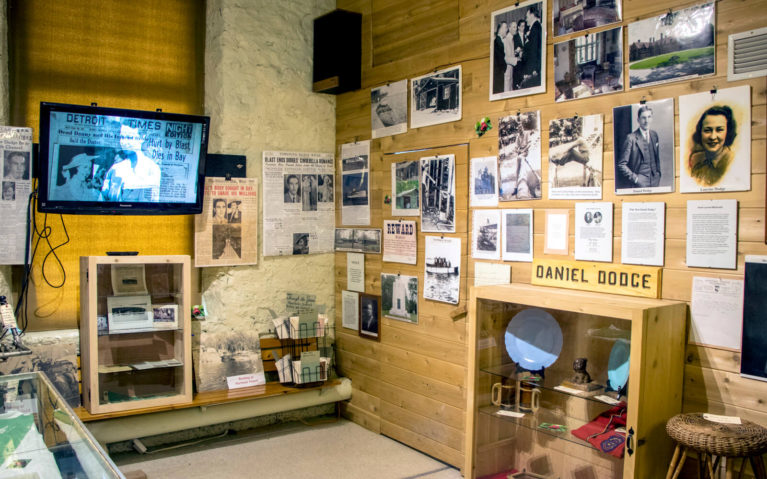 Step Back in Time at the Old Mill Heritage Centre
What was once a pulp mill now houses an art gallery, municipal office and the Old Mill Heritage Centre Museum. Take some time to wander through each of the exhibits and learn about the history of Kagawong and the industries relating to it. From Berry Boats to the brave men and women who have served in Canada's Armed Forces, the exhibits tell many stories. This includes the tale of Daniel Dodge, heir to the Dodge Motor Company, who was killed in an accidental dynamite explosion. Rumour has it he still haunts the area! There's also a collection of photos depicting each of the lighthouses found on Manitoulin Island.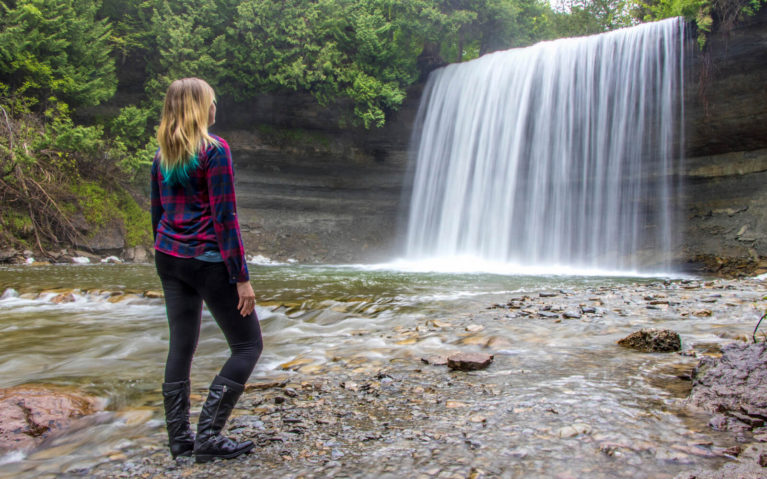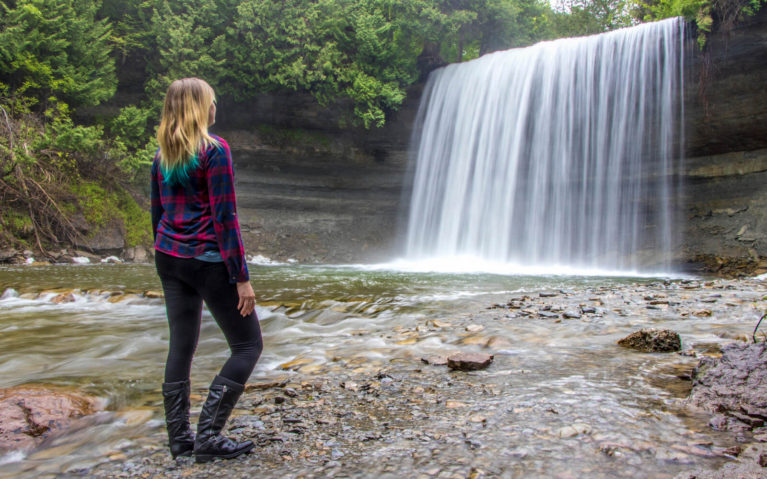 Visit Bridal Veil Falls
Head to the town of Kagawong where you'll find this majestic beauty. Bridal Veil Falls was the main reason Manitoulin Island first made it to my bucket list and she does not disappoint! You might be surprised to hear that she's another waterfall of the Niagara Escarpment as this iconic formation doesn't stop at Tobermory on the mainland. Descend down the metal staircase while catching great views of the falls as you go down. On hot summer days, it's not uncommon to see people swimming at the base of the falls!
INSIDER TIP: The parking lot right by Bridal Veil Falls is extremely small and if you park on the road, you'll be ticketed. Keep driving up Main Street in the direction of Mudge Bay and you'll see a number of spots on your right to pull off and park for the Kagawong River Trail. It may mean a little bit more walking but you won't have to worry about a parking ticket!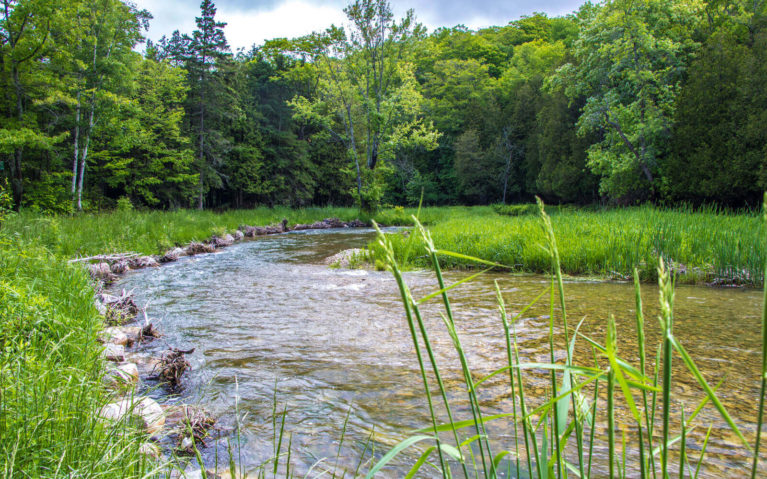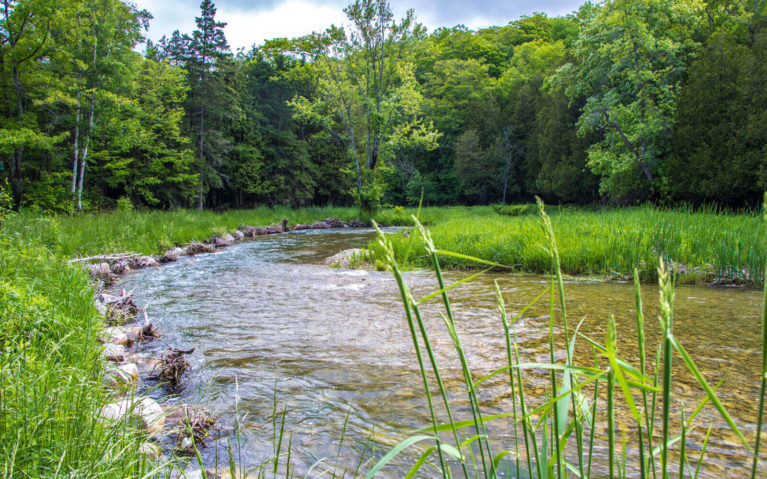 Tour the Kagawong River with Manitoulin Streams
Our waters are in peril and need to be protected now more than ever. What better way to work towards conserving our waterways than with a tour by a local conservation group? Manitoulin Streams works to rehabilitate and enhance these cold-water streams so they can contribute to the ecological, economic and social health not just of Manitoulin Island but the surrounding Great Lakes. Visit their website to find out more about their current initiatives as well as the incredible work they've done thus far.
I highly recommend enjoying a tour of the Kagawong River leading up to Bridal Veil Falls. It allows you to get additional perspectives of the area while learning about the amazing work they're doing on the island.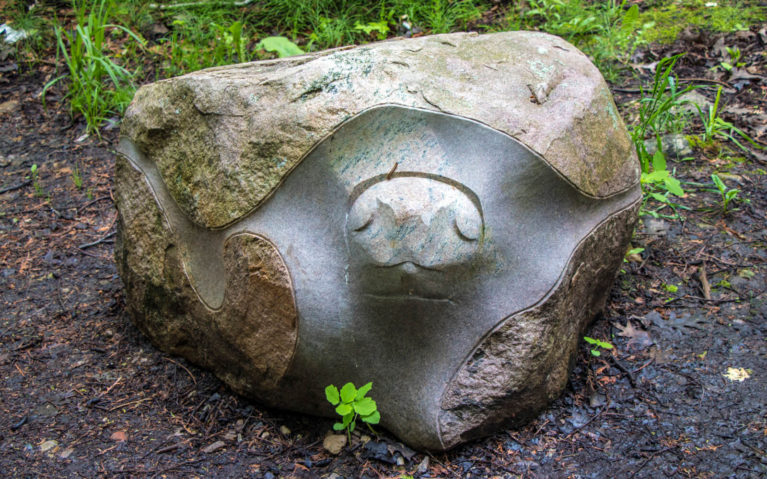 Enjoy the Public Art Across the Island
Whether you're admiring the work of the Chi Cheemaun or the works inside galleries and museums, there is plenty of art to be found across Manitoulin Island. One of the best places for this is the Billings Connection Trail in Kagawong. These accessible pieces attempt to illustrate the local heritage of the Anishinaabe people and non-Indigenous residents. It's the township's response to the Truth and Reconciliation Commission's calls to action which asks for public education that integrates Indigenous history into municipal programs.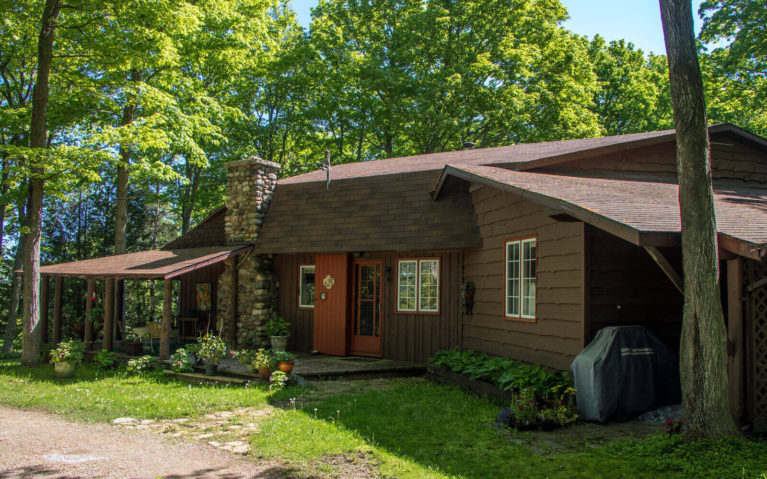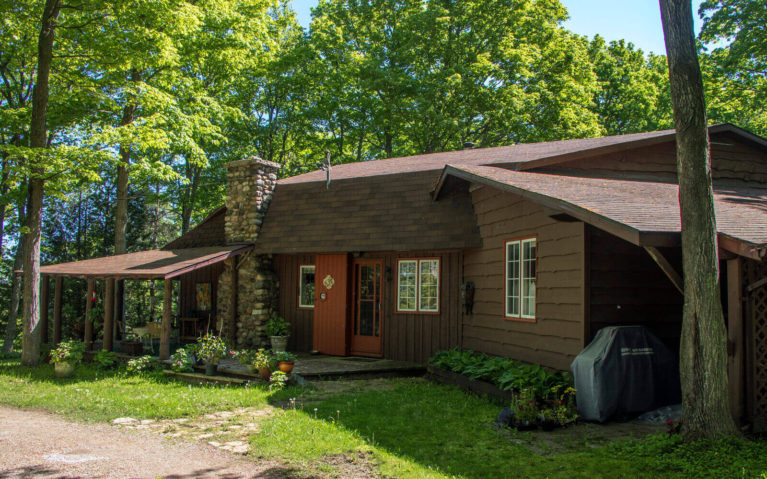 Manitoulin Island Accommodations
There is no shortage of amazing accommodation options across the island. Whether you're looking for a weekend getaway, to spend a week exploring or hop from town to town, there are accommodation options for you.
I highly recommend staying close to the centre of the island as this allows you to cut down travel time. It may not look like it but Manitoulin Island is bigger than you realize! Staying close to Spring Bay allows you to get to every corner of the island within 90 minutes or less. However, don't limit yourself! There are also great options in Providence Bay, Manitowaning, Little Current, Gore Bay and more.
House at Perivale
You're in for a real treat if you stay in the House at Perivale. This 2 bedroom, 1 bathroom residence is a quiet oasis with everything you could need during your stay. Located in Spring Bay, it features a large living room, sunroom, full kitchen and more. You'll sleep soundly along the shore of Lake Kagawong, especially after going for a paddle from the private dock across the way!
The House at Perivale isn't always available however as Shannon uses it to house guests of the gallery. If this sounds like somewhere you'd like to stay, please send me an email and I'll be happy to pass your information along to Shannon and she will contact you if it's available.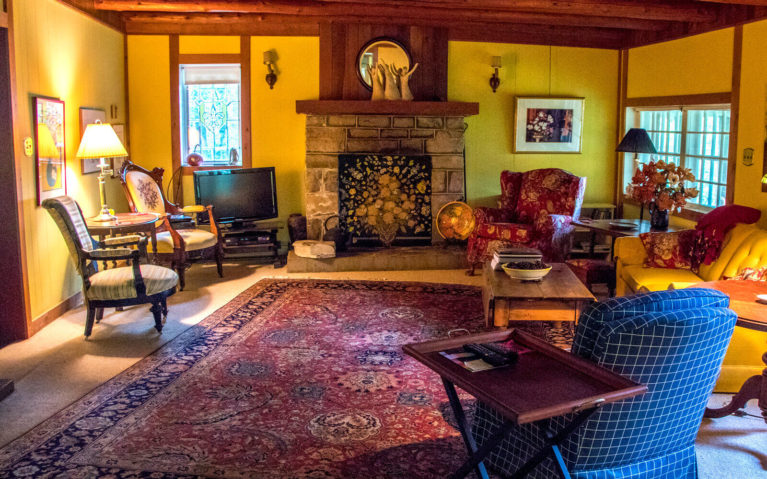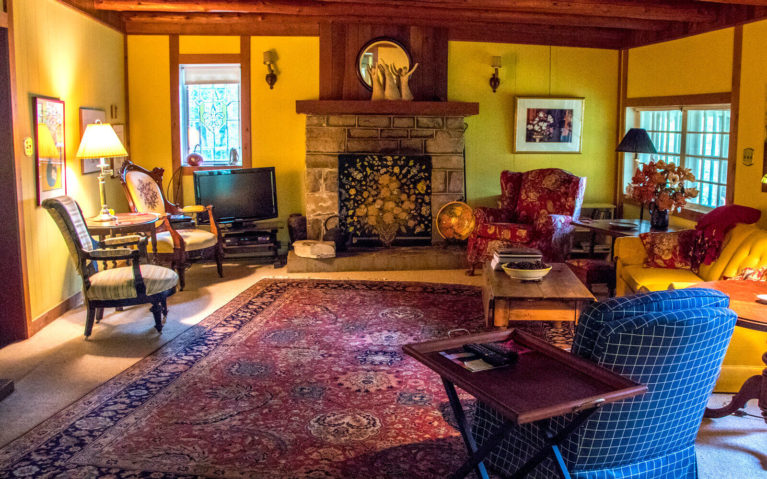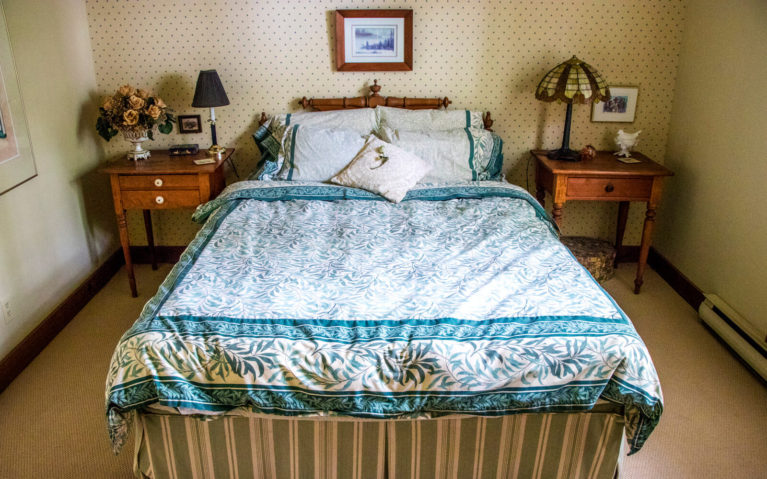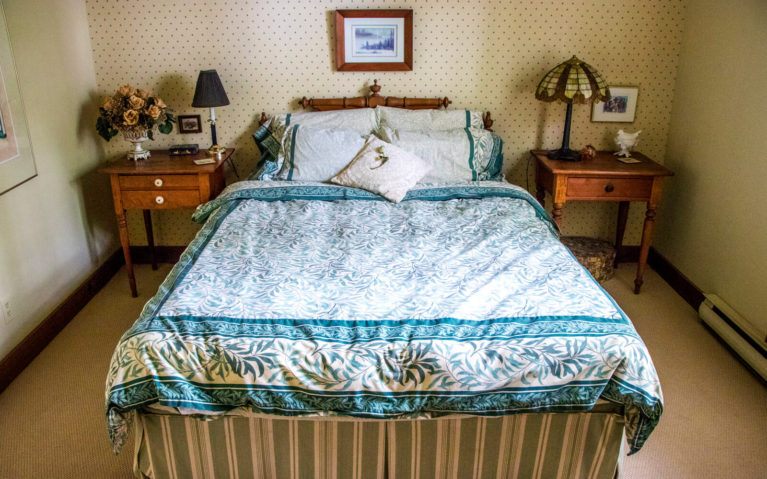 Other Manitoulin Island Hotels, Cottages & More
There are a number of different accommodation options on Manitoulin Island. In Spring Bay, Mac's Camp is another great location just a short drive away from the House at Perivale. They have cabins as well as campsites available for rent. Take a look at their rates and book online.
In Little Current, you'll find the Manitoulin Hotel and Conference Centre. Indigenous run and inspired by the incredible cultures and traditions of the Indigenous of Manidoowaaling, you will rest well in their newly updated rooms. While I haven't stayed there myself, I did indulge at their hotel restaurant and can tell you it's top-notch. Take a look at these reviews from previous guests and if you're convinced, book your room now!
There are a number of great Manitoulin Island accommodation options but if none of these are quite what you're looking for, you can also see what's available below. Additional options can be found on Airbnb if that's a better option for you. Don't forget to sign up with my Airbnb referral code for a discount on your first stay!
Making the Most of Your Manitoulin Island Itinerary
As I mentioned, Manitoulin Island is bigger than it looks and that will definitely take you by surprise. Whether you stay for a weekend or a week, you're going to wish you had more time to explore!
In order to best utilize your time, I highly recommend planning out your days based on destinations. If you're looking experience many of the items on this list, plan to stay for at least one week. I suggest staying close to the heart of the Island in Spring Bay or Providence Bay. That way you're close to the middle which cuts down driving time as you explore.
Staying for just a weekend? Stick to specific areas of the island and stay there. I'd recommend starting in Little Current and working your way around the island. However, if you're looking for a relaxing getaway and fewer people, you'll want to head west. Meldrum Bay is beautiful and quieter than most of the other destinations on the island. Take a look at this Manitoulin Island map to help plan your trip.
Ready to Visit Manitoulin Island?
As you can see, there are plenty of Manitoulin Island attractions for visitors of all ages. I'm seriously kicking myself that it's taken me this long to visit! As they say – better late than never, right? This truly is an incredible Ontario destination that everyone should experience at least once. Whether you plan a trip specifically to visit the island or make it a part of a northern Ontario road trip, you'll wish you had more time. That just means you have to return, right? I know I will be!
If you're looking for more great things to do in Northeastern Ontario…
Everything You Need to Know to Ensure a Stellar Trip to Tobermory
Your Guide to Hiking the Famous Grotto in Tobermory
Don't Miss These Amazing Stops Between Sudbury and Sault Ste Marie
Visit Onaping Falls, a Hidden Gem Outside of Sudbury
Plan a Winter Visit to Sudbury
Hop on the Agawa Canyon Tour Train
See Why Sault Ste Marie is Awesome in the Winter
Disclaimer
A biggest of thank yous to Shannon at the Perivale Gallery for inviting me to stay at the House at Perivale and explore Manitoulin Island. Her and Bill's hospitality is unmatched and I'm forever grateful for their kindness and hospitality! I enjoyed a few meals as well as my accommodation complimentary during my trip. Whether I paid out of pocket myself or otherwise, all experiences and opinions are truly my own – as always!
Read more in IBB's disclaimer and privacy policy.
Ready to Visit Manitoulin Island Canada? Pin it for later!