Virginia Road Trip: Exploring the Best of Interstate 81

When you ask people about Virginia, they often gravitate to Norfolk, Richmond and Virginia Beach. While the eastern side of the state may be beautiful, I'll have to take your word for it. For my first foray into the state, I opted for beauties like the Blue Ridge Parkway, the birthplace of Country Music and Shenandoah National Park. What do they all have in common? They're perfect destinations for an epic Virginia road trip along Interstate 81! If you love small towns, friendly people and the perfect balance between city and nature – this Virginia road trip itinerary is for you!
Interstate 81 Virginia Road Trip Itinerary
Just over 500km long, Virginia's section of the I-81 has so much to offer. If you adore scenic drives, natural wonders and all the perks of small-town hospitality, you'll absolutely love this trip. While you'll see that I had the pleasure of enjoying a number of incredible destinations along this route, there are plenty more to explore. You'll quickly discover that another trip is in order!
SOMETHING TO NOTE: This itinerary runs south to north because doing things backwards is fun. However, this doesn't mean you have to follow my tire treads! Also, I should mentioned I did this trip in 8 days and it was a whirlwind tour. Take as much time as you need in each of these destinations. No need to rush your Virigina road trip if you don't have to! I recommend dedicating one day to each town but you could easily stay longer.
Bristol, Virginia
After landing at the Tri-Cities Airport in Tennessee, I hopped in my rental car and made my way to my Virginia road trip's first destination. Once you cross the Virginia border, you'll notice an exit for the Welcome Center. Make a quick pit stop and snap a photo with the most southern LOVEwork along the highway! The Welcome Center also has plenty of great information (as well as washroom facilities – always important!) to help you plan your visit to Virginia.
A short drive up the I-81 and you'll find yourself in Bristol, Virginia. It's known as the birthplace of country music as well as being a popular destination for those who love NASCAR's roaring engines.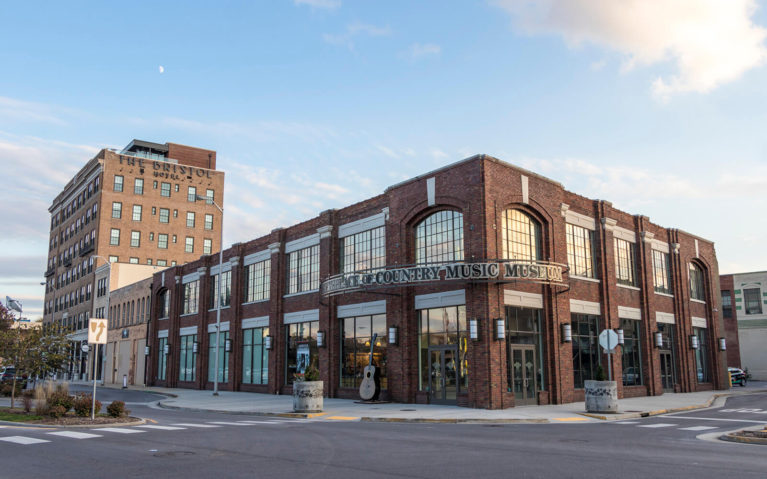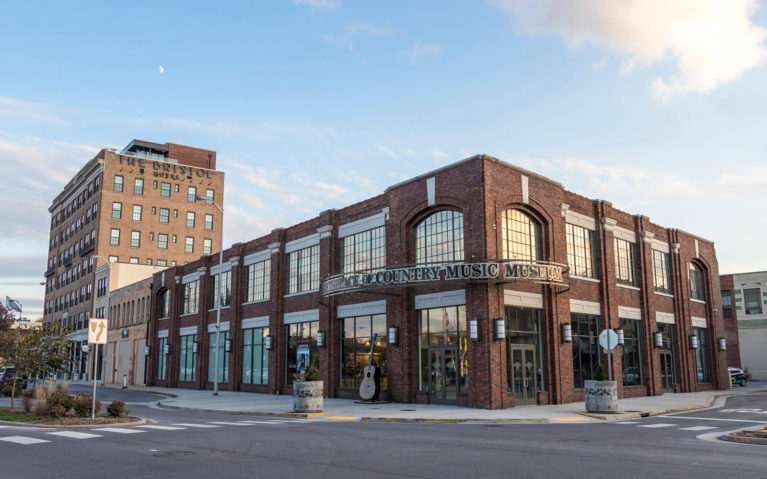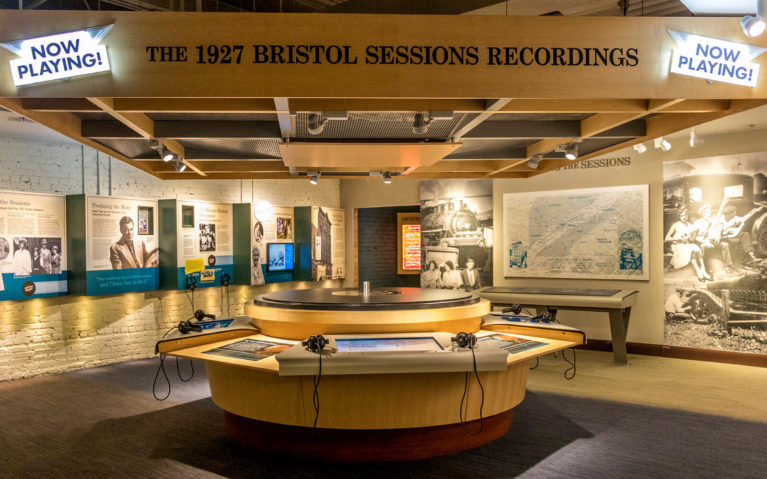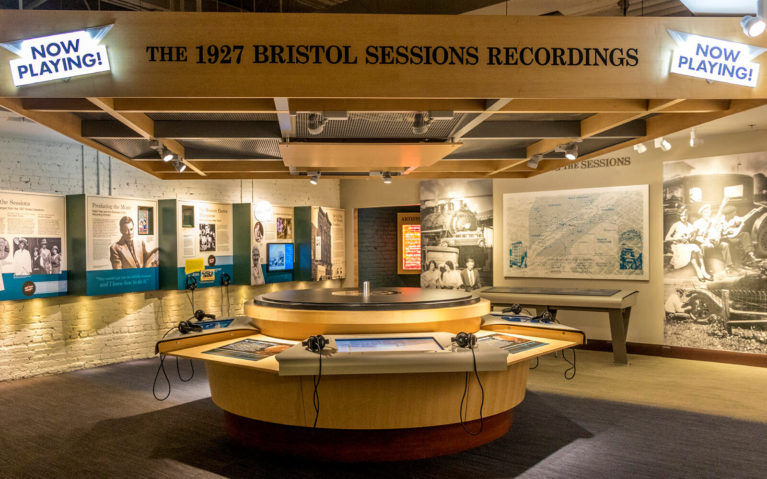 Speaking of country music, if you're going to go anywhere in Bristol, you have to visit the Birthplace of Country Music Museum. One of the most interactive museums I've ever visited, you'll learn all about how country music came to be at this affiliate of the Smithsonian Institution. Beginning with the 1927 Bristol Sessions, follow this musical journey as you learn about how these iconic recordings continue to influence music to this very day. Don't forget to try your hand at singing a country song in the recording booth! Even if you're not a huge fan of country music like me, this museum is not to be missed.
Afterwards, take a walk around town and check out a few of the adorable shops along State Street. It's aptly named as the state line divides Virginia and Tennessee. That's right, you can easily visit two states at once here! Want to visit another state for breakfast? No problem, just hop over to the other side and you'll be in Tennessee.
As you wander around Bristol, keep an eye out for the number of beautiful murals scattered throughout town. You'll also find another one of the Virginia LOVEworks tucked just off of State on Piedmont Avenue. If you're looking for a sweet treat, pop into Blackbird Bakery. From baklava to brownies, they have plenty of items to satisfy your sweet tooth, though I highly recommend getting a donut as that's their specialty!
FUN FACT: This is one of the few places in the USA where you can stand in two states at once. Don't miss out on snapping a photos of your feet in both states with one of the plaques! You know you want to.
By this point you're probably hungry as exploring will do that. I highly recommend heading to the Bristol Gardens & Grill where you'll be treated to some incredible home cooking. A once decrepit lot has been transformed into a thriving restaurant. You'll find greenhouses on the property which are used to grow a number of the ingredients they use – and you can even enjoy your meal in one of them! All the meat used is smoked daily in their very own smoker on the property as well. Chef Matt sure knows his meat as I devoured their signature sandwich, the BGG. Don't forget to try his amazing homemade hot sauces, too!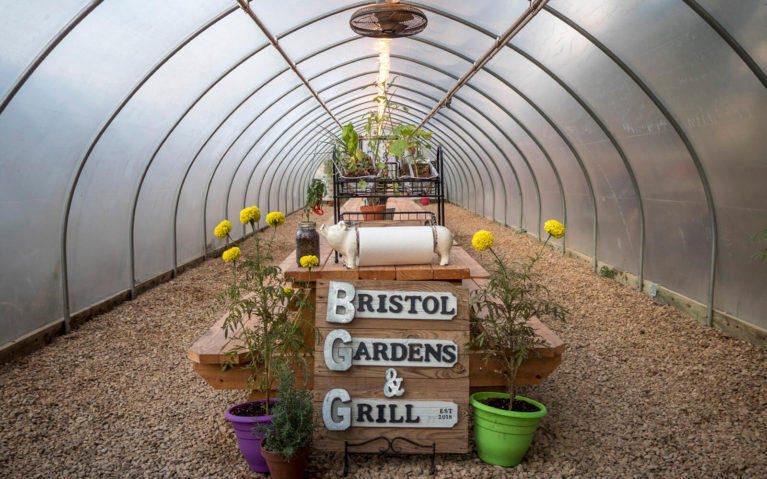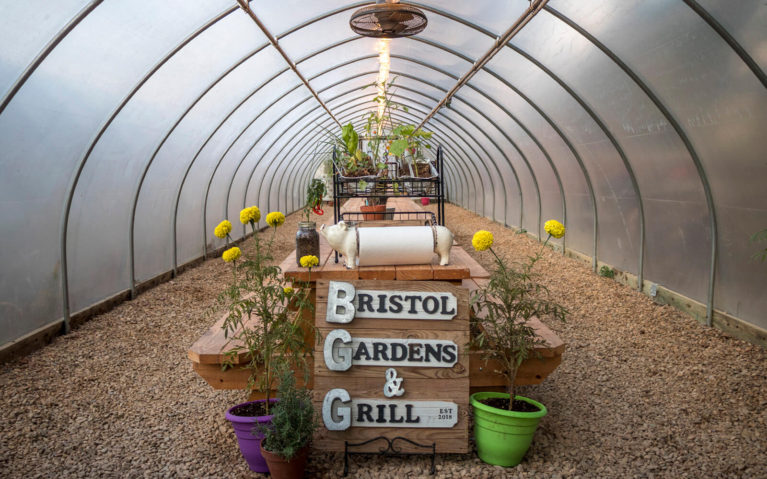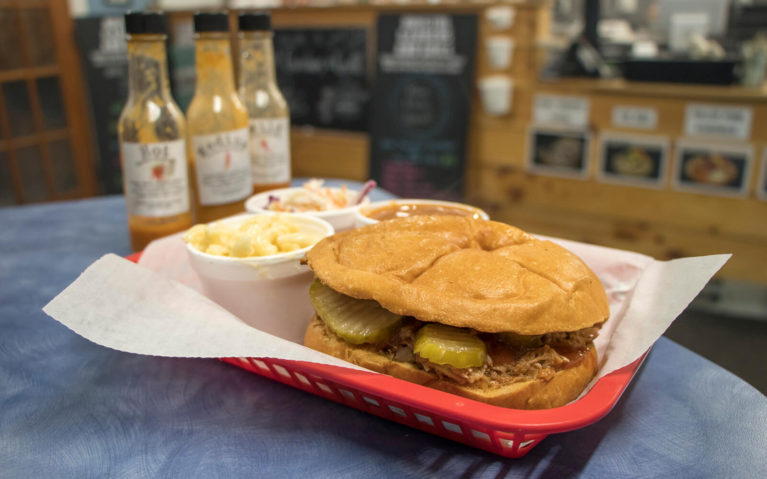 If you're looking for fantastic accommodation for the first night of your Virginia road trip, the Bristol Hotel is the place to stay. It won't take long for you to understand why it was rated the #4 hotel in the USA by Travel and Leisure in 2019! What was once Bristol's most prominent office building has been transformed into the town's first boutique hotel. Each of their 65 rooms is elegant with amenities like a mini-fridge, work desk, plush robes and of course – complimentary WiFi. You'll sleep soundly as you sink into the mountain of pillows that await you. The hardest part is getting out of bed!
Luckily the Bristol Hotel offers a beautiful rooftop bar offering the best views in the city. You'll catch a glimpse of the beautiful Appalachian Mountains while enjoying a cocktail or pint from one of the local breweries. It's the perfect way to cap off the night! Dying to stay here? Book your room right now or see what others have to stay about their experience staying here.
This is just scratching the surface of what Bristol has to offer. Send off summer as the Rhythm and Roots Reunion Festival takes over the town. Thousands of people descend for a weekend of the best bluegrass, country, Americana, & roots music! As I mentioned, you've also got Bristol Motor Speedway for those with a need for speed. Then there's the Bristol Caverns, Sugar Hollow Park, craft beer, great eats… yeah, Bristol is one seriously cool town that's underrated.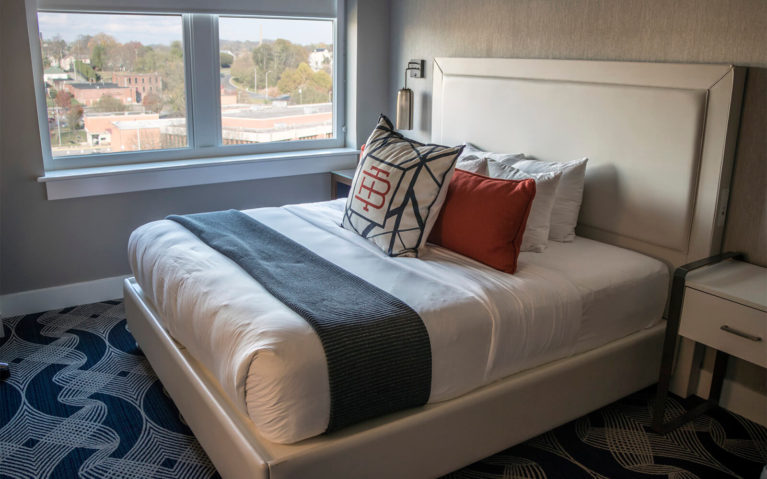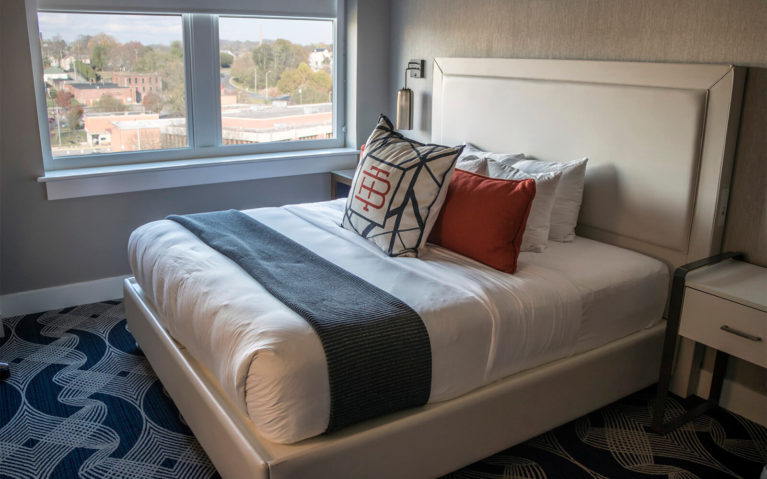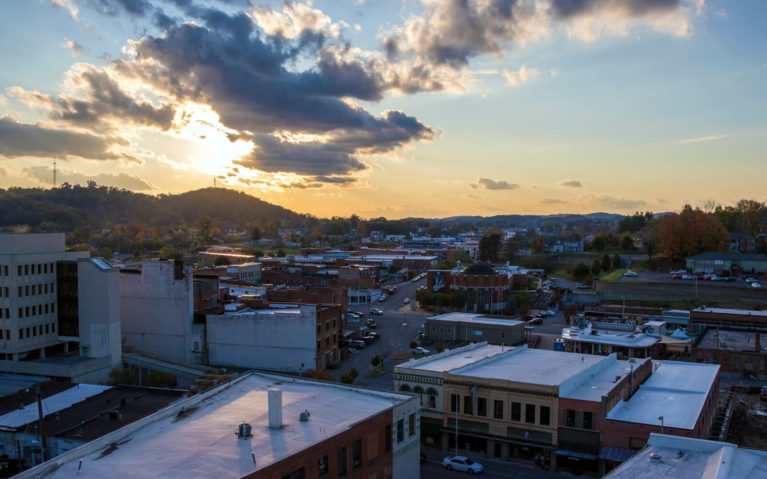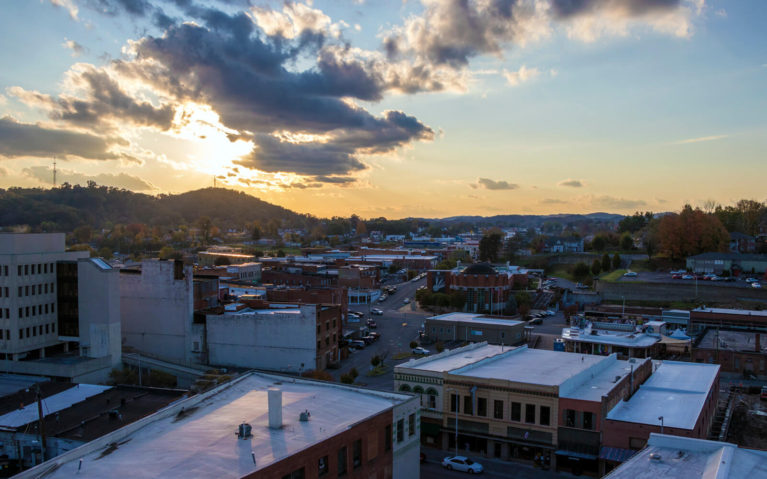 Abingdon, Virginia
Once it's time to say goodbye to Bristol, head 20 minutes up I-81 towards the town of Abingdon. Your first order of business should be a visit to the Southwest Virginia Cultural Center & Marketplace. This is way more than just a visitors' centre!
Inside you'll find items from a number of local artisans across the region. Southwest Virginia consists of 19 counties – making the region alone bigger than some of the states found in the USA! This could be the makings of a future Virginia road trip as you learn about each county's unique charm. Don't miss trying your hand at a banjo or ukelele and trust me when I say it's much harder than it looks! I apologize again to everyone who had to listen to me "play".
Now it's time to explore the heart of Abingdon! Founded in 1778, the town was located on the well-known Great Road which pioneers used to traverse through the Blue Ridge Mountains. It has since grown into a beautiful town with plenty of gorgeous architecture. The entire downtown area is on the National Register of Historic Places in the USA! You must stop by The Tavern, Abingdon's oldest building. Built in 1779, it's an absolute icon that you have to stop by for a drink or just to check out this unique building!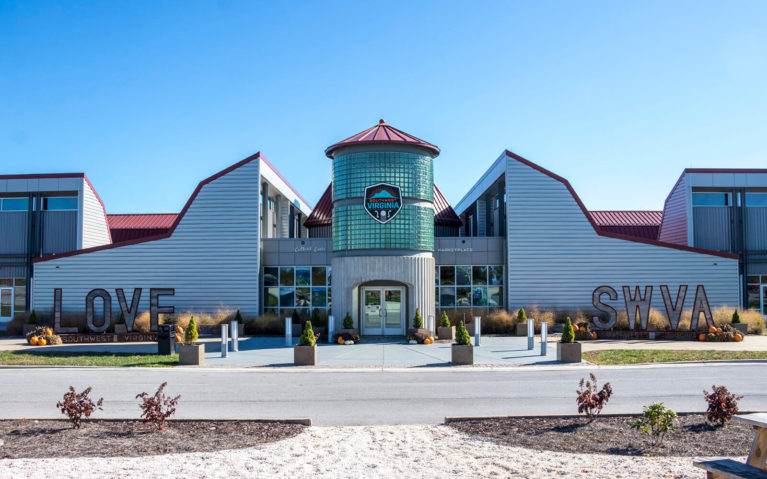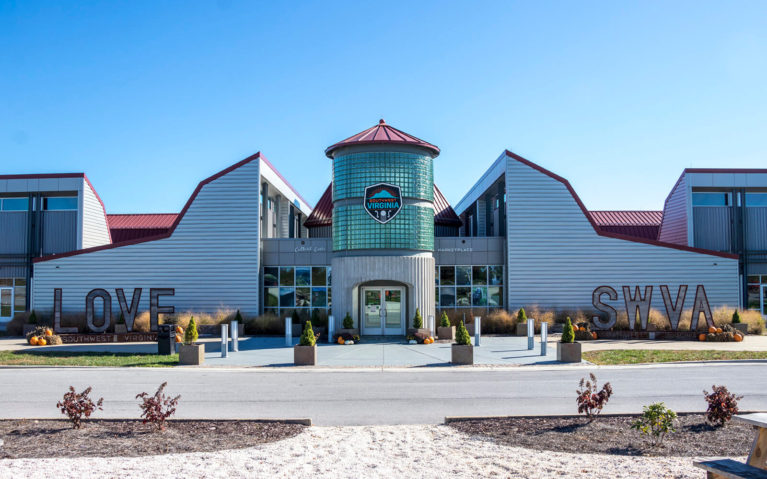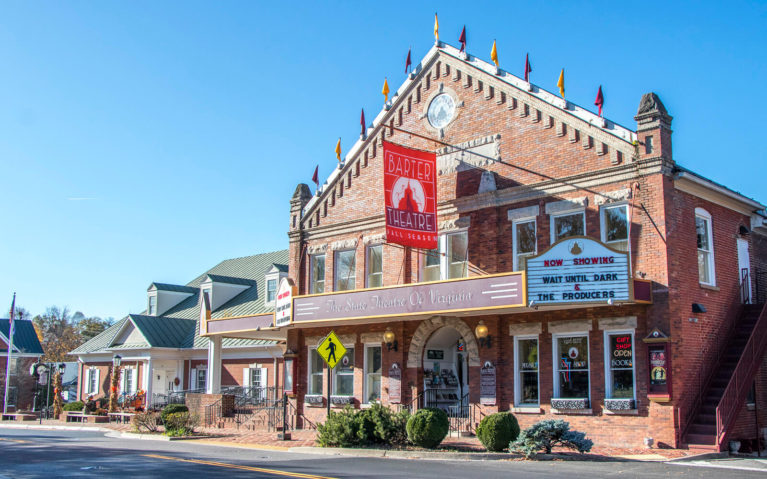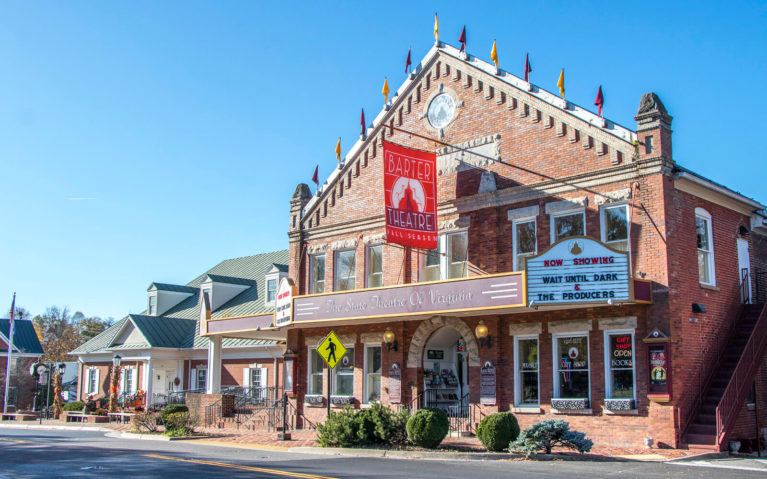 What all is there to do in Abingdon? Lots! One of the most prominent establishments has to be the Barter Theatre. They've offered performances year-round that draw crowds from across the country since 1933. From the day they opened their doors, the theatre operated on the ideology that "With vegetables you cannot sell, you can buy a good laugh."
Back in the day, it was 40 cents for admission… or the equivalent in produce. Yes that's right, you could purchase your admission with carrots, corn and even milk right from the cow – true story! Hence the name Barter Theatre. To this day the tradition lives on as at least one performance every year accepts donations as admission during Barter Days in June. All proceeds collected go to Feeding America Southwest Virginia.
If art is your thing, you have to pop into the Arts Depot. It was established in 1990 as a non-profit, community-based art gallery to help promote and support the artists of the area while providing educational opportunities for the surrounding community. Inside what used to be the Norfolk and Southern freight station you'll now find a number of studio spaces where you can watch the artists at work.
In need of some fresh air? Luckily the Virginia Creeper Trail starts in Abingdon! This 55km recreational trail follows the old rail route from Abingdon through to Damascus to finish at the Virginia-North Carolina border. It's a popular destination for hikers, cyclists and outdoor enthusiasts alike as you enjoy incredible views while reconnecting with nature. You can rent bikes at the start of the trail from the Virginia Creeper Trail Bike Shop for the journey. They also offer a shuttle service that will take you to the end of the Abingdon-Damascus section so you can ride downhill back to the start of the trail.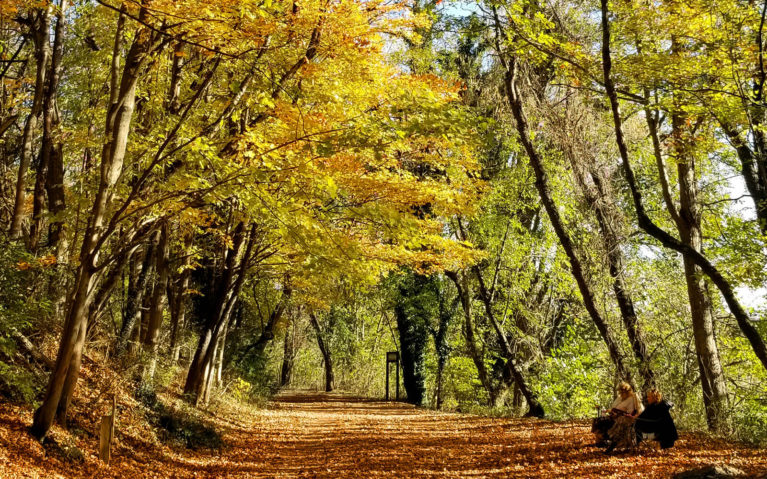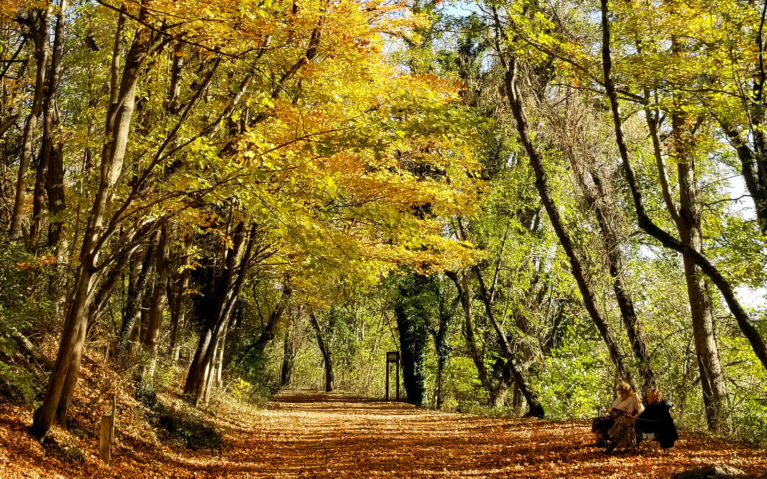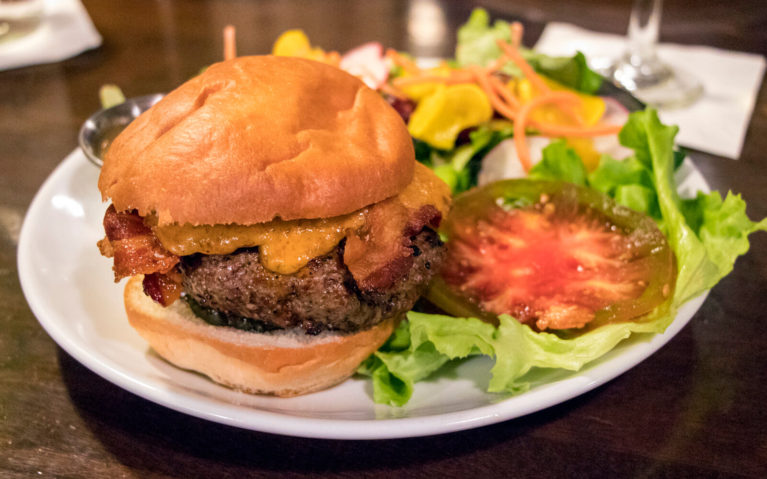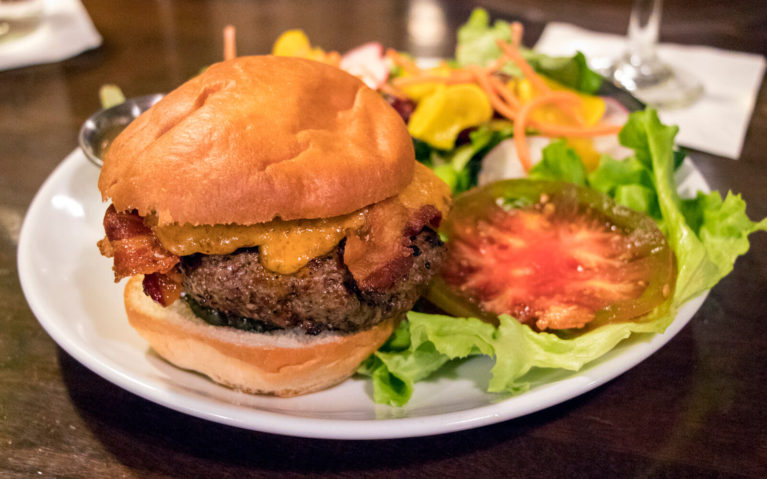 Ranked as the #1 Small Town Food Scene in 2019 by USA Today, there is no shortage of great eats in Abingdon. However, I highly recommend taking a little detour to Meadowview. You're on a Virginia road trip after all!
It's home to the Harvest Table Restaurant established by well-known author Barbara Kingsolver and her husband Steven Hopp. Inspired by their experiment to eat locally (and in-season) for one full year, this farm-to-table restaurant offers the best of each season. Everything is sourced as local as possible with regional items stepping in when need be. You can't go wrong with anything on their menu, though I couldn't resist indulging in their special burger as the beef is sourced from the Kingfisher Farm itself!
Where should you rest your head during your visit to Abingdon? It has to be the grande dame of hotels – The Martha Washington. Once a private residence and then a women's college, it's now a 4-star hotel where you'll get the 5-star treatment. Gorgeous decor is paired with impeccable service and amenities like an outdoor multi-level jacuzzi, on-site spa and eloquent rooms to ensure one of the best hotel stays you'll ever enjoy. Plus I guarantee the complimentary glass of port wine at bedtime will help you sleep like a baby! Book your room now or take a look at what other guests have to say about this incredible hotel.
As you can see, Abingdon is the perfect balance of the arts, history and the outdoors. Whether you come in for a Broadway show or to tackle the trails, you'll be hoping to extend your stay or start planning a return visit. No matter your interests, you'll 'find your way to play' in Abingdon!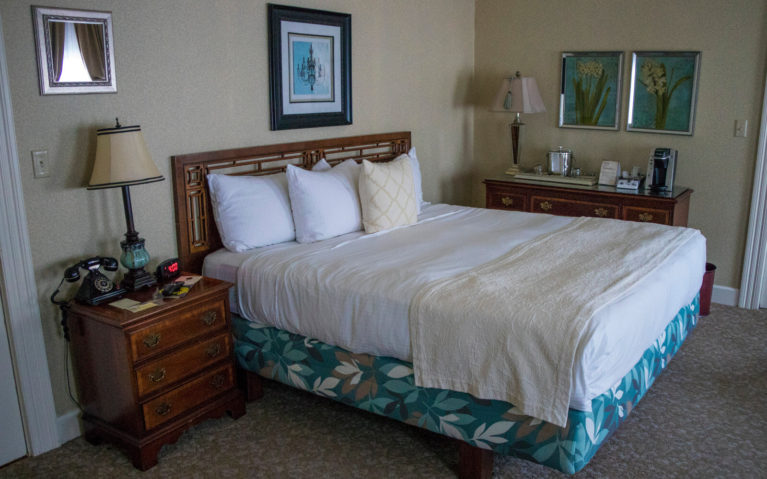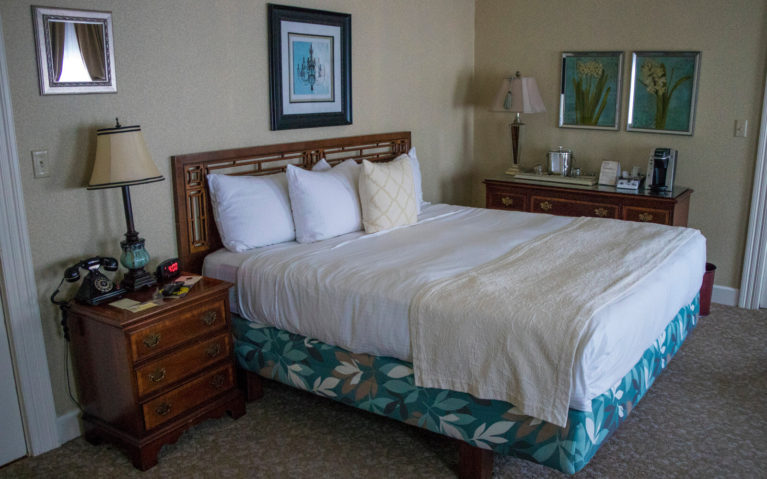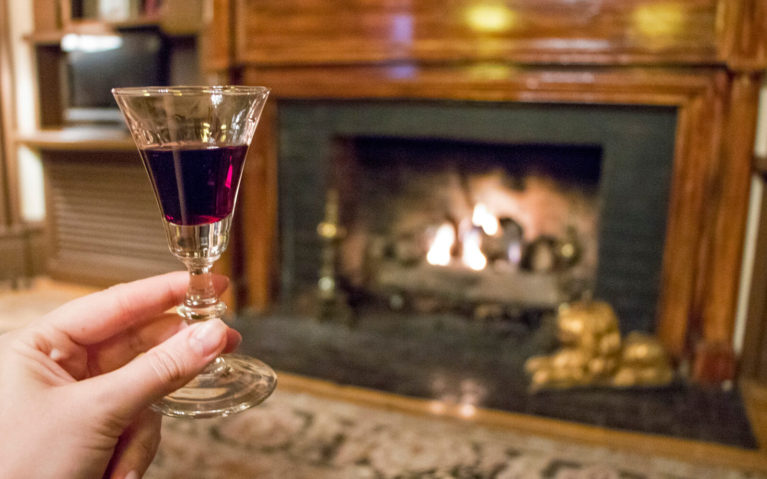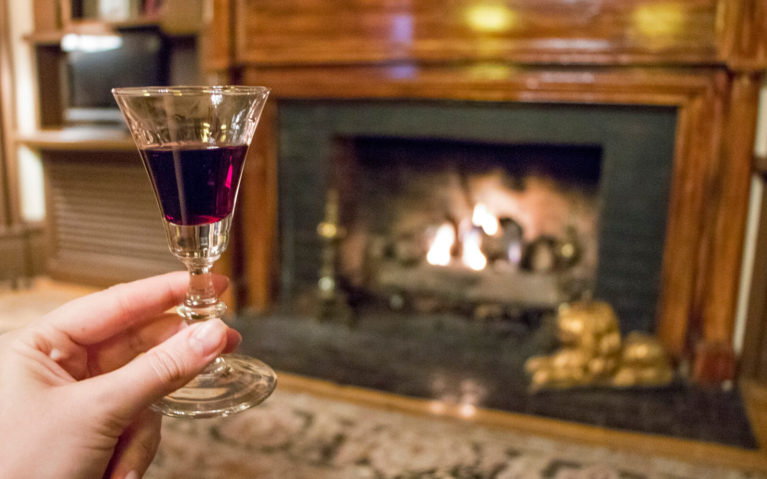 Tazewell County, Virginia
Looking for a scenic drive? How about some delicious home-cooked eats? Great beer is never a bad thing, especially if it's a treat after plenty of adventuring. Luckily, Tazewell County has you covered!
Time for a slight detour from the I-81 for the Back of the Dragon. This incredible 51.5km (32 miles) drive along Route 16 attracts sports car enthusiasts and motorcycle riders from across the globe. You'll sink into your seat as you tackle sharp serpentines all while enjoying the incredible views this route has to offer. In peak season, you can rent a Polaris Slingshot and take your ride to the next level!
Don't forget to visit the welcome centre where you might run into Larry Davidson, the driving force behind Back of the Dragon. This gentleman is an absolute gem and has so many stories to tell. Take a moment to reminisce about your ride and snag a photo with the dragon before continuing onwards.
I'll cheers to that and you should too so head on over to Painted Peak Brewing Company. Named after Wynne Peak which is referred by locals as "painted peak", it also pays homage to the Indigenous pictographs of the area. Tazewell has been affected by the decline in the coal industry and PPBC looks to not only draw strength from these early ancestors but also honour them as they fight for their existence. Grab a pint and put your feet up after your exhilarating drive. I highly recommend their Raspberry Mountain Lager and be sure to say hi to Dave for me!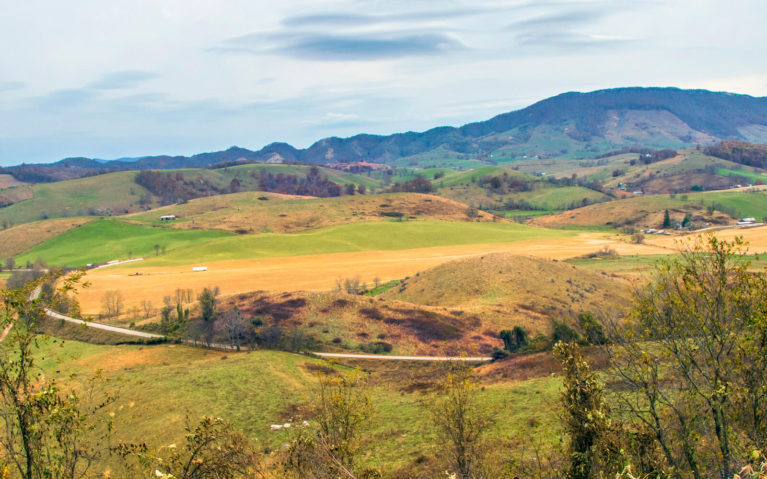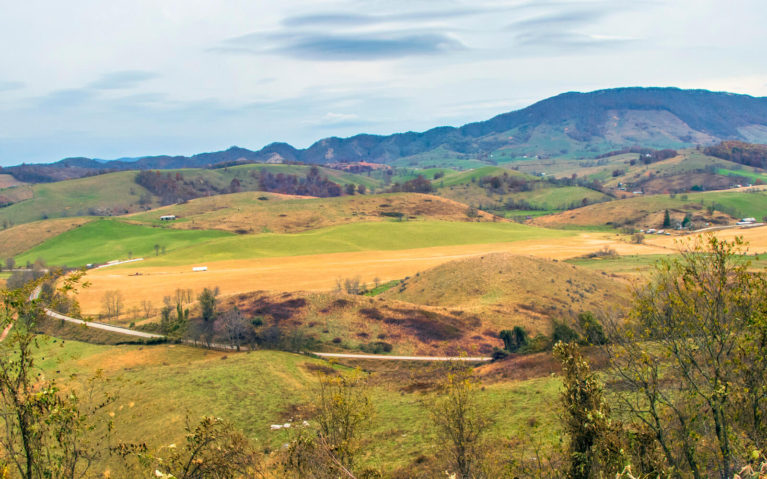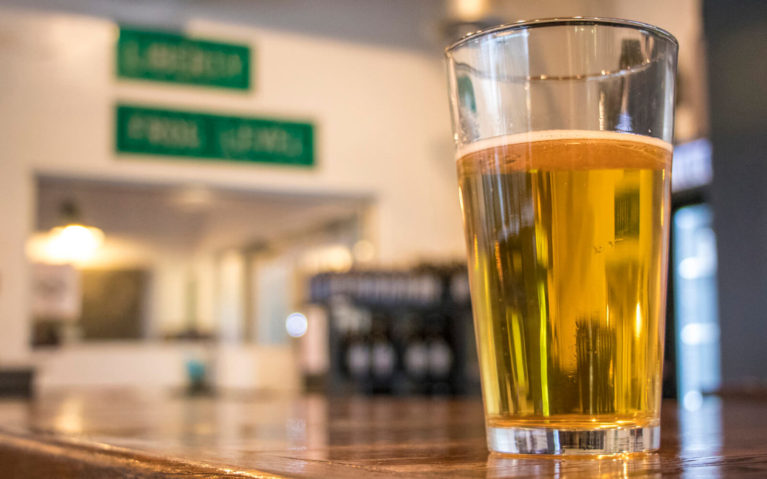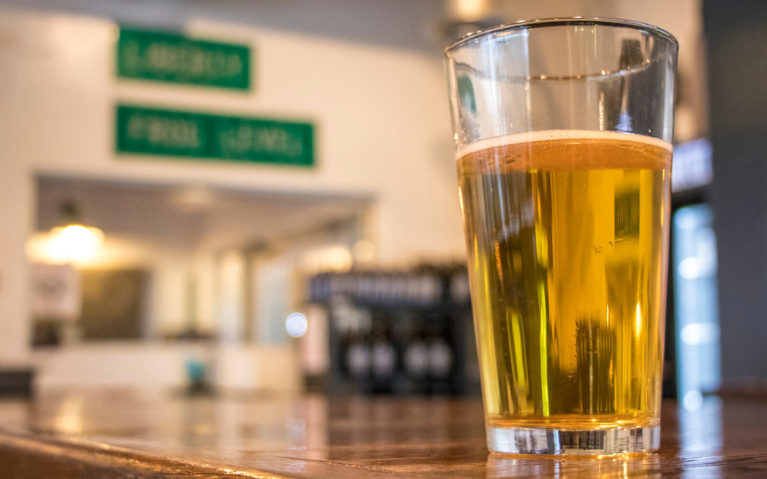 Are you jonesing for another epic riding route? Of course you are, you're on a Virginia road trip! Take what visitors refer to as "the Scorpion" and follow it to Burke's Garden.
First surveyed back in 1748, one of the men James Burke left his potato peels after cooking. Upon returning one year later, potatoes were growing right where he tossed them, hence the name "Burke's Garden". This area is Virginia's largest rural historic district as well as home to Virginia's highest valley. This isolated valley is surrounded by mountain ranges which is often why it's referred to as "God's Thumbprint". Do a quick Google search for some aerial photos and you'll see what I mean.
Unfortunately the weather wasn't on my side during my visit but that just means I need to return! If you're hungry, head on over to Mattie's where her delicious Amish home cooking will be the perfect fuel for your adventures.
FUN FACT: Burke's Garden was actually Vanderbilt's first choice for the Biltmore, however the residents wouldn't sell their land which forced him to choose another location which became Asheville, North Carolina.
If you still haven't had enough of an adrenaline boost, make your way to Trailhead ATV Resort. Rain or shine, these guys know off-roading! You'll have a blast (and possibly get a little muddy) while tackling the Hatfield-McCoy and Spearhead Trails Systems.
The Hatfield-McCoy system takes you into West Virginia as you wind through the southern mountains on one of the largest off-highway vehicle trail systems on the planet! Or you can head deep into the woods with the Spearhead trails as you explore just under 100km (60 miles). There's plenty to discover including a number of beautiful vistas. Rain won't put a damper on this adventure as it just adds an extra layer of fun. Pick up your trail permit at the campground store and get motoring!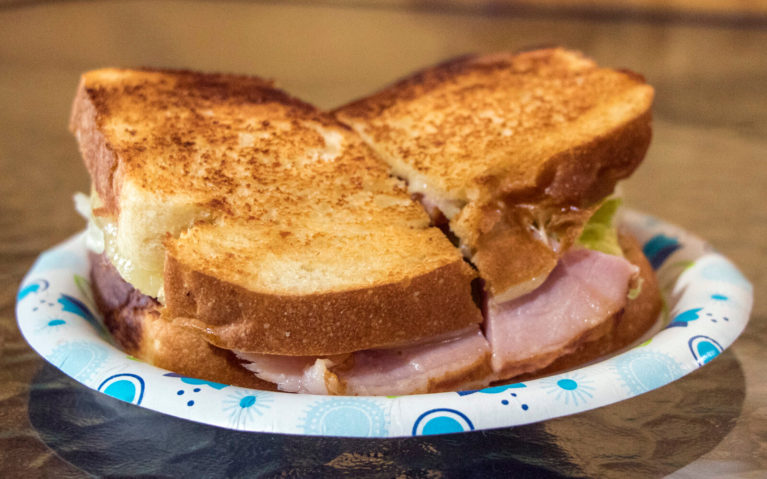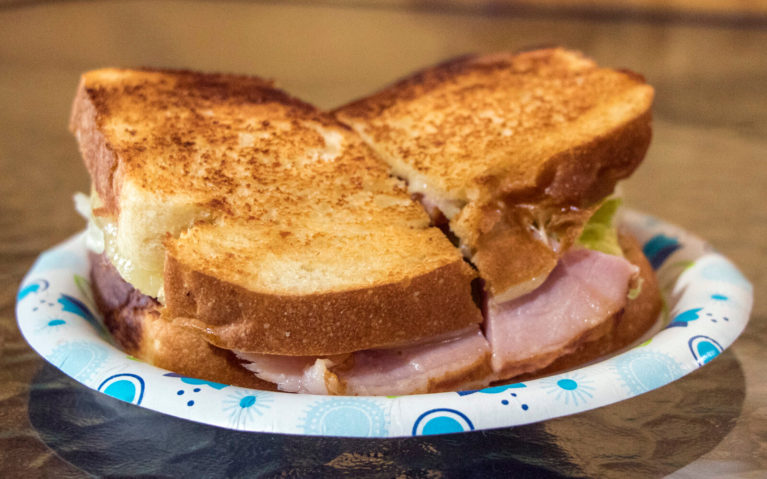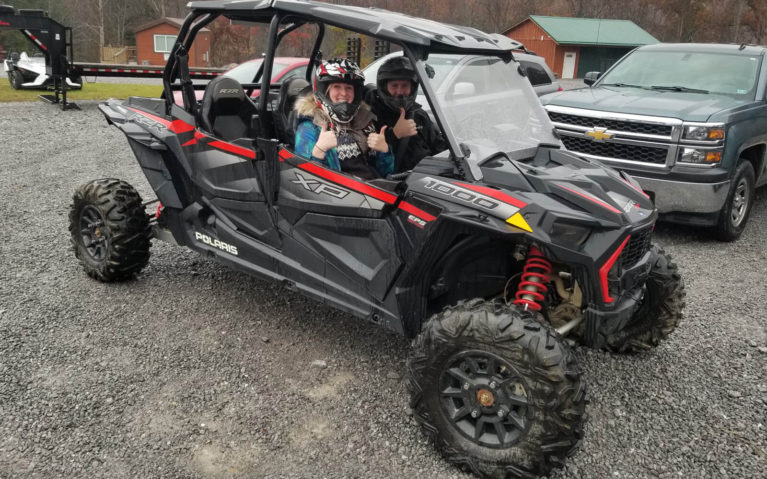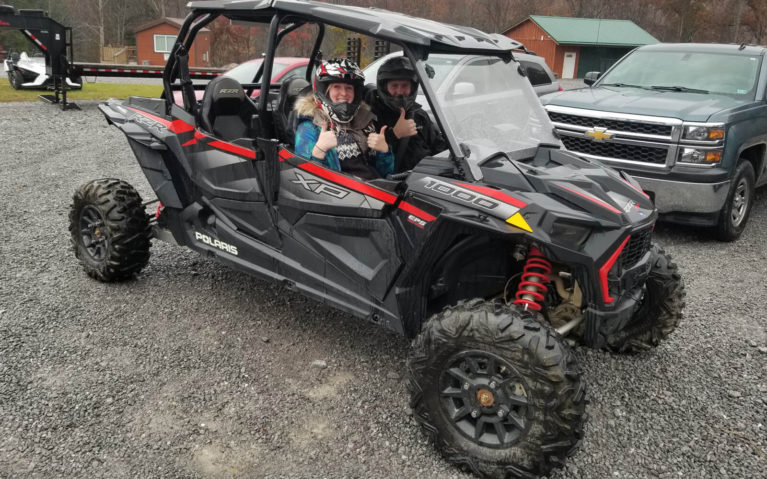 Wytheville, Virginia
When the town's slogan is "there's only one", you know you'll be in for a real treat. Wytheville is one of the most adorable small towns I've ever had the pleasure of visiting. Despite my visit being less than 24 hours (told you this was a whirlwind Virginia road trip), I was able to enjoy a number of aspects that make this town a must-visit!
I recommend first getting acquainted with some of the history surrounding Wytheville. There are a number of great museums in town including the Thomas J Boyd Museum, named after the 'Father of Wytheville'. It discusses the towns early days, its role in the Civil War as well as the 1950 polio epidemic which shook the town to its core. Known as the 'summer without children', it was the worst polio outbreak per capita in the entire country.
There's also the Great Lakes to Florida Highway Museum as Wytheville was a popular stop along the old Route 21. Before the interstate system was created, this was the main route people took to get from north of Ohio down south for a dose of Florida sunshine. Check out the memorabilia as you explore this old Texaco gas station. While I didn't take Route 21 myself, it had me reminiscing about the trips my parents and I used to take down to Florida when I was a kid!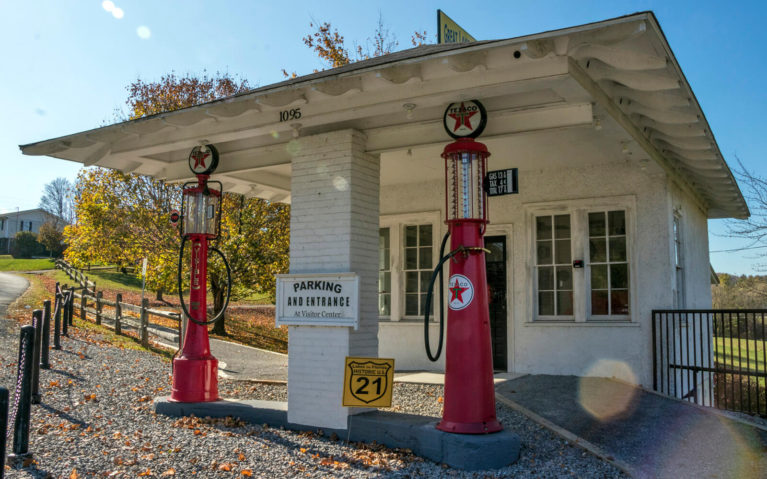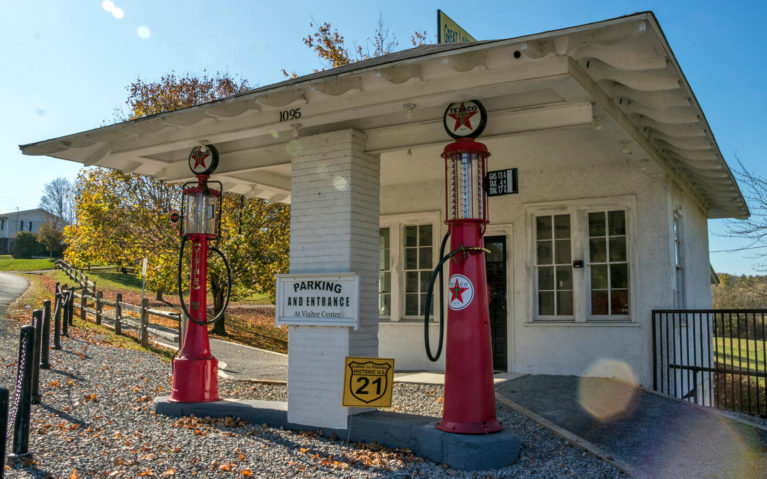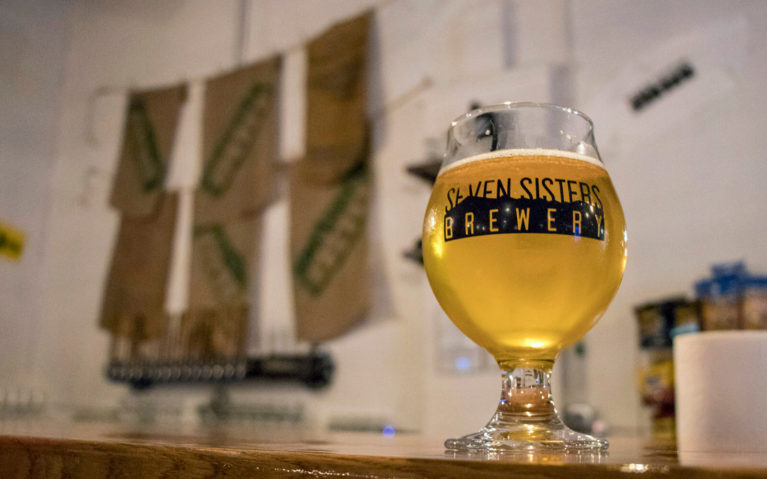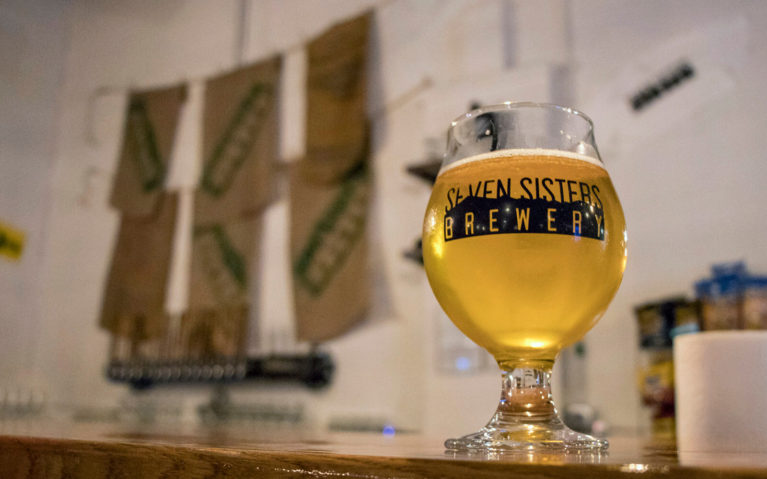 Afterwards, take a walk around the heart of town. You'll find a number of great shops, art galleries and more as you explore. Be sure to keep an eye out for the plethora of public art, including the iconic larger than life pencil above Wytheville Office Supplies, yet another LOVEworks, murals depicting the history of the town and much more. If you'd like to rest your feet over a pint, I recommend visiting one (or both) of the local breweries.
7 Dogs Brewpub is Wytheville's original brewery and is inspired by a number of furry family members who made a lasting impression. You'll see paintings of each pup hanging in the brewery including their grey cat Dizzy who was said to keep all the canines in line!
Seven Sisters Brewery is the newest brewery in town and a tribute to Wytheville's well-travelled trail. However, this is not your average brewery! David, the owner, aimed to create a community space where children (both two and four-legged) can enjoy an outing in a family-oriented atmosphere. Try your hand at tic-tac-toe, Connect Four or cornhole in the game hall or settle in and enjoy some great conversation with friends and family.
While there are plenty of great restaurants to eat at in Wytheville, the Log House 1776 Restaurant is an entire experience. This expansive establishment boasts some incredible eats, a hopping bar in the evenings, a gift shop with more trinkets and knick-knacks than you can shake a stick at, and more. Each time you dine your visit will be unique as there are a number of rooms to choose from, including a beautiful garden area in the summer months.
Paired with delicious meals like their swordfish, you'll be in foodie heaven. Be sure to order the stuffed yellow crookneck squash as one of your vegetables as it's a house specialty. It's so good they refuse to give out the recipe despite numerous locals and visitors asking for it! Oh, and don't forget the corn fritters – they're a must. It's hard to put the Log House 1776 Restaurant into words, but the best way I can describe it is like a choose your own adventure where you never know what new realm you'll find each time you turn a corner!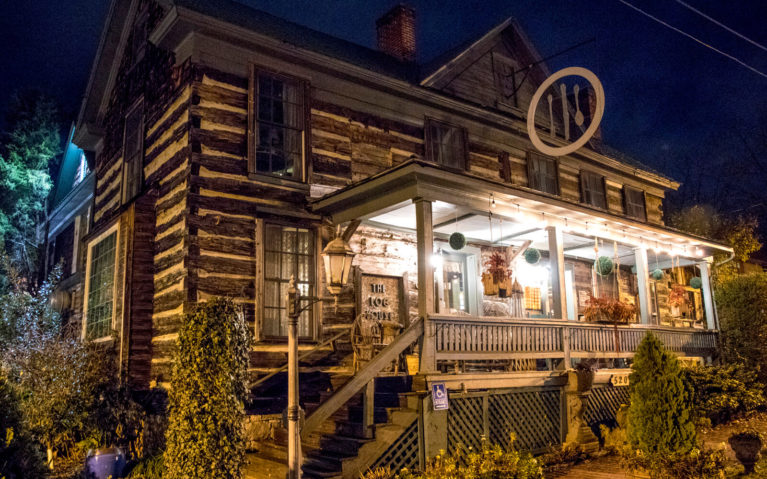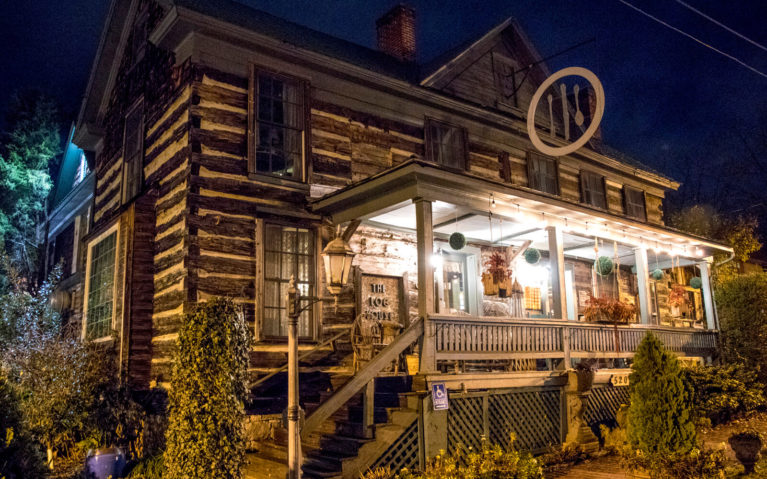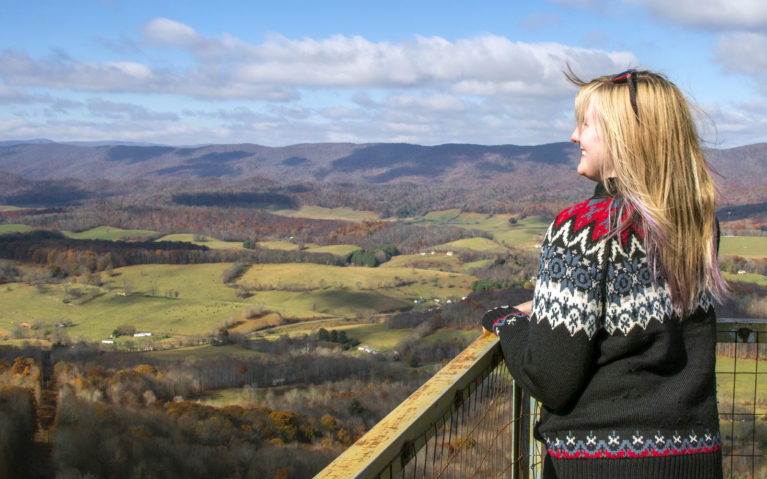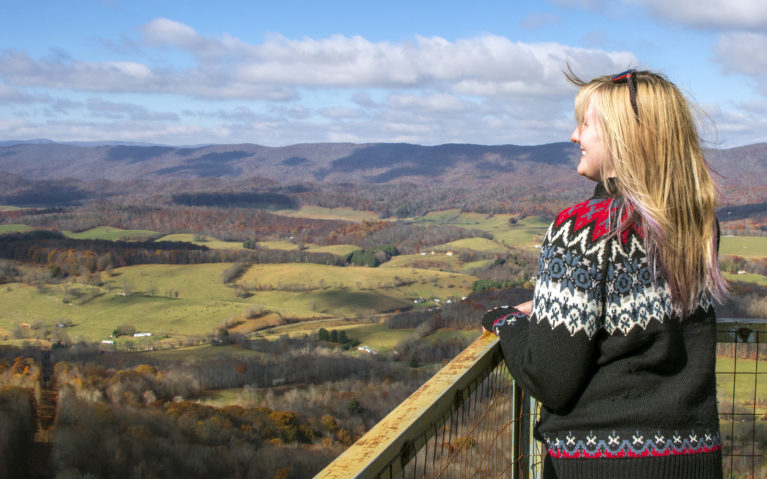 When visiting Wytheville, it's a sin not to make your way a little out of town to the Big Walker Lookout. As Virginia's oldest privately-owned scenic attraction, you'll head to the top of Big Walker Mountain at 3,405 ft. Take a peek inside the BW Country Store to pay admission as well as indulge in some of the best ice cream around.
Climb to the top of the 100 foot tower and you'll be able to see five states on a clear day! You'll fall in love with the patchwork farmlands in the north and the gorgeous views of Jefferson National Forest in the south. It may be chilly on a late autumn day (you may even see some hints of snow!) but the views are worth every step.
RELATED: The Big Walker Lookout is easily one of best spots for gorgeous views in Virginia. If you want to know where else to go, check out my guide to the top 10+ Virginia views along the I-81!
If you'd rather not travel too far for some great views, head to the rooftop bar of The Bolling Wilson Hotel. It's the perfect spot in town for happy hour or to catch the sunset. This is definitely the place to be in the summer but in the fall you'll find cozy fireplaces that are just waiting for you to snuggle up in front of them. In case you're wondering, the rooftop patio is open to the public! Though this elegant hotel would make a great accommodation option in the heart of town.
Looking for an evening of song and dance? You won't want to miss the Wohlfahrt Haus Dinner Theatre. As Virginia's only all-musical dinner theatre, they offer six shows throughout the year. Every season they finish with a Christmas show that's guaranteed to get in the holiday spirit. If you don't have time to catch a show, you can pop by the Matterhorn Lounge for a bite to eat or a pint in their beer garden.
RELATED: Wytheville is one of my favourite little towns along the I-81 corridor. To truly get a taste of what this unique destination has to offer, check out my full guide to Wytheville!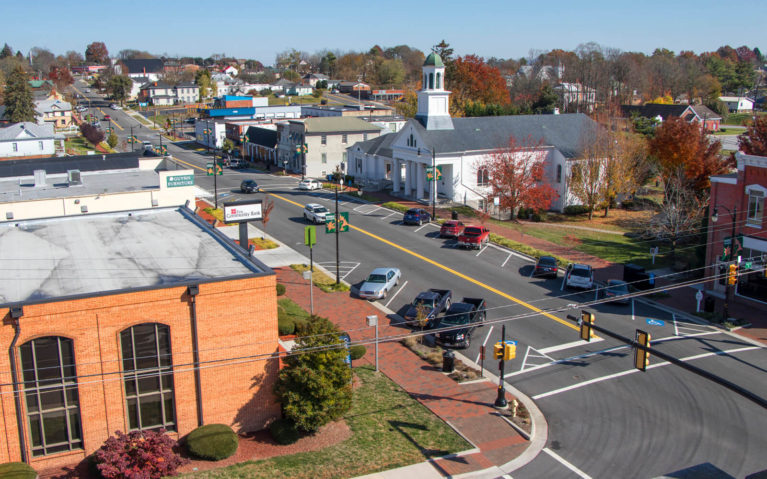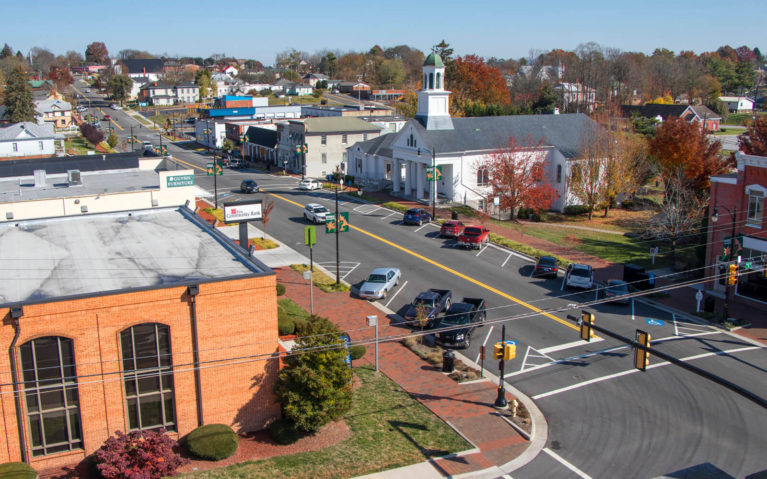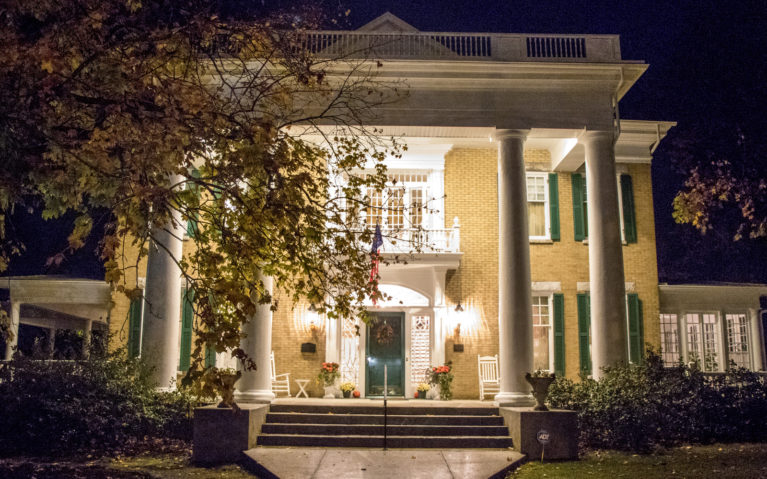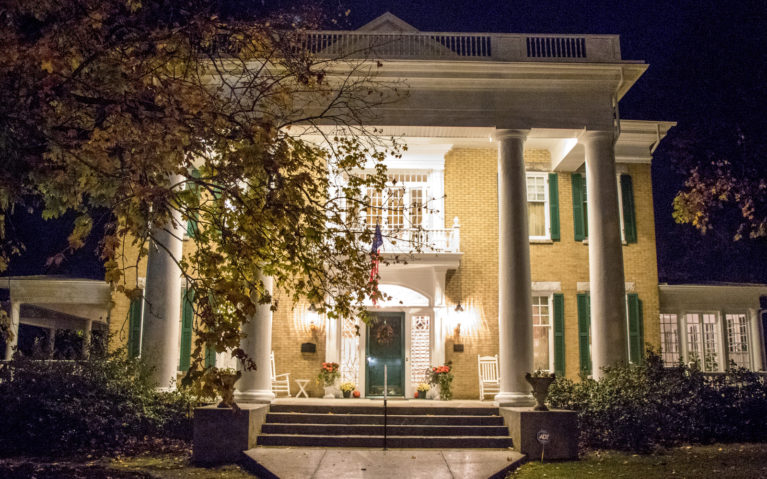 If you're looking for (in my opinion) the best Wytheville accommodation option, that would 100% be the Trinkle Mansion Bed & Breakfast. You'll be immediately enamoured with this beautiful century-old Classical Revival style homestead. Innkeepers Patti and Bernie will welcome you as if you're an old friend. Enjoy a tour of the home before settling into one of Trinkle Mansion's four rooms.
Each one features a queen bed, private bathroom with a shower, fluffy robes with accompanying slippers, satellite TV and wireless internet. Two of the rooms even have a claw tub for an extra dose of luxury! I had the pleasure of staying in the Rosspoint Room, inspired by Patti's roots in Kentucky. It features a gorgeous fireplace which kept me warm and toasty during the chilly late autumn evening. Guests can also enjoy complimentary snacks and drinks in the upstairs common room at any time during their stay.
One of the real treats (besides Patti's impeccable hospitality, of course) is breakfast after a restful night of sleep. Patti pulls out all the stops as you settle into Trinkle Mansion's elegant dining room. Let me just say that when breakfast includes an appetizer, you know you're going to be spoiled! If you have the pleasure of enjoying her 'benedict bundles', I'm totally jealous. I still dream about them to this day! I really should have gotten the recipe… though I think hearing the tale of how Patti, Bernie and the Trinkle Mansion came to be made it taste that much better!
Rated as one of the 10 best bed and breakfasts in the entire country, you'll feel right at home as soon as you step through their doors. This is THE place to stay when visiting Wytheville so book your getaway now! Don't believe me? See what others have to say about their wonderful experiences staying at the Trinkle Mansion.
Now do you see why Whytheville's slogan is "there's only one"? It really is a unique destination in Southwest Virginia that you'll fall head over heels for. I only just scratched the surface during my visit and I can't wait to return for more adventures. You can easily spend a weekend exploring the area as I didn't even touch any of the incredible hiking trails and other outdoor recreation surrounding Wytheville. I'll definitely be returning on a future Virginia road trip!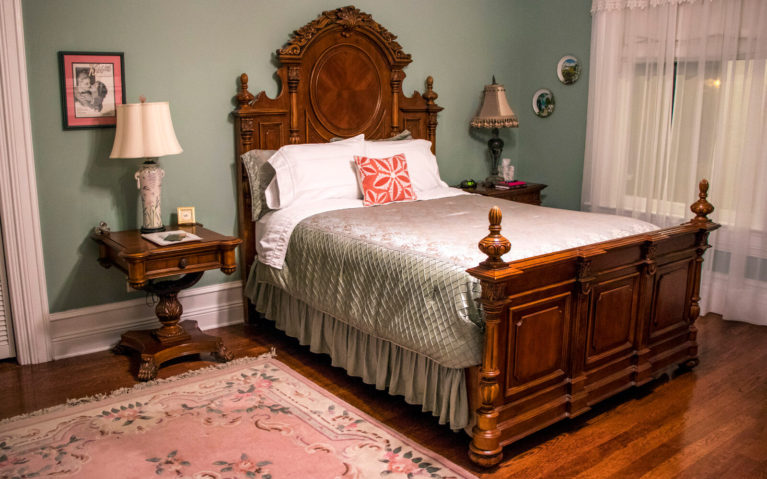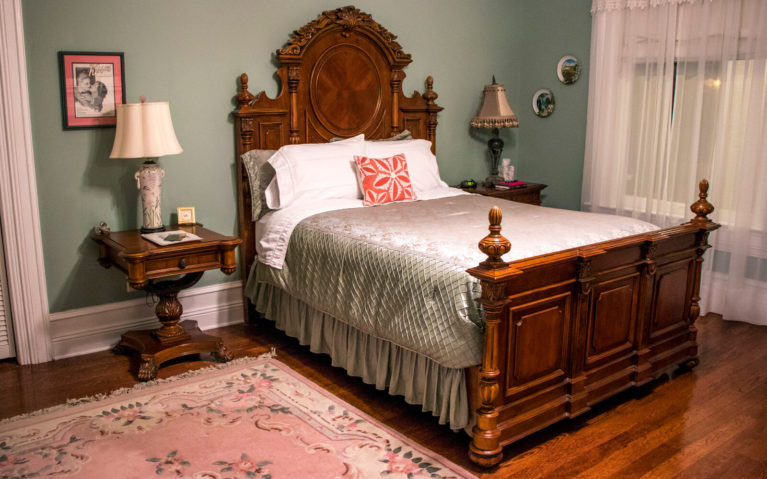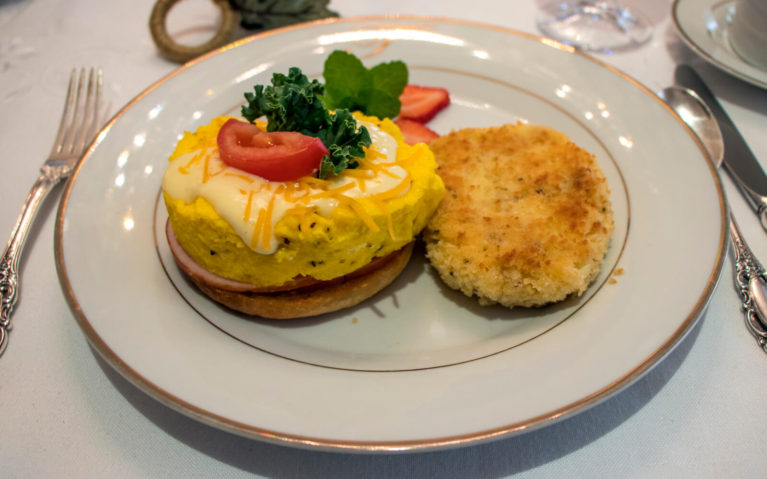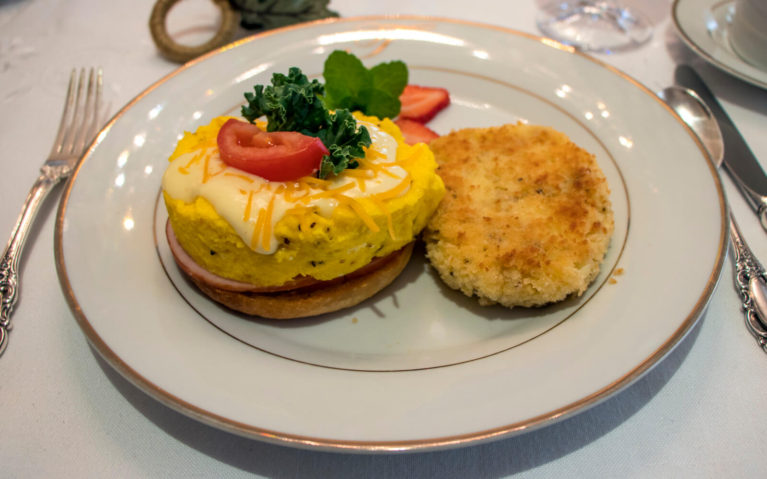 Floyd, Virginia
If there's anywhere to be on a Friday in Virginia, it's the town of Floyd! It may be little with just one stoplight, but this town is full of spunk. Artisans, yogis, distillers, brewers – it's a place where people from all walks of life come together.
This is especially true for the iconic Friday Night Jamboree at The Floyd Country Store! For over 35 years now, tiny tots to well-matured men and women from all over the world have come together to hit the dance floor. Following "Granny's Rules", there is no smoking, alcohol and inappropriate language allowed. Be the true lady or gentleman your grandma would want you to be!
It's hard to stay seated with the incredible tunes of live bluegrass and country bands! Staying true to tradition, for the first hour (starting at 6:30 sharp!) no dancing is allowed and all the attention is on whichever incredible live band is on stage that Friday. Even if you're not a country fan, you'll be mesmerized by the beautiful vocals and elegant fingerwork of these talented artists. Come 7:30 though, the dancefloor will be filled to the brim with locals and visitors alike, followed by hugs signifying the reunion of friends once the first song finishes.
Be sure to bring your dancing shoes because I guarantee you'll be dancing all night long whether you plan to or not. This is especially true if you're there solo! Chances are you'll be adopted by someone like I was by Jill and her family. It was a blast to get out there and I have her to thank for my action photos below!
Try your hand at flat-footing or wait for a square dance. Don't have a clue what you're doing? That's okay, one or a few of the locals will show you the ropes and you'll be a pro in no time! Even if you don't get the steps right, just get out there and dance like nobody's watching. I need to do this more often – thanks for the reminder, Randy!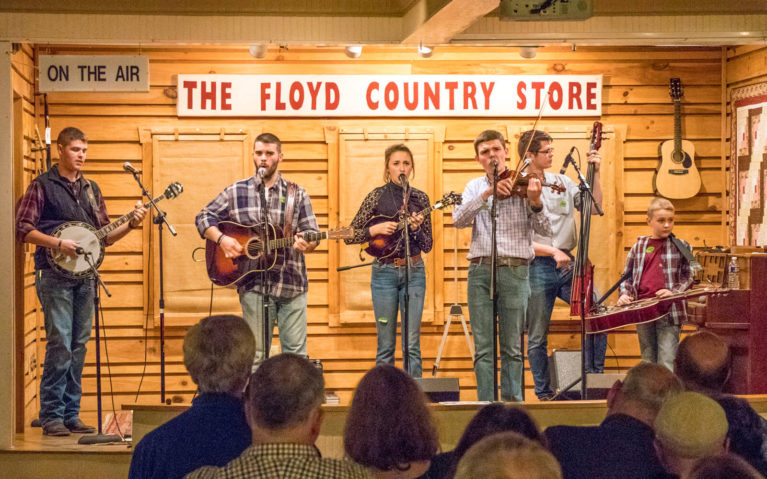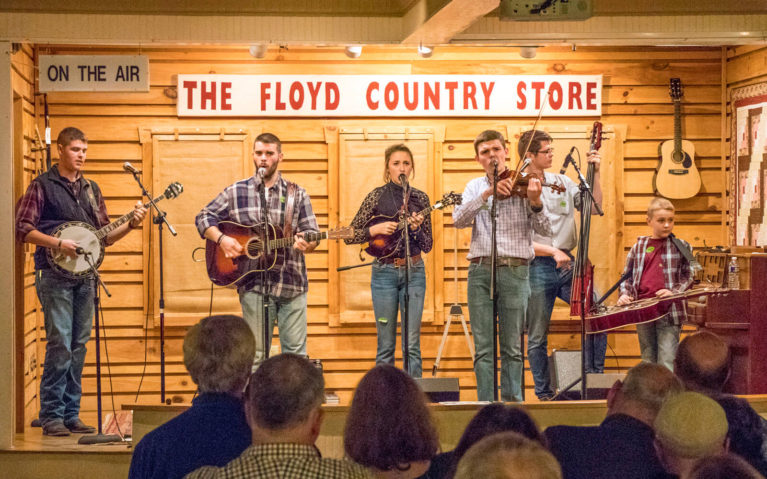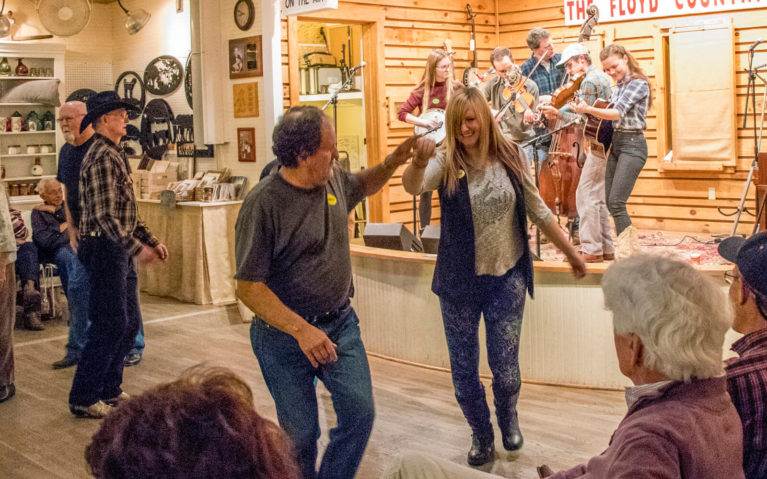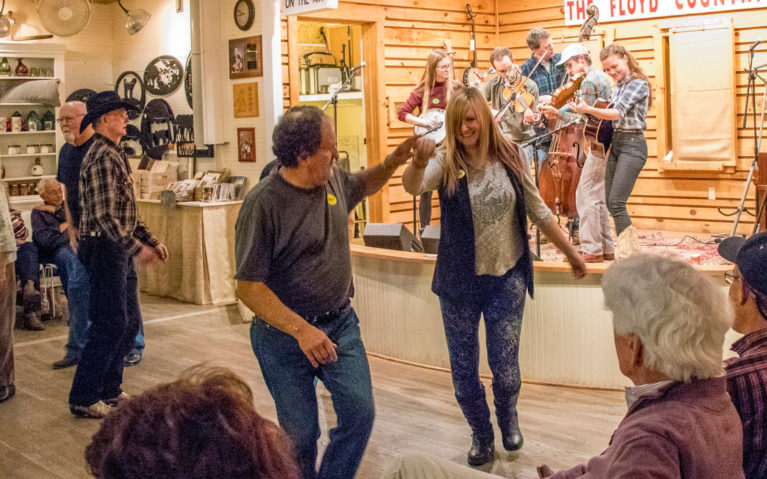 The Friday Night Jamboree will be a night you'll never forget. It's honestly not to be missed whether you're travelling solo or with family and friends. My Virginia road trip itinerary was worked around ensuring I was in Floyd specifically for this. It'll be one of the most memorable experiences of your trip! Don't forget to have a bit of change in your pocket for the Friday Night Jamboree. It might sound strange but you'll know why when you go.
While the majority of people come to town for the Floyd Country Store, that's not all it has to offer. There are a number of great establishments including a craft brewery, 5 Mile Moonshine Distillery, art galleries, shops and much more. It's an adorable little getaway that the travellers of all ages will enjoy!
SOMETHING TO NOTE: If you have AT&T or are roaming with them while in the USA, you're going to have very little service in Floyd. You'll be fine towards the outskirts of town but it'll be touch and go in the heart of town.
There aren't many options for accommodation in a town so small but luckily the Hotel Floyd has you covered. This 'green hotel' was built in 2002 to help promote responsible tourism for the town of Floyd. Its rooms have either bamboo or sustainably harvested hardwood floors and furniture, eco-friendly paints, utilizes geothermal technology and more. The Hotel Floyd features 40 rooms and suites, all uniquely decorated showcasing a part of the town itself.
I had the pleasure of staying in the New Mountain Mercantile Room, inspired by an adorable shop in town that is a must-visit. The sky blue tie-dye and heart patterns had me feeling the love during my stay. Have you ever stayed at the Hotel Floyd or do you plan to soon? I'd love to know what room you checked into! If you'd like to know more, take a look at these online reviews about the Hotel Floyd.
With its close proximity to the Blue Ridge Parkway, you can't miss enjoying one of the most scenic drives in the United States. It's the perfect route to take to your next Virginia road trip destination.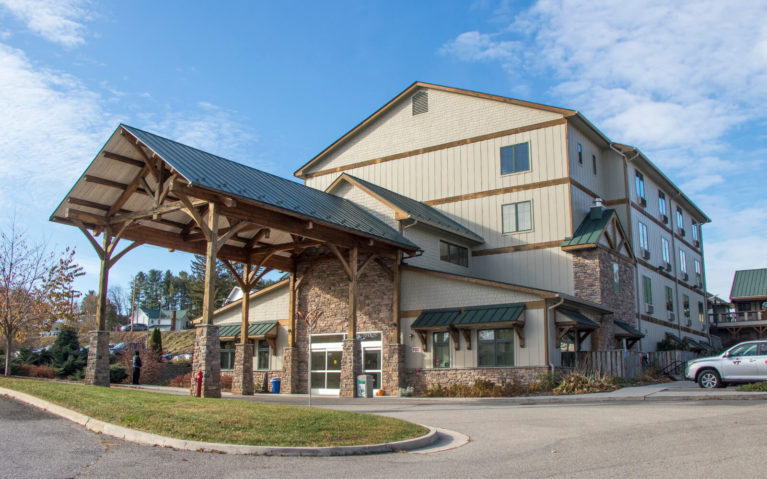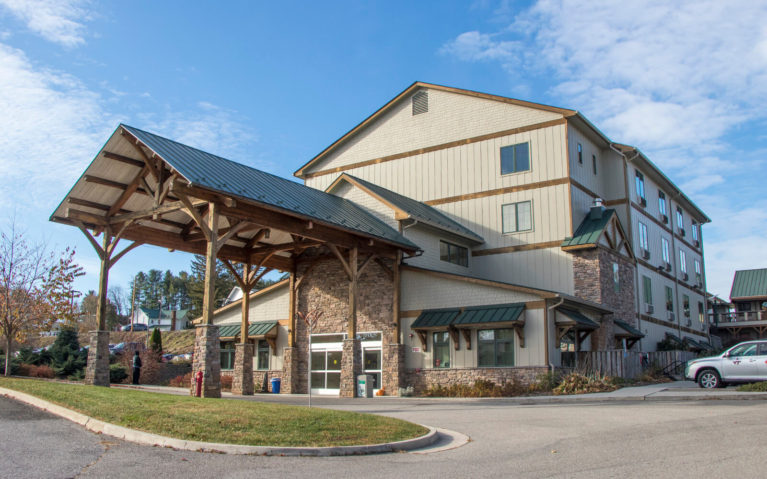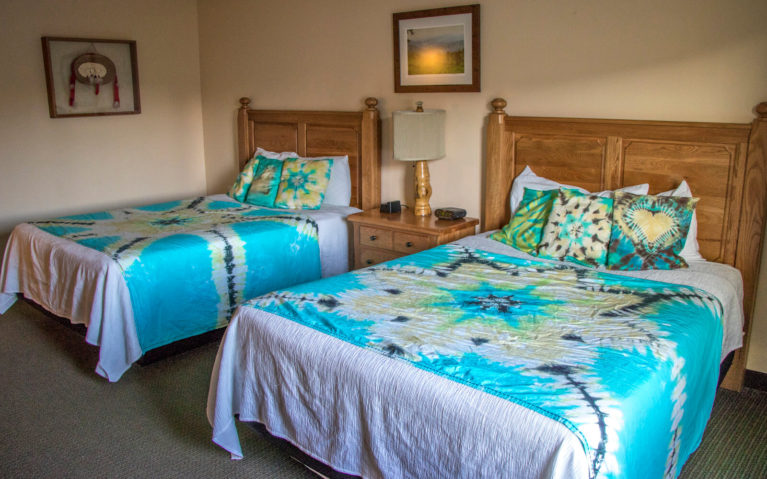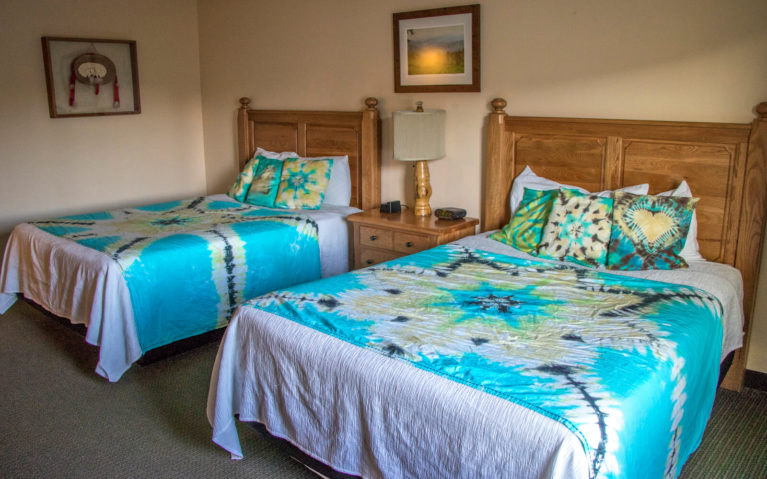 Blue Ridge Parkway to Roanoke
While this 759km (469 miles) scenic stretch of highway officially starts in North Carolina, the northern half of the Blue Ridge Parkway is located within Virginia. The section from Floyd to Roanoke has over 20 lookouts and I couldn't resist stopping at every single one. Each view was absolutely gorgeous and is hands down the best way to get between the two towns (sorry I-81).
Upon arriving in Roanoke, I made my way into the heart of town to explore the largest destination on this Virginia road trip. Roanoke is a destination all on its own and you can easily make a trip solely based around it. It can be overwhelming to know what to visit, so I recommend heading into downtown and seeing where your feet take you.
You'll need at least a weekend, if not more to fully explore Roanoke, let alone a day like I did. So, why stress about it? You can just come back! I made the most of my short visit, starting with Center in the Square. What was a rundown eyesore in the 1970s has since been transformed into a mecca of fun. Five buildings are now home to a pinball museum, arcade, a science museum and so much more.
Just a few blocks away, you'll find the Taubman Museum of Art. This beautiful building is home to eleven galleries which are part of the Fralin Center for American Art. You'll find art of all kinds from their permanent collection of 2400 pieces which includes American, Southeast American Contemporary, Folk and more. Admission is free so go take a peek at some of the stunning works. You'll also get a fantastic view over Roanoke with the Blue Ridge Mountains in the background from the third floor.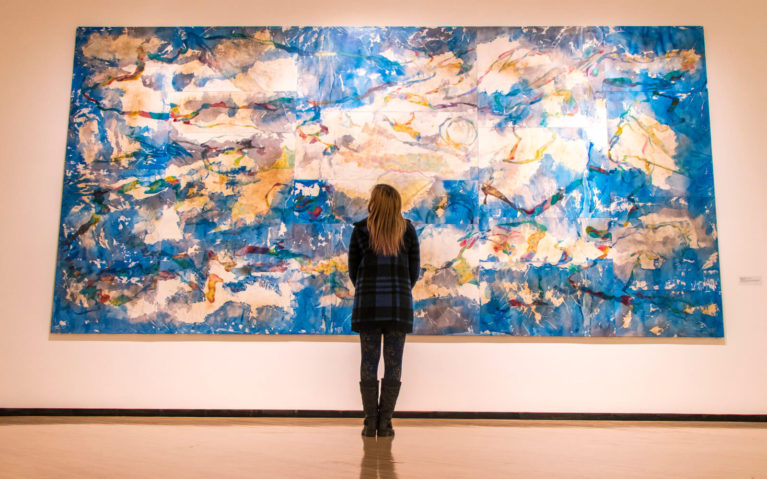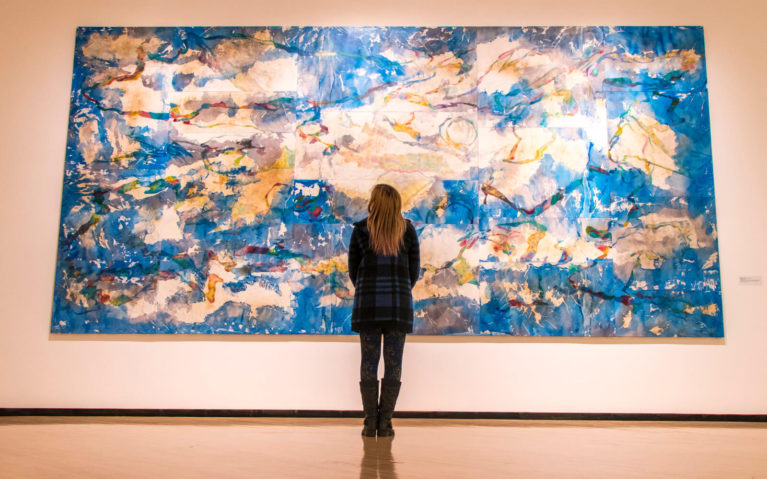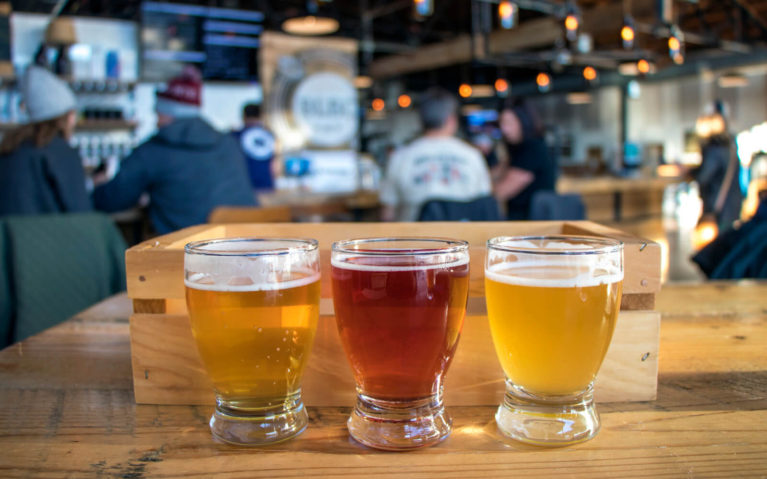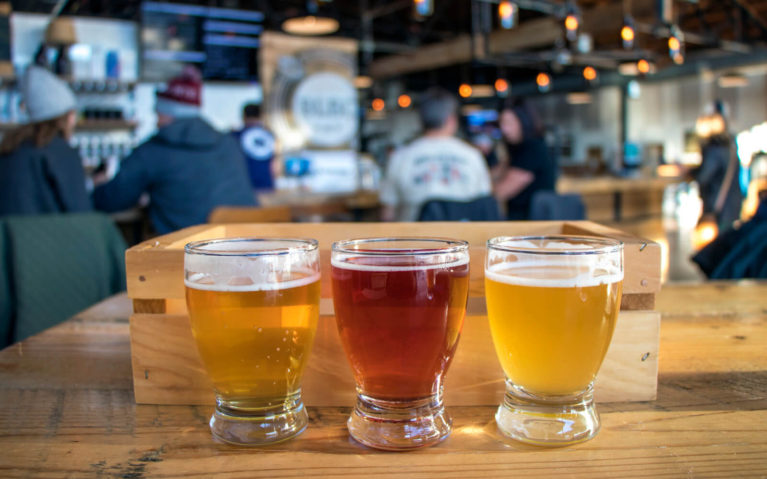 There's plenty of craft beer to be enjoyed in Roanoke, with my first stop being Big Lick Brewing Company. Even on a chilly autumn day, the patio was full with patrons taking in one last dose of sunshine before the frost truly settles in. Originally Roanoke's first nano brewery, it has grown into the beast you see today. Settle in for a pint or a flight of their tasty brews.
FUN FACT: If you're an avid craft beer lover, don't miss out on Roanoke's beer passport program. Whenever you visit a local brewery, ask for a special code which you then enter into this website. Visit 5 participating locations and you'll earn yourself a comemorative t-shirt!
Getting hungry? There are no shortage of great eats in Roanoke! I decided to grab a bite at Lucky and it did not disappoint! This intimate restaurant offers metropolitan vibes which you wouldn't expect to find in Southwest Virginia. You'll find a high-end mash-up of French and Southern comfort foods along with craft cocktails and whiskeys to satisfy every palette. I highly recommend making a reservation or to get there as soon as they open because it is especially busy on weekends.
If you're looking for something a little more on the simple and satisfying spectrum, you can't go wrong with the Texas Tavern. Family-owned since 1930, this iconic establishment has been serving locals and visitors alike for almost 90 years. You can tell who's been before and who hasn't as there's a certain 'lingo' for ordering. Luckily it's listed on their website so you can be in the know. Whether you get a bowl, a cheesy or a hot walkin', you'll be entertained by the banter as your meal gets served up right in front of you. Seating is limited to 10 bar stools so chances are you'll be taking your meal to go!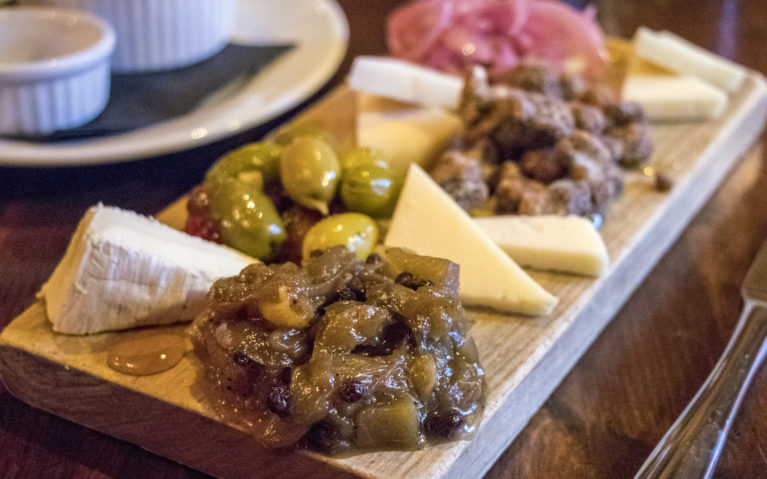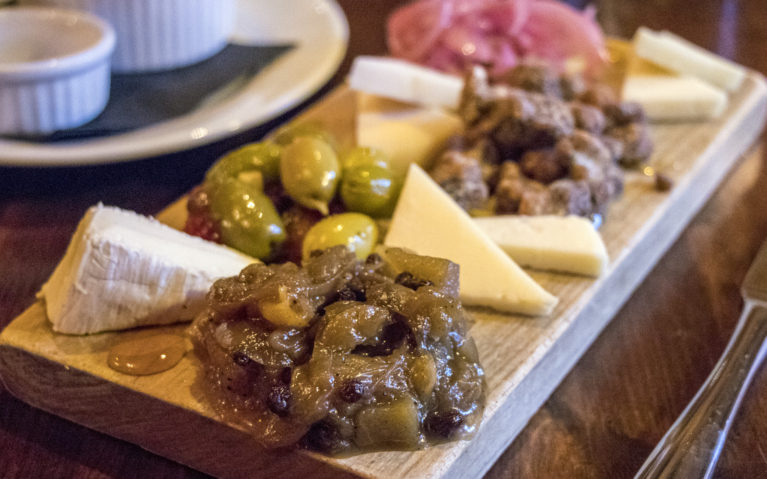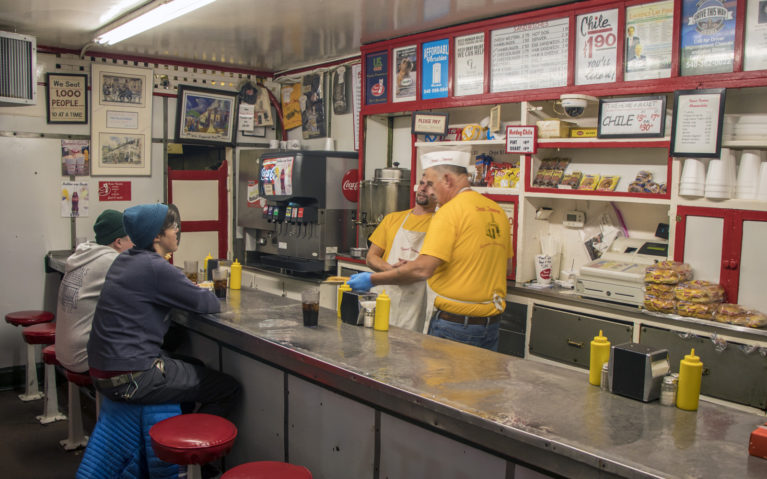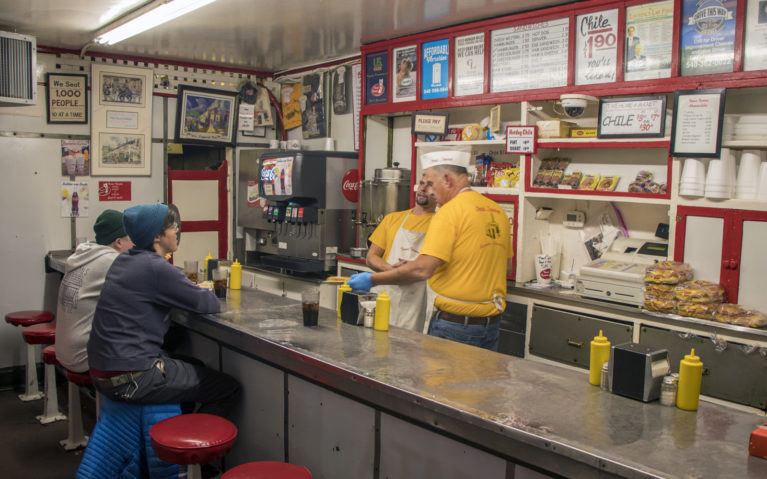 Since I was mainly passing through, I stayed close to the I-81 at the Hampton Inn Roanoke/Hollins. As with any Hampton Inn I've had the pleasure of staying at, my stay was comfortable and the staff were fantastic. Though I have to say, I enjoyed catching up on a bit of US Netflix (quite the luxury compared to Canadian Netflix!) while my tired feet recuperated from the constant adventuring.
Though you know me in that I love local, unique accommodation so upon returning to Roanoke, I'd be looking to stay somewhere like the Black Lantern Inn or the Roanoke Boutique Hotel. Both of these accommodations look super adorable and would make a visit to Roanoke extra memorable.
On my way out the next morning, I tried to pop by the Roanoke Mountain Overlook only to find the access was closed. Unfortunately, I'm unaware of how to check and see if the access to an overlook is closed so this is something to keep an eye for when planning your Virginia road trip. Had I known this would happen, I would have made my way to the Mill Mountain Star instead but alas, it just means I have to return for another visit, right?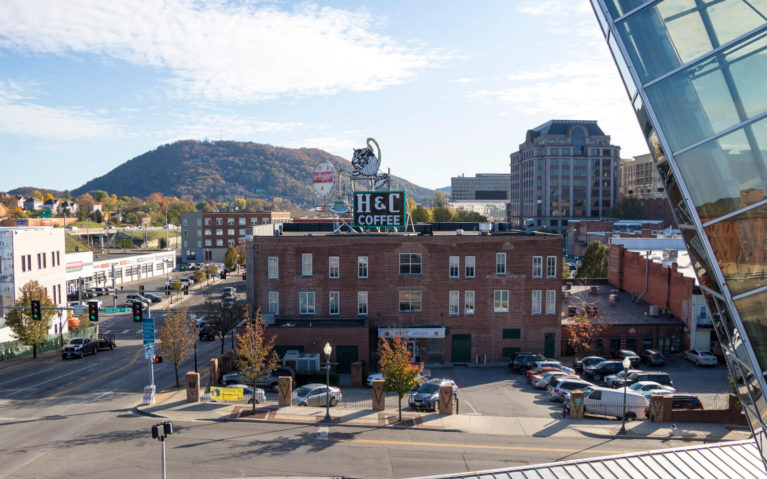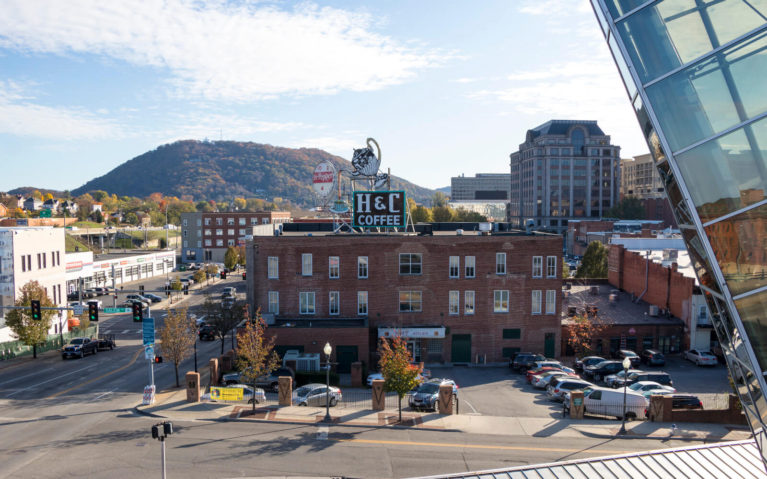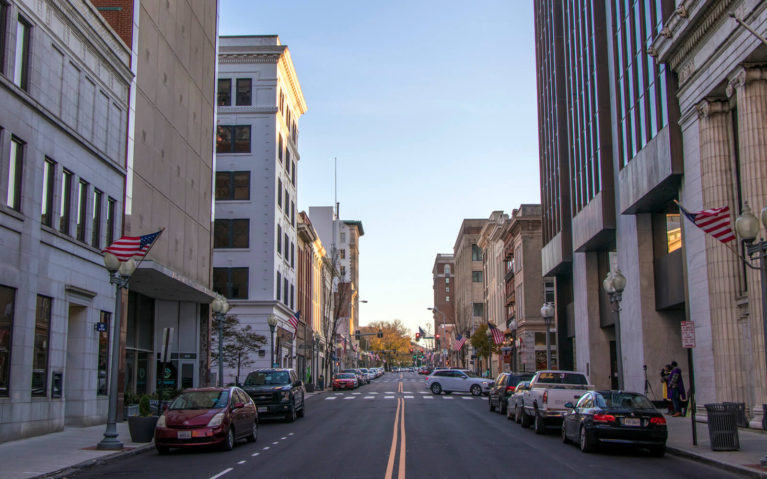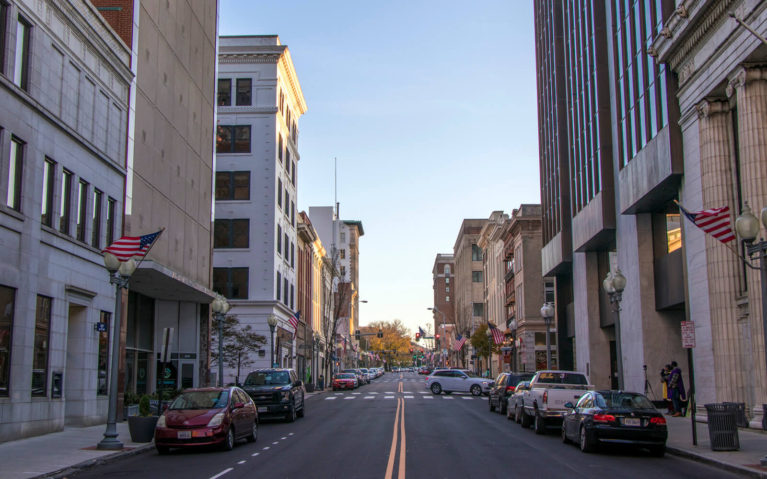 Natural Bridge and Lexington
Time to hope back on the I-81! About 40 minutes up the highway you'll find Natural Bridge State Park. While it only became a state park in 2016, Natural Bridge is a must-see destination if you're visiting Roanoke, Lexington or any of the towns in the surrounding area.
Thomas Jefferson called it "the most sublime of Nature's works" and I have to say that I agree wholeheartedly. This 215-foot tall limestone gorge was carved out by Cedar Creek thousands of years ago, creating the incredible natural wonder you see today. I was absolutely mesmerized, especially with the fall leaves holding on. Though I can only imagine how brilliant it must be with full foliage or during autumn's peak colours! Follow 6 miles of trails, including the Cedar Creek Trail which will give you a great taste of what the park has to offer. Head all the way to the end for a glimpse of Lace Falls!
While I absolutely adored the natural wonders, I was over the moon upon experiencing the park's Monacan Village. I'm often wary of Indigenous exhibits when displayed in government institutions. Why? The unfortunate truth is that the Indigenous groups they depict often aren't consulted in the exhibits' creation. However I'm delighted to say that this is not the case at all! The Monacan Village you see is organized and facilitated by the Monacan Nation. It's a wonderful way to learn about the history and traditions of this specific Indigenous group.
UPDATE: Unfortunately due to everything that has happened over the past year, it seems as though the park has decided not to go forward with the Monacan Village project. This breaks my heart as it was such a great opportunity to learn more about this group's history and culture. I hope this changes in the future but until then, you can learn about the Monacan Nation on their website.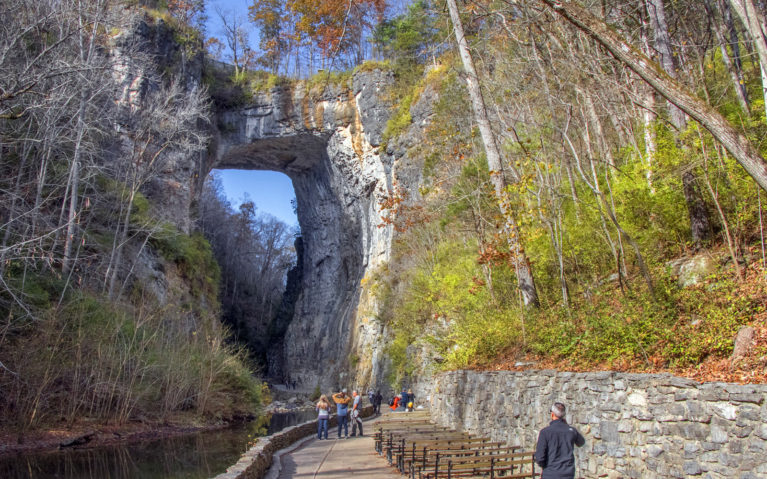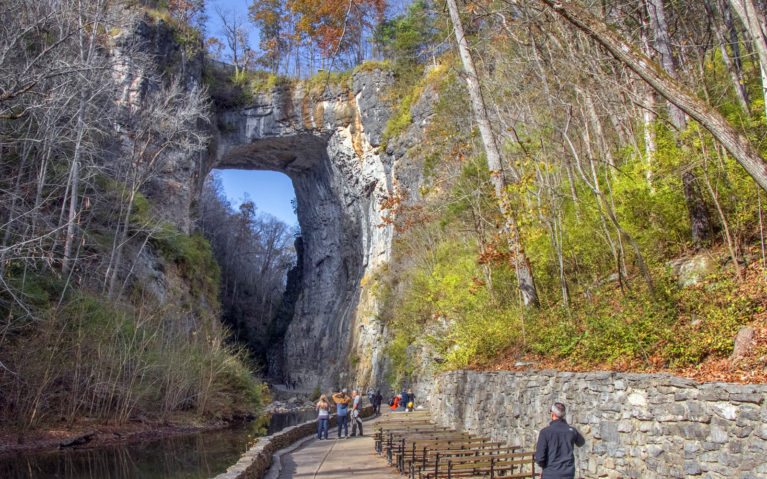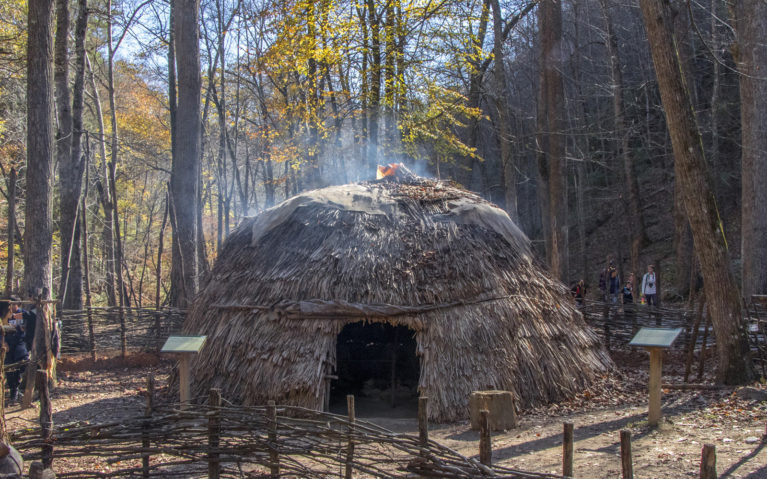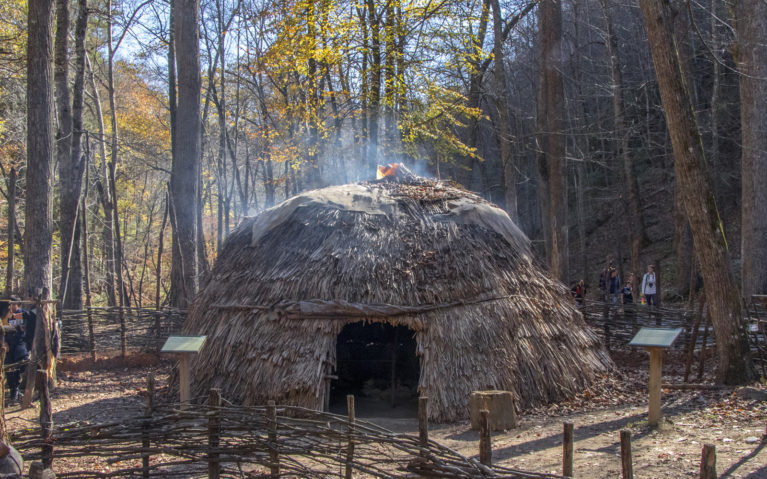 Once you're done exploring, hop back on the I-81 towards the next stop of your Virginia road trip – Lexington. Along the way, you'll see signs for Great Valley Farm Brewery. You won't want to miss paying a visit as they have some of the best scenery I've ever laid eyes on while enjoying a beer. Paired with an unseasonably warm autumn day, it was the perfect way to send-off patio season for the year. Unfortunately they don't have any food on location, however you're welcome to bring your own!
Just up the road you'll find Layne's Country Store where you have to try their traditional Virginia ham sandwich. It's saltier than most hams I've enjoyed and pairs nicely with a flight of beer! There are also a number of goodies from homemade jams and hot sauces to souvenirs and trinkets. One thing I noticed is that they definitely cater to everyone as you'll see certain red hats beside stickers condoning a specific country leader. You can choose whether or not you wish to visit, however my experience was pleasant and the family who owns the store were lovely to chat with.
Just around the corner from the brewery are two other establishments you may want to stop in and visit. Halcyon Days Cider Company is a small family-run farm and cidery who use traditional techniques for their small-batch ciders. It's also home to a beautiful labyrinth in their apple orchard, though unfortunately I was unable to visit as it was closed for a wedding. Next time! Just a few metres away you'll find the Virginia Gold Orchard. The gold you find won't be jewellery but rather a plethora of Asian pears, including two varieties you can only get here! Stop in for a sample as you make your way into Lexington.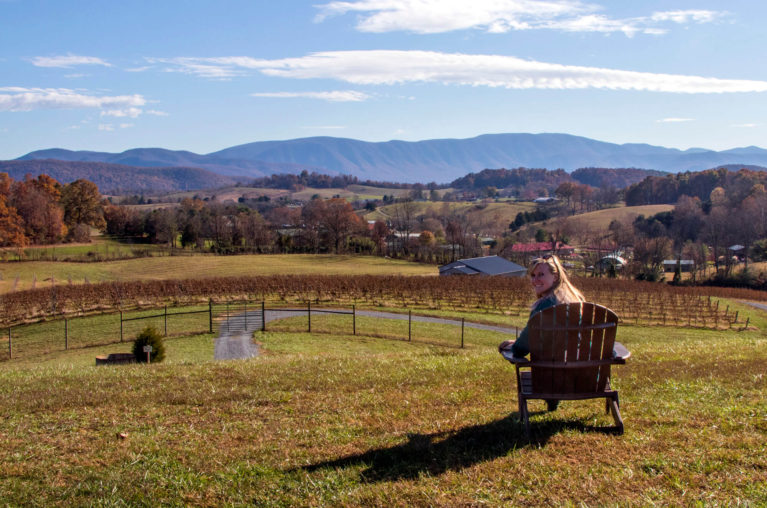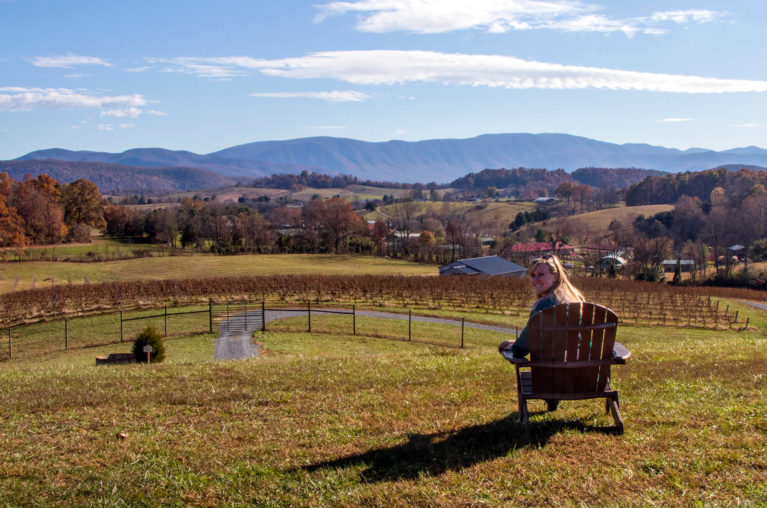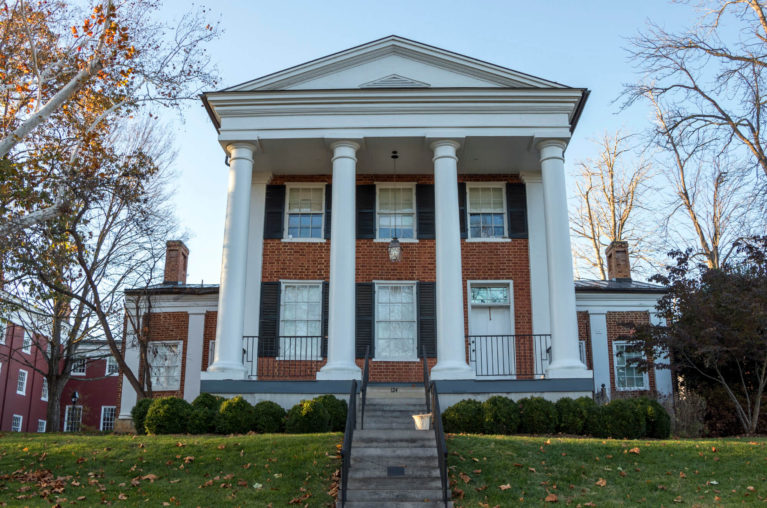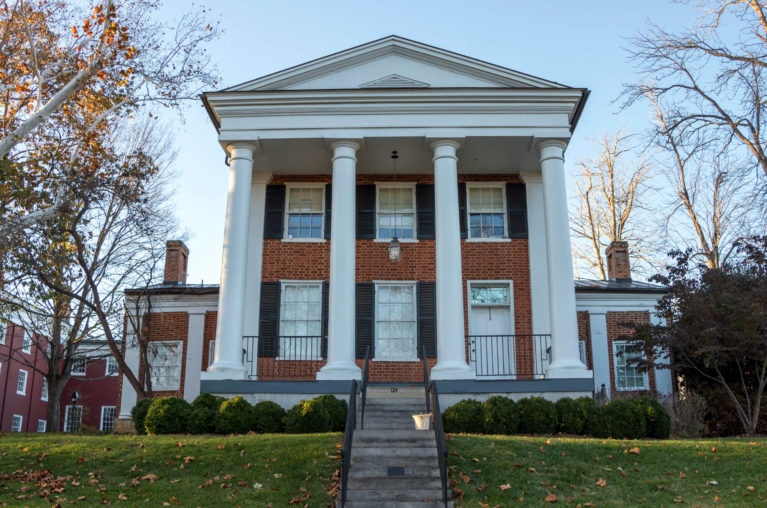 Say hello to the heart of Rockbridge County! You may even recognize Lexington as a number of movies were filmed here like Sommersby or War of the Worlds. Take some time to explore the downtown core while admiring the beautiful architecture, especially the buildings found on the Washington and Lee University Campus.
Established in 1749, this university is the ninth-oldest higher learning institution in the US. I was blown away by the huge trees and gorgeous stone columns that are prominent on campus. Next door you'll find the Virginia Military Institute which offers its students a rigorous educational program intertwined with important leadership skills. While my visit was earlier in the week, I've been told by locals that their Friday afternoon parades are not to be missed. For 45 minutes, the cadets perform rifle drills according to US Army standards which would definitely be a sight to see!
Lexington isn't overly big so it's easy to walk from one end of downtown to the other. You'll find a plethora of adorable shops and eateries, including Sweet Things Ice Cream Shoppe. I couldn't resist their blue raspberry sorbet in what I'd say is the most delicious homemade waffle cone I've ever had. If you have dinner plans however, blue raspberry might not be the best flavour to choose as it is guaranteed to turn your whole mouth blue. True story. Around town you'll also find a number of museums which speak to the colonial and confederate history of the area. History buffs will enjoy touring the Stonewall Jackson House and the Miller's House Museum.
The town might be on the smaller side but there's no shortage of delicious eats. Although if you're going to eat anywhere in Lexington, it has to be Haywood's Piano Bar and Grill. Enjoy live music as you sip on some cocktails or indulge in a full meal with friends. Focusing on locally and regionally sourced ingredients, the menu is ever-changing with a wide variety of delicious seasonal dishes. Though I have to say Chef Troy Sheller sure knows his steak. Mine was grilled to absolute perfection as I savoured every single bite. While it's tempting to skip, be sure to save room for dessert… especially if their pumpkin crème brûlée is on the menu!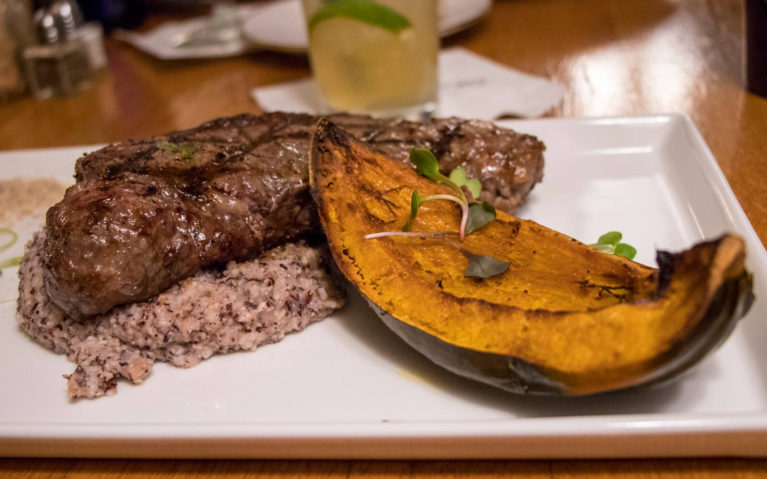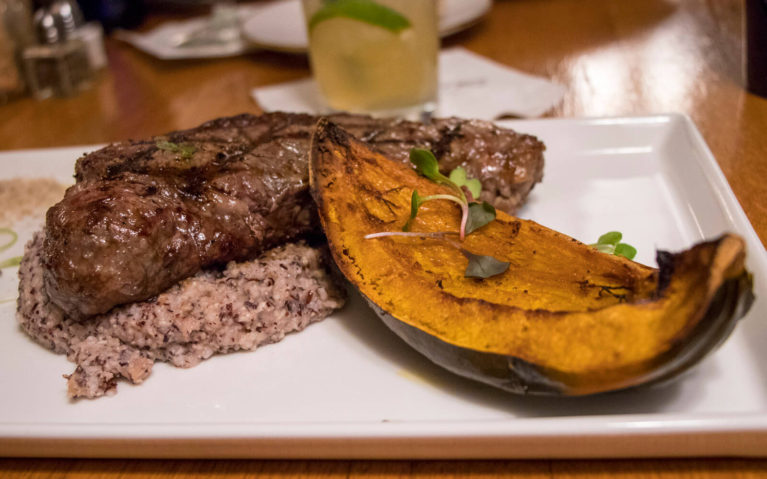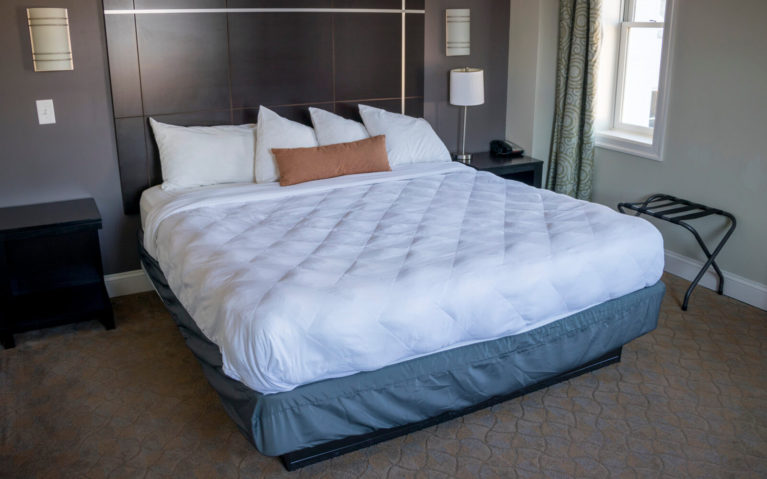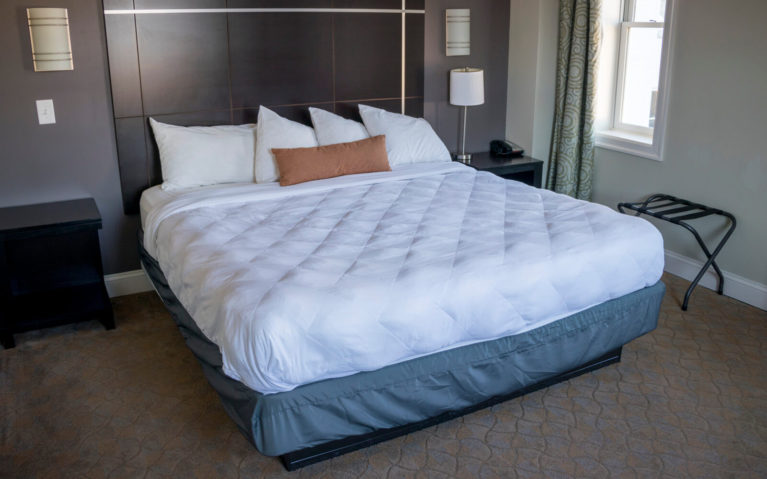 After a meal like this, you'll want to ensure you've got a comfortable room to retreat to. You can't go wrong at the gorgeous Robert E Lee Hotel. Built in 1926 and fully restored just 5 years ago, you'll enjoy views of the Blue Ridge Mountains from each of their 39 guest rooms. It didn't take me long to fall asleep as I nestled into my king bed after a busy day of exploring.
Breakfast is included in your visit and if you usually skip it – don't. This is one of the finest spreads I've ever seen! From deviled eggs to fresh scones and even grapefruit that's been sweetened slightly to perfection, you'll be wishing you had a larger stomach. The hotel also features a wine bar and restaurant which I recommend visiting for a quick cocktail or appetizer during your stay! Does the Robert E Lee Hotel sound like your perfect getaway? Book your stay now or you can read what others have to say about their experience first.
Once the sun rose and it was time to say goodbye to Lexington, I needed a caffeine fix. Luckily you have to pass right by Lexington Coffee Roasters. Named one of the best coffee roasters in the country by Forbes, you'll want to block out a little bit of time for a visit. They offer a flight of their roasts which offer a wide range of flavours. I had my very first honey-roasted coffee and I have to say, their Las Lajas roast is just what you need to start your day right! Don't forget to take a peek at their self-guided coffee museum before you continue onto your next Virginia road trip stop.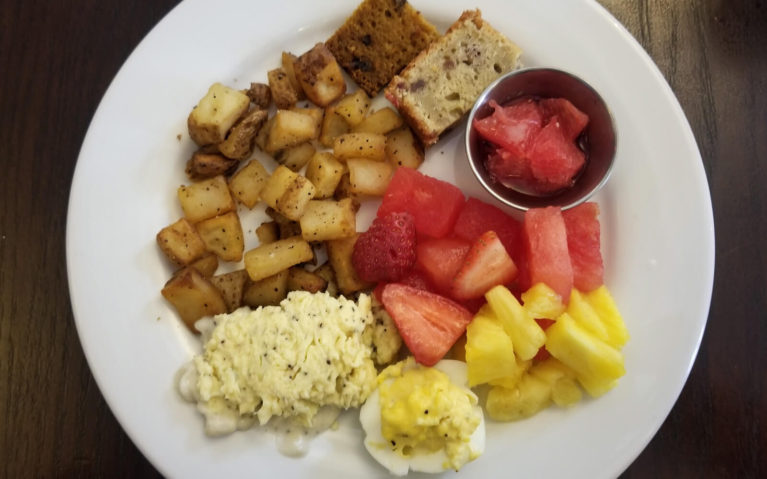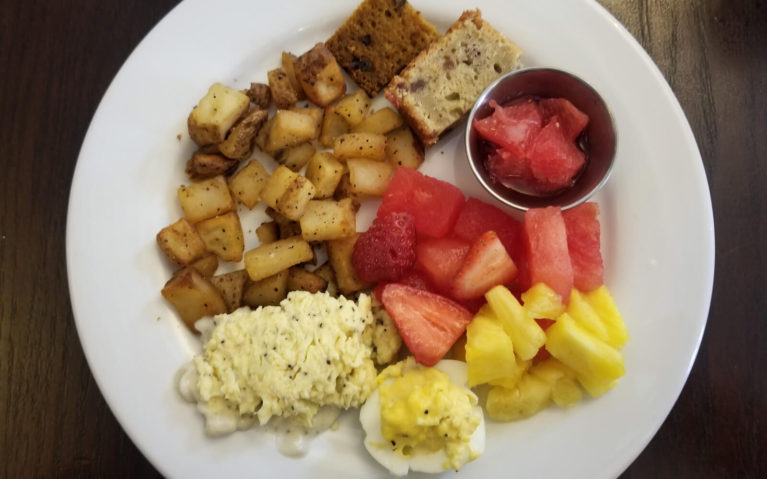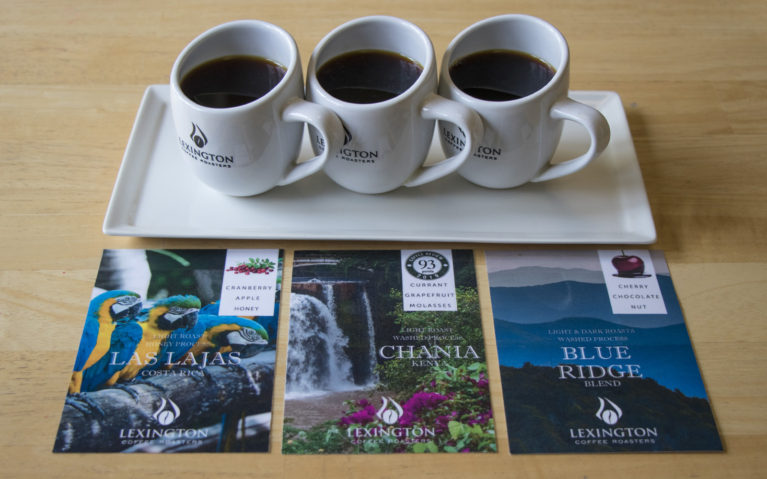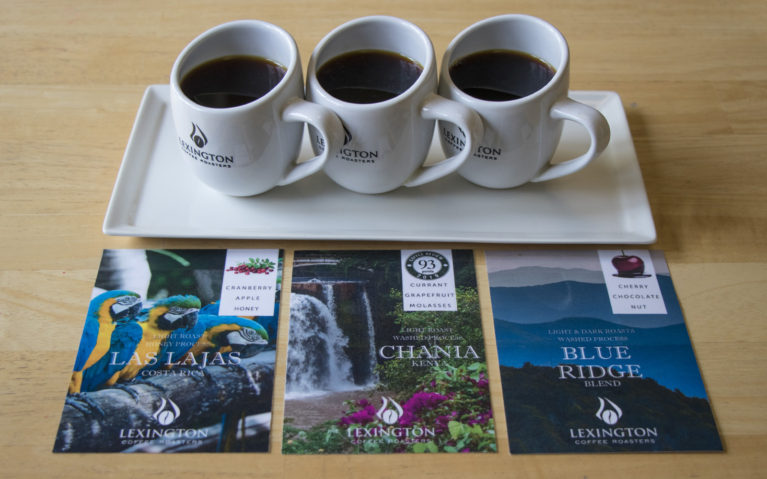 Staunton, Virginia
Think of The Office when you pronounce Staunton otherwise you might get laughed out of the room. Okay no Sauntonians aren't that mean but I guarantee you'll continue to say ston-ton if you don't. ANYWAY, my visit to Staunton was an absolute whirlwind but it didn't take long for me to realize this is one Virginia destination I have to return to sooner rather than later!
You'll be mesmerized by the gorgeous architecture as you explore the heart of town. It's the only city in the United States where you can see architectural styles inspired by various countries around the world side by side! I recommend taking a leisurely stroll so you can take your time and enjoy the beautiful buildings in the wharf area historical district. If you ever visit Staunton by train, you'll be in the heart of this area.
From here you'll want to climb the steps towards Woodrow Park for stunning views of the city. Nearby you'll find a number of craft breweries, restaurants and more. Don't miss stopping by Sunspots Studios where you can watch glass being blown – and even try your hand at it!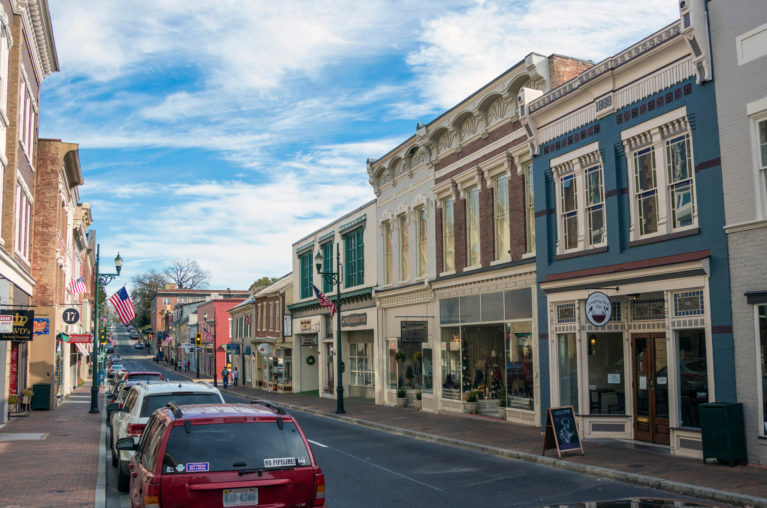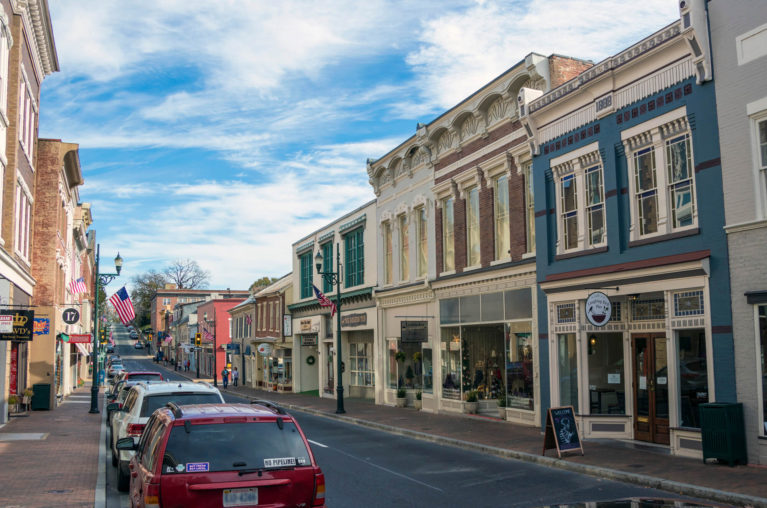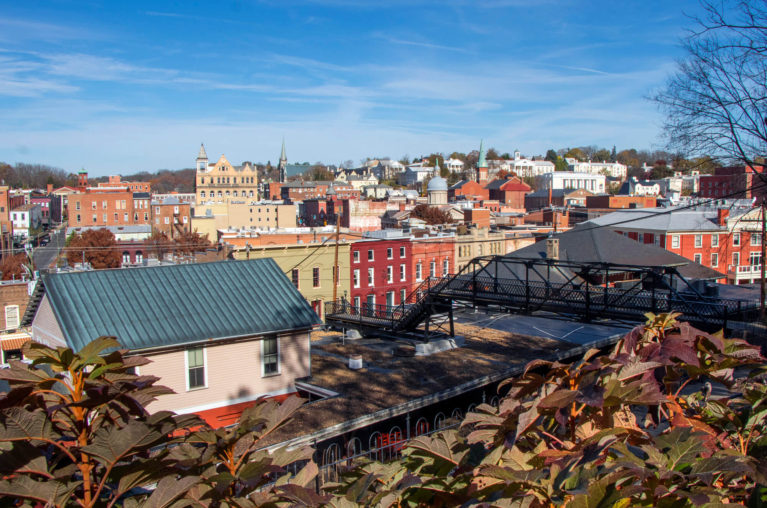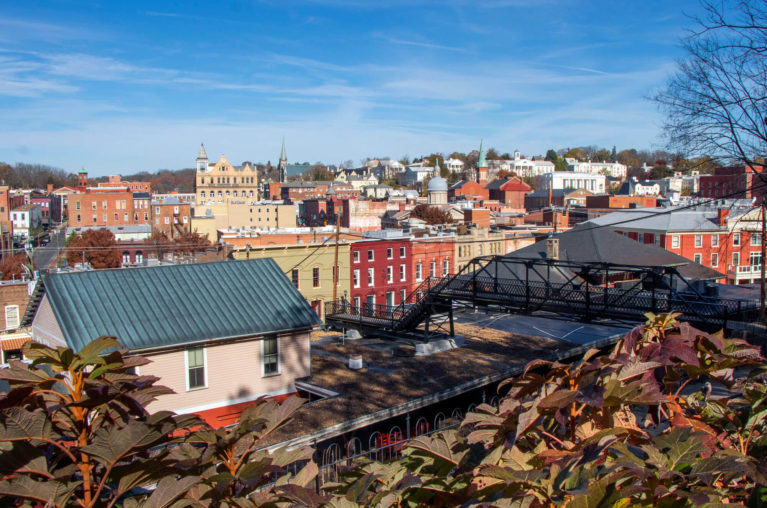 As you've probably gathered from this Virginia road trip itinerary, there is no shortage of amazing eats. This goes for Staunton too! If you're a seafood lover like me, you won't want to miss visiting BLU Point Seafood Company. Here you can get fresh Virginian oysters, crab cakes, blackened catfish and much more. Don't worry, there are plenty of 'turf' dishes in case your travelling companion isn't a fan of seafood. If that's not the case, you have to indulge in the Captain's Platter. Why have one when you can have three delicious eats from the sea?
RELATED: Eating well while exploring is so important. For all the highlights of where to eat on this road trip, check out my guide to the top Virginia restaurants along the I-81!
Chances are you're in Staunton not only to visit the city but also Shenandoah National Park. On your way out of town, don't miss visiting the Frontier Culture Museum of Virginia. This expansive outdoor museum shares the stories of those who shaped this area. From the Indigenous who first resided here to those who colonized the area, including the first people who came from communities in the hinterlands of England, Germany, Ireland, and West Africa in the 1600s and 1700s, you'll learn about their experiences and struggles in the rugged landscape that is now Virginia.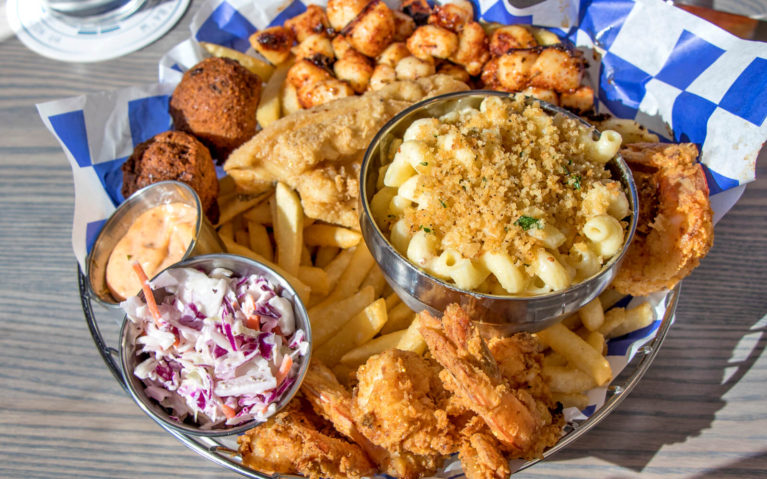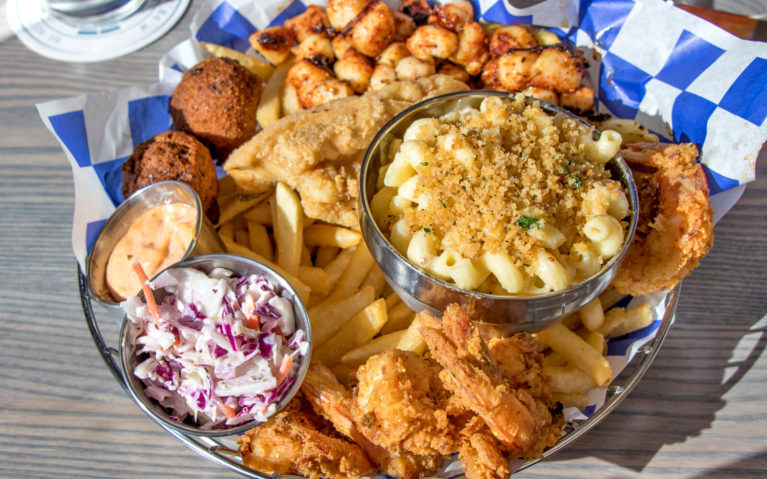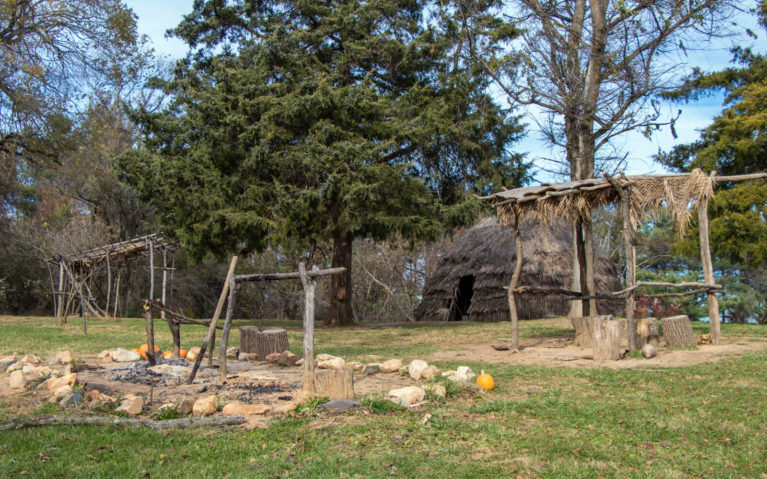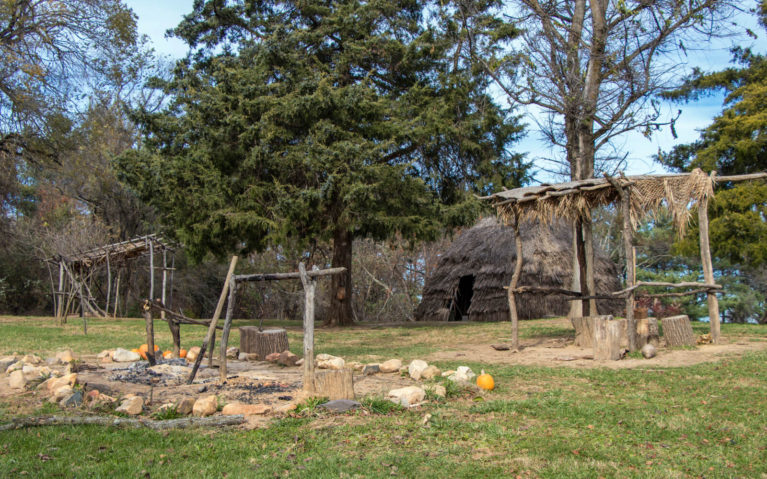 From museums to vineyards to outdoor recreation and everything in between, Staunton is yet another destination on this Virginia road trip that you could spend days exploring. If you're looking for somewhere to rest your head, I highly recommend The Blackburn Inn. It may be the original site of the Old Western State Psychiatric Hospital, but it has since become a gorgeous luxury boutique hotel.
Constructed from 1825-1828, it was renovated in 1830 by Thomas R Blackburn, a protégé of Thomas Jefferson. You'll see a number of the original architectural features maintained and restored to create a beautiful hotel that you won't want to leave! Be sure to inquire at the front desk about climbing the beautiful spiral staircase for some of the best views of the city. One look at The Blackburn Inn and I guarantee you'll be dying to stay at least one night! Don't believe me? Check out these reviews from previous guests.
RELATED: This is certainly one of the more unique places to visit in Virginia along the I-81. Looking for more stops like this? Check out this post!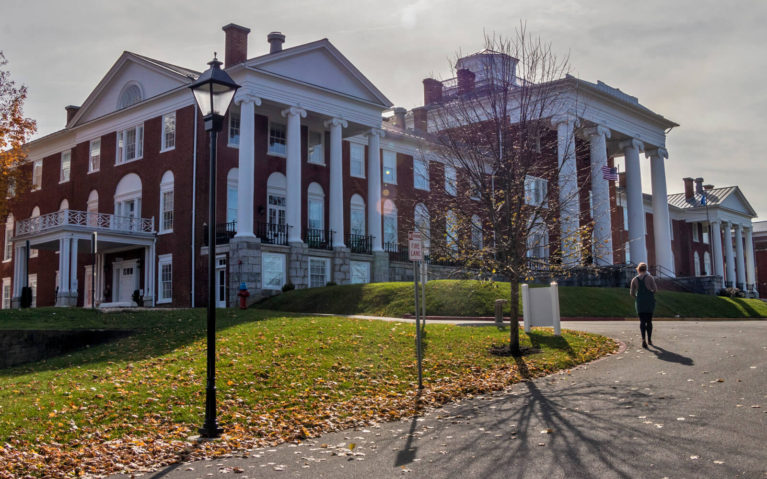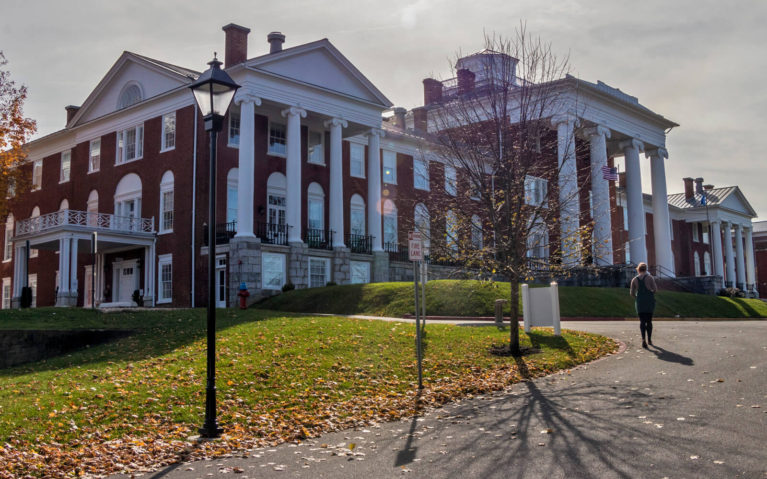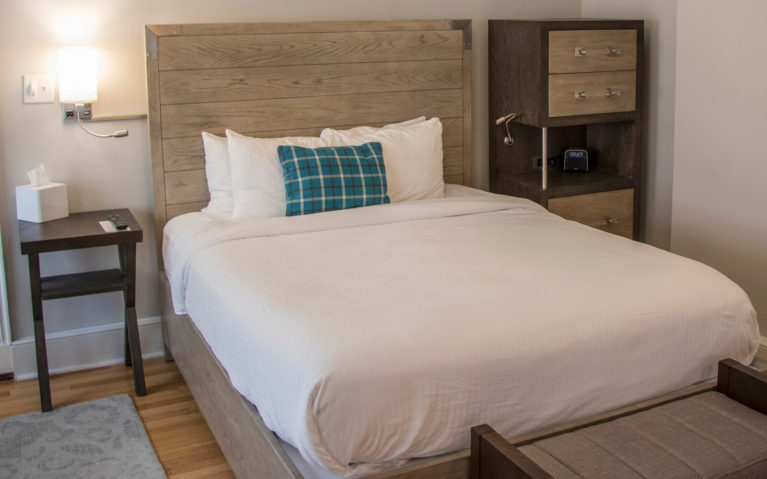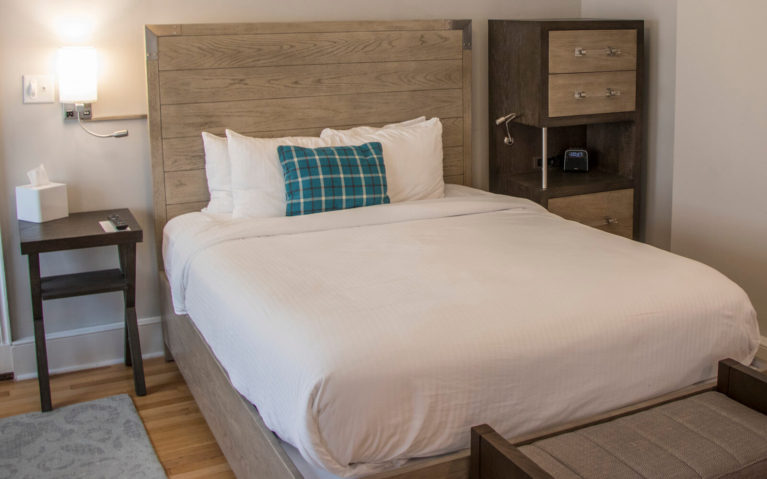 Shenandoah National Park
When ironing out this Virginia road trip, I insisted on visiting Shenandoah National Park. As you've seen, this itinerary is jam-packed and only allowed for a few hours to explore this gorgeous area. While I would have loved to spend a few days hiking to waterfalls and reconnecting with nature, it wasn't in the cards this time. Luckily when you're short on time, the Skyline Drive is a great way to get a taste of Shenandoah National Park.
Similar to the Blue Ridge Parkway, you'll be treated to incredible views as you follow the park's twists and turns. At lookout after lookout, you'll continuously be blown away by the beauty of the Blue Ridge Mountains. There's a reason why it's considered the most scenic drive in Virginia! The views were extra special as I was treated to the gorgeous colours of the 'golden hour' while I chased daylight all the way to the turnoff at Swift Run.
With over 800 km² of land to explore in Shenandoah, I know I have to return one day soon. If you're looking to extend your trip, this is a great place to do it. There are a number of accommodations located close to Shenandoah National Park which make it easy to explore the park more fully. Alas, it will have to wait for another visit as I raced the sunset to Harrisonburg.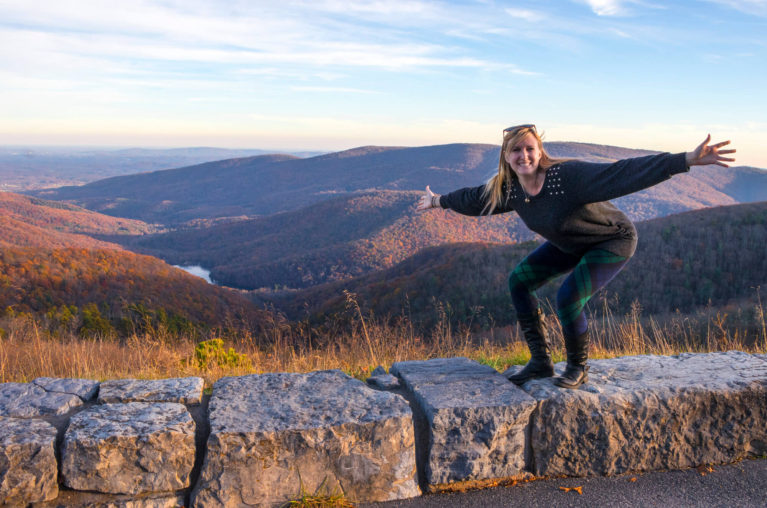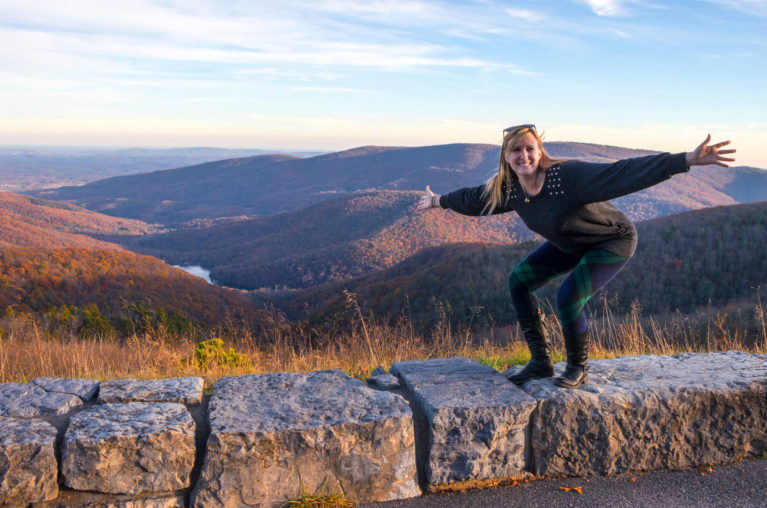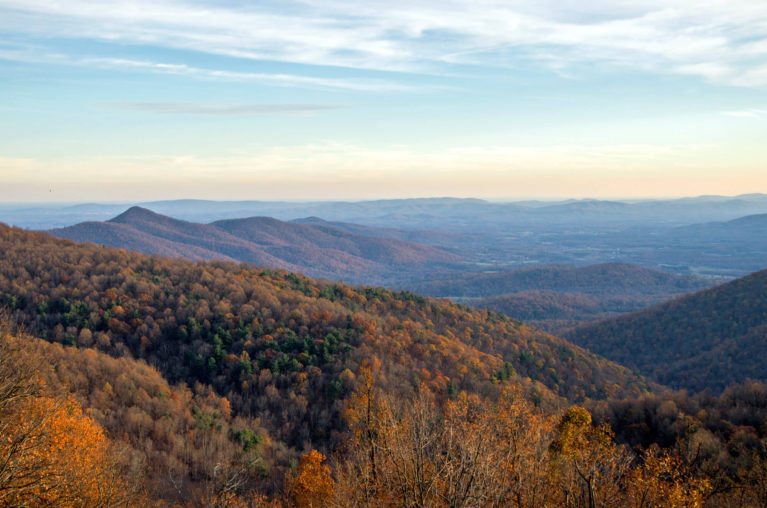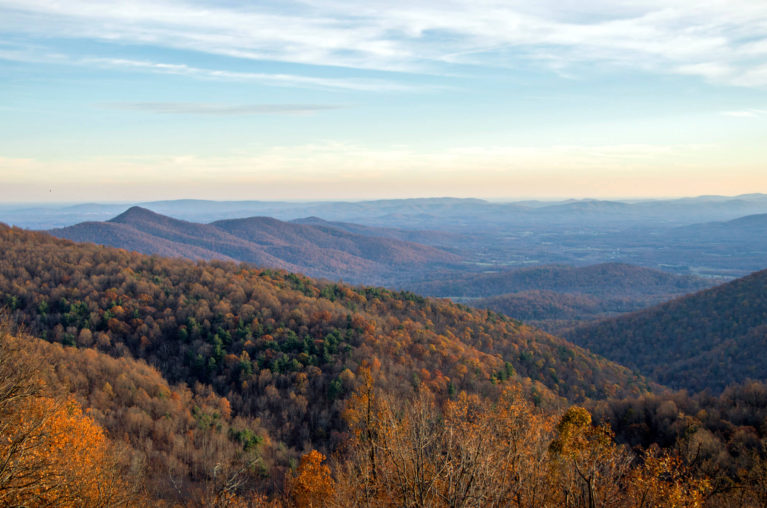 Harrisonburg, Virginia
With the tagline 'friendly by nature', I had a feeling that Harrisonburg would have a warm, welcoming vibe – and I was right! It didn't take long for me to fall in love with the town as I was constantly greeted with kind smiles and stellar conversation everywhere I went.
Your first stop should be the Hardesty-Higgins House which was once home to Harrisonburg's first mayor Isaac Hardesty. It has since become the Harrisonburg visitors centre. Here you can get your bearings and learn more about all the amazing things to do in town and in the surrounding area. You'll also find an adorable cafe as well as the Valley Turnpike Museum. You'll learn about the history of the road now known as US Route 11 as the Shenandoah Valley was settled.
From here I highly recommend exploring town and popping into some of the stores. You'll want to visit the Agora Downtown Market, a collection of small businesses under one roof. Whether you're looking for a souvenir, a gift for yourself or to just do a little window shopping, these local artisans will wow you. You can even do it with a coffee in hand from Broad Porch Coffee Company! I absolutely fell in love with the items at Lineage and couldn't resist taking a t-shirt home with me.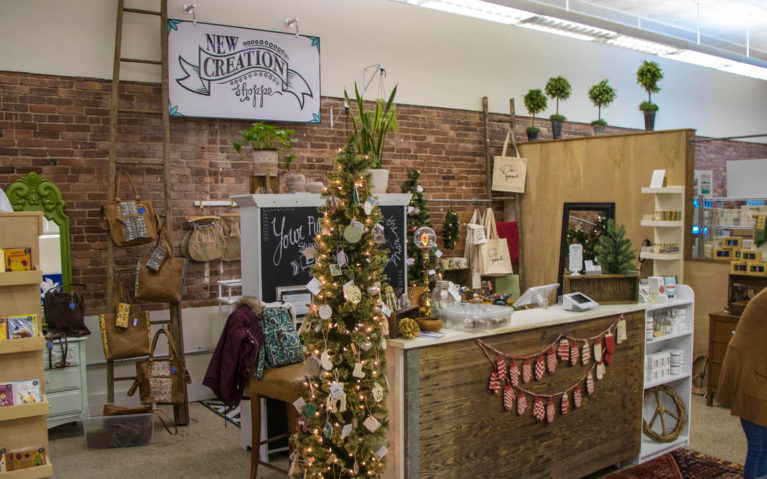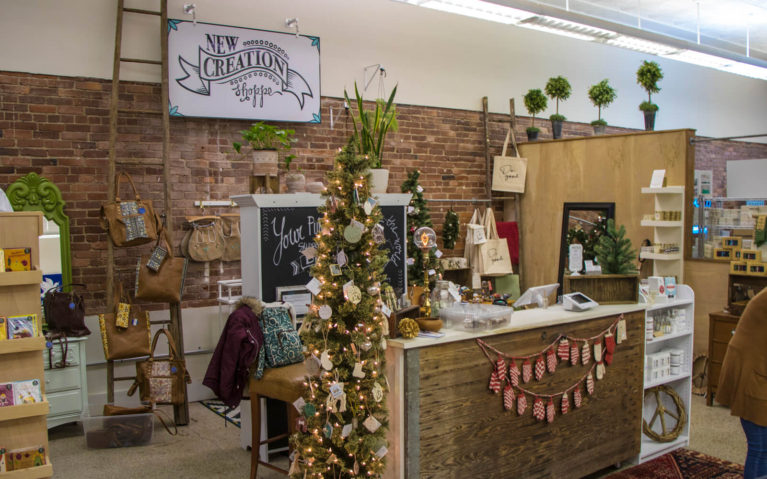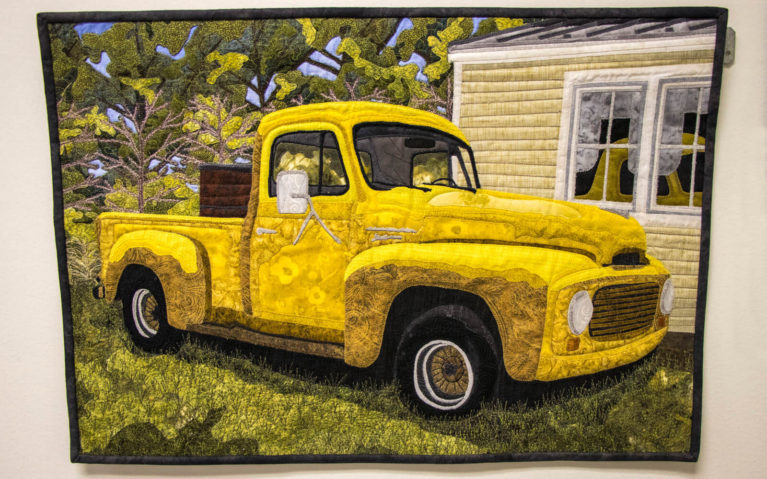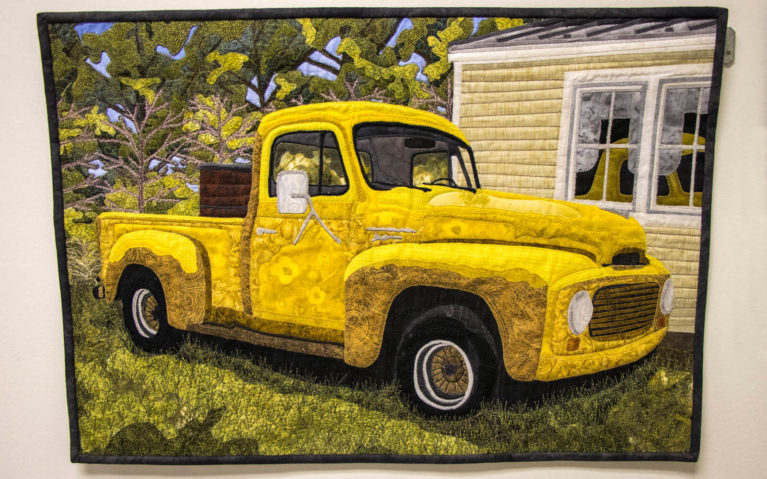 There are also a number of artistic institutions that call Harrisonburg home. Even if you're not the crafty type, you can't miss out on visiting the Virginia Quilt Museum. Their collection boasts 300+ quilts, some of which date all the way back to the civil war. It's interesting to see the contrast between the quilts of the early 1860s compared to those of today. Function isn't as important in the modern styles as you'll even see 3D quilts! I never thought of quilting as an art form like painting or sculpture so I found these to be truly fascinating.
Another artistic establishment you won't want to miss is The Museum of American Jewellery Design and Manufacturing. The human-powered jewellery industry collapsed in North America but has been brought back to life by Hugo Kohl who one day saw antique casts being tossed away like trash. He could tell they were something special and dove into the world of jewellery making with both feet. You can even watch him as he crafts beautiful jewellery by hand from antique, hand-engraved hubs, dies and rolls.
Looking to grab a bite to eat? I have two recommendations for you. First is the Rocktown Kitchen, a farm-to-table establishment that embodies casual fine dining. This restaurant boasts elegant rustic decor as you settle in for top-notch eats. Whether you opt for something light like their beet and quinoa salad or go for a heavier dish like the Rueben, you won't be disappointed. I speak from experience as I had both – no judging!
The other restaurant in Harrisonburg you have to eat at is Jimmy Madison's. If you're a fan of southern cooking and/or bourbon, you have to eat here. I was absolutely head over heels for the delicious 'Wafflewich', their spin on the traditional chicken and waffles. Unlike KFC, this beast actually IS 100% finger-licking good! When you're hungry, you can't go wrong with either of these two Harrisonburg restaurants.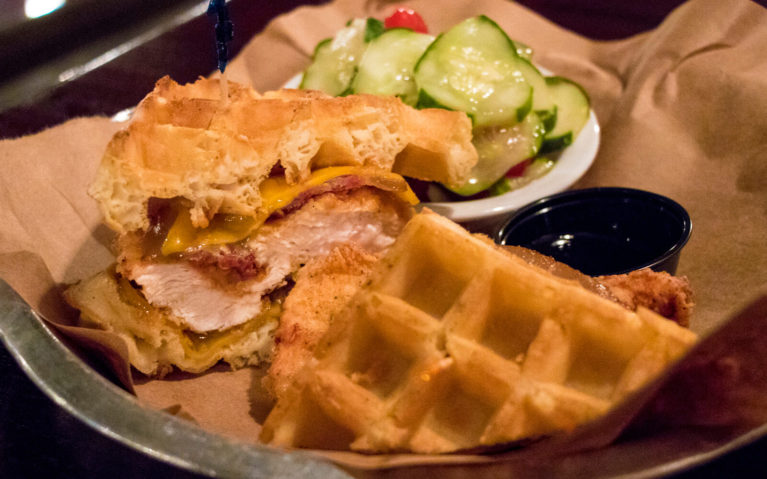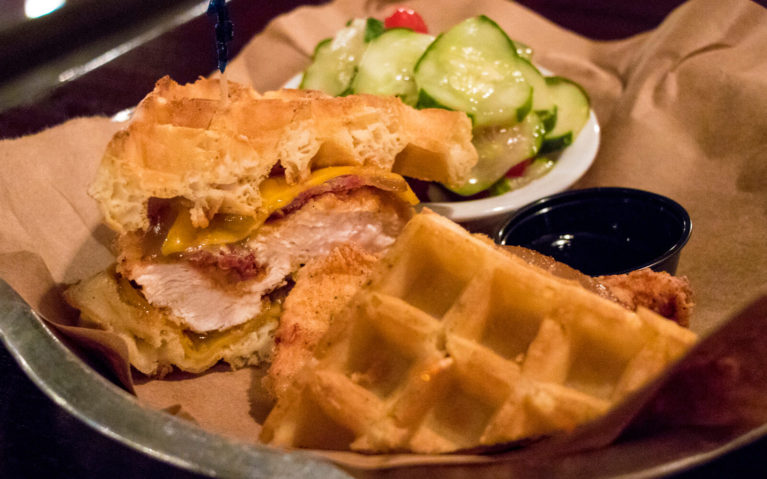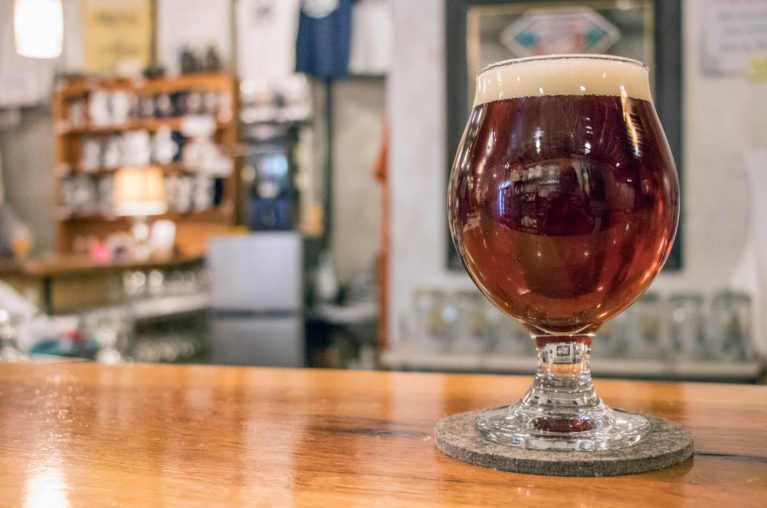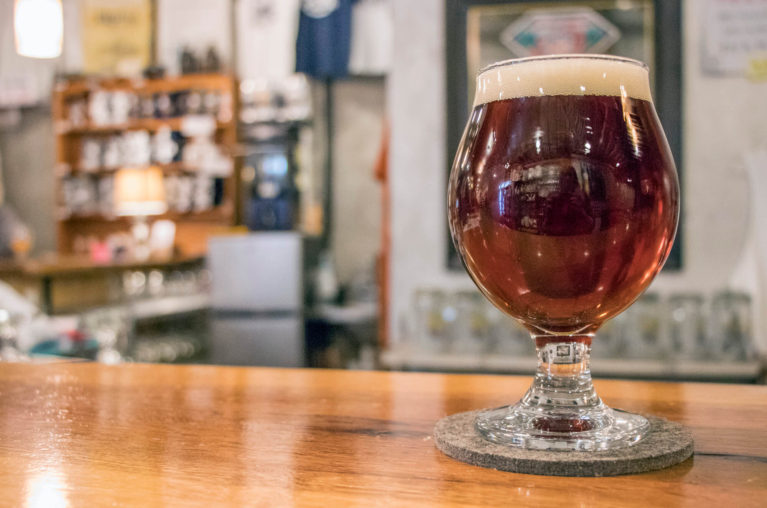 As with many of the other destinations on this Virginia itinerary, Harrisonburg also has some great craft beer. My favourite is hands down The Friendly Fermenter. This homebrew haven is a fun place to be with plenty of great beer and conversation. They focus on small-batch brewing meaning there's a high chance you'll be enjoying a new tap line up every time you visit. My pint of choice was their Cream of the Crop cream soda ale. I'm not a fan of cream soda but I'd take a pint of this any day of the week! If you do pop in, be sure to say hi to Shawn for me!
A day is best completed with a comfortable bed, but when it's so comfy you can barely muster the motivation to get out of bed – you know you've chosen well. This is definitely the case at the Stonewall Jackson Inn Bed & Breakfast. You'll sleep soundly in one of the 10 rooms inside this circa-1885 homestead. Each room has a private ensuite bathroom and a variety of amenities which can include a TV, fireplace, mini-fridge and more. There are also a number of common room spaces that guests are free to utilize whenever they'd like.
Included in your stay is an incredible breakfast prepared by one of the innkeepers, Becca. This young gal from Pennsylvania and her husband oversee the inn alongside the owner who's often referred to as 'the ghost in the attic'. Becca will ensure you feel right at home and that you're well fed for a day of exploring. Take a look at the rooms to see which is best for you or read up on what other guests had to say about their stay.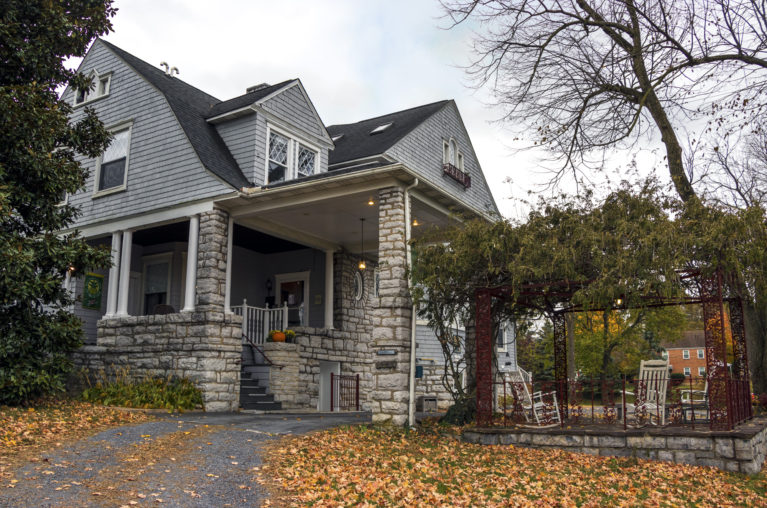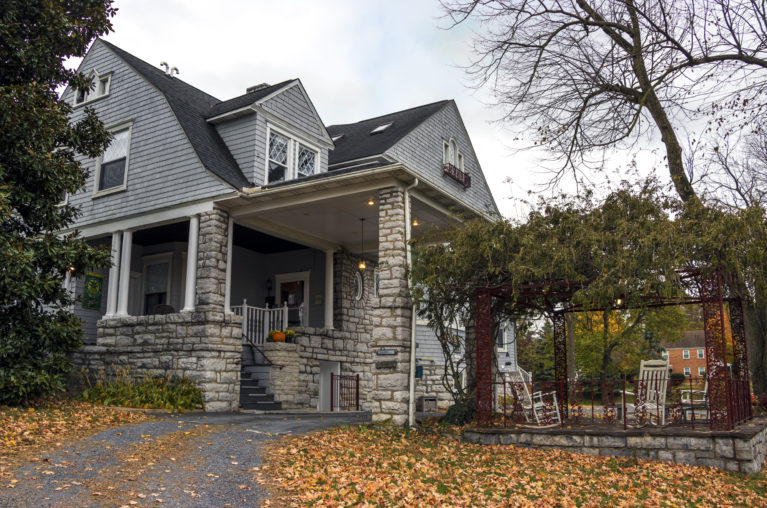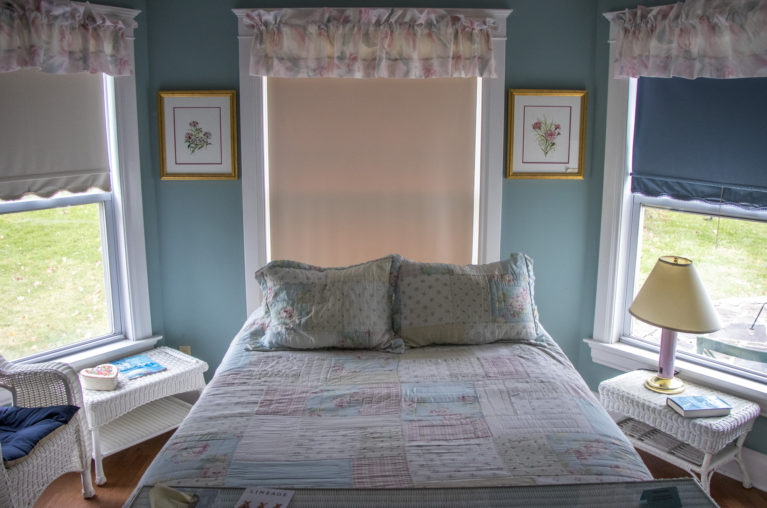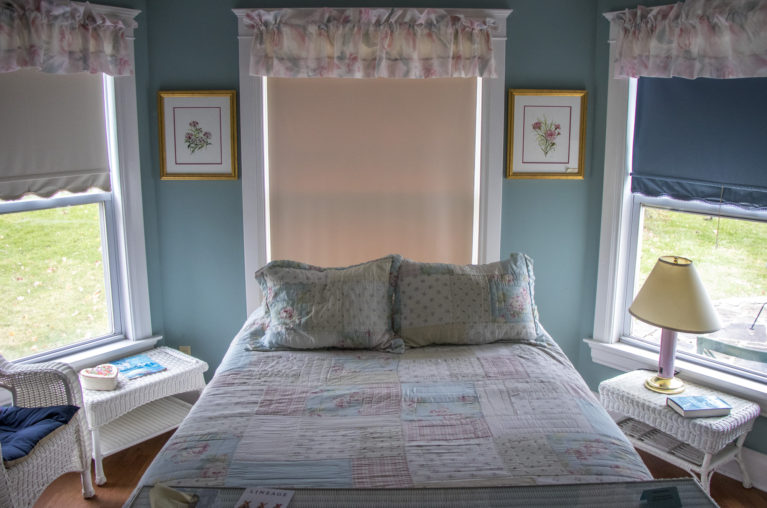 Luray, Virginia
Hop back on the I-81 north to continue your Virginia road trip. Take highway 211 where you'll make your way to Luray. You may not know this but Virginia is home to a number of underground caverns and the ones in Luray are said to be the crown jewel. I knew this going in but I have to say I had no idea just HOW impressive the Luray Caverns would be!
Discovered in August of 1878, they have become the largest caverns within the eastern United States. Take a guided tour as you make your way below the Earth's surface, learning about the incredible formations in front of you. The slowly flowing limestone stands almost frozen in time to create beautiful natural sculptures. You'll see a shaggy dog, a ghost and other fun shapes including the bride and groom column inspired by the number of proposals and marriages that have occurred in the Luray Caverns.
Though what really blew me away was the optical illusion of Dream Lake. You'll be rendered speechless as you take in the mirrored views of the stalactites. This will come in handy later on as you'll want to be quiet so you can hear the melodies of the world's largest musical instrument – the Great Stalacpipe Organ!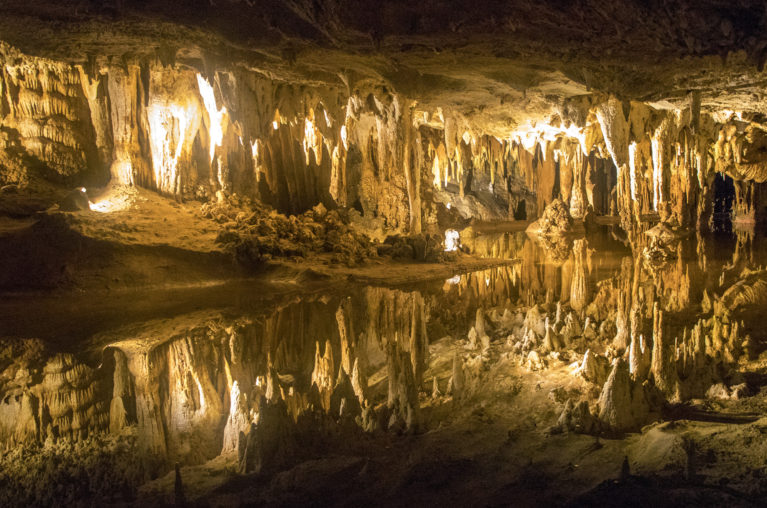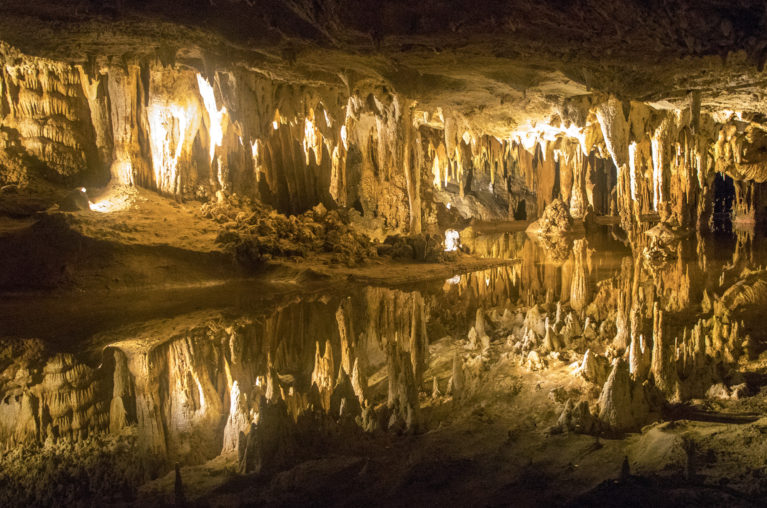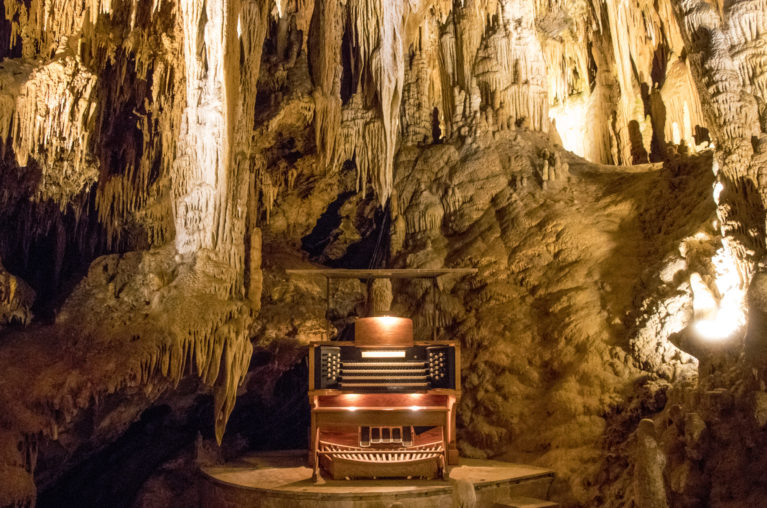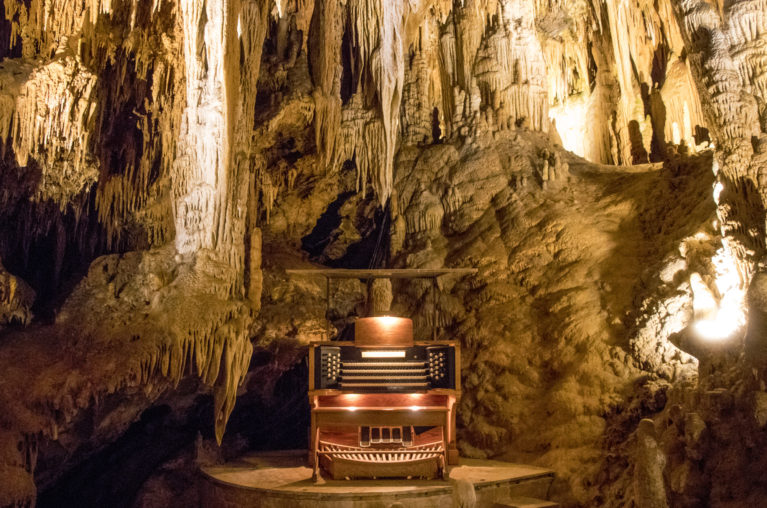 Once your tour is complete, your ticket also gives you entry to the Luray Valley Museum and the Car and Carriage Caravan Museum. Inside the Luray Valley Museum, you'll learn about the history of the Shenandoah Valley from pre-contact until life in the 1920s. The Car and Carriage Caravan Museum does the same but from a transportation perspective as horse and buggy becomes industrialized into the early predecessors of the cars we see today.
RELATED: There's more to Luray than just these things to do near Luray Caverns! Make sure you spend some time exploring the town and check out my guide to all the great things to do in Luray VA.
Overlooking the town of Luray is the elegant Mimslyn Inn and your top choice for accommodation in Luray. Embrace luxury in this historic setting with beautiful gardens, patios and terraces. There are a number of amenities on-site including a restaurant and bar, spa, fitness centre, fire pits, seasonal pool, and more. You have everything you could need so you don't need to leave the hotel once you check-in!
I decided to take it easy and enjoyed dinner at The Speakeasy, which was inspired by the early days of the Mimslyn Inn during the prohibition era. The menu features themed cocktails and a variety of meals from hearty eats to lighter fare. A member of the Historic Hotels of America, you'll fall in love with this beautiful property. Book your stay now or if you're still not convinced, these reviews should do the trick!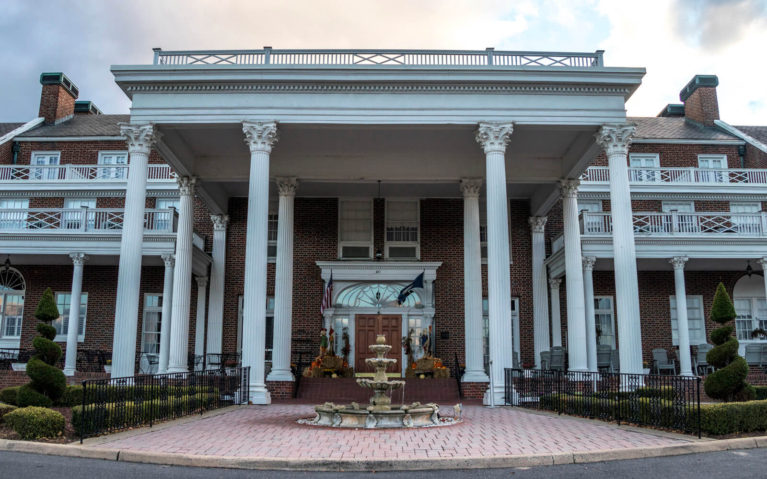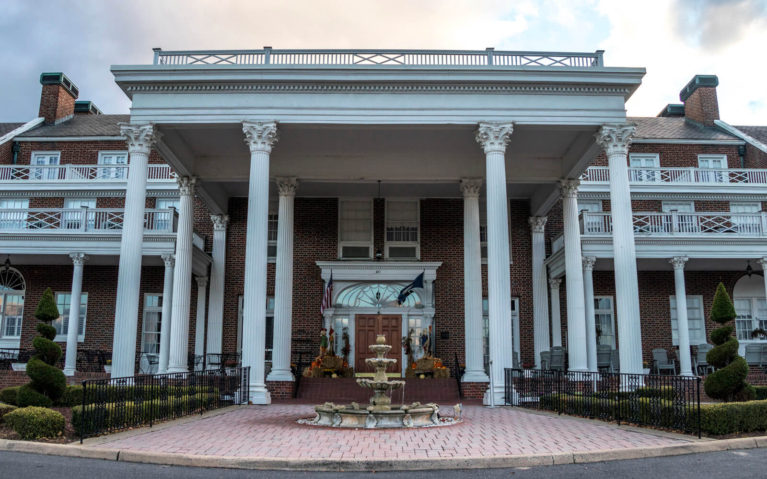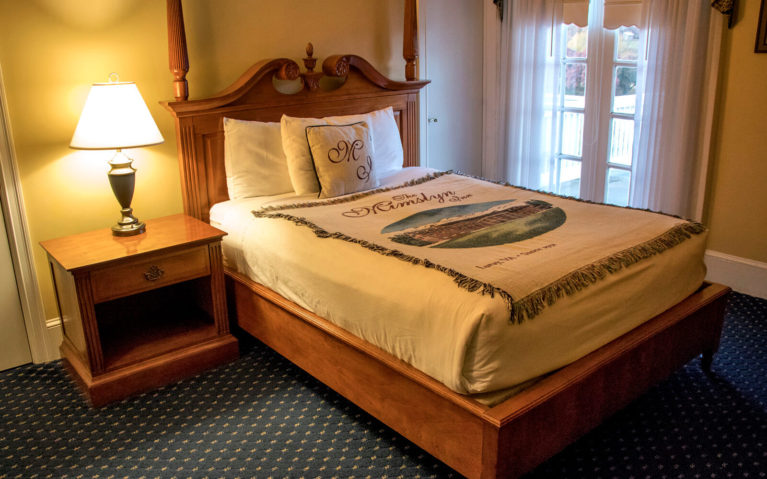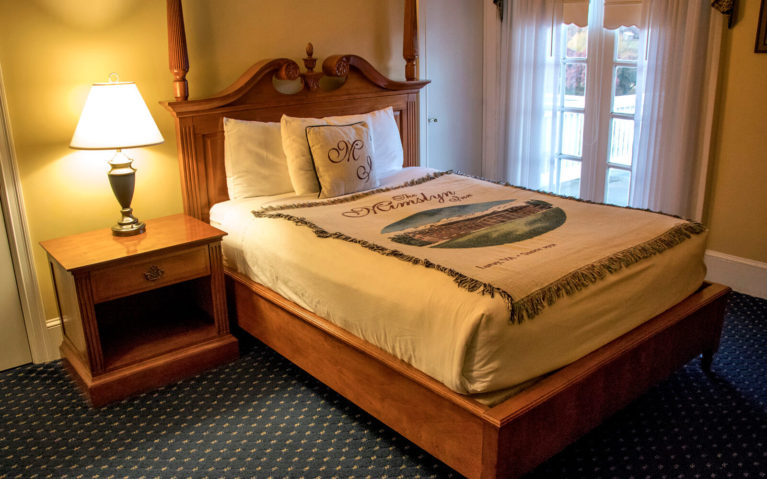 Winchester, Virginia
Last but certainly not least, you'll find the final stop on this Virginia road trip, Winchester. Though on your way into town, take a moment to stop by Richard's Fruit Market. For five generations (and counting!), this family farm has been providing fresh fruits and vegetables to those who visit since 1953. Over the years they've expanded to include beef, fruit, fresh-baked goods and even wine – everything you'd need for a complete meal!
If your stomach is starting to rumble as you arrive, stop in for a bite to eat at Bonnie Blue Bakery. This 1920 Esso station has been transformed into an iconic restaurant and bakery known for their southern cuisine. Even though I normally don't have seafood before 11:00am, I couldn't resist trying their Low Country Shrimp and Grits… and for good reason. This hearty dish is absolutely delicious and best paired with a biscuit. My mouth is watering just thinking about the incredible southern flavours! They're also famous for their bloody mary mix of which I have a bottle that's calling my name.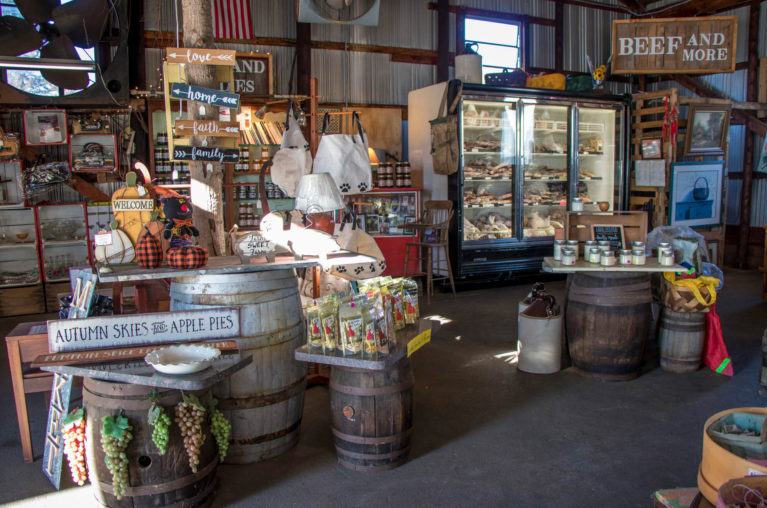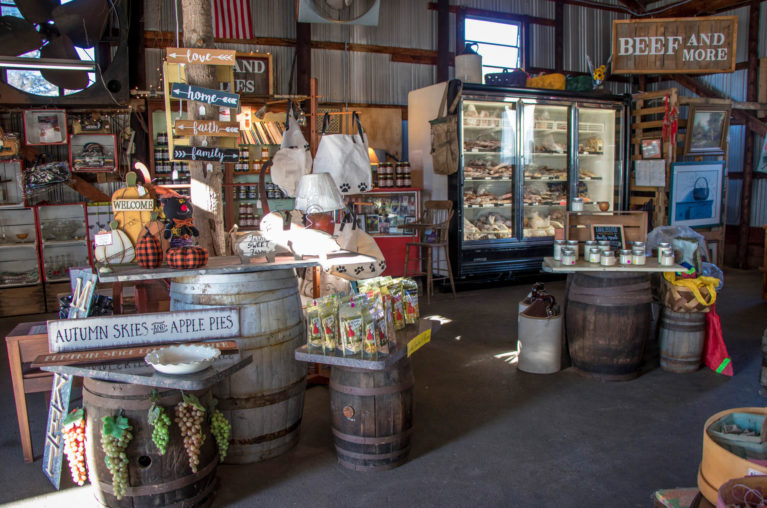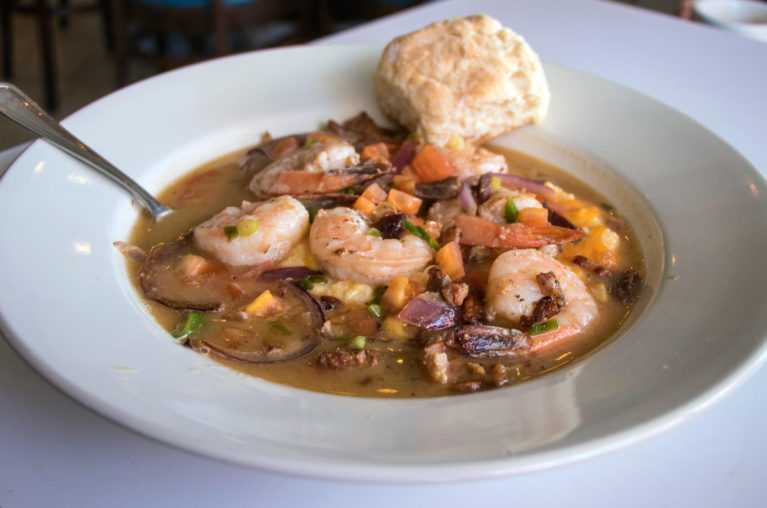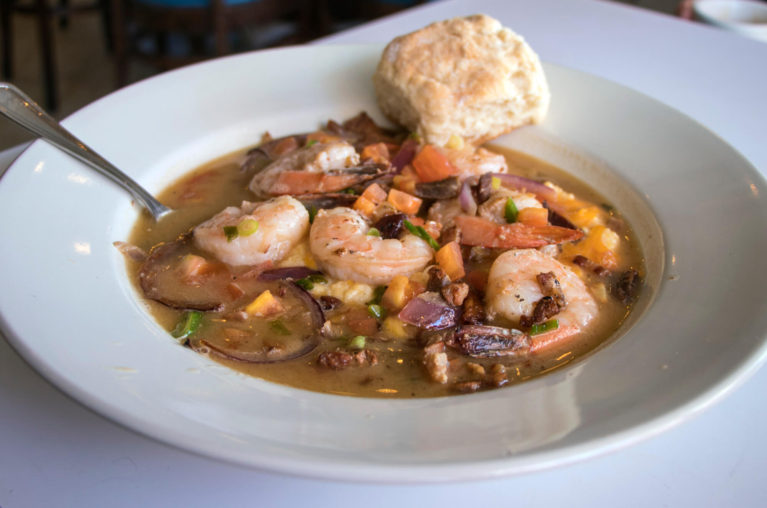 Once your belly is full, head over to the Museum of the Shenandoah Valley. Wander through the exhibits as you learn about the history of the area from the pre-colonization days of the Indigenous peoples up until the present day. You also have to stop by the Glen Burnie House and the beautiful gardens surrounding it. Even with the fall colours fading, the grounds were still gorgeous! Surrounded by 214 acres, they're working to add trails so visitors and locals alike can fully enjoy Winchester's largest greenspace. Rumour has it a new Virginia LOVEworks is said to appear along the new trails!
Afterwards, make your way into the heart of Winchester and explore the old town. This pedestrian zone is just one of two left in the entire state of Virginia! I don't know about you, but I absolutely love pedestrian-only zones. There are plenty of cute shops and great restaurants along these few blocks. If you get hungry, I highly recommend visiting Roma Old Town Wood-Fired Pizzeria. Not only are their pizzas top-notch but their Caesar salads are to die for. Plus it pairs perfectly with a pint from Alesatian Brewing Company located just above the restaurant!
Unfortunately my visit was cut short as I had a flight to catch, but not before I stopped at the most-northern welcome centre along the I-81 for that iconic LOVEworks photo! With a plethora of historical sites, plenty of festivals and the birthplace of Patsy Cline, Winchester deserves a much longer visit so I'll have to plan another trip!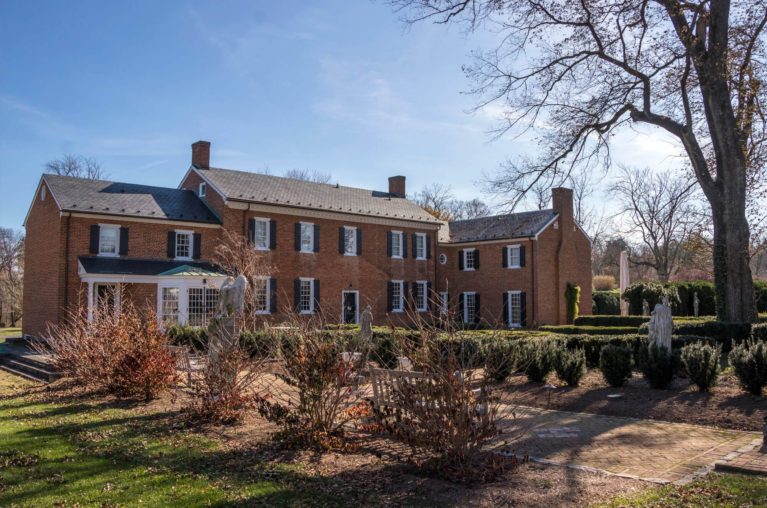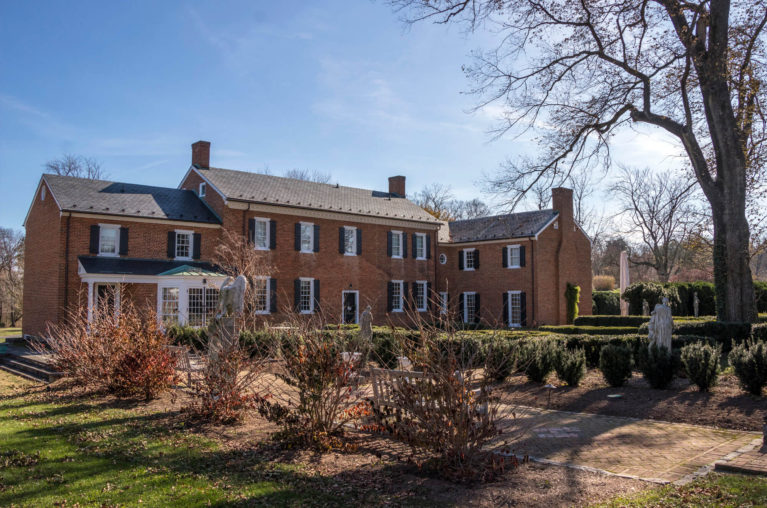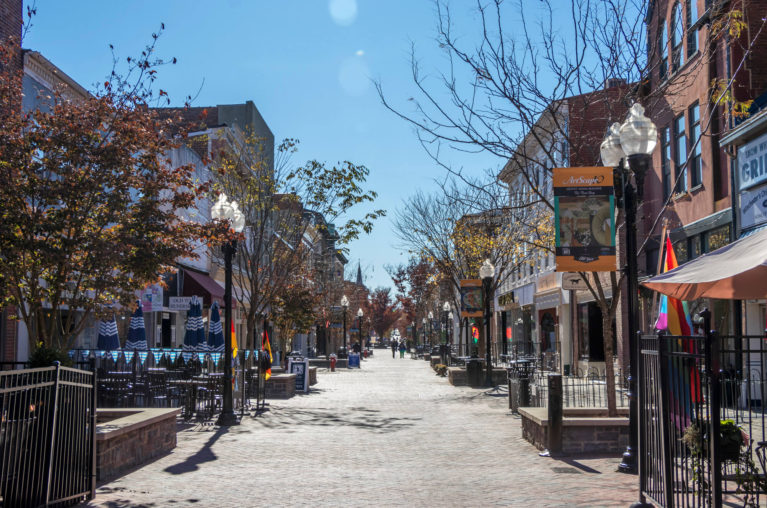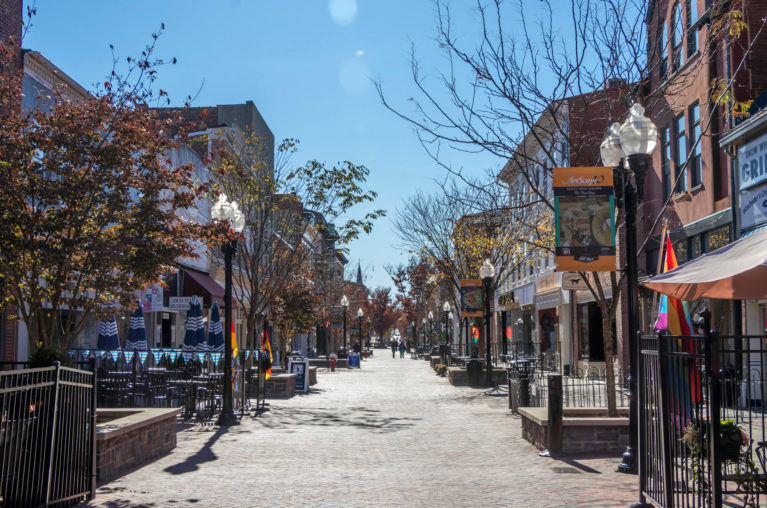 Planning Your Interstate 81 Virginia Road Trip
As a guest of Virginia Tourism, I was hosted for 8 days while exploring the entirety of Interstate 81. Let me tell you now, this Virginia road trip itinerary can easily be extended in 2 weeks, 3 weeks or even a month depending on how leisurely you travel. There is so much to see and do along the I-81 that you'll want to visit again and again! I followed the highway north from the border of Virginia and Tennessee up to the border with West Virginia.
It's entirely up to you if you wish to follow in my footsteps, do it in reverse or just enjoy a segment of my adventure. Whatever you choose, I guarantee you'll have an amazing time exploring Virginia!
Driving to Virginia
Visiting the western side of Virginia is the perfect getaway from a number of destinations. Knoxville in Tennessee, Asheville and in North Carolina and the Kentucky border are less than a 2 hour drive from Bristol, Virginia on the southern Virginia border where this itinerary starts. In the north, Baltimore in Maryland, Washington in DC, and a number of cities in southern Pennsylvania are 2.5 hours or less by car to Winchester located on the northern tip of Virginia. I was surprised to discover that the Laurel Highlands as well as the Cumberland Valley were so close to Virginia. My American geography isn't the greatest so I often forget just how many states are tight-nit on the eastern seaboard!
If you are driving, one thing to keep in mind is that this Virginia road trip itinerary is a one-way adventure following the I-81. Clearly that's not the best situation if you're adventuring from home since it means backtracking! One thing you can do is plan your itinerary so that you hit some destinations in one direction and then others on the way home. Another option is to enjoy a different route on your way home. US Route 11 is a more scenic drive and includes a number of country roads. You'll get a taste of it if you follow the route I took which may entice you to explore it more during your adventure!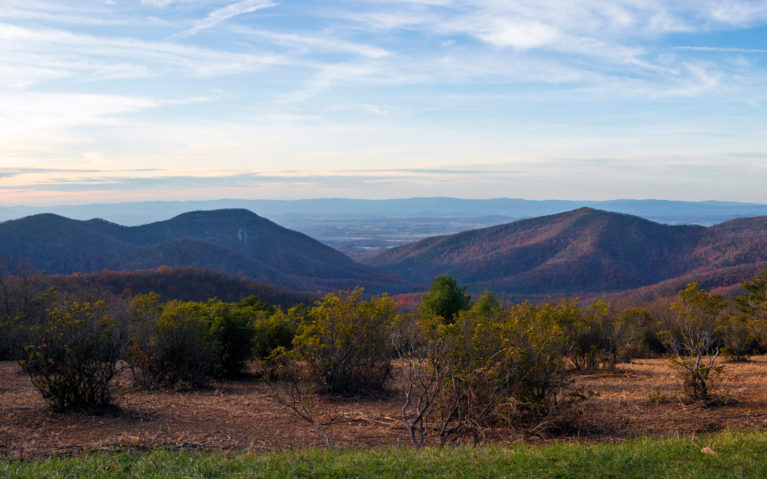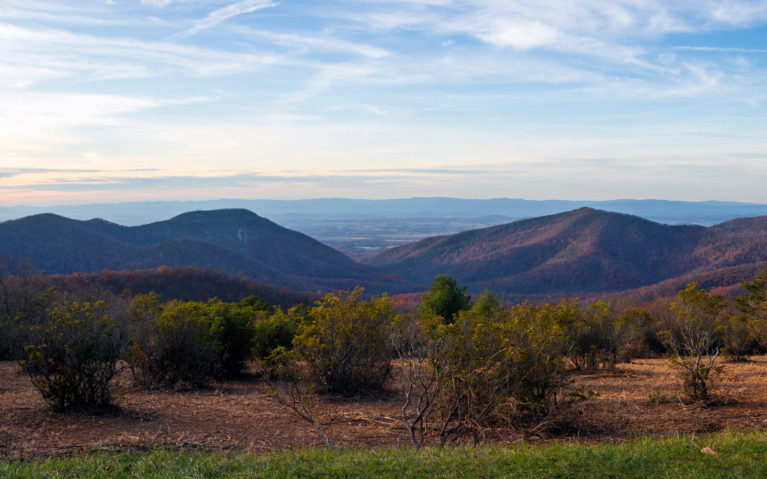 Getting to Virginia via Air
If Virginia is a little too far to drive, there are plenty of options for flights into Virginia. If you're following the itinerary above, you'll need to fly into the Tri-Cities Airport in Blountville, Tennessee. Here you'll rent a car so you can make your way up the I-81. There are a few options for rental companies, however I went with Enterprise and highly recommend them!
I've used Enterprise a number of times (including my road trip from Calgary to Alberta as well as my Manitoba road trip) and have had no complaints. Their service has always been top-notch and the agents at the Tri-Cities Airport were absolutely lovely. Within 15 minutes I had car keys in my hand and was on my way up the I-81!
Once you get to Winchester, the closest airport is Washington Dulles which is actually in Virginia. There are more direct flights as this is a larger airport, which I was thankful for after 8 days of non-stop adventure. Dropping off the car was easy and the shuttle from the Enterprise location to the airport was no more than 5 minutes. I love it when everything works like a well-oiled machine! The flight from Washington Dulles to Pearson International Airport in Toronto was less than two hours. Just the right amount of time for a quick cat nap on the plane!
INSIDER TIP: As this is an international flight, you should be at the airport 3 hours before your departure time. I arrived about 2 hours before and while I made it to my gate with about 20 minutes to spare, I was nervous as the security line was very long. Safe yourself the stress and get there early!
As I mentioned earlier, this Virginia road trip itinerary can require you to backtrack if you wish to arrive and depart from the same place. This isn't the worst thing in the world, but it's something to think about when planning your stops for this epic adventure.
Best Time to Visit Virginia
When is the best time for this Virginia road trip? I suggest any time between early summer and late fall. The peak of summer will mean amazing weather but then you'll also be contending with crowds which can make accommodation difficult to find. You can avoid this by booking in advance and visiting smaller destinations on weekends. I've got a few tips here for finding awesome deals on accommodations which might help! I would recommend late September into October as you'll dodge the big crowds and hopefully catch the fall foliage at its finest.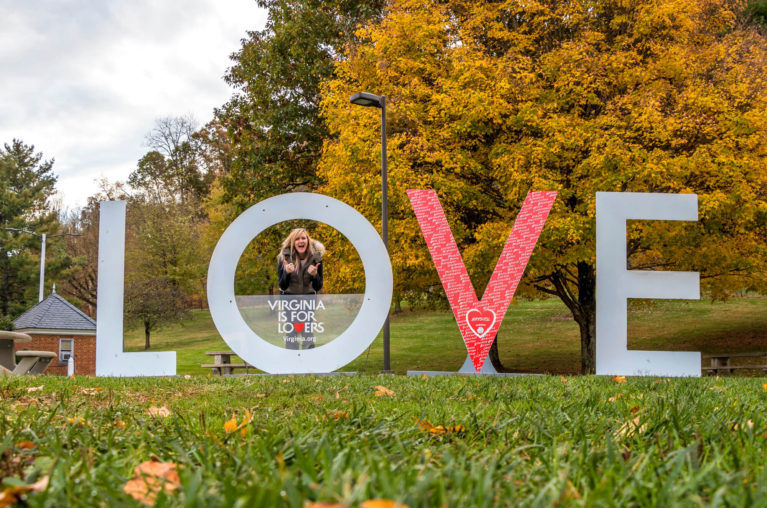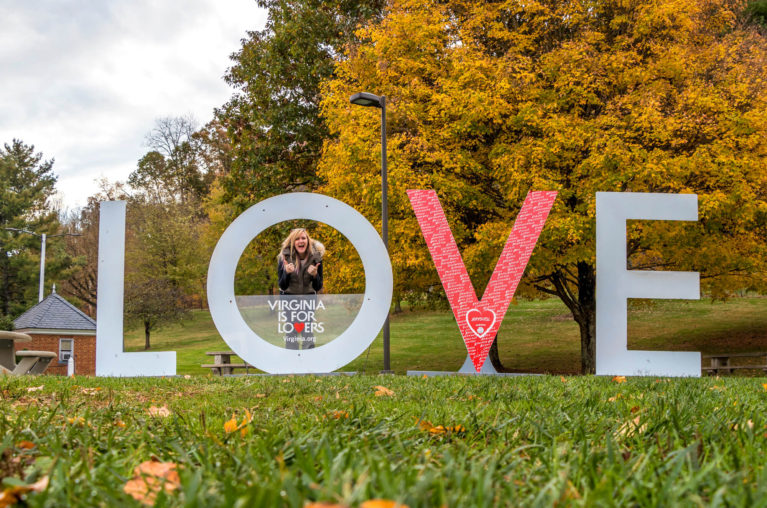 Ready for Tackle This Epic Road Trip in Virginia?
Believe it or not, I did that entire Virginia road trip itinerary in just 8 days. In all honesty, this could easily be turned into a 2 week Virginia road trip itinerary or even longer. What really stuck with me though is just how much I learned about each area upon exploring it. I left each town and county I visited with a longer to-do list than I started, which I always take as the sign of a great destination!
No matter how many times you visit Virginia, I guarantee you'll fall more in love with the state. Have you visited the western side of Virginia? What destination do you want to visit first? Whether you're a foodie, outdoor adventurer, art enthusiast, history buff or just a fan of hitting the open road, there's something for you in Virginia.
Looking for More Tips About Visiting Virginia?
Don't Miss These Top 10+ Virginia Views Along the I-81 Corridor!
Everything You Need to See, Do & Eat in the Quirky Town of Wytheville
History, Caverns & Parks – Oh My! Check Out My Stellar Guide to Luray VA
Check Out These 15 Unique Places to Visit in Virginia Near the I-81
Fuel Up At These Top Virginia Restaurants Along Interstate 81

Disclaimer
Thank you so much to Virginia Tourism and its regional partners for hosting me during my first foray into the state. It was an absolute pleasure to enjoy this Virginia road trip and I can't wait to return once again. While my entire stay was hosted, all the opinions you read here are always true and honest. Read more in IBB's disclaimer and privacy policy.
Looking to Save this Virginia Road Trip Itinerary for Later? Pin it!