What to See & Do in 24 Hours (or More!) in Fort Smith NWT

Canada is a massive country with so much to offer. While most plan to visit more southern areas of the country in Ontario, you're truly missing out by not heading north. The Northwest Territories is a vast Canadian territory with plenty of incredible experiences for visitors. It may be a bit of a trek to get there, but you'll be rewarded for your trouble – and Fort Smith NWT is no different!
My visit to Fort Smith was in April and while it was technically spring, this is the north. Winter is a wee bit longer north of the 60th parallel! Colder temperatures didn't stop me from enjoying my time to the fullest. It's nothing that a few layers and good boots can't fix!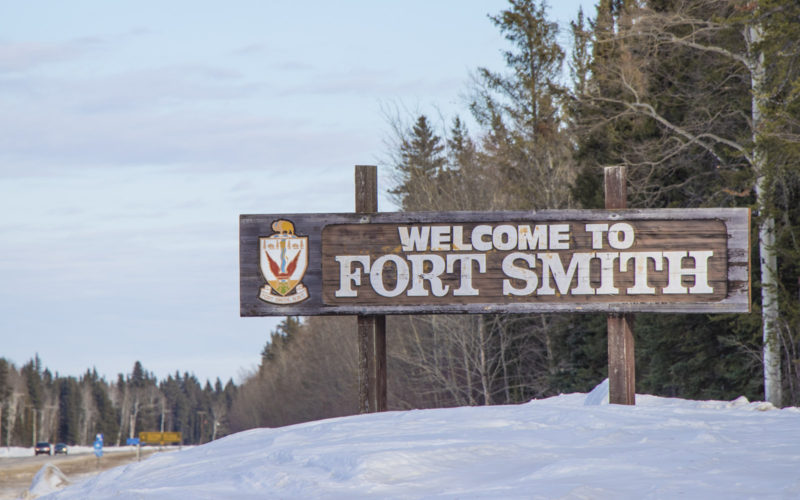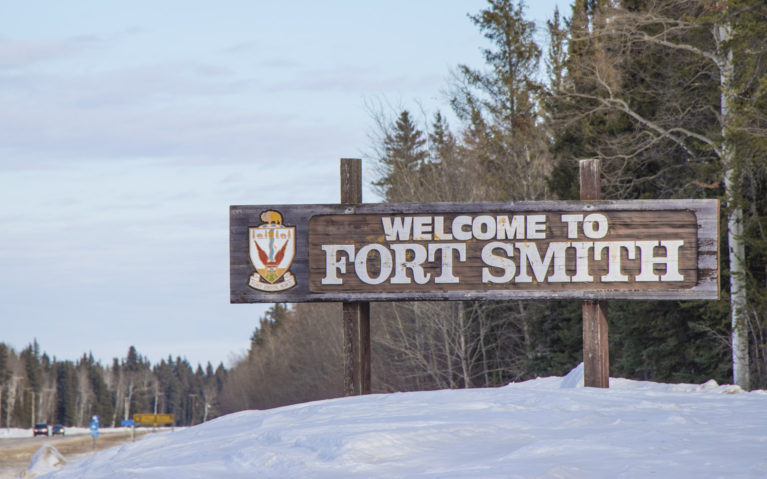 About Fort Smith Canada
Not to be confused with Fort Smith Arkansas, Canada's Fort Smith is much colder and full of small-town charm. Known as Thebacha in Chipewyan meaning "beside the rapids", Fort Smith lies just north of the Alberta border along the shores of the Slave River.
The Fort Smith NWT population is 2500 which has grown since its first days dating back to the Fur Trade. Portage routes used by the Indigenous for millennia and later fur traders served as a crucial link between Southern Canada and the Western Arctic. Dominated by the Hudson's Bay Company, the growth of Fur Trade sent more traffic through this area, with the establishment of Fort Smith in 1874. It was named after Donald Alexander Smith who became commissioner, governer and principle shareholder of the Hudson's Bay Company.
Now that the days of the Fur Trade are long gone, this northern community is known for its natural wonders. Many people visit to see the pelicans who flock to the Rapids of the Drowned each year as well as Wood Buffalo National Park. Whether you're here for 24 hours like I was or for a few days, you'll love your time in Fort Smith NWT!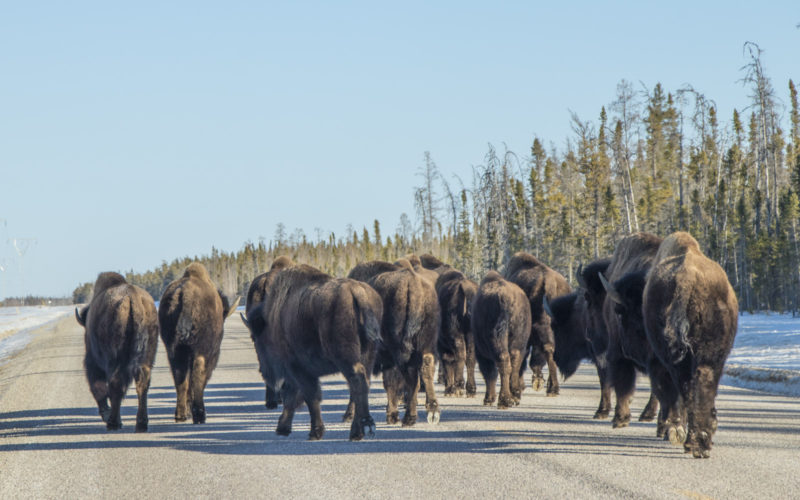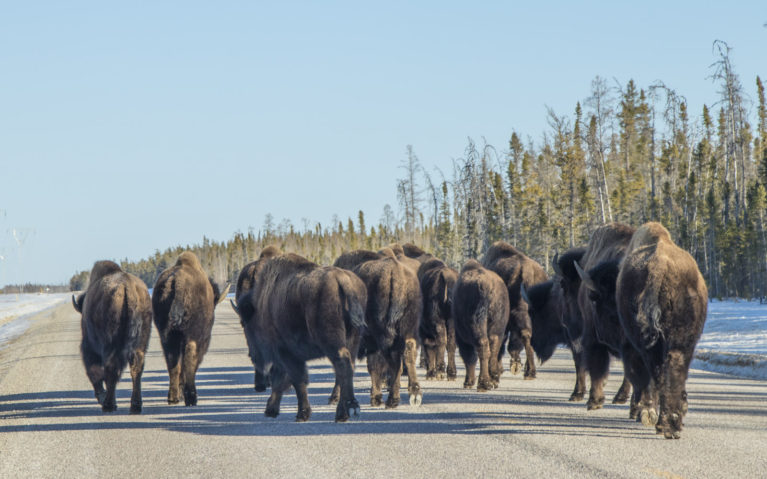 Getting to Fort Smith
Wondering on how to get to Fort Smith NWT? Depending on where you are coming in from, your day may be a long one. If you're coming from Yellowknife, you'll have a long 8 hours of driving ahead of you to get to Fort Smith. Hopefully you'll have a beautiful day and the gas stops will break up the drive so you can stretch your legs. If you want to split the driving between two days, a slight detour to Hay River is never a bad idea! Also if you're lucky, you'll get a true greeting from the locals as you enter Fort Smith.
In case you don't know, Fort Smith is located inside Wood Buffalo National Park. As the largest national park in Canada, it is special for a number of reasons. One of which (and the reason for its establishment as a national park) is that it protects the world's largest herd of free-roaming bison. As you travel along Highway 5, be sure to keep an eye out as the bison (also known as wood buffalo… hence the park's name) love to flock towards the road. Despite seeing them during my road trip in Manitoba, I was still mesmerized by these beautiful animals. Just remember that they are wild and to proceed with caution.
STORY TIME: I was absolutely blown away by the herd of 15 or so bison who greeted me as I neared Fort Smith. I got up fairly close and dug out my camera to get some photos and video. Once I had my fill of recordings, I had a sudden realization – how was I going to get past them?! I wasn't sure what they would do if I got too close, and the herd would move slightly to one side but not enough for me to squeeze by. I wanted to get to Fort Smith ASAP and after 20+ minutes was starting to get a little frustrated the herd wouldn't cooperate. Then panic started to set in. What if I'm stuck here for hours?! What if I get too close and they charge at the car?! Luckily about 5 minutes or so later, a local came up behind me. After a minute or two of waiting, I pulled over to the right a bit more as the van passed me, startling the herd just enough that they went jumping into the snowbanks. Now bison are not the most graceful creatures, so this was quite the sight to watch! Nonetheless, I quickly followed as I was finally past the bison barrier. If it hadn't been for them, I might still be sitting on that road!
If an 8-hour drive seems too long, you can choose to fly into Fort Smith instead. Northwestern Air is based in Fort Smith and offers a number of direct flights from northern cities. With them, you can fly direct from Edmonton, Fort Chipewyan, Hay River and Yellowknife.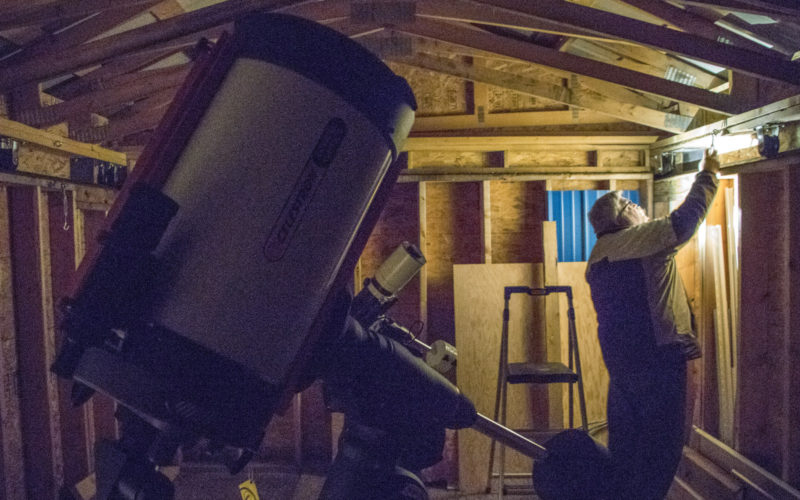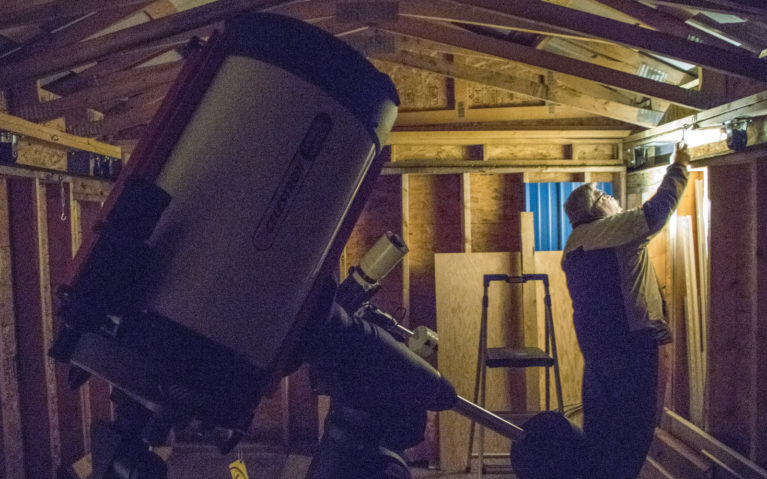 Things to Do in Fort Smith NWT
The town may be small but there is so much to see and do! It was go-go-go from the minute I set foot inside Fort Smith's boundaries. I only got to scratch the surface during my visit, but already I can't wait to return and explore more. Here's a taste of what I did, along with a few other ideas to extend your itinerary.
Fort Smith Star Park and Observatory
After a long 8 hour drive, I took a moment to rest before hitting the ground running. This past by way too fast and before I knew it, the sun had set and night was upon me. It was the perfect setting for my first stop, the Fort Smith Star Park and Observatory.
Located near the Fort Smith airport, the observatory is home to the Thebacha and Wood Buffalo Astronomical Society, also known as TAWBAS. If you stop by, chances are you'll see Mike or Tim, two amazing gentlemen with a fascination for the Milky Way and beyond. Be sure to say hello for me if you see them! They spearheaded the process to have Wood Buffalo National Park designated as Canada's 17th dark sky preserve in 2013. Every year in August, TAWBAS organizes the Dark Sky Festival, a multi-day event where everyone has the chance to enjoy and learn about the wonders of our universe and the science behind it. While the night is reserved for stargazing, during the day you'll enjoy science-related activities, talk with others interested in astronomy and maybe even meet a familiar face. In 2018, the festival hosted Roberta Bondar, Canada's first female astronaut as she talked about channelling her passion for space into art, specifically photography.
On a clear day, you'll see plenty of stars and if you're even luckier, the Northern Lights will give you a great show. To increase your chances of seeing them, plan your trip between August until April. Unfortunately for me I was too exhausted to catch them, but I dreamed of their performance in Yellowknife as I slept.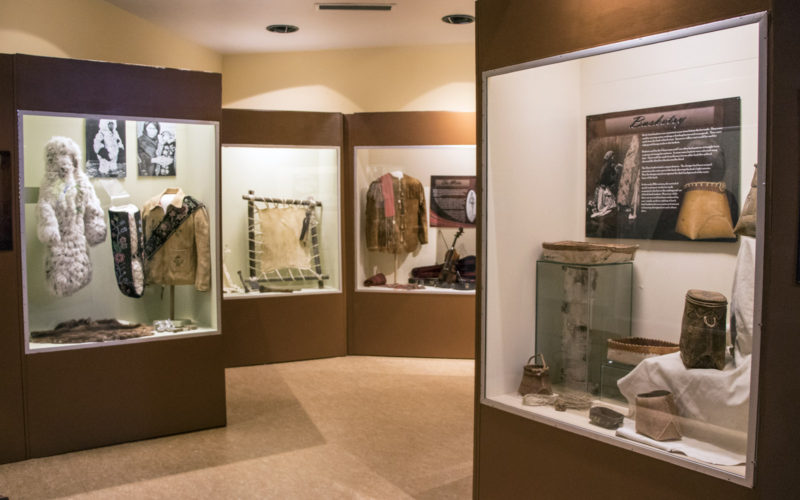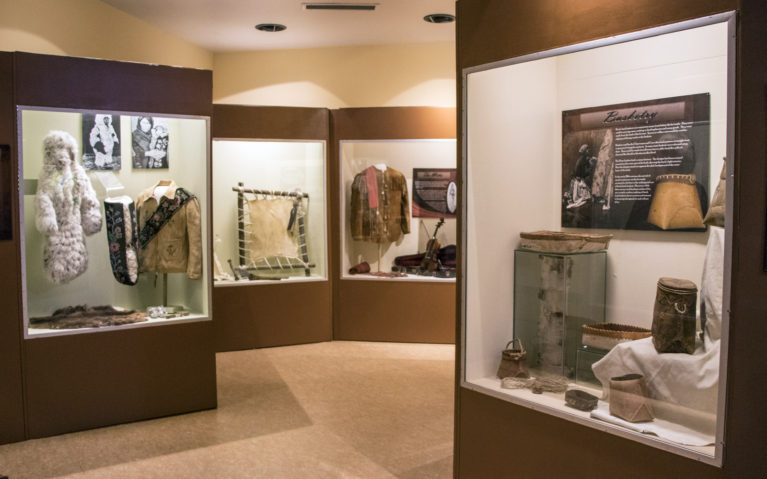 Northern Life Museum and Cultural Centre
A must-do when visiting Fort Smith is the Northern Life Museum and Cultural Centre. Within its walls are what's considered to be one of the best collections of northern Native artifacts in Canada. Home to 17,000+ items including traditional works of the Inuit, Inuvialuit, Dene and Métis, you'll find beautiful beadwork, elegant pieces of clothing, a reconstructed trapper's cabin, fur pelts and more. Learn about the Fur Trade as well as Treaty 8 which was signed during that era. You'll even get to see a real copy of it, restored and preserved as an important piece of what is now known as Canada's history.
I highly suggest taking a guided tour as there is so much information to take in. I had the pleasure of the Northern Life Museum and Culture Centre's curator, Rachel, guiding me through the vast history of the area. She's an absolute mountain of information, and I learned more in an hour with her than I could have in a day exploring the museum on my own! She even spoiled me with a behind-the-scenes look at some of their most precious artifacts, including handmade tools and carvings from hundreds of years ago and even Asian samurai body armour!
Be sure to allow at least a few hours to fully explore this museum of the north. Created to reflect and tell the stories of those who faced isolation, harsh climates, incredible distances, scarce populations, the depths of the wilderness and more, you'll be in awe of what you discover. It's the perfect way to spend a morning or afternoon in Fort Smith.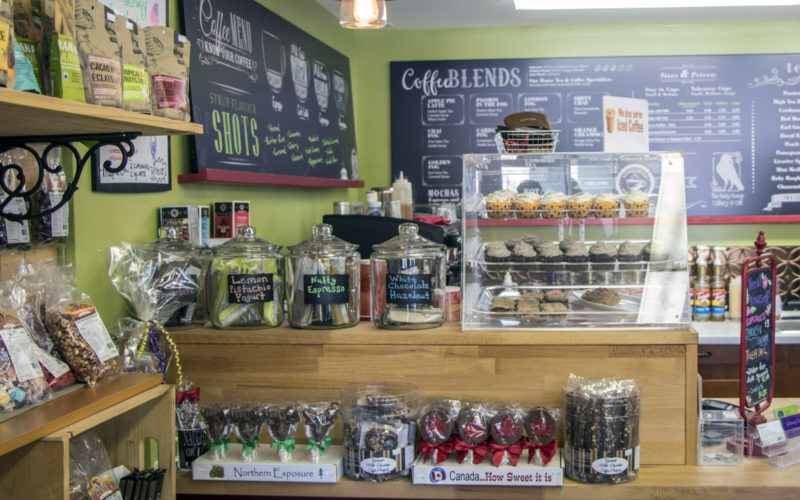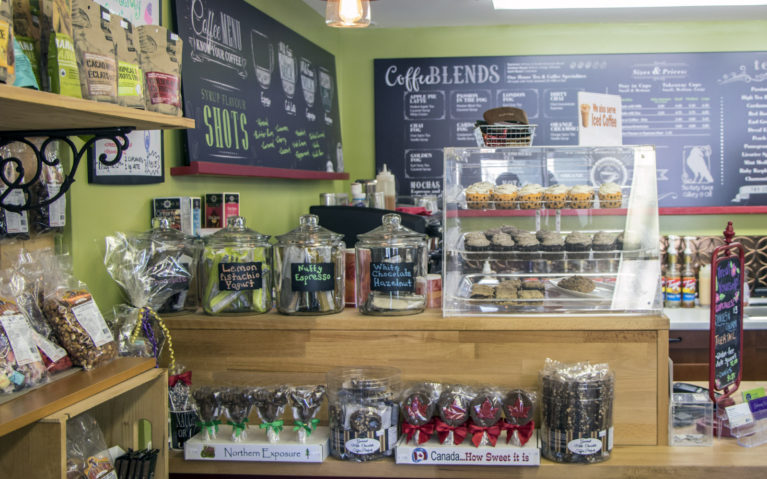 Refuel at a Fort Smith Restaurant or Coffee Shop
Exploring sure makes you hungry and there are a number of great restaurant options in Fort Smith. While there are a few chains around, I say ditch the Tim Hortons and head to Berro's Pizzeria. This is the joint where all the locals go, and it's said to be the best pizza in the Northwest Territories. Unfortunately I cannot confirm that as I opted for their chicken shawarma due to time restraints, but the food was delicious and hearty with great portions. You won't be disappointed. Here's a testament to how good it was – I forgot to take a photo!
Other restaurants in Fort Smith worth visiting include Anna's Home Cooking, Ace's Restaurant and The Pelican Restaurant. While I didn't have a chance to visit these establishments myself, I'll be sure to visit them upon returning to Fort Smith!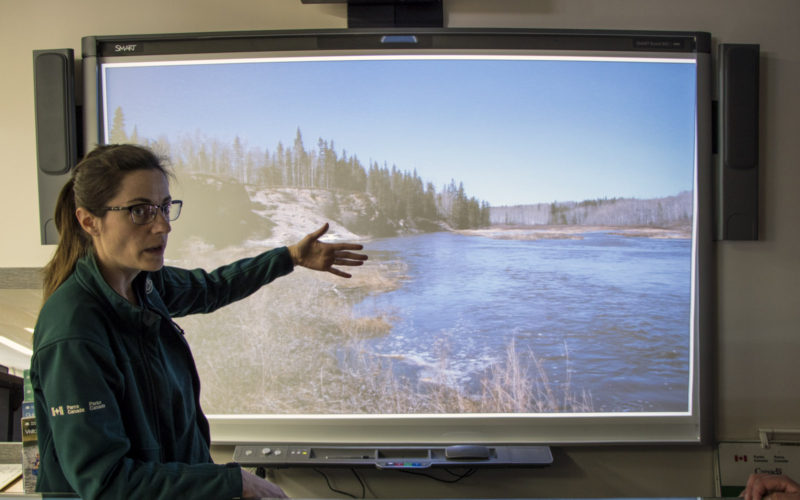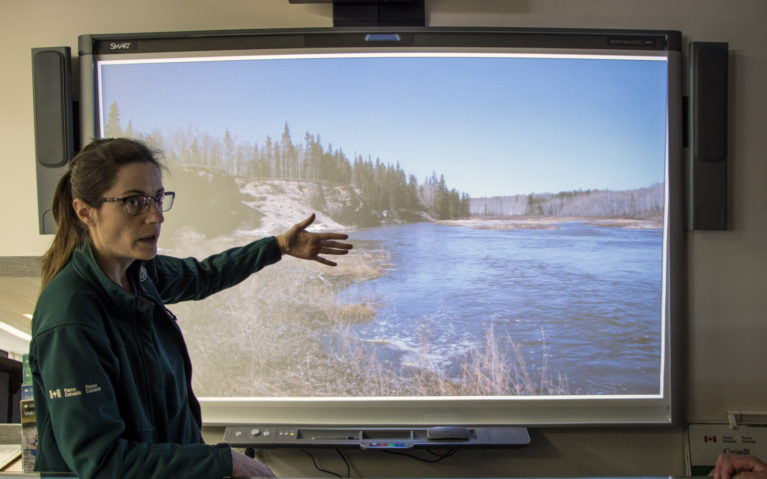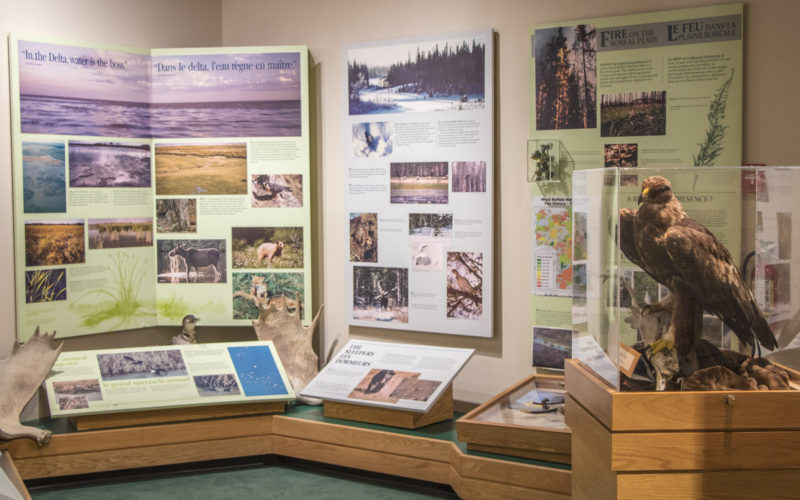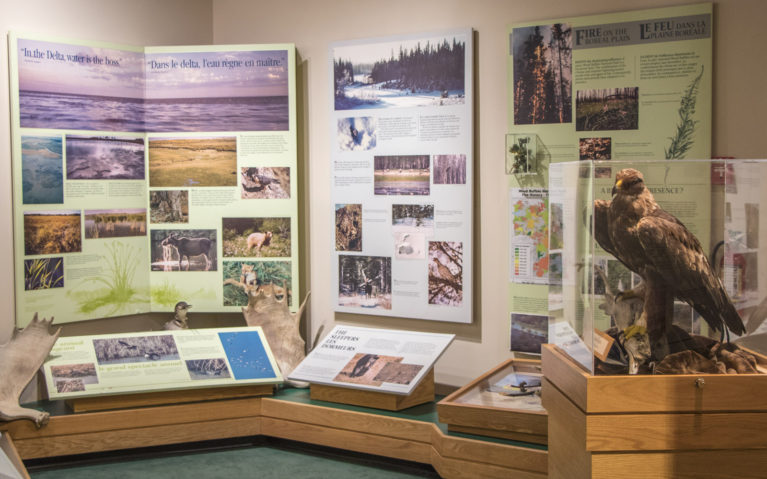 Wood Buffalo National Park
As I mentioned earlier, Fort Smith lies within Canada's largest national park. Not only this, but Wood Buffalo National Park is also the world's largest dark sky preserve! Obviously this means you have to stop at the Wood Buffalo National Park Visitors Centre to learn more about the area. As I visited at the tail end of winter, a lot of the trails and roads within the park were closed or unusable due to inadequate road conditions. While it may be accessible with the right equipment and a friend to help along the way, as a gal travelling solo I didn't want to risk the shotty cell service in case of an emergency. Instead, the amazing staff at the visitors centre gave me a virtual tour of the park. Now I can't wait to return in the warmer months!
As it's one of the largest national parks in the world, it can be hard to decide what to see when visiting. While I only heard about these experiences from the amazing staff, I'd say the number one experience to have is a walk on the Salt Plains. Accessible from Highway 5, trek along the trail to the lookout and enjoy the incredible view. Then, head down to the Salt Plains themselves and reconnect with nature by walking barefoot across them. It sounds like an experience you'll never forget… and one that's on my Canada bucket list!
If you have any questions at all or are unsure about your itinerary, be sure to reach out to the incredible crew at the Parks Canada office and they'll be happy to help. I know I will be when I plan my next adventure to Wood Buffalo National Park!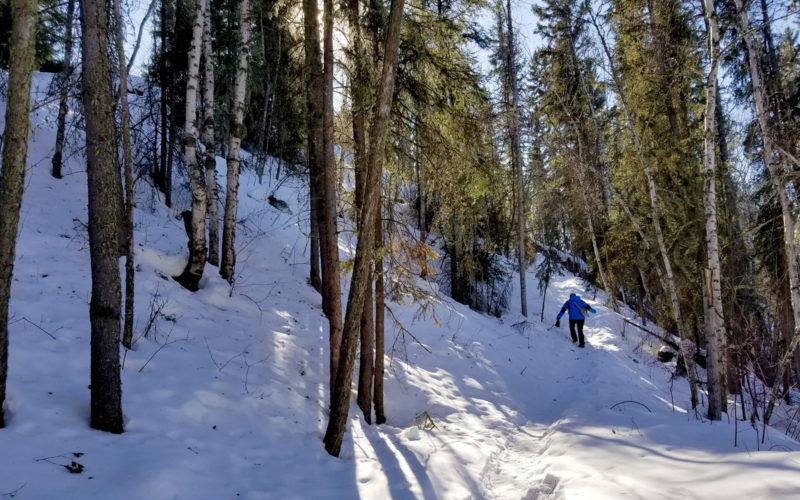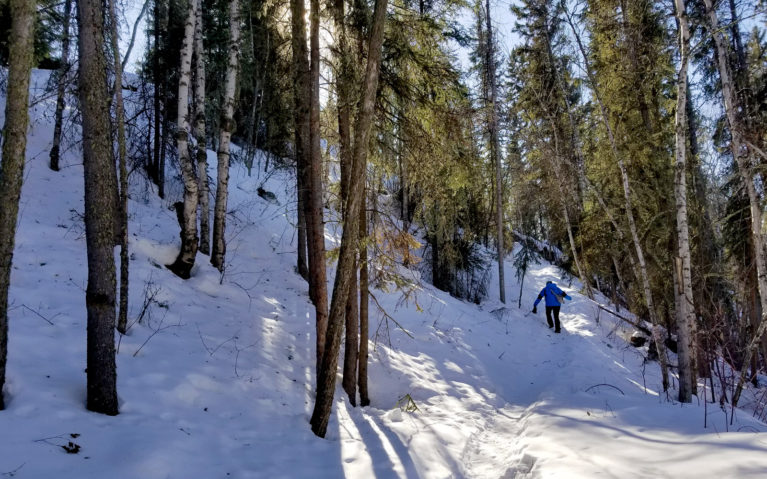 Visit the Rapids
You'd be silly not to take a moment to enjoy the great outdoors and head towards the riverfront. Fort Smith is home to plenty of trails, including the start of a large section of the Trans Canada Trail. You can follow it all the way to the Arctic Ocean! The trail runs along the riverbank past town and offers a number of beautiful viewpoints along the way.
In the winter you may not see much of the river itself, but it still makes for a beautiful winter wonderland. During the warmer months, you can enjoy the four gorgeous sets of rapids along the Slave River: the Rapids of the Drowned, Mountain Rapids, Pelican Rapids and Cassette Rapids. While the latter is a bit of a drive from Fort Smith, the other three offer great hikes within the town!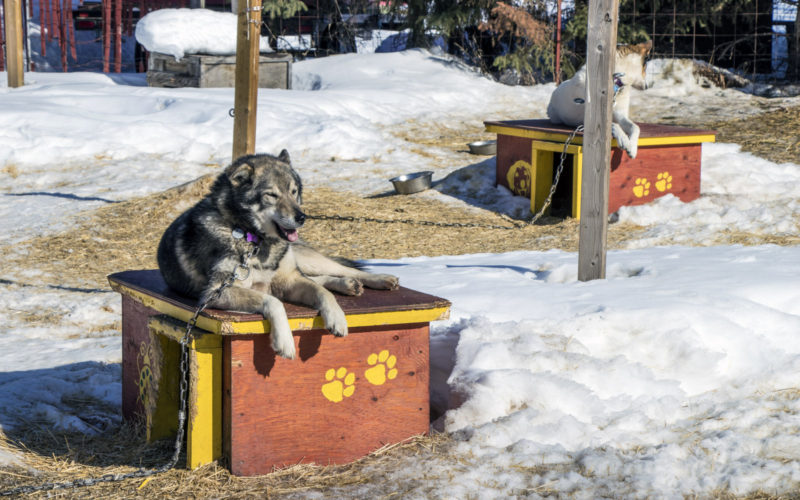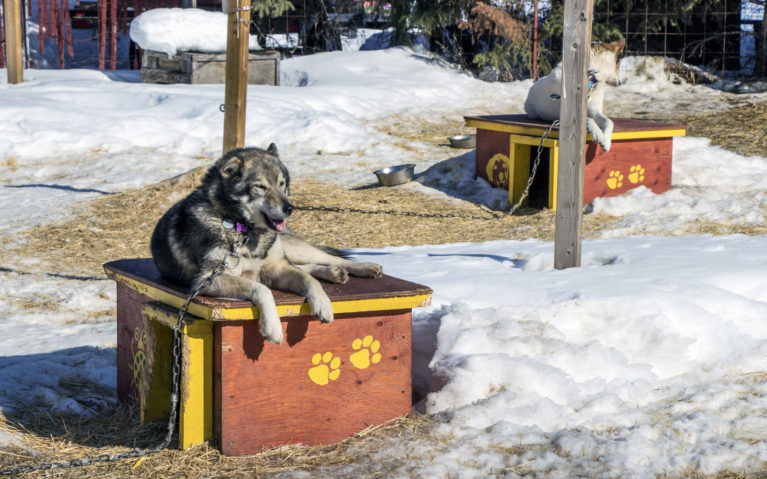 Hop on a Dogsled
If time permits, don't miss the opportunity to go out for a rip with some lean mean running machines. A dogsled ride is a staple Northern Canada experience and Nivek Ltd would be happy to take you for a ride!
Kevin and his team of furry racers will show you around the area at lightning speed. Explore the winter wonderland surrounding Fort Smith as you hit the trails with dogs made to run. Get ready for the ride of your life – just be sure to hold onto your toque! While I didn't have time to go for a tour while I was in Fort Smith, I did get to meet some of his adorable pups.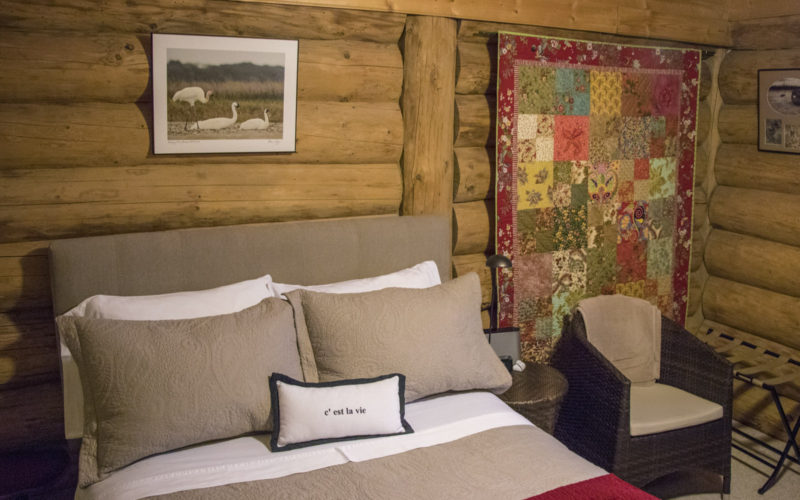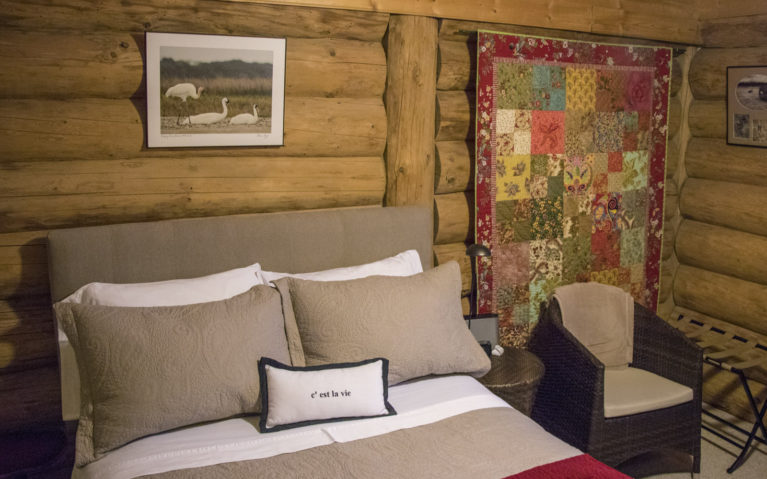 Where to Stay in Fort Smith
There are a few choices for Fort Smith NWT hotels and accommodation but if you can snag a room at the Whooping Crane Guest House, you won't regret it. You'll feel right at home as soon as you step into Christine and Don's home. Cozy up in their gorgeous rustic cabin as you get snuggled up in bed. Each room comes with its own private bathroom, luxurious queen-size bed, spa robes and more! Don't worry about being connected as they offer free WiFi along with satellite TV so you can catch the news or watch your guilty pleasure shows. Just be sure to take advantage of their amazing bathtub, I didn't have the chance to and it's one of my biggest regrets!
Christine is an amazing chef and will whip you up a breakfast that will keep you satisfied. As I occasionally enjoy the element of surprise, I let her choose how I should start my day and I was not disappointed! She can also cater to any dietary needs, though I would let her know upon booking as a courtesy so she has more time to prepare. Her delicious food combined with great conversation makes for the best start to a day in Fort Smith!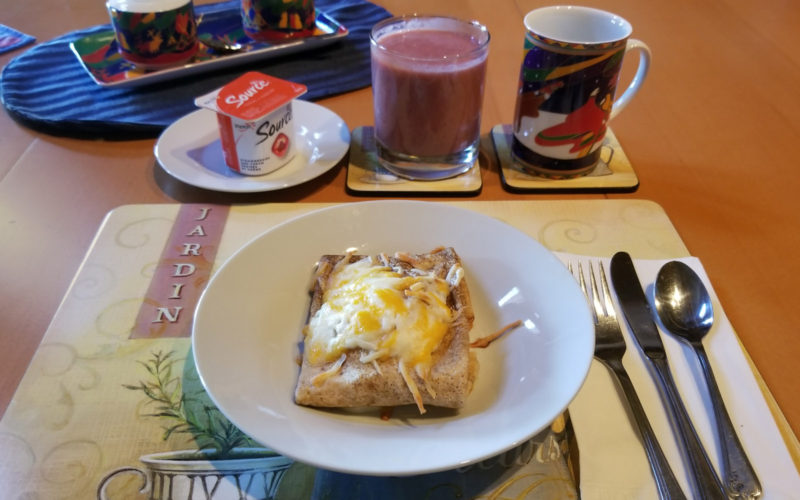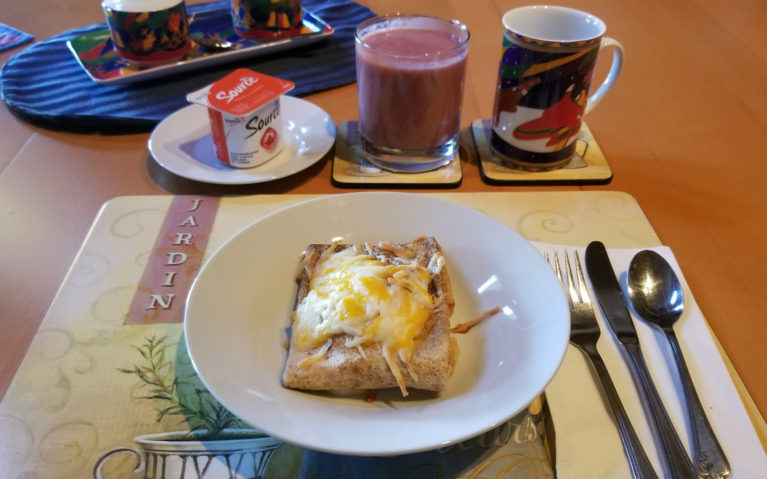 In Town For Longer Than 24 Hours?
There is so much more to see and do in Fort Smith! Depending on what time of the year you visit, there are plenty of possibilities for adventure. In the late spring, you may be lucky enough to catch a glimpse of the northernmost nesting white pelicans as they settle in on the Slave River. You can find them close to the rapids, though Pelican Rapids is not the place to view them. Head to the Rapids of the Drowned instead.
Speaking of the rapids, people flock to Fort Smith during the August long weekend for the Slave River Paddlefest! If you like to kayak, canoe or raft, then it's a paddling experience that's not to be missed. Watch the whitewater events while indulging in delicious local eats. Give paddling a try yourself or stay on land and learn traditional Dene games. Fun for the whole family, it's a great way to get outside and enjoy what the Slave River has to offer.
If you're looking for some winter adventure, head to the Fort Smith Snowboard Park and Sliding Hill. The terrain park includes seven features to allow snowboarders to build their skills and confidence. Don't worry if you're a beginner, there's plenty of fun for all skill levels! You don't have to be a snowboarder either as you can enjoy the park whether you snowboard, ski or toboggan.
…and this is just a taste of what Fort Smith has to offer! Check out the city's website for more information.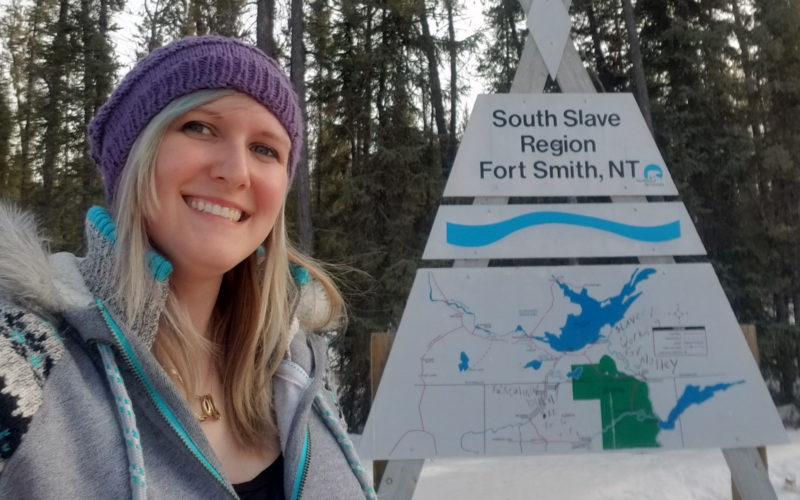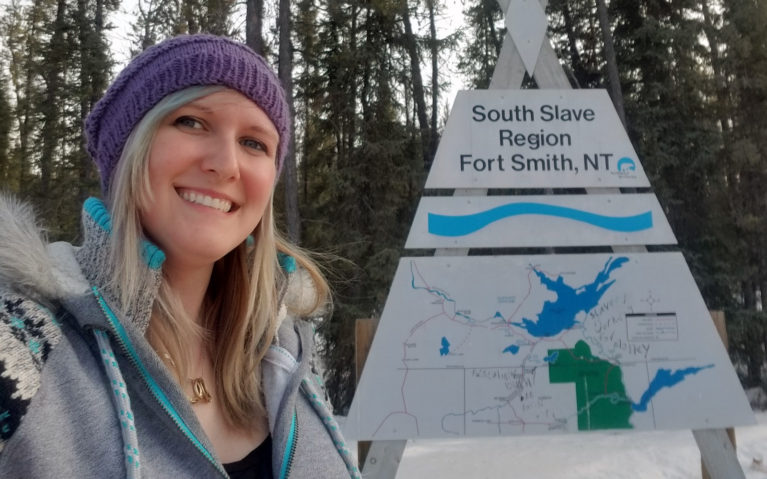 Ready to Visit Fort Smith?
Well, Fort Smith is ready for you! While it can be quite the trek to get to, the town has plenty to offer. If you're outdoorsy or looking to enjoy No matter how long you stay, you'll be happy you made the trip out to Fort Smith.
Disclaimer
A huge thank you to Diane from Fort Smith Tourism for hosting me during my whirlwind stay in Fort Smith NWT. Also a huge thank you to Christine and Don at the Whooping Crane for hosting me on such short notice. I truly appreciate it! Even though this trip was complimentary, all comments and suggestions are my own – as always.
Read more in IBB's disclaimer and privacy policy.
Want to visit Fort Smith NWT Canada? Pin it for later!