The Best 25+ Niagara Wineries That'll Have You At Merlot

Get it? Instead of 'have you at hello'? #SorryNotSorry but I couldn't resist a wine pun. It's true though – one visit and you'll be hooked! The Niagara Region isn't just famous for the majesty beauty of Niagara Falls but also for its wine. Thanks to the Niagara Escarpment and the proximity to water creating the perfect climate for grape growing, the region produces approximately 70% of all wine in Canada. As such, more and more wineries pop up each year! Whether you're planning a do-it-yourself Niagara wine tour or exploring while on an Ontario road trip, these Niagara wineries should be on your must-visit list!
Best Wineries in Niagara
There are now over 100 wineries across the Niagara Region from Grimsby to Niagara-on-the-Lake. With so many to choose from, it can be hard to know where to start! Luckily I've done plenty of research so you don't have to. Just one of the perks of growing up in the area. So, let's get to it, shall we? Here's a Niagara wine country map for your reference while planning your own do-it-yourself Niagara wine tour.
(The Niagara wineries listed are in alphabetical order and not by my preference.)
Château des Charmes
Founded by Paul Bosc, a fifth-generation winegrower, he definitely makes his wine in style. This beautiful building with even more stellar grounds is fit for a queen – or will at least make you feel like one. So it's a no brainer that their wine is amazing! Château des Charmes is Canada's first commercial vineyard dedicated exclusively to vitis vinifera, a specific type of vine that is native to the Mediterranean, central Europe and southwestern Asia. You don't want to miss their Brut Sparkling Wine Méthode Traditionelle which is more dry and pairs well with a sweet treat. I'd highly recommend this for a girls night or a killer ending to a dinner party!
Fielding Estate Winery
Located on Beamsville's bench, Fielding Estate Winery offers visitors an idyllic setting amidst rolling hills and beautiful views of Lake Ontario. Family run, Fielding prides themselves on their sustainable farming practices as they grow the best quality grapes possible to create their vintages. They were designated one of Canada's top 10 wineries not once but twice as well as voted Grape Grower of the Year for the 2012/2013 season.
If that alone isn't enough to entice you to visit, I'm sure their gorgeous tasting room will! I had the pleasure of enjoying a few of their wines including their 2019 Rosé and it's an easy-drinking wine with just a hint of sweetness. It'll be the perfect glass to enjoy on the patio in the summer months!
GreenLane Estate Winery
One of the amazing wineries in Vineland, GreenLane Estate Winery is not just about the wine but the entire experience. They're proud of each and every vintage as there's no set formula. Each one is unique and some are very limited runs. These 'winemaker's treats' sometimes only have 25 cases, meaning if you like it then you better grab a bottle and fast!
If you're of the rosé all day mentality, you won't want to miss theirs. They're delightfully refreshing and very versatile as a pairing with both white and red meat. I have to say though, theirs absolutely slays with turkey – making it perfect for Thanksgiving! Oh and I can't forget to mention that GreenLane Estate is dog-friendly. You might even see their local pooches Oskar and Murdoch during your visit!
Hare Wine Co
Every time I've driven by the Hare Wine Company, I've always said "I seriously have to visit one day!" Finally I was able to pop in and I truly wish I did it sooner. The Hare Wine Co is not only absolutely gorgeous inside, it feels as though I've walked into an Italian wine shop.
Not only is the decor is beautiful but the staff are absolutely amazing. I had the pleasure of enjoying a tasting with Charlie and it was an absolute hoot. I can't remember the last time I laughed so hard while wine touring! He truly made my experience extra fun. My amazing experience here (as well as the incredible wine) lands the Hare Wine Co on my list of the top Niagara on the Lake wineries.
Inniskillin
If anyone is the king of ice wine, it's Inniskillin. An industry pioneer as Canada's original estate winery, they've been making wine for over 35 years. They have wineries in both Ontario and the Okanagan Valley in British Columbia, bringing the east and west of Canada together. Inniskillin's vines date back to 1974 and the quality of these older vines rings true. Chances are it'll be busy no matter when you visit and it's for good reason. You'll understand as soon as one of their vintages touches your lips.
If you're unsure what to try, hands down go for their Oak Aged Vidal Icewine. Be sure to take a moment to explore their beautiful grounds surrounded by vines as stone and wood mingle to create a sense of modern meeting traditional.
Kacaba Vineyards Winery
Located on prime bench land along the Niagara Escarpment in Vineland, Kacaba Vineyards is a small-batch winery with top-notch vintages. Most of their wines are made by hand which is almost unheard of in Niagara, meaning they truly put so much time and effort into their craft. Not only this but they also encourage sustainable agricultural practices by tending to their land carefully and diligently. If this isn't enough to make you fall for their wines, then maybe the fact they save this beautiful plot from becoming yet another subdivision will!
You have to try their Syrah as they were one of the first wineries to grow the grapes specific to this type of wine. It's full-bodied, bursting with flavour, and what I'm willing to be is one of the best reds you'll taste in the Niagara Region.
Konzelmann Estate Winery
Despite all of the shoreline in the area, this is Niagara's only waterfront winery! Located on the shores of Lake Ontario, the Konzelmann Estate Winery opened its doors in the early 1980s. The Konzelmann family can be traced in the wine world back to 1893, meaning they know their stuff! Before becoming the winery's site, the area was home to a peach orchard which you'll still see an homage to with their peach wine. It sounds a little out there but it's one of my favourites from Konzelmann!
With the added bonus that the grounds are absolutely gorgeous, this is one Niagara wine destination you don't want to miss. Despite having an incredible selection of wineries, I come back to Konzelmann again and again. They offer a number of tour options (both public and private) which range from cellar tastings to wine and junk food pairings.
Megalomaniac Winery
John Howard, owner and operator, looked to wine as a retirement project. His purpose was to help raise funds for the Kids' Health Links Foundation – and boy did it take off. His original vintage sold out in less than three months which made him realize just how impactful this program could be. Why the name Megalomaniac? "I originally wanted to christen these wines in my name, John Howard, …and then my good friends accused me of being yet another '[profanity withheld] megalomaniac'." and the name stuck!
Since 2009, the winery has been open to the public and sharing the fruits of their labour. In 2014 they built a gorgeous showroom that truly showcases their Canadian passion. I have yet to try a wine I didn't like from Megalomanic, though their Bubblehead Sparkling is hands down my favourite.
Niagara College Teaching Winery
Just because it has 'teaching' in the name doesn't mean their wines are amateur! At the Niagara College Teaching Winery, you can learn all about the aspects that go into winemaking from within their beautiful, naturally-lit building. It offers a unique living laboratory for its students, and is the only fully licensed teaching winery in Canada!
For just $5, hop on their public tour (Saturdays and Sundays at 2:00 pm) where you'll be taken through their state-of-the-art facility as you learn about the history of Canada's only commercial Teaching Winery. Don't worry, you'll get to enjoy 3 of their vintages, too! I can attest that their Cabernet Franc is smooth and satisfying, pairing nicely with both sweet and savoury dishes. Though if you get a chance, you have to try their ice syrup that's made with the same grapes as icewine – minus the fermentation!
Palatine Hills Estate Winery
Calling all history buffs! If you enjoy learning over a glass of wine then a visit to Palatine Hills is a must. Located in a pivotal location during the War of 1812, Palatine Hills now stands where British forces and Haudenosaunee allies fought off American invaders. This is reflected in the winery itself as you'll see displays of old relics and other testaments to the area's history. Their wines are created from grapes entirely harvested from their own property.
Palatine Hills is also carbon-conscious in that they utilize the latest in vintner technology to minimize their impact on the planet. Their Pinot Gris is a light, more tart wine that pairs well with fish or chicken. I had the pleasure of trying their 2014 vintage which was the first harvest from their Pinot Gris vines!
Peller Estates Winery
If there is any place in Niagara that is the epitome of wine, it's Peller Estates. Another stunning building similar to Inniskillin, you'll enjoy gorgeous views of their vineyards from its slightly elevated vantage point.
Both their white and red wines are excellent, though their Private Reserve Gamay Noir really stands out. Both the 2013 and their 2012 vintages won the Lieutenant Governor's Award for Excellence in Ontario Wines! It has a bold yet light taste with fruity undertones and a hint of spice. I'd say it's probably one of my favourite red wines in the entire region. Peller Estates offers a wide range of tour options – probably the largest variety in the entire region.
Pillitteri Estates Winery
Driving down Niagara Stone Road, you can't miss the big red building that's home to Pillitteri Estates Winery. Founded in 1993, this family-run winery puts their heart and soul into their wines. With roots in Sicily, you'll be treated to a number of award-winning vintages. You won't want to miss their ice wine as that's what made Gary Pillitteri's dream come to life.
Their wine flights are extremely reasonable at just $5 to sample 4 different varieties of wine, though I guarantee you'll go home with at least one bottle! Public tours are offered daily at 12:00pm, 2:00pm and 3:00pm, though reservations are recommended on weekends to avoid disappointment!
PondView Estate Winery
PondView Estate Winery is an absolutely beautiful winery surrounded entirely by vines. Winemaking has been in their family for three generations, with roots in Sicily, Italy and is currently run by Luciano and Adriana Puglisi. As a testament to how good their wine is, Luciano was awarded the Grape King title in 2008 and named grape grower of the year. Their passion for the vines shows in their wines, especially their Bella Terra Cabernet Sauvignon – an easy wine to drink while having complex flavours.
I can also speak to their impeccable service as they allowed me to taste a few of their other wines while waiting for a large crowd to clear. If you're a fan of rieslings like I am, be sure to try their 2014 Riesling if it's available. It's quite sweet and fruity yet still refreshingly crisp: also known as everything I could ever want in a white wine. Be sure not to miss PondView's Belgian dark chocolate shot glasses which you fill to the brim with icewine, sip, and then eat the chocolate with the last bit of ice wine. It's truly a treat for the taste buds!
Ravine Vineyard Estate Winery
Ravine Vineyard Estate Winery is a farm and organic winery that's over a century old. The closest Niagara Falls winery to the Horseshoe Falls (on this list anyway), it's been within the family for five generations so you know they mean business! Ravine is located in the sub-appellation of Niagara called St Davids Bench, which is different than others as it has the warmest weather on average. This means the soils are lighter, airflow and water drainage are more consistent, and it's positioned on the highest elevation along the bench.
They have quite the repertoire of wines though I recommend sampling their reds as they are truly top-notch. I very much enjoyed their Sand & Gravel Redcoat which is a blend of Merlot, Cabernet Franc, and Cabernet Sauvignon. It'll warm you up from the inside out on the coldest of days! While I find sometimes reds can be a little bitter, this was not the case and it is hearty and full of flavour.
Reif Estate Winery
While this one is often on the wine tours in Niagara, Reif Estate Winery has some beautiful grounds which are a large draw. The fact that they're also one of the found family wineries in Niagara-on-the-Lake helps too! They began in 1982 with vines planted 5 years earlier on their 125-acre farm. They focus on sun-loving grape varieties as their eastern-facing slopes face the river, helping to ward off spring and fall frosts. Reif Estate Winery is home to some of the oldest vinifera plantings in the country! Their Chardonnay vintages tend to be dry and pair really nicely with seafood, especially lobster as it has a sweetness the wine magnifies.
Small Talk Vineyards
If you're looking for some sass to go with your glass, look no further than Small Talk Vineyards. You may recognize them more for their apple-oriented counterpart Shiny Apple Cider but no matter what brings you in the door, you'll love your time there. Formerly Stonechuch Winery, Lambert Hunse purchased the land back in 1954 upon arriving from the Netherlands. You'd never know it was originally a fruit and poultry farm!
I'd say Small Talk Vineyards has the most character of any winery in the Niagara Region which makes it a must-visit in my books. Plus their wines are damn good too! I highly recommend taking a tour of the property (they are often on Groupon!) as it makes for the perfect afternoon outing in Niagara.
Southbrook Vineyards
Say hello to Canada's first biodynamic winery! Southbrook Vineyards are LEED Gold Certified, meaning they're entirely organic and an energy sustainable site. No chemicals are used on the property, so their wines and everything that goes into making them are entirely eco-friendly! From the outside their winery looks almost futuristic, but inside they have huge ceiling to floor windows that showcase their beautiful vineyards.
If you're looking for something truly unique, don't miss their Framboise raspberry wine. It's very sweet and has a thicker consistency almost like a syrup. What I love is how versatile it can be – you can use it as part of a dressing, on top of ice cream or cheesecake, a marinade, and more!
Stoney Ridge Estate Winery
If you're a Tragically Hip fan, Stoney Ridge Estate Winery better be on your Ontario wineries list. Partnering with the Hip since 2016, they've created a line of vintages dedicated to the band. Their story begins long before this though. Let's go back to 1985 when Stoney Ridge Estate Winery became the 18th winery in what was then the budding Ontario wine region. Ever since its inception, the winery has been committed to creating top-quality wines. While I have yet to try it myself, I know I won't be missing their cranberry wine next time I visit!
Tawse Winery
When a winery is voted Winery of the Year not just once but four times, you know you're in for a real treat. Tawse Winery's 6 acres of land is located on the Niagara Escarpment's lower slopes. This family-owned organic and biodynamic winery's vintages are inspired by the Burgundy region in France. With their low-yield vines being harvested by hand, you can ensure the highest quality from each of their vintages. Whether you're a fan of reds or whites, you'll find something you'll enjoy. Though you don't want to miss out on their Riesling as they have some of the oldest Riesling vines in Ontario.
Two Sisters Vineyards
If you head to Peller Estates, it's a sin to not visit Two Sisters as it's right next door! Located at the northern tip of the Niagara River sub-appellation, this is one of the most picturesque wineries you'll find in the region. Focusing on varietals that grow best in their terroir, you'll find their Cabernet Franc, Cabernet Sauvignon and Merlot to be of the highest quality.
While they focus more on reds, their Riesling is not to be missed. With citrus tones that aren't overly sweet, this wine is not just perfect for pairing but as a glass to be enjoyed on a beautiful summer day. The passion these two sisters (yes, it is owned by two sisters) share for wine shows in every bottle.
RELATED: You may not know this but Two Sisters has an incredible restaurant on-site. There are actually a number of Niagara wineries that have restaurants that you might want to plan a meal at!
Vieni Estates Wine & Spirits
Meaning 'welcome' in Italian, you'll feel right at home as soon as you enter Vieni Estates. With a broad range of still wines, icewines and sparkling wines that are crafted using the traditional Charmat method. Vieni Estates is also one of the few locations in the Niagara Region where you'll also fine Italian-style grappas and spirits distilled from local Ontario fruit. What really made me fall in love with this winery is their Bruce Trail Sparkling Rosé.
Vineland Estates Winery
What was once a Mennonite homestead in the 1840s has been transformed into one of the top wineries in Niagara. Their staff is some of the friendliest I've ever met and it's a sin I don't get to visit more often. You'll absolutely fall in love with the beautiful rustic buildings on this gorgeous acreage. They pride themselves on their Riesling and for good reason, I'd say it's the best of all the region! Though if you're looking for a red, I'd recommend their Meritage. Vineland Estates is another option for fulfilling your dreams of staying at a vineyard with either their bed and breakfast or estate guest house!
Additional Niagara Wineries
Now don't get me wrong, every winery in Niagara is worth visiting once. However, the following wineries are not a top priority in my opinion. This section is more for those who have already visited the above wineries and are looking for more destinations.
Lakeview Wine Company
There's nothing wrong with Lakeview Wine Company (also referred to as Diamond Estates Winery) other than that pretty much every wine bus tour goes there. (I say this from experience. I've been on one of those bus tours!) Though I'm sure this is partly because Dan Aykroyd invested the winery! Therefore if you ever go on a Niagara wine tour, chances are you'll visit… meaning I recommend heading to another winery instead. That way you can enjoy more of the amazing wineries in the Niagara Region!
Don't miss their 1914 Valour Red which is a blend of Merlot, Shiraz and Gamay Noir. This medium-bodied red has hints of fruit and spices, making it a great winter wine that pairs well with red meat dishes.
Hinterbrook Estate Winery
Honestly what really did it for me was their service as their representative was quite arrogant and kept talking down to me. It also didn't help that I arrived towards the end of the day while utilizing a wine-pairing promotion which he proceeded to shame me about because they ran out of the food pairing. It really put a bitter taste in my mouth and I haven't been back. If you do decide to go, I hope you have a better experience than I did! Though I'd steer clear of their Franc Blanc as I found it to be quite harsh and very vinegar-y for a bottle of white wine.
Jackson Triggs Winery
The winery itself is very nice, it's just that Jackson Triggs is everywhere. If you're going to see any wine at a restaurant, it's a Jackson Triggs wine. I'm sure it's because their wines are very easy to drink which makes them one of the most well-known names in Canadian wine. Though I have to say I find their vintages to be quite bland. I'm also more of a fan of supporting smaller, lesser-known wineries in the region.
Trius Winery
Another very popular winery within the Niagara Region, their wines just don't wow me. Maybe it's my personal preference or the fact that it seems to be a go-to for Christmas gifts? I find their vintages to be quite sharp and a little too bitter on the tongue. Though they do have vines in all four different wine appellations in the Niagara Region, so maybe I just didn't try the right one! If you're a wino and love shopping for wine-related trinkets, you might want to pop in and take a peek at their beautiful showroom. Honestly, if you have a moment you might as well pop by because their property is gorgeous with plenty of great photo ops!
Joseph's Estates Winery
Another one that's often on the Niagara wine tour bus circuit, I found their wines to be a bit on the bland side as well. It can be easily overpowered when paired with food so that's something to be aware of. Though I have to say they offer a Chenin Blanc which is not common around the Niagara Region, making it unique and worth popping into. The winery itself is quite cute and quaint so if you're looking for a more country-style winery, check it out!
Wayne Gretzky Estates
After having a blast at the Niagara Icewine Festival, Olivia and I decided to pay Wayne Gretzky Estates a visit. While I've had their wine and I was not impressed, the complex sure did! Maybe I just tried a bad batch of wine as the white I tried had almost sour-like qualities? Whether you're a wine drinker or not, I recommend popping by Wayne Gretsky Estates if only to check out their tasting room and grounds. They offer a full-on skating rink in the winter which is open to the public!
The Best Way to Explore the Wineries of Niagara
Who doesn't want to squeeze in as many wineries as possible? Luckily there are a few different ways you can make the most of your visit to Niagara so you can do as much wine tasting as you possibly can.
OBLIGATORY DISCLAIMER: Remember, many of these wineries are a fair distance from each other. Have a designated driver, plan your route, and please enjoy responsibly.
Niagara Wine Tours by Bus
This is probably the most popular way to explore Niagara's wineries, but also the most limiting. There are a number of bus tours that operate across the region though they all seem to go to the same spots. If you're strapped for time or are looking for a quick and easy wine tour, this is a valid option. I've done one via Groupon and I was honestly a little disappointed in the winery options. They were the typical big names that everyone visits. While some like Konzelmann have truly earned that right and make seriously good wine, others are not quite the same calibre.
I've scoured the internet and found some amazing tours below. While I have not gone on any of them myself, they would be what I'd recommend anyone looking to do a wine tour in Niagara! If you're looking for a tour that helps showcase more than just the bigwigs and really allows you to experience the Niagara wine region, check out one of the tours below.
Niagara Wine Festival
For two weekends every September, you can experience Canada's largest wine festival. Fondly known as the Grape and Wine Festival to locals like myself, Montebello Park in downtown St Catharines is transformed into a wino's paradise. While there is no entrance fee, tokens are available for purchase. You'll use these to sample over 100 wines (plus their food pairings) from across the Niagara Region. There are also wine seminars and live music so you can dance the night away!
In conjunction with the Niagara Wine Festival, they also have a discovery pass program. This gives you eight passes to use at over 30 wineries in Niagara-on-the-Lake and the Twenty Valley. Valid only on Saturdays and Sundays, you have three weekends to enjoy a delicious food and wine pairing unique to each establishment. The participating wineries can change from year to year but I had a blast using this pass to explore the wineries in Vineland a few years back! Just make sure to plan out your route so you can enjoy responsibly!
INSIDER TIP: One single person doesn't have to use the full eight pairings. They can be split up between multiple people so you and a friend could share a pass and hit up four wineries together!
Taste the Season
This is hands down my favourite way to explore the wineries in Niagara. Every November, approximately 25 wineries in Niagara-on-the-Lake offer special food and wine pairings for Taste the Season. For just $55, you have access to a pairing at every participating location. The best part? You don't have to use it in just one weekend! Taste the Season is spread across four weekends throughout November so you can visit as many or as little as you want.
If you're looking for a fantastic girls' weekend, an easy romantic date or to just get your wine on, Taste the Season is a no-brainer. Although it is most beneficial to locals or visitors who live close by so you can fully take advantage of the pass, it pays for itself even if you only use it on a single weekend!
Niagara Icewine Festival
A close second for my favourite wine events in Niagara is the Niagara Icewine Festival. Two blocks in the picturesque downtown area of Niagara-on-the-Lake is transformed into a gorgeous winter wonderland. Enjoy icewine from a number of Niagara wineries for two weekends in January. It's really a great event and I highly recommend checking it out. Take a look at my post for more information about the Niagara Icewine Festival!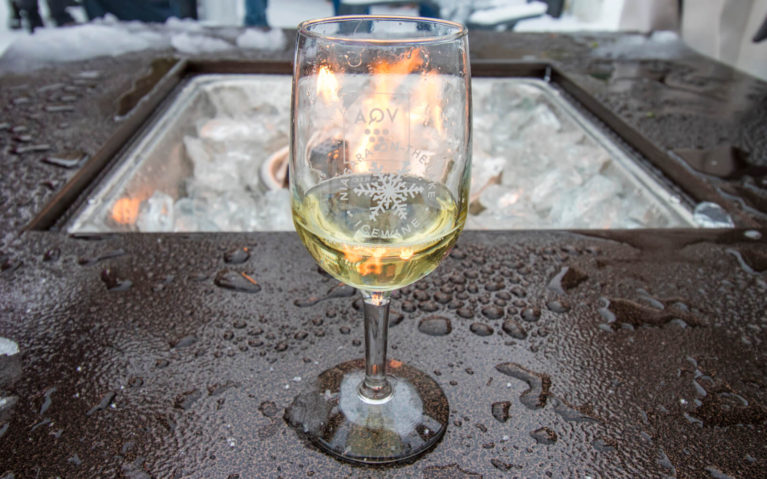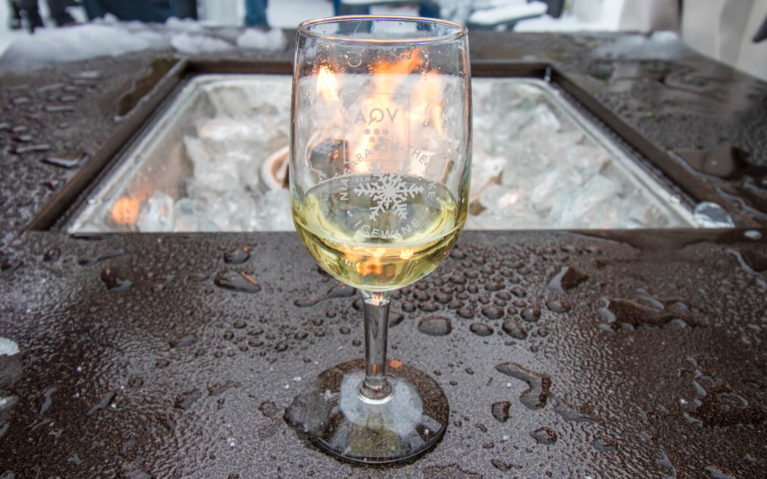 Looking to Make It a Weekend in Niagara?
The Niagara Region has so much to offer that it's easy to fill up your day for a full weekend getaway. If you don't want to drink wine all the time (no judgement if you do!), there are plenty of other things to do in Niagara!
Probably the most popular destination in all of the Niagara Region is Niagara Falls. It's understandable considering how beautiful the Horseshoe Falls are! However the area has lots to offer including great restaurants, fun attractions and more. Whether you visit in the peak of summer or the cooler months, it's the perfect spot to make the most of your trip to Niagara.
If you're looking to either work off or earn your wine, there are a number of great hikes you can tackle. The Bruce Trail, Ontario's most famous trail, starts in Queenston and ends in Tobermory. There are a number of places to access the trail as well as side trails for a fantastic nature adventure. If you're going to go anywhere though, you have to hike at the Niagara Glen. These trails are fairly rugged meaning you'll get a great workout along with some incredible views of the Niagara River. This is a must especially in the fall as the warm autumn colours pop brilliantly against the turquoise water!
Shopaholics, we've got you covered. A number of the wineries are close to the Outlet Collection at Niagara meaning you can sip and shop! Sure sounds like a great Niagara girls' getaway doesn't it? Peruse shops like Sacks on 5th and Kate Spade (or Mountain Warehouse and North Face, that's more my style!) for a new outfit to rock when you hit the Niagara wine trail afterwards. In the summer, there are often food trucks and other special events to look out for.
Of course, Niagara-on-the-Lake itself is a top Ontario destination for a reason. There are plenty of great restaurants, adorable local shops, plenty of historical sites and much more. I've got all the details in my local guide to Niagara-on-the-Lake which will help you plan your adventure.
If you're making a weekend of it, you're going to need a place to stay! Luckily there are plenty of accommodation options in the area. Before booking, I'd recommend thinking about what you want to do during your weekend adventure. Planning to go out for a night on the town? Stay in Niagara Falls. Looking for a quieter getaway? Head for Niagara-on-the-Lake. Don't forget St Catharines, too! There are also some great deals on Niagara Falls hotels to be found if you do a little sleuthing!
Want Some Niagara Wines Shipped to Your Door?
Sometimes life is just too busy that you can't make the trip to Niagara. Luckily there are a number of Niagara wineries that ship their wines throughout Ontario! If you reside outside the province, you'll have to investigate further. Take a look at this full list of VQA wines that offering to ship for further details. In alphabetical order, the following Niagara wineries will deliver:
Château des Charmes (free shipping in Ontario on purchases of 6+ bottles valued at $14.95+)
Fielding Estate Winery (free shipping in Ontario on all orders of 6+ bottles with code SHIP2020)
GreenLane Estate Winery (free shipping in Ontario on orders of $50+)
Hare Wine Co (free shipping in Ontario on orders of 6+ bottles)
Hinterbrook Estate Winery (free shipping on orders over $150 or 12 bottles within Ottawa, GTA, London and Niagara)
Inniskillin (free shipping on orders of 6+ bottles)
Jackson Triggs Winery (free shipping on orders of 6+ bottles)
Joseph's Estates Winery (free shipping in Ontario when you purchase a case)
Kacaba Vineyards Winery (free shipping in Ontario on purchases of 6+ bottles with code SHIP6)
Konzelmann Estate Winery (free shipping in Ontario on purchases of 6+ bottles until May 31, 2020)
Lakeview Wine Co (free shipping in Ontario on orders of $50+ with code: MAY)
Megalomaniac Winery (free shipping in Ontario)
Niagara College Teaching Winery (free shipping in Ontario on purchases of 6+ bottles with code SHIPFREE)
Palatine Hills Estate Winery (free shipping in Ontario on orders of $99+)
Peller Estates Winery
Pillitteri Estates Winery (free shipping in Ontario)
Pondview Estate Winery
Ravine Vineyard Estate Winery (free shipping in Ontario on purchases of 2+ bottles)
Reif Estate Winery (free shipping in Ontario when you purchase a case)
Small Talk Vineyards (free shipping in Ontario on orders of $100+ with code FREESHIP100)
Southbrook Vineyards (free shipping in Canada until May 31, 2020)
Stoney Ridge Estate Winery (free shipping in Ontario on purchases of 6+ bottles)
Tawse Winery
Trius Winery
Two Sisters Vineyards (free shipping in Ontario on purchases of 4+ bottles)
Vieni Estates Wine & Spirits (free shipping to Toronto & Hamilton on orders of $100+)
Vineland Estates Winery
Wayne Gretzky Estates Winery
The price of shipping can change without warning so be sure to check each winery's website to confirm any free shipping, promotions, etc.
Ready to Explore These Niagara Vineyards?
There's a reason why the Niagara Region is popular for winos of all levels. Whether you're a level-two sommelier looking for top-notch vintages or someone like me who just loves enjoying local varietals, you can't go wrong. As I mentioned, more and more wineries seem to appear every time I turn around so you can guarantee this Niagara wine guide will grow and grow.
Which of these establishments do you think are the best wineries of Niagara on the Lake? Are there any I've missed that you think I need to visit? Don't forget to take a look at the map of wineries in Niagara on the Lake (and more!) at the top of this post and get planning your getaway!
Looking for More Things to Do in Niagara?
Don't Miss These 15+ Free Things to Do in Niagara Falls
A Local's Insider Tips for Visiting Niagara Falls
Indoor Things to Do in Niagara Falls on a Rainy Day
Enjoy a Natural Escape at the Heartland Forest
Check Out the Top Hiking Trails in Niagara Falls
Visit in Winter to Experience the Winter Festival of Lights
30+ Charming Things to Do in Niagara-on-the-Lake
Chase Some Waterfalls Across the Niagara Region
Enjoy a Glass at The Best Wineries in Niagara
Check Out One (or More!) Of the Niagara Region's Best Hikes
Explore the Top Hiking Trails in St Catharines
Take a Hike at the Woodend Conservation Area
Hike Through Short Hills Provincial Park, Niagara's Largest Park
Explore the St Johns Conservation Area in Fonthill
Follow the Bruce to the Beautiful Rockway Falls in Lincoln
Don't Miss This Self-Guided Tour of Vineland's Wineries
The Top Beamer Memorial Conservation Area Hiking Guide
Celebrate the Region's Liquid Gold at the Niagara Icewine Festival
Things to Do in Port Colborne, Niagara's Ship Shape City
Plan a Spring Visit to See the Cherry Blossoms in Niagara
Disclaimer
This post contains affiliate links where I may receive a kickback on any purchases made through them at no extra charge to you. Read more in IBB's disclaimer and privacy policy.
Plan Your Visit to Niagara Wine Country & Pin it for Later!